Stock screening is a critical element in any investing strategy.  Whether you are a day trader scanning the stock market for short-term trading opportunities or a long-term investor screening stocks for profitability, growth, or value, you need to choose the right tool for the job.
As a certified financial, technical analyst, and investor for over 20 years, I understand the critical functionality and metrics that make a great stock screener. I hope you see value in the hundreds of hours of testing and research invested in this review.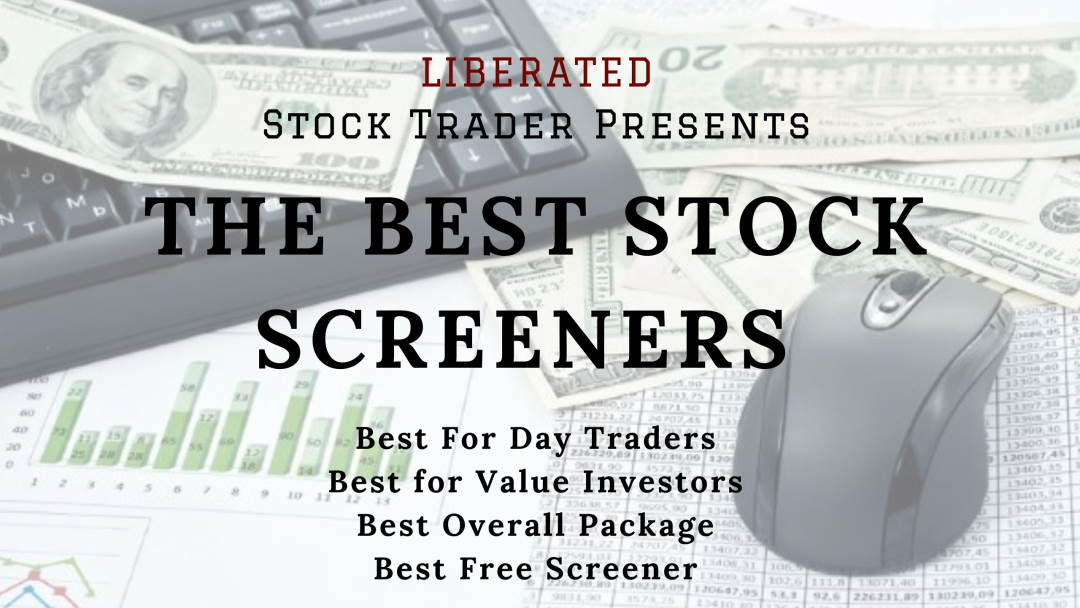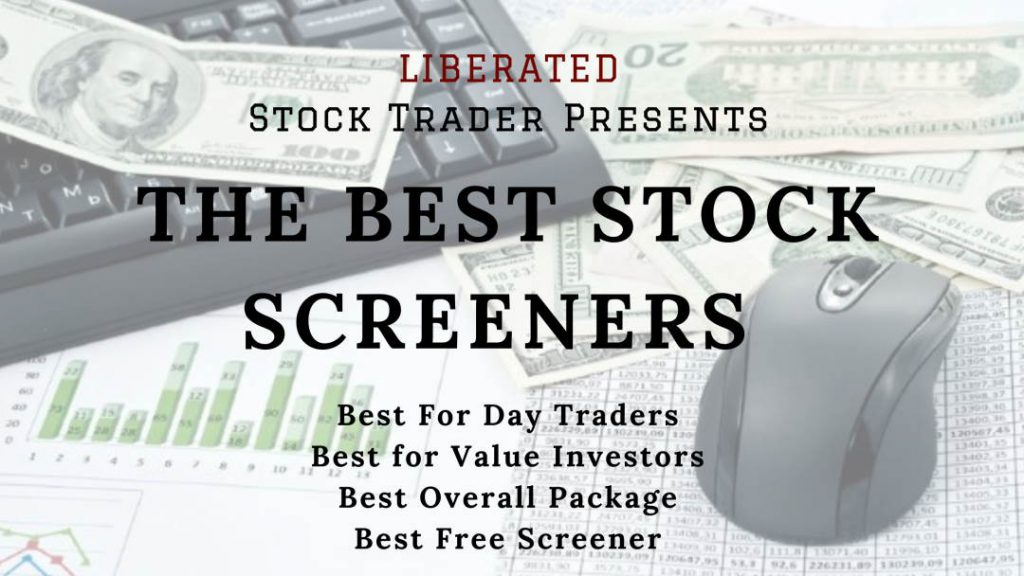 Best Stock Screeners
Detailed research and testing show that Stock Rover is the best stock screener for value, dividend, and growth investors, with a 10-year fundamental database, 670 financial indicators, and industry-leading research and portfolio management. TradingView is the best stock scanning tool for international traders, with 160 technical criteria and a large user community.
Trade Ideas is the best AI screener for day traders, providing real-time scanning and profitable trade signals. Metastock's software provides innovative back-testing and forecasting, helping to improve scanning results. Finally, TC2000 offers real-time Stock Option scanning and the best pre-market screener available.
Stock Screening vs. Stock Scanning
There is a difference between a stock screener and a scanner. A stock screener enables you to filter stocks based on fundamental financial criteria such as Analyst Estimates, Earnings, Valuation, Cash Flow, and Sales. A stock market scanner will typically scan the market for technical measures, such as a price new high, price above the moving average, or volume increases.
A market scanner is typically for day traders or swing traders using technical analysis. A stock screener is designed for investors utilizing growth, income, or value strategies. Some screeners and scanners overlap and can perform a mix of both functions.
How to Choose the Best Stock Screener
When searching for a good stock screener, you need to understand your trading or investing strategy. If you plan to implement a value investing approach, you will need criteria such as Margin of Safety, Forward Cash-Flow, and Fair Value. If you want to invest for income, you need dividend yield, growth, and coverage screening criteria. A stock screener will need to have historical performance data on price, sales, earnings, debt, and revenue for a growth investing strategy.
If you are day trading or swing trading, you will need a scanner to filter on technical criteria, such as stock price changes, volatility, volume, and performance against indicators like MACD, Moving Averages, and RSI.
5 Best Stock Screeners Comparison
1. Stock Rover: Best Stock Screener for Investors
Stock Rover is the best stock screener for value, dividend, and growth investors because it provides the largest database of company fundamental data. Stock Rover has 670 screening criteria, company ratings, analyst estimates, and a 10-year historical database of all US and Canadian stocks and ETFs.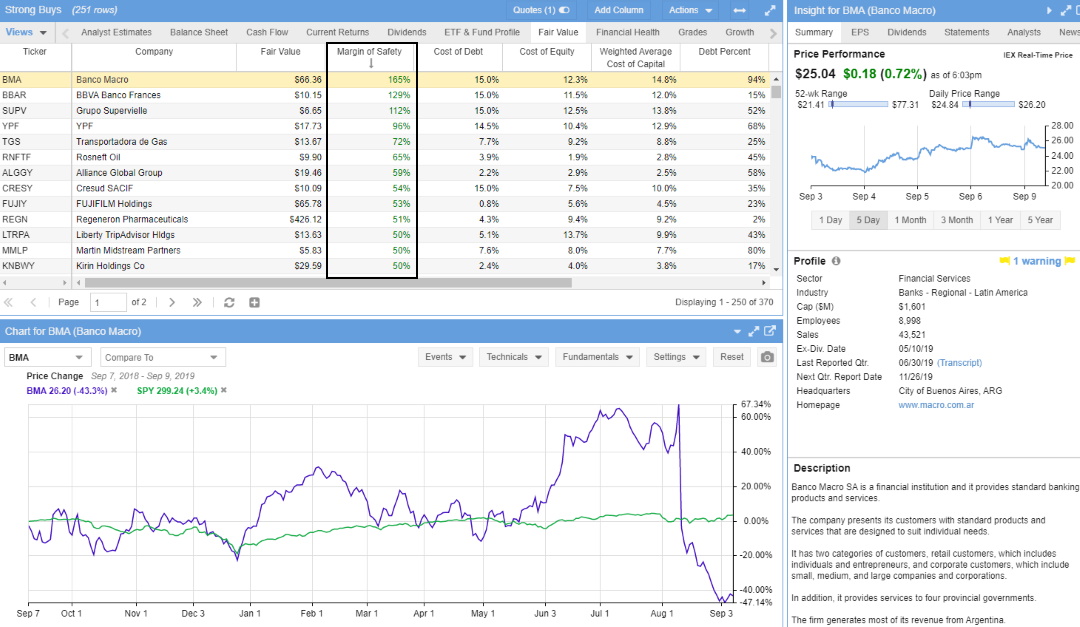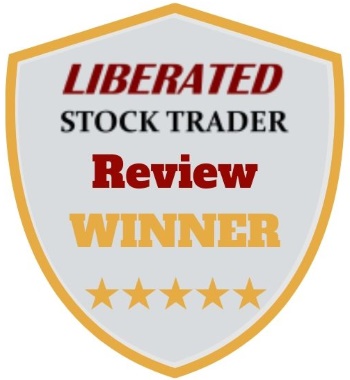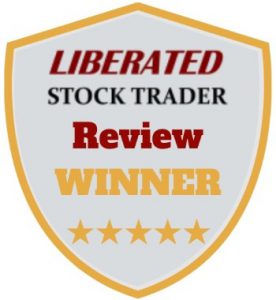 Stock Rover Pros
The Best Free & Paid Screener in the USA
670 Financial Scanning Criteria
Value & Growth Stock Scoring Systems
Research Reports & Portfolio Management Tools
Unique 10 Year Historical Fundamental Database
100's of Value, Growth & Dividend Screeners & Portfolios
Easy to Use & Broker Integrated
Stock Rover Cons
No Social Community
US & Canada Only
No Mobile App
I actively use Stock Rover every day to find the stocks that form the foundation of my long-term investments. It is my tool of choice, and I have even developed a Beat the Market Screener that is now integrated into Stock Rover.
Stock Rover is an easy stock screener to use; it runs on PC, Mac, Tablets, and Smartphones and requires zero installation; it simply works. Although Stock Rover is user-friendly, it is also the most advanced stock screener for financial analysis on the market. However, the market data, scoring, ranking, and analysis are only for the USA & Canadian markets.
Stock Rover has the best implementation of stock screening, research & portfolio management on the market today.
Video: Why is Stock Rover the Best Stock Screener for Investors?
Stock Rover integrates with every significant broker; this enables it to manage profit & loss reporting, portfolio correlation, and rebalancing.  Including income (dividend) reporting and scoring, it is a unique package. Stock Rover is not for day traders; it is for longer-term investors that want to maximize their portfolio income and take advantage of compounding and margin of safety to manage a safe and secure portfolio.
Financial Screening & Stock Ratings
Stock Rover is the industry leader for stock screening with 670 fundamental financial metrics; 226 of the metrics contain 10-years of historical data, allowing you to back-test your screening strategy. Watchlists have fundamentals broken into Analyst Estimates, Valuation, Dividends, Margin, Profitability, Overall Score, and Stock Rover Ratings.  You can even set the watchlist and filters to refresh every single minute if you wish.
Stock Rover has over 150 pre-built screeners that you can import and use, many of these screeners have been tested during this research, and they are very thoughtfully built.  You will need to have the Premium Plus service to take advantage of the most powerful screeners.
The team over at Stock Rover has implemented some great functionality; I particularly like the roll-up view for all the scores and ratings.  Here I have imported the Warren Buffett portfolio, which includes his top 25 holdings.  I have also selected the "Stock Rover Ratings" tab, which rolls up all analysis into a transparent stock ranking system, saving a tremendous amount of time and effort while providing a wealth of insight.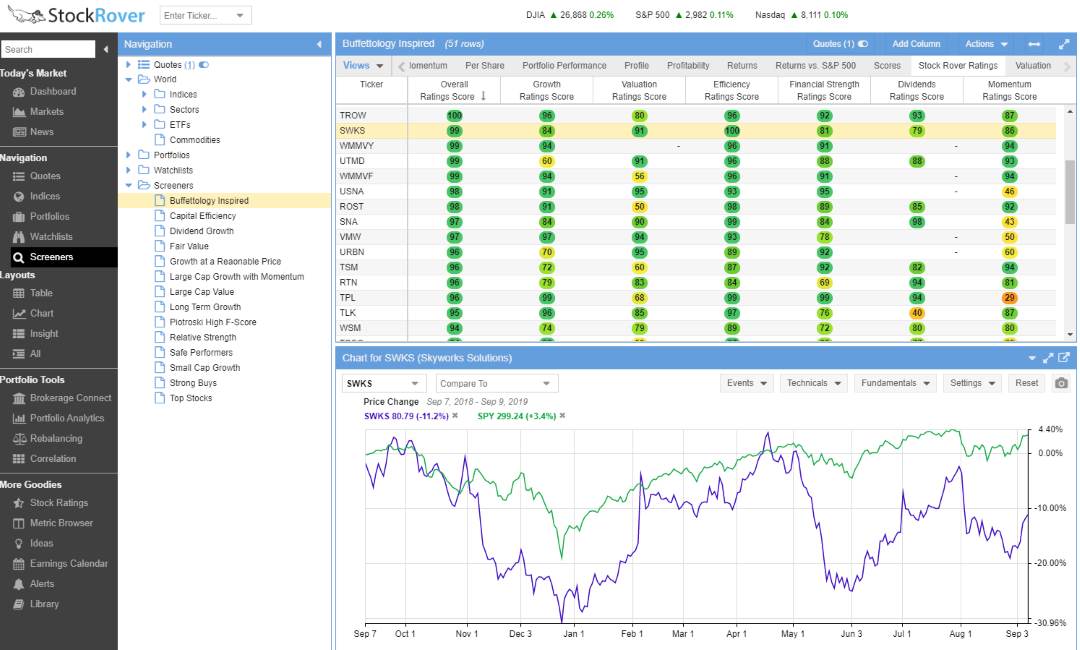 The Stock Rover Warren Buffett Screener is based on criteria described in the bestselling Buffettology book. The company should have a 10-year track record of generally increasing EPS with no negative earnings years; long-term debt, not more than 5 times annual earnings; average ROE over the past ten years at least 15%, average ROIC over the last 10 years at least 12%, and earnings yield should be higher than the long term Treasury yield.
Value Stock Screening
Stock Rover is the best value investing stock screener because it has criteria that no other software has, such as Margin of Safety, Foward Discounted Cash Flow, Fair Value, and the Greenblatt formulas. Using these calculations and metrics is is possible to build a powerful Warren Buffett style value stock screener. There is a Buffettology screener built into Stock Rover, which incorporates the key criteria for Warren Buffett's value investing methodology.
Dividend Stock ScreeningStock Rover is the best dividend stock screener because it has many pre-built scans for dividend growth, dividend yield, dividend consistency, and even ETF dividends. The dividend screening selection criteria are broad, including dividend coverage, dividend cashflow, payout ratio, dividend 1,3,5, and 10-year average percentage growth. If you are screening for companies paying a consistent dividend, Stock Rover also allows you to scan for "Consecutive Dividend Growth Years."
Stock Rover also provides intelligent dividend and income analysis, enabling you to compare company dividend yields, growth, coverage and estimate future dividend income based on your portfolio or watchlist.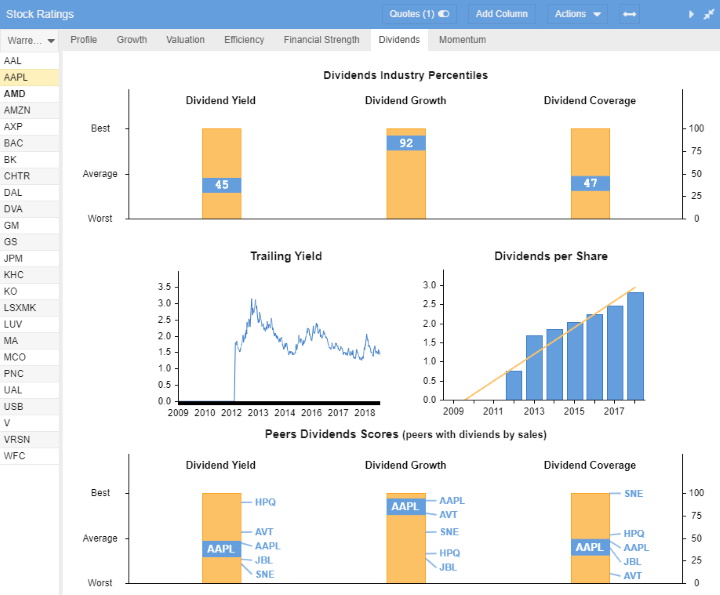 Stock Rover Research Reports
A new addition to the Stock Rover platform is the dynamic Research Reports. This brand new service enables you to generate a professional, readable PDF report on any particular stock's current and historical performance. Stock Rover also calculated anomalies in a company's financial reports and issues warnings to help lower your investing risk.
Stock Rover Pricing
You can have Stock Rover for free; however, the real power of Stock Rover is unleashed with the Premium Plus service.  Moreover, their top tier of service is not even expensive compared to the competition.  I strongly recommend going for the Stock Rover Premium Plus at $27.99 per month, as you will be getting the best premium stock screener on the market.
★ Bonus: Sign Up For This Service & Get 5 Exclusive Investing Strategy & Research eBooks Valued at $99 ★
---
2. TradingView: Best Free Stock Screener
TradingView is the best free and paid stock screener for active traders because it combines powerful charts and screening for Stocks, ETFs, Indices, Forex, and Cryptocurrencies across all international markets. TradingView enables back-testing trading strategies and has the largest active global community of traders.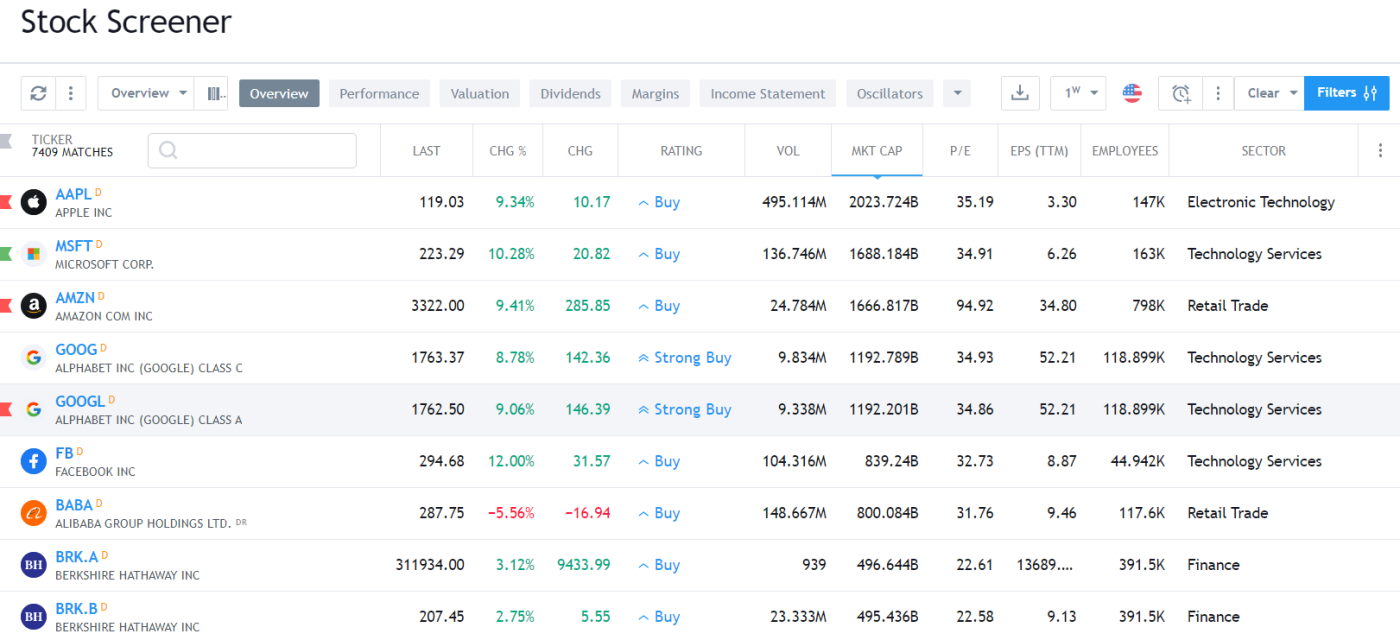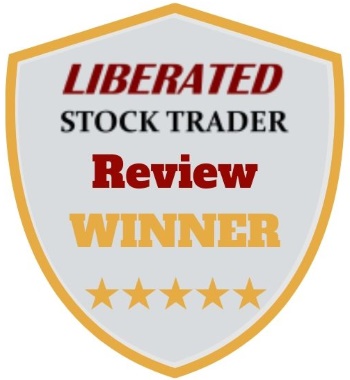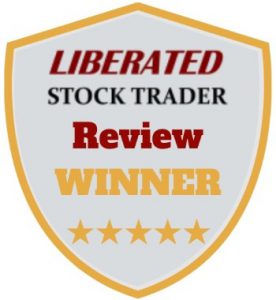 Pros
Good Selection of Fundamental & Financial Scanning Criteria
Best Screener for Global Stock Markets
Forex, Cryptocurrency & Commodities Scanning
LargeSocial Community
Great Usability & Setup
Cons
No Deep Historical Data
Not Enough Financial Data for Buy & Hold Investors
TradingView is one of the best stock market trading and charting platforms available, with over 3 million active users sharing trading ideas and strategies in one big community. TradingView is a winner in our "Best Stock Analysis Software Review" and is now one of the winners for "Best Stock Screener."
You can have TradingView for free, but there are limitations on the number of charts, alerts, and devices you can use.  I would recommend going for the PRO+ plan at $19 per month as the benefits are extensive, including real-time data, market scanning, and a robust alerting system.
TradingView Stock Screening & Scanning
TradingView's screening watchlists have fundamentals data separated into Performance, Valuation, Dividends, Margin, Income Statement, and Balance Sheet. TradingView stands out with its vast selection of economic indicators you can map and compare on a chart, for example, comparing the Civilian Unemployment Rate versus the growth in Company Profits.
I recommend TradingView for international traders as the market coverage is enormous, and if you want a very active trading community, this is the place.
Real-time Stock Screening with TradingView
TradingView allows you to run a continual live real-time stock screen that updates every 10 seconds; this is valuable for day traders scanning for volume spikes, changes in relative volume, or intra-day price spikes. The real-time stock screener covers pre-market gaps, volume, and major indicators such as RSI and Moving Averages.
The TradingView Stock Screener comes complete with 150 fundamental and technical screening criteria; all the usual measures are there, such as EPS, Quick Ratio, Pre-Tax Margin, and forward/trailing PE Ratio. TradingView also goes deeper with more esoteric criteria such as the number of employees, Goodwill, and Enterprise Value. Another positive is the screener implementation is very customizable; you can configure the columns and filters exactly how you wish.
Best Stock, Forex & Crypto Screener: TradingViewTradingView's unique ability to screen for chart patterns and setups for foreign exchange pairs makes it very valuable for day traders searching for volatility and using leverage. The Forex screener can compare performance and volatility together, which can help you to narrow down the list for potential trades.
The ability of TradingView to also provide crypto screening is unique in the industry.  They have also included a rating filter that enables you to select the cryptocurrencies rated as "strong sell" to use as candidates for a short trade and strong buys as candidates for long trades; this will save you a lot of time.
Extremely easy to use, low cost, and packed with screening power, including economic data.  TradingView is the right combination for active international day traders who value a social community.
Video Review: Why I Rate TradingView the Best
★ Bonus: Sign Up For This Service & Get 5 Exclusive Investing Strategy & Research eBooks Valued at $99 ★
---
3. Trade Ideas: Best Day Trading Stock Screener
Trade Ideas is the best stock screener for day trading because it has three AI algorithms that provide alerts for high probability short-term trades. The back-testing, scanning, and trade success probabilities are all automated, meaning Trade Ideas can be used for automated day trading commission-free with eTrade.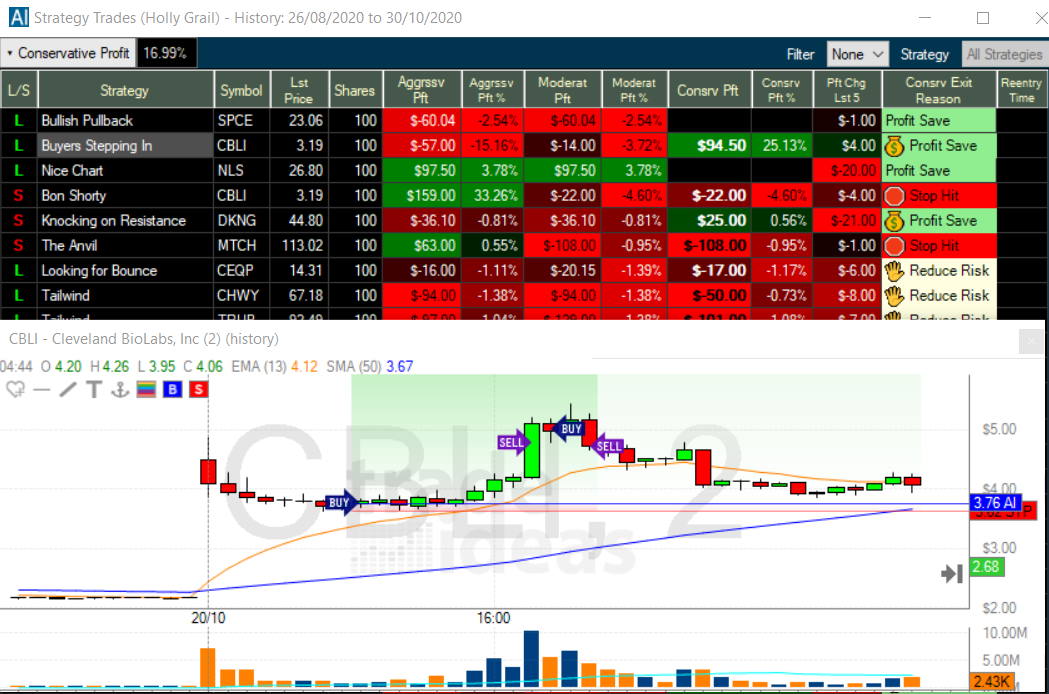 Pros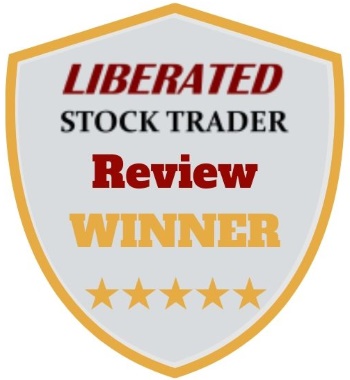 3 A.I. Stock Screening Algorithms
Fully Automated Back-testing
Audited & Profitable Trade Signals
AI Auto-trading
Cons
Old School User Interface
No Mobile App
Founded in 2003, Trade Ideas is a web & desktop-based software platform for finding day trading opportunities. Historically specializing in real-time scanning for trade opportunities, Trade Ideas now incorporates cutting-edge AI algorithms that back-test every stock in the USA & Canada for high probability trading opportunities.
There are two tiers of product, Standard & Premium. Trade Ideas Standard costs $118 per month, or you can save $348 by going for an annual subscription costing $1068, a 25% discount. You get a live trading room, access to 40 market scans, and 500 price alerts for this price.
Trade Ideas Premium costs significantly more at $228 per month and enables the Holly Artificial Intelligence System. This comprises three constantly evolving AI screening algorithms, entry and exit signals, trade risk assessments, and AI Auto-Trading.
Best AI Stock Screener: Trade Ideas
Trade Ideas is the best AI stock screener because they have built an Artificial Intelligence algorithm called "Holly AI." Holly applies 70 different strategies to all the stocks on the US stock exchanges; 70 strategies multiplied by 8,000+ stocks means millions of back-tests every day.  Only the strategies with the highest back-tested win rate over 60% and an estimated risk-reward ratio of 2:1 will be suggested as potential trade the following day.
The unique scanner system at the heart of the Trade Ideas platform gives you immediate access to over 40 different trading scans. The in-built scans are categorized into Bullish, Bearish, or Neutral. Depending on the overall market direction, you can easily select a potential strategy for the day.
One scan I find particularly impressive and innovative is the "Unusual Social Mentions Scan." The Trade Ideas AI engine is constantly scanning StockTwits for surges in mentions of particular stocks, so if you click load settings, you will be immediately presented with a list of stocks spiking on social media. Of course, you can customize any of the scans featured here or even create your own alerts from scratch.
The AI algorithms developed by Trade Ideas are the main reason you would want to sign up. I had a lengthy zoom session with Sean Mclaughlin, Senior Strategist over at Trade Ideas, to delve into how the AI works, and I was very impressed. This company is laser-focused on providing traders with the very best data-supported trading opportunities. There are currently three AI systems in operation.
Trade Ideas 15% Discount Coupon Code
As a partner of Trade Ideas, I requested a discount for all our readers. Use the discount code "Liberated" to get 15% off your first purchase, worth $340 when going for the premium service.
★ Bonus: Sign Up For This Service & Get 5 Exclusive Investing Strategy & Research eBooks Valued at $99 ★
---
4. MetaStock: Best Stock Chart Scanner
MetaStock is the best stock chart scanner because it combines powerful back-testing strategies with over 350 indicators and charting tools. MetaStock's marketplace has over 100 stock scanning strategies that can be used to find trading opportunities across international stock markets.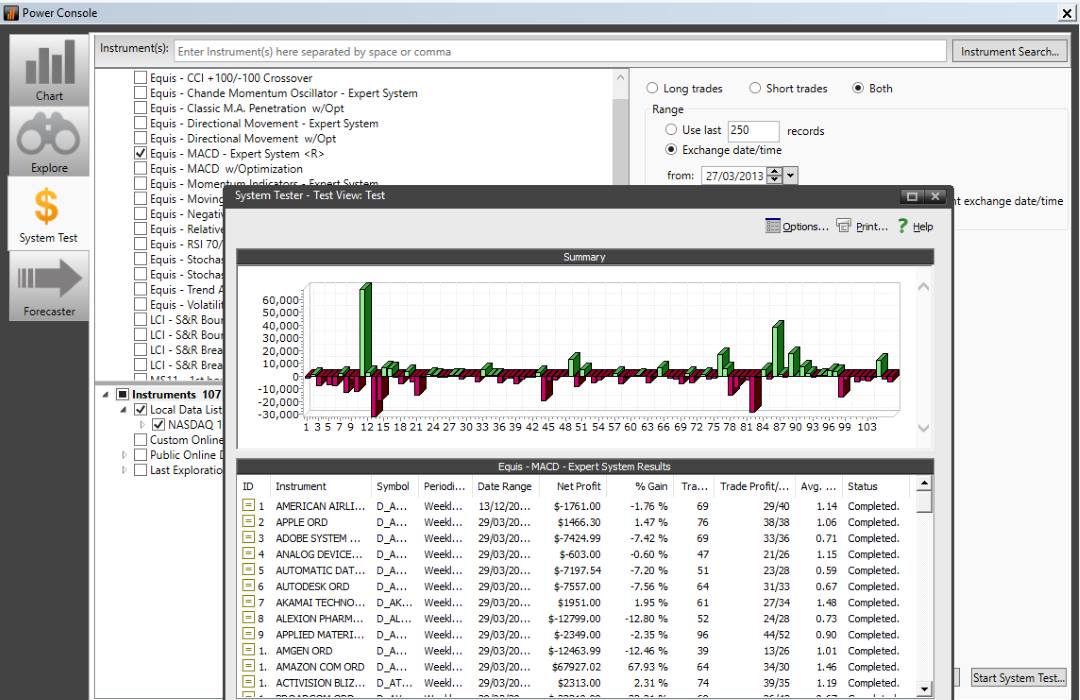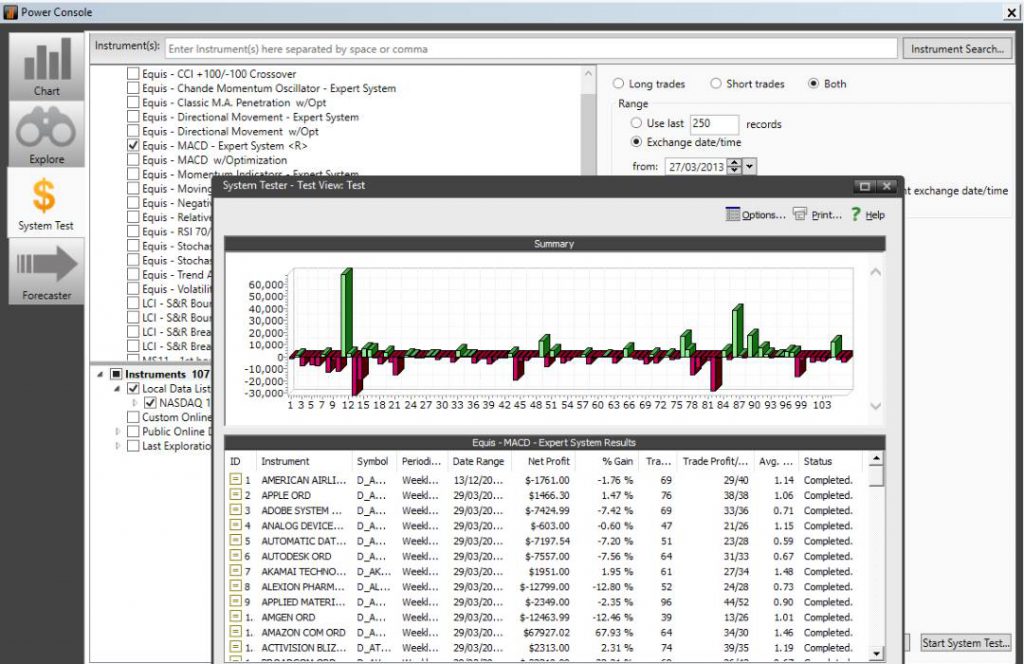 Pros
Broadest Selection of Technical Analysis Stock Screening Criteria
Best Screener for Global Stock Markets
Ability to Screen Stocks, Futures, Forex & Commodities
Winner for Backtesting & Forecasting Systems
Cons
Need to purchase Refinitiv Add-on for Fundamental Screening
No Mobile App
MetaStock is the leader in back-testing, forecasting, and technical chart analysis.  If you purchase MetaStock R/T (real-time), you essentially get the Refinitiv add-on; this adds Real-time news (from Reuters) and Bloomberg level fundamental and technical screening.
MetaStock's Refinitiv integration means you get institutional quality real-time news, analysis, research, economic outlooks, plus the fastest global news service available in the industry. For international investors, MetaStock is unique because the news is also translated into all major languages.
MetaStock has an incredible database of global fundamental data for screening, not just on companies but economies and industries, the wealth of data is first class. Using Refinitiv, you can see an in-depth analysis of company fundamentals from debt structure to top 10 investors, including level II, combine that with excellent watch lists featuring fundamentals and powerful scanning of the markets.
MetaStock Stock Screener Highlights
MetaStock provides scanning on any stock exchange globally, providing you have the market data package for the region. Screening all trading instruments is possible, including ETFs, Funds, Options, and Forex. Powered by Refinitiv, extensive analyst ratings and 79 core fundamental financial criteria are selectable. In total, 269 technical criteria are available for scanning.
MetaStock is not free software, and for powerful scanning, you will pay $250 per month.  For that investment, you will get the fastest real-time streaming news, industry-leading technical analysis, back-testing, and forecasting.
MetaStock is one of our valued partners, and we have a "3 months for the price of 1" deal, which should save you $500.
★ Bonus: Sign Up For This Service & Get 5 Exclusive Investing Strategy & Research eBooks Valued at $99 ★
---
5. TC2000: Best Stock Screener App
TC2000 specializes in real-time stock screening and charting for the US stock, ETF, and Options markets. The TC2000 EasyScan system enables quick implementation of powerful screening conditions and custom indicators and is the only software with screening available in the Mobile App.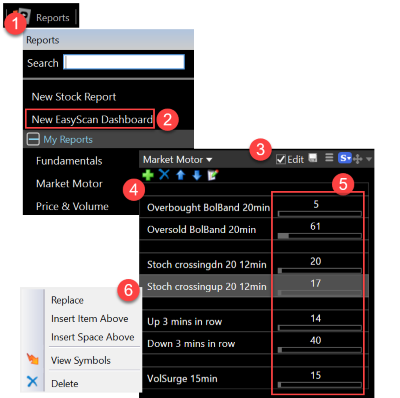 Pros
The Best App for Stock Screening
Excellent Selection of Fundamental & Technical Screening Criteria
Pre-market Stock Screening
Can Create & Scan on Custom Indicators
Ability to Trade from Charts with a TC2000 Brokerage Account
Cons
No News Service
No Social Trading
If you want fundamentals screened in real-time layered with technical screens integrated into live watchlists connected to your charts, TC2000 is a good option.
I selected TC2000 as my tool of choice back in 2000 because it offered the best implementation of fundamental scanning, filtering, and sorting available on the market.  Twenty years later, they are still a leader in stock screening and scanning.
TC2000 offers a large selection of fundamentals to choose from, but what makes it unique is the fact you can, with a few clicks, create your own indicators based on the fundamentals.  You can then overlay the indicators directly on the charts, which opens up a whole new world and technical and fundamental analysis.
Best Stock Screener App: TC2000
Out of all the software we tested, TC2000 has the best mobile app for stock screening. The "TC2000 Easy Scan Stock Scanner" is built directly into the main screen, and you can start a scan simply by selecting the lightning symbol. The ability to run live and pre-market scans directly from your mobile device is unique to TC2000.
In the image to the right, I am scanning for daily volume surges using the mobile app.
Best Pre Market Screener: TC2000
TC2000 allows you to run screening and scanning on pre-market data. When you open the desktop software before market hours, the app asks if you want to load all pre-market data, this allows you to perform advanced screening before the market opens.
TC2000 is available for free so that you can test its capabilities, but to access the EasyScan system for Stocks, ETFs, and Options, you need the Gold Service currently priced at $29.99 per month.
TC2000 is the best integrated of all stock market software as you can effortlessly glide from effective screening on a broad array of fundamental & technical screens to managing your watchlist and directly trading with the TC2000 Brokerage. The Options screening and on-screen options execution is second to none and leading the industry.
The only downside to TC2000 is that it is only available for those who trade the US and Canadian Stock Markets. TC2000 is well suited to Day Traders because its scanning is real-time, and you can trade directly from the charts if you use TC2000 Brokerage.
If you are interested in TC2000, click this button to get a discount on the Liberated Stock Trader PRO Training Course and our Stock Market Crash Detector Book (Combined Value $129)
---
6. Screener.Co: Large Financial Database
Screener.co has a huge financial database making it a good choice for international long-term investors who value customizable access to company fundamental data.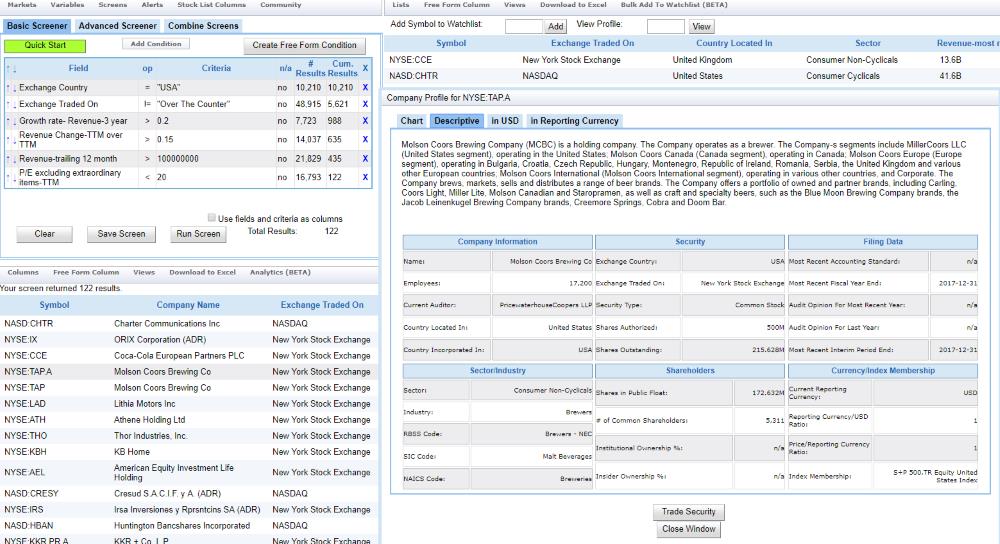 Lenny Grover, the founder of Screener.co, has built a powerful fundamental stock screener using industry-leading Thomson Reuters Data. There is a massive amount of fundamental data, literally everything you ever dreamed of; everything in the financial reports is there and includes detailed breakdowns of each company's details.
Pros
Huge Selection of Fundamental Screening Criteria
Good Historical Database
Can Export Data to Excel
Cons
No News Service
Difficult to Use
Screener.co features a large global universe of securities, so we recommend it for international investors; you can filter and screen on an exchange, index, sector, and even which country or state the company is headquartered in. A robust calculation engine allows non-technical users to create custom screening formulas to query 1,250 built-in metrics.
Screener.co is a fast HTML5 web-based platform that allows rapid iteration when developing screens, unlike Bloomberg's cumbersome EQS. Flexible column sets allow any metrics, including custom metrics, to be displayed in the results table or watchlist view. Screener.co starts at $24.99 per month, comparable to Stock Rover, TC2000, and TradingView Premium Plus.
Screener.Co has solid fundamental screening, the elements I find to be unique are the:
Insider Trading Screens. You can screen for Insider Net Share Bought, Insider Trades, Insider Ownership Percent, Shares Purchased, Buy & Sell  Transactions, and insider shares sold.
Historical Fundamental. Most Stock screeners will only show you the picture now.  Screener.co stored the fundamental data historically also, which is a huge bonus if, for example, you want to track management effectiveness (return on assets) over time.
Extensive Dividend Coverage, Institutional Ownership, and Financial Statements.
Screener.Co is not designed for people looking for Technical Analysis screening.  If you want to scan if the price is above the 200-day simple moving average (SMA) and the Relative Strength Indicator is above its own 20-day exponential moving average (EMA), you cannot do it with this package.  So active Traders need not apply.
Additionally, Screener.Co is not easy to use.  You will need some significant time to sift through the database and learn the names of the specific criteria you are looking for.
[Related Article: Best Financial & News Services For Traders]
---
7. Finviz: Free Screener, Poor Interface
As the name suggests, FINVIZ specializes in financial visualizations. Finviz provides a set of screens to allow clients to see the stock market volume, price trends, and company size in a heatmap format. While this was innovative 15 years ago, many brokers provide this functionality now.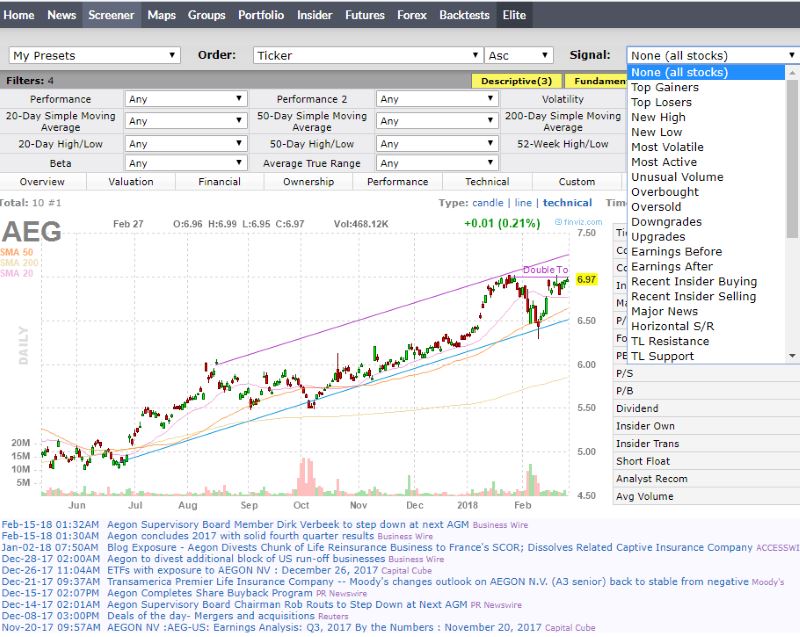 Pros
Screening on insider trades & analyst recommendations
Very simple interface
Fast, responsive website
Cons
Very limited fundamental criteria
Poor user experience
Difficult to build a trading or investing strategy
Finviz has been around a long time, and the platform interface has not changed.
Finviz does provide the ability to scan insider trading, which is unique, and overall the platform is speedy and responsive. The Finviz maps screen looks impressive, allowing you to drill straight into top gainers and losers and the most volatile stocks. The problem is that as a stock screener, it offers only 16 fundamental and technical criteria to select; this severely limits your ability to create coherent trading or investing strategies.
The biggest drawback to Finviz is the inability to select specific criteria. For example, if you want to select two exchanges, the NASDAQ and the NYSE, you cannot, as you can only select one.  This goes for most of the screening selections and is a serious weakness.
---
8. Yahoo Finance: Good Free Stock Screener
With 114 different technical indicators and 52 stock screening criteria, beginners will be well covered with Yahoo Finance.  Yahoo has updated its interactive charting; it is a clean experience and now works full screen.
The interactive charts also now allow you to draw trendlines, linear regressions, and even quadrant lines. A nice new addition is that Yahoo now provides real-time quotes and charts via the BATS system.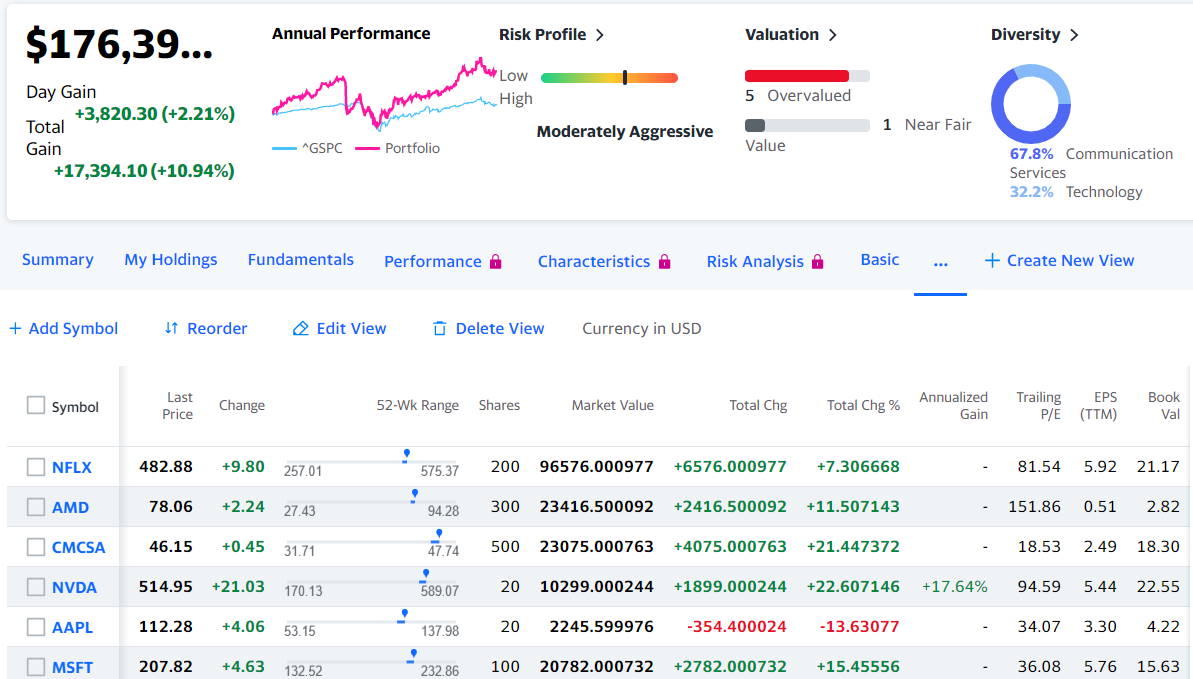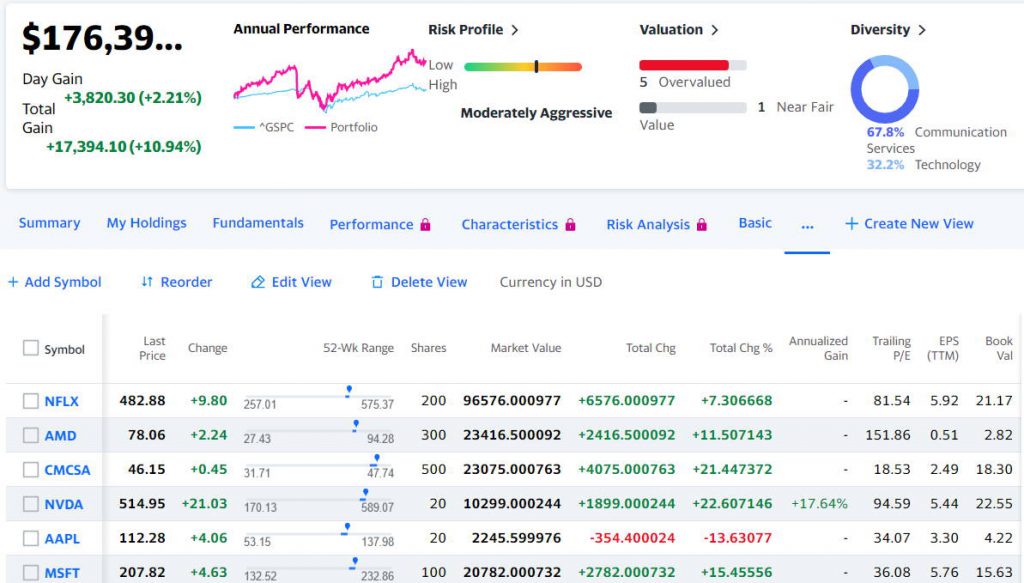 Pros
Good clean user interface
50+ screening criteria
Broker integration for trading
Nice charts
Cons
Overpriced premium plan
Limited technical analysis screening criteria
Yahoo Finance is working hard to make its charting system a worthy alternative to other free vendors. They have done something quite innovative.  You can now trade stocks through the Yahoo Finance charts, which provides an interface to many mainstream US brokers. But ultimately, it does not have an advantage over a broker's standard software. It is a nice feature, but if you have a brokerage account, you will already have access to real-time data, charts, and quotes and can trade directly with them, so it seems a little redundant but still a step forward.
A major downside to the Yahoo Finance stock screener is there are no technical screening criteria, and access to more powerful scanning filters requires the overprice premium service.
---
9. NASDAQ/ZACKS: Simple Free Screener
The NASDAQ Stock Screener has been around for a long time and is powered by Zacks data.  It is the same screener as featured on the ZACKS website.  It is an average fundamental screener that is easy to use and worth it for a quick scan or supplementing your existing charting software with analyst consensus ratings.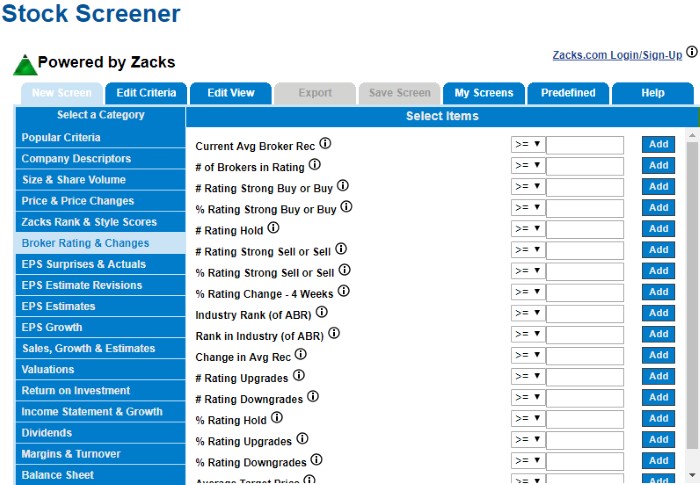 Pros
Good analyst & ratings scanning
Thorough EPS & PE Ratio screening
Good Guru stock screener
Cons
Poor interface
Very limited compared to Stock Rover
No ability to map screening to charts
Zero technical analysis or indicator screening
The NASDAQ stock screener features the Guru Stock screener, which attempts to formulate the criteria from famous investors into a pre-configured stock screen you can use off the shelf. Guru styles implemented include Ben Graham, Peter Lynch & Martin Zweig.  Whether they turn you into the next Warren Buffet is another question.
Additionally, there is a detailed Earnings per Share screening, including Earnings, EPS, Last EPS Surprise %, Previous EPS Surprise %, Avg EPS Surprise (Last 4 Qtrs), Actual EPS used in Surprise ($/sh), Last Qtr EPS, Last Reported Qtr, Last Yr's EPS (F0) Before NRI & Last Reported Fiscal Yr. The screener also features extensive analyst rating filters, including upgrades, downgrades, and rating changes.
The negative of the Nasdaq screener is the severely limited free access. The majority of the selectable criteria require a premium package to be purchased from ZACKS. Finally, there is no technical screening capability.
---
10. CNBC: OK Screener, Poor Interface
Over the last year, CNBC has put some effort into improving its charts and indicators.  Called studies on the CNBC website, there are 90 indicators that you can apply to a chart and even make the chart full screen.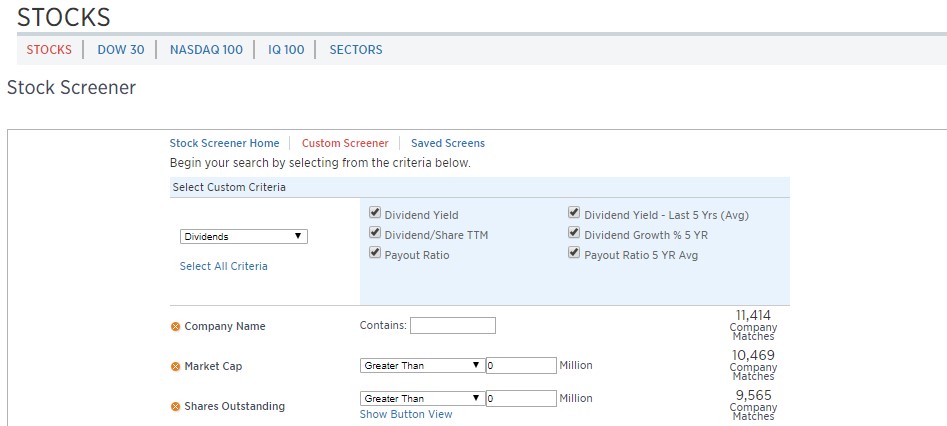 Pros
Cons
Poor user interface
Limited criteria for screening
Can only screen one exchange at a time
CNBC's stock screener has been improved, but if you think this global broadcasting corporation would not settle for anything other than excellent, then you would be seriously wrong.
CNBC's screener has 98 fundamental indicators, including the number of employees, accounts receivable, and other basic metrics. They have also added a watchlist functionality. There is no real-time scanning or screening; this is a click and copy to excel workflow situation. They have a limited stock universe, focusing only on North America.
---
Summary & Comparison
Stock Rover is the Best Stock & ETF Screener in the USA, with a 10-year historical database, back-testing, ratings, and in-depth research & portfolio management capabilities. TC2000 has excellent real-time USA market scanning. MetaStock & TradingView are the best screeners for day traders covering global stock markets.
| | | | | | |
| --- | --- | --- | --- | --- | --- |
| Stock Screeners  | Stock Rover | TradingView | Trade-Ideas  | MetaStock | TC2000 |
| Best for: | Investors | Traders | Day Traders | Traders | Traders |
| Free Stock Screener | ✔ | ✔ | ✘ | ✘ | ✔ |
| Paid/Premium Screener | ✔ | ✔ | ✔ | ✔ | ✔ |
| Financial Screening | ✔ | ✔ | ✘ | ✔ | ✔ |
| 10-Year Financials | ✔ | ✘ | ✘ | ✔ | ✘ |
| Portfolio Management | ✔ | ✘ | ✘ | ✘ | ✘ |
| Technical Chart Scanning | ✘ | ✔ | ✔ | ✔ | ✔ |
| AI Stock Screening | ✘ | ✘ | ✔ | ✔ | ✘ |
| Stocks & ETFs | ✔ | ✔ | ✔ | ✔ | ✔ |
| FX/Commodity Screening | ✘ | ✔ | ✘ | ✔ | ✘ |
| USA & Canada | ✔ | ✔ | ✔ | ✔ | ✔ |
| Global Market Data | ✘ | ✔ | ✘ | ✔ | ✘ |
---
How to Beat the Stock Market With Stock Rover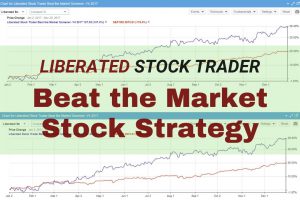 I love Stock Rover so much that I spent 2 years creating a growth stock investing strategy that has outperformed the S&P 500 by 102% over the last eight years. I used Stock Rover's excellent backtesting, screening, and historical database to achieve this.
This Liberated Stock Trader Beat the Market Strategy (LST BTM) is built exclusively for Stock Rover Premium Plus Subscribers.
---