Our Portfolio123 review reveals powerful portfolio management, a 10-year screening database, flexible reporting, and fast backtesting. Portfolio123 offers a unique mix of technical and fundamental signals, but it will take time to learn.
The selection of financial ratios and a 10-year historical database provide plenty of data for your investing strategy development, but there are drawbacks.
Portfolio123 Review Test Results & Ratings
| | |
| --- | --- |
| Portfolio123 Rating | 4.3/5.0 |
| 💸 Pricing & Software | ★★★★★ |
| 📡 Screening | ★★★★★ |
| 📰 News & Social | ★★★✩✩ |
| 📈 Charts | ★★★★✩ |
| 📰 Portfolio & Research | ★★★★★ |
| 🔍 Backtesting | ★★★★★ |
| 🖱 Usability | ★★★✩✩ |
Portfolio123 Review Summary
The results of this Portfolio123 review show impressive stock screening, software with a robust financial database, and integrated commission-free trading with Tradier. Portfolio123 can be used by income, value, and growth investors but is also advantageous for swing traders.
Portfolio123 covers stocks, fixed income, and ETFs on US & Canadian exchanges, so it is unsuitable for international stock investors. With Portfolio123, you can design a real-time trading strategy, fully automated with a broker, that will hold the stocks that pass your screen and sell those that don't.
Portfolio123 Review: Key Features
| | |
| --- | --- |
| ⚡ Features | Screening, Research |
| 🏆 Exceptional Features | Trading, Backtesting |
| 🎯 Best for | Experienced Investors |
| ♲ Subscription | Monthly, Yearly |
| 💰 Price | $0-$83/mo |
| 💻 OS | Web Browser |
| 🎮 Trial | 21 Days for $9 |
| ✂ Discount | None |
| 🌎 Region | USA/Canada |
We independently research and recommend the best products. We also work with partners to negotiate discounts for you and may earn a small fee through our links.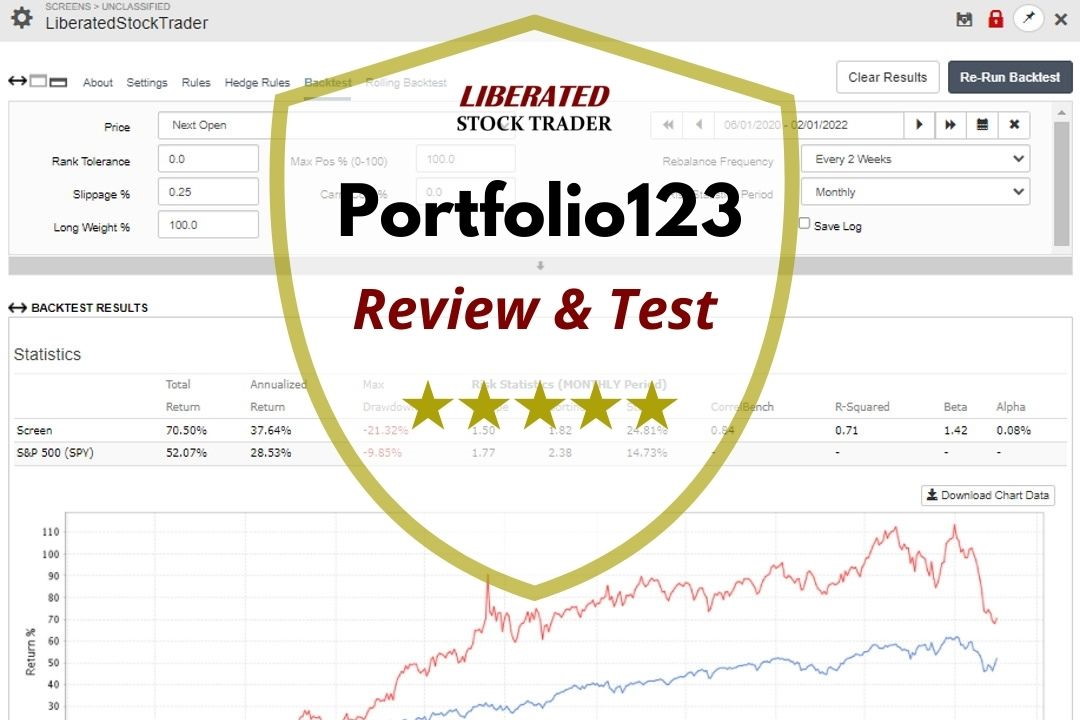 What is Portfolio123?
Founded in 2004 by Marco Salerno, Portfolio123 is a Chicago-based company providing stock screening, stock research, and portfolio management software. Targeted at individual investors, Portfolio123 enables value, income, and growth investors to target their investments and manage their portfolio of stocks.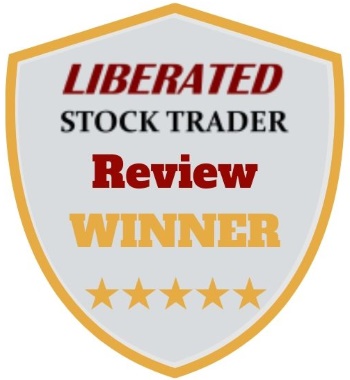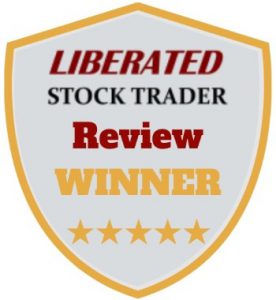 Portfolio123 Pros
470+ Screening Metrics
10-Year Backtesting Engine
Unique 10 Year Historical Data
Pre-built Model Screeners
260 Financial Ratios
Integrated $0 Trading
Portfolio123 Cons
No Integrated News
Initially Complex To Use
Missing Fair Value & Margin of Safety Metrics
Technical Analysis Charting Needs Improving
Portfolio123 Review Video
Portfolio123 Pricing
Portfolio123 pricing starts at $0 for the Free plan, Screener costs $25/mo, and Pro costs $83/mo. You can have Portfolio123 for free; however, the real power of Portfolio123 is unleashed with the Screener and Pro service. Their Screener and Pro service pricing is in-line with competition and competitive considering the benefits on offer.
Portfolio123 Free
Portfolio123's Free plan allows ad-free broker integration for trading with Tradier or Interactive Brokers. The Free plan is ideal for investors seeking fundamental charting, an earnings calendar, and a consolidated view of multiple brokerage accounts.
Portfolio123 Screener Plan
Portfolio123's Screener plan costs $25/mo and provides access to the entire financial database and 5 years of historical company financials. This plan includes screening on all stocks and ETFs with 460+ financial, technical, and sentiment metrics.
Portfolio123 Pro Plan
Portfolio123 Pro costs $83/mo and provides very granular system development using specific buy and sell rules, rolling backtesting, and 20 years of backtesting data. I would only recommend this for the most hardcore stock strategy developer.
I strongly recommend going for the Portfolio123 Screener Plan for $25 per month unless you are a very demanding trading system developer.
Portfolio123 Coupon Code
Portfolio123 does not offer coupon codes for its stock research software.
Portfolio123 Platform
Portfolio123 runs on PC, Mac, Tablets, and Smartphones and requires zero installation; it simply works. The market data, scoring, ranking, and analysis are only for the USA & Canadian markets. When you register with Portfolio123 and log in, you are greeted with the dashboard, which gives you an instant market performance breakdown, but more importantly, shows you your portfolio performance.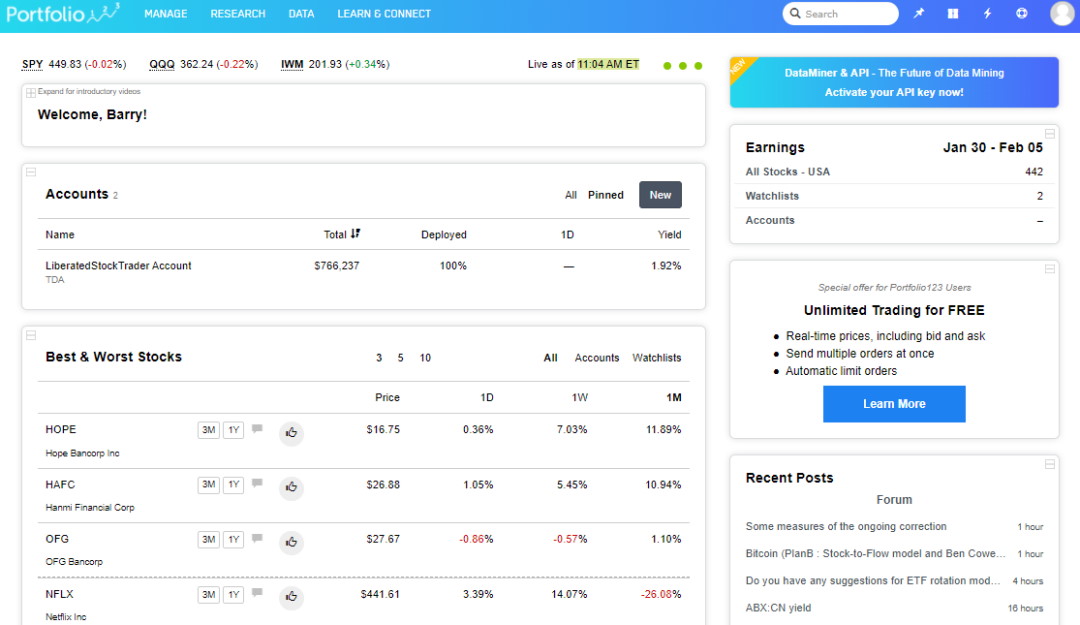 Portfolio123 App & Download
Portfolio123 is a modern cloud-based software architecture, meaning that there is no client software to download and install, and all the stock exchange data resides on the vendor's servers in the cloud. The charting and visualization are all stored and computed in the cloud, and any chart you want to visualize is streamed to your client device.
Currently, there is no specific Android or Apple App for Portfolio123. Portfolio123 is best accessed via a PC, Mac, or Tablet Device.
Portfolio Management
With Portfolio123, you get tight broker integration with Tradier and Interactive Brokers. You cannot place trades from charts, but you can automate trading based on rules or issue bulk traders, plus Portfolio123 will take care of profit & loss reporting.
| | |
| --- | --- |
| Portfolio123 Portfolio Features | Portfolio123 |
| Watchlist Tracking | ✓ |
| Research | ✓ |
| Profit & Loss Reporting | ✓ |
| Performance Reporting | ✓ |
| Portfolio Rebalancing | ✓ |
| Portfolio Asset Allocation | ✓ |
| Broker Integration | ✓ |
| Future Dividend Reporting | X |
Portfolio123 Screener
The Portfolio123 screener allows you to filter 10,000+ stocks and 44,000 ETFs to help you find the investments or trades that match your exact criteria. Portfolio123 also has ranked screening which enables you to rank the stocks that best match your criteria, filtering a list from hundreds of stocks to a handful. You can also define your custom universes, setting the macro criteria for which stocks are included in the sample.
Most ideas you have based on fundamentals will be covered with over 225 data points. Portfolio123 has 460 criteria, including analyst revisions and estimates and technical data.
You can also use Portfolio123 to screen stocks on their performance relative to the S&P500 or any other benchmark, meaning you could develop a strategy to select stocks based on their historical performance versus the market.
The number of factors available for screening is impressive. Not only can you screen based on reliable information from a company's financial reports, but you can access technical factors, create your factors using period and announcement dates, eliminate stocks with high bid-ask spreads, limit your screen to stocks in a certain industry or sector, rank factors against other stocks in an industry or sector, and change your factor balance depending on economic conditions.
Here is a very complex screening strategy I developed using Portfolio123; as you can see, it is extremely powerful and flexible, with almost limitless rules and conditions.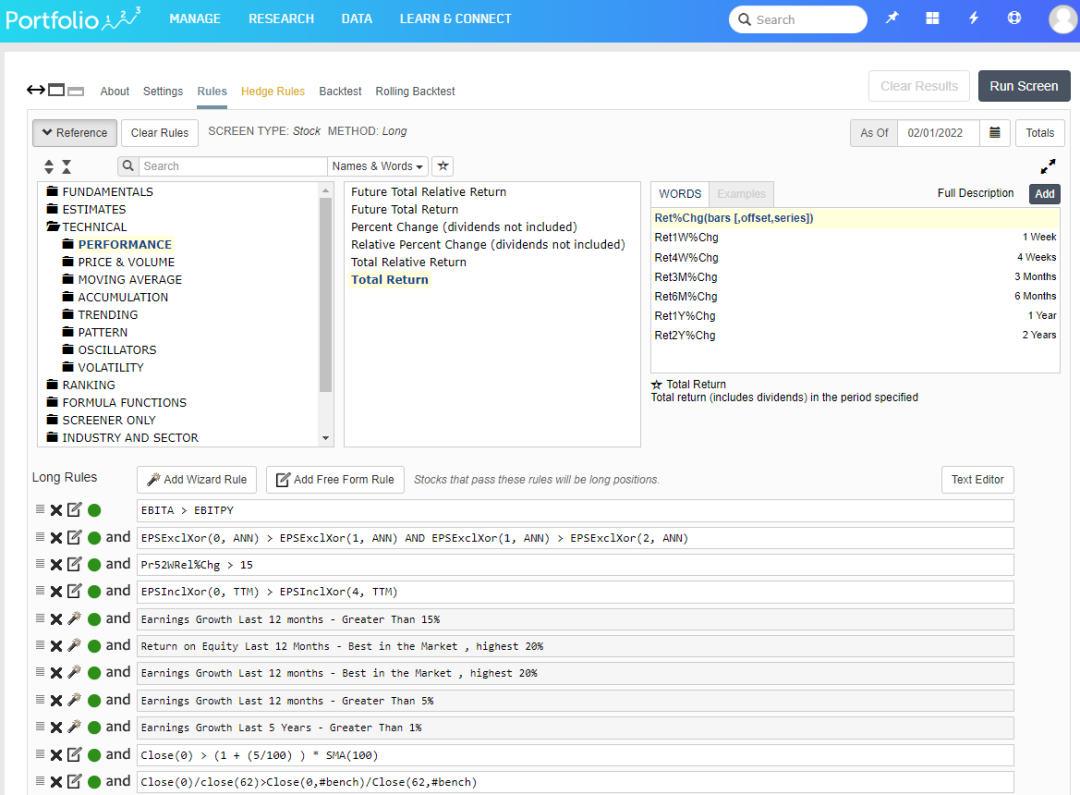 Building your Portfolio123 screener is theoretically easy; select Research -> Screens, and you can start to play. No programming skills are required to build a Portfolio123 screener, but basic coding will certainly help. If you want to create more powerful screening rules, you will need to spend significant time studying the coding logic and understanding the proprietary criteria names.
Portfolio123 Backtesting
Portfolio123's backtesting engine is where the software shines. Expertly implemented, fast, and extremely configurable, Portfolio123 has the best backtesting service for people serious about testing fundamental strategies.
Portfolio123 enables you to be very granular in how you set up your backtest, with entry rules, slippage, weighing, rebalance frequency, and custom timeframes.
The Portfolio123 screener is built to make users test not just pre-built concepts but all sorts of hypotheses. You can use your own universe, rank with your multi-factor rank, and run backtests or rolling backtests.
The Portfolio123 screener relies on great data, and they have been working hard to overcome the pitfalls of financial data such as N/A numbers in sparse preliminary reports. Our pre-built factors handle N/A's efficiently and use alternate algorithms to come up with the best possible result. In a nutshell, great data isn't an overnight project; they've been working on data since 2004.
The image below shows the LiberatedStockTrader screener I developed in the previous section. I backtested the screener for two years to see how it performs historically. In this particular timeframe, my screener beat the market, returning 70.5% versus the S&P500's 52%.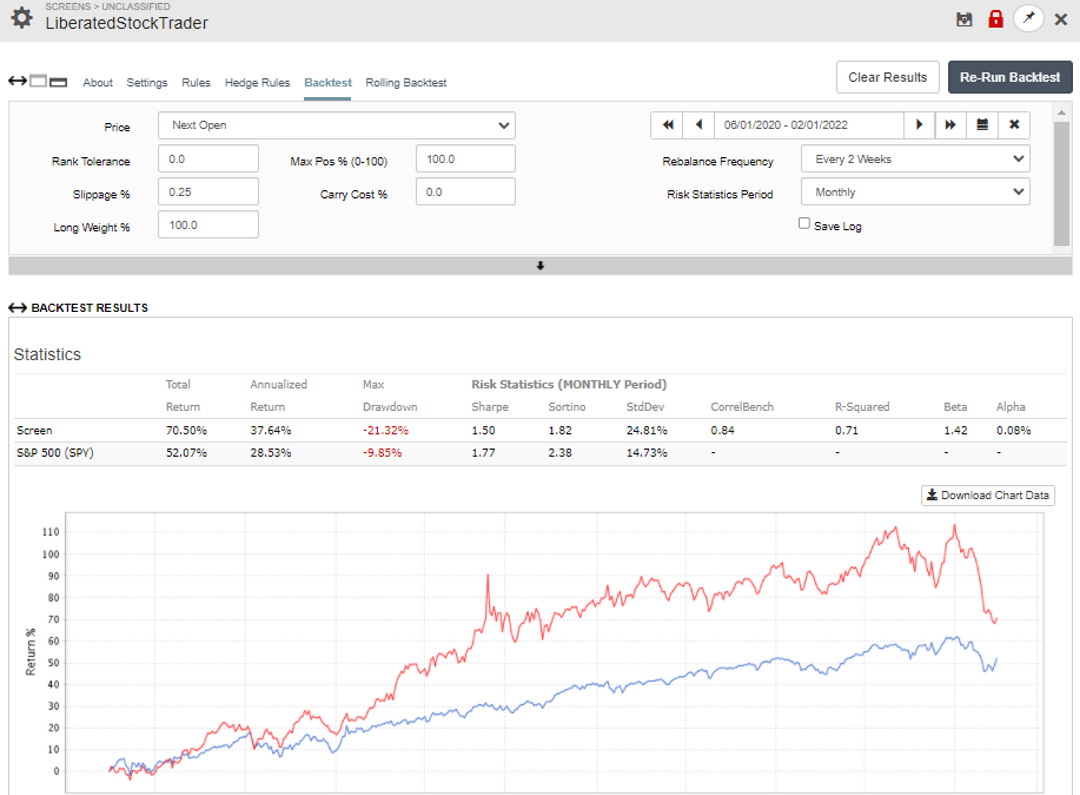 Pre-Built Screeners Integrated into Portfolio123
Portfolio123 has over 76 pre-built screeners that you can import and use. You need to have the Screener subscription plan service to take advantage of this. I have personally reviewed many of them, and they are very thoughtfully built. One of my favorites is the "Small Cap Winners" screener.
The Small-Cap Winner strategy had a 5-year return of 189% versus the Russell 2000 return of 58%, very impressive.
The Small-Cap Winner strategy "attempts to balance growth, value, quality, and sentiment factors, using ones that have worked well for small-cap stocks. It has high turnover as it relies a great deal on the most recent quarterly earnings announcements and, via sentiment ranking, analyst estimates and recommendations".
Portfolio123 News & Community
Portfolio123 has a news tab for your watchlist, primarily providing news from Yahoo Finance. While this is nice because the news is filtered on your watchlist constituents, it is not a full news service. In terms of community, there is a basic old-school forum for asking questions and reporting problems, but this is not comparable to TradingView's powerful social network.
As a long-term investor, real-time news is not a priority. If real-time is a priority for you, you can subscribe to Benzinga Pro News separately. Finally, there is no perceivable service within Portfolio123 regarding social chat and idea-sharing.
Stock Charting & Technical Analysis
Looking at stock charts with Portfolio123 is different from all the other software vendors on the market. Whereas MetaStock & TradingView focuses on hundreds of technical analysis (price/volume) indicators, Portfolio123 focuses on charting the fundamental financial strength indicators.
With over 160 different financial indicators and only two technical analysis indicators, Portfolio123 is not the best technical analysis or frequent trading charting service. Still, it is the complete package for fundamental income, growth, and value investors. There are no possibilities to draw trendlines or annotate charts in Portfolio123.
The one redeeming factor in Portfolio123's charting is the Multi Charts, which enable you to plot and compare over 108 economic indicators, such as:
SP500 Shiller Dividend
SP500 Shiller Earning
SP500 Yield
CPI All Urban Consumers: All Items
Gold Price in London Bullion Market, USD
S&P Case-Shiller 20-City Home Price Index
3-Month Interbank Rate (CHF)
BofA Merrill Lynch US Corporate AAA Effective Yield©
BofA Merrill Lynch US High Yield B Effective Yield©
Delinquency Rate On Credit Card Loans, All Commercial Banks
Delinquency Rate On Single-Family Residential Mortgages
3-Month Interbank Rate (EUR)
Effective Federal Funds Rate
Is Portfolio123 Easy to Use?
Portfolio123 is easy to use but not easy to master. It will take time for you to understand the layout and create powerful screening strategies. While the pre-built screeners help with ease of use, you will need to invest time if you want to create anything truly customized. Additionally, the charting is limited and unintuitive, slowing you down.
Portfolio123 Test Results
Portfolio123 is an excellent screening and backtesting platform ideal for swing traders and medium-term growth investors. An incredible selection of fundamental criteria, a 20-year financial database, plus the most powerful financial backtesting engine makes Portfolio123 a great choice for experienced stock system developers.
Open An Account With Portfolio123
---
Beat The Market, Avoid Crashes & Lower Your Risks
Nobody wants to see their hard-earned money disappear in a stock market crash.
Over the past century, the US stock market has had 6 major crashes that have caused investors to lose trillions of dollars.
The MOSES Index ETF Investing Strategy will help you minimize the impact of major stock market crashes. MOSES will alert you before the next crash happens, so you can protect your portfolio. You will also know when the bear market is over, and the new rally begins so you can start investing again.
MOSES Helps You Secure & Grow Your Biggest Investments
★ 3 Index ETF Strategies ★
★ Outperforms the NASDAQ 100, S&P500 & Russell 3000 ★
★ Beats the DAX, CAC40 & EURO STOXX Indices ★
★ Buy & Sell Signals Generated ★
MOSES Helps You Sleep Better At Night Knowing You A Prepared For Future Disasters
---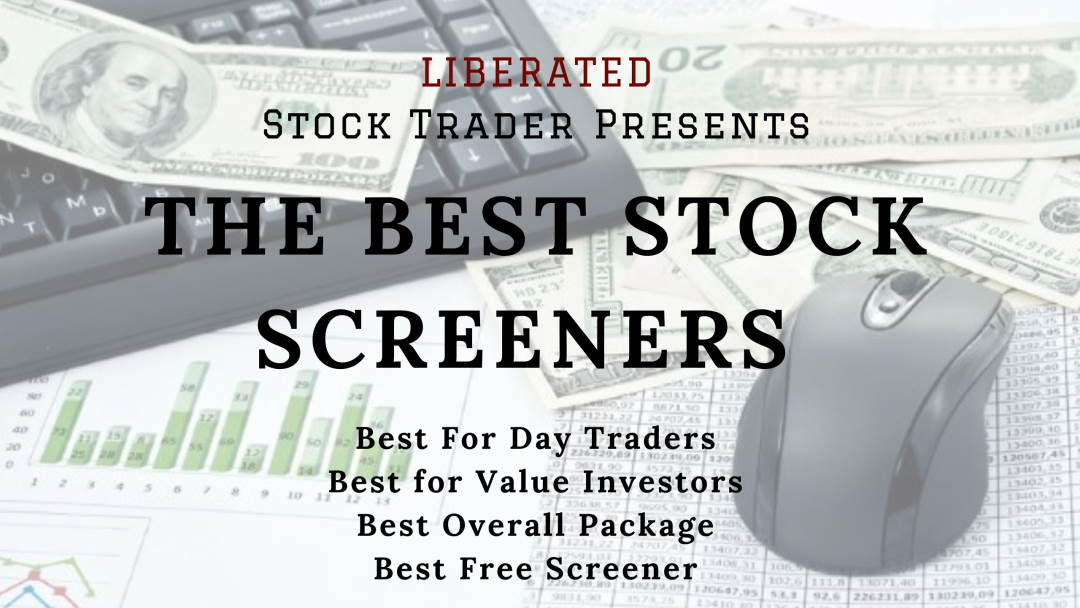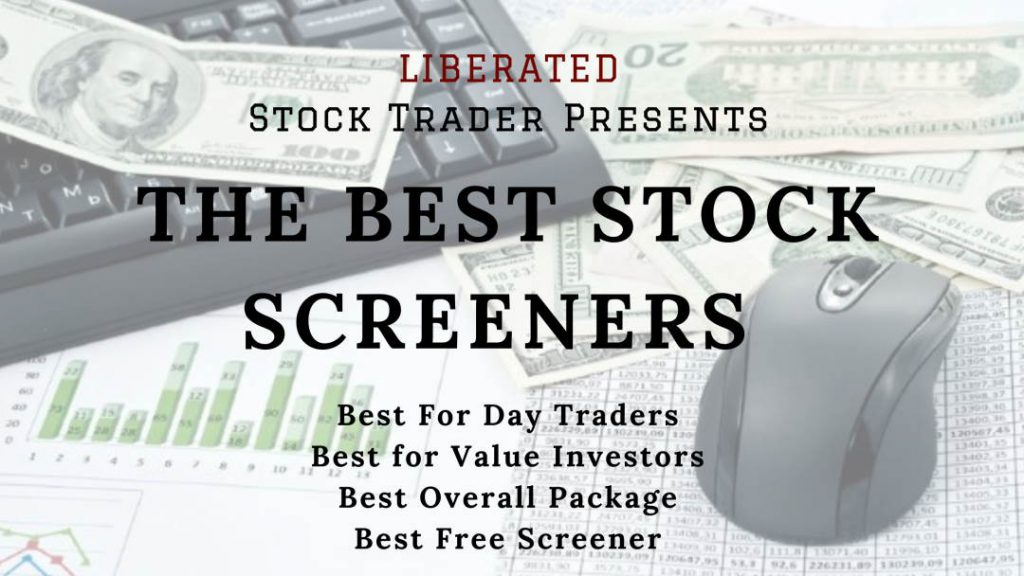 Are You Looking For Stock Investing & Trading Software? Here Are My Favorites.
My favorite
software for trading
is
TradingView
because it does everything well. It has backtesting, great charts, stock screening, and an active community of over 3 million people sharing ideas, plus a free plan available globally.
My favorite
software for investing
is 
Stock Rover
, as it specializes in deep fundamental financial screening, research, and portfolio management. It is the ideal platform for dividend, value, and growth investing.
My favorite
software for stock market news
is
Benzinga Pro
, with its super-fast real-time news engine, squawk box, and news impact ratings.
My favorite
AI trading software
is
TrendSpider
which enables automatic pattern recognition for Trendlines, Candlesticks, and Fibonacci levels.
Trade Ideas
uses AI to generate high probability daily trading signals for auto-trading.
My favorite
stock-picking service
is
Motley Fool Stock Advisor
, which has a proven track record of beating the market with excellent stock research reports.
Read the Full Top 10 Stock Market Software Testing & Review
Portfolio 123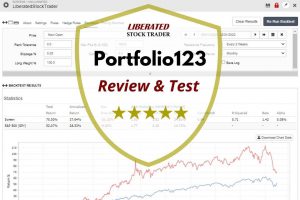 Our Portfolio123 review reveals powerful portfolio management, a 10-year screening database, flexible reporting, and fast backtesting. Portfolio123 offers a unique mix of technical and fundamental signals, but it will take time to learn.
Product SKU: Portfolio123
Product Brand: Portfolio123
Product Currency: USD
Product Price: 0.00
Price Valid Until: 2025-02-02
Product In-Stock: InStock