Our MetaStock review testing reveals powerful charting, system backtesting, forecasting, and Xenith real-time financial news for traders. MetaStock has unbeatable charts, indicators, and drawing tools, but it needs to be a little easier to use.
MetaStock is designed for traders who demand powerful scanning, screening, system backtesting, and forecasting. The MetaStock Refinitiv Xenith service adds fast real-time global financial news. MetaStock is one of the best pure-play technical analysis platforms on the market.
As a professional market analyst with IFTA, I have been using MetaStock for the last nine years, and I can say that the latest release of Metastock is a big hit.
MetaStock Review Test Results & Ratings
| | |
| --- | --- |
| MetaStock Rating | 4.4/5.0 |
| 💸 Pricing & Software | ★★★★★ |
| 🚦 Trading | ★★★✩✩ |
| 📡 Screening | ★★★★★ |
| 📰 News & Social | ★★★★★ |
| 📈 Charts & Analysis | ★★★★★ |
| 🔍 Backtesting & Forecasting | ★★★★★ |
| 🖱 Usability | ★★★✩✩ |
MetaStock Review Summary
This MetaStock review and test reveal an excellent technical analysis charting platform for traders, with 300+ charts and indicators for stocks, ETFs, bonds & forex globally. Metastock has innovative backtesting and forecasting, and Refinitiv/Xenith provides powerful real-time news and screening.
MetaStock is best for traders who need excellent real-time news, exceptional technical analysis, and a vast stock systems marketplace with global data coverage; all backed up with excellent customer service.
MetaStock Review: Key Features
| | |
| --- | --- |
| ⚡ Features | Charts, Watchlists, Scanning, Backtesting |
| 🏆 Unique Features | Forecasting, Real-time Global Trading News (Multi-language) |
| 🎯 Best for | Stock, Fx & Commodity Traders |
| ♲ Subscription | Monthly, Yearly |
| 💰 Price | $59-$250/mo |
| 💻 OS | PC |
| 🎮 MetaStock Free Trial | 30-Day Free Trial |
| ✂ Discount | 3 Months for 1 |
| 🌎 Region | Global |
We independently research and recommend the best products. We also work with partners to negotiate discounts for you and may earn a small fee through our links.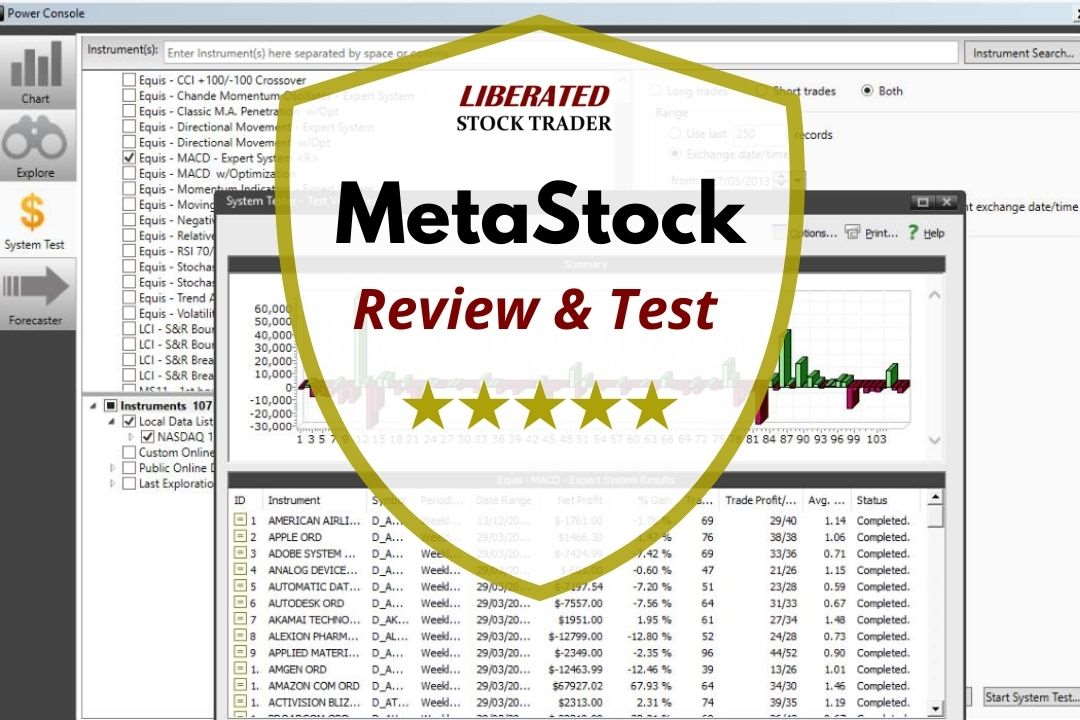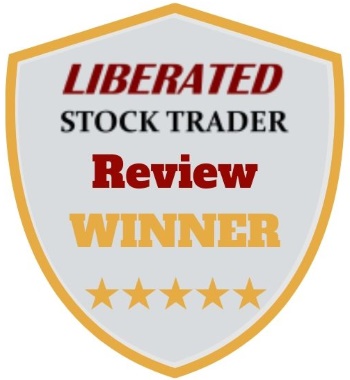 MetaStock Pros
Great Selection of Automated "Expert Advisors"
Excellent Deep Backtesting
Unique Stock Price Forecasting
Large Library of Add-on Professional Strategies
Best Charts, Indicators & Real-Time News
Xenith Add-On Rivals Bloomberg Terminals
Great Customer Support & Educational Webinars
Works Online & Offline
MetaStock Cons
Takes Time To Learn
Old School Windows App Design
What is MetaStock?
MetaStock is a stock market technical analysis and charting service with over 300 types of charts and indicators. MetaStock D/C provides end-of-day exchange data, and MetaStock R/T adds real-time intraday Refinitiv data. The Xenith add-on provides global real-time news and fundamental financial screening.
MetaStock has industry-leading stock backtesting and forecasting capabilities and charts stocks, ETFs, indices, bonds & currencies globally.
MetaStock Price
MetaStock pricing is $59/m for MetaStock D/C daily charts, providing end-of-day data and full technical analysis services. MetaStock R/T costs $100/m and adds real-time data for charts. For real-time news and powerful global fundamental screening, the Xenith add-on costs an extra $150/m.
For traders performing chart analysis and backtesting on end-of-day data, MetaStock D/C is a good option. Demanding traders will opt for MetaStock R/T because it is the most powerful trading solution outside a Bloomberg terminal, costing seven times the price.
MetaStock R/T plus Xenith costs $250/m, which means you get real-time data, news, and fundamentals powered by Refinitiv is the gold standard of international financial data worth $29 billion and is a subsidiary of the London Stock Exchange.
Is MetaStock Free?
MetaStock is not free, and there is no free tier of service for customers. It is possible to have a free 30-day trial of MetaStock R/T and MetaStock Xenith.
MetaStock Software
MetaStock's latest version is 18, with upgrades and improvements in OptionScope, and Power Console, plus two new trading systems for free. Performance Systems Plus is MetaStock's best-selling system ever and is now included for free, plus the Daryl Guppy ATR indicators.
MetaStock is designed for the PC but can be run on Mac with PC emulation software. You will need to download and install MetaStock and configure your specific data feeds for the markets you want to trade. So the software installation is not as slick and quick as competitors.
Still, the package is potent because it enables you to configure different data providers, like your broker.

MetaStock has a clean sweep in terms of stock exchanges covered (e.g., all of them), and it covers all of the vehicles, Stocks, ETFs, Mutual Funds, Options, Futures Forex, and Bonds.
Metastock is different from other vendors because their software runs locally on your PC, and you can buy one-off licenses and avoid monthly payments. They also operate a marketplace where professional traders sell their stock trading systems and signals as add-ons to MetaStock.
MetaStock is one of the biggest fish in the sea of stock market analysis software and is partnered with Thomson Reuters/Refinitiv so that you can expect excellent fast global data coverage.
MetaStock Xenith vs. Eikon
Xenith and Eikon provide investors with cutting-edge market data and real-time news in 14 languages globally. MetaStock's Xenith product is similar to Refinitiv's Eikon product but much cheaper. Refinitiv resells a retail investor version of the Eikon service to MetaStock customers at a discount.
MetaStock Discount Code
Metastock provides a 30-day free trial for new customers, which can save up to $250. Our MetaStock partnership secures a special 3 months for the price of 1 offer for our readers for MetaStockR/T and Xenoth, which is a $500 saving.
Special 3 for 1 Discount Code Link.
-
Video: MetaStock Xenith Review
MetaStock R/T + Xenith. Charts & Analysis Overview Video
Trade Management
MetaStock is broker agnostic, meaning it does not provide broker integration, execution of trades from charts, or live integrated profit and loss analysis. You will need to enter your trades into a broker's platform independently.
The lack of broker integration is an area for improvement for MetaStock. MetaStock excels at providing stock trading systems to provide signals and powerful technical analysis.
Scanning & Screening
For the best market scanning and screening, you need to have MetaStock R/T, including MetaStock's Xenith platform. Xenith integrates real-time data from Refinitiv, real-time news from Reuters, and global financials to provide the most powerful scanning and screening available to retail investors.
MetaStock R/T has an incredible database of global fundamental data, not just on companies but countries, economies, and industries. The filtering and scanning possibilities are endless.
I want better integration between MetaStock and the Xenith software, which combines the fundamentals and the technical analysis to enable better charting and technical analysis on fundamentals. However, the wealth of data is first class.
Using Xenith, you can see an in-depth analysis of company fundamentals from debt structure to top ten investors, including level II market liquidity. Watchlists featuring fundamentals and powerful scanning of the markets are outstanding.
MetaStock Refinitiv Xenith News
MetaStock Refinitiv Xenith has full Refinitiv integration providing institutional-level news, analysis, and outlook. This is the fastest global news service available on the market, including translations into all major languages.
Reuters also provides TV news coverage through smartphone and smart TV applications; after all, it is the largest news agency in the world. You get Reuters Insider alerts along with the package, which is exclusive content and research provided by the expert analysts on the financial network team.
Included in MetaStock R/T are detailed company financial snapshots, stock quotes, charts, detailed analyst estimates, and a full listing of all financial details and SEC filings, complete with upcoming events listings, so you are prepared for action.
As you can imagine, Thomson Reuters covers everything, including stock, options, bonds, futures, FX, and macroeconomic news and data. An unparalleled source of information.
In the image below, you see Xenith streaming news screen for Netflix. Take a look at the attention to detail and the amount of original news coming in from the Reuters Network; you will get this news before anyone else.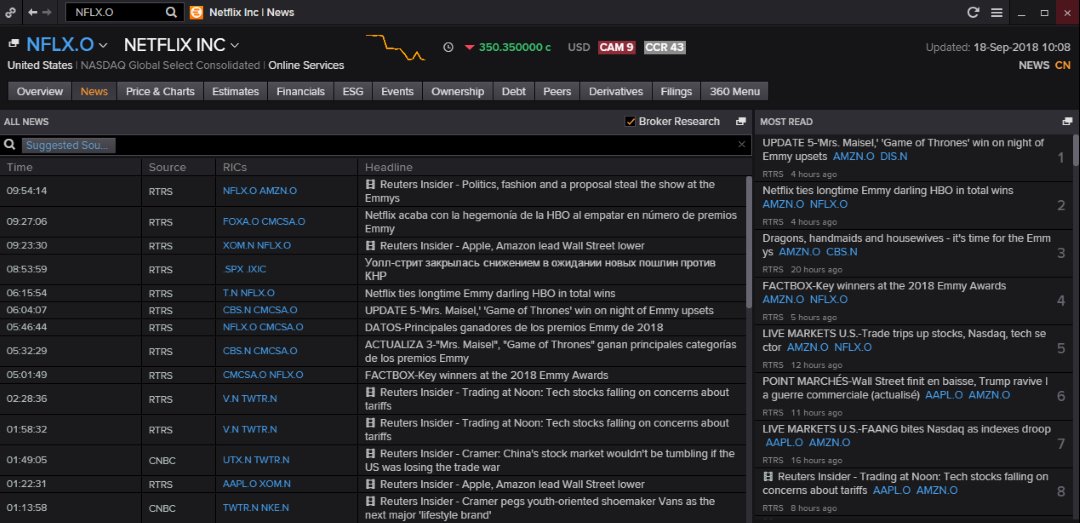 Technical Analysis
MetaStock is the industry leader in pure technical analysis of charts, with over 300 price and volume indicators, including Darvas Box, Gann, Fibonacci, and Ichimoku Cloud. Charting includes all core chart types plus Point & Figure, Equivolume, and Market Profile.
You can develop indicators based on their coding system or ask MetaStock to help you. That brings us nicely to backtesting.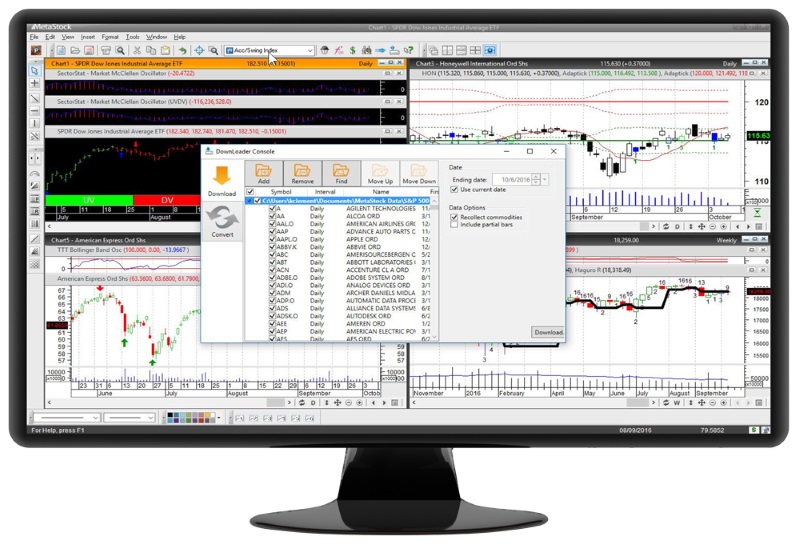 Systems and Backtesting
MetaStock harnesses "Expert Advisors," inbuilt systems to help you understand and profit from technical analysis patterns and well-researched systems. Essentially expert advisors are stock market trading strategies designed to provide trading signals.
As you launch MetaStock, you will be presented with the power console. Select System Test, and you will have access to 58 different systems you can backtest. I selected the MACD Expert System in the example below and ran it on the entire Nasdaq 100.
After 60 seconds, the backtest was completed and presented me with a list of every buy or sell trade and, of course, the capital drawdown backtested by the strategy. You can click through any trade to see the trade background, size, duration, and profit or loss.
Of course, the inbuilt systems will not make you super-rich; the reason you want to backtest and develop your own winning system is to get an edge in the market. With some scripting or programming skills, you will achieve this with MetaStock. If you do not have programming skills, you can ask MetaStock or one of a considerable number of MetaStock Partners to assist you in building your system.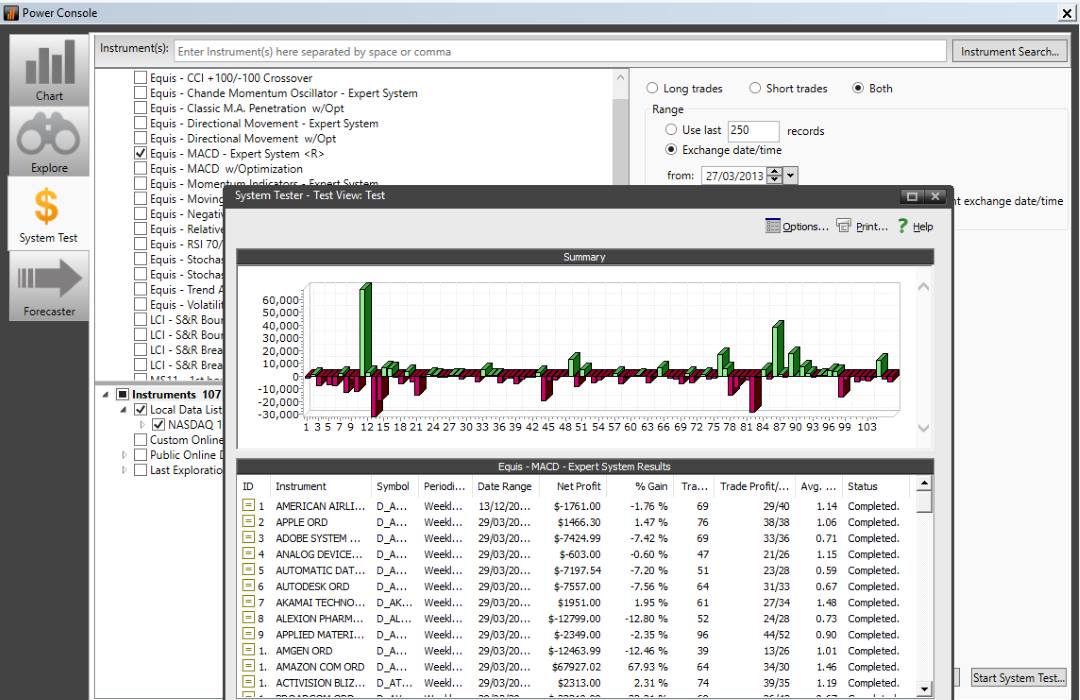 Many premium stock trading systems for MetaStock are also sold by their partners and are usually backed up with training and webinars to support their clients.
MetaStock Add-Ons
MetaStock Add-ons are specific trading systems for day, swing, and trend trading of stocks, ETFs, Fx, and Options. There are over 90 add-ons designed to help traders make better trading decisions, so whatever your trading style, there is a strategy for you. MetaStock version 18 also includes the powerful Performance Systems Plus, their best-selling system ever, for free.
MetaStock Forecaster
The MetaStock Forecaster is unique in the industry because it allows you to use hundreds of different strategies to predict the future price of stocks. The forecaster analyzes past events and the impact on the stock price and forecasts that into the future.
The most significant addition to the MetaStock arsenal is the forecasting functionality, which sets it apart from the crowd.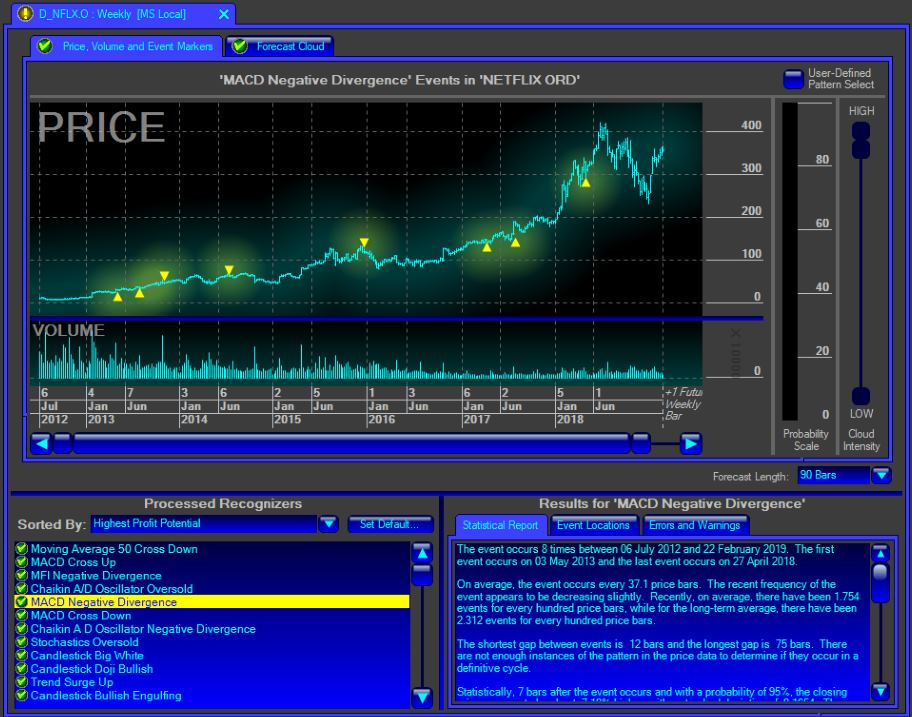 The forecaster strategies are called recognizers, and there are over 70 recognizers available to use. Recognizers are based on common technical chart setups like new 52-week highs or lows, candlestick patterns, or MACD crossovers.
You are then presented with an interactive report which enables you to scan through the many predictive recognizers, which help you plan for realistic outcomes and profits for a particular trade setup. Take a look at this video to understand the MetaStock Forecaster better.
MetaStock Forecaster Video
Try MetaStock With a 3 Months for 1 Month Deal
You can even use artificial intelligence-like functionality to test a set of variables within your backtesting. For example, you could test if the price moves above the moving average of 10, 14, or 20 in a single test to see which moving averages work best with that stock.
MetaStock is one of the few vendors that take forecasting seriously. The system backtesting is excellent because it allows you to test if a theory, idea, or set of analyses has worked in the past. Forecasting takes it to a whole new level by playing forward the backtesting to see how successful you might be with a strategy under certain circumstances. The configurable nature of the backtesting and forecasting reporting is excellent.
Forex forecasting based on sentiment is an exceptional feature. The most significant advantage of MetaStock is the forecasting functionality, which sets it apart from the crowd.
MetaStock Intraday & Real-time Data
The MetaStock R/T (Real-time) software includes intraday and real-time data for $150 per month. If you want real-time news and fundamental data, you must purchase MetaStock R/T plus Xenith, which costs $250 per month.
MetaStock forex data costs $99 per month, but you can save money with the worldwide futures, commodities, & derivatives data package for only $75 per month.
If you do not need real-time intraday data, the MetaStock D/C (Daily Charts) software will save you a lot of money, costing only $59 per month.
MetaStock Candlestick Recognition
MetaStock does not provide automatic Candlestick recognition natively, so you will need to buy the add-on called "Greg Morris' Japanese Candle Recognition" for a one-off payment of $349. Greg Morris is seen as one of the global authorities on Japanese Candlestick trading and published on the topic.
With this add-on, you get a sophisticated trading system with full candlestick backtesting, analysis, and signals. The add-on forecasts the direction of the next move in stock price and the probability of the Candlestick signal being successful.
The probability rating of the Candlestick recognition success is absolutely critical, and no other software offers this level of the professional Candlestick trading system.
You can see that this signal (highlighted in yellow) predicts a 77% chance of success in the image below.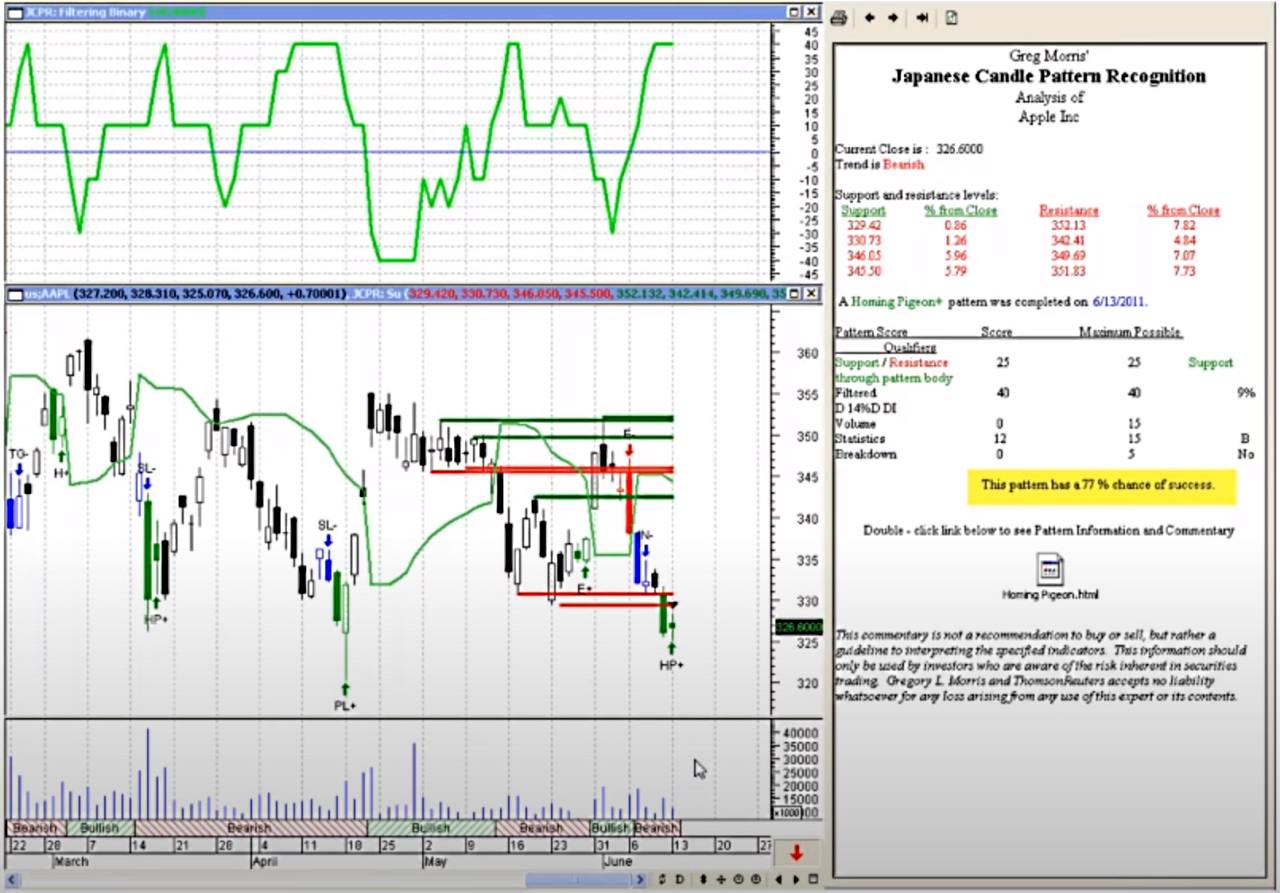 You get forecasting of the direction of the next move in stock price and also the probability of the Candlestick signal being successful
Is MetaStock Easy to Use?
No, MetaStock is not easy to use because it feels like a collection of separately developed applications that require user education to make them work together. However, the vast selection of automated "expert advisors" you can deploy on the range of stocks in your purview makes MetaStock well worth the time to learn.
Summary: MetaStock Review
My recommendation for any investor or trader is to go for MetaStock R/T + Xenith. The depth of fundamental research and news in Refinitiv Xenith is staggering, and the in-depth analysis, backtesting, and forecasting in MetaStock is industry-leading.
If $250 per month for the MetaStock R/T Xenith Package is too much, fear not. If you want the end-of-day data and all the MetaStock functionality, the price starts at a reasonable $59 per month. You can even buy one-off licenses if you prefer.
Is MetaStock Worth It?
Yes, MetaStock is worth buying if you need real-time news, the broadest selection of stock charts and indicators, and innovative stock backtesting and forecasting technology.
MetaStock is also worth it if you want to develop your own backtested stock system or purchase a tested strategy from the marketplace.
If you are looking for something without all the backtesting and forecasting and better ease of use, then TradingView or TC2000 are the better options and have lower prices. Please read our Complete Stock Charting Analysis Software Review to find out what is best for you. If you are primarily interested in real-time news services to help your trading, look at our 10 Best Financial News Services Review.
Overall, MetaStock is one of the best stock trading packages available.
MetaStock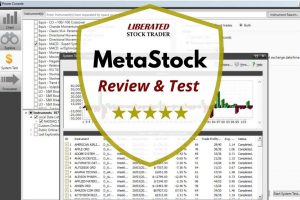 This MetaStock review and test reveal an excellent technical analysis charting platform for traders, with 300+ charts and indicators for stocks, ETFs, bonds & forex globally. Metastock has innovative backtesting and forecasting, and Refinitiv/Xenith provides powerful real-time news and screening.
Product SKU: NA
Product Brand: MetaStock
Product Currency: USD
Product Price: 59
Price Valid Until: 2025-02-10
Product In-Stock: InStock