Our research shows the best stock market websites are TradingView for charts, Trade Ideas for AI day trading, Stock Rover for investors, and Motley Fool for stock research. Benzinga Pro is the best website for real-time financial news, and TrendSpider is ideal for automated stock chart pattern recognition.
20 Best Stock Market Websites for 2023
Our testing reveals the best stock market websites for traders are TradingView, Trade Ideas, Benzinga Pro, TrendSpider, and MetaStock. For Investors, the best sites are Stock Rover, Motley Fool, Morningstar, and M1 Finance.
| | | |
| --- | --- | --- |
| Best Stock Market Websites | 🎯 Best For: | ⚡Key Features |
| TradingView.com | Traders | 📈 Charts, Screening, Community, Globally |
| Trade-Ideas.com | Day Traders | 🤖 AI Signals, Auto-Trading, Proven Track Record |
| StockRover.com | Investors | 📡 Research, Screening, Portfolio, Watchlists |
| Benzinga.com | Traders | 📰 Real-time Stock News, Screening |
| TrendSpider.com | Traders | 🤖 AI Pattern Recognition, Backtesting |
| Finviz.com | Investors | 📈 Charting, Screening, Heatmaps |
| MotleyFool.com | Investors | 📰 Stock Research, Stock Picks |
| MetaStock.com | Traders | 📈 Charting, Backtesting, Forecasting |
| Tickeron.com | Traders | 🤖 AI Trade Signals, Pattern Recognition |
| Morningstar.com | Investors | 📡 Stock & ETF Research Reports |
| TC2000.com | Traders | 📈 Charting, Scanning, Trading |
| M1.com | Investors | 🤖 Robo-Advisor, Automated Portfolio Mgt. |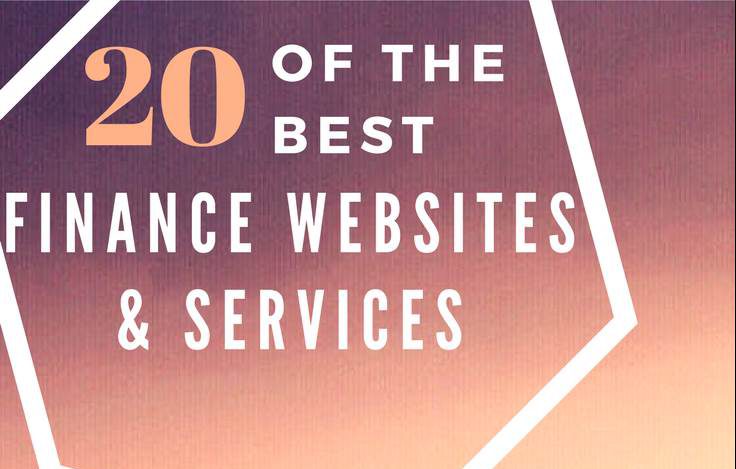 The highest quality stock market sites provide accurate data and superior tools for stock chart analysis, research, news, online trading, and community. There is a wealth of online stock trading & investing services available today. As a certified market technical analyst, I can recommend the best websites and services through my 20 years of investing and trading.
---
1. TradingView: Winner – Best Stock Market Website
TradingView is the best stock market website for charting, screening, backtesting, and community. With over 10 million active daily users who share ideas and post comments, TradingView is a great place to learn. TradingView is popular because it does everything well.
| | |
| --- | --- |
| ⚡ Features | Charts, News, Watchlists, Screening |
| 🏆 Unique Features | Trading, Backtesting, Community |
| 🎯 Best for | Stock, Fx & Crypto Traders |
| 💰 Price | $0-$59/mo – Free Version |
| 🎮 Trial | Free 30-Day |
| ✂ Discount | -25% Discount Available |
| 🌎 Stock Markets | Global |
We independently research and recommend the best products. We also work with partners to negotiate discounts for you and may earn a small fee through our links.
TradingView has over 160 indicators and unique charts such as LineBreak, Kagi, Heikin Ashi, Point & Figure, and Renko; you have everything you need as an advanced trader. Regarding drawing tools for trendlines, text, and chart analysis, TradingView has the best selection in the industry, with over 100 different options.
The user community has also developed an enormous range of custom and shareable indicators.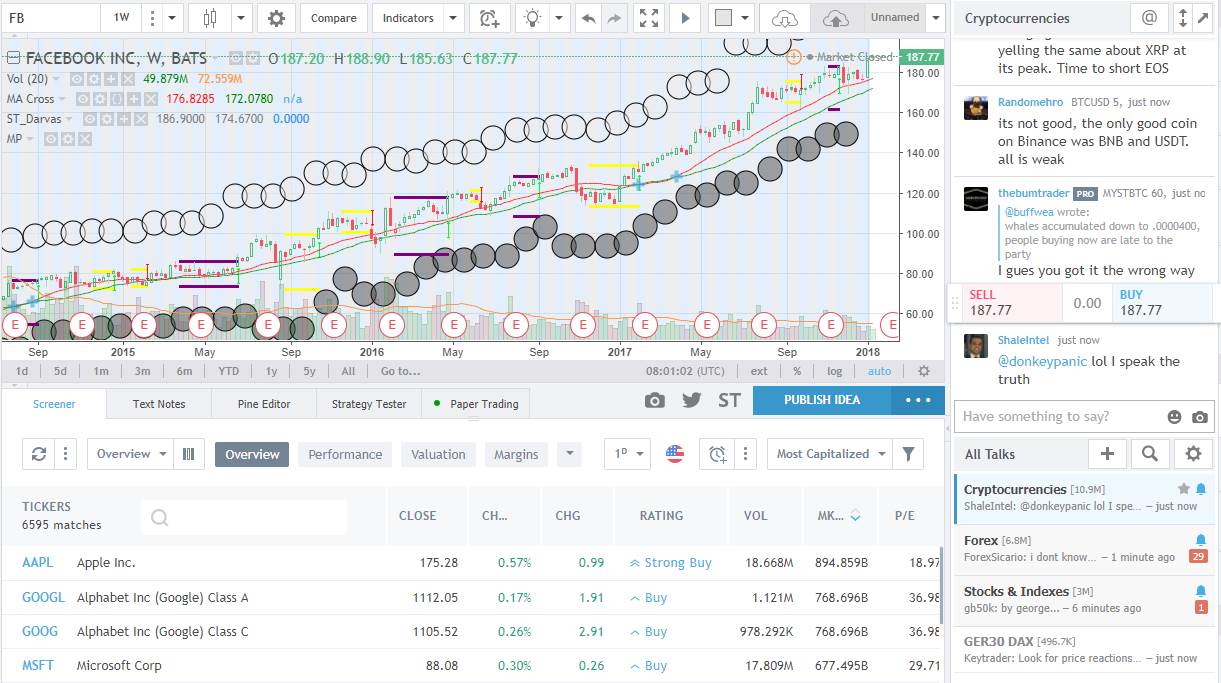 There is no doubt that TradingView is simply the best overall Stock, Forex, and Cryptocurrency analysis website. TradingView has fully integrated social networking and global data from nearly every exchange in the world at a great price, starting at free.
I use TradingView every day and post stock chart analysis and commentary. Follow me on TradingView.
---
Chart, Scan, Trade & Join Me On TradingView for Free
Why not join me and 10 million traders on TradingView for free. TradingView is the best place to meet other investors, share ideas, chart, screen, and chat.

---
With TradingView, you get broker integration to place trades on charts, and it will take care of profit & loss reporting and analysis for you. The only thing it does not cover is Stock Options Trading. Another massive plus for TradingView is they hit the mark on fundamental and technical screening and filtering with powerfully customizable watchlists. The list of fundamentals you can scan & filter on is genuinely huge. Thanks to a connection to the Federal Reserve database, they even have economic data like Federal Funds Rates and World Economic Growth.
You can have TradingView for free; it is also a winner of our Best Free Charting Software Review. You can open a TradingView chart now with a single click; no registration is needed. However, to unleash the true potential, I recommend going for the PRO+ service at $19.95 per month or the premium at $39.95 per month; the benefits are extensive, including priority customer Support and unlimited everything.
---
2. Trade Ideas: Best Stock Trading Website
Trade Ideas is the best website for stock trading, providing day trading signals using cutting-edge AI algorithms that backtest every stock in the USA for high-probability trades.
Trade Ideas is designed to give day traders an edge. Being a day trader is extremely difficult because institutional investors have the advantage due to the computing power and algorithms that control the market. The retail investor has no chance of being successful. Trade Ideas is designed to help correct the imbalance by providing retail investors with cutting-edge, institutional-grade AI to help make better trades.
Trade Ideas visually shows you every signal buy and sell signal on a chart. I have highlighted a trade Holly AI (Holly Grail) recommended in the chart below. This trade for Cleveland Biolabs (Ticker: CBLI) made a 25% profit within 4 hours. Note how the buy and sell signals are depicted on the chart.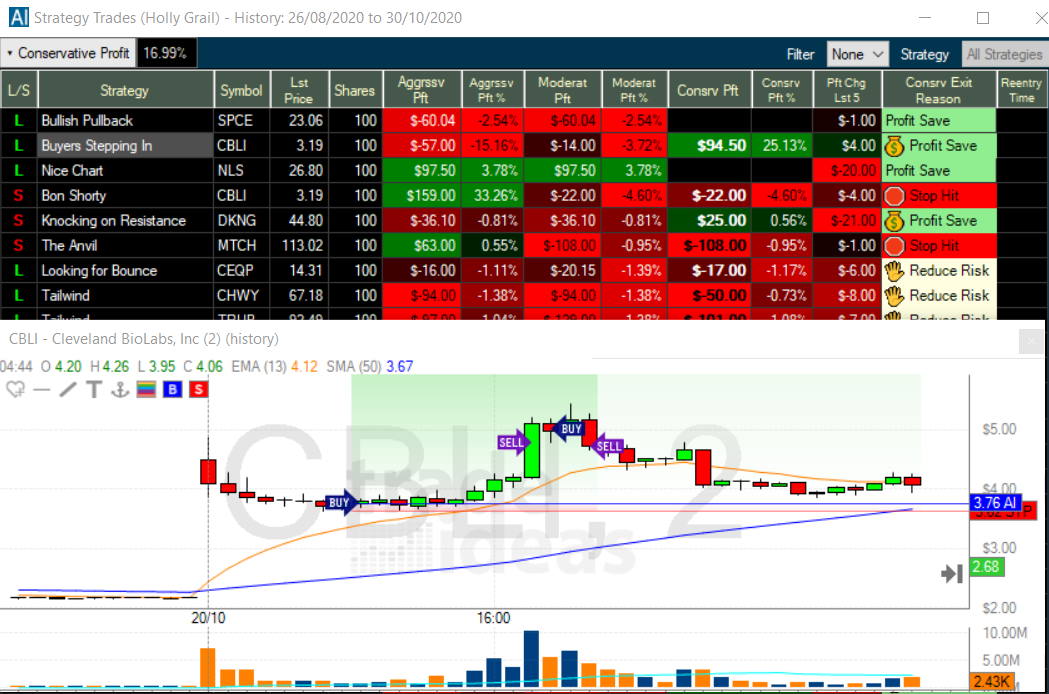 Trade Ideas Pro AI
The AI algorithms developed by Trade Ideas are the main reason you want to sign up. I had a lengthy Zoom session with Sean Mclaughlin, Senior Strategist over at Trade Ideas, to delve into how the AI works, and I was very impressed. This company is laser-focused on providing traders with the best data-supported trading opportunities. There are currently four AI systems in operation.
Holly is 3 AI Systems Applying Over 70 Strategies Differently.
Holly AI applies 70 strategies to all the US & Canadian stock exchanges, including pink sheets & the counter (OTC) markets. 70 strategies multiplied by 10,000+ stocks means millions of backtests every day. Only the strategies with the highest backtested win rate of over 60% and an estimated risk-reward ratio of 2:1 will be suggested as potential trades the following day. You can even register for a Holly AI trade of the week directly to your inbox.
Holly 2.0 is a more aggressive version of Holly AI, presenting you with more aggressive day trading scenarios. Trade Ideas operates three key trading styles with each AI engine: Conservative, Moderate & Aggressive. Holly 2.0 is aggressive.
Holly NEO is a newer AI that seeks to trade real-time chart patterns. It utilizes a mix of the following strategies.
Pullback Long – Seeks to identify trades where the stock price is down and seeks to move up on higher volume.
Breakout Long – Where stock price breaks up through a key resistance or new highs.
Pullback Short – identifying a short pullback opportunity in price.
Breakdown Short – a shorting opportunity where upward momentum breaks down.
Trade Ideas Standard:
Live Trading Room – Full access to the live trading room. Try the Trading Room for Free
Real-time Streaming Trade Ideas – Scanner providing access to 40 pre-configured scans.
Simultaneous Charts – The ability to have ten chart windows open.
Chart-Based Visual Trade Assistant – The ability to trade directly from charts.
Up to 500 Price Alerts – Price alerts to notify you when a stock meets your criteria.
Channel Bar Curated Workspaces – Access to 30+ channels of ideas.
Trade Ideas Premium provides access to everything above, but also the robust backtesting and the Holly Artificial Intelligence System, including:
AI Virtual Trading Analyst Holly – 4 different constantly evolving AI algorithms
Chart-Based AI Trade Assistance & Entry and Exit Signals
Risk Assessment – Detailed information on the backtested performance of the recommended trade.
Build and Backtest any Trade Idea – Compelling point & click backtesting system.
Autotrade w/ Brokerage Plus and AI – Advanced auto trading using Interactive Brokers.
As a partner of Trade Ideas, I requested a discount for all our readers. Use the discount code "Liberated" to get 15% off your first purchase, worth $340 when going for the premium service.
---
3. Stock Rover: Best Stock Research Website
Our testing reveals that Stock Rover is the best stock research website for investors with powerful stock, screening, and portfolio management for value, dividend, and growth strategies.
| | |
| --- | --- |
| ⚡ Features | Charts, News, Watchlists, Broker Integration |
| 🏆 Exceptional Features | Screening, Portfolio, 10-Year Data |
| 🎯 Best for | Growth, Dividend & Value Investors |
| 💰 Price | $0-$28/mo |
| 🎮 Trial | Stock Rover's Free plan |
| ✂ Discount | 25% During Trial Period |
| 🌎 Region | USA |
Stock Rover maintains a 10-year historical financial database on all Stocks and ETFs in North America. Stock Rover is the best site for Value, Dividend, and Growth investors because its database enables the implementation of granular stock screening strategies. You can even download free stock research reports here.
The list of fundamentals you can scan & filter on is genuinely huge; any idea you have based on financials is covered with over 600 data points and scoring systems.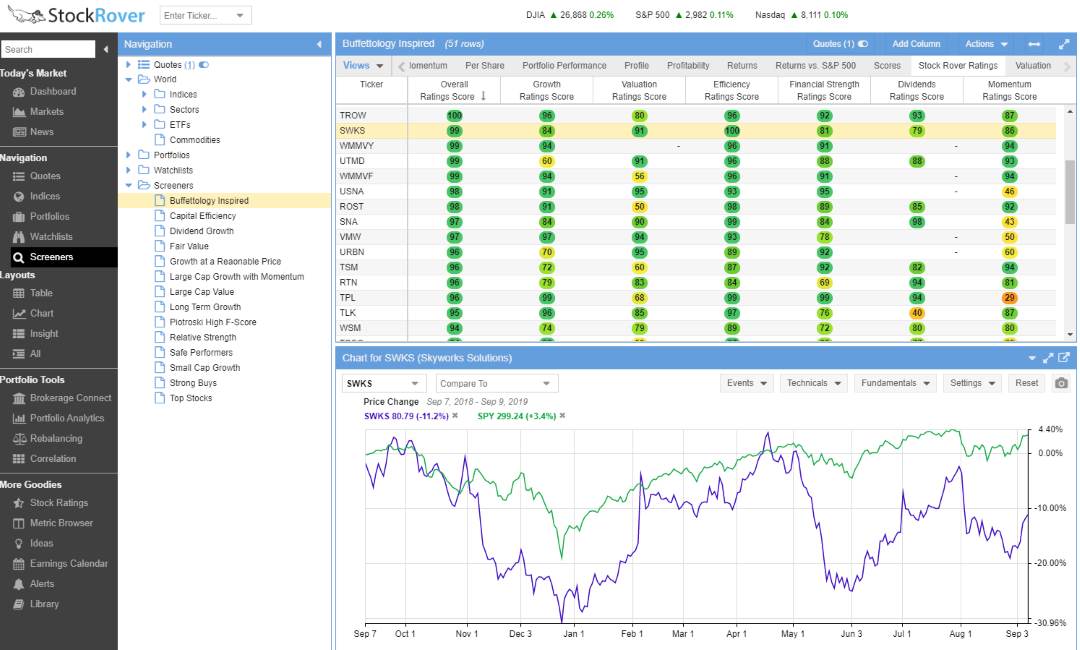 Watchlists have fundamentals broken into Analyst Estimates, Valuation, Dividends, Margin, Profitability, Overall Score, and Stock Rover Ratings. You can set the watchlist and filters to refresh every minute if you wish.
The Stock Ratings Engine
The team at Stock Rover has implemented some great functionality; I particularly like the roll-up view for all the scores and ratings. I have imported the Warren Buffett portfolio, including his top 25 holdings. I have also selected the "Stock Rover Ratings" tab. This "Stock Rover Ratings" tab rolls up all analyses into a simple-to-view ranking system, saving a lot of time and effort while providing a wealth of insight.
Stock Rover has over 150 pre-built screeners that you can import and use. You need to have the Premium Plus service to take advantage of this. I have reviewed many of them, and they are very thoughtfully built. One of my favorites is the Buffettology screener.
Stock Rover Research Reports
Stock Rover Research reports enable you to generate a professional human-readable PDF report on any particular stock's current and historical performance. I actively use Stock Rover daily to find the stocks that form the foundations of my long-term investments. I have also used Stock Rover to create many original high-performing investing strategies. Here is a list of original strategies and tutorials on Stock Rover.
You can have Stock Rover for free; however, the real power of Stock Rover unleashes with the Premium Plus service. Moreover, their top service tier is not even expensive compared to the competition.
Stock Rover is the best website for value, growth, and income investors. A 10-year financials & fundamentals historical library plus incredible scanners including Warren Buffett & Ben Graham's favorite criteria like Fair Value, Margin of Safety, DCF, and more.
If you are a long-term investor, this is the software for you.
---
How to Beat the Stock Market With Stock Rover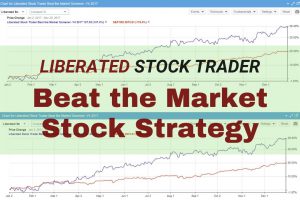 I love Stock Rover so much that I spent 2 years creating a growth stock investing strategy that has outperformed the S&P 500 by 102% over the last eight years. I used Stock Rover's excellent backtesting, screening, and historical database to achieve this.
This Liberated Stock Trader Beat the Market Strategy (LST BTM) is built exclusively for Stock Rover Premium Plus Subscribers.
---
4. Benzinga Pro: Best Stock News Website
Benzinga Pro is the best website for real-time stock market news, beating Bloomberg and Reuters on price and features.
| | |
| --- | --- |
| ⚡ Features | Real-time News, Calendar, Charts |
| 🏆 Unique Features | Squawk, News Sentiment, News Rating |
| 🎯 Best for | Stock, Fx & Crypto Traders |
| 💰 Price | $79-$117/mo |
| 🎮 Trial | 14 Day Free |
| ✂ Discount Code | -25% Code "SMARTER" |
| 🌎 Region | North America |
Benzinga specializes in real-time stock news for traders, insider interviews, and direct access to the reporters at the news desk. Benzinga Pro has been designed for you if you use the news to trade the stock market.
The news platform is extremely configurable and runs in multiple windows on multiple monitors. Benzinga Pro is extremely powerful yet easy to use, which is often a difficult balance to strike, and to top it all off, they have also added real-time price quotes to the service, so you can see when news breaks the immediate impact on the stock price.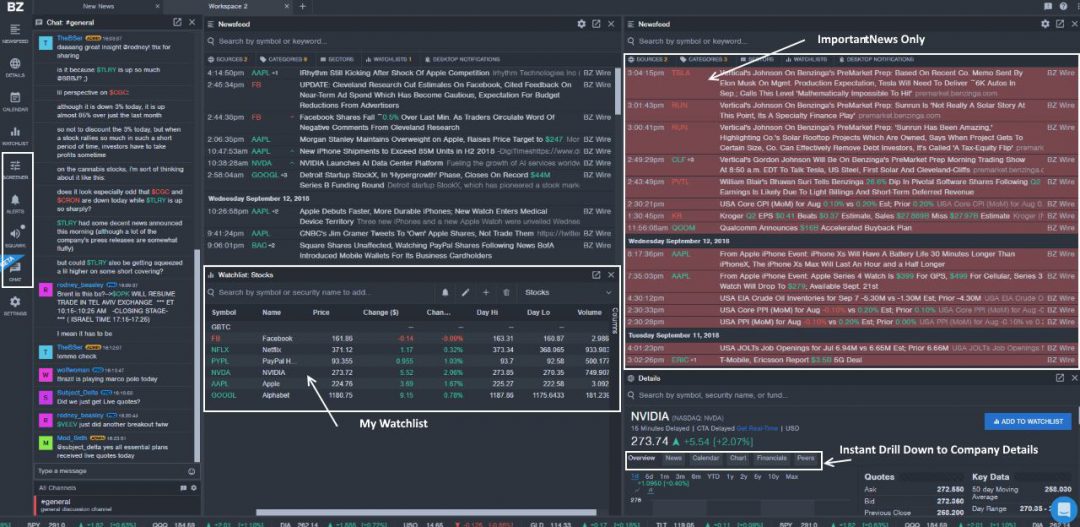 Benzinga offers a huge amount of free news and thought-provoking original articles on its website aimed at traders and investors.
But suppose you are a frequent trader, especially if you are trading with the news, for example, short-term options trades at quarterly earnings announcement time, or you have a large stake in a company and need to be the first to know if the stock might tank due to a failed FDA application. You will want to upgrade to a version of the Benzinga PRO Service to get an edge in the market.
Benzinga Pro Video
Benzinga PRO – Basic: ($79,- Per month)
This package offers the following:
Newsfeed Access to the Core Benzinga newsfeed – Real-time (excluding SEC or PR Newsfeeds)
WatchList Trade Alerts – setup your watchlist of stocks you hold or are interested in and receive real-time emails, app alerts, and audio alerts
Security SnapShots –  Unique to Benzinga is Security Snapshot View, essentially a summary of all the important News, Fundamentals, and Charts. They are designed to give you a clean, quick view of the whole picture for a given stock, including all the core financial documents like balance sheets and important income statement information.
Benzinga Calendar – A Great Way To Visualize what is coming up soon. Below, we see the Benzinga Calendar; instantly, you can see what Macro Economic News is upcoming, but what you also see in the column on the right is the potential impact of the news. As you can see, Benzinga has accurately rated the Existing Home Sales announcement as having a potentially large impact.
Benzinga PRO – Essential ($147,- Per month) 
In addition to the features above, the higher-level package includes the following benefits:
Full Real-Time Newsfeed Access, including all SEC news and PR Newsfeeds
Real-time Audio Squawk is impressive. I have it open while watching the markets, so I do not need to watch the screen. Every 2 minutes, a real-time audio feed announces the latest news via my speakers – this service alone is worth the upgrade to Benzinga PRO Essential.
Sentiment Indicators are an excellent feature that visually allows you to see the analyst's sentiment; this is rated as 1 to 3 bulls or bears depending on how the analyst feels the news will move the stock.
Chat with News-desk Feature – Imagine chatting directly with the analyst or reporter who submitted an article. This feature allows you to do just that by directly questioning the Benzinga news desk to dive deep into your specific questions – straight from the news hub. The news team also highlights what they believe to be important news only for essential users.
Exclusive CEO comments – Benzinga Analysts have frequent exclusive interviews with CEOs and publish exclusively key comments that may provide key insights into a stock you own.
In-person Event Coverage at live earnings announcement events – if you trade earnings, this is your ticket to sitting at the event and getting analyst feedback as it happens.
If you are serious about trading in the stock market and need real-time access to the news that moves markets, then Benzinga Pro is a realistically priced and high-speed news service "designed by traders for traders."
---
5. TrendSpider: Best Automated Stock Analysis Website
Trendspider is the best website for automated AI stock analysis, with automated trendline, candlestick pattern recognition, and system backtesting.
| | |
| --- | --- |
| ⚡ Features | Charts, Watchlists, Screening |
| 🏆 Unique Features | AI Automated Pattern Recognition |
| 🎯 Best for | Stock, Fx & Crypto Traders |
| 💰 Price | $44-$131/mo |
| 🎮 Trial | Free 7-Day |
| ✂ Discount | -40% Use Coupon Code "LIB40" |
| 🌎 Region | USA |
Trendspider solves the problem of too much time spent doing technical analysis, drawing trendlines, tweaking indicators, and analyzing timeframes.
Automatic trendlines, automatic support, resistance lines, and multi-time-frame analysis are new to finance and will change the industry.
The automated trendline detection saves traders a lot of time, speeds up morning trade preparation, and improves accuracy. The TrendSpider algorithm uses mathematics to correlate all the charts' bars and then draw the lines. It highlights the touches at peaks and troughs in a price trend. As a technical analyst, this is how you are supposed to do it; the more times a price touches the trend line and reverses, the stronger the trend. Therefore, it is more predictive if a price breaks through strong support and resistance.

Multi-Timeframe Analysis
Here, it gets even more interesting: the Multi-Timeframe Analysis can superimpose trendlines or indicators from different timeframes onto a single chart. Instead of constantly switching timeframes and redrawing trendlines, it is simplý there. It is not just for trendlines; you can use it with the array of 42 stock chart indicators to ensure you do not miss anything. Dan Ushman, the company founder, uses it in his trading, especially with indicators like Bollinger Bands and trendlines that help expose things other traders miss when focused on one timeframe or indicator at a time.
I also like the price indicator analysis; you can let the application plot, name, and highlight your Japanese Candlestick patterns. Want to find Evening Doji Stars, Hammers, or Engulfing Patterns? Just turn on the pattern recognition; it is that easy.
Software & Pricing
Pricing starts at Free to try, but the real power comes in with the PRO Trader Plan, which starts at $24.75 per month, including Real-Time Data, NASDAQ, NYSE & Amex Stocks, ETFs, and, surprisingly, Cryptocurrencies. This package also offers unlimited lookups, trend detection, 10 Dynamic Price Alerts, + a free 30-minute personal one-on-one training session.
The Elite Trade Plan is $37.25 per month, has everything the PRO plan has, and includes after-hours and pre-market data, OTC, Forex, and Futures data. On top of that, you get 20 Dynamic Alerts. The pricing is very competitive, considerably lower than other charting software vendors.
TrendSpider Market Scanner
TrendSpider is developing new features at breakneck speed, but this one is big. The latest innovation from the TrendSpider team is the "Market Scanner," enabling you to scan a specific stock and the entire market for stocks matching your technical criteria. This is a major step forward, combining AI trend detection and analysis to scan the entire stock market.
★ Bonus: Sign Up For This Service & Get 5 Exclusive Investing Strategy & Research eBooks Valued at $99 ★
---
6. Motley Fool: Best Stock Forecast & Prediction Website
The Motley Fool website provides proven market-beating stock research reports to its subscribers. I subscribe to Motley Fool and find their in-depth research report valuable in the stock selection.
| | |
| --- | --- |
| ⚡ Features | Stock Selection, Live Webinars |
| 🏆 Unique Features | Proven Winning Track Record |
| 🎯 Best for | Stock Investors |
| 💰 Price | $199-$299/mo |
| 🎮 Trial | 30 Day |
| ✂ Discount | 50% Discount $99 |
| 🌎 Region | Global |
One of the first books I read on investing was the Motley Fool Investment Guide in 1997. The investment team of Tom and David Gardner and I have not looked back since. While I prefer to perform my own research and not be influenced by others, I have found the Motley Fool Stock Advisor Service incredibly useful.
Motley Fool does not try to research every stock and fund in the USA. The team focuses on specific stocks that they feel will, over the long term, significantly beat the S&P 500. They then provide lightweight, easy-to-read research reports and recommend why they feel the stock will be a superior long-term investment.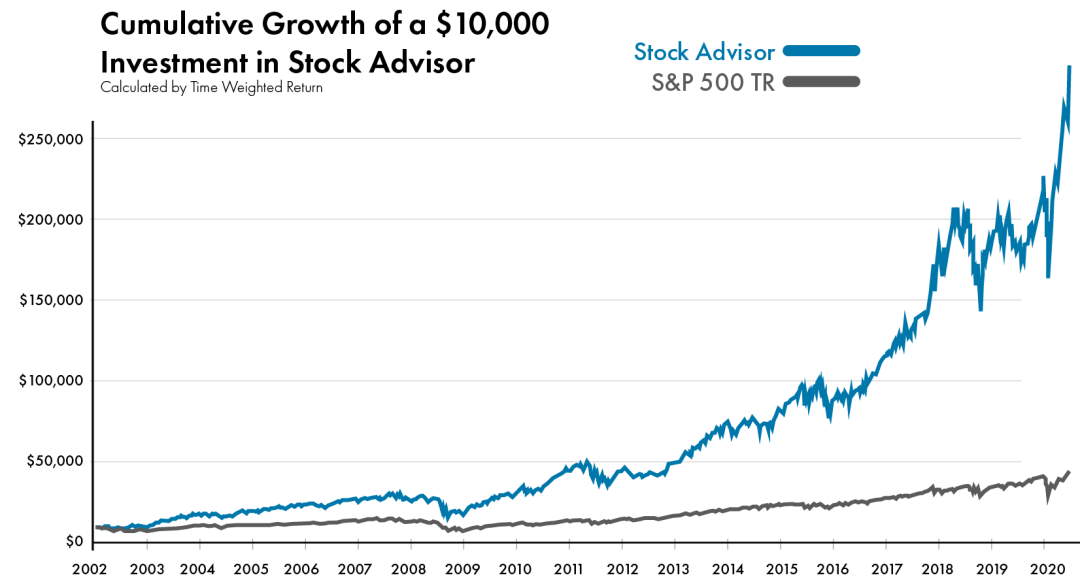 Uniquely, Motley Fool provides an audited track performance record against the underlying benchmark. This is unique about the service; they try to beat the market and help you succeed in the long term. You could give them a try and follow their advice.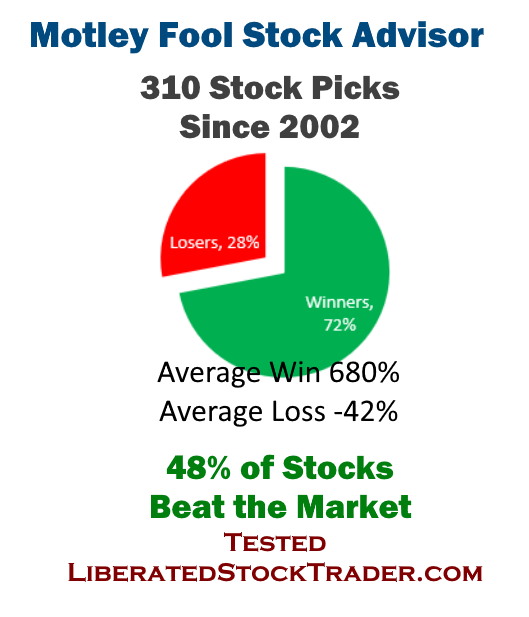 Motley Fool Stock Advisor Portfolio Performance 2002 to 2020
Motley Fool Stock Advisor 421%
S&P 500 85%
My independent analysis of the stock advisor service's audited results reveals that since 2002, 48% of the stocks beat the S&P 500. The average winning stock outperformed the S&P 500 by 780%. 28% of the stocks recommended lost 42% on average, while 82% made a profit averaging 640%.
What does this mean? You still have a 28% chance of losing money on any single stock recommendation. But at current performance levels, you have a 72% chance of investing in a company that will make you a profit.
The Stock Advisor service is well-priced at only $99 for your first year and provides an audited track record of successful stock selection. The research reports are easy to read, act upon, and target long-term investors. They provide specific buy and sell signals on stocks they recommend, but the service does not include fund ratings.
Additionally, you can manage your favorite stocks through their simple-to-use portfolio tracker. I signed up for the service two years ago because I wanted to see what the competition was up to, but I found the service very simple and the research extremely compelling, insightful, and useful.
You could give them a try and follow their advice.
★ Bonus: Sign Up For This Service & Get 5 Exclusive Investing Strategy & Research eBooks Valued at $99 ★
---
7. MetaStock: Best Stock Technical Analysis Website
MetaStock provides today's most powerful technical analysis, stock backtesting, and forecasting software. MetaStock has the broadest range of technical analysis tools on the market, with over 360 different indicators, drawing tools, and chart types.
| | |
| --- | --- |
| ⚡ Features | Charts, Watchlists, Scanning |
| 🏆 Unique Features | Forecasting, Systems Marketplace |
| 🎯 Best for | Stock, Fx & Crypto Traders |
| 💰 Price | $59-$250/mo |
| 🎮 Trial | 30-Day Free Trial |
| ✂ Discount | 3 Months for 1 |
| 🌎 Region | Global |
MetaStock also excels at real-time news with its Refinitiv integration with institutional-level news, analysis, and outlook. This is the fastest global news service available, including translations into all major languages. Our testing also shows that the backtesting capability of MetaStock is first-class. MetaStock is a giant in stock market analysis software; you can expect excellent fast global exchange data coverage, including Equities, Futures, Forex, ETFs, and Options.
The most significant MetaStock innovation is the forecasting functionality, which does not exist with any other software. By selecting Forecaster from the power console, you can choose stocks, ETFs, or Forex pairs and click Forecast. You are then presented with an interactive report that enables you to scan through the many predictive recognizers, which help you understand the basis for the prediction and the methodology.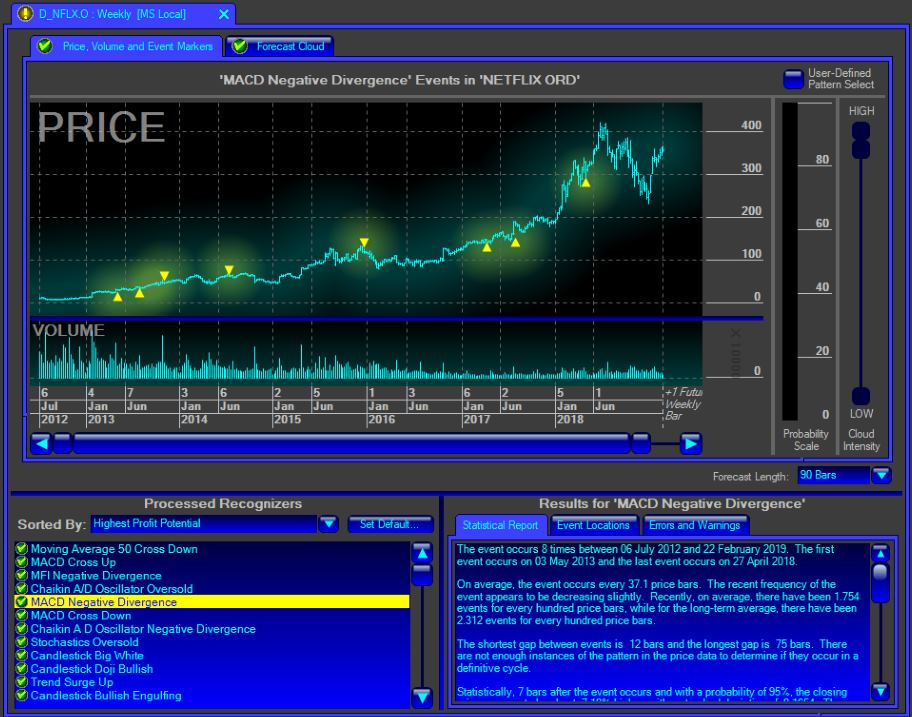 Using Refinitiv XENITH, you can see an in-depth analysis of company fundamentals from debt structure to top 10 investors, including level II data. Add to this excellent watchlists featuring fundamentals and robust scanning of the markets.
Prices start at $69 per month for MetaStock D/C, which is good for all the systems testing and forecasting requiring end-of-day data only. If you want intraday real-time data, you must opt for MetaStock R/T, which costs $99 monthly. For the ultimate solution, I would recommend MetaStock R/T Subscription with Refinitiv XENITH; this costs $199 per month and gives you real-time institutional-grade news.
---
8. Tickeron: Best Site for AI Stock Portfolios & Forecasting
The Tickeron website provides impressive AI-powered chart pattern recognition and prediction algorithms for stocks, ETFs, Forex, and Cryptocurrencies. Tickeron excels at providing thematic model portfolios, specific pattern-based trading signals, and success probability and AI confidence levels.
| | |
| --- | --- |
| ⚡ Features | Portfolios, Watchlists, Screening |
| 🏆 Unique Features | AI Trade Signals & Pattern Recognition |
| 🎯 Best for | Short-term Traders |
| 💰 Price | $0-$250/mo |
| 🎮 Trial | 14-Day Free Trial |
| ✂ Discount | -50% Off All Annual Plans |
| 🌎 Region | USA |
At the heart of Tickeron is the ability of its AI algorithms to spot 40 different stock chart patterns in real time. You can select which pattern you want to trade, and it will filter stocks, Forex, or cryptocurrencies that currently show the pattern. Patterns are split into bullish patterns for long trades or bearish patterns for those who wish to go short.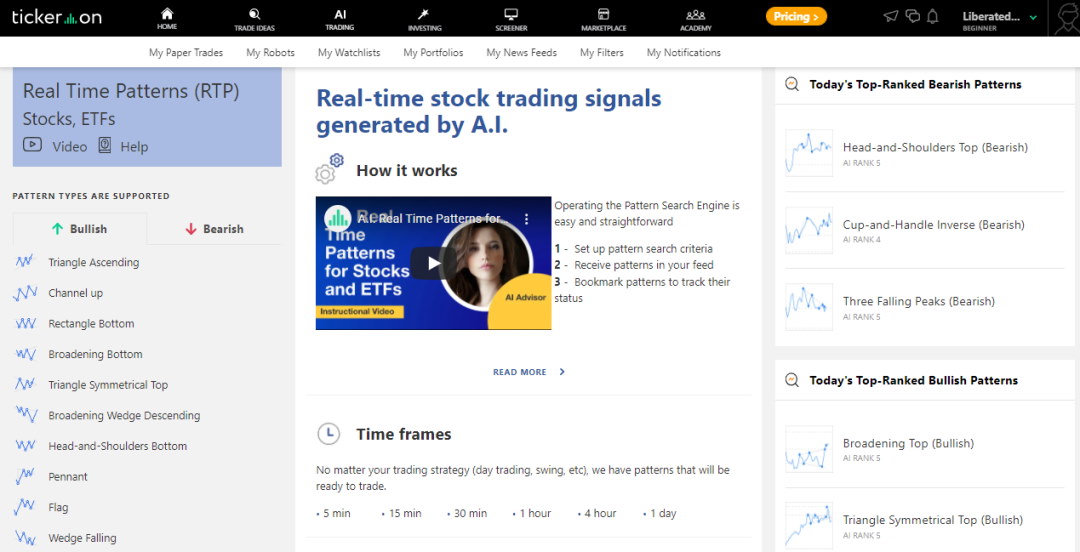 Tickeron's real-time pattern recognition is particularly useful for swing or day traders, where market timing is the top priority. Tickeron can also scan the entire market and suggest which patterns work best on a particular day. In the screenshot above, you can see "Today's Top Ranked Patterns," which rates the potential success of the patterns based on the market's current trading activity.
Ultimately, pattern recognition saves pattern traders a lot of work hunting for potential trade setups because it does all the work for them.
Trading Signals & Prediction
Tickeron has implemented a powerful feature called AI Confidence Level. Based on the history of the stock, the success rate of a particular pattern, and the market's current direction, Tickeron can assign a confidence level to a trade prediction.
The screenshot below shows that the Tickeron AI predicts that ABUS has an 88% chance of declining in value and ACET has an 81% chance of increasing in value.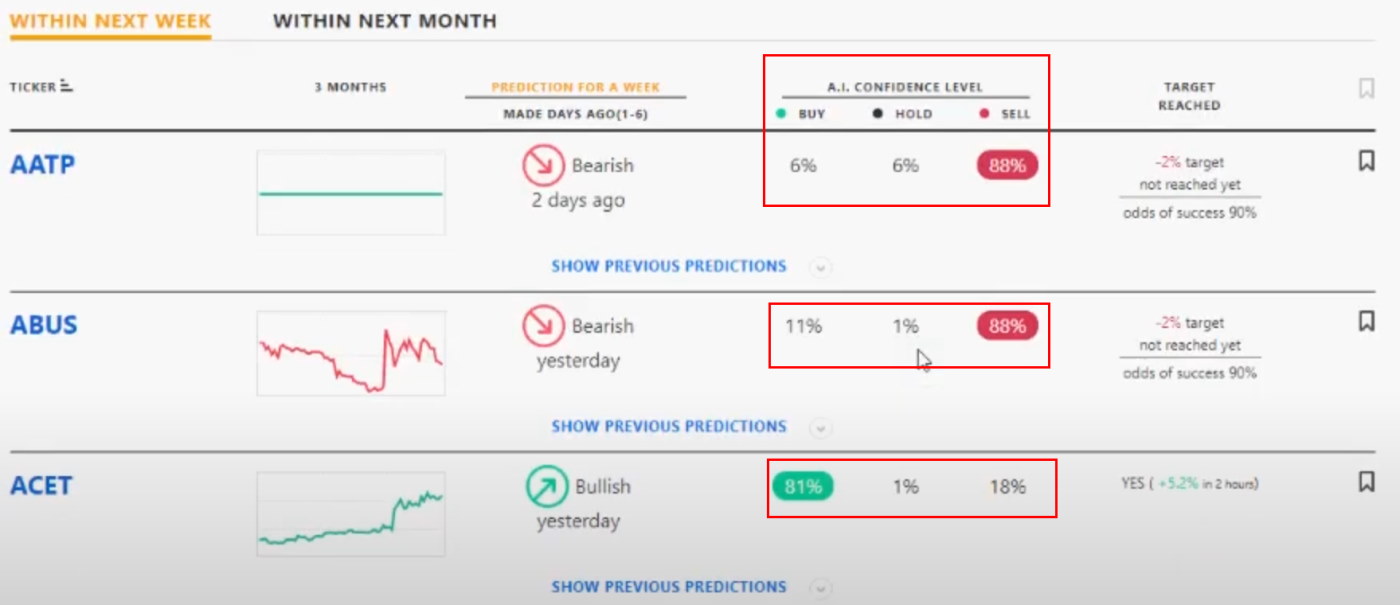 The outstanding feature of the Tickeron prediction engine is that you can click "Show previous predictions" to check if the AI has done a good job in the past with a particular pattern on specific stocks. The prediction engine provides the right level of clarity and granularity so you can make informed trading decisions.
Tickeron Screening
Screening with Tickeron is rather limited compared to the competition. Tickeron can find your stocks based on industry, sector, market capitalization, or technical buy-and-sell ratings. But if you want to perform specific screening for value, dividend, or growth stocks, Tickeron is of little use.
Tickeron is designed to find high-probability trading opportunities, not for long-term investors wishing to build a sustainable portfolio. If you are a long-term investor, I recommend Stock Rover.
Tikeron AI Robot Performance
Tickeron is the only AI software on this list (apart from Trade Ideas) that shares its track record of success. Of the 34 AI Trading Bots I looked at, only 2 claimed less than a 30% annualized gain; the other AI Bots claimed from a 40% to 169% annualized gain, as shown in the image below. Tickeron claims impressive returns and audits all returns trade by trade.
The Day Trader Stock >$20 Bot claims a Win Rate of 61.64%, which is very high, especially when put into the context of this report from Fast Company.
Tickeron's Audited Track Record
Tickeron shines a light on its AI algorithm's performance by providing a fully audited track record of every stock Bot under management. Before purchasing a strategy, you can see the entire performance summary of the strategy, the trade amounts, % profitable trades, Sharpe ratio, and trade duration.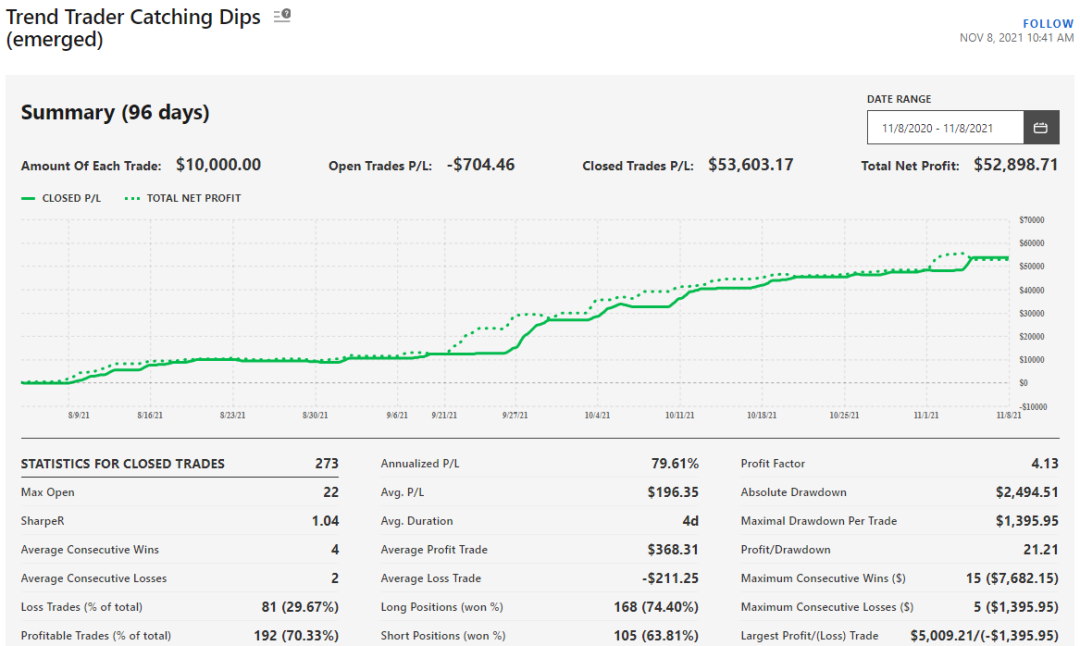 Auditing the individual historical trade alerts issued by the AI software is also important. Trade Ideas and Tickeron allow you to see all historical trades, whether they win or lose; transparency is the key here.
---
9. Finviz: Best Free Stock Screening & Research Website
The Finviz website provides simple and effective heatmaps and stock screening globally. Finviz uniquely enables investors to visualize vast stock market data on a single screen.
The Finviz screener allows for rapid filtering of 8,500+ major stocks and ETFs. However, this is not all the stocks in the world, just the major stocks, as there are over 10,000 stocks in the USA alone.
The Finviz stock screener is extremely fast and allows you to filter on 67 fundamental and technical criteria. You can filter the stocks on specific chart-based signals such as new highs, lows, oversold, analyst upgrades, insider buying, or even chart patterns like double tops and head & shoulders.
Finviz allows you to scan for a mix of 67 fundamental criteria and combine it with 30 different trading signals. That may seem like a huge choice, but TradingView offers over 168 criteria, Portfolio123 has 470 filters, and Stock Rover provides over 650 options.
Finviz also shines where the others do not because you can also screen on ten major candlestick patterns and 30 stock chart patterns. This mix of fundamental screening criteria for investors, technical charts, and candlestick pattern recognition for traders makes Finviz a good match for short-term and medium-term investors.
I have highlighted the key interesting Finviz stock screener fields in red in the screenshot below. To test the Finviz screener, I built a growth stocks screening strategy using high EPS growth, sales growth, ROI, and price above the 20-day moving average.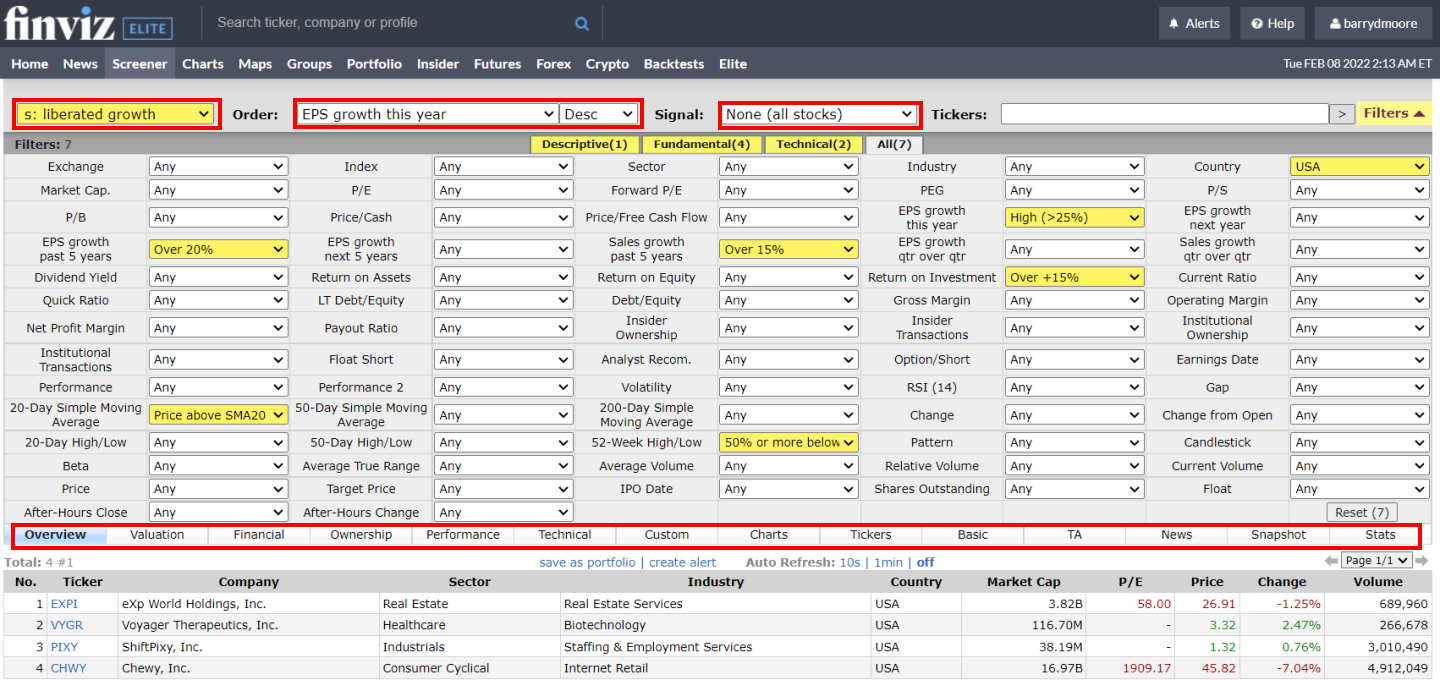 Are there Pre-Built Screeners Integrated into Finviz?
No, with nearly all of the best stock screening software, the companies endeavor to pre-build stock screeners as examples or inspiration; this is not the case with Finviz. Stock Rover provides over 150 pre-built curated screening strategies to import and use immediately.
Finviz Groups, Industry & Sector Analysis
The Finviz Groups tab allows you to visualize the price performance of US stock sectors or industries based on daily, weekly, quarterly, or yearly performance. This lets you see which sectors are performing well and drill down to individual stocks to look for trading opportunities.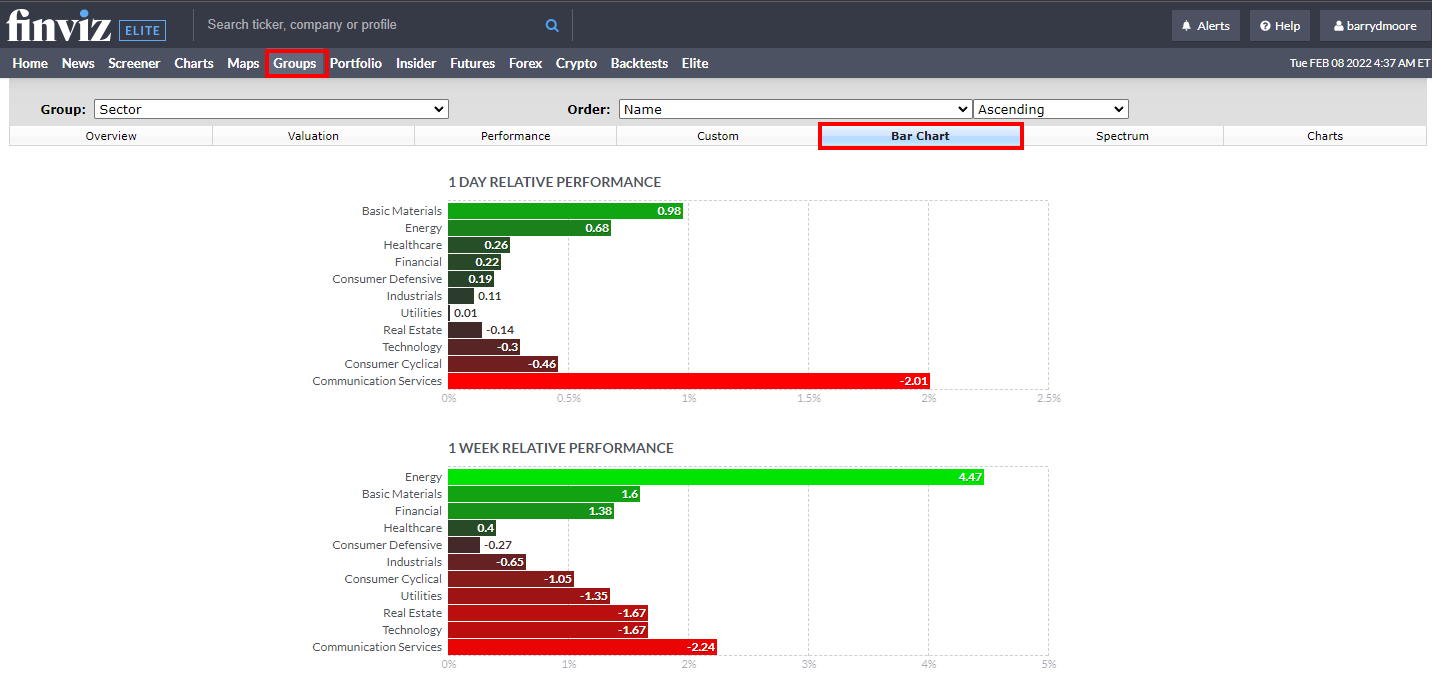 Finviz Charting Review & Test
Looking at stock charts with Finviz is different from the other stock software products on the market. Whereas MetaStock & TradingView provide hundreds of fundamental technical analysis indicators, Finviz focuses on providing basic pattern recognition on daily charts and a small handful of overlays and indicators.
I like the Finviz automatic trendlines recognition and how it identifies price patterns like wedges, triangles, double tops, and channels; this is a big advantage for pattern traders.
But, with only nine chart overlays, including Bollinger Bands and VWAP, and 17 chart indicators, the stock charting experience with Finviz is weak. You cannot simply right-click and add an indicator or study; you have to open settings, select the indicators, and then click save. Finviz does not have an effective interactive workflow experience for the user.
Additionally, throughout Finviz, you need to click SAVE constantly. There is no auto-save for your screening criteria, chart annotations, or backtests. If you mistakenly move to the next chart, you lose your configuration; this is frustrating and a very old-fashioned user experience.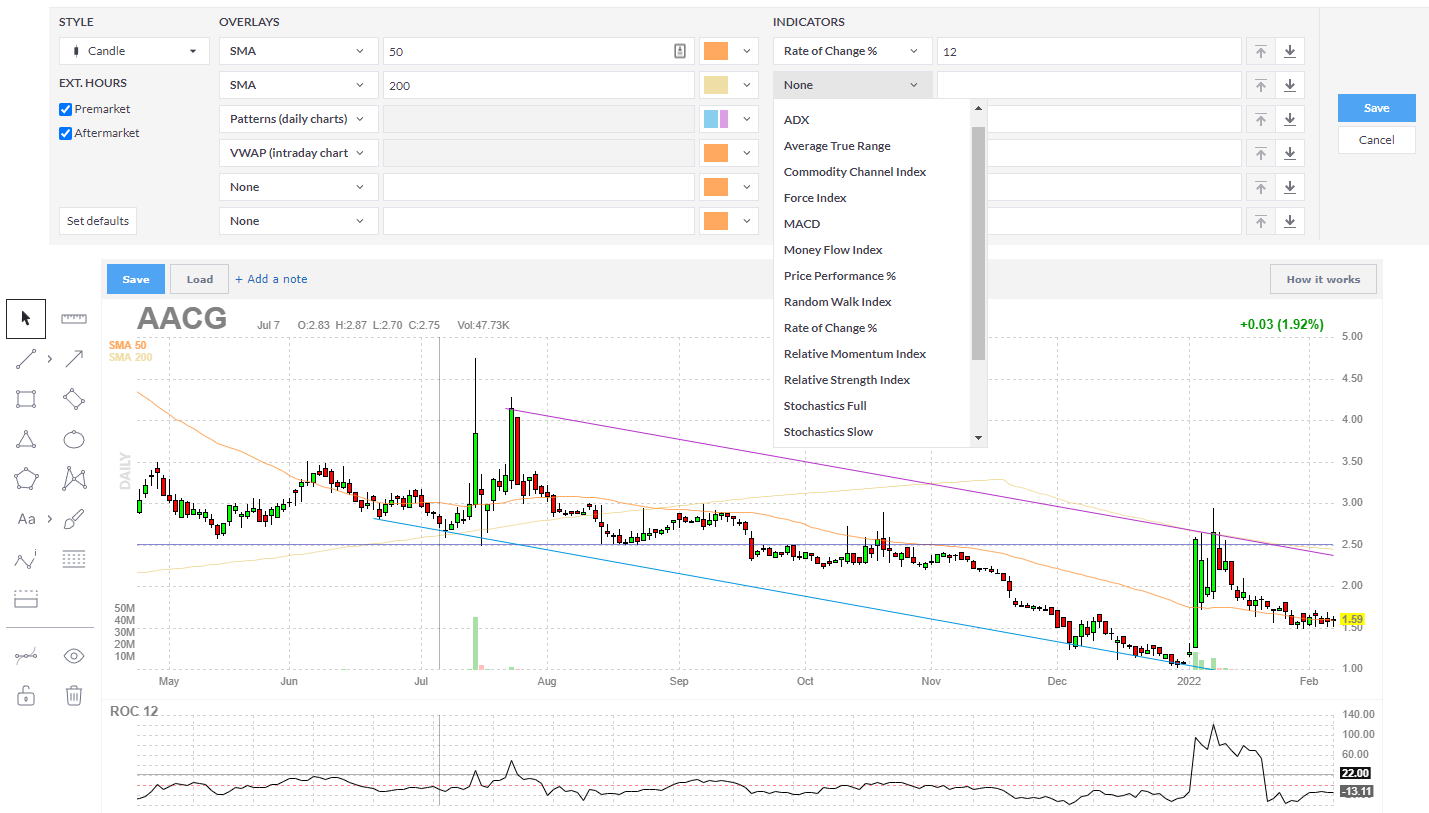 ---
10. Morningstar: Best Stock Ratings & ETF Analysis Website
MorningStar is a great website for research reports, with over 150 analysts providing research for all major stocks and funds in the USA. The research reports provided by Morningstar are curated; this means they are human-written reports by analysts. The analysts use a specific methodology to rate each stock based on the industry's competitiveness, the company's financial health, earnings growth, and fair value.
They have also popularized the idea of an "Economic Moat," meaning that if a company has a wide moat, it has a sustainable competitive advantage over its rivals.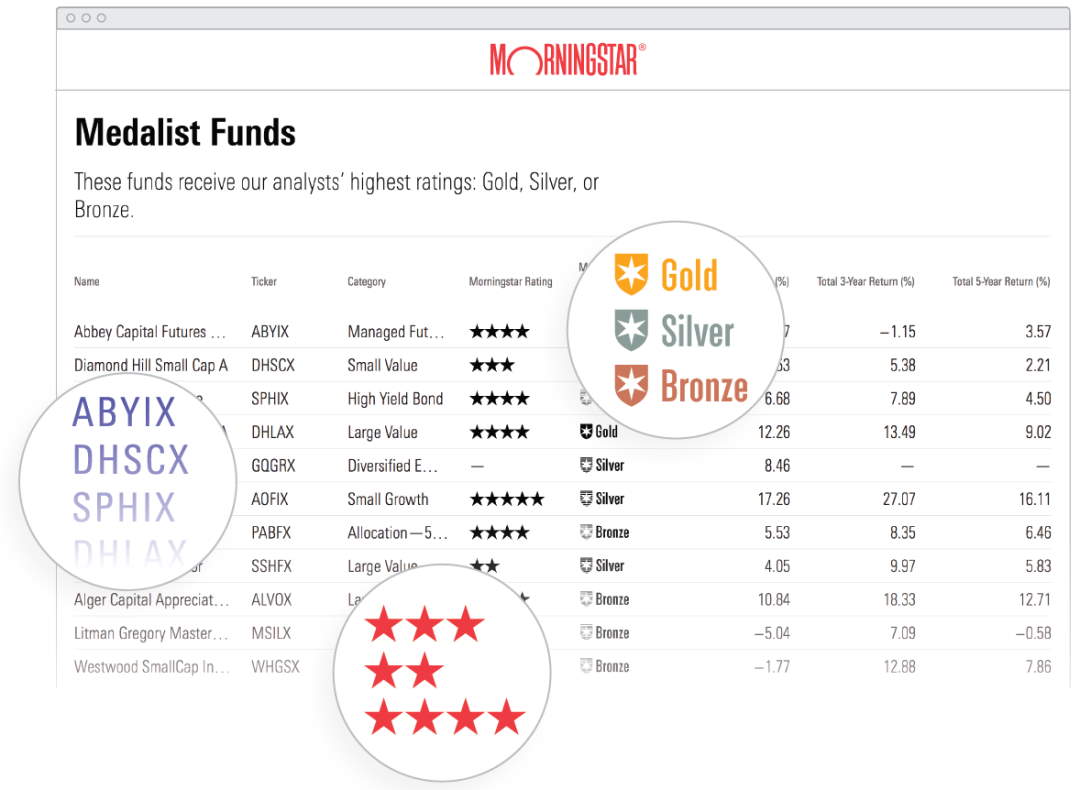 Morningstar is a leader in ETF and Mutual Fund ratings, so this service could be ideal if you invest heavily in ETFs for diversification. Additionally, Morningstar provides portfolio management tools to enable you to evaluate and balance your portfolio.
Unlike Stock Rover's research reports, which are generated in real time and change quickly based on daily financial events, Morningstar reports are updated only quarterly. MorningStar research reports are great for a qualitative view of a company, whereas Stock Rover excels at quantitative analysis of the financials.
Morningstar is easy to use and packed full of great features and ratings. Add to this that it costs only $199 per year, and you have a well-balanced service.
Morningstar Premium is a competitively priced service targeted to long-term investors, providing detailed curated analyst reports and stock rankings to help improve your overall stock picking. The service does provide overall buy and sell signals but does not divulge the performance of its stock recommendations.
Get a 14-day Free Trial + a $100 Discount at MorningStar.
---
11. TC2000: Best Site for Trading US Stocks & Options
TC2000 is a leading website for US and Canadian investors to trade directly from charts and have robust real-time fundamental stock scanning.
| | |
| --- | --- |
| ⚡ Features | Charts, Custom Indicators, Screening |
| 🏆 Unique Features | TC2000 Brokerage, EasyScan |
| 🎯 Best for | Stock & Options Traders |
| 💰 Price | $0-$89/mo |
| 🎮 Trial | Free 30-Day |
| ✂ Discount | -25% for Bi-Annual Subscription |
| 🌎 Region | USA |
I have been a Telechart Platinum subscriber since 2000 because it is endlessly customizable and scalable; the platform offers a rich array of services an investor needs.
TC2000 Brokerage offers discount brokerage services at $4.95 per trade, which is a little pricey but means a tight integration for trading stocks from charts and one of the best implementations of stock options trading available. The advanced options, ladders, strategies, and visualizations are fantastic.
If you want fundamentals screened in real-time layered with technical screens integrated into live watch lists connected to your charts, TC2000 is a power player. You can create your custom fundamental indicators within a few clicks, which even appear on the charts; it is a powerful yet simple-to-use system.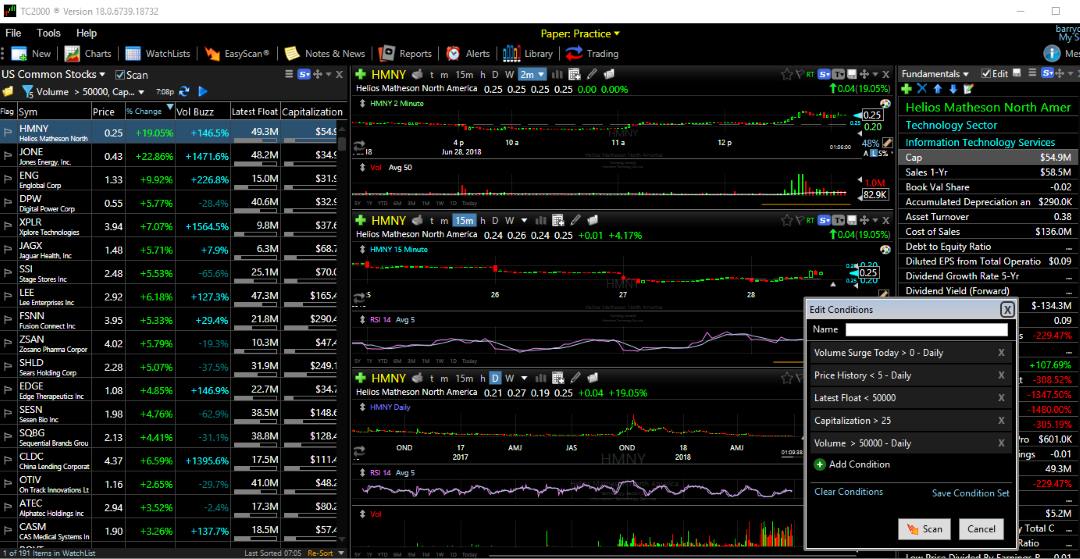 TC2000 runs on your iPhone, tablet, Mac, and PC. It is priced reasonably with a simple pricing structure starting at a very low $9.99 monthly.
This is a great solution if you trade U.S. Stocks, ETFs, or Mutual Funds. If you want to trade markets outside North America, you will be better off selecting TradingView.
TC2000 has a broad array of technical indicators and drawing tools; all the big ones are there, from OBV, RSI, and Bollinger Bands to Fibonacci Fans and Andrews Pitchfork. With over 70 different indicators, you will have plenty to play with. They have also introduced live alerts you can configure to email or pop up if an indicator or trend line is breached. You can create custom technical indicators and conditions and even add alerts. Very useful indeed.
---
12. M1 Finance: Robo-Advisor Website
M1 Finance is the only Robo Advisor website offering commission-free trading for its customers, meaning your account will have no management fees. Another great bonus of this mature service from M1 is that tax-loss harvesting is automatically integrated into the account. This means that when you choose to withdraw funds from your account, the algorithms will consider which securities to sell, prioritizing those incurring losses so that they can offset future gains.
| | |
| --- | --- |
| ⚡ Features | Portfolios, Robo-Advisor, Tax Loss Harvesting |
| 🏆 Unique Features | Free Stock Trades, Proven Performance |
| 🎯 Best for | Long-term Investors |
| 💰 Price | $0 |
| 🎮 Trial | Free Forever |
| 🌎 Region | USA |
On top of this, M1 promotes the purchase of fractional shares as a unique selling point; this means that if the portfolio you are invested in dictates a purchase of a share with a high price, you can still be fully invested with a purchase of a fraction of the share.
Another nice addition is an integrated checking account, M1 Plus, which includes a Visa card to access your funds easily.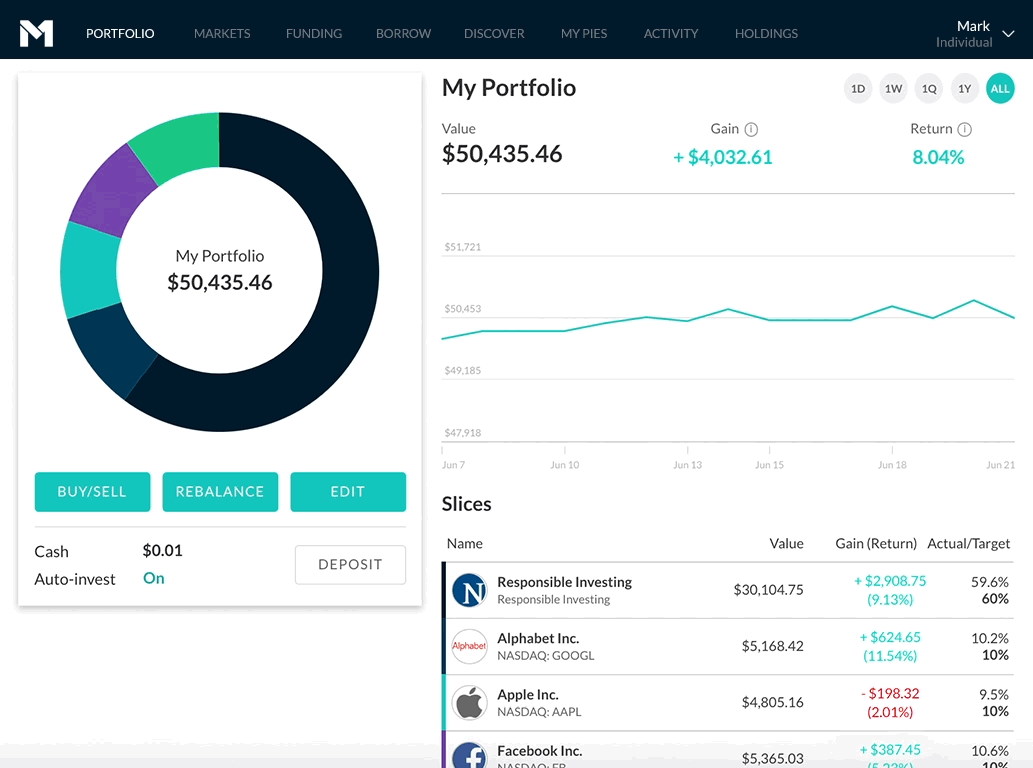 The Investing Methodology
M1's investing approach is based on expertly curated portfolios. Each portfolio is called a "Pie"; each pie comprises multiple stocks with specific weightings based on what risk or exposure you seek. There are close to 100 expert pies, with varying levels of return and past performance. You can select an expert pie or even build your own. The great thing is that when you send funds to your account, the money is automatically fully invested into your pie based on your allocation rules, and because there are no fees, this will not impact your account's bottom line.
Investing Performance
M1 provides many expert portfolios to choose from, and depending on when you open an account and choose to invest, the returns on your investment can vary. Suffice it to say, M1 claims that, on average, their expert portfolios (pies) are within or slightly above the underlying market return.
---
13. Firstrade: Best Website for Free Stock Trades
Of all the Brokers we have tested, Firstrade Securities is the best website for free stock and ETF trading, with the lowest costs and broadest selection of commission-free ETFs.
| | |
| --- | --- |
| ⚡ Features | Free Stock & Option Trades |
| 🏆 Unique Features | 2,200 Commission-Free ETFs |
| 🎯 Best for | Stock Traders & Investors |
| 💰 Cost Per Stock Trade | $0 – Free Registration |
| 💻 Platform | Web/Mobile/PC |
| 🌎 Region | Global |
Firstrade Securities has been in business for over 35 years and has gained prominence as the first large broker to offer commission-free trading in New York in the USA. Firstrade has received multiple awards for best value trading, customer service, and the "Clean Hands Kiplinger Award."
Firstrade wins the commissions' war with a $0 flat fee per trade, $0 per Options trade, and $0 per contract. But what also adds to the appeal of Firstrade is the 2,200+ commission-free Exchange Traded Funds on offer. A vast selection, more than the total for all the other brokers reviewed in our Top 10 Brokers Review.
You also get completely cost-free access to the suite of Morning Star research; only three other brokers offer free research of this quality.
Heatmap & Sector & Industries Tool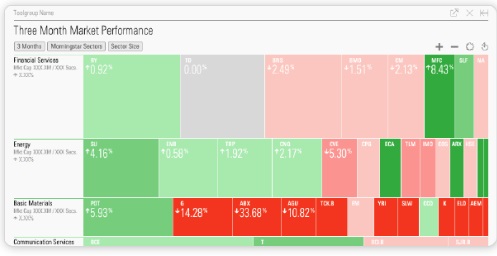 To find a potential opportunity to trade, you can start with the big-picture view of the market and drill down from there. The heatmap is designed for short-term traders who need to see where the price action and volatility are on any given day.
Alternatively, you can utilize the sectors and industries to evaluate past performance and select a sector to review more deeply.
The Firstrade Trading Platforms Firstrade Navigator, Options Wizards, and Real-time Watchlists hold up well against the competition. And finally, a 5-star customer satisfaction rating rounds off the package for an excellent brokerage for mid to long-term investors.
---
14. Investors.com: Stock Analysis & Investing
Investors Business Daily  (IBD) has been strongly driving their business to digital-first over the past years, but they still provide a print newspaper service. Investors Business Daily is available as a digital and print subscription. They provide a lot of their research on stocks and use the famous CANSLIM method to evaluate potential recommendations. The service in this review is called the IBD Leaderboard.
The IBD Leaderboard lists the highest-rated stocks according to the methodology behind the CAN SLIM investing strategy; this includes ratings for Current Earnings, Annual Earnings, New Products, Supply, Leaders, Institutional Sponsorship, and market Direction.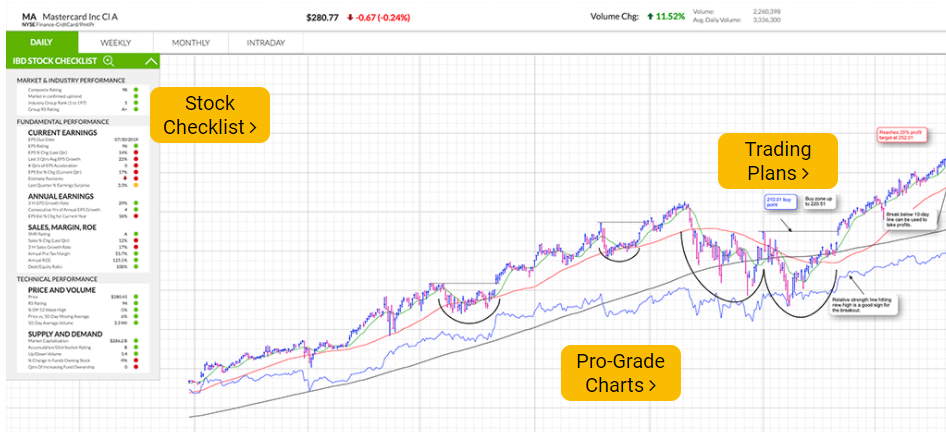 The Leaderboard services cost $828 per year, which is more expensive than Motley Fool, Stock Rover, and MorningStar. To justify this additional cost, IBD claims that they have a performance record of an average 36.6% profit per year. If this is the case, it could be well worth the investment. You can track watchlists, read regular market commentary, and use charts with buy and sell signals overlayed as part of the service.
---
15. Zacks: High-Performing Stock Research
To access Zacks's research reports, you must purchase the ZACKS Ultimate service website, which costs $2995 annually. This is one of the highest-priced stock research & reporting services for individual investors in the USA.
| | |
| --- | --- |
| ⚡ Features | Low-Cost Trades, Low Magin Rates |
| 🏆 Unique Features | Excellent Research, 218 Exchanges |
| 🎯 Best for | Stock Traders & Investors |
| 💰 Cost Per Stock Trade | $1 |
| 🌎 Region | Global |
For this investment, you get a comprehensive service covering trade recommendations for short-term trading through income and longer-term growth investing strategies.
The Zacks Ultimate service covers all of their services, including Short Selling Lists, Value Investing, ETF Investing, and Zacks's Top 10 Stocks. It is probably better to decide if you want to invest or trade before you buy a Zacks subscription because if you want to invest, then the Zacks Premium service, priced at a reasonable $249 per year, will give you access to their top 50 stock recommendations and the Zacks #1 Rank List research reports.
Zacks claims one of the highest yearly returns of all the services in this review, with a +24.4% average yearly gain.
| | |
| --- | --- |
| Website | Zacks |
| Product Name | Zacks Ultimate |
| Research Reports Stocks | ✔ |
| Real-Time Research Reports | ✘ |
| Analyst Research Reports | ✔ |
| Fund Research Reports | ✔ |
| Long-Term Investing | ✔ |
| Stock Ratings | ✔ |
| Portfolio Mgt Tools | ✘ |
| Short-Term Trading | ✔ |
| Buy Signals | ✔ |
| Price Per Year | $2995 |
| Claimed Performance (Yr) | 24.4% |
---
16. Seeking Alpha: Good Stock Forum Website
With over 8 million users exchanging ideas on Seeking Alpha (SA), you will surely have a constant source of inspiration. What I like about seeking Alpha is the experience level of the user community. If someone posts a sub-standard research article, the users will point it out in no uncertain terms. Registration is free, but a premium marketplace for stock advisory services exists.

The real benefits to Seeking Alpha are with the Pro Service, which gives you access to all the Investing Ideas and Seeking Alpha's Premium Ideas. Seeking Alpha PRO includes screening and portfolio management tools and their crown jewel, the Quant Rating, for $239 annually. The Quant Rating system claims to have an average annualized return of 24%
SA also makes money by allowing others to sell their stock investing strategies through their marketplace, with monthly prices ranging from $25 to $300.
| | |
| --- | --- |
| Website | Seeking Alpha |
| Product Name | SA Premium Quant Ratings |
| Research Reports Stocks | ✔ |
| Real-Time Research Reports | ✘ |
| Analyst Research Reports | ✔ |
| Fund Research Reports | ✘ |
| Long-Term Investing | ✔ |
| Stock Ratings | ✔ |
| Portfolio Mgt Tools | ✘ |
| Short-Term Trading | ✔ |
| Buy Signals | ✔ |
| Price Per Year | $239 |
| Claimed Performance (Yr) | 24% |
---
17. Interactive Brokers: Best International Broker Website
Interactive Brokers (IB) has a complete set of services, enabling you to trade practically anything on any market. Stocks, Options, ETFs, Mutual Funds, Bonds, Foreign exchanges, and even futures and commodities.
Usually, when a company is well established and large, it loses its competitive edge, but not so with Interactive Brokers. Low commissions on Stock Trades at $1- and great commissions on Options demonstrate competitiveness. They also have the lowest margin interest rate in the industry.
There are no additional costs regarding the trading platform, as Web Trader and TWS are free. Interactive Brokers caters to the more professional investor or those with a minimum account balance of $10,000. Also, you must have a balance of $100,000 to trade Forex.
Another huge bonus is that IB manages to throw Zacks and Morning Star research into the package for free, including real-time news.
IB manages to span the divide between Day Traders and Long-Term investors, which is difficult. If you plan to span those worlds, also IB is a natural choice.
---
18. Yahoo: Free Stock News & Charting
Yahoo has updated its interactive charting experience; it is a clean experience and full screen, so now it is very good. With 114 different technical indicators, you are well covered with Yahoo Finance. The interactive charts allow you to draw trendlines, linear regressions, and quadrant lines.
Yahoo now provides real-time quotes and charts via the BATS system, a nice new addition.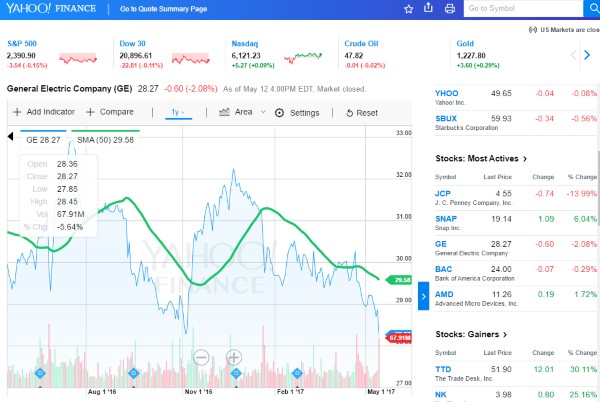 Yahoo Finance is working hard to make its charting system a worthy alternative to other free vendors.
They have done something quite innovative. You can now trade stocks through the Yahoo Finance charts. This means that using Yahoo, you can trade stocks with your broker. It is a nice feature, but if you have a brokerage account, you will already have access to real-time data, charts, and quotes and can trade directly with them, so it seems a little redundant but still a step forward.
Yahoo Finance provides a news aggregation engine and contributes original news via the Yahoo Finance news team. If you opt for Yahoo Finance Premium, you will get a good selection of analyst research reports. These static reports could be useful, but again, for the price tag of $49.99 per month, it might not be worth it because most mainstream brokers offer research reports for free. Firstrade offers free stock trades and research reports from both Zacks and Morningstar.
Profit & Loss & Performance Reporting
Yahoo Finance can connect to a wide variety of brokers. It can then download your stock position data and perform analytics on your portfolio, but you will require the overpriced Yahoo Premium subscription. There is no functionality in Yahoo Finance Premium for Portfolio Weighting & Rebalancing or Automated Portfolio Management.
However, they report your Portfolio Asset Allocation per industry sector and dividend income reporting.
[Related Article: The Top 10 Best Stock Trading Platforms. Trade From Charts]
---
19. LiberatedStockTrader.com: Best Stock Market Training
Although we should not add our product here as it may seem biased, we believe that the Liberated Stock Trader courses offer high-quality training at an excellent price. The Liberated Stock Trader website was established to help educate independent investors. We offer free stock market courses and premium stock market education.
The Liberated Stock Trader Pro Package includes 16 hours of high-quality video professionally delivered to ensure you learn every facet of the training course.
---
You want to be a successful stock investor but don't know where to start.
Learning stock market investing on your own can be overwhelming. There's so much information out there, and it's hard to know what's true and what's not.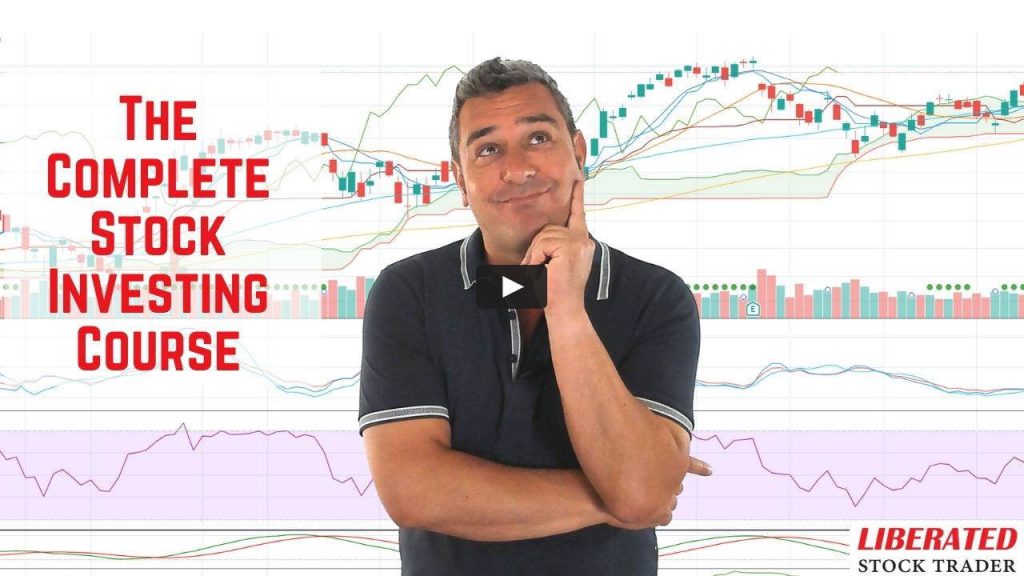 Liberated Stock Trader Pro Investing Course
Our pro investing classes are the perfect way to learn stock investing. You will learn everything you need to know about financial analysis, charts, stock screening, and portfolio building so you can start building wealth today.
★ 16 Hours of Video Lessons + eBook ★
★ Complete Financial Analysis Lessons ★
★ 6 Proven Investing Strategies ★
★ Professional Grade Stock Chart Analysis Classes ★
---
The course is divided into 27 modules individually delivered by the author to bring together the theory and the practice to make a unique learning experience. The videos are streamed online, and you will have LIFETIME ACCESS. You can watch it in the comfort of your own home. You do not need to travel to a seminar or pay hotel or flight costs.
Additionally, Liberated Stock Trader offers two market-beating strategies. The MOSES INDEX Investing Strategy and the LST Beat the Market Growth Stocks Strategy.
---
Beat The Market, Avoid Crashes & Lower Your Risks
Nobody wants to see their hard-earned money disappear in a stock market crash.
Over the past century, the US stock market has had 6 major crashes that have caused investors to lose trillions of dollars.
The MOSES Index ETF Investing Strategy will help you minimize the impact of major stock market crashes. MOSES will alert you before the next crash happens, so you can protect your portfolio. You will also know when the bear market is over, and the new rally begins so you can start investing again.
MOSES Helps You Secure & Grow Your Biggest Investments
★ 3 Index ETF Strategies ★
★ Outperforms the NASDAQ 100, S&P500 & Russell 3000 ★
★ Beats the DAX, CAC40 & EURO STOXX Indices ★
★ Buy & Sell Signals Generated ★
MOSES Helps You Sleep Better At Night Knowing You A Prepared For Future Disasters
---
We believe that the only person you can trust with your investment is yourself.
---
20. Traders.com: Best Technical Analysis Magazine
The best serious publication and website for serious traders who want to learn and keep the edge over the competition.

I have subscribed to the Technical Analysis of Stocks & Commodities Magazine (TASC) for nine years.
It is essentially the go-to magazine for experienced Technical Analysts. The magazine is very well-written and has a host of high-profile contributors. I have been published in TASC with my Side-Stepping the Next Crash" article.
The magazine covers the technical analysis of everything: Stocks, Options, Commodities, Bonds, Precious Metals, and Foreign Exchange.
It includes beneficial learning articles, such as developing indicators and new market analysis methods. They also spotlight learning new techniques for beginners and intermediate traders.
TASC also touches on the current market climate with an in-depth technical analysis of the various markets.
The contributors provide systems designed to help you get an edge in the markets while covering trading systems. When a system is provided, there will be the code for the various Technical Analysis Packages, such as MetaStock or TC2000, so that you can implement your indicators and systems.
As a subscriber, you also access the entire back catalog digitally via their website, a pure goldmine of knowledge not available anywhere else.
TIP – Go for at least a 1 Year Subscription to get access to the entire digital library.
---
Summary
There are many high-quality websites and services available to retail investors today. If you are looking for trading, charting, and a huge active community, TradingView is a good choice. If you are a long-term investor wanting to perform your research, Stock Rover is a great service. Motley Fool Stock Advisor is highly recommended if you prefer to have the research done for you and trade with high probability signals, then Trade Ideas is your only choice.
---
FAQ