Firstrade Review
Firstrade Overall Rating

Trades & Commissions

Brokerage Trading Platform

Customer Support & Research Score

Account Opening Balance

Regulation FINRA & SIPC Insurance
Firstrade Review Summary
Firstrade is great for traders & investors seeking FREE ZERO Commissions trading on Stocks & Options, plus an industry best 2,200+ Commission-Free ETF's. Full MorningStar access and 5-star customer satisfaction plus a full suite of IRA accounts, mean Firstrade is a great choice for brokerage services.
Firstrade's huge selection of stocks and over 2,200 ETF's + Options all trade commission-free at $0, add to that an excellent platform, and you have our winner.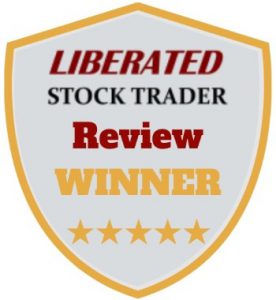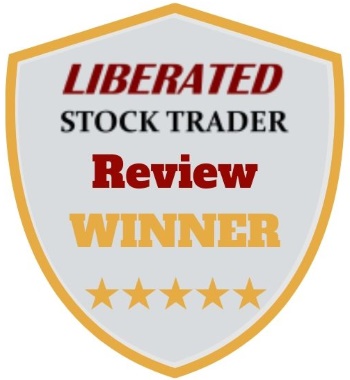 Important Announcement: In 2018, Firstrade made the extremely bold move to commission-free trades.  Firstrade was already our 2018 review winner and had the lowest commissions in the industry; now, they have officially the lowest in the industry with $0 commissions & fees.  Although major competitors like T.D. Ameritrade, E-Trade & Schwab had in 2019 moved to commission-free stock trades, Firstrade still leads the pack, as you will see in our commission's comparison. 
What stands out is the unique offering of over 2,200 commission-free Exchange Traded Funds (ETFs) on offer.  That is over twice as many as the next best competitor T.D. Ameritrade.
You also get entirely cost-free access to the suite of Morning Star research; only three other brokers offer free research of this quality.
The Firstrade Trading Platforms Firstrade Navigator, Options Wizards, and Real-time Watchlists hold up well against the competition.
And finally, a 5-Star Customer Satisfaction Rating rounds of the package for a top Brokerage for mid to long-term investors.

What is Firstrade?
Firstrade Securities has been in business for over 35 years and has gained prominence for being the first large broker to offer truly commission-free trading, located in New York in the U.S.A. Firstrade has received multiple awards for best value trading, customer service, and the "Clean Hands Kiplinger Award."
Firstrade Pros
$0 ZERO Commissions & $0 Fees
2,200+ Commission-Free ETFs
Free MorningStar Research
Excellent Customer Satisfaction
International Broker USA, Europe, Canada & Asia
Firstrade Cons
No CFD or Forex
No Cryptocurrency
Very Slow Customer Service Responses
Firstrade USA & International Accounts
Firstrade is also an international broker allowing investors from many countries to take advantage of their commission-free trading.
Austria
Belgium
China
Czech Republic
Denmark
Finland
France
Germany
Hong Kong
India

Ireland
Israel
Italy
Japan
Korea, Republic of (South)
Macau
Malaysia
Mexico
Morocco
New Zealand

Norway
Philippines
Poland
Portugal
Singapore
Spain
Sweden
Taiwan
Thailand
United Kingdom
Firstrade Fees & Commissions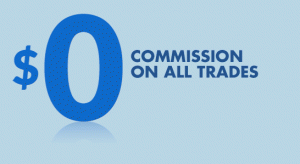 Firstrade is still the outright winner in the commissions' war with a $0 flat fee per trade and $0 per options trade, and $0 per contract.
But what also adds to the appeal with Firstrade is the 2,200+ commission-free Exchange Traded Funds on offer.  This is a vast selection, more than the total for all the other brokers reviewed in our Top 10 Brokers Review.
You can purchase Mutual Funds for $0, and Bond purchases are on a Net Yield Basis.
The only thing you cannot trade with Firstrade is Forex.
Commissions: Firstrade vs. TDA vs. E-Trade vs. Schwab vs. Fidelity
| | | | | | |
| --- | --- | --- | --- | --- | --- |
| Commissions & Fees | Firstrade | TD Ameritrade | E*Trade | Charles Schwab | Fidelity |
| Online Stock Orders | $0 | $0 | $0 | $0 | $4.95 |
| Online Option Orders | $0 | $0 + $0.65/Contract | $0 + $0.65/Contract | $0 + $0.65/Contract | $0 + $0.65/Contract |
| Online Mutual Fund Trades | $0 | $49.99 | $49.99 | $49.95 | $49.95 |
| Broker-assisted Stock | $19.95 | $25 | $25 | $25 | $19.95 |
| & Options Trades | (+$0.50/contract) | (+$0.65/contract) | (+$0.65/contract) | (+$0.65/contract) | (+$0.65/contract) |
| Minimum Initial Deposit | $0 | $0 | $500 | $0 | $0 |
Table 1: Firstrade Commissions vs. Competitors
You can see that Firstrade has a substantial focus on having the best commissions in the industry.  Even though T.D. Ameritrade, E-Trade & Schwab have now been forced to join the $0 Zero commissions bandwagon; Firstrade still offers the best value across stocks, options, and mutual funds.
Options Fees: Firstrade vs. IB vs. Fidelity vs. TDA vs. E-Trade vs. Schwab
| | | | | | | |
| --- | --- | --- | --- | --- | --- | --- |
| Commissions | Firstrade | Interactive Brokers | Fidelity | TD Ameritrade | E*Trade | Charles Schwab |
| Online Stock Orders | $0 | $0 | $4.95 | $0 | $0 | $0 |
| Online Option Orders | $0 | $1 + $0.50/Contract | $0 + $0.65/Contract | $0 + $0.65/Contract | $0 + $0.65/Contract | $0 + $0.65/Contract |
Table 2: Stock Trades & Options Trade Fees
Explicitly taking a look at broker fees for the six big players, Firstrade manages to maintain the lead even against Interactive Brokers (I.B.). Interactive Brokers also recently moved to $0 Zero fees for retail trades in North America but still maintains a fixed fee of $1 per trade and a blended rate of $0.50 per contract for international accounts.
ETF Fund Fees: Firstrade vs. Fidelity vs. TDA vs. E-Trade
| | | | | |
| --- | --- | --- | --- | --- |
| | Firstrade | TD Ameritrade | Fidelity | E*trade |
| Number of Commission-Free ETFs | 2200+ | 300+ | 93 | 200+ |
| Morningstar Coverage | 1100+ | 76 | 52 | 53 |
| Number of ETF providers | 100 | 8 | 2 | 13 |
Table 3: No Fee ETF Selection
Exchange-Traded Funds usually play a role in any well-balanced portfolio.  This is what I also appreciate with Firstrade, the fact that all "loaded" and "no-load" funds are zero fees.  With over 2,200 funds to choose from, the selection will meet most people's needs.
Part of the package is the Morningstar investment research service, which will keep you up-to-date with developments in the funds and the fund performance.
Margin Commissions: Firstrade vs. TDA vs. Fidelity vs. E-Trade vs. IB.
Online Options orders have zero commission, while the major competitors still charge $0.65 per contract.  Firstrade also has the largest selection of free to trade ETFs and Mutual Funds.
| | | | | | |
| --- | --- | --- | --- | --- | --- |
| Margin Balance | Firstrade | TD Ameritrade | Fidelity | E*Trade | Interactive Brokers |
| $1,000,000 + | 5.00% | 7.75% | 5.00% | 7.00% | 4.35% |
| $500,000 ~ $999,999 | 5.60% | 8.25% | 5.25% | 8.00% | 4.35% |
| $250,000 ~ $499,999 | 7.50% | 8.25% | 7.58% | 8.50% | 4.35% |
| $100,000 ~ $249,999 | 7.75% | 8.50% | 7.83% | 9.00% | 4.35% |
| $50,000 ~ $99,999 | 8.25% | 8.75% | 7.88% | 9.50% | 4.35% |
| $25,000 ~ $49,999 | 8.75% | 9.75% | 8.83% | 10.00% | 4.35% |
| $10,000 ~ $24,999 | 9.00% | 10.00% | 9.33% | 10.25% | 4.35% |
| $0 ~ $9,999 | 9.25% | 10.25% | 9.33% | 10.50% | 4.35% |
Table 4: Firstrade Margin Rates vs. Competitors
Firstrade goes head to head with the major competitors on margin rates also.  Firstrades financing rates are at least 1% to 2% lower on every tier of funding versus T.D. Ameritrade, Fidelity, or E-Trade.  However, if the margin is absolutely critical to your trading, Interactive Brokers is still the industry leader with 4.35% across the board for an IBKR Lite account; if you open a PRO account, you will get on average 3.35% or less depending on your balance.
In summary, the Margin Commissions fees are higher than Interactive Brokers, but still a lot lower than T.D. Ameritrade and the other mainstream retail brokers.
Open a Commission Free Firstrade Account Now
Firstrade Trading Platforms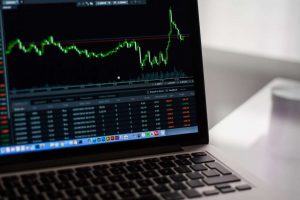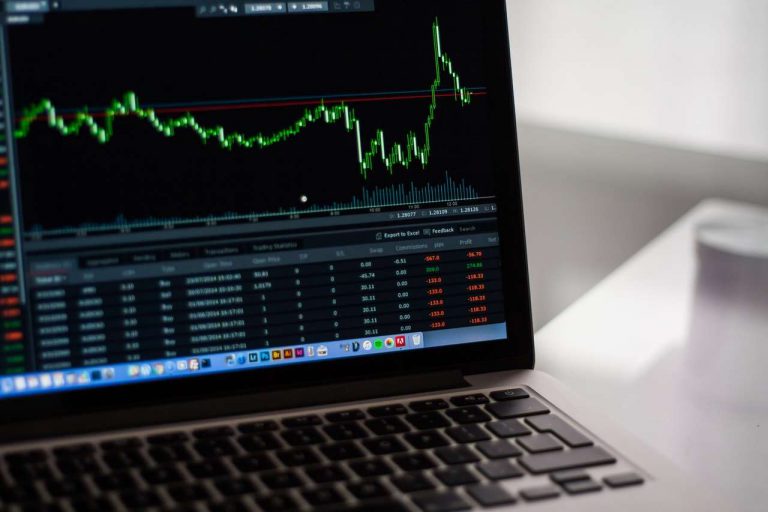 Firstrade has wholly rebuilt its trading platform from scratch, and the improvement is dramatic.  Gone are clunky java programs, replaced by a fast HTML 5.0 platform.  This platform is future-proofed and highly scalable.  The user experience is clean, intuitive, and easy to learn.
Also, what we like is its price – Free.
The trading platform has several components.  The web-based platform is available for all clients. If you have an account balance over $10,000, you will have complimentary access to download the Firstrade Navigator software; this is a compelling trading experience that runs locally on your P.C. or Mac.
New for 2020 is the Firstrade App for Android & IOS with two cool features:
Swipe left to quickly Buy or Sell right from the Positions page or watchlist.
Face ID and fingerprint recognition feature to ensure that you're the only one who can access your account.
Heatmap & Sector & Industries Tool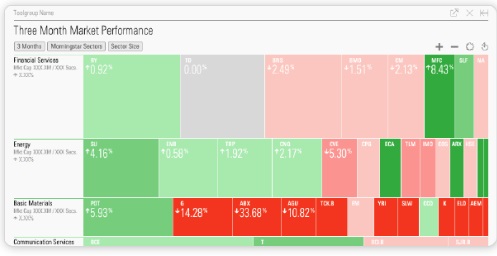 To find a potential opportunity to trade, you can start with the big-picture view of the market and drill down from there.  The heatmap is designed for short-term traders who need to see where the price action and volatility are on any given day.
Alternatively, you can utilize the sectors and industries to evaluate past performance and select a sector to review in more depth.
Advanced Screener, Fundamental Data & Event Calendar
No product set would be complete without scanning and screening for stocks based on the fundamental data.  Firstrade attempt at this is pretty good.  It does not match the offerings from TradingView or TC2000, but it is adequate for most investors.
A new event calendar is also available, neatly broken into tabs for Earnings Announcements, Dividends, Ratings Changes, Economic Indicators, I.P.O.s & Splits.
OptionsPlay
Firstrade has put a lot of effort into the Options Trading Platform OptionsPlay.  A first-class platform that focuses first on what kind of options strategy you want to implement.  You can drill down through industries and sectors, and you instantly get a technical analysis for the stock, the bullish or bearish score.  You can even sort your watchlist based on the bullish or bearish rating.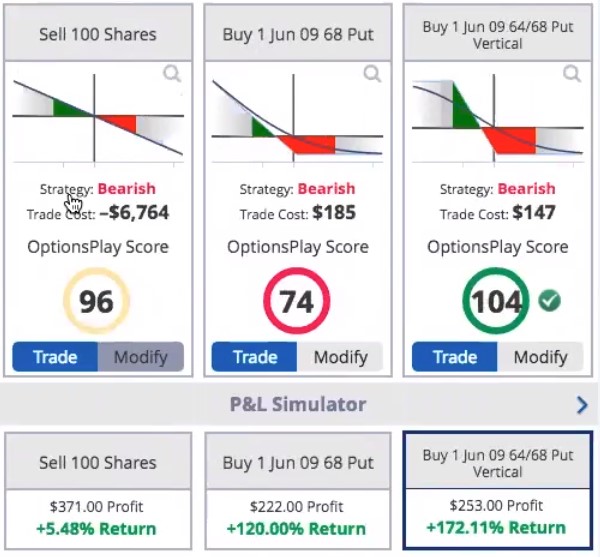 The image to the right shows the OptionsPlay Bullish and Bearish Ratings based on three scenarios based on if you are feeling bullish or bearish about the stock or index.
Strategy 1 – Selling 100 Shares of the stock – A Bearish Strategy – Cost would be $6764 – with a mediocre score of 96 for the trade
Strategy 2 – Buy the June 9th Put Options – Bearish – Cost $185 – Low probability Rating of 74
Strategy 3 – Buy June 9th Put Vertical – Bearish – Cost $147 – High Probability Rating of 104
I like the implementation here, simple and intuitive.
OptionsPlay Trading Platform Walk-through
See how the whole OptionsPlay functionality works in the image below to get an overview of the feature.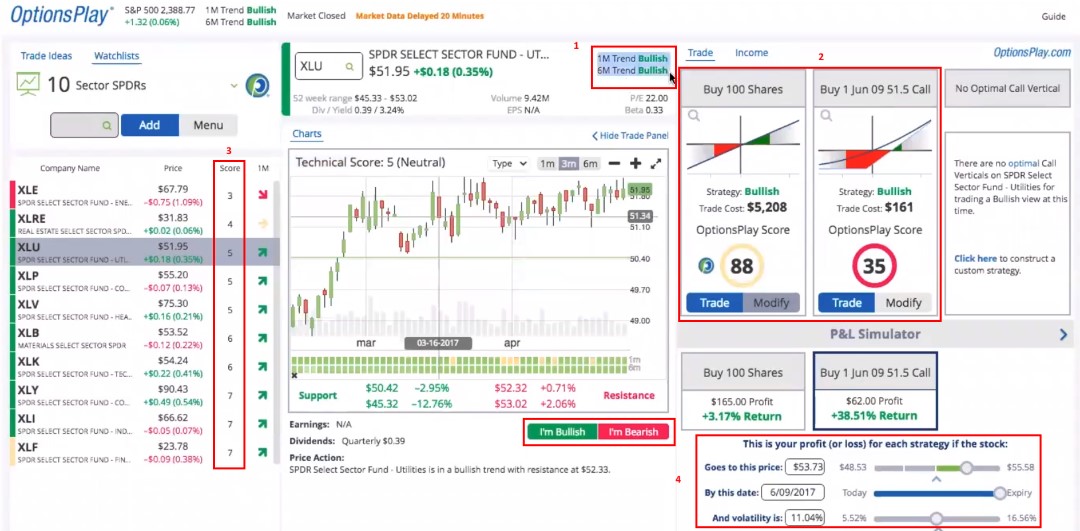 Optionsplay Dashboard Walkthrough
Immediate feedback into the one month and 6-month trend for the stock.
This particular fund is has a rating of 88 for a bullish strategy but only a 35 rating for a bullish options strategy.  The beauty of this is you can compare where you should buy the stock or utilize an options strategy.
The ability to then sort your list on the strongest score is excellent functionality.
Finally, the Profit & Loss simulator is excellent as it enables you to try to predict what your profits would be depending on how much you invest in the strategy.
Options Wizard Platform Video
Firstrade OptionsPlay Advanced & Custom
Desktop Trading Platform – Firstrade Navigator
Firstrade Navigator is a well designed and robust system with a lot of valuable information instantly available; this allows you to drill down into the details.
It is very customizable and also has a selection of widgets that you can embed into the dashboard.  Studies and stock chart indicators are, of course, also included.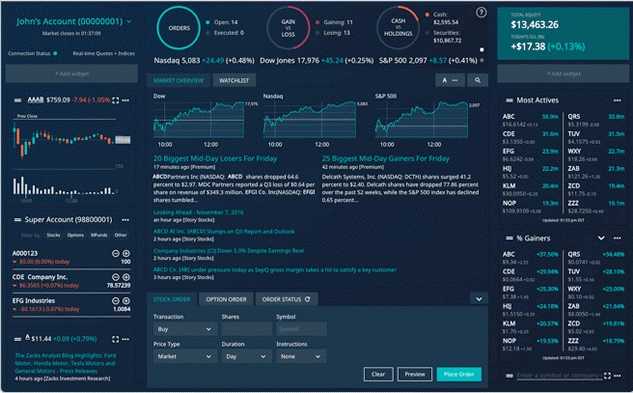 This is relatively newly developed, and I expect more functionality to be released in the near term.
Firstrade Investor Services
Firstrade does not just offer free trades; they offer a suite of traditional services vital to long-term investors and retirees.
Traditional IRA
A traditional individual retirement account where contributions may be tax-deductible; investments grow tax-deferred until a withdrawal. Retirement income planning with a Traditional I.R.A. account will allow you to deduct all or part of your contributions from your taxable income. The investment earnings of your I.R.A. are not subject to federal income tax until distributions (withdrawals) are made.
Roth I.R.A.
Unlike contributions to a Traditional I.R.A., contributions made to a Roth individual retirement account are not deductible. The significant benefit of Roth I.R.A.s is that earnings from investments are tax-free.
Rollover I.R.A.
You may use a rollover individual retirement account if you're changing jobs or retiring to keep your investments growing tax-deferred without incurring penalties. By directly rolling over assets from your employer-sponsored retirement plan into an I.R.A. Rollover, you'll defer your tax liability and may be able to avoid penalties altogether.
SEP IRA
A Simplified Employee Pension (S.E.P.) I.R.A. is a written arrangement that allows an employer to make contributions for employees' retirement, or personal retirement if self-employed, without becoming involved in an elaborate retirement plan.
SIMPLE IRA
SIMPLE stands for Savings Incentive Match Plan for Employees; it is a written arrangement that provides a simplified way to make contributions to provide retirement income for employer and employees. Under this individual retirement arrangement, employees may choose whether to make salary reduction contributions to the SIMPLE plan. Also, an employer will contribute to matching or nonelective contributions on behalf of eligible employees.
Coverdell ESA
A Coverdell Education Savings Account (E.S.A.), formerly known as an Education I.R.A., is an account that helps you save money for the cost of elementary, high school, or higher education for a designated beneficiary. You can open multiple accounts on behalf of individuals under the age of 18 and make a non-deductible contribution as long it does not exceed $2,000 per child.
Custodial Account
Firstrade's Custodial Account can help you save for your child's education and build a nest egg that will contribute to their future financial stability. A Custodial Account lets you manage a minor's assets on their behalf, gives you a gift tax advantage, and the flexibility to invest in any combination of stocks, mutual funds, bonds, and ETFs.
Firstrade Portfolio Management Services
| | |
| --- | --- |
| Firstrade Stock Portfolio Tracker Features | Firstrade |
| Watchlist Tracking | ✓ |
| Research & News | ✓ |
| Profit & Loss Reporting | ✓ |
| Performance Reporting | ✓ |
| Weighting & Rebalancing | X |
| Portfolio Asset Allocation | ✓ |
| Broker Integration | ✓ |
| Future Income & Dividend Reporting | X |
| Automated Portfolio Management | X |
| | Visit Firstrade |
Firstrade Customer Support
Firstrade provides full email, chat, and telephone coverage. During 2020 their response times have slipped and it took them 10 days to respond to a test request, and when I called there was a 1 hour response time. However, they have zero negative tweets or negative TrustPilot reviews in the last 12 months.  Additionally, customers rave about the service, which is unusual; this means a 5-star customer satisfaction rating.
What I also like is they throw into the mix free access to Zacks Research, Morningstar Research & Ratings, Breifing.com & Benzinga (although not the real-time Benzinga PRO version).  These third-party services are quite valuable, and considering Firstrade offers very zero commissions, they also add value through these services.
Brokerage Regulation & Account Minimum
Is the company well established, well funded, and well regulated?  This is the main object of this round of comparisons.
Any U.S. based Broker should be a member of the following institutions.
Financial Industry Regulation Authority (FINRA) Membership.
FINRA is a nonprofit organization established to protect investors and ensure that the members comply with the law and the Securities and Exchange Commission rules.  They audit all members regularly.
Securities Investor Protection Corporation (SIPC) Membership.
The SIPC is there to protect and hopefully recover any money lost if a Brokerage firm fails.  Although Broker failure is rare, it can happen, and SIPC membership ensures that your account is protected up to $500,000.
Firstrade has all the protection required in the U.S.A, they are fully registered in the FINRA Database and have SIPC insurance.
Open an Account with Firstrade
Firstrade Review Summary
Firstrade is excellent for traders & investors seeking FREE ZERO Commissions trading on Stocks & Options, plus an industry best 700 Commission-Free ETF's. Full MorningStar access and 5-star customer satisfaction, plus a full suite of I.R.A. accounts, mean Firstrade is an excellent choice for brokerage services.
Firstrade Master Data Sheet
Brokerage
Result
Review Winner
Great for:
Mid to Long Term Investors
Likes
★ ZERO Commissions
★ 700+ Commission Free ETF's
★ Free MorningStar Research
★Excellent Customer Satisfaction
Dislike
✘ Highish Margin Rates
Trades & Commissions
Direct Market Access DMA
✔
Stock Trading
✔
Stock Trading Fees
$0
Per Share Trading Fees
Stock Trading Fees (Max)
Options
✔
Options Trading Fees
$0
Leverage Available
✔
ETF Trades
✔
Exchange Traded Funds (ETF)
$0
Number of Commission Free ETF's
700
Futures
✘
Mutual Funds
$0
Bond Purchase
✔
Bonds
Net Yield
Forex Trading
✘
Foreign Exchange (fx) Commission $ per 1,000
✘
Margin Account Interest Charges
4.75% to 9.%
Margin Costs Rating
★★★
Trades & Commissions Score
★★★★★
Trading Platform
Software Provider
FirstTrade
Trading Platform Cost
Free
Web Software
✔
Desktop Software
FirsTrade Navigator
Options Wizard
Real-Time Watchlist
Mobile Software
✔
LII Quotes
✔
Indicators / Studies
✘
Streaming Charts
✔
Watchlists
✔
Profit / Loss Graphs
✔
Probability Calculators
✘
Options Chains
✔
Trading Platform Score
★★★★
Customer Support & Research
Customer Support (Phone & Live Chat)
✔
Customer Satisfaction Score*
★★★★★
Research & Trade Ideas
✔ MorningStar Free
News
✔
Customer Support & Research Score
★★★★★
Account & Company Details
Available for U.S. Citizens
✔
Account Minimum
$0
FINRA Member
✔
SIPC Insurance - Assets
✔
Regulated By
SEC
-
Do you want more Stock Broker Reviews?
Notes on the Review
Customer Satisfaction Score (Star Ratings)
The customer satisfaction score was compiled using the following methodology.
The Twitter Accounts of the Brokers were scanned back for one year for any negative feedback from customers.  Also, TrustPilot UK and U.S.A. were reviewed, and any negative comments counted against the broker.  These two sources of information were combined to provide the star rating you see below.
★★★★★ – No Complaints & Positive Recommendations  (1 year)
★★★★ – No Complaints  (1 year)
★★★ – < 10 Complaints (1 year)
★★ – 10 to 20 Complaints (1 year)
★ – > 20 Complaints (1 year)
Partnerships & Special Bonus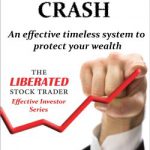 Liberated Stock Trader has partnerships with most of the service providers in this review.  This means if you find the review useful and purchase any of the services mentioned we will receive a small payment which goes towards funding the research and work we do. 
As a thank you for using our reviews and purchasing any of the services mentioned we would like to offer you a special bonus of the highly rated Liberated Stock Trader
"How to Avoid the Next Stock Market Crash"
eBook and Video Course worth $29.-.  Simply
contact us
specifying which service you signed up for and we will send you your gift.
Review Methodology
Over 2000 data points were collected during this review.  Brokers change services, terms, and commissions regularly.  If you represent a Brokerage House or are a client and spot an inaccuracy, please leave a comment or contact us here, and we will endeavor to correct it.