TradingView is the best stock software overall, but good alternatives to TradingView include Trade Ideas, Benzinga Pro, Stock Rover, FinViz, TrendSpider, MetaStock, and Tickeron.
This article discusses the exact benefits of each of these TradingView alternatives and their unique use cases.
TradingView is today's leading stock trading platform, excelling at charting, data, community, and live trading. But, depending on your needs, TradingView might not be the right choice for you.
I have used TradingView daily for my trading and investing over the last six years, so I can highlight its strengths and weaknesses in detail.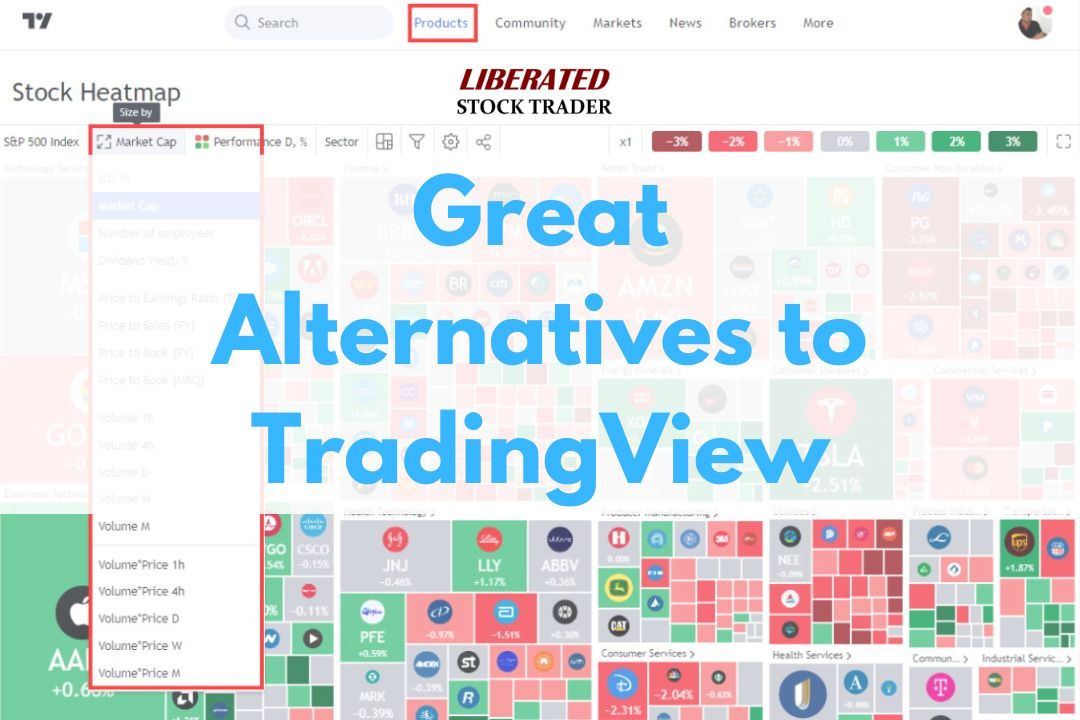 We independently research and recommend the best products. We also work with partners to negotiate discounts for you and may earn a small fee through our links.
TradingView has the best charts, community, free global stock data, integrated trading, heatmaps, economic data, and powerful backtesting. But it lacks real-time news, forecasting, value investing data, and AI automated trading.
7 TradingView Alternatives
While TradingView is great, Benzinga Pro is a better alternative for real-time news, Trade Ideas is best for AI-powered day trading, and Stock Rover is better for long-term investors. For chart pattern recognition TrendSpider is better than TradingView, and Finviz is a good free alternative.
1. Benzinga Pro: Better for real-time news.
Benzinga Pro is a better alternative to TradingView if you are a day trader looking to take advantage of breaking news. Stocks move fast during trading days based on news events, so to make quick trades and daily profits, you need real-time news.
TradingView has a newsfeed, but it is significantly delayed. Our best real-time news services review reveals two clear winners if you want to trade news events.
Benzinga Pro: The best real-time news alternative to TradingView
Benzinga Pro is the best real-time stock market news feed for traders delivering cost-effective, actionable news, charts, financials, screening, and a powerful calendar suite to get a trading edge. Benzinga Pro's platform is designed to be the place where you get stock news first.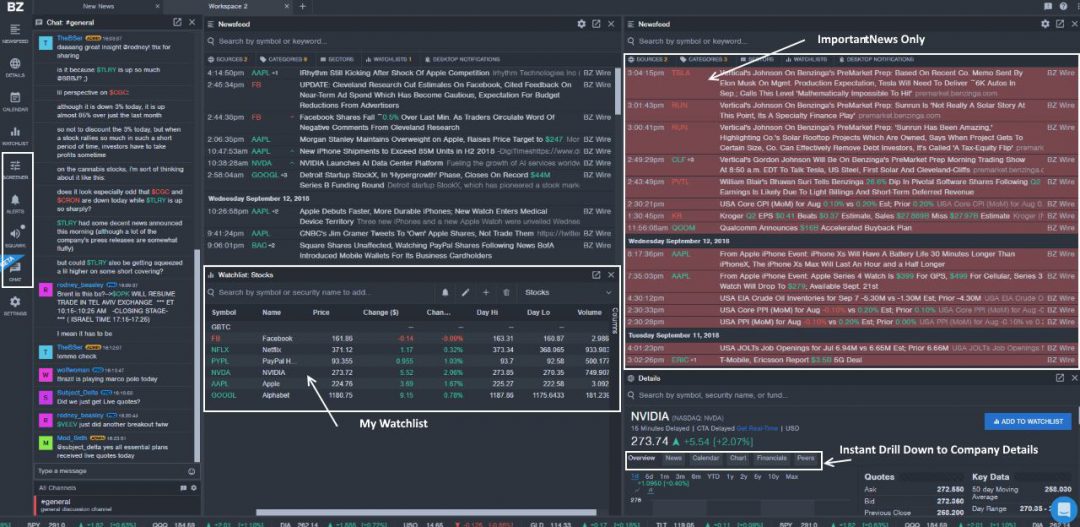 Benzinga Pro is designed for traders and is 1/10th of the cost of a Bloomberg Terminal. What makes it unique is the fast delivery of news, insider interviews, and direct access to the reporters at the news desk. They also have a considerable amount of news content unavailable to regular subscribers.
2. Trade Ideas: Better for AI day traders.
Trade Ideas is a great alternative to TradingView because it offers AI-automated trading and signals for day traders. AI and the use of Bots to automatically trade the market is a huge trend now and in the future.
TradingView does not have automated trading or the ability to run robots around the clock. The best-of-breed AI trading services provide real-time trade opportunities and the ability to execute trades with a winning audited trade history.
Our research shows the leaders in AI trading software are Trade Ideas and Tickeron. Trade Ideas has automated AI trading Bots for stocks and a proven track record. Tickeron offers 34 AI stock trading systems and hedge fund-style AI model portfolios with audited track records.
Rules-based AI and day trading Bots platforms are becoming pervasive. However, machine learning and deep learning software are still in their infancy. Trade Ideas is an advanced, high-performing AI trading software with three automated AI trading Bots.
Trade Ideas: The best AI day trading alternative to TradingView
Trade Ideas is the leading AI trading software for finding day trading opportunities. Trade Ideas has three cutting-edge AI stock trading Bots that backtest in real-time all US stocks for high-probability trading opportunities.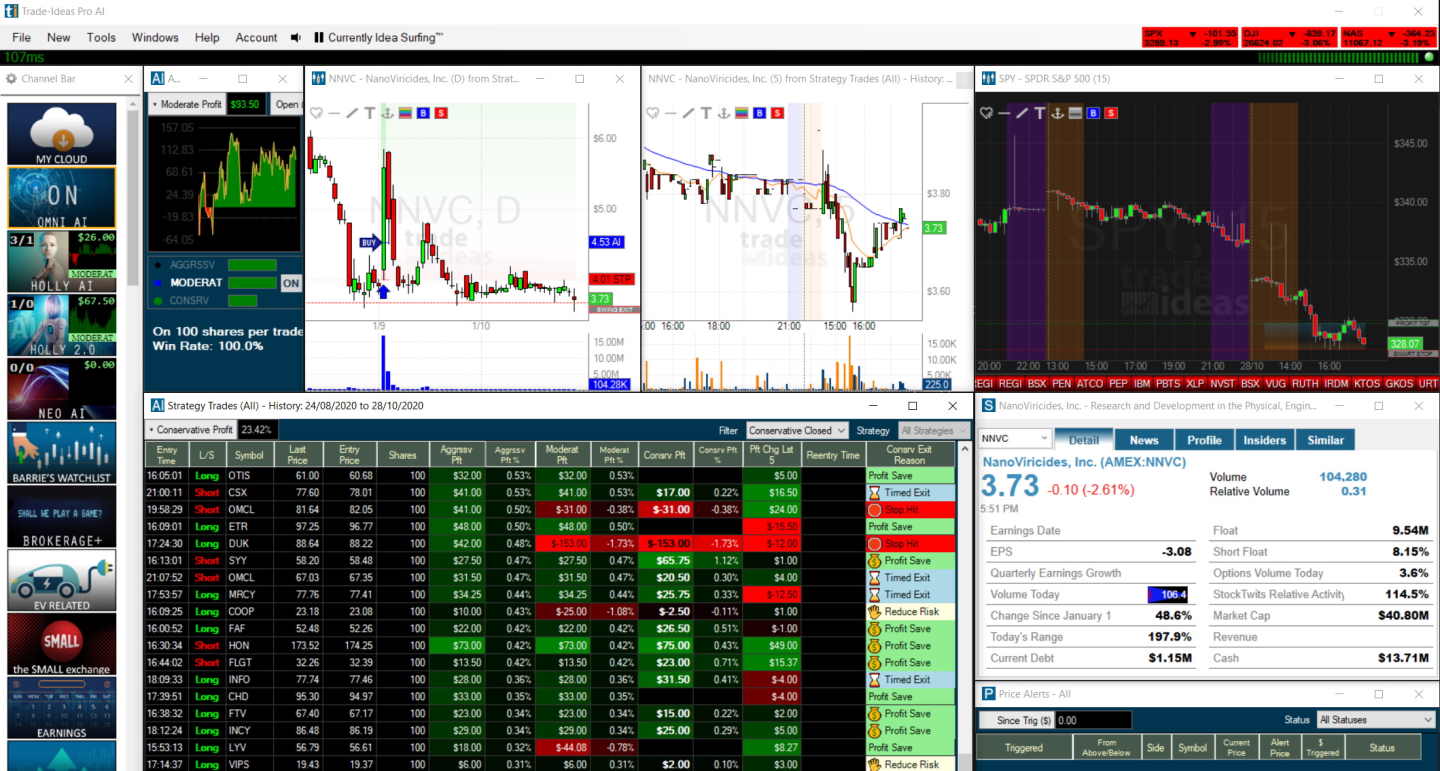 Trade Ideas is one of the few services that offer fully automated stock trading. Trade Ideas allows you to connect to eTrade or Interactive Brokers for automated trade execution. As trade signals generated from Holly AI have a duration of a few minutes to a few hours, automating the buying and selling of stocks could be a wise choice and save you time.
3. Stock Rover: Better for Investors.
Stock Rover is a better alternative to TradingView for medium to long-term investors in stocks and ETFs. If you are an investor seeking to implement a detailed growth, value, or dividend investing strategy, then TradingView is not the best choice.
My research reveals that Stock Rover is the best software for financial stock screening, portfolio management, and deep stock research.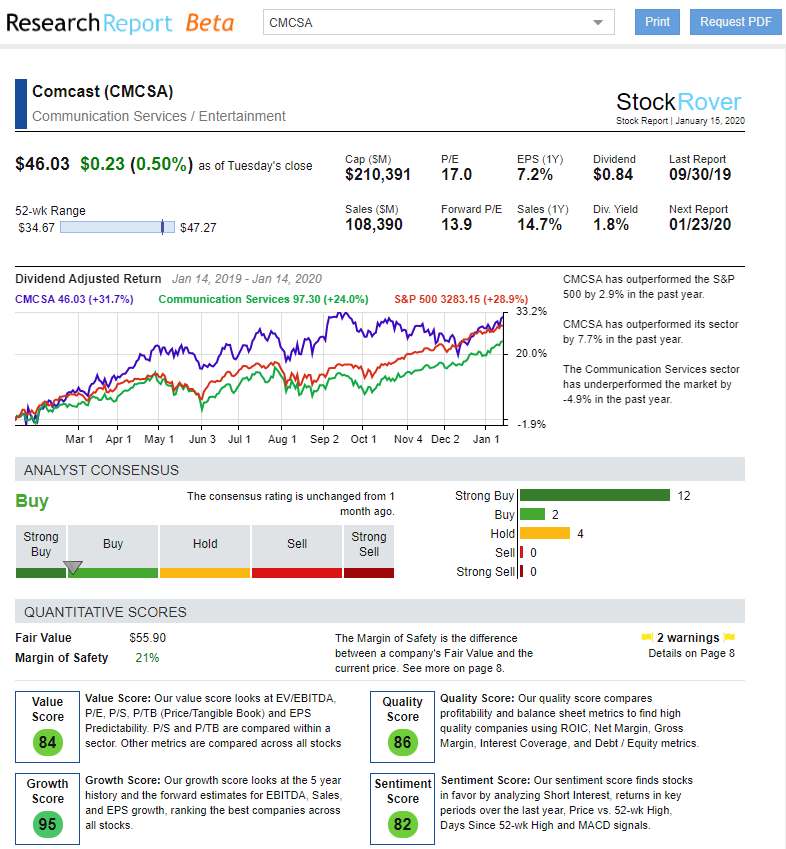 Stock Rover has a 10-year financial database and impressive stock ratings. Stock Rover enables the development of intricate dividend, value, and growth investing strategies, making it an industry-leading platform.
Stock Rover is best for USA & Canadian value, growth, and income investors seeking detailed fundamental and financial analysis stock screening and research software. Stock Rover's ease of use hides its flexibility and underlying strength.
4. TrendSpider: Better for AI pattern recognition.
While TradingView has dramatically improved its pattern recognition capability, there is one stock trading platform that beats it.
TrendSpider provides candlestick tools automating pattern recognition, backtesting candlesticks, and trading them with an AI Bot.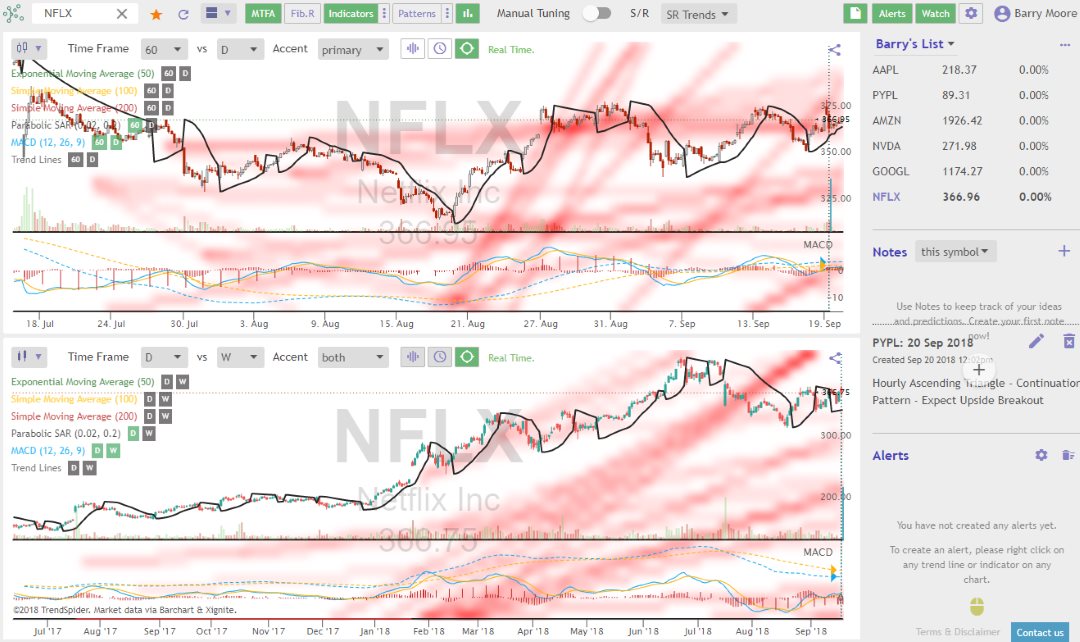 TrendSpider instantaneously detects stock chart support and resistance trendlines, 123 candlesticks, and Fibonacci numbers on multiple timeframes. Trendspider's AI algorithms allow automated market scanning and backtesting for trend detection across entire exchanges.
https://www.liberatedstocktrader.com/trendspider-discount-coupon-code/
5. MetaStock R/T: Better real-time news and forecasting.
MetaStock Xenith is the best global real-time financial news feed for technical traders because it delivers institutional-grade data from Refinitiv and is the leading technical analysis stock charting and backtesting service.
I recommend MetaStock Xenith for traders who need real-time news and access to a huge stock systems market, all backed up with excellent customer service.
The one thing TradingView cannot do is provide stock market forecasting. If you are looking for software that has a forecasting engine, your only option is MetaStock.
The MetaStock Forecaster is unique in the industry because it allows you to use hundreds of different strategies to predict the future price of stocks. The forecaster analyzes past events, the impact on the stock price, and forecasts for the future.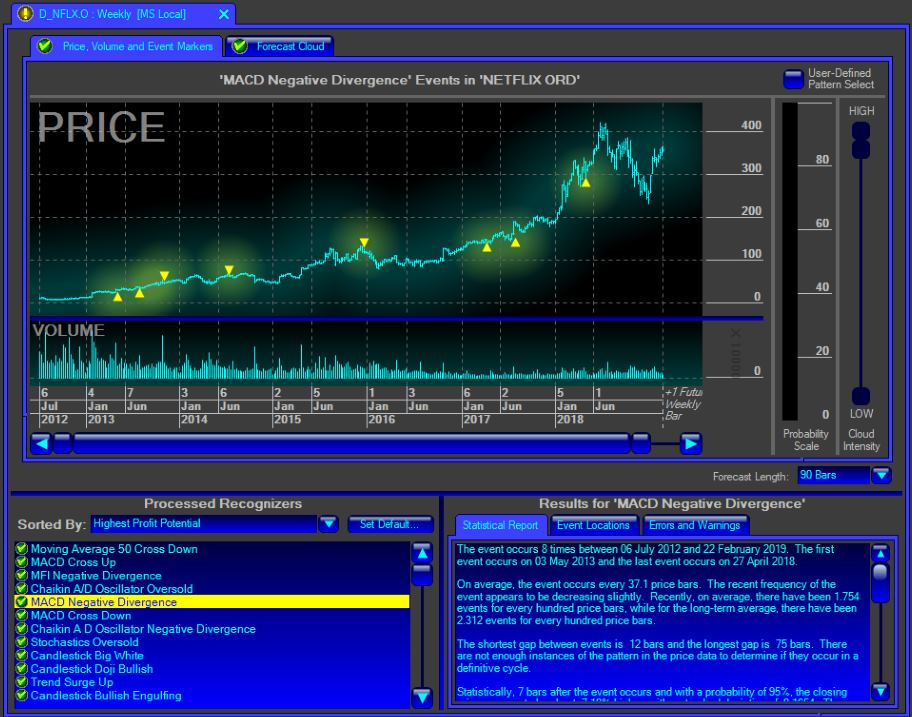 The most significant addition to the MetaStock arsenal is the forecasting functionality, which sets it apart from the crowd.
The forecaster strategies are called recognizers, and there are over 70 recognizers available to use. Recognizers are based on common technical chart setups like new 52-week highs or lows, candlestick patterns, or MACD crossovers.
You are then presented with an interactive report which enables you to scan through the many predictive recognizers, which help you plan for realistic outcomes and profits for a particular trade setup.
6. Tickeron: AI screening alternative to TradingView
Tickeron is excellent AI trading software using stock chart pattern recognition to predict future trends providing 45 streams of trading ideas. Tickeron allows you to build your own AI portfolios with predictive returns. Tickeron is a wholly-owned subsidiary of SAS Global, a leader in data analytics whose services are used by the majority of fortune 500 companies. Tickeron uses AI rules to generate trading ideas based on pattern recognition.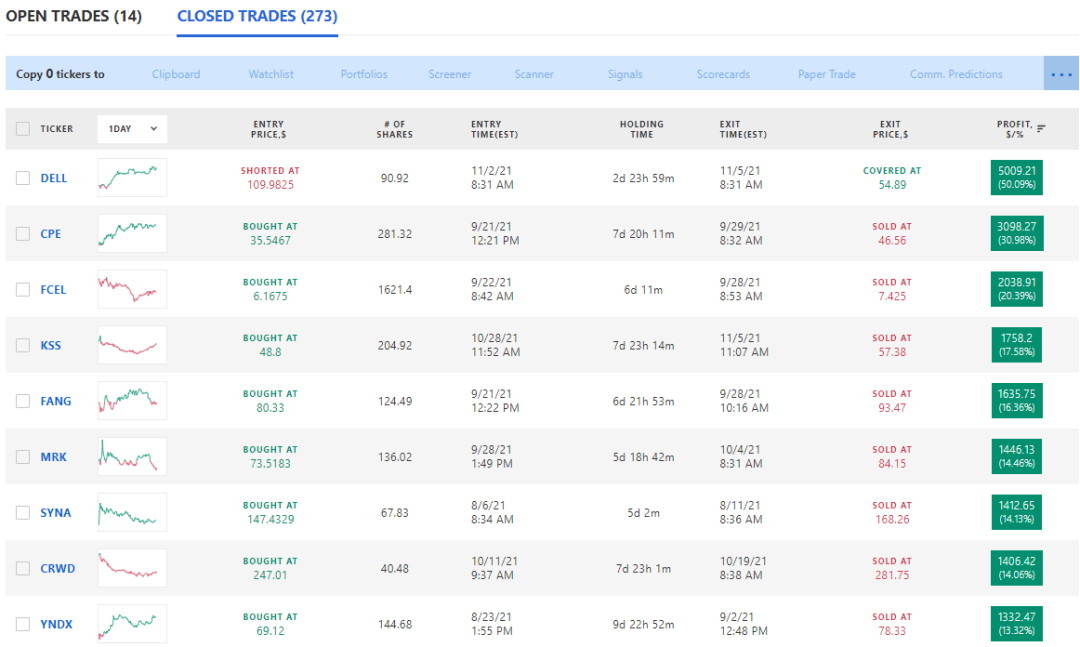 Firstly they use a database of technical analysis patterns to search the stock market for stocks that match those price patterns using their pattern search engine. Of course, each detected pattern has a backtested track record of success, and this pattern's success is factored into the prediction using their Trend Prediction Engine.
7. FinViz: A Free Alternative to TradingView
FinViz is a good free alternative to TradingView because it provides some similar features like heatmaps, screening, and chart pattern recognition for free. However, FinViz does not offer free backtesting or a large social community like TradingView.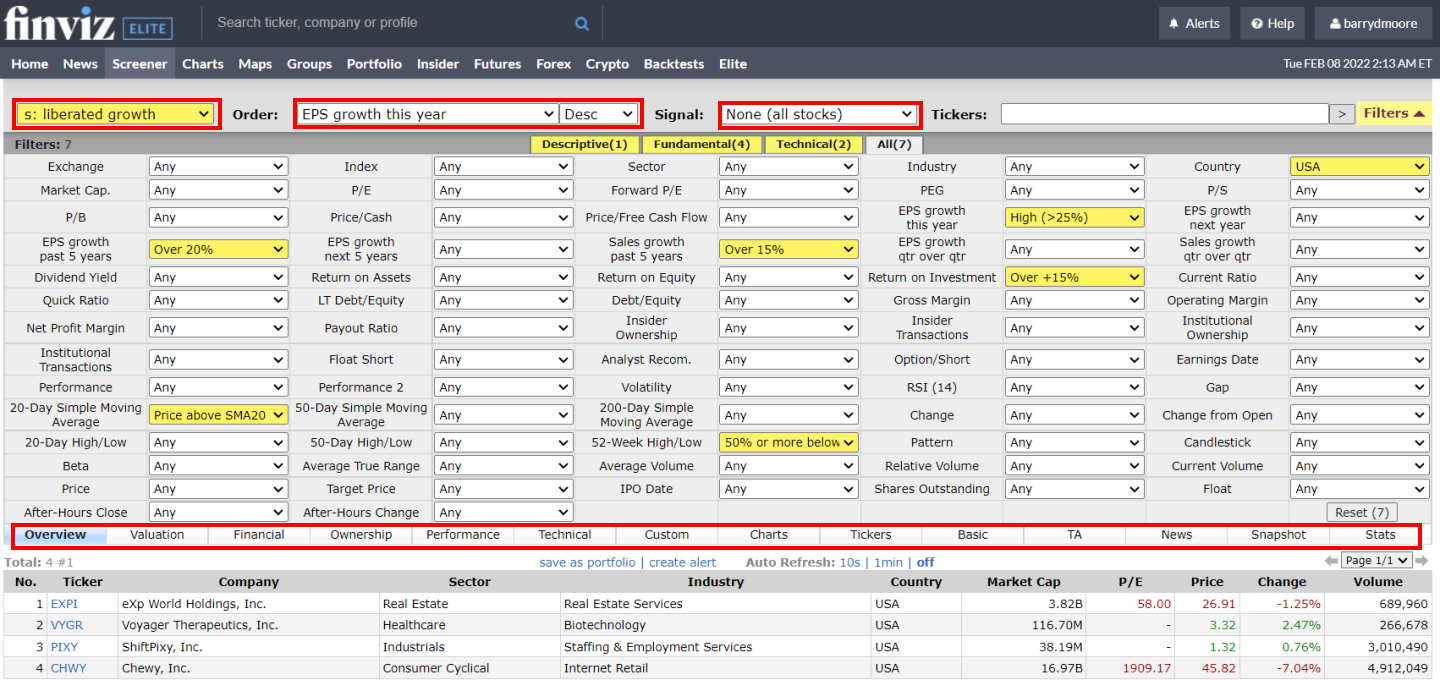 Finviz's free plan is ad-supported, but it provides a huge amount of value for beginner investors. Without registering, you can scan and screen over 10,000 stocks and use the delayed charts and news stream. The free plan is ideal for beginner investors who want to check the markets fuss-free.
10 Ways TradingView is the Best
TradingView is still the best stock analysis software for powerful charting, indicators, community, backtesting, live trading, heatmaps, and mobile app user experience. For the best trading experience overall, there is no better alternative to TradingView.
1. Powerful Charts & Indicators
TradingView has 14 different chart types that enable powerful financial market analysis and visualization. Of course, you get Candlesticks and OHLC bars, but you also get a range of specialist charts such as Heikin Ashi, Renko, Line Break, Kagi, and Point & Figure.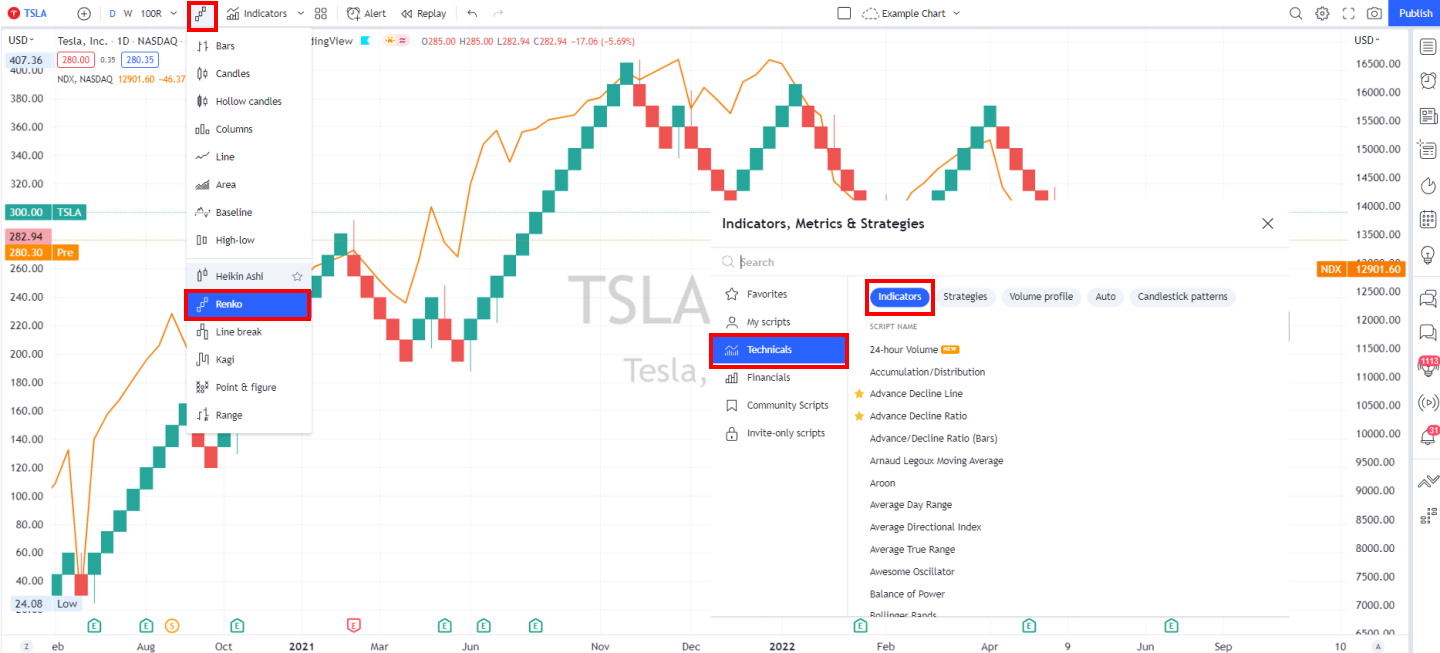 There are also 101 different technical chart indicators and 60 financial indicators that can be mapped onto your charts.
Finally, TradingView excels at enabling you to develop your own chart indicators. TradingView has developed there own code called Pine script, which makes developing indicators and strategies simple and quick. Below is a screenshot of my own MOSES indicators I developed for TradingView.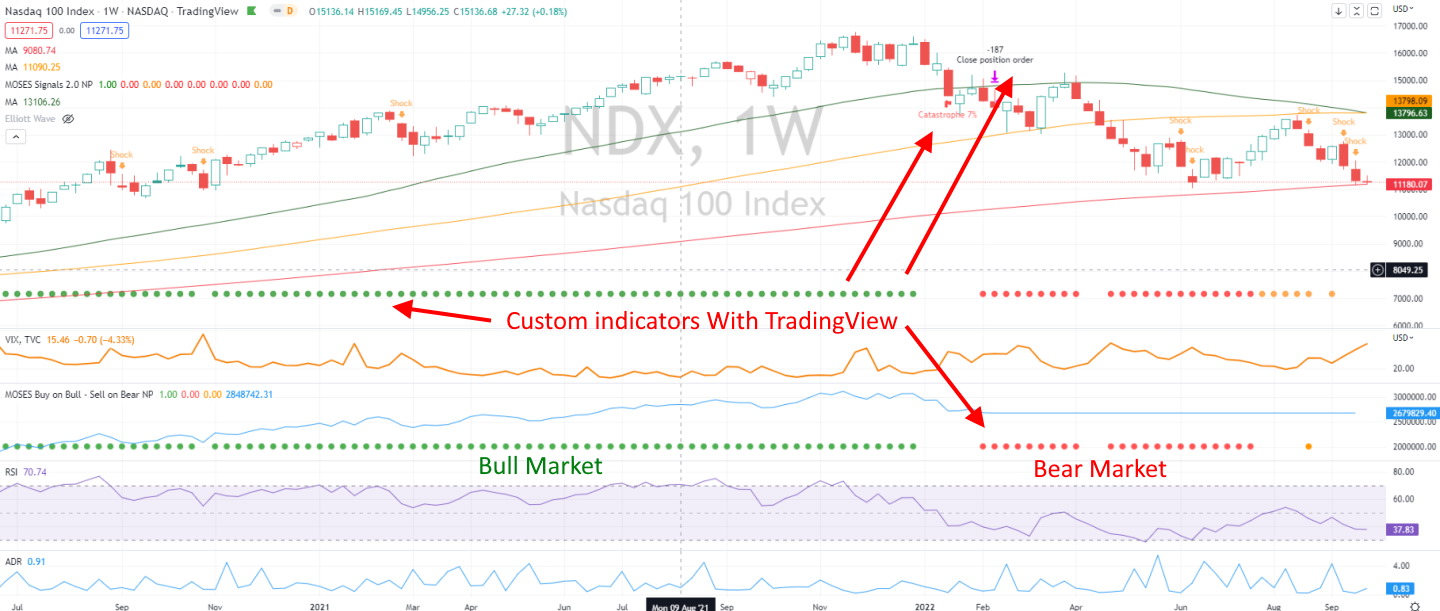 2. Free Stock Data Globally
TradingView has the largest selection of global financial market data available for free on any platform. 56 global stock exchanges, 21 foreign exchange data providers, and 63 cryptocurrency exchanges are covered.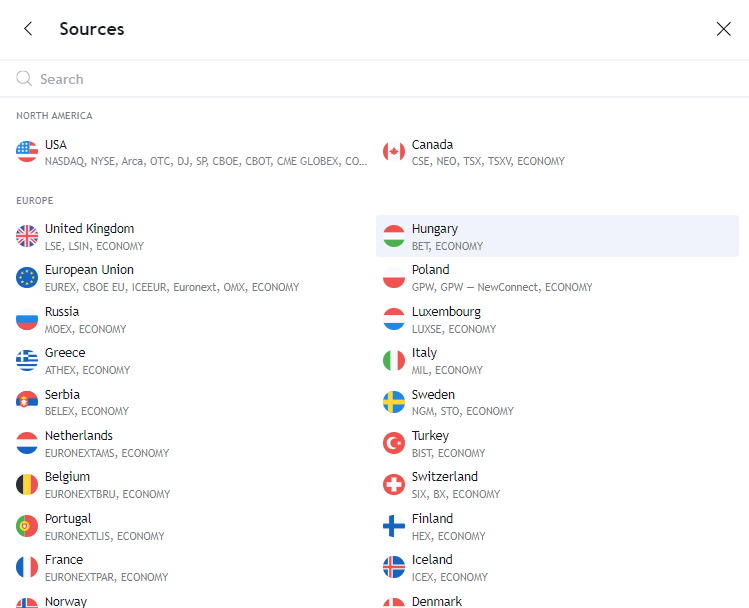 Data streamed from the BATS exchange is real-time; the rest usually has a 15-minute delay. Additionally, if you need real-time data for trading, TradingView offers the market's most cost-effective real-time data. As you can see below, TradingView charges only $2 or $3 monthly for real-time data, whereas most stock software vendors charge at least $9.99 monthly. This can save you a considerable amount of money.
3. A Huge Active Trading Community
According to Bloomberg, TradingView has 29 million active monthly users, making it the world's largest trading community. But how does the trading community benefit you?
TradingView has the concept of ideas; any user can submit an idea, whether it is an educational article, a trading idea, a hypothesis on the direction of a security, or even indicators and strategies. All this adds up to a wealth of knowledge you can benefit from.

The screenshot above shows my profile page; I have submitted 72 ideas and also where you can find a wealth of live streaming videos, trade ideas, or educational content. You can also join chat groups and message other traders.
4. Integrated Brokers & Trading
If you want to live trade directly from charts, TradingView is a great choice, offering tight trading integration to 43 brokers. Within a few clicks, you can select and sign up for a broker for trading Fx, stocks, or currencies.
The most established brokers integrated into TradingView are Interactive Brokers, TradeStation, Ally Invest, and Tradier. Even better, TradeStation offers free stock traders with TradingView: Stocks: $0, Options: $0.60 per contract, Micro Futures: $0.50 per contract, and Futures: $0.85 per contract.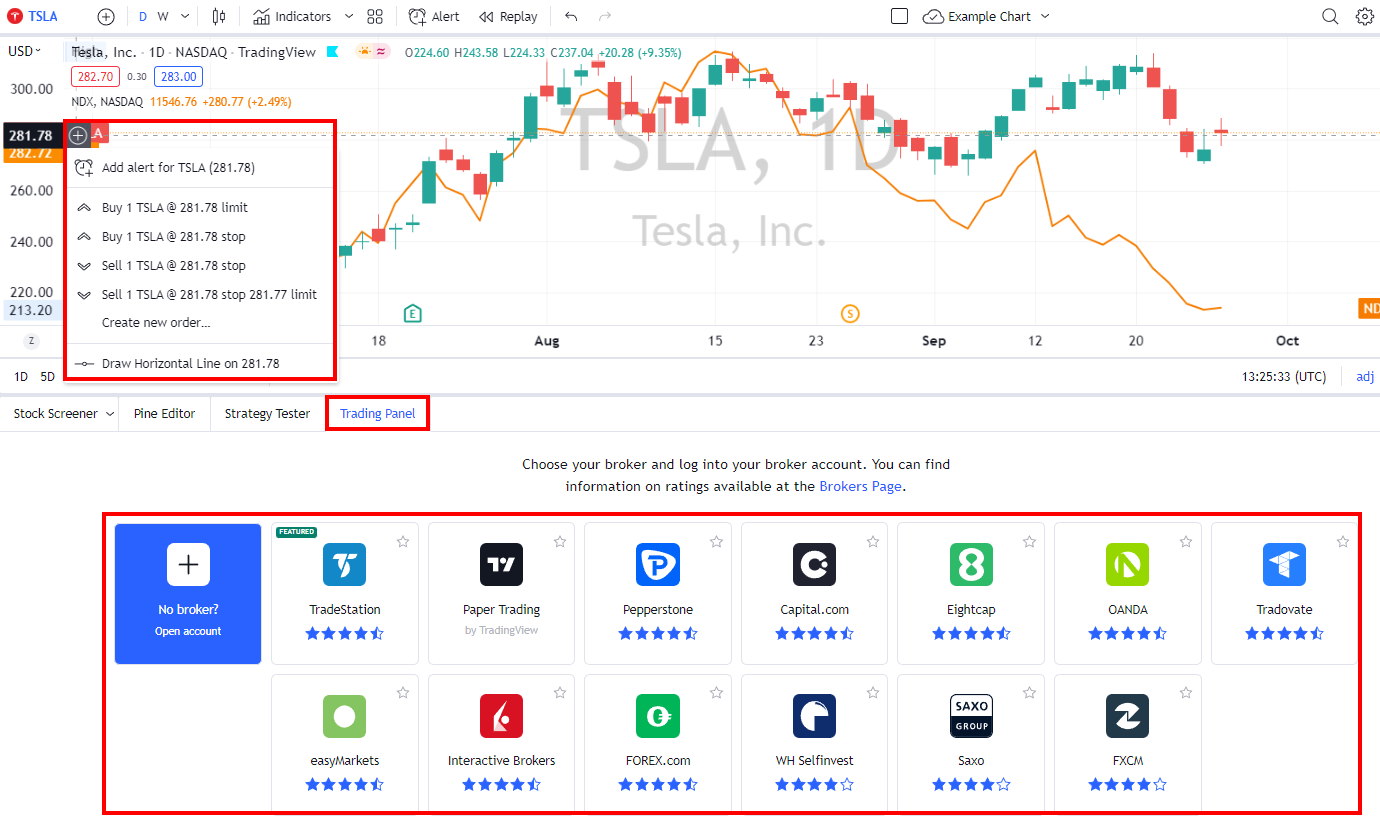 To connect to a broker, select [Trading Panel] and choose paper trading or a broker of your choice. The screenshot above also shows how to execute a trade by clicking the [+] sign on an asset you want to trade.
5. Heatmaps & Buy/Sell Ratings
Another unique benefit of TradingView is the ability to hone in on stocks or cryptocurrencies using a real-time configurable heatmap. The heatmap allows visualizing an entire stock exchange to find trading opportunities. What I like about TradingView heatmaps is they can be configured by Market Cap, Dividend Yield, PE Ratio, Volume, or Volume/Price.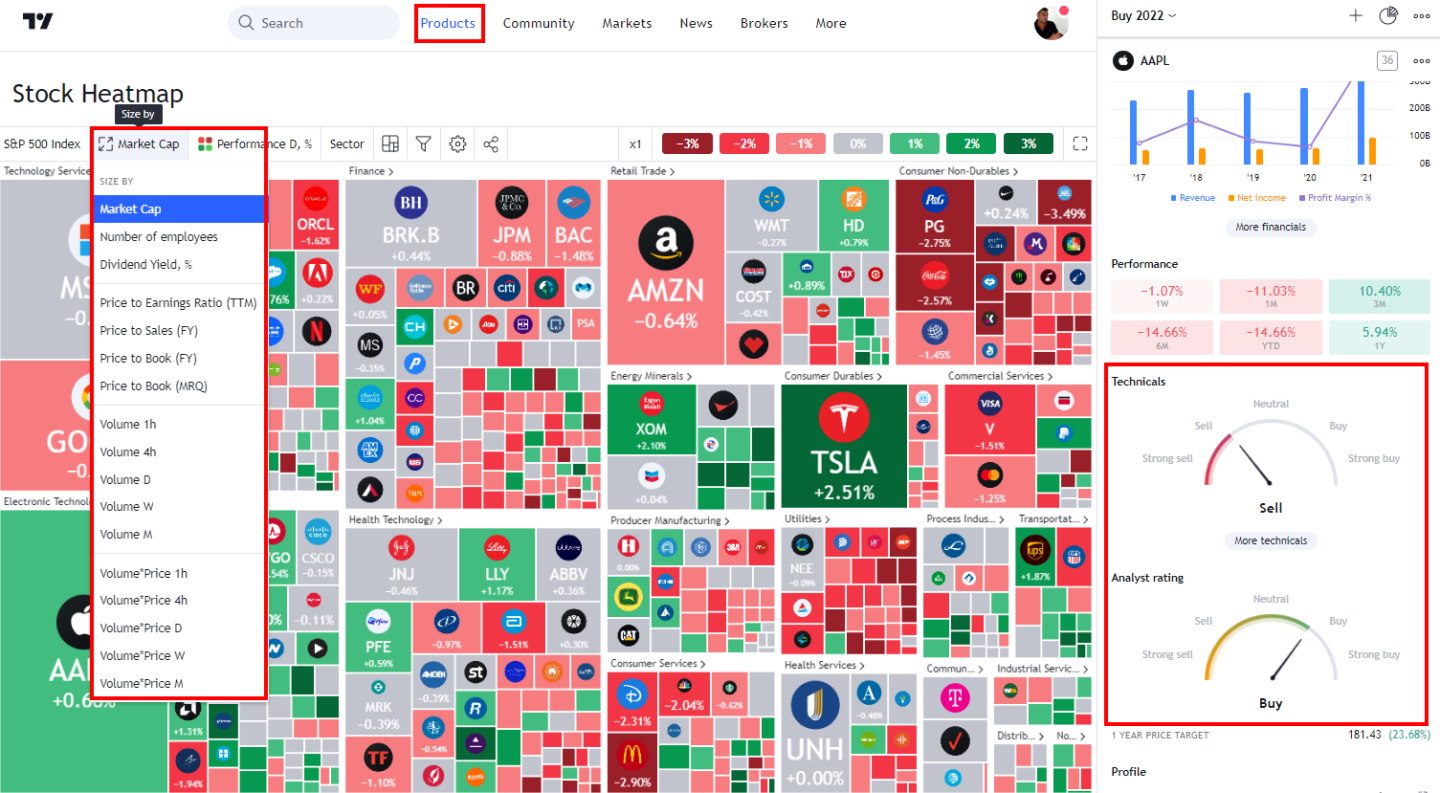 The screenshot shows the heatmap based on market capitalization, and companies in green have a positive stock price for the day.
Finally, a unique aspect of TradingView is the Buy/Sell gauges. On the right of the above screenshot, you can see two dials. The first is the Technical Buy/Sell gauge based on the average reading of 26 technical indicators, such as RSI, Moving Averages ADI, and Stochastics.
Additionally, you can see the Analyst Rating dials, which show you the stock's average rating by Wall Street analysts.
I think you will agree the Heatmaps, Buy/Sell gauges, and the Analyst rating dial are extremely useful for helping you make better trading decisions.
6. Automated Pattern Recognition
One of the toughest areas of technical analysis is memorizing hundreds of Candlestick patterns. TradingView makes your life easy by recognizing over 40 candlestick patterns.
Simply select [Indicators] -> [Technicals] -> [Candlestick patterns] -> [All Candlestick Patterns] and your chart will automatically update with detected patterns and a description of what each pattern means. (See screenshot below)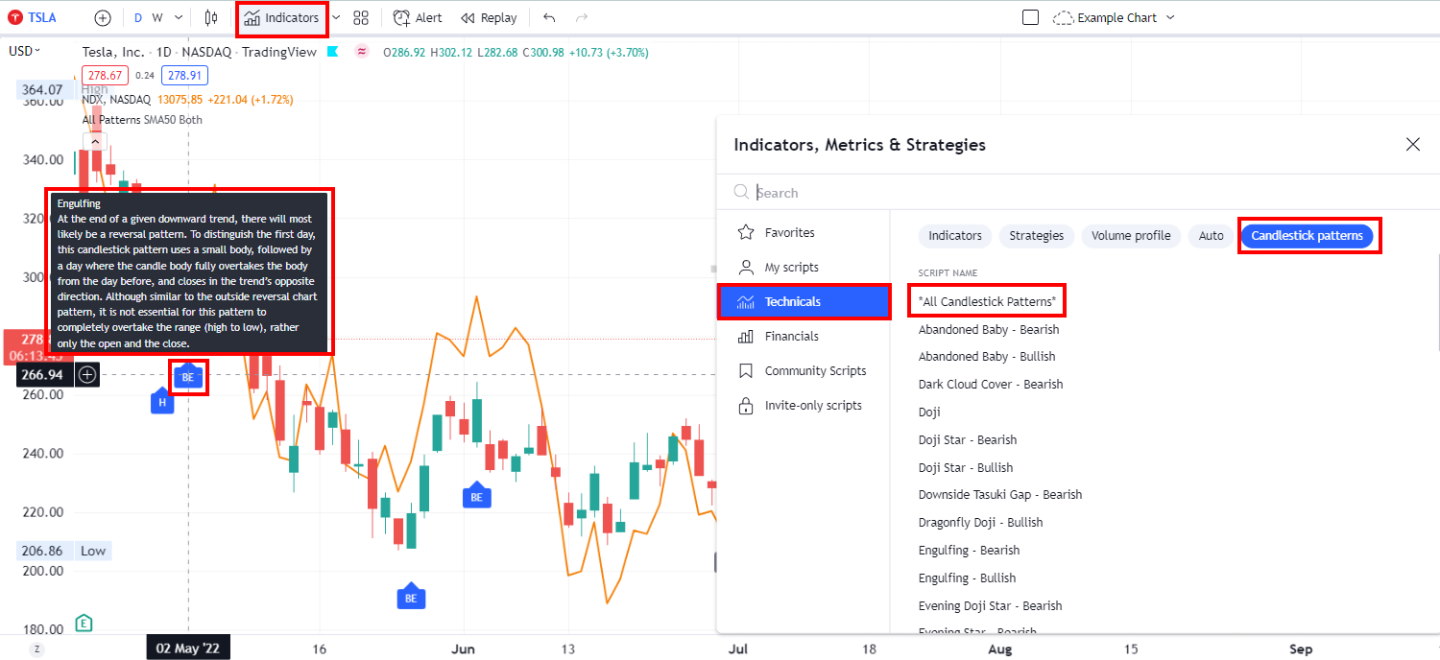 TradingView also supports pattern recognition for Fibonacci, Elliott Waves, and chart patterns such as pennants, flags, and double tops and bottoms. To enable automated pattern recognition simply click [Indicators] -> [Technicals] -> [Auto] -> [Choose Your Pattern]. See the screenshot below.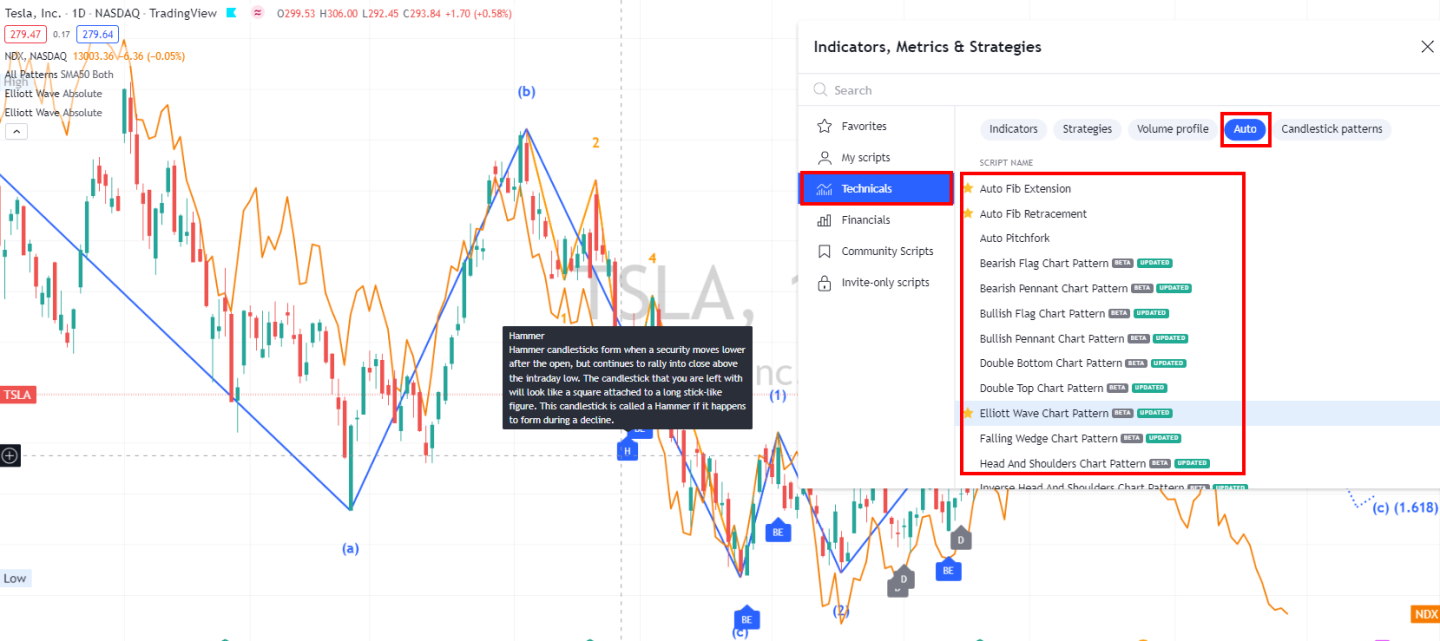 I know this might all sound a little complex, especially if you are a novice trader, but believe me, this is an innovative technology that you will want to use in the future.
7. All Financial Assets & Economic Data
Another outstanding benefit of using TradingView is that you can track and trade not only stocks but futures, currencies, crypto, and bonds. But even more impressive is that TradingView also connects to thousands of economic data points, such as the Federal Reserve (FRED) database and other global sources.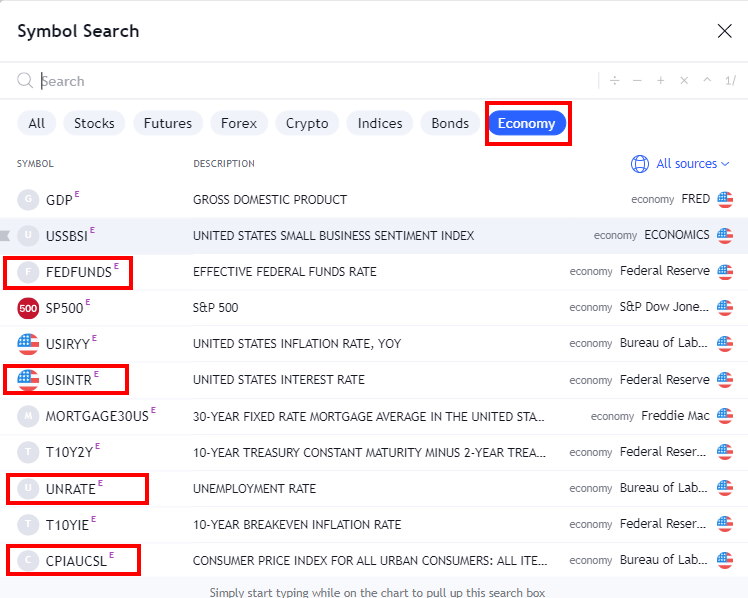 You can compare interest and unemployment rates across the globe; you can see inflation by country or GDP.
TradingView is developing into the world's largest repository of interactive economic and market data. If you want to perform in-depth market analysis and create unique investing methodologies, TradingView is the best choice.
8. Real-time Stock Scanner
The TradingView stock screener enables screening for technical indicators, providing real-time scanning and filtering on 172 metrics, including 42 financial filters. TradingViews stock screener also includes a useful scan for technical buy and sell ratings.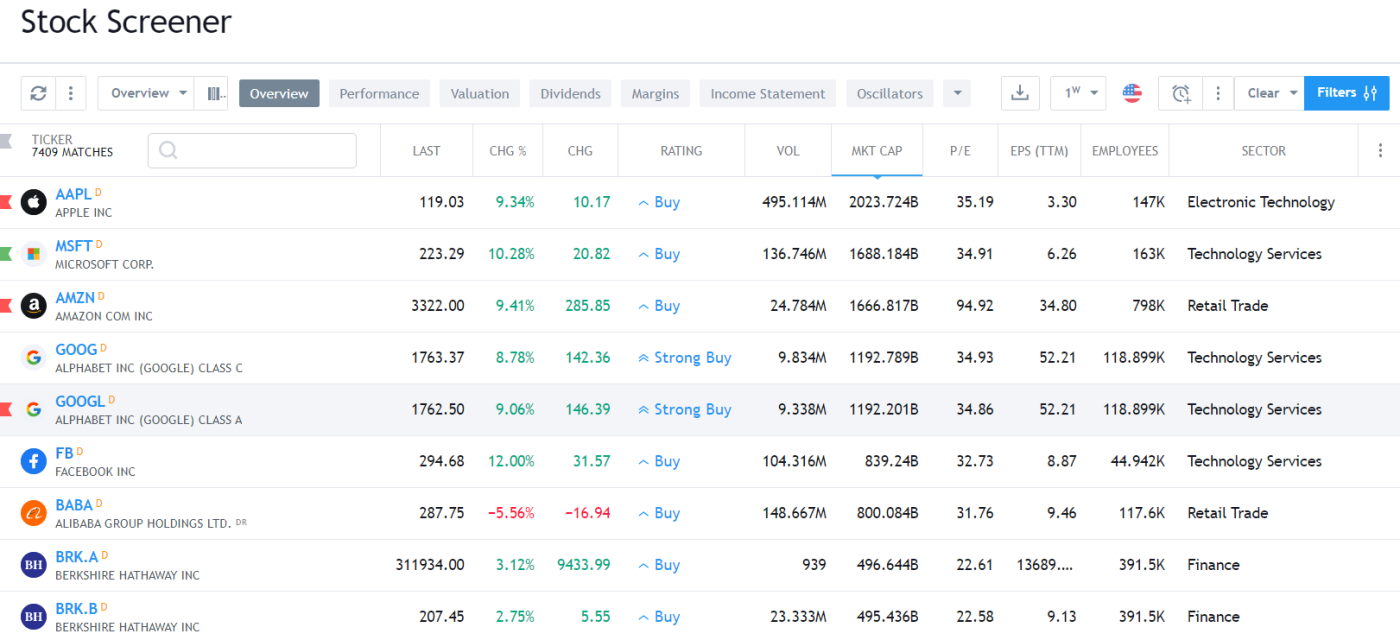 TradingView's screening watchlists have fundamentals data separated into Performance, Valuation, Dividends, Margin, Income Statement, and Balance Sheet. TradingView stands out with its charting of economic indicators, for example, comparing the civilian unemployment rate versus the growth in company profits.
9. Powerful Backtesting
For experienced traders, TradingView has an extremely powerful backtesting engine based on Pine script. I am not a coder, but within a few hours, I ported my MOSES system over to TradingView. Moses backtests an index to determine if it is in a bull or bear market, then issues a buy or sell alert. Moses has significantly beaten the market since its inception.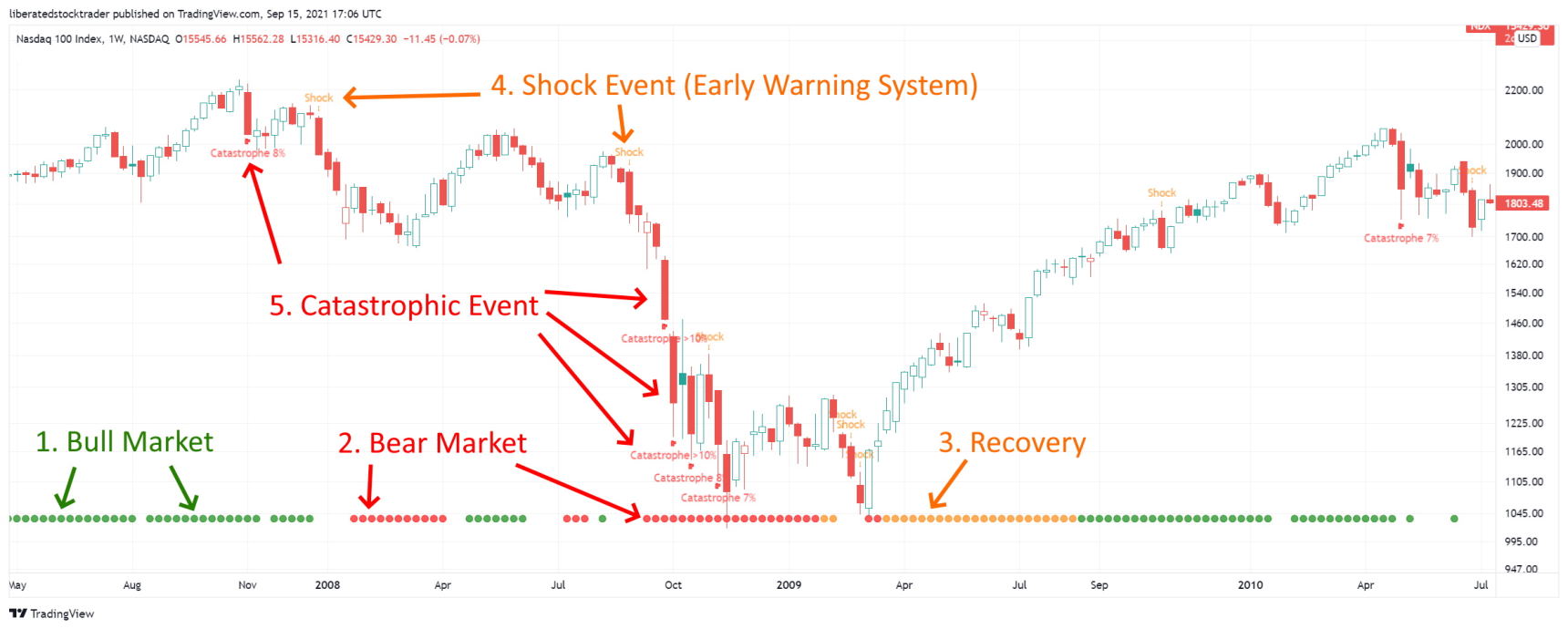 I like that you have results in a few clicks [Strategy Tester -> Add Strategy]. You can also tweak the strategy parameters, as you can see below, and observe the results.
---
Beat The Market, Avoid Crashes & Lower Your Risks
Nobody wants to see their hard-earned money disappear in a stock market crash.
Over the past century, the US stock market has had 6 major crashes that have caused investors to lose trillions of dollars.
The MOSES Index ETF Investing Strategy will help you minimize the impact of major stock market crashes. MOSES will alert you before the next crash happens, so you can protect your portfolio. You will also know when the bear market is over, and the new rally begins so you can start investing again.
MOSES Helps You Secure & Grow Your Biggest Investments
★ 3 Index ETF Strategies ★
★ Outperforms the NASDAQ 100, S&P500 & Russell 3000 ★
★ Beats the DAX, CAC40 & EURO STOXX Indices ★
★ Buy & Sell Signals Generated ★
MOSES Helps You Sleep Better At Night Knowing You A Prepared For Future Disasters
---
10. A Great Mobile App
TradingView has excellent apps available on the Apple and Android store, rated at 4.7/5.0. The mobile app allows you to check your stocks, trade, and screen for new trading opportunities. You can also access the full-featured version of TradingView via your tablet or phone by visiting tradingview.com. Having reviewed the best stock market apps for IOS and Android, TradingView won both categories.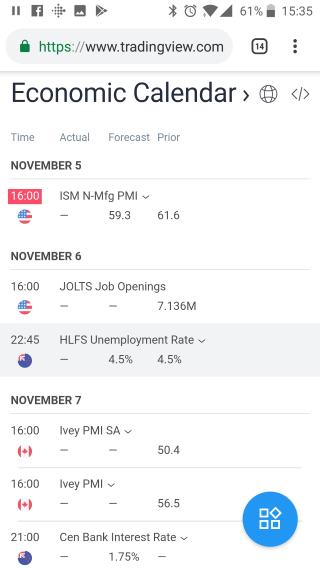 Further Reading
We have looked at why you would want to use TradingView as your main stock trading platform, but now we delve into why it is not the best choice for you.
Video: Reasons Why I Think TradingView is the Best
Final Thoughts
While I wholeheartedly recommend TradingView for the majority of stock traders, it is not the best choice for everyone. Long-term investors should use Stock Rover. Day traders trading news events should try Benzinga Pro, and those looking for AI bot trading need to try Trade Ideas.
I wish you the best of luck in your speculation and investing. Have any comments or thoughts, please lease a comment below.
---
You want to be a successful stock investor but don't know where to start.
Learning stock market investing on your own can be overwhelming. There's so much information out there, and it's hard to know what's true and what's not.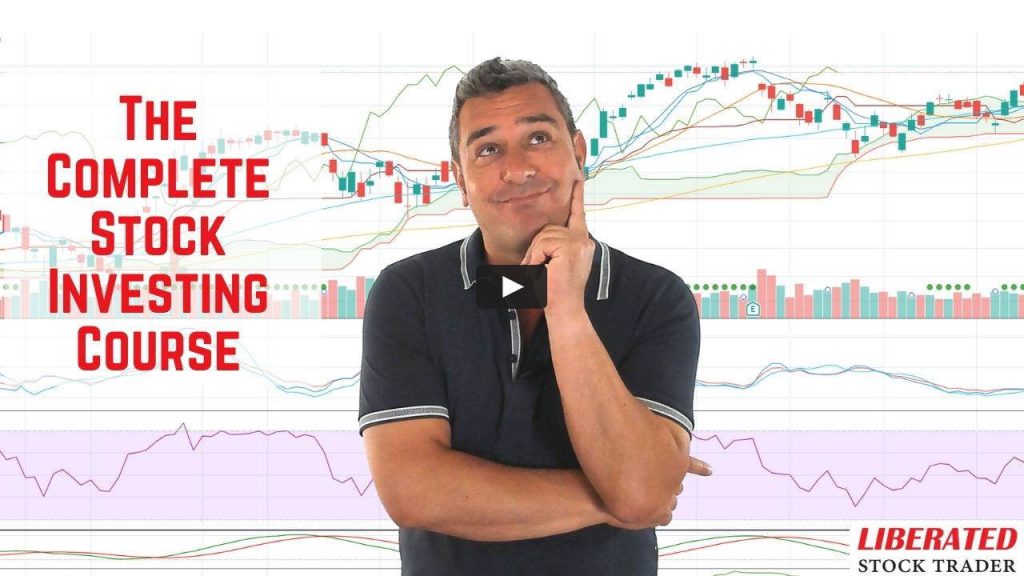 Liberated Stock Trader Pro Investing Course
Our pro investing classes are the perfect way to learn stock investing. You will learn everything you need to know about financial analysis, charts, stock screening, and portfolio building so you can start building wealth today.
★ 16 Hours of Video Lessons + eBook ★
★ Complete Financial Analysis Lessons ★
★ 6 Proven Investing Strategies ★
★ Professional Grade Stock Chart Analysis Classes ★
---