Free Stock Charts – We all want them – but who has the best services?
290 Comparisons – 10 Services- 2 Winners. Save Time & Money with our In-Depth Head to Head Review & Comparison of Free Stock Charting Services.
If you are relatively new to stock market investing, you are probably looking around for a no-cost stock charting solution.  
This is a wise move, but when you develop your skills and become a power user of Stock Market Software you will probably choose a premium provider to best meet your needs.
But for now, we have your top 10 Free Packages.
The Definitive Review of the Best Free Stock Chart Software
Through detailed research of the most popular Free Stock Charting Tools on the web, Liberated Stock Trader has compiled the definitive review of FREE Stock charting tools.
We selected the biggest hitters of the Stock Charting Community and pitted them head to head to make your life easier and save you the work.
Liberated Stock Trader has tested 20 vendors and 10 of them made our top 10.
Each service was rated against 29 different factors.
Those tools that offer the most in flexibility, usability, functionality and most of all being cost-free made the top 10.

| Login / Cost | TradingView | Free Stock Charts | Stock Charts | Reuters | Yahoo | CNN Money | Google Finance | MSN Money | AOL Finance | finviz |
| --- | --- | --- | --- | --- | --- | --- | --- | --- | --- | --- |
| Result | Winner | Winner | | | | | | | | |
| Login Required | No | Yes | Yes | No | No | No | No | No | No | Yes |
| Cost | Free | Free | Free | Free | Free | Free | Free | Free | Free | Free |
| Charts | | | | | | | | | | |
| Interactive Charts | Yes | Yes | Yes | Yes | Yes | No | Yes | Yes | Yes | Upgrade |
| Price Windows (Logarithmic) | Yes | Yes | Yes | Yes | Yes | No | Yes | Yes | No | No |
| Draw Trend Lines | Yes | Yes | No | No | No | No | No | No | No | No |
| Size (large) | Yes | Yes | Medium | Medium | Yes | Yes | Yes | Yes | Medium | No |
| Bars | Yes | Yes | Yes | Yes | Yes | – | Yes | Yes | Yes | No |
| Candlesticks | Yes | Yes | Yes (Red Green) | Yes (Red Green) | Yes | Yes | – | Yes | – | No |
| OHLC | Yes | Yes | Yes | Yes | Yes | – | – | Yes | – | No |
| Streaming | Yes | Yes | Require Logon | – | – | – | Yes | Require Logon | – | No |
| Extended hours | Yes | no | – | – | – | – | Yes | – | – | No |
| Intraday | Yes | Yes | Yes | Yes | Yes | Yes | Yes | Yes | Yes | No |
| Indicators | | | | | | | | | | |
| Lower Panels (e.g. Volume) | Yes | Yes | Yes | Yes | Yes | Yes | Yes | Yes | Yes | No |
| Volume | Yes | Yes | Yes | Yes | Yes | Yes | Yes | Yes | Yes | Yes |
| MACD | Yes | Yes | Yes | Yes | Yes | Yes | – | Yes | – | No |
| RSI | Yes | Yes | Yes | Yes | Yes | Yes | – | Yes | Yes | No |
| Index Compare e.g. SP-500 | Yes | Yes | Yes | Yes | Yes | Yes | Yes | – | Yes | No |
| SMA / EMA | Yes | Yes | Yes | Yes | Yes | Yes | – | – | Yes | No |
| Show Earnings | Yes | No | – | Yes | – | Yes | – | – | Yes | No |
| On Balance Volume | Yes | Yes | Yes | – | – | Yes | – | – | – | No |
| Stochastics | Yes | Yes | Yes | Yes | Yes | Yes | – | Yes | – | No |
| Money Flow | Yes | Yes | Yes | – | Yes | Yes | – | Yes | – | No |
| Rolling EPS | No | No | – | – | – | Yes | – | – | – | No |
| Rolling Dividend | No | No | – | – | – | Yes | – | – | – | No |
| News & Portfolio Integration | | | | | | | | | | |
| News Overlay On Price | Yes | Yes | – | Yes | – | – | Yes | – | – | No |
| News sources | Yes | Yes | – | Excellent | Yes | Yes | Excellent | Yes | Yes | No |
| Portfolio Tracking | Yes | Yes | Yes | Yes | Yes | Yes | Yes | Yes | Yes | No |
| Total Points | 25 | 25 | 18 | 17 | 17 | 15 | 13 | 13 | 9 | 3 |
Free Stock Chart Packages Review
Free Stock Chart Software – Detailed Reviews
This year we have 2 review winners, 2 highly recommended and 2 recommended, they are clear leaders.  The top 6 are worth an individual test to see which interface you like the most and what features match what you are looking for.  If you have limited time, you cannot go wrong with FreeStockCharts.com and TradingView.com the best of the best.

Free Stock Charts: TradingView –  Winner
Recommended for Long-Term U.S.A. & International Investors who value a great price (free), insanely good Fundamental & Technical Analysis with great streaming news engines and the best ease of use.
There is no doubt about it, TradingView has stormed into the Review Winners section in its first try. I spent 2 days playing with this software, and it is seriously making me think about leaving my beloved wife TC2000.  It is a close run competition and I am genuinely shocked at how good it is.
Pricing & Software
You can have TradingView for free, it is also the winner of our Premium Subscription Software Review & the prices are reasonable and unlock a lot of extra functionality.
If you like TradingView you can upgrade to PRO for only $10 per month the benefits are extensive including Priority Customer Support and unlimited everything.
TradingView runs on PC, Mac, Tablets, and Smartphones and requires Zero Installation, it simply works.
The Market data is huge, covering nearly all Stock Markets and it includes Stocks, ETF's Futures, Foreign Exchange & Bonds, all at no extra price, which means outstanding value for money combined with excellent support options.
Also, a huge benefit is that the Data Speed and Coverage are mind-blowing, covering literally every stock market on the planet and not just stocks but ETF's, Mutual Funds, Futures, FOREX, Bonds & CryptoCurrencies AT NO EXTRA COST.
Best Stock Screener & Fundamental Scanning
A perfect score for TradingView as they hit the mark on Real-time scanning and filtering, and fundamental watchlists also.
TradingView has a very slick system and they have put a huge amount of thought into how Fundamentals Integrate into the analytics system.
Watchlists have fundamentals broken into Performance, Valuation, Dividends, Margin, Income Statement and Balance Sheet.  You can set the watchlist and filters to refresh every minute if you wish.
What makes TradingView stand out is the huge selection of economic indicators you can map and compare on a chart. For example, you can compare the Civilian Unemployment Rate versus the growth in Company Profits for the U.S.A.  This is incredibly powerful.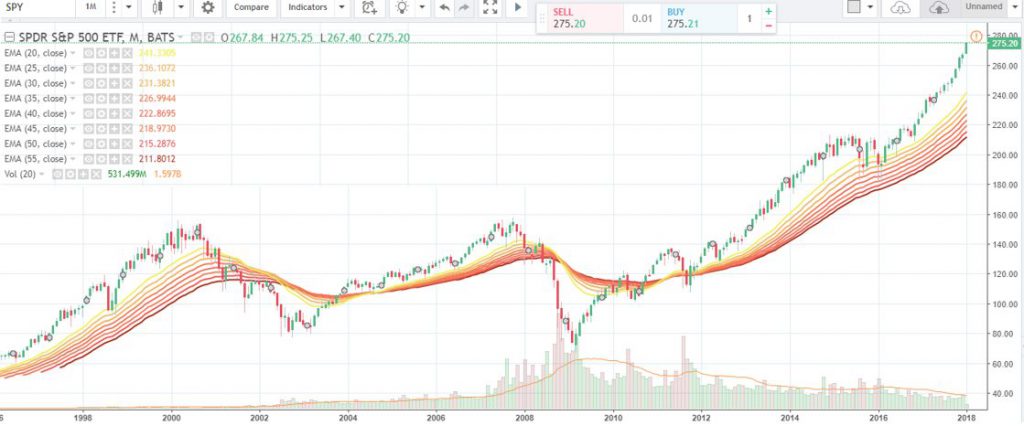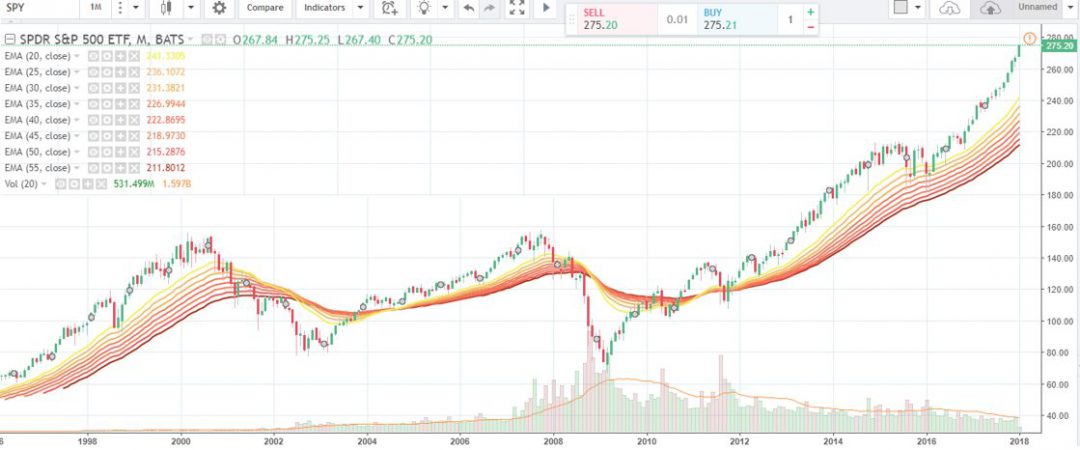 Stock Market News & Social Community
TradingView is built with social at the forefront.  Fully integrated chat systems, chat forums and an excellent way to share your drawings and analysis with a single click to any group or forum.
This makes for an excellent way to generate ideas or learn from other traders.  You have to try it and see it in action to understand the power of the implementation.
They have also thoughtfully integrated a Kiplinger newsfeed, Stocktwits, and various FX newsfeeds.  With a social first development methodology, combined with powerful economy statistics and a solid newsfeed it is a great package.
The news feeds are fully integrated, including Kiplinger, DailyFX, Futures Magazine, FXStreet, and StockTwits.  Add that to the social network and you have a great solution.  The news service is only second to MetaStock with their Reuters Feeds.
Technical Analysis Stock Charting Score
With over 160 different indicators, and unique specialty charts such as LineBreak, Kagi, Heikin Ashi, Point & Figure and Renko, you have everything you will need as an advanced trader.
So why does it score so highly and rank as a winner in this section?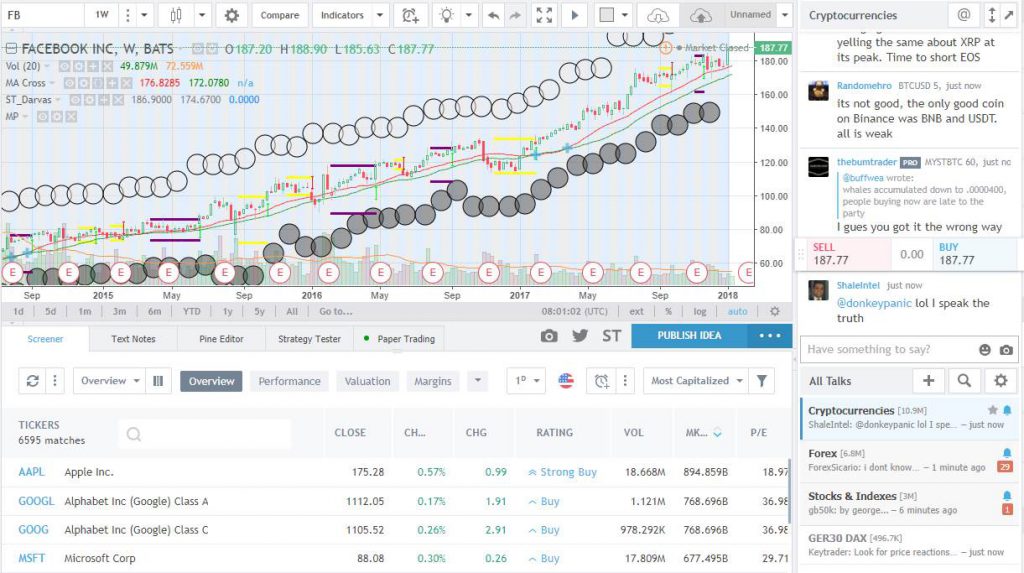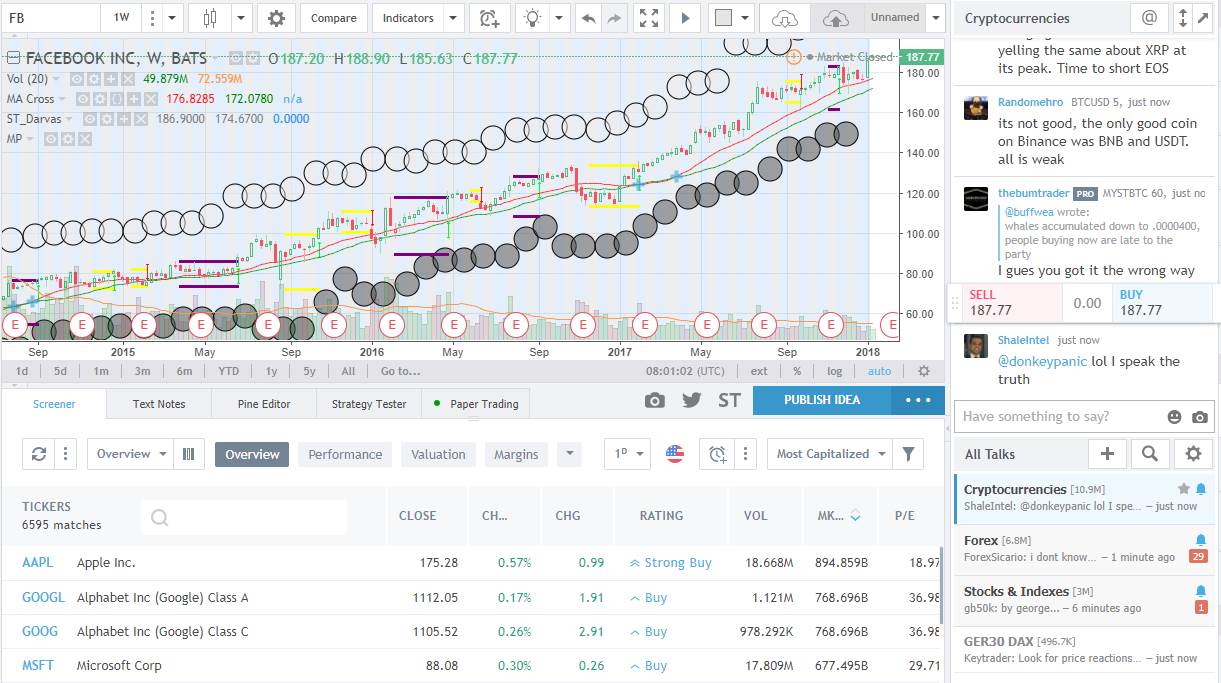 TradingView – Insanely Beautiful Charts, with a massive selection of indicators. This Chart Feature Moon phase and Darvas BoxesDid I mention the charts are fast and beautiful?
Stock Market Apps Usability
Within 5 minutes I was using TradingView, no credit card, no installation, no configuring data feeds, it was literally just there.
TradingView is up and running with a single click.
Click on the TradingView logo on the left and it will be instantly running. 
It does not get easier than that.
Even better is the fact it is already configured for use.  All controls are intuitive and the charts look amazing.  It is quite a feat that it is so easy to use considering TradingView has so many data feeds and backend power.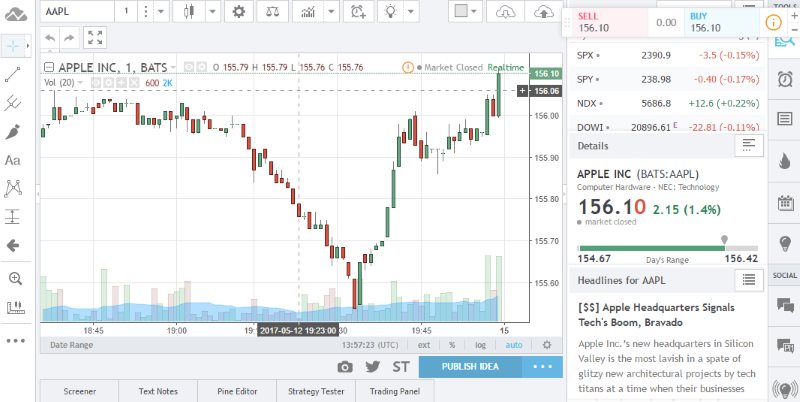 TradingView is the outright winner for Free Stock Charts in 2018
For free there is a huge selection of indicators, drawing tools and it is fully interactive.
They also offer a premium service to rival the best software vendors out there.  Check it out at www.tradingview.com. The PRO plan is very cost effective starting at $9.95 per month and that gets you real-time charts and Advert free services, and SMS alerts
Watch this Video Overview of the Benefits of TradingView
Video Courtesy of Youtube
Read the In-depth Award Winning Review of TradingView
-
Join Over 25,000 Liberated Stock Traders 
Get the Latest Stock Market Software, Books & Movie Reviews Directly To Your Inbox
-

FreeStockCharts.com is powered by Worden Brothers who are a review winner for our Premium Stock Market Software Review, so they have an excellent track record in delivering quality services.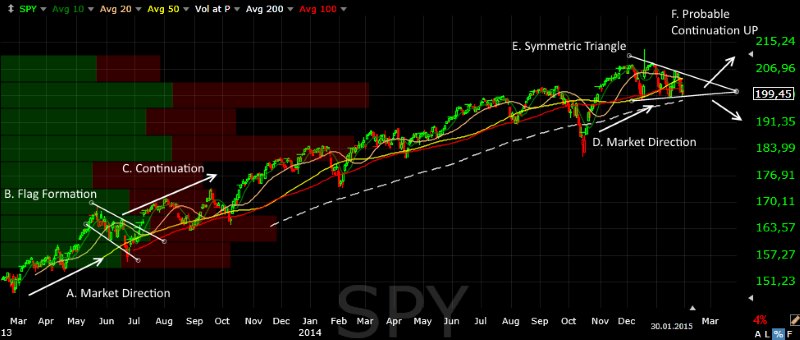 Stock Charts, Indicators & Drawing Tools
This package has it all:
a vast array of indicators

candlesticks, OHLC.

the ability to plot Trend lines not only on price but on all the indicators

Fibonacci Lines / Fans / Arcs

free mealtime streaming Price & Volume

intra-day 1 minute – 1 year per bar

integrated portfolio management,

streaming News, this is invaluable

Fantastic User Interface

Watch-lists

Also with the premium version, there is powerful Stock Scanning built in.
Overall there is an excellent array of technical indicators and drawing tools, all the big ones are there, from OBV, RSI and Bollinger Bands to Fibonacci Fans and Andrews Pitchfork.
With over 70 different indicators you will have plenty to play with.  They have also introduced live alerts which you can configure to email or pop up if an indicators or trend line is breached.  Very useful indeed.
Stock Market News & Social
Free StockCharts has built-in social and chat features for you to connect and share with friends.
Free is Great but the Paid Version is Better
The Liberated Stock Trader uses Telechart TC2000, to screen, sort, and find winning stocks, FreestockCharts will get you familiar with the interface and workflow until you are ready to upgrade to TC2000.  
Starting at $9.95 per month you will get a full suite of excellent feature and end of day data.  The powerful Fundamental & Technical Stock Screeners,
Watch this TC2000 Video to See A Live Demo
What's New in TC2000 Version 18
Video Courtesy of Youtube
See the Full TC2000 Award Winning Review
Note: As you can see in the comments a few long-time users of Freestockcharts.com have left messages regarding the incompatibility of this software with the latest browsers and Mac OS.
"FreeStockCharts.com uses the MS Silverlight plug-in, but that no longer supports the latest Apple Mojave OS or Chrome and Firefox browsers". Rick McKinley.

Worthy of strong consideration are StockCharts.com, who also come with a solid recommendation.  Worth commending are the sharp charts, which are visually very impressive, and its array of exotic indicators may excite the more advanced investor.  One thing to mention this service offers excellent Point and Figure Charts, which to my knowledge no other free service offers.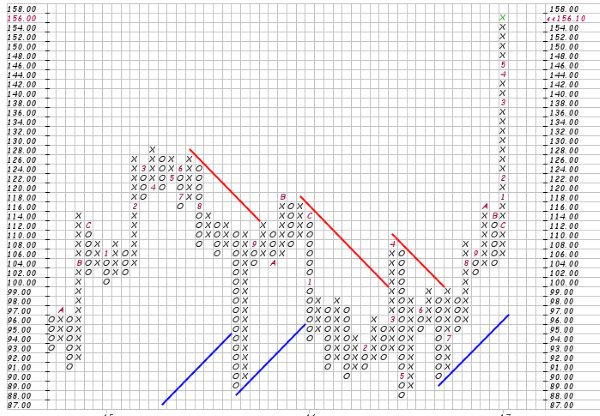 Missing trend lines, rolling EPS, and a weak news service do not do it justice. They do also offer, like the other service providers, a monthly Membership service with increased functionality.

Free Stock Charts: Reuters Review
With its powerful news reporting and RED Green Candlestick plotting Reuters does have something to offer, coming in joint fifth with Yahoo. Missing a rolling EPS indicator combined with its lack of trendlines, takes it out of the reckoning for overall leadership.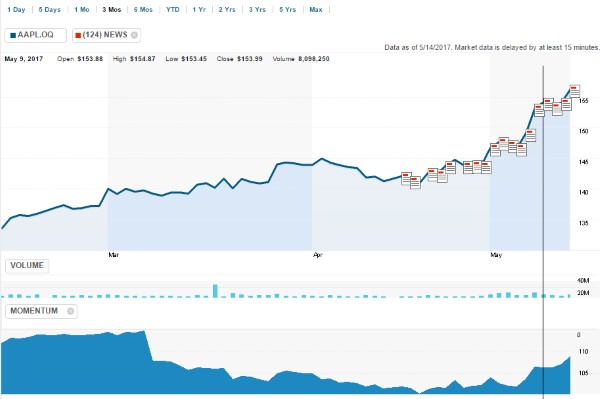 What I really like is the ability to plot breaking news for a stock on the chart itself this is really what sets it apart from the other charting tools.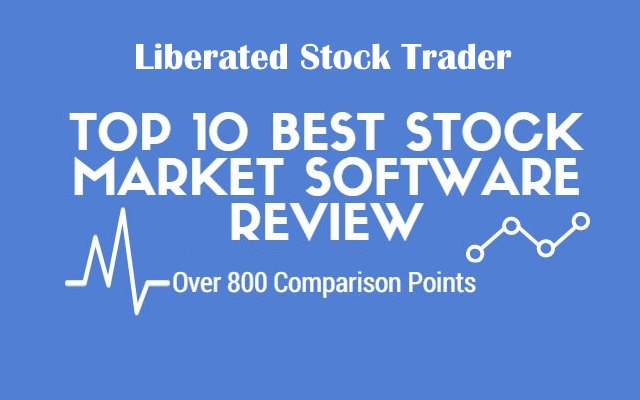 The Runners Up
Free Stock Charts: Yahoo Finance Review
Yahoo like Google offers no trend-lines, ut does offer 9 sub windows with a healthy array of indicators to plot in those windows.
Yahoo has updated its interactive charting experience, it is a clean experience and full screen, so now it is actually very good indeed.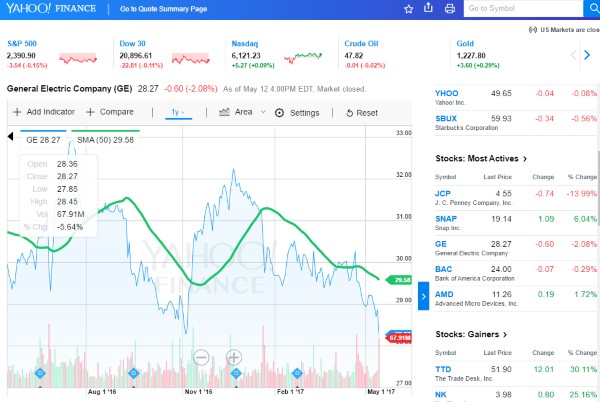 Coming in higher than Google in our review, Yahoo it seems, can do at least one thing better than Google.
Other Contenders in our Top 10 Free Stock Charts Review
Free Stock Charts: CNN Money Review
CNN money fares well with all basic indicators available but suffers from only 1 sub window and no ability to draw trend lines.  Also, the chart is only static, and non-interactive format becomes highly annoying after a while, having to continually refresh the page to get new indicators plotted will make the experiences investor growl.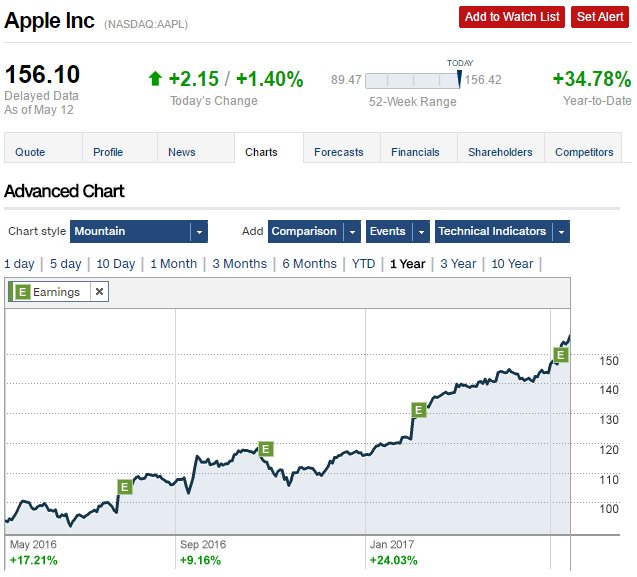 However, on the bright side, you can plot earnings (EPS) on the chart which is also a rare advantage amongst its competitors.
Free Stock Charts: Google Finance Review
Google finance suffers criminally in the weakness of its charting, scoring 13 out of 28 points, it is not all bad news.
Google is an excellent place to go for a single page of latest news, blog alerts, and the P&L & Balance Sheet of any stock, and if you only need a rapid view of the general stock this is still a good stop of point for a general look. The news reports can be overlaid on top of the stock price which is unique and valuable to the investor interested in how news plays out in the stock price.
Free Stock Charts: MSN Money Central Review
While the stock screener from MSN Money is in the opinion of the author one of the best free screeners available, the charting software comes in poorly.  Lack of trend lines, Moving averages, OBV and index overlay mark it down heavily. However, with membership you can get real-time stock quotes.
Free Stock Charts: AOL Finance Review
AOL finance, "nice try but no cigar", more effort required to produce a good product.  They have upgraded the charting experience and now offer the ability to draw trend lines but the goodness stops there.
Free Stock Charts: FINVIZ Review
Finviz used to be an excellent free service, but now it is all behind a paywall.  To get access to anything good here in terms of an interactive free charting experience you will need to pay a handsome sum.
Free Stock Chart Review Final Thoughts
The market for Free Chart Services is competitive but there are some clear winners who offer a great free service and also additional add-ons for a fee.
Ultimately, what you select is down to your needs.  If you are starting out as a new investor with a few hundred dollars to invest you certainly would not buy a premium stock charting package for $30 per month, you would use the Free Stock Chart Services.
But as you mature and your investment pot grows you will need to seriously think about selecting a professional grade Stock Charting Software Package.
Good luck on your journey to find the tools you need.
Stock Charts Free?
How is it possible for these Free Stock Chart providers to make money and stay in business? 
The answer lies in 2 business models.
Firstly, some providers make money from the advertising you see when you use the Free Stock Charts.
Secondly, many of the companies hope you will like the service and as you use it more you will seek out the premium benefits that a paid subscription will unlock.
There has never been a better time for freely available stock charting & free stock screening data on the web.  But ultimately all businesses need to make money to stay in business and keep providing the Free Stock Chart Features we love.
Glossary for the 31 Services Comparison Table.
Login Required – Is a login required to use the Free Charting Service"
Cost "Are the Stock Charts Free"
Chart Interactive "Interactive charts are easier to manipulate that static charts, making
the user experience better"
Price Windows (Logarithmic) "Logarithmic scaling is vital for good chart assessment"
Draw Trend Lines –  "As we know plotting trend lines, are a crucial part of stock analysis (3 points for a Yes)"
Size (large) "Large charts make it easier to see and read the patterns"
Bars "Does the service provide Bar Charts"
Candlesticks "Does the service provide Japanese Candlestick Charting"
OHLC "Does the service provide Open High Low Close Bar Charting"
Streaming "Free Real-time streaming charts"
Extended hours "Out of hours stock prices"
Intraday "Are hourly or 1-minute charts available"
Indicators – What indicators are available for the free stock charts
Number of Lower Windows (min 3) "3 windows provide additional insight for stock analysis"
Volume – Volume Indicators available
MACD "Moving Average Convergence / Divergence Indicator"
RSI "Relative Strenght index"
Index Compare e.g. SP-500 "Can we overlay the industry or Index on the price chart"
SMA / EMA "Simple Moving Average / Exponential moving Average"
Show Earnings "Can we overlay earnings reports onto the chart"
On Balance Volume "On Balance Volume indicator"
Stochastics "Fast and Slow Stochastic Available"
Money Flow "Money Flow Indicator available"
Rolling EPS "Rolling EPS is very valuable to the WISE investor"
Rolling Dividend "interesting for those that like to see a dividend, not so important for the wise investor"
Other Options
News Overlay On Price "interesting for comparison for people trading news, or wanting to understand how news affect price"
News sources "Quality of news feeds into the site"
Portfolio Tracking "ability to track stock for you."
-
Join Over 25,000 Liberated Stock Traders 
Get the Latest Stock Market Software, Books & Movie Reviews Directly To Your Inbox
-
Now it's over to you – did you like the review, agree or disagree, leave a message, I will be sure to reply.