As a Trade Ideas partner, we are proud to offer the Black Friday 25% discount. Add this to an annual subscription for a 36% total saving.
Trade Ideas won our best AI day trading software award, excelling at automated signals, auto-trading, market scanning, and having the best win rate track record.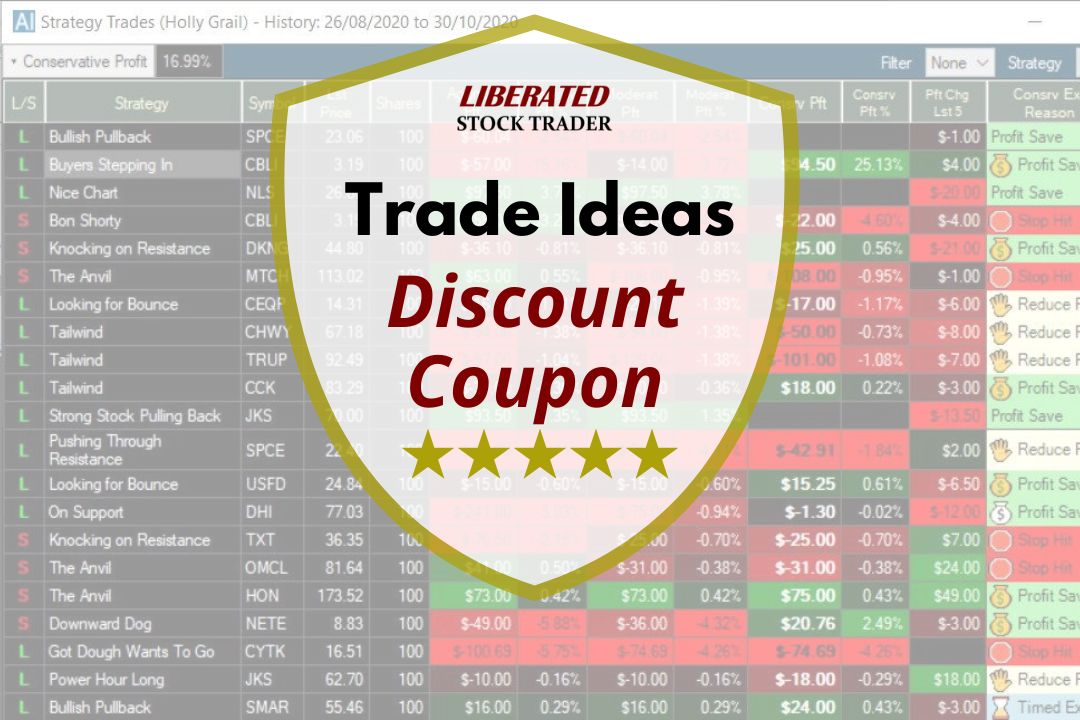 Trade Ideas is best for active day traders wanting AI-driven trading signals. Trade Ideas provides actual buy & sell signals for trades by performing millions of backtests daily on 70+ strategies. The Holly AI platform has an audited track record of beating the market.
| | |
| --- | --- |
| Trade Ideas Highlights | Details |
| ⚡ Features | Charts, Scanning, Broker Integration, Trading Room |
| 🏆 Unique Features | AI Trade Signals, Auto-trading, Proven Profitable Track Record |
| 🎯 Best for | US Day Traders |
| 🆓 Free Version | No |
| 🎮 Premium Trial | Yes |
| ✂ Premium Discount | 25% Discount Live |
| 💰 Standard Price | $1,999/year |
| 💰 Discount Price | $1262/year |
| 🌎 Markets Covered | USA |
We independently research and recommend the best products. We also work with partners to negotiate discounts for you and may earn a small fee through our links.
Trade Ideas' Black Friday Deal Is Live Now


☆ 25% Off for New Customers ☆☆ 25% Off Upgrades ☆☆ 36% Discount for an Annual Subscription ☆
Trade Ideas is the ultimate rapid-fire AI-powered stock software with a powerful
prediction engine, precise signals, and auto-trading bots for US day traders.
Trade Ideas' Black Friday Deal Ends In:
Trade Ideas Pros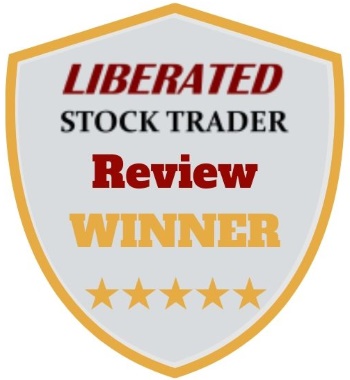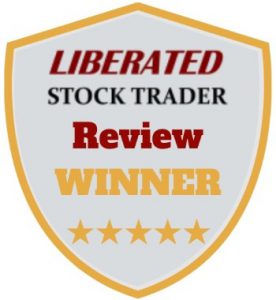 ✓ 3 AI Trading Algorithms
✓ Market-Beating Audited Performance
✓ Exceptional Stock Scanning
✓ Real-time Trade Signals
✓ Auto-trading With AI Signals
✓ Free Live Trading Room Access
Trade Ideas Cons
✘ User Interface
✘ Takes Time To Learn
✘ Choice of Indicators
Up to 40% Off Trade Ideas Using Discount Code "LIBERATED."
According to our testing, Trade Ideas is the industry-leading artificial intelligence-powered stock market scanning and trading signals generation platform. Despite a complicated user interface, the real power lies underneath with 30 channels of trading ideas & three AI systems pinpointing trading signals for day traders. Trade Ideas promises and delivers the nirvana of market-beating returns.
Trade Ideas is unique because the software tells you when to buy and sell stocks by analyzing millions of trade setups daily. The analysis results in 3 to 5 high probability trades every day.
Trade Ideas Standard: Save 40%
Trade Ideas Standard costs $118 per month for 12 months, costing $1416, or you can save $417 by going for an annual subscription costing $999, a 29% discount. Add to that the 15% discount of $150, and the final price is $849, a discount of 40%.
Standard includes a live trading room, streaming trade ideas, ten chart windows, trading from charts, and 500 price alerts.
Live Trading Room
Real-time Streaming Trade Ideas provides access to 40 pre-configured scans.
Simultaneous Charts, the ability to have ten chart windows open.
Chart-Based Visual Trade Assistant enables you to trade directly from charts.
Up to 500 Price Alerts to notify you when a stock meets your criteria.
Channel Bar Curated Workspaces provide access to 30+ channels of ideas.
Trade Ideas Premium: Save 38%
Trade Ideas Premium costs $228 per month for 12 months costing $2736. You can save $737 by going for an annual subscription costing $1999, saving 37%. Add the 15% partner discount and your price will be $1699, a total saving of 38%.
Premium provides the three Holly AI Systems, specific real-time trade signals, risk assessment, full backtesting, and integrated auto-trading.
Trade Ideas Premium features include:
AI Virtual Trading Analyst Holly, three different constantly evolving AI algorithms
Chart-based AI Trade Assistance for Buy and Sell Signals
Risk Assessment: detailed information on the backtested performance of the recommended trade.
Build and Backtest any Trade Idea with an intuitive backtesting system.
Autotrade Brokerage Plus and AI,  an advanced auto trading program using Interactive Brokers.
Trade Ideas is the most expensive software in this review because it offers the possibility of beating the market using AI pattern recognition and establishing a trading bot to auto-trade on your behalf.
Trade Ideas, unlike any other software, does all the work for you providing you specific market beating AI trading Signals, to help you make regular profits.
How to Get an Additional 15% Off Trade Ideas
To save 15% on an annual subscription with Trade Ideas, click this link, click the save 15% button, register, and use the Code "LIBERATED." It's that easy.
Step 1. Click on this 15% discount Trade Ideas partner link.
Step 2. You will visit Trade Ideas and see the Get 15% Off Button – Click that button.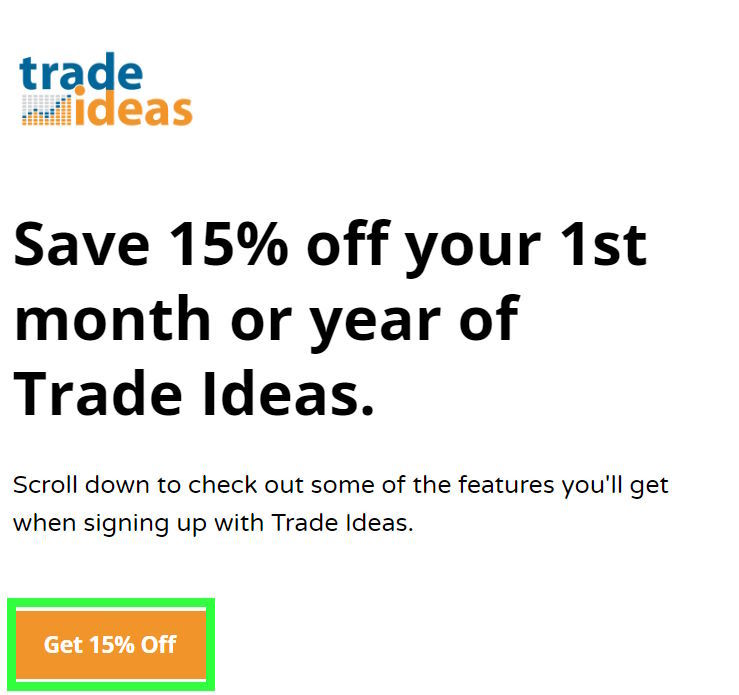 Step 3. Enter your email and register.
Step 4. Make sure to select an annual subscription to save up to 40%.
Why Trade Ideas is the Best AI Trading Software
Extensive testing reveals that Trade Ideas is an incredibly powerful stock trading desktop app that seamlessly integrates cloud-based AI algorithmic stock signals to provide high-probability day trading opportunities.
The Trade Ideas Holly AI algorithms are the software's biggest benefit for day traders. The Pro AI system has three AI bots: Holly, Holly 2.0, and Holly Neo. The Holly AI bots represent the most innovative trading AI available to retail investors today.
While testing Trade Ideas, I was impressed that Holly AI visually shows you every buy and sell signal on a chart. The charts depict in-play and historical trades, making it easy to understand the strategy and potential.
I have highlighted a trade Holly AI (Holly Grail) recommended in the chart below. This trade for Cleveland Biolabs (Ticker: CBLI) made a 25% profit within 4 hours. Not how the buy and sell signals are depicted on the chart.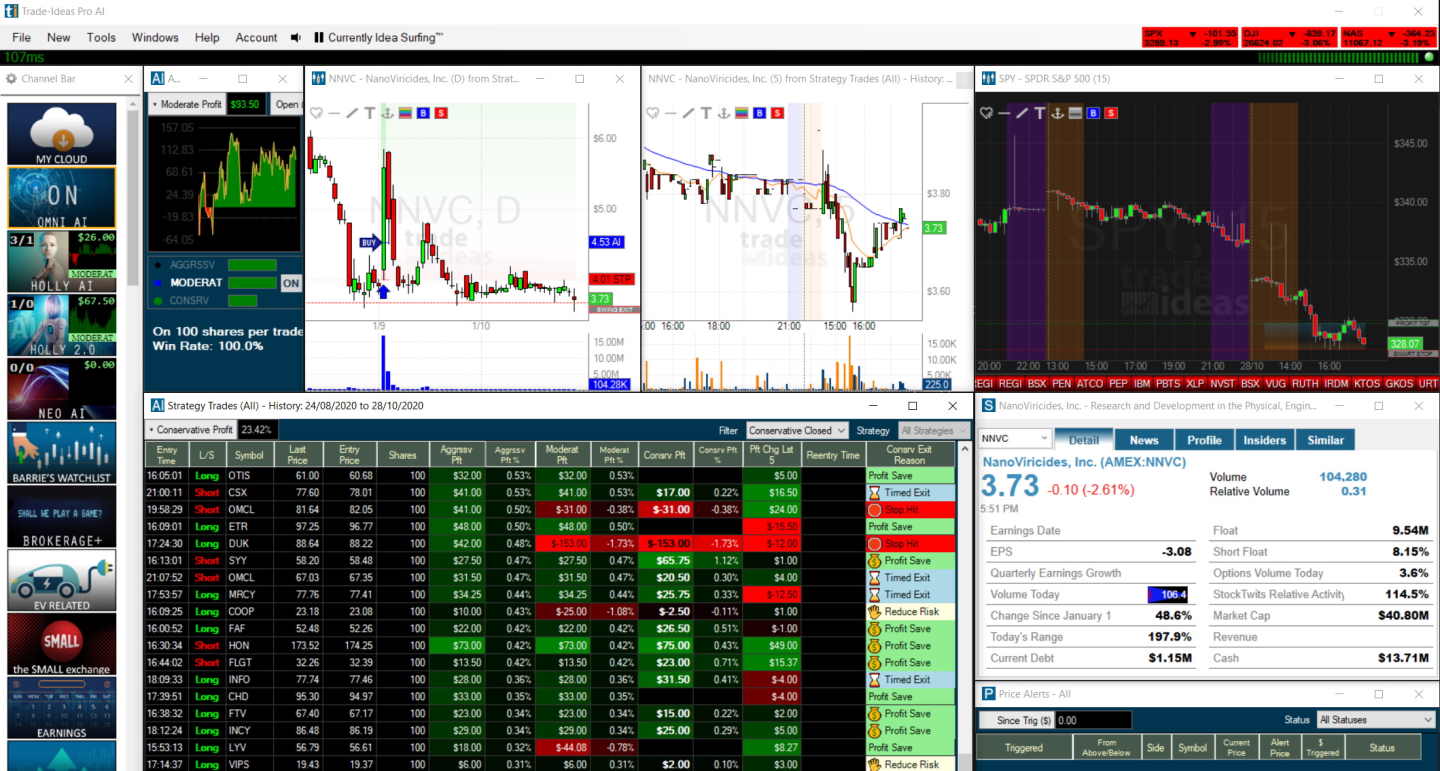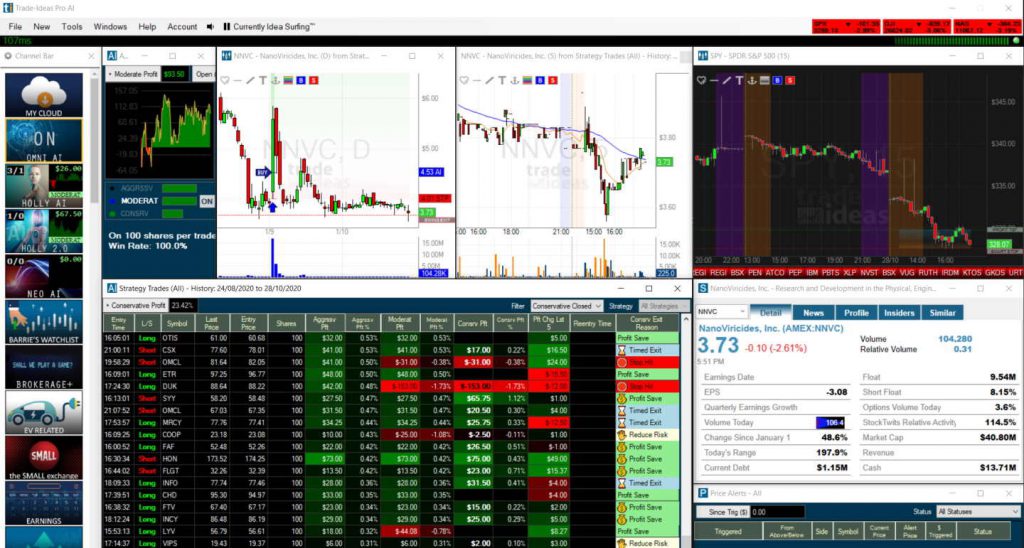 Trade Ideas Holly AI Facts
Trade Ideas Holly AI services institutions and retail investors, recommending 3 to 10 trades per day, lasting from a few minutes to a few hours. Holly AI returns at least 20% per year without leverage and has beaten the market over the last three years.
Trade Ideas has large institutional clients and is a legitimate business.
Trade Ideas recommends, on average, about 3 to 10 trades per day.
Each trade duration is from a few minutes to a few hours.
You must be an active day trader to take advantage of Trade Ideas.
Trade Ideas returns approximately 20% per year.
Trade Ideas has, in the last three years, beaten the S&P500.
You must be able to short and go long to take advantage of the trading strategies.
Depending on your leverage, trading style, and the trades you take, you could make more than 20% or even a loss.
TI is Day Trading Software; you must hold a minimum balance of $25K in your brokerage account to actively pattern day trade in the USA.