As the use of artificial intelligence and machine learning increases in our everyday life, naturally, the spotlight falls on the use of AI for stock trading. The term AI is used often and is full of hype when it comes to stock trading; we will clarify the use of AI in trading and select 5 of the best AI Trading Bot software providers.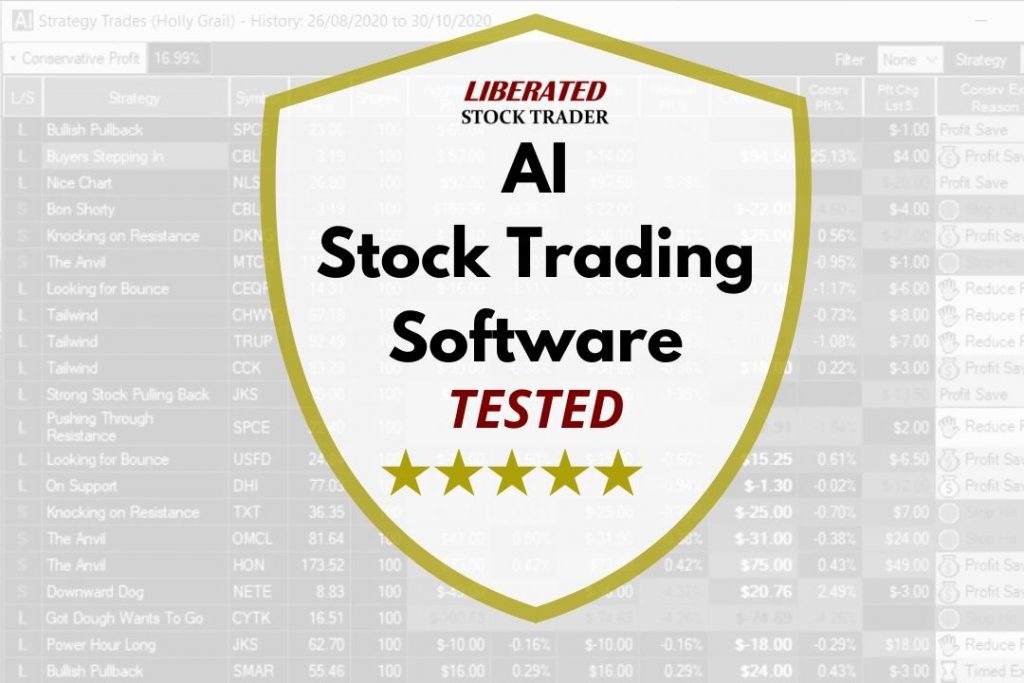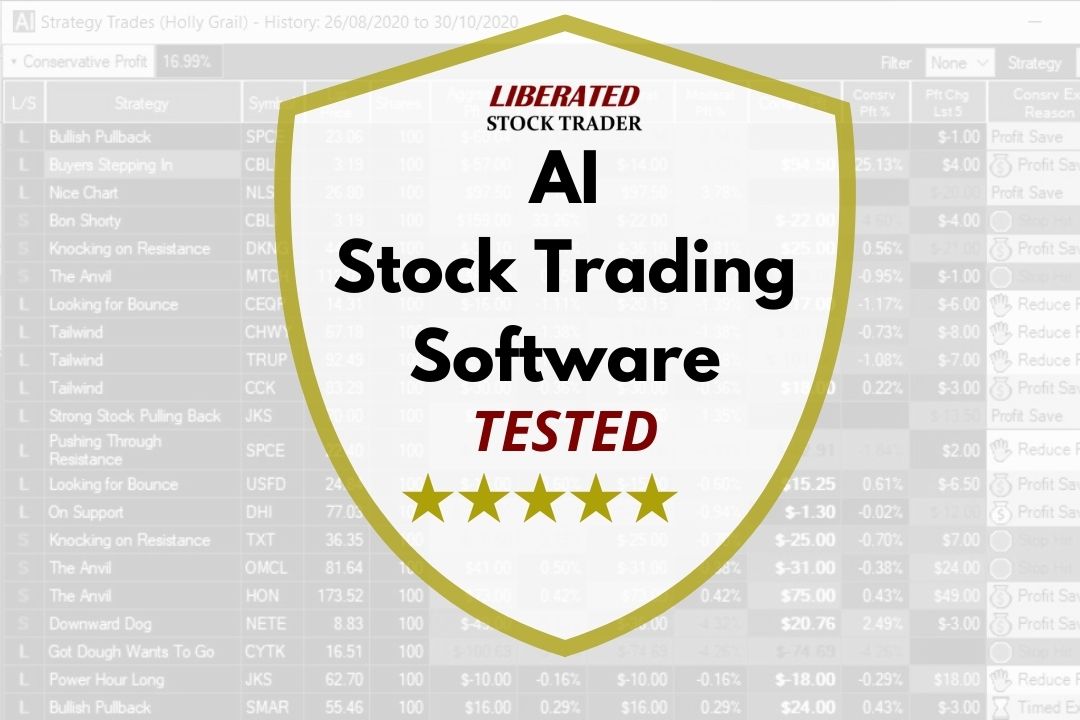 AI, Machine Learning & Deep Learning
AI is a broad category that includes machine learning and deep learning. AI refers to the execution of rules/algorithms that mimic human behavior. Machine learning refers to rules that allow a machine to form assumptions based on its data and begin developing its own rules, essentially learning. The final area of AI is a subset of machine learning known as deep learning; here, the machine teaches itself entirely new behaviors based on its current data and past experience.
AI Stock Trading
Today, the use of AI in stock trading is mostly limited to rules-based trade execution or trade signals based on back-tested price patterns and price volatility. Our research shows that machine learning or deep learning employed in stock trading is exclusively available to institutions or hedge funds, as in the case of J4 Capital.
This does not mean that broader AI rules execution cannot be successful in trading; it simply means that a revolutionary machine-driven approach to trading is not there yet.
AI & Backtesting in Stock Trading
As the creator of two successful algorithmic approaches to investing (the Stock Market Crash Detector & the LST Beat the Market System), I know that none of this is possible without backtesting a trading strategy. This means testing a hypothesis on historical data and then assessing how often that hypothesis is true.  In this comparison, all five of the AI stock trading software providers use rigorous backtesting to improve the chance of trading success.
Stock Trading Bots
The term Stock Trading Bot refers to an autonomous algorithm that not only finds trading opportunities but will also execute the buy and sell orders automatically. The only pure stock trading bot available to retail investors in the USA today is Trade Ideas. Trade ideas consists of 3 Stock Bots that can run autonomously.
5 Best AI Stock Trading Bots & Platforms
1. Trade Ideas: AI Trading With a Proven Track Record
Founded in 2003, Trade Ideas is the leading platform for finding day trading opportunities. Trade Ideas incorporates 3 cutting-edge AI algorithms that backtest every stock in the USA & Canada for high probability trading opportunities.
The AI algorithms developed by Trade Ideas are the main reason you would want to sign up. I had a lengthy zoom session with Sean Mclaughlin, Senior Strategist over at Trade Ideas, to delve into how the AI works, and I was very impressed. This company is laser-focused on providing traders with the very best data-supported trading opportunities. There are currently three AI systems in operation.
Holly is 3 AI systems applying over 70 strategies differently.
Holly AI Stock Trading Bot
The Holly AI Stock Bot is the original incarnation of the algorithms. Holly applies 70 different strategies to all the stocks on the US stock exchanges; 70 strategies multiplied by 8,000+ stocks means millions of backtests every day.  Only the strategies with the highest backtested win rate over 60% and an estimated risk-reward ratio of 2:1 will be suggested as potential trade the following day.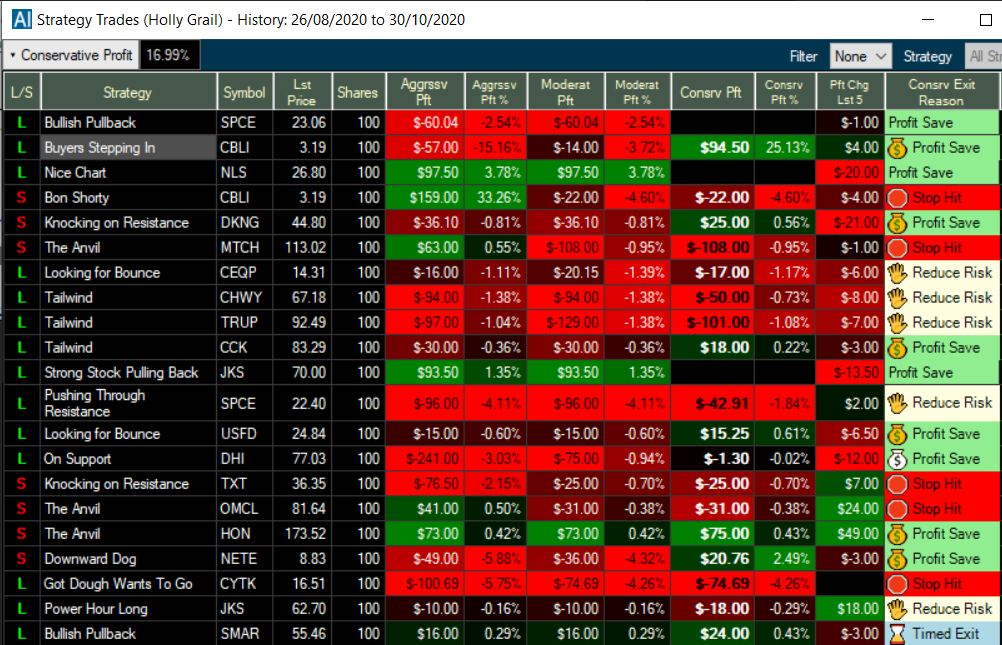 Holly 2.0 AI
Holly 2.0 is a newer version of the Holly AI Bot, presenting more aggressive day trading scenarios for you to choose from. Trade Ideas operates 3 key trading styles with each AI Stock Bot, Conservative, Moderate & Aggressive.  According to our research, Holly 2.0 is the most aggressive stock trading Bot and provides the best trading returns of 33% per year.
Holly Neo AI
Holly NEO is Trade Ideas' latest AI day trading Bot, which seeks to trade real-time chart patterns. The Holly Neo Bot utilizes a mix of important day trading technical analysis strategies, such as trading stock price pullbacks and breakouts, either long or short.
Pullback Long – Seeks to identify trades where the stock price is down and is seeking to start moving up on higher volume.
Breakout Long – Where stock price breaks out up through a key resistance or to new highs.
Pullback Short – identifying a short pullback opportunity in price.
Breakdown Short – a shorting opportunity where upward momentum breaks down.
Trade Ideas Buy & Sell Signals
A significant benefit of Trade Ideas is that it visually shows you every signal buy and sell signal on a chart. In the chart below, I have highlighted a trade recommended by Holly AI (Holly Grail). This trade for Cleveland Biolabs (Ticker: CBLI) made a 25% profit within a 4 hour period. Not how the buy and sell signals are depicted on the chart.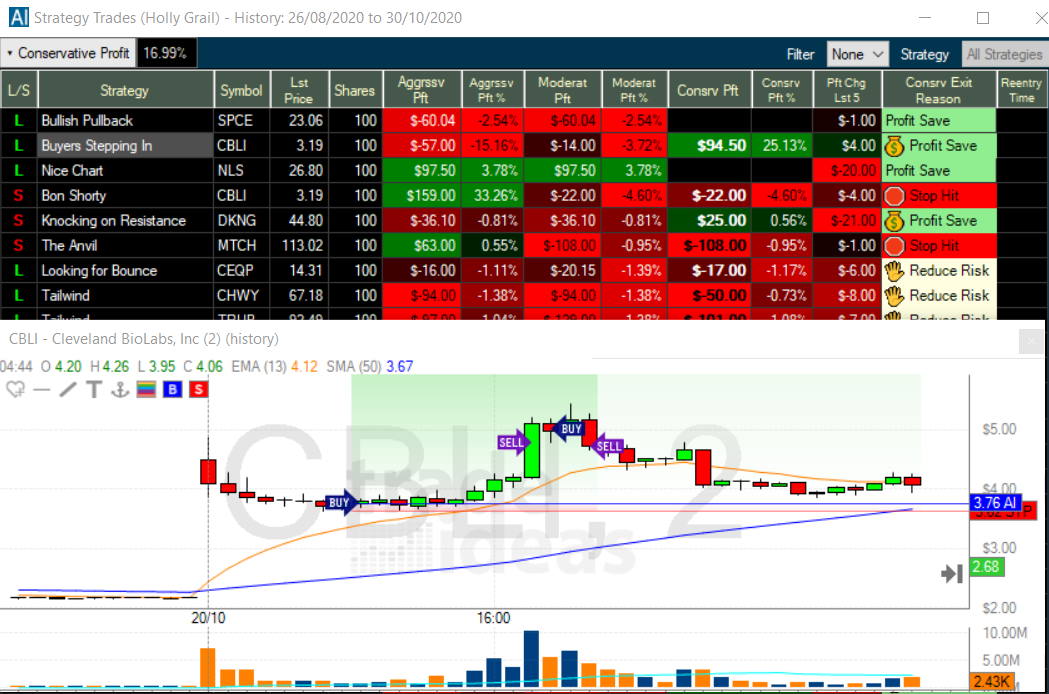 Trade Ideas AI Stock Trading Bots Tested
After testing the Trade Ideas platform and assessing the AI stock trading and the day trading Bot performance, I can say this is the most compelling application of stock market AI for retail investors available today. This AI stock picker produces 3 to 10 trades per day, each with a duration of 2 minutes to 3 hours.
The test results are as follows:
Trade Ideas has large institutional clients and is a legitimate business.
Trade Ideas recommends, on average, about 3 to 10 trades per day.
Each trade's duration is from a few minutes to a few hours.
Upon downloading and analyzing 65 days of trades, I can confirm the trade ideas' performance numbers.
You need to be an active day trader to take advantage of Trade Ideas.
Trade Ideas returns approximately 20% per year.
Trade Ideas has, in the last 2 years, beaten the S&P500.
You need to be able to short and go long to take advantage of the trading strategies.
Depending upon your leverage, trading style, and which trades you take, you could make more than 20% or even make a loss.
TI is Day Trading Software; you will need to hold a minimum balance of $25K in your brokerage account to pattern day trade in the USA actively.
Get A Free Stock Trade Idea Every Month From Holly AI
Trade Ideas AI Performance
The claimed Trade Ideas performance is available on their website, and it is quite impressive. But to judge the performance of any system, we have to compare it to the underlying benchmark's performance. In this case, I compare $50,000 invested in the S&P 500 versus day trading with Trade Ideas.
| | | | | |
| --- | --- | --- | --- | --- |
| AI Performance | Starting Capital Jan 2019 | Ending Capital Oct 2020 | Return | % Per Year |
| Holly Grail (AI) |  $50,000.00 |  $71,186.00 | 42% | 23% |
| Holly 2.0 |  $50,000.00 |  $80,510.00 | 61% | 33% |
| Holly Neo |  $50,000.00 |  $71,186.00 | 42% | 23% |
| S&P 500 |  $50,000.00 |  $66,000.00 | 32% | 17% |
As you can see, Holly has out-performed the S&P 500 since 2019.  Interestingly Holly did not suffer the huge losses incurred in the S&P 500 during the Corona Crash from March to April 2020.
Benefits of Trade Ideas AI Stock Trading
Offers the Real Possibility of Beating the Market
Exceptional Stock Scanning
More Trading Ideas Than You Can Trade
Curated Channels To Inspire You
Live Trading Room Included (Get Free Access to the Trading Room Now)
Excellent Point & Click Backtesting
3 AI Algorithms Working For You
Unique in the Industry
2. TrendSpider: AI Pattern Recognition & Backtesting
TrendSpider is a fast-growing company lead and founded by Dan Ushman.  The company was set up in 2016 with the mission to create a unique service that automates and improves the labor of technical analysis of stock charts. In 2018 I awarded TrendSpider and Dan Ushman an innovation award. Unlike anything I have seen before, this software employs artificial intelligence and massive mathematical compute power to detect trends not seen by merely looking at charts.
The use of AI in TrendSpider is pervasive throughout the software. TrendSpider uses AI to intelligently analyze and plot stock price trendlines on multiple timeframes on a single chart. It is also able to plot Fibonacci lines automatically,
Trendspider AI Backtesting
TrendSpider has fully automated AI-driven trendlines, Fibonacci & Multi-timeframe analysis on stocks, Forex, Crypto & Futures.  Add to that a robust backtesting engine, and you have a great technical analysis platform.
TrendSpider takes a different approach to backtesting.  Because the platform is built from the ground up to automatically detect trendlines and Fibonacci patterns, it already has an element of backtesting built into the code's heart.
The highest probability trendlines are automatically flagged, and you can adjust the sensitivity of the algorithm that controls the detection to show more or fewer lines.
Adding to this, they have implemented a strategy tester that allows you to type what you want to test freely, and it will do the coding for you.  It is a slick and simple implementation that had me up and running in minutes.  One of the elements I really like is the ability to adjust your backtest conditions on the fly, and the "Price Behaviour Explorer" and "System Performance Chart" automatically update.   You can jump into coding if you want to, but the key here is that you do not HAVE to.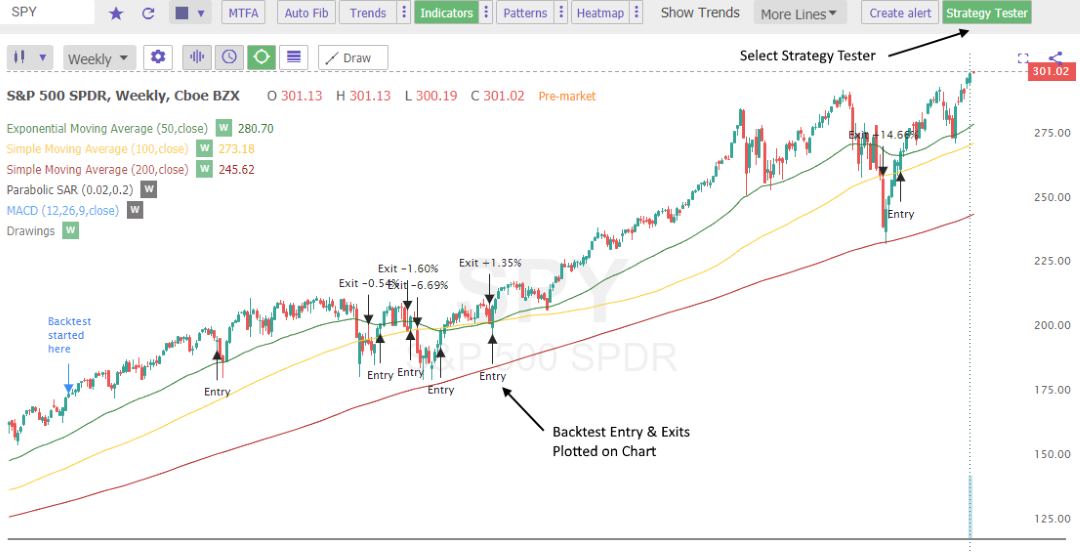 Integrated backtesting of automated trendlines, showing win-rate, profitability, and drawdown is a new addition and warmly welcome; the team is propelling TrendSpider into one of the industry's leading technical analysis packages.
Adding to this, they have implemented a strategy tester that allows you to type what you want to test freely, and it will do the coding for you.

It is a smooth and straightforward implementation that had me up and running in minutes.  One of the elements I like is the ability to adjust your backtest conditions on the fly, and the "Price Behaviour Explorer" and "System Performance Chart" automatically update.   You can jump into coding if you want to, but the key here is that you do not HAVE to.
TrendSpider Backtesting Video
User Guide: Strategy Tester in depth
TrendSpider AI For Stock Analysis
Automated Trend Line Detection
Automatic Multi-Time-Frame Analysis
Simple & Powerful Backtesting
Real-time Exchange Data Included in Price
Automatic Fibonacci Trend Detection
Stocks, ETFs, Forex, Crypto, Indices & Futures
Auto Candlestick Recognition
AI Integrated Pattern Recognition
Excellent Charts & Indicator Selection
3. MetaStock: Backtesting & Forecasting + AI Algo Systems
MetaStock is a stock market technical analysis and charting service with over 600 types of charts and indicators. MetaStock allows charting of Stocks, ETFs, Indices, Bonds & Currencies. MetaStock has industry-leading AI stock backtesting & forecasting capabilities. 
Another area where MetaStock excels is what they call "Expert Advisors."  MetaStock's Expert Advisors are essentially Trading Bots designed to help you, as a beginner or intermediate trader, understand and profit from technical analysis patterns and supply and demand fluctuations.  These algorithms are not as advanced as the stock market AI provided by Trade Ideas, but you can improve upon them yourself with a little coding knowledge.
MetaStock's Smart Backtesting
As you launch MetaStock, you will be presented with the power console.  This enables you to select what you want to do quickly.  Select System Test, and you will have access to 58 different systems you can backtest.  In the example below, I selected the Equis – MACD Expert System, and I ran in on the entire Nasdaq 100.
After 60 seconds, the backtest was completed and presented me with a list of every buy or sell trade and, of course, the drawdown on the portfolio chart that you can see above.  You can click through to any trade to see the trade background, size of the trade, duration, and profit or loss.
Of course, the inbuilt systems will not make you super-rich; the reason you want to backtest and develop your own winning system is to get an edge in the market.  With some scripting or programming skills, you will be able to achieve this with MetaStock.  If you do not, you can ask MetaStock or one of a considerable number of MetaStock Partners to assist you in building your system.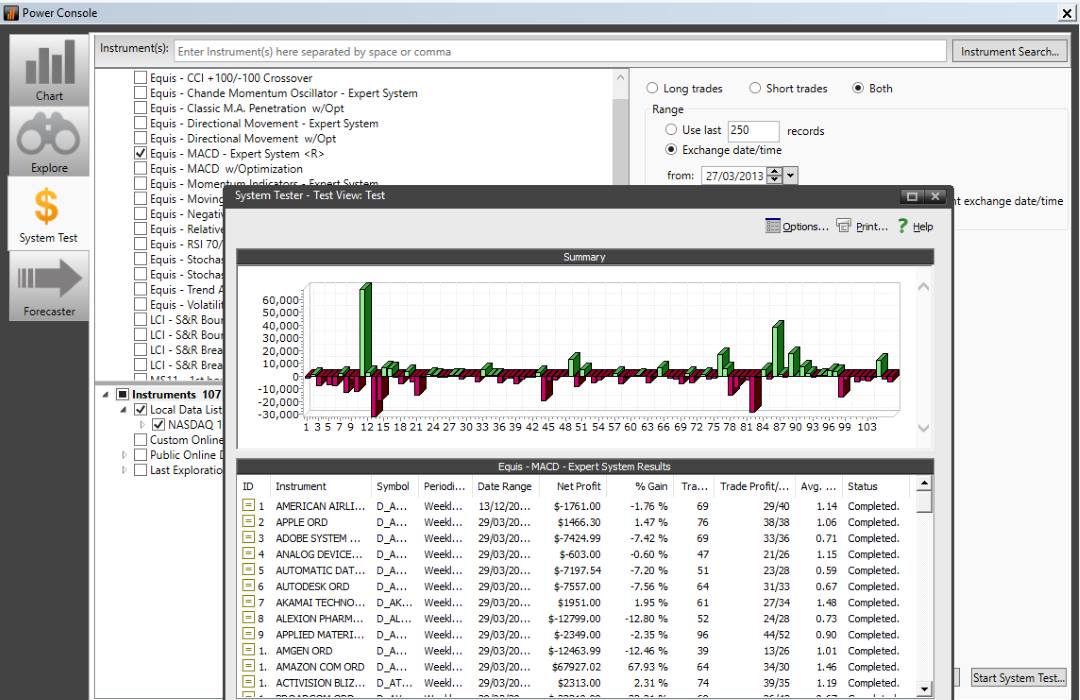 There are also many premium stock trading systems for MetaStock sold by their partners and usually backed up with training and webinars to support them.
Benefits of MetaStock
Great Selection of Automated "Expert Advisors"
Excellent Deep Backtesting
Unique Stock Price Forecasting
Large Library of Add-on Professional Strategies
Number 1 For Charts, Indicators & Real-Time News
Refinitiv Add-On Rivals Bloomberg Terminals
Great Customer Support & Educational Webinars
Works Online & Offline
4. Tickeron: 27 AI Trading Bots Claiming Big Profits
Tickeron uses AI rules to generate trading ideas based on pattern recognition. Firstly they use a database of technical analysis patterns to search the stock market for stocks that match those price patterns using their pattern search engine.  Of course, each detected pattern has a backtested track record of success, and it is this pattern's success that is factored into the prediction using their Trend Prediction Engine.
Tikeron AI Bot Performance
Tickeron is the only AI software on this list (apart from Trade Ideas) that shares its track record of success.  Of the 27 AI Trading Bots I looked at, only 2 claimed less than a 30% annualized gain; the other 25 AI Bot claimed from a 40% to 168% annualized gain, as you can see in the image below.  This is bordering on "too good to be true" status. Which, for me, is a warning signal. However, I cannot prove or disprove these returns.
The Day Trader Stock >$20 Bot claims a Win Rate of 61.64%, which is very high, especially when put into the context of this report from Fast Company.
"An exceptional trader would be thrilled with a 51% success rate—similar to the house edge at a Las Vegas blackjack table. Renaissance Technologies, perhaps the most profitable quant firm in the world, has generated a vast fortune by leveraging bets with these odds. J4 Capital, which has only two other employees, claims to have a success rate of nearly 60%."
All in all, having tried Tikeron, I have to say it is a very professional, slick AI Stock Trading Platform that is definitely worth a try.
5. Vectorvest: Solid AI for Market Timing
Dr. Bart DiLiddo founded VectorVest over 40 years ago to provide a simple to use system for recommending buy and sell signals to investors based on a proprietary stock-rating system based on Value, Strength, and Timing.
VectorVest software is straightforward to use because it promotes the Value, Safety, and Timing system. This means they have a minimal variety of stock market indicators; they provide only what is needed to trade within their VST system parameters.
VectorVest AI Rules
VectorVest continually evaluates every stock on the exchanges they cover to provide their propriety ratings.
RV Relative Value shows the estimated return versus a AAA Corporate Bond.
RS Relative Safety measures the consistency of a companies financials.
RT Relative Timing is a technical indicator that attempts to define the short-term trend of a stock.
VST Value-Safety Timing indicator is an aggregation of RV, RS, and RT, essentially rolled up into one number.
Ultimately, VectorVest recommends that you should trade stocks with good fundamentals, moving in an up-trend, as the market is in an uptrend.  This, to me, makes sense and is the foundation of my stock investing strategy.

VectorVest Performance
My only issue with these ratings is that they are proprietary, so we have not ideas how they are calculated.  Usually, if proprietary indicators are the unique selling point of stock market software, you would want to publish confirmed results of the system's effectiveness. Unfortunately, that does not exist.
The only published VectorVest performance is a 20-year-old reference to fantastic returns of 2,000%+, which is absolutely unrepresentative of reality.
But does the VectorVest rating system produce market-beating gains? There is no proof for that.
While VectorVest has not published performance metrics, that does not mean it does not help; it is just unproven.
VectorVest AI Benefits
Simple to Follow System
Specific Buy & Sell Signals
Market Timing Signals
US, Canada, Australia, & Euro Stocks
AI Stock Trading Software Comparison Table
| | | | | | |
| --- | --- | --- | --- | --- | --- |
| AI Stock Trading | Trade Ideas | TrendSpider | MetaStock | Tickeron | Vectorvest |
| AI Bot Rating | ★★★★★ | ★★★★✩ | ★★★★✩ | ★★★✩✩ | ★★★✩✩ |
| Individual Investors | ✔ | ✔ | ✔ | ✔ | ✔ |
| Trading Signals | ✔ | ✘ | ✔ | ✔ | ✘ |
| Alerts | ✔ | ✔ | ✔ | ✔ | ✔ |
| Pattern Recognition | ✔ | ✔ | ✔ | ✔ | ✔ |
| Structured Strategies | ✔ | ✘ | ✔ | ✔ | ✔ |
| Backtesting | ✔ | ✔ | ✔ | ✔ | ✔ |
| Point & Click Back-testing | ✔ | ✔ | ✘ | ✘ | ✔ |
| Auto Trading | ✔ | ✘ | ✘ | ✘ | ✔ |
| Cloud-Based | ✔ | ✔ | ✘ | ✔ | ✔ |
Summary: AI Stock Trading
The use of rules-based AI and day trading Bots in stock analysis software is becoming pervasive.  However, machine learning and deep learning software are still in their infancy. Trade Ideas is the most developed and highest performing AI trading software, with three trading Bots available for retail investors today.
TrendSpider uses AI Bots to provide automated technical analysis and backtesting, which significantly improves human chart analysis.  MetaStock has an excellent backtesting & forecasting engine and a large rules-based AI system marketplace.
Are You Looking For Stock Investing & Trading Software? Here Are My Favorites.
My favorite
software for trading
is
TradingView
because it does everything well. It has backtesting, great charts, stock screening, and an active community of over 3 million people sharing ideas, plus a free plan available globally.
My favorite
software for investing
is 
Stock Rover
, as it specializes in deep fundamental financial screening, research, and portfolio management. It is the ideal platform for dividend, value, and growth investing.
My favorite
software for stock market news
is
Benzinga Pro
, with its super-fast real-time news engine, squawk box, and news impact ratings.
My favorite
AI trading software
is
TrendSpider
which enables automatic pattern recognition for Trendlines, Candlesticks, and Fibonacci levels.
Trade Ideas
uses AI to generate high probability daily trading signals for auto-trading.
My favorite
stock-picking service
is
Motley Fool Stock Advisor
, which has a proven track record of beating the market with excellent stock research reports.
Read the Full Top 10 Stock Market Software Testing & Review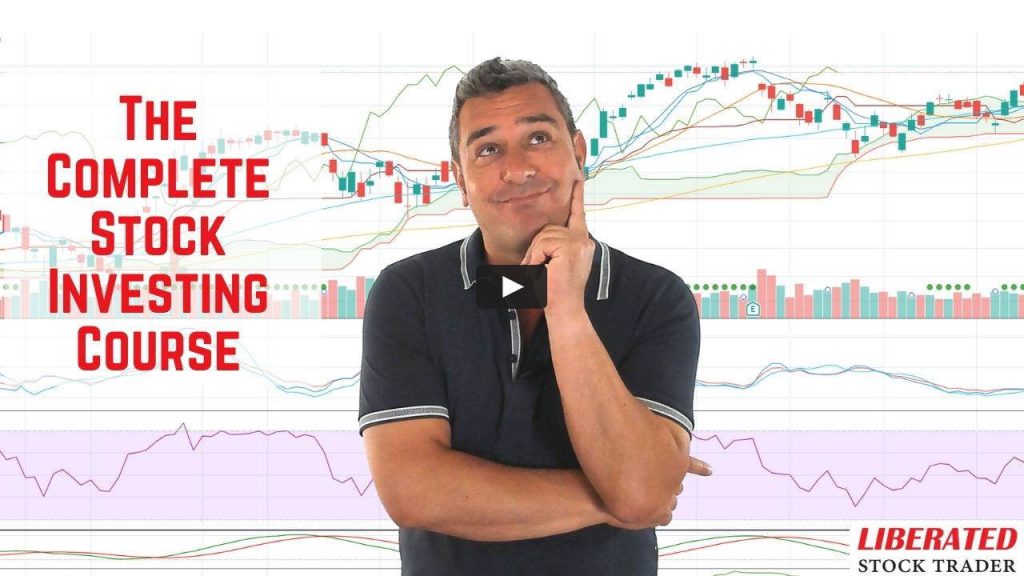 Liberated Stock Trader Pro Investing Course
★ 16 Hours of Video Lessons + eBook ★
★ Complete Fundamental Stock Analysis Lessons ★
★ 2 Powerful Value Investing Strategies ★
★ 4 Dividend/Income Investing Strategies ★
★ How to Beat the Market: Growth Strategy ★
★ Professional Grade Stock Chart Technical Analysis Lessons ★