Our research shows the best trading platforms for beginners are TradingView, for price, community, trading, and charting; Finviz, for easy screening and charting; and TrendSpider, for automated trendline and pattern recognition.
If you are starting on your exciting stock market trading journey, you need a charting platform that is intuitive yet powerful. You need to join a community of traders and be inspired by their ideas. Finally, you need high-quality educational resources and not to break the bank on software costs.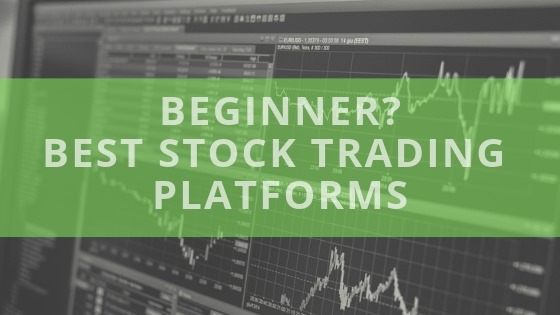 We independently research and recommend the best products. We also work with partners to negotiate discounts for you and may earn a small fee through our links.
Best Trading Platforms for Beginners Summary
Our winner for best trading platform for beginners is TradingView because it is free, has 13 million users generating educational content, and is incredibly easy to use. Finviz is also great for beginners as it provides useful trading data in a simple format combined with screening for chart patterns.
TrendSpider uses AI and smart algorithms to detect stock chart patterns and trendlines on multiple timeframes to help novice traders learn quickly and effectively. Finally, TC2000, the software I learned to trade with, is intuitive and has integrated trading from charts using the TC2000 Brokerage.
---
1. TradingView: Winner Best Trading Platform for Beginners
My research shows that TradingView is the best trading platform for beginners because it is the perfect place to learn to trade. The TradingView community helps educate and inspire traders, and best of all, the platform is free and easy to use but has the power to grow with you on your learning path.
| | |
| --- | --- |
| TradingView Rating | 4.8/5.0 |
| ⚡ Free Features | Charts, Trading, News, Watchlists, Screening, Backtesting, App |
| 🏆 Beginner Features | Easy to Use, Huge Community, Great Educational Content |
| 🎯 Best for | Learning, Engaging, Chatting, Insights |
| 🆓 Free Version | TradingView Free |
| 🎮 Premium Trial | Free 30-Day |
| ✂ Premium Discount | -25% Discount Available |
| 🌎 Markets Covered | Global |
We independently research and recommend the best products. We also work with partners to negotiate discounts for you and may earn a small fee through our links.
I actively use TradingView daily; it is a key tool in my portfolio and great for beginners and experienced traders. That means the platform will grow with you. TradingView has excellent social integration, chat, news, and the ability to follow other investors and view and share trade ideas. Add to that global stock exchange data, TradingView is the best global stock trading and charting platform.
TradingView Platform For Beginners
TradingView runs on PCs, Macs, Tablets, and Smartphones and requires zero installation; it simply works. The Market data is huge, covering nearly all Stock Markets. It includes stocks, ETFs, Futures, Foreign Exchange, and bonds, all at no extra price, which means outstanding value for money and excellent support options. Click this link, and TradingView will work for you.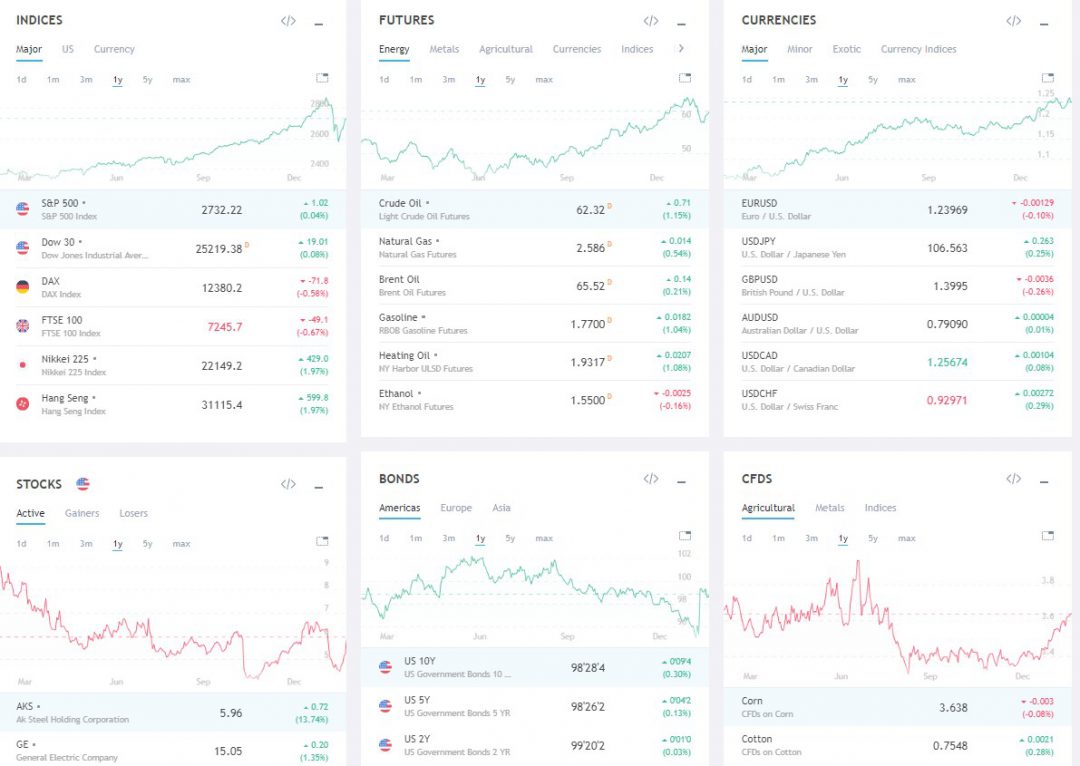 Also, a huge benefit is that the data speed and coverage are mind-blowing, covering literally every stock market on the planet and not just stocks but a lot more.
TradingView for Beginners Video
What Can I Trade Using TradingView?
TradingView makes trading for beginners easy because you can trade stocks, Forex, Futures, Cryptocurrencies, and Bonds globally from one account. Trade Management. TradingView makes Trading simple because you get broker integration in every country, you can place trades on charts, and it will take care of profit and loss reporting and analysis.
Why is TradingView Perfect For Beginners?
TradingView is perfect for beginners because it has a thriving community of thousands of creators and analysts providing stock charts, ideas, and thoughtful educational content that helps novices learn fast. You can follow me on TradingView to read my market analysis and educational articles.
---
Chart, Scan, Trade & Join Me On TradingView for Free
Why not join me and 10 million traders on TradingView for free. TradingView is the best place to meet other investors, share ideas, chart, screen, and chat.

---
TradingView is built with social at the forefront, and it is simply the best to share and learn socially; forget StockTwits; Tradingview is the best. Fully integrated chat systems, chat forums, and an excellent way to share your drawings and analysis with a single click to any group or forum.
This is an excellent way to generate trade ideas or learn from other traders. You have to try it and see it in action to understand the power of the implementation. However, I always warn you to be careful of who you listen to; you should always make up your own mind.
They have also thoughtfully integrated a Kiplinger newsfeed, Stocktwits, and various FX newsfeeds. It is a great package with a social-first development methodology, powerful economic statistics, and a solid newsfeed.
Connecting to TradingView makes you realize it is developed for the community. You can look at community trade ideas, post your charts and ideas, and join limitless numbers of groups covering everything from Bonds to Cryptocurrencies.
Screening For Beginners & Experienced Traders
TradingView makes finding stocks to trade easy because the screener is simple yet powerful. The list of financials you can scan and filter on is truly huge. Any idea you have based on fundamentals will be covered. Watchlists have performance, valuation, dividends, margin, income statement, and balance sheet fundamentals. You can set the watchlist and filters to refresh every minute.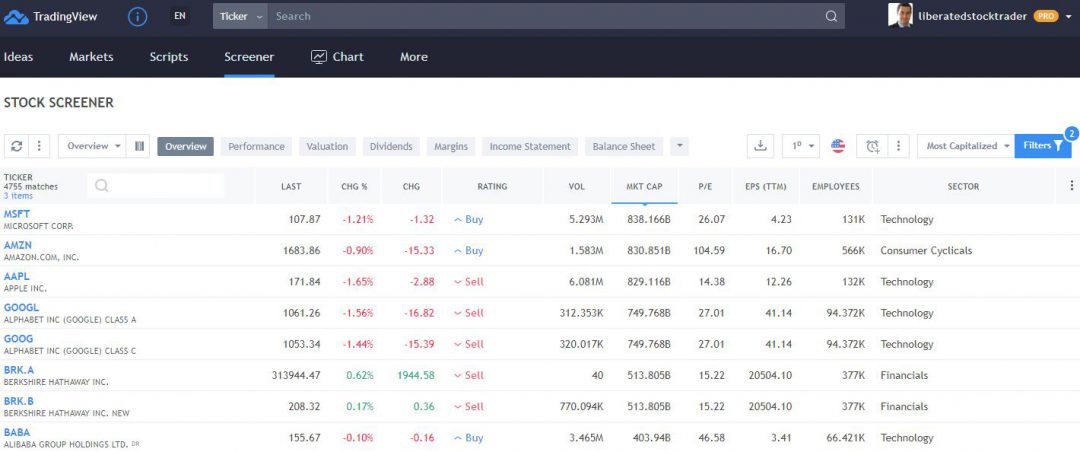 Screenshot: The TradingView Stock Screener Comes With 150 Different FiltersThe TradingView Stock Screener comes complete with 150 fundamental and technical screening criteria; all the usual criteria are there, such as EPS, Quick Ratio, Pre-Tax Margin, and PE Ratio (forwards and trailing twelve months). But it also goes deeper with more esoteric criteria such as the number of employees, Goodwill, and Enterprise Value.
Another great thing about the screener implementation is that it is very customizable; you can configure the column and filter exactly how you like it. As you can see above, I have changed the overview screen to include the number of employees, P/E, and EPS TTM.
Why Is TradingView Number One For Beginners?
1. Automatic Stock Chart Technical Analysis Indicator Rating
Most people do not want to learn how each indicator works in-depth. This innovation allows you to save time by getting an instant readout of which indicators are bullish, bearish, or neutral.
This is well implemented because two key technical analysis indicators are moving averages based on price and oscillators based on price or volume.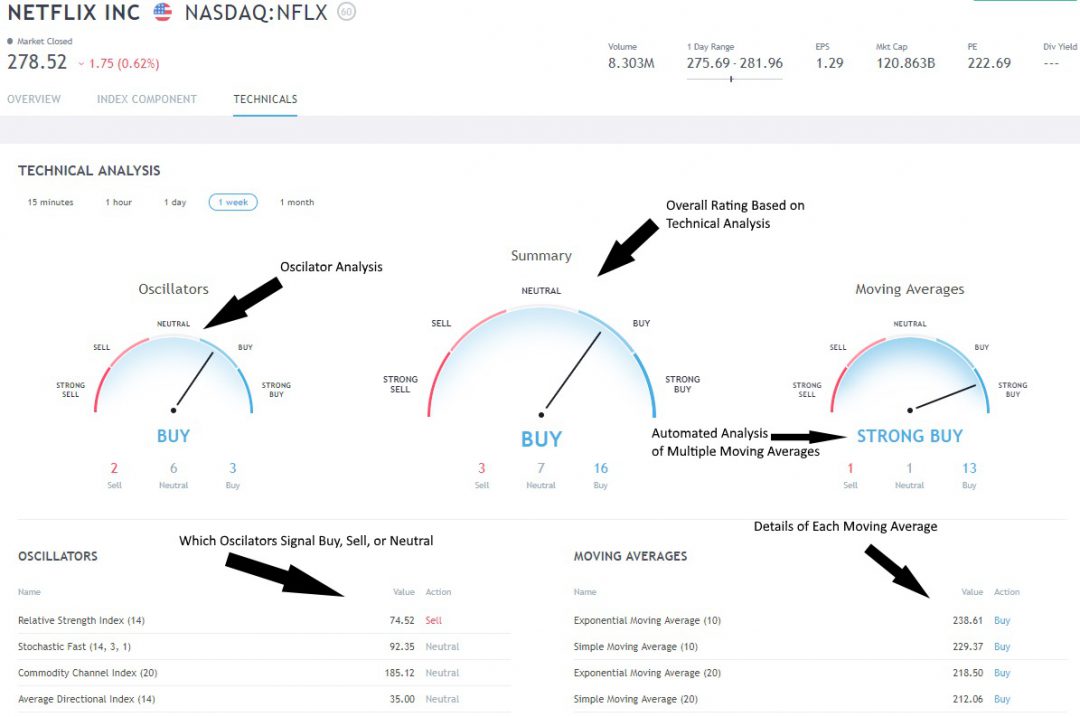 When you view a chart, you can click "Technicals," and you are presented with three gauges. The left gauge shows the oscillating indicators like relative strength, stochastics, and average directional index. On the right, you have a selection of moving averages, simple, exponential, and even Ichimoku cloud.
Each indicator is then averaged to give an overall Buy, Sell, or Neutral Rating.
This is an excellent implementation of automated technical analysis designed with the user in mind.
TradingView Charts In Action – Try It Here
Example: AAPL Apple Stock Chart with RSI & Ichimoku Cloud.
2. Simple Yet Advanced Charts
I was incredibly impressed with the offering of Kagi, Heikin Ashi, and Renko Charts, including Point & Figure and Line Break. Also, the user community has developed indicators as exotic as Moon Phase (see chart below).
With this selection of charts, you have everything you will need as an advanced trader. You also get Level II insight, fully integrated with the Premium membership.  Well done, TradingView.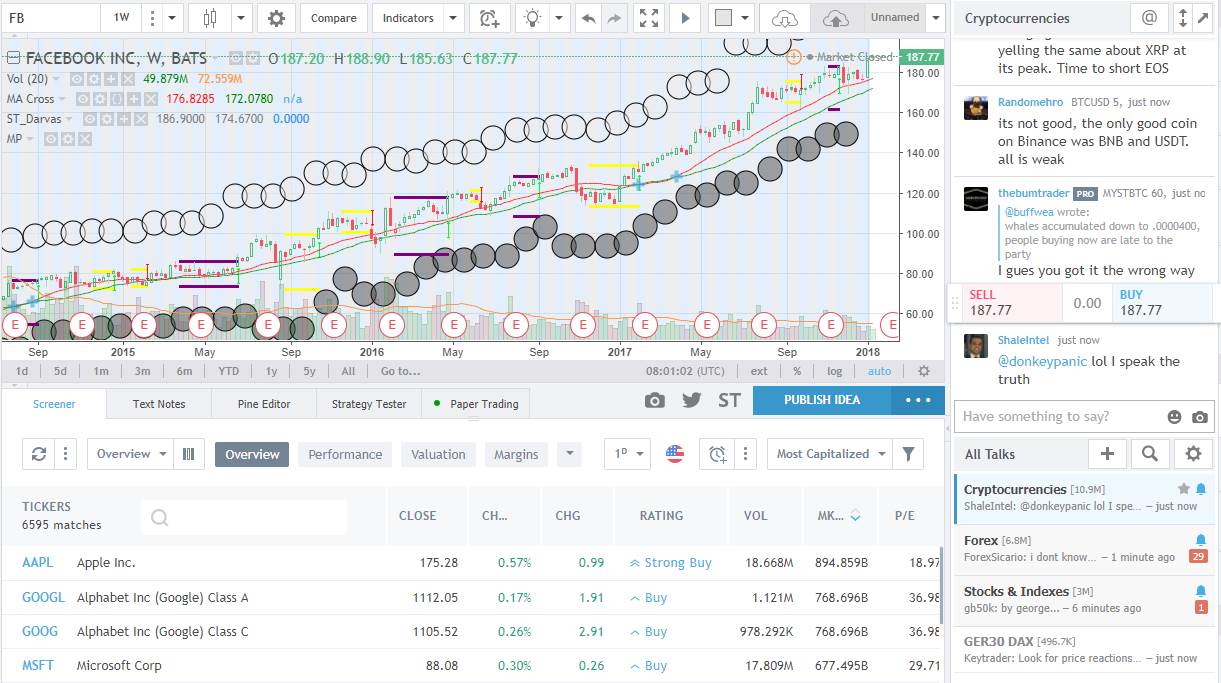 Did I mention the charts are fast and beautiful?
Also, they have implemented Darvas Box, Elliot Wave, and Point & Figure Charts for the technical analyst. All-round an excellent package.
3. TradingView Alerts on Indicators & Drawings
TradingView alerts are immediate notifications when the market meets your custom criteria. For example, "Alert me if Netflix crosses $200 up". You can place alerts on indicators, prices, or trendlines; it is extremely flexible. All users can get visual popups, audio signals, email alerts, and email-to-SMS alerts. A premium plan subscriber can also get real-time alerts.
Easy to use for Beginners
Within 5 minutes, I used TradingView with no credit card, installation, or configuring data feeds; it was just there. TradingView is up and running with a single click. It does not get easier than that.
Even better is the fact that it is already configured for use. All controls are intuitive, and the charts look amazing. It is quite a feat that it is so easy to use, considering TradingView has so many data feeds and backend power.
---
2. Finviz: Fast Free Stock Charts & Screening For Beginners
Finviz is a great choice for beginners because it provides lightning-fast free stock charting, screening, and stock chart pattern recognition. Finviz lets investors visualize vast stock market data with heatmaps, and money flows on a single screen.
| | |
| --- | --- |
| Finviz Rating | 4.5/5.0 |
| ⚡ Free Features | Charts, News, Watchlists, 50 Screener Configs, Heatmaps [Ad-supported] |
| 🏆 Beginner Features | Fast, Easy to Use, Simple Screening, Very Visual |
| 🎯 Best for | Beginner Investors |
| 🆓 Free Version | Finviz Free |
| 🎮 Premium Trial | 30-Day Money-Back |
| ✂ Premium Discount | -37% With Annual Plan |
| 🌎 Markets Covered | USA |
Why is Finviz Great for Beginner Traders?
Finviz is ideal for beginner investors because it is free, fast, and easy to use. Beneath the simplicity is a workhorse that displays an incredible amount of useful data, including news, insider trading, financials, and beautiful charts.
Finviz Heatmaps Are Great for Beginners
The Finviz heatmaps are the show's star, providing a view of the US or the entire world's stock markets. Finviz manages to cram the entire world's moving stocks onto a single-page heatmap at lightning speed, which is impressive. Hovering your mouse over a ticker symbol shows the stock's current performance, a mini line chart, and the company's direct competitors.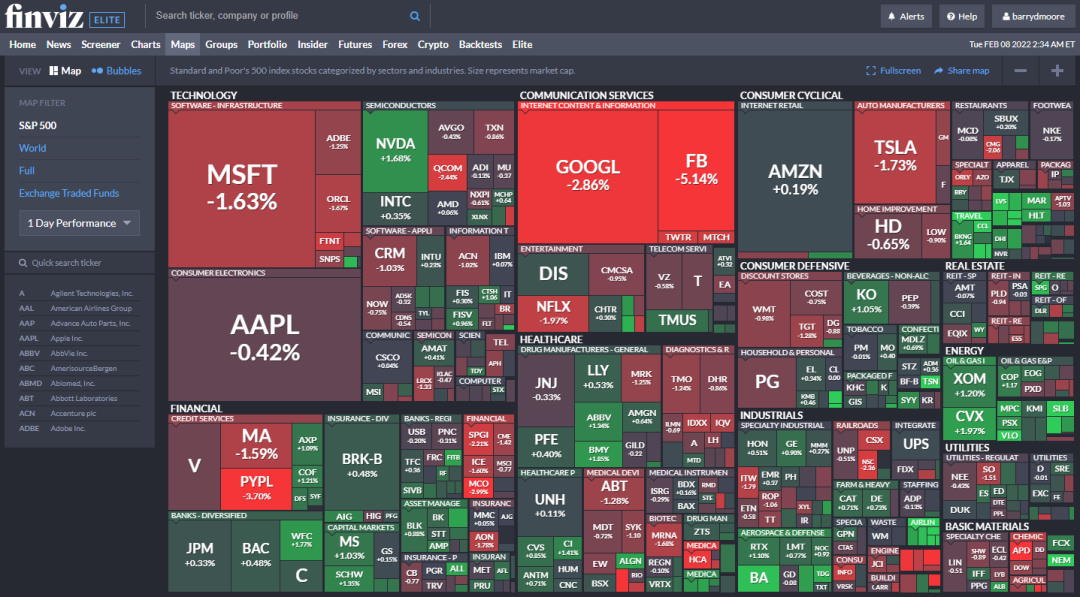 Viewing the Finviz stocks heatmaps based on analyst recommendations shows how biased institutional analysts are, as 70% of stocks are flagged as positive.
Finviz allows you to visualize markets based on stock price performance, volume, P/E, PEG, Dividend Yield, Float, EPS, and even analyst recommendations. Finviz lets you double-click on a stock and jump directly to the individual company data and chart. The whole process is extremely fast and efficient.
Finviz Free Stock Charting
Looking at stock charts with Finviz is different from the other stock software products. Whereas MetaStock & TradingView provide hundreds of fundamental technical analysis indicators, Finviz focuses on providing basic pattern recognition on daily charts and a small handful of overlays and indicators.
I like the Finviz automatic trendline recognition and how it identifies price patterns like wedges, triangles, double tops, and channels; this is a big advantage for pattern traders.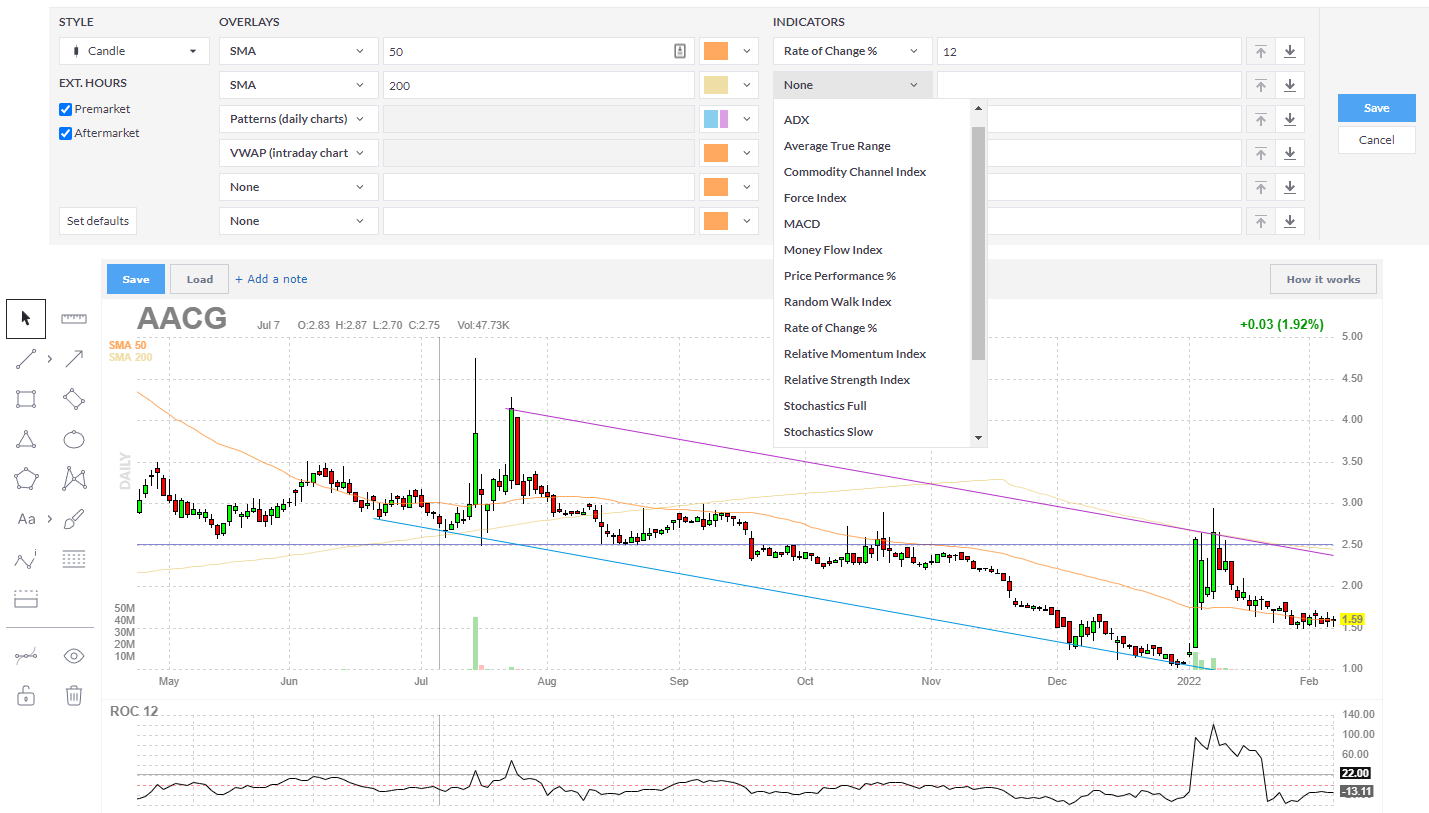 The free Finviz service is worth using, with excellent heatmaps, free global stock screening service, good news aggregation, and insider trading information. What more do you expect for free? Finviz provides incredibly fast stock screening, heatmaps, and stock chart pattern recognition. If you want to visualize a large amount of stock data and find investments quickly, Finviz is definitely worth it.
---
3. TrendSpider: Automated Stock Charts Analysis for Beginners
Trendspider is perfect for beginners because it does everything for you: chart analysis, drawing trendlines, tweaking indicators, and analyzing timeframes.
| | |
| --- | --- |
| TrendSpider Rating | 4.4/5.0 |
| ⚡ Features | Charts, Watchlists, Automated Trendlines, Pattern Recognition |
| 🏆 Beginner Features | Performs All Chart Analysis For You, 121 Support, Great Educational Content |
| 🎯 Best for | Beginner Traders |
| 🎮 Premium Trial | Free 7-Day |
| ✂ Premium Discount | -40% Use Coupon Code "LIB40" |
| 🌎 Markets Covered | USA |

Learning to analyze trendlines and market direction is a tough ask for beginner traders; this is where TrendSpider excels.
TrendSpider's automated trendline detection saves a lot of time for newbies, speeds up trade preparation in the morning, and improves accuracy. The TrendSpider algorithm uses mathematics to correlate all the bars on a chart and draw the lines. It highlights the touches at peaks and troughs in a price trend.
As a technical analyst, this is how you are supposed to do it; the more times a price touches the trend line and reverses, the stronger the trend. Therefore, it is more predictive if a price breaks through strong support and resistance areas.
If you do not like a trend that the AI has used, you can manually delete it or fine-tune it. With this capability, you can complete trendline analysis on any chart in a few seconds.
Multi-Timeframe Analysis For Beginners
Here is where it gets even more interesting: the Multi-Timeframe Analysis can superimpose trendlines or indicators from different timeframes onto a single chart. It may seem a little complex initially, but it makes sense when you get used to it. Instead of constantly switching timeframes and redrawing trendlines, it is simplý there.
It is not just for trendlines; you can use it with the array of 42 stock chart indicators to ensure you do not miss anything.
TrendSpider's Automation is Great for Beginner Traders
Advanced Support & Resistance Lines
What blew me away is that the TrendSpider team has found an elegant way to take the masses of computed data and overlay it onto a single chart.
Using the drop-down selector "S/R Trends" enables a kind of heat map, which shows the hundreds of potential trendlines, and the darker red the area, the more touches and concentration of trendlines there are. See the chart below for reference.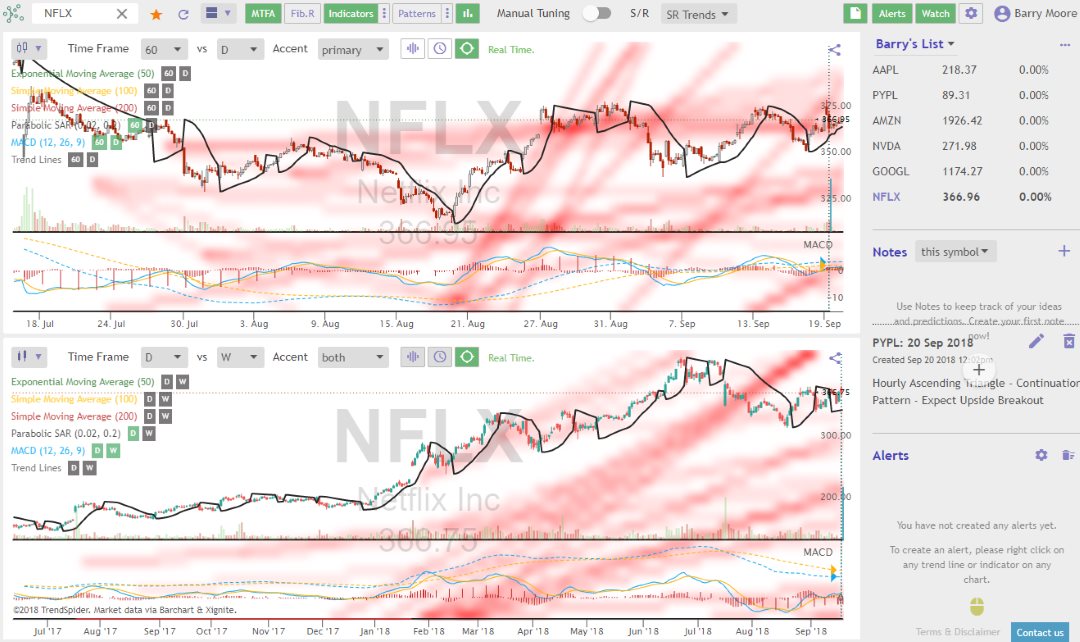 Trendspider Summary
We have focused on what is unique about Trendspider; it is designed for a specific purpose, taking the guesswork and painstaking hours of analysis away from traders. But what do you not get? You do not get fundamental scanning & filtering, trading from charts, or broker integration. There is no social aspect at the moment and no news service. But it is not designed for these things but for fast, effective, machine-driven technical analysis.
I see a bright future for TrendSpider; for example, I expect soon to see the analysis of how well any given indicator or price pattern works overall or for any given stock. Analyzing the probability of a successful prediction would be an amazing leap forward.
---
4. TC2000: Easy to Use Charts & Great Resources For Beginners.
TC2000 is an excellent choice for beginners because it has great charts, screening, and trading, all backed up with the best customer support and live educational seminars across the USA.
Why Is TC2000 a Good Choice for Beginner Traders?
TC2000 is a great choice for beginner investors with a basic understanding of financial ratios and technical signals. TC2000 enables you to quickly create EasyScans to identify trading opportunities based on simple yet effective criteria.
TC2000 has long been one of my favorite tools. I have been a Platinum service subscriber for over 20 years. I started learning stock trading as a beginner with TC2000. TC2000 is an endlessly customizable and scalable platform that offers everything an investor in stocks, exchange-traded funds, and options would need.
TC2000 won in our Best Stock Market Analysis Software Review, beating 25 other competitors.
TC2000 Trading Platform For Beginners
As I have been using TC2000 since 1999, I can say the software is first-class and reliable. TC2000 runs natively on the PC. It is fast, responsive, and simple to use. The resolution of the software enables very intricate design details that other development platforms cannot match. It is very quick to download, and installation is a breeze.
TC2000 Support & Customer Service
Support is excellent on the forums, via email, or the phone. When you call, you will get straight through and can speak with skilled personnel in the US; I have never had an issue where it was not solved more or less immediately.
If you have not selected a Brokerage, you should look at TC2000 Brokerage as an option; they have competitive rates, which means you get full integration to trade stocks & options directly from your charts, a huge bonus.
This is a great solution if you trade U.S. Stocks, ETFs, or Mutual Funds. Worden also provides regular live training seminars of very high quality and tours the US A with free live training seminars for subscribers.
TC2000 Training & Education
The Worden Brothers in-house training team has hundreds of video webinars online available instantly. But even better than that, they seem to be on a more or less ongoing roadshow with live free seminars across the United States. One of my students recently wrote to me about how great the training was and how much she learned. If you are based in the US or can travel, attending one of the scheduled seminars is well worth it.
Fundamental Scanning and Screening
Make no mistake; if you want fundamental stock screeners in real-time layered with technical screens integrated into live watch lists connected to your charts, TC2000 is a power player.
I selected TC2000 as my tool of choice back in 1999 because it offered the best implementation of fundamental scanning, filtering, and sorting on the market. Twenty years later, they are still a leader in this section.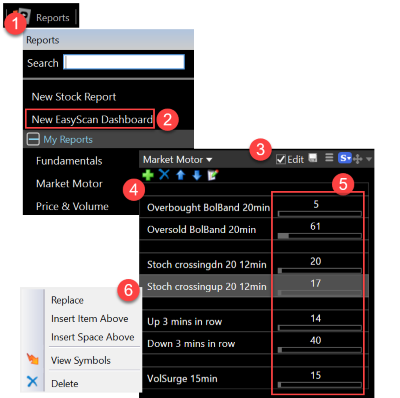 They offer a huge selection of fundamentals to choose from, 192, to be exact, but even better than that, what makes it truly unique is the fact you can, with a few clicks, create custom indicators based on the fundamentals.
You can then overlay the indicators directly on the charts, opening a new world of technical and fundamental analysis. 10 out of 10 for TC2000 again.
Technical Chart Analysis
TC2000 has an excellent array of technical indicators and drawing tools; all the big ones are there, from OBV, RSI, and Bollinger Bands to Fibonacci Fans and Andrews Pitchfork. With over 240 different indicators, you will have plenty to play with.
Here is a setup I use to find divergences in stock price and volume supply and demand; it is very reliable because it uses a mix of price, volume, and price/volume indicators. I also have backtested Ichimoku Cloud indicator accuracy, which is reliable.
Ease Of Use – Perfect For Beginner Traders
TC2000 is easy to use and yet very powerful. The interface design strikes the right balance between looking great and instantly useful.
A heavy focus on watchlist management, flagging stocks, making notes, and powerful scanning make it easy to use and master. The software setup is completed in a few minutes and runs perfectly across devices.
Instant Usability.
If you want to run a quick test to see how easy TC2000 is, try the following.
Download TC2000 for PC
Follow The Install Instructions
Open TC2000
Click File
Click Open Layout
Click Sector By Year
In 5 Clicks, you have this great industry sector drill down.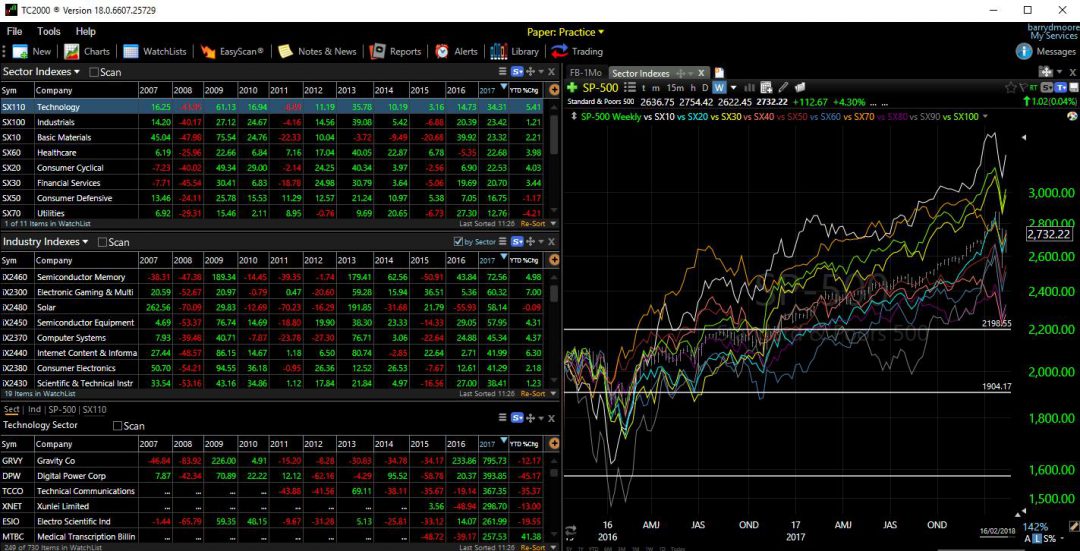 I have drilled down into the Technology sector in the above chart, and instantly, we see the industry indexes, Semiconductor, Gaming, Solar, etc. What is nice is that we see to the right the relative performance for the sector versus the S&P 500.
Instantly, you can see which sectors outperform the market in 5 clicks.
Easy Scan Dashboards
EasyScan Dashboards are reports that can track multiple EasyScans at one time. Counts are continuously updated to see stocks move between your scans, which is great for beginners to get a feel for the market.
Click the report button on the toolbar at the top of TC2000.
Click to create a new EasyScan Dashboard.
Click the checkbox to toggle edit mode on and off.
With edit mode turned on, click the + button to add your custom EasyScans to the dashboard.
Counts are updated in real-time (if you have real-time data).
Right-click on any scan to make edits or view the watchlist of passing stocks.
Summary – TC2000 Great For Beginners
I thoroughly enjoyed "growing up" as a trader with TC2000; it is a first-class platform with a team built on integrity, value for money, and cutting-edge technology that unleashes investing opportunities.
---
Best Beginner Stock Trading Platforms Summary
If you want the best social community to learn to trade, your only choice is the TradingView platform. If you are a beginner trader who wants a simple yet powerful visual trading platform, then FinViz is the right choice. If you want AI algorithms to do the hard work for you, TrendSpider is the best. If you want great stock market screening and trading from charts, then choose TC2000.
FAQ
What is the best trading platform for beginners?
TradingView is our choice for the best trading platform for beginners because it has millions of active users sharing educational content, an easy-to-use interface, and the price starts at free. Plus TradingView will grow with you as your skills develop.
What features are important to look for in a beginner trading platform?
Beginner traders should look for an easy-to-use user interface, plenty of charting tools, a free plan, and a trading community to learn from. I use TradingView, and you can follow me for market analysis and educational content.
Are there any free trading platforms?
Yes, the best free trading platforms are TradingView, Finviz, Stock Rover, TC2000, and Yahoo. But if you're serious about trading, I recommend TradingView. It offers more features, tools, and educational content than any other platform. Plus, it has a free trial period, so you can ensure it meets your needs before committing to a subscription plan.
Is TradingView suitable for beginners?
Yes, TradingView is an excellent platform for beginner traders due to its easy-to-use visual interface and wide range of features, such as stock screening and technical analysis tools.
What is FinViz used for?
FinViz is a visual platform geared towards novice traders that offers sophisticated yet simple market analysis tools, charts, indicators, and alerts. It also has basic pattern recognition and backtesting in its Elite plan.
How can I use TrendSpider as a beginner trader?
TrendSpider offers automated AI-driven algorithms that can help you quickly analyze markets and make decisions based on data-driven insights. Beginner traders can use this to make quicker decisions without manually analyzing each trade opportunity.
Is TC2000 better than FinViz?
While both offer robust charting features, TC2000 shines with its advanced scanning capabilities. If you find yourself requiring simple data-driven insights, Finviz is the better-suited option.
Are You Looking For Stock Investing & Trading Software? Here Are My Favorites.
My favorite
software for trading
is
TradingView
because it does everything well. It has backtesting, great charts, stock screening, and an active community of over 3 million people sharing ideas, plus a free plan available globally.
My favorite
software for investing
is 
Stock Rover
, as it specializes in deep fundamental financial screening, research, and portfolio management. It is the ideal platform for dividend, value, and growth investing.
My favorite
software for stock market news
is
Benzinga Pro
, with its super-fast real-time news engine, squawk box, and news impact ratings.
My favorite
AI trading software
is
TrendSpider
which enables automatic pattern recognition for Trendlines, Candlesticks, and Fibonacci levels.
Trade Ideas
uses AI to generate high probability daily trading signals for auto-trading.
My favorite
stock-picking service
is
Motley Fool Stock Advisor
, which has a proven track record of beating the market with excellent stock research reports.
Read the Full Top 10 Stock Market Software Testing & Review