REVIEW BREAKDOWN

Pricing & Software
Trade Management
Company Fundamentals Screening Integration
News Services & Social Integration
Technical Analysis – Charts, Indicators & Drawing Tools
Stock Systems, Backtesting & Robotic Trading (Automation)
Ease of Use

REVIEW SUMMARY

Simple & Extremely Powerful Charting Software, 1st Class Analytics IS THIS the best package available?Recommended for Long-Term U.S.A. & International Investors who value a great price, insanely good Fundamental & Technical Analysis with great streaming news engines and the best ease of use.
Winner: Best for U.S.A. & International Investors & Traders who Value a Huge Social Community, Great Price & Good Fundamental & Technical Analysis. With the Best Ease of Use, you cannot go wrong.
| | | |
| --- | --- | --- |
| TradingView Summary | Likes | Dislikes |
| | ★ Huge Social Community – Perfect For Learning | ✘ Deep Backtesting Limited |
| | ★ All Markets Covered – Great For All Countries | |
| | ★ Large Library Of User Generated Strategies | |
| Visit TradingView | ★ The Best Usability & Setup | |
TradingView –  Overall Review Winner 2019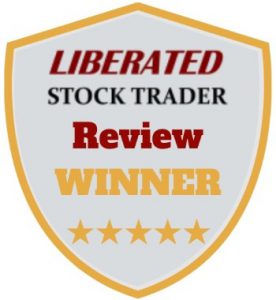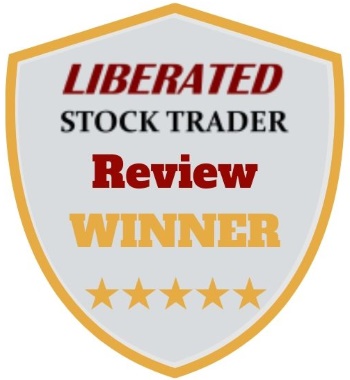 It is really impressive that TradingView has stormed into the review winners section of our Stock Market Software Review in its first try.
I now actively use TradingView every day, and it is a key tool in my portfolio.
With excellent social integration, chat, news and the ability to follow other investors and view and share trade ideas, combined with global stock exchange data TradingView are one of the global stock charting analysis leaders.
TradingView Pricing – 10/10
You can have TradingView for free, it is a review winner for our Best Free Charting Software Review so you cannot go wrong.  However, there are limitations to the free version which would warrant an upgrade to the higher level services.  In any case, TradingView is best in class in terms of price.
How Much Does TradingView Cost?
Free $0 – 1 Chart per Layout – 1 Device – 1 Alert – 3 Indicators per Chart – 1 Saved Chart Layout
PRO $9.95 US /mo – 2 Charts per Layout – 1 Device – 10 Alerts – 5 Indicators per Chart – Unlimited Watchlists
PRO+ $19.95 US /mo – 4 Charts per Layout – 2 Devices – 30 Alerts – Intraday & Extended Trading Hours Data
Premium – $39.95 US / mo – 8 Charts per Layout – 5 Devices – 200 Alerts – Top Customer Service – Unlimited Everything

I would recommend going for the TradingView PRO+ at $19.95 per month or the Premium at $39.95 per month, the benefits are extensive including Priority Customer Support and unlimited everything.  I use the PRO+ version.
If you want the intraday spread charts & custom chats go for TradingView Pro+.  In any case, try it out completely Free and play around with it to see if you like it.
[Related Article: Save Money & Time With Our In-Depth TradingView Pricing Guide]
TradingView Platform –  10/10
TradingView runs on PC, Mac, Tablets, and Smartphones and requires zero installation, it simply works.  The market data is huge, covering nearly all stock markets and it includes Stock, ETF's Futures, Foreign Exchange & Bonds, all at no extra price, which means outstanding value for money combined with excellent support options.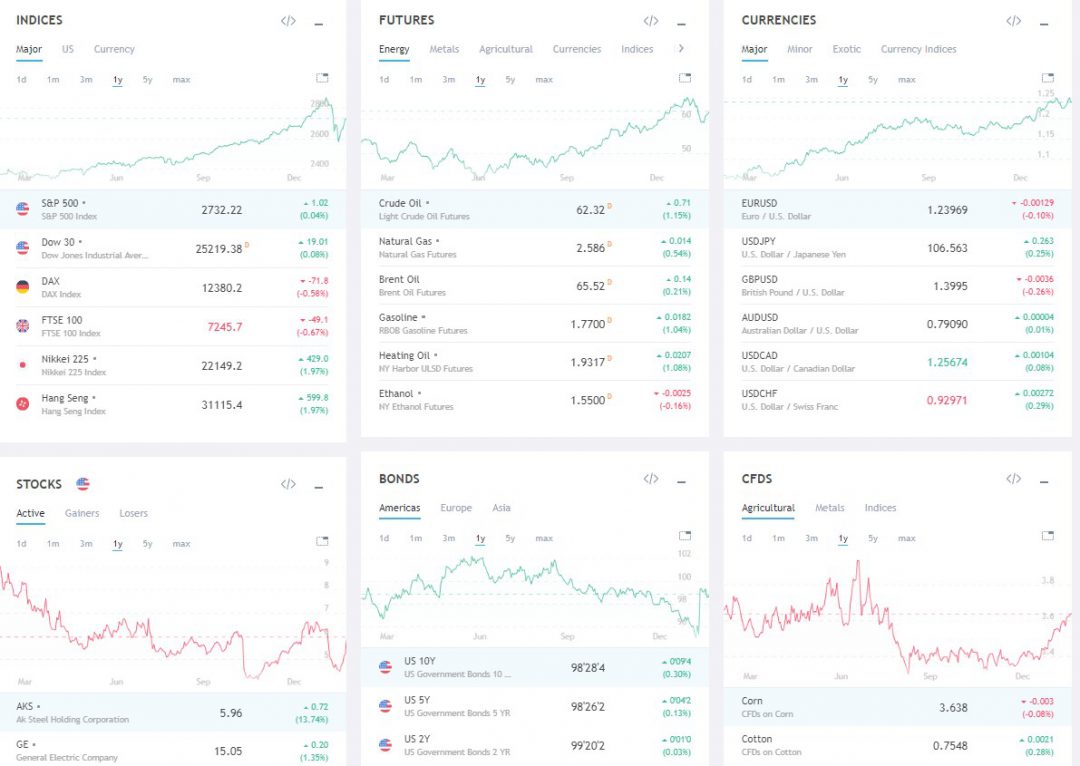 Also, a huge benefit is that the Data Speed and Coverage are mind-blowing, covering literally every stock market on the planet and not just stocks but a lot more.
The TradingView Platform Is A Modern Cloud-Based Software Architecture
This architecture type means that there is no client software to download and install, and all the stock exchange data resides on the vendor's servers in the cloud. The charting and visualization are all stored and computed in the cloud, and only the chart to want to visualize is streamed to your client device.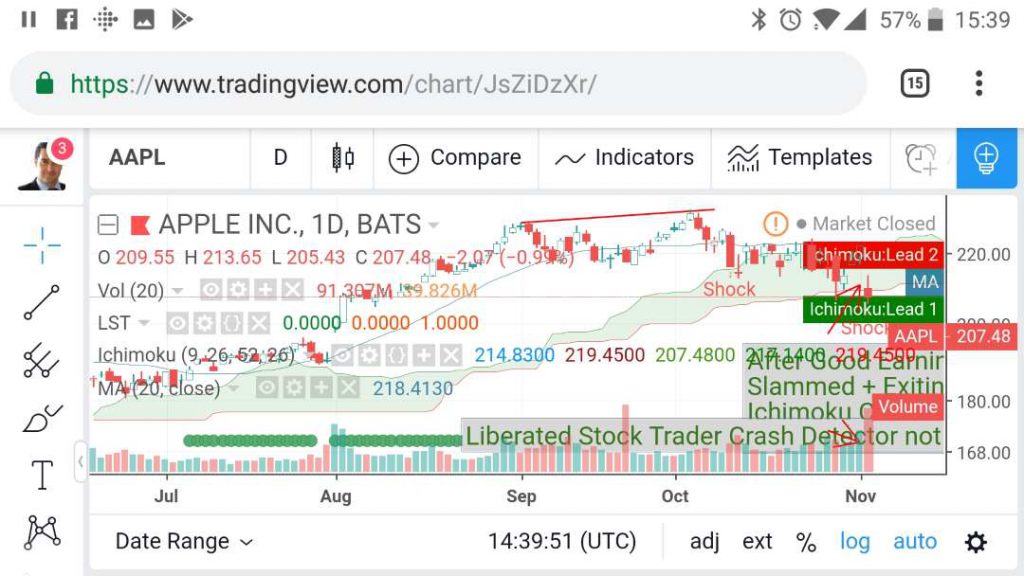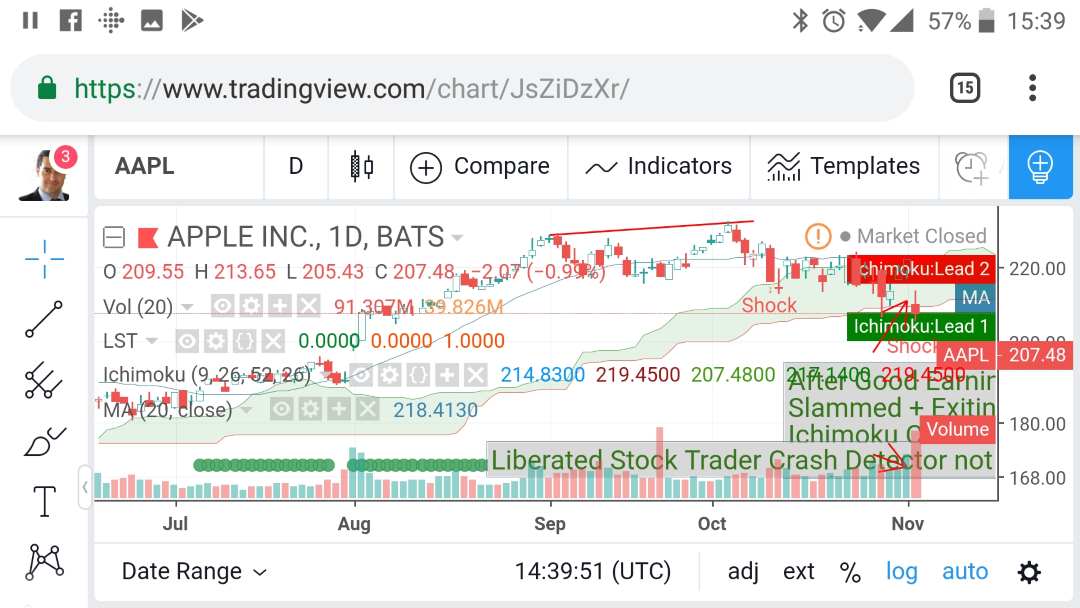 The positives of cloud-based technical analysis software:
Zero client installation – very quick setup
Zero data downloads and data management required on the local client device
All processing and storage is managed on servers in the datacenter
Seamless social network integration, communications and messaging between users
Cross-device compatibility (PC, Mac, Tablet, Smartphone)
The negatives of cloud-based architecture:
Back-testing and forecasting calculations and system development is limited
Privacy & security, the analyst's work is visible to the software vendor
The speed of data and responsiveness of the application is dependent on internet bandwidth
If you want to learn from other traders and share ideas with others then cloud-based software is the way forward.  The simplicity of setup and cross-device compatibility are also deciding factors in choosing cloud-based platforms.
TradingView has the best implementation of cloud-based architecture on the market.
Is TradingView Real-time?
Yes for Pro, Pro+ & Premium members you will get the fastest dataflow possible with your data subscription.
TradingView Exchange & Market Data Coverage
Americas Exchanges
NYSE ARCA & MKT – New York Stock Exchange MKT and ARCA equities
NASDAQ – NASDAQ Stock Market
NYSE – New York Stock Exchange
OTC – OTC Markets
CME Group (GLOBEX, CBOT, COMEX, NYMEX) Futures
TSX – Toronto Stock Exchange

Bovespa –  Sao Paulo Stock Exchange
BM&F – Brazilian Futures Exchange
Argentina BCBA – Bolsa de Comercio de Buenos Aires
BMV – Mexico Stock Exchange
BVC – Bolsa de Valores de Colombia
BVL – Bolsa de Valores de Lima
TSXV – TSX Venture Exchange
European Exchanges
LSE – London Stock Exchange (UK and International Companies)
SIX – Swiss Exchange
BME – Bolsa de Madrid
Euronext – European Stock Exchange
GPW – Warsaw Stock Exchange

FWB – Frankfurt Stock Exchange
XETR – Xetra
SWB – Stuttgart Stock Exchange
MIL – Milan Stock Exchange
The Middle East & Asia Exchanges
BSE – Bombay Stock Exchange
NSE – National Stock Exchange of India
MOEX – Moscow Exchange
ASX – Australian Securities Exchange
NZX – New Zealand Exchange
NAG – Nagoya Stock Exchange
SGX – Singapore Stock Exchange
TFX – Tokyo Financial Exchange
TSE – Tokyo Stock Exchange
TOCOM – Tokyo Commodity Exchange
TWSE – Taiwan Stock Exchange
HKEX – Hong Kong Stock Exchange
BIST – Istanbul Stock Exchange
TASE – Tel Aviv Stock Exchange
SSE – Santiago Stock Exchange

EGX – Egyptian Exchange
BELEX – Belgrade Stock Exchange
BAHRAIN – Bahrain Stock Exchange
MYX – Bursa Malaysia Berhad
DFM – Dubai Financial Market
NSE – Nigerian Stock Exchange
IDX – Indonesia Stock Exchange
QSE – Qatar Stock Exchange
HSI – Hang Seng Indices
OSE – Osaka Stock Exchange
OMX – Nasdaq OMX Group
HOSE – Chi Minh City Stock Exchange
JSE – Johannesburg Stock Exchange
SZSE – Shenzhen Stock Exchange
Tadawul – Saudi Stock Exchange
What Can I Trade Using TradingView?
Stocks – tens of thousands of stocks, see above for exchange coverage
Forex (FX) Currencies – All the Major, Minor, Exotic currencies covered
Futures – Energy, Metals, Agriculture, Indices and even Interest Rates
Crypto Currencies – 26 including Bitcoin, Ripple, Ethereum, Bitcoin Cash
Bonds – 30+ Government Bond Types
Can I Trade Bitcoin on TradingView?
Theoretically Yes but only outside the USA. You can enable this with an account through a CFD Broker.  The reason I say theoretically is that CFD (Contracts for Difference) Brokers will not enable you to fill your Bitcoin Wallet, they will only enable you to have a virtual trade open with a selling price that "should" reflect the current market price.  It's like buying a gold ETF, rather than buying actual physical gold.
Watch this Video Review of the Benefits of TradingView
[Related Article: How Do Technical Analysis Software Platforms Work?]
Trade Management Score – 8/10
With TradingView you get broker integration with CQG, OANDA, Poloniex and Forex.com Winner of Our Best US Forex Broker Review, you can place trades on charts and it will take care of Profit & Loss reporting and analysis for you.  They are adding brokers all the time and I expect soon the major global discount brokers to be available.
How to Paper Trade on TradingView?
When you are viewing a chart, click the BUY Button and you will be asked to select your broker.  Simply select Paper Trading.
Fundamental & Technical Scanning & Screening – 10/10
Another perfect 10 for TradingView as they hit the mark on Real-time scanning and filtering, and fundamental watchlists also.
The list of fundamentals you can scan & filter on is truly huge.  Any idea you have based on fundamentals will be covered.  They even have insane amounts of economic data like Federal Funds Rates and World Economic Growth, thanks to a connection to the QUANDL database.
Watchlists have fundamentals broken into Performance, Valuation, Dividends, Margin, Income Statement and Balance Sheet.  You can set the watchlist and filters to refresh every minute if you wish.
Powerful Screening Tools – Integrated into TradingView:
Stock Screener – See the example below to see how powerful and easy it is to use.
Forex Screener – shows by default the major and minor pairs and you can add exotic FX pairs.  You can filter on rising and falling fx pairs and even set alerts directly from the screener.
Crypto Screener – similar to the Forex Screener in power and flexibility.
TradingView Fundamental Stock Screening & Analysis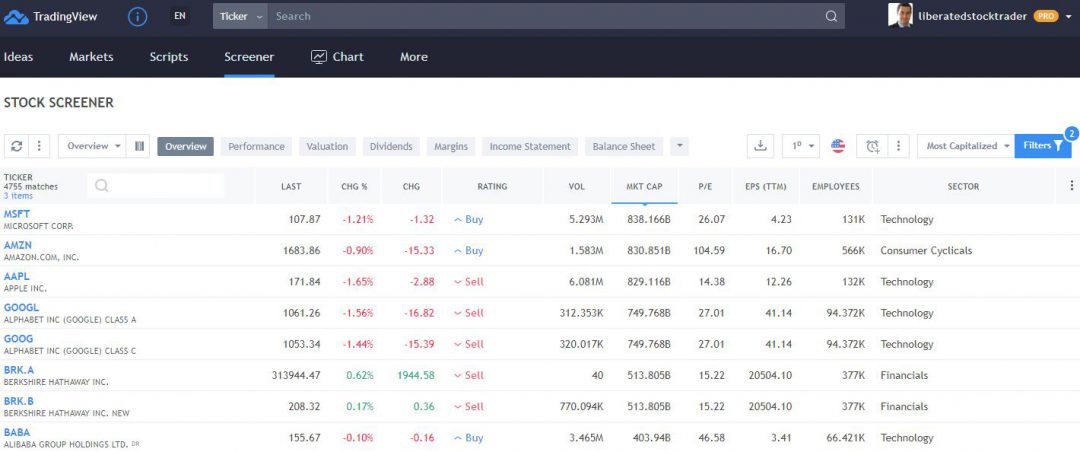 The TradingView Stock Screener comes complete with 150 fundamental and technical screening criteria, all the usual criteria are there such as EPS, Quick Ratio, Pre-Tax Margin and PE Ratio (forwards and trailing twelve months).  But it also goes deeps with more esoteric criteria such as the number of employees, Goodwill and Enterprise Value.
Another great thing about the screener implementation is that is is very customizable, you can configure the column and filters exactly how you like it.  As you can see above I have changed the overview screen to include the number of employees, P/E, and EPS TTM.
Forex Screener Implementation
What makes TradingView unique here is the availability of screeners for chart patterns and setups for foreign exchange pairs.  This makes it very valuable for day traders searching for volatility and using leverage.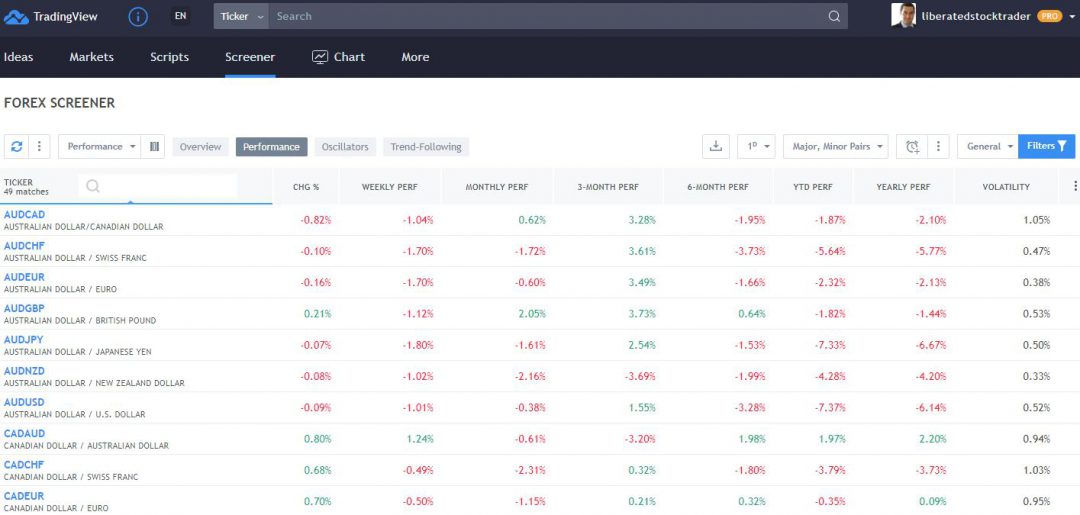 In the Forex screener, we can compare performance and volatility together will help you to narrow down the list for currency traders.
Cryptocurrency Screener Implementation
The ability of TradingView to also provide crypto screening is quite unique.  They have also included a rating filter.  In the screenshot below you can see a technical rating for the crypto pair.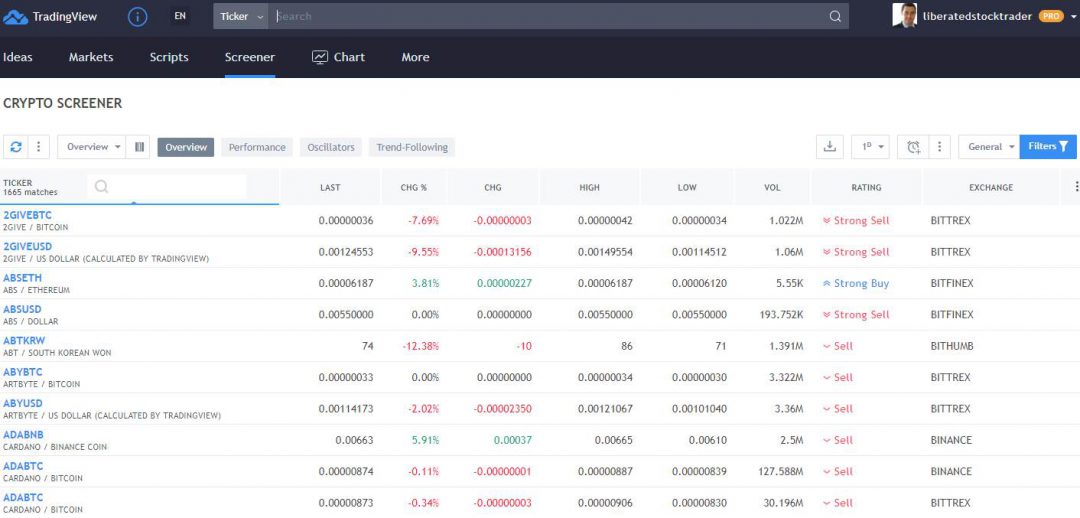 The rating system enables you to select the crypto's rated as "strong sell" to use as candidates for a short trade, and strong buys as candidates for long trades, this will save you a lot of time.
Try This Interactive Example of TradingView Fundamental Screening & Analysis
TradingView has a very slick system and they have put a huge amount of thought into how Fundamentals integrate into the analytics system.
What makes TradingView stand out is the huge selection of economic indicators you can map and compare on a chart. For example, you can compare the Civilian Unemployment Rate versus the growth in Company Profits for the U.S.A.  This is incredibly powerful.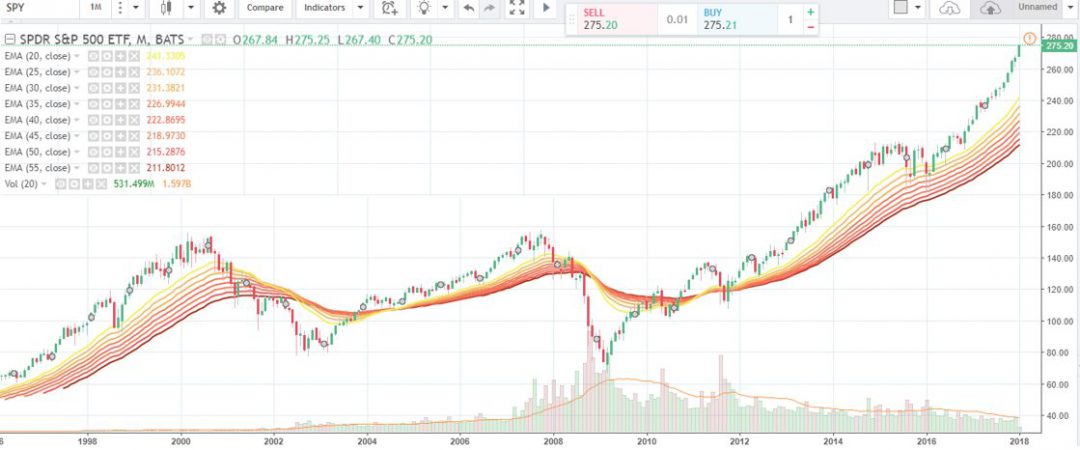 News & Social Media Integration Score – 9/10
TradingView is built with social at the forefront and it is simply the best to socially share and learn, forget StockTwits, Tradingview is the best.  Fully integrated chat systems, chat forums and an excellent way to share your drawings and analysis with a single click to any group or forum.
Follow me on TradingView for regular market and stock analysis ideas and commentary.
This makes for an excellent way to generate trade ideas or learn from other traders.  You have to try it and see it in action to understand the power of the implementation.  However, I always warn be careful of who you listen too, you should always make up your own mind.
They have also thoughtfully integrated a Kiplinger newsfeed, Stocktwits, and various FX newsfeeds.  With a social first development methodology, combined with powerful economic statistics and a solid newsfeed it is a great package.
As soon as you connect to TradingView you realize this is also developed for the community.  You can look at community trade ideas, post your charts and ideas and join limitless numbers of groups covering everything from Bonds to Cryptocurrencies.
Video & Trade Ideas Implementation
TradingView have the concept of ideas.  This is where the community can submit ideas about a specific stock or group of stocks to the community.  Their published ideas can then be rated and the authority of the submitter will then grow.  With the powerful social media integration, you can also publish your ideas simultaneously to the TradingView community, Twitter & StockTwits
They have also implemented Video Ideas so that contributors can record a video with the touch of a single button and submit to the community.
The news feeds are fully integrated, including Kiplinger, DailyFX, Futures Magazine, FXStreet, and StockTwits.  Add that to the social network and you have a great solution.  The news service is only second to MetaStock with their Reuters Feeds.
Technical Analysis Score – 10/10
With over 160 different indicators, and unique specialty charts such as LineBreak, Kagi, Heikin Ashi, Point & Figure and Renko, you have everything you will need as an advanced trader, day trader or swing trader.  I have the Premium membership and with that, you also get Level II insight, fully integrated.
TradingView also has an exceptional selection of drawing tools including tools unavailable on other platforms such as extensive Gann & Fibonacci tools. 65 drawing tools and hundreds of icons for your charts, notes, and ideas.
So, why does TradingView score so highly and rank as our 2019 trading software winner?
1. Automatic Stock Chart Technical Analysis Indicator Rating
Most people do not want to learn the in-depth details of how each indicator works.  This innovation allows you to save time, by getting an instant readout of which indicators are bullish, bearish or neutral.
This is really well implemented because there are 2 key types of technical analysis indicator, moving averages based on price and oscillators based on price and or volume.  The screenshot below shows a stock I have help for a 50% gain over the last 4 months, and it is quite accurate based on my observations.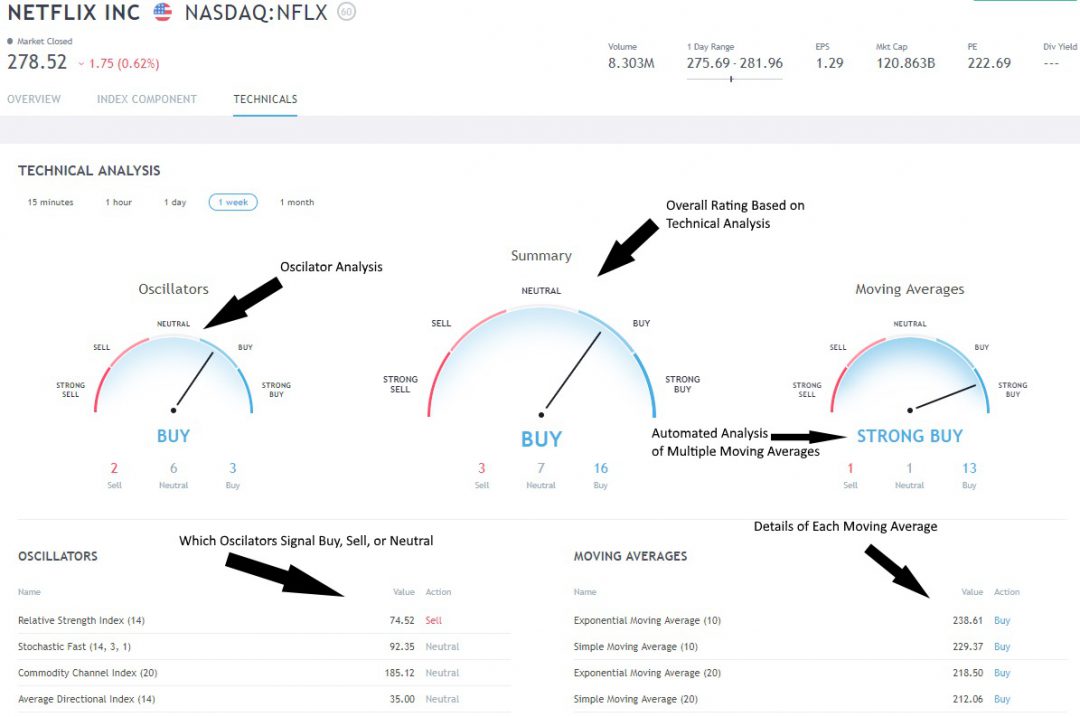 When you view a chart, you can simply click on "Technicals" and you are presented with 3 gauges. Left shows the oscillating indicators like relative strength, stochastics, and Average Directional Index.  On the right, you have a selection of Moving Averages, Simple, Exponential and even Ichimoku Cloud.
Each indicator is then averaged out to give an overall Buy, Sell or Neutral Rating.
This is an excellent implementation of automated technical analysis designed with the user in mind.
TradingView Charts In Action – Try It Here
Example: AAPL Apple Stock Chart with RSI & Ichimoku Cloud.

Try this to assess if AAPL is expensive or cheap at the current Share Price.
Select the Indicator Button on the Top Bar
Select Fundamentals
Select Price/Earnings (PE Ratio)
Now you can see if Apple is cheap or expensive compared to its historical Price Earnings Ratio. That's how easy it is to use tradingView.
2. Advanced Charts
I was incredibly impressed with the offering of Kagi, Heikin Ashi and Renko Charts including Point & Figure and Line Break.
Also, the user community has developed indicators as exotic as Moon Phase (see chart below).
With this selection of charts, you have everything you will need as an advanced trader.  Plus, with the Premium membership, you also get Level II insight, fully integrated.  Well done TradingView.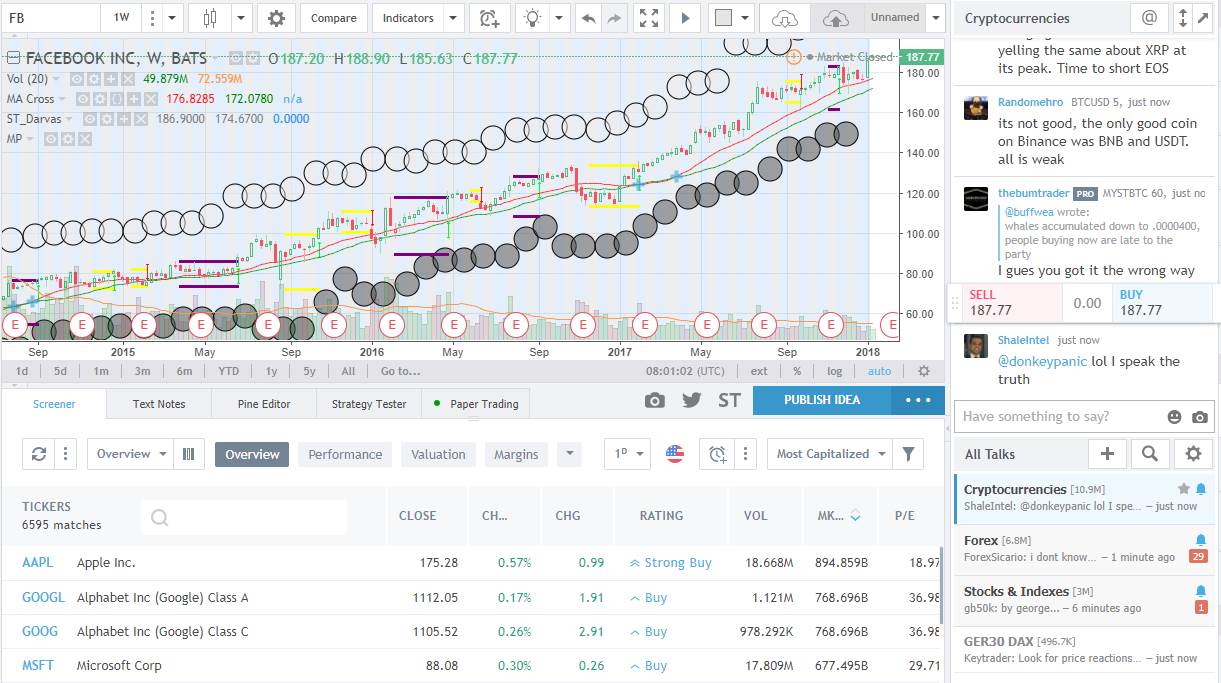 Did I mention the charts are fast and beautiful?
Also, for the power technical analyst, they have also implemented Darvas Box, Elliot Wave and Point & Figure Charts. All round an excellent package.
3. TradingView Alerts on Indicators & Drawings
TradingView alerts are immediate notifications when the market meets your custom criteria. For example, "Alert me if Netflix crosses $200 up". You can place alerts on Indicators, Prices or even trendlines, it is extremely flexible. All users can get visual popups, audio signals, email alerts, and email-to-SMS alerts. A Premium plan holder can additionally get real-time server-side text message (SMS) alerts, delivered directly to his / her phone.
Systems, BackTesting & Automated Trading Score – 7/10
Good but not perfect.   TradingView has an active community of people developing and selling stock analysis systems and you can create and sell your own.  Also, there are a huge number of indicators and systems from the community for free.
The only things you cannot do are forecasting, for that you would be better off with MetaStock.
For the back-testing element of the TradingView offering, there is a huge selection of systems that you can pick off the shelf and back-test using the strategy tester.  You can also implement your own using the PINE Editor, but you will have to learn the proprietary coding for that.
Beware, if someone found the magical formula, they would not be giving it away for free in a public marketplace.  They would be selling it for BIG DOLLARS to Wall Street Investment Banks.
Usability Points – 20/20
Within 5 minutes I was using TradingView, no credit card, no installation, no configuring data feeds, it was literally just there.
TradingView is up and running with a single click.
Click on the TradingView logo on the left and it will be instantly running. 
It does not get easier than that.
Even better is the fact it is already configured for use.  All controls are intuitive and the charts look amazing.  It is quite a feat that it is so easy to use considering TradingView has so many data feeds and backend power.
Open An Account With TradingView
97 Point TradingView Service Data Sheet
Data Sheet
TradingView
Pricing & Software
Monthly End of Day
Free
Pro $9.95
Pro+ $19.95
Monthly Real Time
Premium $39.95
Customizable Data Feeds
✔
Customer Service & Education
Excellent
PC
✔
For MAC
✔
Tablets Smartpones
✔
Market Data Coverage
Global
Data Speed
Excellent
Stocks
✔
ETF
✔
Mutual Funds
✔
Futures
✔
Forex
✔
Bonds
✔
Pricing & Software Score
10
Trade Management
Broker Integration Stocks
✔
Place Trades from Charts
✔
Live Position P&L
✔
P&L Analysis
✔
Trade Management Score
8
Fundamental Scanning & Screening
Real Time Scanning & Filtering
✔
Fundamentals Scanning
✔
Watch Lists with Fundamentals
✔
Extended Economics Fundamentals (New)
✔
Fundamental Screening Score
10
Multiple Charts Per Desktop
✔
Bar Line HLC Candlestick
✔
Point & Figure
✔
Equivolume
Premium
Others
Kagi, Heikin Ashi, Renko, Line Break
Indicators
Bollinger Bands
✔
Directional Movement
✔
Ichimoku Cloud
✔
MACD
✔
Momentum
✔
Money Flow
✔
Moving Averages
✔
Parabolic SAR
✔
Rate of Change
✔
Relative Strength / RSI
✔
Stochastics
✔
Custom Indicator Development
✔
Volume
✔
Darvas Box
✔
Elliot Wave
✔
Total Number of Indicators
160+
Drawing Tools
Trend Lines
✔
Pitchfork
✔
Automated Alerts
✔
Technical Analysis Score
10
News & Social
News Feed
✔
Real-Time News Feed
✔
Economics & Deal News
Kiplinger Futures
Market Commentary
✔
Community Chat
✔
News Score
10
Systems & Backtesting
System Marketplace
✔
Create Customizable Systems
✔
Back Testing Point & Click
✔
Back Testing Programmatic
✔
Systems & Back-Testing Score
7
Setup & Usability
SW Setup
10
Ease of Use Score
10
Usability Points
20/20