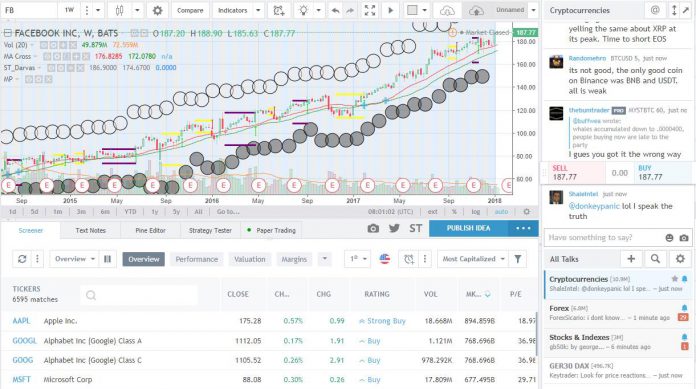 TradingView 2018 Review
Shocking! Simple & Extremely Powerful Charting Software, 1st Class Analytics IS THIS the best package available?
Recommended for Long-Term U.S.A. & International Investors who value a great price, insanely good Fundamental & Technical Analysis with great streaming news engines and the best ease of use.

There is no doubt about it, TradingView has stormed into the Review Winners section in its first try. I spent 2 days playing with this software, and it is seriously making me think about leaving my beloved software TC2000.
It is a close run competition and I am genuinely shocked at how good it is.
Pricing & Software – 10/10
You can have TradingView for free, it is a review winner for our Best Free Charting Software Review.  However, there are limitations.
I would recommend going for the PRO+ at $19.95 per month or the Premium at $39.95 per month, the benefits are extensive including Priority Customer Support and unlimited everything.
If you want the intraday spread charts & custom chats opt for Pro+.  In any case, try it out completely Free and play around with it to see if you like it.
TradingView runs on PC, Mac, Tablets, and Smartphones and requires Zero Installation, it simply works.
The Market data is huge, covering nearly all Stock Markets and it includes Stock, ETF's Futures, Foreign Exchange & Bonds, all at no extra price, which means outstanding value for money combined with excellent support options.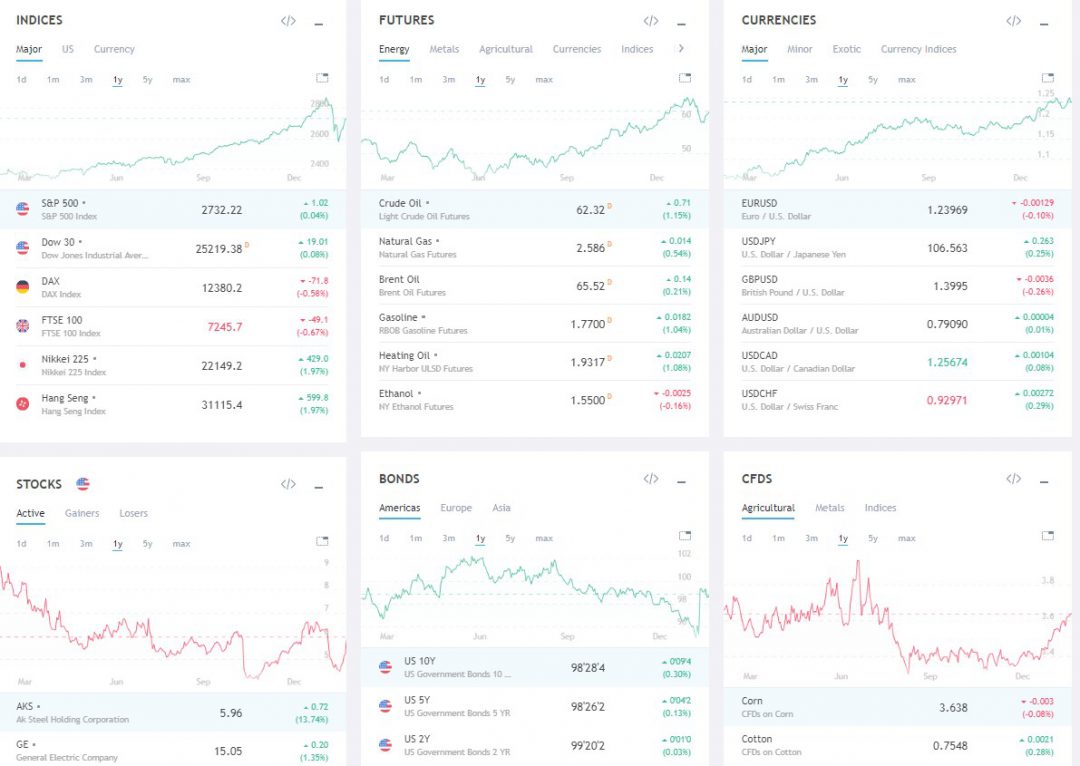 Also, a huge benefit is that the Data Speed and Coverage are mind-blowing, covering literally every stock market on the planet and not just stocks but ETF's, Mutual Funds, Futures, FOREX, Bonds & CryptoCurrencies AT NO EXTRA COST.
Watch this video overview of the benefits of TradingView
Trade Management Score – 8/10
With TradingView you get full broker integration, you can place trades on charts and it will take care of Profit & Loss reporting and analysis for you.  the only thing it does not cover is Stock Options Trading.
Fundamental Scanning & Screening – 10/10
Another perfect 10 for TradingView as they hit the mark on Real-time scanning and filtering, and fundamental watchlists also.
The list of fundamentals you can scan & filter on is truly huge.  Any idea you have based on fundamentals will be covered.  They even have insane amounts of economic data like Federal Funds Rates and World Economic Growth, thanks to a connection to the QUANDL database.
Watchlists have fundamentals broken into Performance, Valuation, Dividends, Margin, Income Statement and Balance Sheet.  You can set the watchlist and filters to refresh every minute if you wish.
Try This Interactive Example of TradingView Fundamental Screening & Analysis

TradingView has a very slick system and they have put a huge amount of thought into how Fundamentals Integrate into the analytics system.
What makes TradingView stand out is the huge selection of economic indicators you can map and compare on a chart. For example, you can compare the Civilian Unemployment Rate versus the growth in Company Profits for the U.S.A.  This is incredibly powerful.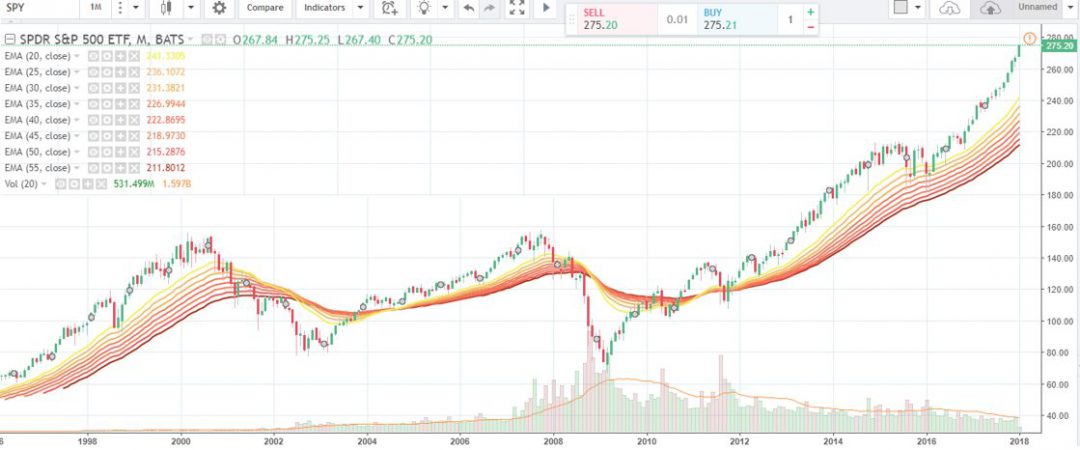 News & Social Community Score – 9/10
TradingView is built with social at the forefront.  Fully integrated chat systems, chat forums and an excellent way to share your drawings and analysis with a single click to any group or forum.
This makes for an excellent way to generate ideas or learn from other traders.  You have to try it and see it in action to understand the power of the implementation.  However, I always warn be careful of who you listen too, you should always make up your own mind.
They have also thoughtfully integrated a Kiplinger newsfeed, Stocktwits, and various FX newsfeeds.  With a social first development methodology, combined with powerful economy statistics and a solid newsfeed it is a great package.
As soon as you connect to TradingView you realize this is also developed for the community.  You can look at community ideas, post your charts and ideas and join limitless numbers of groups covering everything from Bonds to Cryptocurrencies.
Video & Ideas Implementation
TradingView have the concept of ideas.  This is where the community can submit ideas about a specific stock or group of stocks to the community.  Their published ideas can then be rated and the authority of the submitter will then grow.
They have also in 2018 implemented Video Ideas so that contributors can record a video with the touch of a single button and submit to the community.
The news feeds are fully integrated, including Kiplinger, DailyFX, Futures Magazine, FXStreet, and StockTwits.  Add that to the social network and you have a great solution.  The news service is only second to MetaStock with their Reuters Feeds.
Technical Analysis Score – 10/10
With over 160 different indicators, and unique specialty charts such as LineBreak, Kagi, Heikin Ashi, Point & Figure and Renko, you have everything you will need as an advanced trader.  With the Premium membership, you also get Level II insight, fully integrated.
TradingView have over 160 different indicators, covering everything you could possibly need unless you need the Volume at Price Indicator.
On the downside compared to its competition, it is a little weak on drawing tools, offering only Trend Lines, Pitchfork and XABCD Pattern.
So, why does TradingView score so highly and rank as a winner in this section?
1. Automatic Stock Chart Indicator Rating Analysis
Most people do not want to learn the in-depth details of how each indicator works.  This innovation allows you to save time, by getting an instant readout of which indicators are bullish, bearish or neutral.
This is really well implemented because there are 2 key types of technical analysis indicator, moving averages based on price and oscillators based on price and or volume.  The screenshot below shows a stock I have help for a 50% gain over the last 4 months, and it is quite accurate based on my observations.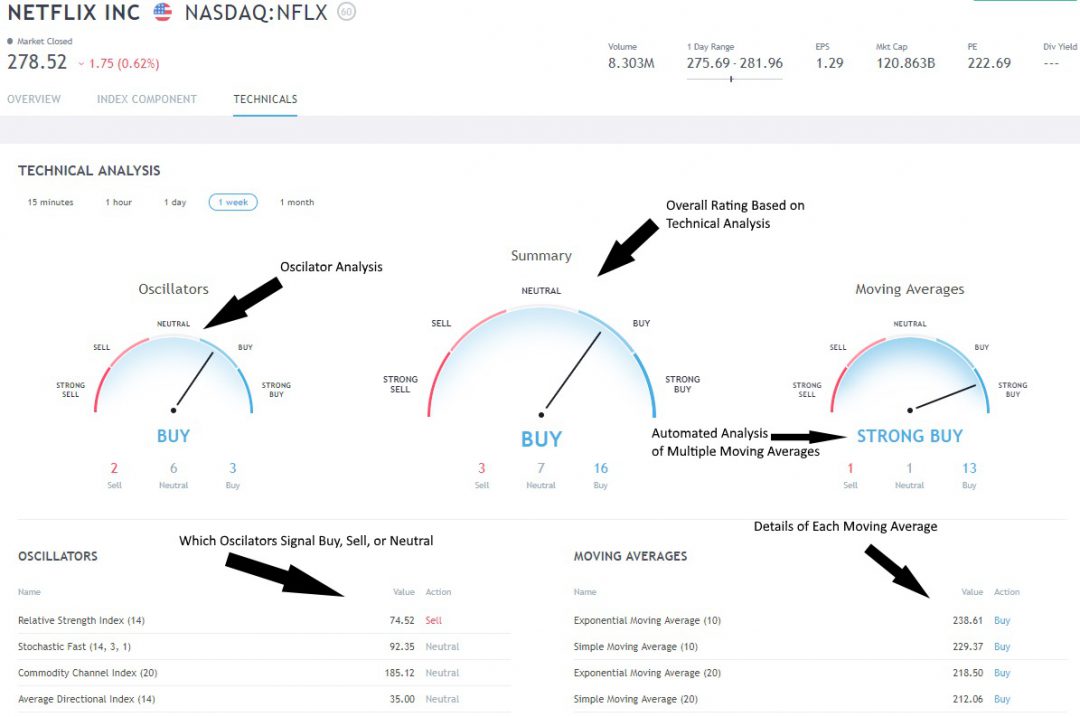 When you view a chart, you can simply click on "Technicals" and you are presented with 3 gauges. Left shows the oscillating indicators like relative strength, stochastics, and Average Directional Index.  On the right, you have a selection of Moving Averages, Simple, Exponential and even Ichimoku Cloud.
Each indicator is then averaged out to give an overall Buy, Sell or Neutral Rating.
This is an excellent implementation of automated technical analysis designed with the user in mind.
TradingView Charts In Action – Try It Here
Example: AAPL Apple Stock Chart with RSI & Ichimoku Cloud.

Try this to assess if AAPL is expensive or cheap at the current Share Price.
Select the Indicator Button on the Top Bar
Select Fundamentals
Select Price/Earnings (PE Ratio)
Now you can see is Apple is cheap or expensive compared to its historical Earnings.  Thats how easy it is to use tradingView.
2. Advanced Charts
I was incredibly impressed with the offering of Kagi, Heikin Ashi and Renko Charts including Point & Figure and Line Break.
Also, the user community has developed indicators as exotic as Moon Phase (see chart below).
With this selection of charts, you have everything you will need as an advanced trader.  Plus, with the Premium membership, you also get Level II insight, fully integrated.  Well done TradingView.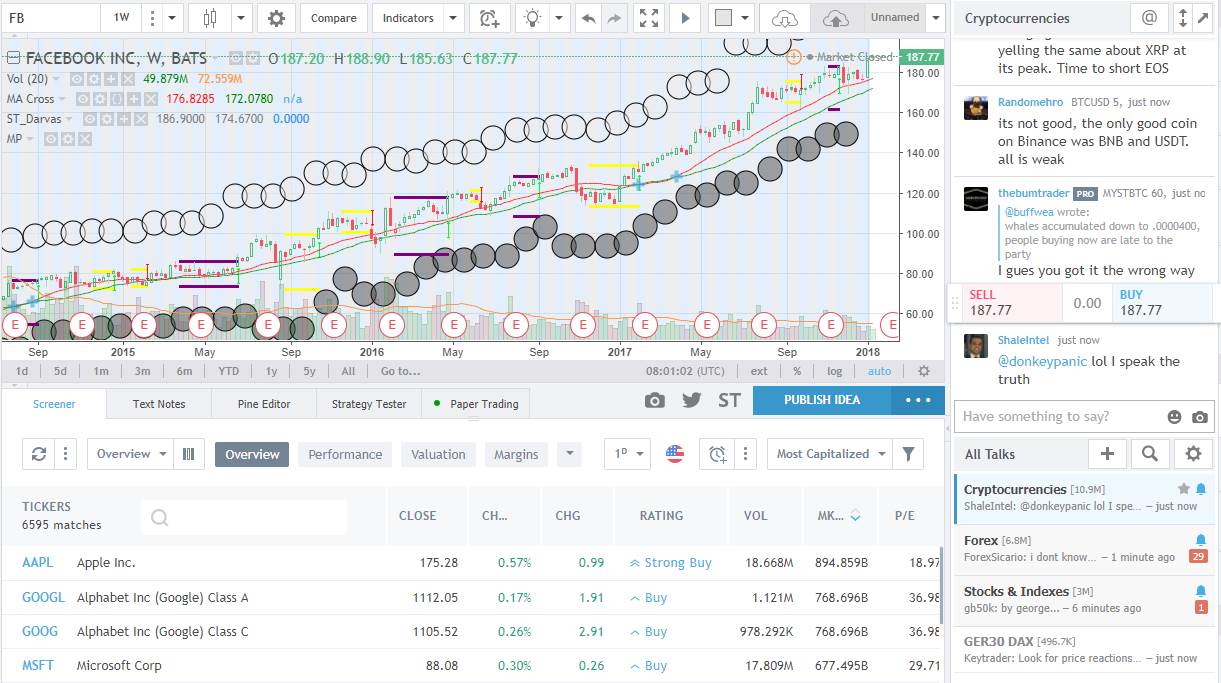 Did I mention the charts are fast and beautiful?
Also, for the power technical analyst, they have also implemented Darvas Box, Elliot Wave and Point & Figure Charts. All round an excellent package.
Systems, BackTesting & Automated Trading Score – 7/10
Good but not perfect.   TradingView has an active community of people developing and selling stock analysis systems and you can create and sell your own.  Also, there are a huge number of indicators and systems from the community for free.
The only things you cannot do are forecast and implement Robotic Trading Automation.  For that, you would be better off with QuantShare or TradeStation.
For the back-testing element of the TradingView offering, there is a huge selection of systems that you can pick off the shelf and back-test using the strategy tester.  You can also implement your own using the PINE Editor, but you will have to learn the proprietary coding for that.
Beware, if someone found the magical formula, they would not be giving it away for free in a public marketplace.  They would be selling it for BIG DOLLARS to Wall Street Investment Banks.
Usability Points – 20/20
Within 5 minutes I was using TradingView, no credit card, no installation, no configuring data feeds, it was literally just there.
TradingView is up and running with a single click.
Click on the TradingView logo on the left and it will be instantly running. 
It does not get easier than that.
Even better is the fact it is already configured for use.  All controls are intuitive and the charts look amazing.  It is quite a feat that it is so easy to use considering TradingView has so many data feeds and backend power.
97 Point TradingView Service Data Sheet
Data Sheet
TradingView
Pricing & Software
Monthly End of Day
Free
Pro $9.95
Pro+ $19.95
Monthly Real Time
Premium $39.95
Customizable Data Feeds
✔
Customer Service & Education
Excellent
PC
✔
For MAC
✔
Tablets Smartpones
✔
Market Data Coverage
Global
Data Speed
Excellent
Stocks
✔
ETF
✔
Mutual Funds
✔
Futures
✔
Forex
✔
Bonds
✔
Pricing & Software Score
10
Trade Management
Broker Integration Stocks
✔
Place Trades from Charts
✔
Live Position P&L
✔
P&L Analysis
✔
Trade Management Score
8
Fundamental Scanning & Screening
Real Time Scanning & Filtering
✔
Fundamentals Scanning
✔
Watch Lists with Fundamentals
✔
Extended Economics Fundamentals (New)
✔
Fundamental Screening Score
10
Multiple Charts Per Desktop
✔
Bar Line HLC Candlestick
✔
Point & Figure
✔
Equivolume
Premium
Others
Kagi, Heikin Ashi, Renko, Line Break
Indicators
Bollinger Bands
✔
Directional Movement
✔
Ichimoku Cloud
✔
MACD
✔
Momentum
✔
Money Flow
✔
Moving Averages
✔
Parabolic SAR
✔
Rate of Change
✔
Relative Strength / RSI
✔
Stochastics
✔
Custom Indicator Development
✔
Volume
✔
Darvas Box
✔
Elliot Wave
✔
Total Number of Indicators
160+
Drawing Tools
Trend Lines
✔
Pitchfork
✔
Automated Alerts
✔
Technical Analysis Score
10
News & Social
News Feed
✔
Real-Time News Feed
✔
Economics & Deal News
Kiplinger Futures
Market Commentary
✔
Community Chat
✔
News Score
10
Systems & Backtesting
System Marketplace
✔
Create Customizable Systems
✔
Back Testing Point & Click
✔
Back Testing Programmatic
✔
Systems & Back-Testing Score
7
Setup & Usability
SW Setup
10
Ease of Use Score
10
Usability Points
20/20