Our review testing rates TradingView 4.8/5 stars due to its impressive stock chart analysis, automated pattern recognition, screening, backtesting, live trading, and 19 million active users. TradingView is our recommendation for US and international traders.
I am a certified Market Analyst with the International Federation of Technical Analysts and a 6-year paid subscriber to TradingView.
I use TradingView daily, and I will provide you with an overview of its free and pro services to help you determine if it meets your needs.
TradingView Review Test Results & Ratings
| | |
| --- | --- |
| TradingView Rating | 4.8/5.0 |
| 💸 Pricing & Software | ★★★★★ |
| 🚦 Trading | ★★★★✩ |
| 📡 Screening | ★★★★✩ |
| 📰 News & Social | ★★★★★ |
| 📈 Charts & Analysis | ★★★★★ |
| 🔍 Backtesting | ★★★★✩ |
| 🖱 Usability | ★★★★★ |
TradingView Review Summary
My TradingView testing reveals it is an excellent platform for traders seeking global coverage of stocks, Fx, and cryptocurrencies. TradingView can automatically identify chart patterns, Elliott Waves, and Candlestick patterns, making it a useful tool for chart traders.
Additionally, TradingView offers excellent backtesting capabilities and a thriving trading community, making it a great choice for traders.
TradingView's powerful scanning and charting software makes it appealing to day and swing traders. However, if you want to implement long-term growth, income, or value investing strategies, look at our alternatives to TradingView.
With excellent social integration, chat, news, and the ability to follow other investors and view and share trade ideas, combined with global stock exchange data, TradingView is the worldwide stock charting analysis leader. TradingView excels at being by doing everything very well.
TradingView Review: Key Features
| | |
| --- | --- |
| ⚡ Features | Charts, News, Watchlists, Screening |
| 🏆 Unique Features | Trading, Backtesting, Community |
| 🎯 Best for | Stock, Fx & Crypto Traders |
| ♲ Subscription | Monthly, Yearly |
| 💰 Price | $0-$59/mo |
| 🆓 Free | Launch TradingView For Free |
| 💻 OS | Web Browser |
| 🎮 Trial | Free 30-Day |
| ✂ Discount | -25% Discount Available |
| 🌎 Region | Global |
We independently research and recommend the best products. We also work with partners to negotiate discounts for you and may earn a small fee through our links.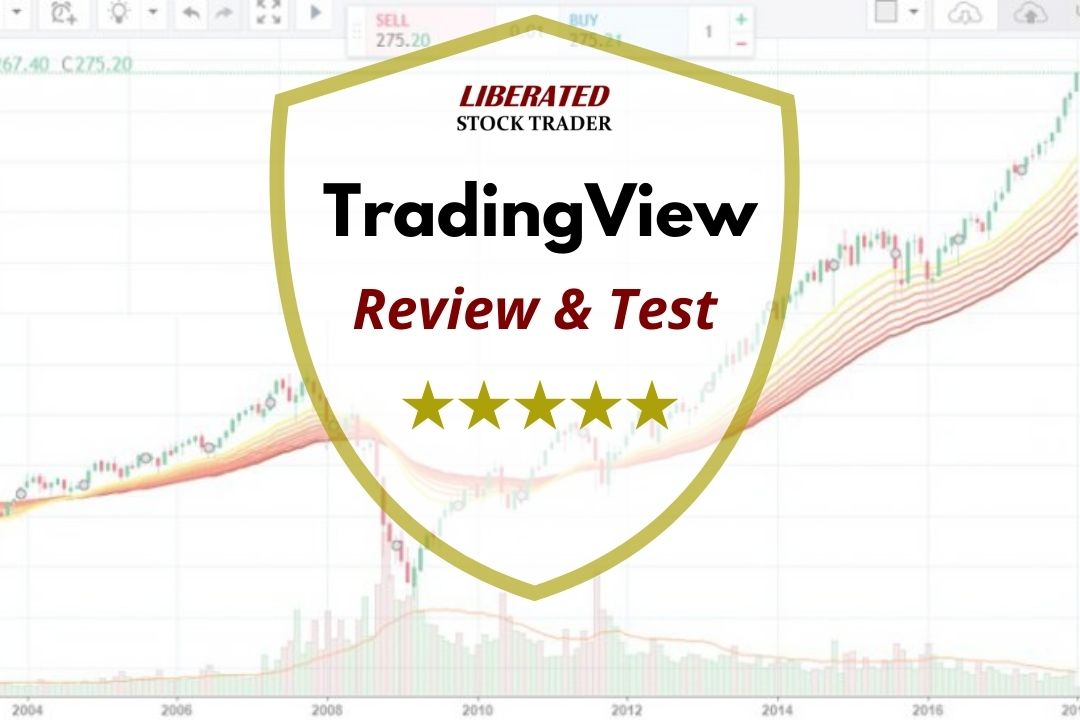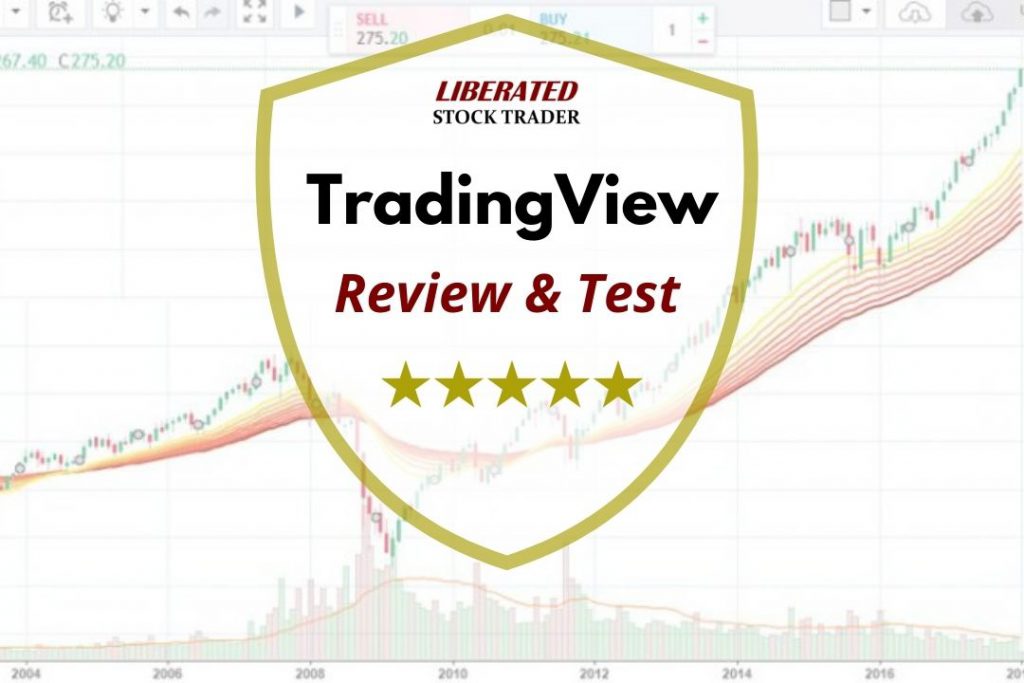 What is TradingView?
TradingView is the leading trading platform with 19 million active traders using the service, and is ranked #65 in the world's most visited websites. TradingView provides a great balance of global charting, screening, and analysis for all stocks, indices, ETFs, and cryptocurrencies.
TradingView is a cloud-based market analysis platform combining charts, indicators, screening, strategy development, and backtesting. TradingView's community shares trading ideas, indicators, and strategies, making it an excellent place to connect and learn. I actively use TradingView every day as a vital tool in my portfolio.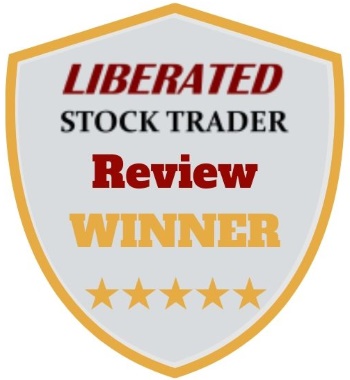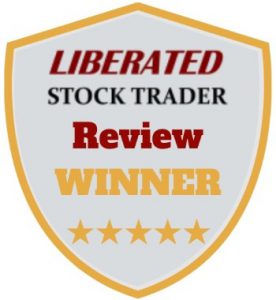 TradingView Pros
19 Million User Community, Perfect For Learning
Trading From Charts
1st Class Screening & Chart Analysis
All Stock Exchanges Globally
100,000+ User Generated Strategies
Very Cost Effective Solution
The Best Usability & Setup
Flexible Backtesting with Pine Script
TradingView Cons
Not the Best for Value or Dividend Investors
No stock options features
Video: Why You Should Use TradingView
TradingView vs. the Competition
Comparing TradingView versus TrendSpider, MetaStock, and TC2000, our tests show that it is the best overall stock analysis software passing 10/11 tests. Only TrendSpider is better at automated analysis, and MetaStock is better for real-time news.
| | | | | |
| --- | --- | --- | --- | --- |
| Key Features | TradingView | TrendSpider | MetaStock | TC2000 |
| Global Market Data | ✔ | USA | ✔ | USA |
| Powerful Charts | ✔ | ✔ | ✔ | ✔ |
| Stocks | ✔ | ✔ | ✔ | ✔ |
| Futures | ✔ | ✔ | ✔ | ✘ |
| Forex | ✔ | ✔ | ✘ | ✘ |
| Cryptocurrency | ✔ | ✔ | ✘ | ✘ |
| Social Community | ✔ | ✘ | ✘ | ✘ |
| Real-time News | ✘ | ✘ | ✔ | ✘ |
| Screeners | ✔ | ✘ | ✘ | ✔ |
| Backtesting | ✔ | ✔ | ✔ | ✘ |
| Automated Analysis | ✔ | ✔ | ✔ | ✘ |
Benefits of TradingView vs. the Competition
TradingView separates itself from the competition by offering a complete Stocks, Forex, Futures, and Cryptocurrency trading portfolio. It covers all global markets and has the largest active social trading community.
While TradingView does have good stock screening for traders, the Stock Rover screening is better for long-term investors, and Metastock has more powerful backtesting tools.
TradingView Pricing
TradingView pricing starts at $0 for the Basic ad-supported plan, Pro costs $14.95, Pro+ $29.95, and Premium costs $59.95 monthly. Opting for a yearly subscription will reduce those costs by 16%, representing a significant saving.
Pro+ is the most popular plan, enabling multiple devices and extensive features. Intermediate and experienced traders opt for the Pro & Pro+ plans. In contrast, only the most demanding traders would use the Premium service because it enables publishing scripts, indicators, and strategies.
Compared to the competition, TradingView's pricing is 20% to 60% cheaper because they have the scale, user base, and proven technology, making the TradingView package very attractive.
TradingView Pricing vs. Competition
| | | | |
| --- | --- | --- | --- |
| Pricing | Free | Pro | Premium |
| TradingView | ✔ | $24.95 /mo | $59.95 |
| MetaStock | ✘ | $69 /mo | $199 /mo |
| TC2000 | ✔ | $29.99 /mo | $89.99 /mo |
| TrendSpider | ✘ | $44 /mo | $131 /mo |
Table: TradingView vs. The Competition – Pricing
As you can see, TradingView is the price leader in every category, but ultimately it depends on what you are looking for. If you want the intraday spread charts & custom charts, go for TradingView Pro+. Try it completely free and play around to see if you like it.
Is TradingView Free?
Yes, TradingView is free, and unlike other stock charting software, you can perform stock analysis, screening, and read community ideas for no charge. However, the free tier is ad-supported, and you can only save one chart in a single workspace.
TradingView Plans & Feature Comparison
TradingView Basic is free and includes screening, charting, trading, scripting, and three indicators per chart. The Free plan is a great way to test the service, but it is also ad-supported, which can be annoying.
TradingView Pro costs $14.95/mo and is ad-free, including two charts per layout, five indicators per chart, and 20 alerts, and enables access to the full social network. The Pro plan is ideal for beginner and intermediate traders wanting more flexibility.
TradingView Pro+ costs $29.95/mo and includes ten indicators per chart, 100 alerts, and ten chart layouts. Pro+ is for intermediate to demanding traders who want the best balance of functionality and price.
TradingView Premium costs $59.95/mo, and targets experienced traders who want no limits on functionality and the ability to develop and publish indicators and trading strategies for their clients.
I use the Premium version to develop indicators, scripts, and strategies. Still, I recommend the TradingView Pro at $14.95 per month or the Pro+ at $29.95 per month, as the benefits are extensive.
Is TradingView Pro Worth It?
Yes, TradingView Pro is worth it; it unlocks multiple indicators, charts, and alerts. It provides you with full community access and enables more powerful technical analysis. If you value making better trading decisions, Pro and Pro+ are worth it.
How to get TradingView Pro for Free
You can get TradingView Pro, Pro+, and Premium for free. Simply sign up for a free trial with TradingView, and you will have full access to the Pro service at no cost for 30 days. This is the only way to get TradingView Pro for free.
[Related Article: Detailed Guide to TradingView Discounts & Pricing]
TradingView's Platform
TradingView runs on PC, Macs, Tablets, and Smartphones and requires zero installation. The market data is vast, covering nearly all stock markets. It includes stocks, ETFs, Futures, Foreign Exchange & Bonds, all at no extra price, which means outstanding value for money.
TradingViews's cloud architecture means no client software to download and install, and all the stock exchange data resides on the vendor's servers in the cloud. The charting and visualization are stored and computed in the cloud; only the charts you want to visualize are streamed to your device.
If you want to learn from other traders and share ideas with others, cloud-based software is the way forward. The simplicity of setup and cross-device compatibility are also deciding factors in choosing cloud-based platforms.
TradingView has the best implementation of cloud-based stock analysis on the market.
Is TradingView Real-time?
Yes, TradingView provides real-time exchange data if you subscribe to the  Pro, Pro+, or Premium services. Some exchanges charge extra for real-time data, but TradingView's real-time data costs are the lowest in the industry, charging only $2/mo per exchange, compared to competitors charging $10 to $15/mo.
Which Stock Exchanges are Included with TradingView?
TradingView pulls data from 13 American stock exchanges, nine exchanges covering Europe, and 30 exchanges in Asia. In addition to that, TradingView also covers all major cryptocurrency exchanges, foreign exchange, and commodity futures markets.
TradingView's Americas Exchanges
| | |
| --- | --- |
| NYSE ARCA USA | Bovespa Brazil |
| NASDAQ USA | BM&F Brazilian Futures |
| NYSE USA | BCBA Argentina |
| OTC USA | BMV Mexico |
| CME Futures USA | BVC Colombia |
| TSX Canada | BVL Peru |
TradingView European Exchanges
LSE UK
FWB Germany
SIX Switzerland
XETR Germany
BME Spain
SWB Germany
Euronext Europe
MIL Italy
GPW Poland
TradingView Middle East & Asia Exchanges
| | |
| --- | --- |
| BSE India | EGX Egypt |
| NSE India | BELEX Seria |
| MOEX Russia | BAHRAIN Bahrain |
| ASX Australia | MYX Malaysia |
| NZX New Zealand | DFM Dubai |
| NAG Japan | NSE Nigeria |
| SGX Singapore | IDX Indonesia |
| TFX Japan | QSE Qatar |
| TSE Japan | HSI Hang Seng Hong Kong |
| TOCOM Japan | OSE Japan |
| TWSE Taiwan | HOSE Vietnam |
| HKEX Hong Kong | JSE Sout Africa |
| BIST Turkey | SZSE China |
| TASE Israel | Tadawul Saudi Arabia |
| SSE Chile | |
What Can I Trade Using TradingView?
With TradingView, you can trade stocks and indices globally and all the major and minor foreign exchange currencies. Additionally, one can trade energy, metals, agriculture futures, and all major cryptocurrencies.
Stocks – tens of thousands of shares; see above for exchange coverage.
Forex (FX) Currencies – All the Major, Minor, and Exotic currencies covered
Futures – Energy, Metals, Agriculture, Indices, and even Interest Rates
Crypto Currencies – 26 including Bitcoin, Ripple, Ethereum, Bitcoin Cash
Bonds – 30+ Government Bond Types
Can I Trade Bitcoin on TradingView?
Theoretically, Yes, but only outside the USA. You can enable this with an account through a CFD Broker. I say theoretically because CFD (Contracts for Difference) Brokers will not allow you to fill your Bitcoin Wallet; they will only enable a virtual trade open with a selling price that "should" reflect the current market price.
It's like buying a gold ETF rather than buying actual physical gold.
Candlestick Pattern Recognition
TradingView has introduced Candlestick Pattern Recognition as a core component of the platform. You do not have to pay anything extra for a plugin; you can even use Candlestick pattern recognition on their free Basic plan.
In the image below, you can see that pattern recognition is intelligently implemented.
The Bearish Engulfing (BE) patterns are highlighted in Red, with an arrow pointing downward, suggesting that this candle is a bearish sign. You can also observe that the Doji (D) patterns are grey and pointing upwards, indicating a possible price direction change.
I like that you can hover your mouse over the pattern and get a full and detailed explanation of the pattern and what it means.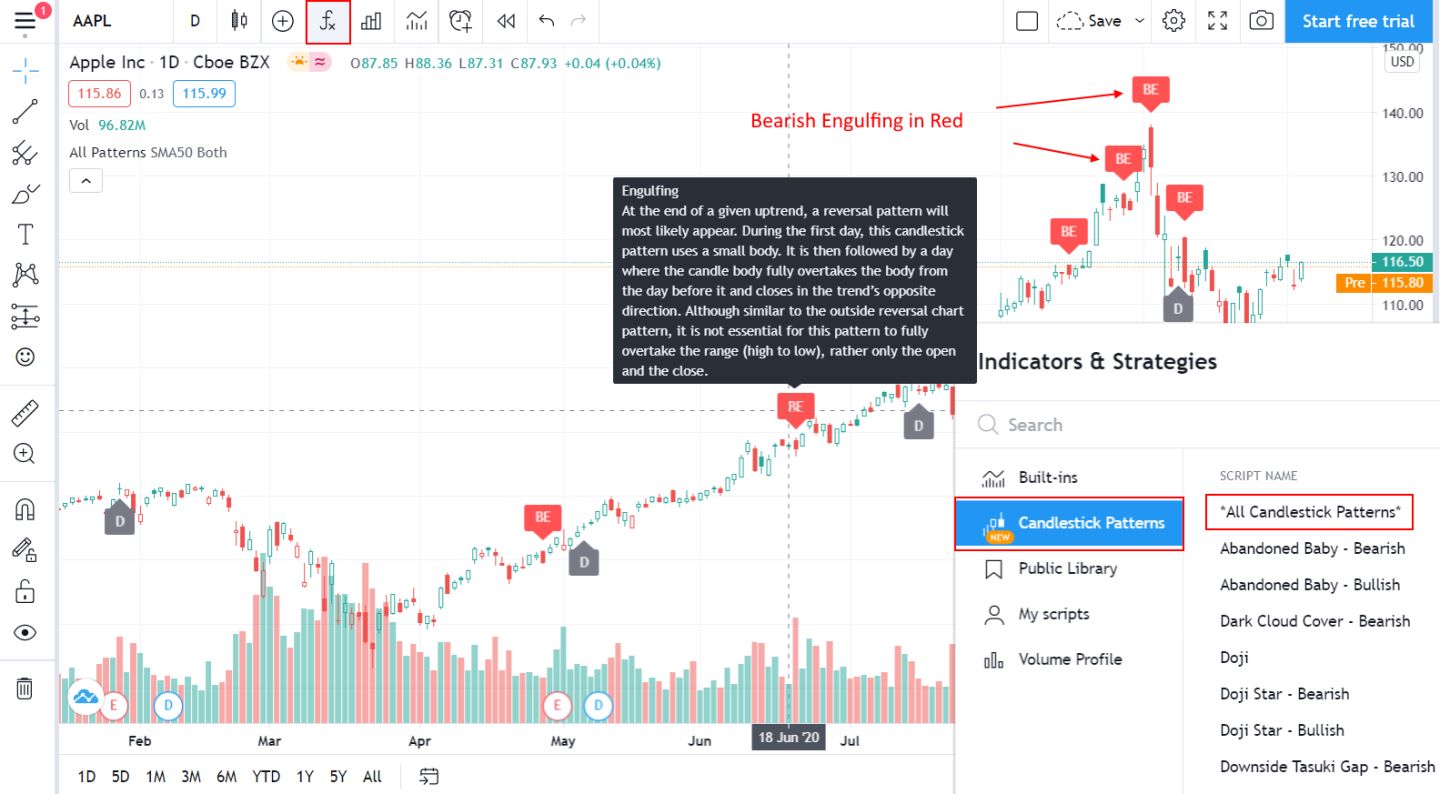 TradingView App
The TradingView app has a 4.9/5 star rating on the Apple app store and a 4.8/5 rating on the Google Play store, meaning the mobile app is first class. TradingView's app has limited functionality as it understandably favors simplicity.
If you want the full power, visit TradingView.com on your mobile browser, meaning you do not need an app for smartphones or tablets.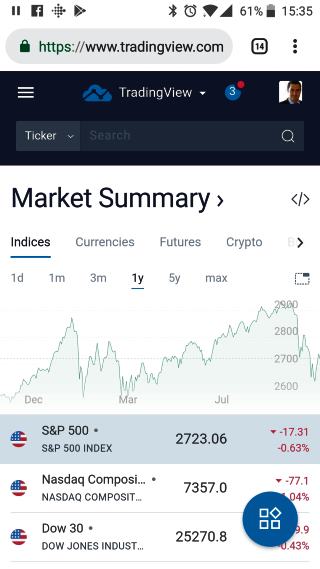 TradingView is at the cutting edge of HTML5 development, which means whatever device you use, TradingView will be visually perfect due to the incredible responsive software design.
You do not need to sync your data across devices; it is already there. Tradingview is the software I use every day, and because it is geared around social interaction, learning, and community ideas, it is a fabulous place to be.
Trading With TradingView
With TradingView in the USA, you get great broker integration with TradeStation for stocks. In Europe, you have integration FXCM and Saxo Group for currency and CFD trading.
You can place trades directly from charts, which will take care of profit & loss reporting and analysis. The only thing it does not cover is Stock Options trading.
How to Paper Trade on TradingView?
TradingView has implemented paper trading by default for all of its subscription plans. You can paper trade for free with TradingView; when you view a chart, click the "Buy" button and choose "Paper Trading."
Is TradingView Good for Day Trading?
Yes, TradingView is a good choice for day traders because it is designed for traders. Tight broker integration for making free stock trades with TradeStation, real-time exchange data, and powerful system development and backtesting tool make TradingView perfect for day traders.
TradingView Stock Screener Review
Testing the TradingView stock screener shows it excels at screening for technical indicators, providing real-time scanning and filtering on 172 metrics, including 42 financial filters. TradingViews stock screener includes a useful scan for technical buy and sell ratings.
TradingView has vast amounts of economic data, such as Federal Funds Rates and World Economic Growth, thanks to a connection to the Federal Reserve database.
TradingView's screening watchlists have fundamentals data separated into Performance, Valuation, Dividends, Margin, Income Statement, and Balance Sheet. TradingView stands out with its charting of economic indicators, for example, comparing the civilian unemployment rate versus the growth in company profits.
You can set the screening watchlist and filters to refresh every minute.
TradingView's Screeners
The TradingView stock screener comes complete with 160 fundamental and technical screening criteria; all the usual criteria are there, such as EPS, Quick Ratio, Pre-Tax Margin, and PE Ratio. But it also goes more in-depth with more esoteric criteria such as the number of employees, goodwill, and enterprise value.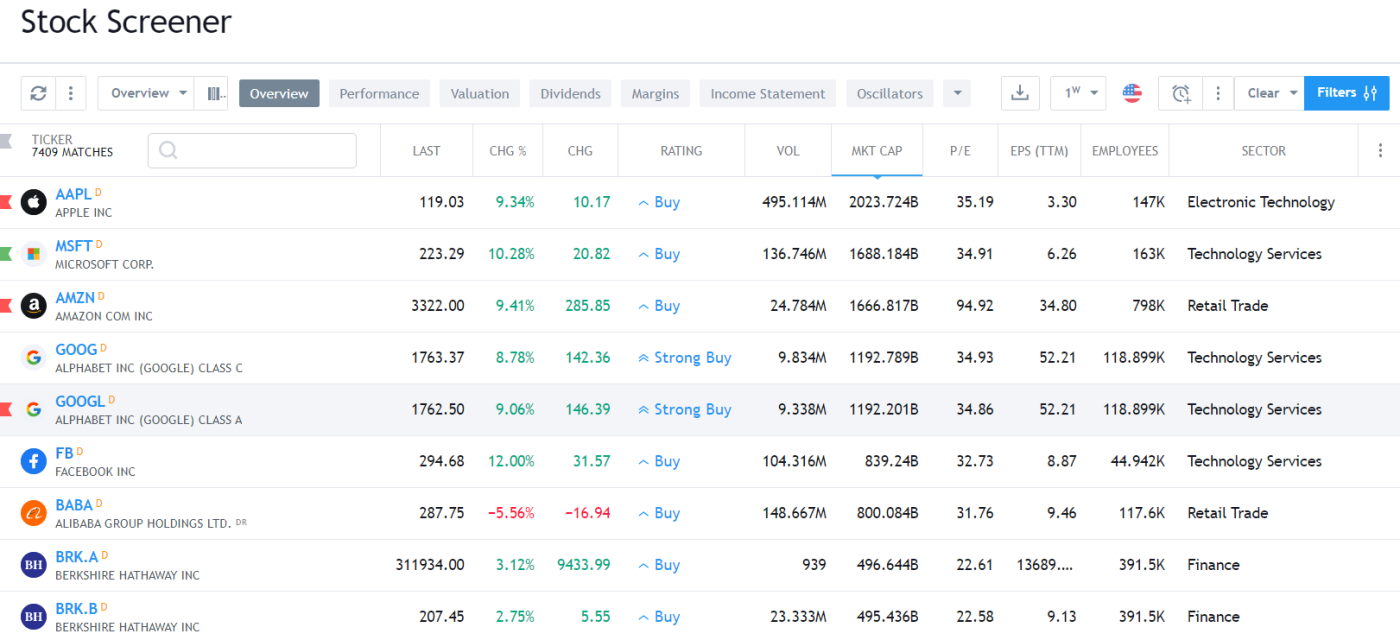 Another great thing about the screener implementation is that it is very customizable; you can configure the columns and filters exactly how you like them. As you can see above, I have changed the overview screen to include the number of employees, P/E, and EPS TTM.
TradingView's Forex Screener
TradingView's Forex screener shows the major and minor pairs by default, and you can add exotic FX pairs. You can filter on rising and falling fx pairs and even set alerts directly from the screener.
What is unique here is the availability of screeners for chart patterns and setups for TradingView foreign exchange pairs, making it very valuable for day traders searching for volatility and leverage.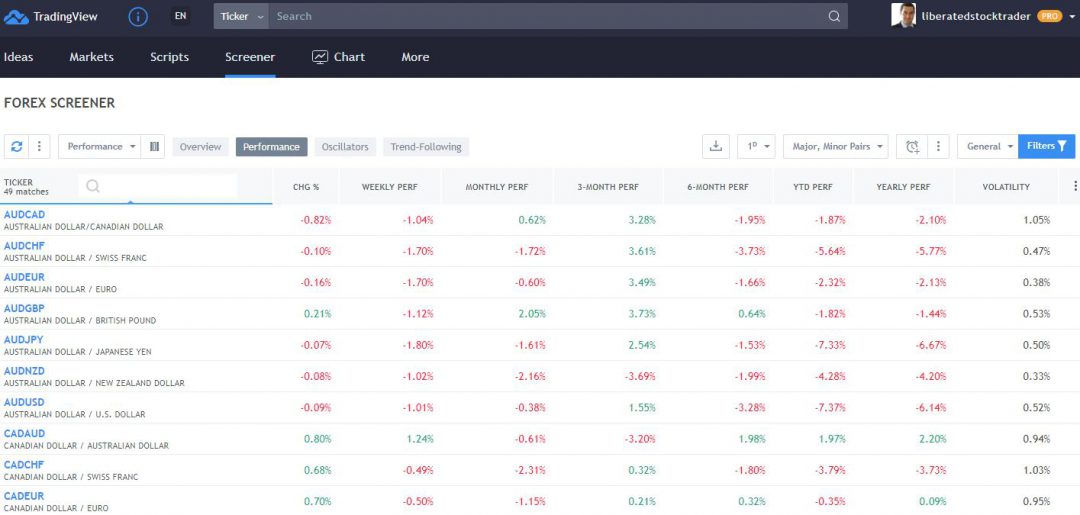 TradingView's Crypto Screener
The ability of TradingView to also provide crypto screening is unique. The Cryptocurrency rating system enables you to select the cryptos rated as "strong sell" to use as candidates for a short trade and strong buys as candidates for long trades, saving you a lot of time.
TradingView News & Community
TradingView is built with people at the forefront and is the best to share and learn socially; forget StockTwits; Tradingview is the best. TradingView's fully integrated chat forum and publishing system are an excellent way to share your charts and ideas.
Check out my published ideas on TradingView and follow me for regular market and stock analysis ideas and commentary.
Connect with me on TradingView it's free

TradingView presents an excellent way to generate trade ideas or learn from other traders. You have to try it and see it in action to understand the power of the implementation.
TradingView has also integrated Benzinga, Reuters, and MT newswire feeds. As soon as you connect to TradingView, you realize this is also developed for the community. You can look at community trade ideas, post your charts and ideas, and join limitless numbers of groups covering everything from Bonds to Cryptocurrencies.
The TradingView news service is only second to Benzinga Pro and MetaStock with their Refinitv news feeds.
What is TradingView's Reputation?
TradingView rates every user with a reputation score. Publish an idea on TradingView, and other users can comment and like your post. Liking your content increases your reputation score in TradingView, thus assuring other users of your trustworthiness.
TradingView Charts
With over 160 different indicators, and unique specialty charts such as LineBreak, Kagi, Heikin Ashi, Point & Figure, and Renko, you have everything you will need as an advanced trader, day trader, or swing trader. I have a Premium membership, and I get fully integrated Level II data and insight.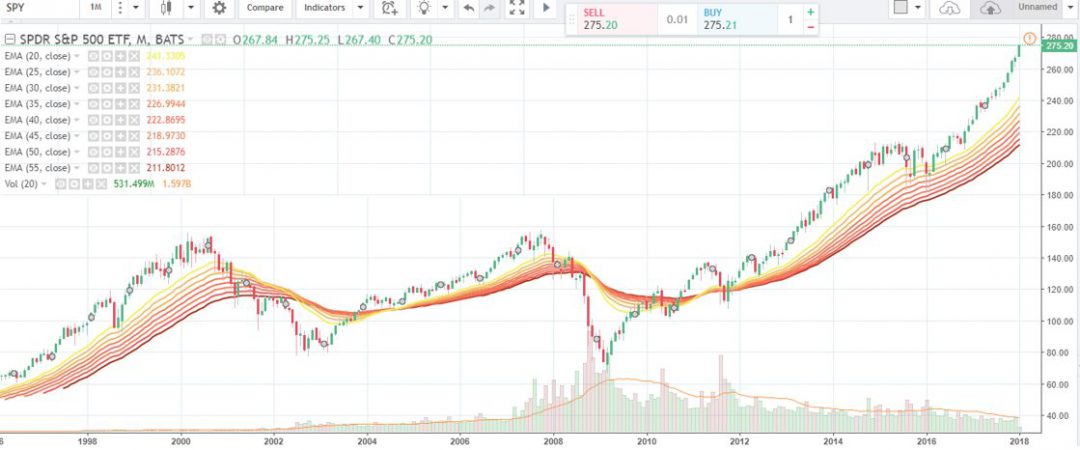 TradingView has an exceptional selection of 65 chart drawing tools, including those unavailable on other platforms like extensive Gann and Fibonacci, plus hundreds of icons for your charts, notes, and ideas.
Automatic Stock Indicator Ratings
Most people do not want to learn how each indicator works in-depth. This innovation allows you to save time by getting an instant readout of which indicators are bullish, bearish, or neutral.
The stock indicators ratings are well implemented because there are two critical technical analysis indicators, moving averages based on price and oscillators based on price and volume. Based on my observations, the TradingView buy and sell indicators are a good measure of sentiment and are featured in my Fear & Greed Index Dashboard.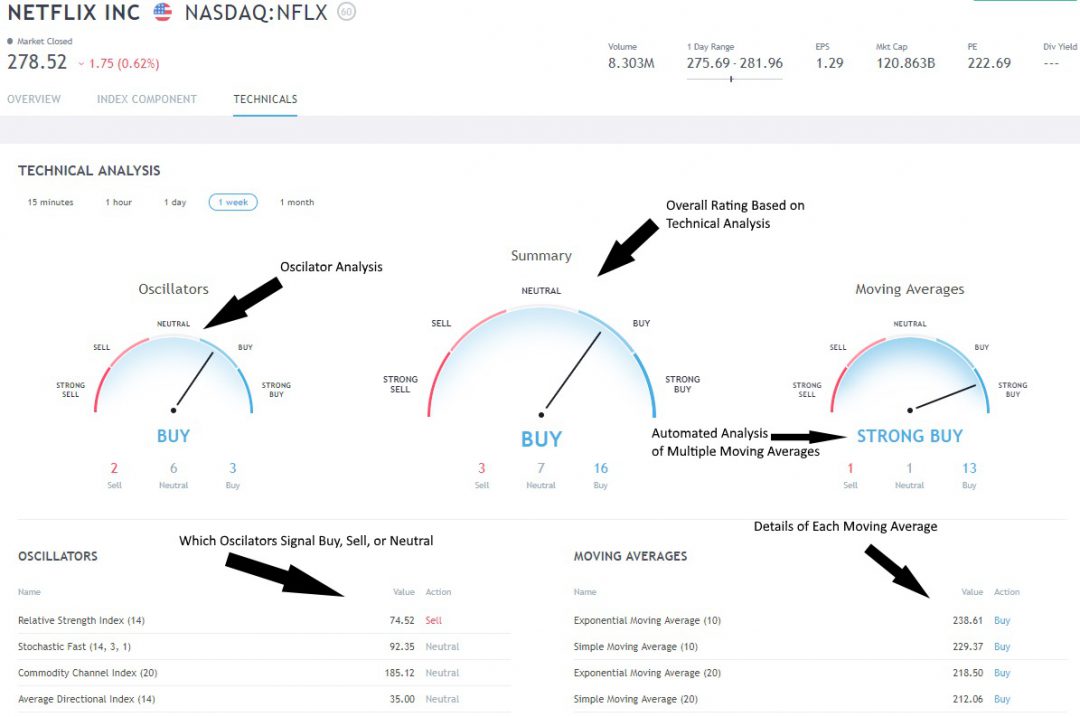 When viewing a chart, click "Technicals," and you are presented with three gauges. The left gauge shows the oscillating indicators like relative strength, stochastics, and the Average Directional Index. On the right, you have a selection of Moving Averages, Simple, Exponential, and even Ichimoku Cloud.
Each indicator is averaged out to give an overall Buy, Sell, or Neutral Rating, making it an excellent implementation of automated technical analysis designed with the user in mind.
TradingView Advanced Charts
I was incredibly impressed with the offering of Kagi, Heikin Ashi, and Renko Charts, including Point & Figure and Line Break. Also, the user community has developed indicators as exotic as Moon Phase.
This chart selection gives you everything you will need as an advanced trader. You also get Level II insight, fully integrated with the Premium membership.  Well done, TradingView.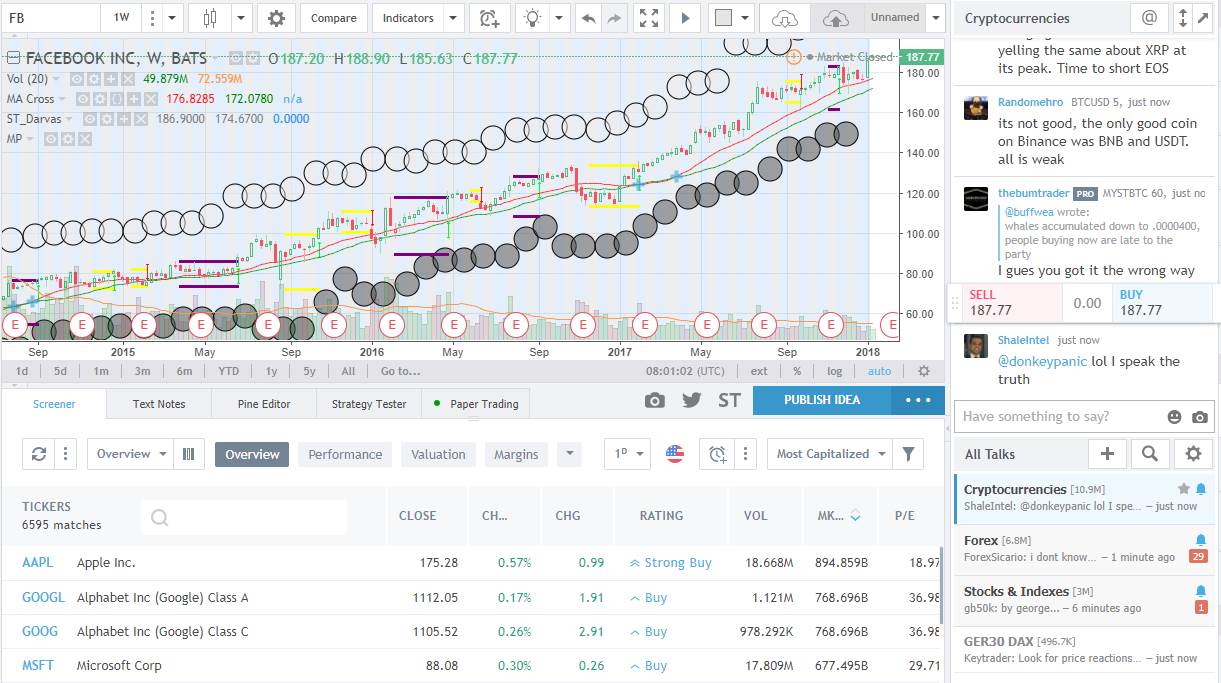 They have also implemented Darvas Box, Elliot Wave, and Point & Figure Charts for experienced technical analysts. All-round an excellent package.
TradingView Backtesting
TradingView has an active community of people developing and selling stock analysis systems, and you can create and sell your own. Also, there are many indicators and systems from the community for free.
The only thing TradingView cannot do is forecast future stock prices; for that, you would be better off with MetaStock.
TradingView Strategy Tester
TradingView has an active community of people developing and selling stock analysis systems, and you can create and sell your own with the Premium-level service. Also, there are many indicators and systems from the community for free.
They have implemented backtesting straightforwardly and intuitively. In the image below, I have implemented an in-built strategy called "Slow Stochastics," which initiates a trade when the stochastics indicators are oversold and sells when stochastics is overbought.
I like that you have results in a few clicks [strategy tester -> Add Strategy]. You can also tweak the strategy parameters, as you can see below, and observe the results.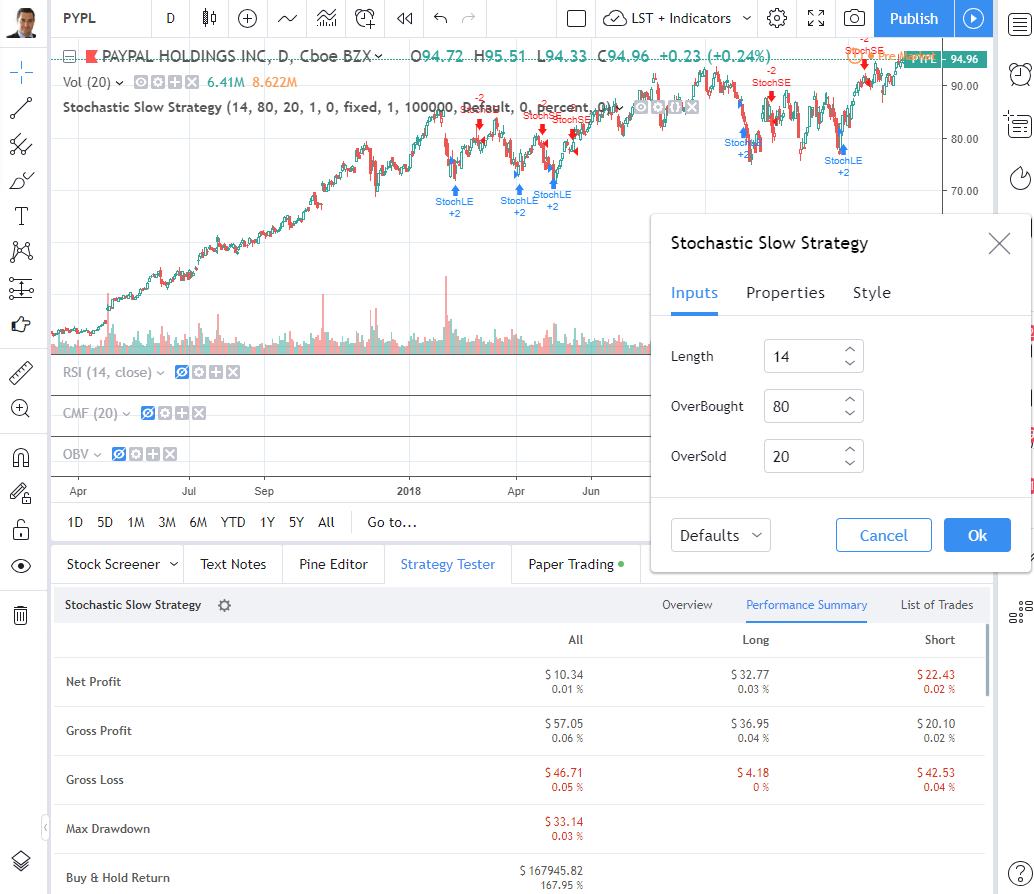 TradingView's backtesting reporting shows net profit, drawdown, buy & hold return, % profitable trades, and the number of trades, making it a full service.
I have even implemented my MOSES ETF Trading strategy into TradingView; I am no developer, but the Pine Script language is so natural that anyone can do it.
TradingView also has market replay functionality, enabling you to play through the timeline and show you the chart scrolling and the trades executed; all buy and sell orders are drawn on the chart and highlighted.
TradingView Usability
Within 1 minute, I was using TradingView, with no credit card, installation, or configuring data feeds; it was just there. Even better is the fact that it is already configured for use. All controls are intuitive, and the charts look amazing. TradingView's ease of use is impressive, especially considering the vast amount of data feeds and backend power it possesses.
Is TradingView Trustworthy?
Yes, TradingView is a trustworthy company with reliable trading software. TradingView has vigilant moderators for community content. I have been a demanding customer and partner of TradingView for six years and find the service extremely reliable.
Is TradingView Worth It?
Yes, TradingView is worth it, and 19 million active monthly users agree. TradingView is the leading global financial market analysis platform for traders with powerful charts, indicators, screening, backtesting, and a competitive price.
Why TradingView Pro is Worth It!
TradingView Pro is worth investing in because of its unique features like technical stock ratings, global broker integration for trading, and screening with built-in pattern recognition. Perhaps its best feature is the global community of traders creating customer indicators and sharing trading ideas.
TradingView Testing Summary
TradingView combines charting, screening, and backtesting into an innovative technical analysis trading platform. TradingView's cloud-based software covers Stocks, Forex, Crypto, and Bonds for nearly every exchange on the planet. With a vast active social community, TradingView is a complete solution for traders globally.
Frequently Asked Questions
Can you use TradingView without a broker?
Yes, you can use TradingView without a broker. TradingView connects to 51 brokers in Europe, North America, and Asia. However, you do not need a broker to use TradingView; you can instead use their Paper Trading system for practice.
Is TradingView better than MT4?
TradingView is better than MT4 for stock, crypto, and ETF traders because it offers a huge social trading community, better charts, more indicators, and entire market scanning globally. For currency trading, MetaTrader offers better algorithmic trading.
How does TradingView make money?
TradingView makes money from selling charting subscriptions to its customers. Additionally, to support its free service tier, TradingView shows non-intrusive adverts.
What is the most accurate indicator on TradingView?
What is the minimum deposit for TradingView?
There is no minimum deposit for TradingView. TradingView is not a broker and does not maintain a brokerage account for you. TradingView allows you to connect to brokers, and it is those brokers who might require a minimum deposit.
Is a TradingView account free?
Yes, a TradingView account is free for screening, charting, and backtesting without charge. Paying for a subscription (I recommend Pro+) will unlock key benefits like more charts, indicators, alerts, and premium real-time exchange data.
Does TradingView sell your data?
According to TradingView's terms and conditions, it does not sell your data as FaceBook does. TradingView is more like Netflix; it generates revenues from selling subscriptions to customers.
Can you use TradingView in Europe?
Yes, TradingView is available to use in Europe. In fact, TradingView covers 52 exchanges across the globe, so TradingView can be used in the Americas, Europe, and Asia. TradingView is also very popular in India.
Are TradingView charts real-time?
Yes, TradingView provides free real-time charts for all stock tickers supported by the Better Alternative Trading Systems (BATS). TradingView sells premium real-time data subscriptions for $5/mo for 52 stock exchanges.
Does TradingView tell you when to buy and sell?
TradingView does provide indicators to tell you when to buy and sell. TradingView's Buy and Sell gauges compare over 20 technical indicators to provide an instant readout of which stocks are bullish, bearish, or neutral.
Yes, TradingView provides free real-time charts for all stock tickers supported by the Better Alternative Trading Systems (BATS). Additionally, TradingView sells premium real-time data subscriptions for $5/mo for over 51 exchanges.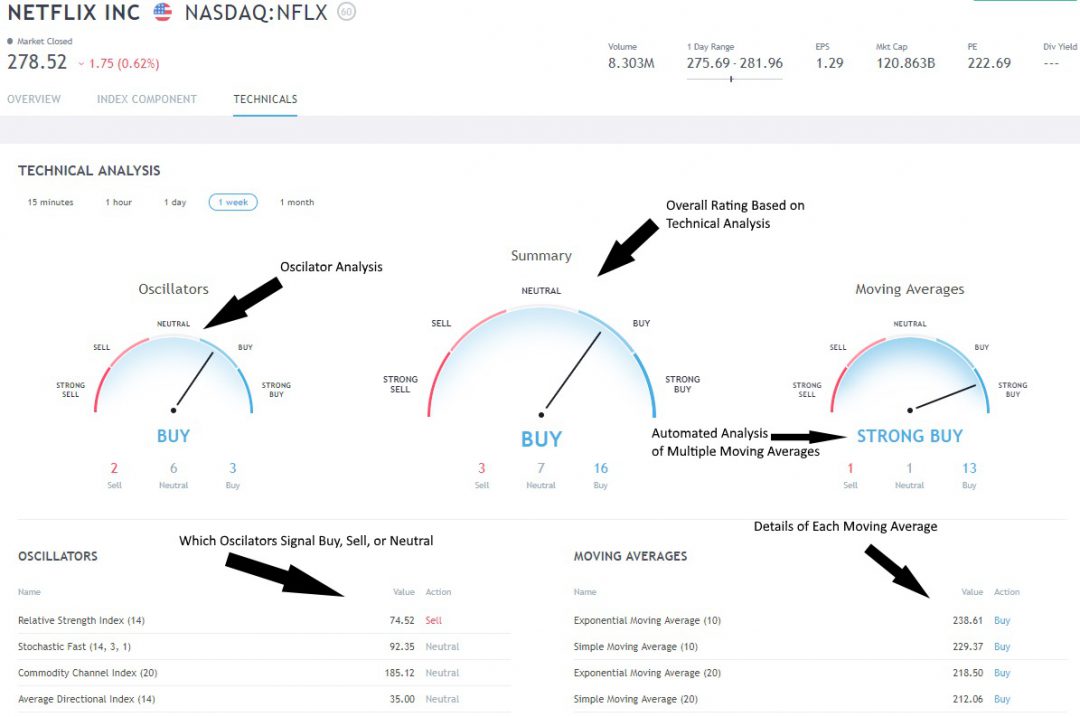 Does TradingView save your charts?
Yes, TradingView has an Autosave function that saves all changes to your charts. If you want to save your charts manually, deselect autosave and click save to ensure you keep your changes.
What indicator should I use on TradingView?
The indicator you should use on TradingView is determined by your trading goals. As a general rule, the International Federation of Technical Analysts suggests using a mix of price and price/volume indicators together for the best chance of success.
Can TradingView be used for day trading?
Yes, TradingView can and is used for day trading. The TradingView charting platform has been designed for Day and Swing Traders but also has features for long-term investors.
Is there anything better than TradingView?
If you are a long-term value, dividend, or growth investor, then Stock Rover is better than TradingView. Additionally, if you want to use AI-powered algorithmic trading, Trade Ideas is better than TradingView. Otherwise, TradingView is a great option for most traders.
How much is TradingView monthly?
The monthly cost for TradingView ranges from $0- for the free version, $12.95 for Pro, $24,95 for Pro+, and $49.95 for Premium. You can get up to a 60% discount on these rates by following the instructions in our TradingView discounts article.
Is TradingView desktop better than the web?
Yes, TradingView desktop is better than the web version if you use multiple monitors and want even more speed and flexibility between charts. If you are using the free service, it does not make sense to use TradingView desktop because you cannot use real-time premium data or multiple charts.
Can TradingView identify patterns?
Yes, TradingView can identify patterns in stock charts. Recently released, TradingView's automated stock chart pattern recognition identifies 20 stock chart patterns. Select: Indicators -> Technicals -> Auto, and select the patterns you want to see.
Why is TradingView so popular?
TradingView is extremely popular for two reasons. Firstly, it offers the best free and premium stock charting, screening, and backtesting services for traders. Secondly, it has 30 million monthly users, making it the largest active social trading community on the web.
Can you scan stocks in TradingView?
Yes, you can scan stocks in TradingView with 172 metrics, including 42 financial filters. Not only stocks, but you can also scan currencies, ETFs, and crypto on TradingView.
Can you draw lines on TradingView?
Yes, you can draw lines on TradingView. In fact, TradingView has over 65 tools for drawing not only trendlines but Gann boxes, Fibonacci retracement, Elliott Waves, and Andrews Pitchfork lines.
Is TradingView safe?
TradingView is safe to use; the website uses a secure SSL 256-bit encrypted connection. Additionally, TradingView Inc. is located in a safe location in Ohio in, the USA. Finally, TradingView has high-profile private equity investors like Tiger Capital, who would not invest in an unsafe business.
What are the limitations of a TradingView free account?
There are 4 limitations of the free TradinView Account. You can only use 1 chart layout, 3 indicators, and 1 watchlist. Additionally, you cannot publish public ideas.
What is the best free TradingView alternative?
The best free alternatives to TradingView are Benzinga Pro for day traders, Finviz for stock screening, and Stock Rover for long-term investors. All 3 companies offer excellent free services to rival TradingView.
Does TradingView do after hours?
TradingView offers after-hours and pre-market data for all free and premium service tiers. In fact, TradingView is the only stock charting package to offer this service for free.
How far back can TradingView go?
TradingView goes back 5,000 bars/days for their free service; for Pro and Pro+, the charts go back 10,000 bars. For the Premium service, you get 20,000 bars on all timeframes.
Is stockcharts.com better than TradingView?
No, according to our test results, StockCharts.com is not better than TradingView. TradingView beats stockcharts.com in interactive chartings, assets covered, backtesting, scanning and screening globally. TradingView equals or beats StockCharts in every category.
Which is the best TradingView Plan?
The best TradingView plan is Pro+ because it offers the best balance of features at the right price. Pro+ unlocks all the important features of TradingView, including unlimited charts, indicators, and multiple screens and devices.
Alternatives To TradingView!
Stock Rover is better than TradingView for long-term growth, dividend, and value investors. For AI-driven robotic day trading, Trade Ideas is better. For trading real-time news, Benzinga Pro is a better alternative. Finally, for automated stock chart analysis, TrendSpider is a better option.
Recommended Reading
TradingView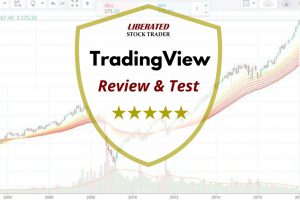 Our review testing rates TradingView 4.8/5 stars due to its impressive stock chart analysis, automated pattern recognition, screening, backtesting, live trading, and 19 million active users. TradingView is our recommendation for US and international traders.
Product SKU: NA
Product Brand: TradingView
Product Currency: USD
Product Price: 0.00
Price Valid Until: 2025-01-06
Product In-Stock: InStock