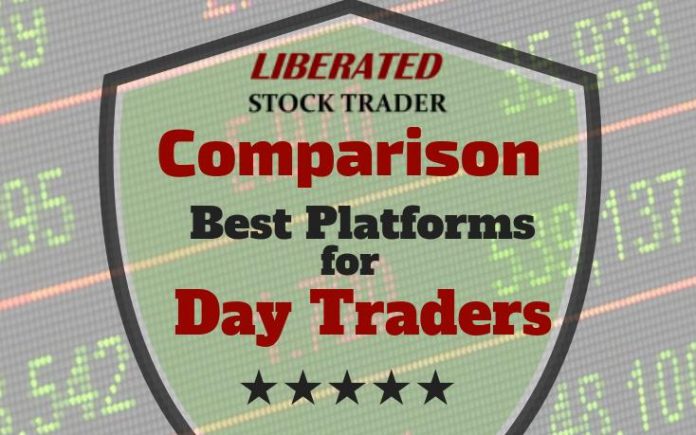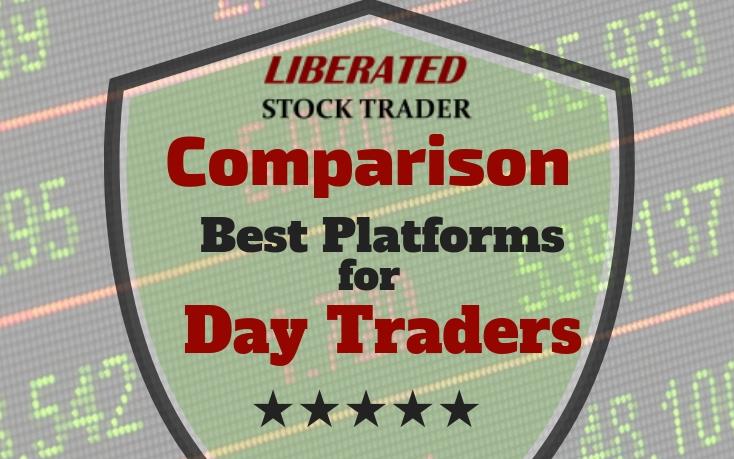 The best platforms for day traders need to mix powerful chart analysis, real-time exchange data, integrated trade execution, and real-time news. 
Cost is also a critical factor, choosing a very low cost or no commissions brokers can literally save you thousands of dollars per year. 
Find out which platforms hit the sweet spot of features, service and price for you, the day trader.
The Best Day Trading Software Platforms For Day Traders
MetaStock – Best for powerful charting & trading system analysis, excellent real-time news with global data coverage.
TradingView – Best for beginners needing great social integration to learn from other traders and the best ease of use.  Includes trading from charts for Europe and Asia.
EquityFeed – Best for real-time news & trade execution integration with TD Ameritrade & Interactive Brokers
TC2000 – Best day trading software for U.S.A. & Canadian Exchanges, powerful real-time screening and excellent trading from charts.
Firstrade – Best for commission free trading with powerful tools stock and options tools.
Benzinga – The best day traders news service, real-time news designed for traders
SpeedTrader – Best for day traders after direct market access (DMA) & fast execution for low-cost stock & options trading
LightSpeed – Best for active day traders seeking fast execution & very low commissions
ZACKSTrade – Best for low margin rates (5.9%), solid tools and very low commissions.
TradeStation – Best for U.S. day traders wanting powerful tools, automated trading, and tight broker integration.
Interactive Brokers – Best for global exchange execution, low commissions, great margin rates
Read on for the webs most detailed analysis.
-

MetaStock – Best for powerful charting & trading system analysis, excellent real-time news with global data coverage.
If you are a trader that needs to experiment to build a system that works like clockwork, giving you an edge in trading then MetaStock is the product for you.  You cannot execute trades directly from charts, but the systems back-testing and forecasting are a huge edge in day trading.
The latest release of Metastock XVI (16) has been a big hit with improvements across the board. Huge improvements in scanning, Back-testing, and forecasting making this one of the best offerings on the market. MetaStock is one of the biggest fish in the sea of stock market analysis software.  Backed up by the mighty Thomson Reuters you can expect excellent fast global data coverage and broad market coverage including equities, futures, forex, ETF's and options.
Broker Integration. MetaStock does not natively provide broker integration and the execution of trades from charts and live integrated P&L analysis is limited.
Fundamental Scanning and Screening. Using Refinitiv Xenith you can see a really in-depth analysis of company fundamentals from debt structure to top 10 investors, including level II.  Excellent watch lists featuring fundamentals and powerful scanning of the markets gets a perfect 10
Real-time News 10/10 – MetaStock 12 has full Eikon integration with institutional level news, analysis, and outlook.  This is the fastest global news service available on the market including translations into all major languages.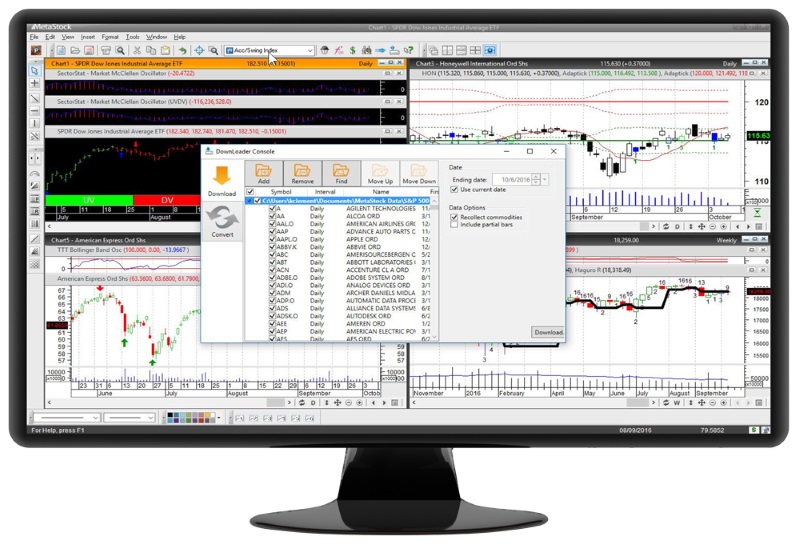 Technical Analysis 10/10 – Forex forecasting based on sentiment is a feature that is absolutely exceptional.  Never mind the broadest selection of technical analysis indicators on the market today. MetaStock is the king of technical analysis warranting a perfect 10 out of 10.
Stock Systems and Back Testing.  Another area where MetaStock excels is what they call the expert advisors.  MetaStock harnesses a huge amount of inbuilt systems that will help you as a beginner or intermediate trader understand and profit from technical analysis patterns and well-researched systems.  This is really a key area of advantage.  The biggest addition to the MetaStock arsenal is the forecasting functionality which is absolutely fantastic.
Read the Full MetaStock Review
TradingView – Best for beginners needing great social integration to learn from other traders and the best ease of use.  Includes trading from charts for Europe and Asia.
There is no doubt about it, I love TradingView and use it every single day.  I post charts, ideas, and analysis regularly and chat with other traders. Follow me on TradingView.  The entire community on TradingView are focused on day trading and the service is first class.
Pricing & Software. You can have TradingView for free, it is a review winner for our Best Free Charting Software Review.  However, there are limitations.  I would recommend going for the PRO+ at $19 per month or the Premium at $39 per month, the benefits are extensive including priority customer support and unlimited everything.  Also, a huge benefit is that the data speed and coverage are mind-blowing, covering literally every stock market on the planet and not just stocks but ETF's, mutual funds, futures, forex, bonds & cryptocurrencies AT NO EXTRA COST.
Trade Management Score – 8/10 – with TradingView you get full broker integration, you can place trades on charts and it will take care of profit & loss reporting and analysis for you.  The only thing it does not cover is Stock Options trading or U.S. Trading.
Fundamental Scanning & Screening – 10/10 – Another perfect 10 for TradingView as they hit the mark on real-time scanning and filtering, and fundamental watchlists also.  The list of fundamentals you can scan & filter on is truly huge.  Any idea you have based on fundamentals will be covered.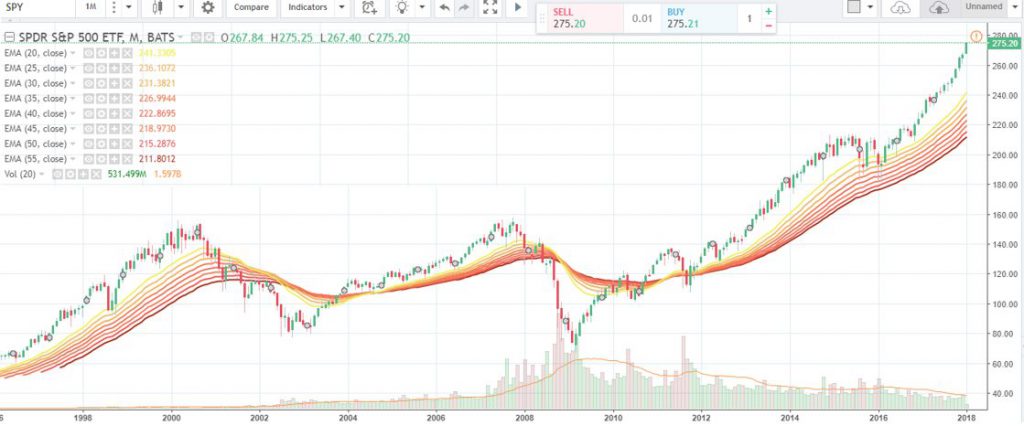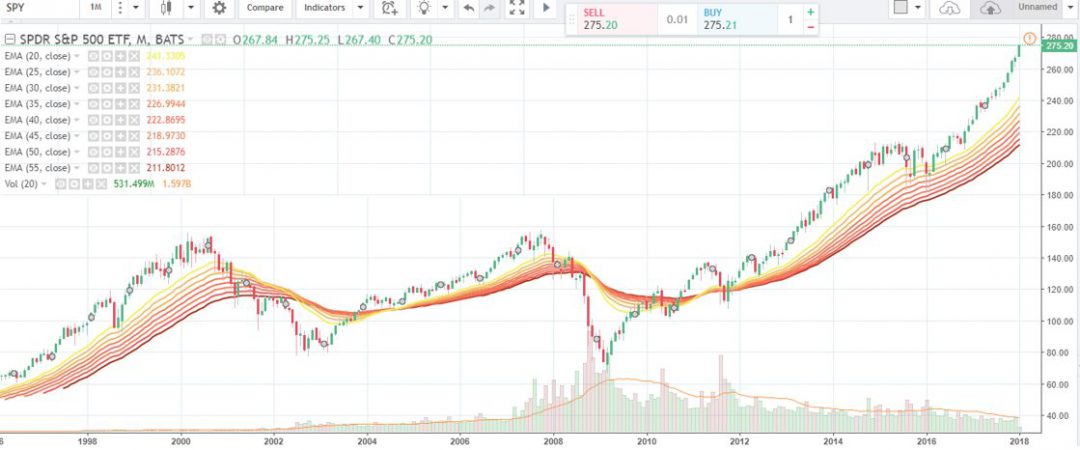 News & Social Community. As soon as you connect to TradingView you realize this is also developed for the community.  You can look at community ideas, post your charts and ideas and join limitless numbers of groups covering everything from Bonds to Cryptocurrencies.  The news feeds are fully integrated, including Kiplinger, DailyFX, Futures Magazine, FXStreet, and StockTwits.  Add that to the social network and you have a great solution.  The news service is only second to MetaStock with their Reuters Feeds.
Technical Analysis & Charts.  With over 160 different indicators, and unique specialty charts such as LineBreak, Kagi, Heikin Ashi, Point & Figure and Renko, you have everything you will need as an advanced trader.  With the Premium membership, you also get Level II insight, fully integrated.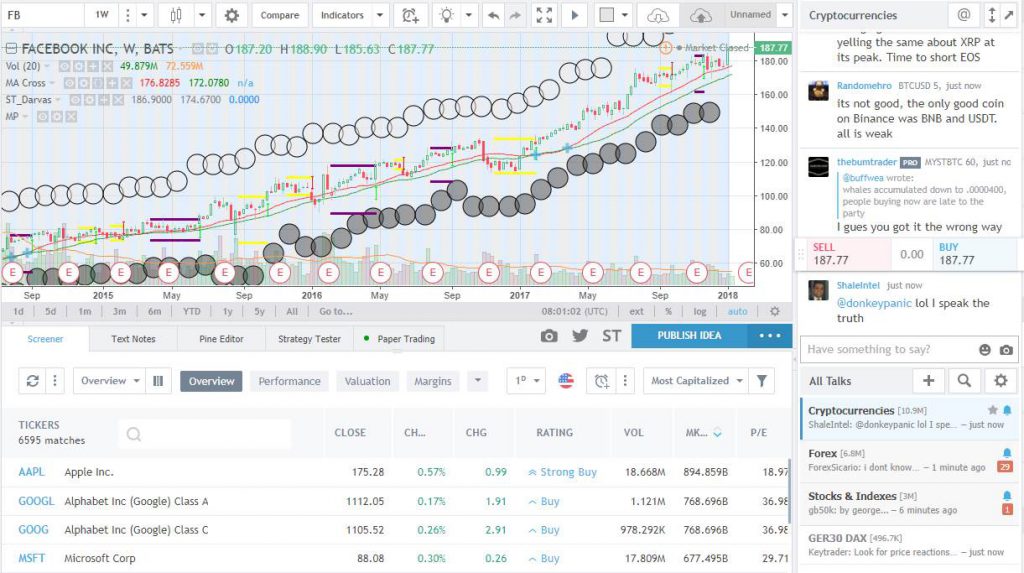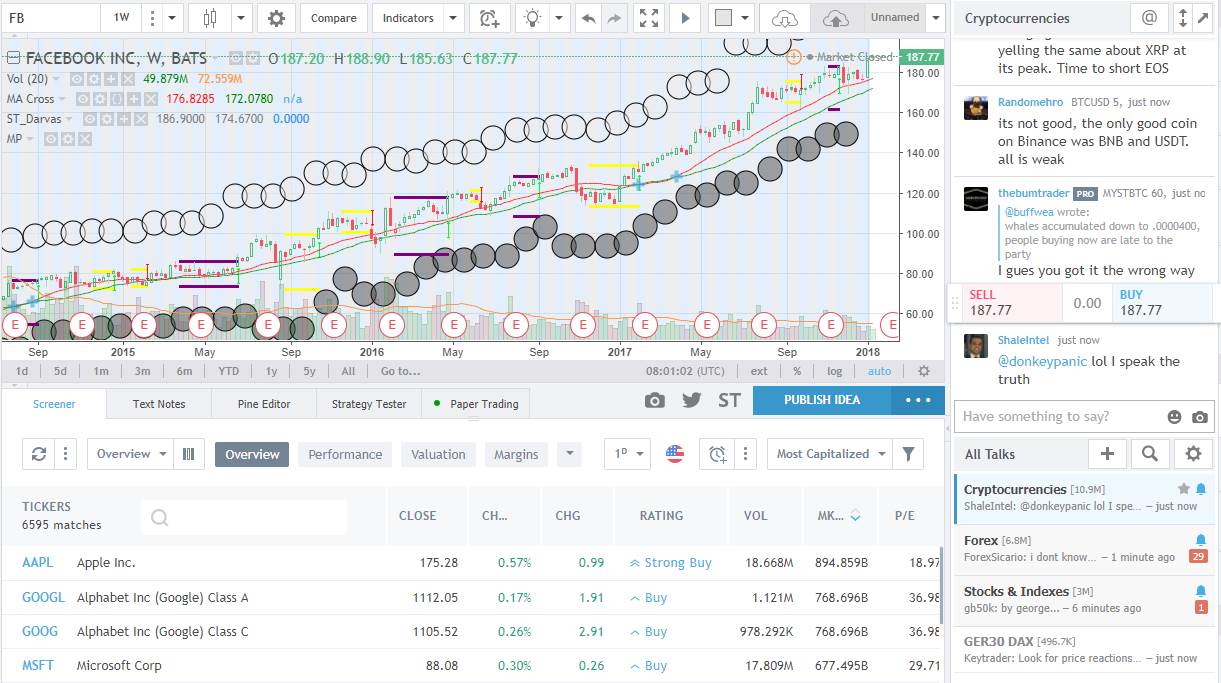 Did I mention the charts are fast and beautiful?
Systems, BackTesting & Automated Trading. Good but not perfect.   TradingView has an active community of people developing and selling stock analysis systems and you can create and sell your own with the Premium level service.  Also, there are a huge number of indicators and systems from the community for free.
The only things you cannot do is forecast and implement Robotic Trading Automation.  For that, you would be better off with NinjaTrader, QuantShare or TradeStation.
Ease of Use.  Within 5 minutes I was using TradingView, no credit card, no installation, no configuring data feeds, it was literally just there.
TradingView Video
Read the Full TradingView Review
-

EquityFeed– Best for real-time news & trade execution integration with TD Ameritrade & Interactive Brokers
Recommended for Day Traders, who want a super simple and slick workflow, real-time streaming charts & news and unique Level II data, Dollar Volume Information & excellent broker integration
With their slogan "Find It, Trade It, Profit" EquityFeed is considered a gold standard for Day Traders.
Pricing & Software.  EquityFeed specializes in providing real-time data and news fast directly to your screen.  With a medium price point, it is neither cheap or expensive, but you do get a lot for your money as we explore in this review.  Data speeds are excellent and it has excellent U.S. data coverage including extensive Over The Counter markets (OTC:BB, OTCQX, OTCQB, OTCPINK, GREY)
In terms of trade management, EquityFeed has introduced the "Chart Montage" functionality, which enables an ultrapowerful way of trading off the charts.  This single window contains a wealth of critical trading information, including real-time streaming news, level 2 data, including time and sales.  Also, Equity Feed is the only software to offer the Dollar Volume data.
The EquityFeed Team have a fantastic set of integrations to your broker to enable this, which includes TD Ameritrade, Interactive Brokers and LightSpeed for direct market access,  three of the powerhouses of the brokerage world.
Read the Full EquityFeed Review
-

TC2000 Brokerage – The best day trading software for U.S.A. & Canadian Exchanges, powerful real-time screening and excellent trading from charts.
Recommended for long-term investors in the U.S.A. & Canada with a fundamental bias who need powerful screening and excellent charts on all platforms.
Telechart has long been one of my favorite tools, I have been a subscriber for over 17 years and find the latest release v18.x to be another step forward.  Endlessly customizable and scalable the platform offers nearly everything an investor will need.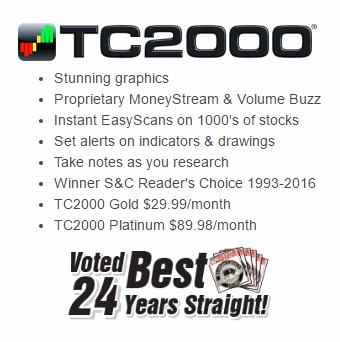 Pricing and Software.  Telechart is a big hitter when it comes to software and pricing.  Telechart runs on everything – your iPhone your Tablet, your Mac, and your PC.  It is also priced very reasonably with a simple pricing structure.  If you trade U.S. Stocks, ETF's or Mutual Funds, then this is a great solution.  Worden Brothers also provide regular live training seminars across the U.S.A. which are of a very high quality.
Trade Management. Worden recently released TC2000Brokerage offering discount brokerage services $4.95 per trade.  This integration means a tight integration for trading stocks from the chart screen but also one of the best implementations of Stock Options trading visualization available.
Fundamental Scanning and Screening.  Make no mistake about it, if you want fundamentals screened in real-time layered with technical screens all integrated into live watch lists connected to your charts TC2000 is a power player.
Technical Chart Analysis.  Telechart has an excellent array of technical indicators and drawing tools, all the big ones are there, from OBV, RSI and Bollinger Bands to Fibonacci Fans and Andrews Pitchfork.  With over 70 different indicators you will have plenty to play with.  They have also introduced live alerts which you can configure to email or pop up if an indicator or trend line is breached, very useful indeed.
Ease Of Use 20/20 – One of the easiest to use and most powerful packages available places the icing on the cake for the Worden Brothers.
-

Firstrade – Best for commission free trading with powerful stock and options tools.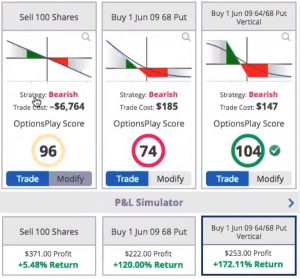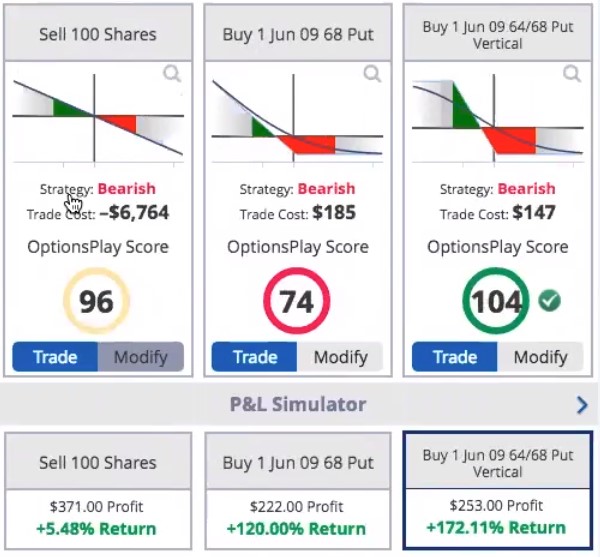 Great for Day Traders & Investors Seeking FREE Stock & Options Trades + an Industry Best 700 Commission-Free ETF's.
Firstrade is the outright winner in commissions with a $0 flat fee per trade and $0 per options contract.  Commissions are a very important point for day traders, if you are making 10 trades per weeks at $5 per trade, that can mount up to over $2,600 in trading costs per year.  That is a huge saving.  Not to mention the core Firstrade set of tools, which are very good are free for brokerage clients.
But what also adds to the appeal with Firstrade is the 700+ commission-free Exchange Traded Funds on offer.  This is a huge selection, more than the total for all the other brokers reviewed in our Top 10 Brokers Review.  You can also purchase Mutual Funds for $0 and Bond purchases are on a Net Yield Basis. The only thing you cannot trade with Firstrade is Forex.
Finally, the margin commission percent is a little higher than with Interactive Brokers or Worden2000 Brokerage.  If you are not buying on margin this is not a problem.
Read the Full Firstrade Review
-

Benzinga Pro – The best day traders news service, real-time news designed for traders
Benzinga Pro – Superfast Real-time News & Trading Ideas on a Great Platform
Benzinga PRO is neither a brokerage or a stock market analysis charting package.  It is simply the best real-time news platform for traders.  If you choose any of the packages in this list that do not have a real-time news integration or service included, then, as a day trader you will want to consider Benzinga as your go-to-tool of choice.
Benzinga PRO is the premium real-time news service that is an upgrade from the regular free Benzinga news service.  It is a significant upgrade that obviously comes with a price.  What makes it special is not just the fast delivery of news but the insider interviews and direct access to the reporters at the news desk.  They also have a huge amount of news content not available to regular subscribers.  So what makes it special?  The platform and content.
How Good is the Benzinga PRO Platform?
The news platform is extremely configurable and able to run in multiple windows on multiple monitors. In the screenshot below you can see how I have my Benzinga Pro interface configured.
My Current Trades in the watchlist (middle white box)
Important News Only – Top right columns in red I have configured to only show me the important potentially market-moving news which is a great feature.
Instant Company Details Drill Down – Bottom Right for Financial News, Calendar & Charts
Quick Access to Powerful Features – Stock Screener, Custom Alerts, Squawk Box and Chat (Left-hand side)
Benzinga Pro is extremely powerful yet easy to use which is often a difficult balance to strike and to top it all off they have also now added real-time price quotes to the service, so you can see when news breaks the instant impact on the stock price.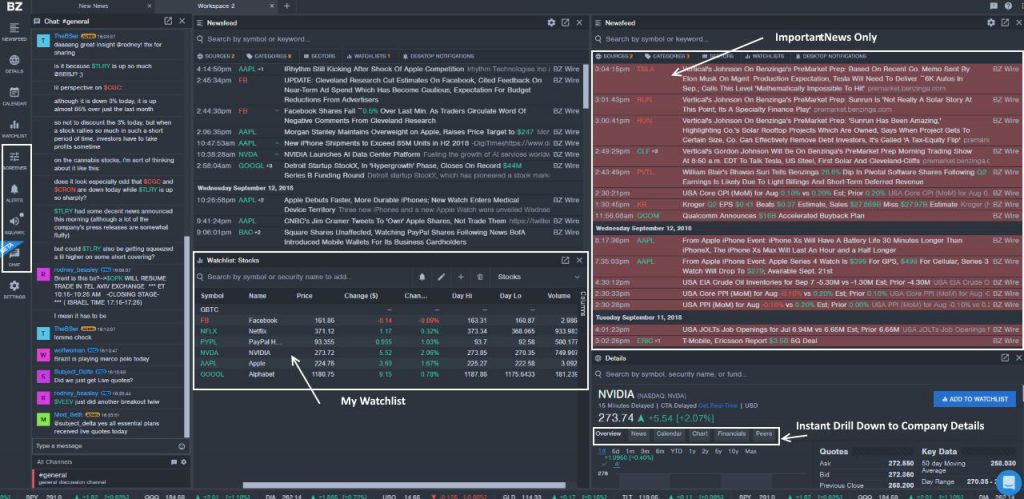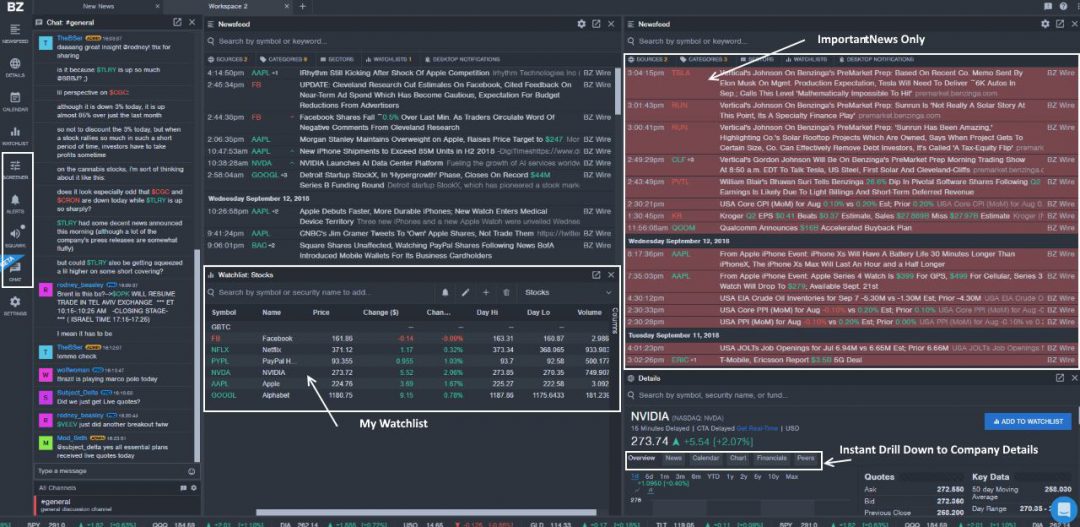 Recommendation For Investors & Traders With A Smaller Portfolio.
If you have only $5,000 or $10,000 to trade or invest it does not make sense to go for the Essentials Package for $117– per month, this would eat up too much of your investment, so choose the Benzinga Pro Basic Package.
Recommendation For Investors With Larger Trading Positions
If you have a larger portfolio with significant individual short-term trades in specific stocks then you will want to know the news and sentiment before anyone else and have ringside seats to the corporate earnings announcements and rumors.  In this case, you will want to go for the Essentials Package
If you are serious about trading in the stock market and need real-time access to the news that moves markets then Benzinga Pro is a realistically priced and extremely fast news service that is designed by traders for traders.
In this fast-moving world, this is an effective tool.
-

SpeedTrader – Best for day traders wanting direct market access (DMA) & fast execution for low-cost stock & options trading
The key service offering is Direct Market Access (DMA), meaning you do not go through a 3rd party market maker for your trades, you deal directly on the market itself, which means better visibility of prices and tighter spreads.
Some Brokers offer a flat fee regardless of how many shares are traded.  Some offer an optional "per share" commission structure, which can be beneficial for smaller traders.  Direct Market Access (DMA) is the name of the game when it comes to day trading the markets. All of the contenders in the Top 10 Best Stock Broker Review have this but the key is in the implementation, and from the rave customer feedback SpeedTrader get this right.
When it comes to commissions SpeedTrader offer a $4.49 flat fee per trade, but most interestingly, they offer a per share pricing structure of $0.0044, which beats Interactive Brokers, LightSpeed and SureTrader by the width of a cat's whisker to be the best in our review.
Also when it comes to Options Trading Fees the offering of $1.99 + $0.40 per contract is the among the best of all 20 brokers reviewed.
Suffice to say, extremely competitive.  But that is where the competition ends as SpeedTrader does not offer Forex, ETF's, Mutual Funds, Bonds or Commodities.  So, if you are into Stocks and Options Day Trading this is a good place to be.
SpeedTrader have white labeled the suite of products developed by Direct Access Software Inc. (DAS Trader).
And why not, it is a highly rated set of tools designed for day traders to enable fast screening analysis and order execution with direct market access.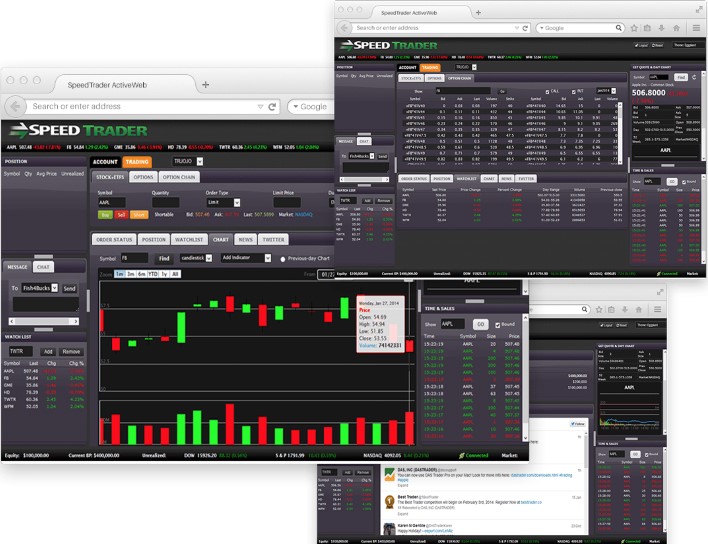 Developing an in-house suite of trading apps is a huge job and incurs a lot of expense, so only the biggest companies can manage this.
For the smaller brokers using a third party is quick and efficient.  The only challenge is as a broker, if you have to pay for the software on behalf of your client or pass the cost onto the client directly by making the client pay. This is exactly the situation with SpeedTrader and most other Day-Trader Brokers. I mention this because ultimately you will need to be making at least $25 to $104 per month in trading profit just to cover the cost of the software.
SpeedTrader – Day Trader Platform Options
SpeedTrader Active Web
SpeedTrader's cost model means you will have pay for the Active Web version $25 per month.
However, for this price, you do get:
Real-time L1 Quotes
Live Streaming News
Real-Time Charts
Options Chains
Risk Management Tools
SpeedTrader (DAS TRADER) PRO
For the desktop based SpeedTrader Pro version, you will be out of pocket by $49 or $104 per month (depending on which version you go for) but at least the mobile version is free if you have the desktop Pro version.  But for this price you do get a serious upgrade:
Faster Trade Execution
Trading off the Charts
Level 2 Data
Most importantly Direct Access ECN Order Routing
Read the Full SpeedTrader Review
-

LightSpeed for active day traders seeking fast execution & very low commissions
Commissions are not the be all and end all, but low commissions do help to reduce slippage especially if you are an active investor or trader.
Some Brokers offer a flat fee regardless of how many shares are traded.  Some offer an optional "per share" commission structure, which can be beneficial for smaller traders.
Lightspeed Stock Trade Commissions
With Lightspeed you can choose a per trade commission which starts at $4.50 per trade for under 250 trades per month.
But as you scale up your trading the costs go down to $2.50 per month which among the best of all the brokers we reviewed.
Alternatively, they offer a per share commission of $0.0045 per share scaling up to $0.0010.  I am a big fan of having the choice of rates, and Lightspeed's rates are some of the best in the industry.
As with any direct market access broker, there are routing fees depending on which market you trade, but Lightspeed is very focused on keeping these extremely tight.
Lightspeed – Trading Platform
How do you find the stocks that are in-play, have high volatility and are in a strong trend?  This is the job of the trading platform.
You need your trading platform to be fast, intuitive and powerful.  In this section, we rate the Lightspeed on their choice of trading platform.
LightSpeed has a very well thought out portfolio of integrated trading platforms to suit their customers.
Lightspeed Trading Software Targeted to Day Traders
For investors, who will typically have fewer trades and less demand for L2 quotes and tick by tick streaming charts, Lightspeed has a nice solution in LightSpeed Web / Mobile Trader and LiveVolX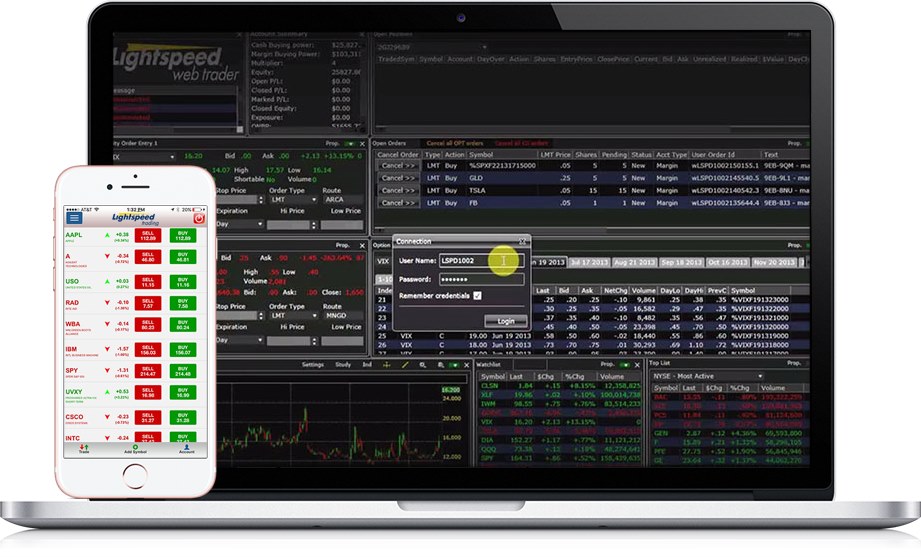 For Web Trader and LivevolX, there are zero data fees & zero monthly costs, which is great.  As part of the free package you get:
Streaming L1 Quotes
Equities & Options Trading
After Hours Trading
Market Scanners
Customizable Charts & Studies
LiveVolX provides an advanced Options Trading Platform
So a solid platform offering for investors, but what about professional and active investors?
Lightspeed Trader costs $100 per month, but if you generate $100 in commissions per month it will be free.
For this fee you get:
Streaming L2 quotes
Basket Order Entry
After Hours Trading
Streaming Charts & Studies
Direct Market Access
Research Reports
Obviously, the key here for professional traders is direct market access (DMA), basket orders and the L2 views.
Read the Full LightSpeed Review
-
ZACKSTrade – Best for low margin rates (5.9%), solid tools and very low commissions.
ZACKSTrade offers a compelling addition to the competition for Day Trader customers.  They are offering great margin rates which offset your trading costs.  You can also buy stocks in North America, Europe, Asia and Australia, which qualifies ZacksTrade as a fully international broker.
In terms of the platform offerings for day traders, you have three options.  BacksTrade Pro is the flagship offering which is very customizable, and powerful.  Of course, it has the usual basket of technical analysis tools but it also has something for more advanced traders.  Algo Lab, Basket Trader, Spread Trader and even a lab where you can test out your options strategies.
-
TradeStation – Best for U.S. day traders wanting powerful tools, automated trading, and tight broker integration.
TradeStation is a leading brokerage house with excellent execution and low commissions but did you know they have great software also.  Joint winner in the review TradeStation offers enough in its software and broker integration to stand tall with the other vendors.
TradeStation has real-time news which is an excellent service but only fails to score top marks here because it does not provide market commentary or a chat community.  But do you really need that?  Some people do, its a factor to consider.
TradeStation offers TradeStation University and a huge wealth of online videos to help you master their trading platform.  They also have a morning briefing which you can tune into online and their selection of professional analysts will give an opinion on the market action and potential strategies.
TradeStation has also cultivated a systems and strategies marketplace called the "Strategy Network" where you can purchase stock market systems from an ecosystem of vendors or even contract someone to develop your system for you in the "Easy Language" code.
Read the Full TradeStation Review
-

Interactive Brokers – Best for global exchange execution, low commissions & the best margin rates
Ideal for Active Investors and Day Traders seeking the LOWEST Trading Costs, Direct Global Market Access
Interactive Brokers: Ideal for Active Investors and Day Traders, seeking the absolute lowest trading costs, direct market access for fast execution and best in class margin costs. Interactive Brokers (IB) is the grandfather of online discount brokers.  Not only are they a long established company, it is also big. It has a very complete set of services, enabling you to trade practically anything on any market.  Stocks, Options, ETF's, Mutual Funds, Bonds, Foreign Exchange and even futures and commodities. Usually, when a company is well established and large, it loses its competitive edge.  Not so with Interactive Brokers
Interactive Brokers Day Trading Platform
Interactive Brokers has a truly outstanding trading platform based on Trader Workstation (TWS).  It is free to download and use as a client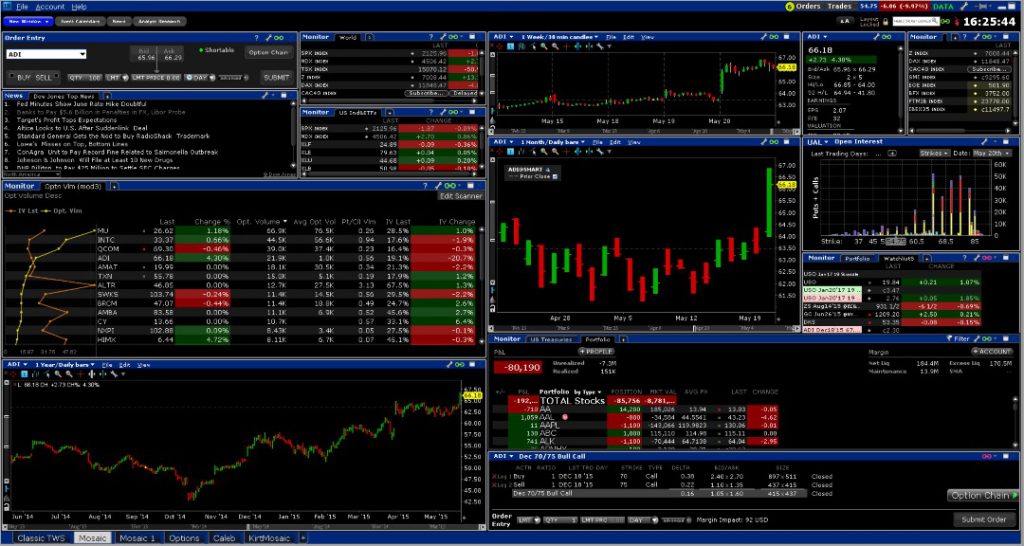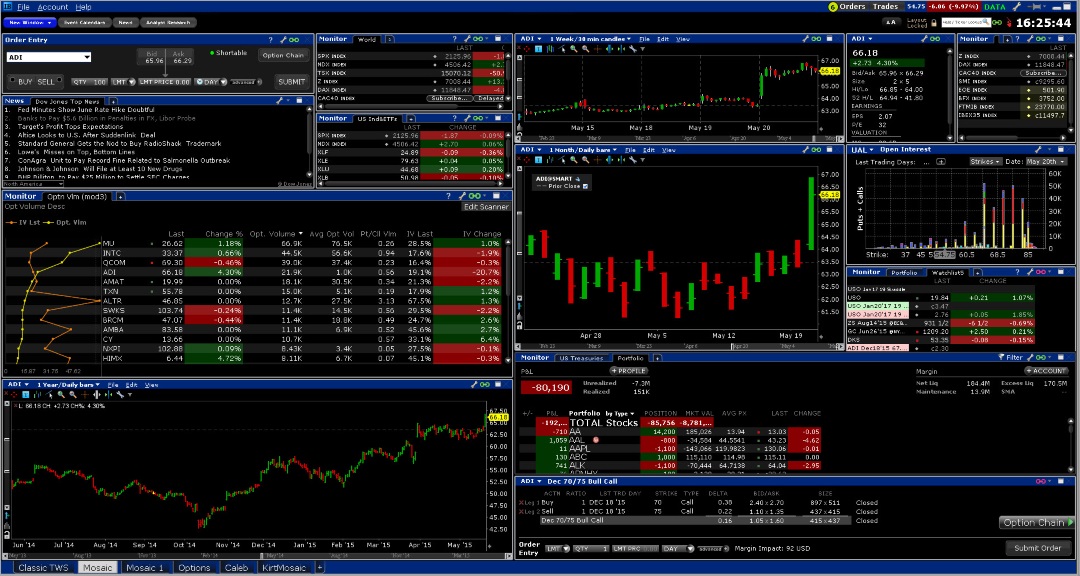 and it is the single place to be able to trade any and every one of the vehicles on offer from IB.  It caters to everything Stocks, Options, Futures, Forex, Bonds, Mutual Funds & ETF's.
Not only that there are a huge number of add-on advanced tools that plug into TWS such as:
ChartTrader – for trading directly from charts
Continuous Futures – for commodity futures scanning and analysis
DepthTrader – for deep analysis of market liquidity
OptionTrader – deeper Options Analysis with specific Options strategies
ProbabilityLab – to test the Probability Distribution of a particular trade
In total there are 27 different advanced trading tools to suit every possible approach to the market.
Overview Video of Interactive Brokers – Trader Workstation (7 mins)
TWS Account Window – Margin Requirements
Interactive Brokers offers by far the best free services in the area of research.  Here is a snapshot of some of the services you will get for free.
IB Market Signals
IB Traders Insight
Morningstar equity ownership
Thomson Reuters (in 10 languages), stock reports, news, fundamentals
Zacks Investment Research
Real-time News Streaming
In terms of customer service, they offer the full package of telephone, chat & email contact so no issues there.
We could not find any evidence of negative tweets or reviews so IB has a very good customer satisfaction score, particularly since they have by far the largest twitter following of 233,000 people.
The only reason they are lower on the list of winners is that they do not have a history of people raving about there services.  Perhaps the more professional investors trading with IB are not focussing on praising them on twitter but trader making profits in the markets.
In any case, IB is a very high-quality company with the very best research included for free in your account.
Read the Full Interactive Brokers Review
-
The Best Day Trading Platforms Summary
As you can see the competition is very hot.  Each broker or software vendor offers a unique mix of pricing, services and software to try to meet the needs of the individual day trader.  Read carefully through each review to see which one best meets your requirements as an active trader.
If you are looking for the lowest commissions, then Firstrade is the right choice.  If you are looking for the most powerful platform and toolset with low commissions then Interactive Brokers.  Looking for lightning fast direct market access, then Lightspeed.  Want a well-integrated trading from charts experience, then TC2000 Brokerage?  If you simply want actionable news for traders then Benzinga Pro is the right one.  EquityFeed strikes a beautiful balance between great real-time news and broker integration.  Finally, for social integration and community learning for beginners TradingView is the best bet.