This research reveals that the best day trading platforms for beginners are Trade Ideas, MetaStock, TradingView, and Benzinga Pro. Each offers unique benefits for day traders, like free stock trades, AI automated trading, real-time news, and powerful back-testing. 
As a certified market analyst with over two decades of using and testing stock market software, I believe I can help you choose the best day trading software to match your trading style.
Each day trading software platform offers a unique mix of pricing, services, and software to meet the needs of the day trader. Trading costs are also a critical factor; choosing a very low-cost or zero commissions broker can save you thousands of dollars per year.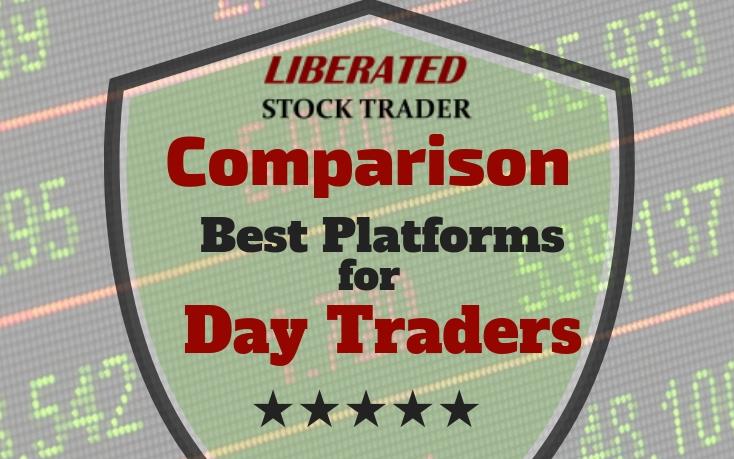 What Is The Best Day Trading Platform for Beginners?
Our extensive testing shows that Trade Ideas is the best day trading platform for beginners because it uses powerful AI to assist your trading, and it finds you good high-probability trades.
Trade Ideas' artificial intelligence provides clear, specific, audited, high-probability trading signals and automated trading, which give you the best chance of being profitable.
The Best Day Trading Platforms Summary
The leading day trading platforms are Trade Ideas with AI automated trading signals and free stock trades, MetaStock with excellent charts and forecasting, or TradingView with global stock, Forex, and Crypto trading. If you want to day trade real-time news, then Benzinga Pro wins.
If you want to learn trading from a vast community, then TradingView is perfect. Choosing the best day trading platform depends on how you want to trade.
9 Best Day Trading Platforms for Beginners
We independently research and recommend the best products. We also work with partners to negotiate discounts for you and may earn a small fee through our links.
---
1. Trade Ideas: Winner Best Day Trading Platform
Trade Ideas is our winner for best day trading platform because it has 3 AI algorithms providing high probability day trading signals and automated trading with a proven track record. 
| | |
| --- | --- |
| Trade Ideas Platform Rating | ★★★★★ |
| ⚡ Features | Trading From Charts, Watchlists, Scanning, Backtesting, |
| 📈 Day Trading Features | AI Trade Signals, Automated Trading, 3 AI Bots, Audited Performance |
| 💰 Free Stock Trading | ✔ – eTrade |
| 🤖 Auto-Trading Bots | ✔ |
| 🎯 Best for | Day Traders |
| 🎮 Trial | Live Trading Room, Free Weekly AI Trade |
| ✂ Premium Discount | -15% With Code "Liberated" |
| 🌎 Markets Covered | USA |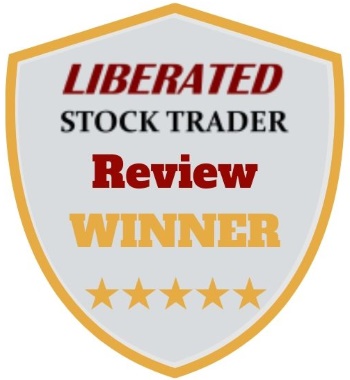 Founded in 2003, Trade Ideas is a web & desktop-based software platform for finding day trading opportunities. Historically specializing in real-time scanning for trade opportunities, Trade Ideas now incorporates cutting-edge AI algorithms that back-test every stock in the USA for high-probability trading opportunities.
Trade Ideas Day Trading Platform
When you first open Trade Ideas on your desktop, the software feels extremely clunky and not very user-friendly. Every pane in the above screenshot is its own separate individual window, so if you want to resize the view, you need to resize all eight windows. This seems such a hassle initially and seems to hark back to the age of Windows 98.
But, there is a good reason for this design. Like me, if you operate multiple monitors and large screens, you have endless flexibility and window configuration options. Also, even though they are fully separate windows, they can be linked and unlinked together to provide a fluid experience.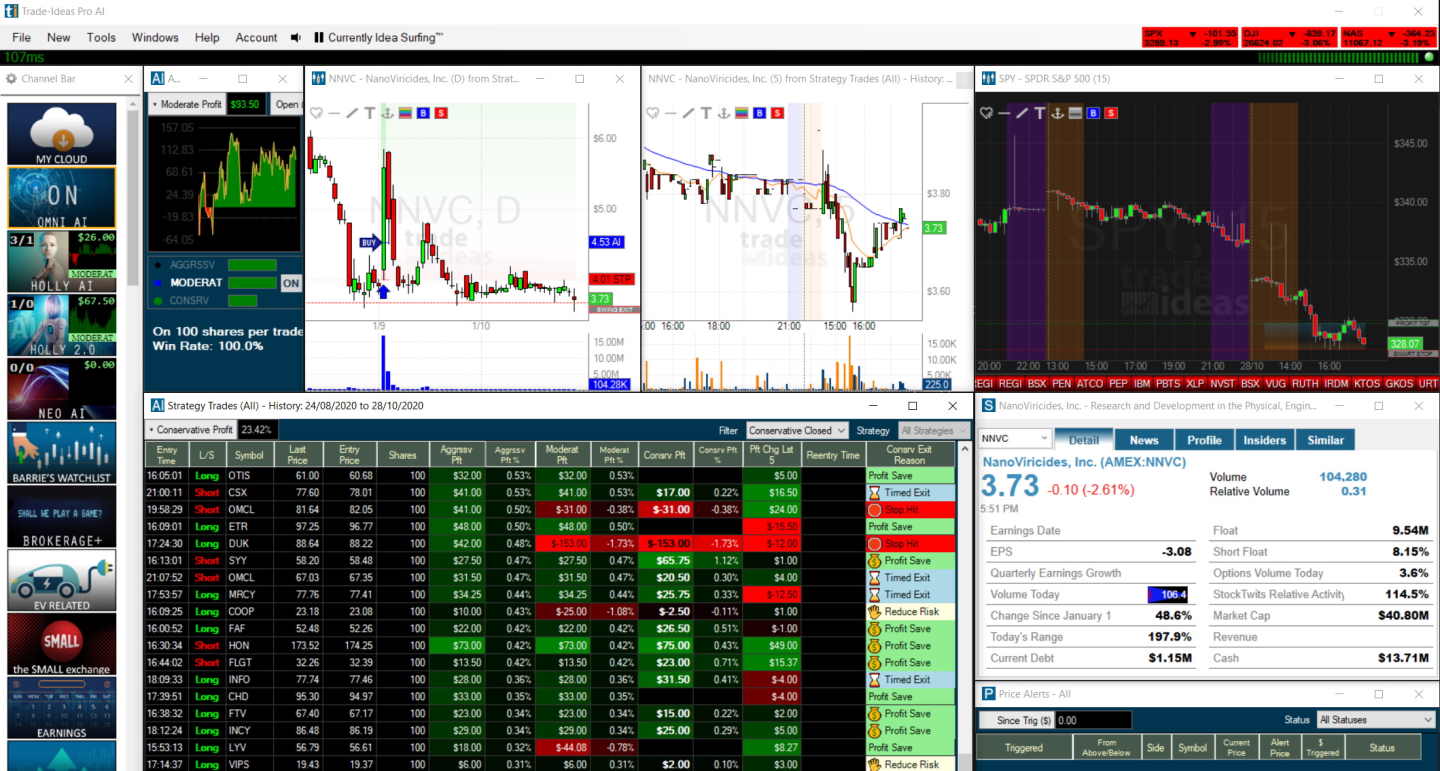 So although it is clunky and some of the most important functions are hidden behind right-click menu's in certain windows, you start to get used to the design after a few hours.
Trade Ideas Day Trading Scanner
At the heart of the Trade Ideas platform is the Trade Ideas scanner system, and it is absolutely unique. By clicking New -> Alerts, you get access to the Alert Config Window, which gives you immediate access to over 40 different trading scans. The screenshot below shows all the in-built scans categorized into Bullish, Bearish, or Neutral. Depending on the overall market direction, you can easily select a potential day trading strategy for the day.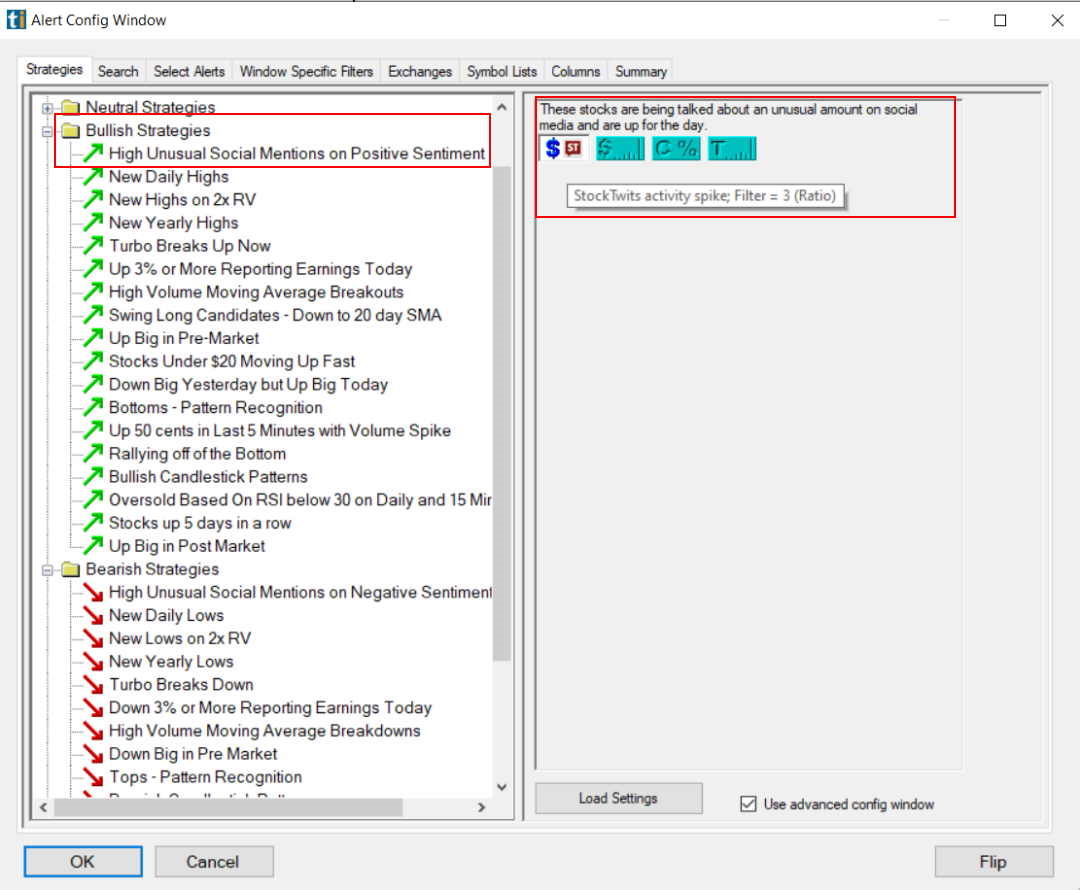 One scan I find particularly impressive and innovative is the "Unusual Social Mentions Scan." The Trade Ideas AI engine is constantly scanning StockTwits for surges in mentions of particular stocks, so if you click load settings, you will be immediately presented with a list of stocks spiking on social media.
Of course, you can customize any of the scans featured here or even create your own alerts from scratch.
Trade Ideas Channels
One thing I love about Trade Ideas is that it has 30+ curated channels. These channels highlight theme-based trading opportunities, such as Electric Vehicles, Small Caps, Social Media, Earnings Plays, China, Biotech, Penny Movers, and more.
Trade Ideas Pro AI
The AI algorithms developed by Trade Ideas are the main reason you would want to sign up. I had a lengthy zoom session with Sean Mclaughlin, Senior Strategist over at Trade Ideas, to delve into how the AI works, and I was very impressed. This company is laser-focused on providing traders with the very best data-supported trading opportunities. There are currently four AI systems in operation.
Holly is 3 AI Systems Applying Over 70 Strategies Differently.
Holly AI
Holly AI is the original incarnation of the algorithms. Holly applies 70 different strategies to all the stocks on the US & Canadian stock exchanges, including pink sheets & the counter (OTC) markets. 70 strategies multiplied by 10,000+ stocks means millions of back-tests every day. Only the strategies with the highest back-tested win rate of over 60% and an estimated risk-reward ratio of 2:1 will be suggested as potential trades the following day.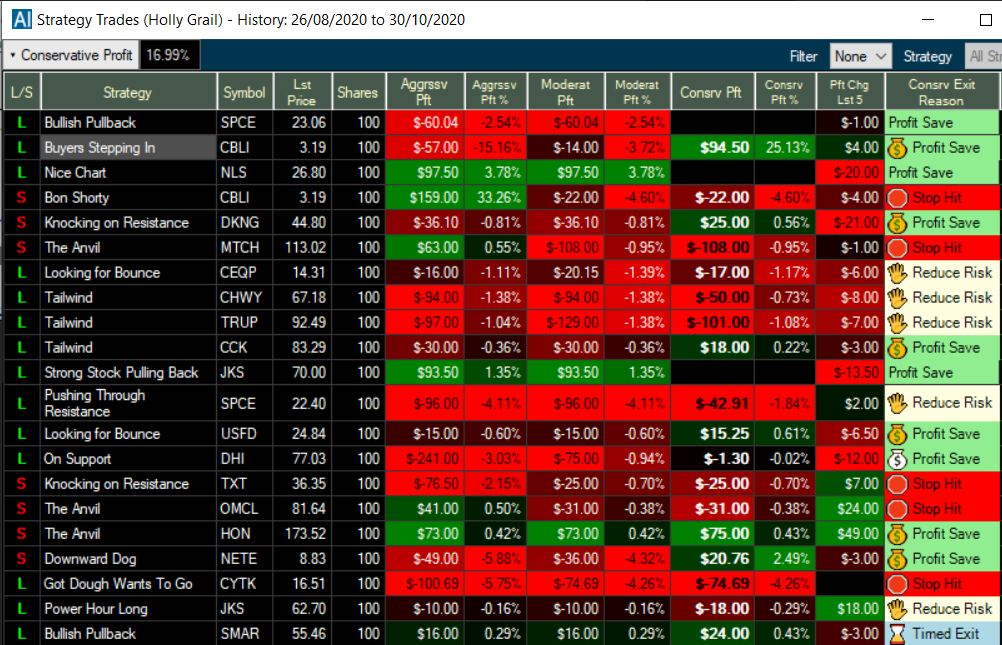 Holly 2.0
Holly 2.0 is a more aggressive version of Holly AI, presenting more aggressive day trading scenarios for you to choose from. Trade Ideas operates three key trading styles with each AI engine, Conservative, Moderate & Aggressive. Holly 2.0 is aggressive.
Holly Neo
Holly NEO is a newer AI that seeks to trade real-time chart patterns. It utilizes a mix of the following strategies.
Pullback Long – Seeks to identify trades where the stock price is down and is seeking to start moving up on higher volume.
Breakout Long – Where stock price breaks out up through a key resistance or to new highs.
Pullback Short – identifying a short pullback opportunity in price.
Breakdown Short – a shorting opportunity where upward momentum breaks down.
Omni AI
Omni AI is also a real-time AI ideas engine, but it combines all of the above strategies into a straight short or long trade recommendation. It is a new development and does not yet have a proven track record, but on viewing the recent trades, the performance looks good.
Trade Ideas Day Trading AI Video
Trade Ideas Day Trading Signals
One thing I really like about Trade Ideas is that it visually shows you every signal buy and sell signal on a chart. I have highlighted a trade recommended by Holly AI (Holly Grail) in the chart below. This trade for Cleveland Biolabs (Ticker: CBLI) made a 25% profit within a 4 hour period. Not how the buy and sell signals are depicted on the chart.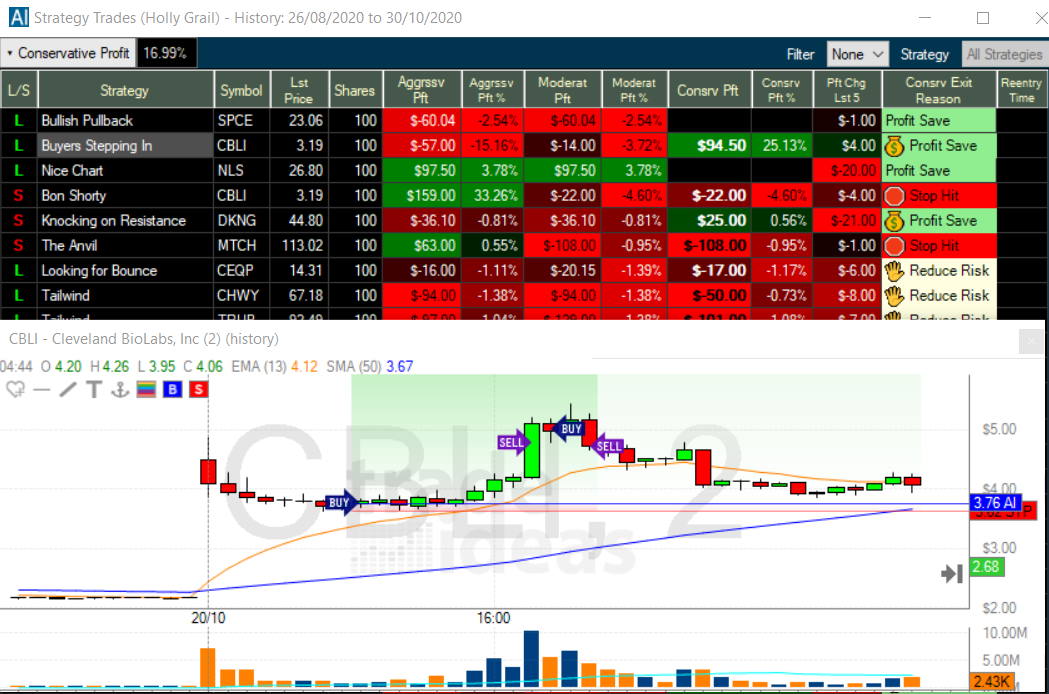 Trade Ideas Pricing
Trade Ideas Standard costs $118 per month, or you can save $348 by going for an annual subscription costing $1068, a 25% discount. Standard includes a live trading room, streaming trade ideas, ten chart windows, trading from charts, and 500 price alerts.
Trade Ideas Premium costs significantly more than Standard service at $228 per month. You can save $468 by going for an annual subscription costing $2268. Premium provides the three Holly AI Systems, specific real-time trade signals, risk assessment, full back-testing, and integrated auto-trading.
Trade Ideas Facts
Trade Ideas has large institutional clients, such as Schwab, and is a legitimate business.
Trade Ideas recommends, on average, about 3 to 10 trades per day.
Each trade lasts from a few minutes to a few hours.
Upon downloading and analyzing 65 days of trades, I can confirm the performance numbers claimed by trade ideas.
You need to be an active day trader to take advantage of Trade Ideas.
As a partner of Trade Ideas, I requested a discount for all our readers. Use the discount code "Liberated" to get 15% off your first purchase, worth $340 when going for the premium service.
---
3. TradingView: User-Friendly Day Trading Platform for Beginners
TradingView is the best global day trading platform because it covers all stock, Forex, and Cryptocurrency market globally, plus it has the largest active trading community. Add to that excellent back-testing and real-time scanning, and you have a great choice for day traders.
| | |
| --- | --- |
| TradingView Platform Rating | ★★★★★ |
| ⚡ Features | Great Charts, Real-time Market Scanning, Strategy Development |
| 📈 Day Trading Features | Trading from Charts, Backtesting |
| 💰 Free Stock Trading | ✔ – Tradestation |
| 🤖 Auto-Trading Bots | ✘ |
| 🆓 Free | Launch TradingView For Free |
| 🎯 Best for | International Day Traders |
| 🎮 Trial | -50% Discount |
| ✂ Premium Discount | Free 30-Day |
| 🌎 Markets Covered | Global, Stocks, Forex & Crypto |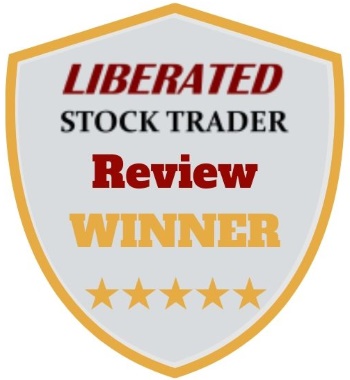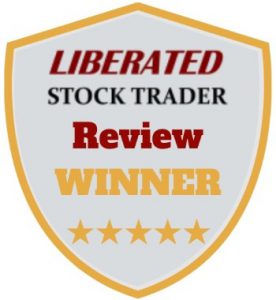 There is no doubt about it; I love TradingView and use it every day. I regularly post charts, ideas, and analyses and chat with other traders. Follow me on TradingView.  Many of the communities on TradingView are focused on day trading, and the service is first class.
TradingView pricing starts at $0 for the Basic ad-supported plan, Pro costs $14.95, Pro+ $29.95, and Premium costs $59.95 per month. Opting for a yearly subscription will reduce those costs by 16%, representing a significant saving.
Pro+ is the most popular plan as it enables multiple devices and extensive features. Intermediate and experienced traders opt for the Pro & Pro+ plans. In contrast, only the most demanding traders would go for the Premium service because it enables the publishing of scripts, indicators, and strategies.
With TradingView, you get full broker integration, you can place trades on charts, and it will take care of profit & loss reporting and analysis for you. The only thing it does not cover is Stock Options trading or US Trading.
TradingView hits the mark on real-time scanning and filtering and fundamental watchlists, the list of fundamentals you can scan & filter on is genuinely huge. Any idea you have based on fundamentals will be covered.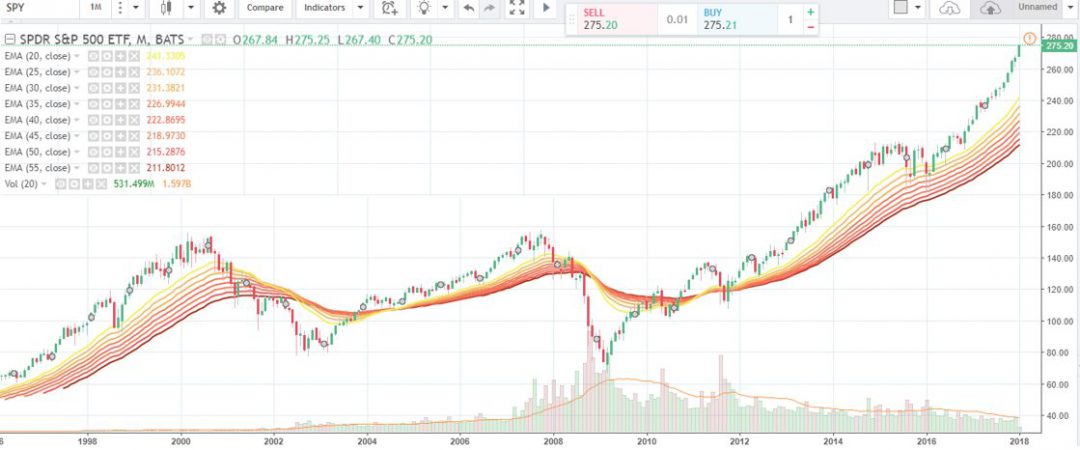 News & Social Community. As soon as you connect to TradingView, you realize this is also developed for the community. You can look at community ideas, post your charts and ideas, and join limitless numbers of groups covering everything from Bonds to Cryptocurrencies. The news feeds are fully integrated, including Kiplinger, DailyFX, Futures Magazine, FXStreet, and StockTwits.  Add that to the social network, and you have a great solution. The news service is only second to MetaStock with their Reuters Feeds.
Technical Analysis & Charts. With over 160 different indicators, and unique specialty charts such as LineBreak, Kagi, Heikin Ashi, Point & Figure, and Renko, you have everything you need as an advanced trader. With the Premium membership, you also get Level II insight, fully integrated.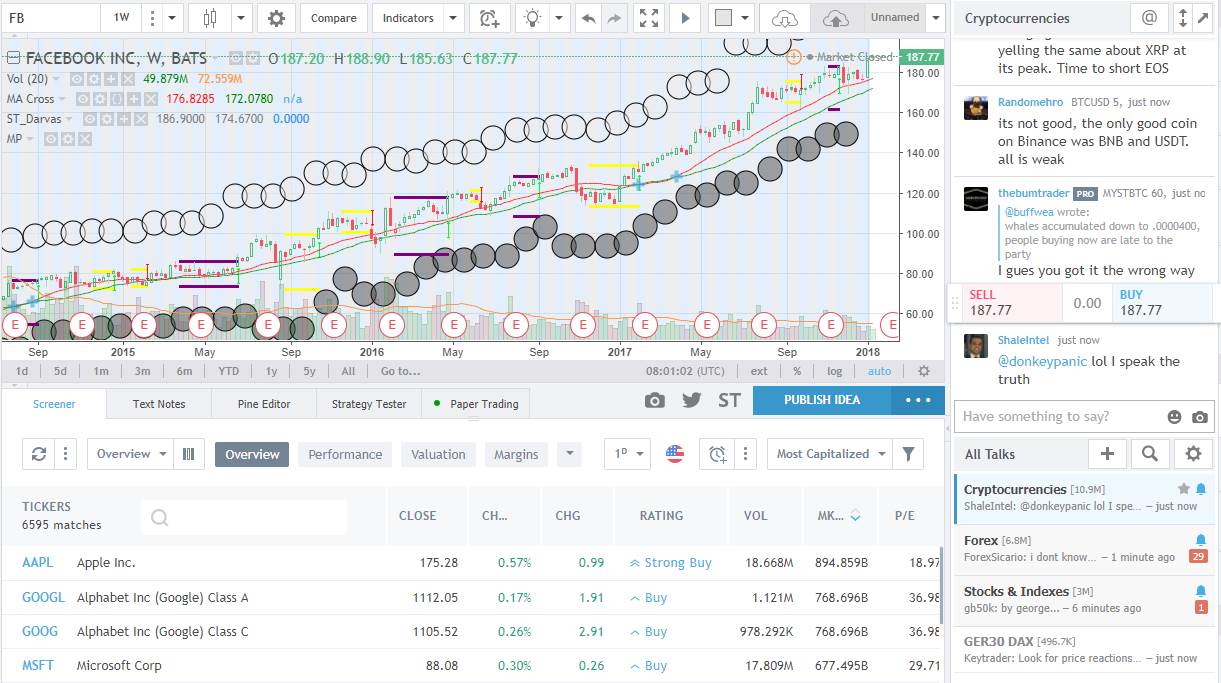 Did I mention the charts are fast and beautiful?
Day Trading Systems & BackTesting
I have personally developed trading systems using TradingView, the Market Outperforming Stock ETF System (Moses), and the Stock Market Crash Detector. TradingView will enable you to develop your own unique day trading system with a little coding skill and a lot of imagination.
TradingView has an active community of people developing and selling stock analysis systems. Also, there are many indicators and systems from the community for free. The only thing you cannot do is forecast and implement Robotic Trading Automation.
TradingView for Day Traders Video
---
3. MetaStock: Best Off The Shelf Day Trading Systems & Webinars
MetaStock is great for day traders as it has super-fast data, powerful back-testing, forecasting, and real-time news, plus a marketplace of ready-built day trading strategies.
Best for powerful charting & trading system analysis, excellent real-time news with global data coverage.
| | |
| --- | --- |
| MetaStock Platform Rating | ★★★★★ |
| ⚡ Features | Powerful Charts, Watchlists, Scanning |
| 📈 Day Trading Features | Backtesting, Forecasting, Real-time News, Strategy Add-ons |
| 💰 Free Stock Trading | ✘ |
| 🤖 Auto-Trading Bots | ✘ |
| 🎯 Best for | Day Traders |
| 🎮 Trial | 30 Day Free Trial |
| ✂ Premium Discount | 3 Months for 1 |
| 🌎 Markets Covered | Global |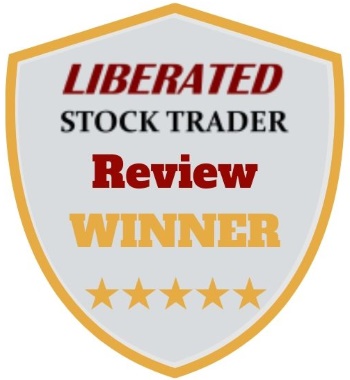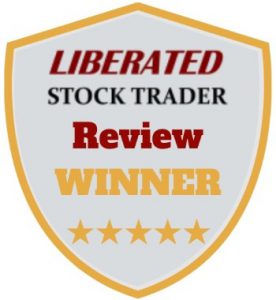 If you are a day trader that needs to experiment with building a system that works like clockwork, giving you an edge in trading, then MetaStock is the product for you. You cannot execute trades directly from charts, but back-testing and forecasting systems are a considerable edge in day trading.
The latest release of Metastock has been a big hit with improvements across the board. Huge advances in scanning, Back-testing, and forecasting make this one of the best offerings on the market. MetaStock is one of the biggest fish in the sea of stock market analysis software. Backed up by the mighty Thomson Reuters, you can expect excellent fast global data coverage and broad market coverage, including equities, futures, Forex, ETF, and options.
Broker Integration. MetaStock does not natively provide broker integration, execution of trades from charts, or live integrated P&L analysis; it is designed as a broker-independent desktop application.
Fundamental Scanning and Screening. Using MetaStock Refinitiv, you can see an in-depth analysis of company fundamentals from debt structure to top 10 investors, including level II. Watchlists featuring fundamentals and robust scanning of the markets are excellent.
Real-time News (Winner) – MetaStock Refinitiv gives you get integration with institutional-level news, analysis, and outlook. MetaStock is the fastest global news service available, including translations into all major languages.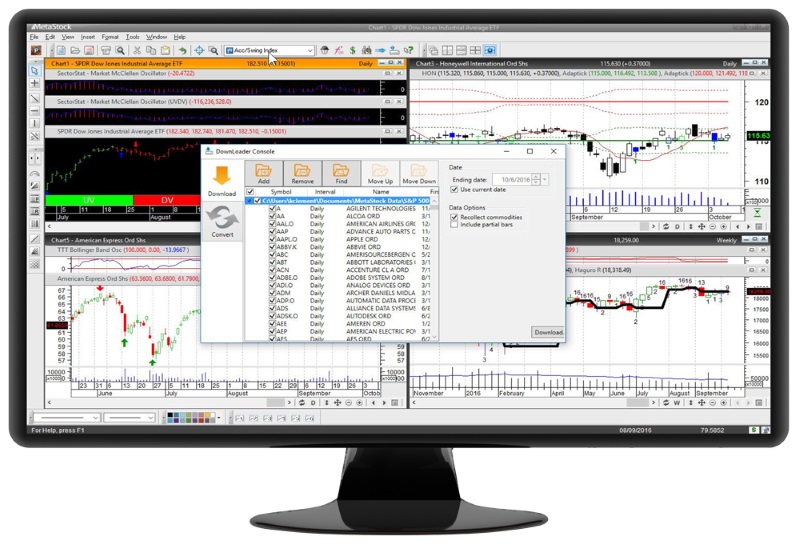 Technical Analysis: Forex forecasting based on sentiment is an exceptional feature. Never mind the broadest selection of technical analysis indicators on the market today. MetaStock is the king of technical analysis, warranting a perfect 10 out of 10.
Stock Systems and Back-testing (Winner):  Another area where MetaStock excels is what they call the "expert advisors." MetaStock harnesses many inbuilt systems that will help you as a beginner or intermediate trader understand and profit from technical analysis patterns and well-researched systems. This is a key area of advantage. The biggest addition to the MetaStock arsenal is the forecasting functionality, which is fantastic.
MetaStock Video
---
4. Benzinga Pro: Best Real-time News for Day Traders
Benzinga Pro is an excellent platform for day traders because it enables you to trade news events by providing the fastest streaming real-time news service. Benzinga's live squawk box and news sentiment categories are a serious advantage for day traders.
| | |
| --- | --- |
| Benzinga Pro Platform Rating | ★★★★★ |
| ⚡ Features | Charts, Real-time Market Scanning, SEC Filings |
| 📈 Day Trading Features | The Fastest Real-time News, Insider Trading |
| 💰 Free Stock Trading | ✘ |
| 🤖 Auto-Trading Bots | ✘ |
| 🎯 Best for | Day Trading the News |
| 🎮 Trial | 14 Day Free |
| ✂ Premium Discount | -25% Code "SMARTER" |
| 🌎 Markets Covered | USA |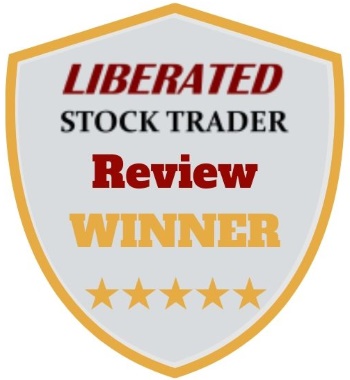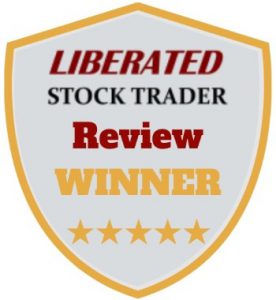 Benzinga Pro – Superfast Real-time News & Trading Ideas on a Great Platform
Benzinga PRO is neither a brokerage nor a stock market analysis charting package. It is simply the best real-time news platform for traders. If you choose any of the packages in this list that do not have a real-time news integration or service included, then, as a day trader, you will want to consider Benzinga as your go-to tool of choice.
Benzinga PRO is the premium real-time news service that is upgraded from the regular free Benzinga news service. It is a significant upgrade that obviously comes with a price. What makes it unique is not just the fast delivery of news but the insider interviews and direct access to the reporters at the news desk. They also have a considerable amount of news content not available to regular subscribers. So what makes it unique? The platform and content.
Benzinga PRO Day Trader News Platform
The news platform is exceptionally configurable and able to run in multiple windows on multiple monitors. In the screenshot below, you can see how I have my Benzinga Pro interface configured.
My Current Trades in the watchlist (middle white box)
Important news Only – Top right columns in red I have configured only to show me the critical, potentially market-moving news, which is a great feature.
Instant Company Details Drill Down – Bottom Right for Financial News, Calendar & Charts
Quick Access to Powerful Features – Stock Screener, Custom Alerts, Squawk Box, and Chat (Left-hand side)
Benzinga Pro is extremely powerful yet easy to use, which is often a delicate balance to strike, and to top it all off, they have also now added real-time price quotes to the service, so you can see when news breaks the immediate impact on the stock price.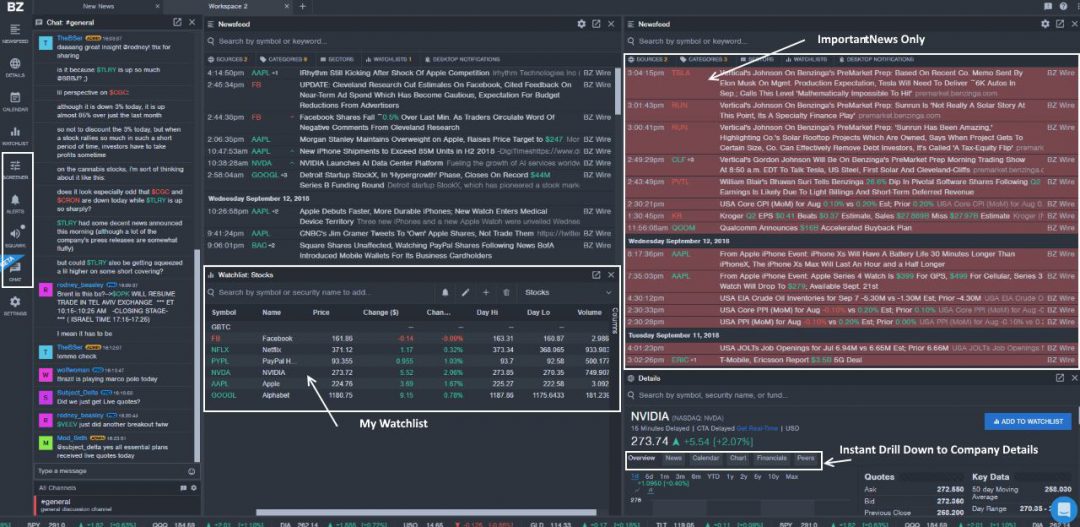 Recommendation For Investors & Traders With A Smaller Portfolio.
If you have only $5,000 or $10,000 to trade or invest, it does not make sense to go for the Essentials Package for $117– per month; this would eat up too much of your investment, so choose the Benzinga Pro Basic Package.
Recommendation For Traders With Larger Trading Positions
If you have a larger portfolio with significant individual short-term trades in specific stocks, you will want to know the news and sentiment before anyone else and have ringside seats to the corporate earnings announcements and rumors. In this case, you will want to go for the Essentials Package.
If you are serious about trading in the stock market and need real-time access to the news that moves markets, then Benzinga Pro is a realistically priced and high-speed news service that is designed by traders for traders. In this fast-moving world, Benzinga Pro is an effective tool.
---
5. TC2000 Brokerage: Best for Day Trading Options
TC2000 is a great platform choice for day traders who want to trade stocks and options contracts directly from charts using the integrated TC2000 Brokerage. 
| | |
| --- | --- |
| TC2000 Platform Rating | ★★★★ |
| ⚡ Features | Great Charts, Real-time Market Scanning, Custom Indicators |
| 📈 Day Trading Features | Trading from Charts, Options Strategies & Planning |
| 💰 Free Stock Trading | ✘ – $4.95 per trade |
| 🤖 Auto-Trading Bots | ✘ |
| 🆓 Free | TC2000 Platinum Free With Brokerage Account |
| 🎯 Best for | US Day Traders |
| 🎮 Trial | Free 30-Day |
| ✂ Premium Discount | -25% for Bi-Annual Subscription |
| 🌎 Markets Covered | USA Stocks, ETFs, Options |
TC2000 is recommended for long-term investors in the USA & Canada with a fundamental bias who need powerful screening and excellent charts.
TC2000 has long been one of my favorite tools; I have been a subscriber for over 20 years and find the latest release another step forward. Endlessly customizable and scalable, the platform offers nearly everything an investor will need.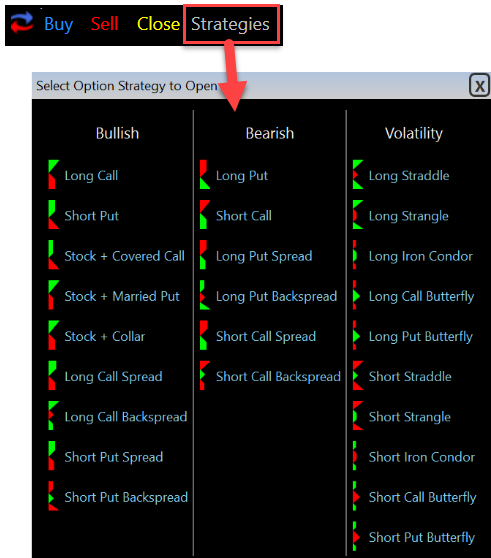 Day Trading with TC2000
TC2000 Brokerage offers live trading for $4.95 per trade, which is pricey compared to Firstrade or TD Ameritrade, which offers free stock trades. This service does mean a tight integration between the charting software and the brokerage house. Essentially it means the holy grail, trading directly from charts visually.
Worden Brothers make a clean sweep when it comes to trade management, with full Broker Integration (as long as you choose them as your broker).
Options Strategies
Use the Options Trading button at the top of the chart to open Options Strategy tickets directly on the chart. The menu divides strategies into bullish, bearish, and volatility categories. Strategies include single-leg, multi-leg, and combinations of the underlying stock.
Multi-leg strategies then open as a single trading ticket on the chart.
TC2000 also offers a nice implementation of options trading and integration; you can scan and filter on many options strategies and then execute and follow them directly from the charts.
Good profit and loss tracking reporting round off the package to be a well-implemented solution.
Opening A Stock Option Trade With TC2000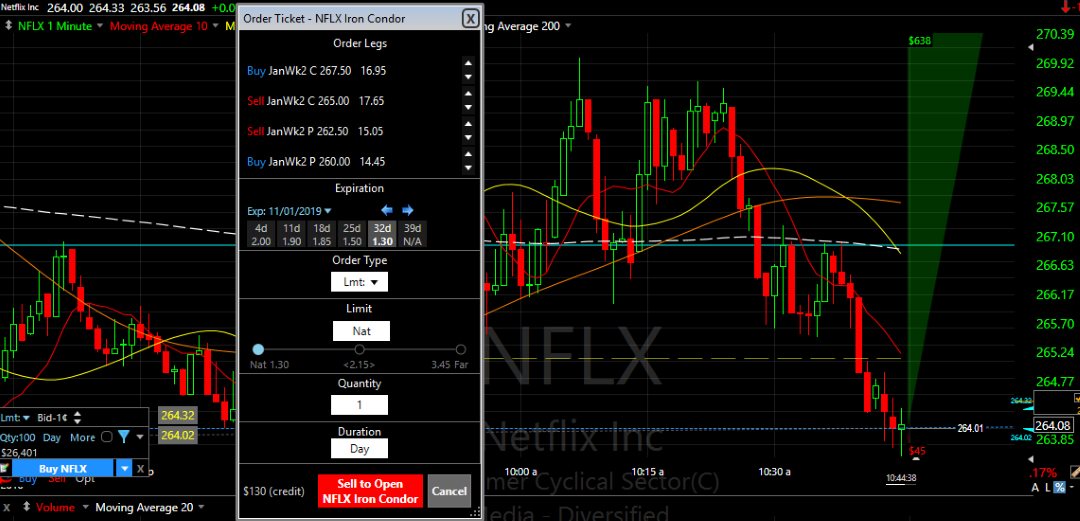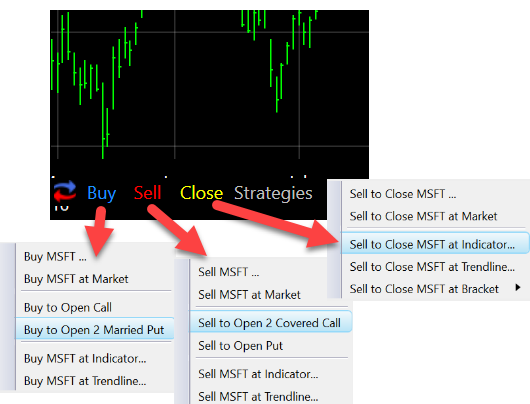 Industry Leading Live Trading
Looking at the image on the right, you can see how well planned the order execution is from the chart. You can open an order but only execute it based on a condition.
The interesting thing here is that conditions can be any technical or fundamental condition. So you could theoretically execute a trade if the EPS for the last quarter exceeds 35%. Alternatively, execute a trade as the real-time price breaks through the Ichimoku cloud on higher volume.
The possibilities are limitless and mind-boggling.
---
6. Firstrade: Best Zero Commission Broker for Day Traders
The Firstrade Navigator trading platform is ideal for day traders as it provides real-time data and commission-free stock, ETF, and Options trading from charts. Firstrade is also an international broker based in the USA, so it is ideal for international day traders.
| | |
| --- | --- |
| Firstrade Platform Rating | ★★★★ |
| ⚡ Features | Great Charts, Real-time Data, Screening, Morningstar Research, Mobile Apps |
| 📈 Day Trading Features | Free Stock, ETF & Options Trading from Charts, Optionsplay Platform |
| 💰 Free Stock Trading | ✔ |
| 🤖 Auto-Trading Bots | ✘ |
| 🆓 Free | Trade for Free with Firstrade |
| 🎯 Best for | Frequent Traders |
| 🌎 Markets Covered | USA Stocks, ETFs, Options |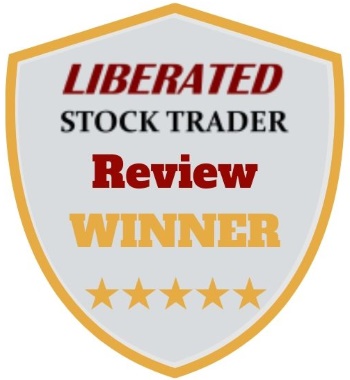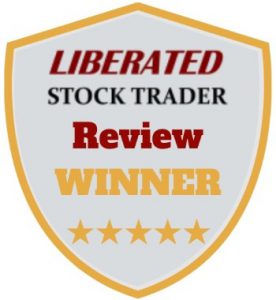 Firstrade Securities has been in business for over 35 years and has gained prominence as the first large broker to offer truly commission-free trading, located in New York in the USA. Firstrade has received multiple awards for best value trading, customer service, and the "Clean Hands Kiplinger Award."
Commissions are a crucial point for day traders; if you make ten trades per week at $5 per trade, that can amount to over $2,600 in trading costs per year. That is a considerable saving.
Firstrade is the best for commission-free trading, with no hidden charges, an industry-leading 2,200 commission-free ETFs, and $0 Options frees. The core Firstrade set of excellent tools is free for brokerage clients.
You can also purchase Mutual Funds for $0, and Bond purchases are on a Net Yield Basis. The only thing you cannot trade with Firstrade is Forex.
Commissions: Firstrade vs. TDA vs. E-Trade vs. Schwab vs. Fidelity
| | | | | | |
| --- | --- | --- | --- | --- | --- |
| Commissions & Fees | Firstrade | TD Ameritrade | E*Trade | Charles Schwab | Fidelity |
| Online Stock Orders | $0 | $0 | $0 | $0 | $4.95 |
| Online Option Orders | $0 | $0 + $0.65/Contract | $0 + $0.65/Contract | $0 + $0.65/Contract | $0 + $0.65/Contract |
| Online Mutual Fund Trades | $0 | $49.99 | $49.99 | $49.95 | $49.95 |
| Broker-assisted Stock | $19.95 | $25 | $25 | $25 | $19.95 |
| & Options Trades | (+$0.50/contract) | (+$0.65/contract) | (+$0.65/contract) | (+$0.65/contract) | (+$0.65/contract) |
| Minimum Initial Deposit | $0 | $0 | $500 | $0 | $0 |
Table 1: Firstrade Commissions vs. Competitors
Firstrade Trading Platforms
Firstrade's trading platform has several components. The web-based platform is available for all clients. If you have an account balance over $10,000, you will have complimentary access to download the Firstrade Navigator software; this is a compelling trading experience that runs locally on your PC or Mac.
Heatmap & Sector & Industries Tool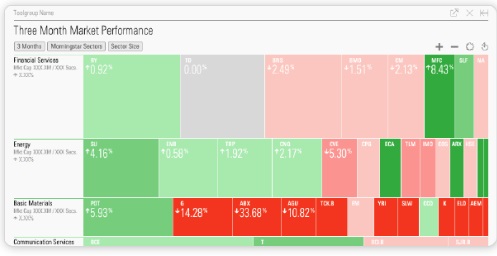 To find a potential opportunity to trade, you can start with the big-picture view of the market and drill down from there. The heatmap is designed for short-term traders who need to see where the price action and volatility are on any given day.
Alternatively, you can utilize the sectors and industries to evaluate past performance and select a sector to review in more depth.
Advanced Screener, Fundamental Data & Event Calendar
No product set would be complete without scanning and screening stocks based on the fundamental data. Firstrade's attempt at this is pretty good, it does not match the offerings from Stock Rover, but it is adequate for most investors.
A new event calendar is also available, neatly broken into tabs for Earnings Announcements, Dividends, Ratings Changes, Economic Indicators, IPOs & Splits.
OptionsPlay
Firstrade has put a lot of effort into the Options Trading Platform OptionsPlay. A first-class platform that focuses first on what kind of options strategy you want to implement. You can drill down through industries and sectors, and you instantly get a technical analysis for the stock, the bullish or bearish score. You can even sort your watchlist based on the bullish or bearish rating.
OptionsPlay Trading Platform Walk-through
See how the whole OptionsPlay functionality works in the image below.
OptionsPlay Dashboard Walkthrough
Immediate feedback on the one-month and 6-month trend for the stock.
This particular fund is has a rating of 88 for a bullish strategy but only a 35 rating for a bullish options strategy. The beauty of this is comparing where you should buy the stock or utilize an options strategy.
The ability to then sort your list on the strongest score is excellent functionality.
Finally, the Profit & Loss simulator is excellent as it enables you to predict your profits depending on how much you invest in the strategy.

Firstrade Optionsplay Dashboard Walkthrough
Day Trading Platform – Firstrade Navigator
Firstrade Navigator is a well-designed and robust system with a lot of valuable information instantly available; this allows you to drill down into the details. Navigator is very customizable and has a selection of widgets that you can embed into the dashboard. Studies and stock chart indicators are, of course, also included.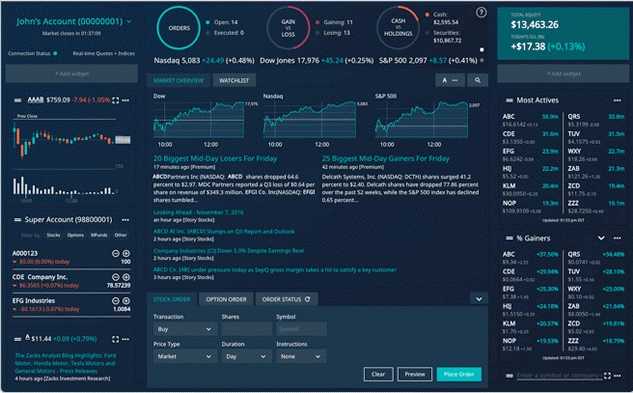 ---
7. Interactive Brokers: Global Day Trading Platform & Low Margin Rates
Interactive Brokers is a good choice for day traders because it offers free stock trading in the US and industry-leading low margin rates for traders using leverage to trade.
| | |
| --- | --- |
| Interactive Brokers Rating | ★★★★ |
| ⚡ Features | Charts, Real-time Data, Screening, Watchlists |
| 📈 Day Trading Features | Lowest Margin Rates, US Commission Free, Direct Market Access |
| 💰 Free Stock Trading | ✔ – $0-$1 |
| 🤖 Auto-Trading Bots | ✔ with Capitalise.ai Add-on |
| 🆓 Free | Open a Free IB Account |
| 🎯 Best for | Traders & Investors |
| 🌎 Markets Covered | Global Stocks, ETFs, Options, Bonds, Currencies |
Interactive Brokers is ideal for active investors and day traders seeking low trading costs, direct market access for fast execution, and best-in-class margin costs.
Interactive Brokers (IB) is the grandfather of online discount brokers. Not only are they a long-established company, but it is also big.
It has a complete set of services, enabling you to trade practically anything on any market. Stocks, Options, ETFs, Mutual Funds, Bonds, Foreign Exchange, and even futures and commodities. Usually, when a company is well-established and large, it loses its competitive edge. Not so with Interactive Brokers
Interactive Brokers Day Trading Platform
How do you find the in-play stocks with high volatility and a strong trend? This is the job of the trading platform. You need your trading platform to be fast, intuitive, and powerful. In this section, we rate the brokers on their choice of trading platform.
Interactive Brokers has a unique trading platform based on Trader Workstation (TWS). It is free to download and use as a client, and it is the single place to trade any and every one of the vehicles on offer from IB. It caters to everything Stocks, Options, Futures, Forex, Bonds, Mutual Funds & ETFs.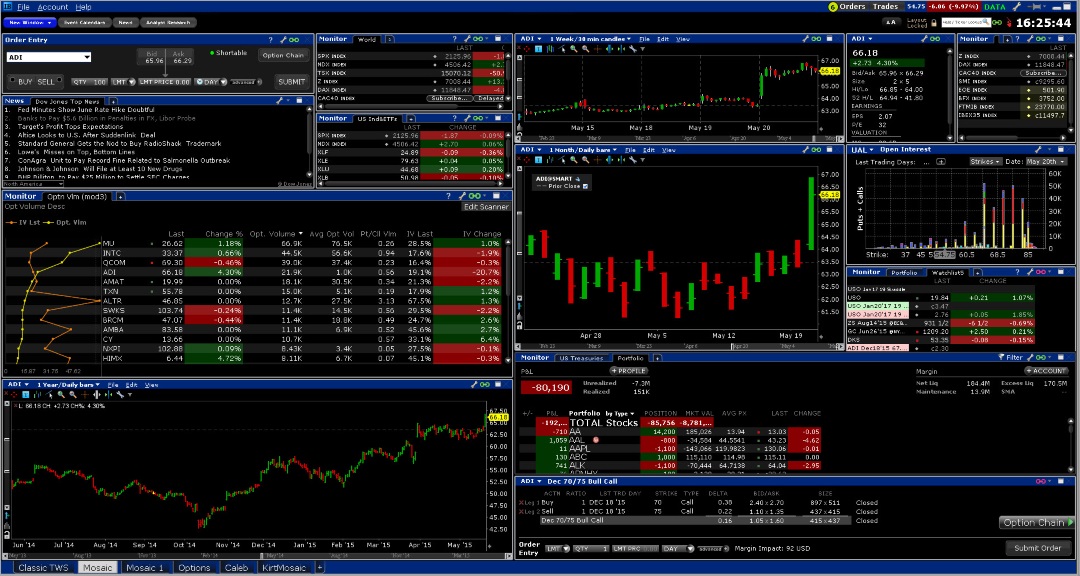 Not only that, there are a vast number of advanced add-on tools that plug into TWS, such as:
ChartTrader – for trading directly from charts.
Continuous Futures – for commodity futures scanning and analysis.
DepthTrader – for in-depth analysis of market liquidity
OptionTrader – more in-depth Options Analysis with specific Options strategies
ProbabilityLab – to test the Probability Distribution of a particular trade
In total, there are 27 different advanced trading tools to suit every possible approach to the market.
---
8. Scanz: Real-time News & Scanning & Broker Integration
Scanz is considered a good choice for day traders because it has real-time news and market scanning, broker integration, and live trading from charts.
| | |
| --- | --- |
| Scanz Platform Rating | ★★★ |
| ⚡ Features | Real-time News & Charts, Screening |
| 📈 Day Trading Features | Trading from Charts, Broker Integration |
| 💰 Free Stock Trading | ✔ – TD Ameritrade/IB |
| 🤖 Auto-Trading Bots | ✘ |
| 🎯 Best for | International Day Traders |
| 🎮 Trial | Free 30-Day |
| 🌎 Markets Covered | USA |
I recommended Scanz for day traders who want a super simple and slick workflow, real-time streaming charts, news, unique level II data, dollar volume information, and broker integration.
Scanz Pricing &
Software
Scanz specializes in providing real-time data and news fast directly to your screen. Scanz has a high price point of $149/mo for the full news and scanning package, but you get a lot for your money.
Day Trading with Scanz
Scanz has introduced the "Chart Montage" functionality, enabling an ultrapowerful way of trading off the charts. This single window contains a wealth of critical trading information, including real-time streaming news, and level 2 data, including time and sales. Also, Scanz is the only software to offer Dollar Volume data.
The Scanz Team has integrations with your broker to enable trading directly from the charts, saving you time while trading. Broker integration is enabled for TD Ameritrade, Interactive Brokers, two of the brokerage world's powerhouses, and more are planned.
Scanz contains many technical and fundamental filters to screen on. But what is the key for days traders? With the ability to scan entire markets for liquidity and volume patterns to find volatility, you can trade for a profit. This functionality makes the Scanz a unique offering.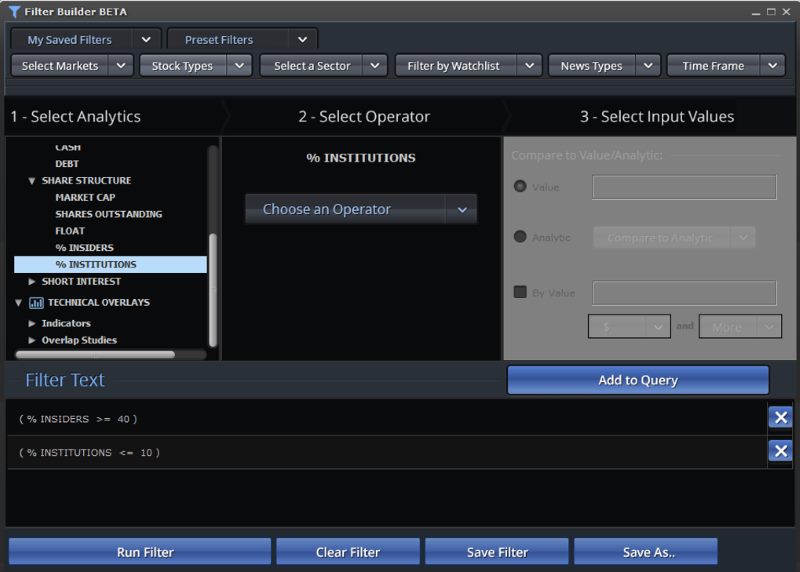 Scanz News
This year, a top place worth mentioning is the deal news section in Scanz. I like the simple implementation; you can get the low down on contracts and deals struck between companies. This can give you an edge if you can quantify the deal's impact on the company's bottom line.
Scanz also focuses on the news, but it is let down by having no social integration.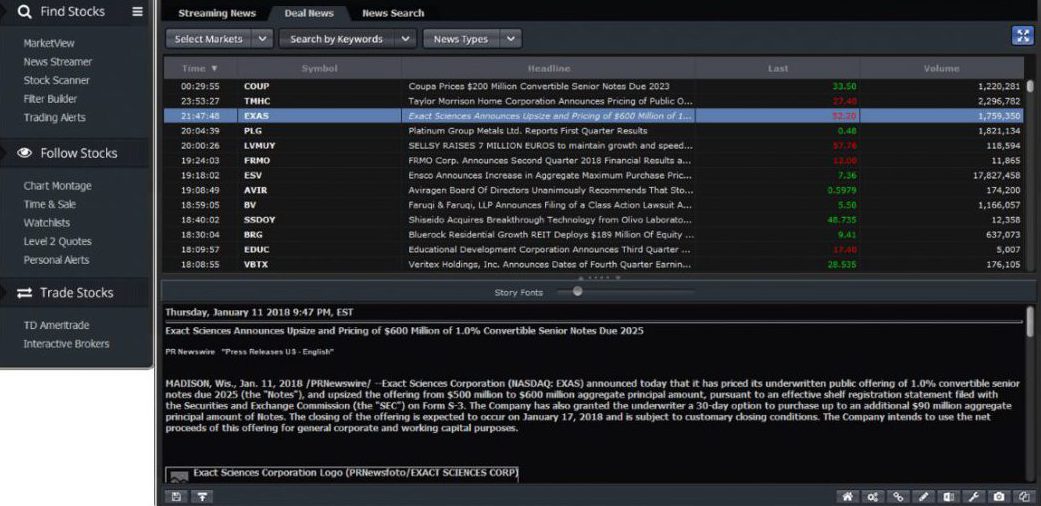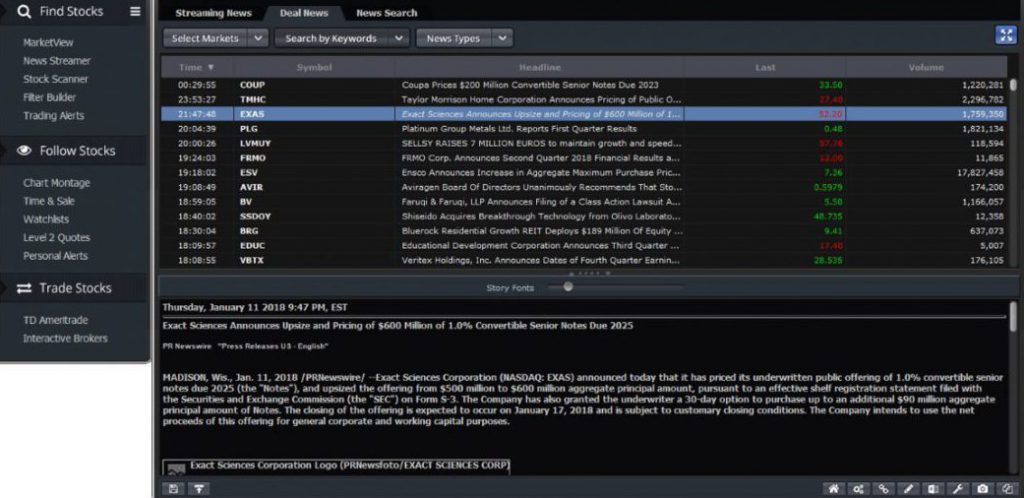 Scanz does not offer as many chart patterns or indicators as its competitors, but it does not have to. Most people will only use 5% of the indicators available, and fortunately, Scanz covers all the important ones. The power here is in the technical analysis screening, which is fast, seamless, and flexible.
---
9. TradeStation – Good Automated Day Trading
Tradestation is recommended for full broker integration, trading from charts, and automated trading. Tradestation software is free for brokerage clients.
| | |
| --- | --- |
| Tradestation Platform Rating | ★★★ |
| ⚡ Features | Charts, Real-time Data, Screening, Watchlists |
| 📈 Day Trading Features | US Commission Free Trade, Algo Trading |
| 💰 Free Stock Trading | ✔ – $0-$1 |
| 🤖 Auto-Trading Bots | ✔ |
| 🆓 Free | Yes, Try Tradestation |
| 🎯 Best for | Traders & Investors |
| 🌎 Markets Covered | Global Stocks, ETFs, Options, Bonds, Currencies |
TradeStation is a leading brokerage house with excellent execution and low commissions, but did you know they have great software also. TradeStation offers enough in its software and broker integration to stand tall with the other vendors.
TradeStation has real-time news, which is an excellent service, but it does not provide market commentary or a chat community. But do you need that? Some people do; it's a factor to consider.
TradeStation offers TradeStation University a vast wealth of online videos to help you master their trading platform. They also have a morning briefing that you can tune into online, and their selection of professional analysts will give an opinion on the market action and potential strategies.
TradeStation has also cultivated a systems and strategies marketplace called the "Strategy Network," where you can purchase stock market systems from an ecosystem of vendors or even contract someone to develop your system for you in the "Easy Language" code.
---
Summary: The Best Day Trading Software
Our extensive testing shows that Trade Ideas provides the best day trading software platform for helping you become a successful day trader. Powered by artificial intelligence, Trade Ideas provides clear, specific, audited, high probability trading signals which give you the best chance of being profitable.
If you want to learn trading from a vast community, TradingView is the best choice. MetaStock is ideal if you wish to develop back-tested day trading strategies. If you want to trade real-time news, then Benzinga Pro wins.
Finally, the best overall day trading platform for social integration and community learning is TradingView.
Connect with me on TradingView it's free

[Related Article: The Best Discount Brokers in the USA]
Press Release: 8 Year Stock Market-Beating Strategy by Liberated Stock Trader