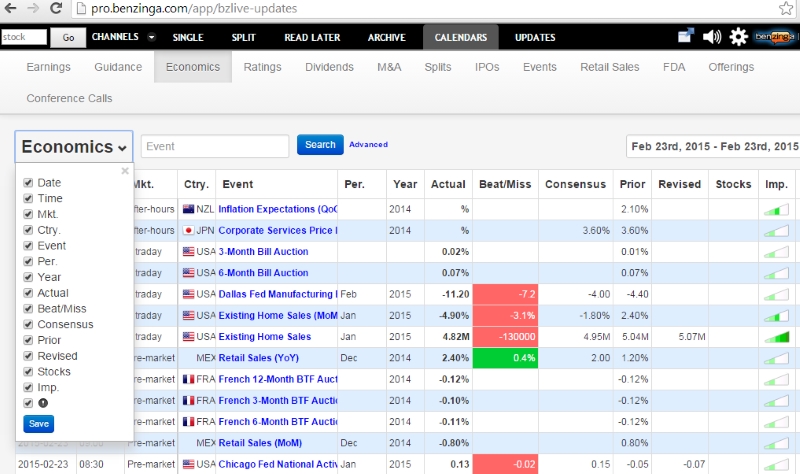 Benzinga Recommended for those who you need real-time news and want insider CEO comments and exclusive analysis.
What kind of name for a business is "Benzinga"?  Are they serious?  They claim to have the best real-time news service for investors, is that true?
When I first heard of Benzinga the CEO was on Bloomberg commenting on a particular news item, what caught my attention was how he also commented that Benzinga reports on actionable news items.  We all see the news on TV and on the Web but how much of it can you really use?
I decided to investigate the matter.
What I discovered was a company that is dedicated to interesting news and most importantly specializes in real-time actionable news that is useful to traders and investors.
Benzinga has essentially three levels of service.
Mach II ($39,00 – Check the latest price here) offers:
Full access to the entire Benzinga news-feed Real-time
Real-time market commentary – giving you expert stock analysis and previews to upcoming events
Customizable watch-lists – enabling you to see real-time news on stock you are interested or invested in
Calendar access so you know what is about to happen and how the market might react and also the importance of the announcement on the move.  This is further sub-divided in Economics announcement that can move markets, rating shifts, mergers, and acquisitions news, splits, IPO's, retail sales, and conference calls.  You name it Benzinga PRO has it at your fingertips.
Trading ideas is a nice touch with insights into potential moves that you could profit from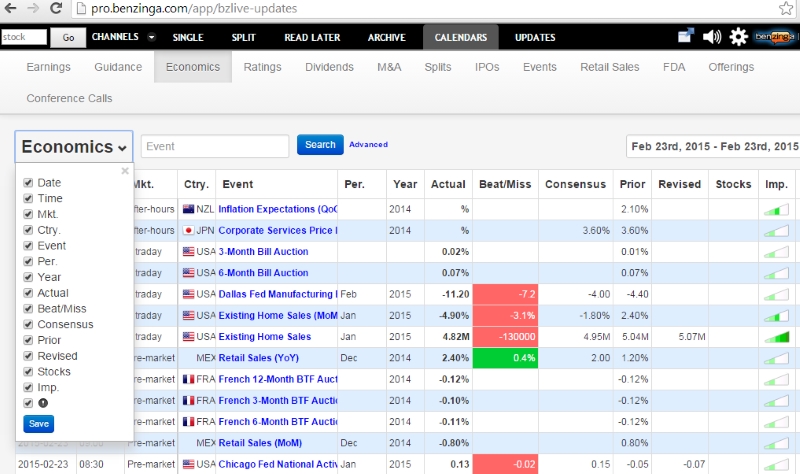 The Mach II package is extremely cost effective and gives you access to real-time news at a fraction of the cost of other news providers, giving you a professional edge without the expense.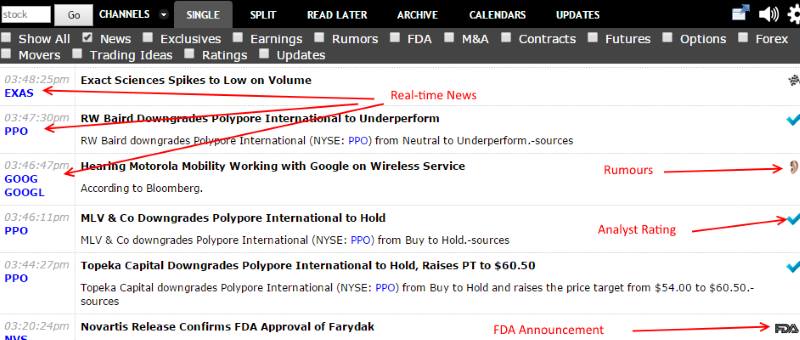 Mach III ($89,00 – Check latest price here) offers in addition to the above benefits:
Real-time Audio News – this is really impressive, I have it open whilst watching the markets so I do not need to be watching the screen.  Every 2 minutes a real-time audio feed announces the latest news via my speakers – this service is worth the upgrade to Mach III.  As I am writing this an announcement came through that Novartis got FDA approval for a new drug.  I just checked online this is not on the web yet.
Mach IV ($209,00 – Check latest price here) – this is the service I am using and although the price is a significant upgrade from the Mach II and III offerings it does provide in addition to the above:
Sentiment Indicators – this is a really excellent feature that allows you to feel the sentiment of the analyst who submits the news item, this is rated as 1 to 3 bulls or bears depending on how the analyst feels the news will move the stock.  This is unique and a great asset.
Chat with News-desk Feature – wow this allows you to question directly the Benzinga news desk to deep dive into your own specific questions – straight from the hub of the news.
Exclusive CEO comments – Benzinga Analysts have frequent exclusive interviews with CEO's and the publish exclusively key comments that may provide key insights into a stock you own.
In person Event Coverage at live earning announcement events – if you trade earnings this is your ticket to sitting at the event its self getting analyst feedback at it happens.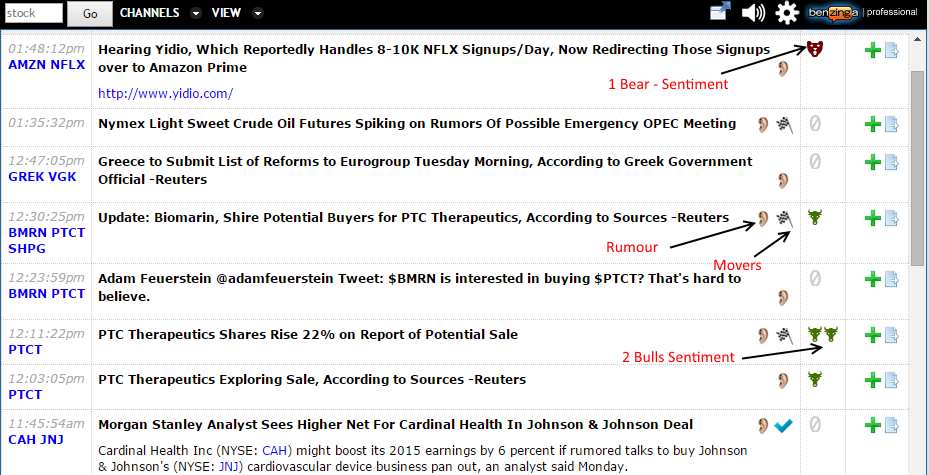 Benzinga Review Summary
My favorite features are, of course, the real-time news and watch-lists; but the calendar is excellent and comes with the base Mach II package.  The audio news feed is a nice upgrade in Mach III, but I personally would go with either Mach II for the core advantages it provides at the lower cost for those with a small portfolio, or go the whole hog for those with a larger investment pool which includes sentiment indicators, news desk access, and the exclusive CEO comments.
If you are serious about trading in the stock market and need real-time access to the news that moves markets then Benzinga is a realistically priced and extremely fast news service that is "designed by traders for traders".  In this fast-moving world, this is an effective tool.
So, Benzinga may be a strange name for a business, but they are deadly serious about providing the best, fastest and most cost-effective real-time news service to give you an edge in the market.
I would love to hear your feedback on Benzinga so please post your comments below.