I have been using Benzinga Pro for over five years, so get ready for an extremely in-depth evaluation of the service.
Benzinga Pro is a real-time news service designed for day traders and is a fraction of the cost of a Bloomberg Terminal. Benzinga delivers value with fast real-time market-moving news to give you a trading edge. Additionally, a squawk box, direct access to the news desk, and original reporting give you a big advantage.
Benzinga Pro Review
Benzinga Newsfeed - BZWire

Benzinga Ratings Calendar - Analyst Upgrades/Downgrades

Exclusive Commentary & Analysis

Squawk Box Live feed

Real-time Alerts & Signals

Ease of Use & Configurability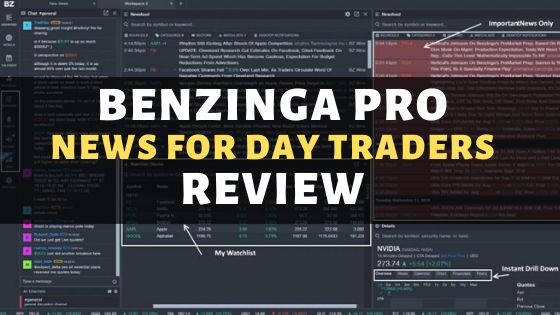 Pros
The Fastest Real-time News Feed
Squawk Box Feed from News Reporters
Trade & Options Alerts Highly Configurable
Analyst Rating Calendar
Price Change Since News Published
Sentiment Indicators
News Rated for Stock Price Impact
1/10 Price of Bloomberg
Cons
No Broker Integration for Live Trading
Primarily North America Focus
Lacks Powerful Technical Analysis (Charting)
Benzinga Pro Recommended For Those Who Want An Actionable Real-Time News Feed, Exclusive Analysis & Features That Give You An Edge In Your Trading.
Is Benzinga Pro Changing Financial News? Exclusive News, Sentiment, Audio Squawk Box & Chat to Newsdesk Are Great Features But I Deep Dive To Discover The Real Power Of Benzinga.
We all see the news on TV and the web, but how much of it can you really use to help you make trading profits?
This is where Benzinga specializes; it is a company dedicated to real-time actionable news for traders and investors.  I have been actively using Benzinga as an investor for many years, so I hope my review is useful.
Benzinga Pro Review Summary
With exclusive features like real-time news, sentiment indicators, audio squawk box, chat to the newsdesk, and the powerful calendar suite, is it worth paying for Benzinga PRO? Yes, after three years of use, I recommended Benzinga for active day traders and investors who want an actionable real-time news service plus exclusive analysis to get a profitable edge in the market.
Benzinga Pro Review Video
Benzinga Pro Review - Why Trading Breaking Stock Market News Requires Great Software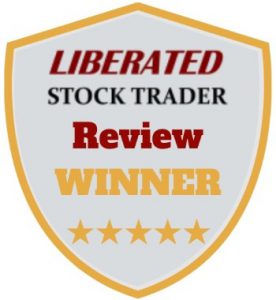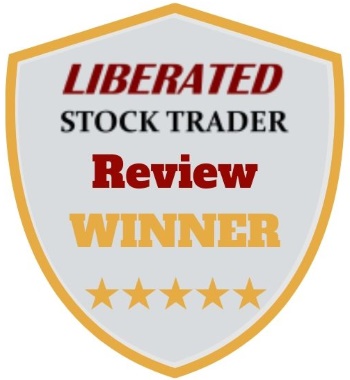 What is Benzinga Pro?
Benzinga PRO is a real-time news service designed for day traders and is a fraction of the cost of a Bloomberg Terminal. Benzinga delivers value with fast real-time market-moving news to give you a trading edge. Additionally, a squawk box, direct access to the news desk, and original reporting give you a significant advantage.
Is Benzinga Credible?
Yes. Benzinga is a credible news source established in 2010 by Jason Raznik. Benzinga is a major newswire employing many reporters and operating a live newsdesk.  Benzinga provides data to brokerages and other news outlets such as TradeStation, TD Ameritrade, MarketWatch, Bloomberg, Thomson Reuters, and many more.
The Best Day Trading News Feed
Benzinga produces a lot of original news reporting themselves, but they also partner with some of the best trading news feeds to provide complete data coverage to their customers. Current tier one partners are FXStreet, Dxfeed, New York Times, Seeking Alpha, Morningstar, Enin, and StockSnips.
Benzinga Competitors
Benzinga Pro's key competitors are MetaStock Refinitiv, Reuters Eikon, and Bloomberg. While Benzinga delivers a newsfeed as fast as its rivals, it beats its competitors on price. Benzinga Pro costs $117 per month compared to MetaStock Refinitiv at $250 per month, or Bloomberg at $2,000 per month. 
Benzinga Pro vs. Refinitiv vs. Bloomberg vs. Eikon
While Benzinga Pro beats the competition on price, it focuses specifically on actionable US news for traders. While Refinitiv, Eikon, and Bloomberg provide a global financial newsfeed. Additionally, Bloomberg requires a dedicated hardware terminal.
| | | | | |
| --- | --- | --- | --- | --- |
| News Service | Benzinga Pro | MetaStock R/T Refinitiv | Reuters Eikon | Bloomberg Terminal |
| Real-time News | ✔ | ✔ | ✔ | ✔ |
| Price /month | $117* | $250* | $1,833** | $2,000** |
| Price /year* | $1,440 | $3,000 | $22,000 | $24,000 |
| Powerful Chart Analysis | ✘ | ✔ | ✔ | ✔ |
| Dedicated Hardware | No | No | No | Yes |
| Visit News Service | Benzinga | MetaStock | Refinitiv | Bloomberg |
Table 1: Benzinga vs. Bloomberg vs. Reuters Price Comparison *North America Data **Global Data
As you can see, in terms of pricing for real-time news Benzinga Pro is half the price of its nearest competitor MetaStock Refinitv.  However, MetaStock does come with compelling stock chart analysis, backtesting, and forecasting.
Benzinga Pro Cost
Benzinga PRO costs $79 per month for the Basic Plan, which gives you real-time newsfeeds and watchlist alerts. Benzinga Pro Essential costs $117 per month, which adds the Squawk Box, Calendars, Sentiment Indicators, and the Chat with Newsdesk functionality.
Benzinga Pro costs 1/10th of a Bloomberg Terminal.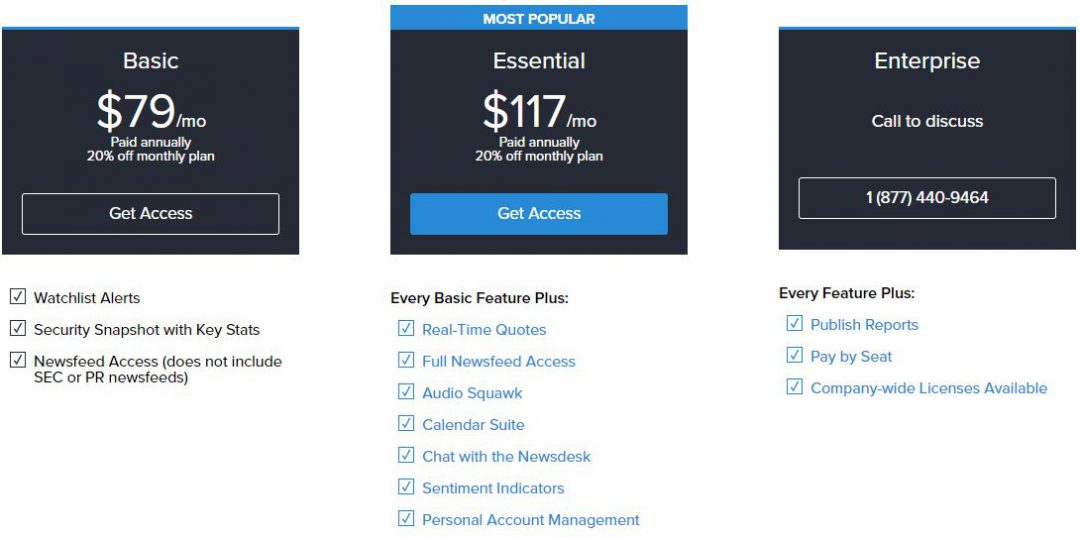 Benzinga Review – Free Service
Benzinga is one of the major news providers you have probably never heard of.  They do offer a vast amount of free news and thought-provoking original articles aimed at traders and investors for free on their website.
If you are a serious trader or investor utilizing news to inform your decision-making, Benzinga Pro will be an important tool. For example, if you are trading short-term options at quarterly earnings announcements, or you have a significant stake in a company and need to be the first to know if the stock might tank due to a failed FDA approval, then you will want to upgrade to the Benzinga PRO Service to get an edge in the market.
Benzinga PRO Basic Service Review
Pricing – $79,- /month paid annually or $99,- /month
I will run through all the features available in the basic package and show how they can help your trading.
Real-Time Trading News – BZWire Access
Core to the Benzinga Pro service is access to the real-time newsfeed, which updates quickly and effectively.  The only news excluded in the basic package is the Securities & Exchange Commission (SEC) announcements and Public Relations (PR) newsfeeds.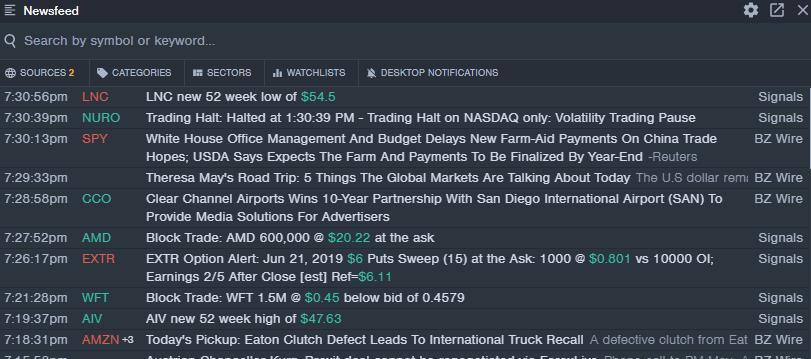 Do not underestimate the newsfeed; it is truly enormous.  But despite the depth of financial content being released every minute, the Benzinga PRO web-based applications are high-speed, responsive, and configurable. The configurable nature of the newsfeed is what makes the service so great.  I personally only want to see Market Moving Exclusives, Exclusives, Hot News, Market Updates & Tech, and they are readily selectable.
There are 20 categories to choose from, and each type of news can be color-coded to match your requirements.
Categories in Benzinga Newswire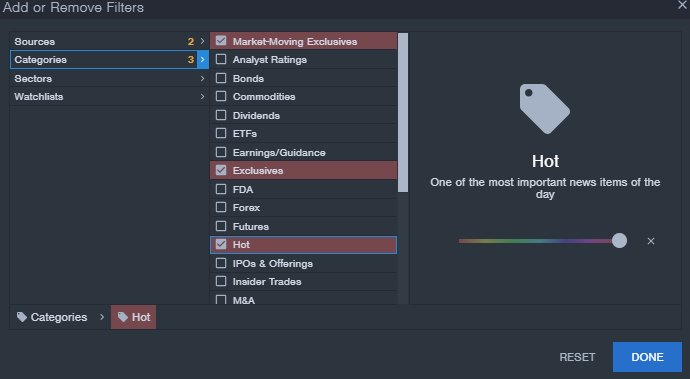 Analyst Ratings
Bonds
Commodities
Dividends
ETFs
Earnings & Guidance

Exclusives

Forex
Futures

Hot

IPO's
Insider Trades
M&A – Mergers & Acquisitions

Market Moving Exclusives

Market Updates
Options

Rumors

Short Sellers
Small-Cap
Startups
Stock Splits
Tech
Trading Ideas
You can also select to get the news delivered from Benzinga partners; this includes many different news corporations and online outlets such as the New York Times and even seeking Alpha.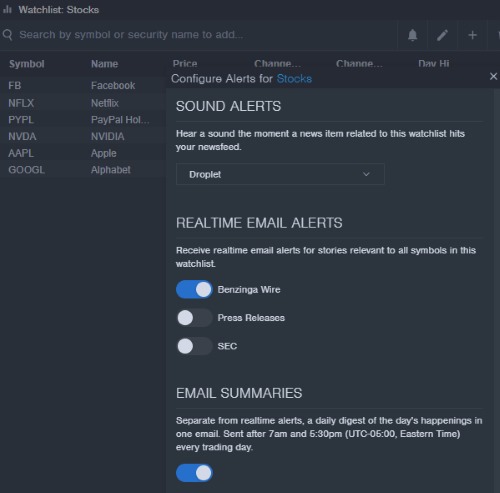 Newsfeed Alerts – Alarms On Specific Sectors Or Categories
You can also choose to be alerted on specific categories in your newsfeed.  For example, you can select to be alerted via email or a desktop pop-up and sound if any hot news or market-moving news is announced.  In fact, any of the categories above can be flagged for alerts.  This is hugely beneficial for the trader, so you do not need to watch the newsfeed continually; you can be trading and hear the alarm as a call to action.
WatchList Trade Alerts
Another bonus is that you can set up as many watchlists as you wish, and you can receive alerts on specifically those stocks in the watchlist, for example, those stocks that really matter to you. You can get real-time email alerts, sound notifications, and even summary emails for your watchlist.
Benzinga Options Alert
Benzinga offers Stock Options Alerts when they see anomalies or opportunities for options traders.  This is a specific upgrade for all service tiers and is not included in the Basic or Essential service pricing.
Price Change Since Published
Benzinga prides itself on releasing news in time for you to react to a market move and profit.  And to prove this exact point, they have added a great new feature called Change Since Published.  It is a straightforward upgrade to the existing newsfeed, but I feel it demonstrates their continual innovation.
If you hover your mouse over any stock ticker in the newsfeed, you will see a mini-chart appear. This enables you to see if the news had a positive or negative impact on the stock price.  A very nice feature that I am sure will be further developed in the future.

In the example above, you can see an announcement that Cronos Group will receive a strategic investment from Altria; the stock moved 21% over the next two trading days.
Here is another example of how real-time news can impact the market. On December 11th, President Trump announced that the Farm Bill is in "good shape." Benzinga has categorized all potential companies that would benefit from a positive farm bill and grouped them into a "Change Since Published" report. Inside the chart, you will see a vertical line or a Change Since Publish label; this vertical line is the exact time the news broke on the Benzinga newswire.

As you can see from the six stocks that Benzinga analysts targeted, four stocks are gaining since the news was released.  That is an edge in the market.
Security SnapShots
Unique to Benzinga is the Security Snapshot View, essentially a summary of all the critical News, Fundamentals, and Charts.  It is designed to give you a clean, quick view of the whole picture for a given stock.  This includes all the core financial documents like balance sheets and important income statement information.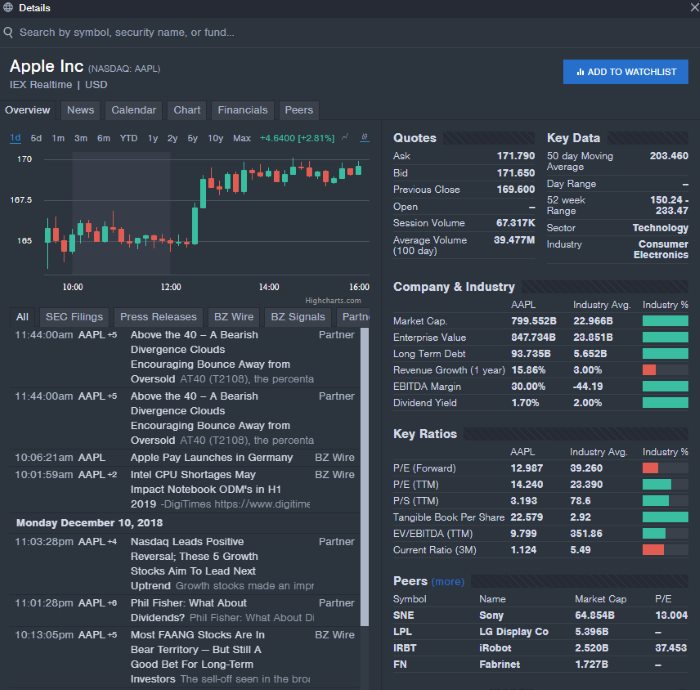 Benzinga PRO Basic Summary
So we can see the basic package already unlocks a lot of value, the real-time streaming newsfeed, and the sources of news exclusively from Benzinga and tier 1 partners.  The real power is being able to filter the noise and focus on the crucial market-moving news plus getting alerted with the alarms service when it breaks.  You get all this in the basic package.
In Summary, the Benzinga Basic Package is exceptionally cost-effective. It gives you access to real-time news at a fraction of the cost of other news providers like Bloomberg and Reuters, giving you a professional edge without the expense.
---
Open A Benzinga Account Now & Get A Special Bonus
★ Bonus: Sign Up For This Service & Get 5 Exclusive Investing Strategy & Research eBooks Valued at $99 ★
---
Price – $117,-/month paid annually or $147,-/month 
In addition to all the features above, the higher-level package includes some monster benefits.
Benzinga Calendar Suite
Below we see the Benzinga Calendar. You can instantly see what macroeconomic news is upcoming, but what you also see in the "importance" column on the right is the potential impact of the news as rated by the market analysts at Benzinga.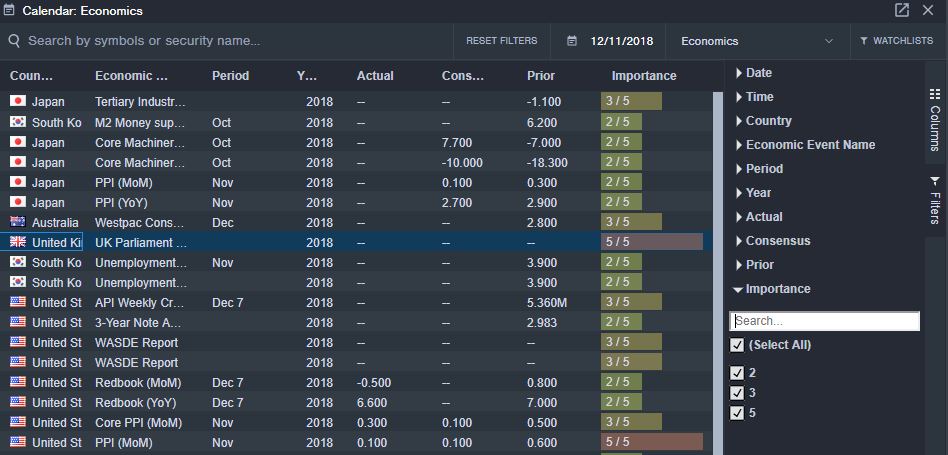 As you open the filter on the right, you can filter on anything from country, time, and especially the importance of the news.  The granular level of filtering enables you to extract all of the value out of the news by only seeing the potential market-moving news.
This creates excellent value for the trader.
Unusual Options Activity Calendar
Benzina has introduced a new calendar specifically designed to pick up anomalies in Options trading activity, intended to give Options trades an edge by highlighting potentially exploitable Options situations.
Benzinga Ratings Calendar – Analyst Upgrades & Downgrades
People pay serious money for this kind of data.  No matter what you believe in, Wall Street analyst upgrades and downgrades move stocks and markets.  Imagine having these analyst ratings streamed in real-time to your desktop.
In the images below, you can see I have a column highlighting the company symbol, the analysts covering the stock, the analyst name, and the action.  In this instance, you see there is a downgrade for VNDA.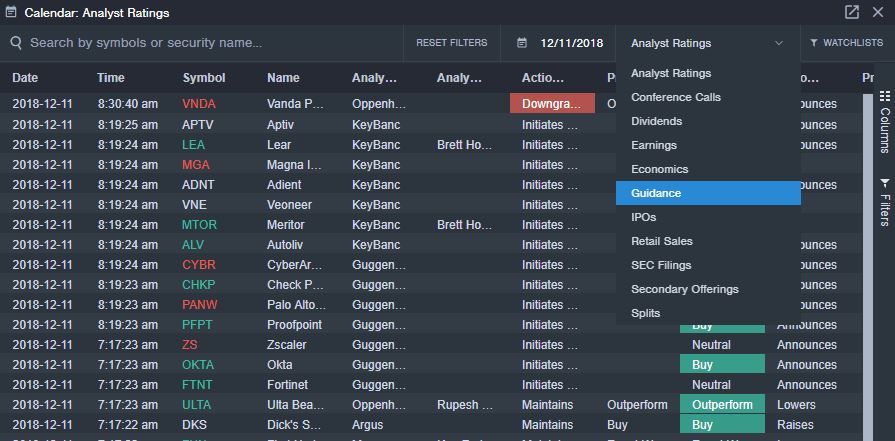 I dropped down the calendar selection box (on the right) to show you the different types you can choose from.  The calendars cover everything, including upcoming conference calls, dividends, earnings, economics, earnings guidance, IPO's, retail sales, SEC filings, secondary offerings, and split announcements.
Full Real-Time Newsfeed Access
You get all of the features in the Basic package newsfeed, but in addition, it includes all Securities & Exchange Commission (SEC) news and real-time PR newsfeeds.  These can be incredibly important because SEC/FDA announcements can seriously move stocks.  Also, important company PR announcements are precisely timed to coincide or counteract the news, so receiving these as quickly as possible is a serious bonus.
Benzinga Pro Squawk Box
Benzinga's Squawk Box frees you from staring at the on-screen newsfeed by having the newsroom reporters read the latest high-impact news live as it hits the feed. This is one of the biggest benefits of the Benzinga Pro Essentials service. 

This is really impressive; I have it open whilst watching the markets, so I do not need to watch the screen constantly.  Every 2 minutes, a real-time audio feed announces the latest BIG news via my PC speakers; this service alone is worth the upgrade to Benzinga PRO Essential. Why?
As I was writing this, an announcement came through that Novartis got FDA approval for a new drug.  I just checked online; this is not on the web yet, nor announced on Bloomberg TV.  Now that is an advantage worth paying for.
Sentiment Indicators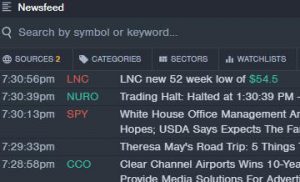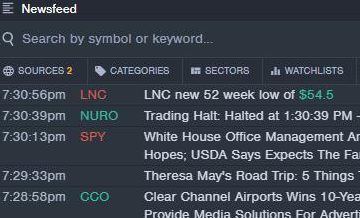 This is a really excellent feature that allows you to see the sentiment of the analyst who submits the news item; you see this in the color of the ticker symbol; red is bearish, green is bullish; this is unique and a great asset.
Chat with News-Desk Feature
Imagine chatting directly with the analyst or reporter that submitted an article.  This feature allows you to do just that by questioning the Benzinga news desk directly to dive deep into your own specific questions straight from the news hub. The news team also highlights what they believe to be important news via the sentiment indicators (only for Benzinga Pro Essential users).
Benzinga Signals (BETA)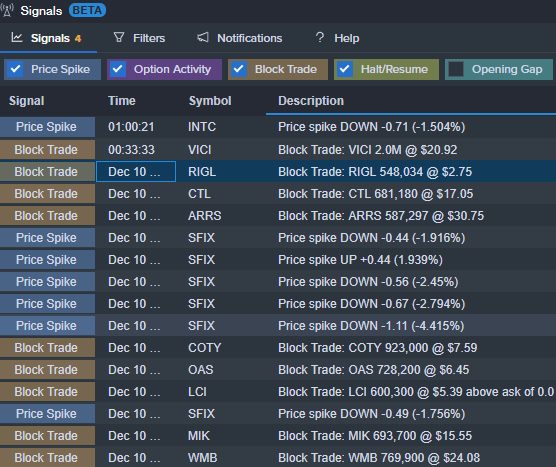 Another example of how Benzinga is continually innovating; the Signals setup creates a feed with block trade or price spike news that directly impacts a stock's supply and demand balance at a foundational level.
Let's take a look at a block trade. A block trade is a massive amount of stock either bought or sold.  Block trades impact price, and you have the option of taking part in that price move or not, depending on the direction of the trade.
This could be a trading strategy in itself.  Watch the block trades roll in, observe the direction, and make your trade.  See a colossal block trade sell, buy Put Options, see a block trade buy, buy calls.
Exclusive CEO comments
Benzinga Analysts have frequent exclusive interviews with CEOs, and they publish exclusively critical comments that may provide key insights into a stock you own.
In-Person Event Coverage
When Benzinga has a reporter at a live earnings announcement event, you can hear directly from them.  If you trade earnings, this is your ticket to sitting at the event itself, getting analyst feedback as it happens; you do not need to wait for the earnings transcript.
Benzinga PRO Essentials Summary
As you can see, the essentials service brings together a host of additional services that will be very valuable to those institutional investors wanting to take advantage of SEC filings or those watching so many stocks they need squawk box functionality.
Benzinga Pro Technical Analysis
Benzinga Pro has dramatically improved its technical analysis charting over the past few years by integrating a cut-down version of TradingView (our review winner). The TradingView integration offers 120 indicators, real-time stocks charts, and 7 chart types, including bars candles, Heiken Ashi, Line, Area, and Baseline charts. You can now draw on charts and perform solid technical analysis.
How I Configure the Benzinga PRO Real-Time Stocks Newsfeed
I have been using Benzinga PRO for five years now; the news platform is exceptionally configurable and can run in multiple windows on multiple monitors. In the screenshot below, you can see how I have my Benzinga Pro interface configured.
My Current Trades in the watchlist (middle white box)
Important news Only – Top right columns in red I have configured to show me the important potentially market-moving news, which is a great feature.
Instant Company Details Drill Down – Bottom Right for Financial News, Calendar & Charts
Quick Access to Powerful Features – Stock Screener, Custom Alerts, Squawk Box, and Chat (Left-hand side)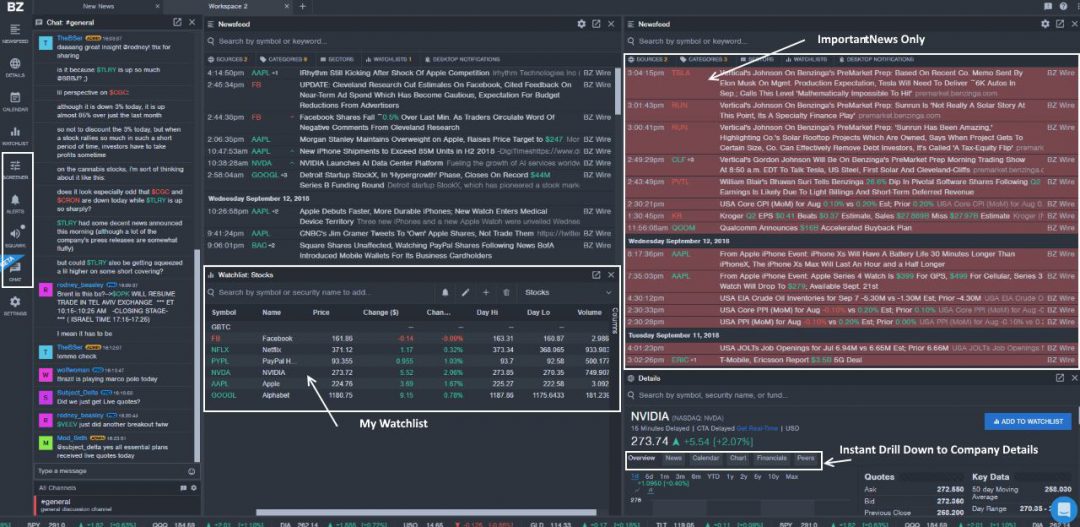 Benzinga Pro is extremely powerful yet easy to use, which is often a delicate balance to strike, and to top it all off, they have also now added real-time price quotes to the service, so you can see when news breaks what the impact is on the stock price.
Is Benzinga Pro Worth It?
Yes, Benzinga Pro is worth it if you are day trading, and fast access to the news gives you an edge in the market. The audio news squawk box and chat with the news desk are powerful features that enable you to act quickly, improving your trading profits. Also, Benzinga Alerts identify possible trading opportunities.
My favorite features are, of course, the real-time news and watchlists, but the calendar is excellent and comes with the Benzinga PRO Basic edition package.
The audio news squawk feed, sentiment, and chat with news-desk features are potent upgrades in the Essentials Package.  The powerful calendar suit and the new Benzinga Signals could also be massive selling points to the service.
Tips for Traders With A Small Portfolio.
If you have only $5,000 or $10,000 to trade or invest, it does not make sense to go for the Essentials Package for $117 – per month; this would eat up too much of your investment, so choose the Benzinga Pro Basic Package.
Tips for Traders With Larger Positions
If you have a more substantial portfolio with significant individual short-term trades in specific stocks, then you will want to know the news and sentiment before anyone else and have ringside seats to the corporate earnings announcements and rumors.  In this case, you will want to go for the Essentials Package.
If you are serious about trading in the stock market and need real-time access to the news that moves markets, then Benzinga Pro is a realistically priced and extremely fast news service that is designed by traders for traders.
In this fast-moving world, this is an effective tool.
So, Benzinga may be a strange name for a business, but they are deadly serious about providing the best, fastest, and most cost-effective real-time news service to give you an edge in the market.
Open A Benzinga Account Now & Get A Special Bonus
★ Bonus: Sign Up For This Service & Get 5 Exclusive Investing Strategy & Research eBooks Valued at $99 ★
-
Video: Benzinga Review
This video shows why the Benzinga Pro service is a premium offering and a vast improvement over free news sources.
How To Use The Newsfeed On The New Benzinga Pro
I would love to hear your feedback on using Benzinga, so please post your comments below.
Are You Looking For Stock Investing & Trading Software? Here Are My Favorites.
My favorite
software for trading
is
TradingView
because it does everything well. It has backtesting, great charts, stock screening, and an active community of over 3 million people sharing ideas, plus a free plan available globally.
My favorite
software for investing
is 
Stock Rover
, as it specializes in deep fundamental financial screening, research, and portfolio management. It is the ideal platform for dividend, value, and growth investing.
My favorite
software for stock market news
is
Benzinga Pro
, with its super-fast real-time news engine, squawk box, and news impact ratings.
My favorite
AI trading software
is
TrendSpider
which enables automatic pattern recognition for Trendlines, Candlesticks, and Fibonacci levels.
Trade Ideas
uses AI to generate high probability daily trading signals for auto-trading.
My favorite
stock-picking service
is
Motley Fool Stock Advisor
, which has a proven track record of beating the market with excellent stock research reports.
Read the Full Top 10 Stock Market Software Testing & Review