REVIEW OVERVIEW

Real-Time News
Sentiment Indicators
Exclusive Commentary & Analysis
Real-Time Audio Squawk
Chat with News-Desk

SUMMARY

Is Benzinga PRO Changing Financial News?  Exclusive features like Real-Time News & Sentiment, Audio Squawk Box, Chat to Newsdesk is it really worth paying for. Benzinga PRO Recommended for those who want an Actionable Real-Time News Service &  CEO Insider Comments + Exclusive Analysis.
Benzinga PRO Recommended for those who want an Actionable Real-Time News Service & CEO Insider Comments + Exclusive Analysis.

What kind of name for a business is "Benzinga"?  Are they serious?  They claim to have the best real-time news service for investors, is that true?
When I first heard of Benzinga the CEO was on Bloomberg commenting on a particular news item, what caught my attention was how he also commented that Benzinga reports on actionable news items.  We all see the news on TV and on the Web but how much of it can you really use?
I decided to investigate the matter.
What I discovered was a company that is dedicated to interesting news and most importantly specializes in real-time actionable news that is useful to traders and investors.
What is Benzinga Pro?
Benzinga PRO is the premium real-time news service that is an upgrade from the regular Benzinga news service.  It is a significant upgrade that obviously comes with a price.  What makes it special is not just the fast delivery of news but the insider interviews and direct access to the reporters at the news desk.  They also have a huge amount of news content not available to regular subscribers.  So what makes is special?  The platform and content.
How Good is the Benzinga PRO Platform?
The news platform is extremely configurable and able to run in multiple windows on multiple monitors.
In the screenshot below you can see I have my Benzinga Pro interface configured.
My Current Trades in the watchlist (middle white box)
Important News Only – Top right columns in red I have configured to only show me the important potentially market-moving news which is a great feature.
Instant Company Details Drill Down – Bottom Right for Financial News, Calendar & Charts
Quick Access to Powerful Features – Stock Screener, Custom Alerts, Squawk Box and Chat (Left-hand side)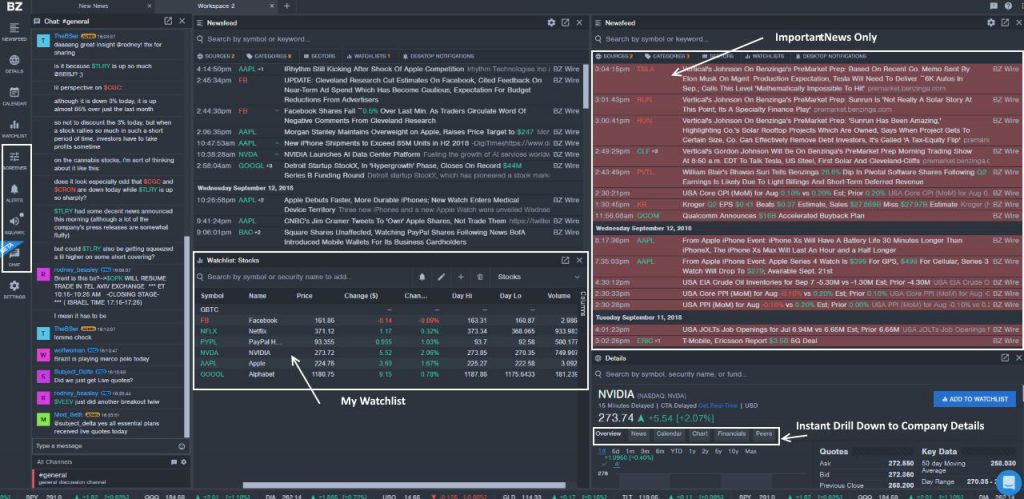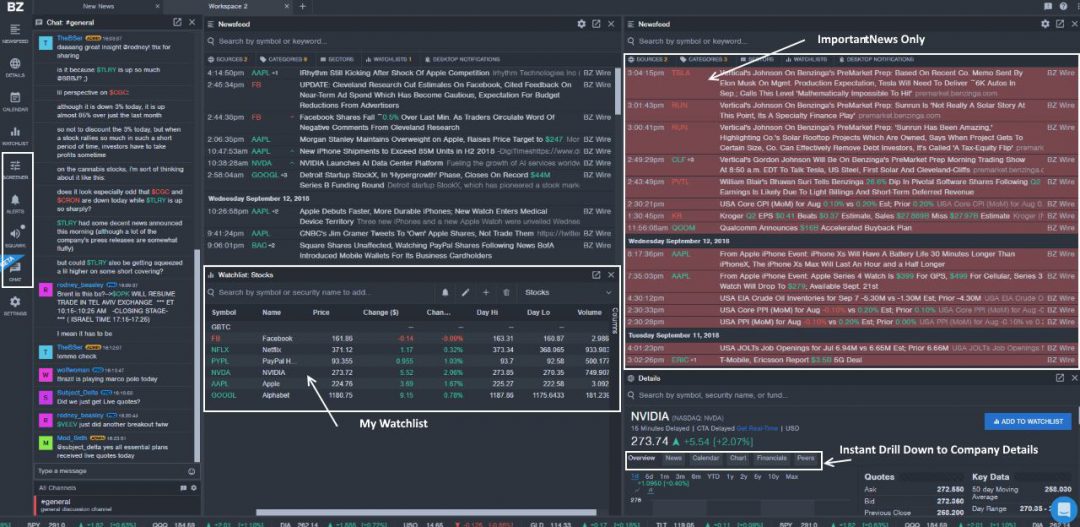 Benzinga Pro is extremely powerful yet easy to use which is often a difficult balance to strike and to top it all off they have also now added real-time price quotes to the service, so you can see when news breaks the instant impact on the stock price.
How Can Benzinga Pro Help Your Investing Profits?
This video shows why the Benzinga Pro service is a premium offering and a vast improvement on free news sources.
Open A Benzinga Account Now & Get A Special Bonus
If you Purchase Benzinga Pro via the button above simply contact us afterward and we will send you our superb Stock Market Crash Detection Video Course & eBook worth $29- for Free.
Benzinga has Essentially 3 Levels of Service
Benzinga Free
Benzinga is one of the major news providers you have probably never heard of.  They do offer a huge amount of free news and thought-provoking original articles aimed and traders and investors for free on their website.
But if you are a frequent trader, especially if you are trading with the news, for example short-term options trades at quarterly earnings announcement time, or you have a large stake in a company and need to be the first to know if the stock might tank due to a failed FDA application, then you will want to upgrade to a version of the Benzinga PRO Service to get an edge in the market.
This package offers the following:
Newsfeed Access to the Core Benzinga news-feed – Real-time (excluding SEC or PR Newsfeeds)
WatchList Trade Alerts – setup your watchlist of stocks you hold or are interested in and receive real-time emails, app alerts, and audio alerts
Security SnapShots – Unique to Benzinga is Security Snapshot View, essentially a summary of all the important News, Fundamentals and Charts.  Designed to give you a clean quick view of the whole picture for a given stock.  This includes all the core financial documents like balance sheet and important income statement information.
Benzinga Calendar – A Great Way To Visualize what is coming up soon.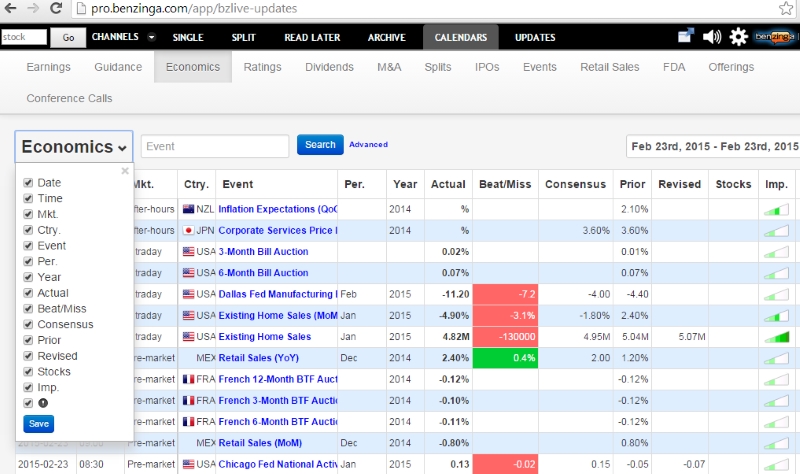 Application Design and Fast News – A Great Combination
What I like a lot about the design of the Benzinga Pro services, is you pick up a huge amount of information in a single glance.
Above we see the Benzinga Calendar, instantly you can see what Macro Economic News is upcoming, but what you also see in the column on the right is the potential impact of the news.  As you can see Benzinga have accurately rated the Existing Home Sales announcement as a potentially large impact.
Core Breaking News Pane
Some other really useful design points are when viewing the streaming news, you instantly see what type of news it is.  The image below shows us that Ticker:PPO news is an analyst rating change.
The News for Google is a rumor (I love this feature), and finally, the Novartis news is a breaking FDA approval, which could be vital if trading that stock.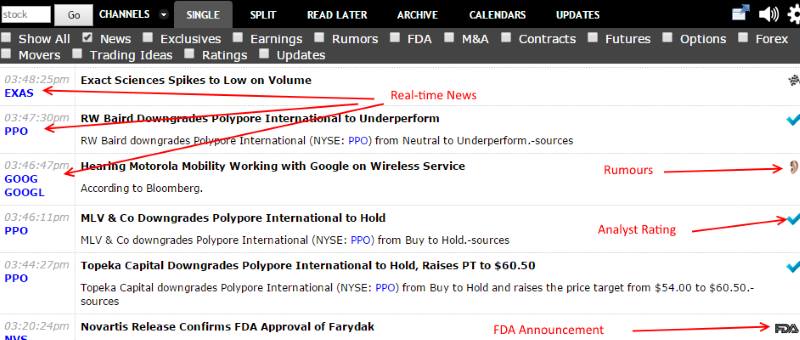 In Summary, the Benzinga Basic Package is extremely cost effective and gives you access to real-time news at a fraction of the cost of other news providers like Bloomberg and Reuters, giving you a professional edge without the expense.
In addition to the features above, the higher level package includes the following benefits:
Full Real-Time Newsfeed Access including all SEC news and PR Newsfeeds
Real-time Audio Squawk – this is really impressive, I have it open whilst watching the markets so I do not need to be watching the screen.  Every 2 minutes a real-time audio feed announces the latest news via my speakers – this service alone is worth the upgrade to Benzinga PRO Essential.  As was writing this an announcement came through that Novartis got FDA approval for a new drug.  I just checked online this is not on the web yet, nor announced on Bloomberg TV.
Sentiment Indicators – this is a really excellent feature that allows you to feel the sentiment of the analyst who submits the news item, this is rated as 1 to 3 bulls or bears depending on how the analyst feels the news will move the stock.  This is unique and a great asset.
Chat with News-desk Feature – Imagine chatting directly with the analyst or reporter that submitted an article.  This feature allows you to do just that, by questioning directly the Benzinga news desk to deep dive into your own specific questions – straight from the hub of the news. The news team also highlight what they believe to be important news only for essential users.
Exclusive CEO comments – Benzinga Analysts have frequent exclusive interviews with CEO's and they publish exclusively key comments that may provide key insights into a stock you own.
In person Event Coverage at live earnings announcement events – if you trade earnings this is your ticket to sitting at the event its self, getting analyst feedback as it happens.
Benzinga PRO – Sentiment Indicators
As mentioned above Benzinga PRO Essential gives you the sentiment interface, indicating if the reporter or analyst perceives the news to be bearish or bullish.  You can see that the AMZN news was thought to be mildly bearish (1 bear) whereas the PTCT was thought to be strongly bullish (2 bulls).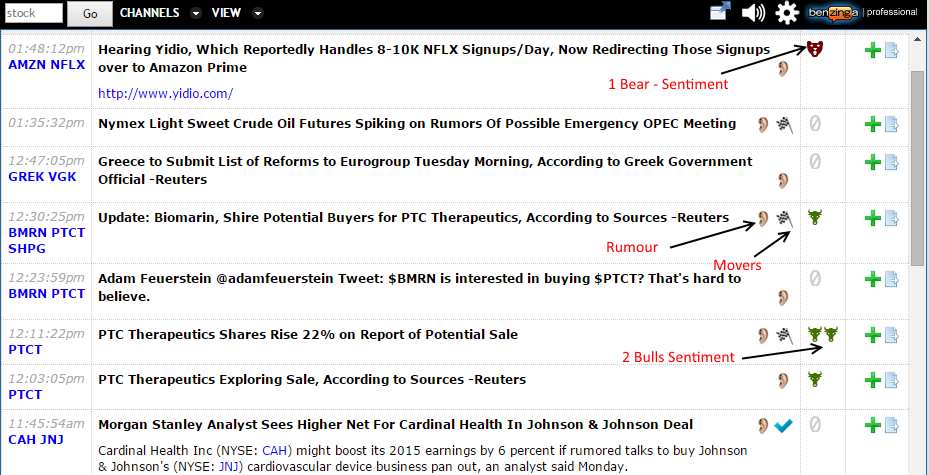 Benzinga PRO Review Summary
My favorite features are, of course, the real-time news and watch-lists; but the calendar is excellent and comes with the Benzinga PRO Basic edition package.
The audio news squawk feed, sentiment and chat with news-desk features are a powerful upgrade in the Essentials Package
Recommendation for Investors / Traders with a smaller portfolio.
If you have only $5,000 or $10,000 to trade or invest it does not make sense to go for the Essentials Package for $179– per month, this would eat up too much of your investment.  So choose the Benzinga Pro Basic Package.
Recommendation for Investors with larger trading positions
If you have a larger portfolio with significant individual short-term trades in specific stocks then you will want to know the news and sentiment before anyone else and have ringside seats to the corporate earnings announcements and rumors.  In this case, you will want to go for the Essentials Package
If you are serious about trading in the stock market and need real-time access to the news that moves markets then Benzinga Pro is a realistically priced and extremely fast news service that is "designed by traders for traders".
In this fast-moving world, this is an effective tool.
So, Benzinga may be a strange name for a business, but they are deadly serious about providing the best, fastest and most cost-effective real-time news service to give you an edge in the market.
Open A Benzinga Account Now & Get A Special Bonus
If you Purchase Benzinga Pro via the button above simply contact us afterwards and we will send you our superb Stock Market Crash Detection Video Course & eBook worth $29- for Free.
I would love to hear your feedback on using Benzinga so please post your comments below.