There are thousands of stock market apps on the Android Play Store, but the key is to find a company offering a useful service that also has a great App.  Our thousands of hours of researching, using, and testing software & services mean we can highlight the very best stock market apps for Android phones & tablets.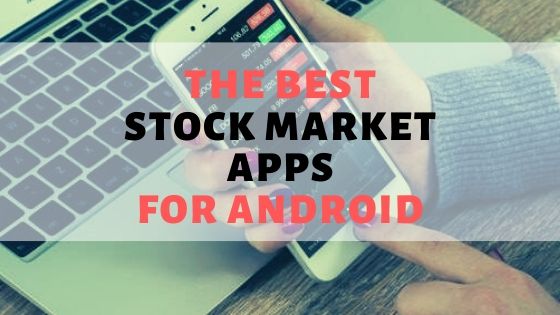 The 10 Best Stock Market Apps for Android Summary
The best app for Android is TradingView with its great charts and social community for trading ideas and chat. Firstrade's app enables you to access free stock trading and Morningstar research. M1 Finance is our choice for automated investing, and finally, TC2000's app has fundamental screening and trading from charts
1. TradingView: Best Stock Market App Overall + Social & Charts
Android Play Store Rating: ★★★★
Our Service Rating: ★★★★★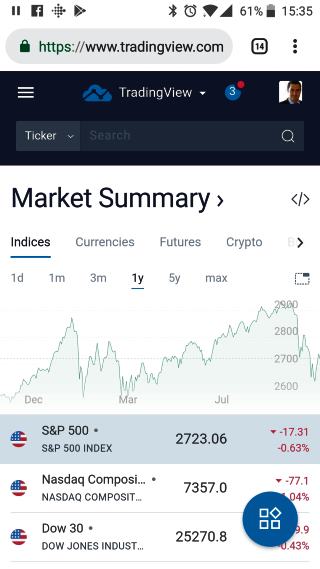 The incredible thing about TradingView is that they do not even need an app for smartphones or tablets. Simply go to TradingView.com, and it is up and running, with no installation, no problems.
TradingView is at the cutting edge of HTML5 development, which simply means, whatever device you use TradingView on, it will be visually perfect due to the incredible responsive software design.  This means you do not need to sync your data across devices; it is already there.  Tradingview is the software I use every day, and because it is geared around social interaction, learning, and community ideas, it is a fabulous place to be.
TradingView, of course, does have an app on the Play Store with a 4 Star Rating.
Ok, the software is excellent, but what are the benefits of TradingView?
Well, TradingView won our 1st place award for Best Stock Market Charting Software and our 1st Place Award for Best Free Charting Package.
Everything you get on the desktop you get on mobile and tablet.  In summary, the highlights are:
Powerful stock charting with a vast selection of indicators, chart types, and drawing tools
Fully functional stock screener integrated into the fabric of the application.
A social investing first approach, which means it is better at social than Twitter or Stocktwits, there are real trading communities and a fantastic flow of trading ideas.
The exchange data coverage is simply breathtaking, covering nearly every stock exchange on the planet including, stocks, ETF's, Forex, Cryptocurrencies much more.
You can trade directly from charts with TradingView.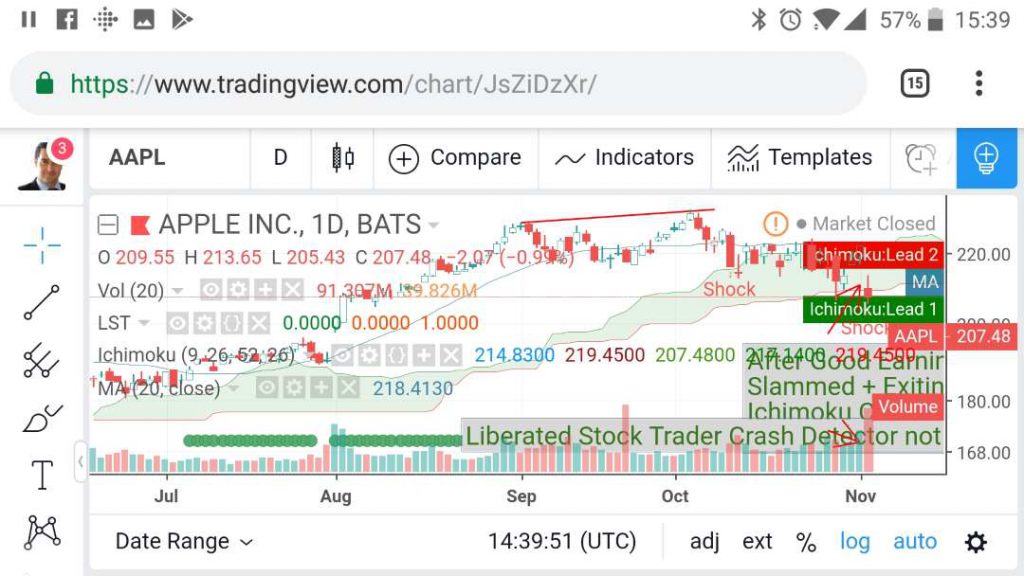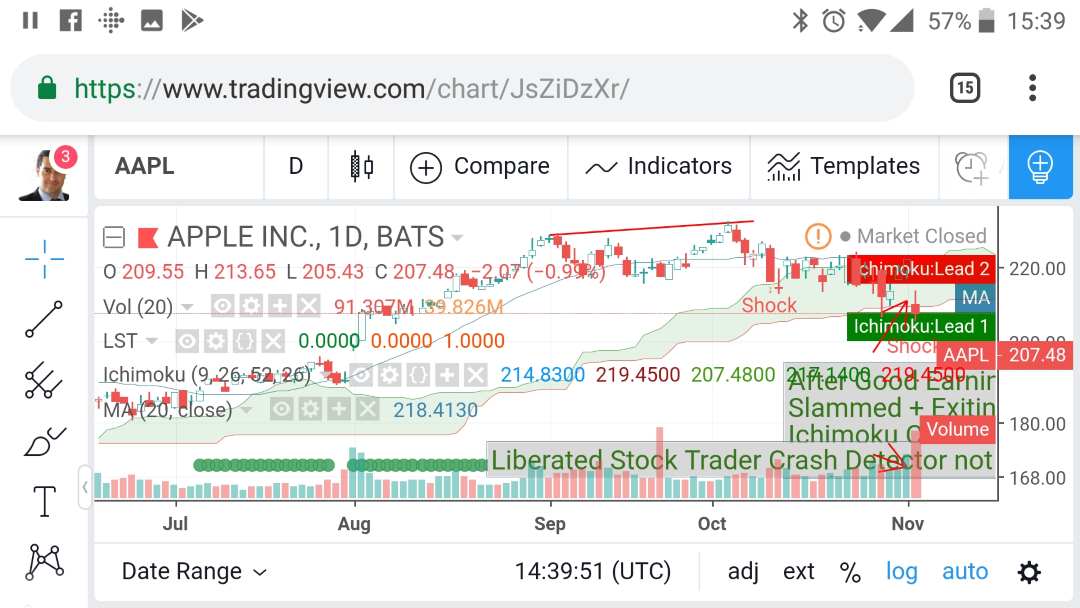 For these reasons and many more – TradingView wins again.  Prices start at FREE, but I recommend the PRO package at $9.95 per month or optimally the PRO+ at $19.95 per month.
-
2. M1 Finance: Best Automated Stock Investing App
Android Play Store Rating: ★★★★
Our Service Rating: ★★★★★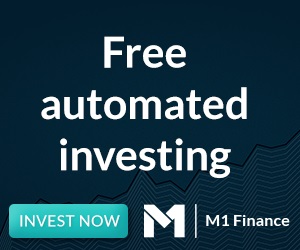 Uniquely, M1 Finance lets you copy expert portfolios or build your own. Furthermore, M1 offers both automatic and manual investing. Thus, M1 is an excellent resource for serious investors busy with careers or families.
M1 Finance won our Best Robo Advisor Top 10 Comparison Testing.
The great advantage of M1 is that it allows automatic investing based on your preferences. Hence, M1 is perfect for serious investors with little spare time. Also, M1 Finance offers no-fee e.g., Zero Commissions investing.  You can also utilize their additional borrowing and current account services
M1 Finance is available for Android on Google Play
-
3. TC2000: Best Stock Tracking App + Trading & Analysis USA
Android Play Store Rating: ★★★
Our Service Rating: ★★★★★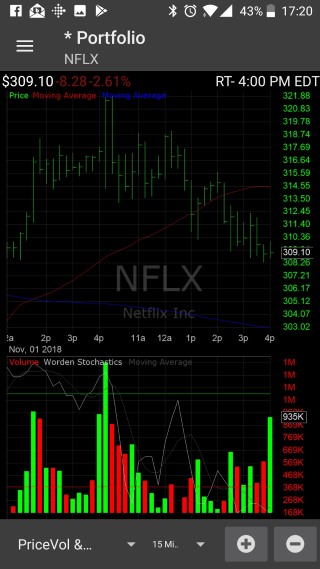 While the current reviews on the stores suggest some technical issues, TC2000 has recently been updated to run natively on all devices, I have tested it, and the new version is excellent.
I have been a Platinum subscriber with TC2000 for 20 years.  Why, because they offer simply the best-integrated charting and real-time fundamental scanning and screening service available.
It is an incredibly powerful yet easy to use stock analysis suite.
TC2000 is ideal for those wanting to trade and invest in the U.S. and Canadian stock market as international exchanges are not supported.  TC2000 was also a review winner for the last five years in a row in our Stock Trading Software Review.
The Worden Brothers who created TC2000 have also launched the TC2000 Brokerage which was also a review winner in our Best USA Stock Brokers Review has some incredible benefits, meaning:
You can trade directly from the charts.
You can scan on fundamentals and customer technical conditions and then initiate a trade in seconds.
You get a first-class experience on mobile.
The reason TC2000 comes in 3rd place in this review is simply that the trades are not commission-free.  But the software and, for example, the options visualizations are excellent.
The downsides are there is no social integration or news and research dimensions to the app.
-
4. Firstrade: Best App To Buy Stocks for Free
Android Play Store Rating: ★★★★
Our Service Rating: ★★★★★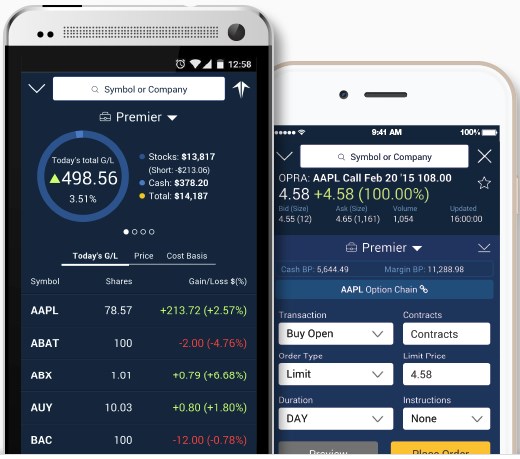 Firstrade is the best broker you have never heard of.  They came in second in our broker review in 2017, but they moved to commission-free stock trades in August 2018, which catapulted them to the top of our Best Stock Broker Review.
But let's talk mobile trading apps because that's why you are here.
The Firstrade stock trading app allows you to manage your portfolio seamlessly; you can trade stocks, options, and ETF's commission-free directly from your phone.
Firstrade is a large brokerage, and you need to open a brokerage account to be able to take advantage of the app.  But the benefits are enormous:
Seamless integration
Portfolio Management
Real-time Profit & Loss
Buy and Sell from your Smartphone
Did I mention commission-free trades
If you are looking to trade from your phone, choose Firstrade.
-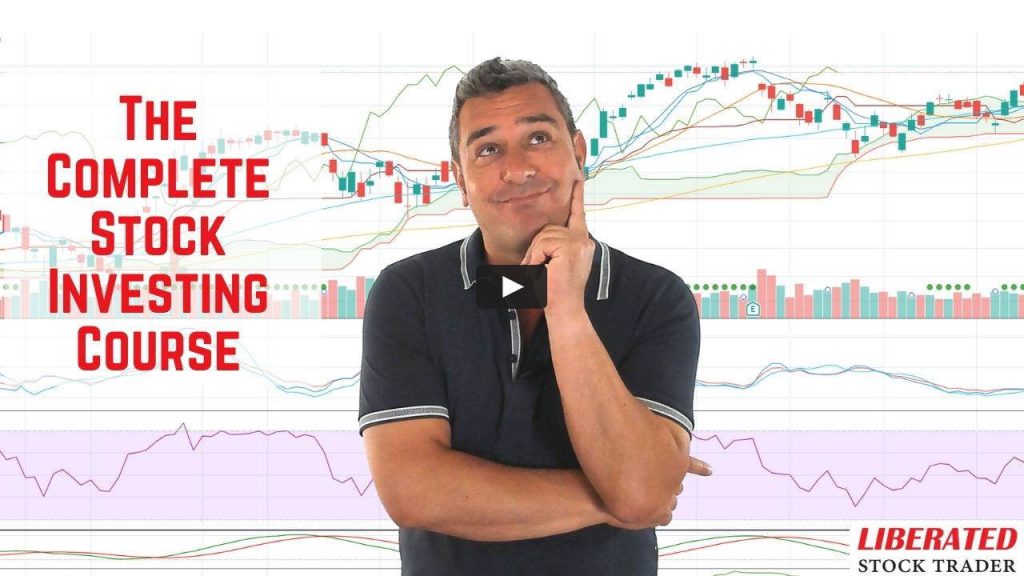 Liberated Stock Trader Pro Investing Course
★ 16 Hours of Video Lessons + eBook ★
★ Complete Fundamental Stock Analysis Lessons ★
★ 2 Powerful Value Investing Strategies ★
★ 4 Dividend/Income Investing Strategies ★
★ Professional Grade Stock Chart Technical Analysis Lessons ★
5. Robinhood: Simple Free Stock Trades on Android
Android Play Store Rating: ★★★★
Our Service Rating: ★★★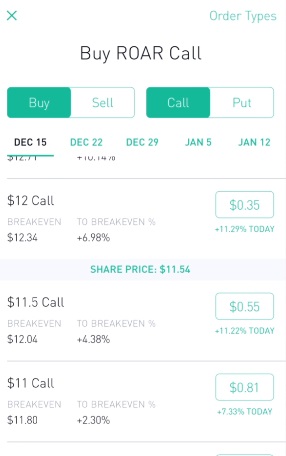 Notably, Robinhood charges no trading commissions.  Instead of trading commissions, Robinhood makes money through a $6 membership fee, margin trading, and rebates from executing brokers.
Robinhood is a member of the Financial Industry Regulatory Authority (FINRA) and the Securities Investor Protection Corporation (SIPC). Thus Robinhood insures accounts for up to $500,000 for American customers.
Beyond that, Robinhood fully encrypted its app and built-in state-of-the-art security measures. Additionally, market geeks will love the real-time cryptocurrency and other market information available through Robinhood.
Markedly, Robinhood offers a free share of stock to persons who sign up for its brokerage accounts. The free stocks could include Ford (NYSE: F), Apple (NASDAQ: AAPL), and Sprint (NYSE: S).
Robinhood is the best stock app for beginner traders who want to keep in super simple. In particular, it is an excellent resource for investors with a high tolerance for risk. However, apps associated with traditional brokerages will better serve more demanding and experienced investors.
Fortunately, Robinhood is available for Android and Apple devices. Thus it is available in the App Store and Google Play.
Further reading: Robinhood vs. Firstrade in our free trading brokers showdown.
-
6. Yahoo Finance: Best Free Stock Research, News Tickers
Android Play Store Rating: ★★★★
Our Service Rating: ★★★★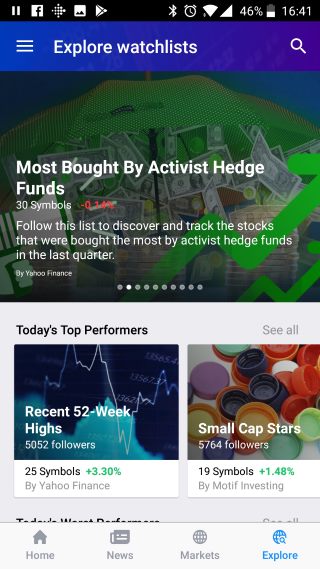 If you are looking for easy-to-read market news and data, Yahoo Finance is still one of the best apps around. Also, Yahoo Finance offers access to a wide variety of market-oriented videos.
Including clips from popular news shows and interviews with business leaders.
Some features allow you to trade stocks and follow over 100 cryptocurrencies in the Yahoo! Finance App. The Yahoo! Finance App is available for iOS in the App Store and Android in Google Play.
Yes, you heard correctly; you can trade directly from Yahoo Finance.
Surprisingly Yahoo Finance has a huge selection of broker integrations. So as opposed to going through the hassle of signing up with a specific broker you can use Yahoo to integrate with your broker
The list of major brokers Yahoo integrates with:
-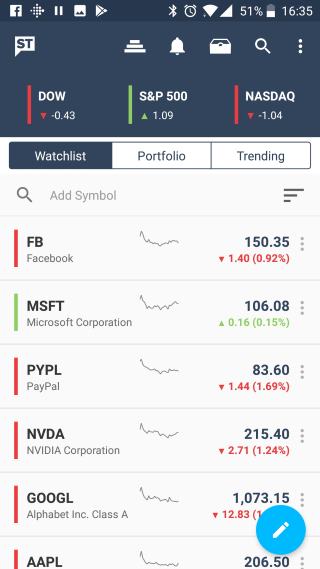 7. StockTwits: Best Stock App for Stock Tweeting
Android Play Store Rating: ★★★★
Our Service Rating: ★★★★
StockTwits is a great place to get the feel of the markets and see what traders and speculators think.
Notably, a lot of the contributors share charts for technical analysis. The Trending Lists feature is an excellent means of seeing the latest trends.
The downside is that Stock Twits contains advertising. On the other hand, the information you can learn from StockTwits finance, stocks, and cryptocurrency chat can provide an interesting and unique picture of the market.
StockTwits is available in Google Play for Android and the App Store for Apple devices.
I use StockTwits, so if you are inclined to do so, you can follow me, I regularly provide market and stock insight and analysis.
-
8. MyWallSt: Good Stock Market Learning App
Android Play Store Rating: ★★★★★
Our Service Rating: ★★★
A nice little app that helps you learn the basics of investing in the financial markets.  The App is well structured and covers different markets, such as stocks, bonds, and ETFs.
I like the fact there it keeps track of your progress for you and give trophies & awards for completion of a section.
Another nice this is that there are many audio lessons; this means it can help you learn without you having to have eyes on your screen.
The downside here is that they are also pushing that you set up a brokerage account through them and even suggesting stocks for you to buy, I would recommend against both of these options.
I advise you to choose your own broker and choose your own stocks.
MyWallSt is available from Google Play
-
9. Investing.com: Good for Quick Stock Research
Android Play Store Rating: ★★★★
Our Service Rating: ★★★★
For example, Investing.com provides real-time updates about 30,000 financial instruments traded on 100 exchanges worldwide.
Additionally, the app offers an economic calendar that provides alerts and updates about economic events and announcements worldwide: interest rate changes, regulatory changes, and IPOs, for instance.
Investing.com offers breaking news and a custom portfolio. Investing.com is available on Google Play for Android
-
10. Acorns: Best App for Spare Change Investing
Android Play Store Rating: ★★★★
Our Service Rating: ★★★★
Acorns is best for beginners, lazy investors, and busy people with little spare time. On the other hand, experienced investors and stock geeks will find Acorns too simple. Thus active investors will hate Acorns, but passive investors will like it.
Acorns costs $1 to $2 a month. The Acorns app is available on Google Play for Android devices.
-
---

Investing In Stocks Can Be Complicated, Stock Rover Makes It Easy.
Stock Rover is our #1 rated stock investing tool for:
★ Growth Investing - With industry Leading Research Reports ★
★ Value Investing - Find Value Stocks Using Warren Buffett's Strategies ★
★ Income Investing - Harvest Safe Regular Dividends from Stocks ★
"I have been researching and investing in stocks for 20 years! I now manage all my stock investments using Stock Rover." Barry D. Moore - Founder: LiberatedStockTrader.com
Get Stock Rover Premium Plus Now or Read the In-Depth Stock Rover Review & Test.
---
Best Stock Market Apps for Android Summary
If you are only going to install one app, then try TradingView, with its great charts, and the social community for trading ideas and chat. Firstrade's app enables you to access free stock trading and Morningstar research. M1 Finance is our choice for Automated Investing with a leading Robo Advisor.  TC2000 offers a great mix of fundamental screening and slick stock charts, combined with trading from the charts.  There are certainly plenty of options to choose from, try them all.
This is just a small sampling of the stock apps on the market today. To take your investing and research to the next level, search Google Play or the Apple Store for the App right for you.

Are You Looking For Stock Investing & Trading Software? Here Are My Favorites.

My favorite software for trading is TradingView because it does everything well. It has backtesting, great charts, stock screening, and an active community of over 3 million people sharing ideas, plus a free plan available globally.

My favorite software for investing is Stock Rover, as it specializes in deep fundamental financial screening, research, and portfolio management. It is the ideal platform for dividend, value, and growth investing.

My favorite software for stock market news is Benzinga Pro, with its super-fast real-time news engine, squawk box, and news impact ratings.

My favorite AI trading software is TrendSpider which enables automatic pattern recognition for Trendlines, Candlesticks, and Fibonacci levels. Trade Ideas uses AI to generate high probability daily trading signals for auto-trading.

My favorite stock-picking service is Motley Fool Stock Advisor, which has a proven track record of beating the market with excellent stock research reports.

Read the Full Top 10 Stock Market Software Testing & Review


Well, that is our selection, you probably have your favorites, let us know in the comments below.