Stock Rover Review
Pricing & Software

Company Fundamentals & Screening

News & Social Trading

Charts & Indicators

Pre-Built Screeners & Portfolios

Broker Integration

Ease of Use
User Comments Rating
( reviews)
Stock Rover Summary
Stock Rover is a Stock Screening, Research & Portfolio Management Service. Benefits Include a 10 Year Historical Financial, Earnings, Dividend Database & Morningstar Analyst Ratings. The Ability to Perform Portfolio Correlation, Balancing & Screen for Dividends, Margin of Safety & Fair Value Make it Industry Leading
Pros
Huge Selection of Fundamental & Financial Scanning Criteria
Incredible Stock Scoring Systems
Unique 10 Year Historical Fundamentals Data
Warren Buffet & Ben Graham Screeners & Portfolios
The Best Usability & Setup
Every Financial Ratio Possible
Research Reports Now Available *New

Winner: Best for U.S.A. & Canada Value Investors Seeking Industry Leading Fundamental & Financial Analysis Stock Research Software. Easy to Use Yet Extremely Powerful. This is Our Outright Winner
Stock Rover Best Stock Screener Review Winner 2020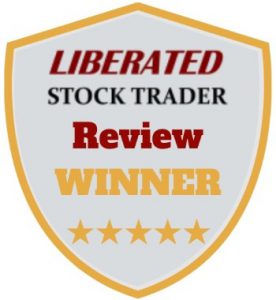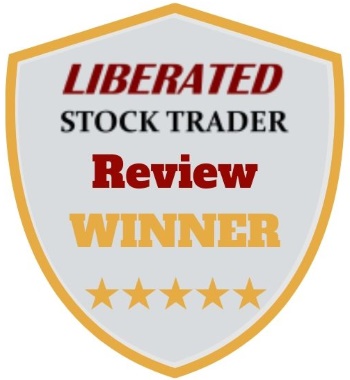 It is really impressive that Stock Rover has stormed into the review winners section of our Stock Market Software Review in its first try.  It is also the outright winner in our Best Stock Screener Review.
I now actively use Stock Rover every day to find the undiscovered gems that form the foundations of my long-term investments.
Stock Rover Pricing -- 10/10
You can have Stock Rover for free, however, the real power of Stock Rover is unleashed with the Premium Plus service.  Moreover, their top tier of service is not even expensive when compared to the competition.
How Much Does Stock Rover Cost?
Free $0 -- Scanning for 10,000 stocks, 43,000 mutual funds & ETF's, broker integration, portfolio analysis & market news
Essentials $7.99 US /mo -- 5 years of historical data, 10 fair value, and margin of safety ratings per month + earnings calendar
Premium $17.99 US /mo -- 350 fundamental metrics, 10 years of historical data, stock & ETF ranked screening. 10 stock ratings per month, 20 fair value & margin of safety ratings per month.
Premium Plus (Recommended) -- $27.99 US/mo -- 10 years of historical screening, unlimited margin of safety and fair value scoring, unlimited stock warnings and stock ratings + analyst ratings scoring.
I strongly recommend going for the Stock Rover Premium Plus at $27.99 per month.  Why?  Because having used the service extensively, I cannot live without the unlimited stock ratings, analyst ratings scoring and the unlimited fair value and margin of safety scoring.
The lower-priced service tier limits the number of ratings, so go for the Premium Plus, it is well worth it at only $27.99.
I even told Ken over at Stock Rover, that their product pricing it too low, for this much value they should charge more.
Stock Rover Platform --  10/10
Stock Rover runs on PC, Mac, Tablets, and Smartphones and requires zero installation, it simply works.  The market data, scoring, ranking, and analysis are for the USA & Canadian markets only.
Stock Rover Dashboard
When you register with Stock Rover and log in, you are greeted with the dashboard which gives you an instant market performance breakdown, but more importantly, shows you your portfolio performance and your dividend performance.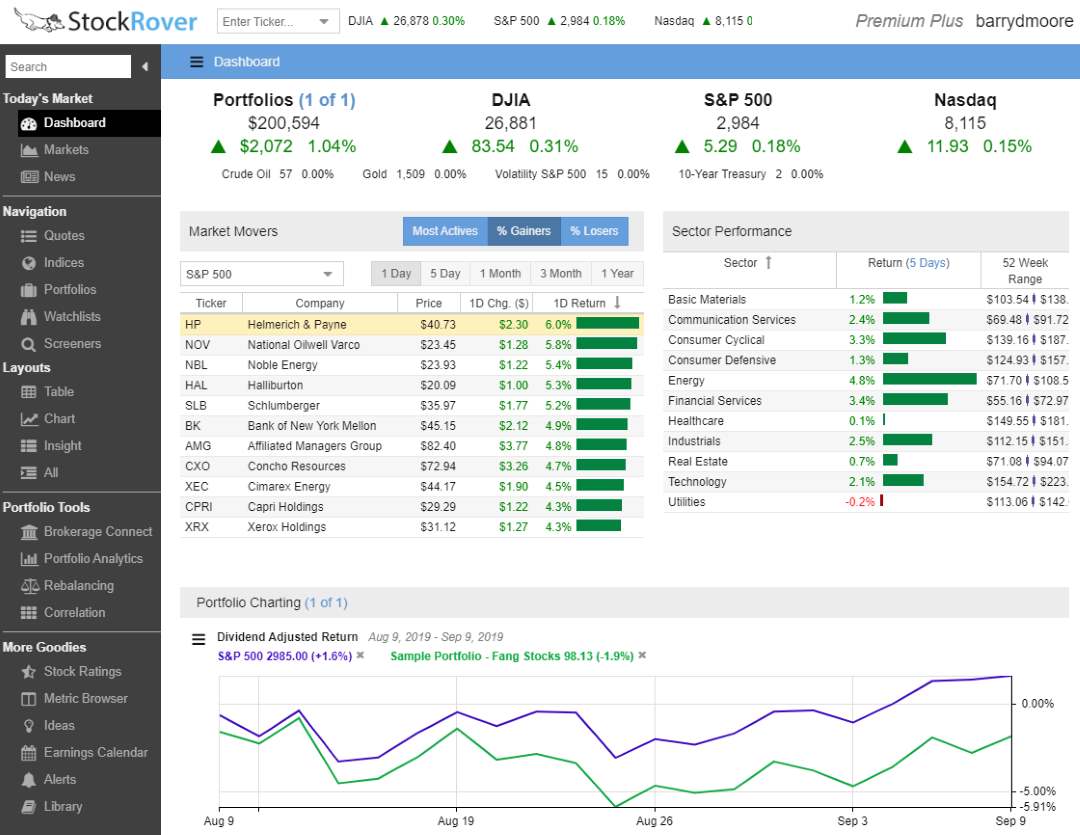 The Stock Rover Platform Is A Modern Cloud-Based Software Architecture
This architecture type means that there is no client software to download and install, and all the stock exchange data resides on the vendor's servers in the cloud. The charting and visualization are all stored and computed in the cloud, and only the chart to want to visualize is streamed to your client device.
The positives of cloud-based technical analysis software:
Zero client installation -- very quick setup
Zero data downloads and data management required on the local client device
All processing and storage is managed on servers in the datacenter
Cross-device compatibility (PC, Mac, Tablet, Smartphone)
The negatives of cloud-based architecture:
The speed of data and responsiveness of the application is dependent on your internet bandwidth
Stock Rover has the best implementation of stock screening on a cloud-based architecture on the market.
Finding Great Stocks With Stock Rover -- Video
Finding Great Stocks Webinar
[Related Article: How Do Technical Analysis Software Platforms Work?]
Trade Management Score -- 9/10
With Stock Rover, you get broker integration with practically every major broker, including our review winning brokers Firstrade and Interactive Brokers.
You cannot place trades from charts but it will take care of profit & loss reporting on your portfolio and provide recommendations for portfolio rebalancing.  Including income (dividend) reporting and scoring it is a unique package.
Stock Rover is not for day traders, it is for longer-term investors that want to maximize their portfolio income and take advantage of compounding and margin of safety to manage a safe and secure portfolio.
Fundamental Scanning & Screening -- 10/10
Another perfect 10 for Stock Rover as they hit the mark on company stock scanning and filtering, and fundamental watchlists also.
The list of fundamentals you can scan & filter on is truly huge.  Any idea you have based on fundamentals will be covered with over 600 data points and scoring systems.
Watchlists have fundamentals broken into Analyst Estimates, Valuation, Dividends, Margin, Profitability, Overall Score and Stock Rover Ratings.  You can even set the watchlist and filters to refresh every single minute if you wish.
The Excellent Stock Rover Ratings Engine
The team over at Stock Rover have implemented some great functionality, one I particularly like is the roll-up view for all the scores and ratings.  Here I have imported the Warren Buffett portfolio which includes his top 25 holdings.  I have also selected the "Stock Rover Ratings" tab.  This "Stock Rover Ratings" tab rolls up all analysis into a simple to view ranking system, saving a huge amount of time and effort whilst providing a wealth of insight.

List of Stock Rover's Comprehensive Ratings Categories
Scores Screener -- The Scores screener finds stocks whose scores for Value, Growth, Quality, and Sentiment scores in the top 20% along with a Piotroski F score of at least 6 and an Altman Z-Score of at least 3.0 from over 4000 US-listed stocks.
Overall Ratings -- Find large-cap stocks on the NYSE or Nasdaq in the top overall decile of Stock Rover ratings.
Growth Ratings -- Find large-cap stocks on the NYSE or Nasdaq in the top growth decile of Stock Rover ratings that are also in the top two deciles for price momentum.
Valuation Ratings -- Find large-cap stocks on the NYSE or Nasdaq in the top valuation decile of Stock Rover ratings that are also in the top two deciles for price momentum.
Efficiency Ratings -- Find large-cap stocks on the NYSE or Nasdaq in the top operational and capital efficiency decile of Stock Rover ratings that are also in the top two deciles for price momentum.
Financial Strength Ratings -- Find large-cap stocks on the NYSE or Nasdaq in the top financial strength decile of Stock Rover ratings that are also in the top two deciles for price momentum.
Dividend Ratings -- Find large-cap stocks on the NYSE or Nasdaq in the top dividend growth and safety decile of Stock Rover ratings that are also in the top two deciles for price momentum.
Momentum Ratings -- Find large-cap stocks on the NYSE or Nasdaq in the top price momentum decile of Stock Rover ratings.
Stock Rover Top Rank and Momentum -- Find large-cap stocks on the NYSE or Nasdaq in the top overall decile of Stock Rover ratings that are also in the top two deciles for price momentum.
Powerful Pre-Built Screeners -- Integrated into Stock Rover
Stock Rover already has over 150 pre-built screeners that you can import and use.  You do need to have the Premium Plus service to take advantage of this, I have reviewed many of them and they are very thoughtfully built.  One of my favorites is the Buffettology screener.
The Stock Rover Buffettology Screener -- Screenshot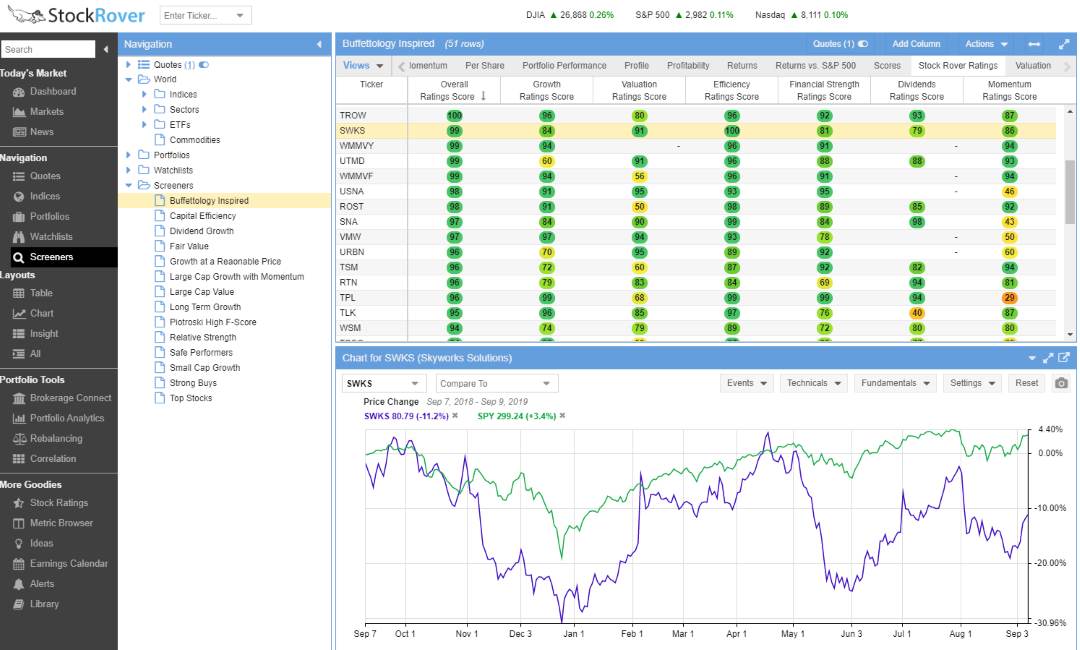 Stock Rover Screeners -- Buffett's Holy Grail
Here is another screener that I really like.  If you select any screener, in this case, I selected the "Strong Buys Screener" the Fair Value Screener and simply select the "Fair Value" tab, you are rewarded with arguably the killer features of Stock Rover.  The Fair Value and Margin of Safety analysis and rankings.  These analysis factors are a nightmare to manually calculate yourself and it could be said, warrant the investment in Stock Rover all by themselves.
Fair Value and Margin of Safety Rankings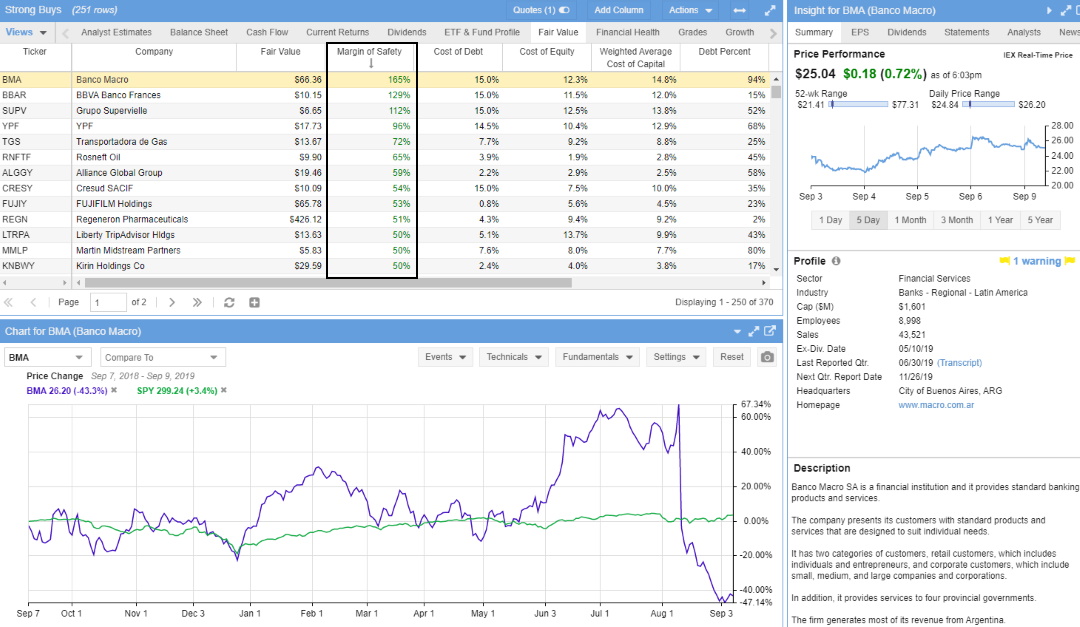 [Related Tutorial: Setup Your Own Buffett Stock Screener With Stock Rover]
Detailed Dividend & Income Analysis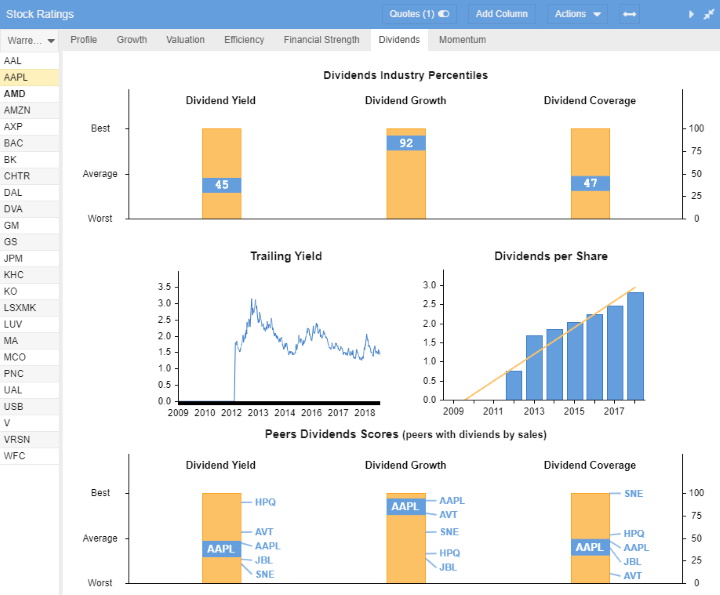 Another reason why I like Stock Rover so much is the detailed dividend and income analysis provided.
As all smart investors know, to have a chance at excellent market-beating returns you need to accrue your dividends.
Stock Rover provides intelligent analysis to enable you to do just that.
News & Social Media Integration Score -- 8/10
Stock Rover pulls in information from Yahoo Finance and Benzinga News.  The news feeds are not real-time but they are useful.  As a long-term investor real-time news is not really a priority.  If it is a priority for you, you can subscribe to Benzinga News separately.
When it comes the social chat and community there is no perceivable service within Stock Rover.
Stock Charting & Technical Analysis Score -- 6/10
Looking at stock charts with Stock Rover is different from all the other software vendors on the market.  Whereas MetaStock & TradingView focus on hundreds of technical analysis (price/volume) indicators, Stock Rover focuses on charting the fundamental financial strength indicators.
With over 154 different financial indicators, and only 9 technical analysis indicators, Stock Rover is not the best service for technical analysis or frequent trading, but it is by far the most complete package for fundamental income and value investors.  So, although this section is for technical analysis, they are so good with charting fundamentals I have rated them a score of 70%.
Caveat -- there are no possibilities to draw trend-lines or annotate charts in Stock Rover.
Stock Rover Alerts
Stock Rover alerts are configurable to provide immediate sms or email notifications when a stock meets your custom criteria. For example, "Alert me if Netflix crosses $200 up". You can place alerts on fundamental indicators or prices it is quite flexible.
Stock Rover Research Report -- New for 2020
An excellent new addition to the Stock Rover platform is the Research report, a brand new service that enables you to generate a professional readable PDF report on the current and historical performance of any particular stock.
The research report creates something very new, a human-readable report which highlights a company's competitive position, market position, and historic and potential dividend and value returns. In the image below you can see the dividend-adjusted commentary on Comcast a company I invested in because I found it's excellent potential using my Buffett Stock Screener.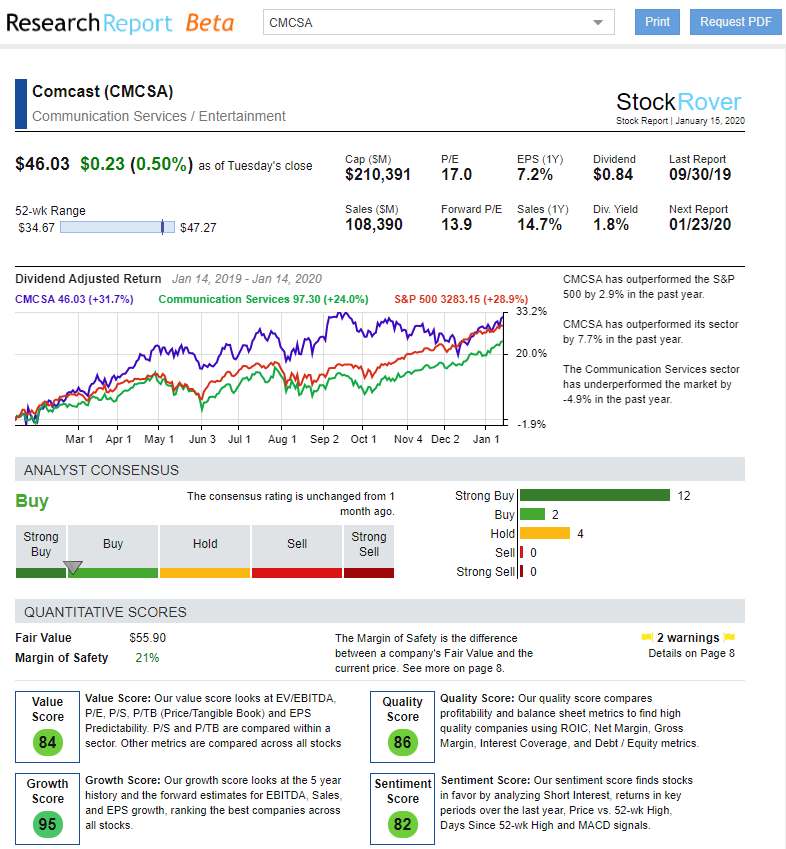 The Research Reports provide a truly comprehensive summary on any of the 7000+ stocks in Stock Rover on the U.S. and Canadian exchanges. Research reports can be viewed in the browser and can be produced in PDF format for portability and sharing.
Systems, Backtesting & Automated Trading Score -- 8/10
Again, we have to think of Stock Rover differently to other stock charting analysis packages.  Stock Rover provides 10 years of backdated financial information and scanning possibilities, better than nearly every other stock screening package.  However, automated trading and technical system backtesting is not part of the design remit.  For that, you should look at MetaStock or TradingView.
Usability Points -- 20/20
Within 15 minutes I was using Stock Rover no installation required and no configuring data feeds, it was literally just there.
Stock Rover is up and running with a single click of the login button.
Even better is the fact it there are so many curated screeners and portfolios to import and use you are instantly being productive. It is quite a feat that it is so easy to use considering Stock Rover has so many powerful scoring and analysis systems.
Open An Account With Stock Rover
Stock Rover Review Summary
Stock Rover wins our Stock Market Software review by providing the best software for value and income investors. A 10-year financials & fundamentals historical library plus incredible scanners including all of Warren Buffet & Ben Graham's favorite criteria. Fair Value, Margin of Safety and so much more.
If you are a long-term investor, this is the software for you.
97 Point Stock Rover Service Data Sheet
Data Sheet
StockRover
Pricing & Software
Monthly End of Day
Free
Essentials $8
Premium $18
Premium Plus $28
Monthly Real Time
-
Customizable Data Feeds
-
Customer Service & Education
Excellent
PC
✔
For MAC
✔
Tablets Smartpones
✔
Market Data Coverage
USA & Canada
Data Speed
Good
Stocks
✔
ETF
✔
Mutual Funds
✔
Futures
Forex
Bonds
Pricing & Software Score
10
Trade Management
Broker Integration Stocks
✔
Place Trades from Charts
Live Position P&L
✔
P&L Analysis
✔
Trade Management Score
8
Fundamental Scanning & Screening
Real Time Scanning & Filtering
✔
Fundamentals Scanning
✔
Watch Lists with Fundamentals
✔
Extended Economics Fundamentals (New)
Fundamental Screening Score
10
Multiple Charts Per Desktop
Bar Line HLC Candlestick
✔
Point & Figure
Equivolume
Others
Indicators
Bollinger Bands
✔
Directional Movement
Ichimoku Cloud
MACD
✔
Momentum
Money Flow
✔
Moving Averages
✔
Parabolic SAR
Rate of Change
Relative Strength / RSI
Stochastics
Custom Indicator Development
Volume
✔
Darvas Box
Elliot Wave
Total Number of Indicators
134
Drawing Tools
Trend Lines
Pitchfork
Automated Alerts
Chart Analysis Score
7
News & Social
News Feed
✔
Real-Time News Feed
Economics & Deal News
Market Commentary
✔
Community Chat
News Score
4
Systems & Backtesting
System Marketplace
✔
Create Customizable Systems
✔
Back Testing Point & Click
Back Testing Programmatic
Systems & Back-Testing Score
6
Setup & Usability
SW Setup
10
Ease of Use Score
10
Usability Points
20/20