There are many websites where you can look at charts for free, but actually, only a small handful of services allow you to look at real-time quotes and charts.  Also, there are even fewer available that let you do any real chart analysis by plotting stock chart indicators, drawing trendlines, and making chart annotations.
We have reviewed and compared hundreds of different stock charting software packages over our nine years of operation, so you can rest assured we are recommending something to meet your needs.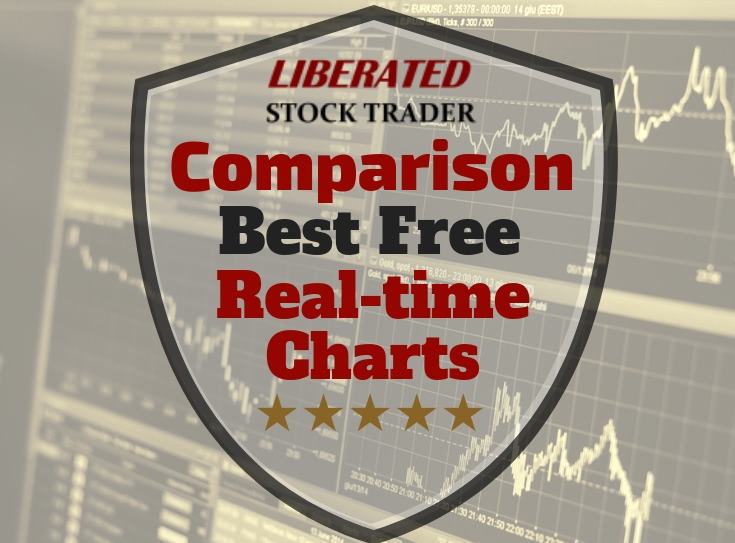 Free Real-Time Stock Charts & Quotes
Providing free real-time stock charts depends on the availability of free data from exchanges. The Better Alternative Trading System (BATS) Exchange provides free real-time stock pricing data for the US. While the stock quotes are almost identical to other exchanges due to arbitrage, the volume data is significantly lower.
This means if you use free real-time quotes from BATS, your Price/Volume indicators will not be as accurate.  You should preferably use a paid data package with your charting vendor.
Summary: The 5 Best Free Realtime Stock Charts Summary
TradingView: Best Free Real-time Charts for Global Trading
TC2000 Free: Fast Quotes for US & Canada Investors
Yahoo Finance: Great Free Real-time Charts for U.S. Stocks & Futures
Robinhood Brokerage: Good realtime broker quotes but lacking chart analysis
MSN Money: A good screener & quotes, but poor overall
1. TradingView: Best Free Real-time Charts for Global Traders
Best overall, great social integration to learn from other traders, and the best ease of use.  Includes trading from charts for Europe & Asia + Crypto & Forex.
Recommended for Long-Term USA & International Investors who value a great price (free), insanely good Fundamental & Technical Analysis, and the best ease of use.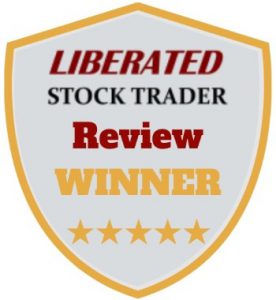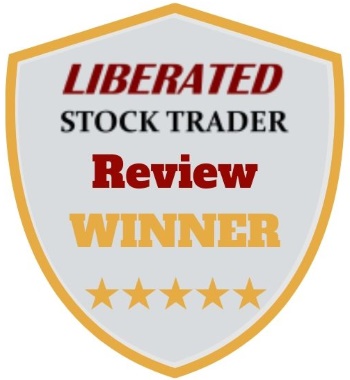 Price: Free
Real-time Stock Charts: Yes
Rating ★★★★★
Pros
★ Social First, Chat, Publish, Follow
★ Easy System Development (Pine Script)
★ Ease of use, perfect for beginners
★ Global Real-time Exchange Data (BATS)
★ Covers Cryptocurrency, Forex, Stocks Globally
★ Great Stock Screening
Cons
✘ Number of Chart Indicators Restricted to 3 in Free Version
With 10 million active users TradingView has a large vibrant user community sharing ideas and strategies. I use TradingView every day, and post stock charts, ideas and interact with other traders.  Follow "LiberatedStockTrader" on TradingView to connect with me.
You can have TradingView for free via the FREE plan; it is also the winner of our Premium Subscription Software Review & the prices are reasonable and unlock a lot of extra functionality.  If you like TradingView, you can upgrade to PRO for only $10 per month; the benefits are extensive, including Priority Customer Support and unlimited everything.
How Much Does TradingView Cost?
Free $0: 1 Chart per Layout, 1 Device, 1 Alert, 3 Indicators per Chart, 1 Saved Chart Layout
PRO $9.95 US /mo: 2 Charts per Layout, 1 Device, 10 Alerts, 5 Indicators per Chart, Unlimited Watchlists
PRO+ $19.95 US /mo: 4 Charts per Layout, 2 Devices, 30 Alerts, Intraday & Extended Trading Hours Data
Premium $39.95 US/mo: 8 Charts per Layout, 5 Devices, 200 Alerts, Top Customer Service, Unlimited Everything
TradingView runs on PC, Mac, Tablets, and Smartphones and requires Zero Installation; it simply works.
The Market data is vast, covering nearly all Stock Markets, and it includes Stocks, ETF's Futures, Foreign Exchange & Bonds, all at no extra cost, which means outstanding value for money combined with excellent support options.
Also, a huge benefit is that the Data Speed and Coverage are mind-blowing, covering literally every stock market on the planet and not just stocks but ETF's, Mutual Funds, Futures, FOREX, Bonds & CryptoCurrencies AT NO EXTRA COST.
Realtime Quotes, Charts & Stock Scanner
It also has a good fundamental and technical stock, Forex, and Cryptocurrency scanner.   TradingView has a very slick system, and they have put a tremendous amount of thought into how Fundamentals Integrate into the analytics system.
Watchlists have fundamentals broken into Performance, Valuation, Dividends, Margin, Income Statement, and Balance Sheet.  You can set the watchlist and filters to refresh every minute if you wish.
The real-time charts are responsive; for the USA markets, they use the BATS (Better Alternative Trading System).  But wherever in the world there is an open free data source, the engineers at TradingView connect to it.  The amount of real-time data on offer is astonishing.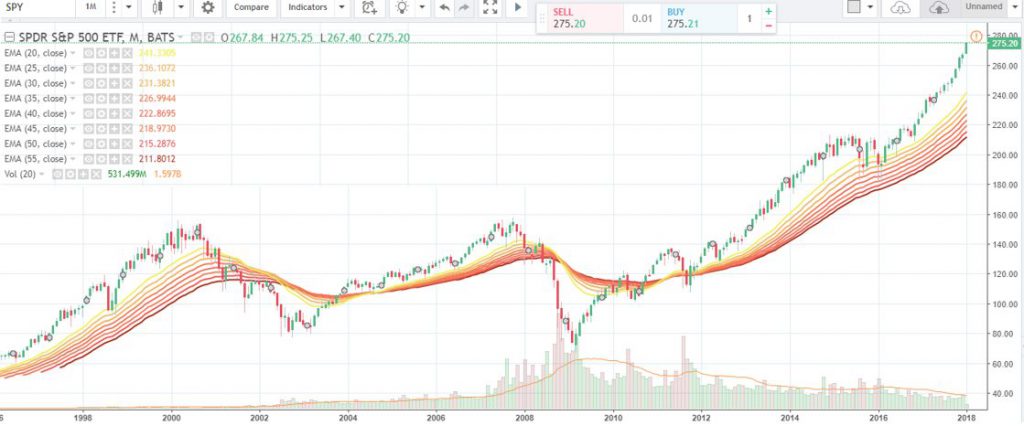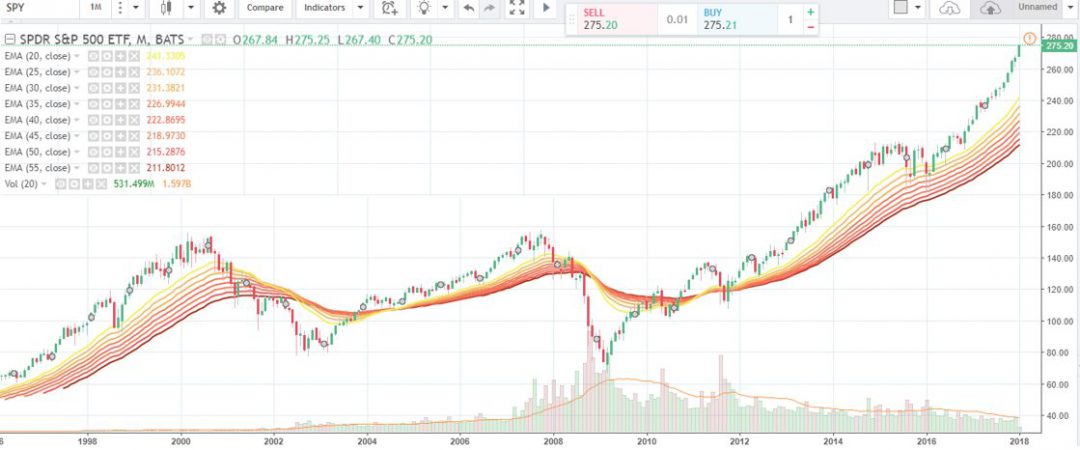 Integrated Social Trading Community
TradingView is built with social at the forefront.  Fully integrated chat systems, chat forums, and an excellent way to share your drawings and analysis with a single click to any group or forum.  This makes for a unique way to generate ideas or learn from other traders.  You have to try it and see it in action to understand the power of the implementation.  They also have a Kiplinger newsfeed, Stocktwits, and various FX newsfeeds for Foreign Exchange Traders.
Real-Time Stock Charting
With over 160 different indicators, and unique specialty charts such as LineBreak, Kagi, Heikin Ashi, Point & Figure, and Renko, you have everything you will need as an advanced trader.
So why does it score so highly and rank as a winner in this section?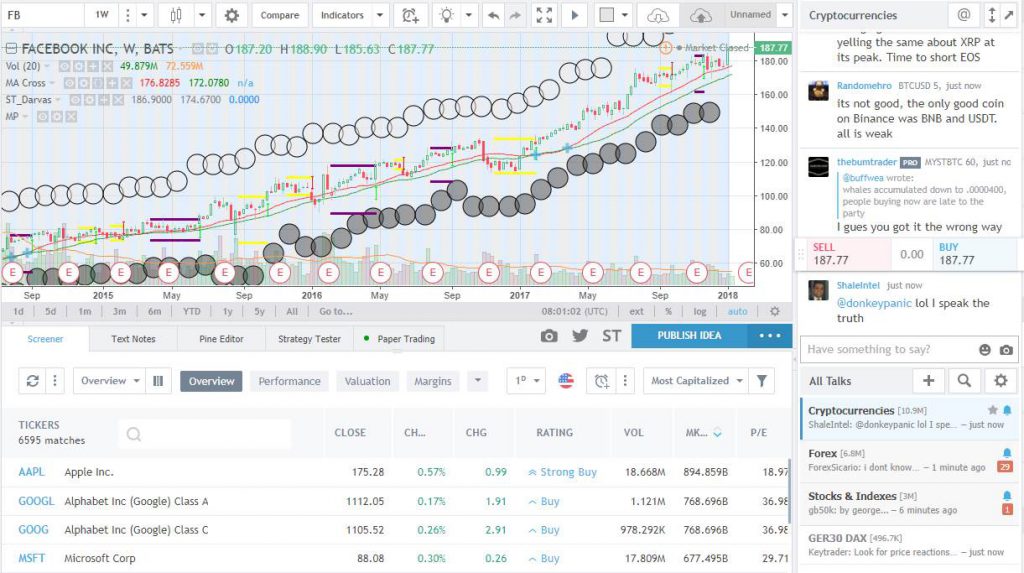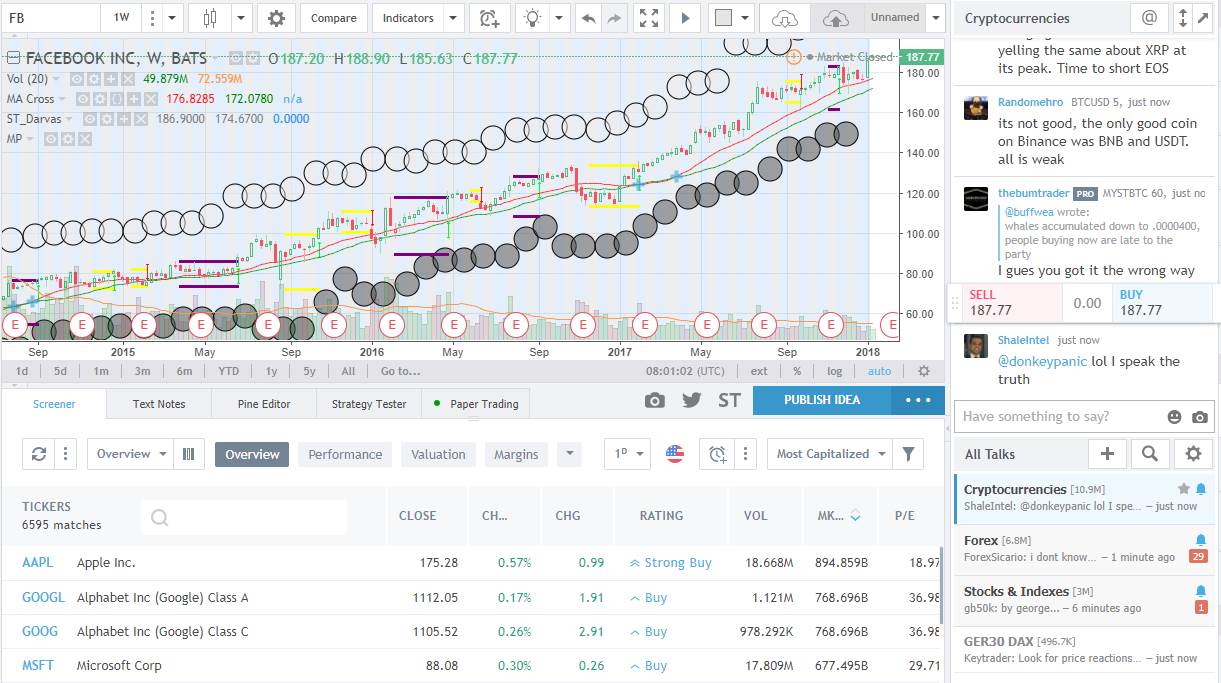 TradingView Insanely Beautiful Charts, with a massive selection of indicators. This Chart Feature Moon phase and Darvas BoxesDid I mention the charts are fast and beautiful?
They also offer a premium service to rival the best software vendors out there.  Check it out at www.tradingview.com. The PRO plan is very cost-effective, starting at $9.95 per month, and that gets you real-time charts and Advert free services, and SMS alerts.
What Can I Trade with TradingView?
Stocks – tens of thousands of shares; see above for exchange coverage.
Forex (FX) Currencies – All the Major, Minor, Exotic currencies covered
Futures – Energy, Metals, Agriculture, Indices and even Interest Rates
Crypto Currencies – 26 including Bitcoin, Ripple, Ethereum, Bitcoin Cash
Bonds – 30+ Government Bond Types
With TradingView, you get broker integration with CQG, OANDA, Poloniex, and Forex.com Winner of Our Best US Forex Broker Review, you can place trades on charts, and it will take care of Profit & Loss reporting and analysis for you.  They are adding brokers all the time, and I expect the major global discount brokers soon to be available.
-
2. TC2000: Fast Live Quotes for US & Canada
Fast Quotes for Stock Charts from BATS Exchange for US & Canada Investors
FreeStockCharts.com is powered by Worden Brothers, who are a review winner for our Premium Stock Market Software Review, so they have an excellent track record in delivering quality services.
Price: Free
Real-time Stock Charts: Yes
Rating ★★★★★
Pros
★ Social First, Chat, Publish, Follow
★ Great Stock Scanning
★ Lots of Indicators
★ Great Stock Screening
★ Covers Cryptocurrency, Forex, Stocks
Cons
✘ Only USA & Canada
✘ Supported By Adverts
Worden Brothers have decided to move the FreeStockCharts.com chartings software directly into the TC2000 service.  This is great for you because now you can use the first-class service for free, sure there are some restrictions, but it still is the best on the market.
When you download TC2000, ensure you select the free version.
Stock Charts, Indicators & Drawing Tools
The FREE service has over 80 stock chart indicators (or studies), which you can apply to the chart; all the popular ones are there, and many exotic indicators also.  You can use different bar types like Japanese Candlesticks and Open, High, Low Close OHLC. 
What is nice is that you can plot trendlines not only on the price data but on all the indicators; this can be very valuable when you become more experienced in technical analysis.
In terms of drawing tools, they also allow you to use Fibonacci Lines, Fibonacci Fans, and Fibonacci Arcs.  The user interface is super simple and effective, with easy access to watchlists and stock scans; you will need to sign in to access and save your watchlists.
One surprising feature is that if you are a TD Ameritrade customer, you can use FreeStockCharts to pull your portfolio and watchlists directly from your account; quite why you would want to do that, I don't know.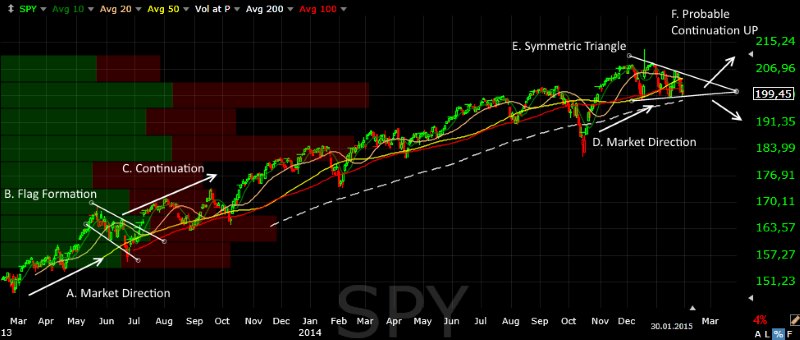 Overall there is an excellent array of technical indicators and drawing tools; all the big ones are there, from OBV, RSI, and Bollinger Bands to Fibonacci Fans and Andrews Pitchfork.  With over 80 different indicators, you will have plenty to play with.
They have also introduced live alerts that you can configure to email or pop up if an indicator or trend line is breached.  Very useful indeed.
TC200 Real-time Stock Charts
The charts are real-time, and the data comes from BATS, which means the price data is accurate, but the volume data only represents BATS trades.  Luckily you can select whether you want to see only BATS volumes or get an estimate of the broader market volume. The information is free real-time streaming of Price & Volume, and you can go to a granularity of intra-day 1 minute up to 1 year per bar.
Free is great, but the paid version is better; I use Telechart TC2000 to screen, sort, and find winning stocks
Starting at $9.95 per month, you will get a full suite of excellent feature and end of day data.
Playlist: What's New in TC2000 v20
-
3. Yahoo Finance: Great Free Real-time Charts for U.S. Stocks & Futures
Great Free Real-time Stock Charts for U.S. Stocks & Futures
Yahoo has updated its interactive charting experience, it is a clean experience and full screen, so now it is very good indeed.
Price: Free
Realtime Charts: Yes
Rating ★★★★
Pros
★ 114 Stock Chart Indicators
★ Watchlist Management
★ Ease of use, perfect for beginners
★ Global Real-time Exchange Data (BATS)
★ Covers Cryptocurrency, Forex, Stocks (limited)
★ Trading From Charts
Cons
✘ Workflow is clunky
With 114 different technical indicators, you are well covered with Yahoo Finance.  The interactive charts also now allow you to draw trendlines, linear regressions, and even quadrant lines.  A nice new addition is that Yahoo now provides real-time quotes and charts via the BATS system; this is a significant upgrade for 2019.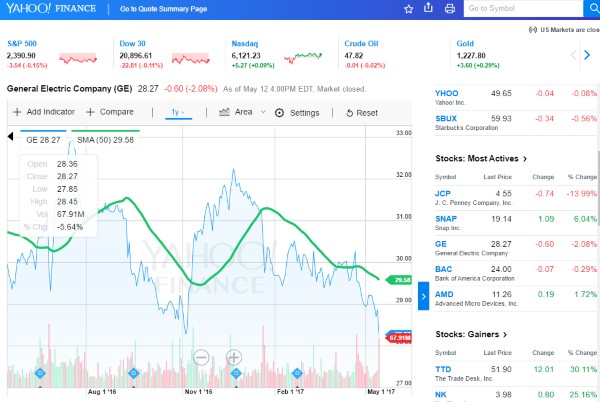 Yahoo Finance is working hard to make their charting system a worthy alternative to other free vendors.  They have done something innovative also.  You can now trade stocks through the Yahoo Finance charts.  Yahoo has partnered with Trade.it who essentially provides an interface to transport trade requests to many of the mainstream US brokers.
Trading with Yahoo
This means, using Yahoo, you can trade stocks with your broker.  It is a nice feature, but if you have a brokerage account, you will already have access to real-time data, charts, and quotes and can trade directly with them, so it seems a little redundant.
Coming in higher than Google & Microsoft in our review, Yahoo, it seems, can do at least some things well.
[Related Article: The Top 10 Best Stock Trading Platforms To Trade From Charts]
-
4. Robinhood Brokerage: Good Realtime Broker Quotes
Good real-time broker quotes but lacking functional chart analysis.
Robin Hood is a commission-free broker with a $0 account minimum.  This means you can essentially sign up for Robin Hood and gain access to the free stock charts and real-time quotes and charts free.
The only downside is that you cannot do any serious stock analysis using Robin Hood.  Because it is a mobile-first company, the interface is limited to the size of your phone.
Price: Free
Realtime Charts: Yes
Rating ★★★★
Pros
★ Full Brokerage Service
★ $0 Account Minimum
★ $0 Commissions
★ Clean App
Cons
✘ Basic Charts
✘ Mobile Only
Robinhood Mobile First
Mobile-first refers to the fact that Robinhood started only as an app on the phone and not a fully-fledged trading platform.  This means you have to do everything via the phone, including opening, funding, and trading.
The charts are free and real-time intraday but severely limited in functionality due to the smartphone's form factor and the design choices the company has made.
While Robinhood was the pioneer of free stock trades and had a loyal following of supporters and customers, the impetus of the value offering has now dissolved with the move of Firstrade into this market.
In terms of free stock trades, both Firstrade and Robinhood are more or less equal.  But it is not just about free trades.
When it comes to a robust stock and options trading platform, Firstrade is leagues ahead.  When we think about research and customer support, Firstrade wins hands down.
Firstrade's move is an industry disruptor and game-changer.
Read the Head to Head Comparison of Firstrade vs. Robinhood
-
5. MSN Money: A Good Screener & Quotes
A good stock screener & live charts/quotes, but lacking in every other department.
Price – Free
Realtime Charts – Yes
Rating ★★★
While the stock screener from MSN Money is, in the opinion of the author, one of the better free screeners available, the charting software comes in poorly.  Lack of trend lines, Moving averages, OBV, and index overlay mark it down profoundly. However, with a free membership, you can get real-time stock quotes.
Pros
★ Good Stock Screener
★ Clean Interface
★ Watchlist Management
Cons
✘ No Indicators
✘ No Trendlines
✘ Very Basic
[Related Article: Top 6 Stock Brokers. Incredibly In-Depth Review]
-
Summary: Free Real-time Stock Charts Comparison Table
| Login / Cost | | | | | |
| --- | --- | --- | --- | --- | --- |
| Result | Winner | Winner | | | |
| Login Required | No | Yes | No | Yes & Registration | No |
| Cost | Free | Free | Free | Free | Free |
| Charts | | | | | |
| Interactive Charts | Yes | Yes | Yes | Yes | Yes |
| Price Windows (Logarithmic) | Yes | Yes | Yes | Yes | Yes |
| Draw Trend Lines | Yes | Yes | Yes | Yes | No |
| Chart Size (large) | Yes | Yes | Yes | No | Yes |
| Bars | Yes | Yes | Yes | – | Yes |
| Candlesticks | Yes | Yes | Yes | – | Yes |
| OHLC | Yes | Yes | Yes | – | Yes |
| Free Real Time Charts | Yes | Yes | Yes | Yes | Yes - Limited |
| Free Real Time Quotes | Yes | Yes | Yes | Yes | Yes - Limited |
| Extended hours | Yes | no | – | | – |
| Intraday | Yes | Yes | Yes | Yes | Yes |
| Indicators | | | | | |
| Lower Panels (e.g. Volume) | Yes | Yes | Yes | – | Yes |
| Volume | Yes | Yes | Yes | – | Yes |
| MACD | Yes | Yes | Yes | – | Yes |
| RSI | Yes | Yes | Yes | – | Yes |
| Index Compare e.g. SP-500 | Yes | Yes | Yes | – | – |
| SMA / EMA | Yes | Yes | Yes | – | – |
| Show Earnings | Yes | No | – | – | – |
| On Balance Volume | Yes | Yes | – | – | – |
| Stochastics | Yes | Yes | Yes | – | Yes |
| Money Flow | Yes | Yes | Yes | – | Yes |
| Portfolio Tracking | Yes | Yes | Yes | Yes | Yes |
Free Real Time Stock Charts & Quotes Services