LIBERATED STOCK TRADER
Original data-driven research and actionable insights for independent investors.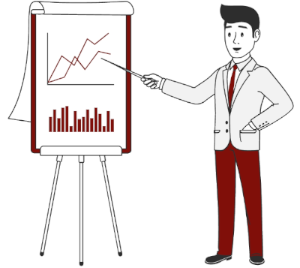 Analysis & Research
Our rigorous stock charts, patterns and indicators tests
Investing Strategies
Our Hands-On Guides for Implementing Investing Strategies
Liberated Stock Trader offers free stock investing courses covering value, growth, and dividend investing, plus technical chart analysis. Our courses are developed by IFTA member and certified financial technician Barry D. Moore.
Learn stock market investing with the complete online stock trading course by Barry D. Moore, a certified financial analyst from the International Federation of Technical Analysts (IFTA).
The MOSES ETF investing strategy is a powerful suite of indicators meticulously backtested over 100 years. Designed to empower you to outperform the market, it equips you with the tools to navigate major stock market crashes and unlock greater investing performance.
Traders utilize pivot point indicators to predict when stock prices will reverse direction. But does it work? I tested 66,480 trades on 210 years of data, and the results are surprising.
Our testing shows the best TradingView indicators for advanced analysis are Volume Profile HD, VWAP, Supertrend, ATR, Relative Volatility, and RSI. TradingView's candlestick and chart pattern recognition also improve trading outcomes. 
In technical analysis, momentum indicators help traders identify the strength and direction of a stock's price. They confirm trends, spot reversals, and generate buy and sell signals.
Candlestick Pattern Research
Research shows the Bearish Engulfing candle is an accurate and profitable pattern. Based on 568 years of data, it has a 57% success rate and an average win of 3.7%.
Our research shows that Heikin-Ashi charts are better than candlesticks for maximizing returns in trading strategies. We backtested 360 years of data across 30 major, and our findings prove that Heikin-Ashi chart strategies outperform 60% of equities vs. a buy-and-hold strategy.
Our unique research found that the Spinning Top candle is bullish, with a 55.9% success rate and a 3.7% average winning trade. Trading with a Spinning Top yields an average profit of 0.49%, ranking it the 10th best candle to trade.
Published research shows the most reliable and profitable stock chart patterns are the inverse head and shoulders, double bottom, triple bottom, and descending triangle. Each has a proven success rate of over 85%, with an average gain of 43%.
Our tests show Trade Ideas is the best AI stock trading Bot software for finding and executing high-probability trades. Tickeron's AI stock trading Bots provide swing trading signals, and TrendSpider has AI chart pattern recognition.