The best ways to learn stock trading are with books, audiobooks, trading communities, or free and professional investing courses offered by industry-certified instructors. Make sure to avoid anyone pedaling get-rich-quick schemes offering more than 25% gains in a year.
This is the definitive list of the best resources to learn stock trading.
Teaching yourself stock trading and investing takes a lot of work; there are no shortcuts because you should not take undue risks with your capital. This is the definitive list of the best resources to learn stock trading.
As an IFTA Certified Financial Technical Analyst with 20 years of investing experience, I can share the best ways to learn stock trading effectively and quickly.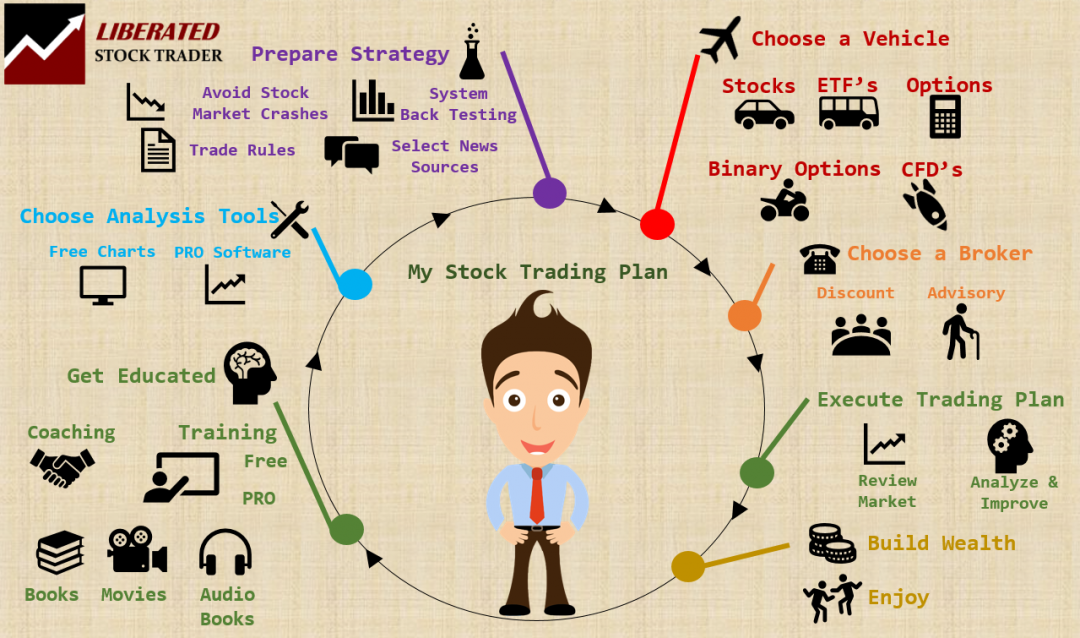 1. Learn trading with books
Teaching yourself stock trading with books is cost-effective but also time-consuming. Stock trading books provide a rich source of knowledge and wisdom.
With thousands of books to read, where do you start? I recommend you read the books finance professionals use to learn technical analysis. Here are the best books that professional market technical analysts study to qualify for the International Federation of Technical Analysts (IFTA) or Chartered Market Technician (CMT) certifications.
2. Learn trading with 13 million traders
TradingView has a lively online trading community with over 13 million active traders if you want to learn to trade with other stock traders. I am also part of this community and regularly contribute and update thousands of followers.
Connect with me on TradingView it's free

3. Watch my "How to learn stock trading" video
If you prefer to watch rather than read, my guide to stock trading with help you through the entire process of learning stock market trading with every high-quality free and low-cost resource available.
4. Learn stock trading with audiobooks
You can learn stock trading with excellent audiobooks that teach you everything from hedge funds, investing strategies, trading tactics, and how the financial system operates.
If you are bored of reading? Have too much energy to sit down and watch a stock trading movie. Why not listen to a great book while commuting, gardening, or walking the dog?
Our Top 20 Best Stock Market & Finance Audio Books Review has great listens, like the highly-rated "Flash Boys" by Michael Lewis or "The Quants" by Scott Patterson. Fill your day with learning while not being chained to your desk.
5 great stock trading audiobooks
5. Start a free stock trading course
Many free stock trading courses are available, but many educators have no formal experience or certifications in stock analysis or fund management. Liberated Stock Trader offers four free stock trading courses written by me, a certified market analyst.
Our Free Trading Courses Include
Course 101 – Introduction to Investing 

–

This course will cover various investing-related topics, including investment vehicles, managing financial risk, and trading in various markets.

Course 102 – Stock Market Investing

–

This course starts by looking at the different types of stock markets and how they have grown in recent years. We will then compare the global stock markets and examine their main differences. We will also examine the boom and bust cycles that often occur in the stock market and learn how to profit from them.
Course 103 – Technical Analysis

– Technical analysis studies what has happened, what is happening, and what will happen in the future with asset prices. Analysis and prediction are performed using stock charts.
6. Learn stock trading with a professional training course
Choosing a professional stock trading course will help you learn about stocks faster than with books, videos, and projects, so you can save time and gain more experience.
Liberated Stock Trader offers the "PRO Stock Trader Training" to enable you to gain the knowledge and confidence you need.
---
You want to be a successful stock investor but don't know where to start.
Learning stock market investing on your own can be overwhelming. There's so much information out there, and it's hard to know what's true and what's not.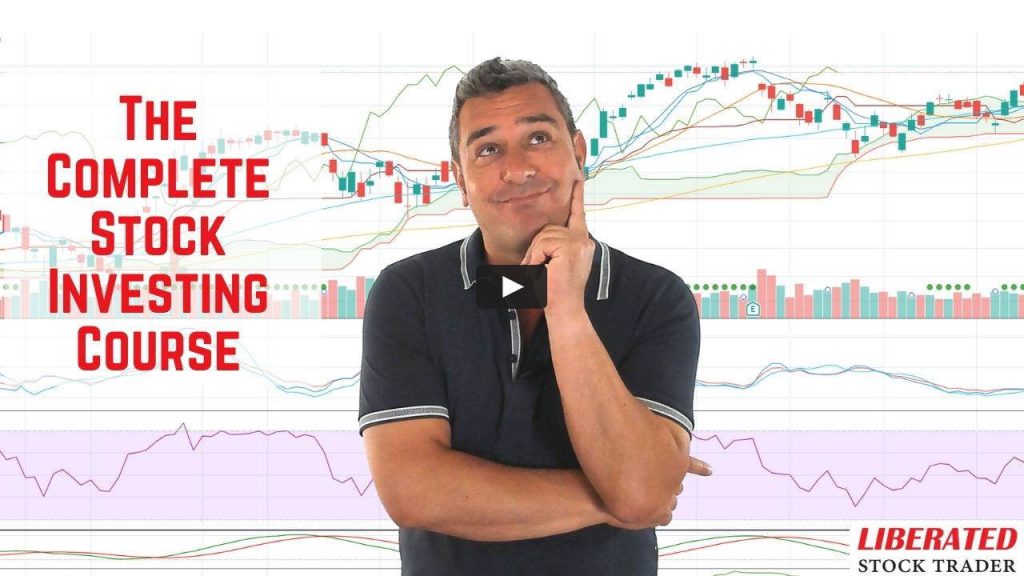 Liberated Stock Trader Pro Investing Course
Our pro investing classes are the perfect way to learn stock investing. You will learn everything you need to know about financial analysis, charts, stock screening, and portfolio building so you can start building wealth today.
★ 16 Hours of Video Lessons + eBook ★
★ Complete Financial Analysis Lessons ★
★ 6 Proven Investing Strategies ★
★ Professional Grade Stock Chart Analysis Classes ★
---
7. Start paper trading with free stock charting tools
They may not have all the bells and whistles compared to their paid competitors, but they are suitable for beginners and will not dent your wallet. Our review of the 10 Best Free Stock Charting Services on the Web will help you choose.
5 Best Free Stock Trading Software
8. Learn how stock market trends work
The market's trend direction will overall dictate the course of your investment. That is a "FACT." Although some companies are so large, like Intel, Apple & Microsoft, their direction might influence the market's direction, at least temporarily. When a market collapses, all stocks fall, even the good ones. When there is a rampant bull market, even the worst stocks rise.
You can use DOW Theory to assess market direction using the major indices. Dow Theory is discussed in depth in the PRO training. You can even use Ichimoku Cloud Theory to try to predict market direction.
9. Find a free stock broker
Learning to stock trade today means you can choose some excellent brokers that offer free stock, ETF, and stock options training.
Read our Best Online Stock Brokers Review, highlighting the best stock brokers for online stock trading for beginners. The review winner was Firstrade, a first-class USA broker with $0 commission and fees; yes, there are zero commissions on trades for market participants.
Our Firstrade and Interactive Brokers reviews also highlight that they are excellent for active traders, meaning those who trade often and hold stocks only for the short term.
If you live outside the USA but want to trade in US markets, read our Low-Cost Tax-Free Trading in the US.
Make no mistake; advisory brokers make money when you execute a trade. This means they will always recommend that you sell a particular stock and buy another one. They make most of their money on the trade costs and not on the profit because the transaction cost is guaranteed, and the future profit of a particular investment is not.
Your best interests are irrelevant to them. Make your own decisions and minimize your costs with a discount broker. There are no recommendations for further reading here.
10. Prepare a stock trading strategy
A key step in learning to trade stocks is deciding your investing strategy. Will you implement a value investing strategy to purchase undervalued stocks, a growth strategy for profiting from stock price growth, or an income strategy to earn money from dividends?
Here are some great articles to help you decide:
There certainly is a lot to consider when building out your investing strategy. There are core questions: should you use a day trading strategy versus a buy-and-hold strategy? Is Value investing like Warren Buffet for you, or is the more time and nerve-intensive swing trading more your style?
You must spot and avoid stock market crashes and establish trading rules based on your stock trading style. Also, advanced traders will want to ensure their system is backtested, meaning it has worked in the past.
11. Avoid stock market crashes
Learning stock trading means understanding market direction and when the stock will enter a bear market. MOSES is a stock market index ETF investing system designed to help you beat the market's performance by avoiding major stock market crashes.
---
Beat The Market, Avoid Crashes & Lower Your Risks
Nobody wants to see their hard-earned money disappear in a stock market crash.
Over the past century, the US stock market has had 6 major crashes that have caused investors to lose trillions of dollars.
The MOSES Index ETF Investing Strategy will help you minimize the impact of major stock market crashes. MOSES will alert you before the next crash happens, so you can protect your portfolio. You will also know when the bear market is over, and the new rally begins so you can start investing again.
MOSES Helps You Secure & Grow Your Biggest Investments
★ 3 Index ETF Strategies ★
★ Outperforms the NASDAQ 100, S&P500 & Russell 3000 ★
★ Beats the DAX, CAC40 & EURO STOXX Indices ★
★ Buy & Sell Signals Generated ★
MOSES Helps You Sleep Better At Night Knowing You A Prepared For Future Disasters
---
A stock market crash is an unfortunate and historically inevitable part of trading, as are tsunamis to the natural world. Just like tsunamis, stock market crashes devastate those involved. Prepare yourself for the next market crash by understanding the triggers and warnings seen through technical analysis.
12. Build your stock trading system
What chart indicators will you use? Under what conditions will you buy a stock? When will you sell a stock? Why did you buy the stock, and are those reasons still valid? So many questions, and here are some answers.
These are all known as trade rules. Establishing your criteria for buying, holding, and selling a stock before buying it can help take the emotion out of a trade. Read 10 Steps to a professional stock market system. Emotions are your worst enemy; you must treat your investment decisions with logic, not a slice of gut feel. This is when backtesting comes to the rescue.
13. Learn stock strategy backtesting
When stock trading, you may understand your reasons for a particular trade, but over the long term, is your hypothesis profitable? An untested hypothesis is not worth the paper (or screen) it is written on.
7 Best Stock Backtesting Software For Trading Strategies 2021
This is what is called backtesting. An example of backtesting is the Stock Market Crash Detector. This system is focused on trying to predict a stock market crash. There are numerous elements: stock price fluctuations & price versus specific indicators. While system backtesting is time-consuming, it helps you understand which of the many indicators, such as Relative Strength Index (RSI), Balance of Power (B.O.PRSI Moving Average ConveBOP Divergence (MACD), actually work in a real-world environment in the past.
While past performance is no indicator of future performance, you can see statistically what has worked and has not worked over thousands of trades. Read our Top 10 Stock Market Software Review and look at the section Systems & Backtesting Score to find a suitable product if you want backtesting.
14. Get real-time trading news
You will need a real-time stream financial news service to learn to trade active stock market news events.
You need a good news source to stay in touch with Macro or Micro Economic Events. Trading the news is a strategy some people adopt.   There are many good news sources for you to look at, including Reuters, Bloomberg & Investors Business Daily. However, look at our review-winning Benzinga Pro News Service if you want real-time streaming news and innovative market insight.
If you trade the news, you will want news delivered in real-time, which might cost.
A Quick Summary of the Most Reliable Market News Services & Apps
Benzinga Pro: Real-time stock news for traders
MetaStock Refinitiv: Real-time global financial news app
Bloomberg: Best finance TV channel 
Learn Stock Trading Summary
Learning stock trading and investing takes a lot of work. There are no shortcuts; you can teach yourself by learning from the wealth of books, videos, podcasts, and training courses available. You must treat your investing seriously and not take undue risks with your capital; there are no get-rich-quick schemes.
Frequently Asked Questions
How do I learn to trade on the stock market?
Learning to trade the stock market is an intellectual endeavor. You must avoid day trading scammers with Lambo's on TikTok and knuckle down to reading serious trading books and taking professional trading courses from industry professionals.
Can I get rich off stocks?
The best way to get rich off stocks is to own your own business and grow that business to an initial public offering (IPO). Secondarily, you can get rich off stocks but expect at most 25% profit yearly.
Which stock trading site is best for beginners?
For beginners, the best site for learning stock trading is LiberatedStockTrader.com; it offers extensive free and premium stock trading training from an industry-certified professional market analyst.
Can I teach myself the stock market?
Do you need math for stock trading?
Do millionaires invest in stocks?
Yes, millionaires do invest in stocks because stocks are one of the most profitable assets available. Millionaires spread their investments across a portfolio of assets, real-estate 3 annually, bonds 1-2%, and the stock market 7-9% per year. A highly successful independent stock trader can expect a long-term annual profit of a maximum of 25%.
Can you trade stocks for a living?
Yes, you can trade stocks for a living if you are a fund manager. If you are an independent trader requiring $5000 for living expenses every month and making 15% in annual stock trading profits after tax, you will need a trading portfolio of at least $400,000.
Can I start trading with nothing?
No, you cannot start trading with nothing. You need capital to make profits despite what social media influencers tell you. Best to save money and take time to study investing so you can avoid losing your hard-earned cash needlessly.
What is the easiest way to learn trading?
The easiest way to learn trading is to take a respected stock trading training course from an industry-certified professional who will provide an unbiased guide through the investing process. Following TikTok traders and YouTube influencers' cryptocurrency pump-and-dump schemes should be avoided.
Which trading is most profitable?
Long-term trading in growth stocks is the most profitable strategy. Day trading should be avoided because humans cannot compete against high-frequency machine traders. Short to medium-term swing trading can also be profitable.
How many hours does it take to learn stocks?
The truth is that learning stock investing takes multiple years. Anyone who tells you it is easy is being misleading. You can learn the theory of stock trading in 16 hours. But putting theory into practice takes a lot of time. For 99.9% of investors, it is best to invest in broad-market ETFs over the long term.
How many days will it take to learn stock market trading?
To learn stock trading properly will take at least 30 days of study and 300 days of full-time practice. I have been trading for 20 years, and I understand the effort it takes to understand the stock market.
Do you need 25k to trade stocks?
No, you do not need 25K to invest in the stock market; you can start investing with only $20. However, if you want to be an active pattern day trader in the USA, you need at least a $25K account balance.
What skills do traders need?
The skills a trader needs are:
The ability to continually learn.
A structure to learning and strategy development.
Self-discipline to stick to the plan.
The ability to learn from mistakes.
A positive attitude, but not overconfident.
What do rich people invest in?
Rich people invest in stocks, bonds, fine art, fine wine, and real estate. Most importantly, rich people buy businesses and invest in people because those people make them richer through the power of leverage.
How to become rich in five years?
You can become rich in five years by growing your own business to fabulous wealth, robbing a bank, or marrying a rich person. Otherwise, you need to invest a lot of time growing rich slowly through earning and investing.
Can you make $1,000 a day trading stocks?
Yes, you can make $1,000 per day in stock trading if you have an account balance of $36.5 million and a trading profit of 10% per year. If you think you can make $1,000 a day in any other way, you are being misled by social media influencers.
Here is the calculation. $1,000 per day * 365 days per year = $365K. 10% return on $36.5 million = 365K per year.
How to day trade with $100?
You cannot day trade with $100. More money is needed. Any online influencer who tells you differently is misleading you.
Is trading like gambling?
Trading is similar to gambling because you make bets that your hypothesis will be proven correct. However, trading stocks is also different from gambling because the stock market goes up over the long term, and you have a lot of news and financial information at your disposal. So, trading stocks is more like investing than gambling over longer timeframes.
How much can a beginner earn trading?
If you use a stable, proven long-term investing strategy, you can expect to make 8% to 10% per year on your investment. If you are day trading, you can expect to lose your entire investment.