TradingView is a powerful global stock charting platform with 10 million active users; StockCharts.com has expert commentary but only covers US markets. As a certified financial technician, I am uniquely positioned to compare the key important differences between the TradingView and StockChart chart analysis tools.
TradingView vs StockCharts Summary
This comparison of TradingView vs. StockCharts shows that TradingView is best for trading, social community, news, backtesting, and screening. StockCharts' new ACP charting platform is a big improvement but still lags TradingView.
Both platforms offer great ease of use.
| | | |
| --- | --- | --- |
| TradingView vs. StockCharts Ratings | TradingView | StockCharts |
| 🏅 Rating | 4.5/5.0 | 3.8/5.0 |
| 💸 Pricing & Software | ★★★★★ | ★★★★✩ |
| 🚦 Trading | ★★★★✩ | ★★★✩✩ |
| 📡 Scanning | ★★★★✩ | ★★★★✩ |
| 💡 Pattern Recognition | ★★★★✩ | ★★★★✩ |
| 📰 News & Social | ★★★★★ | ★★✩✩✩ |
| 📈 Chart Analysis | ★★★★★ | ★★★★★ |
| 🔍 Backtesting | ★★★★✩ | ★★✩✩✩ |
| 🖱 Usability | ★★★★★ | ★★★★★ |
🏅TradingView vs StockCharts Ratings
TradingView scores 4.5/5 because it does well in community, charts, backtesting, news, and screening. StockCharts scores 3.9/5 because it lacks social community, financial news, and backtesting capabilities. StockCharts' new advanced charting platform ACP is a big improvement but still lags TradingViews range of charts, indicators, and drawing tools.
StockCharts does provide market commentary from leading technical analysts such as John Murphy, but TradingView offers a social community of 10 million users and talented chartists who share ideas constantly.
Let's take a look at the outstanding features head to head.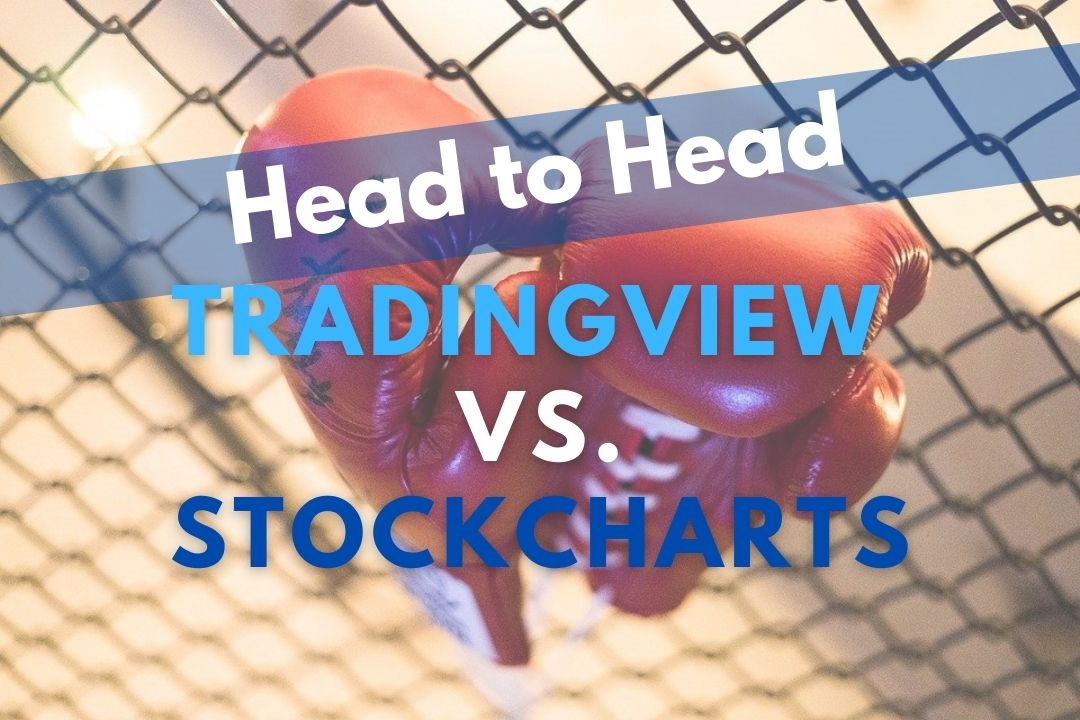 ⚡TradingView vs StockCharts Features
Both TradingView and StockCharts cover stocks, indexes, and cryptocurrency, the difference is StockCharts is US only, and TradingView is global. TradingView features a news stream and a vibrant and active social community of 10 million users sharing charts and ideas. StockCharts has no news or social component.
| | | |
| --- | --- | --- |
| Features | TradingView | StockCharts |
| ⚡ Features | Charts, News, Watchlists, Screening | Charts, Watchlists, Screening |
| 🏆 Unique Features | Trading, Backtesting, Community | Members Commentary |
| 🎯 Best for | Stock, Fx & Crypto Traders | Stocks Only |
| ♲ Subscription | Monthly, Yearly | Monthly, Yearly |
| 💰 price | $0-$59/mo | $0-$39/mo |
| 💻 OS | Web Browser | Web Browser |
| 🎮 Trial | Free 30-Day | Free 30-Day |
| 🌎 Region | Global | USA, UK, Canada |
| ✂ Discount | -50% Discount | -8% With Annual Subscription |
| 🏢 Visit | Try TradingView Free | Try StockCharts |
We independently research and recommend the best products. We also work with partners to negotiate discounts for you and may earn a small fee through our links.
💸 TradingView vs StockCharts Pricing
Both TradingView and StockCharts offer access to their platforms for free; however, TradingView's free service has more functionality available than StockCharts. TradingView allows scanning and screening, backtesting, watchlists, and Candlestick chart recognition for free; with StockCharts, you need to be a paying member for these benefits.
TradingView pricing starts at $0 for the basic ad-supported plan, Pro costs $14.95, Pro+ $29.95, and Premium costs $59.95 per month. Opting for a yearly subscription will reduce those costs by 16%, representing a significant saving. There is a $2 additional cost per exchange if you want real-time data. I recommend the Pro or Pro+ services to strike the right balance of power and price.
StockCharts pricing starts at $15/mo for the Basic plan, Extra costs $25/mo, and Pro costs $40/mo. Opting for a yearly subscription will give you one free month, equating to an 8% discount. With StockCharts, real-time data will cost an extra $10 per month, compared to $2 for TradingView.
Get TradingView Discounts
You can get up to a 50% discount on TradingView by following some simple steps. Find out more in our dedicated TradingView discounts article.
💾 TradingView vs StockCharts Software
Both TradingView and StockCharts offer excellent, stable, and reliable platforms that are easy to use. Both companies offer HTML 5 software that lives in the cloud, so you do not need to install software or configure exchange data stream downloads; they simply work across multiple devices.
| | | |
| --- | --- | --- |
| Key Features | TradingView | StockCharts |
| Global Market Data | ✔ | USA |
| Powerful Charts | ✔ | ✔ |
| Stocks | ✔ | ✔ |
| Futures | ✔ | ✘ |
| Forex | ✔ | ✘ |
| Cryptocurrency | ✔ | ✔ |
| Social Community | ✔ | ✘ |
| Real-time News | ✘ | ✘ |
| Screeners | ✔ | ✔ |
| Backtesting | ✔ | ✘ |
| Automated Analysis | ✔ | ✔ |
Try Our Smart Stock Software Finder
Answer a few questions to get your personal recommendation!
🚦 TradingView vs StockCharts Trading
TradingView supports 27 different high-quality brokers, meaning tight integration so you can directly trade from charts and view your profit and losses directly in TradingView. StockCharts integrates with one broker, Tradier, which offers $0 commission stock traders and free stock options trading for a flat fee of $25 per month.
TradingView integrates TradeStation, an excellent broker offering zero commissions stock trades, and other brokers for trading futures, forex, and cryptocurrency.
🎥 TradingView Review Video
📡 TradingView vs StockCharts Scanning
TradingView has integrated stock, forex, crypto screeners, and heatmaps, covering fundamental analysis and price/volume indicator scanning. StockCharts primarily focuses on the technical screening of price, volume, and indicators, including price pattern scanning for Candlestick and Point & Figure charts.
The TradingView stock screener comes complete with 160 fundamental and technical screening criteria; all the usual criteria are there, such as EPS, Quick Ratio, Pre-Tax Margin, and PE Ratio. But it also goes more in-depth with more esoteric criteria such as the number of employees, goodwill, and enterprise value.

StockCharts advanced scan workbench has a wide selection of technical indicators to choose from, such as MACD, Moving Averages, and RSI. StockCharts also has a coding window for customizing scans, but it is not as flexible or powerful as TradingView's Pine script coding engine.
🎥 StockCharts Video Overview
💡 TradingView vs StockCharts Pattern Recognition
StockCharts enables paying members to scan for Point & Figure chart patterns and Candlestick chart patterns. TradingView enables automated Candlestick recognition in its free service, and you can scan for 28 different Candlestick patterns. TradingView also has thousands of community-developed indicators and systems.
📰 TradingView vs StockCharts News & Social
TradingView is built with social at the forefront and is simply the best for social sharing and learning; forget StockTwits Tradingview is the best. TradingView's fully integrated chat forum and publishing system are an excellent way to share your charts and ideas. StockCharts does not have an interactive social community or a newsfeed.
Check out my published ideas on TradingView and follow me for stock market and stock analysis ideas and commentary.
Connect with me on TradingView it's free

📈 TradingView vs StockCharts Chart Analysis
Both StockCharts and TradingView offer broad, powerful features for chart analysis. TradingView has 160 different indicators, and StockCharts offers 66 chart indicators. TradingView offers 12 stock chart types, including unique specialty charts such as LineBreak, Kagi, Heikin Ashi, Point & Figure, and Renko.
StockCharts also has 12 chart types, including Candlesticks Heiken Ashi and the unique Elder Impulse system.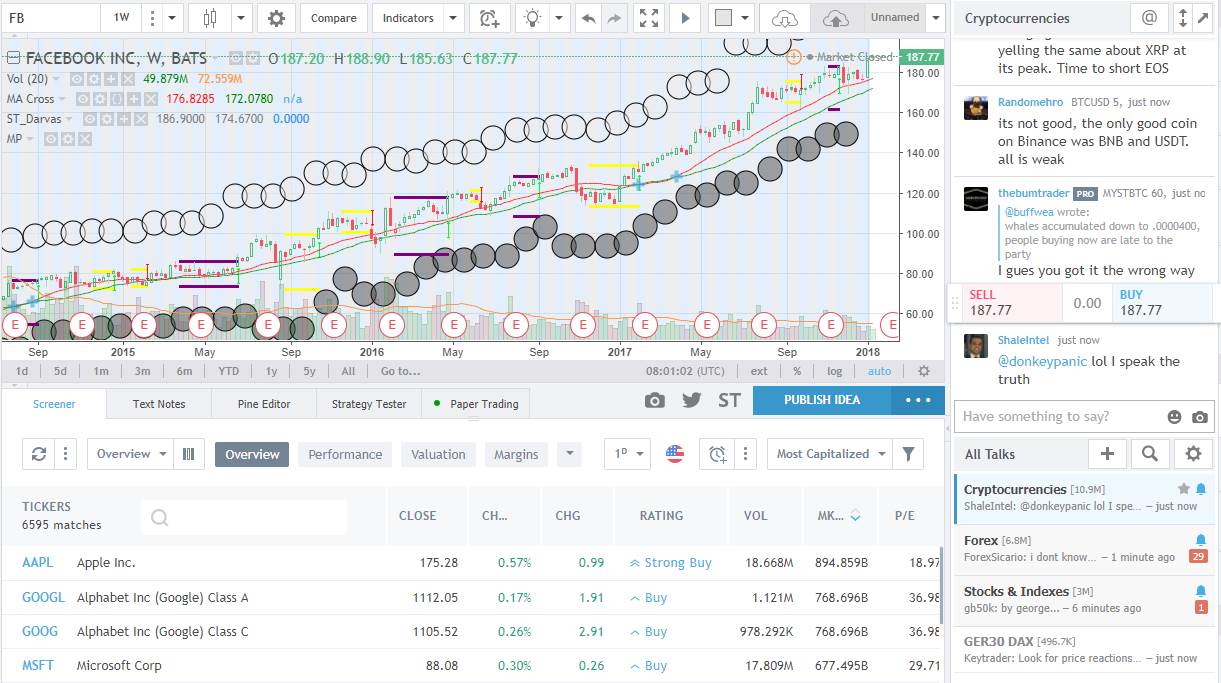 TradingView has 65 drawing chart annotation tools, including capabilities unavailable on other platforms like extensive Gann & Fibonacci tools and hundreds of icons for your charts, notes, and ideas. StockCharts offers 32 different chart annotation tools.
StockCharts recently released the advanced charting platform (ACP), which is a vast improvement over the outdated charts of the past; still, ACP is not a flexible and powerful TradingView's charting.
TradingView's innovative Buy and Sell gauges save you time by providing an instant readout of which stocks are bullish, bearish, or neutral; StockCharts does not have this functionality.
TradingViews's stock indicator ratings are well implemented because there are two critical technical analysis indicators, moving averages based on price and oscillators based on price and volume. Based on my observations, the TradingView buy and sell indicators are a good measure of sentiment and are featured in my Fear & Greed Index Dashboard.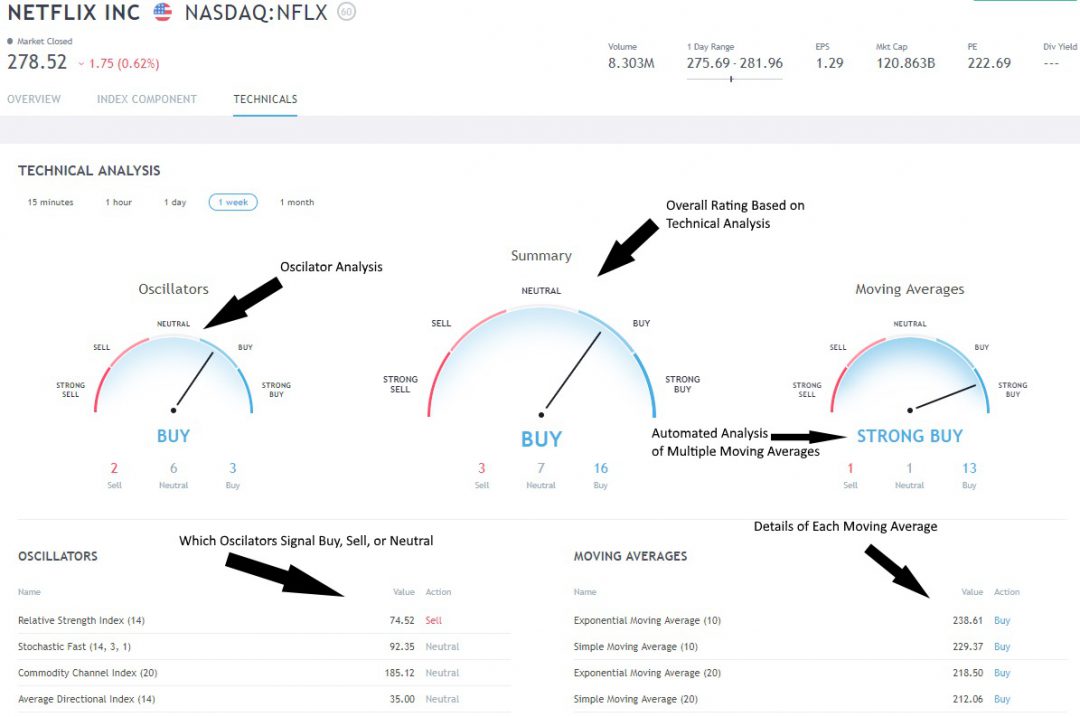 You can click on "Technicals," and you are presented with three gauges when you view a chart. The left gauge shows the oscillating indicators like relative strength, stochastics, and the Average Directional Index. On the right, you have a selection of Moving Averages, Simple, Exponential, and even Ichimoku Cloud.
Even though TradingView has more indicators and annotation tools, StockCharts ACP is a good platform with good future potential.
🔍 TradingView vs StockCharts Backtesting
TradingView has implemented very powerful backtesting features, whereas StockChart does not have backtesting functionality. It is possible to scan for chart patterns and indicator conditions in a specific historical timeframe with StockCharts, but that is not the same as backtesting.
TradingView has robust backtesting reporting showing trades, profit, loss, and capital drawdown; StockCharts does not.
TradingView has a backtesting system called Strategy Tester, but you will have to develop some scripting skills using the proprietary Pine code to develop original backtesting systems. I have even implemented my MOSES ETF Trading strategy into TradingView; I am no developer, but the Pine Script language is so natural anyone can do it.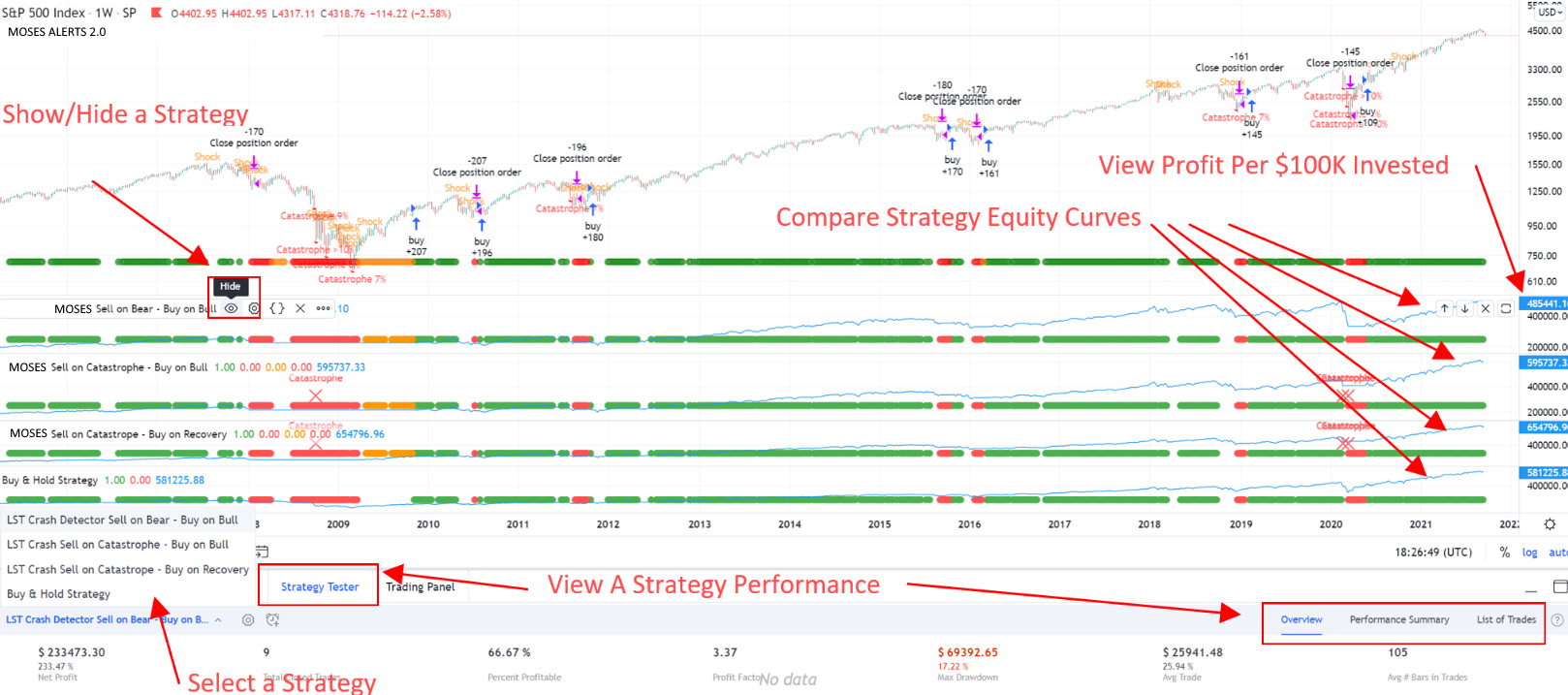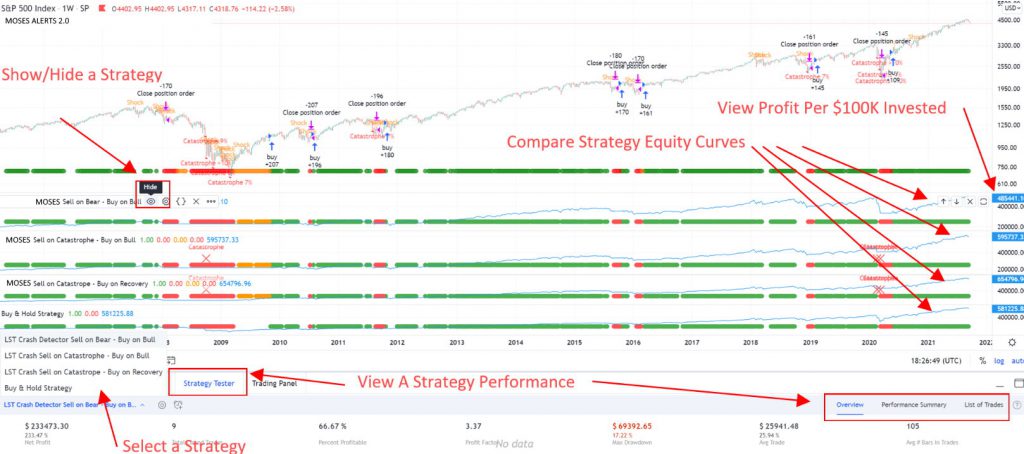 🖱 TradingView vs. StockCharts Usability
Both TradingView and StocksCharts ACP are incredibly easy to use, requiring zero installation or configuration. Both platforms are easy to use for beginners and offer advanced features for more experienced traders.
🏁 Final Thoughts
TradingView is the best overall stock analysis and trading software, perfect for beginner and experienced traders, with a vibrant community and excellent charts, backtesting, scanning, and screening globally. The rating section shows that TradingView equals or beats StockCharts in every category. The key reason to go for StockCharts would be to access its market commentary from leading technical analysts and watch StockCharts TV videos.
If you need real-time news, the best backtesting, and stock chart indicators, I recommend MetaStock. If you seek to build long-term value, income, and growth portfolios, then Stock Rover is the best software. Finally, if you want to use the power of AI for short-term day trading, then Trade Ideas is the best choice.
Still undecided? Take a look at our Top 10 Best Stock Trading Analysis Software Programs.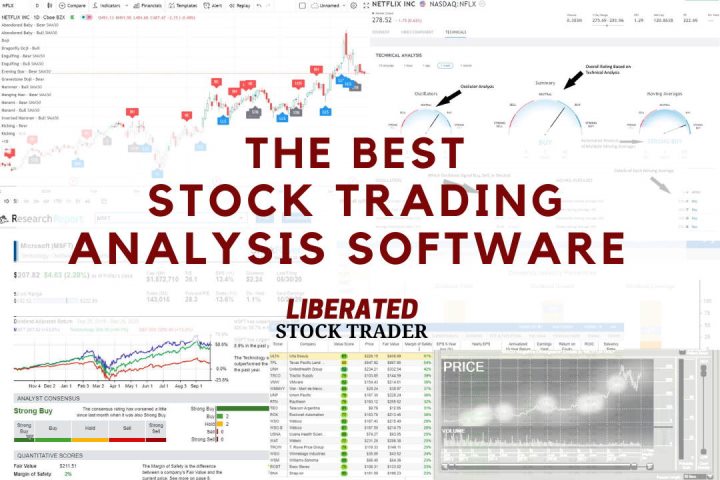 ---
Beat The Market, Avoid Crashes & Lower Your Risks
Nobody wants to see their hard-earned money disappear in a stock market crash.
Over the past century, the US stock market has had 6 major crashes that have caused investors to lose trillions of dollars.
The MOSES Index ETF Investing Strategy will help you avoid or minimize the impact of major stock market crashes. MOSES will alert you before the next crash happens, so you can protect your portfolio. You will also know when the bear market is over, so you can start investing again.
MOSES Helps You Secure & Grow Your Biggest Investments
★ 3 Index ETF Strategies ★
★ Outperforms the NASDAQ 100, S&P500 & Russell 3000 ★
★ Beats the DAX, CAC40 & EURO STOXX Indices ★
★ Buy & Sell Signals Generated ★
MOSES Helps You Sleep Better At Night Knowing You A Prepared For Future Disasters
---