Our Finviz review testing reveals an effective free stock screener, fast market heatmaps, and stock chart pattern recognition. Finviz Elite includes real-time data, interactive charts, and backtesting.
I first used Finviz over 14 years ago, so when I started testing this platform in 2023, I was hoping for some big surprises. Finviz has implemented big improvements in charting, pattern recognition, and backtesting. Also, Finviz still offers excellent free stock screening.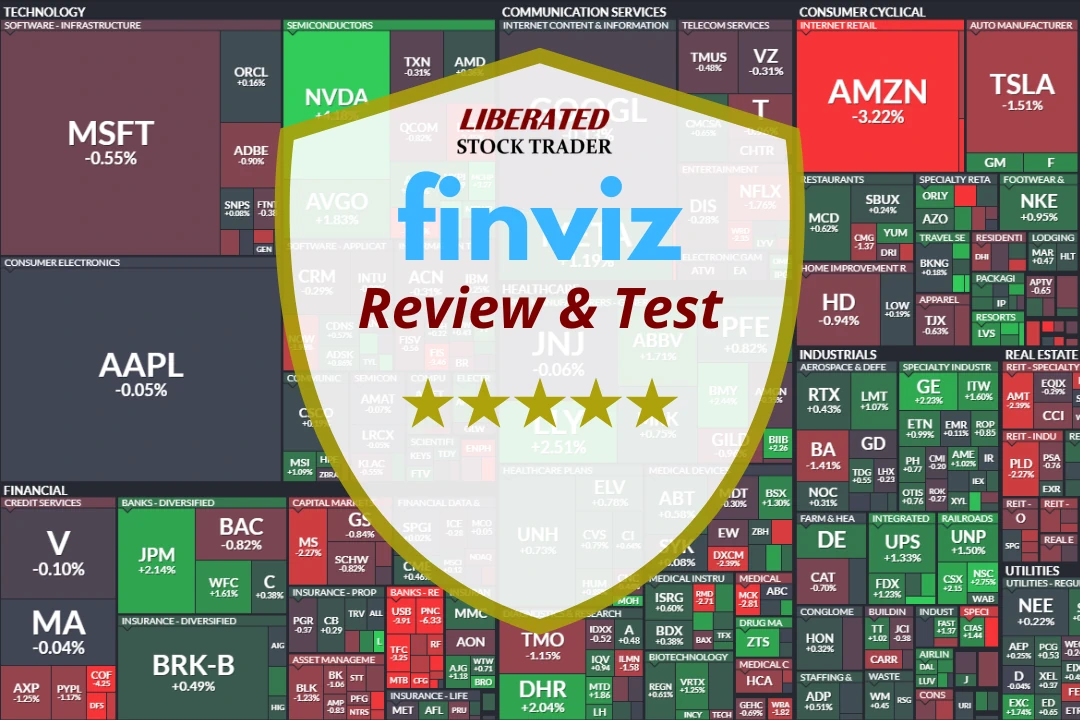 The big question is, can Finviz still compete in the era of real-time financial news by Benzinga, interactive community and streaming charts by Tradingview, powerful backtesting software from MetaStock, and outstanding stock and ETF screening from Stock Rover?
Finviz Review Test Results & Ratings
| | |
| --- | --- |
|  Finviz Rating | 4.3/5.0 |
| 💸 Pricing & Software | ★★★★✩ |
| 📡 Screening | ★★★★✩ |
| 📰 News & Social | ★★★✩✩ |
| 📈 Charts | ★★★★✩ |
| 📰 Portfolio & Research | ★★★★✩ |
| 🔍 Backtesting | ★★★★✩ |
| 🖱 Usability | ★★★★★ |
Finviz Review Summary
Constant charting improvements mean Finviz is still relevant in 2023. Our Finviz review reveals an excellent free service, with effective heatmaps and fast stock screening with integrated chart pattern recognition. Finviz Elite is incredible value for $299/y on an annual subscription, including interactive charting, backtesting, and real-time data.
Overall, Finviz is a cost-effective, robust charting solution.
Finviz Review: Key Features
| | |
| --- | --- |
| ⚡ Features | Screening, Heatmaps, Charts |
| 🏆 Exceptional Features | Patterns, Signals, Auto-Trendlines |
| 🎯 Best for | Beginner Investors/Traders |
| ♲ Subscription | Monthly, Yearly |
| 💰 Price | $0-$39.50/mo |
| 🆓 Free Plan | Yes. Use Finviz Free |
| 💻 OS | Web Browser |
| 🎮 Trial | 30-Day Money-Back |
| ✂ Discount | -40% With Annual Plan |
| 🌎 Region | US |
We independently research and recommend the best products. We also work with partners to negotiate discounts for you and may earn a small fee through our links.
What is Finviz?
Finviz is a privately held New York-based company providing stock screening, stock research, and stock market financial visualization software. Targeted at individual investors and institutions, Finviz enables investors to screen for stocks and see stocks on the move.
Finviz's elite service provides real-time market data and allows you to perform up to 24 years of backtesting on multiple combinations of 102 technical indicators.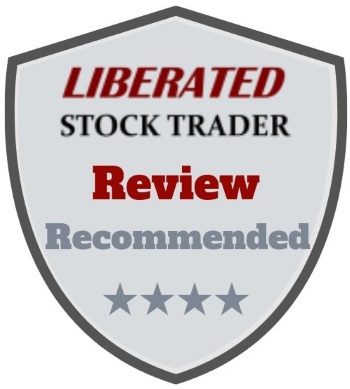 Finviz Pros
67 stock screening metrics
33 Chart Patterns Recognized
Intraday (1-minute) data with Finviz Elite
One of the best free stock screeners
Good insider trading/news service
Fast heatmaps for sector & industry visualizations
Integrated news aggregation
Backtesting recognizes 102 chart patterns
Finviz Cons
Elite Backtesting Could Be More Flexible
21 chart indicators
No app for Android or iPhone
Finviz is improving all the time with constant development. The chart pattern recognition and market heatmaps are visually impressive, its backtesting is solid, and the user experience is excellent.
Finviz Pricing
Finviz has three pricing plans; the Free plan is free to use without registering. Registered users can also use the service for free and save their settings. Finally, the Elite service costs $39.99/mo or $24.96/mo annually, saving you 37%.
You can have Finviz for free; however, the real power of Finviz is unleashed with the Elite service, which provides real-time data and maximum flexibility.
Finviz Free
Finviz's free plan is ad-supported but provides great value for beginner investors. Without registering, you can scan and screen over 10,000 stocks and use the delayed charts and news stream. The free plan is ideal for beginner investors who want to check the markets fuss-free.
Finviz Registered
If you like Finviz, I highly recommend registering for free because it provides all the free version features. You can also configure 50 portfolios, 50 stocks per portfolio, and save 50 screener configurations.
Finviz Elite
Finviz Elite costs $39.99/mo or $24.96/mo on an annual plan with a 40% discount. The big bonus of the Elite subscription is the real-time data, customizable alerts, fundamental charts, correlation charts, and backtesting capabilities. You can also export your screener results and access eight years of company financial statements.
Finviz Coupon Code Discount
Finviz does not offer coupon codes for its stock research software. However, Finviz does offer a 1-year subscription 40% discount for new customers who start an Elite subscription.
Finviz Platform
Finviz runs on PC, Macs, Tablets, and Smartphones through a browser and requires zero installation; it simply works. When you register with Finviz and log in, you are greeted with the home screen dashboard, which gives you an instant view of market performance for the current trading day, plus the top moving stocks, news, and big insider trades.
Finviz App
There is no Android Play Store or Apple Store App for Finviz. People might mistakenly install the FINWIZ app, but it is not the same company. Finviz is best accessed via a PC, Mac, or tablet browser.
Finviz Review & Tutorial
During this Finviz review testing, I started to appreciate the real benefits of the platform and how to use it. I will now run you through how to use Finviz so it becomes less confusing. The best way to start using Finviz is from the Heatmaps or the Screener. We will start with the heatmap.
Finviz Heatmaps Review
The Finviz heatmaps visualize the US and world stock market performance, which is great for finding trading opportunities. Finviz manages to cram the entire world's moving stocks onto a single-page heatmap at lightning speed, which is very impressive. Hovering your mouse over a ticker symbol shows the stock's current performance, a mini line chart, and the company's direct competitors.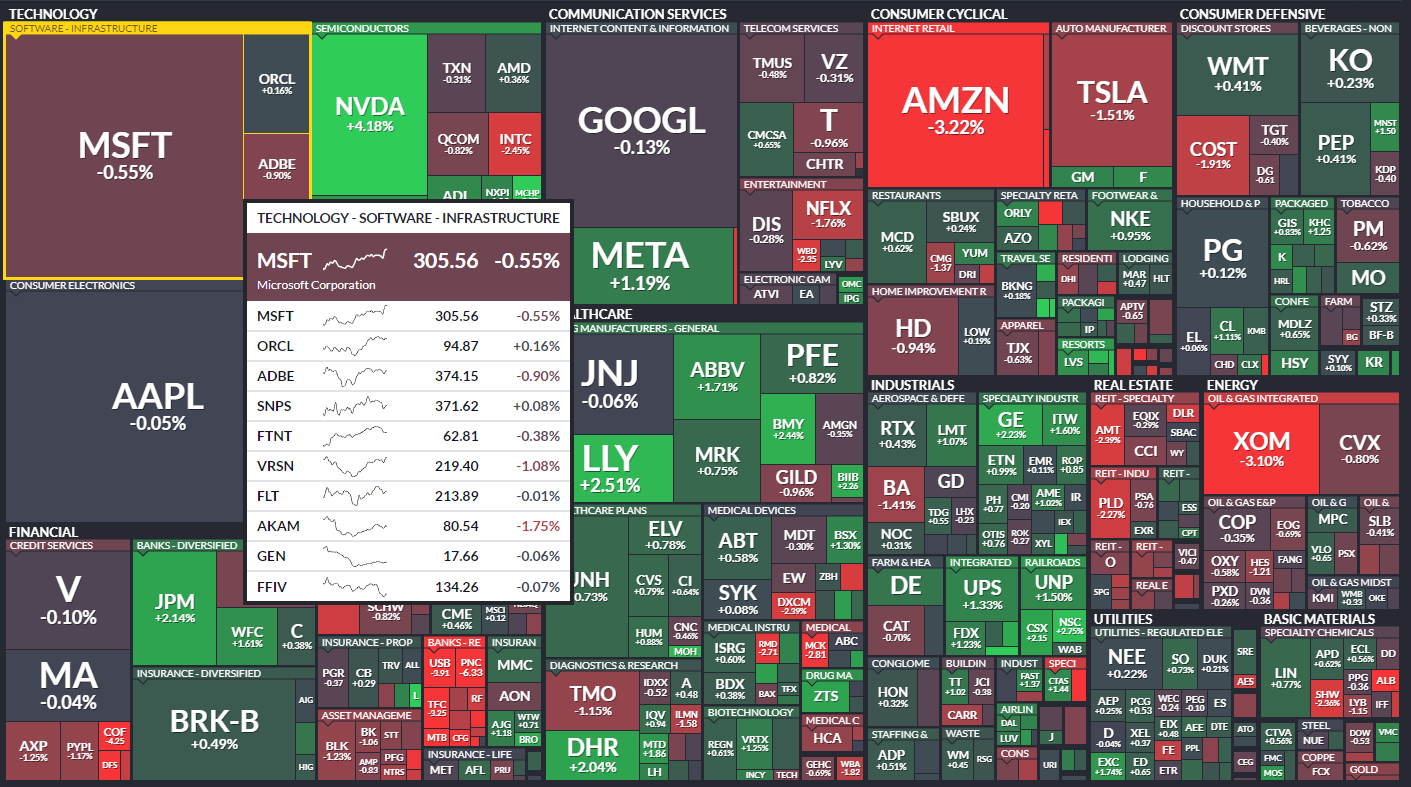 Interestingly, viewing the Finviz stocks heatmaps based on analyst recommendations shows how biased institutional analysts are, as 70% of stocks are flagged as positive.
Finviz allows you to visualize markets based on stock price performance, volume, P/E, PEG, Dividend Yield, Float, EPS, and even analyst recommendations. Finviz lets you click on stock and jump directly to the individual company data and chart. The whole process is extremely fast and efficient.
Finviz Stock Screener Review
The Finviz screener allows for rapid filtering of 8,500+ major stocks and ETFs. However, this is not all the stocks in the world, just the major stocks, as there are over 10,000 stocks in the USA alone.
The Finviz stock screener is extremely fast and allows you to filter on 67 fundamental and technical criteria. You can filter the stocks on specific chart-based signals such as new highs, lows, oversold, analyst upgrades, insider buying, or even chart patterns like double tops and head & shoulders.
Finviz allows you to scan for a mix of 67 fundamental criteria and combine it with 30 different trading signals. That may seem like a huge choice, but TradingView offers over 168 criteria, Portfolio123 has 470 filters, and Stock Rover provides over 650 options.
Finviz also shines where the others do not because you can also screen on ten major candlestick patterns and 30 stock chart patterns. This mix of fundamental screening criteria for investors, technical charts, and candlestick pattern recognition for traders makes Finviz a good match for short-term and medium-term investors.
I have highlighted the key interesting Finviz stock screener fields in red in the screenshot below. To test the Finviz screener, I built a growth stocks screening strategy to demonstrate using high EPS growth, sales growth, ROI, and price above the 20-day moving average.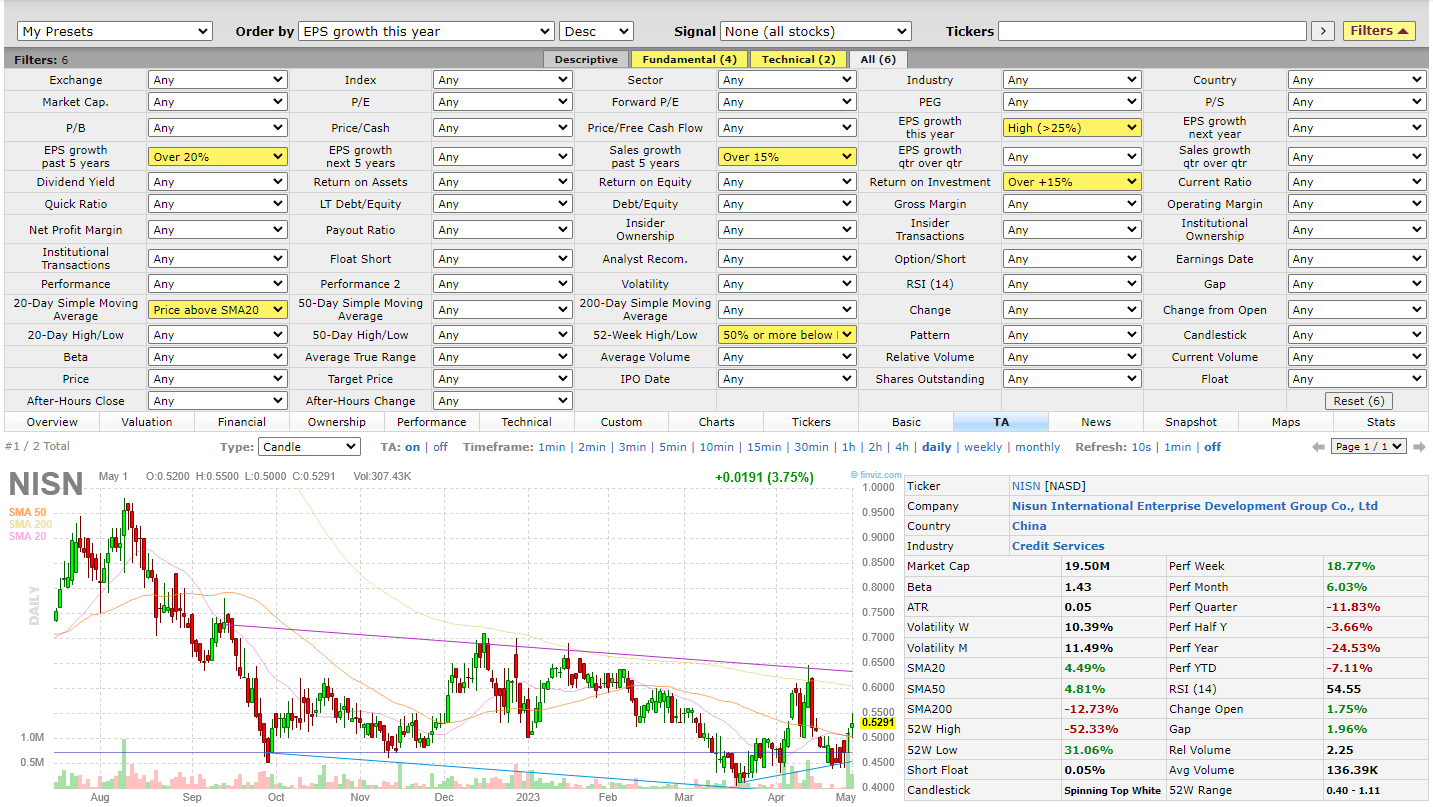 Are there Pre-Built Screeners Integrated into Finviz?
No, with nearly all of the best stock screening software, the companies endeavor to pre-build stock screeners as examples or inspiration; this is not the case with Finviz. Stock Rover provides over 150 pre-built curated screening strategies to import and use immediately.
Finviz Groups, Industry & Sector Analysis
The Finviz Groups tab allows you to visualize the price performance of US stock sectors or industries based on daily, weekly, quarterly, or yearly performance. This lets you see which sectors are performing well and drill down to individual stocks to look for trading opportunities.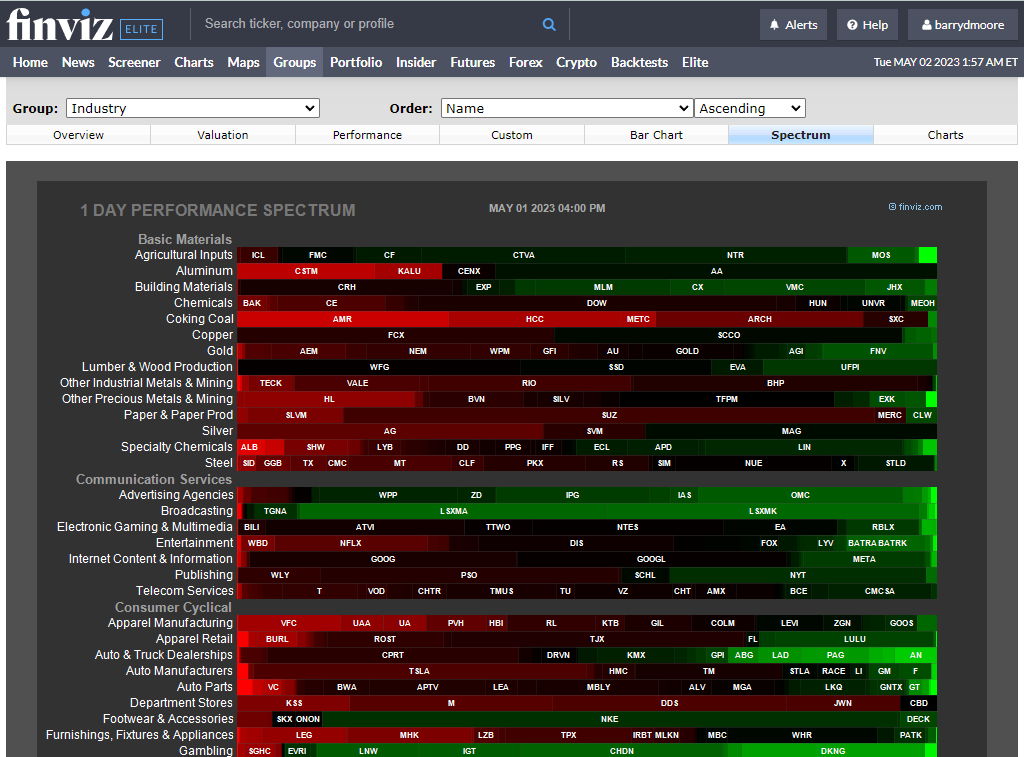 Finviz Charting Review & Test
Looking at stock charts with Finviz is different from the other stock software products on the market. Whereas MetaStock & TradingView provide hundreds of fundamental technical analysis indicators, Finviz provides basic pattern recognition on daily charts and a small but growing handful of overlays and indicators.
I like the Finviz automatic trendlines recognition and how it identifies price patterns like wedges, triangles, double bottoms, and rectangles; this is a big advantage for pattern traders.
Finviz has 13 chart overlays, including Bollinger Bands and VWAP, and 21 chart indicators. Finviz now auto-saves interactive charts, and your trendlines and annotations are replicated throughout the platform; this is a big recent improvement and benefits the users immensely.
Finviz Elite Stock Charts
The Finviz Elite interactive charting is being continuously developed, and now the charts are very good. Integration of Heiken Ashi charts is a welcome improvement. Additionally, more overlays and indicators are being added. Charts now auto-save, and your annotations are available throughout Finviz's platform.
At the time of writing, there is no watchlist, so you cannot flick through your portfolio of stocks and analyze the chart; you need to enter the tickers manually.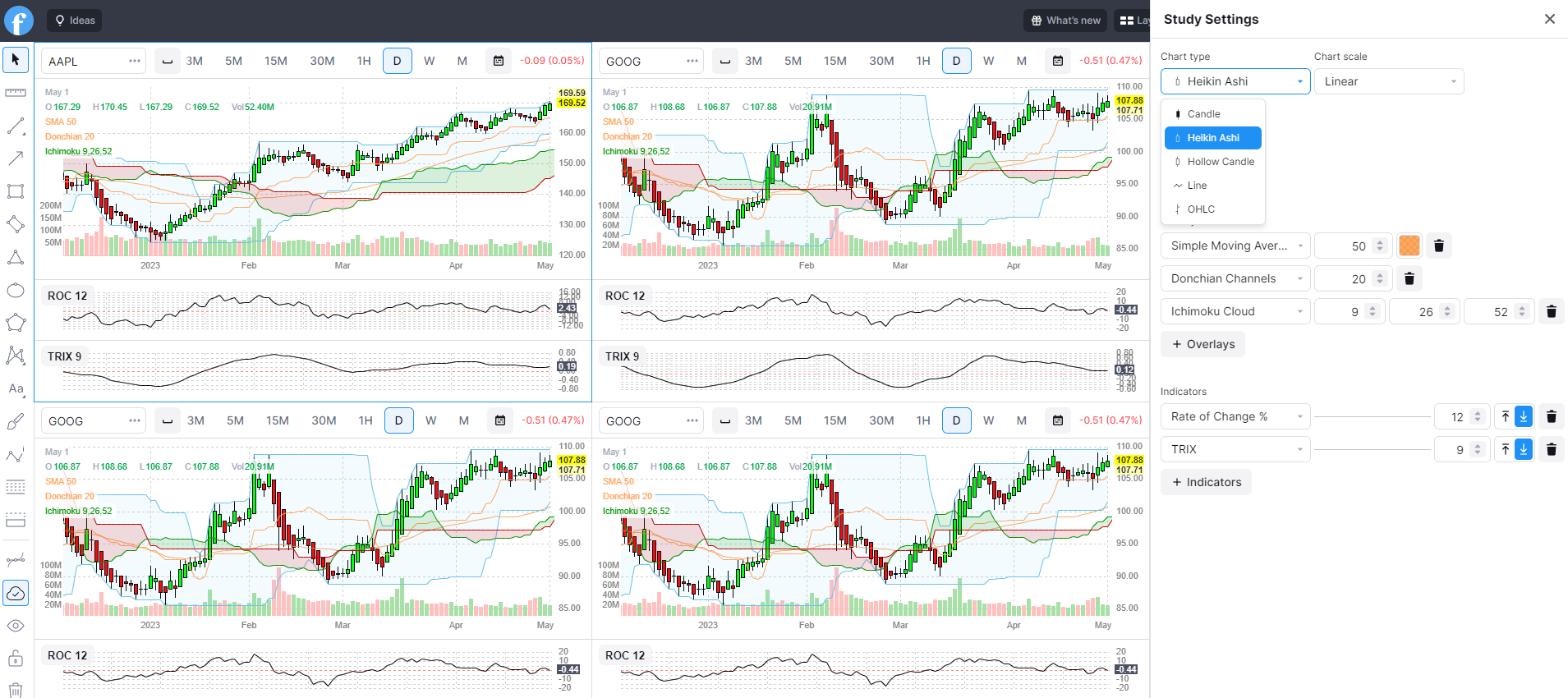 Finviz Alerts (Elite Plan)
Finviz alerts are interesting as they can configure email alerts on any individual stock or portfolio. Alerts can be triggered on financial news, price, analyst rating changes, or insider trading. These alerts are interesting because I do not know any other stock software that provides such alerts on the news or insider trading, except for Benzinga Pro.
Finviz Portfolio Management
The Finviz portfolio management functionality is basic. While you can easily export the results of a screener directly into a portfolio for monitoring and see any aggregated news on that portfolio, calling it a portfolio is a stretch. The portfolio functionality is more like a simple watchlist.
Finviz News & Social
Finviz aggregates news from many outlets, including MarketWatch, Bloomberg, WSJ, CNBC, Fox, and the New York Times. If you only want to read the headlines, this is a good service to get an idea of the latest market action. But of course, the NYT and Bloomberg articles are all behind a paywall, so you cannot get into too much detail. On the upside, Finviz will alert you if there is news on a stock in your portfolio which is very useful.
If you want to trade real-time news, I recommend Benzinga Pro. Alternatively, read our test of the 13 Best Financial Stock Market News Sources & Feeds.
Unlike TradingView, Finviz does not have social trading, chat, or a community of traders.

Finviz Crypto & Forex Heatmaps
The Finviz analysis for cryptocurrency covers only 15 coins and provides charting but no performance information. Finviz has 12 foreign exchange pairs that it tracks but no background analysis or news. You can click on any chart (see the image below) and jump to an interactive chart, but you cannot save annotations or settings.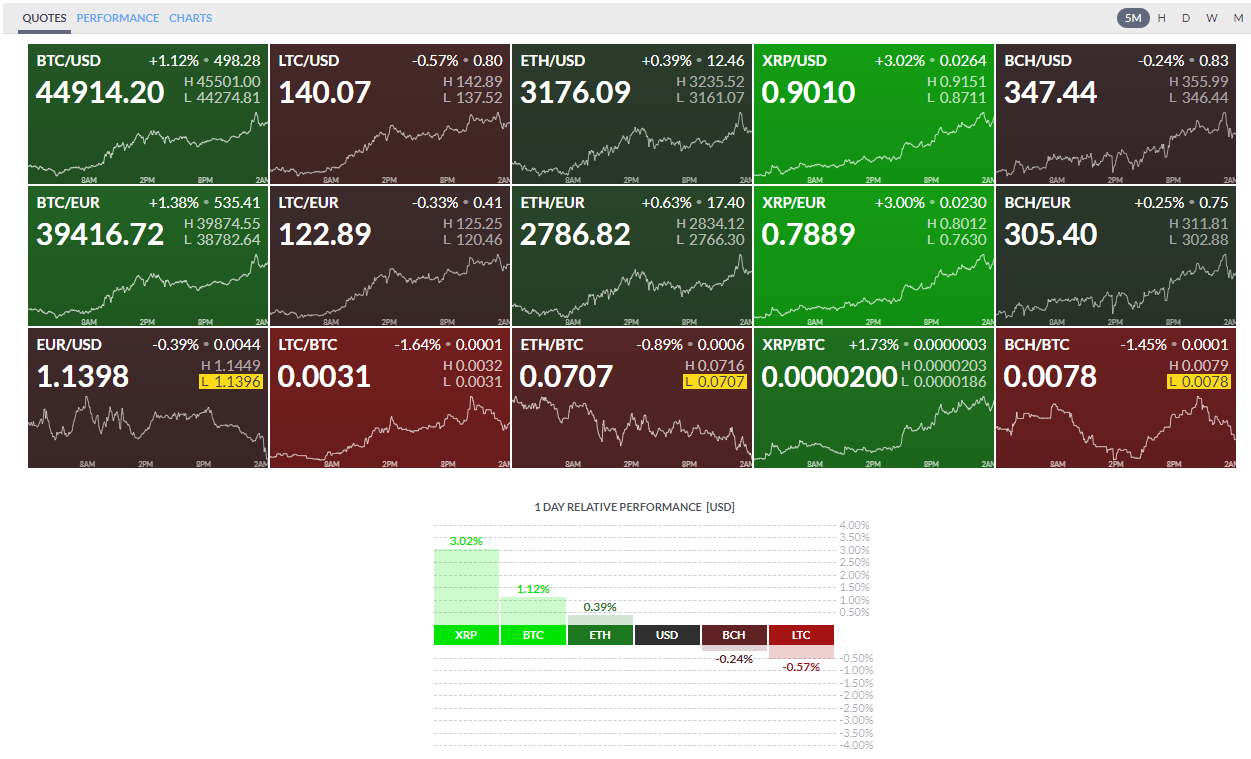 Finviz Elite Review
Our research and testing of Finviz Elite reveal three key reasons to upgrade; the real-time data flow, the interactive charts, and the powerful 24-year backtesting service. A free 30-day money-back trial is available so you can test these features yourself.
Finviz Real-time Data Test
When I upgraded to FinViz Elite, I expected the heatmaps to flicker and glow to show stock prices moving visually. I expected the industry sectors to show me the ebb and flow of entire industries being bought and sold. I expected the interactive stock charts to be buzzing with real-time tick-by-tick data. I got none of that.
You cannot set a refresh rate on the heatmaps or the industry grouping visualizations, so there was no dynamic element. Additionally, the interactive stock charts do not provide tick-by-tick real-time data; the lowest level of granularity is 1 minute. As I mentioned before, you cannot add indicators or save your settings on the Finviz Elite charts, which makes them a disappointment.
But there are many good reasons to upgrade to Finviz Elite, especially the simple yet incredibly powerful backtesting tool with 24 years of data.
Finviz Elite Backtesting Review
The Finviz Backtester offers over 100 unique indicators and automatically detects stock chart patterns to help build a truly unique system. No coding skills are needed for backtesting which is a huge benefit.
As an experienced author of successful backtested strategies, including the Liberated Stock Trader, Beat the Market System on Stock Rover, the MOSES Market Outperforming Stock ETF System on TradingView, and the Stock Market Crash Detector, I know what I am doing. So, I was very excited to try the Finviz backtesting service.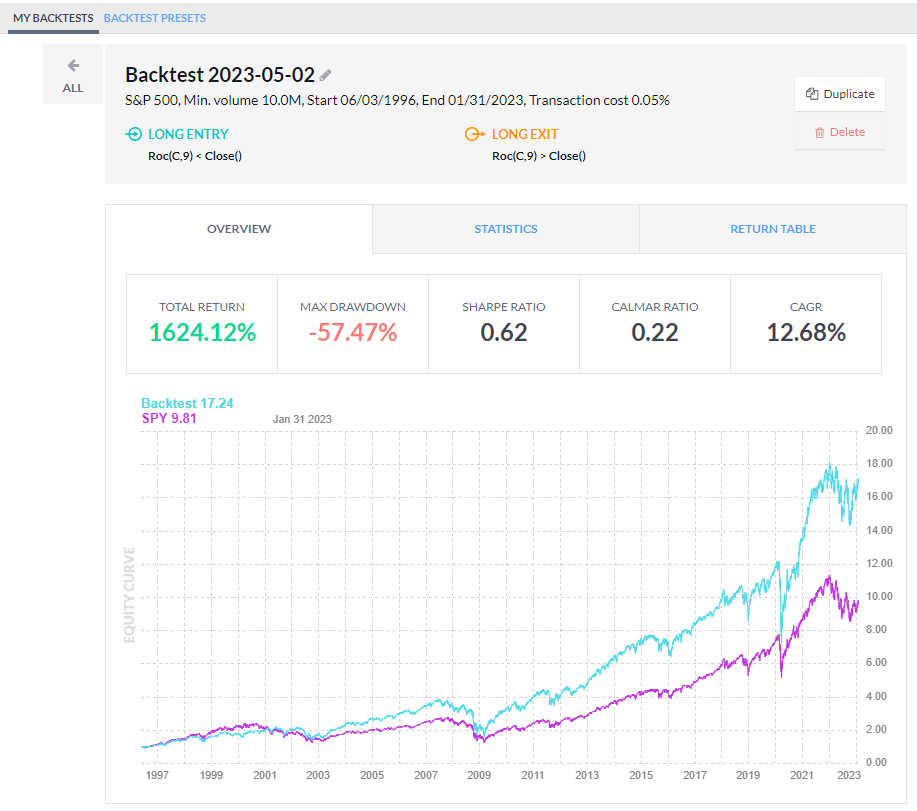 How to Build a Successful Backtest In Finviz
After 1 hour of working on strategies with the Finviz backtester, I was impressed. The backtester offers over 100 unique indicators and automatically detects stock chart patterns to help you build a truly unique system.
After all this work, I created a system based on the Price Rate of Change that beat the S&P 500 index handsomely over the last 25 years.
The system returned a profit of 1,624%, with a compounded annual return (CAGR) of 12.68% versus the S&P 500 of 10.44%. (See the proof below).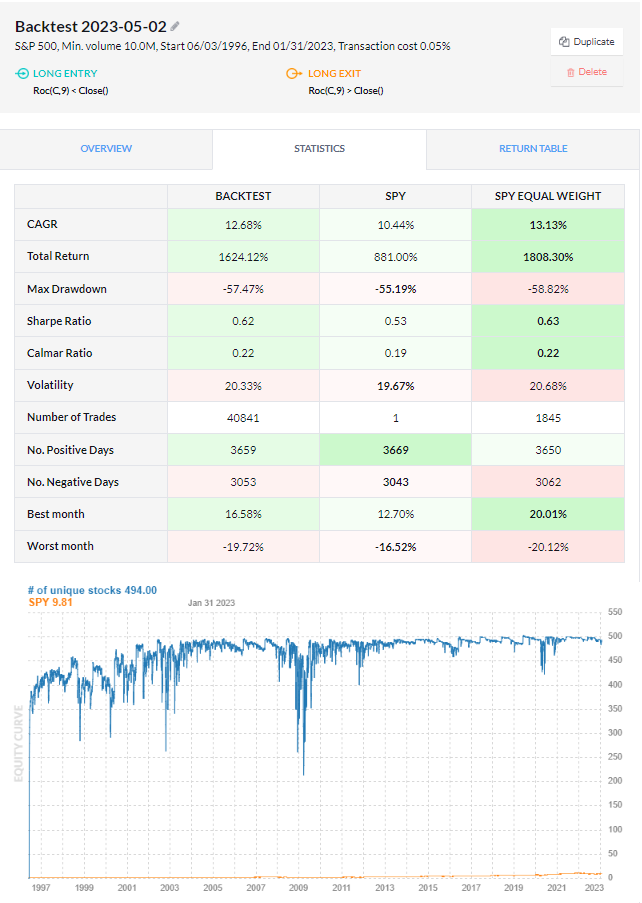 The Finviz backtesting is solid, fast, and incredibly flexible and is listed in our detailed review of the best stock backtesting software.
Is Finviz Easy to Use?
Yes, Finviz is very incredibly easy to use, especially when you become more experienced with the software. There are some user experience limitations; you cannot easily save chart annotations; you cannot have interactive charts and watchlists together; and if you do not save your work on every page, you lose it.
Is Finviz Worth It?
Yes, the free Finviz service is worth using, with excellent heatmaps, a good free global stock screening service, and good news aggregation and insider trading information. What more do you expect for free?
Is Finviz Elite Worth it?
Yes, Finviz Elite is worth it, as the real-time stock market visualizations and pattern recognition help you quickly identify trading opportunities. If you are expecting a world-beating backtesting platform and excellent real-time charting, look at TradingView instead.
Alternatively, Finviz Elite may not be worth it because the backtesting service does not provide adequate data for system reporting. The real-time chart data is accurate only to one minute, not tick-by-tick real-time charting. Finally, the Elite interactive charting does not allow you to add indicators or save annotations.
Finviz Review Summary
Finviz provides fast stock screening, heatmaps, and stock chart pattern recognition for free. If you want to visualize a large amount of stock data and find investments quickly, Finviz is definitely worth it.
Finviz Alternatives
Finviz is good, but there are alternatives available, including real-time financial news by Benzinga, interactive community and streaming stock charts by Tradingview, powerful backtesting software from MetaStock, and outstanding stock and ETF screening from Stock Rover.
Frequently Asked Questions
How to use Finviz to find breakout stocks?
A great way to find breakout stocks in Finviz is to select two criteria from its stock screener. Select "Price crossed MA50 above" and "Gap Up 5%." These two criteria show stocks that were in a downtrend but are now breaking up through the 50-day moving average with a 5% daily gap.
Does Finviz have a mobile app?
No, Finviz does not have a mobile app. Despite the world's internet users moving to mobile, Finviz lags behind in mobile-first development. The Finviz.com website is fast on mobile but not user-friendly.
Does Finviz scan premarket?
Yes, Finviz does scan premarket and extended hours, but only with the Elite service. The Finviz free service does not allow access to premarket or extended-hours data.
How much is Finviz Elite?
Finviz Elite costs $39.99/mo, but if you choose an annual plan, that price drops to $25/mo because of the 40 percent annual discount.
How often does Finviz update?
Finviz Elite will provide up-to-date data with 1-minute accuracy. Finviz Free updates with a 12-15 minute delay. Testing the Apple Inc. stock price, the Finviz Free plan pricing is delayed by 12 minutes, but the free TradingView service is nearly real-time with only a 1-minute delay.
How to find good stocks on Finviz?
Finding a good stock on Finviz depends on what you define as a good stock. If high earnings make a good stock for you, then screen for "EPS growth 5 next years" or "EPS growth qtr over qtr".
How to find low-float stocks on Finviz?
Finviz makes it easy to find low-float stocks, select "Float Short Over 20% in the stock screener, and you will have a list of 50 stocks with a low float.
How to find short-squeeze stocks on Finviz?
To find short squeeze stocks on Finviz, go to the stock screener and select "Float Short Over 30%" and "Option/Short - Optionable." This will provide a list of 10-20 short-squeeze stocks.
How to find undervalued stocks on Finviz?
Finviz does not have the ability to find undervalued stocks. An undervalued stock sells at a discount to its 10-year projected discounted forward cash flow (FCF). The only stock screener that allows you to find undervalued stocks is Stock Rover's Premium+ Plan. Stock Rover has accurate FCF, Fair Value, and Margin of Safely criteria for those seeking value stocks.
How to find value stocks on Finviz?
Finviz does not enable investors to find value stocks. Value stocks are defined by a low stock price versus future cash flows and profits. Value investors should look at Stock Rover, which provides vital value investor criteria such as Fair Value and Margin of Safely.
Is Finviz free?
Yes, Finviz is free; in fact, 80 percent of Finviz customers use the free version of Finviz. Finviz free has many benefits; it is fast, simple to use, and has built-in stock chart pattern recognition. Unfortunately, the free version of Finviz is inundated with adverts, which can spoil the user experience. You can remove the adverts and get real-time data with Finviz Elite.
Is Finviz legal?
Yes, Finviz is legal. Finviz is one of the longest-established stock screening and charting tools on the internet, first established in 2005. The Finviz service sources data directly from the primary US exchanges with the relevant licenses.
Is Finviz legit?
Finviz has been online since 2005, but does that make it a legitimate company? Surprisingly there is very little public information about Finviz and no reference to the ownership, corporate structure, or goverance. Deeper research shows Finviz has a 2.9-star rating on Trustpilot, and the website provides no legitimate address, phone number, or corporate contacts.
Who owns Finviz?
According to very few online sources, the owner of Finviz is Slokavian Juraj Duris. Surprisingly there is no reference to the ownership or corporate structure of Finviz on its website or anywhere else on the internet.
Is Finviz reliable?
The Finviz service is reliable and fast. However, my testing has found issues in the Elite charting and backtesting service results.
Are Finviz charts real-time?
Finviz charts are real-time with an accuracy of 1 minute only with the Finviz Elite service. Finviz Elite costs $25/mo with a 40 percent annual discount.
Are Finviz stock quotes delayed or in real-time?
Finviz quotes are both delayed and real-time. With the free Finviz service, quotes are delayed between 12-15 minutes. With Finviz Elite, the data is close to real-time with only a 1 minute day. Real-time data, like with TradingView, is with only a 1-5 second delay.
Can Finviz chart Elliott waves?
No, Finviz does not have Elliott Wave charting capabilities. With Finviz Elite, it is possible to plot Elliott waves on charts, but TradingView Pro has automated Elliott Waves analysis algorithms that do the hard work for you.
Can Finviz scan for float?
Yes, Finviz can scan for a float with two screening criteria. "Float Short" allows you to scan for float less than 5% or over 30%, and the "Float" criteria enables you to select the number of shares float between -1 million and plus 1,000 million.
Finviz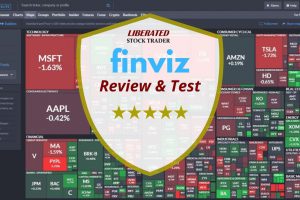 Our Finviz review testing reveals an effective free stock screener, fast market heatmaps, and stock chart pattern recognition. Finviz Elite includes real-time data, interactive charts, and backtesting.
Product SKU: NA
Product Brand: Finviz
Product Currency: USD
Product Price: 0.00
Price Valid Until: 2025-02-10
Product In-Stock: InStock