This Finviz review and test reveal an effective stock screener, good market visualization, and stock chart pattern recognition. Finviz can improve its backtesting reporting and interactive charting.
I first used Finviz over 14 years ago, so when I started testing this platform in 2022, I was hoping for some big surprises, but I did not get many. While Finviz is starting to implement improvements in charting, it has not changed much over the last ten years.
The big question is, can Finviz still compete in the era of real-time financial news by Benzinga, interactive community and streaming stock charts by Tradingview, powerful backtesting software from MetaStock, and outstanding stock and ETF screening from Stock Rover and Portfolio123?
Finviz Review Test Results & Ratings
| | |
| --- | --- |
|  Finviz Rating | 4.1/5.0 |
| 💸 Pricing & Software | ★★★★✩ |
| 📡 Screening | ★★★★✩ |
| 📰 News & Social | ★★★✩✩ |
| 📈 Charts | ★★★★✩ |
| 📰 Portfolio & Research | ★★★★✩ |
| 🔍 Backtesting | ★★★★✩ |
| 🖱 Usability | ★★★★✩ |
Finviz Review Summary
Our Finviz review reveals effective heatmaps, fast stock screening, and excellent stock chart pattern recognition. However, Finviz Elite needs to improve its interactive charting, backtesting, and portfolio management. Finviz uniquely enables investors to visualize a vast amount of stock market data on a single screen.
Finviz Review: Key Features
| | |
| --- | --- |
| ⚡ Features | Screening, Heatmaps, Charts |
| 🏆 Exceptional Features | Patterns, Signals, Auto-Trendlines |
| 🎯 Best for | Beginner Investors/Traders |
| ♲ Subscription | Monthly, Yearly |
| 💰 Price | $0-$39.50/mo |
| 🆓 Free Plan | Yes. Use Finviz Free |
| 💻 OS | Web Browser |
| 🎮 Trial | 30-Day Money-Back |
| ✂ Discount | -37% With Annual Plan |
| 🌎 Region | US |
We independently research and recommend the best products. We also work with partners to negotiate discounts for you and may earn a small fee through our links.
What is Finviz?
Finviz is a privately held New York-based company providing stock screening, stock research, and stock market financial visualization software. Targeted at individual investors and institutions, Finviz enables investors to screen for stocks and see stocks on the move.
Finviz's elite service provides real-time market data and allows you to perform up to 24 years of backtesting on multiple combinations of 102 technical indicators.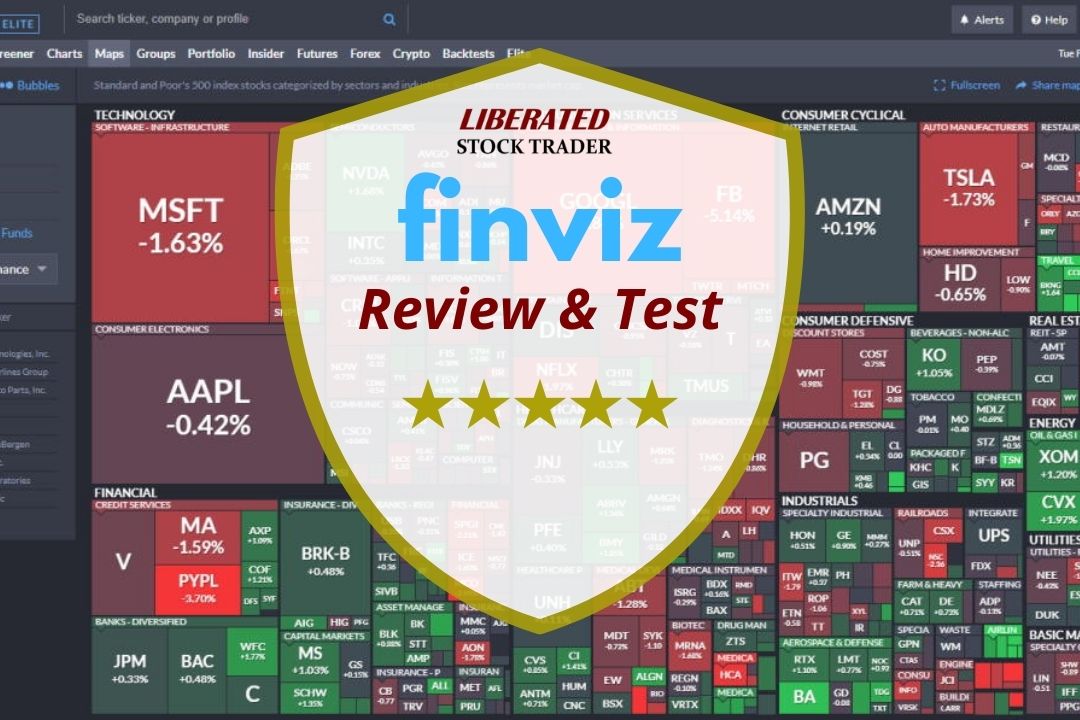 Finviz Pros
67 stock screening metrics
33 Automated stock chart signals
Intraday (1-minute) data with Finviz Elite
One of the best free stock screeners
Good insider trading information
Good heatmaps
Good sector & industry visualization
Integrated news aggregation
Backtesting recognizes 102 stock chart patterns
Finviz Cons
Interactive charts with no indicators
Only nine chart overlays
Only 17 chart indicators on standard charts
No auto-save
No app for Android or iPhone
Limited cryptocurrency & forex data
Backtesting is flawed
Finviz is a mixed bag, doing things like pattern recognition and market visualization very well but also needing big improvements in charting, backtesting, and user experience.
Finviz Pricing
Finviz has three pricing plans; the Free plan is free to use without registering. Registered users can also use the service for free and save their settings. Finally, the Elite service costs $39.99/mo or $24.96/mo on an annual plan, saving you 37%.
You can have Finviz for free; however, the real power of Finviz is unleashed with the Elite service, which provides real-time data and maximum flexibility.
Finviz Free
Finviz's free plan is ad-supported, but it provides a huge amount of value for beginner investors. Without registering, you can scan and screen over 10,000 stocks and use the delayed charts and news stream. The free plan is ideal for beginner investors who want to check the markets fuss-free.
Finviz Registered
If you like Finviz, I highly recommend registering for free because it provides all the free version features. You can also configure 50 portfolios, 50 stocks per portfolio, and save 50 screener configurations.
Finviz Elite
Finviz Elite costs $39.99 per month or $24.96 per month on an annual plan with a 37% discount. The big bonus of the Elite subscription is the real-time data, customizable alerts, fundamental charts, correlation charts, and backtesting capabilities. You can also export your screener results and access eight years of company financial statements.
Finviz Coupon Code Discount
Finviz does not offer coupon codes for its stock research software. However, Finviz does offer a 1-year subscription 37% discount for new customers who start an Elite subscription.
Finviz Platform
Finviz runs on PC, Mac, Tablets, and Smartphones through a browser and requires zero installation; it simply works. When you register with Finviz and log in, you are greeted with the home screen dashboard, which gives you an instant view of market performance for the current trading day, plus the top moving stocks, news, and big insider trades.
Finviz App
Currently, there is no specific Android or Apple App for Finviz. Finviz is best accessed via a PC, Mac, or Tablet Device browser.
Finviz Review & Tutorial
During this Finviz review testing, I have started to appreciate the real benefits of the platform and how to use it. I will now run you through how to use Finviz so it becomes less confusing. The best place to start using Finviz is from the Heatmaps or the Screener. We will start with the heatmap.
Finviz Heatmaps Review
The Finviz heatmaps are the star of the show, providing a view of the US or even the entire world's stock markets. Finviz manages to cram the entire world's moving stocks onto a single-page heatmap at lightning speed, which is very impressive. Simply hovering your mouse over a ticker symbol shows the stock's current performance, a mini line chart, and the company's direct competitors.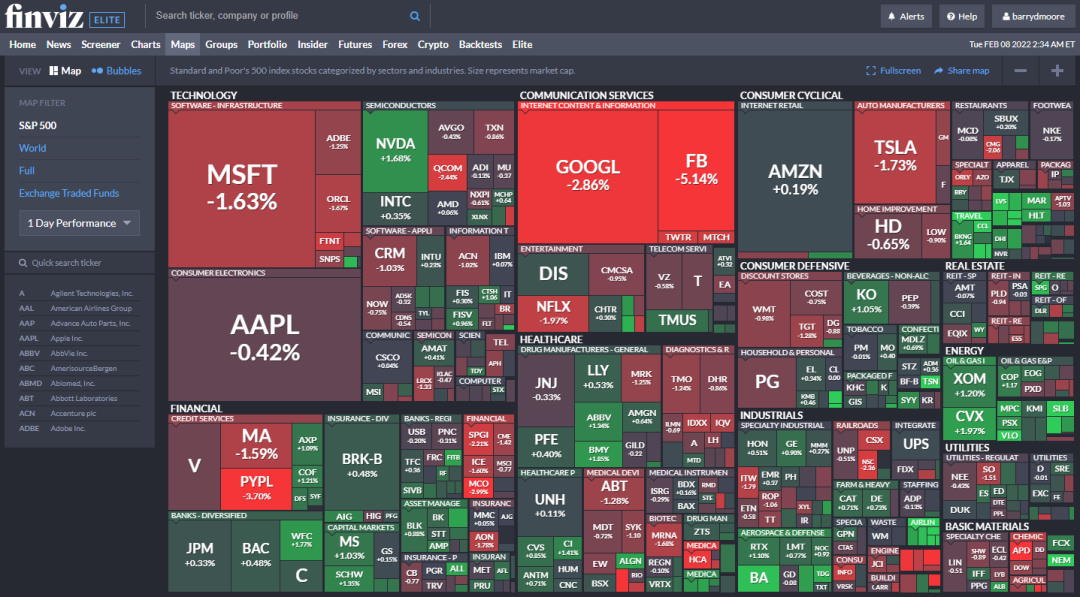 Interestingly viewing the Finviz stocks heatmaps based on analyst recommendations shows how biased institutional analysts are, as 70% of stocks are flagged as positive.
Finviz allows you to visualize markets based on stock price performance, volume, P/E, PEG, Dividend Yield, Float, EPS, and even analyst recommendations. Finviz allows you to double-click on a stock and jump directly to the individual company data and chart. The whole process is extremely fast and efficient.
Finviz Stock Screener Review
The Finviz screener allows for rapid filtering of 8,500+ major stocks and ETFs. However, this is not all the stocks in the world, just the major stocks, as there are over 10,000 stocks in the USA alone.
The Finviz stock screener is extremely fast and allows you to filter on 67 different fundamental and technical criteria. You can filter the stocks on specific chart-based signals such as new highs, lows, oversold, analyst upgrades, insider buying, or even chart patterns like double tops and head & shoulders.
Finviz allows you to scan for a mix of 67 fundamental criteria and combine it with 30 different trading signals. That may seem like a huge choice, but TradingView offers over 168 different criteria, Portfolio123 has 470 filters, and Stock Rover provides over 650 options.
Finviz also shines where the others do not because you can also screen on ten major candlestick patterns and 30 different stock chart patterns. This mix of fundamental screening criteria for investors, technical charts, and candlestick pattern recognition for traders make Finviz a good match for short-term and medium-term investors.
I have highlighted the key interesting Finviz stock screener fields in red in the screenshot below. To test the Finviz screener, I built a growth stocks screening strategy to demonstrate using high EPS growth, sales growth, ROI, and price above the 20-day moving average.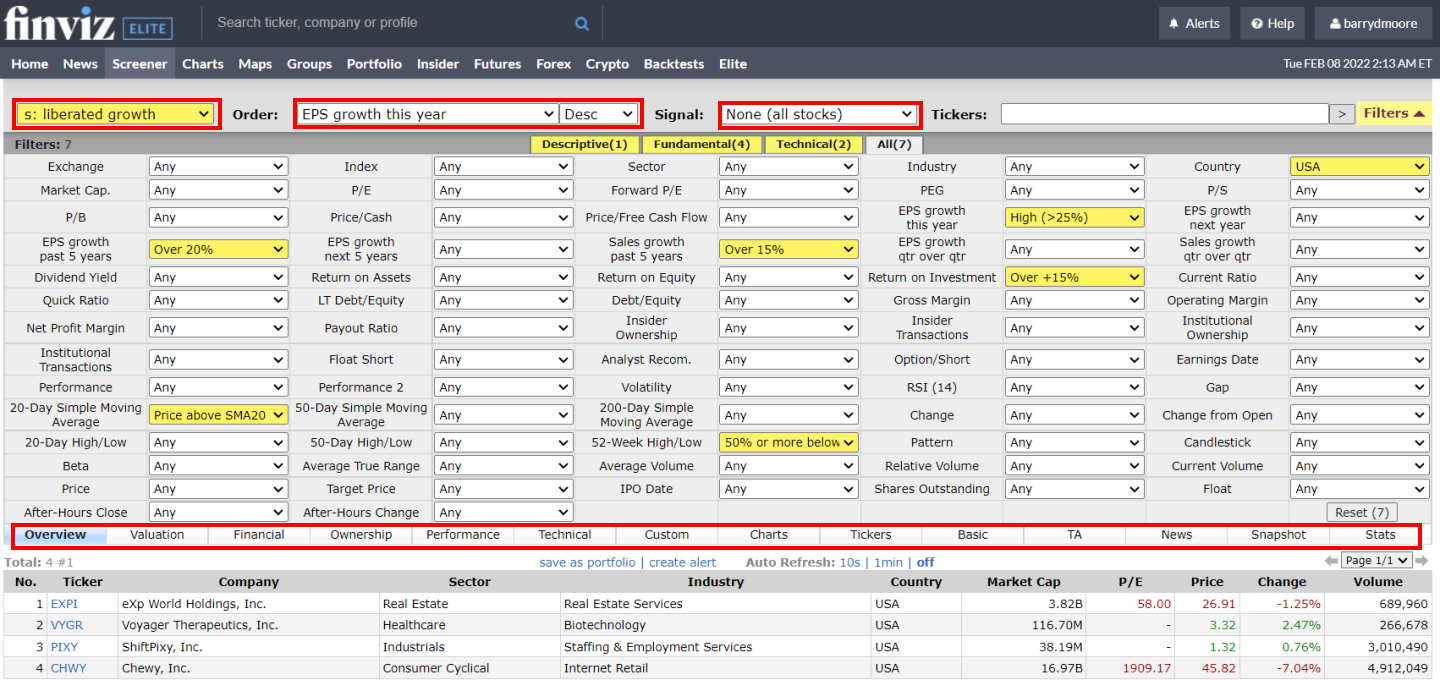 Are there Pre-Built Screeners Integrated into Finviz?
No, with nearly all of the best stock screening software, the companies endeavor to pre-build stock screeners as examples or inspiration; this is not the case with Finviz. Stock Rover provides over 150 pre-built curated screening strategies that you can import and use immediately.
Finviz Groups, Industry & Sector Analysis
The Finviz Groups tab allows you to visualize the price performance of US stock sectors or industries based on daily, weekly, quarterly, or yearly performance. This lets you see which sectors are performing well and drill down to individual stocks to look for trading opportunities.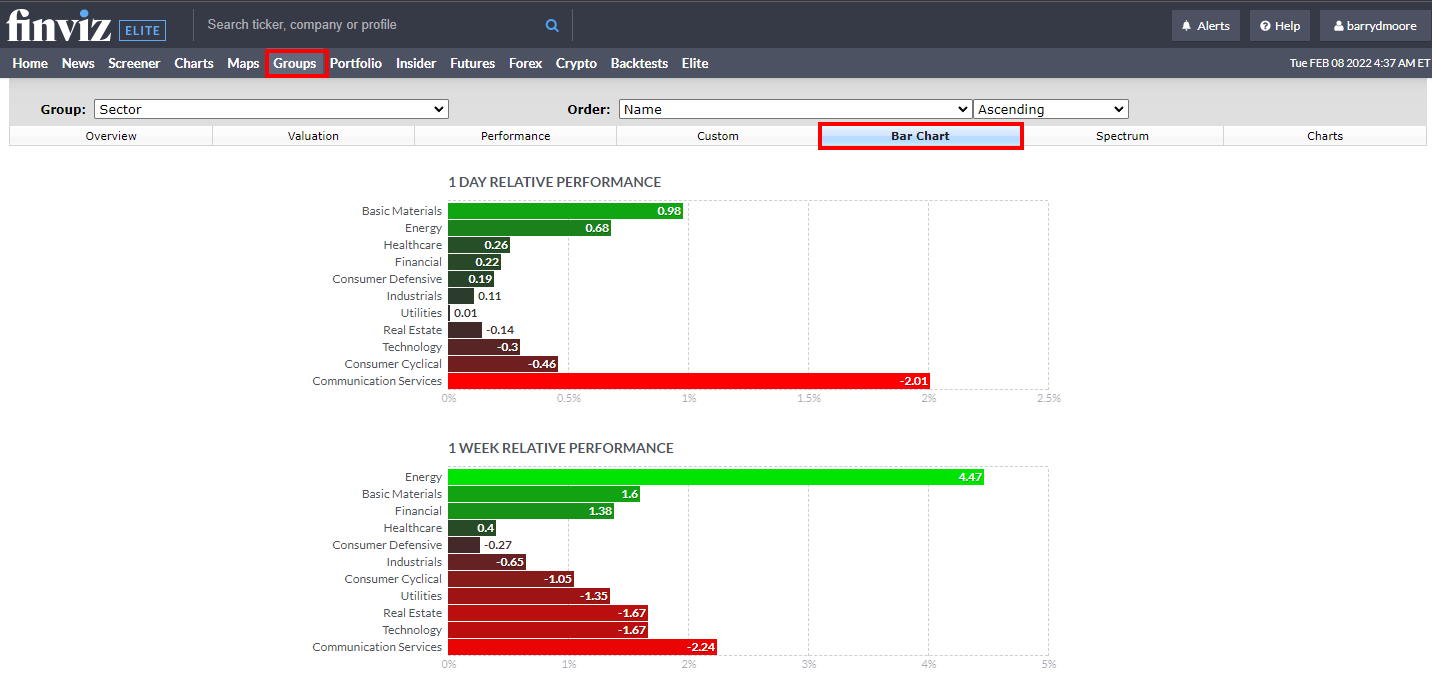 Finviz Charting Review & Test
Looking at stock charts with Finviz is different from the other stock software products on the market. Whereas MetaStock & TradingView provide hundreds of fundamental technical analysis indicators, Finviz focuses on providing basic pattern recognition on daily charts and a small handful of overlays and indicators.
I like the Finviz automatic trendlines recognition and how it identifies price patterns like wedges, triangles, double tops, and channels; this is a big advantage for pattern traders.
But, with only nine chart overlays, including Bollinger Bands and VWAP, and 17 chart indicators, the stock charting experience with Finviz is weak. You cannot simply right-click and add an indicator or study; you have to open settings, select the indicators, then click save. Finviz does not have an effective interactive workflow experience for the user.
Additionally, throughout Finviz, you need to click SAVE constantly. There is no auto-save for your screening criteria, chart annotations, or backtests. If you mistakenly move onto the next chart, you lose your configuration; this is frustrating and a very old-fashioned user experience.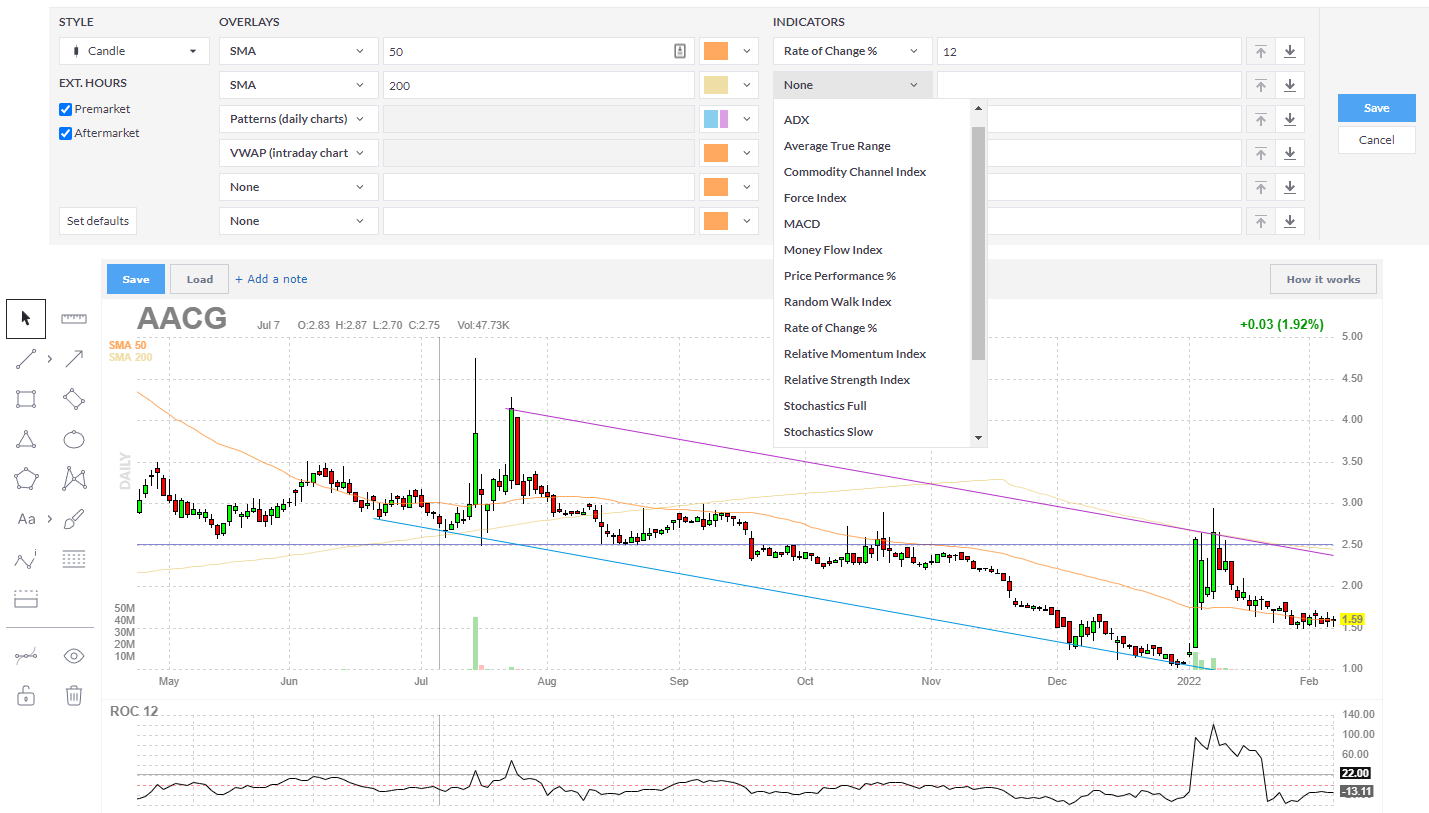 Finviz Elite Stock Charts
When testing the Finviz Elite plan interactive charting experience, I was disappointed that you can annotate charts, but there is no way to save your trendlines or notes. If you change to another ticker, you lose your work.
Even worse, you cannot add any indicators to the chart; as you can see below, you are stuck with only the Rate of Change (ROC) and the simple moving average of 50 and 200.
The Finviz Elite interactive charting is a waste of time. Worst of all, there is no watchlist, so you cannot flick through your portfolio of stocks and analyze the chart; you need to enter the tickers manually.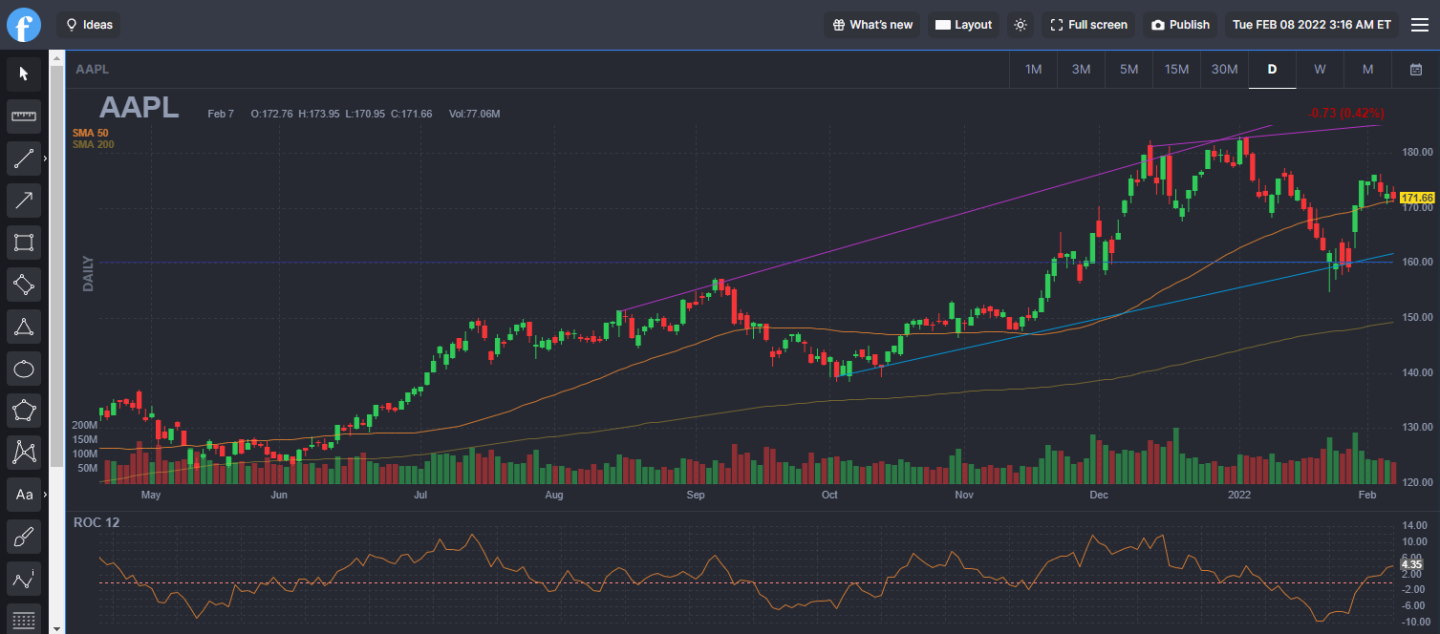 Finviz Alerts (Elite Plan)
Finviz alerts are interesting but basic. You can configure email alerts on any individual stock or portfolio. Alerts can trigger financial news, price, analyst rating changes, or insider trading. These alerts are interesting because I do not know any other stock software that provides such a basic alerting system.
Finviz Portfolio Management
The Finviz portfolio management functionality is particularly poor. While you can easily export the results of a screener directly into a portfolio for monitoring and see any aggregated news on that portfolio, calling it a portfolio is a stretch. The portfolio functionality is more like a simple watchlist.
Finviz News & Social
Finviz aggregates delayed news from nine outlets, including MarketWatch, Bloomberg, WSJ, CNBC, Fox, and the New York Times. If you only want to read the headlines, this is a good service to get an idea of the latest market action. But of course, the NYT and Bloomberg articles are all behind a paywall, so you cannot get into too much detail. On the upside, Finviz will alert you if there is news on a stock in your portfolio which is very useful.
If you want to trade real-time news, look at the 13 Best Financial Stock Market News Sources & Feeds.
When it comes to social trading or a community of traders, Finviz has nothing to offer.

Finviz Crypto & Forex Heatmaps
The Finviz analysis for cryptocurrency covers only 15 coins and provides charting but no performance information. Finviz has 12 foreign exchange pairs that it tracks but no background analysis or news. You can click on any chart (see image below) and jump to an interactive chart, but you cannot save annotations or settings.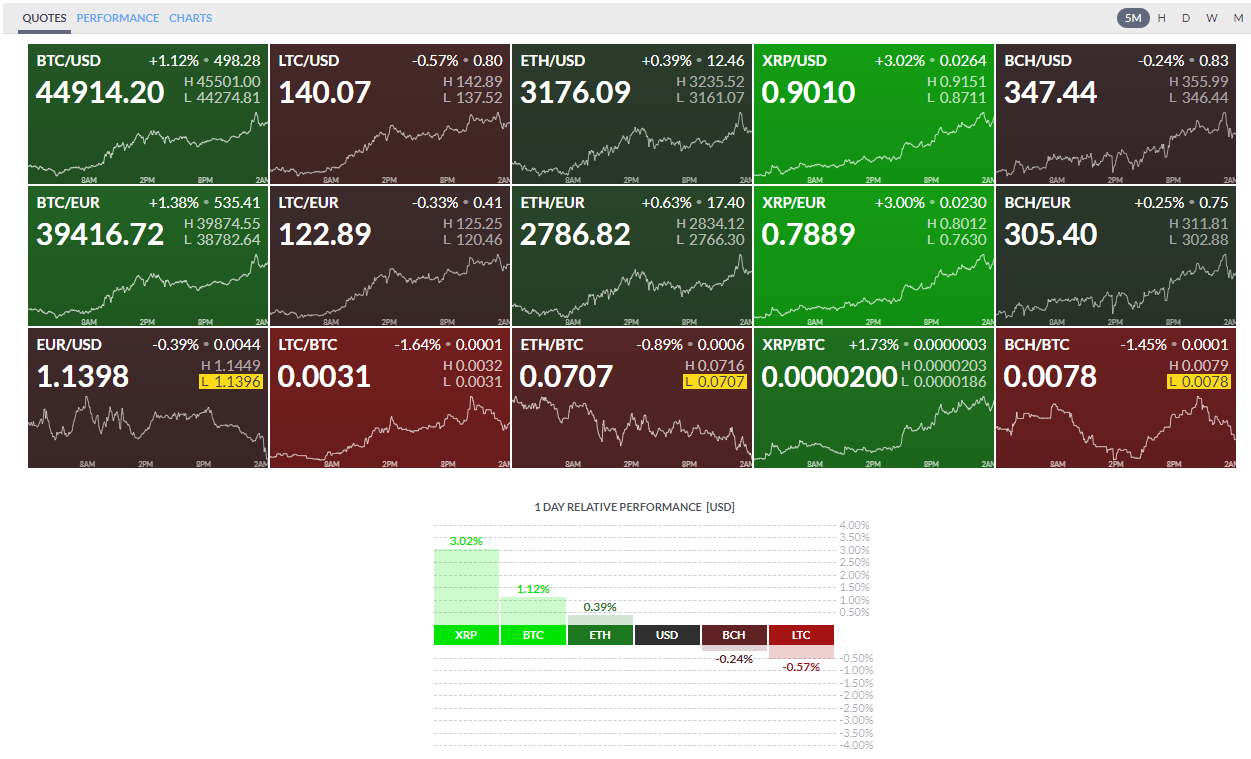 Finviz Elite Review
My review and testing of the Finviz Elite plan show that the main reasons to upgrade are the real-time data flow, the interactive charts, and the powerful 24-year backtesting service. Unfortunately, none of these reasons would be good enough for me to upgrade.
Finviz Real-time data test
When I upgraded to FinViz Elite, I expected the heatmaps to flicker and glow to visually show stock prices moving. I expected the industry sectors to show me the ebb and flow of entire industries being bought and sold. I expected the interactive stock charts to be buzzing with real-time tick-by-tick data. I got none of that.
Disappointingly, you cannot set a refresh rate on the heatmaps or the industry grouping visualizations, so there was no dynamic element. Additionally, the interactive stock charts do not provide tick-by-tick real-time data, the lowest level of granularity is 1-minute. As I mentioned before, you cannot add indicators or save your settings on the Finviz Elite charts, which makes them a disappointment.
So I tested the other big reason to upgrade to Finviz Elite, the powerful backtesting tool with 24 years of data.
Finviz Elite Backtesting Review
As an experienced author of successful backtested strategies, including the Liberated Stock Trader, Beat the Market System on Stock Rover, the MOSES Market Outperforming Stock ETF System on TradingView, and the Stock Market Crash Detector, I know what I am doing. So, I was very excited to try the Finviz backtesting service.
After 6 hours of working on strategies with the Finviz backtester, I was impressed. The backtester offers over 100 unique indicators and automatically detected stock chart patterns to help you build a truly unique system.
In the screenshot below, you can see a snippet of the available pattern recognition criteria to choose from. Now I am excited.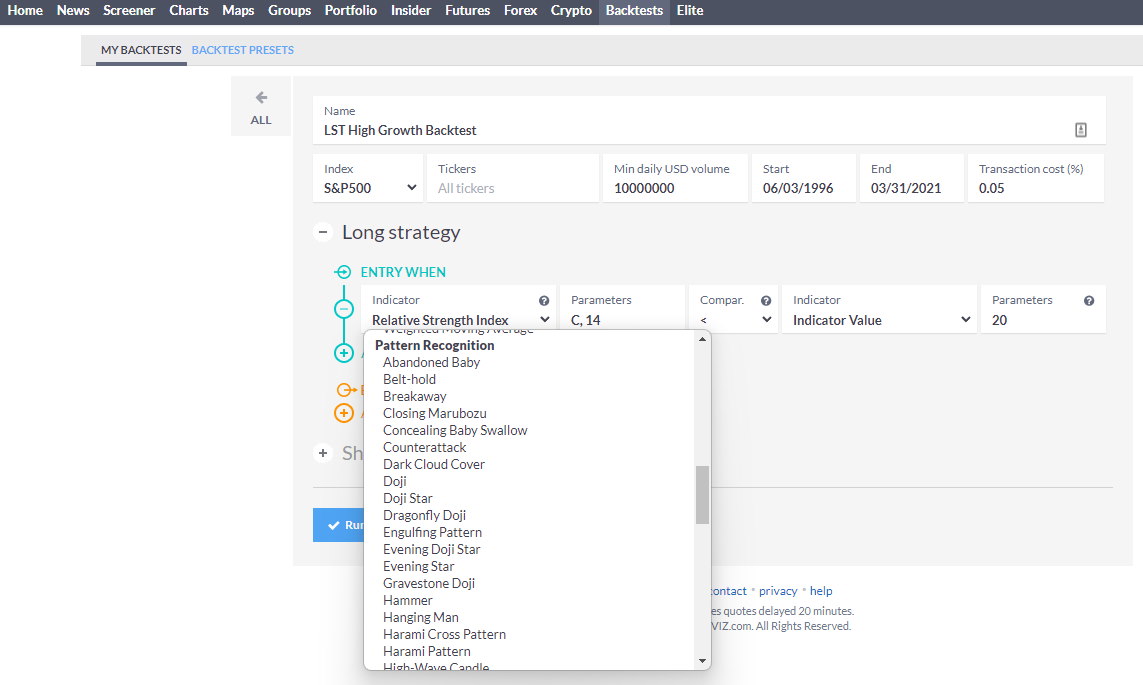 Finviz Elite Review: Building a Successful Backtested System
The Finviz Backtester offers over 100 unique indicators and automatically detects stock chart patterns to help build a truly unique system. After all this work, I created a system based on the Money Flow Index that beat the S&P 500 index handsomely over the last 24 years.
The system returned a profit of 1,588%, with a compounded annual return (CAGR) of 15.24% versus the S&P 500 of 10.86%. (See the proof below).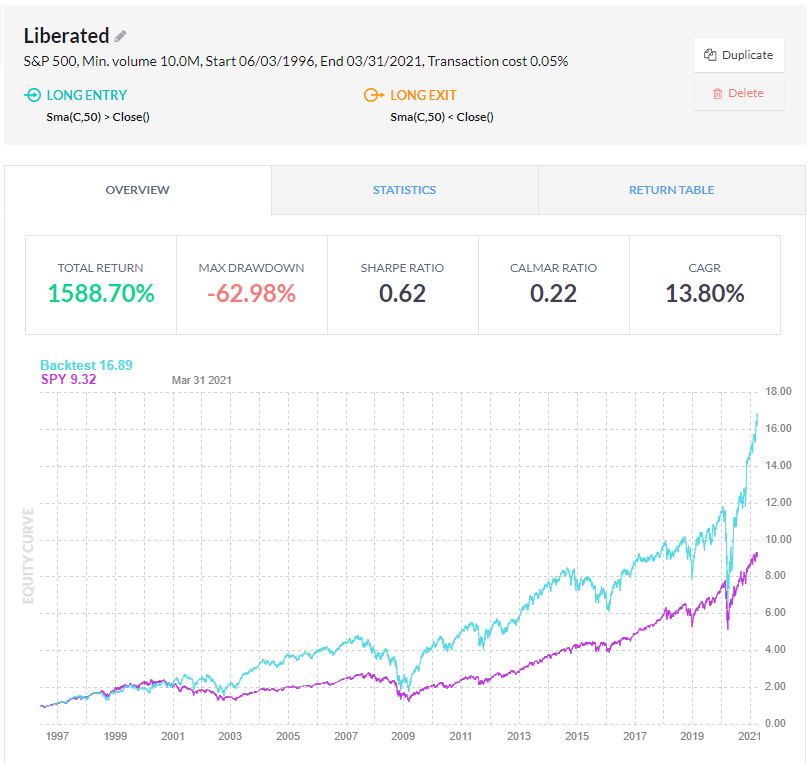 So the next step is to look at all the trades, the buy signals, the sell signals, the drawdown, the max win/loss, and the win/loss ratio. But there is none of that. The reporting for the backtesting service is poor and not thought through. I could not see which trades were executed or what stocks were purchased.
How can you believe the backtest results when there is no evidence of every trade and the entry and exit points? If you want a good backtesting service, please read my detailed review of the best stock backtesting software.
Is Finviz Easy to Use?
Yes, Finviz is very easy to use at first, but as you become more experienced with the software, you realize that it does not work as a single integrated platform, and it becomes frustrating. You cannot easily save chart annotations, you cannot have interactive charts and watchlists together, and if you do not save your work on every page, you lose it.
Is Finviz Worth It?
Yes, the free Finviz service is worth using, with excellent heatmaps, a good free global stock screening service, and good news aggregation and insider trading information. What more do you expect for free?
Is Finviz Elite Worth it?
Finviz Elite is worth it for the stock market visualizations delivered in real-time to help your trading success. If you are expecting a world-beating backtesting platform and excellent real-time charting, look at TradingView instead.
Alternatively, Finviz Elite may not be worth it because the backtesting service does not provide adequate data for system reporting. The real-time chart data is accurate only to one minute, not tick-by-tick real-time charting. Finally, the Elite interactive charting does not allow you to add indicators or save annotations.
Finviz Review Summary
Finviz provides fast stock screening, heatmaps, and stock chart pattern recognition for free. If you want to visualize a large amount of stock data and find investments quickly, Finviz is definitely worth it.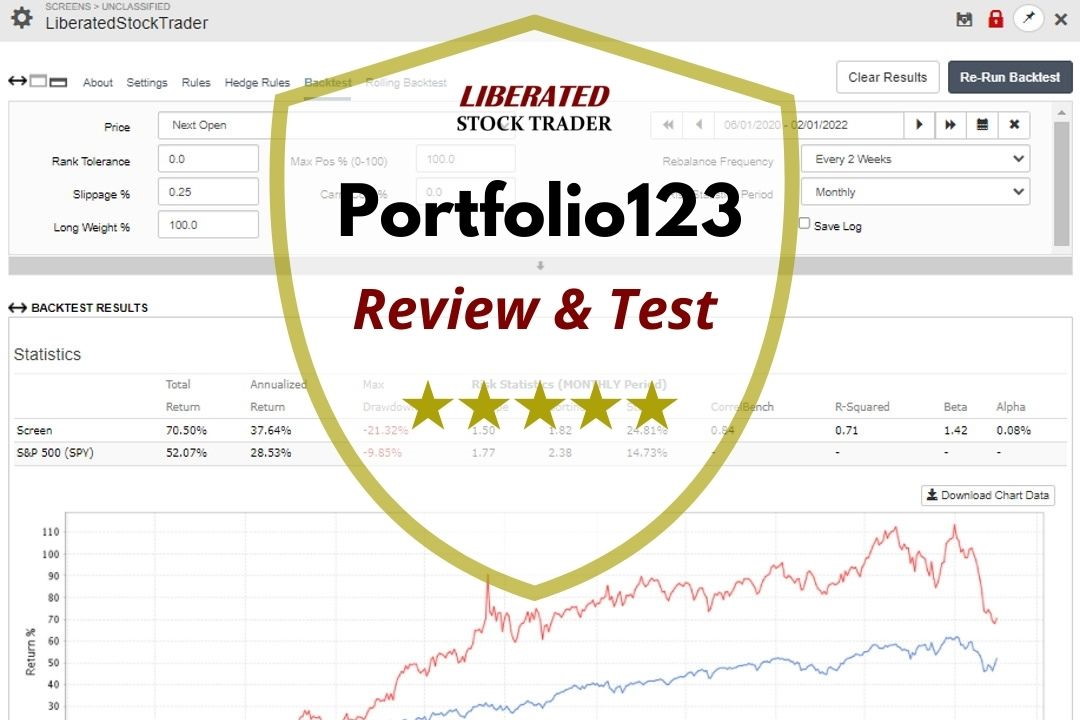 Finviz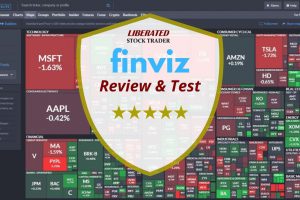 Our Finviz review finds it provides simple and effective heatmaps, stock screening, and chart pattern recognition globally. Finviz uniquely enables investors to visualize a vast amount of stock market data on a single screen.
Product SKU: NA
Product Brand: Finviz
Product Currency: USD
Product Price: 0.00
Price Valid Until: 2025-02-10
Product In-Stock: InStock