This in-depth review and hands-on test of Trade Ideas will give you all the information you will need to make an informed decision on whether it is right for you.
TRADE IDEAS REVIEW SUMMARY
Trade Ideas is a powerful stock scanning AI-powered idea generation platform offering 30 channels of trading ideas & 3 automated AI systems pinpointing trading signals for day traders. Trade Ideas promises and delivers the nirvana of market-beating returns. Trade Ideas is best for active day traders seeking real-time AI-driven high probability trades, excellent stock scanning, and a live trading room to learn trading techniques.
Trade Ideas Review
Pricing & Software Quality

Trade Signals & Alerts

Technical Scanning & Screening

News & Social

Technical Chart Analysis & Indicators

Systems & Backtesting

Ease of Use Score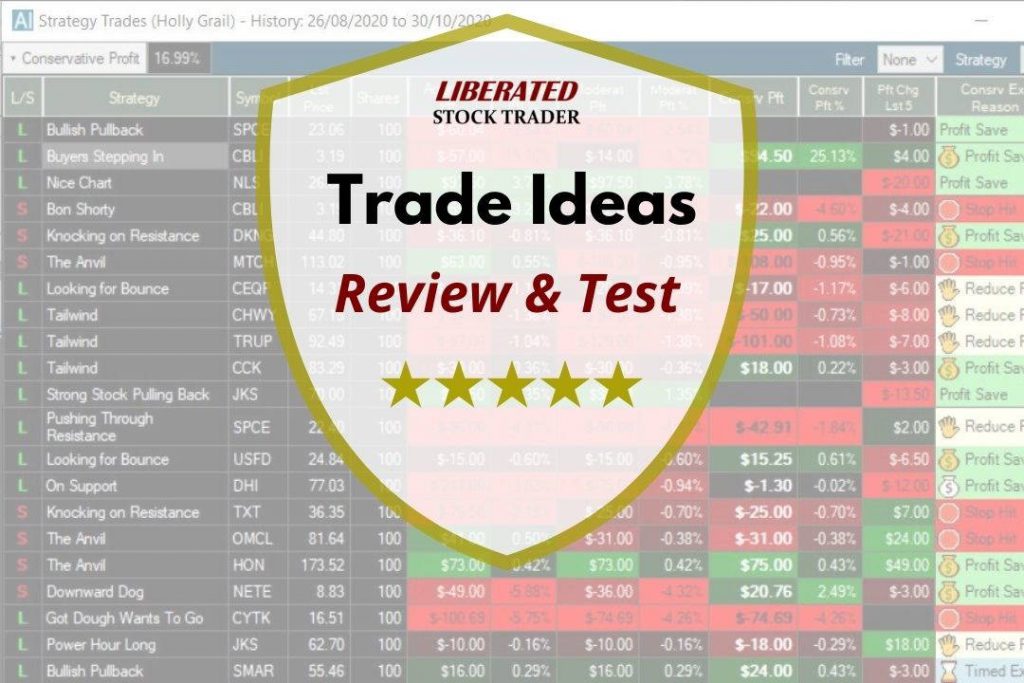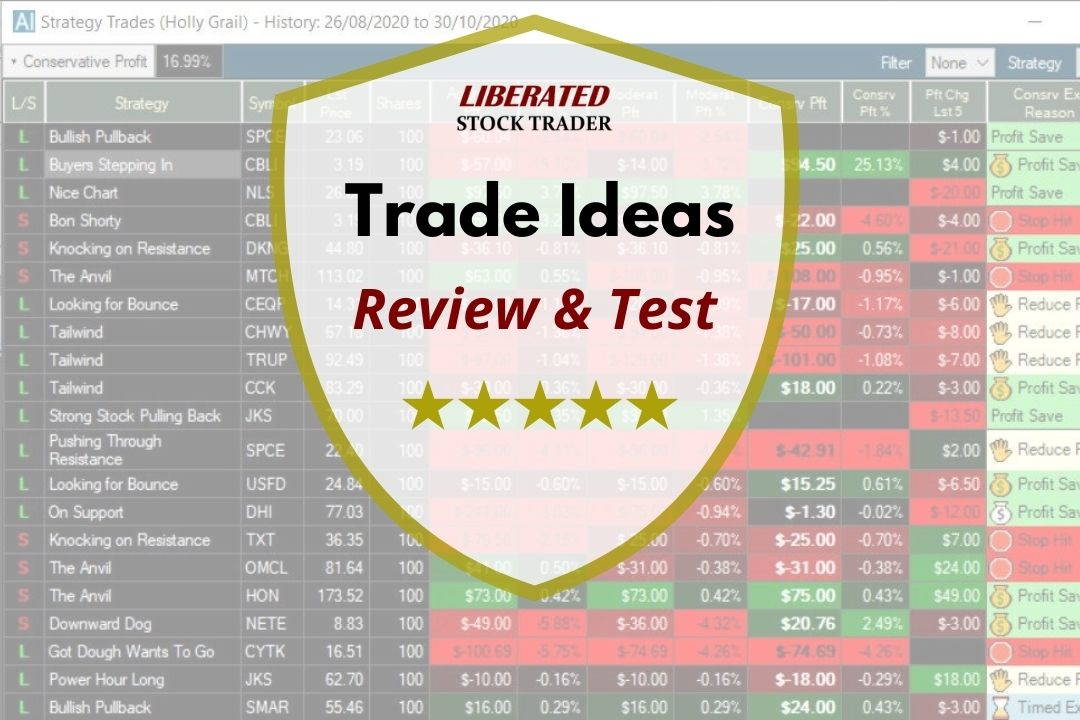 Trade Ideas Pros
★ 3 A.I. Trading Algorithms That Beat the Market
★ Get A Free Holly AI Stock Trade Every Week
★ Fully Automated Backtesting
★ Exceptional Stock Scanning
★ Specific Audited Trade Signals
★ Auto-trading With AI Signals
★ Free Live Trading Room Access
Trade Ideas Cons
✘ Old School User Interface
✘ No Mobile App
What is Trade Ideas?
Founded in 2003, Trade Ideas is a web & desktop-based software platform for finding day trading opportunities. Historically specializing in real-time scanning for trade opportunities, Trade Ideas now incorporates cutting-edge AI algorithms that backtest every stock in the USA & Canada for high probability trading opportunities.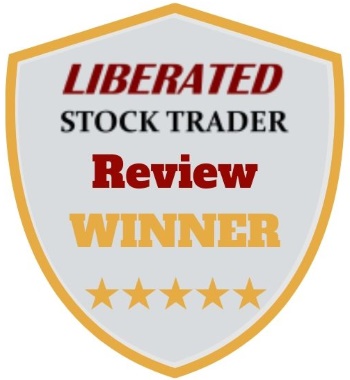 To understand the platform, we first need to look at the pricing structure and what you get for your money.
Trade Ideas Cost ★★★★★
There are two tiers of product, Standard & Premium. Trade Ideas Standard costs $118 per month, or you can save $348 by going for an annual subscription costing $1068, a 25% discount.
For this investment, you get:
Live Trading Room – Full access to the live trading room.
Real-time Streaming Trade Ideas – Scanner providing access to 40 pre-configured scans.
Simultaneous Charts – The ability to have 10 chart windows open.
Chart Based Visual Trade Assistant – The ability to trade directly from charts.
Up to 500 Price Alerts – Price alerts to notify you when a stock meets your criteria.
Channel Bar Curated Workspaces – Access to 30+ channels of ideas.
Special Alert - Black Friday/Cyber Week Discount
Get a 25% Discount on a Trade Ideas Subscription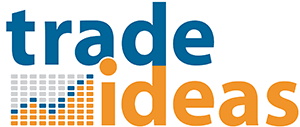 Discount Code: BLACK25
The offer runs to November 28, 2021.
Trade Ideas Pro AI Cost
Trade Ideas Premium costs significantly more than Standard costing $228 per month, or you can save $468 by going for an annual subscription costing $2268. For this extra cash, you get access to everything above, but also the robust backtesting and the Holly Artificial Intelligence System. Features include:
A.I. Virtual Trading Analyst Holly – 3 different constantly evolving A.I. algorithms
Chart Based A.I. Trade Assistance & Entry and Exit Signals
Risk Assessment – Detailed information on the backtested performance of the recommended trade.
Build and Backtest any Trade Idea – Extremely powerful point & click backtesting system.
Autotrade w/ Brokerage Plus and A.I. – Advanced auto trading using Interactive Brokers.
Now that you understand the platform pricing and benefits, let's jump into the key features.
Trade Ideas 15% Discount Coupon Code
As a partner of Trade Ideas, I requested a discount for all our readers. Use the discount code "Liberated" to get 15% off your first purchase, worth $340 when going for the premium service.
Trade Ideas Platform ★★★★★
Trade Ideas comes in two flavors, a full-blown desktop version and a lighter web version. As you would expect, TI Web can be accessed from any PC or Mac and contains most of the desktop platform's functionality.
But as a serious trader, you will want to download and install the desktop platform because it is endlessly configurable and multi-monitor friendly.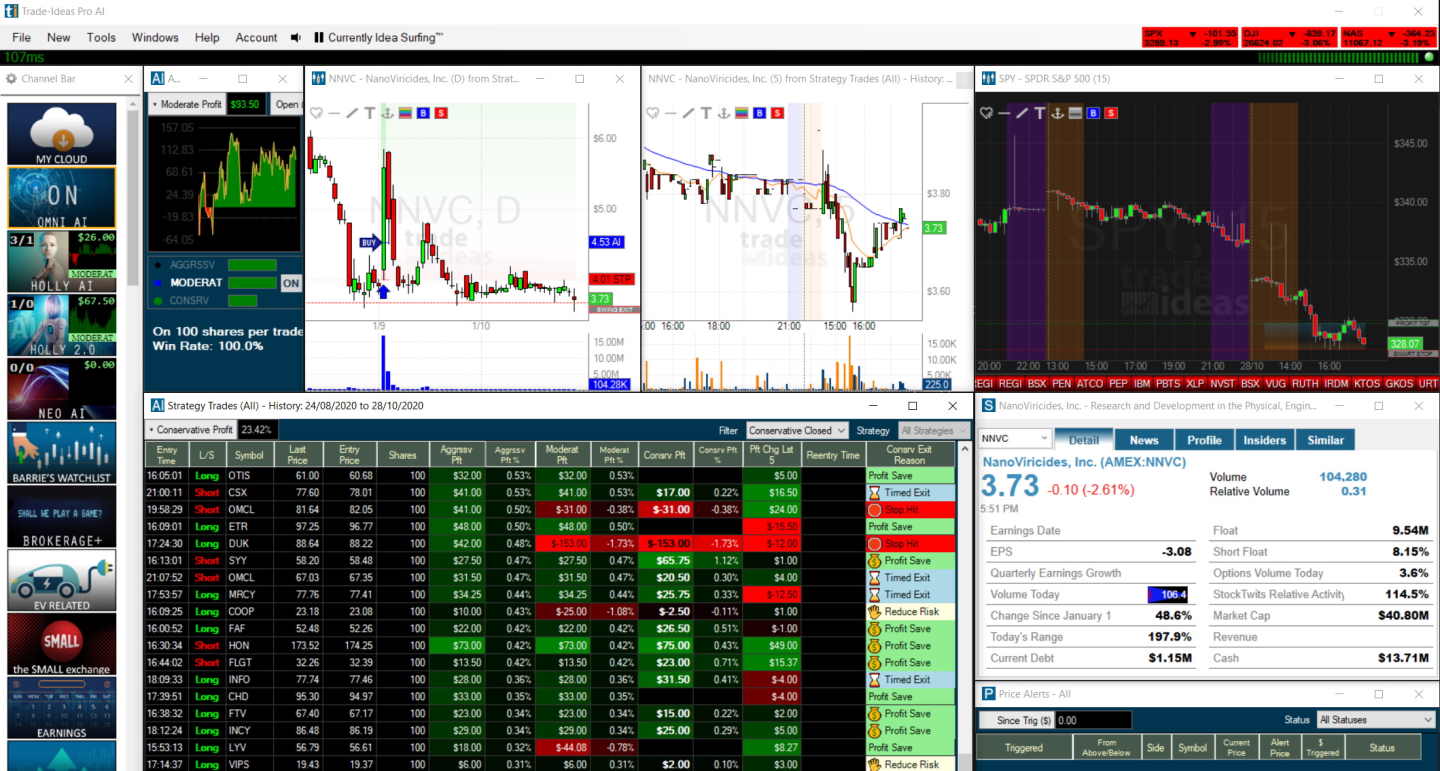 To be honest, when you first open Trade Ideas on your desktop, the software feels extremely clunky and not very user-friendly. Every pane in the above screenshot is actually its own separate individual window, so if you want to resize the view, you need to resize all 8 windows. This seems such a hassle initially and seems to hark back to the age of Windows 98.
But, there is a good reason for this design. Like I, if you operate multiple monitors and large screens, you have endless flexibility and window configuration options.  Also, even though they are fully separate windows, they can be linked and unlinked together to provide a fluid experience.
So although it is clunky and some of the most important functions are hidden behind right-click menu's in certain windows, you start to get used to the design after a few hours.
Trade Ideas Scanner ★★★★★
At the heart of the platform is the Trade Ideas scanner system, and it is absolutely unique. By clicking New -> Alerts, you get access to the Alert Config Window, which gives you immediate access to over 40 different trading scans. You can see all the in-built scans categorized into Bullish, Bearish, or Neutral in the screenshot below. Depending on the overall market direction, you can easily select a potential strategy for the day.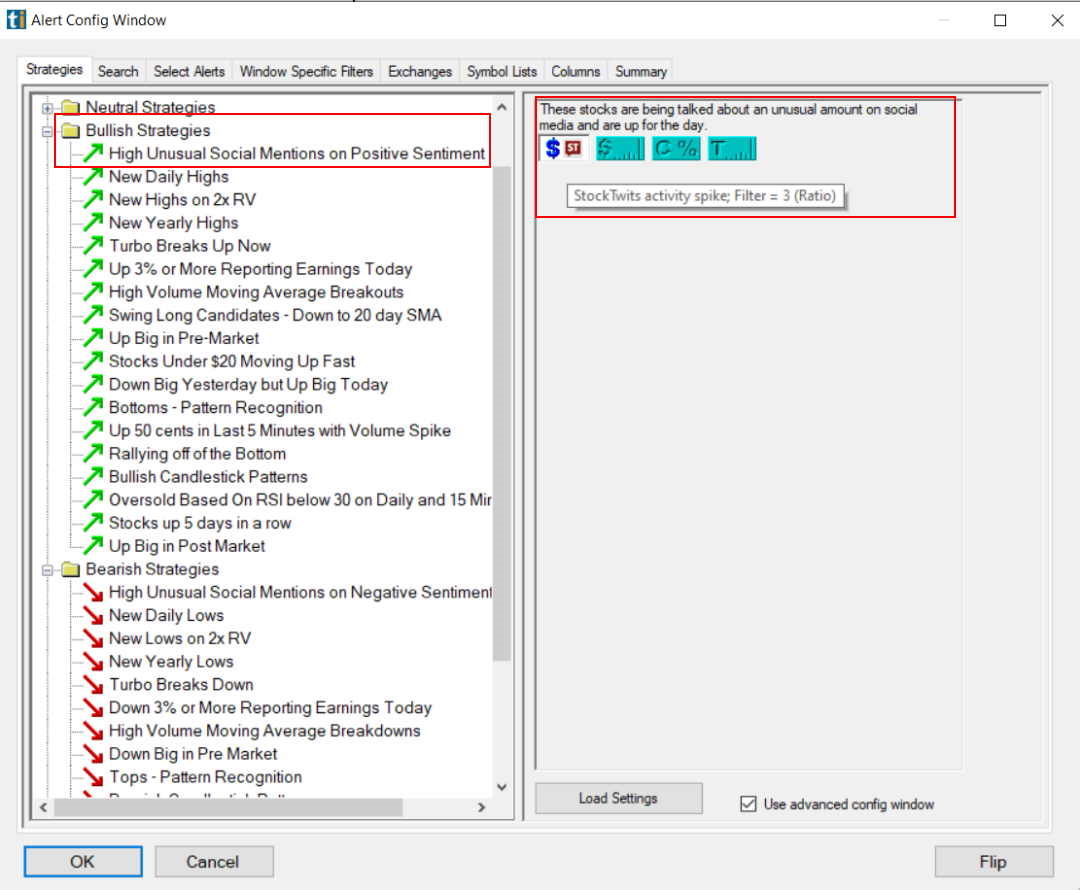 One scan I find particularly impressive and innovative is the "Unusual Social Mentions Scan." The Trade Ideas AI engine is constantly scanning StockTwits for surges in mentions of particular stocks, so if you click load settings, you will be immediately presented with a list of stocks spiking on social media.
Of course, you can customize any of the scans featured here or even create your own alerts from scratch.
Trade Ideas Channels
One thing I really love about Trade Ideas is the fact that it has 30+ curated channels. These channels highlight theme-based trading opportunities, and they change over time. Here is a list of the more exciting channels.
EV Related: Trading strategies in the Electric Vehicle Industry.
The Small Exchange: interested in small-cap businesses, then this is your channel.
Social Media: Stocks buzzing with both positive and negative sentiment on social media. You can go with the crowd or against it.
Earnings Plays: The channel to play the very lucrative earnings announcement momentum.
Weed Watchers: For those interested in the fast-growing medicinal cannabis market.
Enjoy the Show: A Channel that cycles through all the hottest trade setups of the day.
Trade the Gaps: Highlighting trades exhibiting the compelling technical analysis signal that is the gap.
Many Other Channels; China, Biotech's, Penny Movers, ETFs, Defense, Banks
Trade Ideas Backtesting ★★★★★
The Trade Ideas platform has a potent backtesting system, which is not only easy to use, but you do not need to have any programming knowledge.  A point-and-click backtesting system is rare in this industry; the only other good software with this capability is TrendSpider.
I have run many backtests with Trade Ideas, but the one I wanted to focus on was a backtest of the "Unusual Social Mentions Scan."  This is a good test of the wisdom of crowds.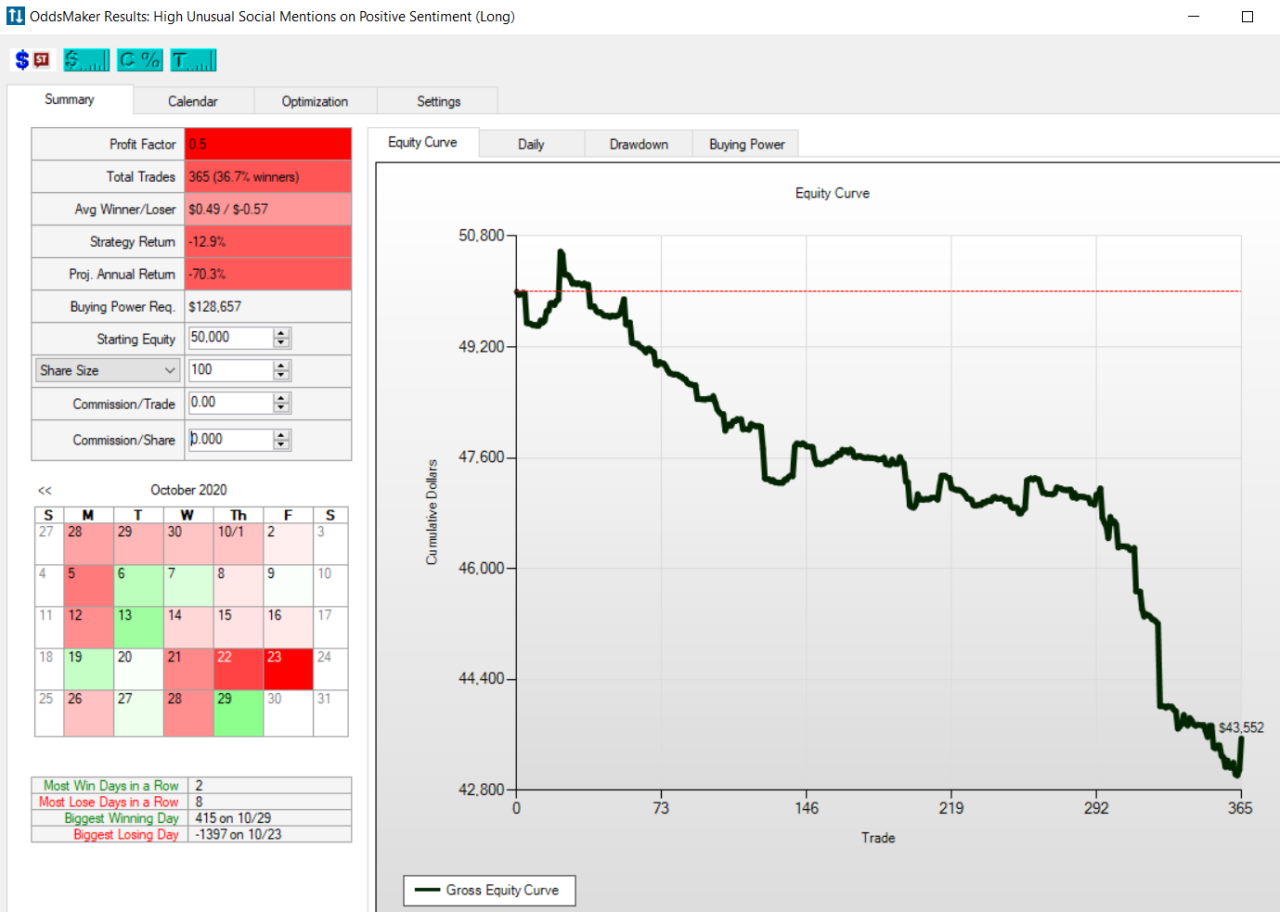 I wanted to focus on was a backtest of the "Unusual Social Mentions Scan".  This is a good test of the wisdom of crowds.
As you can see in the backtest result above, it seems the crowds are not very wise as the backtest shows that the system loses 70% per year. This helps me draw three conclusions.
Do not listen to people on social media.
Trade Ideas provides an excellent and unique insight into stock market crowd sentiment.
If you do the opposite of what people suggest on StockTwits, you may have a winning system.
Overall I rate the backtesting system a 5/5 Stars.
Trade Ideas Pro AI
The AI algorithms developed by Trade Ideas are the main reason you would want to sign up. I had a lengthy zoom session with Sean Mclaughlin, Senior Strategist over at Trade Ideas, to delve into how the AI works, and I was very impressed. This company is laser-focused on providing traders with the very best data-supported trading opportunities. There are currently three AI systems in operation.
Holly is 3 AI Systems Applying Over 70 Strategies Differently.
Holly AI
Holly AI is the original incarnation of the algorithms. Holly applies 70 different strategies to all the stocks on the US stock exchanges; 70 strategies multiplied by 8,000+ stocks means millions of backtests every day.  Only the strategies with the highest backtested win rate over 60% and an estimated risk-reward ratio of 2:1 will be suggested as potential trade the following day.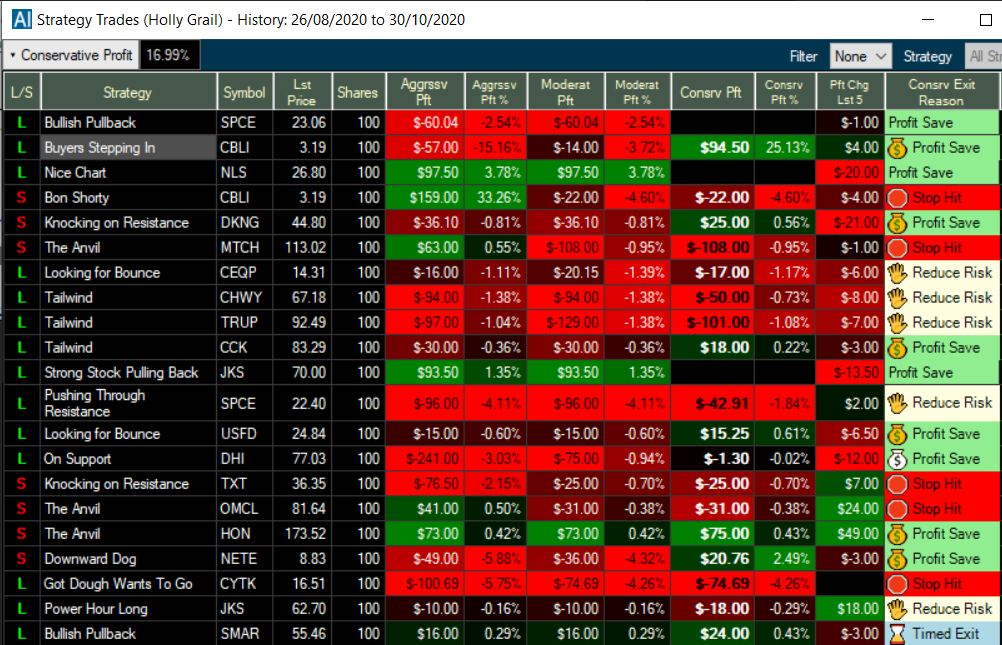 Holly 2.0
Holly 2.0 is a more aggressive version of Holly AI, presenting more aggressive day trading scenarios for you to choose from. Trade Ideas operates 3 key trading styles with each AI engine, Conservative, Moderate & Aggressive.  Holly 2.0 is aggressive.
Get A Free Stock Trade Idea Every Week From Holly AI
Holly Neo
Holly NEO is a newer AI, which seeks to trade real-time chart patterns. It utilizes a mix of the following strategies.
Pullback Long – Seeks to identify trades where the stock price is down and is seeking to start moving up on higher volume.
Breakout Long – Where stock price breaks out up through a key resistance or to new highs.
Pullback Short – identifying a short pullback opportunity in price.
Breakdown Short – a shorting opportunity where upward momentum breaks down.
Trade Ideas Buy & Sell Signals
One thing I really like about TI is that it visually shows you every signal buy and sell signal on a chart. In the chart below, I have highlighted a trade recommended by Holly AI (Holly Grail). This trade for Cleveland Biolabs (Ticker: CBLI) made a 25% profit within a 4 hour period. Not how the buy and sell signals are depicted on the chart.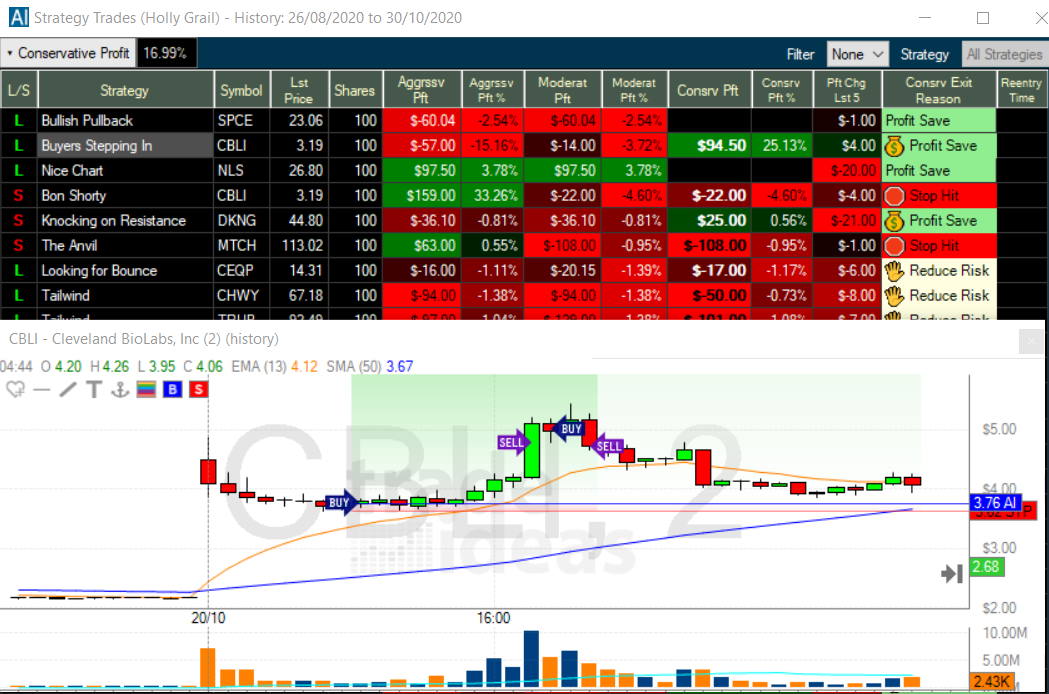 The Fact About Trade Ideas AI
Trade Ideas has large institutional clients and is a legitimate business.
Trade Ideas recommends, on average, about 3 to 10 trades per day.
Each trade duration is from a few minutes to a few hours.
Upon downloading and analyzing 65 days of trades, I can confirm the performance numbers claimed by trade ideas.
You need to be an active day trader to take advantage of Trade Ideas.
Trade Ideas returns approximately 20% per year.
Trade Ideas has, in the last 2 years, beaten the S&P500.
You need to be able to short and go long to take advantage of the trading strategies.
Depending upon your leverage, trading style, and trades you take, you could make more than 20% or even make a loss.
TI is Day Trading Software; you will need to hold a minimum balance of $25K in your brokerage account to pattern day trade in the USA actively.
Trade Ideas Holly Performance
The performance of Trade Ideas Holly AI is publicly available and impressive. To assess the performance of any system, one has to compare it to an underlying benchmark. Holly Grail AI has out-performed the S&P 500 since 2019 by 10%, and Holly 2.0 beat the market by 31%.
| | | | | |
| --- | --- | --- | --- | --- |
| Holly AI Performance | Starting Capital Jan 2019 | Ending Capital Oct 2020 | Total Return | % Per Year |
| Holly Grail (AI) |  $50,000.00 |  $71,186.00 | 42% | 23% |
| Holly 2.0 |  $50,000.00 |  $80,510.00 | 61% | 33% |
| Holly Neo |  $50,000.00 |  $71,186.00 | 42% | 23% |
| S&P 500 |  $50,000.00 |  $66,000.00 | 32% | 17% |
Table: Comparing $50,000 invested in the S&P 500 versus day trading with Trade Ideas.
Interestingly Holly did not suffer the huge losses incurred in the S&P 500 during the Corona Crash from March to April 2020.
Trade-Ideas Chart Technical Analysis ★★★★✩
The one area in which I felt let down was the ability to perform my own technical analysis. Most technical analysis software, backtesting, and charting platforms offer at least 50 different technical analysis tools. Trade Ideas does not play that game. With TI, you simply get the following tools.
Average Volume
Exponential Moving Average (EMA)
Relative Strength (RSI)
Simple Moving Average (SMA)
Volume Weighted Average Price
Text Notation
Trendlines
Compared to MetaStock, which offers over 300 indicators and drawing tools, or TradingView with 160 indicators and chart types, this is not a good look for Trade Ideas. To counter that argument, one could suggest that the design remit of TI removes the need for you to perform your own technical analysis by running all the backtests and finding all the opportunities for you, which is unique.
In any case, a few more technical analysis tools would help improve the product.
Trade Ideas Trading Room
I have joined the Trade-Ideas trading room many times; skilled trader Barrie Einarson is the moderator and will answer any of your questions. Barrie also shares his screen so you can see his trades, see how he trades, and learn from him.  Many trading rooms can cost you a lot more than the entire Trade Ideas Pro Subscription, so this is an extremely valuable part of the value proposition. You can join the trade ideas trading room now to test it out.
Is Trade Ideas Worth The Money?
Yes. Trade Ideas is worth the money if you are an active pattern day trader willing to trade at least three times per day. Trading an account value of over $25K will help you to make a profit after paying the Trade Ideas subscription cost.  
Trade Ideas is a professional company developing strategies to enable traders to beat the market for close to two decades. Trade Ideas is worth the subscription if:
You are an active day trader.
You want to become a full-time day trader.
You can maintain a minimum trading account balance of $25,000 (if you are a  US resident).
You have a $0 Zero Commissions Broker.
You want to have the power of AI on your side to be able to beat the market.
Special Alert - Black Friday/Cyber Week Discount
Get a 25% Discount on a Trade Ideas Subscription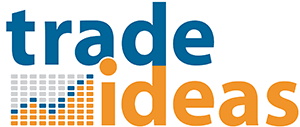 Discount Code: BLACK25
The offer runs to November 28, 2021.
As a partner of Trade Ideas, I requested a discount for all our readers. Use the discount code "Liberated" to get 15% off your first purchase, worth $340 when going for the premium service.
Trade Ideas: Features Data Sheet
| | |
| --- | --- |
| Vendor | |
| Pricing & Software | |
| Monthly End of Day $ | |
| Monthly Real-Time $ | $118 – $228 |
| Software Only Fee $ | |
| Customizable Data Feeds | |
| Customer Service & Education | Excellent |
| PC | ✔ |
| For MAC | ✔ |
| Tablets Smartphones | ✔ |
| Market Data Coverage | U.S.A. |
| Data Speed | Excellent |
| Stocks | ✔ |
| ETF | ✔ |
| Mutual Funds | |
| Options | ✔ |
| Futures | |
| Forex | |
| Bonds | |
| Crypto | |
| Pricing & Software Score | 10 |
| Trade Management | |
| Broker Integration Stocks | ✔ |
| Place Trades from Charts | ✔ |
| Live Position P&L | ✔ |
| P&L Analysis | ✔ |
| Trade Management Score | 10 |
| Fundamental Scanning & Screening | |
| Real-Time Scanning & Filtering | ✔ |
| Fundamentals Scanning | |
| Watch Lists with Fundamentals | |
| 10 Year Historical Financial & Fundamentals | |
| Advanced Value & Income Investing Rankings | |
| Extended Economics Fundamentals (New) | |
| Fundamental Screening Score | 7 |
| News & Social | |
| News Feed | ✔ |
| Real-Time News Feed | |
| Economics & Deal News | |
| Market Commentary | |
| Community Chat | |
| Live Trading Room | ✔ |
| News Score | 9 |
| Technical Analysis | |
| Charts | |
| Multiple Charts Per Desktop | ✔ |
| Bar Line HLC Candlestick | ✔ |
| Point & Figure | |
| Equivolume | |
| Others | |
| Indicators | |
| Bollinger Bands | |
| Directional Movement | |
| Ichimoku Cloud | |
| MACD | |
| Momentum | |
| Money Flow | |
| Moving Averages | |
| Parabolic SAR | |
| Rate of Change | |
| Relative Strength / RSI | ✔ |
| Stochastics | |
| Volume at Price | ✔ |
| Custom Indicator Development | |
| Volume | ✔ |
| Darvas Box | |
| Elliot Wave | |
| Total Number of Indicators | 6 |
| Drawing Tools | |
| Trend Lines | ✔ |
| Fibonacci Retracement | |
| Fibonacci Time | |
| Fibonacci Fan | |
| Text Overlay | ✔ |
| Pitchfork | |
| Error Channel | |
| Gann Grid/Line | |
| Gann Fan | |
| Quadrant Lines | |
| Speed Lines | |
| Automated Alerts | ✔ |
| Advanced Features (New) | |
| Dynamic Alerts on Indicators/Trendlines | |
| Automated Trend Lines | |
| Multi Time-Frame Analysis | |
| Automated Fibonacci | |
| Technical Analysis Score | 5 |
| Systems & Backtesting | |
| System Marketplace | |
| Create Customizable Systems | ✔ |
| Back Testing Point & Click | |
| Back Testing Programmatic | ✔ |
| Forecasting (new) | ✔ |
| Automated Trendline Detection & Backtesting (New) | |
| Artificial Intelligence (AI) Trade Ideas (New) | ✔ |
| Robotic Trading (New) | ✔ |
| Systems & BackTesting Score | 10 |
| Setup & Usability | |
| Software Setup | 3.5 |
| Ease of Use Score | 3.5 |
| Total Points | 7/10 |
|   | Visit Trade Ideas |