Our research shows the best stock market heatmaps are TradingView, Finviz, Finscreener, and Stock Rover. TradingView is visually stunning and covers all stock, forex, and crypto exchanges, Finviz provides a world view heatmap with drill-downs, and Finscreener excels at interactive US heat map charting.
While there are many stock market heat maps, we've compiled a list of 8 of the best options available today.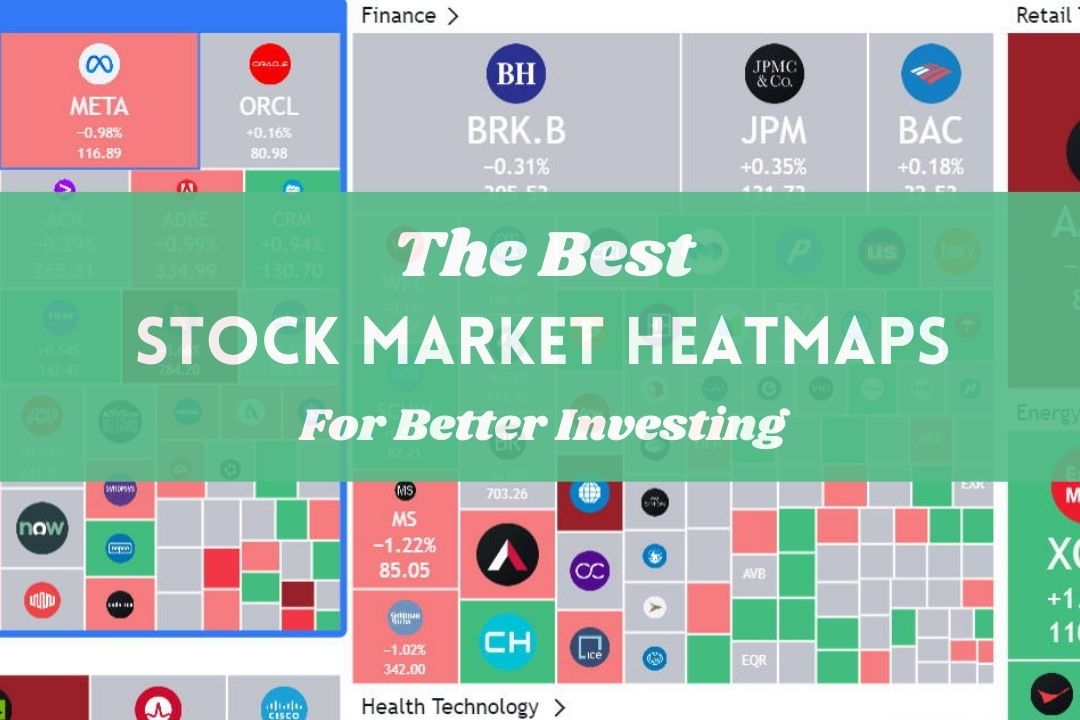 How do heat maps help your stock trading?
The stock market heat map is a popular tool for traders looking to visualize large real-time datasets, such as stock price changes, volatility, and volume. The heat map's easily digestible format lets traders quickly understand big data, helping them make more informed investing decisions. Heat maps can prove invaluable in understanding complex market behavior with ease and helping investors make smarter decisions.
1. TradingView: Winner Best Stock Heat Maps
Covering 84 exchanges globally with 45 fundamental and technical filters, Tradingview has the fastest and most visually appealing heat maps available today.
The Tradingview heat map system is available for 84 exchanges, including the USA, India, China, and Europe, but what makes it special is its speed and flexibility. Most heat maps are sorted by market capitalization, but TradingView enables the heatmap to be sorted on price, volume, performance, the number of employees, dividend yield, PE ratio, and even price-to-book ratio.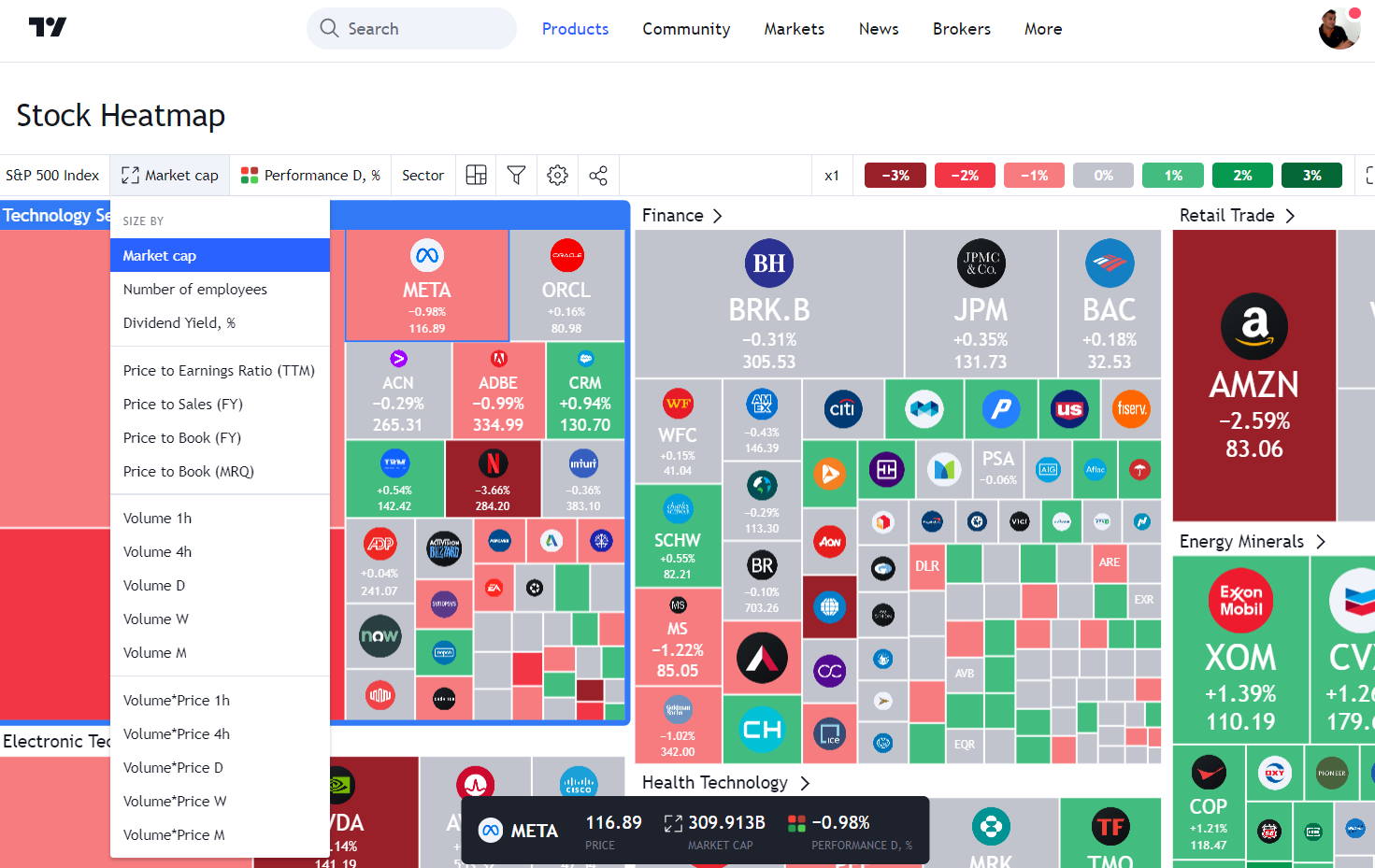 Tradingview's heatmap includes company logos, which makes it incredibly easy to use, but also, a single click brings you to a detailed company overview with financials and advanced charting.
| | |
| --- | --- |
| TradingView Heat Maps | Summary |
| ⚡ Heat Map Features | Fast, Visually Stunning, 45 Filters |
| 🏆 Unique Features | 84 Stock, Crypto & Forex Exchanges |
| 🎯 Best for | Stock, Fx & Crypto Traders |
| 🆓 Free Version | TradingView Free |
| 🎮 Premium Trial | Free 30-Day |
| ✂ Premium Discount | -25% Discount Available |
| 💰 Price | $0-$59/mo |
| 🌎 Markets Covered | Global |
Tradingview is also our winner for best stock market software, largest active trading community, and best backtesting software. If you want the best platform for your investing and trading, then Tradingview gets our top recommendation.
Finally, Tradingview's heatmaps are not just for stocks but include Forex and Cryptocurrency. But perhaps best of all, the Tradingview heatmaps are included in its free service tier.
Try Tradingview's Free Heatmaps Now
2. Finviz: Best World Heat Map
Finviz is the only heatmap that shows 24 of the world's stock markets on a single screen. Finviz is lightning fast, and by hovering over a ticker symbol, you see a selection of mini-charts showing the performance of every company in the same industry sector.
In the screenshot below, I hovered over France TTE and can instantly see the competing companies in the sector; this is very impressive.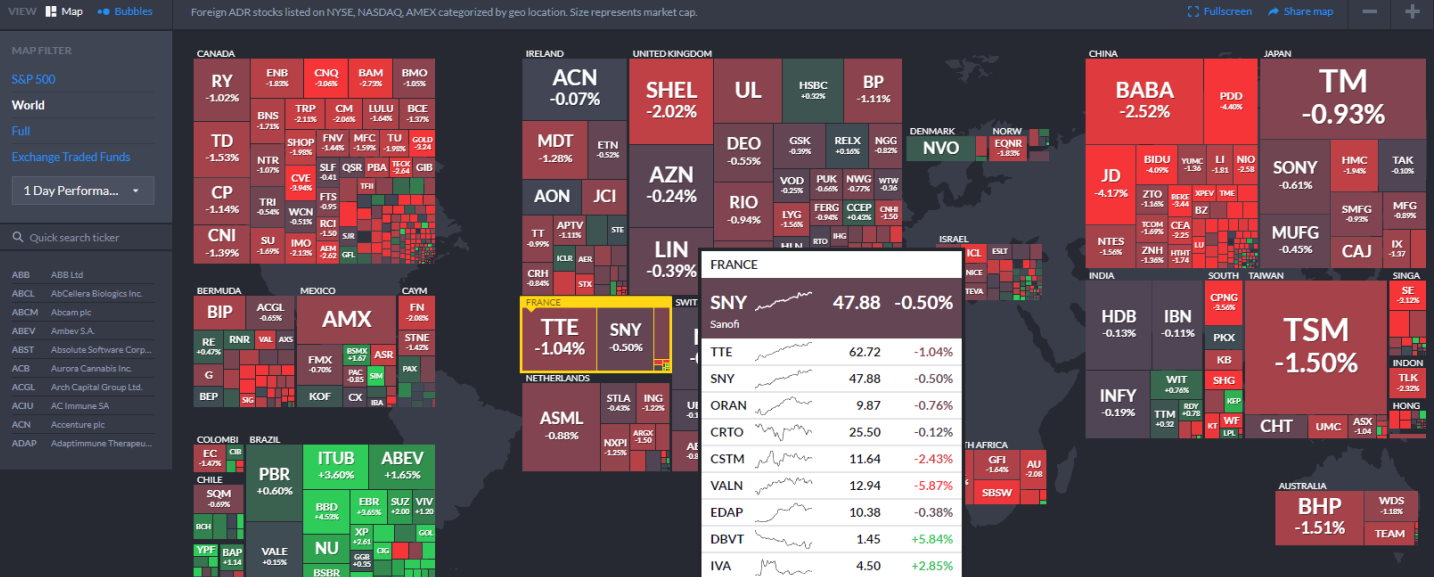 Finviz is more than just a heatmap service; it provides first-class stock screening and good stock chart pattern recognition, and its premium service includes real-time data and powerful backtesting.
Finviz is the granddaddy of stock analysis software and is well worth further investigation; read our Finviz review to find out more.
Try Finviz's Free Heatmaps Now
3. Stock Rover: Personalized Portfolio Heatmaps
Stock Rover provides heatmaps for serious investors. With stock performance ratings, research reports, portfolio analysis, and management tools, Stock Rover is the best choice for value, income, and long-term growth investors.
Stock Rover allows you to connect to your brokers and provides unparalleled portfolio analysis, research, and rebalancing tools. The special feature is that Stock Rover provides a single heatmap of all your assets, enabling you to see the current performance, profit and loss, ROI, and total percent gain.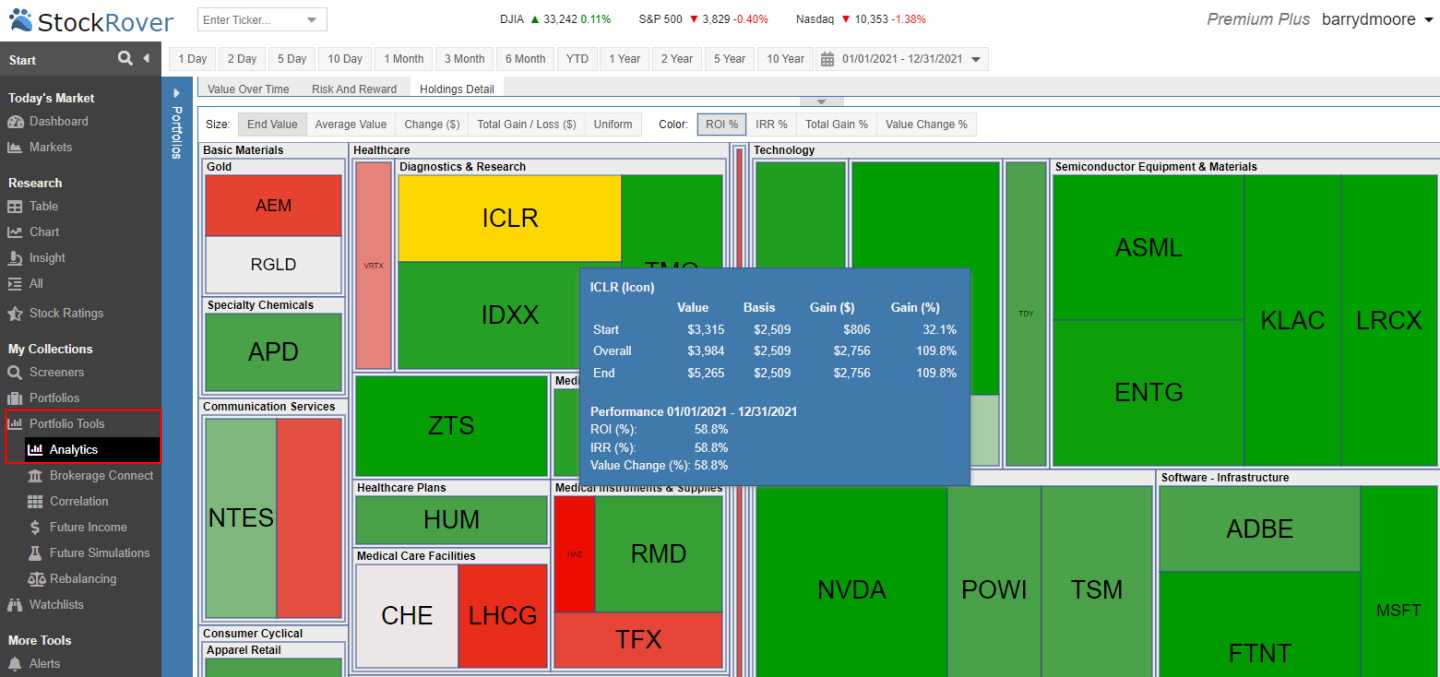 In addition to personal portfolio heatmaps, you get our award-winning best stock screener, including real-time unbiased stock research reports and access to my own Liberated Stock Trader, "Beat the Market System," developed exclusively for Stock Rover.
| | |
| --- | --- |
| Stock Rover Heat Maps | Summary |
| ⚡ Heat Map Features | Personal Portfolio Heatmaps, Unique Stock Ratings |
| 🏆 Unique Features | Broker Integrated Heatmaps, Portfolio Analysis, Stock Research |
| 🎯 Best for | Stock Investors |
| 🆓 Free Version | Try Stock Rover Free |
| 🎮 Premium Trial | 14-Day Free |
| ✂ Premium Discount | -25% During Premium Trial Period |
| 💰 Price | $0-$28/mo |
| 🌎 Markets Covered | USA |
4. Finscreener: Excellent Heatmaps with Charts
The Finscreener heat maps provide an elegant and powerful solution for traders looking to visualize US stock market performance. Finscreener is one step ahead of its competitors by providing 80 powerful heatmap filters, including pre-market changes, earnings/analyst ratings, dividends, ROE, and even insider transactions.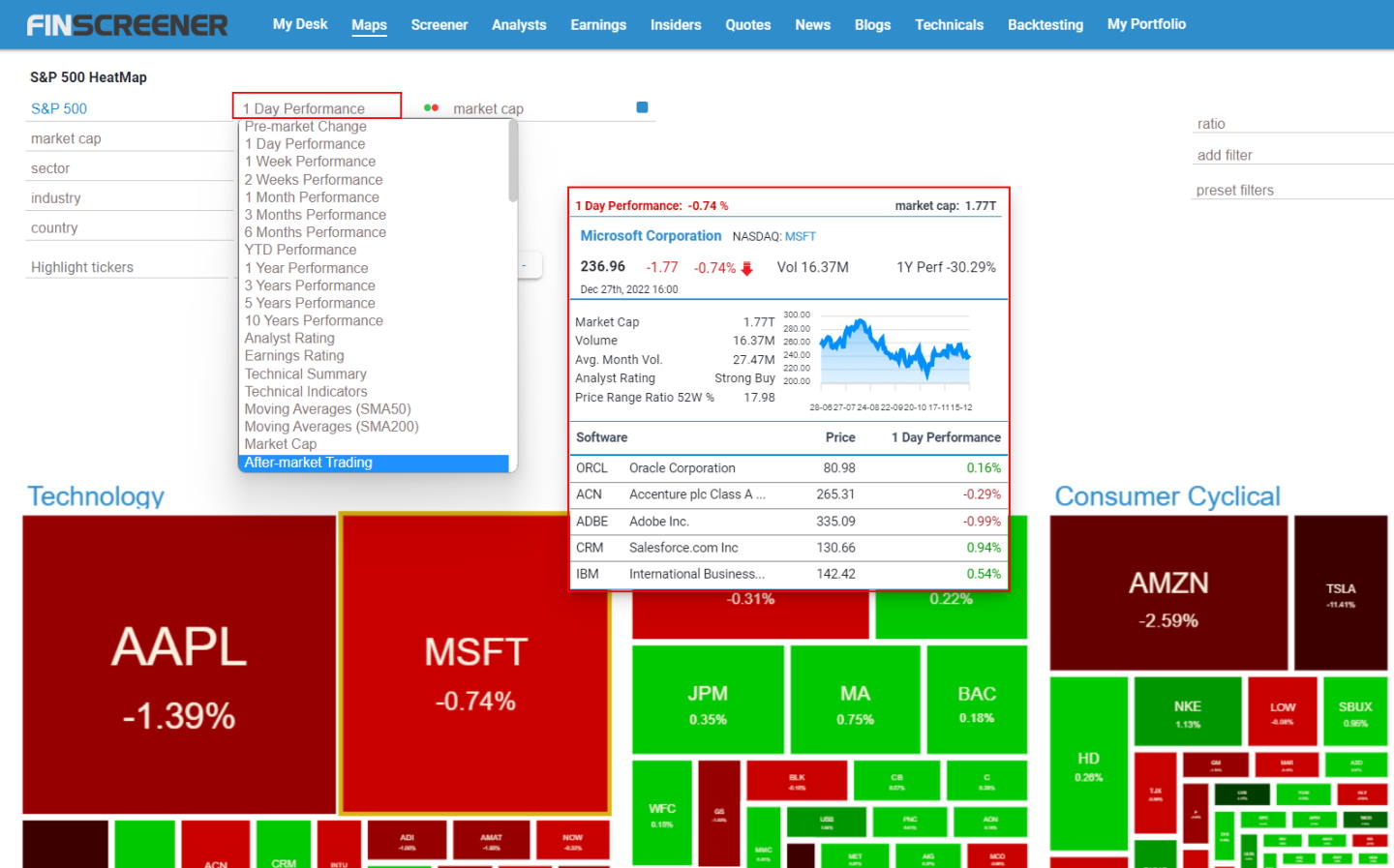 When hovering over a ticker symbol with Finscreener, you are presented with a detailed chart with financials and closest competitors. (See image above).
While Finscreener is an excellent heat map and screening service, there is nothing for free. You will need to pay a subscription to enable any valuable information.
| | |
| --- | --- |
| Finscreener Heat Maps | Summary |
| ⚡ Heat Map Features | Fast Heatmaps |
| 🏆 Unique Features | 80 Unique Filters, Mini-charts & Financial Popups |
| 🎯 Best for | Stock Investors |
| 🆓 Free Version | No |
| 🎮 Premium Trial | Free Trial |
| 💰 Price | $4.99/mo |
| 🌎 Markets Covered | USA |
---
Investing In Stocks Can Be Complicated, Stock Rover Makes It Easy.
Stock Rover is our #1 rated stock investing tool for:
★ Growth Investing - With industry Leading Research Reports ★
★ Value Investing - Find Value Stocks Using Warren Buffett's Strategies ★
★ Income Investing - Harvest Safe Regular Dividends from Stocks ★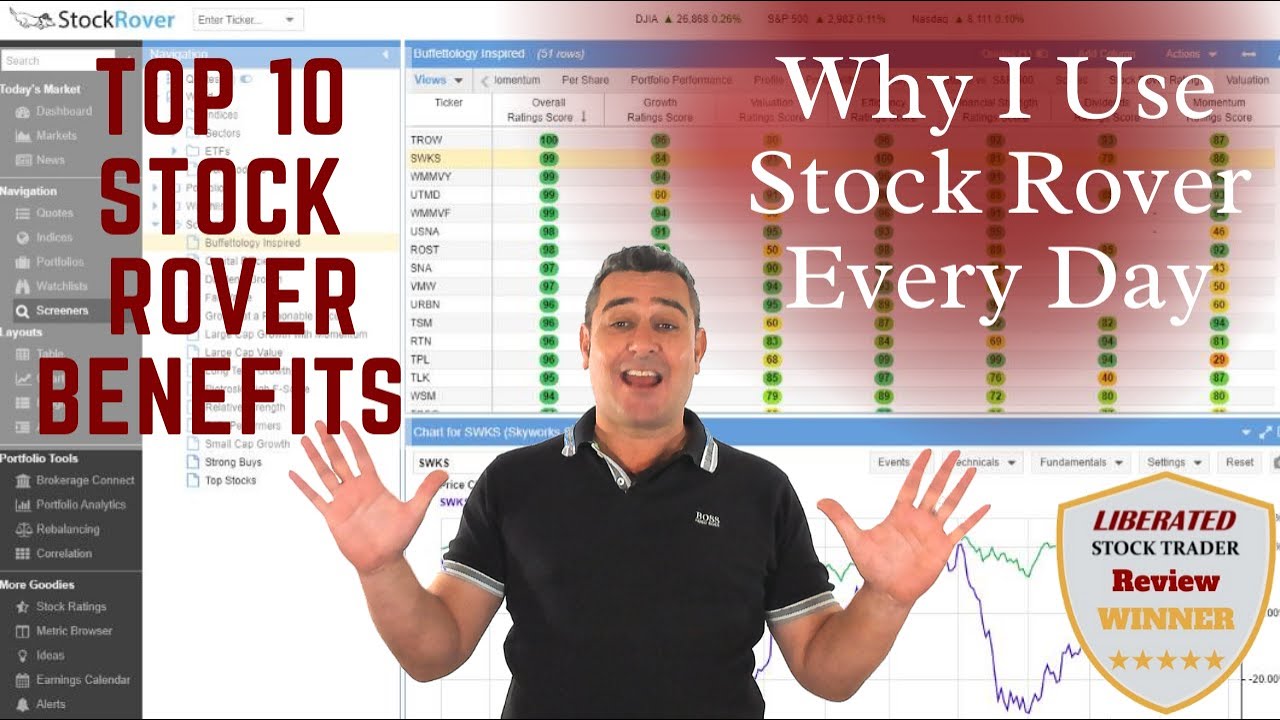 "I have been researching and investing in stocks for 20 years! I now manage all my stock investments using Stock Rover." Barry D. Moore - Founder: LiberatedStockTrader.com
---
5. Yahoo: Free International Heat Maps & Powerful Filters
With 54 countries covered, Yahoo heatmaps provide a good way to visualize international stock market performance. Yahoo Finance also provides 101 stock filters, including 5 short interest metrics: dividend, debt, liquidity, EPS, cash flow, and ESG scores.
The screenshot below shows the depth of sorting and filtering of stocks.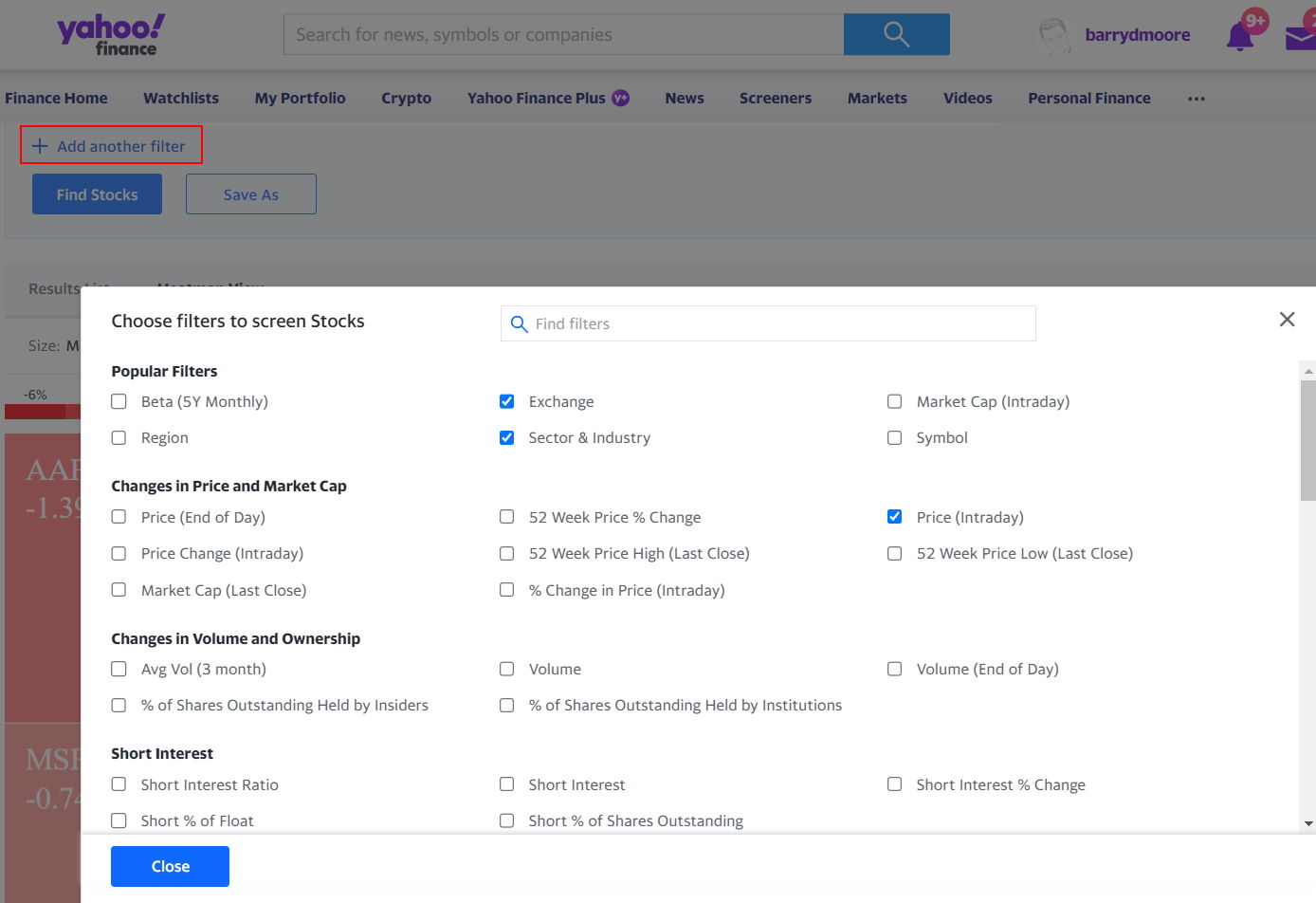 While the Yahoo heatmaps look basic, clicking on a ticker symbol brings up a page with news and financial information. I cannot help but think that more input from actual traders would turn Yahoo Finance into an excellent tool worth paying for.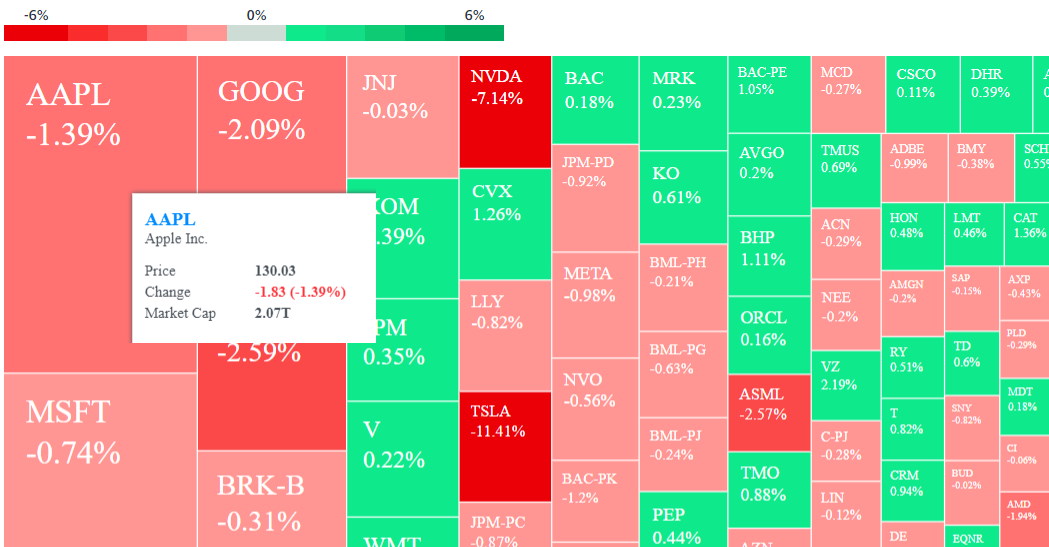 6. Barchart: US Heat Maps & Sectors
Barchart provides a reliable heatmap service for US investors, including filters for price earnings, EPS, annual dividend, and dividend yield. Additionally, being able to screen a heatmap on a 60-month beta is unique.
Barchart provides much more than a simple heatmap, specializing in commodity futures, options, stocks, and ETF trading. Barchart might serve the more advanced investor.
7. MarketBeat: US Stock Heatmaps & Poor User Experience
At first glance, Marketbeat has a visually appealing stock heatmap. The heat map shows the promise of a wide variety of data, but the experience is short-lived. Unfortunately, my testing revealed the Marketbeat team has decided to force its customers to register for free access and then push them to watch upsell videos and sign up for premium newsletters.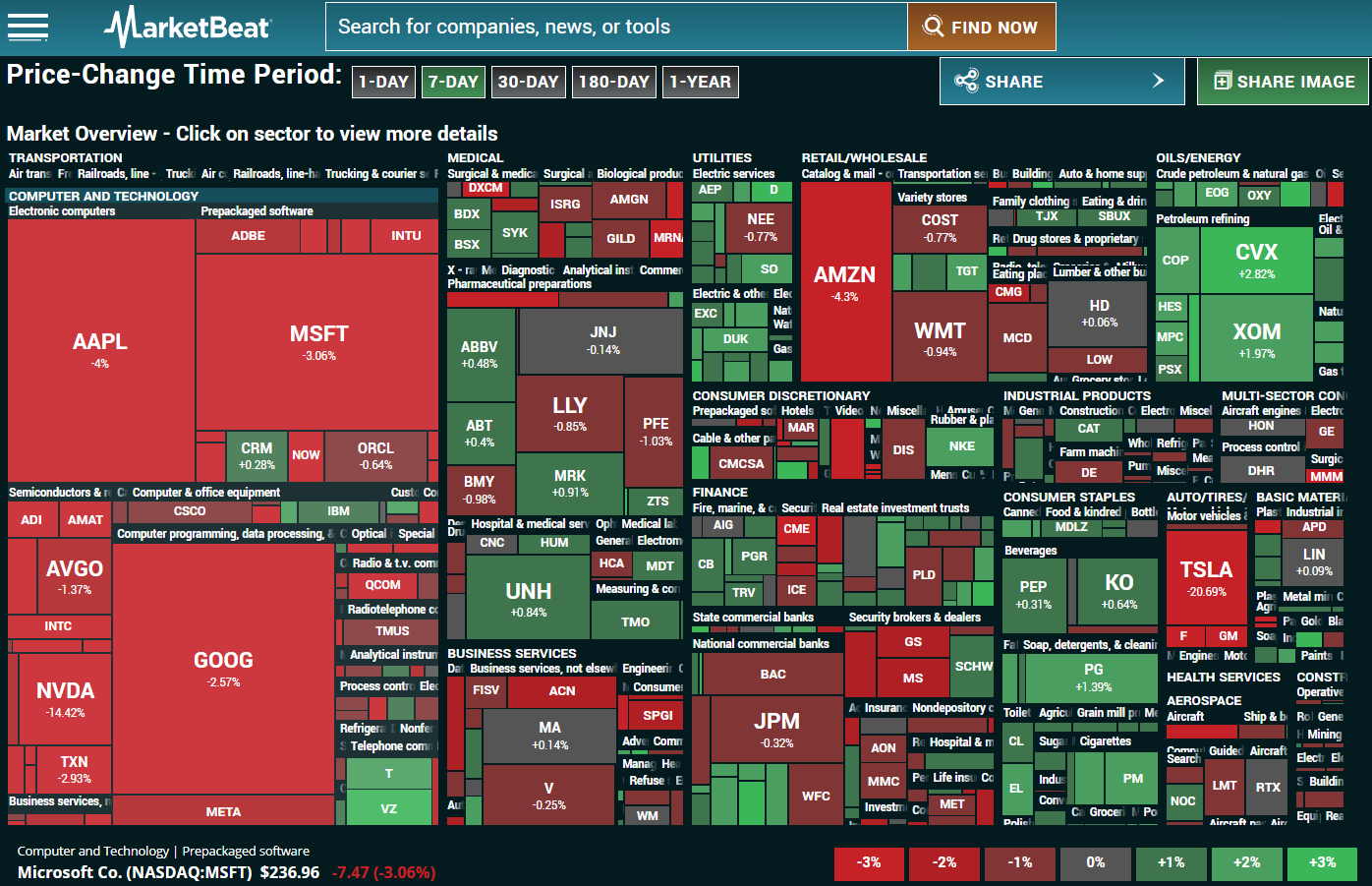 I would avoid Marketbeat because it is endless harassment to attain your personal information and paid subscription without showing any real features and benefits. Also, if you register with Marketbeat, you will be inundated with marketing emails from their partners.
8. StockCharts.com: Non-Functioning Heatmaps Worth Avoiding
Contrary to popular belief, our testing reveals that the Stockcharts.com stock market heatmaps are worthless. Stockcharts.com provides a valuable charting and analysis service with millions of subscribers. But the fact is that the Stockcharts.com heatmap does not function properly, as you can see in the screenshot below.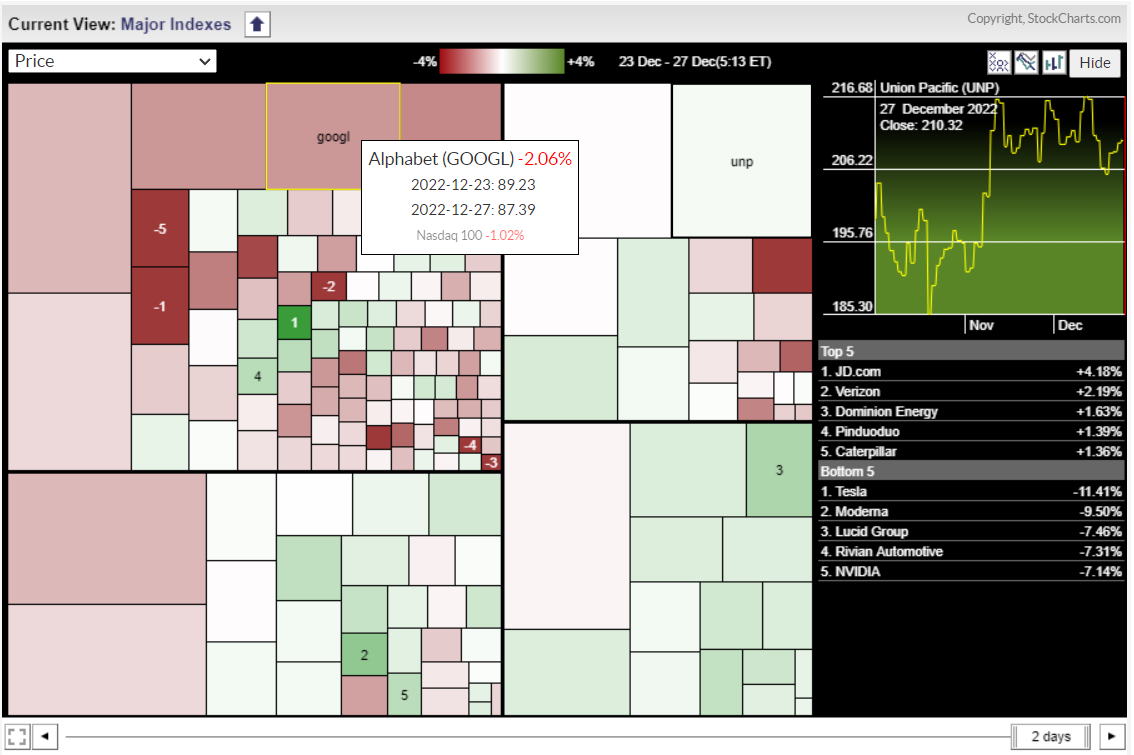 FAQ
4 Tips for using a stock market heat map effectively
A stock market heat map can be an invaluable tool for investors who want to develop an overall understanding of the markets. Understanding how to use a stock market heat map is essential so investors can make informed decisions about their portfolios.
First, investors should understand their objectives and goals before using a heat map. Investors should then familiarize themselves with the map's features and what each color signifies.
Next, investors will want to look at long-term trends and short-term fluctuations to assess strengths and weaknesses relative to other stocks in the same sector.
Knowing which sectors are currently overpriced or undervalued is also important information that can be gleaned from reading a stock market heat map.
Last but not least, investors need to stay up-to-date with current news specific to stocks they are monitoring to keep track of any changes and take advantage of opportunities that may arise quickly in a volatile market environment.
Using these five tips, you will be well on your way to effectively navigating the stock market and gaining insight into potential investments for your portfolio.
Tips for getting started with stock market heat maps
Investing in the stock market can seem intimidating and overwhelming, but a great way to reduce its stress is to use stock market heat maps. Heat maps are an excellent tool for investors as they present stock movements graphically so that trends can be easily identified.
To start with a heat map, it is important to familiarize oneself with reading and interpreting it. Also, make sure that the heat map data comes from reliable sources such as major exchanges and reputable online financial sites. Furthermore, look at individual stocks carefully before making any final decisions based on the information from the heat map. With some practice and knowledge of this useful visualization tool, anyone can become an investor with valuable insight into any given stock market sector.
Stock Heatmaps Review Summary
Our research results reveal that TradingView, Finviz, and Stock Rover are the best stock heatmaps available today.
Heat maps are a great tool for stock market analysis because they allow you to visualize data in an easy-to-understand way. If you're new to heat maps, start with one of our top stock market heat map tools listed in this post. Once you get the hang of it, you can use heat maps to your advantage by following simple tips and tricks. You can make better investment decisions and improve your overall stock market performance with a little practice.