Our [410 Data Point] Review Helps You Find the Best Financial & Stock Market Breaking News Services, Newspapers & Magazines to Help Improve Your Investing & Trading.
What does an Investor need from a financial news source?
As an investor, you want new insight and thought-provoking analysis & research that will inspire you to make your next significant long-term investment. News and articles that introduce you to new trends, services, and industries.
What does a Trader need from a financial news feed?
As a trader, you need real-time news that gives you an edge in the market, and you need to be able to see if the news reports will make a 5% to 10% stock price move, up or down, in a day.  You need breaking news and opinion that will give you a chance to react to volatility in the market.
A Quick Summary of the Most Reliable Market News Services & Apps
Jump to the searchable financial news sources comparison table.
1. Benzinga Pro:
Best Real-time Live Newsfeed for Traders

Benzinga PRO is the premium real-time news service that is an upgrade from the regular free Benzinga news service.  Benzinga Pro a significant upgrade that comes with a price.  What makes it unique is not just the fast delivery of news but the insider interviews and direct access to the reporters at the news desk.  They also have a considerable amount of news content not available to regular subscribers.  Benzinga Pro's platform is designed to be the place where you get stock news first.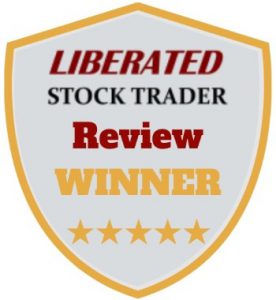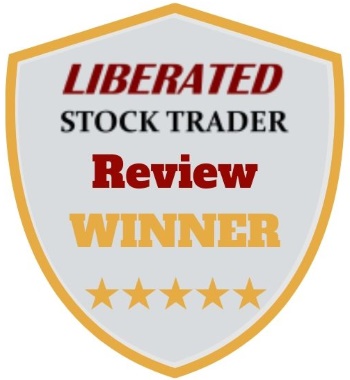 How Good is the Benzinga PRO Platform?
The news platform is extraordinarily configurable and able to run in multiple windows on multiple monitors. In the screenshot below, you can see how I have my Benzinga Pro interface configured.
My Current Trades in the watchlist (middle white box)
Important News Only (top right columns in red). I have configured the app only to show me the critical, potentially market-moving news, which is a great feature.
Instant Company Details Drill Down. Bottom Right for Financial News, Calendar & Charts
Quick Access to Powerful Features. Stock Screener, Custom Alerts, Squawk Box, and Chat (Left-hand side)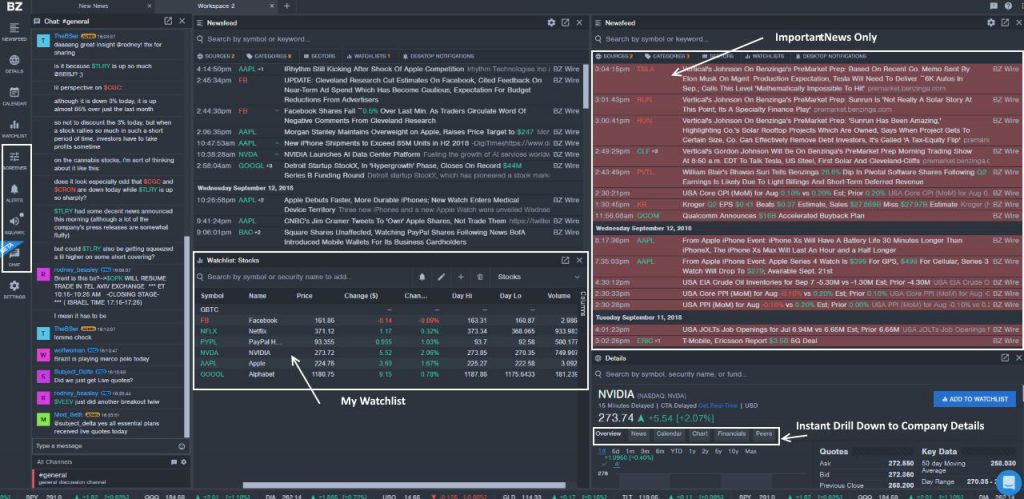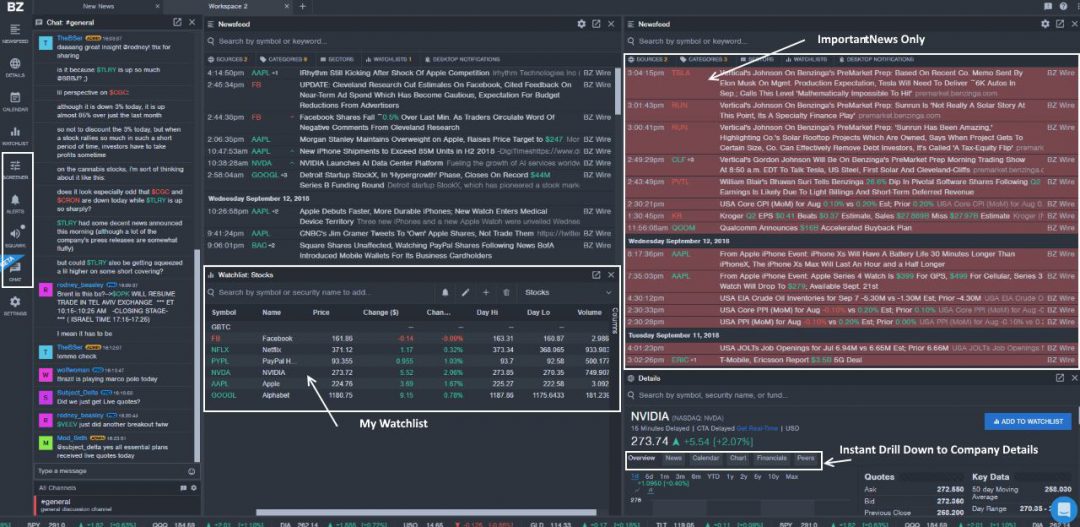 Benzinga Pro is extremely powerful yet easy to use, which is often a difficult balance to strike, and to top it all off, they have also now added real-time price quotes to the service, so you can see when news breaks the immediate impact on the stock price.
Open A Benzinga Account Now & Get A Special Bonus
★ Bonus: Sign Up For This Service & Get 5 Exclusive Investing Strategy & Research eBooks Valued at $99 ★
Benzinga has Essentially 3 Levels of Service.
Benzinga Free
Benzinga is one of the major news providers you have probably never heard of.  They do offer a vast amount of free news and thought-provoking original articles aimed at traders and investors for free on their website.
But if you are a frequent trader, especially if you are trading with the news, e.g., short-term options trades at quarterly earnings announcement time; or you have a significant stake in a company and need to be the first to know if the stock might tank due to a failed FDA application, you will want to upgrade to a version of the Benzinga PRO Service to get an edge in the market.
This package offers the following:
Real-time Newsfeed Access to the Core Benzinga newsfeed excluding SEC or PR Newsfeeds
WatchList Trade Alerts setup your watchlist of stocks you hold or are interested in and receive real-time emails, app alerts, and audio alerts
Security SnapShots. Unique to Benzinga is Security Snapshot View, essentially a summary of all the important News, Fundamentals, and Charts.  Designed to give you a clean, quick view of the whole picture for a given stock.  This includes all the core financial documents like balance sheets and important income statement information.
Benzinga Calendar The Next Big News Events
What I like a lot about the design of the Benzinga Pro service is you pick up a tremendous amount of information in a single glance.  Below we see the Benzinga Calendar; instantly, you can see what Macro Economic News is upcoming. But what you also see in the column on the right is the potential impact of the news; as you can see, Benzinga has accurately rated the Existing Home Sales announcement as a potentially significant impact.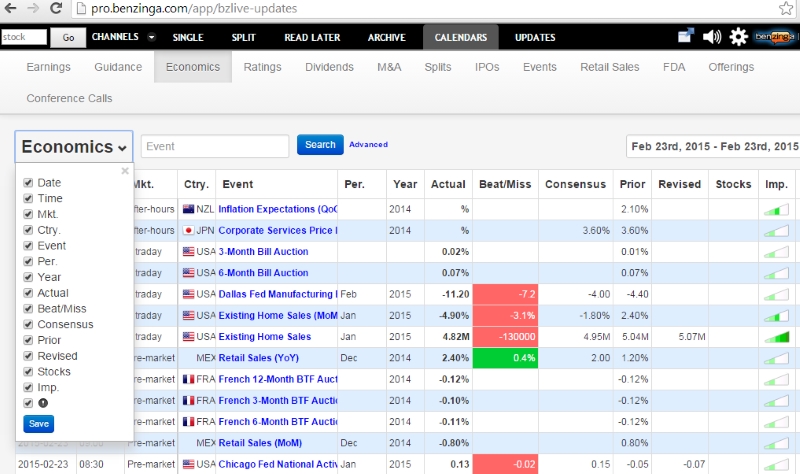 Core Breaking News Pane
Some other beneficial design points are when viewing the streaming news; you instantly see what type of story it is.  The image below shows us that the Ticker: PPO news is an analyst rating change.  The News for Google is a rumor (I love this feature), and finally, the Novartis news is a breaking FDA approval, which could be vital if trading that stock.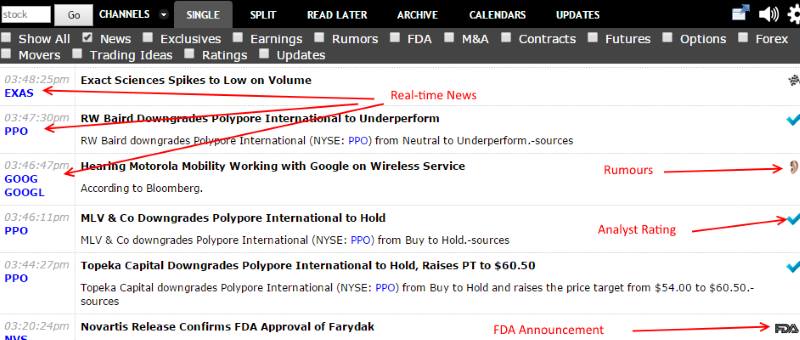 In Summary, the Benzinga Basic Package is cost-effective. It gives you access to real-time news at a fraction of the cost of other news providers like Bloomberg, giving you a professional edge without the expense.
In addition to the features above, the higher-level package includes the following benefits:
Full Real-Time Newsfeed Access including all SEC news and PR Newsfeeds
Real-time Audio Squawk is really impressive, I have it open while watching the markets, so I do not need to be watching the screen.  Every 2 minutes, a real-time audio feed announces the latest news via my speakers; this service alone is worth the Benzinga PRO Essential upgrade.  As I was writing this review, an announcement came through that Novartis got FDA approval for a new drug.  I just checked online; this is not on the web yet, nor announced on Bloomberg TV.
Sentiment Indicators this is an excellent feature that allows you to feel the sentiment of the analyst who submits the news item; this is rated as 1 to 3 bulls or bears depending on how the analyst feels the news will move the stock.  This is unique and a great asset.
Chat with News-desk Feature. Imagine chatting directly with the analyst or reporter that submitted an article.  This feature allows you to do just that by questioning the Benzinga news desk directly to dive deep into your specific questions straight from the news hub. The news team also highlights what they believe to be important news only for essential users.
Exclusive CEO comments. Benzinga Analysts have frequent exclusive interviews with CEOs, and they publish exclusively critical comments that may provide key insights into a stock you own.
In-person Event Coverage at live earnings announcement events, if you trade earnings, this is your ticket to sitting at the event its self, getting analyst feedback as it happens.
Unusual Options Activity Calendar
Benzina has introduced a new calendar specifically designed to pick up anomalies in Options trading activity and designed to give Options trades an edge by highlighting potentially exploitable Options situations.
Benzinga PRO. Sentiment Indicators
As mentioned above, Benzinga Pro Essential gives you the sentiment interface, indicating if the reporter or analyst perceives the news to be bearish or bullish.  You can see that the AMZN news was thought to be mildly bearish (1 bear), whereas the PTCT was considered to be strongly bullish (2 bulls).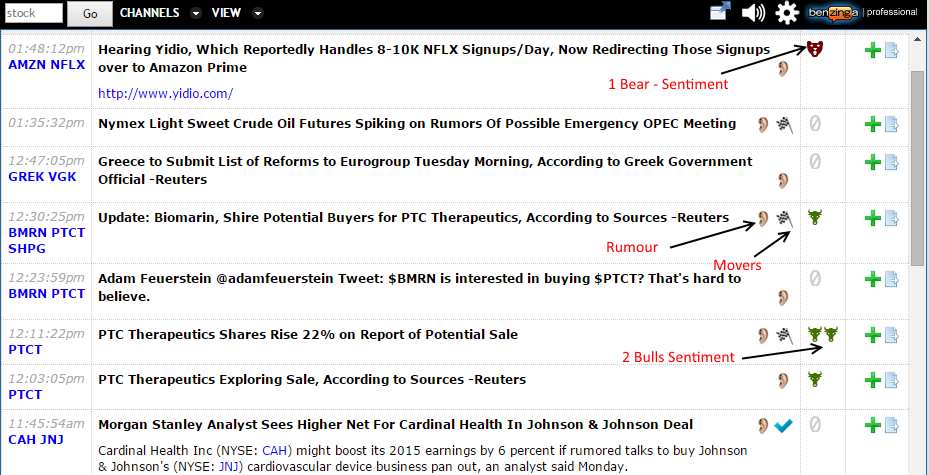 Benzinga PRO Review Summary
My favorite features are, of course, the real-time news and watchlists, but the calendar is excellent and comes with the Benzinga PRO Basic edition package.  The audio news squawk feed, sentiment, and chat with news-desk features are a powerful upgrade in the Essentials Package.
Recommendation for Investors / Traders with a smaller portfolio. If you have only $5,000 or $10,000 to trade or invest, it does not make sense to go for the Essentials Package for $149 – per month; this would eat up too much of your investment.  So choose the Benzinga Pro Basic Package.
Recommendation for Investors with larger trading positions.  If you have a more substantial portfolio with significant individual short-term trades in specific stocks, then you will want to know the news and sentiment before anyone else and have ringside seats to the corporate earnings announcements and rumors.  In this case, you will want to go for the Essentials Package.
If you are serious about trading in the stock market and need real-time access to the news that moves markets, then Benzinga Pro is a realistically priced and extremely fast news service that is "designed by traders for traders."
In this fast-moving world, this is an effective tool.
My Video Review of Benzinga Pro
Benzinga Pro Review - Why Trading Breaking Stock Market News Requires Great Software
★ Bonus: Sign Up For This Service & Get 5 Exclusive Investing Strategy & Research eBooks Valued at $99 ★
-
2. MetaStock: Best Real-time Global Financial News by Reuters

Recommended for those who need excellent real-time news, access to a huge stock systems market, and robust technical analysis with global data coverage, all backed up with excellent customer services.
With its Thomson Reuters Refinitiv Xenith News service integration, MetaStock is worth the money just for the news service, but it is so much more than just news.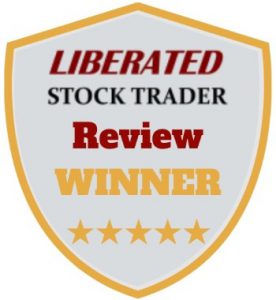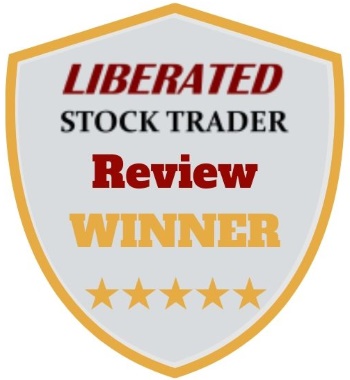 News Service.
MetaStock 16 has full Refinitiv Xenith integration with institutional level news, analysis, and outlook.  This is the fastest global news service available on the market, including translations into all major languages.  Reuters also provides TV news coverage through smartphone and smart TV applications; it is, after all, the largest news agency in the world.  Along with the package, you get Reuters Insider alerts, which are exclusive content and research provided by the expert analysts on the financial network team.
Special News Features.
Core features include detailed financial snapshots of a company.  In the image below, you see the Refinitiv Xenith Streaming News Screen for Netflix (Ticker: NFLX).  Take a look at the attention to detail here and the amount of original news coming in from the Reuters Network; you will get this news before anyone else.  Included in Refinitiv Xenith, you also get Stock Quotes, Charts, detailed Analyst Estimates, and a full listing of all financial details and SEC filings, complete with upcoming events listings, so you are prepared for action.  Thomson Reuters, as you can imagine, covers everything, including stock, options, bonds, futures, FX, and macroeconomic news and data.  An unparalleled source of information.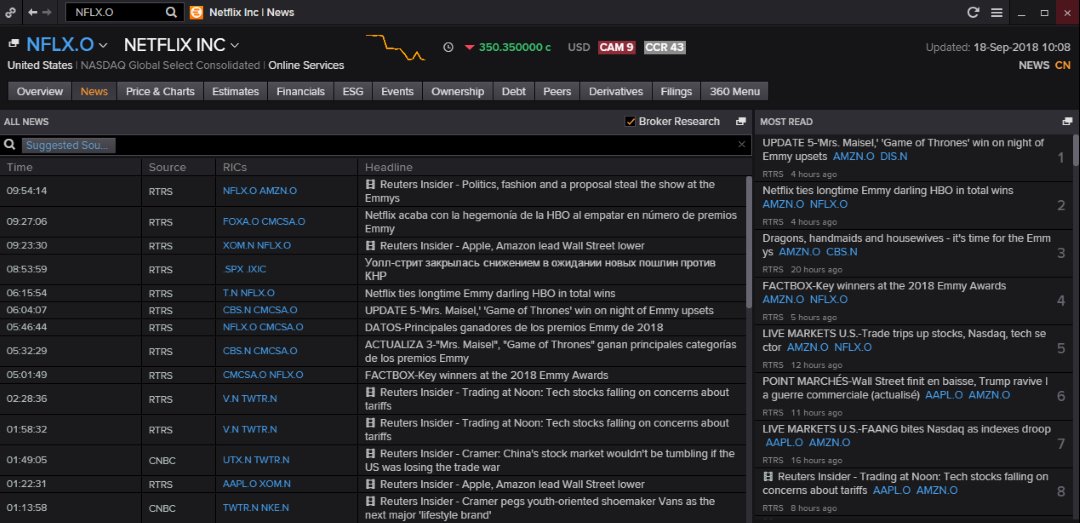 MetaStock Refinitiv News & Research Software Platform
The platform itself is straightforward to use as MetaStock has emphasized the user experience and workflow.  You can have multiple workspaces for multiple monitors and save each workspace seamlessly for reuse.  Of course, the software is available on all devices, from PCs to smartphones and TVs.
MetaStock Refinitiv Pricing and Software
MetaStock is one of the biggest fish in the sea of stock market analysis software.  Backed up by the mighty Thomson Reuters, you can expect excellent fast global data coverage and broad market coverage, including equities, futures, Forex, ETF's and options.  There are two packages below that I would recommend to ensure you have the real-time news package with MetaStock.  Using any of the links in this review, you will automatically get your first month free.
MetaStock R/T Purchase with Reuters Real-Time Data. $99 per month
This package is a fully functional version of MetaStock R/T (real-time) charting and analysis software that is designed for real-time market analysis.  It is powered by Refinitiv XENITH, so you will get  real-time news, data, and analysis
MetaStock R/T Subscription with Refinitiv. $199 per month
This service is also a fully functional version of MetaStock R/T charting and analysis software that is designed for real-time market analysis
and is powered by Refinitiv XENITH. The key difference is it provides streaming data on any time frame, including tick, intraday, daily, weekly, etc.
Fundamental Scanning and Screening  Using Xenith, you can see an in-depth analysis of company fundamentals from debt structure to top 10 investors, including level II.  Excellent watch lists featuring fundamentals and robust scanning of the markets gets a perfect 10
MetaStock Refinitiv Xenith News, Charts & Analysis Overview Video
XENITH Real-Time Market Data & News for everyone
★ Bonus: Sign Up For This Service & Get 5 Exclusive Investing Strategy & Research eBooks Valued at $99 ★
-
Join Over 25,000 Liberated Stock Traders 
Get the Latest Stock Market Software, Books & Movie Reviews Directly To Your Inbox
-
3. Bloomberg: Best TV Channel for Stock Market News
Bloomberg is one of the powerhouses of financial investing news services, catering primarily to Wall Street and Institutions, many of which pay a lot of money for the real-time feeds and the core market intelligence the Bloomberg Terminals bring.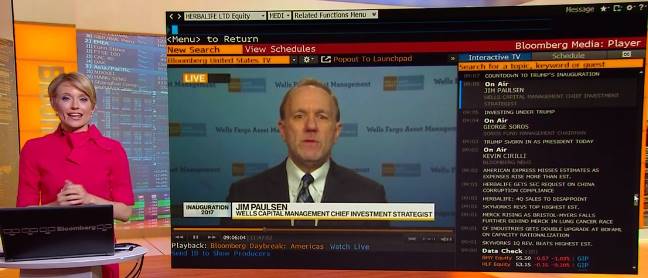 Most of us will know Bloomberg from the Bloomberg TV stream, which is broadcast in most developed countries and available over the internet. It is a resource-rich multimedia experience and contains mostly high-quality reporting debate and opinion.  Nearly every CEO on the planet at earnings time shows up to the Bloomberg studios for an interview.
Trading during the day? Have the free Bloomberg TV running in the background, keeping you up to date with the latest market developments.  One big drawback is too many repeated adverts; however, it is still an excellent stock trading news channel.  The downside to this is that Bloomberg's TV broadcast has a delay; this means that the news you are watching has already been seen and actioned by the professional money managers who have the premium Bloomberg Service.
Bloomberg Premium Service & Pricing.
Bloomberg's core market is not an independent investor; it is professional traders and analysts in investment banks and on trading floors.
To unlock the service, you will need a Bloomberg Terminal, which is a specialized hardware and software solution that maximizes speed and data connectivity.  The terminal requires significant training to be able to use it effectively and will cost you $2,200 per month for the privilege.
Bloomberg is under constant price pressure from companies such as Thomson Reuters, Lightspeed, Interactive Brokers, and even Benzinga for news.
Bloomberg Business Week Magazine
Bloomberg Business Week is a weekly periodical in direct competition with the Economist, Barrons, and Kiplinger.  It has a tighter focus on the financial markets and might also be well worth a try if you are only interested in global and US financial markets.
-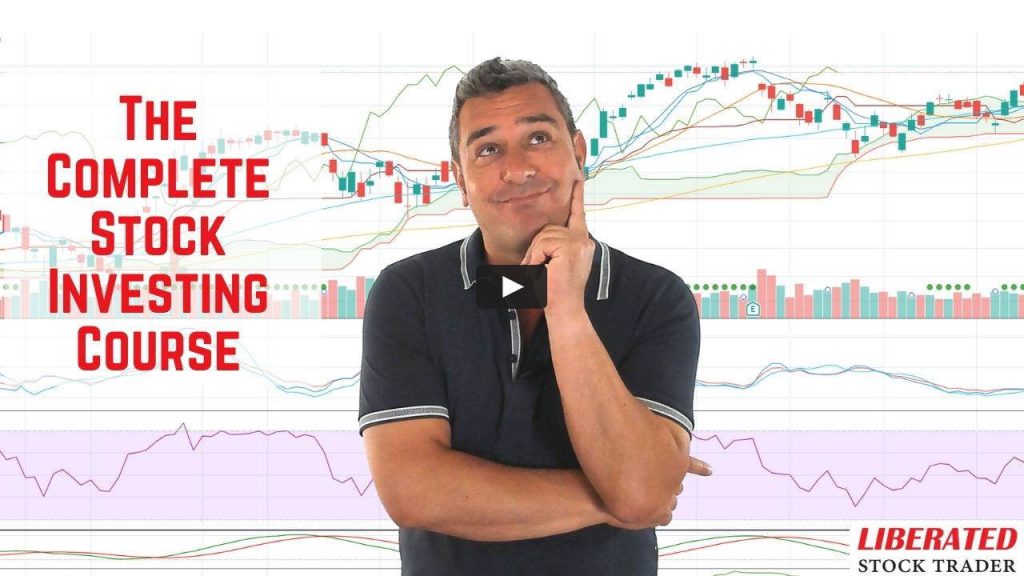 Liberated Stock Trader Pro Investing Course
★ 16 Hours of Video Lessons + eBook ★
★ Complete Fundamental Stock Analysis Lessons ★
★ 2 Powerful Value Investing Strategies ★
★ 4 Dividend/Income Investing Strategies ★
★ How to Beat the Market: Growth Strategy ★
★ Professional Grade Stock Chart Technical Analysis Lessons ★
4. MarketWatch: Best Free Financial News Feed App
MarketWatch is a well-established company and part of the Dow Jones network of businesses, which also includes the Wall Street Journal, Barrons, and BigCharts.  Interestingly the news on offer is Free, and you can do the usual tasks of tracking your portfolio and viewing the standards stocks information with a free account.  If you navigate over to the MarketWatch News Viewer, you can quickly scan the latest news and, even better, the market pulse news.  Market Pulse is the best part of the website as it allows you to quickly browse the story by hovering your mouse over a headline.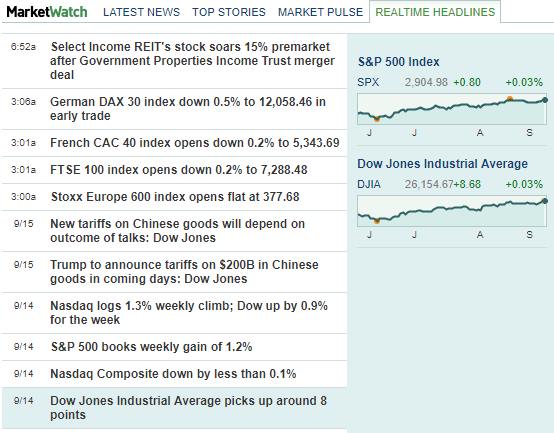 In the image you can see, I have selected real-time headlines; unfortunately, it neither self-updates nor provides the however over quick news scan functionality of the Market Pulse tab.
Also, due to the huge advertisements on the site, the News Viewer is painfully small, which does not help its usability.
On the plus side, it is one of the few free real-time news on the review list, but neither its depth of functionality compare to Benzinga or MetaStock Xenith.  MarketWatch gets its revenue primarily from advertising; however, it does offer a handful of premium products in the form of Newsletters such as Retirement Weekly ($59 per year), Revolution Investing boasting unconventional strategies for $99 per year, and the Technical Indicator Newsletter for $199 per year.
-
5. Wall Street Journal: Best Digital & Print Stock Market Business News
The Wall Street Journal Website offers a huge array of news, and as you can guess, it is primarily financial news.  None of the news professes to be real-time or streaming news, but the website is full of thought-provoking opinions and some insightful journalism.  The WSJ Markets part of the website has stock market-specific news and statistics, including stock screeners and portfolio tracking tools.  The overall service has a paywall, which means after some browsing, you will have limited access to the articles, so you will need to subscribe.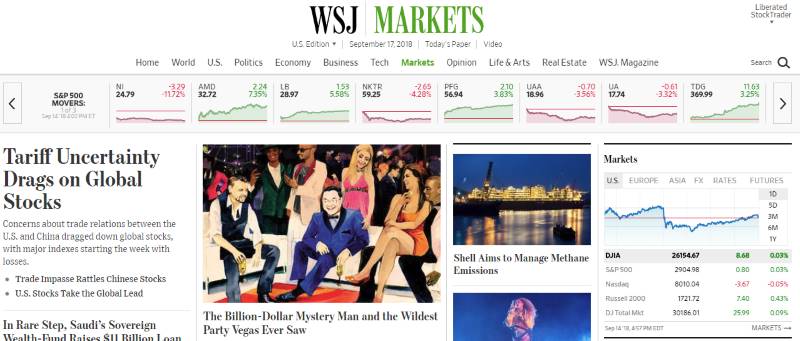 Wall Street Journal pricing comes in at a reasonable $21.50 per month for the print edition, which is delivered once per week, $19.50 for the Digital only edition, and Print & Digital for $22.50 per month. With the Digital version, you also get access to all the Apps, Podcasts, and exclusive interviews.  There is also a premium benefits program that enables you to attend various events and seminars.
-
6. The Economist: Best Weekly Financial Newspaper in Print, Digital & Audio
I have been a subscriber to the Economist for over ten years. It is a first-class independent weekly periodical that covers business, global politics, finance, economics, and technology. With long-form journalism that is of the highest quality, the Economist stands out as a beacon for open markets, democracy, and a free world.
Taking all this into consideration, the thing I like about the Economist most of all is that with a digital and print subscription, I get the entire magazine in print and digitally delivered every Friday morning, but best of all, Audio. That's right; I get the entire Economist available through the Economist App on my phone or online.
A 12-month subscription in the US costs as little as $195.
-
7. CNBC Markets: Good Live Stock Market News Channel
The CNBC Markets website has a lot of information, and they also aggregate news from sources such as Reuters.  The one advantage they have is they are a business news broadcaster, so they have a lot of viewers and a reasonable US network of reporters.  They do have a paywall, so if you want to access all the content on the site and the live streaming CNBC broadcast, then it will cost you $29.99 per month or $299 per year.  For that money, you will have access to the three main live streams with region-specific content from Asia, America, and Europe.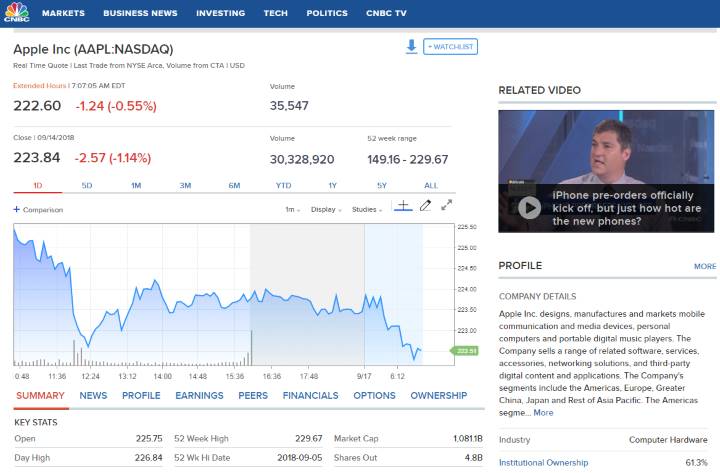 In addition to that, they claim that you will be able to uncover big data trends to help your trading.  I am a little skeptical about that claim.  It may seem like a pricey package, but if all you are looking for is a live streaming financial news TV broadcast to your tablet, phone, or TV with access to the website content, then the price is reasonable compared to live streaming Bloomberg TV.
-
8. CNN Money: Good Stock Market News Site With Too Many Adverts
CNN Money is absolutely free, available globally, and has some original content from its reporting network.  But sometimes cost-free is not so good, and this is certainly one of those times.  I understand that CNN has to fund their independent journalism as few people are actually willing to pay for quality journalism anymore, and if the service is free, then advertising is the only route.  But CNN has taken it too far.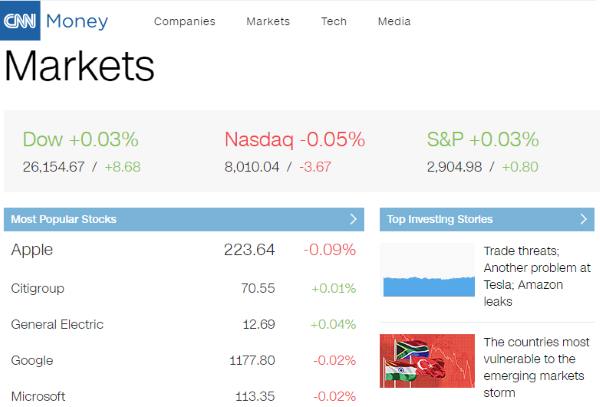 If you visit the CNN news website, you will see that a significant portion of the screen is rammed full of adverts.  That I can live with, but watch one or two videos, and it becomes excruciatingly annoying.
Most CNN videos are 30 seconds to 2 or 3 minutes, but the more you watch, the more you will be subjected to longer and video adverts.  Watching a 30-second advert to see a 1-minute video is a completely frustrating waste of time.
As a news broadcaster that is available across the world, I like their reporting, but their website and services need a fresh look at user experience.
-
9. Financial Times: A Highly Respected Financial Print News Network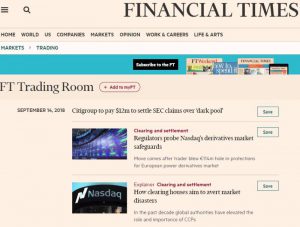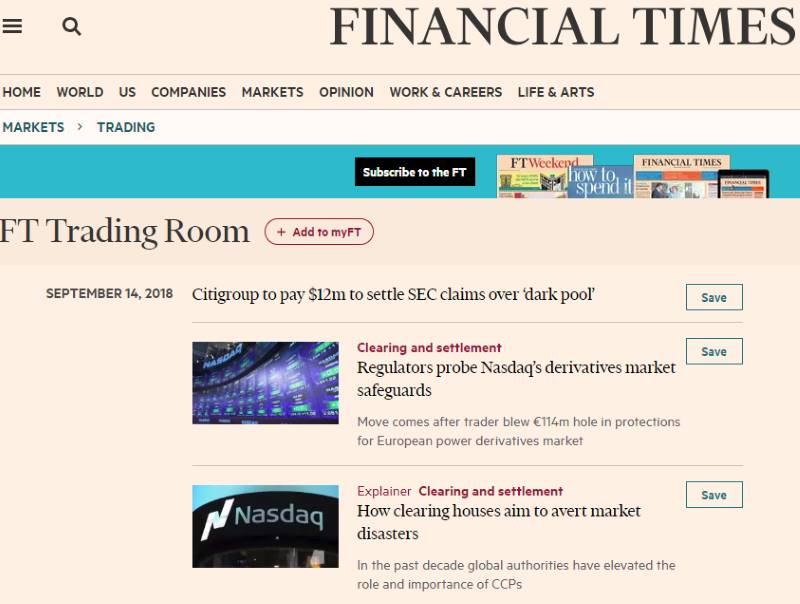 The Financial Times is one of the oldest financial print news organizations in the world, and it has done a good job with the look and feel of the website, and they have a lot of in-depth data and financial content to offer.
Most of it, however, is behind a paywall, and it will cost you around $20 or 20 EUR per week.  For that investment, you will get the Financial Times delivered to your home six days per week from Monday to Saturday, plus their FT weekend paper and a digital version of the newspaper.
The FT is a large newspaper with masses of content every day, so if you are willing to save a forest full of trees, you can opt for the Digital Daily for $6 per week or the Digital Daily Plus subscription for $10 per week saving trees and money.
-
10. Forbes: Best Inspirational Weekly Finance Magazine
Forbes magazine is famous for its Forbes Rich List, but despite that is has a lot of thoroughly engaging original content. It does not just focus on money and investing; it is more a business and lifestyle magazine.
Its main product is Forbes Magazine, which is available worldwide and the subscription.  Prices vary, but it will set you back around $100 for 12 issues per year.  The website content is free, and they have a whole host of contributors, but as we know, free means plenty of advertising, but the content is good, and the advertising is not overbearing.
-
11. Barrons: Best Print Magazine for Investing & Retirement
Barrons is another of the Dow Jones Family of products; its market niche is the fact the magazine focuses only on periodicals covering investing & retirement topics from the Dow Jones Network.
The Barron business model is directed towards print, but there are also some digital offerings to be had with the digital pass. Non-US residents get the option of digital-only.
In the image to the right, you can see there is a tab called Real-Time; if you click the tab, you get recent news, but you have to keep hitting refresh to see if there are any more updates.
Also, there are articles shared across the Dow Jones Network, so you will see some Wall Street Journal articles added to the list.
-
12. Yahoo Finance: Best Free News App +
 Trading From Charts
Yahoo Finance is a free News Aggregation Service with some limited self-generated content.  It has, over the last year, made huge steps to improve, and the interface is looking much better than five years ago.
Interestingly, when browsing the news and charts on Yahoo, you will notice there are Buy and Sell buttons.  Yes, surprisingly enough, Yahoo has put some serious effort into broker integration, meaning that you can trade directly from the Yahoo charts with your online broker, and it is an impressive list with Fidelity, E*Trade, Robinhood, Ally Invest, Interactive Brokers, TradeStation, Schwab, Vanguard, and Merrill on the list.
Quite why you would want to do this, I do not know, and the top brokers usually offer far superior charting and analysis, for example, TC2000 Brokerage, Firstrade, or Interactive Brokers.  Anyway, keep improving Yahoo Finance; you are going in the right direction.
-
13. Traders Magazine Monthly: Best Trading & Charts Site
Recommended for serious traders who want to continually learn and keep the edge over the competition.  The Best Traders Magazine Available.
I have been a subscriber to the Technical Analysis of Stocks & Commodities Magazine (TASC) for the last nine years. It is essentially the Go-To Managzine for experienced Technical Analysts.  The magazine is very well written and has a host of high-profile contributors.
I have been published in TASC, with my Side-Stepping the Next Crash" article. The magazine covers the Technical Analysis of everything, Stocks, Options, Commodities, Bonds, Precious Metals, and Foreign Exchange.
It includes extremely helpful learning articles, such as how to develop indicators and new ways to analyze the markets.  They also have a spotlight on learning new techniques for beginners and intermediate traders. TASC also touches on the current market climate with an in-depth technical analysis of the various markets.
The contributors provide systems designed to help you get an edge in the markets whilst also covering trading systems.  Also, often when a system is provided, there will be the code for the various Technical Analysis Packages such as MetaStock or TC2000, so you can implement your own indicators and systems.
As a subscriber, you also get access to the entire back catalog digitally, which is a pure goldmine of knowledge not available anywhere else on the planet.
TIP – Go for at least a 1 Year Subscription to get access to the entire digital library.
-
Summary
Best Breaking Stock Market News (Real-time & Live Feeds)
Best Financial Newspapers & Magazines
Best Stock Market News TV Channels
Bloomberg: Best Global Stock Market & Financial News Channel
CNBC Money: US Centric Stock Market News
CNN Business: Provides Business & Finance News
Where Can I Watch The Stock Market Live?
The best news source to watch the stock market live is on Bloomberg TV. Bloomberg is available for free across the globe through your broadcast network provider. The Bloomberg broadcast is usually delayed by 15 minutes, but it has an incredible depth of stock market content.
Financial News Services Comparison Table
Table 1. Top 10 Financial & Stock Market News Companies Comparison
Are You Looking For Stock Investing & Trading Software? Here Are My Favorites.
My favorite
software for trading
is
TradingView
because it does everything well. It has backtesting, great charts, stock screening, and an active community of over 3 million people sharing ideas, plus a free plan available globally.
My favorite
software for investing
is 
Stock Rover
, as it specializes in deep fundamental financial screening, research, and portfolio management. It is the ideal platform for dividend, value, and growth investing.
My favorite
software for stock market news
is
Benzinga Pro
, with its super-fast real-time news engine, squawk box, and news impact ratings.
My favorite
AI trading software
is
TrendSpider
which enables automatic pattern recognition for Trendlines, Candlesticks, and Fibonacci levels.
Trade Ideas
uses AI to generate high probability daily trading signals for auto-trading.
My favorite
stock-picking service
is
Motley Fool Stock Advisor
, which has a proven track record of beating the market with excellent stock research reports.
Read the Full Top 10 Stock Market Software Testing & Review