Our research shows the best stock market news websites are Benzinga Pro for real-time trading news and Bloomberg for in-depth articles and TV coverage.
MetaStock Xenith combines real-time newsfeeds and expert stock charting, while MarketWatch has the best free stock market news. Finally, The Economist is the best for business, finance, economics, and politics.
As a 20-year veteran investor and certified professional market analyst, my in-depth test of the best stock market news websites will help inform and improve your investing and trading.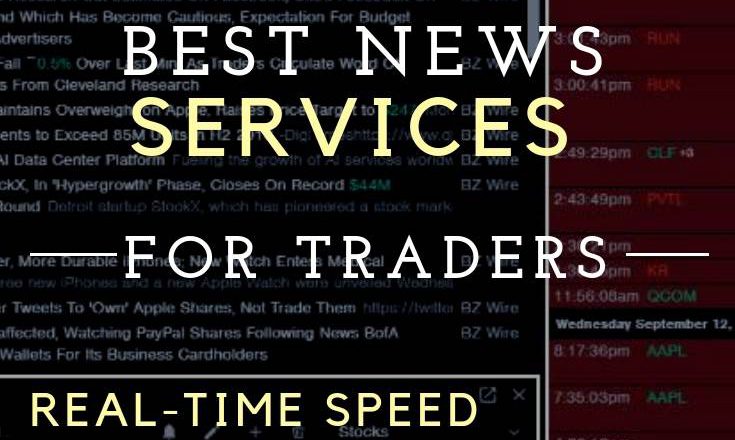 What to look for in stock market news websites
As an investor, you want new insights, thought-provoking analysis, and research to inspire you to make your next significant long-term investment. Long-term investors need news articles introducing them to new trends, services, industries, and companies.
As a trader, you need real-time news that gives you an edge in the market, and you need to understand if the news reports will make a 5% to 10% stock price move, up or down, in a day. It would be best if you had breaking news and opinion that would give you a chance to react to volatility in the market.
The Stock Market News Services I Use
I pay for Benzinga Pro because it is cost-effective and provides the fastest real-time news. I also have an Economist digital subscription enabling me to listen to the entire publication on audio. Finally, I pay $299 per year for Bloomberg Digital Access because the TV coverage and depth of stock market reporting are the best.
13 Best Stock Market News Websites
1. Benzinga Pro: Best real-time US stock news
Benzinga Pro is the best real-time stock market news site for traders delivering cost-effective, actionable news, charts, financials, and screening. Benzinga Pro includes a powerful calendar suite to get a trading edge, and the platform is designed to be the place where you get stock news first.
I personally subscribe to Benzinga Pro, I have been using the service for 4 years.
Benzinga Pro is designed for traders and is 1/10th of the cost of a Bloomberg Terminal. What makes it unique is the fast delivery of news, insider interviews, and direct access to the reporters at the news desk. They also have a considerable amount of news content unavailable to regular subscribers.
| | |
| --- | --- |
| Benzinga Pro News Rating | 4.8/5.0 |
| ⚡ News Features | Real-time News Feeds |
| 🏆 Unique Features | Squawk, News Sentiment, News Rating |
| 🎯 Best for | Stock, Fx & Crypto Traders |
| 💰 Price | $79-$117/mo |
| 🎮 Free Trial | 14 Day Free |
| ✂ Premium Discount | -25% Code "SMARTER" |
| 🌎 News Coverage | North America |
Benzinga Pro Pricing
Benzinga PRO costs $79 per month for the Basic plan, which gives you real-time newsfeeds and watchlist alerts. Benzinga Pro Essential costs $117 per month, adding the Squawk Box, Calendars, Sentiment Indicators, and the Chat with Newsdesk functionality.
| | | |
| --- | --- | --- |
| Basic Plan | Essential Plan | Options Mentor |
| $79/mo* | $117/mo* | $281/mo* |
| Real-time Newsfeed | Real-time Quotes | Trading mentorship |
| SEC Filings | Audio Squawk | Options inner Circles Chat |
| Watchlist & News Alerts | Newsdesk Chat | Nic Chahine's Reports |
| Calendar Suite | Sentiment Indicators | |
*Cost per month on yearly subscription
Benzinga Pro Basic
Benzinga Pro Basic costs $79-/m paid annually or $ 99 /m on a monthly subscription. You get real-time news, trade alerts, watchlist alerts, market-moving news, SEC filings, and the calendar suite of tools for this investment.
Core to the Benzinga Pro Basic service is access to the real-time newsfeed, which updates quickly and effectively. BZWire includes all Securities & Exchange Commission (SEC) news and real-time PR newsfeeds. These can be incredibly important because SEC/FDA announcements can seriously move stocks.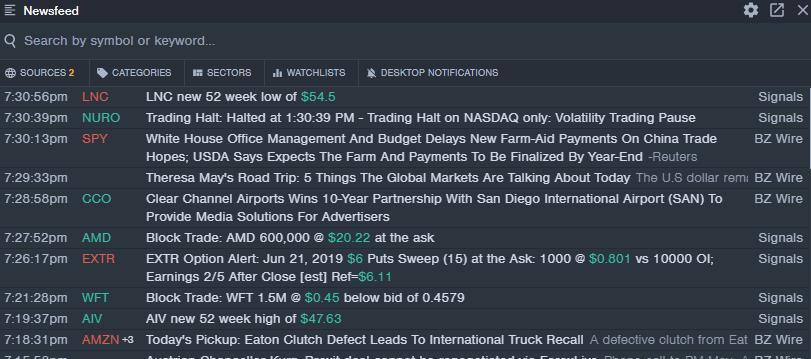 Also, important company PR announcements are timed to coincide with or counteract the news, so receiving these as quickly as possible is a serious bonus.
Newsfeed Alerts & Calendars
Benzinga Pro newsfeed alerts allow you to set specific alarms on stock market sectors or categories. You can select to be alerted via email, desktop pop-up, or a sound if any hot news or market-moving news is announced. Alerts hugely benefit the trader, so you do not need to watch the newsfeed continually; you can be trading and hear the alarm as a call to action.
Benzinga Pro lets you set up as many watchlists as you wish, and you can receive alerts on specifically those stocks in the watchlist, for example, those that matter to you. You can get real-time alerts and summary emails for your watchlist.
Below we see the Benzinga Calendar. You can instantly see what macroeconomic news is upcoming, but what you also see in the "importance" column on the right is the potential impact of the news as rated by the market analysts at Benzinga.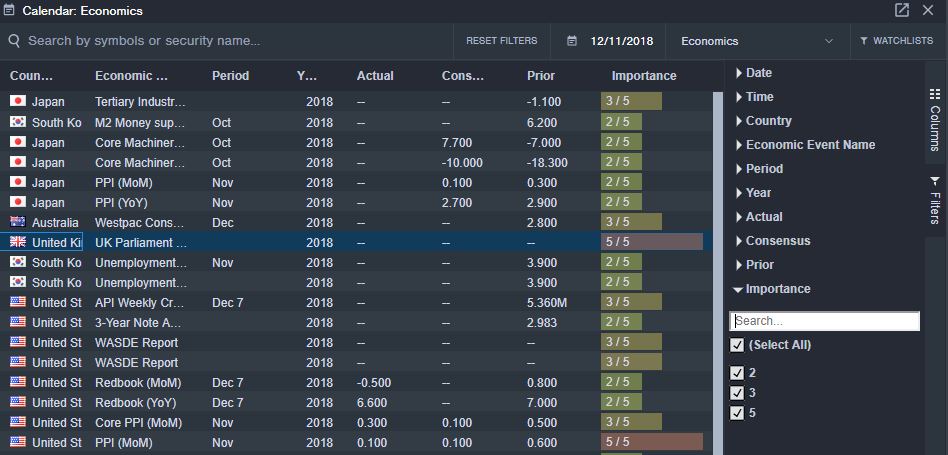 As you open the filter on the right, you can filter on anything from country, time, and especially the importance of the news. The granular level of filtering enables you to extract all of the value out of the news by only seeing the potential market-moving news.
Price Change Since Published
Benzinga prides itself on releasing news in time for you to react to a market move and profit. And to prove this point, they have added a feature called Change Since Publish, which shows how much a stock price has moved since the news was announced.

Security SnapShots
Unique to Benzinga is the Security Snapshot View, essentially a summary of all the critical News, Fundamentals, and Charts. Snapshots are designed to give you a clean, quick view of the whole picture for a given stock, including all the core financial documents like balance sheets and income statement information.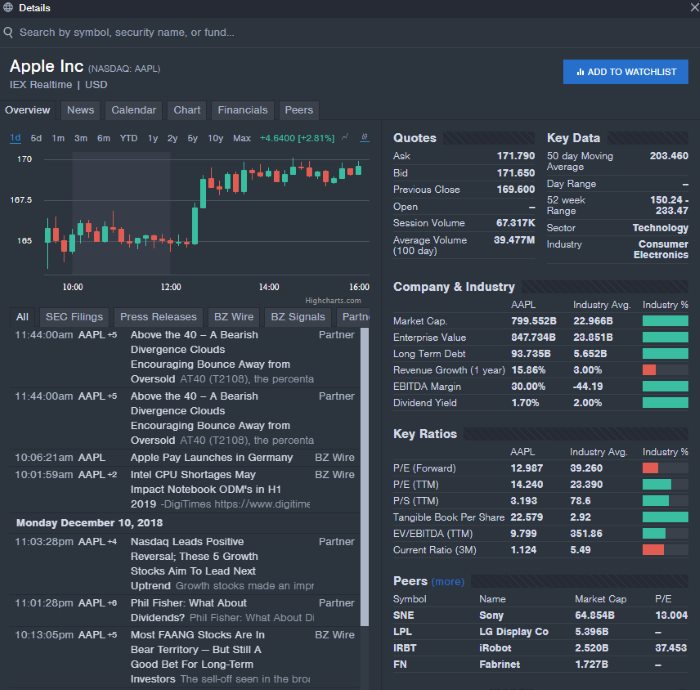 So we can see the basic package already unlocks a lot of value, the real-time streaming newsfeed, and the sources of news exclusively from Benzinga and tier 1 partners. The real power is filtering the noise and focusing on the important market-moving news, plus getting alerted when the news breaks. You get all this in the basic package.
Benzinga Pro Essential costs  $117/m paid annually, or $ 147/m paid monthly, and provides real-time quotes, audio squawk box announcements, chat to the newsdesk, plus excellent and unique news sentiment indicators.
Analyst Rating Calendar
The guidance section of the Benzinga Pro calendar suite is designed to provide real-time alerts on analyst upgrades and downgrades. Traders pay serious money for this kind of data because Wall Street analyst guidance changes move stocks and impact markets.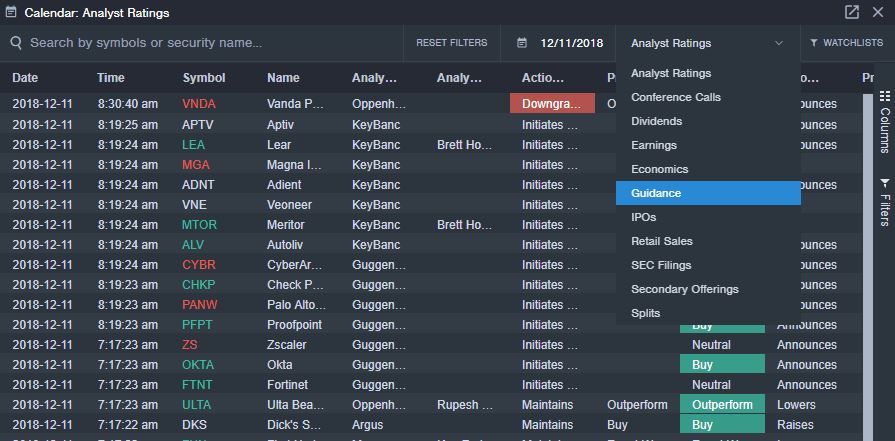 Imagine having these analyst ratings streamed in real time to your desktop. I have a column in the image above highlighting the company symbol, the analysts covering the stock, the analyst's name, and the action. In this instance, you see there is a downgrade for VNDA.
I dropped down the calendar selection box (on the right) to show you the different types you can choose. The Benzinga Pro calendar covers everything, including upcoming conference calls, dividends, earnings, economics, earnings guidance, IPOs, retail sales, SEC filings, secondary offerings, and split announcements.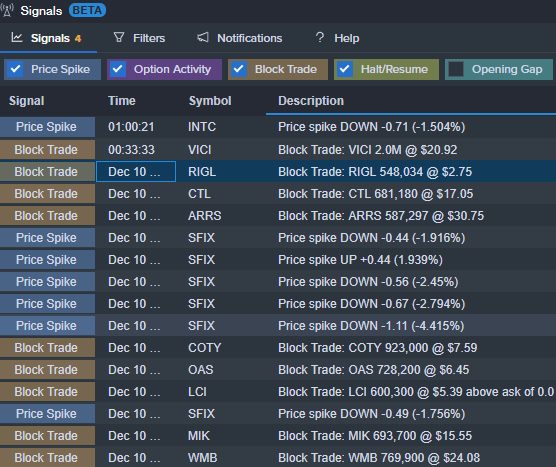 Squawk Box & Sentiment Indicators
Benzinga's Squawk Box frees you from staring at the on-screen newsfeed by having the newsroom reporters read the latest high-impact news live as it hits the feed. Squawk is one of the biggest benefits of the Benzinga Pro Essentials service.
As I wrote this, an announcement came through that Novartis got FDA approval for a new drug. I just checked online; this is not on the web yet, nor announced on Bloomberg TV. Now that is an advantage worth buying.
News sentiment indicators are an innovative feature that allows you to see the sentiment of the analyst who submits the news item; you see this in the color of the ticker symbol; red is bearish, green is bullish; this is unique and a great asset.
Benzinga Signals
Signals show how Benzinga is continually innovating; the Signals setup creates a feed with block trade or price spike news that directly impacts a stock's supply and demand balance at a foundational level.
Let's take a look at a block trade. A block trade is a massive amount of stock, either bought or sold. Block trades impact price, and you can take part in that price move or not, depending on the direction of the trade.
Block trades are specific, powerful trading strategies. Watch the block trades roll in, observe the direction, and make your trade. See a colossal block trade sell, buy Put Options, see a block trade buy, buy calls.
Benzinga Pro Review Video
25% Discount Code

SMARTER
We independently research and recommend the best products. We also work with partners to negotiate discounts for you and may earn a small fee through our links.
---
2. MetaStock Xenith: Best global real-time news
MetaStock Xenith is the best global real-time financial news feed for technical traders because it delivers institutional-grade data from Refinitiv and is the leading technical analysis stock charting and backtesting service.
I recommend MetaStock Xenith for traders who need real-time news and access to a huge stock systems market, all backed up with excellent customer service.
| | |
| --- | --- |
| MetaStock News Rating | 4.7/5.0 |
| ⚡ News Features | Real-time Global News Feeds |
| 🏆 Unique Features | News Feeds Translated to Multiple Languages |
| 🎯 Best for | Stock, Fx & Commodity Traders |
| 💰 Price | $59-$250/mo |
| 🎮 Free Trial | 30-Day Free Trial |
| ✂ Premium Discount | 3 Months for 1 |
| 🌎 News Coverage | Global |
I have been using MetaStock Xenith for 8 years.
MetaStock Xenith is powered by Refinitv, the fastest global news service available on the market, including translations into all major languages. Refinitiv provides TV news coverage through smartphone and smart TV applications, and you get Insider alerts, exclusive content, and research provided by expert analysts on the financial network team.
Core features include detailed financial snapshots of a company. The image below shows the Refinitiv Xenith Streaming News Screen for Netflix (Ticker: NFLX).
Take a look at the attention to detail here and the amount of original news coming in from the Reuters Network; you will get this news before anyone else. Included in Refinitiv Xenith are Stock Quotes, Charts, detailed Analyst Estimates, and a full listing of all financial details and SEC filings, complete with upcoming events listings, so you are prepared for action.
As you can imagine, Thomson Reuters covers everything, including stock, options, bonds, futures, FX, and macroeconomic news and data.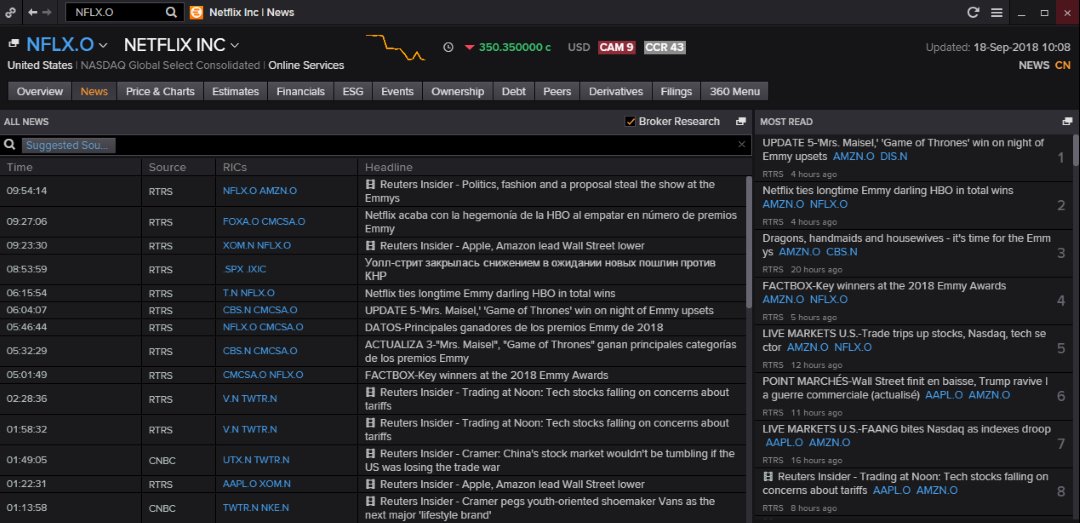 The platform is straightforward, as MetaStock emphasizes user experience and workflow. You can have multiple workspaces for multiple monitors and save each workspace seamlessly for reuse. Of course, the software is available on all devices, from PCs to smartphones and TVs.
MetaStock Xenith Pricing
MetaStock is one of the biggest fish in the sea of stock market analysis software. Backed up by the mighty Thomson Reuters/Refinitiv, you can expect excellent fast global data coverage and broad market coverage, including equities, futures, Forex, ETF, and options.
MetaStock R/T plus Xenith costs $250/m, which means you get real-time data, news, and fundamentals powered by Refinitiv is the gold standard of international financial data worth $29 billion and is a subsidiary of the London Stock Exchange.
Use this link to get your first month free automatically.
MetaStock Real-time News Video
---
3. Bloomberg TV: Best in-depth TV & market reporting
The best stock market TV channel is Bloomberg, the powerhouse of financial investing news. Bloomberg caters primarily to Wall Street institutions, many of which pay a lot of money for the real-time feeds and the core market intelligence the Bloomberg Terminals bring.
Trading during the day? Have the free Bloomberg TV running in the background, keeping you updated with the latest market developments. One big drawback is too many repeated adverts; however, it is still an excellent stock trading news channel.
| | |
| --- | --- |
| Bloomberg News Rating | 4.6/5.0 |
| ⚡ News Features | Bloomberg TV, Bloomberg.com App |
| 🏆 Unique Features | Live TV News Streams, Newsletters, Podcasts |
| 🎯 Best for | Stock, Fx & Commodity Traders |
| 💰 Price | $299/yr |
| 🎮 Free Trial | No |
| ✂ Premium Discount | No |
| 🌎 News Coverage | Global |
The downside is that Bloomberg's TV broadcast is delayed; the news you are watching has already been seen and actioned by professional money managers with the premium Bloomberg service.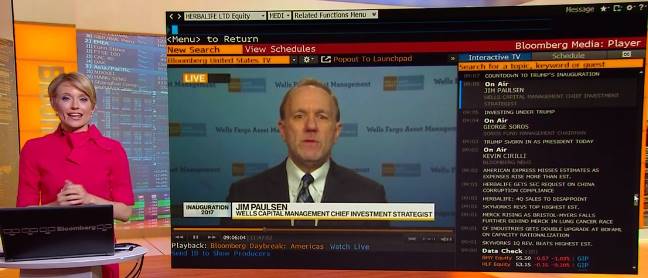 Most of us will know Bloomberg from the Bloomberg TV stream, broadcast in most developed countries and available online. It is a resource-rich multimedia experience and contains mostly high-quality reporting debate and opinion. Nearly every CEO on the planet at earnings time shows up to the Bloomberg studios for an interview.
Bloomberg Premium Service & Pricing.
Bloomberg's core market is not independent investors but professional traders and analysts in investment banks and trading floors. You will need a Bloomberg Terminal, specialized hardware, and software solution that maximizes speed and data connectivity to unlock the service. The terminal requires significant training to use effectively and will cost you $2,200 per month for the privilege. Bloomberg is under constant price pressure from Refinitiv and Benzinga Pro to deliver real-time news.
I personally subscribe and pay for the Bloomberg Digital Pass
I subscribe to the Bloomberg Digital Pass for $299 per year, allowing access to all live TV articles, streaming audio news, and Bloomberg Business Week. This is much cheaper than the Bloomberg terminal but offers the best of their reporting and TV broadcast.
Bloomberg Subscription Discount Tip
If you subscribe to the Bloomberg Digital Pass, it costs $299 for the first year, and the second year, on renewal, will cost $499.
Here's how I save 40% on my Bloomberg subscription:
Before the renewal date, go to the Bloomberg website and log in.
Go to [Your Account] -> [Subscription]
Select [Contact Support to Cancel]
You will be routed to an automated chatbot
This chatbot will offer you a renewal for only $299, saving you 40%
Bloomberg Business Week Magazine
Bloomberg Business Week is a weekly periodical in direct competition with the Economist, Barrons, and Kiplinger. It has a tighter focus on the financial markets and might also be worth trying if you are only interested in global and US financial markets.
---
4. Traders Magazine: Best for day traders
Technical Analysis of Stocks & Commodities Magazine (TASC/Traders.com) is a comprehensive resource for traders or anyone interested in learning about technical analysis. It includes articles on various topics, such as chart patterns, indicators, and strategies. The magazine includes interviews with successful traders and reviews of trading software and books. Whether you are a beginner or an experienced trader, technical analysis of stocks magazine is a valuable resource.
| | |
| --- | --- |
| TASC Magazine Rating | 3.2/5.0 |
| ⚡ News Features | Excellent Analysis of Stocks & The Markets |
| 🏆 Unique Features | Trading Strategies |
| 🎯 Best for | Stocks, Fx & Commodity Traders |
| 💰 Price | $89/yr |
| 🎮 Free Trial | 30-Day |
| ✂ Premium Discount | No |
| 🌎 News Coverage | USA |
The Technical Analysis of Stocks & Commodities (TASC) magazine is best for serious technical traders who want to learn continually and keep a competitive edge.
I have subscribed to the Technical Analysis of Stocks & Commodities Magazine (TASC) for twelve years. It is the go-to magazine for experienced technical analysts. The magazine is very well-written and has a host of high-profile contributors.
I have been published in TASC with my "Side-Stepping the Next Crash" article. The magazine covers the technical analysis of stocks, options, commodities, bonds, precious metals, and foreign exchange.
It includes helpful learning articles, such as developing indicators and new market analysis methods. They also spotlight learning new techniques for beginners and intermediate traders. TASC also touches on the current market climate with an in-depth technical analysis of the various markets.

The contributors provide systems designed to help you get an edge in the markets while covering trading systems. Also, when a system is provided, there will be the code for the various Technical Analysis Packages, such as MetaStock or TC2000, so you can implement your indicators and systems.
As a subscriber, you also get digital access to the entire back catalog, a pure goldmine of knowledge not available anywhere else on the planet.
TIP – Go for at least a 1 Year Subscription to get access to the entire digital library.
---
5. The Economist: Best business, finance & politics site
The Economist is a weekly magazine that covers politics, business, and economics and is considered one of the world's most respected and influential magazines. The magazine was first published in 1843 and has been in continuous publication ever since.
I have been a subscriber to the Economist for over ten years, I really enjoy the global perspective and insights it provides.
The Economist is known for its in-depth analysis of current affairs, and its coverage of global events is unrivaled. The magazine strongly focuses on economic policy, and it is essential reading for anyone who wants to understand the complex workings of the global economy. The Economist is also widely respected for its high-quality journalism, and its writers are some of the most respected commentators in the business.
| | |
| --- | --- |
| The Economist News Rating | 4.4/5.0 |
| ⚡ News Features | In-depth Independent Financial Journalism |
| 🏆 Unique Features | Digital Edition, Full Audio, Excellent App |
| 🎯 Best for | Investors, Economists |
| 💰 Price | $289/yr |
| 🎮 Free Trial | No |
| ✂ Premium Discount | No |
| 🌎 News Coverage | Global |
The Economist provides political, economic, financial, and business news from across the globe. The Economist is a quality independent weekly periodical featuring the highest quality long-form journalism. The Economist is for big thinkers, standing out as a beacon for open markets, democracy, and a free world.
Considering all this, the thing I like about the Economist is that with a digital and print subscription, I get the entire magazine in print and digitally delivered every Friday morning, but best of all, audio. That's right; I get the entire Economist available through the Economist App on my phone or online.
A 12-month digital subscription in the US costs as little as $195.
---
---
Invest in yourself! Get all our courses & strategies for 50% off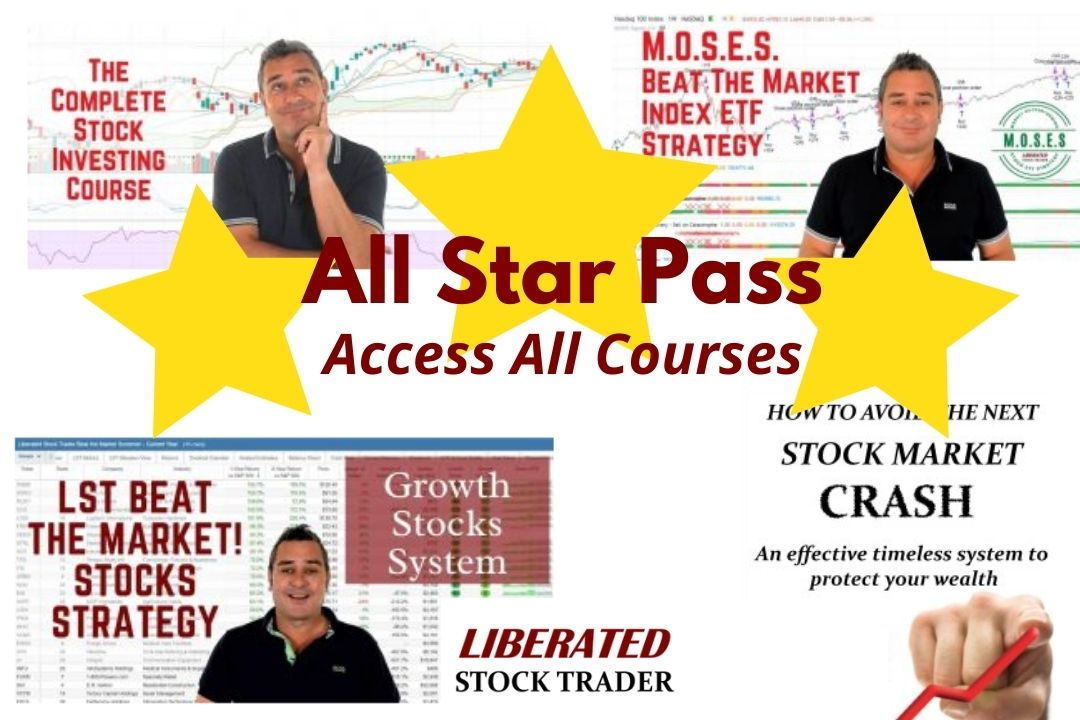 ★ Liberated Stock Trader Pro Stock Investing & Trading Course ★
★ M.O.S.E.S. Market Outperforming ETF Strategy ★
★ LST Beat the Market Stock Picking Strategy ★
★ Exclusive Bonus Course – The Stock Market Crash Detector Strategy ★
★ Fully Guided Videos, eBooks & Lifetime Email Support ★
★ 108 Videos + 3 Full eBooks + 5 Scripts for TradingView & Stock Rover ★
All Star Pass Black Friday -50% Deal Is Live - Ends In:
---
6. MarketWatch: Best free stock market news
MarketWatch is a well-established free financial news website and app, part of the Dow Jones network of businesses, including the Wall Street Journal, Barrons, and BigCharts. Interestingly the news on offer is Free, and you can do the usual tasks of tracking your portfolio and viewing the standards stocks information with a free account.
| | |
| --- | --- |
| MarketWatch News Rating | 4.2/5.0 |
| ⚡ News Features | MarketWatch & Barron Articles |
| 🏆 Unique Features | No Live Streaming News |
| 🎯 Best for | Investors |
| 💰 Price | $12.99/mo |
| 🎮 Free Trial | No |
| ✂ Premium Discount | No |
| 🌎 News Coverage | USA |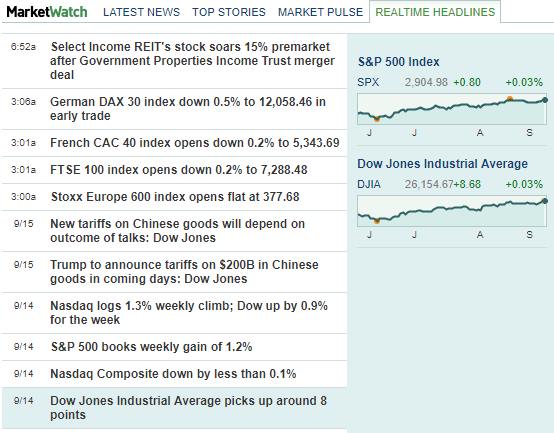 If you navigate to the MarketWatch News Viewer, you can quickly scan the latest news and use the Market Pulse app, which allows you to quickly browse the story by hovering your mouse over a headline.
In the image, you can see I have selected real-time headlines; unfortunately, it neither self-updates nor provides the however over quick news scan functionality of the Market Pulse tab. Also, due to the huge advertisements on the site, the News Viewer is painfully small, which does not help its usability.
On the plus side, it is one of the few free real-time news feeds on the review list, but its depth of functionality does not compare to Benzinga or MetaStock Xenith.  MarketWatch gets its revenue primarily from advertising; however, it does offer a handful of premium products in the form of Newsletters such as Retirement Weekly ($59 per year), Revolution Investing boasting unconventional strategies for $99 per year, and the Technical Indicator Newsletter for $199 per year.
---
7. Wall Street Journal: Good in-depth finance publication
The Wall Street Journal Website offers in-depth financial news, none of which is real-time. The website is full of thought-provoking opinions and insightful journalism. The WSJ Markets part of the website has stock market-specific news and statistics, including stock screeners and portfolio tracking tools. The overall service has a paywall, meaning you will have limited access to the articles after browsing, so you need to subscribe.
| | |
| --- | --- |
| Wall Street Journal Rating | 4.1/5.0 |
| ⚡ News Features | Delayed News, Apps, Podcasts |
| 🏆 Unique Features | WSJ Journalists & Quality Writing |
| 🎯 Best for | Investors |
| 💰 Price | $9.99/mo |
| 🎮 Free Trial | No |
| ✂ Premium Discount | No |
| 🌎 News Coverage | Global |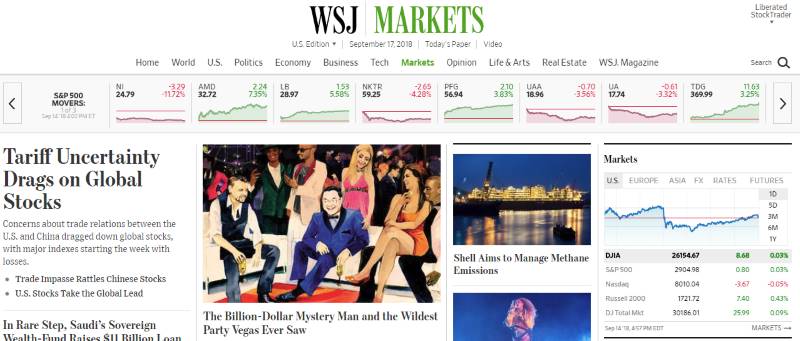 Wall Street Journal pricing costs $21.50 per month for the print edition delivered once per week, $19.50 for the Digital only edition, and Print & Digital for $22.50 per month. With the Digital version, you can access all the Apps, Podcasts, and exclusive interviews. A premium benefits program also enables you to attend various virtual events and seminars.
---
8. CNBC Markets: Good Financial TV & News
CNBC Stock Markets offer live stock market and business TV, plus the CNBC Markets website has a lot of information, aggregating news from sources such as Reuters. The advantage they have is that they are a business news broadcaster, so they have a lot of viewers and a reasonable US network of reporters.
| | |
| --- | --- |
| CNBC News Rating | 3.8/5.0 |
| ⚡ News Features | Live TV, US, Europe, Asia |
| 🏆 Unique Features | News Articles & Analysis |
| 🎯 Best for | Investors, Economists |
| 💰 Price | $299/yr |
| 🎮 Free Trial | 7-day Free |
| ✂ Premium Discount | No |
| 🌎 News Coverage | USA |
CNBC Markets have a paywall, so if you want to access all the content on the site and the live-streaming CNBC broadcast, it will cost you $29.99 per month or $299 per year. For that money, you will have access to the three main live streams with region-specific content from Asia, America, and Europe.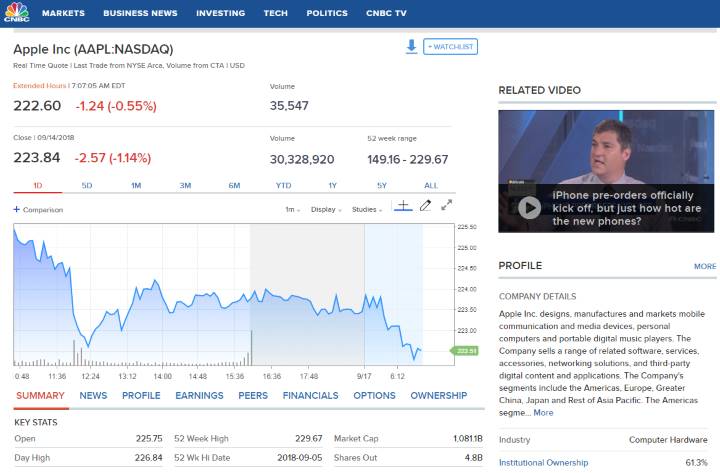 In addition to that, they claim that you will uncover big data trends to help your trading. I am skeptical about that claim. It may seem like a pricey package, but if all you are looking for is a live-streaming financial news TV broadcast to your tablet, phone, or TV, the price is reasonable. However, Bloomberg has the same price point but is much better than CNBC markets.
---
9. CNN Money: An average free stock website
CNN Money offers free stock market news, available globally, with some original content from its reporting network. Sometimes free news is not so good, and this is certainly one of those times. I understand that CNN has to fund independent journalism as few people are willing to pay for quality journalism anymore.
| | |
| --- | --- |
| CNN Money News Rating | 3.1/5.0 |
| ⚡ News Features | TV News |
| 🏆 Unique Features | None |
| 🎯 Best for | General Interest |
| 💰 Price | Free |
| 🌎 News Coverage | Global |
Advertising is the only route if the service is free, but CNN has taken it too far. If you visit the CNN news website, you will see that a significant portion of the screen is rammed full of adverts. I can live with that, but watching one or two videos becomes excruciatingly annoying.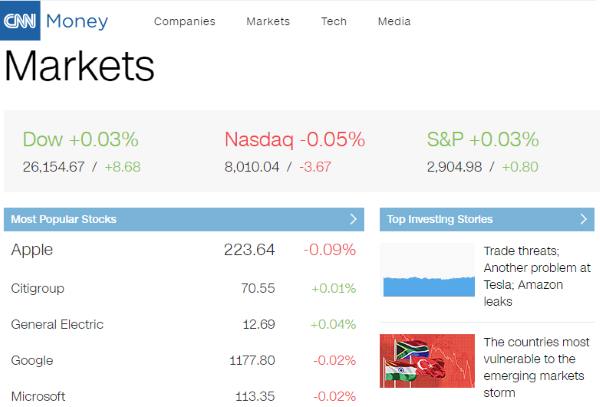 Most CNN videos are 30 seconds to 2 or 3 minutes, but the more you watch, the more you will be subjected to longer video adverts. Watching a 30-second advert to see a 1-minute video is a completely frustrating waste of time.
As a news broadcaster available worldwide, I like their reporting, but their website and services need a fresh look at user experience.
---
Beat The Market, Avoid Crashes & Lower Your Risks
Nobody wants to see their hard-earned money disappear in a stock market crash.
Over the past century, the US stock market has had 6 major crashes that have caused investors to lose trillions of dollars.
The MOSES Index ETF Investing Strategy will help you avoid or minimize the impact of major stock market crashes. MOSES will alert you before the next crash happens, so you can protect your portfolio. You will also know when the bear market is over, so you can start investing again.
MOSES Helps You Secure & Grow Your Biggest Investments
★ 3 Index ETF Strategies ★
★ Outperforms the NASDAQ 100, S&P500 & Russell 3000 ★
★ Beats the DAX, CAC40 & EURO STOXX Indices ★
★ Buy & Sell Signals Generated ★
MOSES Helps You Sleep Better At Night Knowing You A Prepared For Future Disasters
---
10. Financial Times: A respected financial newspaper
The Financial Times is one of the oldest, most respected financial print news organizations in the world, and it has done a good job with the look and feel of the website; they have a lot of in-depth data and financial content to offer.
The Financial Times is a British newspaper that offers business and financial news and commentary. The publication has been operating since 1888, and today it has a circulation of approximately 190,000 readers. It is headquartered in London.
| | |
| --- | --- |
| Financial Times News Rating | 3.7/5.0 |
| ⚡ News Features | News Stream, Detailed Journalism |
| 🏆 Unique Features | E-Paper Copy of Print Edition |
| 🎯 Best for | Investors, Economists |
| 💰 Price | $579/yr |
| 🎮 Free Trial | No |
| ✂ Premium Discount | No |
| 🌎 News Coverage | Global |
The Financial Times has a global reach, with readers in over 180 countries. In addition to its comprehensive business and financial news coverage, the paper offers readers insights on various topics, including politics, economics, and current affairs.
The Financial Times is respected for the quality of its journalism and is widely respected as a source of news and information on business and finance.
However, most of it is behind a paywall, costing you around $20 or 20 EUR per week. For that investment, you will get the Financial Times delivered to your home six days per week from Monday to Saturday, plus their FT weekend paper and a digital version of the newspaper.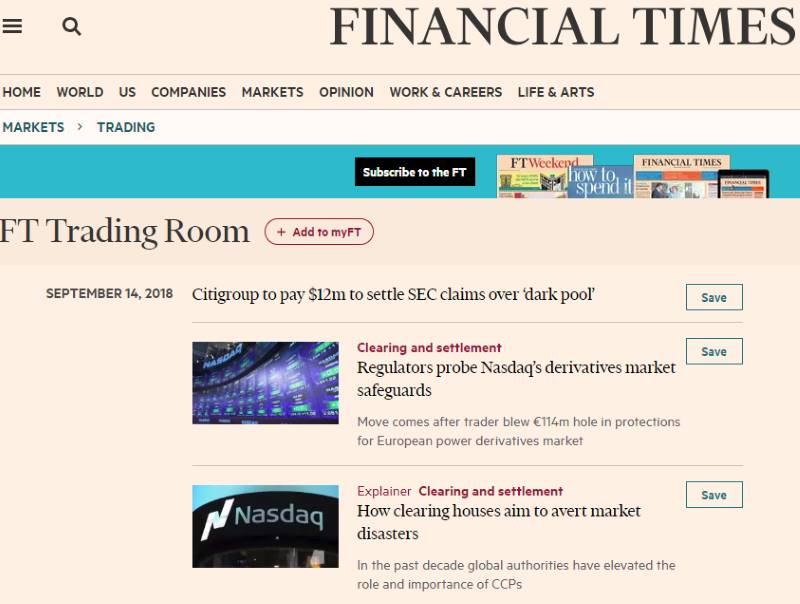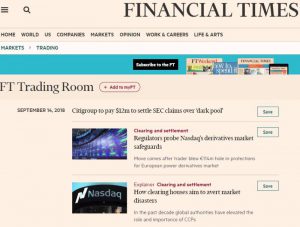 The FT is a large newspaper with masses of content every day, so if you are willing to save a forest full of trees, you can opt for the Digital Daily for $6 per week or the Digital Daily Plus subscription for $10 per week, saving trees and money.
---
11. Forbes: Engaging finance & business news
Forbes is an engaging business and finance magazine famous for its Forbes Rich List, but also it has a lot of thoroughly engaging original content. It does not just focus on money and investing; it is a business and lifestyle magazine.
Forbes Magazine is a business magazine that was founded in 1917. It is published biweekly and covers business, investing, technology, entrepreneurship, leadership, and lifestyle. The magazine has a readership of over 5 million people.
The magazine aims to "deliver information and insight on the most important business stories of the day." In addition to its print publication, Forbes also operates a website that features original content and provides breaking business news 24/7.
Forbes is known for its annual lists, which rank the world's wealthiest people, companies, and industries. The magazine also publishes rankings of colleges, cities, and countries.
| | |
| --- | --- |
| Forbes News Rating | 3.6/5.0 |
| ⚡ News Features | Full Access to All Articles, Good Value |
| 🏆 Unique Features | Ad Supported With Subscription |
| 🎯 Best for | General Interest |
| 💰 Price | $49/yr |
| 🎮 Free Trial | No |
| ✂ Premium Discount | No |
| 🌎 News Coverage | USA |
Its main product is Forbes Magazine, which is available worldwide with a subscription. Prices vary, but it will set you back around $100 for 12 issues per year. The website content is free, and they have a whole host of contributors, but as we know, free means plenty of advertising, but the content is good, and the advertising is not overbearing.
---
12. Barrons: Best site for retirement planning
Barrons is another of the Dow Jones Family of products; its market niche focuses on periodicals covering investing & retirement topics from the Dow Jones Network. The Barron business model is directed towards print, but there are also some digital offerings with the digital pass.
| | |
| --- | --- |
| Barrons News Rating | 3.6/5.0 |
| ⚡ News Features | Full Access to All Articles, Good Value |
| 🏆 Unique Features | Apps for Smartphones & Tablets |
| 🎯 Best for | General Interest |
| 💰 Price | $60/yr |
| 🎮 Free Trial | 30-Day |
| ✂ Premium Discount | No |
| 🌎 News Coverage | USA |
Barrons Magazine is a weekly publication that covers business and financial news. The magazine offers in-depth analysis of current events and trends and advice on investing and managing personal finances. Barrons is known for its comprehensive coverage of the stock market and its regular features on individual stocks and mutual funds. In addition to its financial news and analysis, the magazine covers a wide range of topics, including politics, economics, and business. Barrons is one of the most respected financial publications in the world, and investors widely follow its opinion and recommendations.
Non-US residents get the option of digital-only.
On the website, you can see a tab called Real-Time; if you click the tab, you get recent news, but you have to keep hitting refresh to see if there are any more updates.
Also, articles are shared across the Dow Jones Network, so you will see some Wall Street Journal articles added to the list.
---
13. Yahoo Finance: Best free stocks news aggregation
Yahoo Finance is a good free stock market and finance news app that aggregates news from other sources and provides limited self-generated content. Over the last few years, Yahoo Finance has made huge improvements, and the interface is looking better.
Yahoo Finance is a website that provides stock quotes, news, and financial information. It also offers a portfolio tracker and has a section for personal finance advice. The website is a resource for individual investors.
| | |
| --- | --- |
| Yahoo Finance Plus Rating | 3.2/5.0 |
| ⚡ News Features | Real-time News, Ad Free |
| 🏆 Unique Features | None |
| 🎯 Best for | Investors |
| 💰 Price | $240/yr |
| 🎮 Free Trial | 30-Day |
| ✂ Premium Discount | No |
| 🌎 News Coverage | USA |
Interestingly, when browsing the news and charts on Yahoo, you will notice Buy and Sell buttons. Surprisingly enough, Yahoo has put some effort into broker integration, meaning that you can trade directly from the Yahoo charts with your online broker, and it is an impressive list with Fidelity, E*Trade, Robinhood, Ally Invest, Interactive Brokers, TradeStation, Schwab, Vanguard, and Merrill on the list.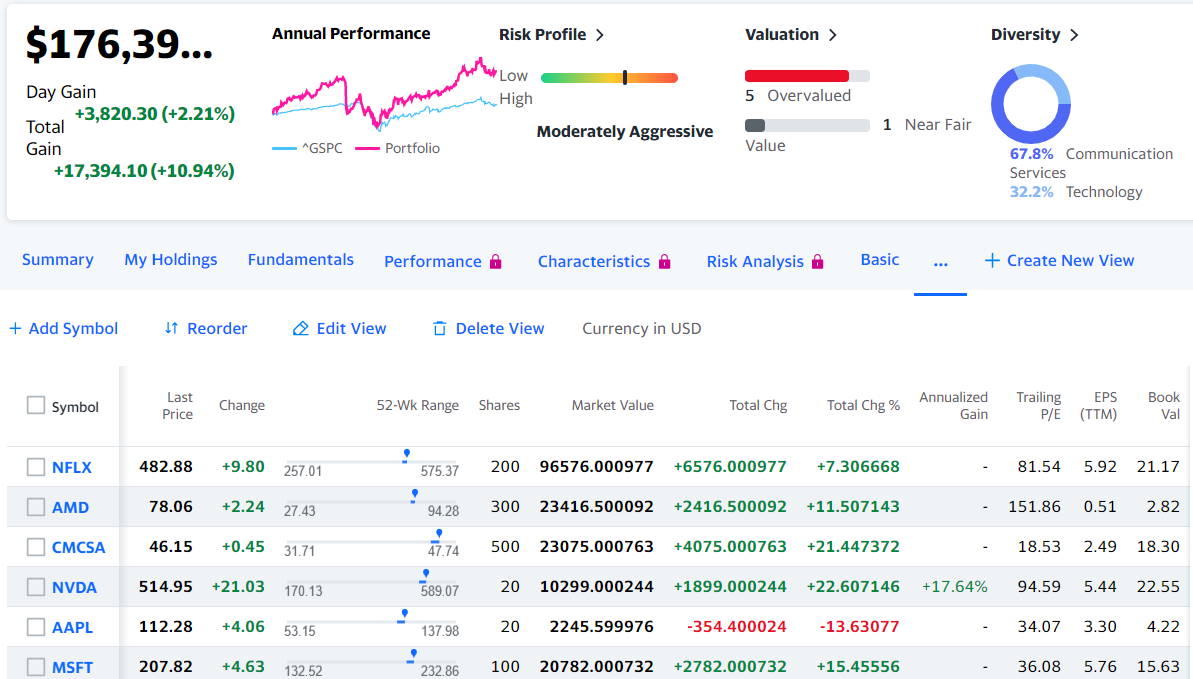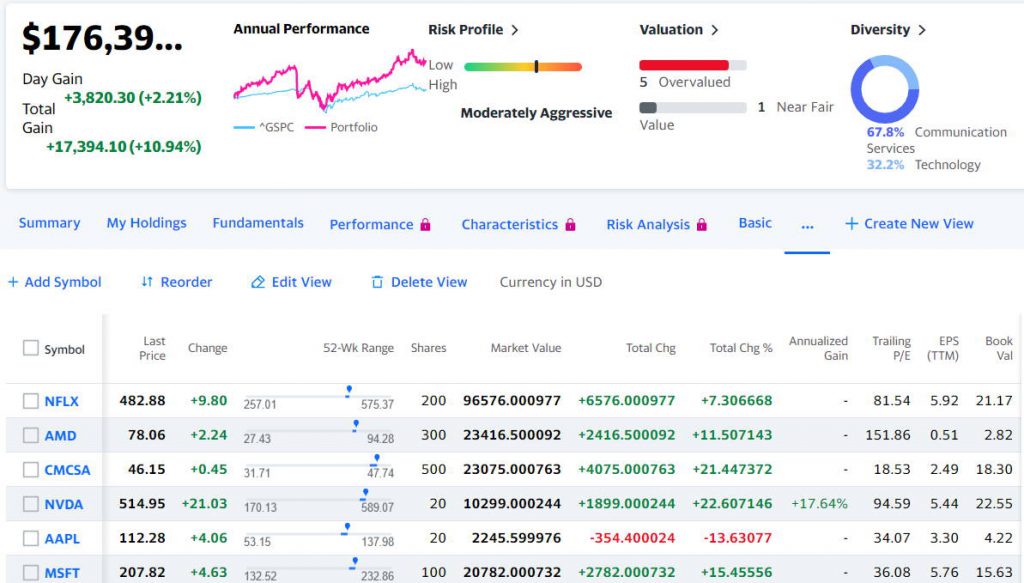 Quite why you would want to do this, I do not know, as the top brokers usually offer far superior charting and analysis, for example, TC2000 Brokerage, Firstrade, or Interactive Brokers. Keep improving Yahoo Finance; you are going in the right direction.
---
FAQ
What is the best breaking stock market news feed?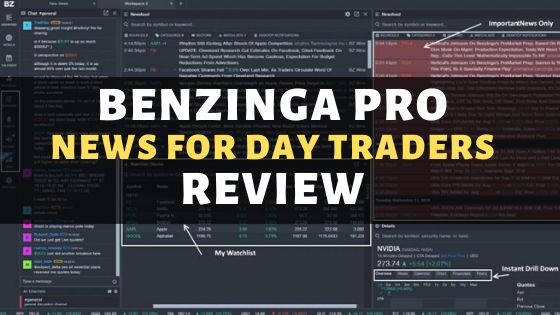 Benzinga Pro offers the best breaking stock market newsfeed based on price, speed, and accurate news impact ratings. Alternatively, MetaStock Xenith and Bloomberg offer international institution-grade news analysis.
What are the best financial newspapers and magazines?
The Wall Street Journal, the Financial Times, the Economist, Forbes and Barrons are considered the best financial print and digital newspapers.
What are the best stock market news TV channels?
The best stock market TV news channel is Bloomberg TV which offers 24-hour custom news streams to US, European, and Asian audiences. CNBC Markets and CNN Money offer free TV business news coverage inferior to Bloomberg.
Where can I watch the stock market live?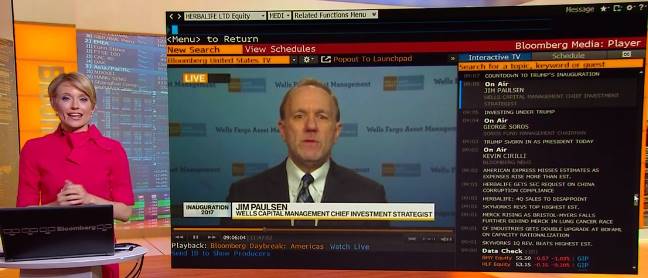 The best news source to watch the stock market live on is Bloomberg TV. Bloomberg is available for free across the globe through your broadcast network provider and has an incredible depth of stock market content.
What is the most reliable financial news source?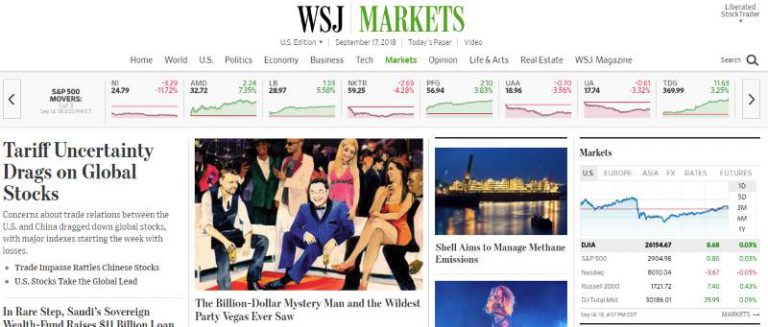 The most reliable and accurate financial news sources are Bloomberg, the Wall Street Journal, and The Economist. For reliable real-time financial news, Benzinga Pro and MetaStock Xenith are good choices.
What is the best financial website?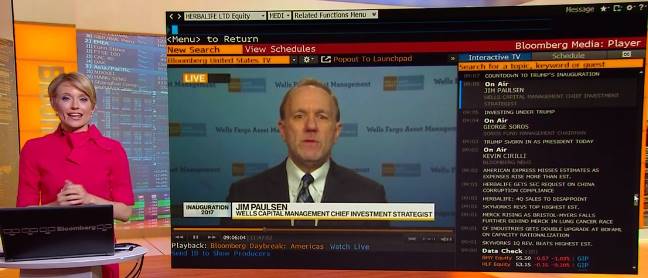 Bloomberg is definitively the best financial website globally, with global market coverage, a global news team, and insightful content live on TV and the Web. You will need the Bloomberg Digital Pass for $490 per year.
What is the best stock market newspaper?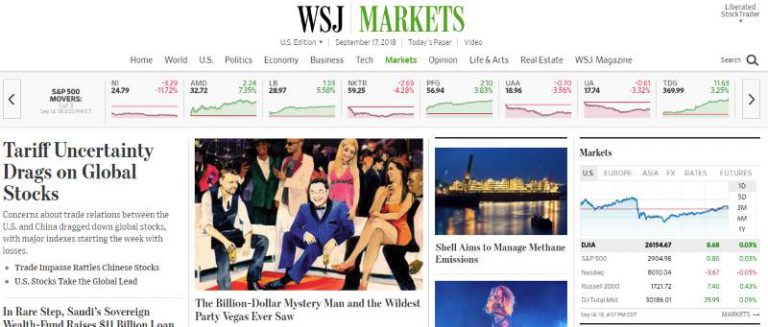 Investors Business Daily and the Wall Street Journal are the best stock market newspapers for the USA. The Financial Times and The Economist are the best European newspapers.
What is the best news source for day traders?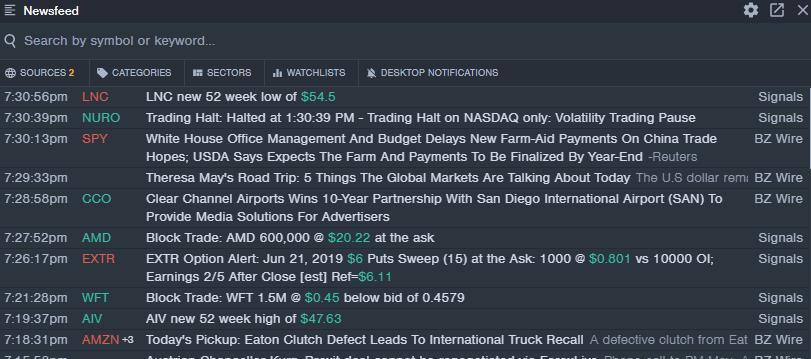 Benzinga Pro is the best news source for day traders delivering fast real-time news for stocks, options, commodities, and Forex. The Benzinga App is highly configurable with alerts, and market-moving news.
How to get real-time financial news?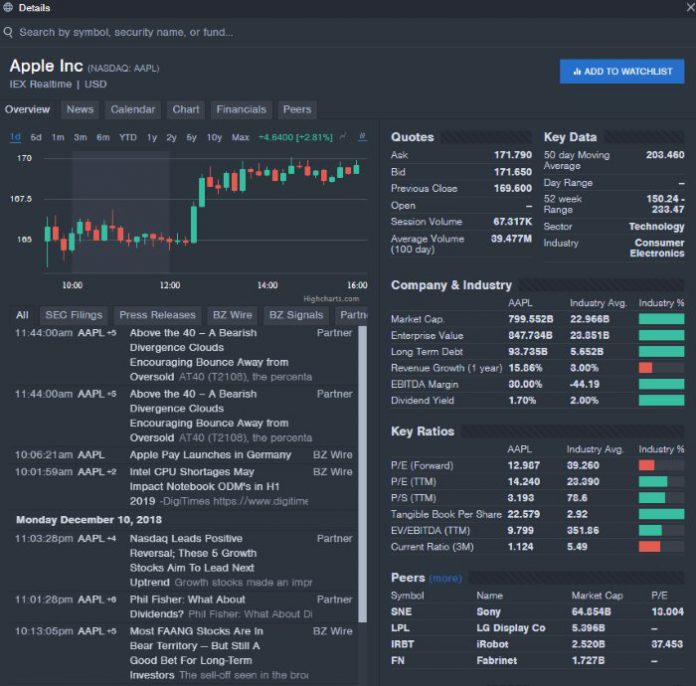 High-quality, real-time financial news is not free; stock market news is a valuable commodity. Benzinga Pro offers the most cost-effective and fastest news feed for $79/m, MetaStock Xenith costs $250/m, and the Bloomberg Terminal costs $2,000/mo.
Where do stock traders get their news?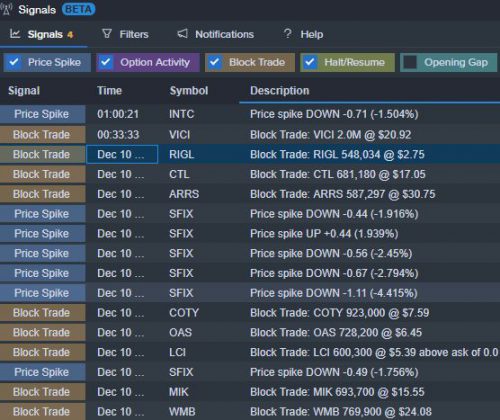 If you are a serious stock trader trading real-time economic and stock market news events, you will be using either Benzinga Pro costing $79/m, the Refinitiv news feed at $250/m, or the Bloomberg Terminal at $2,000/m.
What is the Best Magazine for Traders?

For traders in stocks, commodities, foreign exchange and fixed income, the best magazine is the Technical Analysis of Stocks & Commodities Magazine (TASC). TASC offers in-depth technical analysis and leading system and trading strategy development articles.
What are the best US stock market news outlets?
Bloomberg provides the most in-depth original news and the best 24/7 US and global stock market coverage. Regarding real-time news services, there are two cost-effective services, Benzinga Pro & MetaStock R/T.
Can fake news impact the stock market?
Most respectable financial news outlets have professional journalists who fact-check their sources and data. However, fake news issued by less reputable sources on social media affects the stock market, particularly individual stocks. Choose your source of financial news wisely.
How does news affect the stock market?
News that affects the stock market is macroeconomic news, such as Central Bank policy changes or government monetary and fiscal policy adjustments. News that affects individual stocks the most are quarterly earnings reports, analyst ratings, and company news.
How to find stock market news?
You can find stock market news everywhere, from Yahoo to CNBC, but high-quality news is usually behind a paywall. If you want real-time stock news, Benzinga Pro offers a free service. Alternatively, MetaStock R/T has a cost-effective real-time global financial news service.
How to get the fastest real-time stock market news?
Three companies offer the fastest stock market news. A Bloomberg terminal provides real-time global news for $2K /mo. MetaStock R/T Xenith costs $250 /mo for global multi-language news, and Benzinga Pro provides real-time US stock news for $125 /mo.
How to keep up with stock market news?
You can keep up with stock market news by visiting Yahoo Finance or Google Finance. High-quality, in-depth stock news is usually behind a paywall, but Benzinga Pro does offer a free real-time news service.
What is the best app for stock market news?
Recently released, Benzinga Pro is the best mobile app for stock market news; it provides real-time news, watchlists, and charts and explains why stocks are moving. Other apps claim to provide real-time news alerts, but real-time news is not free, except for Benzinga Pro.
How do I get stock news first, before anyone else?
Getting stock news before anyone else is a privilege you must pay for. You can access Benzinga's Pro newsfeed for $125 /mo, or MetaStock's R/T Xenith costs $250 /mo. Alternatively, order a Bloomberg terminal for $2K /mo.
Where do investors get their information?
Investors traditionally got their information directly from newspapers like the Wall Street Journal or the Financial Times. Modern investors use online services such as Stock Rover that enable powerful screening, research reports, and analyst rating reports, which save a lot of time.
How do stock traders get their information?
Stock Market News Comparison Table
Table 1. Top 10 Financial & Stock Market News Companies Comparison