The best stock software and app overall is TradingView with excellent chart analysis, backtesting, and screening. Stock Rover is the best stock analysis and research software for investors. For AI stock prediction and charting Trade Ideas and TrendSpider excel.
Finally, Benzinga and MetaStock provide excellent real-time trading news platforms.
This research reveals hundreds of stock software programs offer charts and indicators. The best stock software is differentiated by powerful fundamental stock screening, market scanning, backtesting, forecasting, AI chart pattern recognition, and real-time stock news.
As a certified market analyst researching, trading, and investing for 21 years, I have built the web's most detailed stock trading software review, comparing and testing over 1200 different features and functions across 30 products.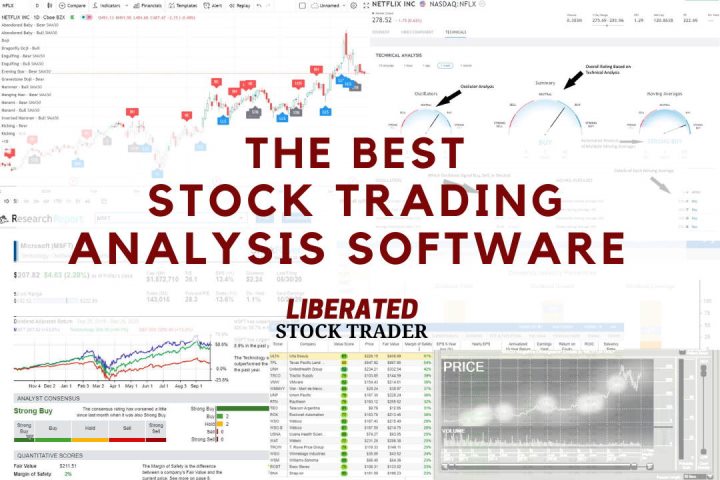 Best Stock Software 2022
Try Our Smart Stock Software Finder
Answer a few questions to get your personal recommendation!
Stock Trading Software Reviews Summary
This review identifies the best stock trading software to be TradingView, Trade Ideas, and TrendSpider. Stock Rover is ideal for investors and Benzinga Pro for trading the news.
Our testing reveals the best stock software overall is TradingView, with excellent backtesting, technical analysis charts, stock screening, a highly rated stock app, plus a free plan available globally. TradingView benefits from an active trading community of 3 million people sharing ideas and strategies.
The best stock analysis software for investors is Stock Rover, as it specializes in deep fundamental financial screening, research reports, and portfolio management. It is the ideal platform for dividend investing, value stock investing, and long-term growth investing because, according to our testing, it has the best 10-year historical fundamental database on the market.
Our research indicates two leading stock trading software platforms for traders looking to unleash the power of AI to get an edge in the market. TrendSpider enables automated pattern recognition for Trendlines, Candlesticks, and Fibonacci levels. Trade Ideas uses AI to backtest millions of conditions daily to generate higher probability day trading signals.
Trade Ideas is the best Automated trading software; using the Brokerage Plus program, you can automatically trade the Holly AI algorithm signals with Interactive Brokers.
If you want to trade news events in real-time, our analysis shows the Benzinga Pro stock program gives the reactive trader an edge in the market.
For traders seeking robust stock trading software for backtesting, forecasting, and global real-time news, our testing shows  MetaStock is the market leader. MetaStock also has many add-on systems for trading momentum, candlesticks, and more.
Experience shows that traders need software with excellent chart technical analysis, real-time news, and technical market scanning. Investors need stock software for financial screening, in-depth stock research, robust portfolio tracking, and portfolio management. The right stock software for you is based on your needs.
We independently research and recommend the best products. We also work with partners to negotiate discounts for you and may earn a small fee through our links.
-
1. TradingView: Winner Overall Best Stock Software
TradingView is an easy-to-use, powerful platform that supports all international stock markets. TradingView is designed for traders who value a great price, powerful chart analysis, backtesting, and a large social community.
TradingView Rating:

★★★★★

Price: $0-$59/m
Pros

Cons
✓ Great Technical Analysis Charts
✘ No Real-time News
✓ Social First, Chat, Publish, Follow
✘ Watchlist Customization
✓ Good Backtesting & Screening
✓ Easy to use
✂ -50% Discount
✓ Crypto, Forex, Stocks Globally
🎮 Trial Free 30-Day
There is no doubt about it; TradingView is a worthy winner and holds its place as number one overall. I love TradingView and use it every day; I post charts, ideas, analyses, and chat with other traders. I also do strategy development and backtesting on TradingView.
TradingView Pricing & Software
TradingView is available for free, but there are limitations with charts, screening, and indicators.  The PRO+ service is $19 per month and has extensive benefits, including multiple devices, screens, charts, and post-market data.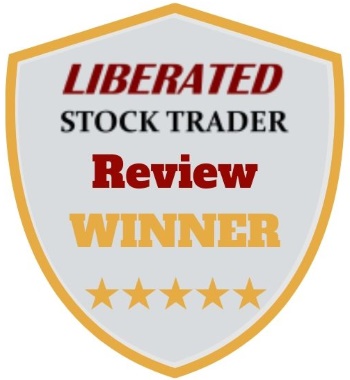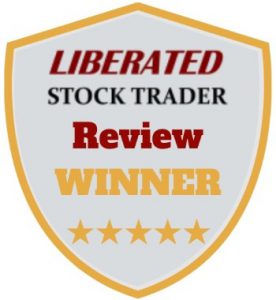 The benefits of TradingView are fast data speeds and global stock exchange coverage. TradingView covers Stocks, ETFs, Funds, Futures, Forex, Bonds & Cryptocurrencies globally, making it a good choice for international investors.
Our testing shows that TradingView's pricing model and global stock exchange coverage make it the best free technical analysis software in India, the USA, and internationally.
TradingView Software Download for PC & Mac
TradingView is an HTML 5 application that runs in the cloud, meaning you do not need to download any software for the PC or Mac. When you launch TradingView, the HTML 5 code automatically downloads to your PC browser, and it simply works. You can start TradingView in seconds in your browser by clicking this link. Launch TradingView Charts.
TradingView is the best online stock chart program because it has the speed and power of a desktop app but runs in the cloud, improving setup and data management.
TradingView has an App for Android and Apple devices, over 150,000 users rate it 4.8/5.0; this makes it the best stock analysis mobile app available today.
Trading with TradingView
With TradingView in the USA, you get broker integration with TradeStation for stocks and Forex.com for foreign exchange currency trading. In Europe, you have integration FXCM and Saxo Group for currency and CFD trading. You can place trades directly from charts, and it will take care of profit & loss reporting and analysis for you.  The only thing TradingView does not cover is Stock Options trading.
TradingView Scanning & Screening
TradingView has over 250 different criteria for scanning and screening stocks, Forex, and Cryptocurrencies. There are 48 different fundamental criteria and 96 technical variables available. TradingView also includes 48 different economic indicators available through the Federal Reserve Database (FRED), including the Federal Funds Rates and World Economic Growth.
TradingView Community & Platform
TradingView has over 13 million active users sharing ideas, charts, and chats. There are thousands of groups discussing financial markets. The TradingView community is an excellent way to generate ideas and learn from other traders.
TradingView also has newsfeeds integrated, including Reuters, MTNewswires, Benzinga, and DailyFX. The newsfeeds are not real-time but do add value. I would recommend trying the trading platform to see it in action.
TradingView is the King of Social Trading with the biggest and most active trading community.
TradingView Technical Analysis
TradingView has over 160 different stock chart indicators and unique charts such as LineBreak Charts, Kagi Charts, Heikin Ashi, Point & Figure Charts, and Renko Charts. As an advanced technical trader, you will be well served.
With the Premium membership, you also get Level II insight, fully integrated. As a tool for technical stock analysis, TradingView is an industry leader?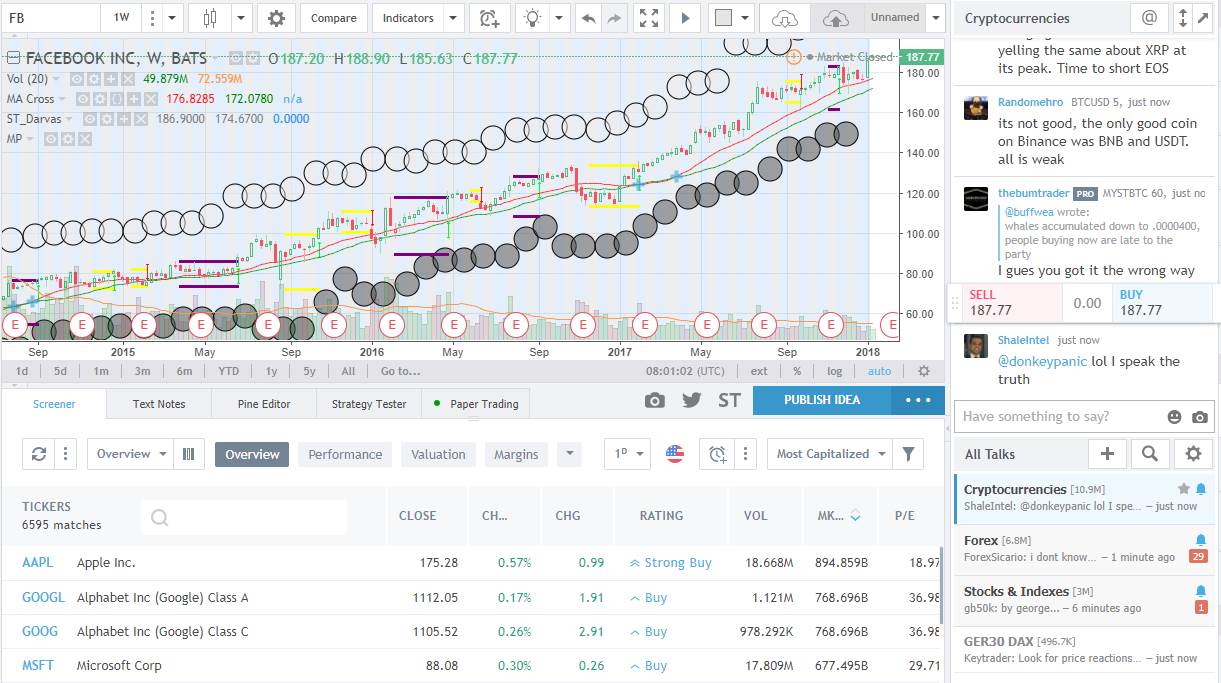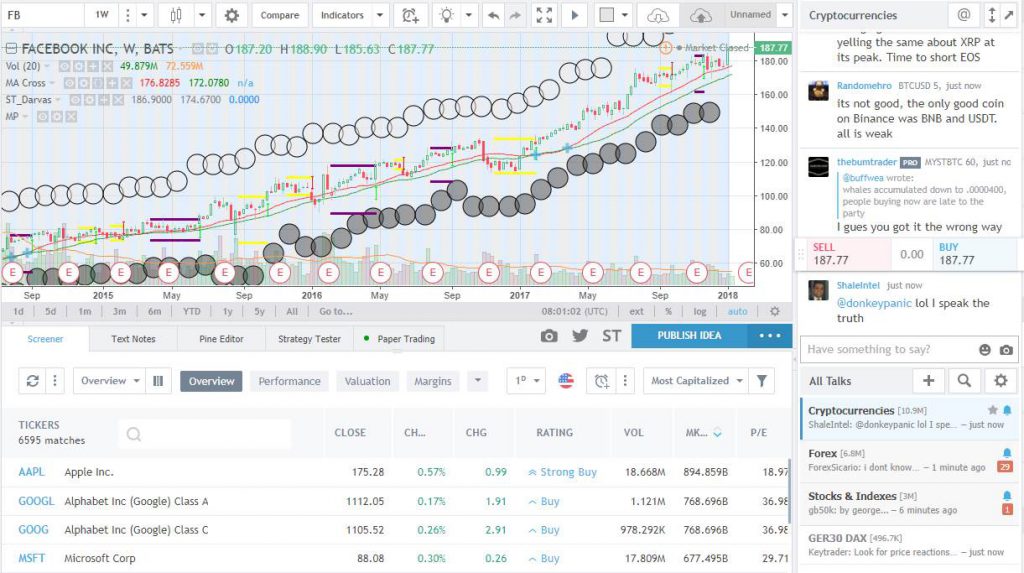 As a technical analyst, I am incredibly impressed with the offering of Kagi, Heikin Ashi, and Renko Charts, including Point & Figure and Line Break. Also, the user community has developed thousands of bespoke indicators and strategies. With this selection of charts, you have everything you will need as an advanced trader.
Backtesting & Automated Trading
TradingView has an active community of people developing and selling stock analysis systems, and you can create and sell your own with the Premium-level service.  Also, there are many indicators and systems from the community for free.
I have implemented my MOSES (Market Outperforming Stock ETF Strategy) into TradingView. TradingView enables you to create any system or strategy using Pine script easily. Below you can see 3 MOSES Strategies compared with the equity curve. This MOSES system beat the NASDAQ 100 by 100% over the past 24 years.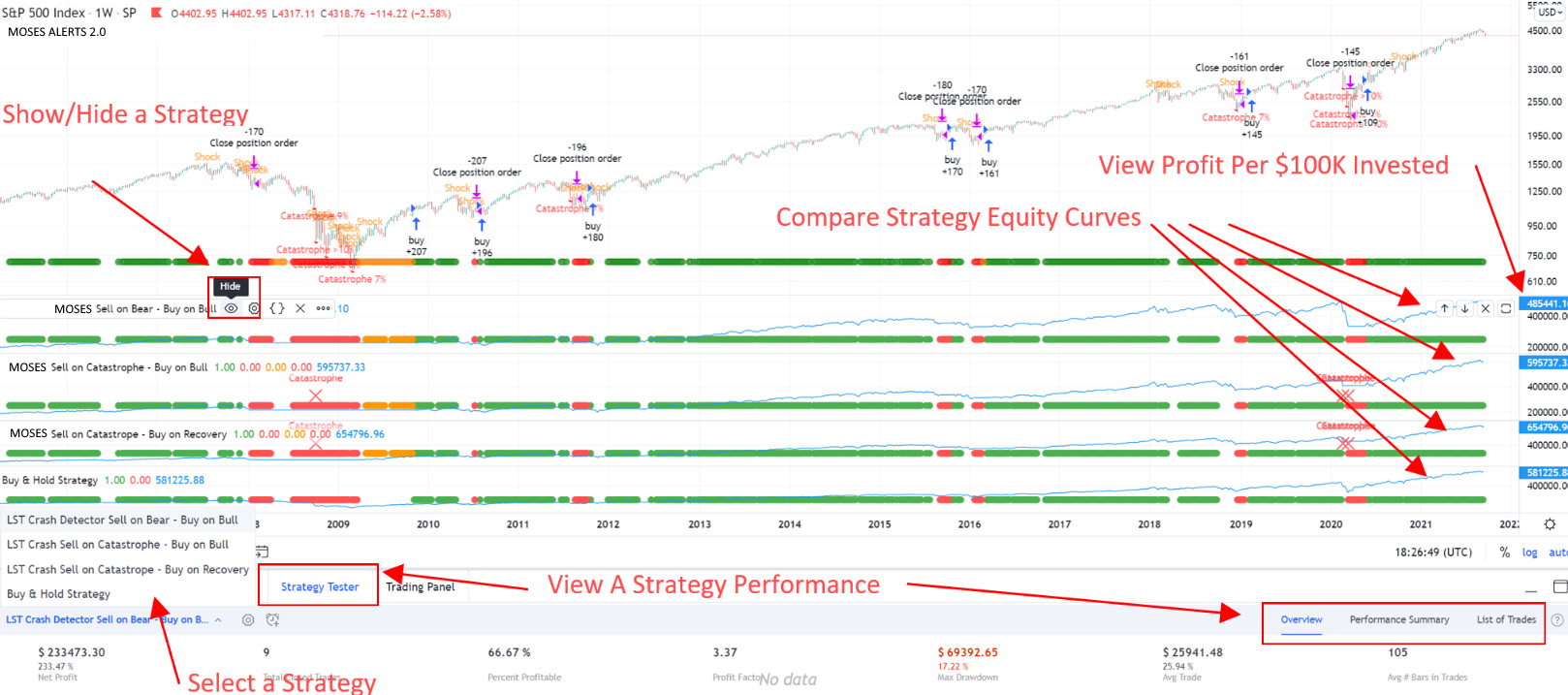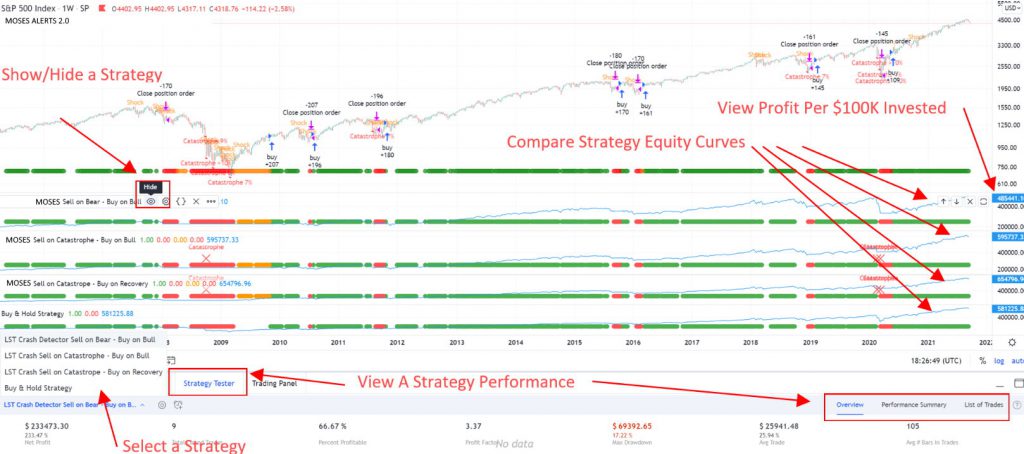 TradingView Backtesting Reporting.
TradingView's backtesting report includes everything you need to evaluate a strategy's performance, including Net Profit, Drawdown, Buy & Hold Return, Number of Trades & Trade Duration, and strategy risk profile.
I like that in a few clicks [Strategy Tester -> Add Strategy], you have results.  You can also tweak the strategy parameters and observe the results.  Reporting is good, and the tabs show you the profit performance of the strategy.
TradingView has a market replay functionality that enables you to play through the timeline and shows you the chart scrolling and the trades executed; it is simple and powerful to use.  All buy and sell orders are drawn on the chart and highlighted.  All in all, TradingView is a great package, especially as the backtesting is included in the free version.
The only thing you cannot do is forecast and implement Robotic Trading Automation. For stock market forecasting, you are better off with MetaStock. For Robotic Trading Automation Trade Ideas is the best.
TradingView Usability
TradingView is the best stock trading software for beginners because it is easy to use but powerful enough to grow with you as you gain experience, plus the community of over 3 million people will help you learn and gain knowledge. TradingView takes about 2 minutes to set up, no credit card, no installation, and no configuring data feeds; it is ready to go because TradingView works with a single click.
Video: Why I Think TradingView is the Best Stock Software
Related Article: 16% to 60% Epic Discounts on TradingView Pricing Plans
-
2. Stock Rover: Winner Best Stock Analysis Software for Investors
Stock Rover is ideal for USA Value, Dividend & Growth investors seeking innovative fundamental stock analysis, screening, and portfolio management software.TradingView enables the easy implementation of powerful investing strategies.
Stock Rover Rating: 

★★★★★



Price: $0-$27/m

Pros
Cons
✓ 10-Year Financial Data
✘ No Social Community
✓ Best Screening Criteria
✘ No Real-time Charts
✓ Stock Scoring & Ratings
✓ Value, Dividend & Growth Screeners
✂ -25% Discount
✓ Easy to use
🎮 Trial Free 14-Day
It is awe-inspiring that Stock Rover has stormed into the review winners section on its first try.  It is also the outright winner in our Best Stock Screener Review. I actively use Stock Rover every day to find the undiscovered gems that form the foundations of my long-term investments. Using Stock Rover, I have created the Liberated Stock Trader Beat the Market Stock System.
I do not say this lightly. If you are a long-term US Investor, Stock Rover is the best & only software you ever need.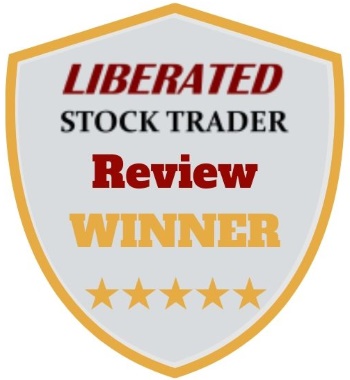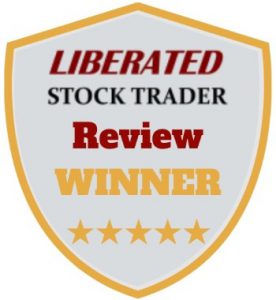 Stock Rover Pricing
Stock Rover is available for free, but the real power is unleashed with the Premium Plus service, which is superior to competing stock screeners and less expensive.  Stock Rover Premium Plus costs $27.99 per month and includes unlimited stock ratings, scores, analyst ratings, margin of safety scoring, a 10-year historical database, and investor warnings.
Stock Rover Platform
Stock Rover runs on PC, Mac, Tablets, and Smartphones and requires zero installation; it simply works.  The market data, scoring, ranking, and analysis are only for the USA & Canadian markets.
Zero client installation; very quick to setup
Zero data downloads and data management are required on the local client device.
Cross-device compatibility (PC, Mac, Tablet, Smartphone)
Stock Rover has the best implementation of stock screening, research and portfolio management on the market today.
Stock Rover Review Video
Get Stock Rover Now + 25% Discount
Stock Rover Portfolio Management
Stock Rover integrates with every major broker, including our review-winning broker, Firstrade, and Interactive Brokers. You cannot place trades from charts, but it will take care of profit & loss reporting on your portfolio and provide portfolio rebalancing recommendations. Stock Rover uniquely includes current dividend earnings and future income prediction reporting, making it a unique portfolio analysis platform.
What Does Stock Rover Do Best?
Stock Rover is best at screening for stocks to build professional growth, dividend, and value stock portfolios. Stock Rover provides detailed research reports, historical screening, portfolio management reporting, rebalancing, and correlation.
If you manage your portfolio of stocks with multiple brokers, Stock Rover will also integrate them all into one view.
Stock Rover is not for day traders; it is for long-term investors that want to maximize their portfolio income and take advantage of compounding and margin of safety to manage a safe and secure portfolio.
Fundamental Stock & ETF Screening
Stock Rover scores perfectly in our screener testing, offering the most detailed stock and ETF financial data. Stock Rover has over 600 data points and historical data stretching back 10-years, enabling you to backtest fundamental strategies. Stock Rover also has unique Margin of Safety, Fair Value, and Discounted Cash Flow data to help you invest like Warren Buffett. Add the exclusive stock scoring systems, and Stock Rover is the best stock screener for the North American markets.
Watchlists have fundamentals broken into Analyst Estimates, Valuation, Dividends, Margin, Profitability, Overall Score, and Stock Rover Ratings.  You can even set the watchlist and filters to refresh every single minute if you wish.
Powerful Pre-Built Screeners Integrated into Stock Rover
Stock Rover already has over 150 pre-built and tested screeners that you can import and use. You need to have the Premium Plus service to take advantage of this, I have analyzed most of the screeners, and they are very thoughtfully built.  One of my favorites is the Buffettology screener.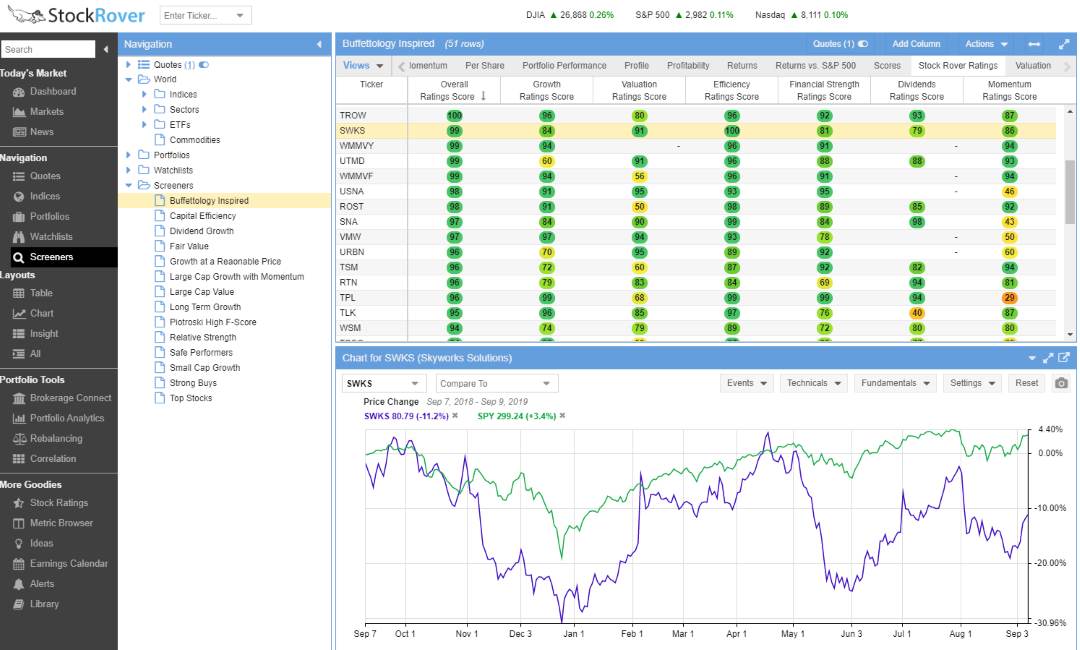 Stock Rover Warren Buffett Screener & Ratings.
This value stock screener is based on criteria described in the bestselling Buffettology book. The company should have a 10-year track record of generally increasing EPS with no negative earnings years; long-term debt, not more than five times annual earnings; average ROE over the past ten years at least 15%, average ROIC over the last ten years at least 12%, and earnings yield should be higher than the long term treasury yield. The Buffettology screener includes the Fair Value and Margin of Safety analysis and rankings, and it could be said it is worth the investment in Stock Rover all by itself.
Read more about setting up your Warren Buffett stock screener with Stock Rover.
Stock Rover Research & Stock Ratings
The team over at Stock Rover has implemented some great functionality; I particularly like the roll-up view for all the scores and ratings.  Here I have imported the Warren Buffett portfolio, including his top 25 holdings.  I have also selected the "Stock Rover Ratings" tab.  This "Stock Rover Ratings" tab rolls up all analysis into a simple-to-view ranking system, saving a vast amount of time and effort while providing a wealth of insight.

Stock Rover News Service
Stock Rover pulls in information from over 30 news sources, including Yahoo Finance and Benzinga News.  The news feeds are not real-time, but they are useful.  If it is a priority for you, you can subscribe to Benzinga PRO News separately.  When it comes to social chat and community, there is no perceivable service within Stock Rover.
Stock Charting & Technical Analysis
Looking at stock charts with Stock Rover is different from all the other software vendors on the market.  Whereas MetaStock & TradingView focus on hundreds of technical analysis price/volume indicators, Stock Rover focuses on charting the fundamental financial strength indicators. Stock Rover has now added 15 technical indicators, and the head of business development at Stock Rover assures me they are adding many more indicators soon.
With over 154 different financial indicators and 15 technical analysis indicators, Stock Rover is not the best service for technical analysis or frequent trading. Still, it is the complete package for fundamental income, growth, and value investors.  Although this section is for technical analysis, they are so good with charting fundamentals they still get a good rating.
Stock Rover Backtesting
Again, we have to think of Stock Rover differently from other stock analysis packages.  Stock Rover provides ten years of backdated financial information and scanning possibilities, better than all other stock screening packages. It is possible to backtest with Stock Rover; I have built the LST Beat the Market Growth Stocks Strategy exclusively for Stock Rover and used the software to backtest the system for the past eight years.
---
How to Beat the Stock Market With Stock Rover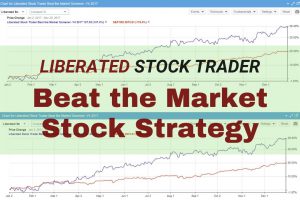 I love Stock Rover so much that I spent 2 years creating a growth stock investing strategy that has outperformed the S&P 500 by 102% over the last eight years. I used Stock Rover's excellent backtesting, screening, and historical database to achieve this.
This Liberated Stock Trader Beat the Market Strategy (LST BTM) is built exclusively for Stock Rover Premium Plus Subscribers.
---
Is Stock Rover Easy to Use?
Within 5 minutes, I was using Stock Rover, no installation required, and no configuring data feeds; it was instantly available.  Even better are the many curated screeners and portfolios to import and use; you are instantly productive. It is quite a feat that it is easy to use, considering Stock Rover has so many powerful scoring and analysis systems.
Stock Rover Summary
Stock Rover wins our stock market software review by providing the best software for value and income investors. A 10-year financials & fundamentals historical library plus incredible scanners, including Warren Buffett & Ben Graham's favorite criteria. Fair Value, Margin of Safety, and so much more.
Stock Rover provides investors with financial growth, valuation, efficiency, and profitability ratings to help them select the right stocks; this makes it the best stock picking software available today. If you are a long-term investor, this is the software for you.
-
3. Trade Ideas: Winner Best AI Stock Prediction Software
Trade Ideas is best for active day traders wanting AI-driven trading signals. Trade Ideas provides actual buy & sell signals for trades by performing millions of backtests per day on 70+ strategies. The Holly AI platform has an audited track record of beating the market.
Trade Ideas Rating: 

★★★★★



Price: $118–$228/m

Pros
Cons
✓ 3 AI Trading Algorithms
✘ User Interface
✓ Market-Beating Audited Performance
✘ Takes Time To Learn
✓ Exceptional Stock Scanning
✘ Choice of Indicators
✓ Real-time Trade Signals
✓ Auto-trading With AI Signals
✂ -15% Discount Code "Liberated"
✓ Free Live Trading Room Access
🎮 Trial: Try the Live Trading Room
According to our testing, Trade Ideas is the industry-leading artificial intelligence-powered stock market scanning and trading signals generation platform. Despite a complicated user interface, the real power lies underneath with 30 channels of trading ideas & three AI systems pinpointing trading signals for day traders. Trade Ideas promises and delivers the nirvana of market-beating returns.
Trade Ideas is unique because the software tells you when to buy and sell stocks by analyzing millions of trade setups every day. The analysis results in 3 to 5 high probability trades every day.
Trade Ideas Pricing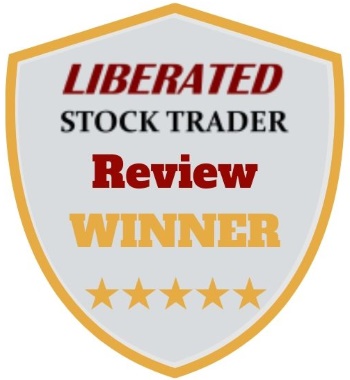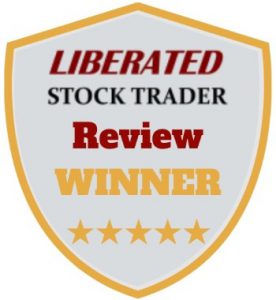 Trade Ideas Standard costs $118 per month, or you can save $348 by going for an annual subscription costing $1068, a 25% discount. Standard includes a live trading room, streaming trade ideas, 10 chart windows, trading from charts, and 500 price alerts.
Live Trading Room: Get free access to the live trading room.
Real-time Streaming Trade Ideas provides access to 40 pre-configured scans.
Simultaneous Charts, the ability to have ten chart windows open.
Chart Based Visual Trade Assistant enables you to trade directly from charts.
Up to 500 Price Alerts to notify you when a stock meets your criteria.
Channel Bar Curated Workspaces, access to 30+ channels of ideas.
Trade Ideas Premium costs significantly more than Standard service at $228 per month. You can save $468 by going for an annual subscription costing $2268. Premium provides the three Holly AI Systems, specific real-time trade signals, risk assessment, full backtesting, and integrated auto-trading.
Trade Ideas Premium features include:
AI Virtual Trading Analyst Holly, three different constantly evolving AI algorithms
Chart Based AI Trade Assistance for Buy and Sell Signals
Risk Assessment, detailed information on the backtested performance of the recommended trade.
Build and Backtest any Trade Idea with an intuitive point & click backtesting system.
Autotrade Brokerage Plus and AI,  an advanced auto trading program using Interactive Brokers.
Trade Ideas is the most expensive software in this review because it offers the real possibility of beating the market using AI pattern recognition and establishing a trading bot to auto-trade on your behalf.
Trade Ideas, unlike any other software, does all the work for you providing you specific market beating AI trading Signals, to help you make regular profits.
The Trade Ideas Platform
Extensive testing reveals that Trade Ideas is an incredibly powerful stock trading desktop app that seamlessly integrates cloud-based AI algorithmic stock signals to provide high probability day trading opportunities.
When you first open Trade Ideas on your desktop, the software feels clunky and not very user-friendly. Every chart and table is actually in a separate window, so if you want to resize the view, you need to resize all eight windows. This seems such a hassle initially and seems to hark back to the age of Windows 98.
There is a good reason for this design; if you operate multiple monitors and large screens, you have endless flexibility and window configuration options.  Even though they are fully separate windows, they can be linked and unlinked together to provide a more fluid experience with some practice.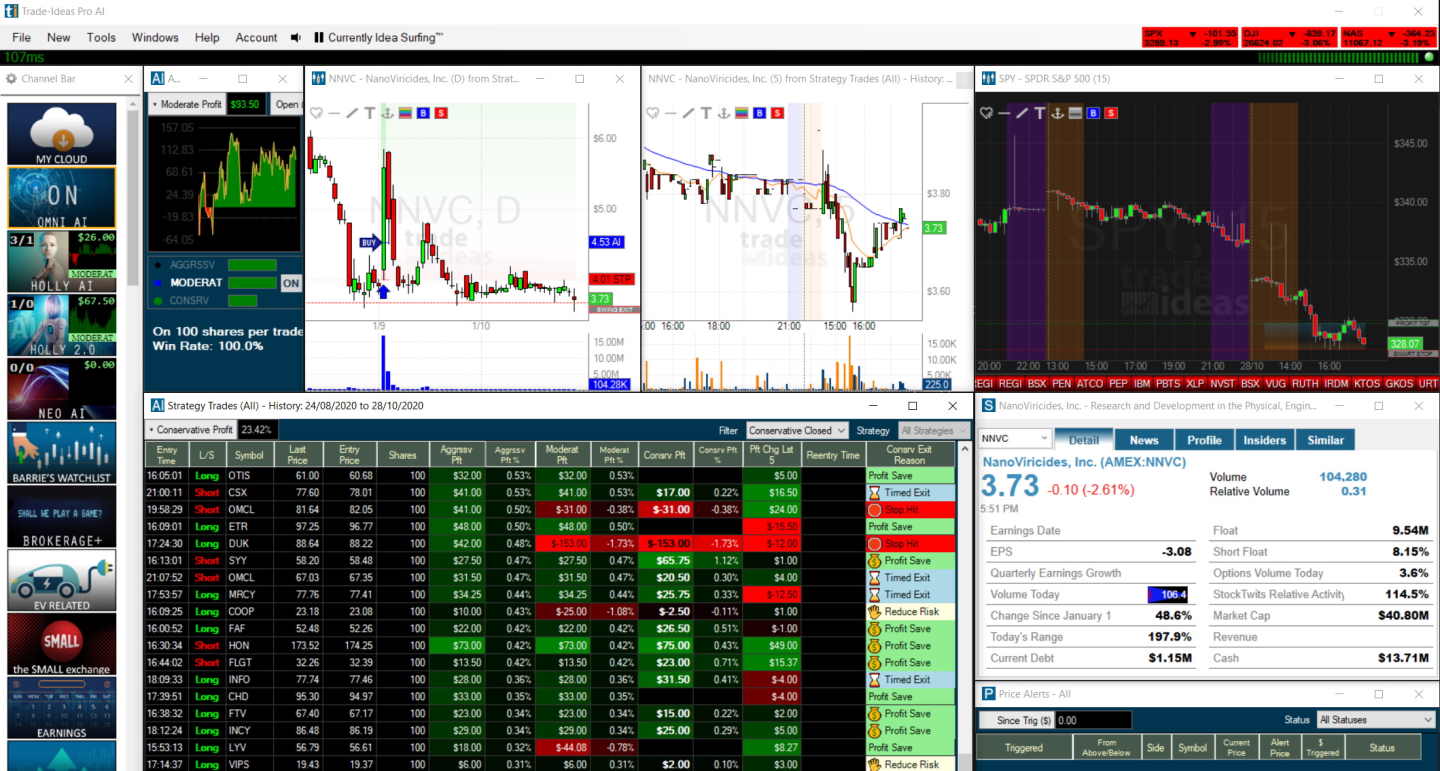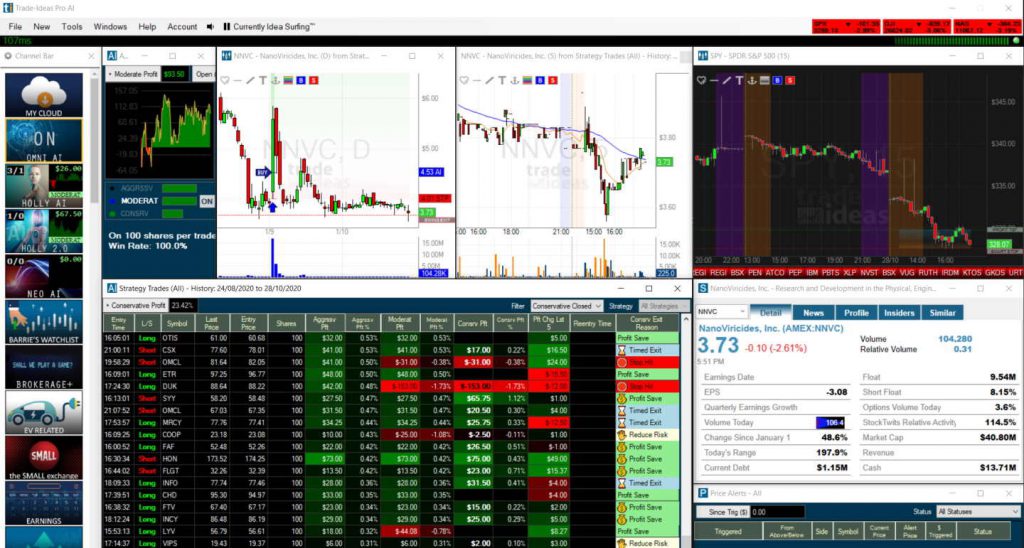 So although it is clunky and some of the most important functions are hidden behind right-click menus in certain windows, you start to get used to the design after a few hours.
Stock Scanning & Screening
At the heart of the trading platform is the Trade Ideas scanner system, which is unique in the industry. By clicking New -> Alerts, you get access to the Alert Config Window, which gives you immediate access to over 40 different trading scans. You can see all the in-built scans categorized into Bullish, Bearish, or Neutral in the screenshot below. Depending on the overall market direction, you can select a potential strategy for the day.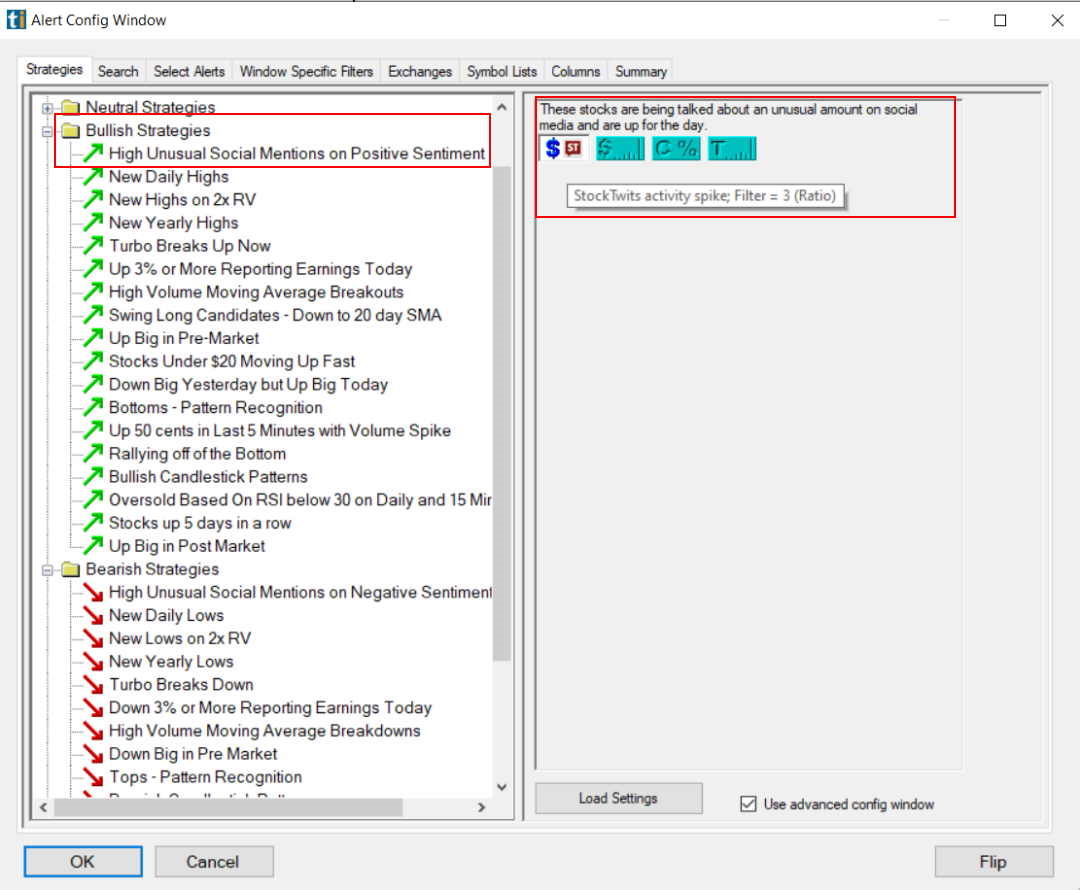 During testing, a particularly impressive and innovative scan was discovered; the "Unusual Social Mentions Scan." The Trade Ideas AI engine constantly scans StockTwits for surges in mentions of particular stocks, so if you click load settings, you will be immediately presented with a real-time list of stocks spiking on social media.
Is Trade Ideas AI Profitable?
Trade Ideas' impressive performance averaged 23% to 33% profit per year for the last three years without using leveraged trades. According to my calculations, Trade Ideas Holly Neo outperformed the S&P 500 index benchmark by 16%.
I compared $50,000 invested in the S&P 500 SPY ETF versus day trading with Trade Ideas' three AI Bots to test this performance.
| | | | |
| --- | --- | --- | --- |
| AI Performance | End Capital Oct 2021 | Period Profit | Profit Per Year |
| Holly Grail (AI) |  $71,186.00 | 42% | 23% |
| Holly 2.0 |  $80,510.00 | 61% | 33% |
| Holly Neo |  $71,186.00 | 42% | 23% |
| S&P 500 |  $66,000.00 | 32% | 17% |
As you can see, Holly has outperformed the S&P 500 since 2019.  Interestingly Holly did not suffer the huge losses incurred in the S&P 500 during the Corona Crash from March to April 2020.
Technical Analysis
The one area in which Trade Ideas is behind the competition is performing your own in-depth technical analysis. Most technical analysis software, backtesting, and charting platforms offer at least 50 different technical analysis tools. With Trade Ideas, you can use only four stock chart indicators: volume, moving averages, VWAP, and trendlines.
The charting is limited because Trade Ideas does all the work for you in the backend engine.  Trade Ideas is not the best choice to perform your own independent, detailed technical analysis.
Automated AI Stock Trading
The Trade Ideas platform has a powerful backtesting system that is easy to use, and you do not need any programming knowledge.  A point-and-click backtesting system is rare in this industry; the only alternative software with this capability is TrendSpider.
The most amazing thing of all is that you can let Holly AI to auto-trade for you through Interactive Brokers.
Is Trade Ideas Easy to Use?
No, Trade Ideas is not easy to use; it takes time to learn. I estimate at least four days of effort before you understand the platform. However, Trade Ideas help their new clients by providing excellent support, a live trading room, and personal one-on-one training sessions.
If you aspire to be an active, profitable day trader, this package is well worth it, as all the hard work is done for you every day.  I am thrilled to partner with Trade Ideas because they bring a unique and extremely powerful service to retail stock traders.
Trade Ideas Discount Coupon Code
As a partner of Trade Ideas, I requested a discount for all our readers. Use the discount code "Liberated" to get 15% off your first purchase, worth $340 when going for the premium service.
-
4. Benzinga Pro: Best Stock Program for Trading Breaking News
Benzinga Pro is a unique stock program for trading real-time stock news. Designed for day traders, Benzinga Pro delivers real-time market-moving news to give you a trading edge. Additionally, a news squawk box, direct access to the news desk, and real-time charting and scanning complete the service.
Benzinga Pro Rating:

★★★★

✩

Price: $79-$117/m

Pros
Cons
✓ Best Real-time Stock Market News
✘ North America Only
✓ Squawk Box Live Feed
✘ No Broker Integration
✓ Real-time Alerts & Signals
✓ Good Charts & Screening
✂ -25% Discount Code "SMARTER"
 
🎮 Trial Free 14-Day
Benzinga Pro Pricing & Software
Benzinga PRO costs $79 per month for the Basic Plan, which gives you real-time newsfeeds and watchlist alerts. Benzinga Pro Essential costs $117 per month, adding the Squawk Box, Calendars, Sentiment Indicators, and the Chat with Newsdesk functionality.
The stock program itself is stable and elegant, offering you the opportunity to set up multiple workspaces and monitors to suit your needs.  Benzinga is also adding new functionality all the time, and it is a platform that should grow with your needs.
Benzinga Pro Scanning & Screening
Benzinga Pro is the best for scanning and screening the news, but it can also screen for technical and fundamental data. Benzinga Pro has 32 different fundamental screening criteria, including P/E, PEG, Profitability, Margins, and Insider Ownership. There are also 23 market scanning criteria available, including volume change, relative volume, and short interest.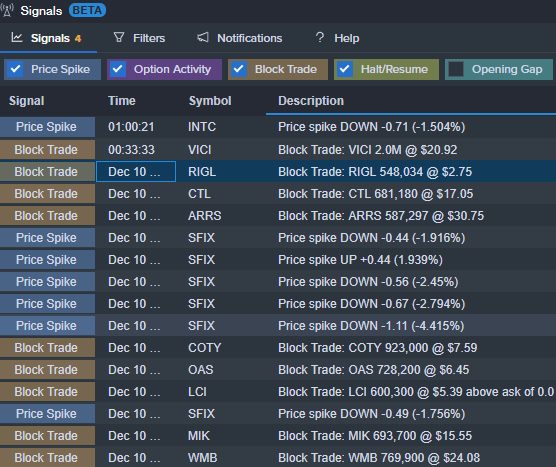 Benzinga Signals: Scanning for Block Trades, Options Activity & More
Another example of how Benzinga is continually innovating; the Signals setup creates a feed with block trade or price spike news that directly impacts a stock's supply and demand balance at a foundational level.
Let's take a look at a block trade. A block trade is a massive amount of stock either bought or sold.  Block trades impact price, and you have the option of taking part in that price move or not, depending on the direction of the trade.
Signals could be a trading strategy in itself.  Watch the block trades roll in, observe the direction, and make your trade.  See a colossal block trade sell, buy Put Options, see a block trade buy, buy calls.
Benzinga Pro News & Community
Real-Time Trading News – BZWire Access
Core to the Benzinga Pro service is access to the real-time newsfeed, which updates quickly and effectively.  The only news excluded in the basic package is the Securities & Exchange Commission (SEC) announcements and Public Relations (PR) newsfeeds.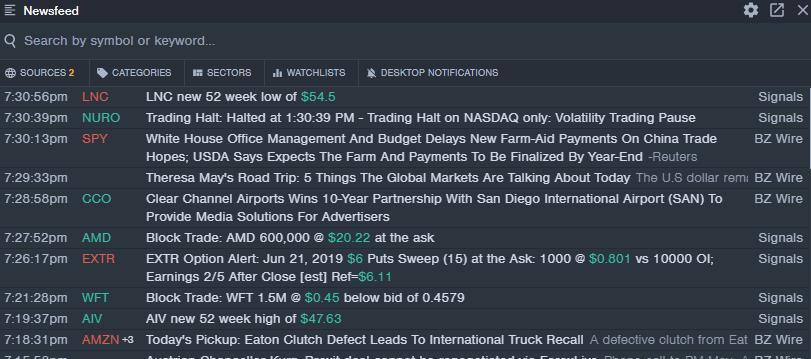 Please do not underestimate the newsfeed; it is truly enormous.  But despite the depth of financial content being released every minute, the Benzinga Pro web-based applications are high-speed, responsive, and configurable. The configurable nature of the newsfeed is what makes the service so great.
I personally only want to see Market Moving Exclusives, Exclusives, Hot News, Market Updates & Tech, and they are readily selectable. There are 20 categories to choose from, and each type of news can be color-coded to match your requirements, including exclusives, Hot News, Market Moving News, Mergers & Acquisitions, and Options Signals.  For the full test of Benzinga, see the Benzinga Pro Review.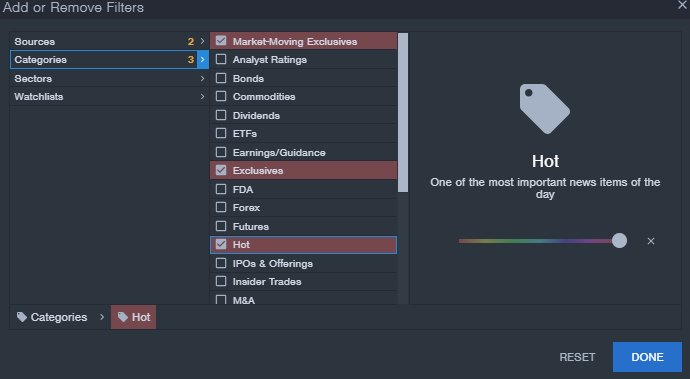 Newsfeed Alerts – Alarms On Specific Sectors Or Categories
You can also choose to be alerted to specific categories in your newsfeed.  For example, you can select to be alerted via email or a desktop pop-up and sound if any hot news or market-moving news is announced.  Any category can be flagged for alerts, so you do not need to watch the newsfeed continually; you can be trading and hear the alarm as a call to action.
Benzinga Pro Squawk Box & Newsdesk
Benzinga's Squawk Box frees you from staring at the on-screen newsfeed by having the newsroom reporters read the latest high-impact news live as it hits the feed. Squawk is one of the biggest benefits of the Benzinga Pro Essentials service.
I have Squawk Box open while watching the markets, so I do not need to watch the screen constantly.  Every 2 minutes, a real-time audio feed announces the latest big news via my PC speakers; this service alone is worth the upgrade to Benzinga PRO Essential.
Imagine chatting directly with the analyst or reporter that submitted an article.  This feature allows you to do just that by directly questioning the Benzinga news desk to dive deep into your specific questions straight from the news hub. The news team also highlights what they believe to be important news via the sentiment indicators (only for Benzinga Pro Essential users).
Benzinga Pro Community
Benzinga Pro also has a very active user community, with eight live-chat channels and a Benzinga TV channel featuring Benzinga studios live broadcasts. Additionally, there is a special live chat stream for Benzinga's Options Signals service to enable clients to pounce on Options pricing opportunities.
Benzinga Pro Technical Analysis
Benzinga Pro has dramatically improved its technical analysis charting over the past few years by integrating a cut-down version of TradingView (our review winner). The TradingView integration offers 120 indicators, real-time stocks charts, and seven chart types, including bars, candles, Heiken Ashi, Line, Area, and Baseline charts. You can now draw on charts and perform solid technical analysis.
Sentiment Indicators & Snapshots
Sentiment indicators are an excellent feature that allows you to see the sentiment of the analyst who submits the news item; you see this in the color of the ticker symbol; red is bearish, green is bullish; this is unique and a great asset.
Unique to Benzinga is the Security Snapshot View, essentially a summary of all the critical News, Fundamentals, and Charts.  It is designed to give you a clean, quick view of the whole picture for a given stock.  This includes all the core financial documents like balance sheets and important income statement information.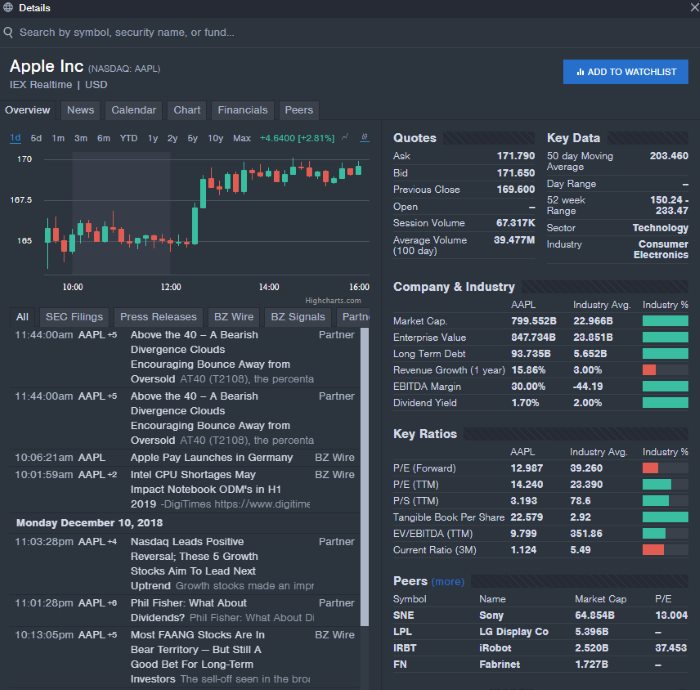 Backtesting & Automated Trading
The main functionality missing from Benzinga Pro is the ability to perform any backtesting or automated trading.  This trading software is not for algorithmic or system traders; it is designed to deliver tailored market-moving news fast.
Benzinga Pro Usability
I have been using Benzinga Pro for five years now; the news platform is exceptionally configurable and can run in multiple windows on multiple monitors. In the screenshot below, you can see how I have my Benzinga Pro interface configured.
My Current Trades in the watchlist (middle white box)
Important news Only – I have configured the top right columns in red to show me the important potentially market-moving news, which is a great feature.
Instant Company Details Drill Down – Bottom Right for Financial News, Calendar & Charts
Quick Access to Powerful Features – Stock Screener, Custom Alerts, Squawk Box, and Chat (Left-hand side)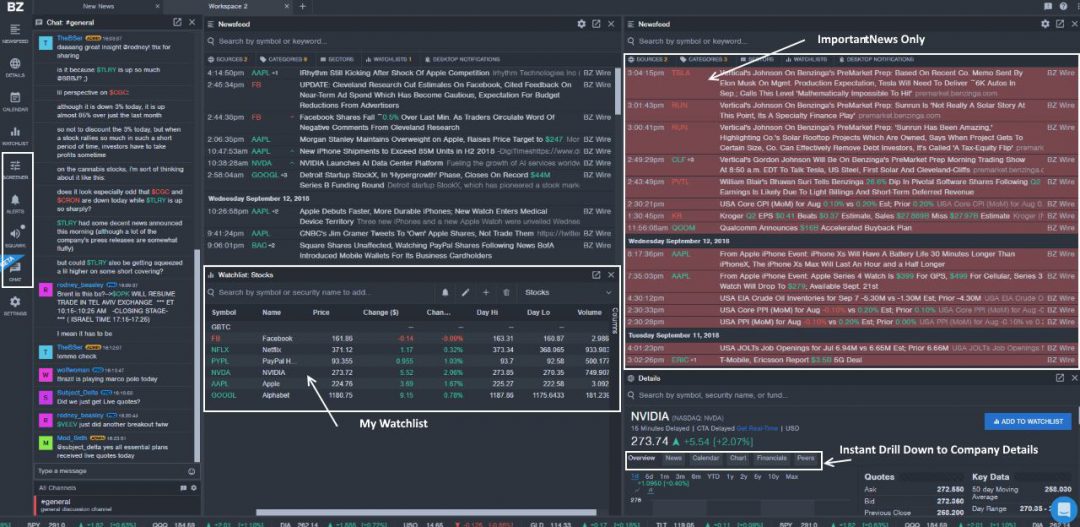 Benzinga Pro is extremely powerful yet easy to use, which is often a delicate balance to strike, and to top it all off, they have also now added real-time price quotes to the service, so you can see when news breaks what the impact is on the stock price.
Is Benzinga Pro Worth It?
Yes, Benzinga Pro is worth buying for day traders and investors who want an actionable real-time news service, sentiment indicators, market scanning, and financial reporting to get a profitable edge in the market.
After using Benzinga Pro for five years, I can say the exclusive features like audio squawk box, chat to the newsdesk, and the powerful calendar suite, make Benzinga Pro worth it.
★ Bonus: Sign Up For This Service & Get 5 Exclusive Investing Strategy & Research eBooks Valued at $99 ★
-
5. TrendSpider: Best Automated Stock Chart Analysis Software
TrendSpider is best for all traders seeking cutting-edge AI software that automates technical chart analysis, trendline & pattern recognition. TrendSpider has robust system backtesting, automated Fibonacci & Candlestick recognition covering Stocks, ETFs, Fx & Crypto Markets.
TrendSpider Rating: ★★★★

✩



Price: $27-$69/m

Pros
Cons
✓ Automated Trendline & Fibonacci Detection
✘ No Social
✓ Automatic Multi-Timeframe Analysis
✘ No Auto Trading
✓ Code Free Backtesting
✓ Real-time Data Included
🎮 Free 7-Day Trial
✓ Stocks, ETFs, Fx, Crypto, Futures
✂ -40% Discount Code "LIB40"
The TrendSpider team is innovating at breakneck speed, and the features they are innovating are unique to the industry with trendline automation, pattern recognition, and multi-timeframe analysis.
TrendSpider Pricing & Software
TrendSpider pricing starts at $44/mo for the Premium plan, Elite costs $87/mo, and Advanced costs $131/mo. Opting for a yearly subscription will reduce those costs by 16%, representing a significant saving.
All TrendSpider plans come with real-time data included, which can save you $12 per month. The Premium plan has multi-time-frame analysis and trendline pattern recognition for stocks, ETFs, currencies, and OTC markets, plus 25 alerts.
The Elite Trader Plan includes after-hours and pre-market data, OTC, Crypto, Forex, and Futures, plus 100 dynamic alerts and full backtesting, meaning you can apply the auto trendlines and multi time-frame analysis on many different markets.
The platform is built on HTML 5 and needs Zero installation and Zero data feed configuration.  The system runs on all platforms, from smartphones to PCs.
Automated Technical Analysis
Packed full of innovative technical analysis tools means that TrendSpider is catapulted to the top of this list.  If you are a serious market analyst, then TrendSpider will help you do the job quicker, with better quality, and help you not to miss an opportunity.
The automated trendline detection and plotting do a better job than a human can; using algorithms, the system can detect thousands of trends-lines and flag the most important ones with the highest backtested probability of success.
The automated trendline & candlestick detection and recognition do a better job than any human
TrendSpider's multi-time-frame analysis means viewing multiple time-frame charts on a single chart with the trendlines plotted automatically.  Another great feature is the advanced plotting of support and resistance lines into a subtlely integrated chart heatmap.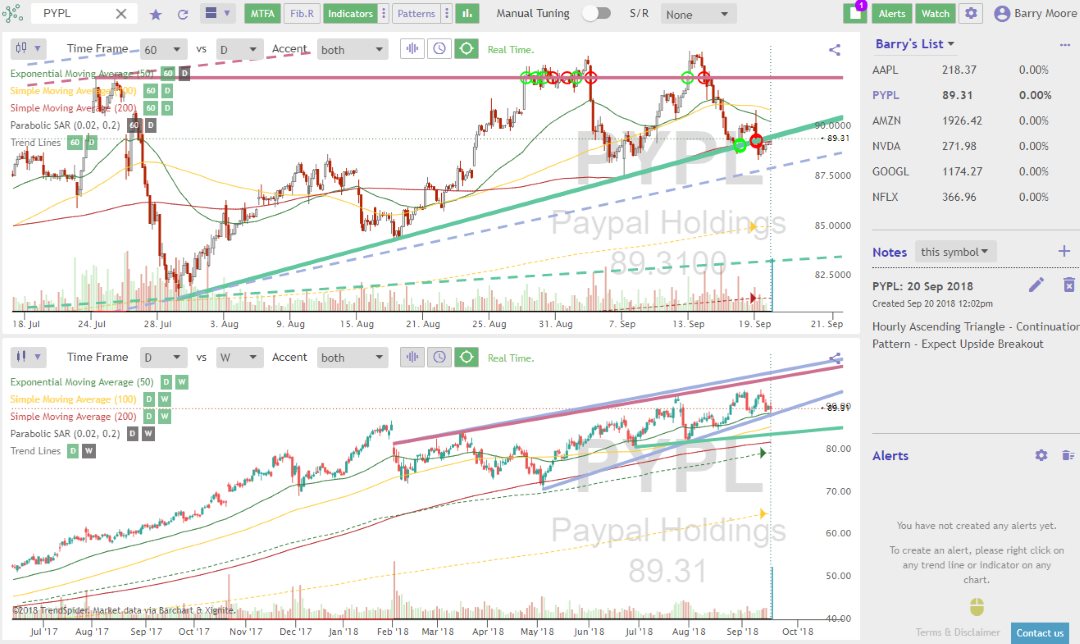 6 Innovations Unique To TrendSpider:
Automated trendline detection and plotting do a better job than a human can; using algorithms, the system can detect thousands of trends-lines and flag the most important ones with the highest backtested probability of success.
Automated multi-time-frame analysis means viewing multiple time-frame charts on a single chart with the trendlines plotted automatically.
Advanced plotting of support and resistance lines into a chart heatmap.
Automated Fibonacci Detection & Mapping unique to TrendSpider
Integrated backtesting of automated trendlines, showing win rate, profitability, and drawdown.
Raindrop Charts are a unique and intuitive way to visualize volume profile or volume at price action.
TrendSpider has three big benefits:
It saves traders and professional analysts a lot of time and can provide an edge in the market.
It uses mathematics & AI to help traders spot trends they would have missed.
It helps beginners to learn how to draw trend lines.
TrendSpider Scanning
The latest innovation from the TrendSpider team is the market scanner, which enables you to scan a specific stock and the entire market for trades matching your technical criteria.  Combining AI trend detection and analysis with scanning the whole stock market is a unique advantage.
TrendSpider takes a different approach to backtesting. The platform is built from the ground up to detect trendlines and Fibonacci patterns automatically, meaning it already has backtesting built into the code. The highest probability trendlines are automatically flagged, and you can adjust the sensitivity of the algorithm that controls the detection to show more or fewer lines.
TrendSpider Backtesting
TrendSpider has also implemented a strategy tester that allows you to type what you want to test freely, and it will do the coding for you.  It is a smooth and straightforward implementation.
One of the elements I like is the ability to adjust your backtest conditions on the fly, and the "Price Behaviour Explorer" and "System Performance Chart" automatically update.   You can jump into coding if you want to, but the key here is that you do not HAVE to.
Integrated backtesting of automated trendlines, showing win-rate, profitability, and drawdown is a new addition and warmly welcome; the team has propelled TrendSpider into one of the leading technical analysis packages in the industry.
Is TrendSpider Easy to Use?
TrendSpider's innovations mean you will need a little time to understand what they are telling you.  For example, seeing hourly, daily, weekly trend lines plotted on the same chart might be confusing at first. Still, after applying a little effort, you might find you cannot live without them—an excellent score on usability.
Is TrendSpider Worth It?
Yes, TrendSpider is worth buying if you are a stock trader who wants to utilize cutting-edge automation for technical stock chart analysis. The automated pattern recognition of trendlines, Fibonacci, and candlesticks, plus backtesting, make it a compelling proposition.
-
6. Tickeron: Best Selection of AI Bots & Signals for Traders
Tickeron has impressive AI-powered chart pattern recognition and prediction algorithms for stocks, ETFs, Forex, and Cryptocurrencies. Tickeron excels at providing thematic model portfolios and specific pattern-based trading signals combined with success probability and AI confidence levels.
Tickeron Rating: ★★★★

✩



Price: $0-$250/mo

Pros
Cons
✓ 45 Streams of Trade Ideas
✘ Custom Charting Limited
✓ 40 Chart Patterns Recognized
✘ Cannot Plot Indicators
✓ AI Trend Prediction Algorithms
✓ Audited Performance Track Records
🎮 14-Day Free Trial
✓ Build AI Portfolios

Tickeron's trading platform is unique and innovative, combining artificial intelligence and human intelligence based on the community of traders, so you can compare what the humans think versus the machines.
Tickeron targets day traders, swing traders, and even investors with an intricate lineup of features and benefits specific to your investing style.
Tickeron is a wholly-owned subsidiary of SAS Global, a leader in data analytics whose services are used by the majority of fortune 500 companies. Tickeron uses AI rules to generate trading ideas based on pattern recognition. Firstly they use a database of technical analysis patterns to search the stock market for stocks that match those price patterns using their pattern search engine. Of course, each detected pattern has a backtested track record of success, and this pattern's success is factored into the prediction using their Trend Prediction Engine.
To understand the platform, we first need to look at the pricing structure and what you get for your money.
Tickeron Pricing
Tickeron offers a free Beginner plan that enables portfolio creation, alerting, and AI investment ideas. The premium Tickeron plans are overly complex, with services aimed at swing traders, day traders, and investors. All plans have this in common, Intermediate One costs $50-100/mo, Intermediate Two costs $120-200/mo, and Expert costs $250/mo for access to all features.
Pattern Recognition
At the heart of Tickeron is the ability of its AI algorithms to spot 40 different stock chart patterns in real-time. You can select which pattern you want to trade, and it will filter stocks, forex, or cryptocurrencies that currently show the pattern. Patterns are split into bullish patterns for long trades or bearish patterns for those who wish to go short.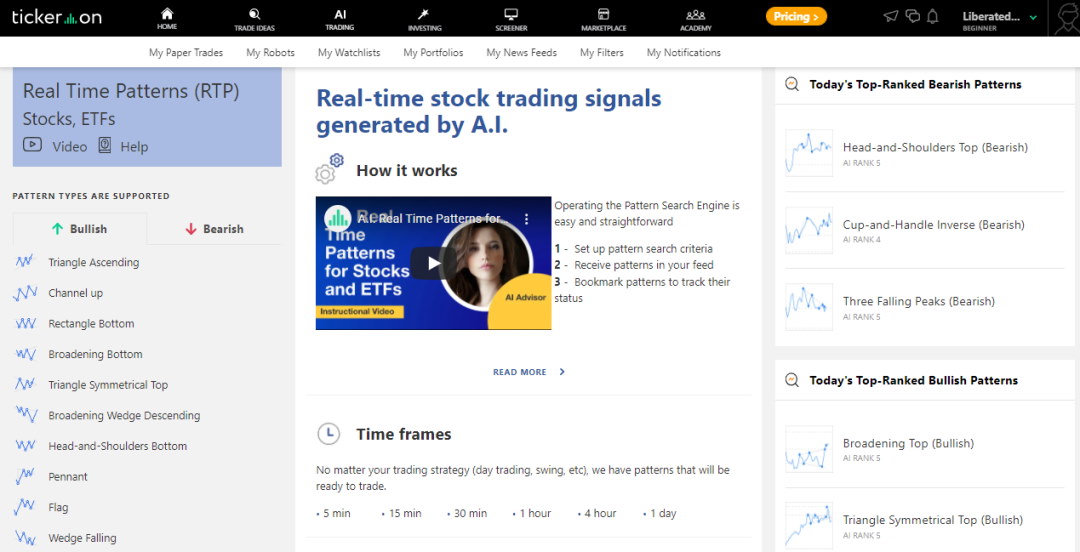 Tickeron's real-time pattern recognition is particularly useful for swing traders or day traders where market timing is the number one priority. Tickeron also has the ability to scan the entire market and suggest which patterns are working best on a particular day. In the screenshot above, you can see "Today's Top Ranked Patterns," which rates the potential success of the patterns based on the market's current trading activity.
Ultimately pattern recognition saves pattern traders a lot of work hunting for potential trade setups because it does all of the work for them.
Trading Signals & Prediction
Tickeron has implemented a powerful feature called AI Confidence level. Based on the history of the stock, the success rate of a particular pattern, and the market's current direction, Tickeron can assign a confidence level to a trade prediction.
In the screenshot below, you can see that the Tickeron AI predicts that ABUS has an 88% chance of declining in value and ACET has an 81% chance of increasing in value.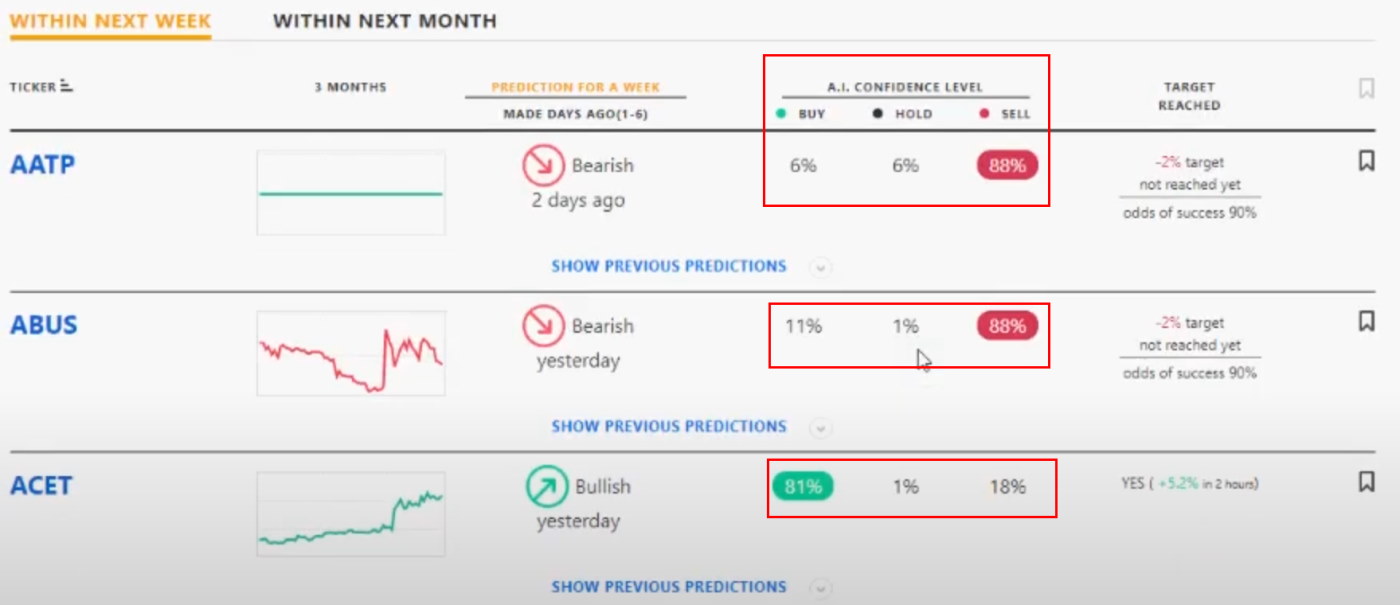 The outstanding feature with the Tickeron prediction engine is that you can simply click "Show previous predictions" to check if the Ai has done a good job in the past, with a particular pattern on specific stocks. The prediction engine provides the right level of clarity and granularity so you can make informed trading decisions.
Tickeron Screening
Screening with Tickeron is rather limited compared to the competition. Tickeron can find you stocks based on industry, sector, market capitalization, or even technical buy and sell ratings. But if you want to perform specific screening for value, dividend, or growth stocks, Tickeron is of little use.
Tickeron is designed to find high probability trading opportunities, not for long-term investors wishing to build a sustainable portfolio. If you are a long-term investor, I recommend Stock Rover.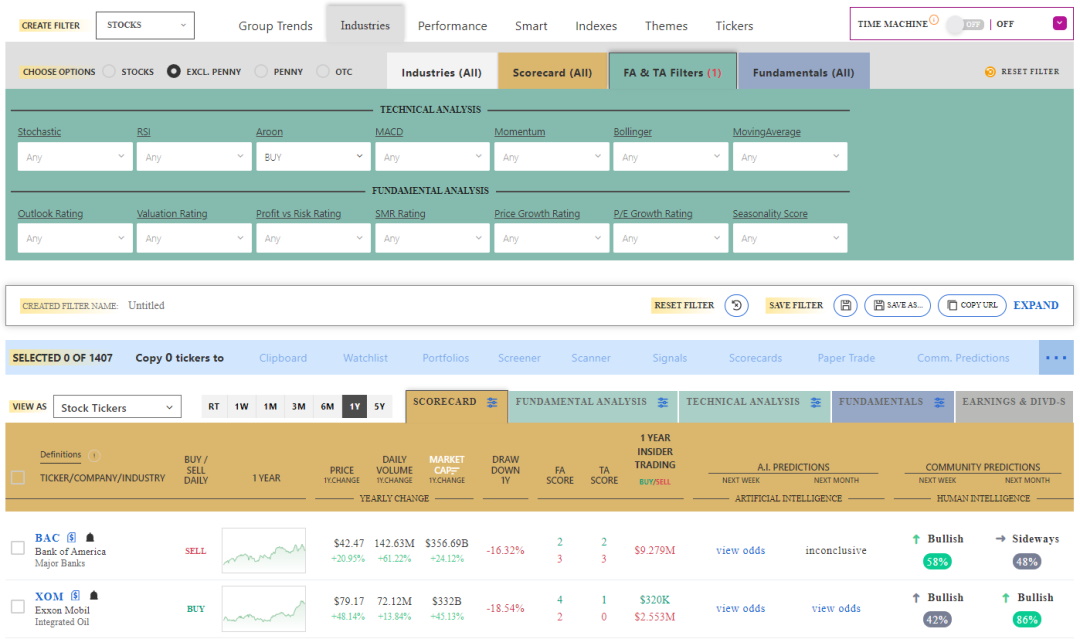 Tickeron AI vs. Human Intelligence
A unique feature in Tickeron is the ability to compare the AI prediction engine forecast versus what the community predicts. The image above shows that 58% of the community believes Bank of America will increase in price. This is a fascinating insight, and I look forward to Tickeron publishing research on the accuracy of human prediction versus artificial intelligence algorithms.
Is Tickeron Worth The Money?
Tickeron is worth buying if you are a short-term trader because it provides high probability AI backtested trade signals. I recommend a trading account value of over $25K to quality for active pattern day trading.
-
7. Portfolio 123: Excellent Screening & Backtesting for Investors
My testing of Portfolio123 shows impressive stock screening, software with a robust financial database, and integrated commission-free trading with Tradier. Portfolio123 can be used by income, value, and growth investors but is also advantageous for swing traders.
Portfolio 123 Rating: ★★★★

✩



Price: $0-$83/mo

Pros
Cons
✓ 470+ Screening Metrics
✘ No Integrated News
✓ 10-Year Backtesting Engine
✘ No App for Android or iPhone
✓ Pre-built Model Screeners
✘ Initially Complex To Use
✓ 260 Financial Ratios
✓ Integrated Free Trading

🎮 Trial: 21 Days for $9
Portfolio123 covers stocks, fixed income, and ETFs on US & Canadian exchanges, so it is unsuitable for international stock investors. With Portfolio123, you can design a real-time trading strategy, fully automated with a broker, that will hold the stocks that pass your screen and sell those that don't.
Portfolio123 Pricing
Portfolio123 pricing starts at $0 for the Free plan, Screener costs $25/mo, and Pro costs $83/mo. You can have Portfolio123 for free; however, the real power of Portfolio123 is unleashed with the Screener and Pro service. Their Screener and Pro service pricing is in-line with competition and competitive considering the benefits on offer.
Portfolio123 Software
Portfolio123 runs on PC, Mac, Tablets, and Smartphones and requires zero installation; it simply works. The market data, scoring, ranking, and analysis are only for the USA & Canadian markets. When you register with Portfolio123 and log in, you are greeted with the dashboard, which gives you an instant market performance breakdown, but more importantly, shows you your portfolio performance.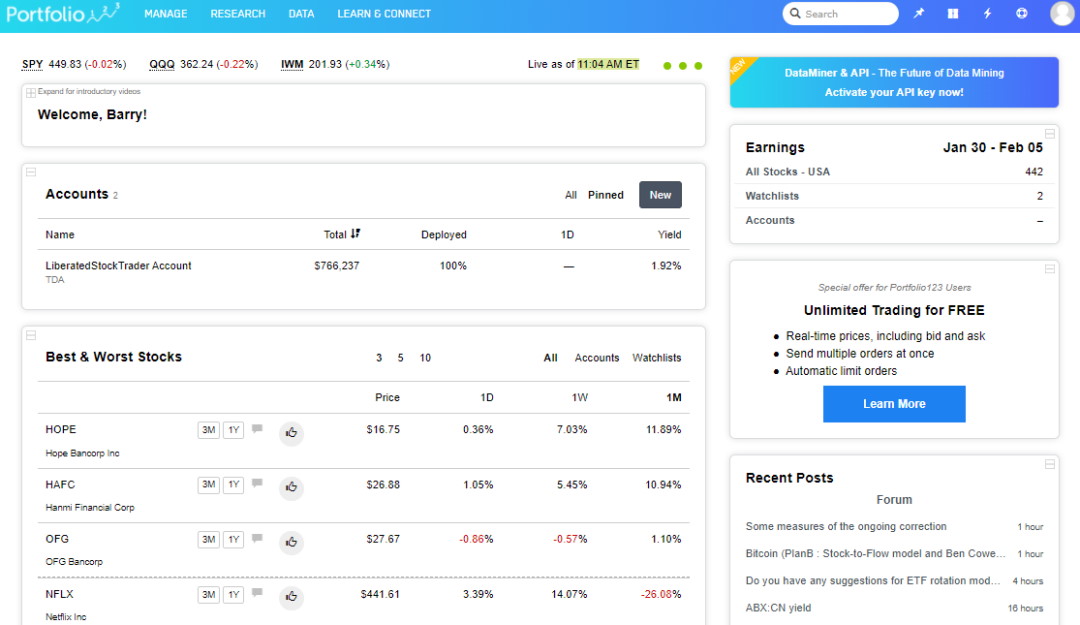 Portfolio Management
With Portfolio123, you get tight broker integration Tradier and Interactive Brokers. You cannot place trades from charts, but you can automate trading based on rules or issue bulk traders, plus Portfolio123 will take care of profit & loss reporting.
| | |
| --- | --- |
| Portfolio123 Portfolio Features | Portfolio123 |
| Watchlist Tracking | ✓ |
| Research | ✓ |
| Profit & Loss Reporting | ✓ |
| Performance Reporting | ✓ |
| Portfolio Rebalancing | ✓ |
| Portfolio Asset Allocation | ✓ |
| Broker Integration | ✓ |
| Future Dividend Reporting | X |
Screening
The Portfolio123 screener allows you to filter 10,000+ stocks and 44,000 ETFs to help you find the investments or trades that match your exact criteria. Portfolio123 also has ranked screening which enables you to rank the stocks that best match your criteria, filtering a list from hundreds of stocks to a handful. You can also define your custom universes, setting the macro criteria for which stocks are included in the sample.
Most ideas you have based on fundamentals will be covered with over 225 data points. Portfolio123 has 460 criteria, including analyst revisions and estimates and technical data.
You can also use Portfolio123 to screen stocks on their performance relative to the S&P500 or any other benchmark, meaning you could develop a strategy to select stocks based on their historical performance versus the market.
The number of factors available for screening is impressive. Not only can you screen based on reliable information from a company's financial reports, but you can access technical factors, create your factors using period and announcement dates, eliminate stocks with high bid-ask spreads, limit your screen to stocks in a certain industry or sector, rank factors against other stocks in an industry or sector, and change your factor balance depending on economic conditions.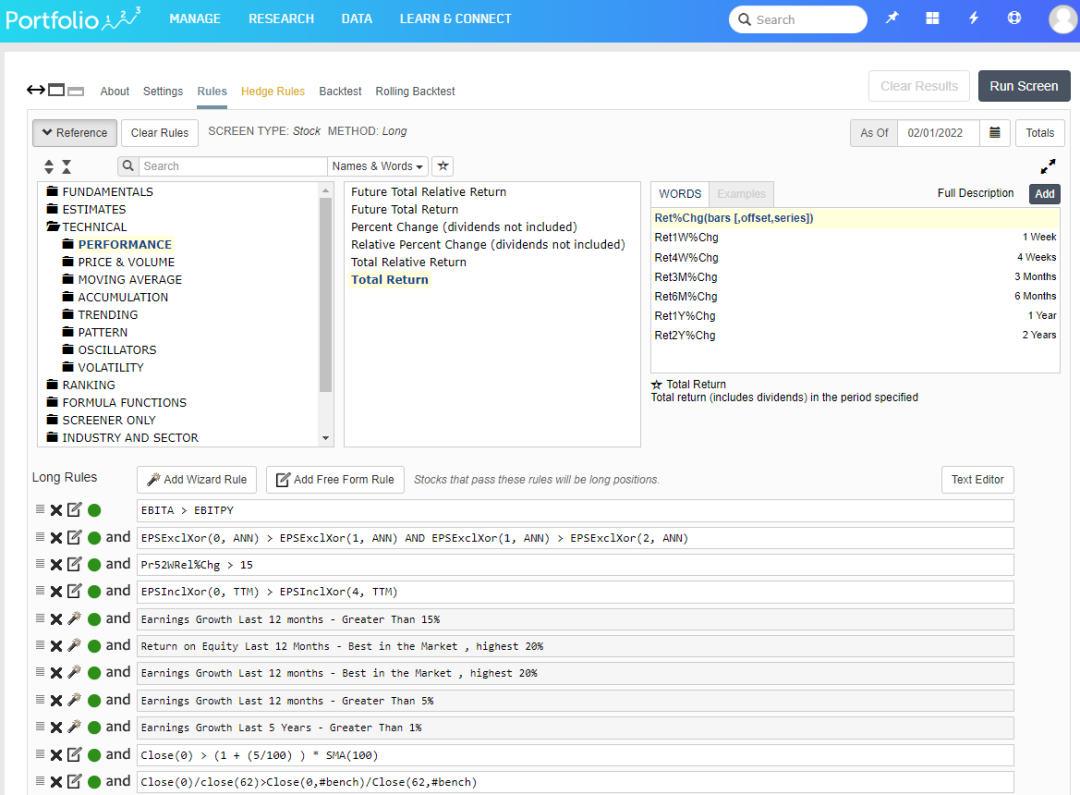 Building your Portfolio123 screener is theoretically easy; select Research -> Screens, and you can start to play. No programming skills are required to build a Portfolio123 screener, but basic coding will certainly help. If you want to create more powerful screening rules, you will need to spend significant time studying the coding logic and understanding the proprietary criteria names.
Portfolio123 Backtesting
Portfolio123's backtesting engine is where the software shines. Expertly implemented, fast, and extremely configurable, Portfolio123 has the best backtesting service for people serious about testing fundamental strategies.
Portfolio123 enables you to be very granular in how you set up your backtest, with entry rules, slippage, weighing, rebalance frequency, and custom timeframes.
The Portfolio123 screener is built to make users test not just pre-built concepts but all sorts of hypotheses. You can use your own universe, rank with your multi-factor rank, and run backtests or rolling backtests.
The Portfolio123 screener relies on great data, and they have been working hard to overcome the pitfalls of financial data such as N/A numbers in sparse preliminary reports. Our pre-built factors handle N/A's efficiently and use alternate algorithms to come up with the best possible result. In a nutshell, great data isn't an overnight project; they've been working on data since 2004.
The image below shows the LiberatedStockTrader screener I developed in the previous section. I backtested the screener for two years to see how it performs historically. In this particular timeframe, my screener beat the market, returning 70.5% versus the S&P500's 52%.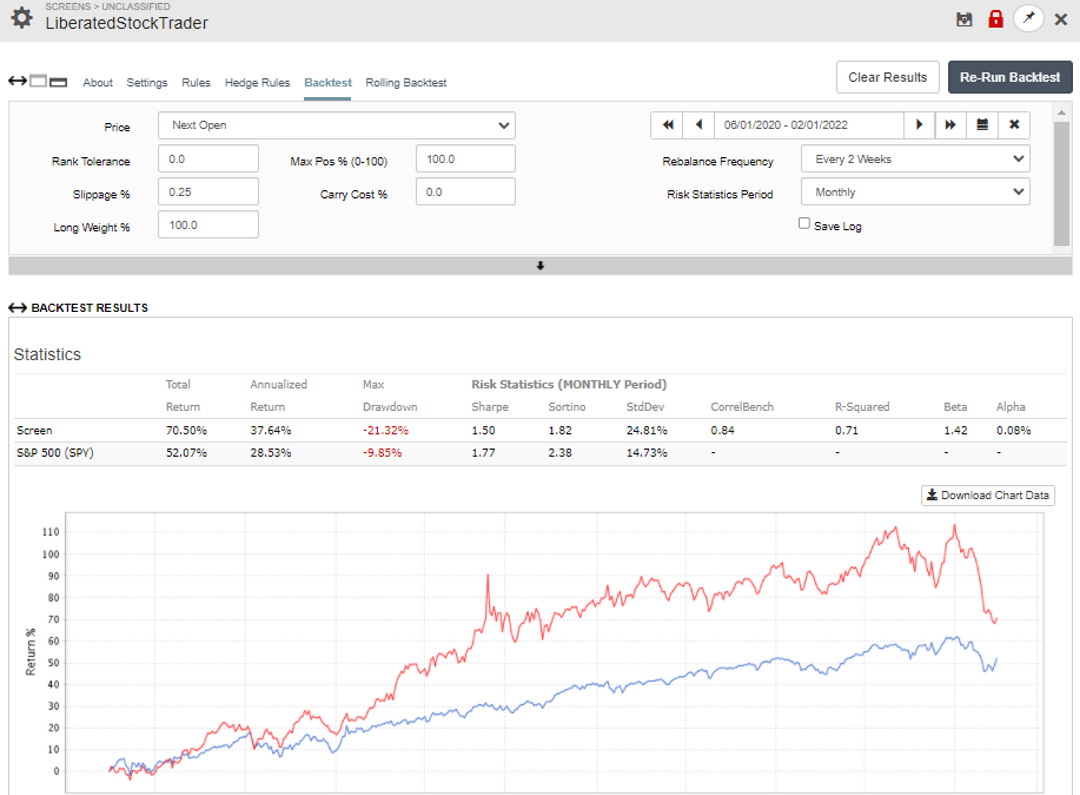 Pre-Built Screeners
Portfolio123 has over 76 pre-built screeners that you can import and use. You need to have the Screener subscription plan service to take advantage of this. I have personally reviewed many of them, and they are very thoughtfully built. One of my favorites is the "Small Cap Winners" screener.
The Small-Cap Winner strategy had a 5-year return of 189% versus the Russell 2000 return of 58%, very impressive.
The Small-Cap Winner strategy "attempts to balance growth, value, quality, and sentiment factors, using ones that have worked well for small-cap stocks. It has high turnover as it relies a great deal on the most recent quarterly earnings announcements and, via sentiment ranking, analyst estimates and recommendations".
Stock Charting & Technical Analysis
Looking at stock charts with Portfolio123 is different from all the other software vendors on the market. Whereas MetaStock & TradingView focuses on hundreds of technical analysis (price/volume) indicators, Portfolio123 focuses on charting the fundamental financial strength indicators.
With over 160 different financial indicators and only two technical analysis indicators, Portfolio123 is not the best technical analysis or frequent trading charting service. Still, it is the complete package for fundamental income, growth, and value investors. There are no possibilities to draw trendlines or annotate charts in Portfolio123.
Is Portfolio 123 Worth It?
Portfolio123 is an excellent screening and backtesting platform ideal for swing traders and medium-term growth investors. An incredible selection of fundamental criteria, a 20-year financial database, plus the most powerful financial backtesting engine makes Portfolio123 a great choice for experienced stock system developers.
-
8. MetaStock: Best Stock Program for Backtesting & Forecasting
MetaStock is best for stock traders who need real-time news, access to a huge stock systems marketplace, and the best technical stock chart analysis, backtesting, and forecasting. All international exchanges are covered & backed up with excellent customer services.
MetaStock Rating: ★★★★

✩



Price: $59-$99/m

Pros
Cons
✓ Best Stock Backtesting
✘ PC Only/No Mobile App
✓ Largest Selection of Charts & Indicators
✘ No Broker Integration
✓ Real-time Global News
✘ Poor Interface
✓ Stock Forecasting
✓ All International Stock Exchanges

🎮 30 Day Free Trial
 
✂ Discount: 3 Months for 1
The latest release of Metastock is a big hit with improvements across the board. Considerable advances in scanning, backtesting, and forecasting make this one of the best offerings on the market.
MetaStock Pricing & Software
MetaStock pricing starts at $59/mo for MetaStock D/C daily charts, providing end-of-day data and the full analysis services. MetaStock R/T costs $100/mo and adds real-time data, news, and powerful global fundamental screening.
For traders performing chart analysis and backtesting on end-of-day data, MetaStock D/C is a good option. Demanding traders will opt for MetaStock R/T because it is the most powerful trading solution outside of a Bloomberg terminal, which costs ten times the price.
MetaStock R/T includes the Xenith platform in the price, which means you get real-time data, news, and fundamentals powered by Refinitiv for $100/mo. Refinitiv is the gold standard of international financial data worth $29 billion and is a subsidiary of the London Stock Exchange.
MetaStock is designed as a broker agnostic technical analysis platform. It does provide limited broker integration, but the execution of trades from charts and live integrated profit and loss analysis of your live portfolio is limited.
MetaStock Scanning & Screening
Using MetaStock R/T, you can see an incredibly in-depth analysis of company fundamentals from debt structure to top ten investors, including level II.  Excellent watchlists featuring company financials and powerful scanning of the markets make MetaStock unique.
MetaStock Real-time News
MetaStock R/T Refinitiv integration means you get institutional quality real-time news, analysis, research, and economic outlooks.  Refinitiv is the fastest global news service available in the industry. For international investors, MetaStock is unique because the news is also translated into all major languages.
MetaStock Technical Chart Analysis
MetaStock has over 350 stock tools for charting, annotation, drawing trendlines and indicators; the broadest selection of technical analysis tools on the market today. MetaStock is the clear leader in pure technical analysis of stock charts; it includes Point & Figure and Market Profile Charts, meaning it has the best stock trading charts.
Innovative additions to MetaStock, like Foreign Exchange forecasting based on market sentiment, are exceptional. This makes MetaStock our recommendation for the best technical chart analysis software.
MetaStock Systems & Backtesting
Another area where MetaStock excels is what they call "Expert Advisors." MetaStock harnesses many inbuilt systems to help you understand and profit from technical analysis patterns and well-researched systems.  This is a unique differentiator from the competition.  The most significant addition to the MetaStock arsenal is the forecasting functionality, which sets it apart from the crowd.
MetaStock has over 100 computerized stock market systems called Expert Advisors. These programs scan stock charts for a system's targeted conditions. The Expert Advisor systems, either in-built or as 3rd part add-ons, will help you understand and profit from technical analysis patterns in price and volume. This is a unique differentiator from the competition.
You can even use artificial intelligence-like functionality to test a set of variables within your backtesting.  For example, you can use the "Fuzzy Logic" program to test your stock system against many different variations of your criteria to see which variables work best for this stock. Fuzzy logic is an incredibly powerful feature that is often overlooked with MetaStock.
The most significant addition to the MetaStock arsenal is the forecasting functionality, which sets it apart from the crowd.
MetaStock Forecaster Capability
The most significant MetaStock innovation is the forecasting functionality, which does not exist with any other software.  By selecting Forecaster from the power console, you can simply choose one or more stocks, ETF,s or Forex pairs and click forecast. You are then presented with an interactive report which enables you to scan through the many predictive recognizers, which help you understand the basis for the prediction and the methodology.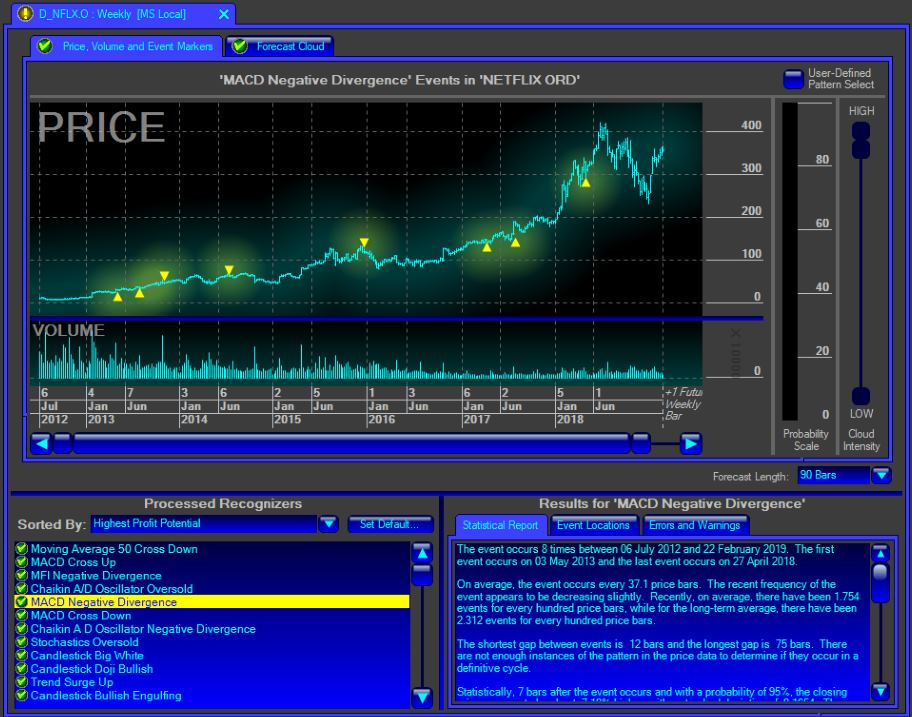 Is MetaStock Easy to Use?
No, MetaStock is not easy to use because it feels like a collection of separately developed applications that require user education to make them work together.  However, the vast selection of automated "expert advisors" you can deploy on the range of stocks in your purview makes MetaStock well worth the time to learn.
-
9. TC2000: Best Stock Trading from Charts Software USA
TC2000 is best for US and Canadian traders seeking rapid entire market scanning and screening, with excellent charts & indicators. TC2000 has an integrated brokerage, meaning you can trade stocks and options directly from charts.
TC2000 Rating:

★★★★✩

Price: $0-$89/mo
Pros
Cons
✓ Fantastic Charts & Indicators Selection
✘ No Social
✓ Good Technical & Fundamental Stock Scanning
✘ No Backtesting
✓ Trade Directly From Charts
✘ Brokerage Trades $4.95
✓ Real-time Exchange Data
✓ Very Good Margin Rates
🎮 Trial: Free 30-Day
 
✂ Discount: -25% for Bi-Annual Subscription
TC2000 has long been one of my favorite tools; I have been a subscriber for over 20 years and find the latest release another step forward.  Endlessly customizable and scalable, the platform offers nearly everything a trader will need.
TC2000 Pricing & Software
TC2000 is a slick and powerful technical analysis platform, enabling entire US market scanning and screening for fundamentals and technical analysis. You can use the huge library of available indicators and create your custom indicators and conditions without coding.
TC2000 runs on your iPhone, Tablet, Mac, or PC.  The service is available for free so that you can try it out. The real power of TC2000 is unleashed with the gold service, which costs $29.99/m or $24.99/m with an annual contract. TC2000 is a great solution if you trade US stocks, ETFs, or Options.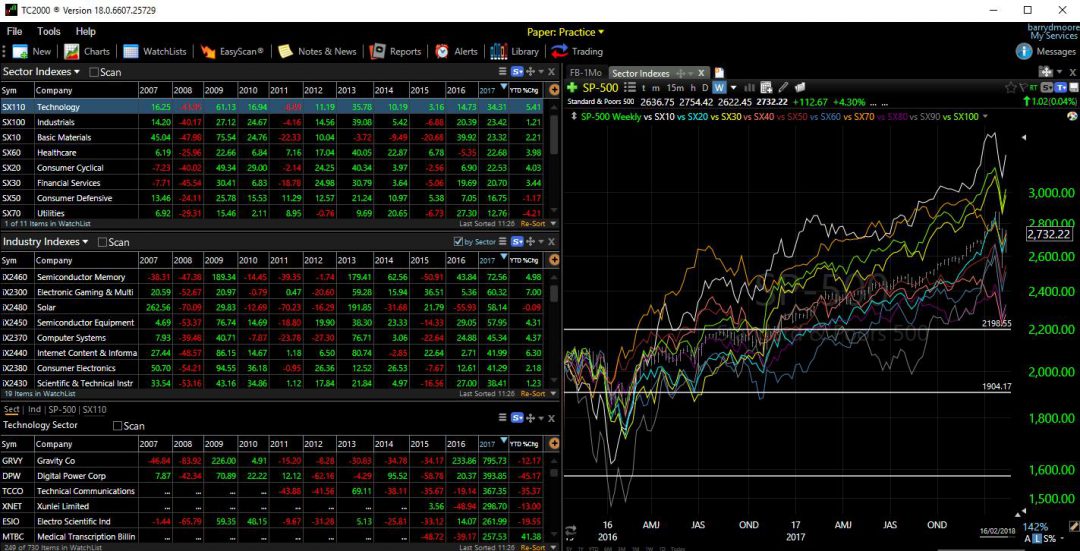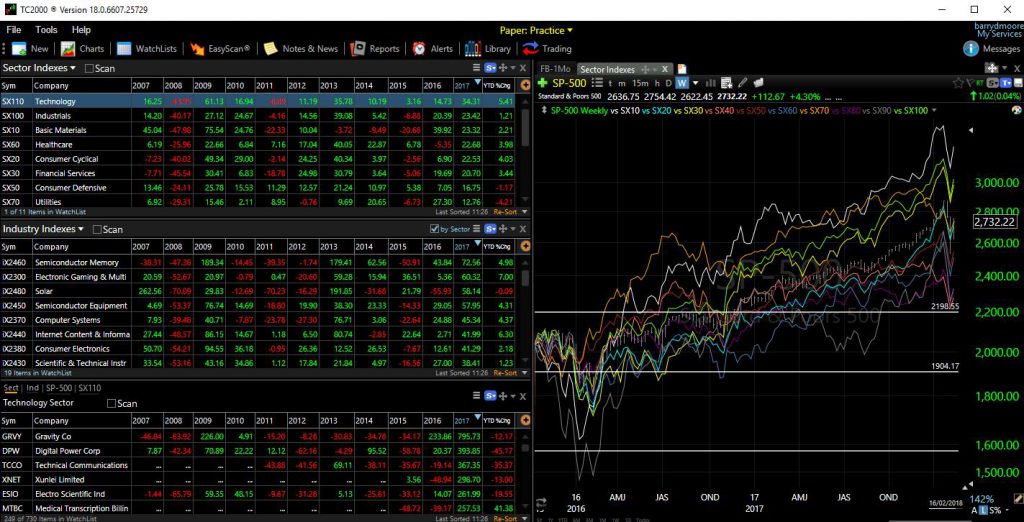 TC2000 Trade Management
The TC2000Brokerage offers stock trades at $4.95 per trade, which is quite expensive, but it does mean TC2000 has a tight integration for trading stocks from the chart and has good stock options trading visualization. TC2000 is one of the best Stock Options analysis software programs, allowing you to scan and build options strategies seamlessly. You can scan on gamma, delta, expiration, options spread, and even short interest.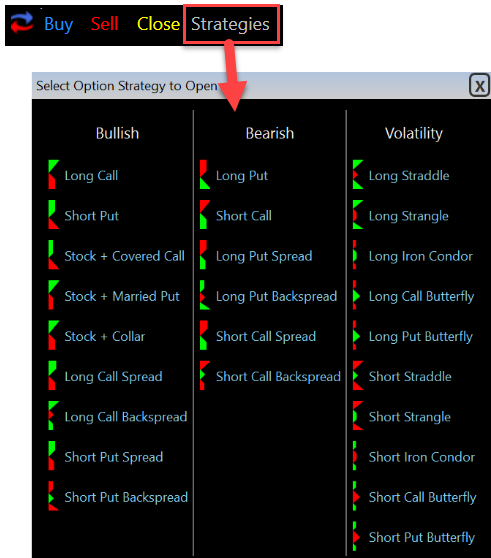 TC2000 Scanning and Screening
If you want fundamentals screened in real-time layered with technical screens integrated into live watch lists connected to your charts, TC2000 is a power player. TC2000 Easyscan can be set up with a few clicks, and you do not need any coding experience.
TC2000 News & Social Community
While TC2000 does not have a perceivable real-time news element, it does have integrated news with connections to Google Finance, CNN, Yahoo Finance, MSN Money, Marketwatch, and StockTwits.  If you want social community and integrated news, you will need to roll back to TC2000 v12.5.
TC2000 Technical Chart Analysis
TC2000 has an excellent array of technical indicators and drawing tools; all the big ones are there, from OBV, RSI, and Bollinger Bands to Fibonacci Fans and Andrews Pitchfork.  With over 70 different indicators, you will have plenty to play with.  They have also introduced live alerts that you can configure to email or pop up if an indicator or trend line is breached; very useful indeed.
If you want to perform powerful backtesting, then TC2000 is not for you.  You may be able to utilize the add-on product called StockFinder if you are a Platinum Member, and you specifically call support to ask for it.  However, StockFinder is no longer in active development, which is a shame because I think it was a very good backtesting suite.
Is TC2000 Easy to Use?
Yes, TC2000 is incredibly easy to use, which masks the power of the software. You will be up and running quickly and feel productive in minutes. TC2000 also has a support desk located in the USA and is one of the few vendors you can call by phone and speak with a real person.
-
10. VectorVest: Scanning & Market Timing Stock Trading Software
VectorVest helps simplify market timing by providing buy and sell ratings on stocks in the US, Australia, and Europe. But beware, some customers complain about data integrity.
VectorVest Rating: 

★★★✩✩

Price: $69-$129/m 
Pros
Cons
✓ Simple to Follow System
✘ Limited Chart Indicators
✓ Specific Buy & Sell Signals
✘ Expensive, Especially With Add-ons
✓ Market Timing Signals
✘ Complaints About Data Integrity
✓ US, Canada, Australia, & Euro Stocks
 
✂ Discount: 1st Month $0.99
VectorVest has three tiers of service. Basic $69/m, Enhanced $89/m, and Premium $129/m. The basic service is missing much of the benefits of VectorVest. I would recommend the enhanced service, good for investors, or the Premium for those who want to swing or day trade.
In terms of pricing, Vectorvest is neither expensive nor cheap; it sits in the middle. It does not compete with TradingView, MetaStock, or TrendSpider, which offer incredible value for money.
Trade Management and Screening
VectorVest software is straightforward to use because it is designed to promote the Value, Safety, and Timing system. This means they have a minimal variety of stock market indicators; they provide only what is needed to trade within their VST system parameters.
VectorVest continually evaluates every stock on the exchanges they cover to provide their propriety ratings.
RV Relative Value shows the estimated return versus a AAA Corporate Bond.
RS Relative Safety measures the consistency of a companies financials.
RT Relative Timing is a technical indicator that attempts to define the short-term trend of a stock.
VST Value-Safety Timing indicator is an aggregation of RV, RS, and RT, essentially rolled up into one number.


VectorVest News & Social
VectorVest does not have specific features to enable social chat or community within the software.  They do, however, provide a weekly market update to subscribers; these are available on youtube. Some customers complain about the cost of the training courses available through VectorVest and the constant focus of VectorVest trying to sell the courses and add-on products.
Vectorvest Technical Analysis
VectorVest has 20 technical indicators and drawing tools, including trendlines, Gann, Fibonacci, moving averages, momentum, RSI, and Stochastics. VectorVest's chart analysis selection is very poor compared to other stock analysis software.
If you are an experienced technical analyst who wants to perform detailed charting analysis, you may need to look at MetaStock with 300+ indicators or TradingView with 160+ indicators.
-
Stock Software Rankings by Category
Best Stock Trading Platforms Ranked
View the entire 15 Stock Market Software Platforms Comparison & Results Tables
Best Stock Investing Software Ranked
Best Technical Chart Analysis Software Ranked
Best Stock Market Prediction Software
Best Stock Trading Platforms for Beginners
What is the Best Computer for Stock Trading?
You do not need a powerful computer to trade stocks as modern stock software runs in the cloud, relieving the burden of processing from your PC. However, if you run trading software on your PC and process a lot of data locally with software like MetaStock or Optuma, you will need the latest generation of processors. I do, however, recommend multiple monitor screens for all stock trading.
So now it's over to you. Did you find this review useful, do you agree or disagree, have you found better software to be included in the review? 
Let us know, leave a comment below, or share it with friends.
Notes on the Review: Liberated Stock Trader partners with the best companies in the investing business.  See our Partners Page for more information.