As a certified financial technician, active trader, and investor, I am uniquely positioned to compare the key important differences between the Finviz and Stock Rover stock screening and research software.
Stock Rover vs Finviz Summary
Our comparison of Stock Rover vs Finviz reveals that Stock Rover is best for screening, stock research, and portfolio management. Finviz is better at stock pattern recognition and heatmaps. I wholeheartedly recommend Stock Rover.
| | | |
| --- | --- | --- |
| Stock Rover vs Finviz Ratings |  Stock Rover | Finviz |
| 🏅 Rating | 4.2/5.0 | 3.2/5.0 |
| 💸 Pricing & Software | ★★★★★ | ★★★★✩ |
| 🚦 Trading | ★★★★✩ | ★★✩✩✩ |
| 📡 Screening | ★★★★★ | ★★★★✩ |
| 💼 Portfolio Management | ★★★★★ | ★★✩✩✩ |
| 🔦 Stock Research | ★★★★★ | ★★★✩✩ |
| 💡 Pattern Recognition | ★★✩✩✩ | ★★★★✩ |
| 📰 News & Social | ★★★✩✩ | ★★★✩✩ |
| 📈 Chart Analysis | ★★★★✩ | ★★★★✩ |
| 🔍 Backtesting | ★★★★✩ | ★★✩✩✩ |
| 🖱 Usability | ★★★★★ | ★★★★✩ |
| 📑 Read the Full Review | Review | Review |
🏅Stock Rover vs Finviz Ratings
Stock Rover scores 4.2/5.0 because it is a far better screener, integrates with brokers for portfolio reporting, has integrated stock research reports, and allows for excellent backtesting. Finviz scores 3.2/5.0 because its user experience is poor and has very poor stock charts and backtesting. But Finviz excels at visualizing a vast amount of stock market data on a single screen.
Let's take a look at the outstanding features head to head.
⚡Stock Rover vs Finviz Features
Both Stock Rover and Finviz cover stocks and indexes globally. Finviz's coverage of forex, futures, and cryptocurrency is weak. Stock Rover features a news stream and a 10 million user vibrant and active social community sharing charts and ideas. Finviz has no social component.
* Minimum monthly cost for the best plan on an annual subscription
We independently research and recommend the best products. We also work with partners to negotiate discounts for you and may earn a small fee through our links.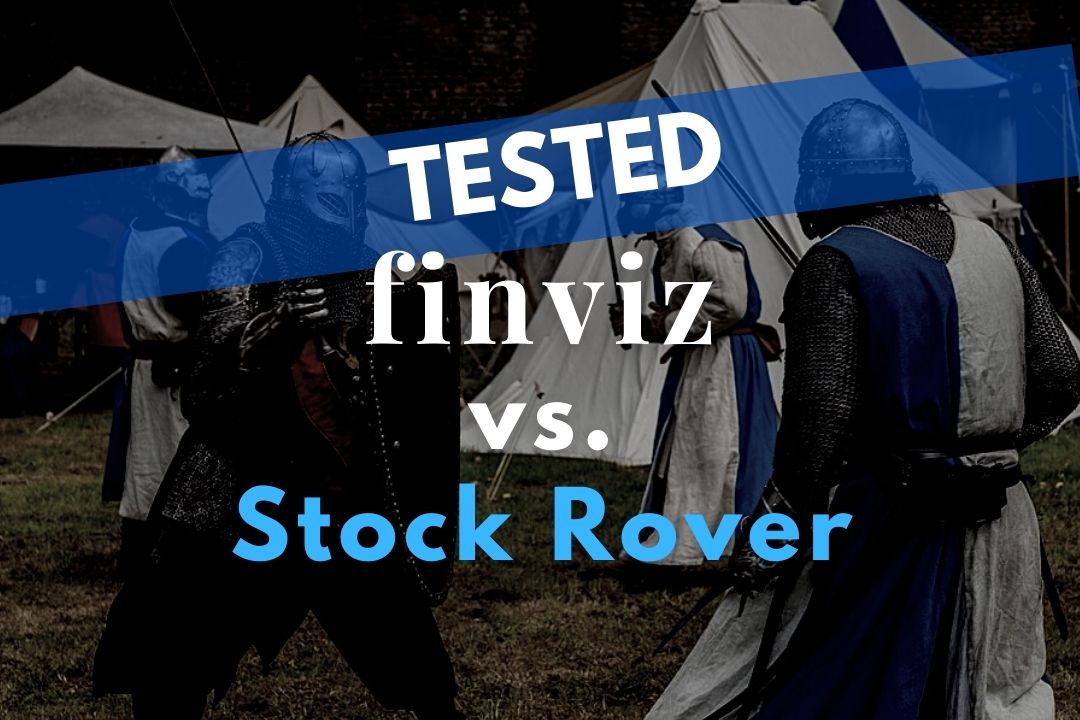 💸 Stock Rover vs Finviz Pricing
Stock Rover pricing starts at $0 for the Free plan, Essentials costs $7.99, Premium $17.99, and Premium Plus costs $27.99 per month with a 26% discount for a 2-year plan. Finviz has a good free plan, and pricing starts at $39.99/mo for the Elite service or $24.96/mo on an annual plan which saves you 37%.
Get Stock Rover Discounts
You can get a 25% discount on any Stock Rover plan by signing up for a free 14-day premium or premium plus trial. Towards the end of the 30-day trial period, you will receive an email from Stock Rover offering you a 25% discount on any premium plan.
Finviz Coupon Code
Finviz does not offer coupon codes for its stock research software. However, Finviz does offer a 1-year subscription 37% discount for new customers who start an Elite subscription.
💾 Stock Rover vs Finviz Software
Stock Rover enables a more end-to-end investing toolkit than Finviz. Stock Rover has a slick user experience enabling investors to screen and research stocks and build growth, income, and value portfolios. Finviz enables you to screen on stocks globally and see trends and heatmaps, but the tools do not work well together.
Both Stock Rover and Finviz offer stable and reliable platforms that are easy to use. Both companies offer software that lives in the cloud, so you do not need to install software or configure exchange data stream downloads; they simply work across multiple devices.
| | | |
| --- | --- | --- |
| Key Features | Stock Rover | Finviz |
| Global Market Data | ✘ | ✔ |
| Powerful Charts | ✘ | ✘ |
| Stocks | ✔ | ✔ |
| ETFs | ✔ | ✘ |
| Screener | ✔ | ✔ |
| Backtesting | ✔ | ✔ |
| Automated Analysis | ✔ | ✔ |
🚦 Stock Rover vs Finviz: Trading
You cannot trade from stock charts with Finviz or Stocks Rover. But with Stock Rover, you get broker integration with practically every major broker, including profit and loss reporting, portfolio correlation, and rebalancing recommendations. Finviz has none of the functionality.
Including dividend reporting and scoring Stock Rover is a unique package. Stock Rover is not for day traders; it is for longer-term investors that want to maximize their portfolio income and take advantage of compounding and margin of safety to manage a safe and secure portfolio.
🎥  Video:10 Reasons Stock Rover Rules
---
How to Beat the Stock Market With Stock Rover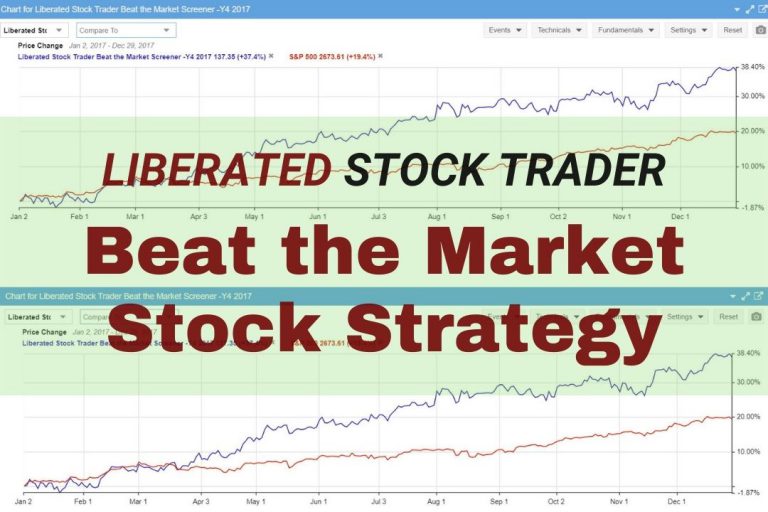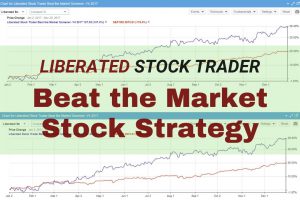 I love Stock Rover so much that I spent 2 years creating a growth stock investing strategy that has outperformed the S&P 500 by 102% over the last eight years. I used Stock Rover's excellent backtesting, screening, and historical database to achieve this.
This Liberated Stock Trader Beat the Market Strategy (LST BTM) is built exclusively for Stock Rover Premium Plus Subscribers.
---
📡 Stock Rover vs Finviz Screening Results
When it comes to stock screening, Stock Rover beats Finviz. Both Finviz and Stock Rover have excellent stock screening and market scanning capabilities. The Finviz screener is often seen as the gold standard, but the reality is Stock Rover's screening capabilities are much better.
Finviz allows you to scan for a mix of 67 fundamental criteria and combine it with 30 different trading signals. That may seem like a huge choice, but Portfolio123 has 470 filters, and Stock Rover provides over 575 different options.
Stock Rover Screening & Scanning
The Stock Rover screener allows for rapid filtering of 10,000 stocks and 44,000 ETFs to help you find the investments that match your exact criteria. Stock Rover also has ranked screening which enables you to rank the stocks that best match your criteria, filtering a list from hundreds of stocks to a handful.
The list of fundamentals you can scan & filter on is genuinely huge. Any idea based on fundamentals will be covered with over 650 data points and scoring systems for stocks and a further 96 criteria for ETFs.
Unique to Stock Rover is the ability to screen stock on their performance relative to the S&P500, meaning you could develop a strategy to select stocks based on their historical performance versus the benchmark.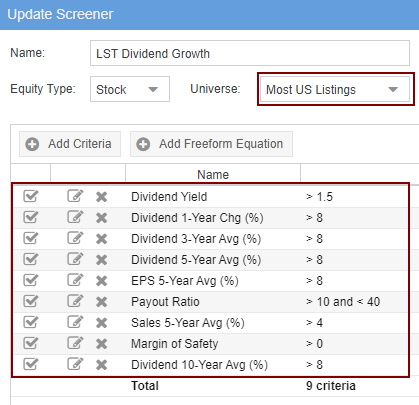 Building your Stock Rover screener is easy; select create screener, give it a name, select the equity type, choose your universe or large, medium, or small-cap stocks, and then add your criteria. No programming skills are required to build a Stock Rover screener.
Finviz Screening & Scanning
The Finviz screener allows for rapid filtering of 8,500 major stocks across the globe, covering 60 countries. However, this is not all the stocks in the world, just the major stocks, as there are over 10,000 stocks in the USA alone.
The Finviz stock screener is extremely fast and allows you to filter on 67 different fundamental and technical criteria. You can also filter the stocks on specific chart-based signals such as new highs, lows, oversold, analyst upgrades, insider buying, or even chart patterns like double tops and head & shoulders.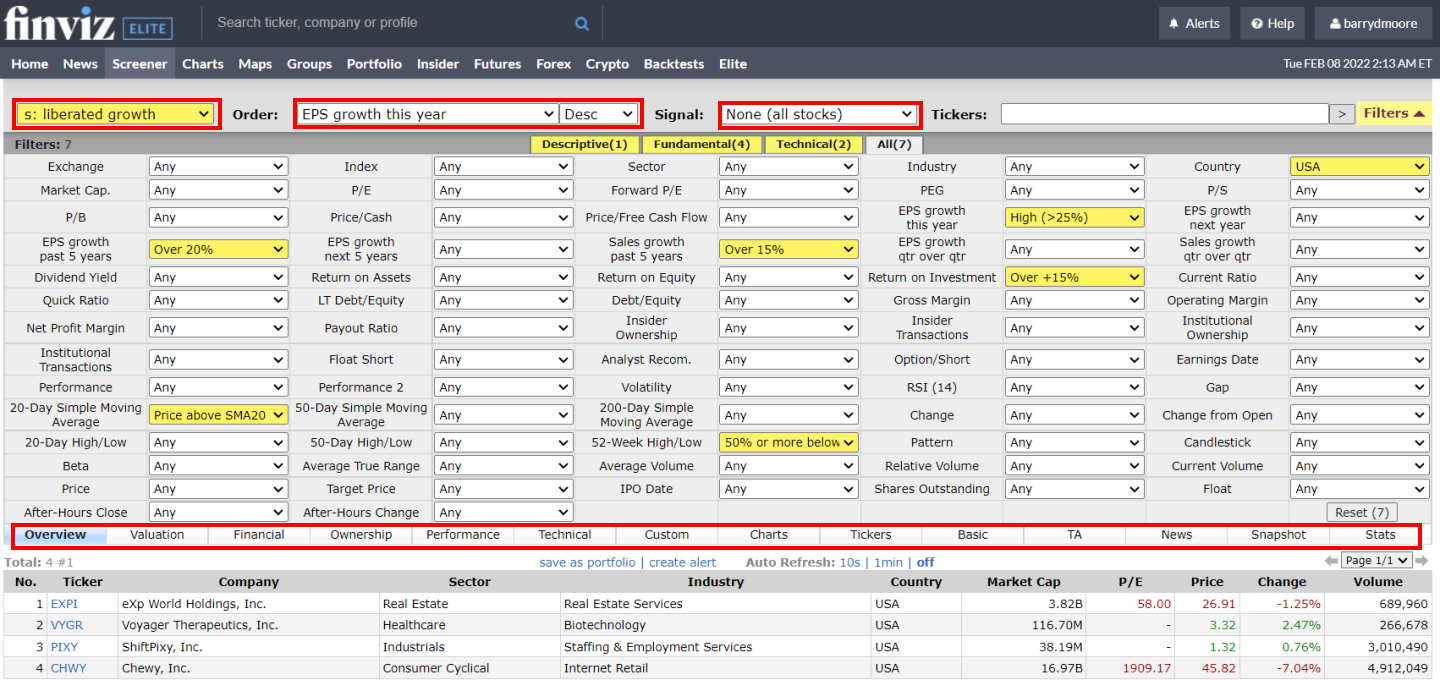 Finviz does shine where Stock Rover does not, as it can also screen on ten major candlestick patterns and 30 different stock chart patterns. This mix of fundamental screening criteria for investors, plus technical charts and candlestick pattern recognition for traders, make Finviz a good match for short-term traders and medium-term investors.
💡 Finviz vs Stock Rover: Pattern Recognition
Finviz beats Stock Rover when it comes to pattern recognition. Finviz provides automatic trendline recognition identifying price patterns like wedges, triangles, double tops, and channels on daily charts; this is a big advantage for pattern traders. There are also 33 automated stock chart signals that you can use in the scanner.
Stock Rover allows screening for 22 different technical indicators, but this is not the same as pattern recognition.
Finviz offers a solid implementation of pattern recognition, but the kings of automated AI pattern recognition are Trade Ideas, TrendSpider, and Tickeron, who lead the industry.
📰 Stock Rover vs Finviz News & Social
Neither Stock Rover nor Finviz has any social community component. Finviz and Stock Rover offer a similar service for financial news streams, both aggregating news from major outlets. Finviz has the advantage of detailed reporting on insider buying and selling, meaning CEO and executive buying and selling of stocks and options.
📈 Stock Rover vs Finviz Chart Analysis
Stock Rover beats Finviz by a long way on stock charting. Finviz charts are a complete letdown, with a clunky non-interactive interface, limited indicators, and annotations tools.
Stock Rover The Master of Fundamental Charting
Looking at stock charts with Stock Rover is different from all the other software vendors on the market. Whereas MetaStock & TradingView focuses on hundreds of technical analysis (price/volume) indicators, Stock Rover focuses on charting the fundamental financial strength indicators.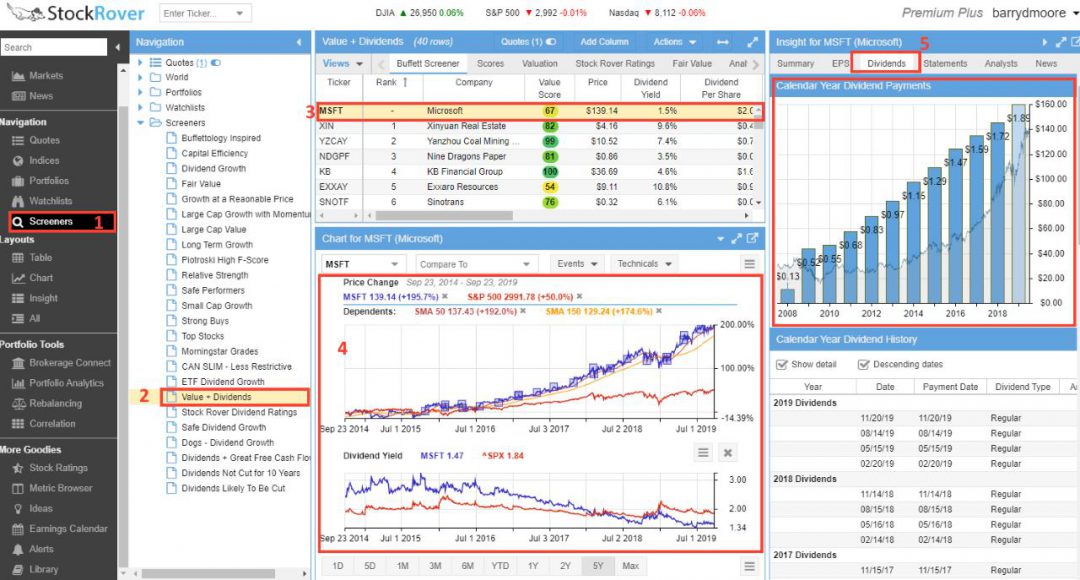 Stock Rover excels at fundamental charting with over 240 financial indicators and 16 technical analysis indicators. Stock Rover is not the best technical analysis or frequent trading service; it is by far the complete package for fundamental income, growth, and value investors. There are no possibilities to draw trendlines or annotate charts in Stock Rover, but this functionality is coming soon.
Finviz Charting Is Poor
Finviz has only 9 chart overlays, including Bollinger Bands and VWAP, and 17 chart indicators to choose from. The stock charting experience with Finviz is weak. Not only that, you cannot simply right-click and add an indicator or study; you have to open settings, select the indicators, then click save. Finviz does not have an effective interactive workflow experience for the user.
Additionally, throughout Finviz, you need to click SAVE constantly. There is no auto-save for your screening criteria, chart annotations and even your backtests. If you mistakenly move onto the next chart, you lose your configuration; this is frustrating and a very old-fashioned user experience.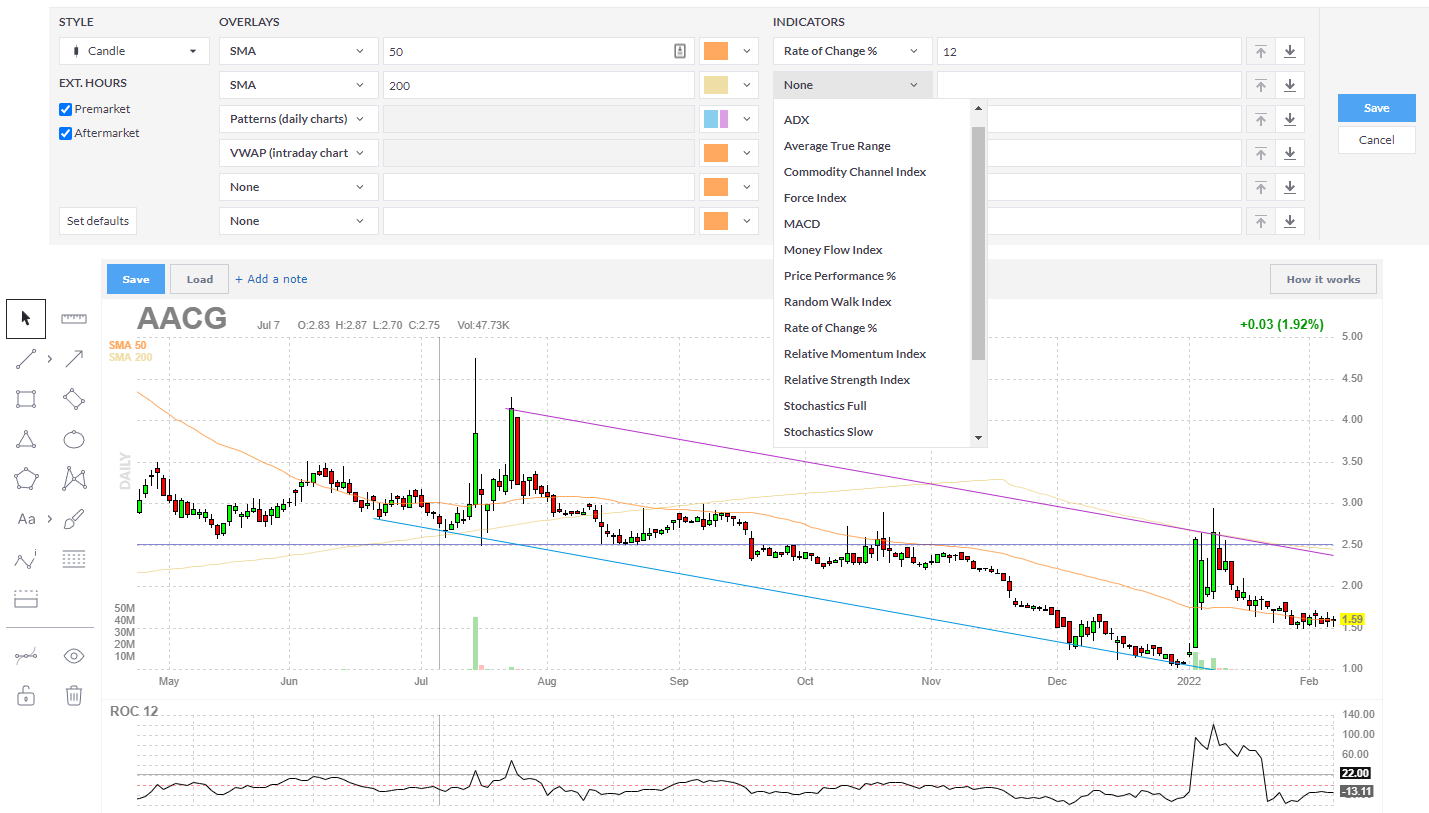 🔍 Stock Rover vs Finviz Backtesting
Stock Rover beats Finviz when it comes to backtesting. Stock Rover provides ten years of backdated financial information and scanning possibilities, better than nearly every other stock screening package.
Below I share the "The Liberated Stock Trader Beat the Market Strategy," which focuses on growth and financial stability. I was able to backtest the strategy for the previous 7 years using Stock Rover.


Stock Rover offers exceptional backtesting for systems and strategies with endless flexibility, whereas the Finviz backtesting is unintuitive, restrictive, and lacks any usable reporting.
Backtested Beat the Market System With Stock Rover
---
How to Beat the Stock Market With Stock Rover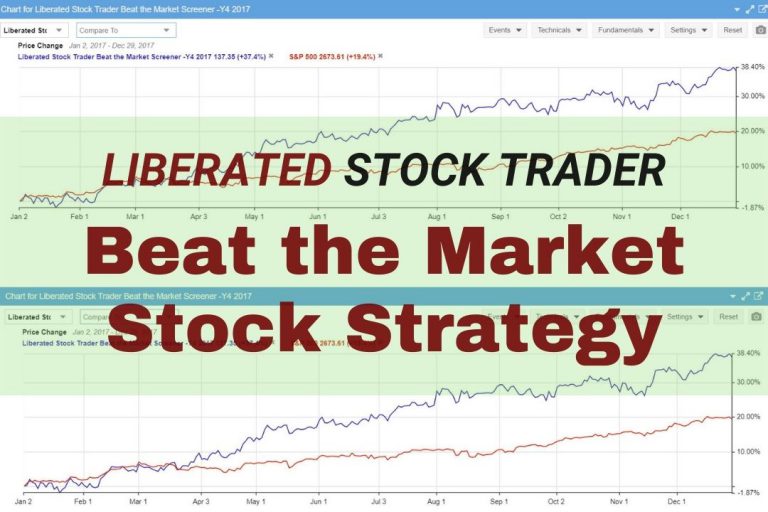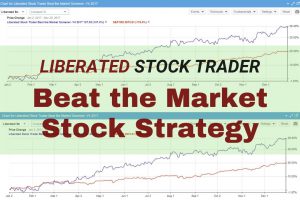 I love Stock Rover so much that I spent 2 years creating a growth stock investing strategy that has outperformed the S&P 500 by 102% over the last eight years. I used Stock Rover's excellent backtesting, screening, and historical database to achieve this.
This Liberated Stock Trader Beat the Market Strategy (LST BTM) is built exclusively for Stock Rover Premium Plus Subscribers.
---
Finviz Backtesting
With the Finviz Elite plan, you get a backtesting service, but after extensive testing, I can reveal it is a very poor service indeed. The Finviz Backtester offers over 100 unique indicators and automatically detects stock chart patterns to help build a truly unique system. After all this work, I created a system based on the Money Flow Index that beat the S&P 500 index handsomely over the last 24 years.
The system returned a profit of 1,588%, with a compounded annual return (CAGR) of 15.24% versus the S&P 500 of 10.86%. (See the proof below).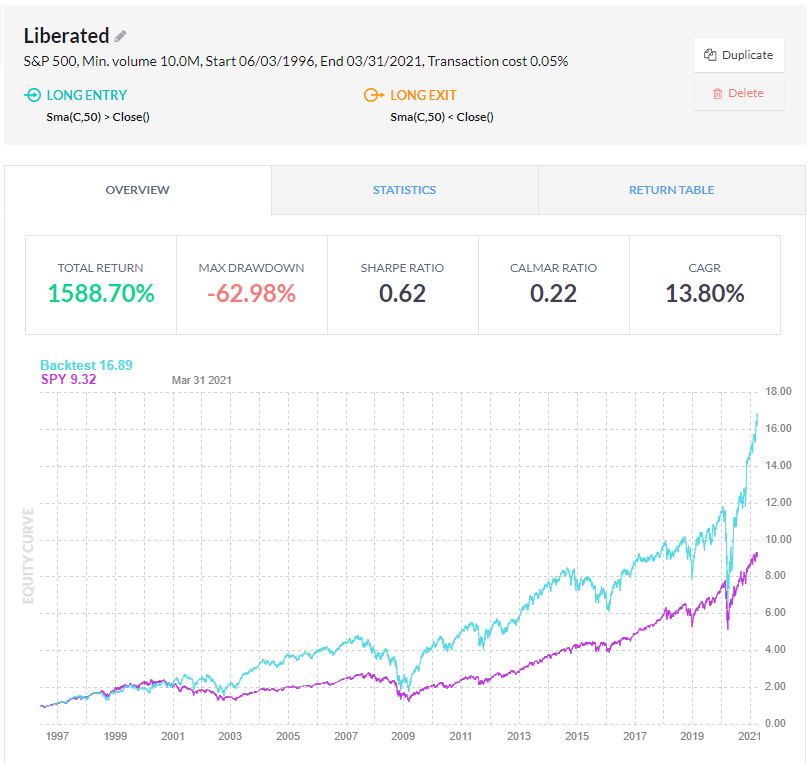 So the next step is to look at all the trades, the buy signals, the sell signals, the drawdown, the max win/loss, the win/loss ratio. But there is none of that. The reporting for the backtesting service is poor and not thought through. I could not even see which trades were executed or what stocks were purchased.
One cannot believe the backtest results when there is no evidence of every trade and the entry and exit points. If you want a good backtesting service, please read my detailed review and test of the best stock backtesting software.
🔦 Stock Rover vs Finviz: Stock Research
Stock Rover beats Finviz when it comes to deep fundamental financial stock research. While Finviz offers an incredible amount of financial information, it is simply a table of data. Alternatively, Stock Rover turns that data into information and insight using its Research Reports functionality.
The Stock Rover Research Reports enable you to generate a professional, readable PDF report on any particular stock's current and historical performance. The reports are unique as they are real-time research reports, meaning they are generated with the latest data highlighting a company's competitive position, market position, and historical and potential dividend and value returns.
In the image below, you can see the dividend-adjusted commentary on Microsoft, a company I invested in because I found its excellent potential using my Buffett Stock Screener.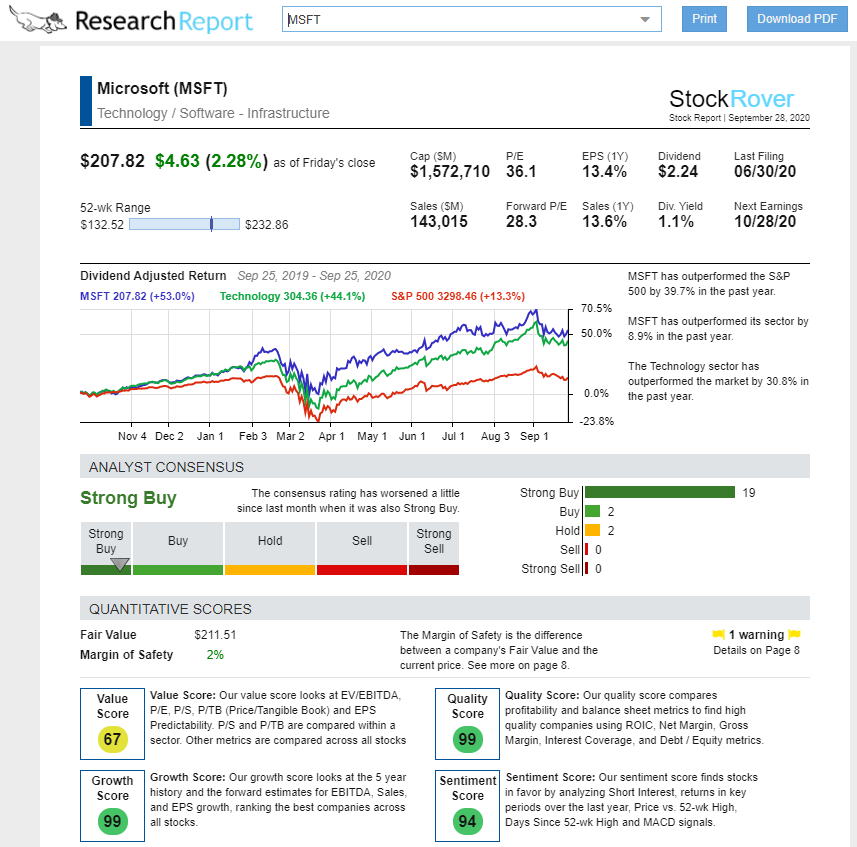 The best thing about Stock Rover's Research Reports is they are Real-time, so the information is always up-to-date.
The Research Reports provide a genuinely comprehensive summary of any of the 10,000+ stocks in Stock Rover on the US and Canadian exchanges. Research reports can be viewed in the browser and produced in PDF format for portability and sharing.
🖱 Stock Rover vs Finviz Usability
Stock Rover beats Finviz on usability, simplicity, and workflow by a large margin. While Finviz and Stock Rover are easy to use, the different Finviz components like screening, portfolio, charting, and backtesting do not work together. The Finviz interface is ancient, whereas the Stock Rover user experience is seamless.
Both Stock Rover and Finviz require zero installation or configuration. Finviz makes visualizing large amounts of big picture financial data very easy, and the screener is simple to use, but the core components of Finviz do not work together.
🏁 Final Thoughts
Stock Rover beats Finviz in screening, backtesting, portfolio management, and stock research. If you want a simple and good free screening software, then Finviz is still a reasonable choice.
If you need real-time news, the best backtesting, and stock chart indicators, I recommend MetaStock. If you seek to build long-term value, income, and growth portfolios, then Stock Rover is the best software. Finally, if you want to use the power of AI for short-term day trading, then Trade Ideas is the best choice.
---
Invest in yourself! Get all our courses & strategies for 50% off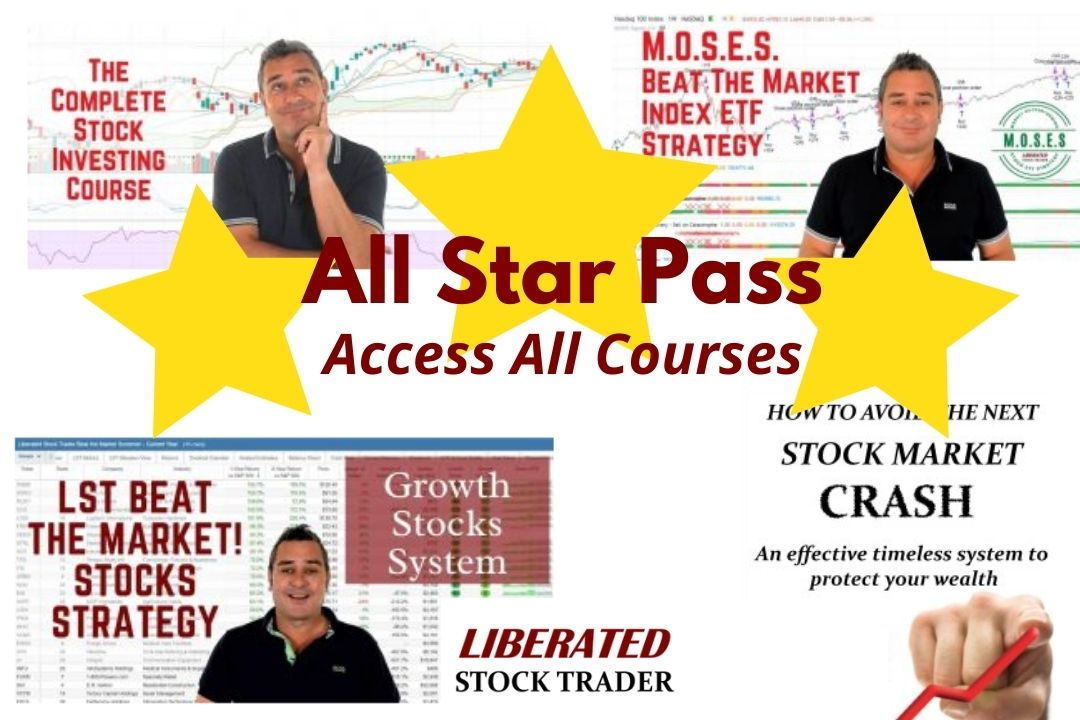 ★ Liberated Stock Trader Pro Stock Investing & Trading Course ★
★ M.O.S.E.S. Market Outperforming ETF Strategy ★
★ LST Beat the Market Stock Picking Strategy ★
★ Exclusive Bonus Course – The Stock Market Crash Detector Strategy ★
★ Fully Guided Videos, eBooks & Lifetime Email Support ★
★ 108 Videos + 3 Full eBooks + 5 Scripts for TradingView & Stock Rover ★
All Star Pass Black Friday -50% Deal Is Live - Ends In:
---
Related Articles:
Still undecided? Take a look at our Top 10 Best Stock Trading Analysis Software Programs.