Trendspider uses AI to recognize trendlines, chart patterns, and Fibonacci, and it even analyzes stocks for traders. TrendSpider is unique, reliable, and innovative.
But is it the best? I have been using TrendSpider for four years to automate my stock chart technical analysis and for its excellent Candlestick pattern recognition and powerful backtesting. In this review, I share the results of my testing.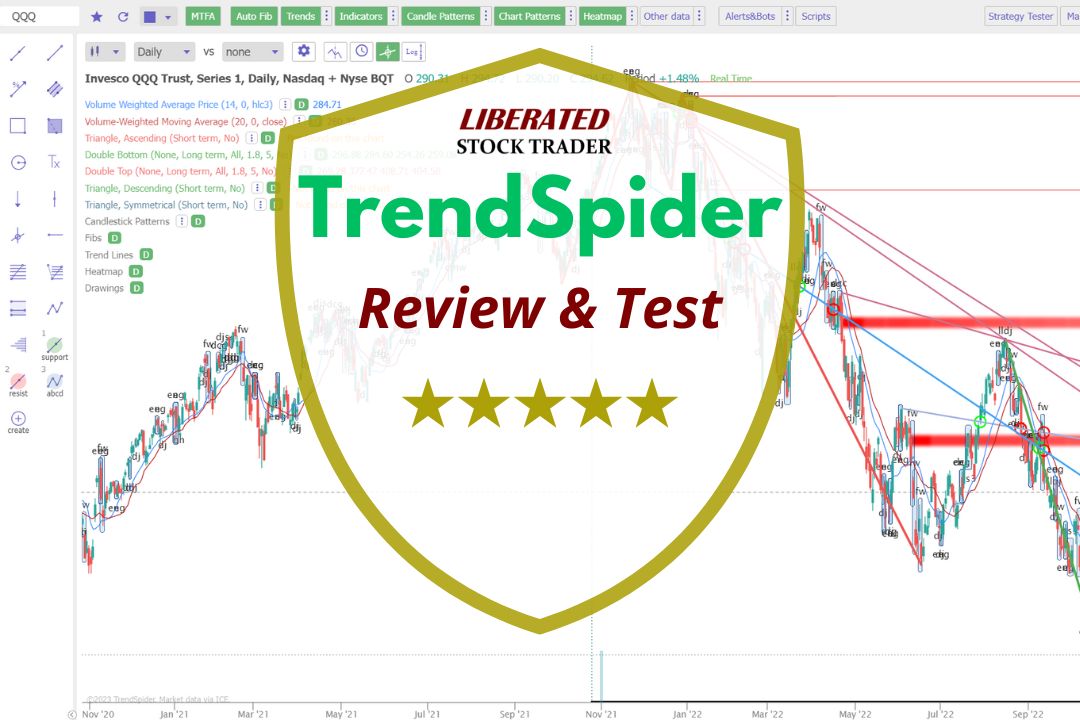 TrendSpider Review Summary
Our TrendSpider testing finds it is ideal for US traders wanting AI-automated charting, pattern recognition, and backtesting of stocks, indices, and currencies. TrendSpider automatically identifies trendlines, Fibonacci, and Candlestick patterns. Excellent backtesting and multi-time-frame analysis make TrendSpider a great choice for technical traders.
TrendSpider stands out by leveraging AI and machine learning to streamline traders' workflow, bringing automated trend and pattern recognition to the forefront. With TrendSpider, traders gain access to advanced analysis and strategy testing capabilities, surpassing manual efforts in scale and efficiency.
TrendSpider saves you time performing technical analysis as it automates trendline and pattern recognition and analyzes multiple indicators & timeframes on the same stock chart.
TrendSpider Review Ratings
| | |
| --- | --- |
| TrendSpider Rating | 4.6/5.0 |
| 💸 Pricing & Software | ★★★★★ |
| 📡 Scanning | ★★★★✩ |
| 💡 Pattern Recognition | ★★★★★ |
| 📈 Charting | ★★★★★ |
| 🔍 Backtesting | ★★★★✩ |
| 🖱 Usability | ★★★★✩ |
We independently research and recommend the best products. We also work with partners to negotiate discounts for you and may earn a small fee through our links.
Trendspider is doing something different and innovative to separate itself from the crowded stock chart analysis software market. It solves the problem of too much time spent analyzing, drawing trendlines, tweaking indicators, and analyzing timeframes.
I am a huge fan and believe it has a bright future ahead. We start with an overview of some of the exciting features.
TrendSpider Review: Key Features
| | |
| --- | --- |
| ⚡ Features | Charts, Watchlists, Screening |
| 🏆 Unique Features | AI Automated Trendlines, Fibonacci, Candlestick Pattern Recognition |
| 🎯 Best for | Stock, Fx & Crypto Traders |
| ♲ Subscription | Monthly, Yearly |
| 💰 Price | $44-$131/mo |
| 💻 OS | Web Browser |
| 🎮 Trial | Free 7-Day |
| ✂ Discount | -40% Use Coupon Code "LIB40" |
| 🌎 Region | USA |
Pros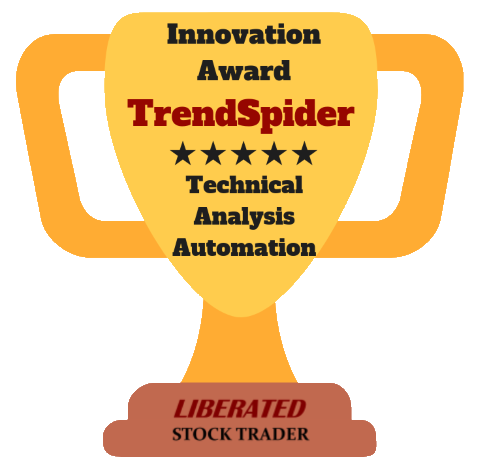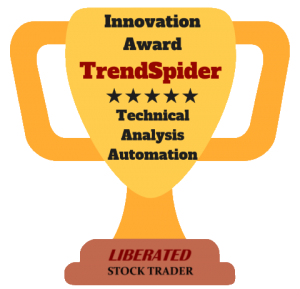 Automated Trend Line Detection
Automatic Multi-Time-Frame Analysis
Simple & Powerful Backtesting
Real-time Exchange Data Included in Price
Automatic Fibonacci Trend Detection
Stocks, ETFs, Forex, Crypto, Indices & Futures
Auto Candlestick Recognition
AI Integrated Pattern Recognition
Excellent Charts & Indicator Selection
Cons
No Stock Options Data
No Social Network
What is TrendSpider?
TrendSpider is an innovative software company founded by Dan Ushman in 2016 to create a service that automates the technical analysis of stock charts. Unlike anything I have seen before, TrendSpider employs artificial intelligence to detect trends not seen by humans.
TrendSpider App
Trendspider works on any connected device and requires zero installation and no data download configuration. With a single click, TrendSpider is running, and considering the complexity of automated analysis, the application runs swiftly, taking only seconds to complete an entire analysis.
TrendSpider Pricing Plans
TrendSpider pricing starts at $44/mo for the Premium plan, Elite costs $87/mo, and Advanced costs $131/mo. Opting for a yearly subscription will reduce those costs by 16%, representing a significant saving.
| | | | |
| --- | --- | --- | --- |
| TrendSpider Pricing | Essential | Elite | Elite Plus |
| Price/mo | $39 | $69 | $179 |
| Price/year | $440 | $780 | $2140 |
| Yearly Subscription Discount | -17% | -17% | -17% |
| Use Our Partner Discount "LIB40" | -40% | -40% | -40% |
TrendSpider's Advanced plan has the full spectrum of multi-time-frame analysis and trendline pattern recognition for stocks, ETFs, currencies, and OTC markets. Real-time data and 25 alerts are also included in this plan.
The Elite plan is the best balance of cost and benefit. It has everything the Advanced plan has and includes indices and Futures data. Even more importantly, you get 100 dynamic alerts and unlimited backtesting, vital features for traders.
The Advanced plan is the same as the Elite plan but targets traders who require more alerts, workspaces, and results per scan.
The pricing is very competitive because you get real-time data included in all plans.
TrendSpider Coupon Code Discount
Trendspider discount coupon code "LIB40" is verified and valid for 2023, granting a 40% discount. Use coupon code "LIB40" at checkout.
Using this coupon on a TrendSpider annual subscription could save you up to $524.
TrendSpider Charts
TrendSpider's automated chart trendline detection and plotting do a better job than a human can; using algorithms, the system can detect thousands of trendlines and flag the most important ones with the highest backtested probability of success.
The multi-timeframe analysis means viewing multiple timeframe charts on a single chart with the trendlines plotted automatically. Another great feature is the advanced plotting of support and resistance lines into a subtlely integrated chart heatmap.
Finally, Raindrop charts are a unique and intuitive way to visualize volume profile or volume at price action.
Packed with innovative technical analysis tools, TrendSpider is for serious market analysts because it helps you find trading opportunities quickly.
Automated Trendline Detection
TrendSpider's automated trendline detection saves a lot of time for traders, speeds up morning trade review preparation, and improves accuracy. TrendSpider's algorithm correlates all the bars on a chart and draws the trend lines automatically, ready for your review.
As a technical analyst, this is how you are supposed to do it; the more times a price touches the trend line and reverses, the stronger the trend. Therefore, it is more predictive if a price breaks through strong support and resistance areas.
If you dislike a trend the AI has used, you can manually delete it or fine-tune it. With this capability, you can complete a trendline analysis on any chart in a few seconds.
Using the drop-down selector "S/R Trends" enables a kind of heat map, which shows the hundreds of potential trendlines, and the darker red the area, the more touches and concentration of trendlines there are. See the chart below for reference.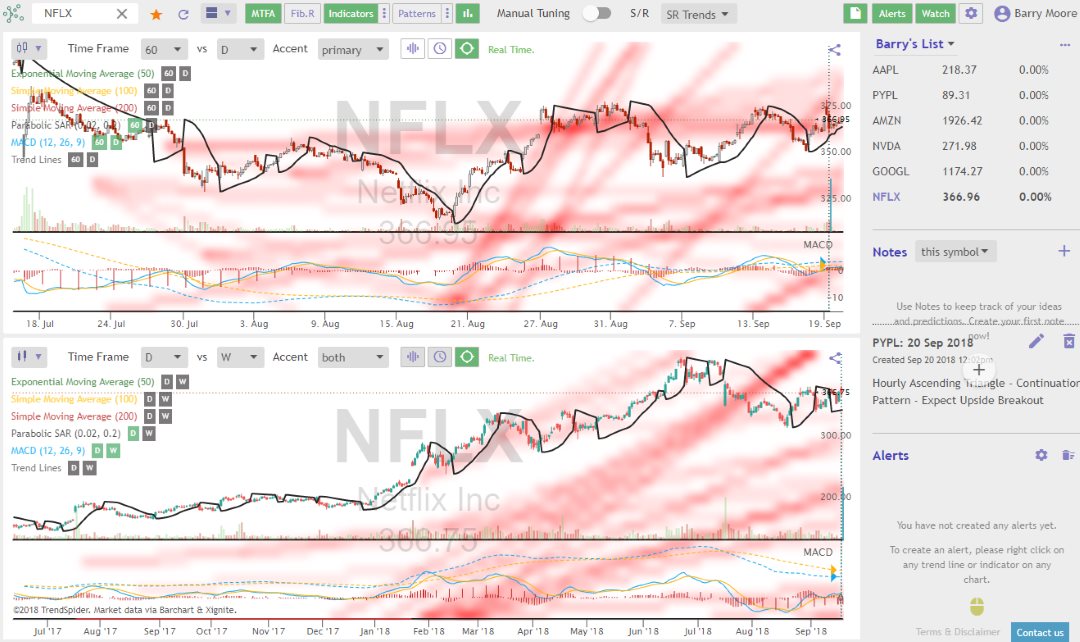 Multi-Timeframe Chart Analysis
It gets even more interesting here: the Multi-Timeframe Analysis can superimpose trendlines or indicators from different timeframes onto a single chart. It may seem a little complex initially, but it makes sense when you get used to it. Instead of continually switching timeframes and redrawing trendlines, it is simply there.
The multi-timeframe analysis is not just for trendlines; it works with 42 stock chart indicators to ensure you do not miss anything. Dan Ushman, the company founder, uses it in his trading, especially with indicators like Bollinger Bands and trendlines that help expose things other traders miss when focused on one timeframe or indicator at a time.
I also like the price indicator analysis; you can let the application plot, name, and highlight your JCandlestick patterns of choice. Want to find Evening Doji Stars, Hammers, or Engulfing Patterns? Just turn on the pattern recognition; it is that easy.
How Does Automatic Trendline Detection Work in TrendSpider?
Multi-Timeframe Analysis and Auto Trendlines
To show the power of the software, I set up two charts. The top pane shows the 60 minutes versus the daily chart, and the bottom pane shows the daily versus the weekly chart for Netflix (Ticker: NFLX). The first thing that grabbed my attention is that you can immediately see that the shorter-term trend for Netflix is an ascending triangle. This is a continuation pattern, so we expect the price to break out of the triangle upwards. Trendspider nailed the trendlines perfectly on this.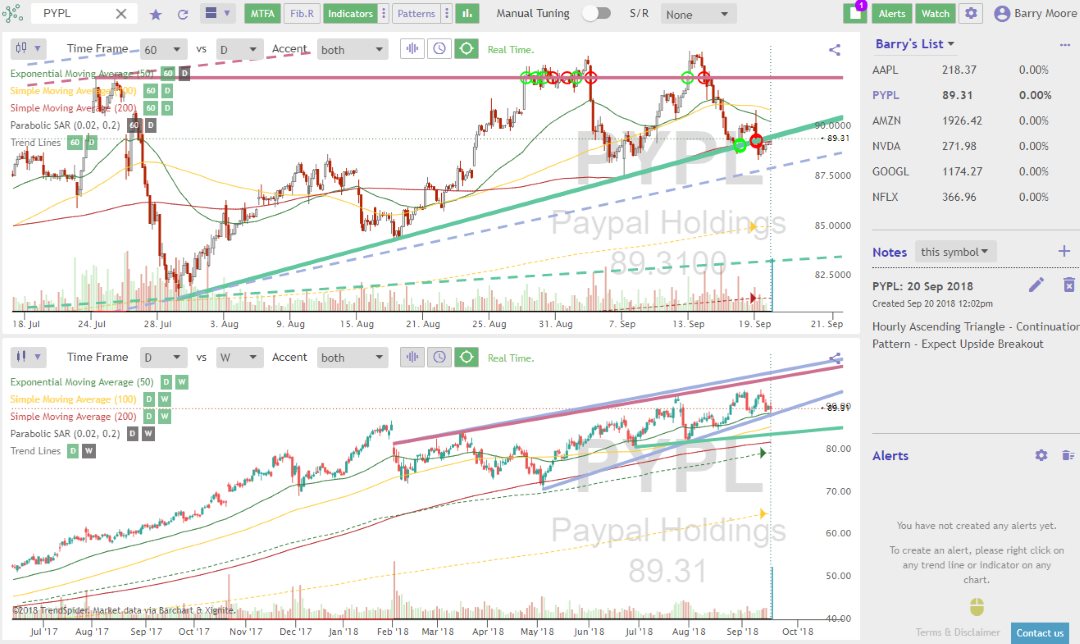 While reviewing the lower pane, you can see the trend for the last year, and Netflix is still in a solid uptrend on both the daily and weekly timeframes, four timeframes compared in seconds.
Automatic Candlestick Pattern Recognition
As I mentioned, Trendspider is designed to do the hard work for you; if you want to use candlesticks correctly, you need to know a few things.
Learn hundreds of single and multiple candlestick formations.
Understand if they are bullish or bearish.
Learning this can take years, or you can use Automatic Candlestick recognition.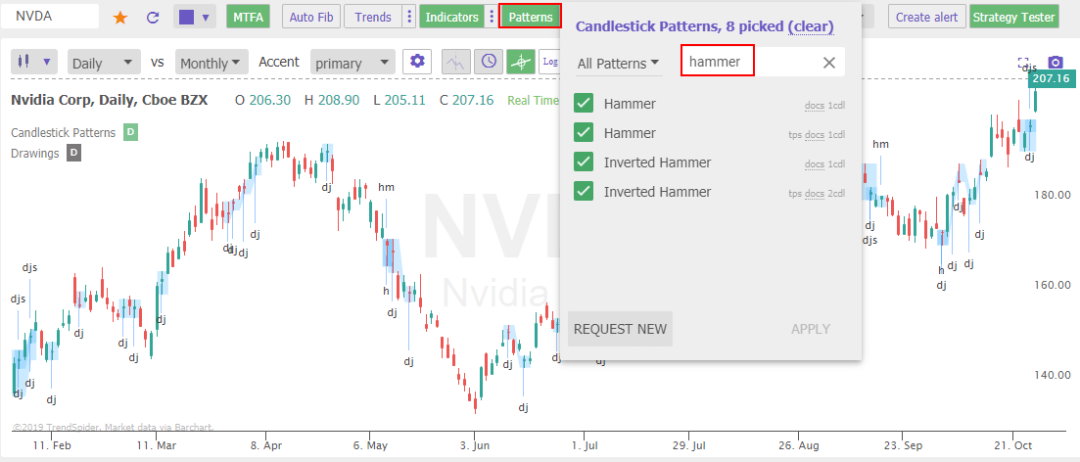 Here, I have selected a Candlestick chart:
Clicked Patterns
Search for Hammer, select Hammer, and Inverted Hammer
Search for Doji and select Doji, Doji Star, and Evening Doji Star
These are enough to start with and are very powerful Candlestick reversal signs. On the chart, you can see the annotated Candlestick Pattern DJ for Doji, etc. Now, you do not need to spend months learning every pattern or spend hours on a chart trying to locate the patterns; it is all seamlessly done for you.
Dynamic Price Alerts
Dynamic price alerts on indicators and trendlines free you from staring at charts waiting for them to set up and help you avoid emotional traps like trading out of boredom rather than choosing the exact time to trade. The alarms can be configured on indicator or trendline breakthroughs, bounces, or touches on any timeframe.
Trendspider Backtesting
TrendSpider has a unique approach to backtesting because the platform is built from the ground up to automatically detect trendlines and Fibonacci patterns. Therefore, TrendSpider already has backtesting built into the heart of the code.
The highest probability trendlines are automatically flagged, and you can adjust the algorithm's sensitivity to show more or fewer lines.
They have also implemented an AI-powered strategy tester that allows you to type what you want to test freely, and AI will do the coding for you. It is a smooth and simple implementation that had me develop a strategy in minutes.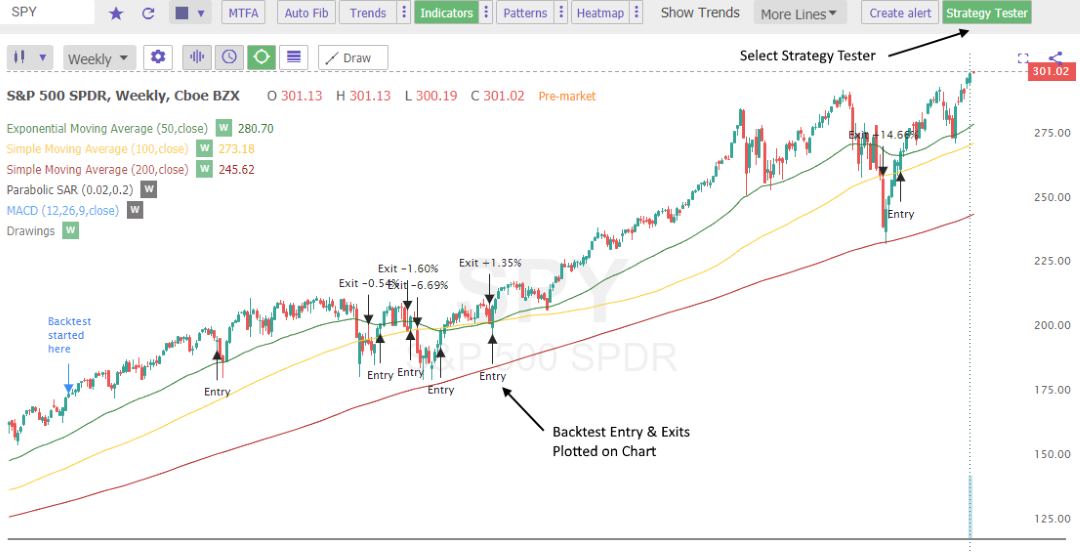 Integrated backtesting of automated trendlines, showing win rate, profitability, and drawdown, is a new addition and warmly welcome; the team has propelled TrendSpider into one of the leading technical analysis packages in the industry.

I like the ability to adjust your backtest conditions on the fly, and the "Price Behaviour Explorer" and "System Performance Chart" automatically update.   You can jump into coding if you want to, but the key here is that you do not have to.
TrendSpider Backtesting Video
Ichimoku Cloud Analysis
The latest TrendSpider innovation is the multi-timeframe Ichimoku Cloud indicator. As a certified technical analyst, I have studied  Ichimoku, so I was interested in testing its effectiveness and profitability when backtested.
In the chart below, you can see Ichimoku in action. I have plotted it on a weekly chart, but I am also using the multi-time-frame analysis to overlay the monthly data simultaneously.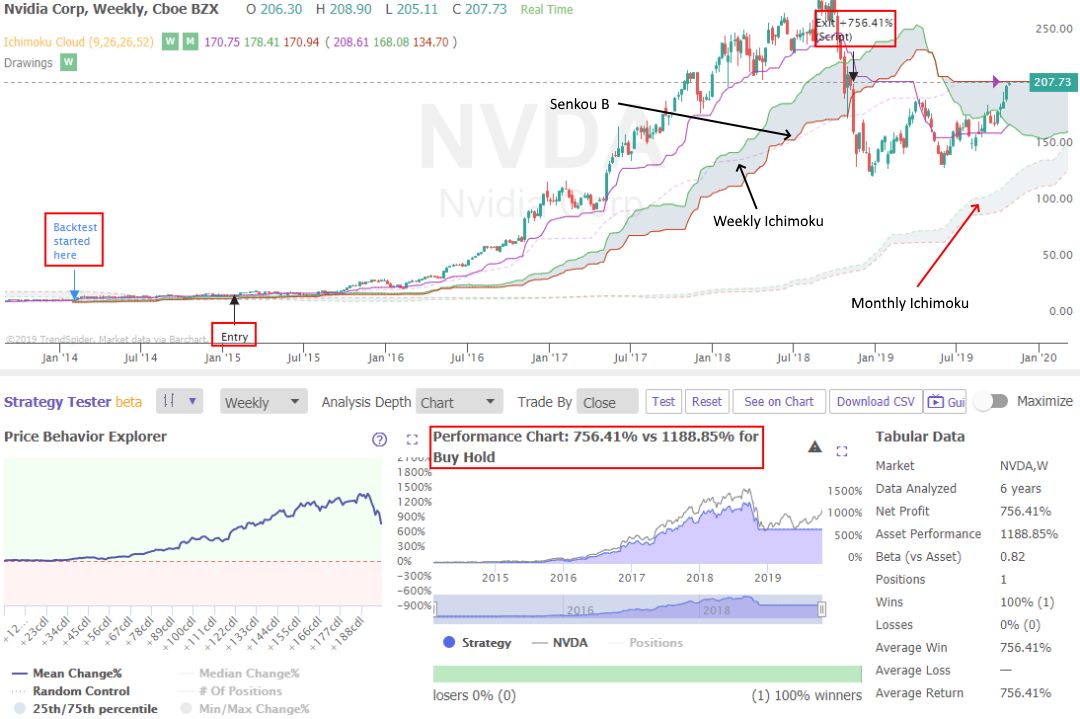 First-Class Backtesting With TrendSpider
This backtest on NVIDIA (Ticker: NVDA) ran in under 1 second for five years of data from January 2014. The timing was good as the system entry point came in January 2015 and exited as the significant market correction was underway in November 2018. This secured a 756% win over the 4.5 years.
I also like how you can instantly see the system's performance versus a buy-and-hold strategy. In this instance, simply holding the stock over the entire period would have yielded 1,188%. So, in the blink of an eye, you can see that Ichimoku on a weekly chart would not have been the best system for this stock. In fact, TrendSpider helped me to identify that Ichimoku Cloud charts are not profitable.
This is the beauty of backtesting: you can test multiple technical indicators on multiple timeframes and see which works best.
Here is how I implemented the TrendSpider Ichimoku backtest.
Select Strategy Tester
Entry Condition: Weekly Price Close Greater than Weekly Ichimoku Senkou B
Exit Condition: Weekly Price Close Less than Weekly Ichimoku Senkou B

With TrendSpider backtesting is a breeze.
TrendSpider Market Scanner
Another innovation from the TrendSpider team is the "Market Scanner." This enables you to scan a specific stock and the entire market for stocks matching your technical criteria; combining AI trend detection and analysis with the ability to scan the whole stock market is powerful.
Is TrendSpider Easy To Use?
TrendSpider's innovations mean you will need a little time to understand what the software tells you. For example, seeing hourly, daily, and weekly trend lines plotted on the same chart might be confusing initially. However, after applying a little effort, you might find you cannot live without them—still an excellent score on usability.
I have tested the customer support and confirm it is excellent, and you have a human to chat with whenever you like.
TrendSpider Alternatives
What are good alternatives to TrendSpider? If you trade outside the US markets and want a community, then TradingView is a better choice. For real-time news, MetaStock is a good choice. For fully AI-driven trading signals, Trade Ideas is the best. But for automated stock chart analysis, TrendSpider rules.
| | | | |
| --- | --- | --- | --- |
| TrendSpider vs. the Compeition | TrendSpider | TradingView | MetaStock |
| Free Plan | X | ✔ | X |
| Price/mo | $20* | $29.95 | $99 |
| Exchanges | USA | Global | Global |
| Broker Integration | X | ✔ | X |
| Fundamental Screening | X | ✔ | ✔ |
| Trading Community | X | ✔ | X |
| Automated Trendlines | ✔ | X | X |
| Multi-timeframe Analysis | ✔ | X | X |
| Candlestick Recognition | ✔ | ✔ | ✔ |
| Market Scanning | ✔ | ✔ | ✔ |
| Backtesting | ✔ | ✔ | ✔ |
| Chart Indicators | 60+ | 160+ | 300+ |
| News Feed | X | ✔ | ✔ |
| Real-Time News | X | X | ✔ |
*With Our Partner Discount Code "LIB40"
Final Thoughts on Trendspider
Trendspider uniquely uses AI and machine learning to save traders time by harnessing automated trend and pattern recognition. TrendSpider enables levels of analysis and strategy testing on a scale traders cannot achieve manually.
But what do you not get? You do not get fundamental scanning & filtering, trading from charts, or broker integration. There is no social aspect at the moment and no news service. But it is not designed for these things but for fast, effective machine-learning technical analysis.
I have tested the customer support and confirmed it is excellent, and you have a human to chat with whenever you like.
I see a bright future for TrendSpider. For example, I expect to see soon how well any given indicator or price pattern works overall or for any given stock. Studying the probability of a successful prediction would be a fantastic leap forward.
TrendSpider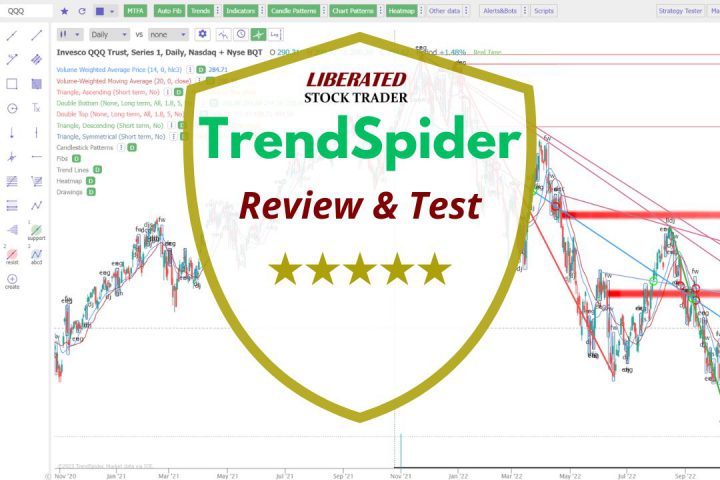 Trendspider uses AI to recognize trendlines, chart patterns, and Fibonacci, and it even analyzes stocks for traders. TrendSpider is unique, reliable, and innovative.
Product SKU: NA
Product Brand: TrendSpider
Product Currency: USD
Product Price: 44.00
Price Valid Until: 2025-02-10
Product In-Stock: InStock