REVIEW BREAKDOWN

Pricing & Software
Stock Market Data & Speed
Technical Analysis
Intelligent Automation
Ease of Use
Innovation

REVIEW SUMMARY

TrendSpider reduces the time it takes you to perform technical analysis. It automates trendline detection and drawing, allows you to analyze multiple indicators & timeframes on the same chart and automates support and resistance line plotting. It does not offer live trading, streaming news or fundamental screening. But for automated intelligent chart analysis it leads the pack.

| | | |
| --- | --- | --- |
| TrendSpider Review Summary | Likes | Dislikes |
| | ★ Automated Trendline Detection | ✘ Learning Curve |
| | ★ Japanese Candlesticks Automatically Recognized | |
| | ★ Assess Patterns On Multiple Timeframes At The Same Time | |
| Visit TrendSpider | ★ Personal User Training | |
The new kid on the block, Trendspider is doing something very different and innovative to separate itself from the crowded stock chart analysis software market.  It solves the problem of too much time spent doing analysis, drawing trendlines, tweaking indicators and analyzing timeframes.  I was immediately a fan and believe it has a bright future ahead.  We start with an overview of some of the interesting benefits.
Automated Trendline Detection
The automated trendline detection saves a lot of time for traders, speeds up trade preparation in the morning, and improves accuracy.  The TrendSpider algorithm uses mathematics to correlate all the bars on a chart and then draw the lines.  It highlights the touches at peaks and troughs in a price trend.  As a technical analyst, this is how you are supposed to do it, the more times a price touches the trend line and reverses the stronger the trend.  Therefore, if a price breaks through a strong area of support and resistance it is more predictive.  If you do not like a trend that the AI has used you can manually delete it or fine tune them.  With this capability, you can have a complete trendline analysis on any chart in a few seconds.
Multi-Timeframe Analysis
Here is where is get even more interesting, the Multi-Timeframe Analysis can be used to super-impose trendlines or indicators from different timeframes onto a single chart.  It may seem a little complex at first, but when you get used to it, it makes a lot of sense.  Instead of constantly switching timeframes and redrawing trendlines it is simplý there.  It is not just for trendlines though you can use it with the array of 42 stock chart indicators to ensure you do not miss anything.  Dan Ushman the company founder uses it in his trading especially with indicators like Bollinger Bands and with trendlines which help expose things other traders miss when they are focused on one timeframe or one indicator at a time.
One thing I also really like is the price indicator analysis, you can let the application plot, name and highlight your Japanese Candlestick patterns of choice.  Want to find Evening Doji Stars, Hammers or Engulfing Patterns?  Just turn on the pattern recognition it is that easy.
How Does Automatic Trendline Detection work in TrendSpider?
TrendSpider User Guide: How TrendSpider automated trendline detection works
Combining Multi-Timeframe Analysis and Automatic Trendlines
To show the power of the software I set up two charts.  The top pane showing the 60 minutes versus the daily chart and in the bottom pane the daily versus the weekly chart for Netflix (Ticker: NFLX).  The first thing that grabbed my attention is that you can immediately see that the shorter term trend for Netflix is an ascending triangle.  This is a continuation pattern so we would expect the price to break out of the triangle upwards.  Trendspider nailed the trendlines perfectly on this.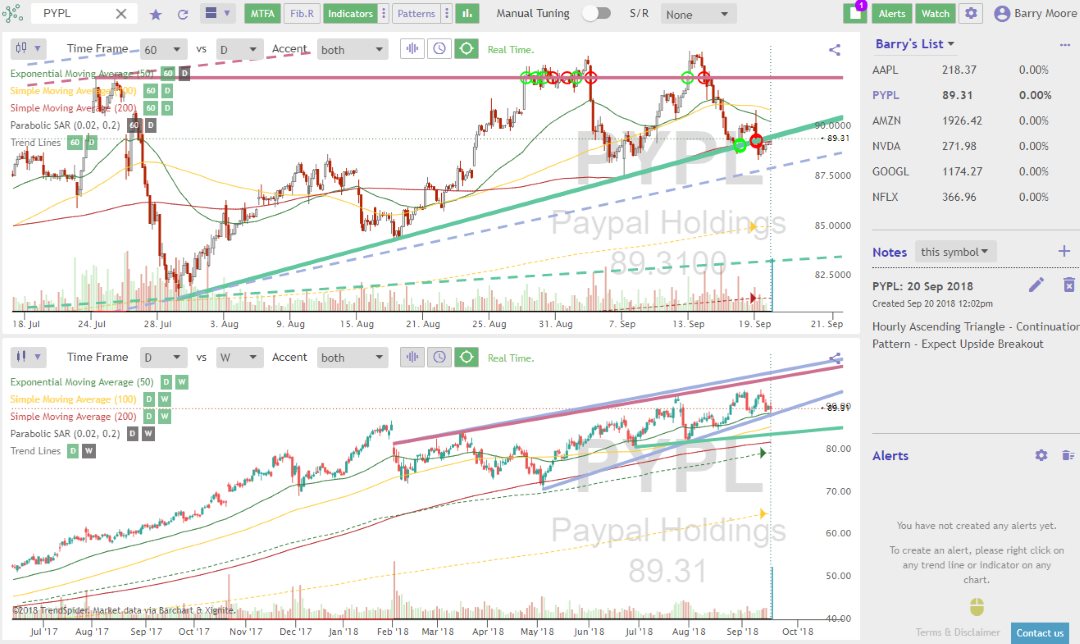 Whilst reviewing the lower pane you can see the trend for the last year and Netflix is still in a solid uptrend on both the daily and weekly timeframes, 4 timeframes compared in seconds.
Advanced Support & Resistance Lines
The one thing that blew me away here is that the TrendSpider team have found a really elegant way to take the masses of computed data and overlay it onto a single chart.
Using the drop-down selector "S/R Trends" enables a kind of heat map which shows the hundreds of potential trendlines and the darker red the area the more touches and concentration of trendlines there are.  See the chart below for reference.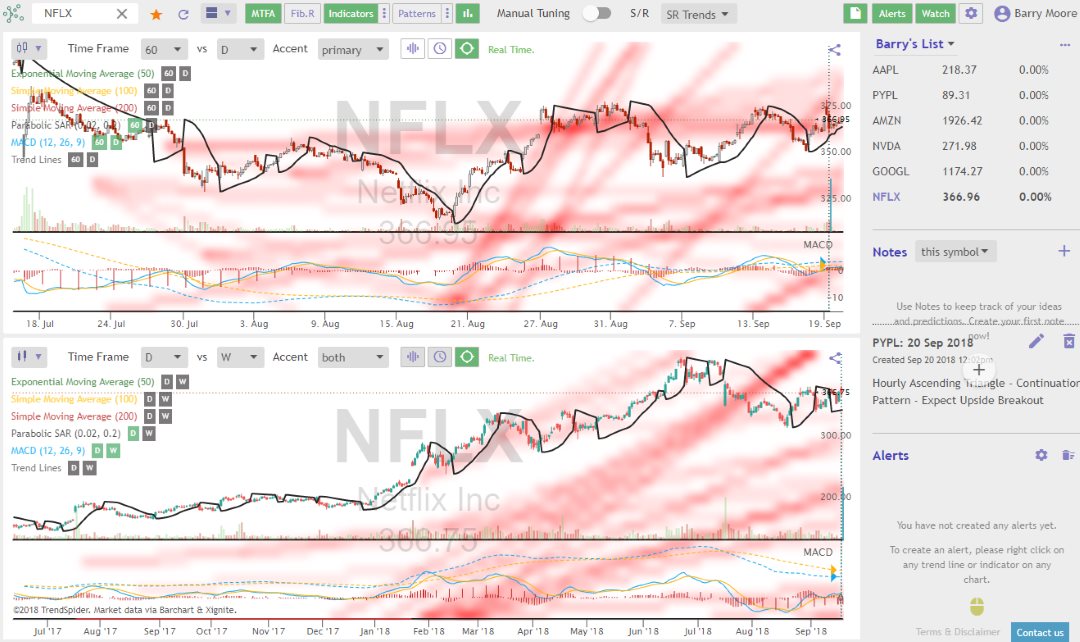 Dynamic Price Alerts
Dynamic price alerts on indicators and trendlines free you up from the need of staring at charts waiting for them to set up, and help you avoid emotional traps like trading out of boredom, rather than choosing the exact time to trade.  The alarms can be configured on indicator or trendline breakthroughs, bounces or touches on any timeframe.  The trade alarms can be sent to email or SMS for your phone.
How Does TrendSpider Enable You To Spot Trade Setups?
TrendSpider User Guide: Scanning for charts and creating alerts – one use case example
Software & Pricing
Trendspider is an HTML5 application, which means it works on any connected device, requires zero installation, zero data stream or data download configuration.  This appeals to me a lot because with a single click you are up and running.  Also, considering the complexity of the automatic calculations the application runs swiftly taking just a few seconds to complete an entire analysis.
Pricing starts at Free to try, but the real power comes in with PRO Trader Plan which starts at $24.75 per month.  This includes Real-Time Data, NASDAQ, NYSE & Amex Stocks, ETF's and surprisingly Cryptocurrencies.  In this package, you also get unlimited lookups, trend detection, and 10 Dynamic Price Alerts + a free 30 minute personal one on one training session.
The Elite Trade Plan is $37.25 per month, has everything the PRO plan has and in addition includes after-hours and pre-market data, OTC, Forex and Futures data.  On top of that, you get 20 Dynamic Alerts.
Considering you get real-time data the pricing is very competitive, in fact considerably lower than other charting software vendors.
-
Open A TrendSpider Account Now & Get A Special Bonus
If you try Trendspider via the button above simply contact us afterward and we will send you our superb Stock Market Crash Detection Video Course & eBook worth $29- for Free.
-
Trendspider Review Summary
We have focused on what is unique about Trendspider, it is designed for a specific purpose, taking the guesswork and painstaking hours of analysis away from traders.  But what do you not get?  Well, you do not get fundamental scanning & filtering, trading from charts or broker integration.  There is no social aspect at the moment and no news service.  But it is not designed for these things, it is designed for fast effective machine driven technical analysis.
I see a bright future for TrendSpider, for example, I expect in the near future to be able to see the analysis of how well any given indicator or price pattern actually works overall or for any given stock.  The analysis of the probability of a successful prediction would be an amazing leap forward.
Open An Account With TrendSpider
Full TrendSpider Data Sheet – Features & Functionality
| Vendor | |
| --- | --- |
| Pricing & Software | |
| $ Monthly End of Day Data | N/A |
| $ Monthly Real Time Data | $24.75 -$37.25 |
| Software Only Fee | N/A |
| Customizable Data Feeds | |
| Customer Service & Education | Excellent |
| PC | ✔ |
| For MAC | ✔ |
| Tablets Smartpones | ✔ |
| Market Data Coverage | U.S.A. |
| Data Speed | Excellent |
| Stocks | ✔ |
| ETF | ✔ |
| Mutual Funds | |
| Options | |
| Futures | ✔ |
| Forex | ✔ |
| Bonds | |
| Trade Management | |
| Broker Integration Stocks | |
| Broker Integration Options | |
| Place Trades from Charts | |
| Live Position P&L | |
| P&L Analysis | |
| Fundamental Scanning & Screening | |
| Real Time Scanning & Filtering | |
| Fundamentals Scanning | |
| Watch Lists with Fundamentals | |
| Extended Economics Fundamentals (New) | |
| Fundamental Screening Score | |
| Technical Analysis Charts | |
| Multiple Charts Per Desktop | ✔ |
| Bar Line HLC Candlestick | ✔ |
| Point & Figure | |
| Equivolume | |
| Others | |
| Indicators | |
| Bollinger Bands | ✔ |
| Directional Movement | ✔ |
| Ichimoku Cloud | |
| MACD | ✔ |
| Momentum | ✔ |
| Money Flow | ✔ |
| Moving Averages | ✔ |
| Parabolic SAR | ✔ |
| Rate of Change | ✔ |
| Relative Strength / RSI | ✔ |
| Stochastics | ✔ |
| Custom Indicator Development | Coming soon |
| Volume | ✔ |
| Total Number of Indicators | 42 |
| Drawing Tools | |
| Fibonacci Retracement | ✔ |
| Fibonacci Time | |
| Fibonacci Fan | |
| Trend Lines | ✔ |
| Text Overlay | Coming soon |
| Pitchfork | Coming soon |
| Automated Alerts | ✔ |
| Technical Analysis Score | 10 |
| Social | |
| News Feed | |
| Real-Time News Feed | |
| Economics & Deal News | |
| Market Commentary | Via Blog |
| Community Chat | |
| Systems & Backtesting | |
| System Marketplace | |
| Create Customizable Systems | |
| Back Testing Point & Click | |
| Back Testing Programmatic | |
| Forecasting (new) | Via Automated Trendlines |
| Robotic Trading (new) | |
| | |
| Setup & Usability | |
| SW Setup | 10/10 |
| Ease of Use Score | 8/10 |
TrendSpider Stock Market Software - Data Sheet