Our Tickeron review reveals an impressive AI-driven investing platform combining trading Bots, portfolio management, and chart pattern recognition. Best of all, the automated trading algorithms have audited and backtested performance results. Tickeron has hundreds of in-house and community-developed strategies and scans for you to try.
My testing will give you all the information you need to decide whether Tickerons AI trade signals and auto-trading are right for you.
Tickeron Review Test Results & Ratings
| | |
| --- | --- |
| Tickeron Rating | 4.4/5.0 |
| 💸 Pricing & Software | ★★★★★ |
| 🚦 Trading & Signals | ★★★★★ |
| 📡 Scanning | ★★★★★ |
| 📰 News & Social | ★★★★✩ |
| 📈 Charts & Analysis | ★★★★✩ |
| 🔍 Backtesting | ★★★★✩ |
| 🖱 Usability | ★★★★✩ |
Tickeron Review Summary
Our Tickeron testing confirms impressive AI-powered chart pattern recognition and prediction algorithms for stocks, ETFs, Forex, and Cryptocurrencies. Tickeron provides reliable thematic model portfolios, specific pattern-based trading signals, and success probability and AI confidence levels.
Tickeron's trading platform is unique and innovative, combining artificial intelligence and human intelligence based on the community of traders, so you can compare what the humans think versus the machines.
Tickeron is designed for day traders, swing traders, and investors with an intricate lineup of features and benefits specific to your investing style.
Tickeron Review: Key Features
| | |
| --- | --- |
| ⚡ Features | Portfolios, Watchlists, Screening |
| 🏆 Unique Features | AI Trade Signals & Pattern Recognition |
| 🎯 Best for | Short-term Traders |
| ♲ Subscription | Monthly, Yearly |
| 💰 Price | $0-$250/mo |
| 💻 OS | Web Browser, PC |
| 🎮 Trial | 14-Day Free Trial |
| ✂ Discount | 50% Off All Annual Plans |
| 🌎 Region | USA |
We independently research and recommend the best products. We also work with partners to negotiate discounts for you and may earn a small fee through our links.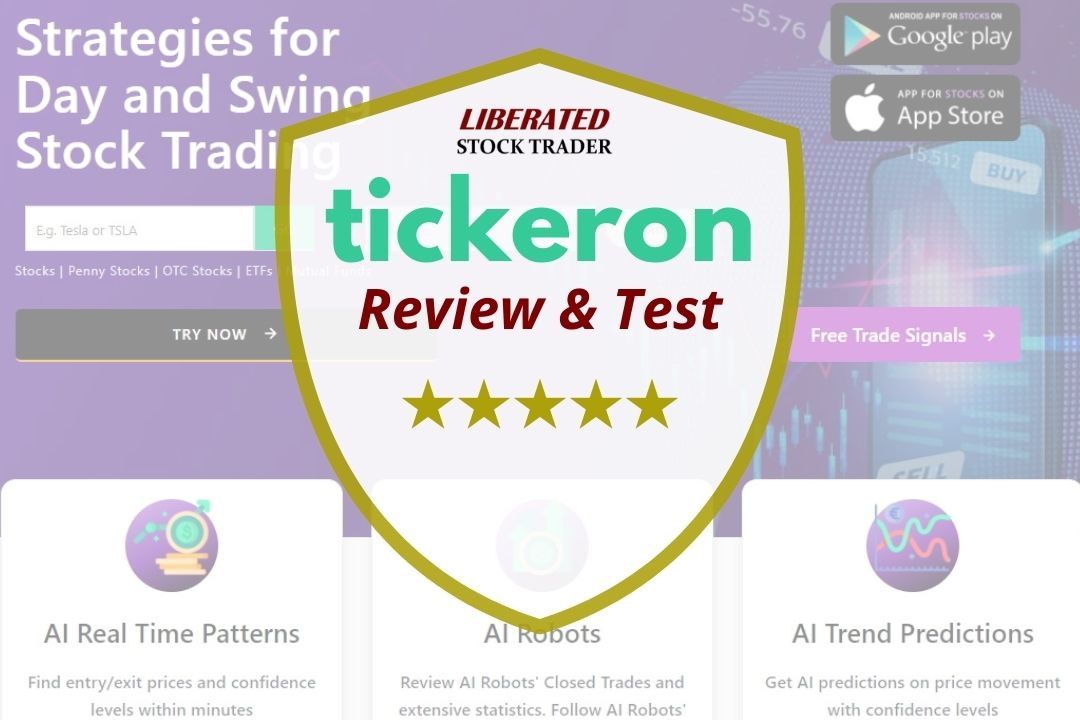 Tickeron Pros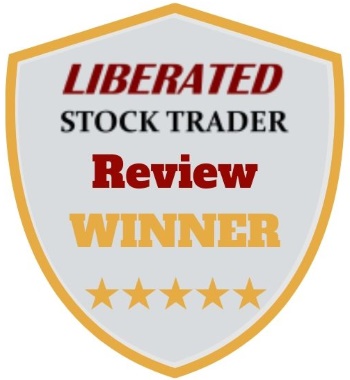 45 Streams of Trade Ideas
40 Real-time Stock, ETF, Forex & Crypto Pattern Recognition
AI Trend Prediction Engines
Investing Portfolios with Audited Track Records
Build Your Portfolios with AI
Tickeron Cons
Custom Charting Limited
Cannot Plot Indicators
What is Tickeron?
Tickeron is a wholly-owned subsidiary of SAS Global, a leader in data analytics whose services are used by the majority of Fortune 500 companies. Tickeron uses AI rules to generate trading ideas based on pattern recognition. Firstly, they use a database of technical analysis patterns to search the stock market for stocks that match those price patterns using their pattern search engine. Of course, each detected pattern has a backtested track record of success, and this pattern's success is factored into the prediction using their Trend Prediction Engine.
To understand the platform, we must first consider the pricing structure and what you get for your money.
Tickeron Pricing
Tickeron offers a free Beginner plan that enables portfolio creation, alerting, and AI investment ideas. The premium Tickeron plans are overly complex, with services aimed at swing traders, day traders, and investors. All plans have this in common: Intermediate One costs $50-100/mo, Intermediate Two costs $120-210/mo, and Expert costs $250/mo for access to all features.
Tickeron's Free Beginner Plan
Tickeron's beginner service enables you to create portfolios based on industries, sectors, and your risk profile. The Tickeron system will create a diversified portfolio within a few clicks and assign you a diversification score (DIV Score). Tickeron's free service is a good place to begin exploring the wealth of information and tools.
Tickeron's Intermediate One Plan
All Tickeron Intermediate One plans cost $25-50/mo annually, including access to one AI Robot, the AI Pattern Search Engine, and the AI Prediction Engine. This plan also includes the AI trade ideas and the full suite of portfolio management tools.
Tickeron's Intermediate Two Plan
The Tickeron Intermediate Two plan costs $60-105/mo annually and includes access to the AI Pattern Search Engine, the AI Prediction Engine, and the AI screener. Specifically for day traders, the patterns include real-time and Forex & Crypto.
Tickeron's Expert Plan
The Tickeron Expert plan includes access to all AI Bots, signals, backtesting, time machine, and real-time data for all services. If you are serious about using AI for trading and investing, I recommend the Expert service on an annual plan.
Tickeron has made the service plans very difficult to understand, but if you opt for the Expert plan, you get everything for $250/mo or $125/mo on an annual plan.
Tickeron Discount Coupon Code -50%
Tickeron does not use coupon codes, but you can get 50% off your subscription by simply opting for a yearly payment instead of paying monthly, saving you up to $1,500 per year.
Pattern Recognition
At the heart of Tickeron is the ability of its AI algorithms to spot 40 different stock chart patterns in real time. You can select which pattern you want to trade, and it will filter stocks, forex, or cryptocurrencies that currently show the pattern. Patterns are split into bullish patterns for long trades or bearish patterns for those who wish to go short.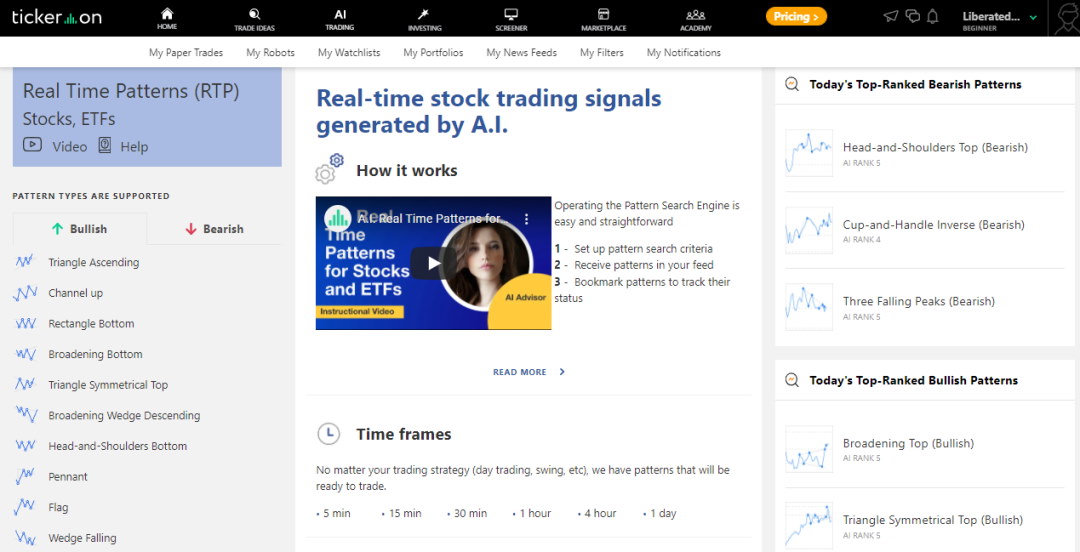 Tickeron's real-time pattern recognition is particularly useful for swing or day traders, where market timing is the top priority. Tickeron can also scan the entire market and suggest which patterns work best on a particular day. In the screenshot above, you can see "Today's Top Ranked Patterns," which rates the potential success of the patterns based on the market's current trading activity.
Pattern recognition saves pattern traders a lot of work hunting for potential trade setups because it does all the work for them.
Trading Signals & Prediction
Tickeron has implemented a powerful feature called AI Confidence Level. Based on the history of the stock, the success rate of a particular pattern, and the market's current direction, Tickeron can assign a confidence level to a trade prediction.
The screenshot below shows that the Tickeron AI predicts that ABUS has an 88% chance of declining in value and ACET has an 81% chance of increasing in value.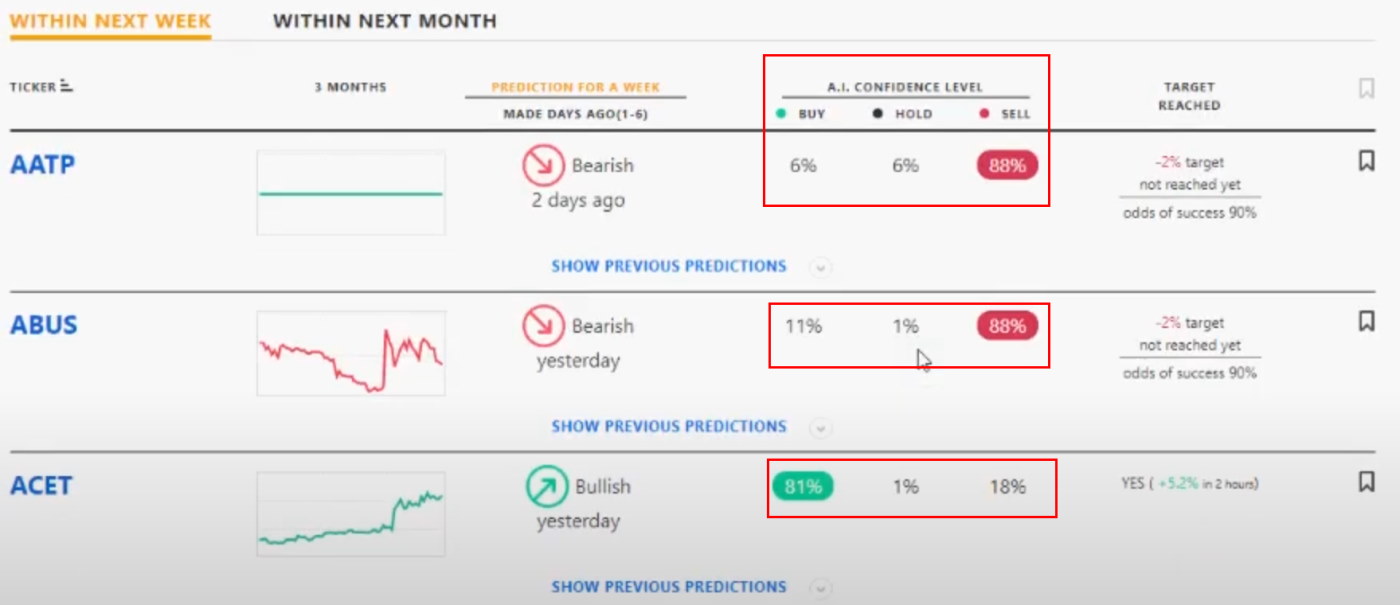 The outstanding feature of the Tickeron prediction engine is that you can click "Show previous predictions" to check if the AI has done a good job in the past with a particular pattern on specific stocks. The prediction engine provides the right level of clarity and granularity so you can make informed trading decisions.
Tickeron Screening
Screening with Tickeron is rather limited compared to the competition. Tickeron can find stocks based on industry, sector, market capitalization, or technical buy-and-sell ratings. But if you want to perform specific screening for value, dividend, or growth stocks, Tickeron is of little use.
Tickeron is designed to find high-probability trading opportunities, not for long-term investors wishing to build a sustainable portfolio. If you are a long-term investor, I recommend Stock Rover.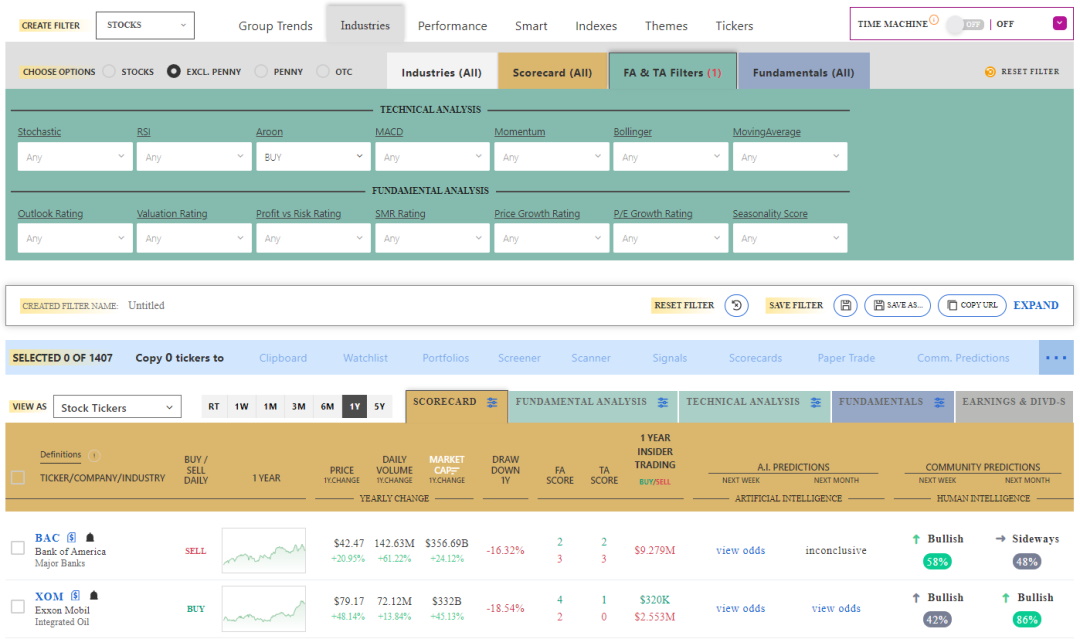 Tickeron AI vs. Human Intelligence
A unique feature of Tickeron is the ability to compare the AI prediction engine forecast versus what the community predicts. The image above shows that 58% of the community believes Bank of America will increase in price. This is a fascinating insight, and I look forward to Tickeron publishing research on the accuracy of human prediction versus artificial intelligence algorithms.
Tickeron Portfolios
Tickeron has a well-thought-out portfolio management service integrated into the platform. Tickeron makes creating a new portfolio incredibly simple. By answering a few questions about your age, goals, investment sum, risk tolerance, and preferred assets (stocks, ETFs), Tickeron will create a customized portfolio. You can additionally continue to tweak your portfolio, and Tickeron also assigns a diversification score to the portfolio based on modern portfolio theory (MPT).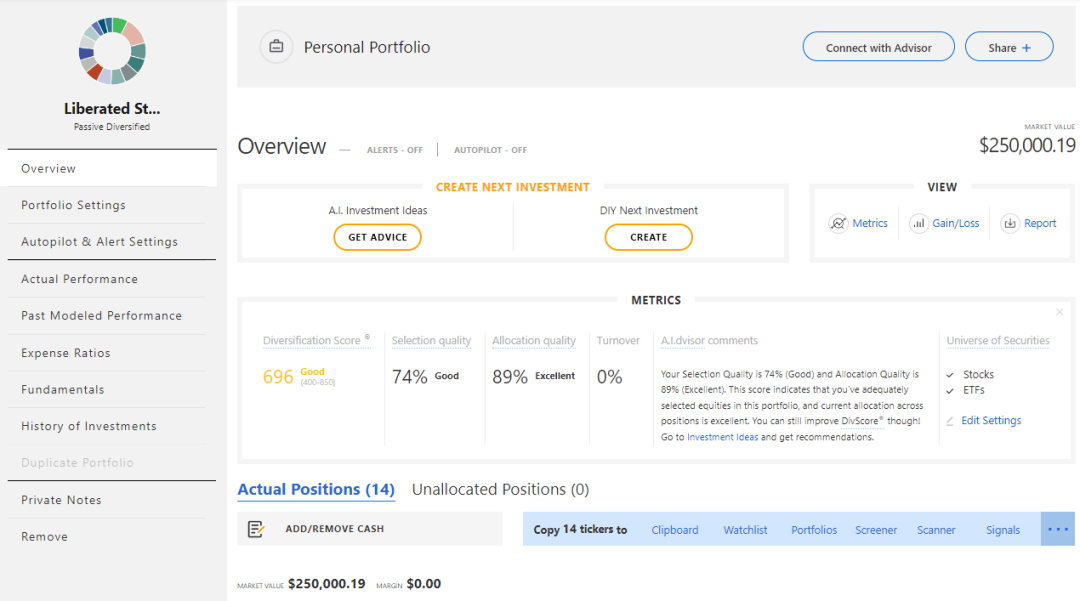 In the screenshot above, I created a Liberated Stock Trader portfolio with a good diversification score and excellent allocation quality. The best thing about a Tickeron portfolio is that AI can help you decide which stocks to buy and sell.
Tikeron AI Robot Performance
Tickeron is the only AI software, apart from Trade Ideas, that shares its track record of success. Of the 34 AI Trading Bots I looked at, only 2 claimed less than a 30% annualized gain; the other AI Bots claimed from a 40% to 169% annualized gain, as you can see in the image below. Tickeron claims impressive returns and audits all returns trade by trade.
The Day Trader Stock >$20 Bot claims a Win Rate of 61.64%, which is very high, especially when put into the context of this report from Fast Company.
Tickeron's Audited Track Record
Tickeron shines a light on its AI algorithm's performance by providing a fully audited track record of every stock Bot under management. Before purchasing a strategy, you can see the entire performance summary of the strategy, the trade amounts, % profitable trades, Sharpe ratio, and trade duration.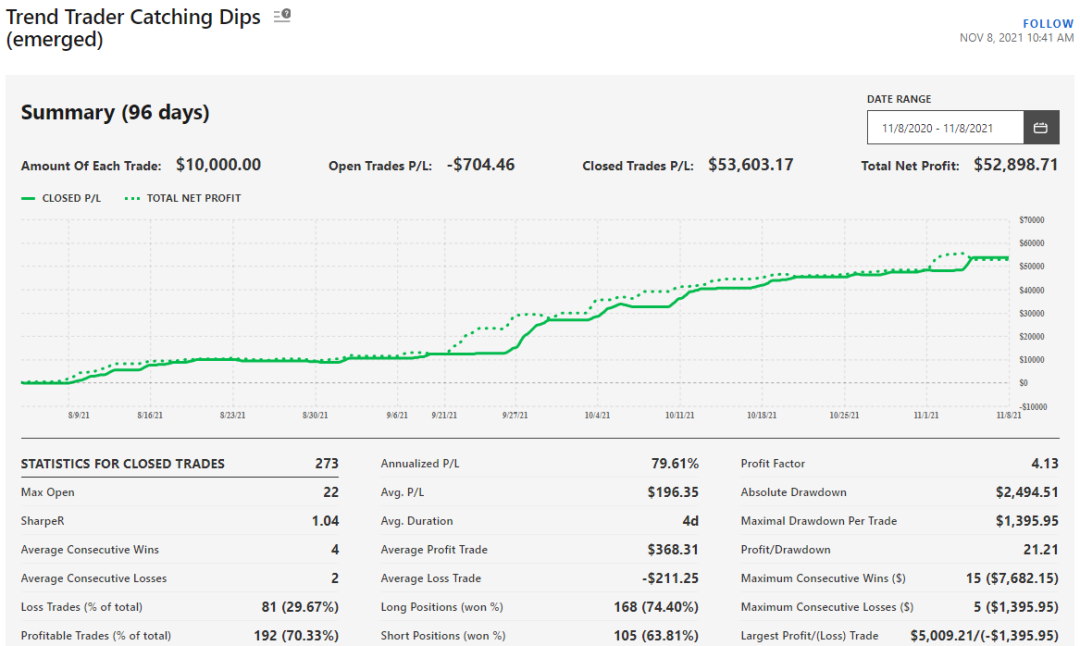 Auditing the individual historical trade alerts issued by the AI software is also important. Trade Ideas and Tickeron allow you to see all historical trades, whether they win or lose; transparency is the key here.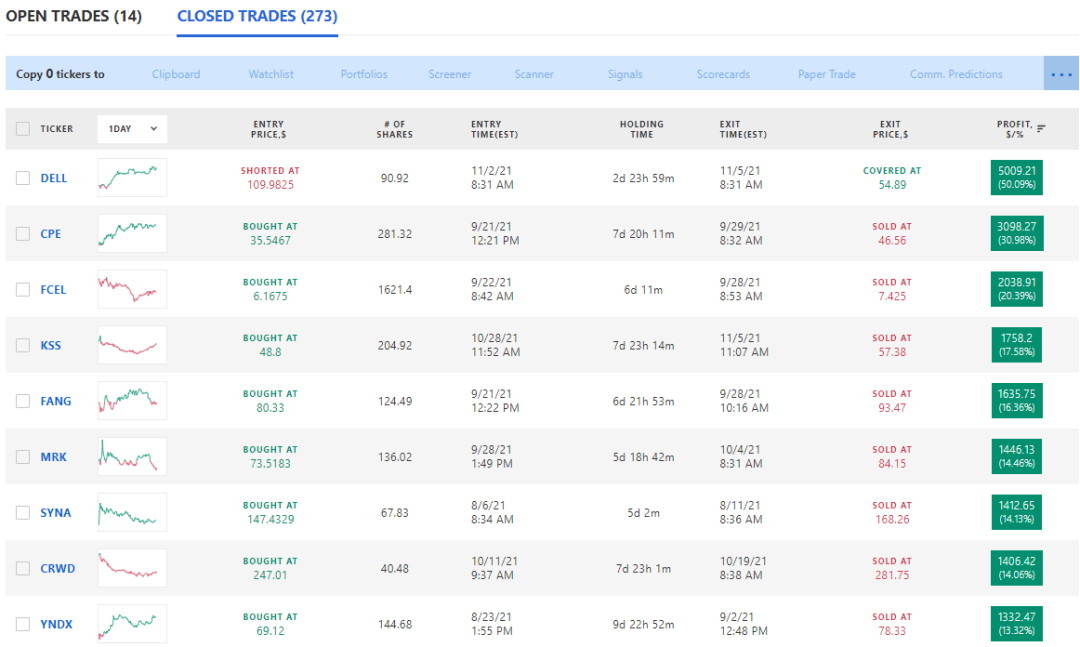 Artificial Intelligence Portfolios
Tickeron provides specific stock picks using its artificial intelligence engine. It also allows you to run the algorithm on a specific index or watchlist to generate trading opportunities on your selection of stocks. Tickeron also offers innovative portfolios that use AI to build a portfolio with characteristics like diversification and high return. One specific AI stock asset allocation is "GROWING BIG DATA & CREATING BLOCKCHAINS PASSIVE," which selects the best mix of AI stocks and blockchain companies.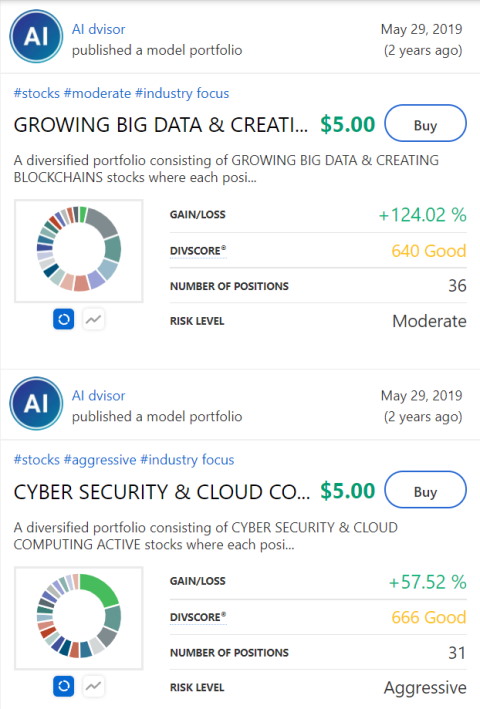 Having tested Tikeron, I have to say that Tickeron is a very professional, sophisticated, and easy-to-use stock market AI software that delivers results. Tickeron is well worth trying.
Tickeron News & Social
Tickeron does not have a real-time news service like Benzinga Pro or a huge trading community like TradingView, but it still has some benefits. Tickeron enables its trading community to vote on the direction of an asset; when you vote, you are rewarded with the community prediction. I would not rely on this community information, but it is an interesting insight into the average market participant's thoughts.
Tickeron also provides a news stream that you can view on a stock-by-stock basis to help inform yourself of any current events that may affect your trade.
Tickeron AI Video
Tickeron Charts & Analysis
Tickeron presents users with charts that already have patterns mapped and directions predicted; this is the single biggest benefit of the service. You will be disappointed if you want to perform your own technical analysis, configure your own indicators, or make chart annotations. Using AI in this platform means you will rely more on the algorithms than your creativity, which is probably good for most people.
Tickeron Usability
Overall, Tickeron is easy to use and provides enough power for demanding traders. You do not need to install software or configure data feeds. The most difficult element of Tickeron is trying to work out the pricing model, which is overly complex and granular. I spoke with my contact at Tickeron, who told me they are working to simplify the pricing structure.
Is Tickeron Worth The Money?
Yes. Tickeron is worth the money if you are an active day or swing trader because it provides high-probability AI-backtested trading signals and fully audited performance results. Tickeron is a professional company developing strategies to help traders improve their performance.
You will need a trading account balance of over $25K for active pattern day trading.
Tickeron is worth the subscription if:
You are an active day trader or swing trader.
You want to become a full-time day trader.
You can maintain a minimum trading account balance of $25,000 (if you are a US resident).
You have a $0 Zero Commissions Broker.
You want to have the power of AI on your side to beat the market.
Tickeron 50% Discount

You can immediately save 50% on all Tickeron's plans by signing up for a single annual payment rather than paying monthly. This radically reduces the cost of the Expert plan from $250 per month to $125, which makes it a very cost-effective AI trading service.
FAQ
What is Tickeron AI Trading Software?
Tickeron AI Trading Software is a cutting-edge financial tool that uses artificial intelligence to provide real-time trading predictions and investment strategies. It's designed to help both novice and experienced investors make informed decisions.
How does Tickeron AI work?
By leveraging machine learning and pattern recognition, Tickeron's AI analyzes market trends and historical data to predict future stock performance. It then provides actionable investment suggestions based on its analysis.
Is Tickeron user-friendly?
Yes, the Tickeron platform is designed with a user-friendly interface, making it easy for users to navigate and understand the insights it provides.
What features does Tickeron's platform offer?
Tickeron offers features like real-time trading predictions, pattern recognition, backtesting capabilities, risk management tools, and AI-generated investment strategies.
Can Tickeron help me choose stocks?
Absolutely! Tickeron generates AI-powered predictions and personalized investment strategies, helping you identify potential profitable stocks.
How accurate are Tickeron's AI signals?
While no software guarantees 100% accuracy, Tickeron uses advanced AI algorithms and machine learning to provide predictions based on historical data and current market trends and assigns each recommendation a probability of success.
Can I use Tickeron on multiple devices?
Yes, Tickeron is accessible on various devices, including desktop computers, laptops, and mobile devices.
Does Tickeron provide customer support?
Yes, Tickeron offers customer support to assist users with queries or issues. You can also request a free 60-minute private lesson to help you get started.
How much does Tickeron cost?
Tickeron has 5 plans: Free, Investors $60/m; Swing Trader $80/m; Day Trader, $100/m and Expert, $250/m.
Can Tickeron predict market crashes?
While predicting exact market events is challenging, Tickeron can identify potential market downturns based on trend analysis and historical data. Liberated Stock Trader also provides a strategy to detect market crashes.
How do I start using Tickeron AI Trading Software?
To start using Tickeron's platform, you need to create an account on the Tickeron website and choose your preferred subscription plan.
Does Tickeron AI Trading Software require any prior trading knowledge?
Yes, while Tickeron is designed for both beginners and experienced traders, a basic understanding of charts, patterns, and trading strategies will help you get the most out of the platform.
Does Tickeron offer a free trial?
Yes, Tickeron offers a free 14-day trial for new users to explore the features and capabilities of their AI trading platform.
Does Tickeron offer any discounts?
Yes, Tickeron discounts are nearly always available as they are continually running promotions and sales. Visit the Tickeron Website to see the latest discounts.
Related Articles:
Tickeron Review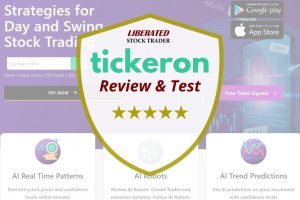 Our Tickeron review reveals an impressive AI-driven investing platform combining trading Bots, portfolio management, and chart pattern recognition. Best of all, the automated trading algorithms have audited and backtested performance results. Tickeron has hundreds of in-house and community-developed strategies and scans for you to try.
Price Currency: USD
Operating System: Web
Application Category: Stock Software