You cannot purchase stock of Instagram directly since it is not publicly listed. However, you can invest in Meta Platforms Inc. (Ticker: META), the parent company of Instagram. Instagram operates as a subsidiary under Meta Platforms Inc.
We show you three ways to invest in Meta and its competitors.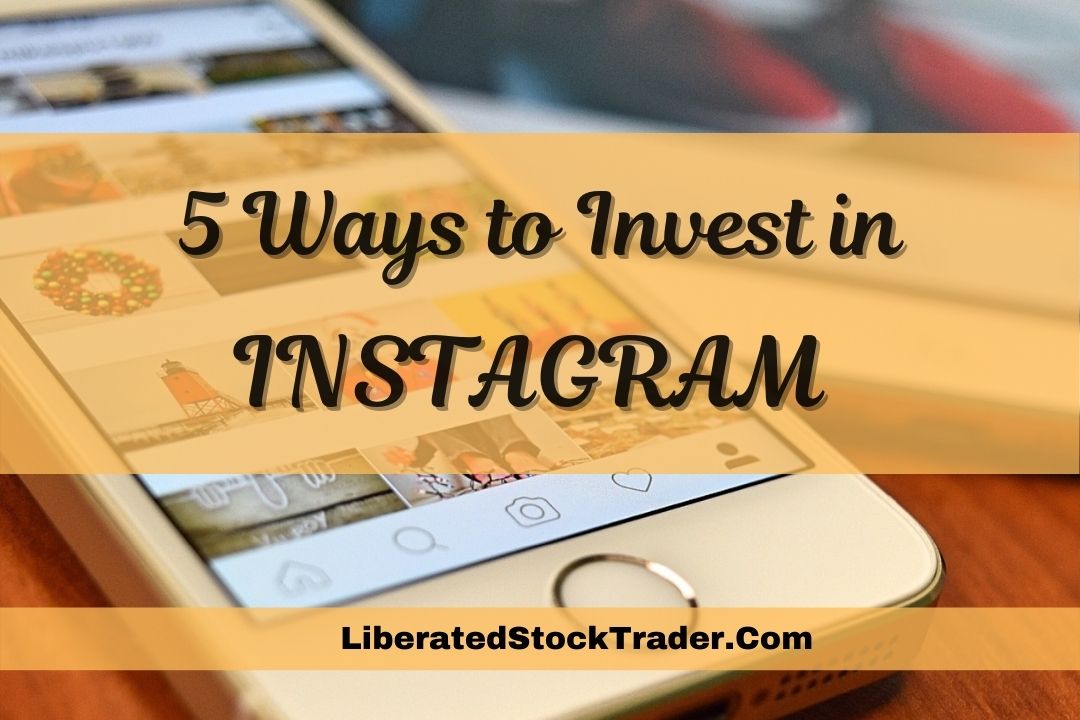 What is Instagram?
Kevin Systrom and Mike Krieger launched Instagram, or Insta, on iOS in October 2010. They originally designed Instagram for the Apple iPhone to enable photo & video sharing. Instagram is now the fourth-largest social media network globally, with over 2 billion active users this year.
Instagram Stock
You cannot buy stock in Instagram directly because Instagram is not a publicly listed company. You can buy stock in the company that owns Instagram, Meta Platforms Inc. (Ticker: META), as Instagram is a subsidiary of Meta Platforms Inc.
Instagram Stock Symbol
The stock symbol for Instagram is [Ticker: META] because Meta Platforms Inc. is the parent company of Instagram and owns 100% of the Instagram stock. Buying Meta stock is essentially the same as making a direct investment in Instagram.
Instagram Stock Price
Instagram has no stock price because the organization is not listed on any stock exchange. The owner of Instagram, Meta Platforms Inc. (Ticker: META), does have a stock price of $296 in 2023, which is 45% lower than its all-time high of $379, which was reached in August 2021.
Instagram Stock Chart
There is no stock chart for Instagram, but there is a stock chart with the ticker META where you can see the performance of Instagram, Facebook, and WhatsApp.
View Meta's Chart & Financial Data on TradingView
Instagram Competitors
Only Facebook, YouTube, and WhatsApp have more users than Instagram, Statista estimates. Instagram is the second most popular video-sharing app after Alphabet's (NASDAQ: GOOG) YouTube.
YouTube was the world's second most popular social media app, with 2.5 billion users in 2023. Facebook, the world's most popular social media platform, relies heavily on photo and video sharing to attract users. Facebook had 2.95 billion monthly users this year.
Other enormous social media companies, including TikTok, WeChat, and WhatsApp, also enable photo and video sharing. TikTok, the world's fastest-growing social platform, is a video and image-sharing app. TikTok had 1.05 billion monthly users in July 2023.
Unlike Facebook, WhatsApp, Facebook Messenger, and Wexin/WeChat, Instagram was built as a video and photo-sharing app. Instagram users can share individual photos or use the Stories feature to create stories.
Instagram's Unique Value
Instagram is a good way to reach younger people. Business of Apps estimates 66% of 18-to-24-year-olds, 60% of 25-to-34-year-olds, and 49% of 35-44-year-olds use Instagram. Business of Apps claims that 41% of Instagram users do not watch television regularly.
Instagram Stories had over 1.1 billion daily active users in 2023.
5 Ways to Invest in Instagram or Its Competitors
1. Buy Meta Platforms Inc. Stock
The data shows that Instagram is a popular and addictive social network. You can invest in Instagram by purchasing Meta Platforms Inc. (Ticker: META) stock.
See Meta's Chart & Financial Data on TradingView
Facebook (FB) bought Instagram for $300 million and 23 million shares of stock. Facebook acquired Instagram just before that public held its initial public offering (IPO).
Facebook is the biggest player in social media. Meta who owns Facebook controls four of the six largest social media platforms in the world.
Facebook changed its name to  Meta Platforms Inc. in 2013, and at its IPO, the company had a market cap of over $400 billion.
Facebook's dominance isn't unchallenged, though. Twitter and Snapchat (SNAP) are two other social media giants that have been around for years and are actively competing with Facebook to gain users.
Meta Platforms owns three social media giants: Facebook, Instagram, and WhatsApp. Each of these platforms has different features and offers a variety of services to appeal to its users.
Meta Platforms Inc.'s most recent financial performance:
The company's Earnings Per Share (EPS) trailing twelve months (TTM) is $8.578.
Meta Platforms Inc. has a Price to Earnings (P/E) ratio of 34.99.
The company's EBIT amounts to $35.2B, indicating its profitability before considering interest and taxes.
It has cash and short-term investments of $53.4B, demonstrating strong liquidity and financial health.
User Growth
The company's platforms, including Facebook, Instagram, WhatsApp, and Oculus, have seen consistent user growth. As of the first quarter of 2023, Meta Platforms Inc.'s most popular platform recorded an impressive 2.98 billion monthly active users.
Over 77% of Internet users, approximately 3.59 billion, are active on at least one Meta platform. This statistic underlines the company's far-reaching impact and ability to attract and retain users.
In June 2023, Meta's core products' daily active users (DAU) increased by 5% year-over-year, reflecting the platform's continued appeal to users worldwide.
2. Buy Alphabet Stock (NASDAQ: GOOGL)
Alphabet Inc. (NASDAQ: GOOG) is a holding company formed by Google management. Alphabet (GOOG) owns the world's second most popular social media app, YouTube, and the world's most popular search engine, Google.
View this chart on TradingView
Alphabet Inc., the parent company of Google and YouTube, has experienced significant business growth and user expansion over the past five years. The company's major subsidiaries, including Google Search and YouTube, have contributed significantly to this growth. Let's delve deeper into the details.
Alphabet Inc.'s Business Growth
Alphabet Inc. experienced a substantial increase in revenue over the last five years. In 2022, YouTube alone generated $29.2 billion in revenue, marking a 1.3% year-on-year increase.
Google's cloud services also recorded impressive growth, with a 53% quarterly revenue boost compared to the previous year. However, it's worth noting that this growth rate was slower than the tech giant anticipated.
Despite a generally positive performance, Alphabet Inc. faced some challenges. For instance, during the 2022 holiday season, the company only saw a 1% growth in revenue year-over-year.
YouTube's Significant Contribution to Growth
Over the past few years, YouTube's relative growth appears to outpace that of Google's Search. This trend suggests that YouTube could become an increasingly important component of Alphabet's growth strategy.
YouTube's user base has also seen substantial growth. Over 2.7 billion people access YouTube once a month, underscoring its wide reach and influence.
Alphabet Inc.'s business growth over the past five years has been impressive, bolstered by the performances of its subsidiaries, particularly YouTube. Despite facing challenges, the company's ability to generate substantial revenue and user growth highlights its resilience and adaptability in a dynamic digital landscape.
3. Buy Snap Inc. Stock (NYSE: SNAP)
Snap Inc. (SNAP) owns Snapchat, the most direct competitor to Instagram in the social media market.
Snapchat is an image-sharing app that is popular with young people in the United States.
View Snap Inc. Charts & Financials on TradingView
Snapchat, a popular social media platform known for its ephemeral photo and video-sharing capabilities, has exhibited substantial business and user growth over the past five years. This growth is reflected in its revenue generation and the expansion of its active user base.
Snapchat's revenue growth has been impressive. The company generated $4.6 billion in revenue in 2022, marking a 12% increase year-on-year. This growth demonstrates the platform's ability to monetize its user base.
User Growth
In terms of user growth, Snapchat has made significant strides as well. As of the second quarter of 2023, Snapchat had nearly 400 million daily active users worldwide.
Furthermore, Snapchat's user base is projected to reach 525.7 million users worldwide in 2023, up from 493.9 million in 2022.
Snapchat's business and user growth over the past five years underscores its appeal to a broad range of demographics and its effectiveness as an advertising platform. Investors should consider these growth trends when evaluating Snapchat's potential future performance.
Important to note is that although Snap is starting to grow again, it is making a huge loss, which is why its stock price is so low.
Instagram Stock Summary
There is no Instagram stock, but investors can buy stock in Instagram's owner, Meta Platforms Inc. (Ticker: META), or its competitors, Snap Inc. (SNAP) or Alphabet Inc. (NASDAQ: GOOG). Investors need to be careful with social media because some companies like Snapchat lose money. Always investigate social media stocks carefully before you invest in them.
Are You Looking For Stock Investing & Trading Software? Here Are My Favorites.
My favorite
software for trading
is
TradingView
because it does everything well. It has backtesting, great charts, stock screening, and an active community of over 3 million people sharing ideas, plus a free plan available globally.
My favorite
software for investing
is 
Stock Rover
, as it specializes in deep fundamental financial screening, research, and portfolio management. It is the ideal platform for dividend, value, and growth investing.
My favorite
software for stock market news
is
Benzinga Pro
, with its super-fast real-time news engine, squawk box, and news impact ratings.
My favorite
AI trading software
is
TrendSpider
which enables automatic pattern recognition for Trendlines, Candlesticks, and Fibonacci levels.
Trade Ideas
uses AI to generate high probability daily trading signals for auto-trading.
My favorite
stock-picking service
is
Motley Fool Stock Advisor
, which has a proven track record of beating the market with excellent stock research reports.
Read the Full Top 10 Stock Market Software Testing & Review