Many gamers and investors want to own a piece of Epic Games because the company makes and markets Hitman, and Fortnite, one of the world's most popular and fastest-growing massive multiplayer online games (MMOGs). Fortnite had 350 million players in 2020, a ten-fold increase from 30 million in December 2017.
Parents are interested in buying Epic Games stock because they see how much money their kids spend on Fortnite. Fortnite is free to play but Epic Games makes money by selling an $11.99 a month Fortnite Crew Experience subscription, which gets players extra weapons and other perks.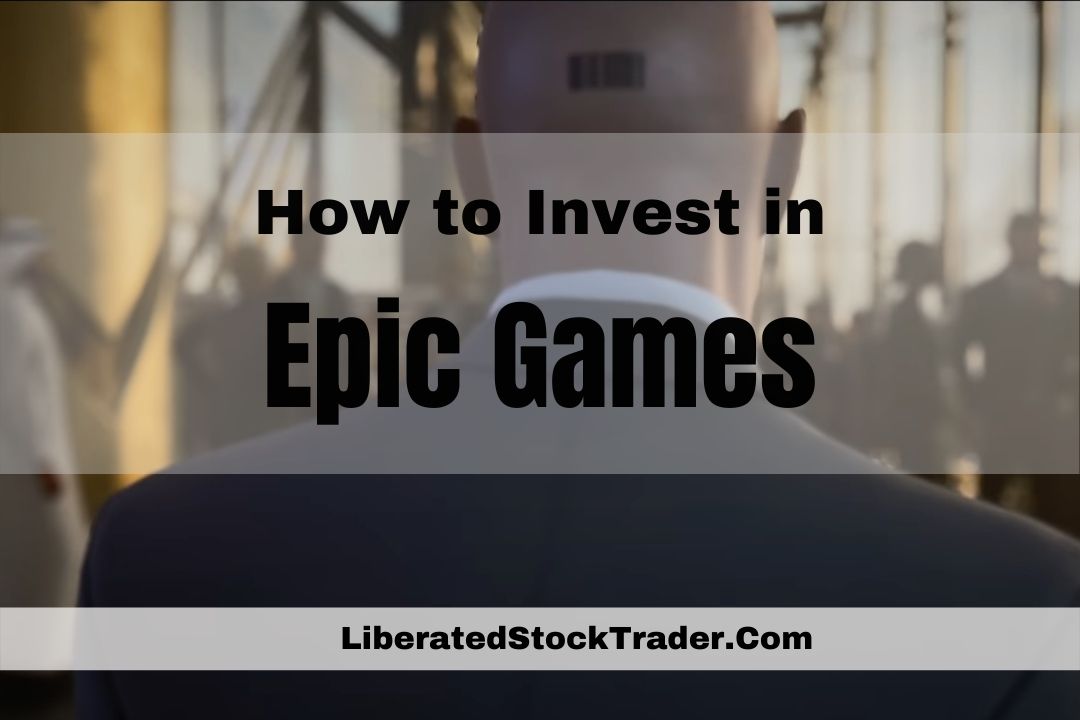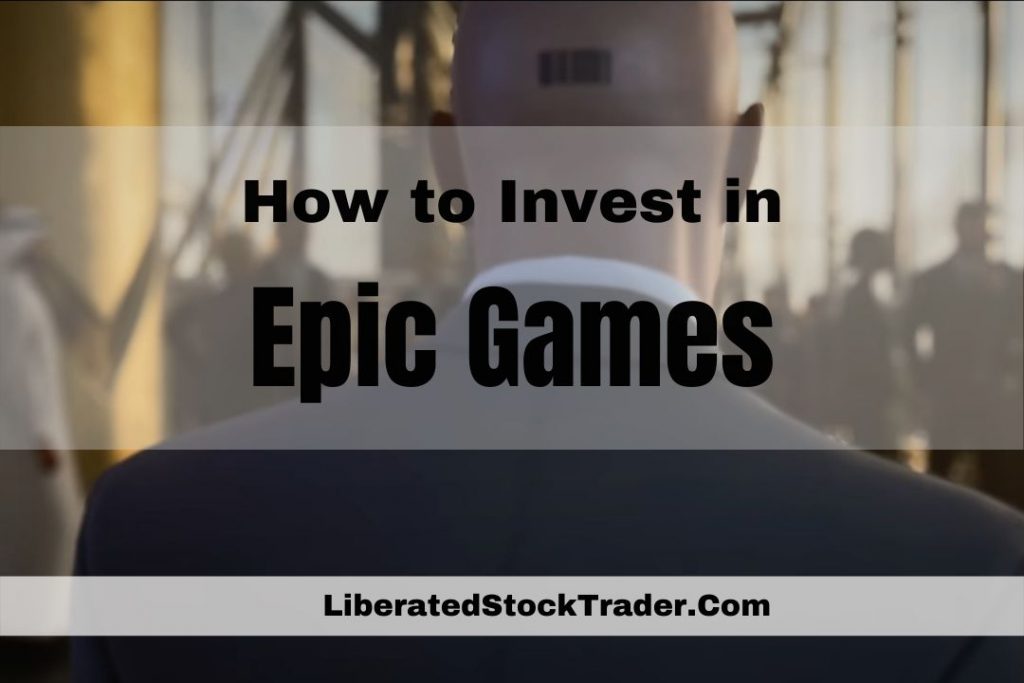 Note: This is an unbiased research report. The author or Liberated Stock Trader is not affiliated, paid by, or owns stock in any of the companies mentioned in this report. 
Epic Games Stock
Epic Games stock is not available to buy on any stock exchange. You can invest in Epic Games by buying shares in Tencent Holdings, which owns 40% of the Epic Games stock. 
Who Owns Epic Games?
The largest owner of Epic Games stock is Epic's founder and CEO, Tim Sweeney, who owns over 50% of the company. The next largest owner of Epic Games is the Chinese conglomerate Tencent Holdings (TCEHY).
Tencent, the world's largest video game company, owns around 40% of Epic Games' stock.
Major investors in Epic include Baillie Gifford, Fidelity, Lightspeed Venture Partners, the Ontario Teachers' Pension Plan Board, T. Rowe Price, Blackrock, David Tepper, KKR, and Smash Ventures.
Epic Games last funding round in August 2020 raised $17.3 billion from private investors, meaning Epic can raise enormous amounts of money without a stock.
Epic Games Stock Price
Epic Games currently has no defined stock price because it is not publicly listed on any stock exchange. It is entirely owned by the founder Tim Sweeney, venture capital groups, and Tencent Holdings, one of the world's largest video companies. To buy Epic games stock, you need to buy stock in Tencent Holdings.
Epic Games Stock Symbol
There is no Epic Games stock symbol because Epic is a privately-held company and not currently available for purchase on any global stock exchange. The stock ticker EPIC is not currently taken in the USA, so EPIC would be the ideal symbol for Epic Games stock. But until there is an IPO, there will be no stock symbol for Epic Games.
---
Invest in yourself! Get all our courses & strategies for 50% off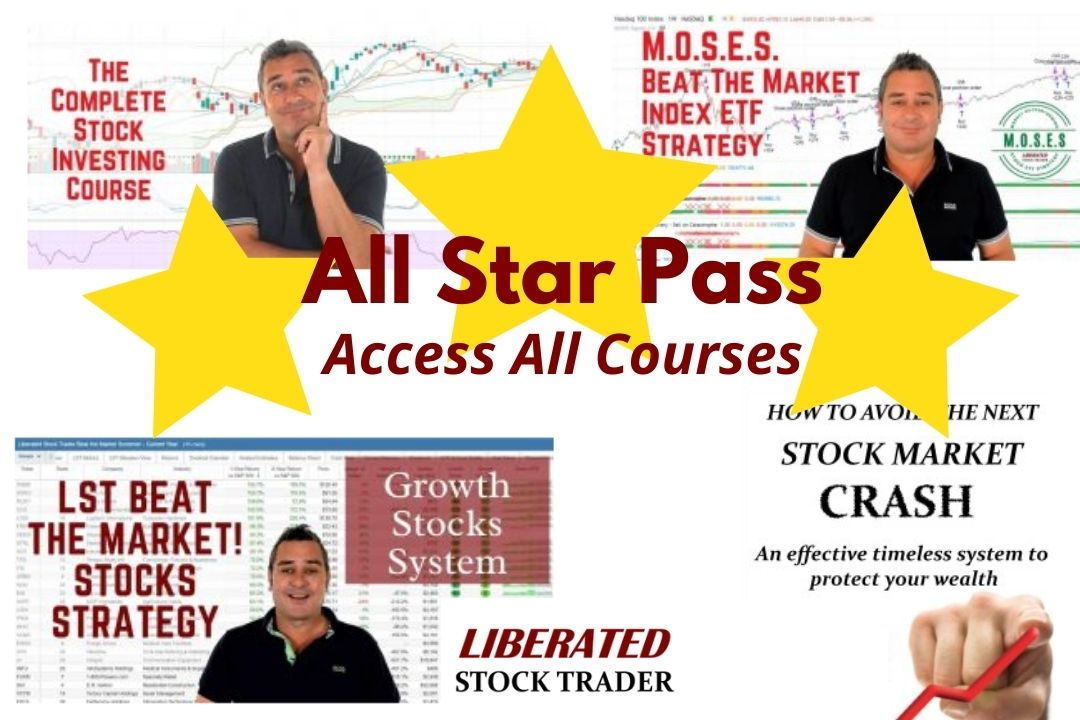 ★ Liberated Stock Trader Pro Stock Investing & Trading Course ★
★ M.O.S.E.S. Market Outperforming ETF Strategy ★
★ LST Beat the Market Stock Picking Strategy ★
★ Exclusive Bonus Course – The Stock Market Crash Detector Strategy ★
★ Fully Guided Videos, eBooks & Lifetime Email Support ★
★ 108 Videos + 3 Full eBooks + 5 Scripts for TradingView & Stock Rover ★
All Star Pass Black Friday -50% Deal Is Live - Ends In:
---
Does Epic Games Have Stock?
Yes, Epic games do have stock, but the shares of Epic Games are privately held. This means as an independent retail investor, you will not be able to buy stock in Epic Games through a stock exchange or brokerage account. You will need to invest in the companies that own Epic Games stock.
The Epic Games Value Proposition
Epic makes money by selling a wide variety of games through its website. Users download the games and buy a chance to compete in them.
Some of the games, such as Medium, sell for a high price. Users pay $44.99 to download Medium and Bloodlines 2, which sold for $59.99.
Epic also sells other companies' games, including Rockstar Games' Red Dead Online and Electronic Arts' Star Wars titles. Epic Games charges a commission on the outside titles it sells and makes more money from its titles. One hope at Epic is that people who visit Epic Games' store to buy those titles will also buy Epic's titles.
Epic Games makes money by letting people play its MMOGs for free. Players who want more weapons and paraphernalia buy that stuff from Epic.
Apple (AAPL) threw Fortnite out of the App Store in April 2020 because Epic Games added an in-app payment system that bypassed the App Store's 30% fee; this caused controversy and highlighted Apple's abuse of power in the monology app store it owns.
This action could hurt Epic because the Apple Store is the world's largest software marketplace. The world's other big app marketplace, Alphabet's (GOOG) Google Play, has also thrown Fortnite out.
---
You want to be a successful stock investor but don't know where to start.
Learning stock market investing on your own can be overwhelming. There's so much information out there, and it's hard to know what's true and what's not.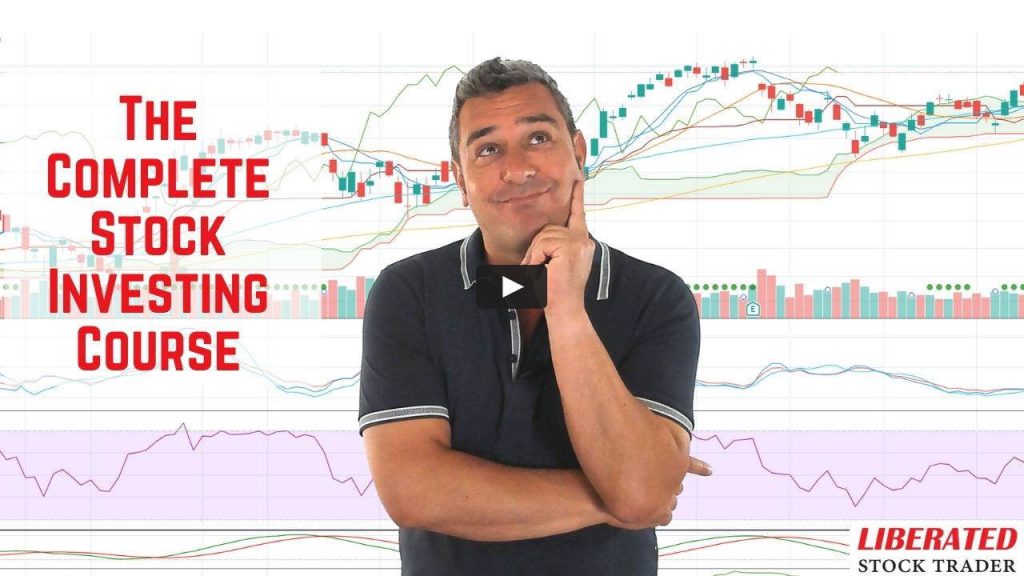 Liberated Stock Trader Pro Investing Course
Our pro investing classes are the perfect way to learn stock investing. You will learn everything you need to know about financial analysis, charts, stock screening, and portfolio building so you can start building wealth today.
★ 16 Hours of Video Lessons + eBook ★
★ Complete Financial Analysis Lessons ★
★ 6 Proven Investing Strategies ★
★ Professional Grade Stock Chart Analysis Classes ★
---
The Unreal Engine
A growing moneymaker at Epic Games is the Unreal Engine, an advanced and open-sourced real-time 3D creation tool. Video game designers, movie makers, and others use the Unreal Engine to create 3D games, commercials, artwork, and movies.
Potential uses for the Unreal Engine include film and television, training and simulation, industrial design, architecture, science, medicine, website design, app building, and engineering.
The hope for the Unreal Engine is that Epic can become a software provider as well as a game developer. Epic could make money by charging businesses and creators to use the Unreal Engine for design and other purposes.
Epic Games Stock IPO
There will be no Epic Games' initial public offering (IPO) soon because the company can raise enormous amounts of money without floating on a stock exchange. Under the current arrangement, Sweeney controls the company but has access to Tencent's resources and capital. Sweeney will have to relinquish control if Epic Games goes public.
There is no reason for Sweeney to take Epic public as long as it can make money, grow, and raise venture capital without a stock. Epic can make enough money from game sales and subscriptions to survive for many years, making it a new technology unicorn.
However, investors can buy into Epic Games by buying Tencent Holdings stock.
3 Great Ways to Invest in Epic Games
1. Buy Epic Games through Tencent Holdings
There is a way you can buy into Epic Games without an Epic IPO. You can purchase shares of Tencent Holdings ADR (OTCMKTS: TCEHY). Tencent Holdings is a multinational Chinese conglomerate that observers consider the world's largest video game company. Tencent Holdings trades on the Hang Seng Index under the ticker symbol SEHK 700.
Tencent's biggest holdings include the creator of League of Legends Riot Games. PCGamer estimates League of Legends is the most popular personal computer (PC) game in the world.
View a Live Tencent Chart & Financials on TradingView
League Feed estimates League of Legends has 115 million players and generated revenues of $1.5 billion; additionally, Tencent owns 100% of Riot Games.
Tencent Holdings owns 80% of Grinding Gear Games, the developer of the popular Path of Exile game. Path of Exile has 237,160 players and a user growth rate of 11%.
Tencent makes equity investments in many game developers. Tencent's revenues show gaming is a lucrative business.
Tencent's revenue has grown from $69 billion in 2020 to over $100 billion in 2023.
Some investors will have moral objections to Tencent Holdings because of its connections to the Chinese Communist Party. Others will think the Chinese connections give Tencent Holdings a margin of safety because it has the support of the Chinese government.
---
How to Beat the Stock Market With Stock Rover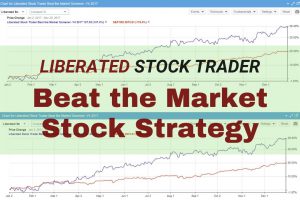 I love Stock Rover so much that I spent 2 years creating a growth stock investing strategy that has outperformed the S&P 500 by 102% over the last eight years. I used Stock Rover's excellent backtesting, screening, and historical database to achieve this.
This Liberated Stock Trader Beat the Market Strategy (LST BTM) is built exclusively for Stock Rover Premium Plus Subscribers.
---
2. Buy Leading Competitor Electronic Arts (NASDAQ: EA)
Electronic Arts (EA) is one of the largest publicly-traded video game companies.
Electronic Arts' game lineup includes such big titles as Star Wars, NFL (National Football League), FIFA (World Cup Soccer), Need for Speed, Apex Legends, The Sims, UFC, Medal of Honor, and NHL (National Hockey League). Statista estimates that EA's Apex Legends MMOG has over 70 million registered users worldwide.
Electronic Arts makes money from its games. EA will report gross profits of over $1.1 billion for 2022.
View a Live EA Chart & Financials on TradingView
Perhaps the market overvalued Electronic Arts by paying $138.06 for its shares on January10, 2023. Electronic Arts could be a valuable investment if the share price falls significantly.
3. Buy Activision Blizzard, Inc. (NASDAQ: ATVI)
Activision Blizzard (ATVI) is the publicly-traded company behind such giant gaming franchises as World of WarCraft, Overwatch, Call of Duty, and Candy Crush.
World of Warcraft is one of the most famous and most mocked massive multiplayer online games (MMOGs). However, World of WarCraft had only 4.74 million subscribers in 2021.
Statista's numbers show that keeping players is one of gaming companies' biggest challenges. Statista estimates that World of WarCraft's subscriber base peaked at 5.67 million in 2016. Statista forecasts that World of WarCraft's subscriber base will fall to 4.46 million in 2023.
View a Live Activision Chart & Financials on TradingView
Candy Crush is one of the world's most popular mobile games, with 273 million monthly active users. The Call of Duty MMOG has over 110 million monthly players.
Activision Blizzard makes money. It reported a revenue of $1.7 billion in 2022, with a profit margin of 24%.
Activision Blizzard is also a dividend stock paying 0.61% in 2022.
Activision Blizzard is a good choice for investors in gaming stocks because it is a growth and income stock. Activision's share price has grown, but it has not grown excessively.
Importantly, Activision's business is growing, and it makes more money from that business. If you want a gaming company that grows and makes money, Activision Blizzard could be a safe choice.
---
Beat The Market, Avoid Crashes & Lower Your Risks
Nobody wants to see their hard-earned money disappear in a stock market crash.
Over the past century, the US stock market has had 6 major crashes that have caused investors to lose trillions of dollars.
The MOSES Index ETF Investing Strategy will help you minimize the impact of major stock market crashes. MOSES will alert you before the next crash happens, so you can protect your portfolio. You will also know when the bear market is over, and the new rally begins so you can start investing again.
MOSES Helps You Secure & Grow Your Biggest Investments
★ 3 Index ETF Strategies ★
★ Outperforms the NASDAQ 100, S&P500 & Russell 3000 ★
★ Beats the DAX, CAC40 & EURO STOXX Indices ★
★ Buy & Sell Signals Generated ★
MOSES Helps You Sleep Better At Night Knowing You A Prepared For Future Disasters
---
Will There be an Epic Games IPO?
Activision Blizzard's success shows that gaming companies could be an excellent investment. Activision, in particular, is growing fast and generating enormous amounts of cash. Epic Games stock could offer similar attributes. However, there is no indication that either Tim Sweeney or Tencent Holdings plans an Epic IPO.
There will not be an Epic Games IPO anytime soon because Epic could make enormous amounts of money selling MMOG subscriptions and paraphernalia. Thus, Epic could generate all the cash it needs without an IPO.
Another problem is that Tencent Holdings' management does not want to relinquish the control that owning 40% of Epic offers. However, Tencent has a strong incentive to recommend an Epic Games IPO because of the potential of a high share price for Epic Games.
Sweeney and Tencent Holdings could own an enormous amount of Epic shares they could sell or borrow against. Remember, most of the fortunes of the world's two richest men, Elon Musk and Jeff Bezos, consist of stock.
Bezos owns 55.5 million Amazon (AMZN) shares and Musk owns 193.3 million shares of Tesla Motors (TSLA).
Investors need to watch Epic Games because its IPO could be valuable. Unlike some other IPO companies, Epic makes money by selling a popular product for which there is a growing demand.
Is Gaming a Value Investment for the 21st Century?
The product is games for which human beings have an insatiable demand. History shows that people will play games and will pay money for those games.
Games are now the world's most popular entertainment product. There are over 2.7 billion gamers worldwide. The largest market for games is the Asia Pacific, with 1.447 billion players. Epic is well-positioned to tap that market through its partnership with Tencent Holdings.
Gaming is a growth industry that can generate enormous amounts of cash and throw in the future growth of the Metaverse, and this is a sector to watch. All investors seeking stocks that can make money and grow need to examine gaming companies.
Are You Looking For Stock Investing & Trading Software? Here Are My Favorites.
My favorite
software for trading
is
TradingView
because it does everything well. It has backtesting, great charts, stock screening, and an active community of over 3 million people sharing ideas, plus a free plan available globally.
My favorite
software for investing
is 
Stock Rover
, as it specializes in deep fundamental financial screening, research, and portfolio management. It is the ideal platform for dividend, value, and growth investing.
My favorite
software for stock market news
is
Benzinga Pro
, with its super-fast real-time news engine, squawk box, and news impact ratings.
My favorite
AI trading software
is
TrendSpider
which enables automatic pattern recognition for Trendlines, Candlesticks, and Fibonacci levels.
Trade Ideas
uses AI to generate high probability daily trading signals for auto-trading.
My favorite
stock-picking service
is
Motley Fool Stock Advisor
, which has a proven track record of beating the market with excellent stock research reports.
Read the Full Top 10 Stock Market Software Testing & Review
Related Stock Research Articles: