Red Bull stock is not available to buy on any stock exchange because Red Bull is a private company. 100% of Red Bull stock is owned by Mark Mateschitz and cofounder Chaleo Yoovidhya.
Red Bull attracts strong investor interest because it is the world's most popular and recognizable energy drink brand.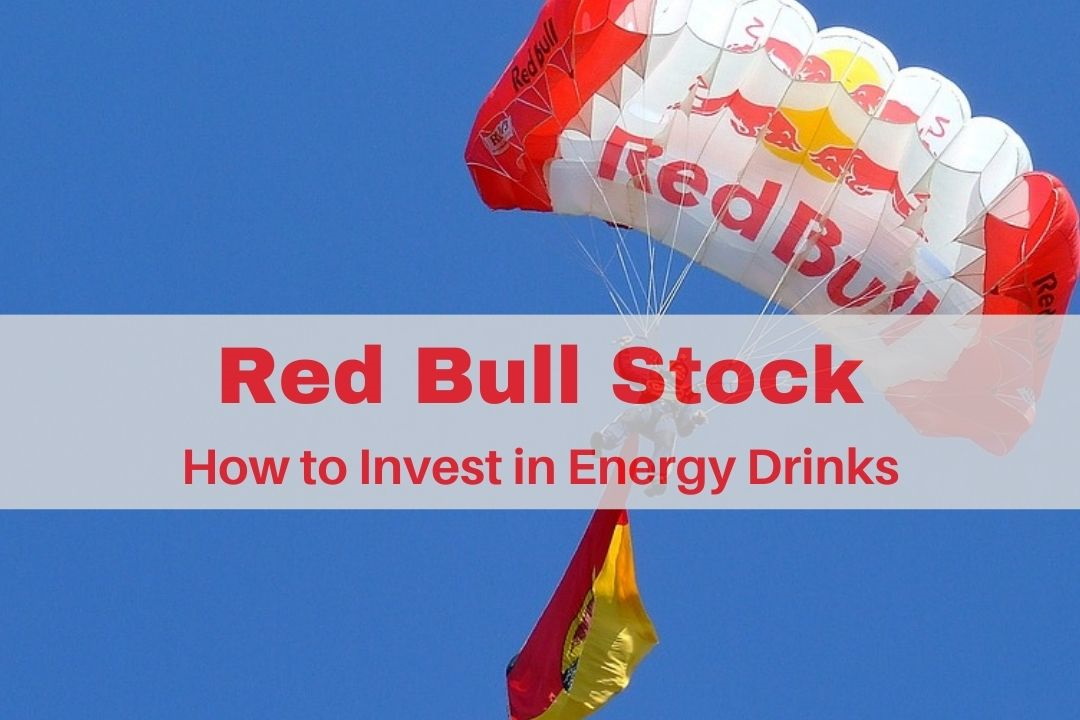 Note: This is an unbiased research report. The author or Liberated Stock Trader is not affiliated, paid by, or owns stock in any of the companies mentioned in this report. 
People think Red Bull is lucrative because it has over 10 billion cans of energy drinks in 2022, and it controls a 43% share of the global energy drinks market. In the United States, Red Bull North America Inc. was the largest maker of energy drinkers, with $1.392 billion in sales.
Another reason for the interest is growing revenues. Red Bull's annual revenues rose 47% from €6 billion ($7.65 billion) in 2020 to €8.87 billion  ($9.48 billion) in 2021.
How to Buy Red Bull Stock
You cannot buy shares in Red Bull as a retail investor. Red Bull shares are not publicly available because Red Bull GmbH is a privately held limited liability company. 100% of Red Bull stock is owned by Mark Mateschitz and Chaleo Yoovidhya.
Austrian-born Mark Mateschitz owns 49% of Red Bull stock, and Thai businessman Chaleo Yoovidhya owns 51%.
Red Bull Stock Price
Despite being the most famous energy drink globally, investors cannot purchase shares in Red Bull. Red Bull has no public stock price because it is not publicly listed on any stock exchange.
Using financial calculation comparisons, I calculate 1% of Red Bull stock is worth $817 million. Mark Mateschitz's 49% ownership of Red Bull is valued at $40.07 billion.
I determine these values by comparing Red Bull sales to the comparable price-to-sales ratios of Monster Beverage Inc.
Is Red Bull on the Stock Market?
There are no Red Bull shares on the stock market because Red Bull GmbH is privately held. Two shareholders, Mark Mateschitz and Chaleo Yoovidhya own 100% of Red Bull stock.
No private equity companies are invested in Red Bull, Red Bull has no debt, and all sales and events are funded from free cash flow.
How much is Red Bull worth?
Red Bull is worth $81 billion in 2023 based on its most recently reported annual revenues and competitors price to sales ratios.
We can calculate the value of Red Bull stock by comparing it to its closest competitor Monster Beverage Inc.
Monster Beverage has a price-to-sales ratio of 8.7. Red Bull made $9.4 billion in sales in 2021. By multiplying $9.4 billion by 8.7, we have a total Red Bull market capitalization valuation of $81.8 billion.
How much is Red Bull stock?
1% of Red Bull stock is worth $817 million when considering a price-to-sales ratio of 8.7 and sales of $9.4 billion. This means Mark Mateschitz's 49% Red Bull holding is worth $40.07 billion.
Mark Mateschitz inherited 49% of Red Bull's shares after his father and Red Bull cofounder Dietrich Mateschitz sadly passed away in October 2022.
Red Bull Stock Ticker Symbol
Red Bull does not have a ticker symbol or stock name because it is not publicly traded on any stock exchange in the USA or its founding country Austria. Only companies listed on stock exchanges have stock tickers.
Will the be a Red Bull IPO
There are no known plans for a Red Bull Initial Public Offering (IPO). Any stock news article about a Red Bull IPO is pure speculation.
Red Bull's management has no IPO plans because of the enormous profits it makes as a private company. It costs nine cents to make a can of Red Bull, and they sell Red Bull wholesale for $1.87 a can, a 2000% markup. Retailers can charge $3.59 or more for a Red Bull, netting a 100% profit margin. With such enormous profit margins, there is no reason to take Red Bull public.
Funds claiming to sell "pre-IPO shares" in Red Bull are scams you must avoid. You will know if a Red Bull IPO is genuine because such plans will generate enormous media coverage. If you see no media coverage of a Red Bull IPO, it is fake.
How Successful is Red Bull?
The value propositions at Red Bull are one of the world's most recognized brands and one of the world's most popular beverages.
A Red Bull stock could be a value investment because it sells a simple product people will always buy. Changes in technology, the economy, politics, and culture do not affect Red Bull sales.
Not even catastrophic events lower the demand for Red Bull. Red Bull's sales and revenues grew during the COVID-19 pandemic from €6.07 billion in 2019 to €7.16 billion in 2020 and €8.87 billion in 2021. The number of Red Bull cans sold grew from 6.06 billion in 2016 to 7.9 billion in 2020 to 9.8 billion in 2021.
The value case for Red Bull is simple: people will always buy energy drinks. When the economy is good, they buy energy drinks to work and play harder; if the economy is bad, people need energy drinks to work a second job or overtime.
Adding to the value proposition is Red Bull's position as the world's second most valuable soft drink brand. Statista estimates Red Bull was the second most valuable soft drink worldwide, with a brand value of $14.886 billion in 2022.
Red Bull resembles one of Warren Buffett's favorite stocks: Coca-Cola (KO). Berkshire Hathaway (BRK.B) owned 400 million shares of Coca-Cola in January 2023. Buffett likes Coca-Cola because consumers do not change their beverage consumption when the economy declines.
People keep buying Coke and Red Bull, no matter how good or bad the economy is. Coca-Cola has been paying dividends since 1964, Stock Rover reports. Coke can pay constant dividends because there is always a demand for its products.
Energy drinks are a large and growing market. t4 estimates the global energy drink market will grow from $65 billion in 2021 to $70 billion in 2022. The worldwide energy drink market could grow to $75 billion in 2023, $80 billion in 2024, and $86 billion in 2025.
Red Bull's value proposition is a popular product with a growing market that is not affected by economic or technological trends. The data shows Red Bull's growth could continue for years to come.
Red Bull Sports Sponsorships
Red Bull has become one of the world's most recognizable brands because of all the sports and entertainment it sponsors. Sporting events Red Bull sponsors include electric car racing, motorcycle racing, snowboarding, mixed martial arts, rally car racing, surfing, and even cliff diving. Red Bull also sponsors esports (video game) competitions and dance competitions.
Athletes Red Bull sponsors include mountain climber Sasha DiGiulian, bicycle stunt rider Danny MacAskill, Surfer Kai Lenny, Formula One Racing Driver Max Verstappen, and snowboarder Zeb Powell. Red Bull's most famous sponsorship is its Formula One racing team. Many people who do not drink Red Bull know the brand from the sponsorship.
Television viewers know of Red Bull because of its famous animated commercials. The commercials have made Red Bull's slogan: "It gives you wings," known worldwide.
Redbull began in 1987 and is now one of the world's most recognizable brands. Dietrich Mateschitz launched the Red Energy Drink Company in Austria in 1987, 99 years after Coca-Cola was established in 1886.
Mateschitz invented the energy drink category by launching Red Bull. His goal was to create a European version of beverages he had seen in Asia.
Today there are many varieties of Red Bull, including a sugar-free drink, a Red Edition, a Zero Sugar version, a Yellow Edition, a Blue Edition, a Green Edition, a Winter Edition, and even a Coconut Edition. Given this success, many people want to invest in Red Bull.
4 Great Alternative Investments to Red Bull
Many stocks are excellent alternatives to Red Bull. Some of these stocks are valuable investments that offer cash, dividends, and growth.
1. Monster Beverage Corp (NASDAQ: MNST)
Monster Beverage Corp (MNST) is the number two maker of energy drinks in the United States. According to Stock Rover research reports, Monster sold $6.3 billion worth of energy drinks in the US in 2022.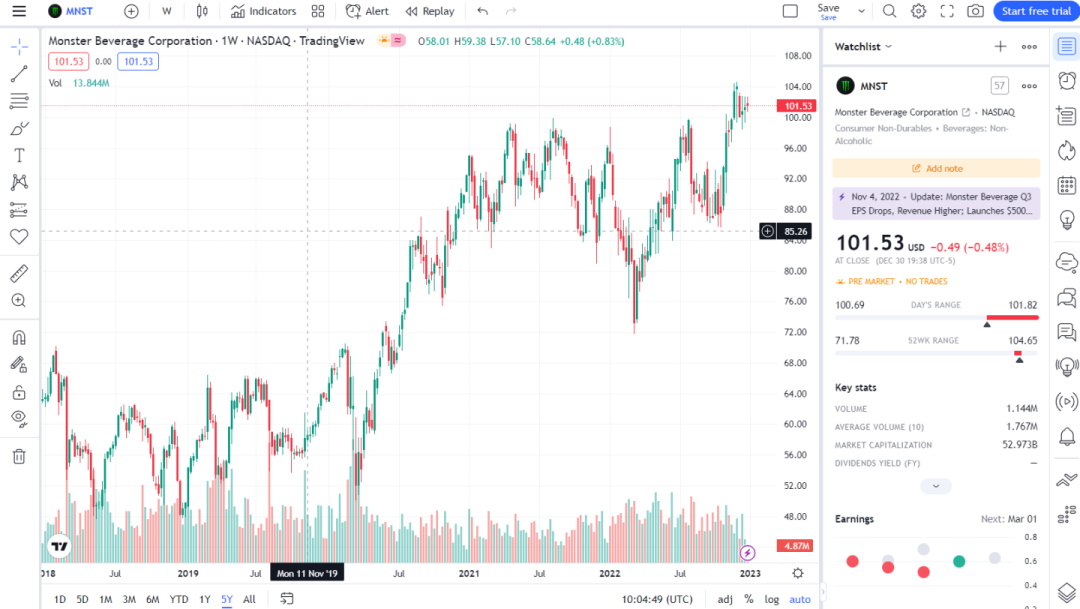 See a live real-time chart of Monster Beverage on TradingView
Monster manufactures and markets several lines of energy drinks. Those products include Monster Energy, Monster Ultra, Monster Hydro, Muscle Monster, Java Monster, and Juice Monster. Monster also manufactures Dragon Tea.
Like Red Bull, Monster sponsors sports, including Supercross, Professional Bull Riding, and UFC. Monster also sponsors some esports or gaming events and concerts.
Monster Energy drinks were sold in 141 countries in 2021. Coca-Cola and Monster have a strategic partnership that allows Monster to distribute through Coke's affiliates. The Coca-Cola Company (KO) owns 16.7% of Monster Energy.
Monster is the Coca-Cola Company's exclusive energy drink; this gives Monster access to Coke's marketing and distribution resources.
Investors can find several excellent publicly traded alternatives to Red Bull. Even though there is no Red Bull stock, investors can own a piece of the energy drinks market through Monster Beverage.
---
Investing In Stocks Can Be Complicated, Stock Rover Makes It Easy.
Stock Rover is our #1 rated stock investing tool for:
★ Growth Investing - With industry Leading Research Reports ★
★ Value Investing - Find Value Stocks Using Warren Buffett's Strategies ★
★ Income Investing - Harvest Safe Regular Dividends from Stocks ★
"I have been researching and investing in stocks for 20 years! I now manage all my stock investments using Stock Rover." Barry D. Moore - Founder: LiberatedStockTrader.com
Get Stock Rover Premium Plus Now or Read the In-Depth Stock Rover Review & Test.
---
2. Coca-Cola (NYSE: KO)
Coke is the world's most popular and best-known soft drink. Coca-Cola UK estimates that people drink over 1.9 billion Cokes in over 200 countries daily.
Coca-Cola is the world's most valuable soft drink brand, with a global brand value of $74.785 billion in 2022. Diet Coke was the fifth most valuable soda, with a global brand value of $12.819 billion in 2022.
See a live real-time chart of Coca Cola on TradingView
In contrast, the Coca-Cola Company had a global brand value of $30.378 billion in 2022. Coca-Cola owns over 200 brands worldwide and operates in over 200 countries and territories.
Coca-Cola brands include Dasani water, Fanta, Fresca, Gold Peak Tea, Minute Maid juice and Lemonade, Costa Coffee, Schweppes tonic water and ginger ale, Powerade, Sprite, and Topo-Chico. Coca-Cola owns 16.2% of Monster Energy and distributes Monster Energy drinks worldwide.
Warren Buffett is among the many value investors who love Coca-Cola. Buffett paid over $1 billion for 6.2% of Coca-Cola's shares in 1988, Investopedia estimates. By September 2022, Berkshire Hathaway owned 9.2% of Coca-Cola's shares.
Buffett owns Coca-Cola because Coke's position as the world's most popular soft drink gives it a wide moat. A moat is a defense that competitors will have difficulty penetrating. Coca-Cola's moat is Coke's $74.785 billion global brand value. The nearest competitor is Red Bull, which had a $14.886 global brand value in 2022.
Like Coca-Cola, Red Bull has an impressive moat, but Red Bull's boat is narrow and shallow compared to Coke's.
3. PepsiCo Inc. (NASDAQ: PEP)
PepsiCo (PEP) owns the world's fourth most valuable soft drink brand Pepsi. Statista estimates Pepsi's 2022 global brand value at $13.742 billion.
The value proposition at PepsiCo is many popular products besides soft drinks. PepsiCo owns Frito-Lay, the maker of Lay's potato chips, Dorito's and Frito corn chips, and Cheetos. Another PepsiCo subsidiary is Quaker Foods, which makes the popular oatmeal.
See a live real-time chart of PepsiCo on TradingView.
PepsiCo owns over 500 brands, including Lay's, Aquafina water, Gatorade, Mountain Dew, Tostitos, Diet Pepsi, Walker's, Ruffles, Rold Gold, Sprite, Sabra Humus, Sabritones, Lipton Tea, and Sodastream. One subsidiary, PepsiCo Beverages North America, claims to be one of North America's beverage companies, with $22 billion in net sales in 2022.
PepsiCo stock is an excellent Red Bull alternative because it has been paying a dividend for 33 years since 1989, according to Stock Rover reports.
4. Keuring Dr. Pepper Inc. (NASDAQ: KDP)
Keuring Dr. Pepper is the third largest American soft drink company, with 24.8% of US market volume in the first half of 2022, Beverage Digest estimates.
See a live real-time chart on TradingView.
Keuring Dr. Pepper owns or markets over 125 consumer product brands. Those brands include Dr. Pepper, 7UP, Orange Crush, Sun Drop, Canada Dry, Sunkist, Squart, Mott's juices, Hawaiian Punch, Snapple Teas, Royal Crown Cola, A&W Root Beer, and Schweppes. Keuring Dr. Pepper has the North American license for Schweppes tonic water and other products. Partner brands include Starbucks, Folger's Coffee, Evian water, Lipton Tea, Cafe Bustelo, Tazo Tea, Twinnings Teas, Tazo Teas, Maxwell House, Tim Horton's, and Caribou Coffee.
Keuring manufactures the popular Keuring cups for hot drinks. Statista estimates Keuring sells 13 billion single-serve coffee packs a year. Around 40% of American households had a single-cup coffee brewing system in 2020.
Keuring sells single-cup versions of America's most popular coffee brands, including Folgers's, Starbucks, Cafe Bustelo, Dunkin', and Maxwell House. Keuring also sells the popular Lipton, Tazo, and Twinning's Teas.
Hammer Candlestick: Is It Reliable? 2,219 Test Trades Say No!
Keuring Dr. Pepper is a Red Bull alternative because it is a smaller beverage maker with a growing market share. Keuring introduced a popular product, single-serve hot drinks, to the market. Most Americans call a single-serve drink machine a "Keuring Machine." This gives Keuring Dr. Pepper a wide moat, similar to Red Bull.