Warren Buffett's holdings are far greater than most people think; because Berkshire Hathaway (NYSE: BRK.A) owns both and stock and entire companies. Currently, Berkshire Hathaway (NYSE: BRK.B) has 66 subsidiaries. Those subsidiaries range from the famous; the BNSF Railway, to the obscure, Marmon Holdings.
The Top 5 Publicly Listed Companies Owned By Warren Buffet / Berkshire Hathaway
American Express (NYSE: AXP) – 17.9% Ownership
Apple (NASDAQ: AAPL) – 9.5% Ownership
Wells Fargo (NYSE; WFC) – 9.8% Ownership
Coca-Cola (NYSE: KO) – 9.4% Ownership
Bank of New York Mellon (NYSE: BK) – 8.8% Ownership
How Buffett runs Berkshire Hathaway
In addition, Berkshire Hathaway owns some famous brands outright. Therefore, Berkshire is more like a hedge fund than a traditional corporation.
For instance, Buffett provides no direction or guidance to Berkshire subsidiaries. In his 2019 Letter to Shareholders, Buffett admits there is no corporate budget for Berkshire Hathaway.
Instead, Buffett lets each management team make all the decisions for each Berkshire subsidiary. That frees Buffett and his team to concentrate on what they do best: investing.
How Does Warren Buffett Select Companies To Invest In?
Warren Buffett finds companies to invest in using Value Investing.  He essentially values a company based on the Intrinsic Value of the company's future cash flows.  Then he calculates the Margin of Safety, this is how much he is willing to pay for the stock below the current stock price.  Essentially the margin of safety is how much a stock price could fall before he starts losing money.  Find out all about Warren Buffett's investing style in this article on building your own Buffett Stock Screener.
What Companies Does Warren Buffett Own?
1. The Burlington Northern Santa Fe Railway BNSF
The BNSF combines the operations of over 390 historic American railroads. The BNSF's most famous predecessor is the Santa Fe; or Atchison, Topeka, and Santa Fe.
The Santa Fe; which ran between Chicago and Los Angeles, was featured in many Western movies. During the mid-20th Century, the Santa Fe's most famous train; the Super Chief, was the favorite ride of movie stars traveling to Hollywood.
Other historic railroads owned by the BNSF; include the Great Northern, the Frisco, the Colorado and Southern, the Northern Pacific, the Denver Road, the Colorado Midland, and the Chicago, Burlington, and Quincy. Currently, the BNSF operates 32,500 miles of rail lines in the United States. BNSF assets include three transcontinental rail lines between Chicago and the Pacific Coast.
The BNSF is a classic value investment because it provides basic infrastructure other industries need to operate railways. Additionally, BNSF right of way can be used for pipelines, fiber optic networks for internet and the cloud, and even next-generation transportation systems like the Hyperloop.
2. Duracell
This battery maker cashes in on our love of all things electronic by providing power from everything from watches to boats.
Duracell is poised to profit from America's aging population with a line of hearing-aid batteries. Notably, nearly 53.742 million Americans are over 65, SeniorCare estimates. That's a huge market for just one Duracell product because many of these seniors will need hearing aids.
Moreover, Duracell is a major player in LED lighting, rechargeable batteries, alkaline batteries, and coin and button batteries. Given our love of electronic gadgets, demand for Duracell batteries is likely to skyrocket in the coming years.
3. Fruit of the Loom
America's best-known underwear manufacturer is a perfect example of a low-profile company that makes products that are not glamorous. However, Fruit of the Loom manufactures a product everybody needs; underwear.
Interestingly, Fruit of the Loom is one of several clothing makers Berkshire Hathaway owns. Fruit of the Loom is often cited as a classic value because Buffett bought it from a bankruptcy court. Fruit of the Loom also owns the Russell Athletic, Spalding, Jerzees, and Vanity Fair brands.
4. GEICO
This auto insurance giant is Berkshire Hathway's highest-profile holding because of vast amounts of silly advertising. Geico's mascot, the Gecko is a constant presence on American television, in particular.
GEICO is one of Berkshire's most lucrative holdings generating $389 million from underwriting in 1st Quarter 2019. Moreover, GEICO reported a $770 million underwriting profit in 2019, Insurance Journal estimates.
GEICO claims to insure 28 million vehicles through 17 million auto insurance policies in the United States. The name GEICO stands for Government Employees Insurance Company. Although, currently, GEICO will sell an auto, home, general liability, professional liability, workers' compensation, medical malpractice, rideshare, business, or commercial auto to anybody.
Notably, GEICO is one of many insurance companies Berkshire Hathaway owns. Buffett loves insurance because insurance premiums generate float. Float is a steady stream of cash Berkshire Hathaway can tap for acquisition and other purposes.
5. Gen Re
Gen Re provides financial backing to insurance companies in the form of reinsurance. The reinsurance market is both huge and lucrative. Gen Re claims to have $14 billion in capital and $9 billion premiums.
Even though most of Berkshire's operations focus on the USA, Gen Re operates 40 offices worldwide. Like a number of Berkshire Hathaway subsidiaries, Gen Re has several subsidiaries of its own; including General Star, USAU, and Faraday. Faraday underwrites insurance through the historic British insurance market Lloyd's of London.
6. Kraft Heinz (NYSE: KH)
The historic American food manufacturer is the only publicly-traded company listed as a subsidiary at Berkshire Hathaway's website. However, Kraft-Heinz is an independent publicly traded company that Berkshire owns 26.7% of.
In detail, Berkshire and 3G Capital created Kraft Heinz by merging Kraft Foods with HJ Heinz, Reuters reports. However, the company has struggled to compete with private-label brands.
This food manufacturer owns many famous brands that have been staples in American kitchens for generations. Notable Kraft Heinz Products include; Heinz ketchup, Maxwell House coffee, Jell-O, Velveeta, Kraft Cheese, Grey Poupon Mustard, Planters Peanuts, Kool-Aid, Ore Ida Potatoes, and Oscar Meyer meat products.
In recent years, Heinz because of consumers' preference for cheaper private-label products. In fact, Buffett himself admits Costco's Kirkland brand now outsells Kraft Heinz. Buffett estimated that Costco sold $39 billion worth of Kirkland products in 2018, Business Insider reports. That exceeded Kraft Heinz 2018 sales of $26.3 billion.
7. Berkshire Hathaway Energy Company
Most people do not realize it; but Berkshire Hathaway is a major player in electricity generation in the United States.
For example, Berkshire Hathaway Energy invested $6.5 billion in solar projects in the United States. Interestingly, Berkshire Hathaway now owns two of the largest solar polar projects in the United States.
Berkshire Hathaway Energy owns a portfolio of utilities that include NV Energy in Nevada, Northern Powergrid in England, Northern Natural Gas, and PacifiCorp.
8. Home Services of America
Home Services of America offers everything a potential homebuyer might need. This includes real estate brokerages, title and escrow companies, mortgages, insurance, and relocation services.
Home Services of America operates through a network of franchises throughout the United States. Specifically, Home Services of America caters to Buffett's faith in the United States and the American dream.
Buffett is a strong advocate of home ownership who has great faith in the resilience of the American economy. Thus, subsidiaries like Home Services of America reflect Buffett's patriotism.  Consequently, Buffett owns several housing related companies including Clayton Homes and Scott Fetzer Companies.
9. BH Media Group
Warren Buffett is a lifelong fan of journalism and newspapers who delivered newspapers as a college student. Today, Buffett owns 30 daily newspapers and many other holdings through the BH Media Group.
BH Media's most notable properties include Buffett's hometown newspaper The Omaha World-Herald; which Warren himself once delivered. In addition, BH Media owns the Richmond-Times Dispatch, The Tulsa World, The Charlottesville Daily Progress, The Eagle, The Winston-Salem Journal, and The Roanoke Times.
Berkshire Hathaway also owns one of largest newspapers in upstate New York; The Buffalo News through a separate subsidiary. Newspaper holdings reflect Buffett's commit to investing in industries and businesses he loves.
10. The McLane Group
McLane services retailers and restaurants all over the United States by providing a wide variety of goods and services. In particular, McLane delivers cigarettes, snacks, candy, and other merchandise to convenience stores and gas stations.
Additionally, services major discounters like Family Dollar, and offers alcoholic beverages through Empire Wine & Spirits. McLane trucks can be seen on almost every highway in America.
McLane represents the classic value investing strategy of buying into companies that provide essential services. In detail, Berkshire profits from retail without taking any of the risk of operating brick and mortar stores. Instead, McLane services whatever company is operating in an area.
11.Helzberg Diamonds
Oddly, Berkshire's investment in jewelry and diamonds are usually overlooked. Helzberg sells a wide variety of diamonds and other jewelry through its website and stores.
In addition, to Helzberg Berkshire Hathaway owns the jewelry retailers Borsheims and Ben Bridge Jeweler. Uncle Warren likes jewelry because it is a small high-value product that many people buy on credit. Consequently, diamonds generate float for Berkshire Hathaway.
12. International Dairy Queen
Dairy Queen is a famous American fast food brand that also operates the Orange Julius stores. Dairy Queen restaurants are commonplace in American small towns. In addition, Orange Julius franchises are a common feature of American malls.
Dairy Queen is not as famous or as glamorous as McDonalds (NYSE: MCD) but it is profitable. One reason why Dairy Queen stays profitable is by avoiding urban and suburban markets with intense competition.
13. Marmon Holdings Inc.
Marmon is a giant billion Berkshire Hathaway subsidiary you probably never heard of.
However, Marmon makes everything from railroad tank cars to restaurant fixtures, to electrical wire, to cranes to plumbing. Although Marmon is low profile, it is profitable. Marmon reported revenues of $7.7 billion in 2017.
14. Johns Manville
Johns Manville is another unsexy company that makes very boring products, insulation, and roofing products. However, Johns Manville makes products that almost everybody needs.
Once again, Berkshire Hathaway profits by owning an obscure company that provides vital products. Interestingly, Johns Manville is a high technology company.
In fact, Johns Manville is researching glass fibers and other composites that could be used in automobile and other manufacturing. Consequently, Berkshire Hathaway could one day manufacture the components for your car or airplane.
15. The Acme Brick Company
Acme Brick could be the most boring company Berkshire Hathaway owns. However, it makes a widely used product that people use every day.
Products Acme Brick offers include paving stones, bricks for construction, and even glass brick for decoration. Acme Brick is yet another example of Buffett's betting on Americans' habit of homeownership. Brick is still one of the main building materials in American homes ranging from suburban ranch houses to inner-city condos.
16. Fechheimer Brothers
The Fechheimer Brothers Company manufactures uniforms for police, the military, firefighters, and others. In addition, Fechheimer makes gear for a wide variety of workers. Including Justin Flame resistant garments.
Once again, Berkshire Hathaway is servicing a steady but necessary market that could be recession-proof. To explain, law enforcement and the military have a steady source of revenue in the form of taxes.
17. Berkshire Hathaway Automotive
Surprisingly, Warren Buffett is buying auto dealerships around the United States through Berkshire Hathaway Automotive. In fact, Berkshire Hathaway currently offers 46,360 vehicles for sale through 103 franchises.
My guess is that Buffett thinks dealerships will generate float through auto financing. Notably, over 30% of new cars in the United States are leased Statista estimates. That means the leasers must make a monthly payment to keep their wheels.
Additionally, Berkshire Hathaway could make more money by selling GEICO insurance policies through its dealerships. Future markets Berkshire Hathaway could tap include rideshare services such as Uber (NASDAQ: UBER) and Lyft (NYSE: LYFT).
To explain, Uber and Lyft drivers will need vehicles and insurance, and Berkshire Hathaway Automotive could provide those vehicles through its dealerships. Meanwhile, GEICO could insure the rideshare vehicles.
18. The Oriental Trading Company
Oriental Trading sells party, teaching, and other supplies to organizations through catalogs and a website. Oriental Trading makes money by tapping obscure markets like Vacation Bible School and classroom decorations.
However, the markets Oriental Trading can tap are vast. There were 132,853 public schools in the United States in 2016, for instance, Education Week estimates. Thus, Oriental Trading has hundreds of thousands of potential customers all over the United States.
Oriental Trading is yet another example of a Berkshire Hathaway subsidiary that taps a vast market most people are unaware of. Therefore, studying obscure statistics helps Buffett locate great investments.
[Related Article: The Top 100+ Warren Buffett Quotes – With Explanations]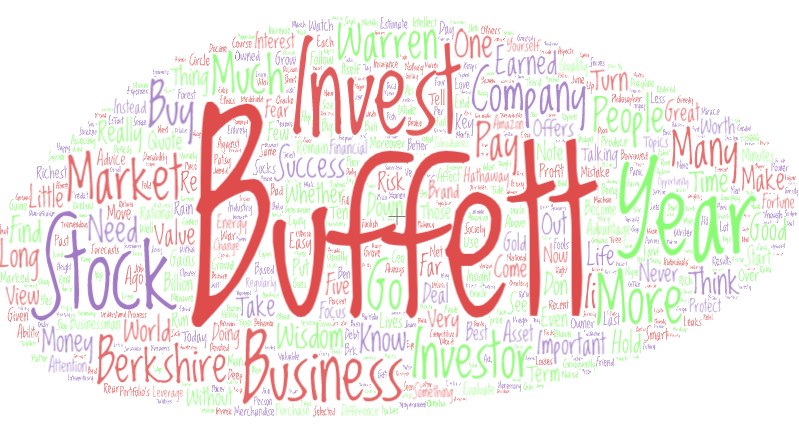 -
A Full List of Berkshire Hathaway Subsidiaries
The companies listed below are just a small sampling of the many firms in the vast Berkshire Hathaway empire. In fact, Berkshire Hathaway makes everything from candy to industrial equipment.
Therefore, Berkshire is one of the world's most diversified companies because it operates in an incredible variety of sectors. To get an idea of the size and scope of Berkshire Hathaway here is a list of Berkshire holdings from 29 June 2019:
66 Major Subsidiaries Warren Buffett / Berkshire Hathaway Owns
1. Acme Brick Company
2. HomeServices of America
3. Applied Underwriters
4. International Dairy Queen, Inc.
5. Ben Bridge Jeweler
6. IMC International Metalworking Companies
7. Benjamin Moore & Co.
8. Johns Manville
9. Berkshire Hathaway Automotive
10. Jordan's Furniture
11. Berkshire Hathaway Direct Insurance Company (THREE)
12. Justin Brands
13. Berkshire Hathaway Energy Company
14. H. Brown Shoe Group
15. Berkshire Hathaway GUARD Insurance Companies
16. Larson-Juhl
17. Berkshire Hathaway Homestate Companies
18. LiquidPower Specialty Products Inc. (LSPI)
19. Berkshire Hathaway Specialty Insurance
20. Louis – Motorcycle & Leisure
21. BH Media Group
22. Lubrizol Corporation
23. biBERK Business Insurance
24. Marmon Holdings, Inc.
25. BoatU.S.
26. McLane Company
27. Borsheims Fine Jewelry
28. MedPro Group
29. Brooks
30. MiTek Inc.
31. Buffalo NEWS, Buffalo NY
32. MLMIC Insurance Company
33. BNSF
34. National Indemnity Company
35. Business Wire
36. Nebraska Furniture Mart
37. Central States Indemnity Company
38. NetJets®
39. Charter Brokerage
40. Oriental Trading Company
41. Clayton Homes
42. Pampered Chef®
43. CORT Business Services
44. Precision Castparts Corp.
45. CTB Inc.
46. Precision Steel Warehouse, Inc.
47. Duracell
48. RC Willey Home Furnishings
49. Fechheimer Brothers Company
50. Richline Group
51. FlightSafety
52. Scott Fetzer Companies
53. Forest River
54. See's Candies
55. Fruit of the Loom Companies
56. Shaw Industries
57. Garan Incorporated
58. Star Furniture
59. Gateway Underwriters Agency
60. TTI, Inc.
61. GEICO Auto Insurance
62. United States Liability Insurance Group
63. General Re
64. XTRA Corporation
65. Helzberg Diamonds
Source: Berkshire Hathaway Annual Reports
-
Warren Buffett / Berkshire Hathaway Company Performance Last 5 years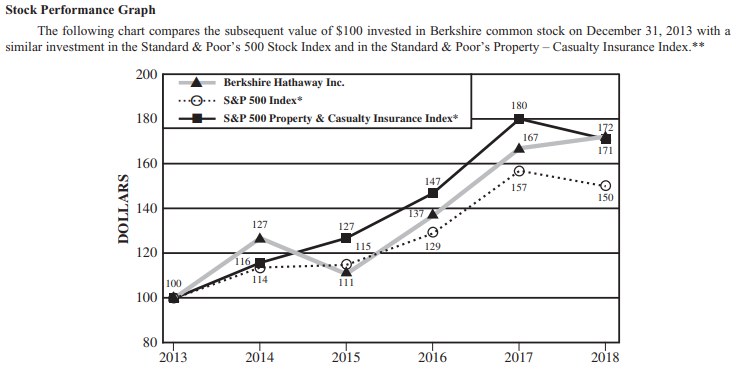 As you can see Warren Buffett likes to measure his company performance against the performance of the underlying index, in this instance the S&P500. Source Berkshire Hathaway Annual Reports
A Lesson in Value Investing
Simply going through Berkshire's holdings and studying them can give you a comprehensive lesson in value investing.
Studying Berkshire's many insurance holdings will give you a good idea of how float works and why Buffett values it. In addition, the unsexy nature of many Berkshire Hathaway Holdings demonstrates how you can make money by ignoring the market.
Understanding the characteristics of companies that Buffett and his team buy can show you what to look for in stocks. Those who want to learn value investing should study Berkshire Hathaway's subsidiaries.