To build a stock portfolio, you need to determine how much to invest, your risk tolerance, portfolio allocation, and your investing strategy. Next, choose the right tool to find the ideal stocks and ETFs and enable you to manage your portfolio effectively.
This eight-step practical and proven process for building a stock portfolio will help you take a structured approach to achieve your investing goals.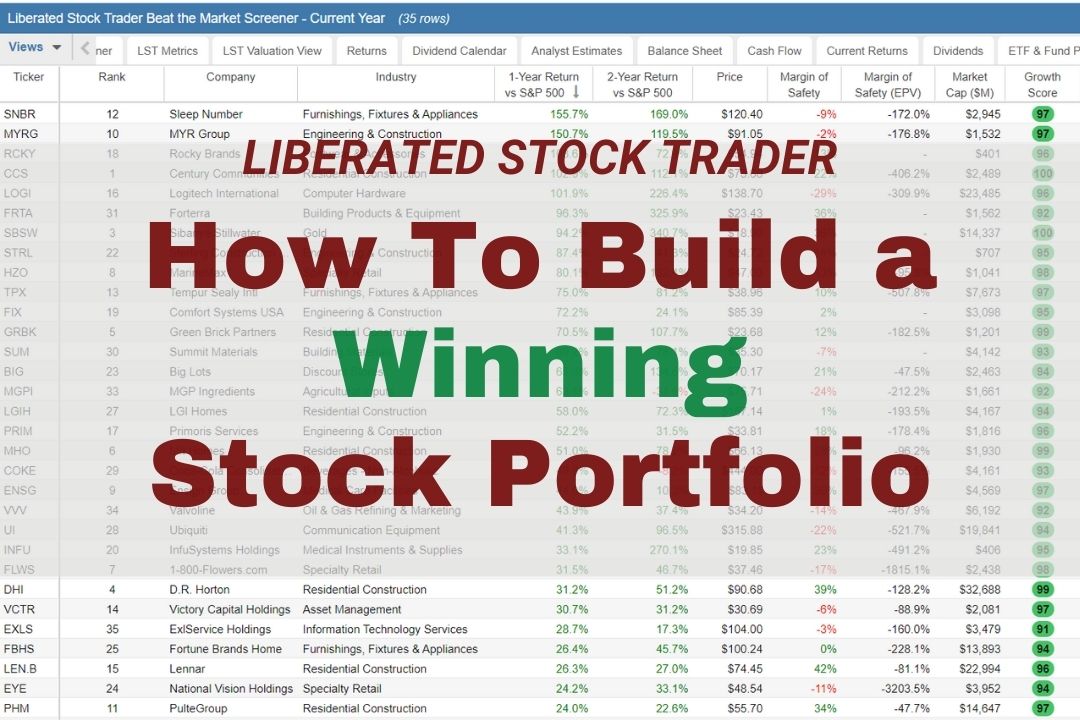 This article contains many researched and tested portfolio strategies, systems, and tools to help you achieve your goals, but this work does not constitute specific financial advice. I am not a financial advisor; I am a certified financial market technical analyst. I am not permitted to provide financial advice and accept no liability for any losses incurred. By using this work, you agree to our terms and conditions.
An 8 step process for building a stock portfolio
This eight-step process for building a stable, diversified stock portfolio draws on years of research by the author and external academics and provides many practical examples.
1. Decide how much to invest
The first step in building a stock portfolio is establishing how much money you have to invest. A good rule of thumb is determining how much of your income you need to live on. Then invest half the money you do not need in stocks. It is good to reassess your investing whenever your income changes, e.g., when you change jobs. Another excellent piece of advice is to invest windfall income, such as bonuses or inheritances.
How to calculate how much to invest
Calculating how much to invest is simple. Take your total income after tax, and deduct your living expenses (including vacations, rent, mortgage). Next, deduct your emergency fund, and ensure you build an emergency fund that covers surprise expenses like illness, auto repair, or home damage.
 Investment Capital = Income – Living Expenses – Emergency Fund
| | | | |
| --- | --- | --- | --- |
| Income | Living Expenses | Emergency Fund | Investment Capital |
| $50,000 | $35,000 | $5,000 | $10,000 |
| $100,000 | $60,000 | $10,000 | $30,000 |
| $200,000 | $120,000 | $15,000 | $65,000 |
Regularly contribute to your portfolio
The most powerful word in investing is compounding. Investing in your new stock portfolio should not be a one-time capital injection, more like a regular contribution. A regular contribution to your portfolio will compound over time to yield rich results 20 or 30 years from now. Even if you can only afford $200 per month, always add to your portfolio.
2. Decide how to manage your portfolio
Before you create your portfolio, it is important to decide how you will manage it. You might want to manage your portfolio yourself through a broker to have maximum control or decide to use an automated advisor to manage trading, portfolio construction, and tax loss harvesting. The final option is to use a financial advisor.
How to Manage Your Portfolio

Pros

Cons

Costs

Self Management
You Have Total Control

Chance to Outperform the Market

Easy to Liquidate

Takes More Time
Very Low Transaction Costs
Robo Advisor
Time-Saving

Maintain Control

Generic Advice

No Chance to Outperform the Market

Medium – <1% of capital
Financial Advisor
Time-Saving
Expensive

Lack of Control

Difficult to liquidate Assets

High – 5% of Capital
Self-Manage Your Stock Portfolio
The most rewarding yet time-consuming way of managing your portfolio is to do it yourself. You will need to research and screen for the stocks that meet your investing criteria. You will need to perform portfolio rebalancing and tax-loss harvesting yourself. But with care and attention, you can learn to build a portfolio of stocks that you believe in, which has a chance to really outperform and potentially beat the market.
The benefits of managing your own portfolio include a sense of achievement and the ability to dissolve your assets quickly during an emergency. If a self-managed portfolio is your path, you will need to choose a portfolio and research tool and decide on a low commission or commission-free broker to execute your trades.
We independently research and recommend the best products. We also work with partners to negotiate discounts for you and may earn a small fee through our links.
Use an Automated Investment Robo-Advisor
A Robo-advisor is a service designed to automate the job of a financial advisor by automating the buying and selling of stocks or ETFs and structuring an investment portfolio based on the investor's risk tolerance. These services are provided directly to investors online or via a smartphone app.
I firmly believe that Robo-Advisors provide a great balance of clarity and visibility into your portfolio and ease of use. They also typically have lower maintenance costs when compared to human financial advisors.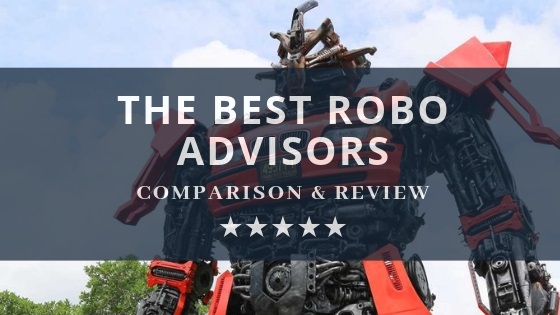 For example, our review-winning automated financial advisor M1 Finance has many advantages over other robo advisors.
Overall, M1 Finance allows you to have granular control over your portfolio or take advantage of the M1 expert portfolios; this is an excellent approach. M1, like the industry, is growing fast, and they offer a full suite of services, including checking accounts and borrowing. But when it comes to automated investment, M1 is one of the pack's leaders, and the only one offering automated investing for free with zero trading commissions. Read the M1 Finance Review.
Use a Financial Advisor
A financial advisor can help you plan a portfolio, and most will a commission from the funds you invest in. You can also opt for a zero commissions advisor who will charge you for their time only. A zero commission broker can be a good way to eliminate any perceived conflict of interest between your advisor and the funds they promote.
3. Determine your risk profile and asset allocation
It would be best to determine your risk profile before you invest any money in your portfolio; this helps you understand your asset allocation and investing strategy. You need to be honest with yourself about how much risk you can take on?
We match your risk profile, tolerance, potential risk/reward, and portfolio asset allocation in the table below.
Risk Profile, Tolerance, Risk/Reward & Portfolio Allocation Table
| | | | |
| --- | --- | --- | --- |
| Risk Profile | Your Risk Tolerance | Risk/Reward* | Portfolio Asset Allocation |
| Conservative | Your main priority is the safety of your capital, and you are willing to accept a maximum of 3% loss in a year. | -1% to + 1% | Stocks & ETFs: 10%. |
| Moderately Conservative | You will accept small levels of risk for some potential returns over the medium to long term. | -2% to +3% | Stocks & ETFs: 30% |
| Moderate | You can accept a moderate level of risk in an increase in returns over the medium to long term. | -2% to +4.5% | Stocks & ETFs: 50% |
| Moderately Aggressive | You want to accept higher risk to maximize potential returns over the medium to long term. | -4% to +6% | Stocks & ETFs: 75% |
| Aggressive | You accept significant risks to maximize potential returns over the long term and know that the stock market can crash up to 30% in one year in 8. | -5 % to +9% | Stocks & ETFs: 100% |
| Actively Aggressive | You are willing to invest time and effort into actively managing your portfolio to maximize your return to potentially outperform the stock market benchmark performance. This entails significant risk and reward. | -10% to +20% | Stocks: 100% |
*Risk reward is calculated using Liberated Stock Trader Stock Market Statistics, dating back to 1929. I used a 20-year average S&P 500/Nasdaq Composite return of 9% and a current negative bond yield to a maximum bond yield of 1%. Stock market crashes occur every 8 to 10 years, with a maximum loss of 30% lasting 2 years.
A conservative risk profile means you want to have as little risk as possible and try to protect your capital from inflation. The other end of the scale is the aggressive risk profile which means you are willing to expose yourself to higher risks assuming you will see higher rewards over time.
The highest risk strategy of all is the Actively Aggressive profile, meaning you want to actively day trade opportunities to maximize income. I would only recommend using high-performing AI systems to assist you, Trade Ideas is the ideal choice.
Your Age Equals Safe Asset Allocation
Another simple way that many financial advisors suggest for calculating asset allocation in investment portfolios is to use the age equals safe assets equation. Suppose you are 30 years old, that would mean you should have 30% of your capital in safe assets and 70% in stocks.
Your Age = Percent of Portfolio in Safe Assets (Bonds, Treasuries, Cash Accounts)
4. Define a portfolio goal and strategy
After assessing your risk tolerance, it is time to define the goals for your portfolio; this will help you decide on an investing strategy. For a conservative portfolio designed to primarily protect your assets from inflation, a mix of treasuries, corporate bonds, and defensive stocks ETFs might be a good choice.
Once you have the goal, you can decide what type of portfolio you want. If your goal is capital growth, a portfolio of growth stocks could serve your needs. If a steady income is your goal, a dividend portfolio will meet your needs. If you are building long-term wealth for retirement, a mix of value, growth, and ETF investing might be suitable. Finally, active day trading and 100% growth stock portfolios are the most aggressive and risky strategies.
The table below enables you to associate potential portfolio investing strategies with your portfolio goal and risk tolerance.
Portfolio Goal, Risk Tolerance, and Investing Strategy Table
I have performed a lot of research into portfolio investing and trading strategies. I have developed numerous original investing systems, such as the Market Outperforming Stock ETF System (MOSES) and the LST Beat the Market System. Here is another great article to provide inspiration and detailed examples of winning portfolio strategies.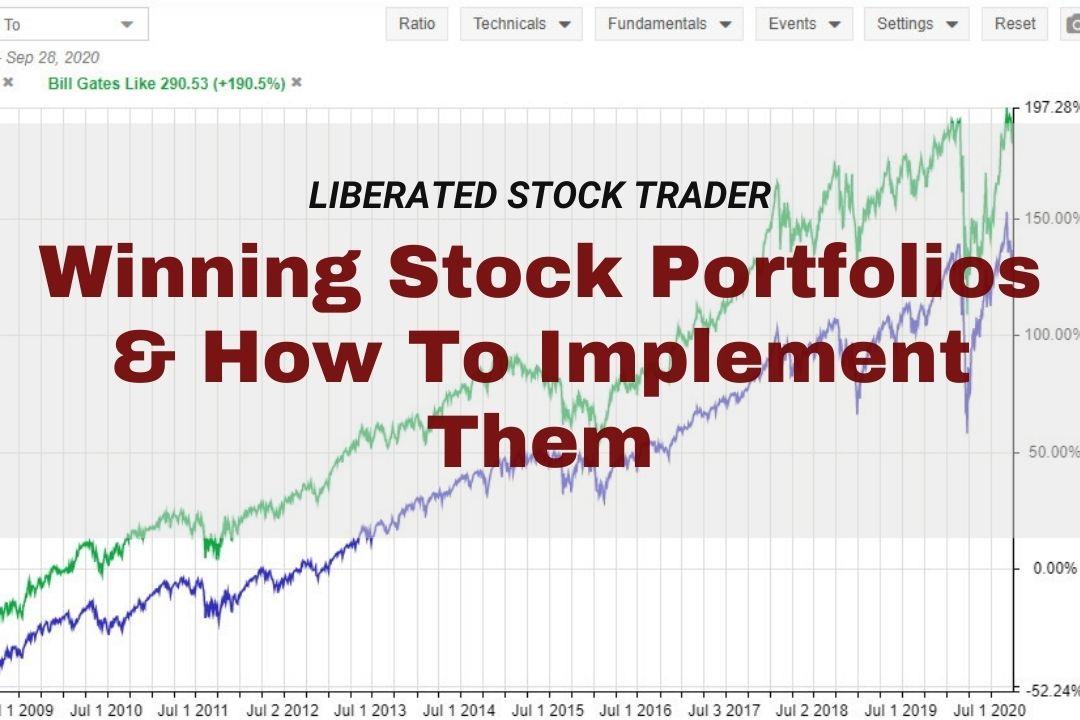 5. Choose the right software for your portfolio strategy
Once you understand your portfolio investment strategy, you need to select the best software to enable you to achieve your goal. Stock analysis software, brokers, and stock trading platforms have made incredible steps forward in the last few years.
We now see commission-free brokers, incredible portfolio management software, Robo-Advisor platforms, stock analysis tools, and even the advent of AI-powered trading software. Choosing the right tool for your strategy can be very complex.
The table below makes choosing a portfolio investing strategy and the associated tool incredibly easy. Simply choose your strategy and read the recommended tool review.
 Table: Portfolio Strategies, Tools, and Implementation Guides
6. Find The Stocks For Your Portfolio
To build a first-class stock portfolio, you will need the best software to enable you to screen for stocks, research the companies, and eventually manage your portfolio.
Stock Rover is by far the best platform for managing and maintaining a balanced and profitable stock portfolio. I use Stock Rover every day, and I work with Stock Rover to develop portfolio strategies and screeners to beat the market.
Stock Rover won our Best Stock Screener and Portfolio Software Review and is a winner in our Top 10 Best Stock Market Analysis Platforms Review.
7. Make your investments
The most important step in building a portfolio is to buy your first stock. The best way to begin is to start small by buying one or a few stocks you like. Buying a few shares is the best way to learn the stock buying process.
Once you become comfortable with stock buying, you can research and build your portfolio. A final piece of advice is to keep the portfolio as simple as possible to avoid complications and problems.
Ideally, you should not have more than 5% to 10% of your portfolio in any single stock. This means at least 10 to 20 stocks in your investment. You can, of course, diversify a lot more.
When managing your stocks, you need to ensure you are using a zero commission broker. This means you will be able to buy or sell your stocks without incurring any trading fees.
In our review of the best online US brokers, Firstrade was a clear winner, not only for free stock trading but also for the service and the number of commission-free ETFs you can invest in. Read the Firstrade Review for further details.
8. Monitor & Maintain Your Portfolio
You will need to monitor the portfolio to see if it is achieving your goals. Another decision you will need to make is determining whether you want investments other than stocks in your portfolio.
Some people will create a hybrid portfolio that contains 10% or 20% mutual funds or ETFs as a cushion. The reason for this is to diversify the portfolio and give it a margin of safety. The drawback of this strategy is that it can limit growth potential.
The key elements in managing your portfolio include:
Analyzing Portfolio Performance
Portfolio Rebalancing
Calculating Stock Portfolio Weighting
Planning Future Portfolio Income
Using Correlation to Ensure Good Diversification
All of these we cover in the article: How to Manage a Stock Portfolio: 7 Steps of Pro Portfolios Managers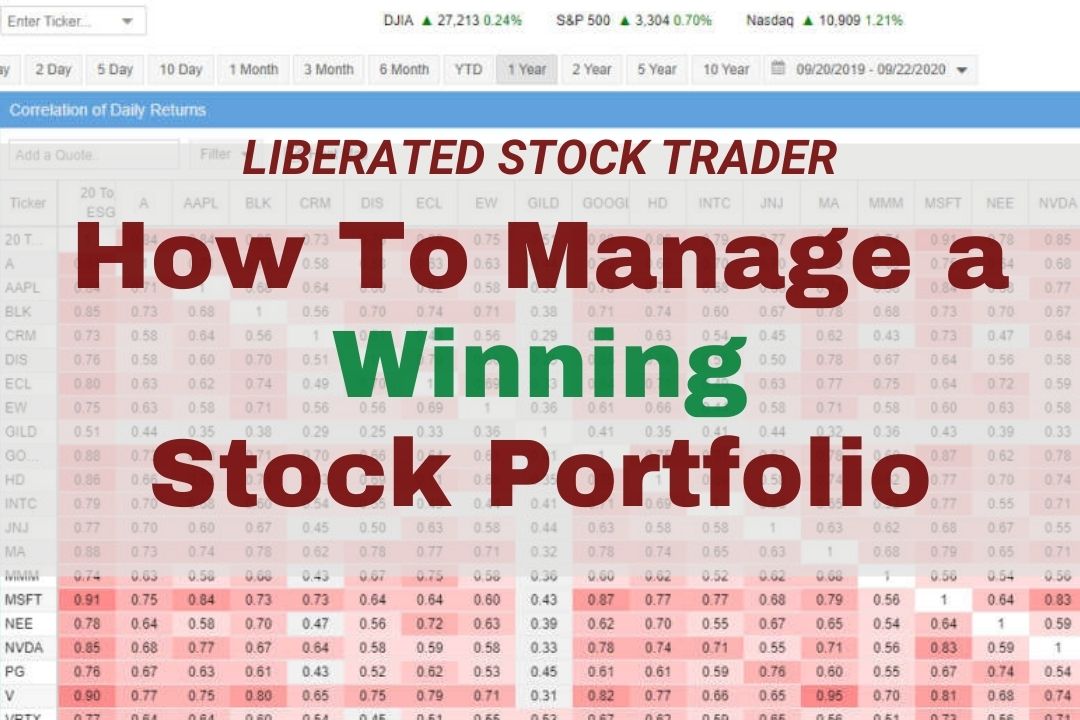 Summary
Many people fail to start portfolios because they fail to conduct the research and planning necessary to create a successful portfolio. Others fail at portfolios because they make the process too complex, expensive, and intimidating. Many people fail because they think they need expensive expert help or special knowledge to build a stock portfolio.
All you need to start a stock portfolio is some money and a little knowledge. If you feel you need to learn more about investing, try our PRO Stock Market Training to fast-track your knowledge.
---
You want to be a successful stock investor but don't know where to start.
Learning stock market investing on your own can be overwhelming. There's so much information out there, and it's hard to know what's true and what's not.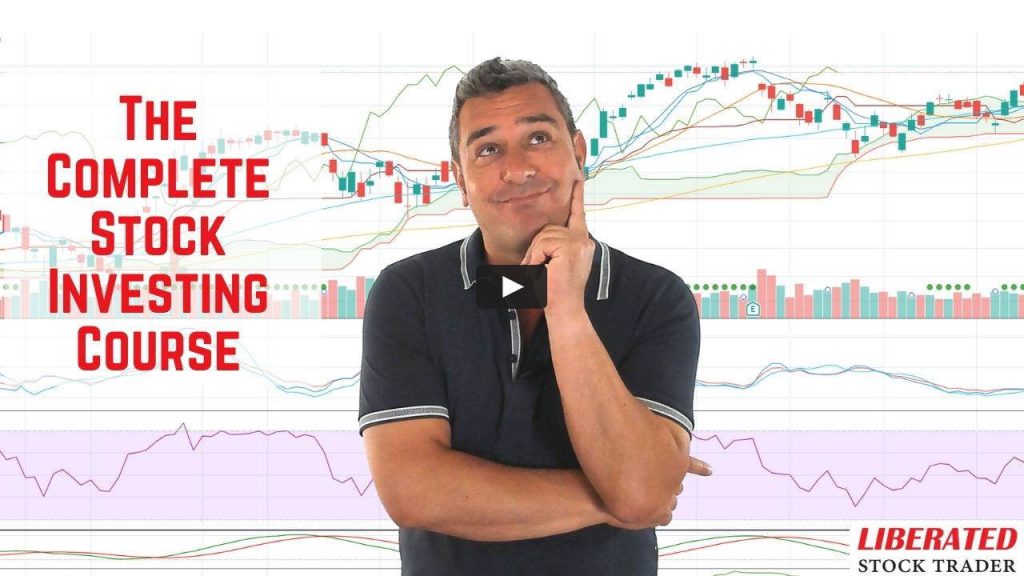 Liberated Stock Trader Pro Investing Course
Our pro investing classes are the perfect way to learn stock investing. You will learn everything you need to know about financial analysis, charts, stock screening, and portfolio building so you can start building wealth today.
★ 16 Hours of Video Lessons + eBook ★
★ Complete Financial Analysis Lessons ★
★ 6 Proven Investing Strategies ★
★ Professional Grade Stock Chart Analysis Classes ★
---
You need to understand the basic investing strategies and philosophies before launching the portfolio. Understanding value investing, growth investing, defensive investing, aggressive investing, income investing, and speculative investing will give you the basic knowledge to build a portfolio.