Stock Market & Financial Industry Statistics & Trends
This research is designed to give you an eye-opening perspective on the stock market, it's size, who invests in it and the different markets and vehicles that exist inside it.  Get ready to have your mind blown.
Jump To Stock Market Stats Video
Stock Market Size 2019
The entire worlds stock exchanges have a capitalization of $80 trillion USD (trending up from $25 trillion in 2009 a 320% increase) 1
The U.S. stock exchanges (NYSE & NASDAQ) combined make up 39% of the entire global stock market value – with a market capitalization of $31 Trillion USD 2
The NYSE & NASDAQ combined are bigger than the next 7 exchanges combined (Japan, China, Euronext, London, Hong Kong & Canada) 3
The 2 goliaths in the global stock markets are the New York Stock Exchange and the NASDAQ.
Stock Market Growth Trends 4
Many people say the stock market is too risky and individual stock ownership is even riskier.  Owning an index fund on a major world index (especially in the U.S.A.) over the long-term is proven to yield a good profit.
In the last 20 Years from 1999 to 2019 – The Best Performing Major Index has Been the NASDAQ 100 with a meteoric return of 300%
The next best is the Dow Jones Industrial Average with 196%, the German DAX with 150% and the S&P500 with 154%
The UK FTSE has managed a dreary 36% and the Nikkei 225 a 48% return.
U.S. Companies Dominate The World's Market 2019
FAANG Company Power
Microsoft Domination: Microsoft (Ticker: MSFT) is the worlds largest company valued at $1.05 Trillion.  Microsoft Corp. is worth more than the entire Brazilian B3 Stock Market $938 Billion, or the Taiwan Stock Exchange valued at $866 Billion. 9
Microsoft Corp. under the leadership of Satya Nadella overtook Apple Inc. in 2019 to become the worlds largest company
The Power of the FAANGs: The combined value of Microsoft Corp., Amazon.com Inc.,  Apple Inc., Alphabet Inc., Netflix and Facebook Inc. are worth more than most stock exchanges 9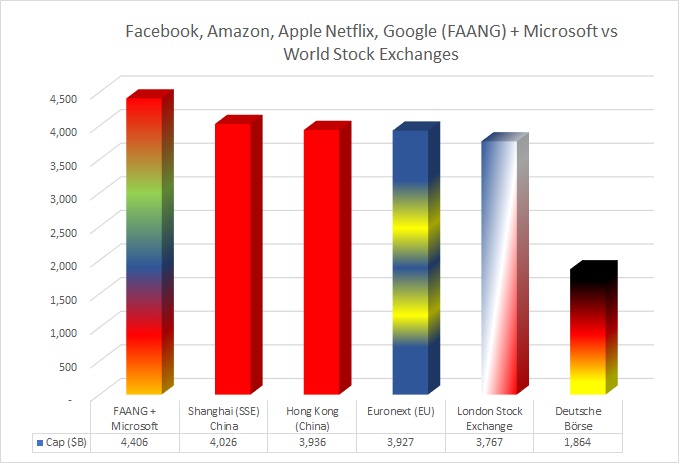 | | |
| --- | --- |
| FAANG's + MSFT | Cap ($B) |
| Microsoft Corp. | 1005 |
| Amazon.com Inc. | 954 |
| Apple Inc. | 940 |
| Alphabet Inc. | 779 |
| Facebook Inc. | 562 |
| Netflix | 166 |
| Total Capitalization | 4406 |
| | |
| --- | --- |
| | Cap ($B) |
| FAANG + Microsoft |  4,406 |
| Shanghai (SSE) China |  4,026 |
| Hong Kong (China) |  3,936 |
| Euronext (EU) |  3,927 |
| London Stock Exchange |  3,767 |
| Deutsche Börse |  1,864 |
Top 10 U.S. Company Domination
The top 10 largest U.S. companies combined value is greater than any other stock market in the world (except the NASDAQ & NYSE)
6 of the top 10 U.S. companies are Technology Stocks.
2 of the top 10 U.S. companies are Financial Stocks (JP Morgan & Visa)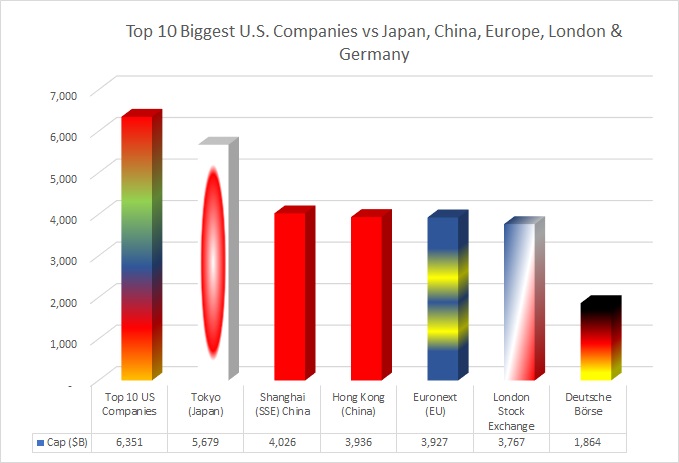 | | |
| --- | --- |
| Company | Cap ($B) |
| Microsoft Corp | 1,005 |
| Amazon.com Inc | 954 |
| Apple Inc | 940 |
| Alphabet Inc | 779 |
| Facebook Inc | 562 |
| Berkshire Hathaway | 529 |
| Alibaba Group | 454 |
| Visa | 386 |
| Johnson & Johnson | 377 |
| JP Morgan | 365 |
| Total Capitalization | 6351 |
-
The Most Powerful Global Industry Sectors – 2019
Information Technology, Financials, Communication and Healthcare make up over 52% of the world's companies by value. 15
Information Technology companies dominate all other industries 16.31% 15
Real Estate accounts for a surprisingly low   3.24% of the global stock market (as weighted by MSCI)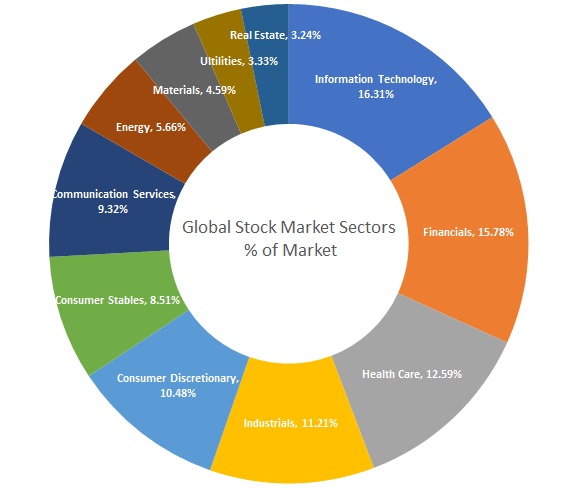 Global Stock Market Sectors % of the Market
Information Technology
16.31%
Financials
15.78%
Health Care
12.59%
Industrials
11.21%
Consumer Discretionary
10.48%
Consumer Stables
8.51%
Communication Services
9.32%
Energy
5.66%
Materials
4.59%
Utilities
3.33%
Real Estate
3.24%
The Fastest Growing U.S. Industries & Sectors 2019
The technology sector had the lowest decrease in 2018 -0.67%
Technology is again the fastest growing sector with a 25% increase in 2019 (year to date)
The industrials and real-estate sectors are close behind with 20%+ growth
The Fastest Growing Sectors Within the Technology Industry
Despite a very poor 2016 with a 55% decline, Solar grew by 58% in 2017
With the huge global impetus on green energy, Solar is in 2019 the fastest-growing sector with 73% growth
Semiconductors are in second place with 39.6% growth
The Software Applications and Software Infrastructure industries have seen 7 straight years of growth averaging over 25% per year

-
Stock Market Private Retail Investors
In 1998 60% of U.S. Adults were invested in the stock market through mutual funds, retirement plans or directly. 5
In 2007 the number of invested adults reached a high of 65%.5
The 2000 Dotcom crash & 2007 financial crisis have damaged American adult trust in the markets and the percentage of adults invested trended downwards to a multi-decade low of 52% in 20165
Approximately 33% of U.S. households have taxable investment accounts 7
The largest uptrend over the last 20 years is the growth of algorithmic trading.
It is estimated that 90% of trade volume in the stock market today is robotic quantitative and computer algorithms 6
The richest 10% of Americans own 84% of the stock market. 14
A taxable account is essentially any active (mutual fund) or passive (index tracking fund) that resides outside of an IRA/401K retirement fund.  This includes self-directed investors or traders also.

Percent of U.S. Households Investing
Retail Investor Demographics 7
So what is the breakdown of the typical investor and are the newest generation of millennials investing.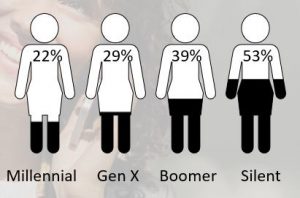 In the U.S. 21% of women & 24% of men have taxable investment accounts.
46% of married couples without dependents have taxable investment accounts, 36% of couples with dependents
27% of single males with or without dependents have investment accounts
23% of single females without dependents have investment accounts compared to 15% of single females with dependents
Only 22% of millennials have taxable investment accounts, compared to Gen Xers at 29%, Boomers at 39% and Silent Generation at 53%
The biggest factors as to people actively investing are an income higher than $50K, a college degree, high levels of financial literacy and higher risk tolerance.
Race factors play a negligible role in whether a person decides to actively invest (4% difference)
Watch the 39 Stock Market Statistics Video (or continue reading)
39 Stock Market Statistics Video That Will Blow Your Mind – 2018
The Fastest Growing Stock Markets – NYSE vs NASDAQ vs FTSE 100 vs DAX vs Nikkei 225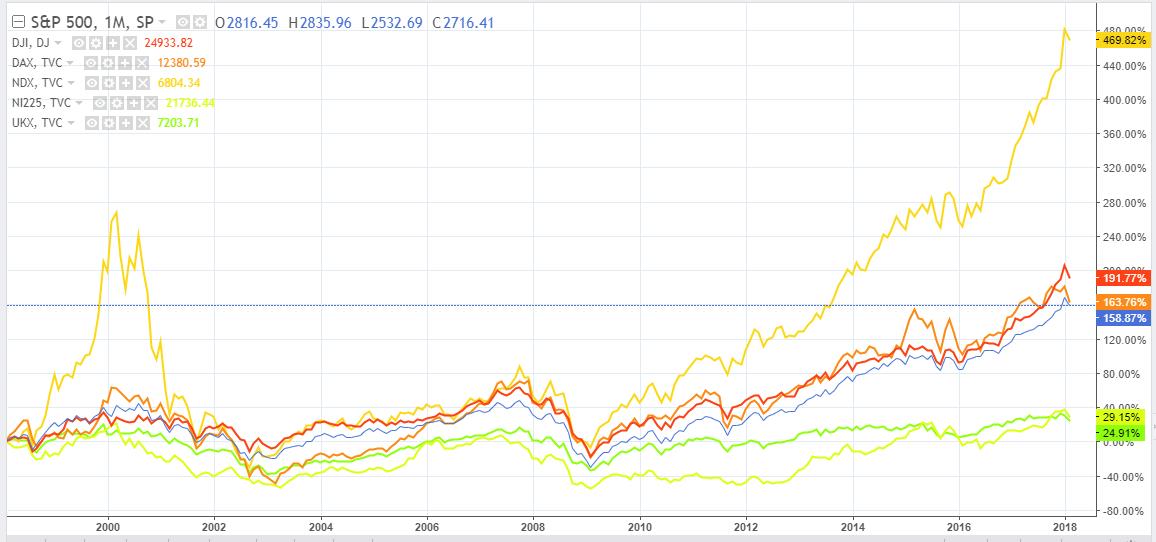 Of the largest exchanges, the U.S. fairs very well, especially the NASDAQ exchange, with an excellent 20-year record returning 468%.
-
Wall Street Services & Fund Managers 11
Actively managed fund (Mutual Fund) performance is looked at here, fund managers seem to be excellent at making profits for themselves but not so good at making profits for their clients.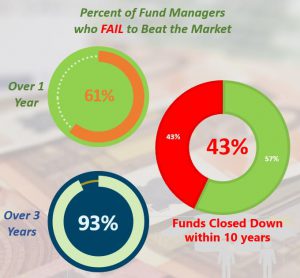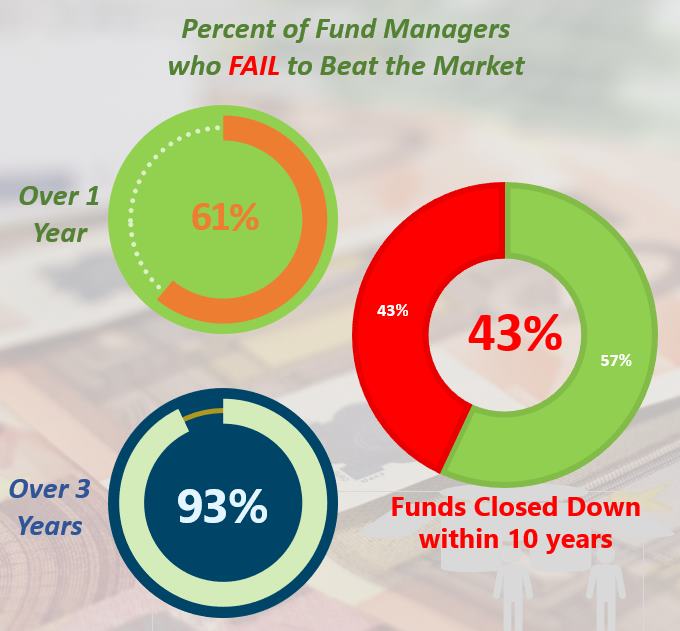 Over 1 year 60.49% of fund managers failed to beat the market index.
Over 3 years 92.91% of fund managers failed to beat the market index.
Over 15 years 82.23% of fund managers failed to beat the market index.
21.22% of actively managed funds are closed down after 5 years
42.87% of actively managed funds are closed down with 10 years
As the vast majority of mutual funds do not beat the underlying index and they incur much higher costs than passive index tracking funds, we can assume that at least 2% less compounding of your wealth will occur.
Over 50 years your share of the Market's cumulative return will reduce from 100% to a horrific 39% when using costly mutual funds 12
Low-cost index fund expenses typically eat up 4% of your dividend yield. 12
Actively managed growth funds typically consume 100% of your dividend yield, with value funds talking 58%. 12
92% of Fund Managers Cannot Beat The Market
-
Long-term Stock Market Trends – Shocks, Crisis & Recessions 9
The fear of the boom and bust is always there for anyone who has money in the market.  But overall for the long-term investor recessions and crashes can be lived through by staying invested.  Let's take a look at history.
In the past 100 years, we have had 18 economic recessions averaging 1 every 5.5 years, aligning roughly to the business cycle of 4 years.
In the last 20 years (1998 to 2018) we have had only 2 (2000 to 2002 & 2007 to 2009) recessions averaging 1 every 10 years.
However, the 2000 Dotcom Recession wiped out 40% of the value of the S&P500 in 3 years.
While the Financial Crisis 2008-2009 wiped out 38% of market value in a single year.
Comparatively the great depression wiped out 71% over 4 years, and the 1974 Shock took out 32% in 2 years
Stock Market Yearly Returns – The Best and the Worst
It was the best of times, it was the worst of times.
Investing in a low-cost stock market index tracking fund is simply one of the simplest and lowest risk ways to expose yourself to the dynamic wealth creation of the U.S.A. or any other major developed world economy.
As only 39% of the world's population is considered Free 10 this limits our choice of safe country indices to invest in.  U.S., UK, Europe, Canada are all still solid bets.
For this analysis of the best and worst years, we will look at the S&P500 the large U.S. bell weather index that provides a solid basis for analysis.
The Best Stock Market Years [of the last 90 Years] 10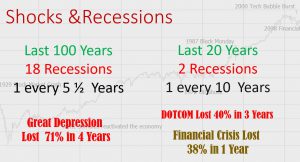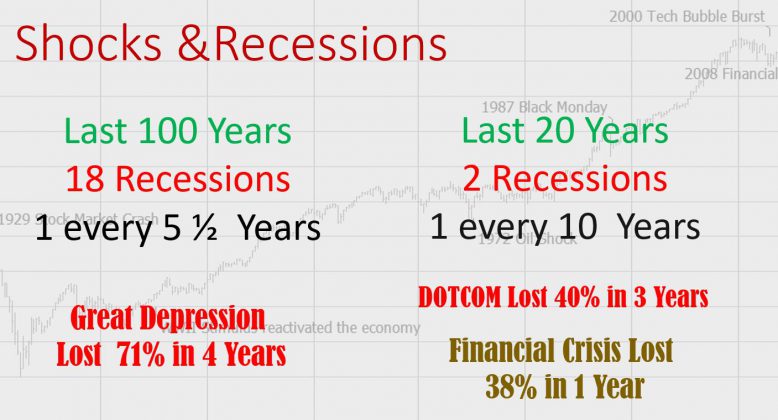 First, we will look back with fondness at the rip-roaring years of joy.
Coming off the back of the great depression we have 1933 with a joyous 46.59%
Following 1953's -6.62% we have 1954 with a 45.02% gain.
Again another great depression rebound rally we have 1935 with 41.37%
After 1957's loss of 14.31%, we got 1958 with 38.06%
1927's pre-depression madness and leverage produced a 37.88% increase
Finally, the Reagan and Thatcher years yielded Clinton and Blair which produced 1995's 34.11% jump. In fact from 1995 to 1999 we had one of the best Bull Markets ever yielding an average 26.3% per year for 5 years.
The Worst Stock Market Years [of the last 90 Years] 10
Coming in at the number one spot is 1931, with a 47% loss.
1937 claims number two with a double-dip 38.59% loss
The modern-day financial crisis 2008 claims a close number three spot with 38.59% loss
At four is 1974 with a 29.72% loss
Number 5 is 1930 with a -28.48%
and lastly good old 2002  with a minus 23.37%
Short Term Stock Market Trend Statistics 16
Declines of 5% occur 1.5 times per year
10% declines in trend occur once every two year
The average serious bear market with a decline of over 20% occur every 7 years
Compounded Gains of the S&P 500 – Last 90 Years to January 2019
A $1,000 investment in 1930 you have yielded you $160,000
This equates to a 160X return

-
Trends in New Services Offered To Investor
Rise of The Robots – Robo Advisors
A Robo Advisor is a digital application that offers users financial advice created by algorithms, artificial intelligence, or mathematical formulas.
The term Robo Advisor is short for robot advisor. However, the phrase Robo Advisor is inaccurate. To explain, a Robo Advisor is a digital construct, usually an algorithm or artificial intelligence (AI) rather than an actual robot.
By 2017 Robo Advisors were managing $200 billion in assets, Barrons estimates.
Vanguard's Personal Advisor Services was the largest Robo Advisor in 2019 overseeing $101 billion in assets.
Schwab is the second-largest Robo Advisor managing $27 billion assets.
Government agencies like the Nevada State Treasurer are turning to Robo Advisors to manage public investments.
The amount of funds controlled by Robo Advisors is growing dramatically. In fact, Algonest estimates Robo Advisors worldwide could manage over $2 trillion in assets by 2020.
Most Robo Advisors do not claim to beat the market returns, they aim to simplify investments.
[Related Article: The Best Robo Advisors 2019]
Commission Free Trading & Brokerage Services
The Stock Brokerage Industry had its first shake-up in the late 1990's with the emergence of the first discount online stock brokerage houses. These new brokerages forced competition in commissions and services which reduced the commission costs dramatically.
Commissions went from $100 per phone call trade, to $9.99 for online trades.  These commissions costs continued to reduce to 2018 with Interactive Brokers offering $1.- trades.
Robinhood was the first brokerage with a very simple app allows you to trade for free
The first major Brokerage to make the move to Commission Free Trading was Firstrade in 2018
-
Right to Reuse this Research.
Dear Media, Reporters and Bloggers, if you would like to share this research with your audience, all we ask is a link to this page as the source. For Further Information please contact us here.  Thank You
Use This Infographic on Your Site
Embed Our Infographic Code <blockquote class="embedly-card"><h4><a href="https://www.liberatedstocktrader.com/wp-content/uploads/2018/02/39-stock-market-statistics.jpg">null</a></h4><p>null</p></blockquote>
<script async src="//cdn.embedly.com/widgets/platform.js" charset="UTF-8″></script>
-
Research & Sources In This Article
Source – Bloomberg – http://www.businessinsider.de/global-market-cap-is-about-to-hit-100-trillion-2017-12?r=UK&IR=T
Source Wikipedia – https://en.wikipedia.org/wiki/List_of_stock_exchanges
Source: Liberated Stock Trader
Stock Market Growth: Source Data TradingView.com
Stock Market investors Source http://news.gallup.com/poll/190883/half-americans-own-stocks-matching-record-low.aspx
https://www.cnbc.com/2017/06/13/death-of-the-human-investor-just-10-percent-of-trading-is-regular-stock-picking-jpmorgan-estimates.html
Source: 2012 National Financial Capability Study – State-by-State Survey FINRA Investor Education Foundation
Market Data Standard & Poors: Analysis Liberated Stock Trader
Market Data Standard & Poors: Analysis Liberated Stock Trader Data Dec 31 1928 to Dec 31 2018