A stock market crash early warning system is something every trader needs. Our Early Warning System alerts you to any potential signs of a crash in the markets. We call the system MOSES.
A System to Detect a Stock Market Crash
During these volatile times, when no one really knows which way the market will turn, it becomes increasingly important to formulate your approach to the general market. If the market crashes, it does not matter what stocks you have bought; they will get dragged down, too.
Wouldn't it be nice to have an early warning system to inform you that there may be a severe crash coming?
I have spent years developing a system that will warn me when a potential crash is coming. Also, the system will notify me when there is a shock in the market (usually a precursor to a crash). I have even developed a system that will alert me to potential opportunities to return to the market.
I have back-tested it over the last 20 years, and it works very well.

I have developed this system using TradingView, and it is based on solid technical analysis. Using seven indicators, I can accurately spot the conditions leading to a large stock market crash.
The Chart is Weekly (5 days per bar). As you can see, there are three indicators below the price history of the SP-500 chart.
Bear Market Signal (Red) – This signal lets me know when to expect a serious stock market decline.

Shock Event Warning (Yellow) – This lets me know when there has been a shock event in the stock market that affected prices considerably.

Bottom Alert – Early Buy Signal (Green) – This indicator allows me to see when the market potentially hits bottom or if it is an excessively bullish mindset.
The signals are plotted along the bottom of the chart and relate to the chart's price action.
How does the Stock Market Crash Detector work?
In November 2000, the system first flagged a Bear Market Signal (the first red vertical arrow). Selling all your stocks at this time would have meant you exited close to the top of the Dot-Com Bull market (only 9% off the top).
Thus securing all of your gains except for 9% during the boom. The market subsequently lost 38%
In May 2003, the Bear Market Signal ended, and the first true bottom alert was signaled (Green Vertical Arrow). Entering the market here would mean you would have entered the market again close to 10% of the bottom of the crash, thus maximizing your profit in the coming 2003 to 2007 Bull market.
In February 2008, the next Bear Market Signal was given within 11% of the top of the 2003 to 2007 Bull market. (second red vertical arrow). The market then declines by 45%.
The bottom of the Financial Crisis crash was 666 points in March 2009. The first bottom alert for this crisis was five weeks later, in April, at 853 points. This enables you to get in early enough to realize the profits of the new bull market, which moves up 40% from here.
Interestingly, in November 2011, the system also generated a Bear Market Signal. This was due to the volatility and speed of the July to August pullback. However, this signal was very brief and has since been replaced with a bottom alert for the week commencing November 4, 2011.
Our original stock market crash detector, developed in 2013, has evolved into the MOSES system.
Market Outperforming Stock ETF System (MOSES)
MOSES is an ETF investing system that targets the stock market index and empowers you to outperform the market by evading significant crashes. The Moses strategy incorporates five core indicators, allowing you to choose the optimal approach for minimizing losses and maximizing returns. Experience the power of compounding your investments to surpass market expectations.
With MOSES, you'll receive advanced alerts prior to potential crashes, empowering you to take proactive measures and safeguard your portfolio. Moreover, you'll be informed when the bear market subsides, allowing you to resume investing with renewed assurance.
This system provides a competitive advantage to investors, keeping you one step ahead in the game. Its simplicity and ease of use ensure a seamless start from the get-go.
---
Beat The Market, Avoid Crashes & Lower Your Risks
Nobody wants to see their hard-earned money disappear in a stock market crash.
Over the past century, the US stock market has had 6 major crashes that have caused investors to lose trillions of dollars.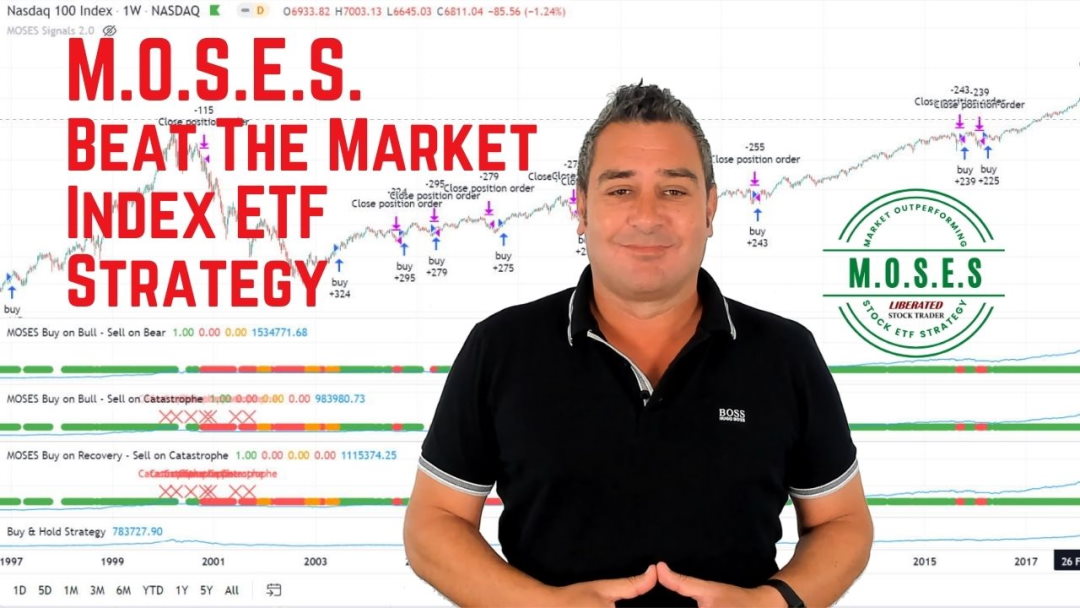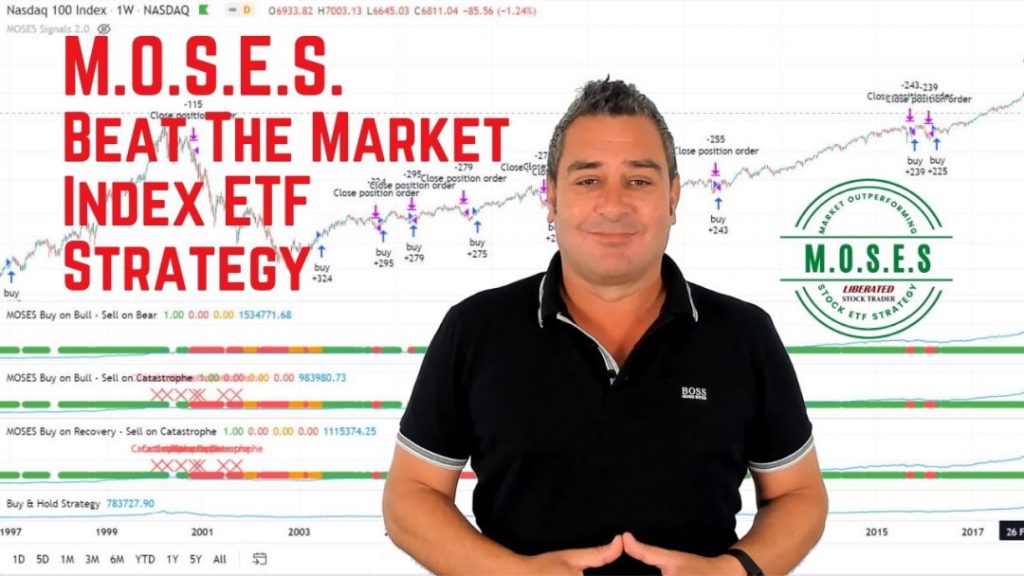 The MOSES Index ETF Investing Strategy will help you minimize the impact of major stock market crashes. MOSES will alert you before the next crash happens so you can protect your portfolio. You will also know when the bear market is over and the new rally begins so you can start investing again.
MOSES Helps You Secure & Grow Your Biggest Investments
★ 3 Index ETF Strategies ★
★ Outperforms the NASDAQ 100, S&P500 & Russell 3000 ★
★ Beats the DAX, CAC40 & EURO STOXX Indices ★
★ Buy & Sell Signals Generated ★
MOSES Helps You Sleep Better At Night Knowing You Are Prepared For Future Disasters
---
Whether you're actively involved in stock market investments or opt for a more passive approach like mutual funds or exchange-traded funds, it's crucial to minimize any losses you may experience throughout your investment journey.
The objective of the MOSES ETF Investing System is to effectively navigate and mitigate the consequences of significant stock market crashes. This strategy incorporates three core indicators, providing you with the optimal approach to minimize losses while simultaneously compounding investments to outperform the market.
By utilizing MOSES, you can receive timely alerts prior to upcoming market crashes or significant downward movements. Furthermore, MOSES offers insights into when a bear market may come to an end, empowering you with valuable information to make informed decisions.