As a verified Benzinga partner, our 25% Benzinga Options Mentorship discount code, combined with the annual subscription 17% discount, can save you 37% or $2057.
Find out how to maximize savings on the market's leading options trading course, the Benzinga Options Mentorship Program.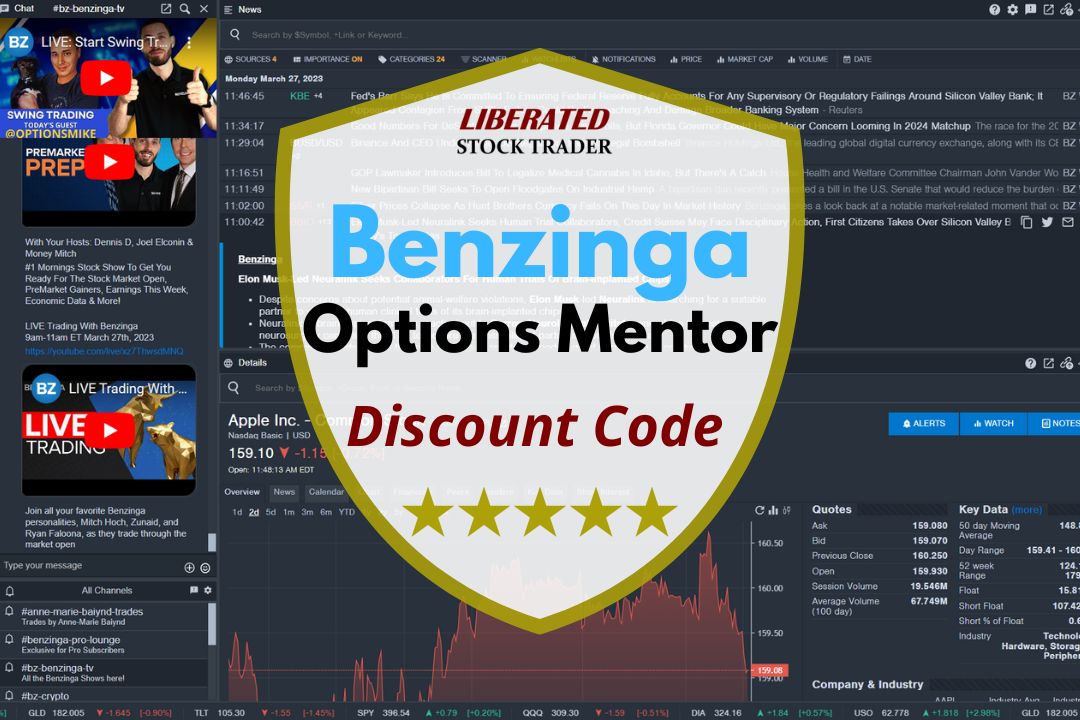 We independently research and recommend the best products. We also work with partners to negotiate discounts for you and may earn a small fee through our links.
Claim a 37% Discount on Benzinga Options Mentorship
To claim a 37% discount on the Benzinga Options Mentorship subscription, click our verified partner link. This link will take you to the Options Mentorship web page and automatically add our coupon code "SMARTER" for you.
Benzinga Options Mentorship 37% Discount Partner Link
Here is how it works, the button above will take you to Benzinga's secure checkout for the Option Mentorship Program. The page will look like the screenshot below. As you can see, the discount code SMARTER is already applied, and Benzinga will calculate the 25% discount plus the 17% annual discount.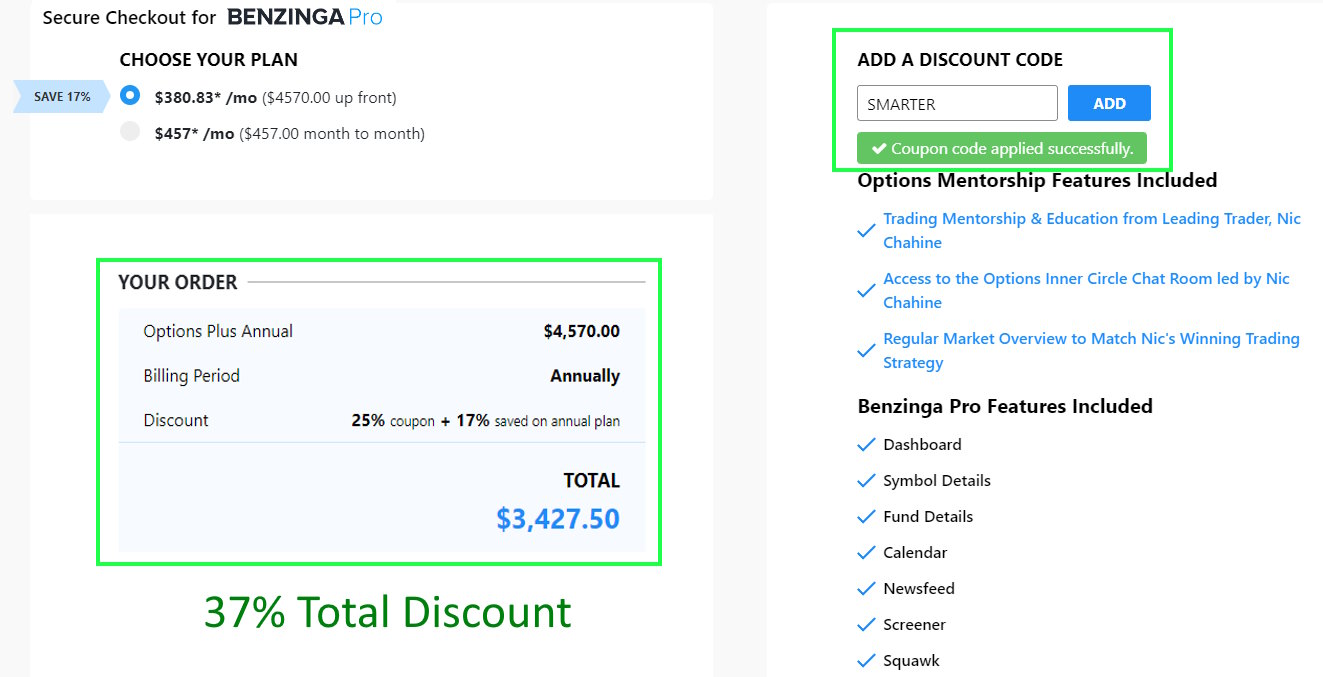 How does the 37% Discount Work?
A standard monthly subscription to Options Mentor costs $457/mo or $5484 per year. But if you opt for an annual subscription, you will save 17%, and add to that the 25% discount code "SMARTER"; the total price is $3427.50. The difference between $5484 and $3427.50 is a 37% discount.
What is Benzinga Options Mentorship?
Benzinga Options Mentorship is a comprehensive program designed to provide investors with the knowledge and skills they need to become successful in trading options. This program offers educational modules and daily market recaps covering various strategies, tactics, and risk management techniques.
The mentorship also provides real-time advice from experienced advisors and Nic Chahine, who can help guide investors in their trading decisions. Benzinga Options Mentorship is a great way for investors to develop the necessary skills and resources to become successful options traders.
The program offers access to its members to review content and ask questions whenever they need help or guidance. Investors can take advantage of one-to-one help, a traders chat room run by Nic, and a regular market overview of Nic's successful options strategies.
This program includes educational modules, market recaps, and access to experienced advisors who can advise on complex trading strategies.
| | |
| --- | --- |
| Benzinga Pro & Options Mentorship Highlights | Details |
| ⚡ Features | Real-time News, Calendar, Charts, Screening |
| 🏆 Unique Features | Stock & Options Squawk Box, News Sentiment, News Rating, Options Alerts, Options Mentorship |
| 🎯 Best for | US Stock, Fx, Commodity & Bond Traders |
| 🆓 Free Version | No |
| 🎮 Premium Trial | 14 Day Free |
| ✂ Premium Discount | -37% Discount Code "SMARTER." |
| 💰 Discount Price | $285/mo |
| 🌎 Markets Covered | North America |
Why is Benzinga Options Mentorship so popular?
Benzinga Options Mentorship is widely popular due to the comprehensive resources and support it provides investors. The program offers educational courses covering various strategies, tactics, risk management techniques, and daily options trading videos. Additionally, members have access to experienced advisors who can provide one-to-one guidance and a traders chat room with leading options trader Nic Chahine.
All of these features make Benzinga Options Mentorship an invaluable resource for investors looking to develop their options trading skills and increase their profits.
Get Benzinga Pro For Free with Options Mentor
Included with the Benzinga Options Mentorship, you also get Benzinga Pro, real-time news. Benzinga Pro is our review-winning platform for trading real-time news.
Benzinga Pro is a unique stock program for trading real-time stock news. Benzinga Pro is designed for day traders and delivers real-time market-moving news to give you a trading edge. Additionally, a news squawk box, direct access to the news desk, and real-time charting and scanning complete the service.
Pros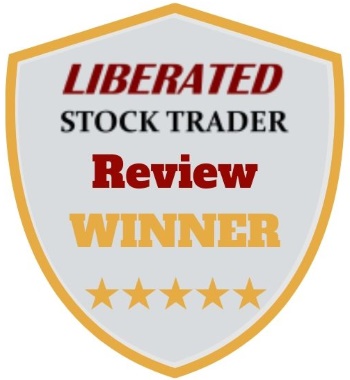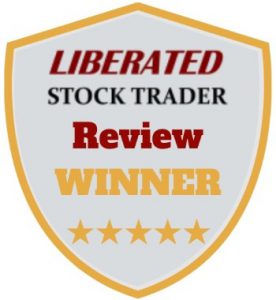 ✓ Best Real-time Stock Market News
✓ Squawk Box Live Feed
✓ Real-time Alerts & Signals
✓ Good Charts & Screening
Cons
✘ North America Only
✘ No Broker Integration
Benzinga Pro Essential normally costs $117, giving you real-time newsfeeds, watchlist alerts, Squawk Box, Calendars, Sentiment Indicators, and Chat with Newsdesk functionality.
The stable and elegant stock program allows you to set up multiple workspaces and monitors to suit your needs. Benzinga is also constantly adding new functionality, and it is a platform that should grow with your needs.
Benzinga Pro Scanning & Screening
Benzinga Pro is the best for scanning and screening the news, but it can also screen for technical and fundamental data. Benzinga Pro has 32 fundamental screening criteria, including P/E, PEG, Profitability, Margins, and Insider Ownership. There are also 23 market scanning criteria, including volume change, relative volume, and short interest.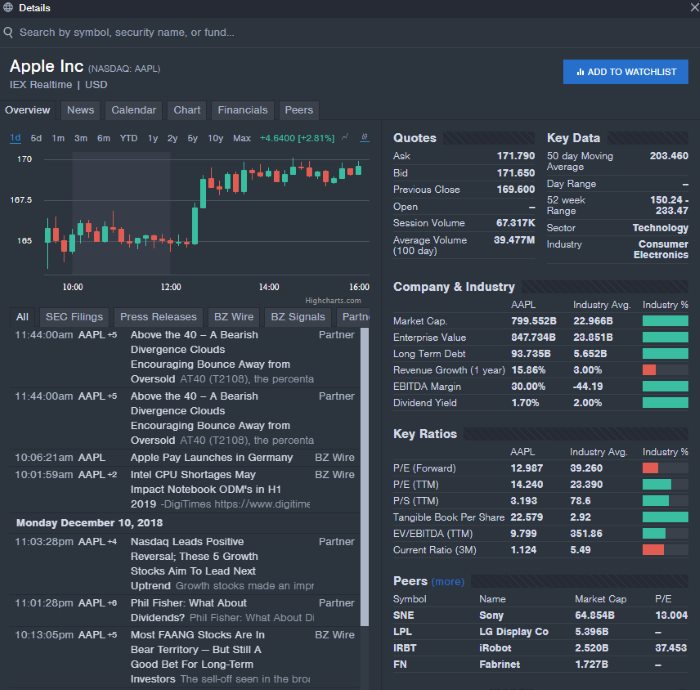 Real-Time Trading News – BZWire Access
Core to the Benzinga Pro service is access to the real-time newsfeed, which updates quickly and effectively. The only news excluded in the basic package is the Securities & Exchange Commission (SEC) announcements and Public Relations (PR) newsfeeds.
Benzinga Pro is a real-time news service designed for day traders and is a fraction of the cost of a Bloomberg Terminal. Benzinga delivers value with fast real-time market-moving news to give you a trading edge. Additionally, a squawk box, direct access to the news desk, and original reporting give you a significant advantage.