Shein stock is highly sought after, but it cannot be purchased as it is a privately held company. But would you want to buy Shein stock or its clothing considering its alleged pollution, sweatshops, and design theft?
Discover Shein, its competitive advantages, and shady business practices.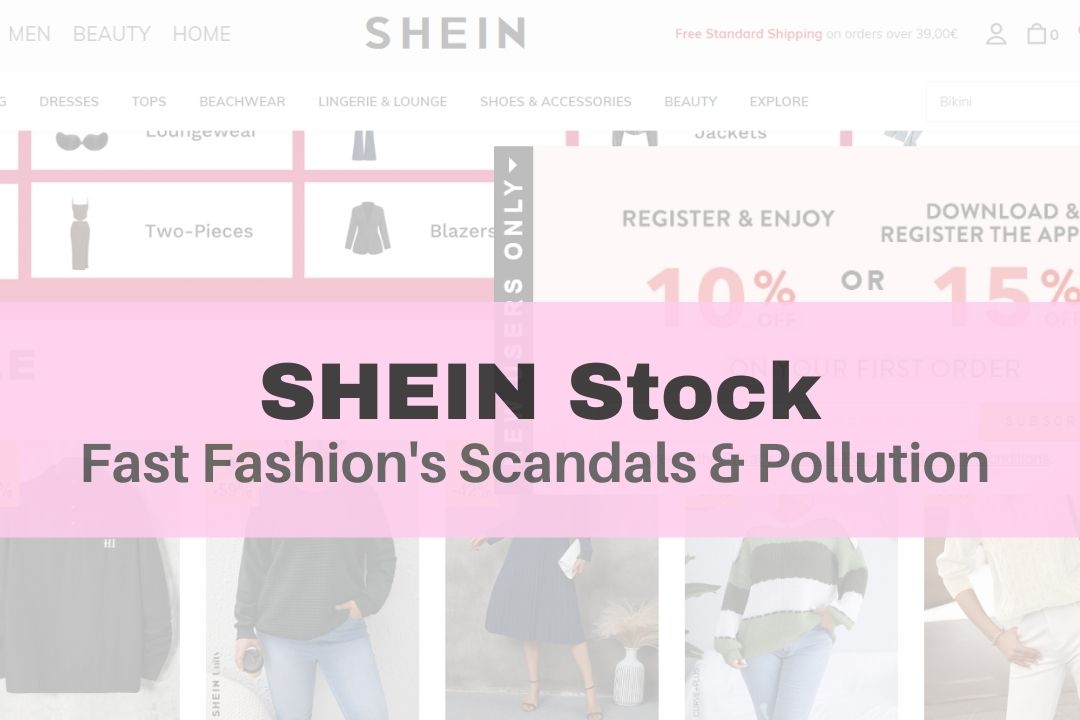 Note: This is an unbiased research report. The author or Liberated Stock Trader is not affiliated, paid by, or owns stock in any of the companies mentioned in this report. 
What is Shein?
The Shein Group is a Chinese fashion e-retailer that generated headlines by dethroning Amazon (AMZN) as the most downloaded e-commerce app in the United States in May 2021.
Bloomberg describes Shein as the "first global fashion giant." Shein became the number one US shopping app in the Apple App Store and Android Play in May 2021. Shein was the top iOS shopping app in 54 countries on May 17, 2021.
Shein operates the largest US online fashion store selling $5.790 billion worth of apparel in 2021. Shein outsold major American e-commerce retailers, including Macy's, Amazon, and Walmart, in 2021, ecommerceDB estimates.
Shein Stock
Shein stock cannot be purchased on a stock exchange because it is a private company. Shein stock is owned by its four founders and venture capital companies Tiger Global, Sequoia China, and IDG Capital.
Instead of selling stock to raise funds, Shein relies on venture capital, loans, and profits to fund operations.
How to Buy Shein Stock
You cannot buy shares in Shein directly as a retail investor. Shein is not publicly traded because it is owned by its founders and six venture capital companies.
Shein Stock Price
Shein's stock price cannot be determined because it is not floated on a stock exchange, but Shein's stock is valued at roughly $40 billion. $40 billion is the net worth of the Shein founders Xu, Miao Miao, Gu Xiaoqing, and Ren Xiaoqing.
Shein Ticker Symbol
Shein does not have a ticker symbol or stock name because it is not publicly traded on a stock exchange. Only companies listed on stock exchanges have stock tickers.
Who Owns Shein Stock?
Shein stock is owned by founder Xu, Miao Miao, Gu Xiaoqing, and Ren Xiaoqing. Six venture capital companies also own stock, Tiger Global, Sequoia China, IDG Capital, JAFCO Asia, Greenwoods Asset Management, and General Atlantic.
The owners and investors in Shein Group stock are secretive because of the many scandals Shein has been involved in.
The Shein Value Proposition
 The value propositions at Shein are its status as a leader in a fast-growing new market: Fast Fashion, technology that can produce new clothes fast, the ability to leverage social media, and its ability to discount.
The global Fast Fashion market was worth $91.23 billion in 2021 and could grow to $99.23 billion in 2022 and $133.43 billion in 2026. Shein's US sales grew by 568% between March 2020 and March 2022.
Shein's artificial intelligence can produce 700 to 1,000 new pieces of clothing a day, Glossy claims. This allows Shien to replicate popular new fashions fast. This capability enables Shein to offer groundbreaking fashion. One way Shein follows fashion is to harvest data from secondhand sales to see what ordinary people are buying.
One of Shein's most valuable attributes is its ability to discount. Glossy estimates Shein can sell many items for under $100, which allows it to sell fashion to a mass market. This gives Shein a far larger market than most fashion brands.
Shein keeps costs low with a subcontracting system that assigns production to small manufacturers that make clothes at the lowest prices. Critics allege this system allows Shein to use sweatshops to keep costs low.
Another Shein attribute is the ability to leverage social media. Glossy estimates there have been over 7.5 billion views of Sheinhaul (Shein bargains) on TikTok.
Shein IPO
News stories claimed Shein's management was seeking an initial public offering (IPO) in 2022. Forbes reports Shein hired former Bear Stearns investment banker Donald Tang as executive vice president.
Forbes speculates they hired Tang to lead the push for an international IPO. Tang has a long history of helping Chinese companies issue IPOs in other countries. News stories do not say where or when they will issue Shein shares. However, Shein could issue stock in the US.
Forbes reports Shein has hired lobbyists to promote its cause in Washington, DC, and is expanding its US headquarters. Shein has also opened a Singapore headquarters to reduce its Chinese footprint. Shein CEO and cofounder Chris Xu have moved to Singapore and become a citizen of that country.
Investors are interested in Shein because analysts estimated its value at $100 billion in April 2022, The Wall Street Journal reports.
What makes Shein Different?
The difference between Shein and most fashion retailers is that Shein controls the entire supply chain, from design to procurement to manufacturing to retailing. A key difference between Shein and traditional brands, such as H&M, is that most of Shein's sales are online. However, Shein is opening some pop stores in the United States.
Control over the entire supply chain allows Shein to manufacture hundreds of products tailored to changing tastes in different regions. Like TikTok , Shein uses algorithms to identify trends and manufactures clothes to take advantage of them. This business model allows Shein to capitalize on new fashion trends fast.
Although it is a Chinese company based in Nanjing, Shein calls itself "a global fashion and lifestyle retailer." Shein sells products in over 150 countries. To reach customers, Shein relies on a digital-first business model that markets through mobile devices, the internet, and social media.
Unlike most fashion brands, Shein tries to serve a broad market with many products. Another difference is that Shein markets to middle and working-class people rather than the affluent. Similarly to Amazon (AMZN), Shein has built its own proprietary logistics networks and e-commerce platforms. Shein claims to have a fully digital supply chain that operates worldwide.
They claim Shein's supply chain can manufacture small batches of new fashions fast in its factories. This allows Shein to see if there is a market for new products and avoid warehouses full of unsold merchandise. Another advantage of the digital supply chain is that it allows Shein to keep inventories small and costs low.
Shein King of Fast Fashion
Observers consider Shein a leader in the Fast Fashion, or Business to Consumer (B2C), segment. Fast fashion is a business model in which they design and produce clothing fast to meet changing demands. Features of Fast Fashion include cheap materials, such as synthetic fabrics, and high volumes. Bloomberg claims that Shein can offer "thousands of new ultracheap outfits daily."
Shein products accounted for 40% of the US Fast Fashion market in March 2022, Bloomberg Second Measure estimates. Shein's US Fast Fashion market share grew from 32% in March 2021 and 18% in March 2020. The largest brick-and-mortar Fast Fashion company, H&M, had a 27% US market share in 2022.
This makes Shein popular with low-income groups, such as teenagers. It also allows Shein to make enormous amounts of money through mass discounting – selling lots of products at low prices. Discounting is the strategy Amazon (AMZN) and Walmart (WMT) used to become two of the world's largest retailers.
Shein Makes Fashion Cheap
One way Shein tries to keep costs low is to work with new designers. They support new designers with the Shein X Program incubator. The incubator supports rising designers, including fashion students, to keep up with new trends. The new designers are cheaper than industry veterans.
Many young designers serve as Shein brand ambassadors and influencers, promoting Shein fashions on social media. This allows Shein to market to millions of customers without paying for advertising.
Bloomberg speculates the growing Trade War between the United States and the People's Republic of China benefits Shein. Shein profits from the Trade War because it relies on many manufacturers and designers, including manufacturers outside China.
Shein Scandals
Critics complain Fast Fashion pollutes the environment by filling landfills with throwaway clothes. Another complaint is that Fast Fashion companies rely on low-wage workers in developing countries such as Bangladesh. Some critics accuse Fast Fashion companies of running sweatshops.
Fast Fashion Pollution & Waste
Shein has admitted it is perceived as wasteful and bad for the environment by trying to clean up its act before a potential IPO in 2024.
Shein even marketed its ultra-cheap clothing as "disposable fashion." This image may be evolving into the biggest threat to its continued success.
Euronews claims that Shein is making our planet unlivable.
Forced Labor & Cotton Manufacture
Bloomberg's investigation in November 2022 uncovered that Shein's clothing contained cotton produced in China's forced labor camps in the Xinjiang region. The USA has banned all products from Xinjiang's internment camps, with claims of crimes against humanity cotton. Shein neither denies nor confirms these claims.
Additionally, a documentary made by the UK's Channel 4 uncovers the conditions inside Shein's factories that forced the company to invest $126 million in improving the conditions of its workers.
Shein Security Risk Allegations
However, anti-Chinese sentiment can hurt Shein. The Indian government banned Shein's App as a "security risk" in June 2020, TechCrunch reports. Observers note Shein resembles TikTok, which both Indian and American critics call a security risk. US President Joe Biden (D-Delaware) banned TikTok from federal government devices in December 2022 because of security concerns. US Senator Marco Rubio (R-Florida) has introduced legislation to ban TikTok in the United States.
Additionally, Shein has been accused of design copyright theft.
3 Investments Shining Brighter than Shein
Considering one cannot buy shares in Shein, and considering you might not want to buy its stock due to the many scandals, here are three great alternative fashion and retail investments.
Amazon (NASDAQ: AMZN)
The most obvious alternative to Shein is America's e-commerce leader, Amazon (AMZN).
The principal value proposition at Amazon is the company's enormous share of the US retail e-commerce market. Statista estimates Amazon (AMZN) controlled 37.8% of US e-commerce in June 2022. The second largest US e-retailer Walmart (WMT), controlled just 6.3% of the market in June 2022.
This enormous market share gives Amazon a wide moat. Moat is the term Warren Buffett uses for a company with advantages, or high market share competitors cannot overcome.
View the Amazon Chart Live in TradingView
Another value attribute at Amazon is the popularity of the Amazon Prime subscription service. Amazon Prime had 163.5 million US members in 2022, Statista estimates. Prime's US membership could grow to 167.2 million in 2023, 171.8 million in 2024, and 176.2 million in 2025, Statista estimates.
Prime drives sales at Amazon because a subscription gives members free shipping.
Adding to Amazon's value is its enormous infrastructure. Amazon operated 2,373 fulfillment centers worldwide in 2022. Amazon's vast delivery fleet had 30,000 delivery vans and 20,000 semi-trailers in November 2022, The Verge estimates. There were 88 large planes in Amazon's air fleet and smaller planes operated by subcontractors In 2022, Freight Waves estimates.
Beyond e-commerce, Amazon offers enormous value in the cloud. Amazon Web Services (AWS) is the leading cloud infrastructure provider with 34% of the global market in the third quarter of 2022, Statista estimates.
Amazon is Shein's biggest competitor because it is America's largest online clothing retailer. Wells Fargo analysts estimate Amazon had a 30% to 35% share of the US online apparel and footwear market in 2021. Amazon operated America's third most popular online fashion store in 2021 with $5.034 billion in sales in 2021, ecommerceDB estimates.
The difference between Amazon and Shein is that Amazon does not manufacture or design clothes yet, although it sells branded clothes. Unlike Shein, Amazon is a diversified company with many sources of income.
Shopify Inc. (NYSE: SHOP)
Shopify (SHOP) is a Canadian software-as-a-service (SaaS) company that supports e-commerce. Shopify operates a platform that allows merchants to build and operate e-commerce websites.
The value proposition at Shopify is the number of merchants that use its technology. 4.192 million websites worldwide used Shopify solutions in 2022. Around 2.717 million US websites were using Shopify software in 2022.
The difference between Shopify and Amazon, or Shein, is that Shopify only provides the software. Shopify does not manufacture products or fill orders. Shopify Merchants have to supply the products and ship them.
View the Shopify Chart & Financials Live in TradingView
The advantage of Shopify's business model is simplicity. All Shopify supplies is the software. This means there is less that can go wrong and lower expenses. Shein operates factories and ships orders which can create many problems.
The value proposition at Shopify is the number of merchants that use its technology. Although most Shopify users are small merchants, many large companies use Shopify solutions. Large companies that use Shopify tools include Ford (F), PepsiCo, Red Bull, Heinz, Anheuser-Busch InBev, Netflix, Hasbro, Tesla, Nescafe, World Wrestling Entertainment (WWE), and Penguin Books.
Many companies use Shopify to sell clothing and other merchandise outside their primary business. Anheuser-Busch InBev uses Shopify to sell "beer gear," clothes, and memorabilia. Some fashion brands sell apparel and other products through Shopify stores.
Walmart Inc. (NYSE: WMT)
Walmart is America's largest retailer, with 4,742 stores in January 2022. Walmart is a major player in online fashion. Walmart operated the fourth largest US online fashion store with $4.645 billion in sales in 2021, ecommerceDB estimates.
The value proposition at Walmart is its ability to dominate markets. Walmart was America's largest grocer, with 26% of the US grocery market in 2021, Zippia estimates. Walmart sold $573 billion worth of groceries in 2021, Zippia claims.
View the Walmart Chart Live in TradingView
Walmart is an excellent alternative to Shein because it sells far more than fashion. This makes Walmart a safer stock because it diversifies across several markets, like Amazon.
Shein is a company to watch because it is changing the fashion and apparel businesses. The business model Shein is pioneering could be the future of retail.