Blue Origin is the space technologies company that Amazon ex-CEO Jeff Bezos launched in September 2020.
Many investors are interested in Blue Origin because the company demonstrated a reusable rocket similar to SpaceX's Falcon 9 in October 2020. The New Shepard rocket flew 66 miles into space with a crew capsule and landed safely.
The 13th New Shepard flight is a test run for Blue Origin's plan to take paying tourists into space and back. The New Shepard's purpose is to provide safe and reliable space flights.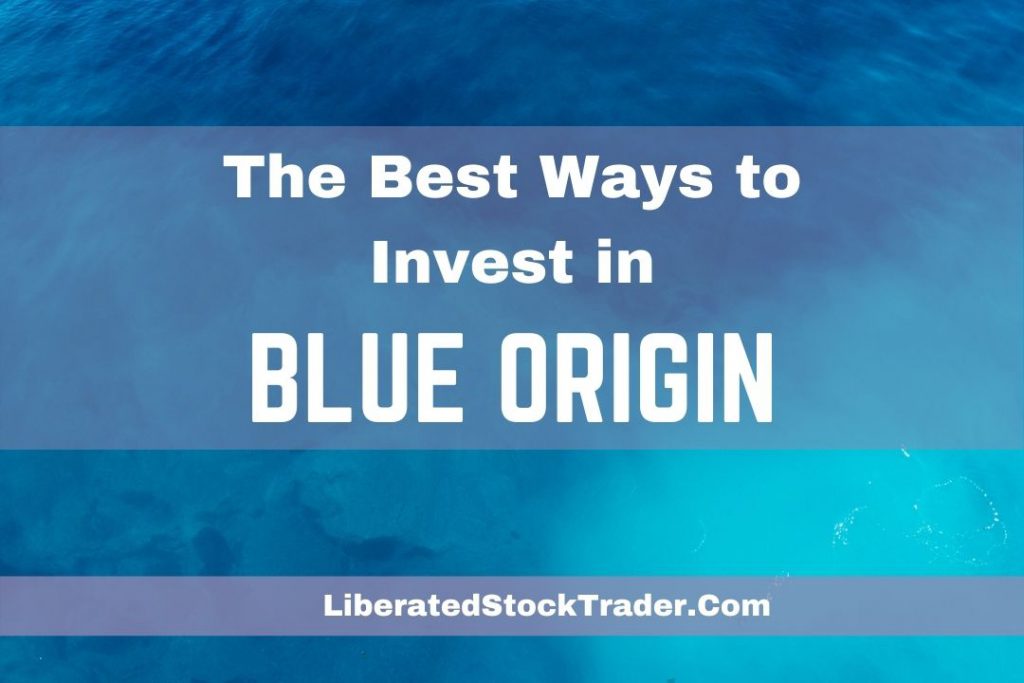 They named the New Shepard for Rear Admiral Alan B. Shepard Jr. Shepard was the first American to travel to space in 1961. A decade later, Shepard walked on the moon in 1971. Blue Origin plans to launch the Shepard rockets into space from a West Texas launch site.
Unlike its competitor SpaceX, Blue Origin has not launched astronauts into space. SpaceX's Crew Dragon space capsule took astronauts to the International Space Station (ISS) in May 2020. The Crew Dragon successfully splashed down with astronauts onboard in August 2020. SpaceX has a contract to carry US astronauts to the International Space Station.
The Shepard and the Crew Dragon's main difference is that Blue Origin wants to land the Shepard capsules on the ground. The Shepard imitates the Russian Soyuz space capsules, which land in the desert. The Dragon capsules splashdown in the ocean as American space capsules did before the space shuttle.
Blue Origin Stock
There are false claims about a Blue Origin IPO and a Blue Origin (BOGN) stock online. Those claims are incorrect because Bezos has not announced any plans for a Blue Origin IPO or Stock. Blue Origin's value and potential stock price are unknown because Bezos refuses to divulge its finances.
However, Blue Origin could make money from US government contracts. Blue Origin received a $579 million contract as part of NASA's Human Landing System program in April 2020. NASA could spend $18.4 billion on the Human Landing System by 2024, Spacenews reports.
The US Congress has appropriated $600 million for the Human Landing System program. President Trump requested $3.3 billion for the Human Landing System. It is not known if President-Elect Biden supports the Human Landing System.
Blue Origin could make some money by selling the New Glenn, Shepard, and Blue Moon to other governments such as that of India or the European Space Agency. Another potential customer is the People's Republic of China. However, growing tensions between the United States and China could block such a deal.
Blue Origin Stock Price
Any Blue Origin stock price is purely speculative because there are no IPO plans. Bezos has no incentive to reveal Blue Origin's finances without an IPO plan. Some publicly-traded companies that manufacture space capsules and rockets have stock prices such as Boeing Company (NYSE: BA), Lockheed Martin (NYSE: LMT), and Northrop Grumman (NYSE: NOC).
Boeing, Northrup Grumman, and Lockheed Martin are poor comparisons for Blue Origin because those companies have other sources of revenue. Boeing manufactures airliners while Northrup Grumman and Lockheed Martin are major defense contractors that build many kinds of aircraft and weapons. Boeing is also a major defense contractor that builds cargo aircraft.
Bezos, Blue Origin's main investor, heads a company that is a major Boeing customer. Amazon's Prime Air leases Boeing cargo aircraft from the Air Transport Services Group. Amazon operated over 80 cargo planes in April 2020. Thus, Bezos is both a Boeing customer and a Boeing competitor.
Blue Origin IPO
Blue Origin has no plans for an initial public offering (IPO). Bezos has not made any announcements about an IPO. A Blue Origin IPO is improbable in 2021 and 2022 because Bezos is the world's richest man with a fortune of $184.1 billion on November 11, 2020. Bezos provides most of Blue Origin's funding, and he can invest enormous amounts of money in the company.
What is Blue Origin?
Blue Origin is a privately-held company based in Kent, Washington. The goal of Blue Origin is to enable millions of people to travel and live in space.
Founder Jeff Bezos believes humanity needs to move into space to survive and preserve Earth. Blue Origin's business plan is to develop the infrastructure to move millions of people into space.
The first step in that plan is to create reusable rockets and launch vehicles to carry people and cargoes into space. The Shepard is the first of Blue Origin's reusable launch vehicles.
The next Blue Origin launch vehicle is the New Glenn, a larger rocket named after astronaut and politician John Glenn. John Glenn was the third American to travel into space and the first American to circle the earth. Glenn, who later served as a U.S. Senator and ran for President, was the most famous American astronaut who never walked on the moon.
The New Glenn will carry satellites and other cargos into orbit from the Kennedy Space Center at Cape Canaveral, Florida. Like the Falcon 9, the New Glenn will be partially reusable. The New Glenn booster will land in the ocean and be recovered by a ship. Blue Origin will try to land the New Glenn's boosters on a barge as SpaceX does. Blue Origin claims they can use the New Glenn for 25 flights.
The New Glenn is a big rocket. Blue Origin claims the New Glenn can carry twice the payload of any other commercial rocket. The New Glenn is larger than SpaceX's Falcon Heavy. Blue Origin will use the New Glenn to compete for NASA space launch contracts.
To assemble the New Glenn, Blue Origin built a 180,000-square-meter rocket factory on Florida's Space Coast and another rocket factory in Huntsville, Alabama. The Blue Origin rocket factory is only nine miles from NASA's launch pads at Cape Canaveral's Kennedy Space Center. The Florida Factory also contains Blue Origin's mission controls.
Blue Origin is developing the Blue Moon lunar lander. They designed the Blue Moon to carry both people and cargoes to the moon. The Blue Moon will be a flexible lander capable of precision landing. They intend to use the Blue Moon to carry large cargoes. There will be a Cargo Lander variant of the Blue Moon.
Blue Moon is part of the National Team developing NASA's Human Landing System. The other members of the National Team are the Lockheed Martin Corporation (NYSE: LMT), the Northrop Grumman Corporation (NYSE: NOC), and Draper. Draper is a smaller space technologies company dedicated to returning humanity to the Moon.
The Human Landing System is a next-generation lunar lander NASA intends to use to land astronauts on the Moon. The Human Landing System is part of NASA's Artemis program, intended to establish a permanent American presence on the moon.
Jeff Bezos claims Blue Moon could put astronauts on the Moon by 2024. NASA has announced no manned lunar missions. Bezos also claims Blue Moon could deliver a ton of cargo to the moon by 2023.
The National Team has delivered a full-scale engineering prototype or mockup of the Blue Moon lander to NASA. They are testing the Blue Moon at NASA's Johnson Space Center in Houston, Texas.
Blue Moon was part of U.S. President Donald J. Trump's (R-Florida) Artemis plan to return Americans to the lunar surface. Artemis's fate is unknown because President-Elect Joe Biden (D-Delaware) has not announced his lunar exploration plans.
Bezos will keep Blue Origin private because he wants to maintain control over the company's plans. If Blue Origin went public, its board or shareholders could thwart Bezos' plans.
Bezos does not need to make money by selling Blue Origin stock because he can make enormous amounts of money by selling Amazon (AMZN) shares. One reason executives take companies public is to make money by selling stock.
Nobody knows how much money Bezos invests in Blue Origin because it is a private company. Analysts think it is the largest Blue Origin Investor and possibly the company's only investor.
3 Ways to Invest in Space Companies like Blue Origin
Northrup Grumman (NYSE: NOC)
Northrup Grumman (NOC) is one of Blue Origin's partners in the National Team building the Human Landing System.
Northrup Grumman is one of the world's largest weapons manufacturers and a global aerospace company. Northrup Grumman has a long history in space exploration. It built the Lunar Module used the Apollo 13 moon mission.
Today, Northrup Grumman is participating in several of NASA's space exploration programs. Those programs include the James Webb Space Telescope, the Chandra Space Telescope, and the Dawn Asteroid Explorer.
Northrup Grumman is building the Cygnus spacecraft, which will haul cargo to the International Space Station. Northrup Grumman is one of two companies with a contract to haul cargo to the ISS; the other is Elon Musk's SpaceX.
Northrup Grumman could design and build the Habitation and Logistics Outpost, or HALO, component of NASA's proposed Lunar Gateway. The Lunar Gateway is NASA's proposal for a new moon mission.
Subsidiary SpaceLogistics LLC is developing vehicles that can service and repair satellites in orbit.
Northrup Grumman makes enormous amounts of money. It reported a quarterly gross profit of $1.84 billion and an operating income of $985 million on September 30, 2020. Northrup reported revenues of $9.083 billion on September 30, 2020.
Northrup Grumman is a cash-rich company; it reported an operating cash flow of $1.359 billion and an ending cash flow of $817 million on September 30, 2020. Northrup had $4.955 billion in cash and short-term investments on September 30, 2020.
Northrup Grumman had enormous value in the form of $44.773 billion in total assets on September 30, 2020. I think Mr. Market overvalued Northrup Grumman at $302.68 on November 9, 2020.
Northrup Grumman (NOC) paid an excellent quarterly dividend of $1.45 on August 28, 2020. I consider Northrup Grumman an excellent income stock because of the dividend and the cash.
Northrup Grumman shows Blue Origin could be a good stock someday. I think that day could be many years away, however.
Lockheed Martin Corporation (NYSE: LMT)
Lockheed Martin is one of Blue Origin's partners in the National Team building the Human Landing System (HLS) lunar module for NASA.
Lockheed Martin (LMT) participates in many space missions, including the OSIRIS-Rex asteroid tagging mission. In that mission, the OSIRIS-Rex spacecraft touched the surface of asteroid Bennu, gathered samples, and flew off. The mission depends on Lockheed Martin's TAGSAM technology.
Lockheed Martin and Boeing (BA) partner in the United Launch Alliance (ULA). The United Launch Alliance builds and launches the Delta and Atlas rockets that carry satellites into orbit. A ULA rocket will carry Boeing's Starliner space capsule into orbit.
Lockheed Martin will build its own rocket factory in Titusville on Florida's Space Coast to service NASA. Lockheed Martin's space division grew by 6% to $2.85 billion in sales in the 3rd quarter of 2020, Bizjournals reports.
Lockheed Martin is a major builder of aircraft ranging from fighter planes to helicopters to airships to drones to cargo planes. Lockheed Martin could profit from the growth of Amazon (AMZN) and e-commerce because it builds cargo planes.
Lockheed Martin achieved three-quarters of revenue growth during a pandemic in 2020. Stockrow estimates Lockheed's revenues grew by 9.17% in the first quarter of 2020, 12.43% in the second quarter of 2020, and 8.73% in the third quarter of 2020. Lockheed Martin's quarterly revenues rose from $15.651 billion on March 31, 2020, to $16.22 billion on June 30, 2020, to $16.495 million on September 30, 2020.
Lockheed Martin makes money from that growth. It reported a quarterly operating income of $2.147 billion and a quarterly gross profit of $2.136 billion on September 30, 2020. Lockheed Martin also reported a quarterly operating cash flow of $1.88 billion and a quarterly ending cash flow of $730 million on September 30, 2020.
Lockheed Martin offered value in the form of Total Assets of $50.773 billion and $3.585 billion in cash and short-term investments on September 30, 2020. I think Mr. Market overpriced Lockheed Martin at $371.17 on November 10, 2020, despite the value.
Investors need to investigate Lockheed Martin because it will pay a $2.60 quarterly dividend on December 24, 2020. That dividend grew from $2.40 on August 31, 2020.
Lockheed Martin is a growing space-technologies company that makes money and dividend. Investors need to understand that much of Lockheed Martin's money comes from weapons.
Boeing (NYSE: BA)
Boeing (BA) builds the Starliner; a 21st Century Space Capsule NASA plans to use on missions to the International Space Station (ISS).
The Starliner will carry Boeing and NASA astronauts to the ISS. Unlike the SpaceX Dragon, the Starliner has not carried astronauts into space. NASA has scheduled a manned Starliner mission for 2021.
The Starliner test has been delayed several times because of coronavirus and a variety of problems. During the first test flight in December 2019, an unmanned Starliner went off course and burned up in orbit. Boeing is rebuilding the Starliner to prevent another catastrophe.
Boeing faces many problems, including the collapse of air travel and airliners and its 787 Dream Liner aircraft crashes. The coronavirus pandemic could force Boeing to cut 30,000 jobs in 2020, The Guardian claims.
The air travel collapse will force Boeing will end production of its iconic 747-8 jumbo jet in 2022. The company will focus on more fuel-efficient next-generation airliners, instead.
Boeing loses money, unlike Lockheed Martin and Northrop Grumman. Boeing (BA) reported a quarterly operating loss of -$401 million on September 30, 2020. Boeing reported a quarterly gross profit of $1.044 billion on September 30, 2020.
Boeing burns enormous amounts of cash to stay in operation. Boeing reported a negative quarterly operating cash flow of -$4.819 billion on September 30, 2020. Boeing reported an ending cash flow of -$9.428 billion on the same day.
Boeing still retains enormous value. The Boeing Company had $27.116 billion in cash and short-term investments and Total Assets of $161.261 billion on September 30, 2020.
Boeing is cheaper than Lockheed Martin and Northrop Grumman. Mr. Market paid $189.98 for Boeing shares on November 10, 2020. Many investors will fear Boeing because its shares have lost over one-third of its value in 2020. Boeing began 2020 with a share price of $333.32 on January 2.
Boeing stock is less valuable because it no longer pays a dividend. Boeing last paid a quarterly dividend of $2.05 on February 13, 2020.
Many people will think Boeing has some attributes of a traditional Warren Buffett value investment. Boeing is a good company with some profitable businesses that are going through a rough stretch. Boeing's defense and space businesses still make money even as its airliner business collapses.
Boeing is the only company that has a space capsule capable of competing with SpaceX's Crew Dragon. Boeing's Starliner is unproven and untested, but space capsules are a proven technology.
The Russians have been flying space capsules without any fatalities for almost 50 years. The Starliner pictures at Boeing's website resemble America's historic Mercury capsules that took John Glenn and Alan Shepard into orbit.
Boeing has a long history of building complex vehicles, including airliners, rockets, missiles, and satellites. They founded Boeing in 1916, so it has a long history in contrast to SpaceX.
Contrarian investors could buy Boeing because they think the airline industry will recover if scientists develop a coronavirus vaccine. Such a recovery could take several years or longer because people could be afraid to travel.
Plus, I think there could be political pressure to retain travel restrictions and quarantines after the pandemic in some countries. Brexit in the UK, and the Trump election in the USA, shows hostility to internationalism was growing before coronavirus. I think the hostility to travel will be far greater after the pandemic.
Is Space a Good Investment?
Space technologies companies such as Blue Origin and SpaceX have made tremendous accomplishments in recent years.
Those companies have not shown they can make money, however. One reason why SpaceX and Blue Origin have not gone public is that their founders are more interested in space travel than making money.
Jeff Bezos makes all the money he could want from Amazon (AMZN). I think Bezos views Blue Origin as a philanthropic venture to benefit humanity rather than a profit-making company.
Thus, investors need to consider the possibility that Blue Origin will never make money, and Bezos will not care. Blue Origin is over 20 years old; Bezos started it in 2000, and there is no sign of an IPO. I think the lack of an IPO shows making money is not Bezos' goal at Blue Origin.
Space-minded investors need to ignore Blue Origin and examine publicly-traded aerospace corporations such as Boeing, Lockheed Martin, and Northrop-Grumman. Investors could make money from space but not from Blue Origin.