Performing your own stock research can be time-consuming and requires a thorough understanding of financial metrics and the knowledge to develop and implement a specific investing plan. Each of the six websites in this review is a major player in the stock research and fundamental analysis arena.  While there is no single best stock research website, we have selected 6 of the best, have a read and decide which one best suits your needs and budget.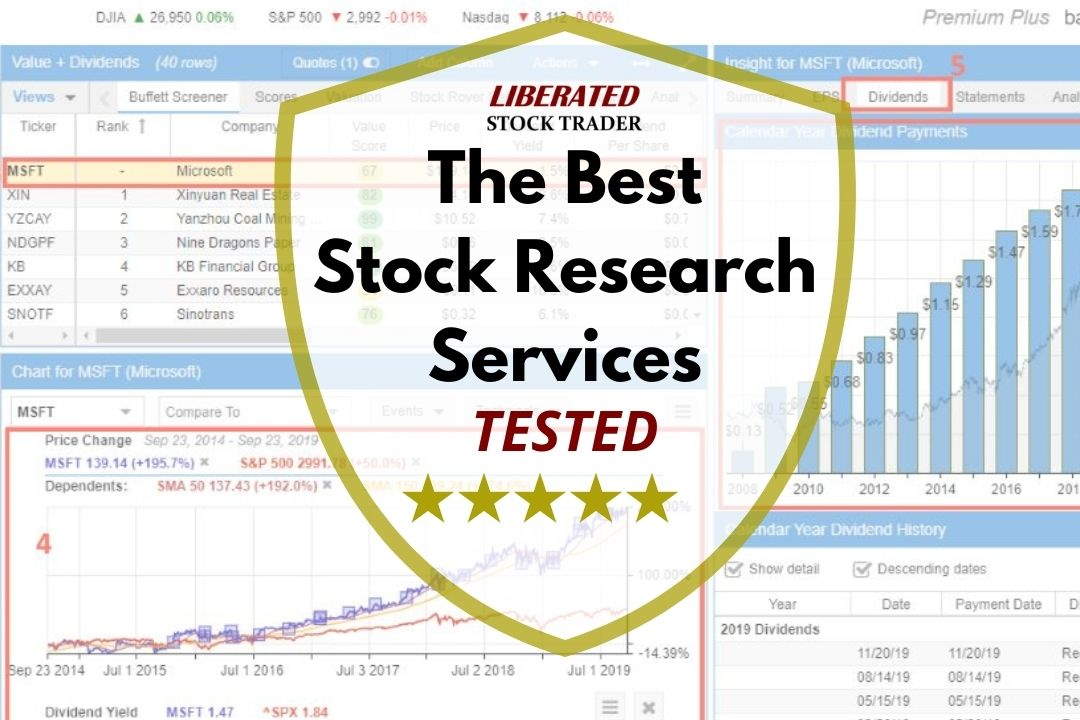 Top 6 Best Stock Research Websites & Tools
1. Stock Rover: Best Real-time Stock Research Reports, Ratings & Screening
Stock Rover is a powerful and mature stock screening, portfolio management, and stock research platform. The stock screening engine is the most in-depth in the industry, with over 650 data points and a huge 10-year historical financial/fundamental database. The list of fundamentals you can scan & filter on is truly huge.
Watchlists have fundamentals broken into Analyst Estimates, Valuation, Dividends, Margin, Profitability, Overall Score, and Stock Rover Ratings.  You can even set the watchlists and filters to refresh every single minute if you wish.
Stock Rover's Ratings Engine
Stock Rover has implemented some great functionality; I particularly like the roll-up view for all the scores and ratings.  Here I have imported a Warren Buffett portfolio, which includes his top 25 holdings.  I have also selected the "Stock Rover Ratings" tab.  This "Stock Rover Ratings" tab rolls up all analysis into a simple to view ranking system, saving a huge amount of time and effort whilst providing a wealth of insight.
Stock Rover already has over 150 pre-built screeners that you can import and use.  You need to have the Premium Plus service to take advantage of this, I have reviewed many of them, and they are very thoughtfully built.  One of my favorites is the Buffettology screener.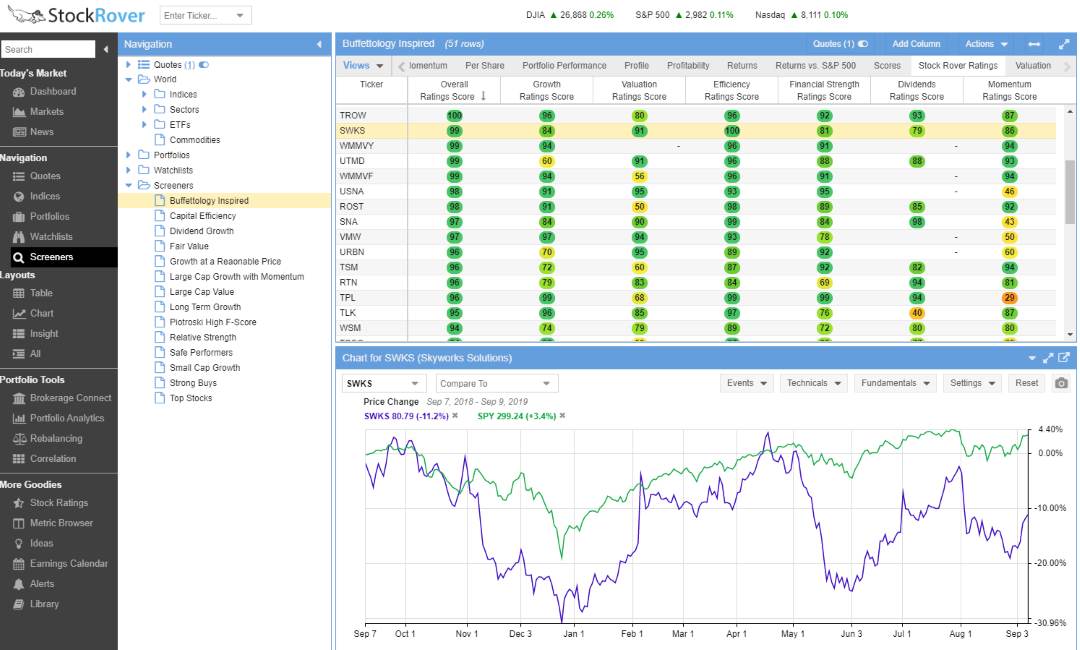 Stock Rover Warren Buffet Screener – This screener is based on criteria described in the bestselling Buffettology book. The company should have a 10-year track record of generally increasing EPS with no negative earnings years; long-term debt, not more than five times annual earnings; average ROE over the past ten years at least 15%, average ROIC over the last ten years at least 12%, and earnings yield should be higher than the long term Treasury yield.
Stock Rover Research Reports
One of the best features in the Stock Rover platform is the Dynamic Research Report. This service enables you to generate a professional, readable PDF report on any particular stock's current and historical performance.
The research report creates something new, a human-readable, real-time research report highlighting a company's competitive position, market position, and historical and potential dividend and value returns. In the image below, you can see the dividend-adjusted commentary on Microsoft, a company I invested in because I found it's excellent potential using my Buffett Stock Screener.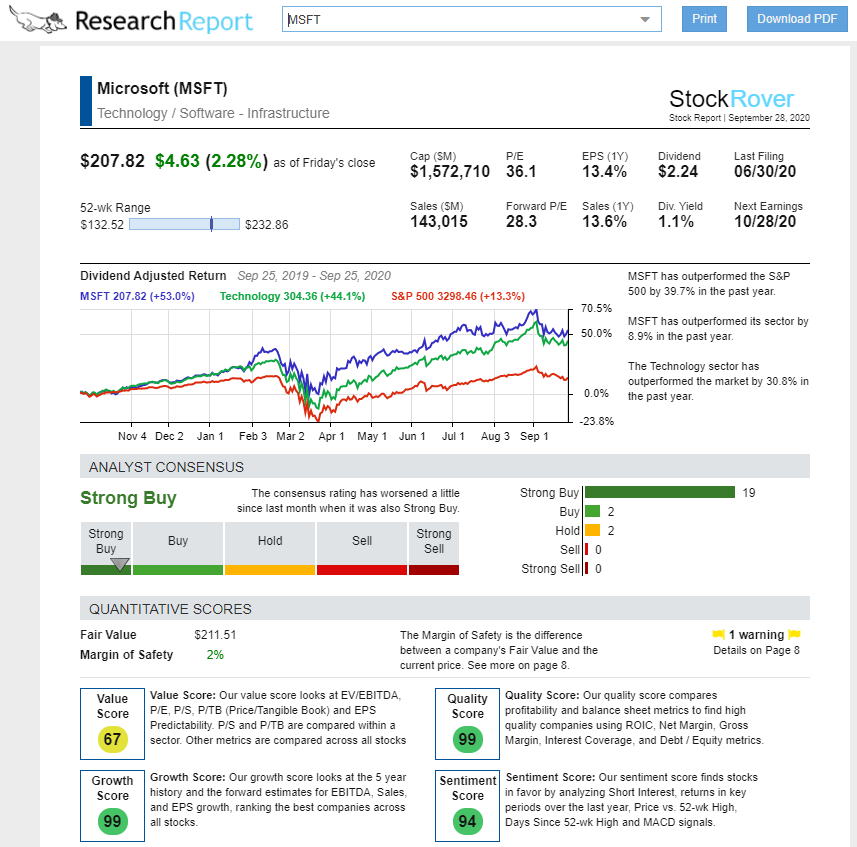 The best thing about Stock Rover's Research Reports is they are Real-time, so the information is always up-to-date.
The Research Reports provide a genuinely comprehensive summary of any of the 10,000+ stocks in Stock Rover on the US and Canadian exchanges. Research reports can be viewed in the browser and can be produced in PDF format for portability and sharing.
Stock Rover Summary
Stock Rover wins our Stock Market Software review by providing the best software for value and income investors. A 10-year financials & fundamentals historical library plus incredible scanners including all of Warren Buffet & Ben Graham's favorite criteria. Fair Value, Margin of Safety, and so much more. Even better is the fact it there are so many curated screeners and portfolios to import and use; you are instantly productive. It is quite a feat that it is easy to use, considering Stock Rover has so many powerful scoring and analysis systems.
Finally, Stock Rover also includes Morningstar fund ratings in its database, enabling you to build a portfolio of 5 star rated Morningstar funds without the need to buy a Morningstar subscription.
If you are a long-term investor, Stock Rover is the software for you.
| | |
| --- | --- |
| Product Name | Stock Rover Premium |
| Research Reports Stocks | ✔ |
| Real-Time Research Reports | ✔ |
| Analyst Research Reports | ✘ |
| Fund Research Reports | ✘ |
| Long-Term Investing | ✔ |
| Stock Ratings | ✔ |
| Portfolio Mgt Tools | ✔ |
| Short-Term Trading | ✘ |
| Buy Signals | ✘ |
| Price Per Year | $279 |
2. Motley Fool: Stock Advisor Research Reports With a Great Track Record
One of the first books I read on investing was the Motley Fool Investment Guide back in 1997. The investment team of Tom and David Gardner have not looked back since. While I am someone who loves to perform their own research and not be influenced by others, I have found the Motley Fool Stock Advisor Service incredibly useful.
Unlike Morningstar, Motley Fool does not try to perform research on every stock and fund in the USA.  The team focuses on specific stocks that they feel will, over the long-term, significantly beat the S&P 500.  They then provide lightweight and easy to read research reports and recommend why they feel the stock will be a long-term superior investment.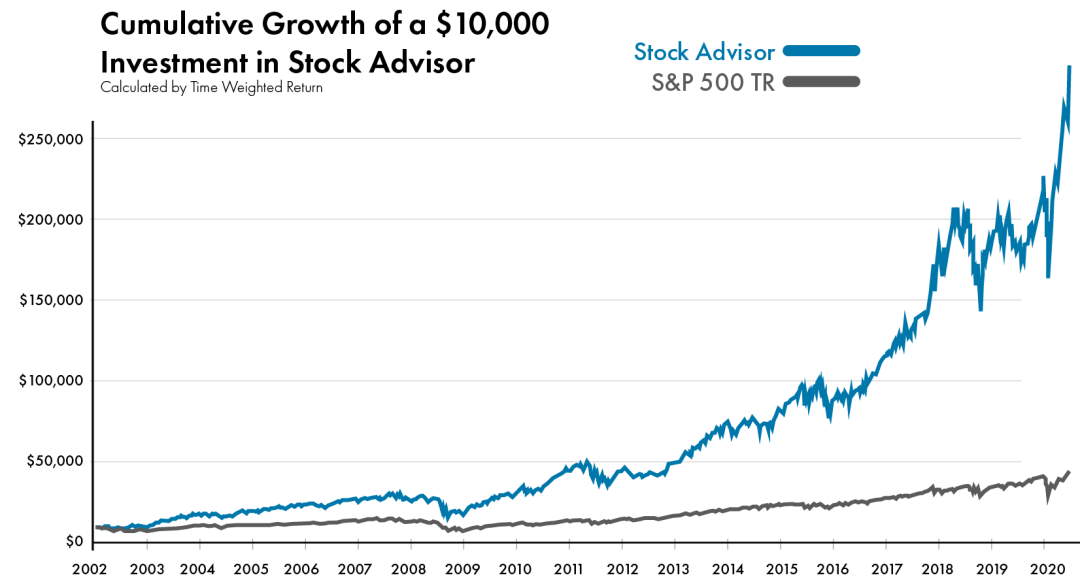 You can manage your favorite stocks through their simple to use portfolio tracker, although unlike Stock Rover, they cannot connect to your broker.  Motley Fool is the first in this list to actually provide their audited track record of performance against the underlying benchmark.  This is what is unique about the service; they actually try to beat the market and help you succeed in the long-term. You could give them a try and follow their advice.
Motley Fool Stock Advisor Portfolio Performance 2002 to 2020
| | |
| --- | --- |
| Motley Fool Stock Advisor | S&P 500 |
| 421% | 85% |
Motley Fool Stock Advisor Summary
The Stock Advisor service is well priced at only $199 and provides an audited track record of successful stock selection. The research reports are easy to read and act upon, and targeted to long-term investors. They do provide specific buy and sell signals on stocks they recommend, but the service does not include fund ratings.
| | |
| --- | --- |
| Website | Motley Fool |
| Product Name | Stock Advisor |
| Research Reports Stocks | ✔ |
| Real-Time Research Reports | ✘ |
| Analyst Research Reports | ✔ |
| Fund Research Reports | ✘ |
| Long-Term Investing | ✔ |
| Stock Ratings | ✔ |
| Portfolio Mgt Tools | ✘ |
| Short-Term Trading | ✘ |
| Buy Signals | ✔ |
| Price Per Year | $199 |
| Claimed Performance (Yr) | 24% |
50% Discount Motley Fool Stock Advisor Service
3. Morningstar: Best for Analyst Stock & Fund Research Reports
MorningStar has over 150 analysts providing research reports for all major stocks and funds in the USA. The research reports provided by Morningstar are curated; this means they are human written reports by analysts. The analysts use a specific methodology to rate each stock based on the industry's competitiveness, the company's financial health, earnings growth, and fair value. They have also popularized the idea of an "Economic Moat," meaning that if a company has a wide moat, it has a sustainable competitive advantage over its rivals.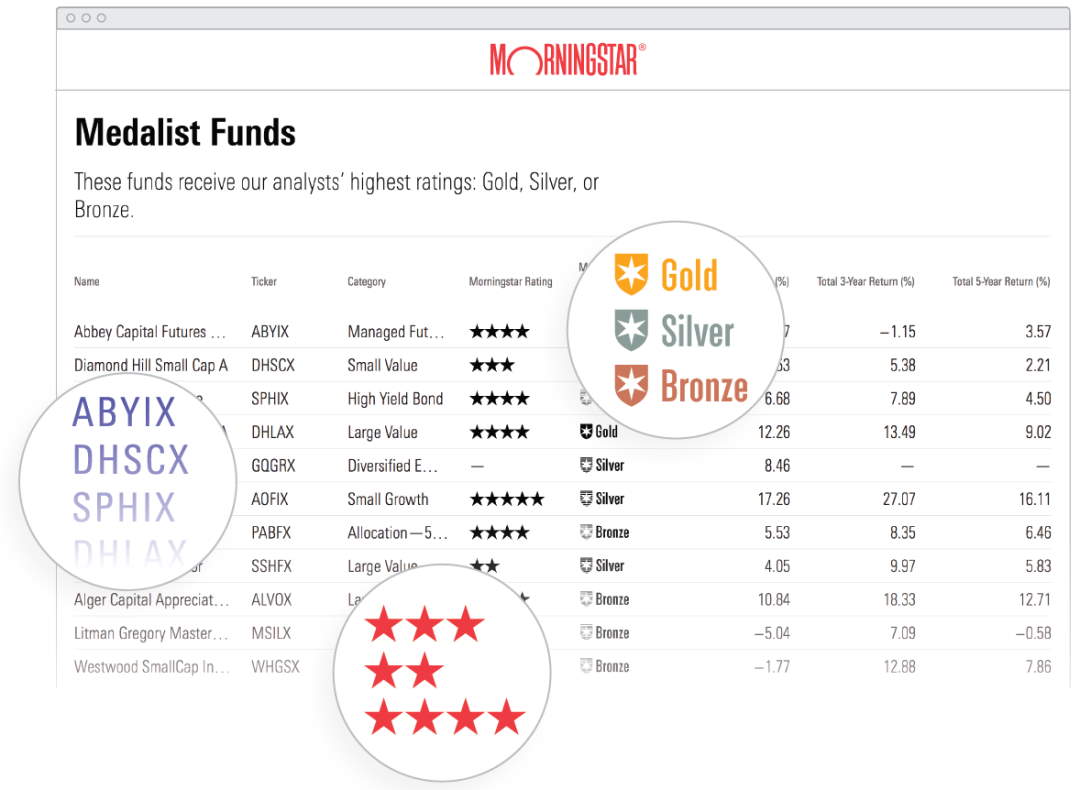 Morningstar is clearly a leader for ETF and Mutual Fund ratings, so if you invest heavily in ETFs for diversification, this service could be ideal.  Additionally, Morningstar provides portfolio management tools to enable you to evaluate and balance your portfolio.
Unlike Stock Rover's research reports, which are generated in real-time and change quickly based on daily financial events, Morningstar reports update only on a quarterly basis.  MorningStar research reports are great for a qualitative view of a stock, whereas Stock Rover excels at quantitative analysis of the financials.
Morningstar is easy to use and packed full of great features and ratings.  Add to this the fact it costs only $199 per year, and you have a well-balanced service.
Morningstar Summary
Morningstar Premium is a competitively priced service targeted to long-term investors, providing detailed curated analyst reports and stock rankings to help improve your overall stock picking. The service does provide overall buy and sell signals but does not divulge the performance of their stock recommendations.
| | |
| --- | --- |
| Product Name | Morningstar Premium |
| Research Reports Stocks | ✔ |
| Real-Time Research Reports | ✘ |
| Analyst Research Reports | ✔ |
| Fund Research Reports | ✔ |
| Long-Term Investing | ✔ |
| Stock Ratings | ✔ |
| Portfolio Mgt Tools | ✘ |
| Short-Term Trading | ✘ |
| Buy Signals | ✔ |
| Price Per Year | $199 |
Get a 14 Day Free Trial + $100 Discount at MorningStar
4. IBD: Research & Rankings With a Solid Performance History
Investors Business Daily  (IBD) has been strongly driving their business to digital-first over the past years.  But they do still provide a print newspaper service. Investors Business Daily is available as a digital and print subscription. They provide a lot of their own research on stocks and use the famous CANSLIM method to evaluate the potential recommendations. The service in this review is called the IBD Leaderboard.
The IBD Leaderboard is a list of the highest-rated stocks according to the methodology behind the CAN SLIM investing strategy; this includes ratings for Current Earnings, Annual Earnings, New Products, Supply, Leaders, Institutional Sponsorship & Market Direction.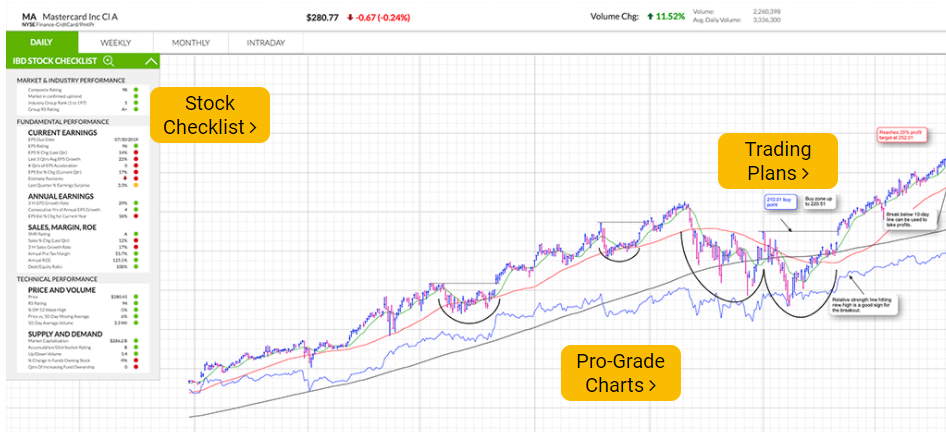 The Leaderboard services cost $828 per year, which is more expensive than Motley Fool, Stock Rover, and MorningStar. To justify this additional cost, IBD claim that they have a performance record of an average 36.6% profit per year.  If this is the case, it could be well worth the investment. As part of the service, you do get the ability to track watchlists, a regular market commentary email, and very good charts with buy and sell signals overlayed.
| | |
| --- | --- |
| Website | IBD |
| Product Name | IBD Leaderboard |
| Research Reports Stocks | ✔ |
| Real-Time Research Reports | ✘ |
| Analyst Research Reports | ✔ |
| Fund Research Reports | ✘ |
| Long-Term Investing | ✔ |
| Stock Ratings | ✔ |
| Portfolio Mgt Tools | ✘ |
| Short-Term Trading | ✔ |
| Buy Signals | ✔ |
| Price Per Year | $828 |
| Claimed Performance (Yr) | 36.6% + |
5. Zacks Research: High Performing Stock Research & A High Price
To get full access to Zacks research reports, you will need to purchase the ZACKS Ultimate service, which costs $2995 per year. This is one of the highest-priced stock research & reporting services for individual investors in the USA. However, for this investment, you do get a comprehensive service covering trade recommendations for short-term trading, through to income investing and longer-term growth investing strategies.
The Zacks Ultimate service essentially covers all of their services, including Short Selling Lists, Value Investing, ETF Investing, and Zacks Top 10 Stocks.  It is probably better to decide if you want to invest or trade before you buy a Zacks subscription because if you want to invest, then the Zacks Premium service priced at a reasonable $249 per year will give you access to their top 50 stock recommendations and the Zacks #1 Rank List research reports.
Zacks claim to have one of the highest yearly returns of all the services in this review, with a +24.4% average yearly gain.
| | |
| --- | --- |
| Website | Zacks |
| Product Name | Zacks Ultimate |
| Research Reports Stocks | ✔ |
| Real-Time Research Reports | ✘ |
| Analyst Research Reports | ✔ |
| Fund Research Reports | ✔ |
| Long-Term Investing | ✔ |
| Stock Ratings | ✔ |
| Portfolio Mgt Tools | ✘ |
| Short-Term Trading | ✔ |
| Buy Signals | ✔ |
| Price Per Year | $2995 |
| Claimed Performance (Yr) | 24.4% |
6. Seeking Alpha: Quality Research from a Demanding Community
With over 8 million users exchanging ideas on Seeking Alpha (SA), you are sure to have a constant source of inspiration. What I like about seeking Alpha is the experience level of the user community.  If someone posts a sub-standard research article, the users will point it out in no uncertain terms. Registration is free, but there is also a premium marketplace for stock advisory services.

The real benefits to Seeking Alpha are with the Pro Service, which gives you access to all the Investing Ideas and Seeking Alpha's Premium Ideas. Seeking Alpha PRO also includes screening and portfolio management tools and their crown jewel, the Quant Rating, for a price of $239 per year. The Quant Rating system claims to have an average annualized return of 24%
SA also makes money by allowing others to sell their stock investing strategies through their marketplace with prices ranging from $25 to $300 per month.
| | |
| --- | --- |
| Website | Seeking Alpha |
| Product Name | SA Premium Quant Ratings |
| Research Reports Stocks | ✔ |
| Real-Time Research Reports | ✘ |
| Analyst Research Reports | ✔ |
| Fund Research Reports | ✘ |
| Long-Term Investing | ✔ |
| Stock Ratings | ✔ |
| Portfolio Mgt Tools | ✘ |
| Short-Term Trading | ✔ |
| Buy Signals | ✔ |
| Price Per Year | $239 |
| Claimed Performance (Yr) | 24% |
Best Stock Research Websites Summary Table
| | | | | | | |
| --- | --- | --- | --- | --- | --- | --- |
| Company | Stock Rover | MorningStar | Motley Fool | IBD | Zacks | Seeking Alpha |
| Product Name | Stock Rover Premium | Premium | Stock Advisor | Leaderboard | Zacks Ultimate | SA Quant |
| Research Reports Stocks | ✔ | ✔ | ✔ | ✔ | ✔ | ✔ |
| Real-Time Research Reports | ✔ | ✘ | ✘ | ✘ | ✘ | ✘ |
| Analyst Research Reports | ✘ | ✔ | ✔ | ✔ | ✔ | ✔ |
| Fund Research Reports | ✘ | ✔ | ✘ | ✘ | ✔ | ✘ |
| Long-Term Investing | ✔ | ✔ | ✔ | ✔ | ✔ | ✔ |
| Stock Ratings | ✔ | ✔ | ✔ | ✔ | ✔ | ✔ |
| Portfolio Mgt Tools | ✔ | ✘ | ✘ | ✘ | ✘ | ✘ |
| Short-Term Trading | ✘ | ✘ | ✘ | ✔ | ✔ | ✔ |
| Buy Signals | ✘ | ✔ | ✔ | ✔ | ✔ | ✔ |
| Price Per Year | $279 | $199 | $199 | $828 | $2995 | $239 |
| Visit | Stock Rover | Morningstar | Motley Fool | IBD | Zacks | SA |