Do you want to see something very exotic?  Welcome to Point & Figure Charts, the type of chart that you probably have never heard of before.
Point & Figure charts are quite useful, and you would be required to learn them if you wanted to become a Certified Market Technical Analyst.
What are Point and Figure Charts?
Point & Figure Charts (P&F) are unusual as they feature no timeline along the bottom horizontal chart axis. The P&F chart is made up only of price swings. The vertical price bar is arithmetic and shows only units of the price.  An "O" is plotted if the price moves down a whole price unit, for example, 50 cents.
Then when the price changes direction and starts to move upwards, an "X" is marked in each box.
This filters out smaller price moves and enables us to focus on trend quality.  Trendlines are always plotted either horizontally or at 45-degree angles.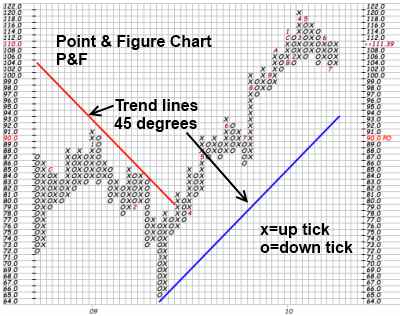 Old School and still cool, Point and Figure charts are used by market makers to plan trades and targets.
Point & Figure Chart Pros
P&F charts are an excellent tool for doing price target calculations.
Simple to learn and interpret, few price patterns to learn.
Trendlines are very easy to plot as they are only at 45-degree angles or horizontal.
Point & Figure Chart Cons
Learning this type of charting can be easiest when performing the charting by hand.  That means you are marking the "X" and "O" on a piece of paper.
P&F charting can also be very time-consuming.
Few services offer Point and Figure Charts.
Free Point & Figure Chart Software
Very few services offer Point and Figure Charts; however, TradingView offers real-time Point and Figure charts and a huge user community. I use TradingView every day; follow me on TradingView.
Connect with me on TradingView it's free

TradingView  The Number 1 Stock Charting & Analysis Package