Scanz (EquityFeed) Review
Pricing & Software

Trade Management

Company Fundamentals Screening Integration

News Services

Technical Analysis – Charts, Indicators & Drawing Tools

Stock Systems, Backtesting & Robotic Trading (Automation)

Ease of Use
User Comments Rating
( reviews)
Scanz Review Summary
Scanz is a real-time newsfeed and stock screening application designed for day traders. Scanz is able to scan and screen the entire U.S. stock market in real-time to enable traders to find short term technical trading situations.
Pros
In-Built Technical Stock Scanning
Good Broker Integration For Trading
Well Organized Real-time News Engine
Very Easy To Use + LII Data
Recommended for Day Traders, who want a super simple and slick workflow, real-time streaming charts & news and unique Level II data, Dollar Volume Information & excellent broker integration
With their slogan "Find It, Trade It, Profit" EquityFeed Scanz is considered a solid tool for Day Traders. However, with the advent of TradingView, the largest trading community platform Scanz has fierce competition.
Pricing & Software: 3/5
Scanz specializes in providing real-time data and news fast directly to your screen.  Scanz has a high price point of $149 for the full news and scanning package, but you do get a lot for your money as we will explore later in this review.
Data speeds are excellent and it has excellent U.S. data coverage including extensive Over The Counter markets (OTC:BB, OTCQX, OTCQB, OTCPINK, GREY)
Trade Management: 4/5
Scanz has introduced the "Chart Montage" functionality, which enables an ultrapowerful way of trading off the charts.
This single window contains a wealth of critical trading information, including real-time streaming news, level 2 data, including time and sales.  Also, Equity Feed is the only software to offer the Dollar Volume data.
The EquityFeed Team has a fantastic set of integrations to your broker to enable this, which includes TD Ameritrade and Interactive Brokers two of the powerhouses of the brokerage world.
EquityFeed Chart Montage - Stock Charts, Level 2 Time & Sales, Company Statistics, and More.
Fundamental Scanning & Screening: 4/5
Scanz contains many fundamental screens.  But what is the key for days traders?  The ability to scan entire markets for liquidity and volume patterns to find volatility you can trade for a profit.  This is the EquityFeed unique offering.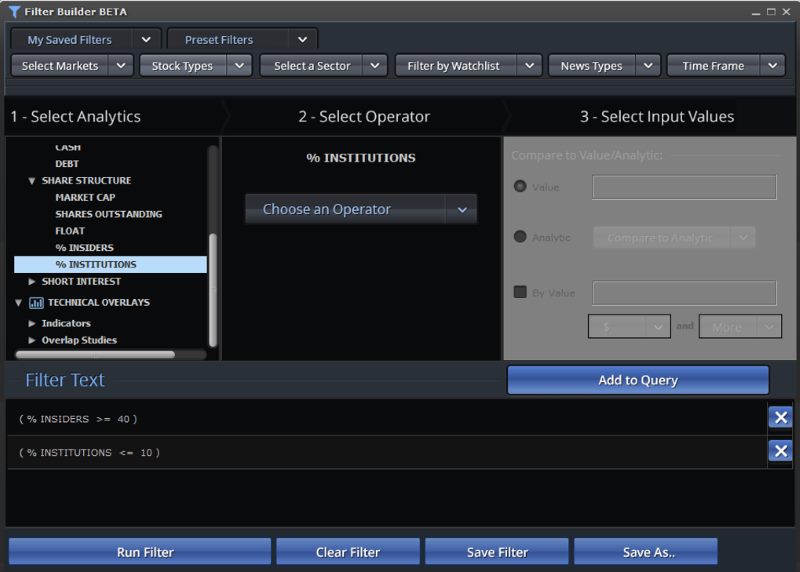 News: 4.5/5
A top placing and definitely worth mentioning this year is the deal news section in Scanz.
I really like the simple implementation, you can get the low down on contracts and deals struck between companies.  This can give you an edge if you can quantify the impact of the deal on the companies bottom line.
Scanz also has a strong focus on news, but it is let down by having no social integration.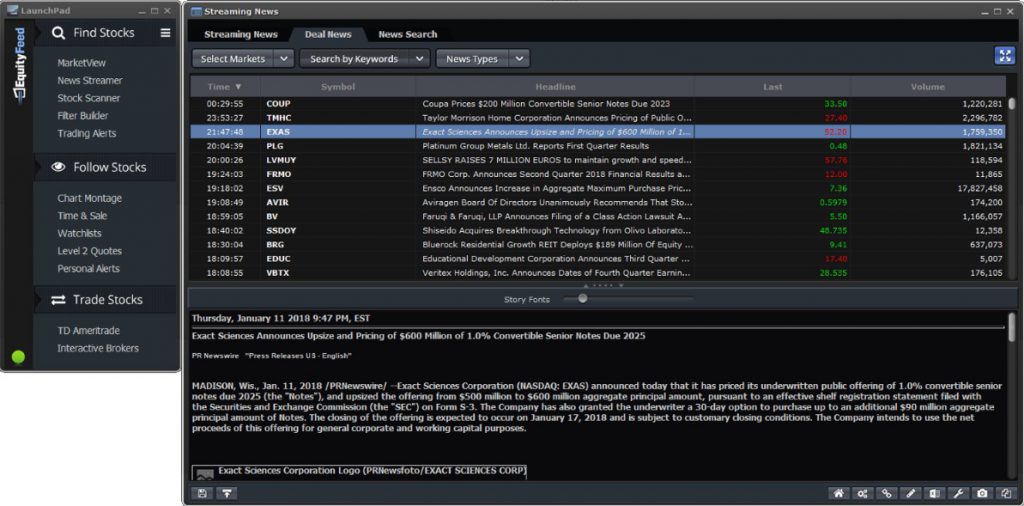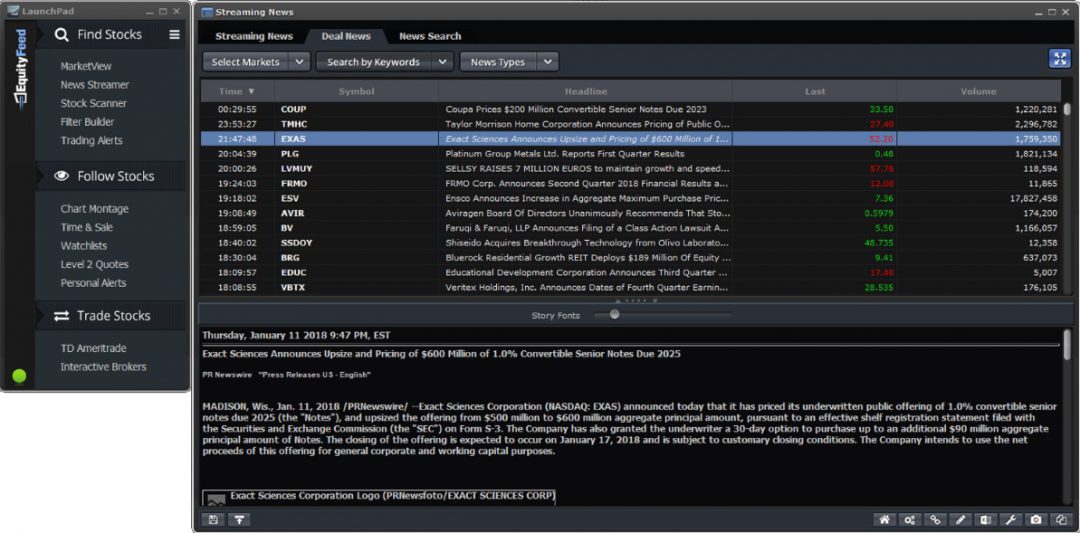 Technical Analysis: 3/5
In third place in this round, Scanz/EquityFeed does not offer as many chart patterns or chart indicators as it's competitors, but it does not have to.  Most people will only use 5% of the indicators available, and fortunately, EquityFeed covers all the important ones.  The power here is in the technical analysis screening, which is very fast, seamless and flexible.
Stock Systems & Backtesting: 2/5
Scanz is not designed for extensive backtesting, but it is designed to help you streamline your day trading system.  Plenty of off the shelf technical and liquidity scans greet you on opening the program.  The great thing is they all operate in real-time so they continue to update.
Ease of Use: 4/5
In the development process, EquityFeed has opted to keep everything on the surface super simple and intuitive to use.  However, don't be fooled by the power underlying the streamlined interface, which in a few clicks you will be viewing Level II liquidity data and buying directly from the charts.
I have been extremely impressed with the progress EquityFeed is making in its product and carving out its day trader niche.
With great ease of use, an excellent way of managing real-time news and extremely powerful scanning, EquityFeed is highly recommended.  As to this the excellent broker integration options and you have a good package.
Scanz Review Summary
While Scanz is a solid product offering, it is somewhat limited in its scope and for the premium price point, one simply expects more.
If you are looking for software that is able to scan the entire U.S. and Canadian stock markets in real-time then I would strongly recommend TC2000, our review winning software.
If you are looking for the best technical analysis software with backtesting, real-time news, and forecasting, then I suggest MetaStock + Refinitiv.
Alternatively, if you are looking for the best real-time news service you should investigate Benzinga Pro.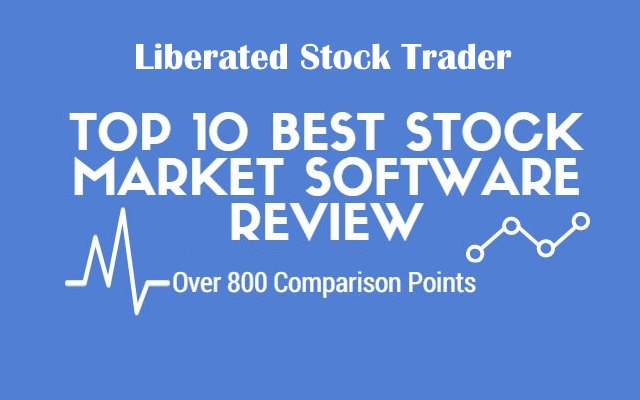 Finally, if you what a great mix of screening, charting and a strong social trading community then TradingView is something you should check out.
| Vendor | |
| --- | --- |
| Pricing & Software | |
| Monthly End of Day | N/A |
| Monthly Real Time | $135 - |
| | $250 |
| Software Only Fee | |
| Customizable Data Feeds | |
| Customer Service & Education | Email Only |
| PC | ✔ |
| For MAC | ✔ |
| Tablets Smartpones | |
| Market Data Coverage | U.S.A. inc OTC |
| Data Speed | Excellent |
| Stocks | ✔ |
| ETF | ✔ |
| Mutual Funds | |
| Options | |
| Futures | |
| Forex | |
| Bonds | ✔ |
| Pricing & Software Score | 9 |
| Trade Management | |
| Broker Integration Stocks | ✔ |
| Broker Integration Options | ✔ |
| Place Trades from Charts | ✔ |
| Live Position P&L | ✔ |
| P&L Analysis | ✔ |
| Trade Management Score | 10 |
| Fundamental Scanning & Screening | |
| Real Time Scanning & Filtering | ✔ |
| Fundamentals Scanning | ✔ |
| Watch Lists with Fundamentals | ✔ |
| Extended Economics Fundamentals (New) | |
| Fundamental Screening Score | 9 |
| Technical Analysis & Charts | |
| Multiple Charts Per Desktop | ✔ |
| Bar Line HLC Candlestick | ✔ |
| Point & Figure | |
| Equivolume | |
| Indicators | |
| Bollinger Bands | ✔ |
| Directional Movement | |
| Ichimoku Cloud | |
| MACD | ✔ |
| Momentum | ✔ |
| Money Flow | |
| Moving Averages | ✔ |
| Parabolic SAR | |
| Rate of Change | |
| Relative Strength / RSI | ✔ |
| Stochastics | ✔ |
| Volume at Price | |
| Custom Indicator Development | |
| Volume | ✔ |
| Darvas Box | |
| Elliot Wave | |
| Total Number of Indicators | 11 |
| Drawing Tools | |
| Fibonacci Retracement | ✔ |
| Fibonacci Time | |
| Fibonacci Fan | |
| Trend Lines | ✔ |
| Text Overlay | |
| Automated Alerts | ✔ |
| Technical Analysis Score | 8 |
| News & Social | |
| News Feed | ✔ |
| Real-Time News Feed | ✔ |
| Economics & Deal News | Deal News |
| Market Commentary | |
| Community Chat | |
| News Score | 9 |
| Systems & Back-testing | |
| System Marketplace | |
| Create Customizable Systems | |
| Back Testing Point & Click | |
| Back Testing Programmatic | |
| Forecasting (new) | |
| Robotic Trading (new) | |
| Systems & Back-testing Score | 4 |
| Setup & Usability | |
| SW Setup | 9 |
| Ease of Use Score | 9 |
| Total Points | 18 |