A really interesting tool for helping visualize at what stage the market is in, is the Ichimoku Cloud.  Widely used in Japan and gaining popularity here, the Ichimoku cloud is quite unique.
Take a look at the next example and read the notes below to get an understanding of the cloud.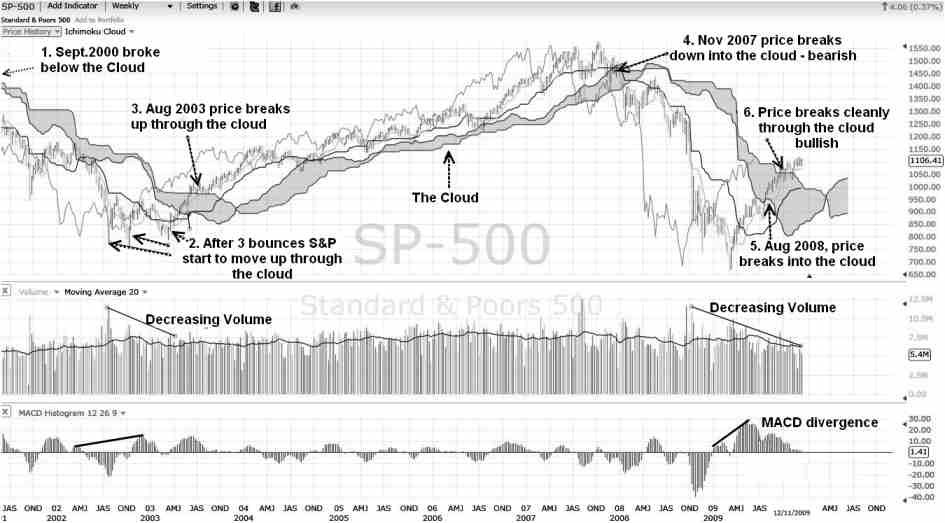 Ichimoku Cloud Chart Notes:
When a price pattern enters and breaks through the cloud downwards from above, this is a bearish sign.
When a price pattern enters the cloud from below and breaks out up through the cloud this is a bullish sign.
The cloud can also indicate a good area of support for the resistance.
This is a weekly chart of the S&P 500 mapped against the Ichimoku Cloud.
The chart is mapped back to the year 2000, so we can visually compare the last recession ending in 2003, with the 2008 recession. How does the price compare with the Ichimoku cloud on both of these occasions?
The findings are extremely interesting!
September 2000, the price broke down through the cloud support signaling a market in decline.
The market enters into a three-year bear market, finding support at 800 points 3 times in late 2002 and 2003.
In August 2003, the S&P500 broke up through and out of the cloud and moves vigorously into a new bull market.
Moving forward to November 2007, the market enters the cloud from above, and the ensuing bear market takes hold.
August 3rd, 2009, the S&P enters the cloud from below. This is a potentially bullish sign but can really only really be confirmed when the index breaks out upwards through the cloud and moves higher on stronger volume.
On the volume pane (middle pane), we see that on both occasions, the bottom of the market took place on reducing volume.
We also see the MACD Histogram (weekly), has remained bullish since entering the cloud in 2009 as it did in 2003.
The Ichimoku cloud is an excellent way to visualize at what stage the market is in.
The expectation is that once a stock or index enters into the cloud from below, it will continue through the cloud and exit above the cloud, this signal a strong uptrend or bull market.  Also, the opposite is true.  If the stock or index enters the cloud from above, it is expected to break out through the bottom of the cloud, meaning a potential bear market.
Section Summary
In this section, we covered market trends and how to assess them.  The important aspects to remember are the use of Dow Theory, and the indexes must confirm.  Important also is the types of trend, up, down, and sideways.  Do not forget that a trend also has a timeframe, short term, medium-term and long term.
Other very useful concepts are that of Elliott waves and the Ichimoku cloud.
Formulate your opinion on market direction, and you will know if it is a good time to trade.