Lego stock is not available on any stock exchange and has no stock symbol because it is a privately held, family-owned business based in Denmark.
Lego's history of success, profitability, and powerful branding has not gone unnoticed by investors. We share interesting insights into Lego and highlight four great toy companies worth investing in.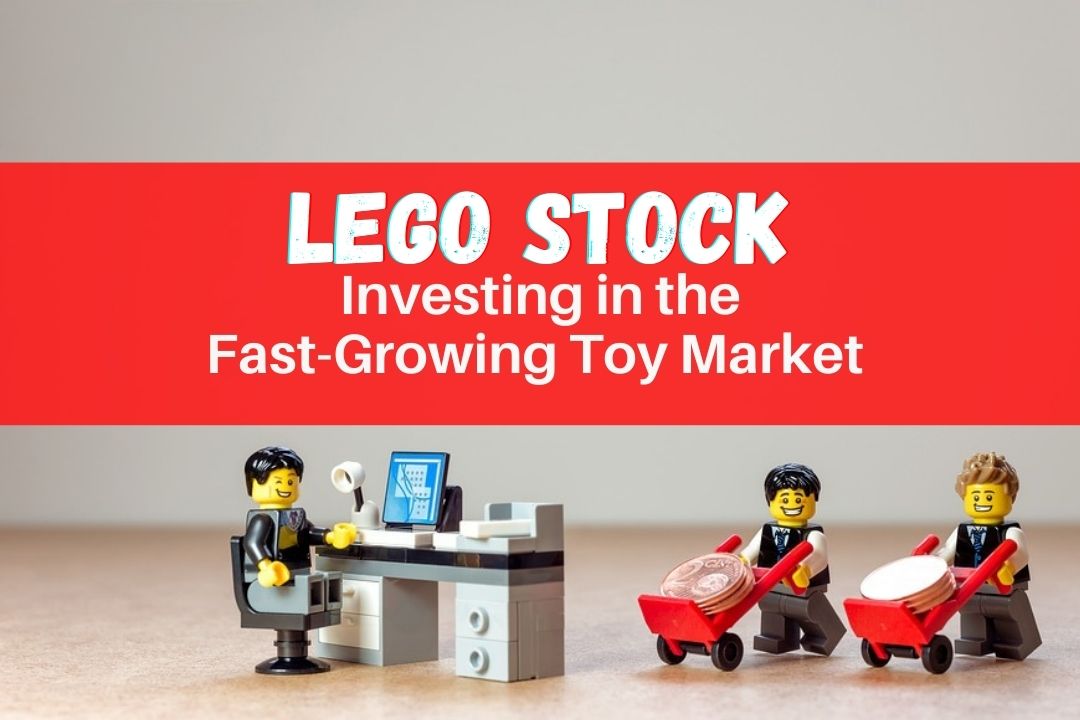 Note: This is an unbiased research report. The author or Liberated Stock Trader is not affiliated, paid by, or owns stock in any of the companies mentioned in this report. 
Lego Stock
Despite being the fourth most popular toy brand of all time, investors cannot purchase shares in Lego. Lego is a family-owned business and does not need external financing. The Kristiansen family owns 75% of the stock, and the Lego charitable foundation owns 25%. Lego's equity is worth $4.2 billion.
No Lego stock is publicly available because LEGO Group is a privately held company. LEGO stays private because not going public gives management more control over the business.
Why Lego is not on the Stock Market
Staying private allows the Kristiansen family, who founded LEGO in 1932, to keep control of the company. The current owner is Kjeld Kirk Kristiansen, a grandchild of founder Ole Kirk Kristiansen. The founder's great-grandson, Thomas Kristiansen, is the current chairman of the LEGO Group. Another reason LEGO stays private is to keep its headquarters in Billund, Denmark.
Lego Stock Price
You cannot buy shares in Lego directly as a retail investor. Lego is not publicly traded because it is wholly owned by the Kristiansen family and the Lega Charitable Foundation.
No Lego stock price is available because it is a private company and not listed on any stock exchange.
Lego Stock Symbol
There is no stock ticker or symbol for Lego as the company is not publicly listed on any stock exchange either in the USA or in its founding country, Denmark.
To acquire an official stock ticker symbol, Lego would need to float on the stock market by going through an initial public offering.
In summary, no LEGO ticker symbol exists because no Lego stock trades in the markets.
Does Lego have stock?
The LEGO Group has stock, but the stock is only available to the Kristiansens and the Lego Foundation, a charity the family controls. Kirkbi A/S, a holding company the Kristiansens control, owns 75% of LEGO stock. The Lego Foundation owns the other 25%. This makes the LEGO Group a private company. One reason the Kristiansens keep LEGO private is to keep company control in their hands.
Lego Stock IPO
There are no known plans for a LEGO stock initial public offering (IPO). There is no IPO because the Kristiansen family prefers to keep the company private.
Since LEGO is making enormous amounts of money as a private country, it is doubtful that the Kristiansens will take it public. There is no LEGO public stock because the Kristiansens do not need the money an IPO could raise.
---
Invest in yourself! Get all our courses & strategies for 50% off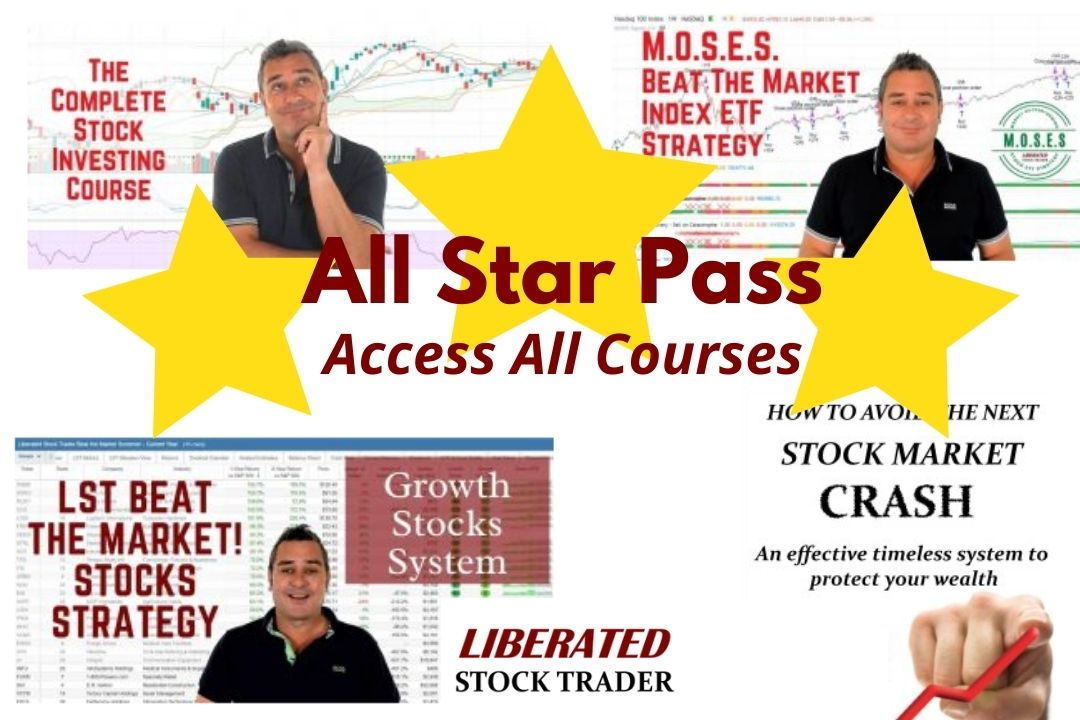 ★ Liberated Stock Trader Pro Stock Investing & Trading Course ★
★ M.O.S.E.S. Market Outperforming ETF Strategy ★
★ LST Beat the Market Stock Picking Strategy ★
★ Exclusive Bonus Course – The Stock Market Crash Detector Strategy ★
★ Fully Guided Videos, eBooks & Lifetime Email Support ★
★ 108 Videos + 3 Full eBooks + 5 Scripts for TradingView & Stock Rover ★
All Star Pass Black Friday -50% Deal Is Live - Ends In:
---
Why Lego is a Great Company
The LEGO Group has manufactured over 320 billion Lego blocks. Money Inc. named Lego the fourth most popular toy of all time. The only toys that outsold Lego are Barbie, Pokemon, and video games. National Geographic claims gift-givers buy 28 Lego sets every second during the holiday shopping season.
Lego is so popular it has inspired stores and theme parks. The LEGO Group operates 10 Legoland theme parks in seven countries and one Legoland Water Park. The LEGO Group is also a retailer. It operates 731 stores in 50 countries. LEGO is now opening large flagship stores in some countries, celebrating the nation's heritage and culture.
The LEGO Group is one of the world's most successful toy companies. Lego Group claims its consumer sales grew by 22% between 2020 and 2022. They also claim Lego Group's revenues grew by 27%, and the operating profit grew by 32% between 2020 and 2022.
Lego Success & Expansion
LEGO is so successful the company is spending $1 billion to build a new factory near Ho Chi Minh City (Saigon), Vietnam. There are also plans for a new $1 billion Lego factory in the US state of Virginia. Current plans are to expand Lego's manufacturing footprint to seven factories on three continents by 2025.
The LEGO Group is also expanding production at its existing factories. The company is spending $500 million to expand its Monterey, Mexico, factory by adding a fully automated warehouse and expanding production by 50%. LEGO Group operates factories in Denmark, Hungary, China, and the Czech Republic.
LEGO is increasing production in North America and Vietnam because of the growing Trade War between the United States and the People's Republic of China.
Why Investors Would Love to Own Lego Stock
Lego is one of the world's most popular and recognized toy brands, making it a sought-after stock. Its strong brand, popularity, and longevity of profitability make Lego a cash cow for the Kristiansen family.
Statista estimates LEGO's worldwide brand value was worth $9.082 billion in 2021. The worldwide brand value grew from $7.535 billion in 2020 and $6.884 billion in 2019. The brand value is Lego's key asset. Many companies manufacture plastic building blocks, but only one LEGO brand exists.
Much of LEGO's value comes from its association with childhood and fun. Many people view the LEGO block as a wholesome and noncommercial toy not associated with war and violence. Thus, innocence contributes to LEGO's value.
The brand attracts tourists to Legoland and shoppers to the Lego stores. It even attracts people online. The LEGO group claims people downloaded 9.6 million copies of its Digital Building Instructions in 2021.
Another source of LEGO's value is its ability to change with the times. For example, LEGO has created popular movies and adapted itself to major pop culture brands such as Disney, Star Wars, Marvel, and DC superheroes. Some people regard the LEGO Batman as superior to DC's version of the Dark Knight.
Today, LEGO is a lifestyle brand offering stores, theme parks, and movies. LEGO's status as a lifestyle brand comes from its association with the notions of a wholesome childhood and childhood innocence.
However, much of the LEGO value proposition comes from the company's continuity. The LEGO Group is still a family business owned and run by the Kristiansen family. This value exists because LEGO Group is a private company. If LEGO went public, it could lose that value.
Part of LEGO's value is its status as a Danish company. Denmark is a country many regard as clean, compassionate, advanced, happy, peaceful, and free. LEGO could lose much of its appeal if its headquarters left Denmark.
4 Great Investing Alternatives to Lego
Although the LEGO Group is not public, some excellent alternatives to the company are available to stock market investors.
1. Roblox Corp (NYSE: RBLX)
Roblox (RBLX) is one of the most popular massive multiplayer online games (MMOGs). Roblox is unique because it caters to children with family-friendly content.
The Roblox platform allows developers to create games for kids. Users build virtual worlds and play user-created games in Roblox's metaverse (digital platform).
Almost 80% of Roblox users are under 16, and Roblox was the second most downloaded mobile game in the world in 2021, with 182 million downloads.
View the Roblox Chart Live in TradingView
Roblox had 58.8 million daily active users and 202 million monthly active users in the third quarter of 2022. Roblox recorded 13.4 billion hours of user engagement in the third quarter of 2022. The number of Roblox accounts created could soon rise to three billion.
Demandsage estimates the Roblox platform hosts over 50 million experiences. The Roblox platform supports 9.5 million developers.
Roblox is a fast-growing platform. Roblox attracted 13.2 million daily active users in the Asia-Pacific region in the third quarter of 2022. People were playing Roblox games in over 180 countries in January 2023. Europe is Roblox's principal market, with 15.5 million daily active users in the third quarter of 2022.
Unlike LEGO, Roblox trades on the New York Stock Exchange under the ticker symbol RBLX. The value proposition at Roblox is that it is a fast-growing new brand that has earned parents' trust and respect just as Lego has.
Many people regard Roblox as the digital Lego, or the Lego, of the future. Parents, in particular, will consider Roblox a value because it takes their money. Others regard Roblox as one of the few Metaverse stocks that could make money.
Roblox's value proposition is the 202 million monthly active users. The company can reach 202 million potential customers all over the world instantly. Many of those customers are under 16, which gives Roblox the potential to dominate future toy and game sales.
---
Beat The Market, Avoid Crashes & Lower Your Risks
Nobody wants to see their hard-earned money disappear in a stock market crash.
Over the past century, the US stock market has had 6 major crashes that have caused investors to lose trillions of dollars.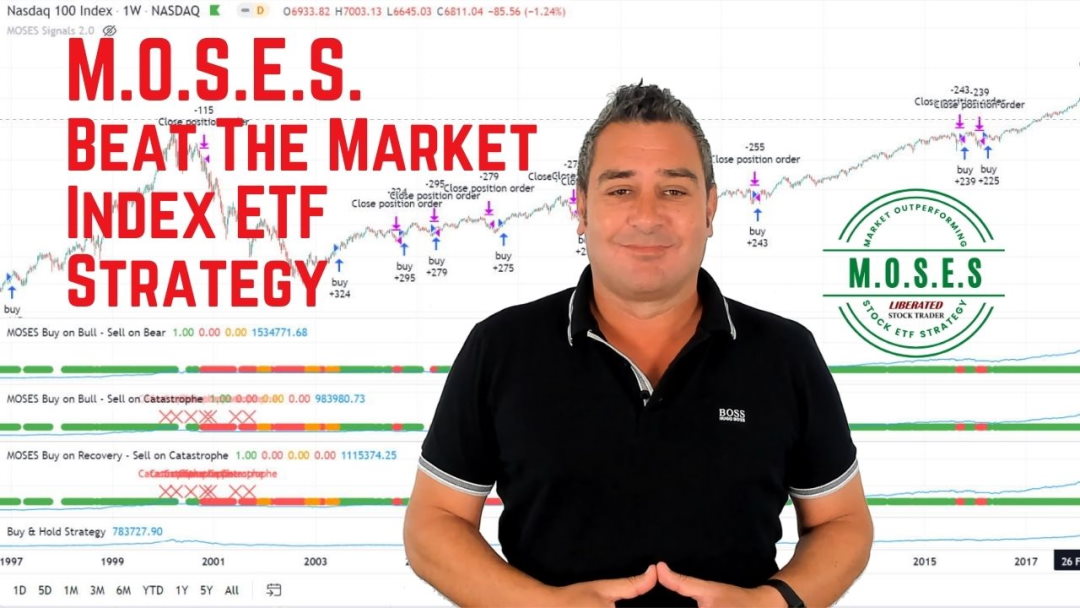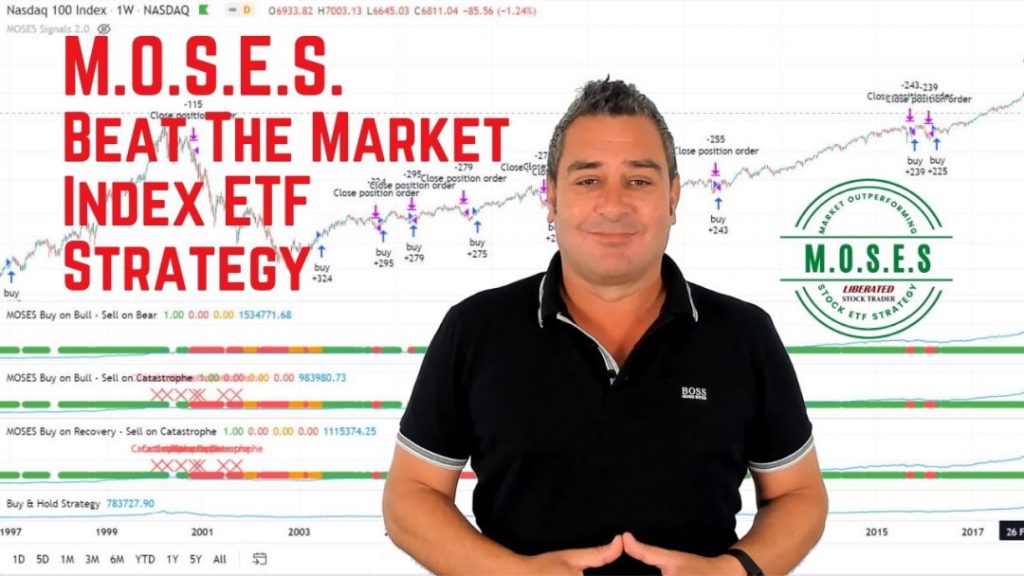 The MOSES Index ETF Investing Strategy will help you minimize the impact of major stock market crashes. MOSES will alert you before the next crash happens so you can protect your portfolio. You will also know when the bear market is over and the new rally begins so you can start investing again.
MOSES Helps You Secure & Grow Your Biggest Investments
★ 3 Index ETF Strategies ★
★ Outperforms the NASDAQ 100, S&P500 & Russell 3000 ★
★ Beats the DAX, CAC40 & EURO STOXX Indices ★
★ Buy & Sell Signals Generated ★
MOSES Helps You Sleep Better At Night Knowing You Are Prepared For Future Disasters
---
2. Jakks Pacific Inc. (NASDAQ: JAKKS)
Jakks Pacific (JAKKS) cashes in on pop culture by making toys, including dolls and action figures based on movies, video games, and brands.
View the Jakks Chart Live in TradingView
One of the biggest values at Jakks is its partnership with the Walt Disney Company (DIS). Jakk's product line includes Disney Princess dolls and Disney Lilly dolls. Jakks also makes toys based on Disney movies such as Frozen, Moanna, and Rava. Other Jakks products include toys based on Super Mario, Sonic the Hedge Hog, PAW Patrol, Apex Legends, and Jurassic Park. Jakks has proprietary toys, including Toilet Paper Blasters and Jakks Wild games.
The value proposition at Jakks is products attached to enormous pop culture brands such as Disney. Jakks investors bet kids will demand toys based on movies, cartoons, or video games. Cynics will note that today's children prefer Roblox and other digital toys to Jakks' action figures and plastic vehicles.
3. Mattel Inc. (NASDAQ: MAT)
The value proposition at Mattel (MAT) is the world's most popular doll brand: Barbie.
Based on the latest reports, Mattel Inc. continues to display stable financial performance. Their latest annual report and quarterly earnings include specific financial details such as revenue, expenses, and net income.
View the Mattel Chart Live in TradingView
While specific sales figures for the Barbie brand are not mentioned in the financials, it's important to note that it is one of Mattel's flagship brands and has historically contributed significantly to the company's revenue.
Other value propositions at Mattel include several iconic toy brands, including Fisher Price, Hotels, and American Girl. Mattel also markets some licensed products based on Disney's Cars, DC Superheroes, Disney's Toy Story, Hello Kitty, World Wrestling Entertainment, and Thomas & Friends. Mattel even manufactures a competitor to LEGO, the Mega blocks.
Mattel has a portfolio of hundreds of toy brands. This gives Mattel a diversified portfolio that survives changing toy tastes. Mattel can license, design, manufacture, and market new toys fast.
4. Hasbro Inc. (NASDAQ: HAS)
The value proposition at Hasbro (HAS) is several of the world's most popular toy lines.
Hasbro's toy portfolio includes GI Joe, Tonka, the Transformers, My Little Pony, Nerf, Play-Doh, FurReal, Baby Alive, Play School, and Mr. Potato Head. Licensed products at Mattel include Star Wars, Marvel, Super Heroes, Peppa Pig, and the Power Rangers. GI Joe and the Transformers have inspired popular movies, comic books, and cartoons. Hasbro now owns its own movie studio, eOne, to produce GI Joe and Transformers films.
View the Hasbro Chart Live in TradingView
Like Jakks Pacific, Hasbro has an alliance with Disney (DIS). Hasbro markets Disney's lucrative Star Wars and Marvel toy brands.
An interesting source of value at Hasbro is the world's most popular board game, Monopoly. Hasbro has sold over 250 million Monopoly boards, Fictionhorizon estimates. Over 1,500 versions of Monopoly now exist, including Avengers, Star Wars, Harry Potter, and Shrek variants.
Other popular Hasbro Games include Clue (Cluedo in the United Kingdom), Operation, Connect Four, Jenga, Twister, The Game of Life, and Risk. Hasbro also owns the makers of the Dungeons and Dragons and Magic the Gathering card games. Hasbro is developing digital versions of Dungeons and Dragons and Magic the Gathering.
Like Lego, the value proposition at Hasbro is iconic toys and games that never go out of style. Hasbro can prosper during hard times. Hasbro's Wizards of the Coast subsidiary (maker of Dungeons & Dragons) saw its revenues rise by 24% to $816 million in 2020 during the COVID-19 pandemic. Game sales rose because people were stuck inside with nothing to do but play games.
Investors do not need to wait for a LEGO GROUP IPO because several toy and game companies are excellent alternatives to LEGO. Parents who want to recapture some of the money they spend on toys can consider these stocks.
---
Ever Dreamed of Beating the Stock Market
Most people think that they can't beat the market, and stock picking is a game only Wall Street insiders can win. This simply isn't true. With the right strategy, anyone can beat the market.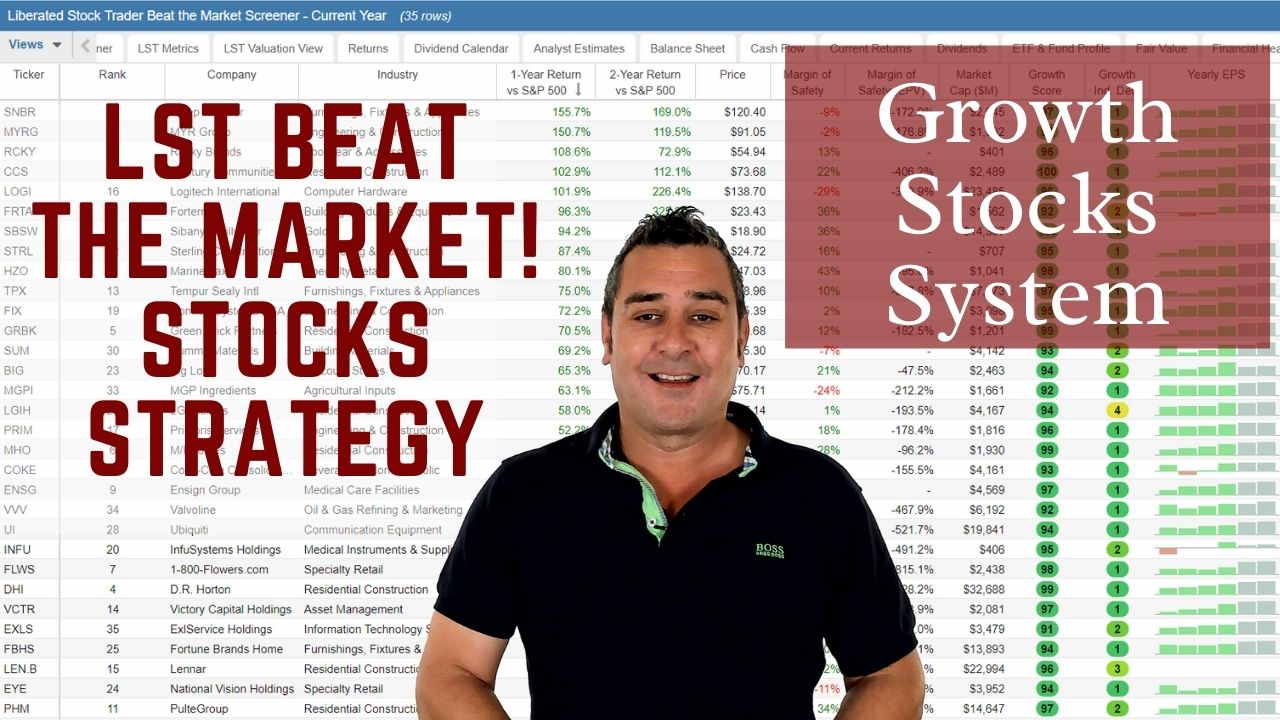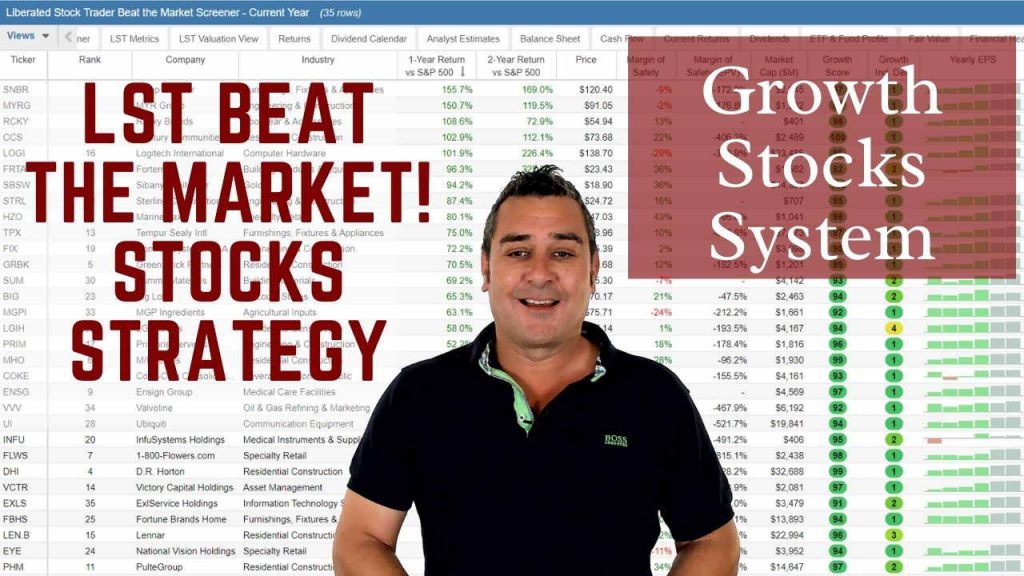 The LST Beat the Market Growth Stock Strategy is a proven system that has outperformed the S&P500 in 8 of the last 9 years. We provide all of the research and data needed to make informed decisions, so you no longer have to spend hours trying to find good stocks yourself.
The LST Beat the Market System Selects 35 Growth Stocks and Averages a 25.6% Annual Return
★ 35 Stocks That Already Beat The Market ★
★ Buy The Stocks & Hold For 12 Months - Then Rotate ★
★ Fully Documented Performance Track Record ★
★ Full Strategy Videos & eBook ★
Take The Pain Out Of Stock Selection With a Proven Strategy
---