Following on from the article and video examining how interest rates affect the stock market, this article will delve into the important question "Is the Stock Market Overvalued?"
You will learn about the tools used to assess if a market is overpriced and the complexities of market valuation.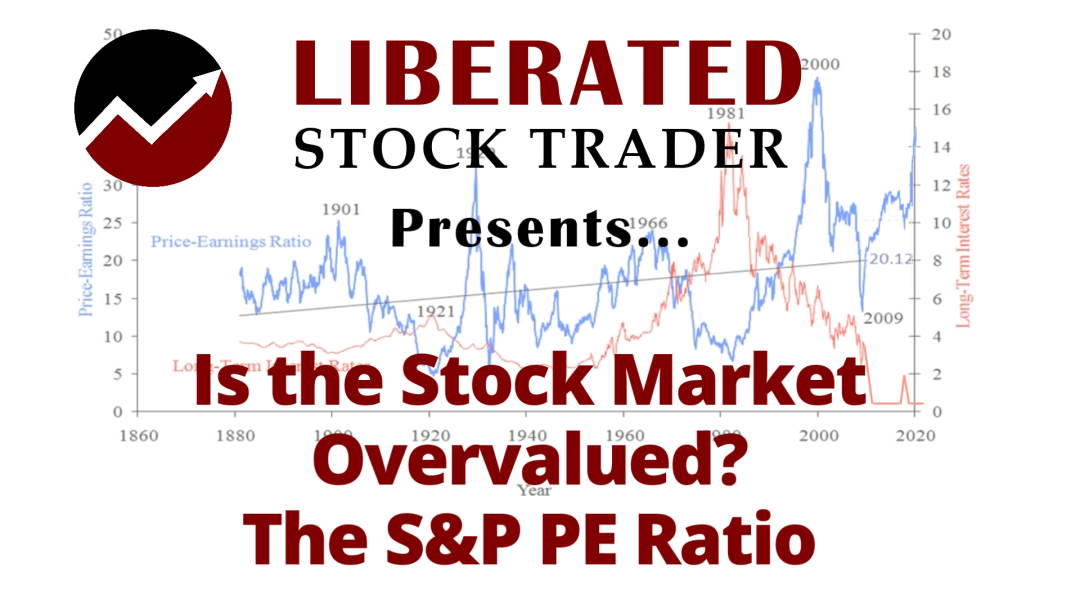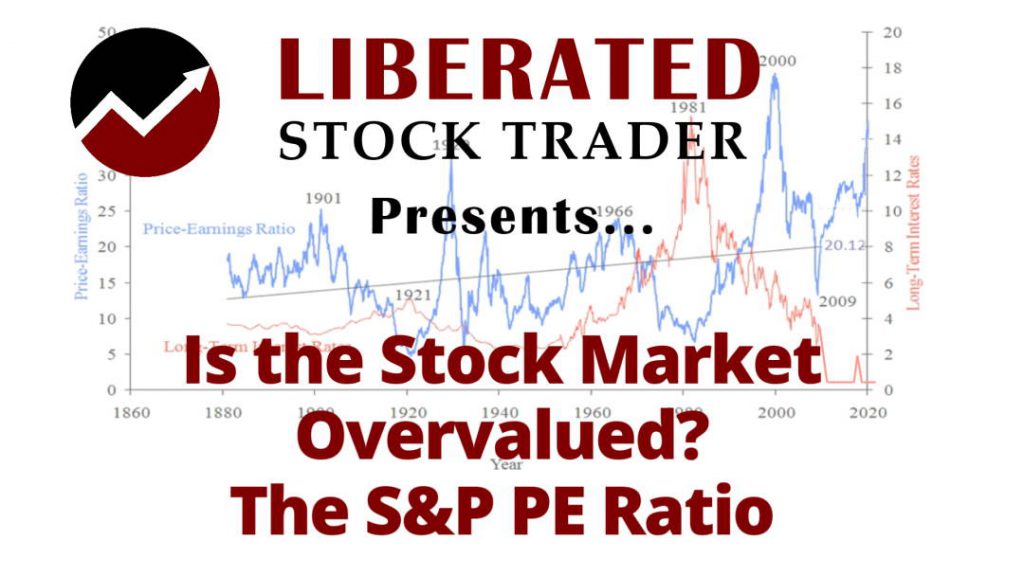 How to measure if the stock market is overvalued
Economists disagree on the single best way to measure if the stock market is overvalued. Still, they agree that the Shiller PE Ratio, a 10 year Cyclically Adjusted Price Earning Ratio (CAPE Ratio) of the S&P 500 Index, is a valuable contribution.
Here is a chart from 1860 to 2021 comparing the U.S. Long Term Interest Rates to the Shiller Price Earnings Ratio of the S&P Composite Index.  Interestingly, the correlation of Long Term Interest Rates being at extreme lows and stocks being extremely overpriced.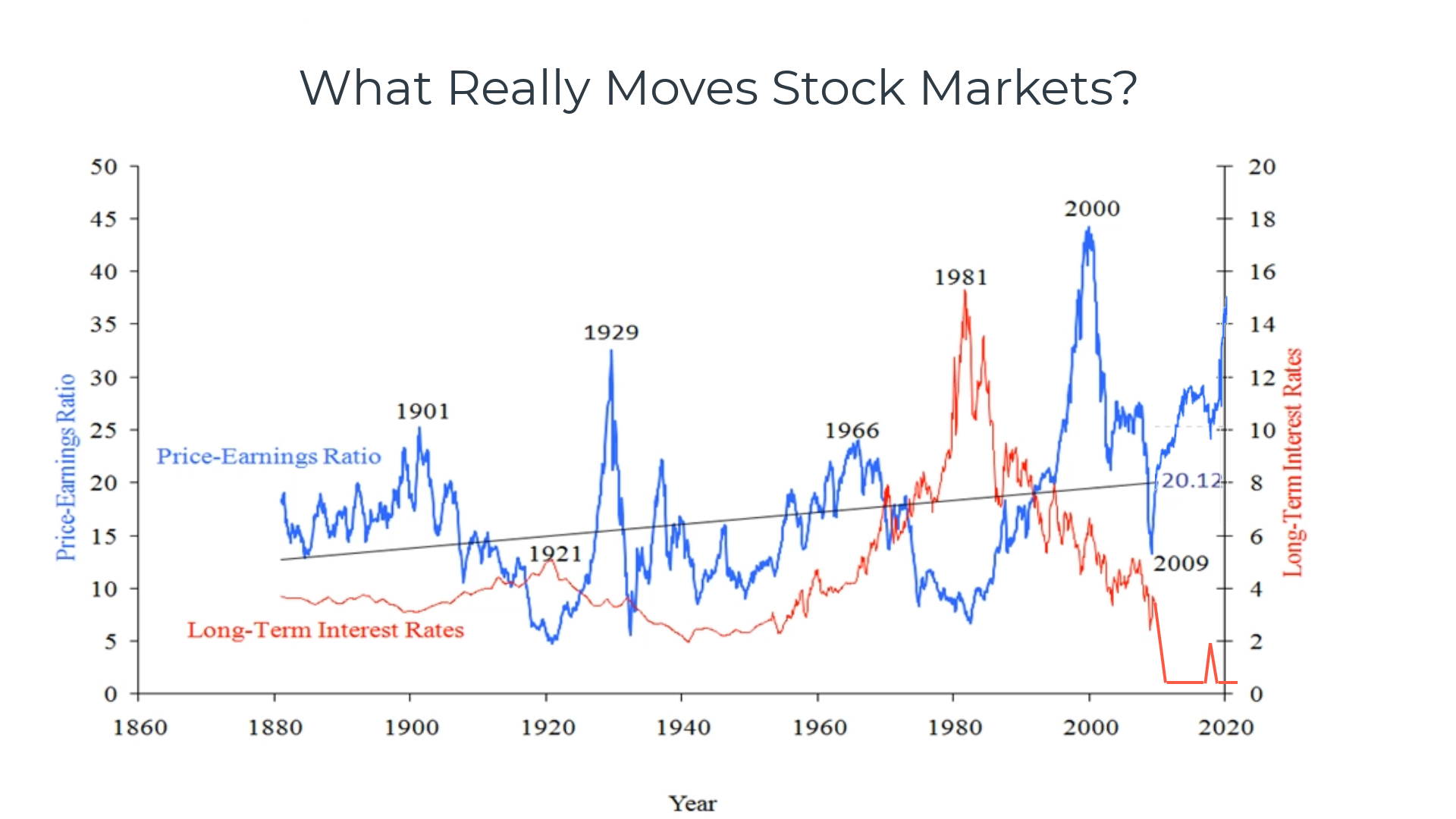 The Price Earnings Ratio line shows that in relation to earnings, stock prices were too high in 1901, 1929, 1966, and 2000. We know the stock market was overvalued at this point because the market went through a correct/crash after reaching these highs.
Research shows that the 1929 stock market crash and the 2000 DotCom crash were because of poor institutional risk management, which caused equity bubbles, leading to an overvalued stock market.
So what can we learn from this?
If we see the Shiller CAPE PE Ratio of the S&P Composite rise above 35, then stocks may be overpriced.  Be very wary of an overpriced market.  The Shiller PE Ratio shows us how stocks are priced relative to their actual earnings.  So a market PE of 20 would mean based on the capital invested, it would take those companies 20 years to pay back the investor.  Or viewed another way, it means that an investor is willing to pay 20 times the company's earnings for a stake in the business.
Is the Stock Market Overvalued?
Leading economists and investors cannot agree if the stock market is currently overvalued. Economists claim that stocks are currently cheap relative to bonds, allow interest rates mean treasuries and bonds are not producing profits; therefore, this benefits the stock market.
The Shiller S&P Composite PE Ratio is now approaching an all-time high. Still, economists also argue that because of the rise of Technology Giants and their near monopolization is returning huge profits, the high valuation does not mean a crash is coming anytime soon.
Additionally, the political and economic balance of power has shifted in the last 10 years towards Capital, and away from Labor can help explain the new normal in the markets valuations. In 2021 earning season has never been so good; there is a lot of cheap money in the economy, and companies use it to drive outsize profits.
Video: Is the Stock Market Overvalued?
Video From The Liberated Stock Trader Pro Training Course 2022
Should Investors Worry About a Stock Market Crash?
The argument is that government stimulus and low interest rates are unsustainable, and this will cause an equity bubble leading to a crash. But in A "Goldilocks Theory of Fiscal Policy 2021," economists argue that the USA and other countries still have plenty of room to run in terms of debt. Governments striking the right balance of debt and investment can drive economic development and quality of life improvements for their citizens. Economists today also suggest that too little debt is also harmful, "when too low a level of debt leads to serious deflation, dragging the growth rate into negative territory and below the interest rate."
Is the Stock Market Overvalued Right Now?
Leading economists suggest that the stock market is not overvalued right now. The mix of booming corporate earnings, government stimulus investments, and low bond returns due to low interest rates is positive for stocks. Although the Shiller CAPE ratio is currently high in historical terms, the belief is that times have changed, and governments have learned to manage the risks better.
Live Chart: Are Stocks Overvalued?
Using this interactive chart from TradingView, you can see the current Shiller PE Ratio for the S&P Composite Index from 1914 to today. Historically stocks look overpriced, but as discussed in this article, a lot has changed both economically and in capital markets over the last 100 years.
How to assess if the stock market is overpriced.
Using this interactive chart, you can compare the Shiller CAPE ratio to the actual performance of the S&P 500.
Click Compare.
Type SPY in the search box and select SPDR S&P 500 ETF Trust.
Select Settings (bottom right) and select logarithmic scale.
Use the mouse wheel to zoom in and out of the chart.
Do you think that the stock market is currently overvalued?
What Happens When the Stock Market is Overvalued?
If a stock market is overvalued, there are two possible outcomes. Initially, governments will try to manage the situation to ensure an orderly return to balance using cautious fiscal and monetary policy. However, if there is a surge in inflation, a financial shock, or governmental attacks on the corporate sector, this could change the balance and cause a crash in equities.
How to Invest in an Overvalued Stock Market?
Investing in an overvalued stock market involves a decision only you can make. You can continue investing as stock markets can stay overvalued for a long time or diversify into other investments or cash.
1. Continuing to invest in an overvalued stock market.
As the stock market's default direction is up, if you remain invested, eventually the market will recover, and you will continue to make money. If you are regularly contributing to your stock investment, you will be able to take advantage of Dollar-Cost Averaging (DCA) to accumulate more equities at lower prices as the market falls. This option allows you to remain invested without having to time the market.
This solution has drawbacks, especially if you are close to retirement and do not have the time to wait to recoup your losses. This leads us to option two.
2. Diversify your investments into other assets.
Timing the market is not for the faint-hearted, and the majority of people get it wrong. Another problem is that other asset classes are not producing good returns; in 2021, real bond yields are actually negative. Across the western world, we are starting to be charged negative interest on cash in our bank accounts.
There are technical systems out there to help you judge whether the time is right to cash in your investments and move to cash.  The Stock Market Crash Detector that I have developed is one such system, I think it is good, but no system is fool-proof. I have also developed the Liberated Stock Market Fear & Greed Index to help you decide if the market is in Greed Mode (a Bull Market) or Fear Mode (a Bear Market).
But as the Economist states, "If there were reliable trading signals, everyone would follow them. And then there would be no one to sell to at the top and no one to buy from at the bottom."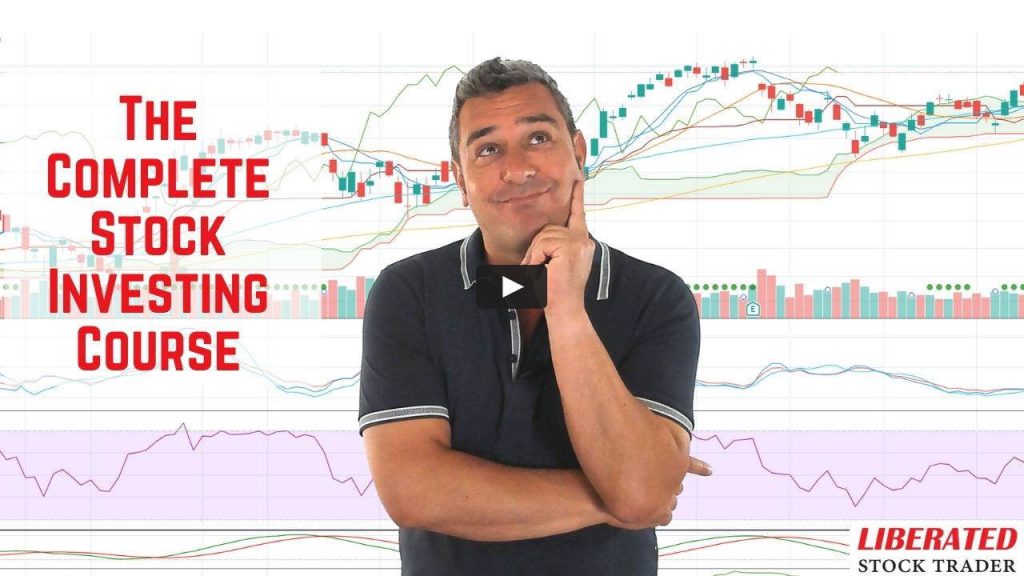 Liberated Stock Trader Pro Investing Course
★ 16 Hours of Video Lessons + eBook ★
★ Complete Fundamental Stock Analysis Lessons ★
★ 2 Powerful Value Investing Strategies ★
★ 4 Dividend/Income Investing Strategies ★
★ Professional Grade Stock Chart Technical Analysis Lessons ★