There is only a handful of high-quality trading strategy & stock backtesting platforms on the market today.  We share 7 of the best broker agnostic and broker-dependent backtesting strategy platforms.
All 7 of the platforms are impressive; your choice depends on what you are looking for and your level of experience:
Are you looking for a broker-independent solution?
Do you have programming or script development skills?
Do you want to backtest individual equities or forex pairs, or entire markets?
Lastly, do you want to be able to execute trades from your developed system automatically?

The Best Stock Backtesting Software For Systems & Strategies
What is Stock Backtesting?
Stock backtesting is a process used to test if a set of technical or fundamental criteria for stock selection has resulted in profitable trades in the past. A good backtesting system will report executed trades, the trade duration, the win/loss ratio, and the drawdown and compounded return.
For example, if your hypothesis is a stock with a positive RSI number, increasing volume, and an increase in earnings will increase in stock price, then a stock backtest will prove if the strategy has worked in the past. The logic here is that if the strategy worked in the past, it might work in the future.
Summary: Stock Backtesting Software Platforms
Our testing process chose Trade Ideas as the best fully Automated AI Trading System, as it does all the backtesting for you. MetaStock is the most powerful stock backtesting & forecasting platform for broker agnostic traders. TradingView offers an intelligent, robust backtesting solution for free. Interactive Brokers has solid fundamental backtesting & portfolio management. Finally, TrendSpider provides innovative AI-driven automated backtesting and chart analysis.
Click the vendor name above to jump to the review section.
1. Trade Ideas: Best AI Automated Backtesting & Market-Beating Trade Signals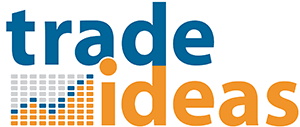 Recommended for Day Traders wanting specific Artificial Intelligence driven trading signals; Trade Ideas has the most advanced AI Trade Signal engine with a proven track record of beating the market.
Trade Ideas introduces us to a world where you do not need to backtest your stock trading theories for hundreds of hours, to get an edge in the market. With Holly AI, the work is done for you.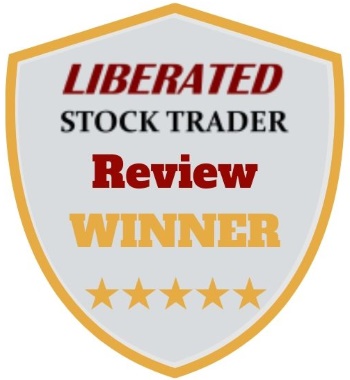 Trade Ideas Rating: ★★★★★
Price: $118 – $228/m
Special Deal: Use Code "Liberated" for a 15% Discount
Pros
★ 3 A.I. Trading Algorithms That Beat the Market
★ Fully Automated Backtesting
★ Exceptional Stock Scanning
★ Specific Audited Trade Signals
★ Auto-trading With AI Signals
★ Live Daily Trading Room
Cons
✘ No Mobile App
Special Deals
At first, access to the Holly AI system might seem a little pricey. You will need to go for Trade Ideas Premium, which costs $228 per month, or you can save $468 by going for an annual subscription costing $2268. For this investment, you get access to robust backtesting and the Holly Artificial Intelligence System.
Trade Ideas Key Features:
AI Virtual Trading Analyst Holly: 4 different constantly evolving A.I. algorithms
Chart Based A.I. Trade Assistance & Entry and Exit Signals
Risk Assessment: Detailed information on the backtested performance of the recommended trade.
Build and Backtest any Trade Idea: Compelling point & click backtesting system.
Autotrade w/ Brokerage Plus and A.I. – Advanced auto trading using Interactive Brokers.
Trade Ideas Backtesting
The Trade Ideas platform has a potent backtesting system, which is not only easy to use, but you do not need to have any programming knowledge.  A point-and-click backtesting system is rare in this industry; the only good software with this capability is TrendSpider.
I have run many backtests with Trade Ideas, but the one I wanted to focus on was a backtest of the "Unusual Social Mentions Scan."  This is a good test of the wisdom of crowds.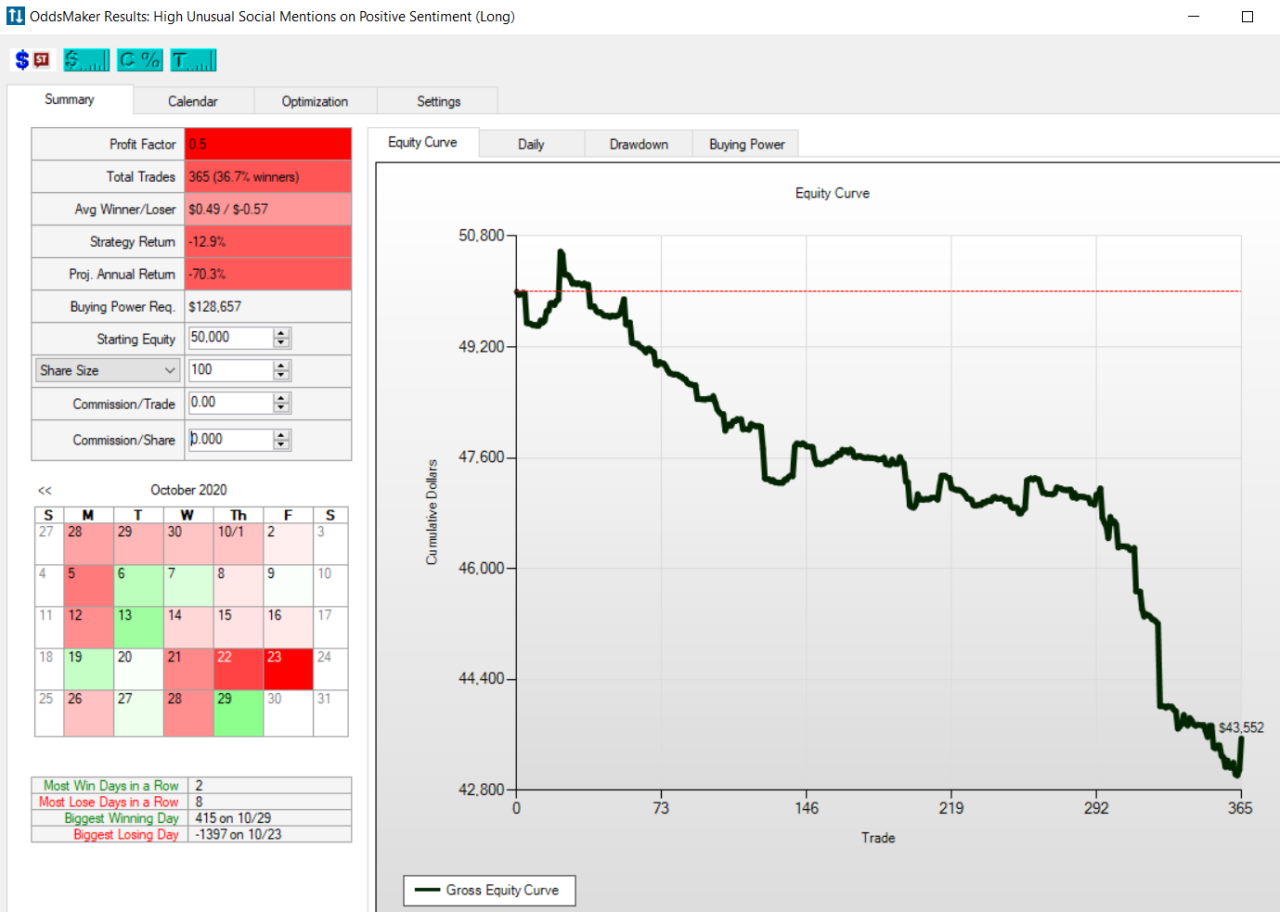 I wanted to focus on was a backtest of the "Unusual Social Mentions Scan".  This is a good test of the wisdom of crowds.
As you can see in the backtest result above, the crowds are not very wise as the backtest shows that the system loses 70% per year. This helps me draw three conclusions.
Do not listen to people on social media.
Trade Ideas provides an excellent and unique insight into stock market crowd sentiment.
If you do the opposite of what people suggest on StockTwits, you may have a winning system.
Overall I rate the backtesting system a 5/5 Stars.
Trade Ideas Pro AI
The AI algorithms developed by Trade Ideas are the main reason you would want to sign up. I had a lengthy zoom session with Sean Mclaughlin, Senior Strategist over at Trade Ideas, to delve into how the AI works, and I was very impressed. This company is laser-focused on providing traders with the very best data-supported trading opportunities. There are currently four AI systems in operation.
Holly is 3 AI Systems Applying Over 70 Strategies Differently.
Holly AI
Holly AI is the original incarnation of the Trade Ideas algorithm. Holly applies 70 different strategies to all the stocks on the US & Canadian stock exchanges, including pink sheets & the counter (OTC) markets. 70 strategies multiplied by 10,000+ stocks means millions of backtests every day.  Only the strategies with the highest backtested win rate over 60% and an estimated risk-reward ratio of 2:1 will be suggested as potential trade the following day.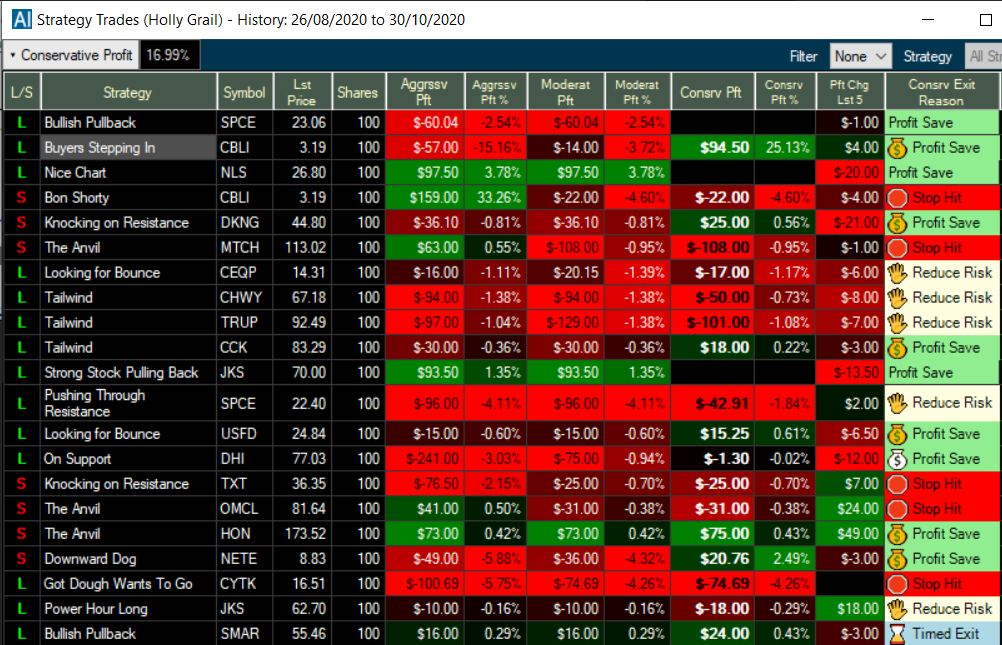 Holly 2.0
Holly 2.0 is a more aggressive version of Holly AI, presenting more aggressive day trading scenarios for you to choose from. Trade Ideas operates 3 key trading styles with each AI engine, Conservative, Moderate & Aggressive.  Holly 2.0 is an aggressive strategy with higher risk but ultimately higher rewards.
Holly Neo
Holly NEO is a newer AI, which seeks to trade real-time chart patterns. It utilizes a mix of four strategies. The Pullback Long strategy seeks to identify trades where the stock price is down and is seeking to start moving up on higher volume. The Breakout Long strategy discovers where stock price breaks out through a key resistance or new highs. The Pullback Short strategy identifies a short pullback opportunity in price. Finally, the Breakdown Short backtested finds shorting opportunity where upward momentum breaks down.
Additionally, Omni AI is a real-time AI ideas engine, but it combines all of the above strategies into a straight short, or long trade recommendation. It is a new development and does not yet have a proven track record, but the performance looks good on viewing the recent trades.
Trade Ideas Buy & Sell Signals
Trade Ideas uniquely shows you every signal buy and sell signal visually on a chart. In the chart below, I have highlighted a trade recommended by Holly AI (Holly Grail). This trade for Cleveland Biolabs (Ticker: CBLI) made a 25% profit within a 4 hour period. Not how the buy and sell signals are depicted on the chart.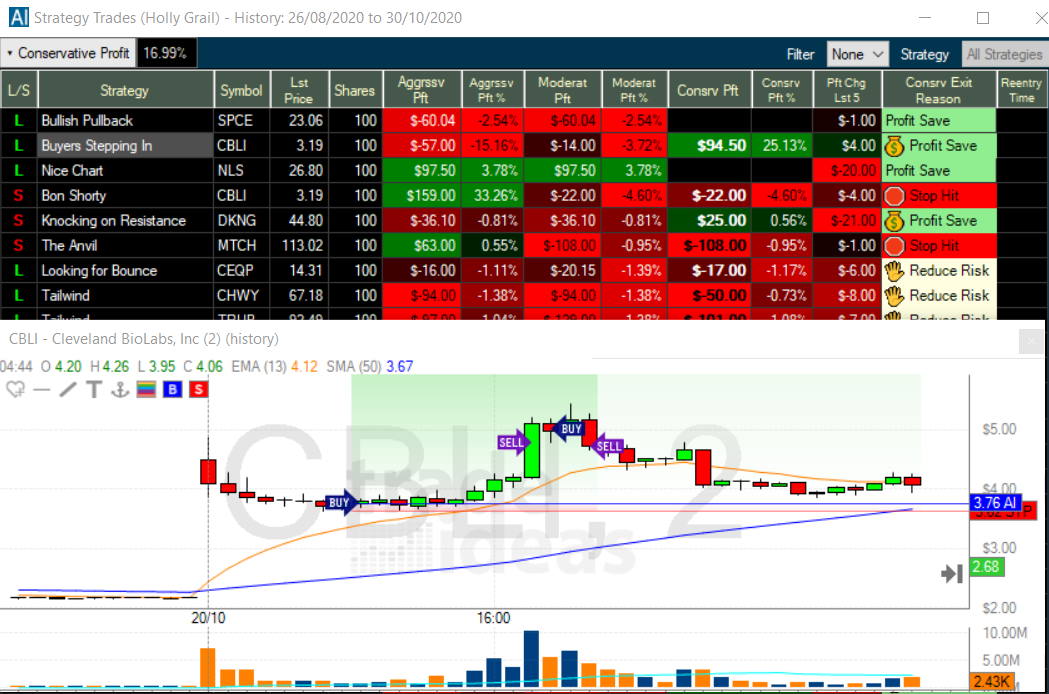 The Facts About Trade Ideas Signals
Trade Ideas has large institutional clients and is a legitimate business; they also have a partnership with Interactive Brokers.
Trade Ideas recommends, on average, about 3 to 10 trades per day.
Each trade duration is from a few minutes to a few hours.
Upon downloading and analyzing 65 days of trades, I can confirm the performance numbers claimed by trade ideas.
You need to be an active day trader to take advantage of Trade Ideas.
Trade Ideas returns approximately 20% per year.
Trade Ideas has, in the last 2 years, beaten the S&P500.
You need to be able to short and go long to take advantage of the trading strategies.
Depending upon your leverage, trading style, and trades you take, you could make more than 20% or even make a loss.
TI is Day Trading Software; you will need to hold a minimum balance of $25K in your brokerage account to pattern day trade in the USA actively.
Trade Ideas AI Backtesting Performance
The claimed Trade Ideas performance is available on their website, and it is quite impressive. But to judge the performance of any system, we have to compare it to the performance of the underlying benchmark. In this case, I compare $50,000 invested in the S&P 500 versus day trading with Trade Ideas.
| | | | | |
| --- | --- | --- | --- | --- |
| AI Performance | Starting Capital Jan 2019 | Ending Capital Oct 2020 | Return | % Per Year |
| Holly Grail (AI) |  $50,000.00 |  $71,186.00 | 42% | 23% |
| Holly 2.0 |  $50,000.00 |  $80,510.00 | 61% | 33% |
| Holly Neo |  $50,000.00 |  $71,186.00 | 42% | 23% |
| S&P 500 |  $50,000.00 |  $66,000.00 | 32% | 17% |
As you can see, Holly has out-performed the S&P 500 since 2019.  Interestingly Holly did not suffer the huge losses incurred in the S&P 500 during the Corona Crash from March to April 2020.
★ Bonus: Sign Up For This Service & Get 5 Exclusive Investing Strategy & Research eBooks Valued at $99 ★
-
2. MetaStock: Powerful Stock Backtesting & Forecasting Strategies
MetaStock is simply one of the best, if not the best, independent, broker agnostic, scanning, backtesting, and forecasting software platforms available.

MetaStock Rating: ★★★★★
Price: $69 – $199/month
Special Deal: 3 Months for the Price of 1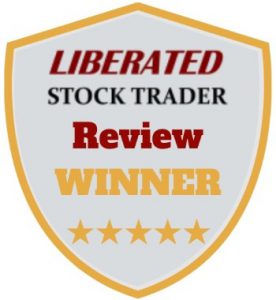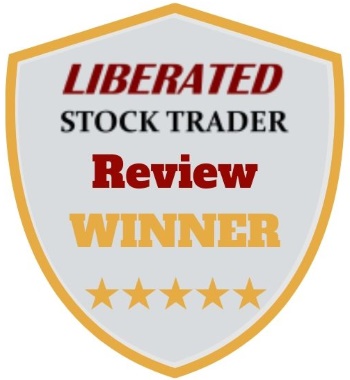 Pros
★ Develop Sophisticated Systems & Backtest Entire Markets In 1 Click
★ Great Backtesting Profit, Draw-down & ROI Reporting
★ Exceptional & Intuitive Forecasting Software
★ Number 1 For Charts, Indicators & Real-Time News
★ Excellent Customer Support & Educational Seminars
★ All Global Markets Covered + Broker Independent
Cons
✘ Need Some Scripting Skills Although MetaStock Support Can Assist
✘ No Automated Trade Execution
MetaStock Backtesting
As you launch MetaStock, you are presented with the Power Console, enabling you to select what you want to do quickly.  Select System Test, and you will have access to 58 different systems you can backtest.  I selected the Equis MACD Expert System in the example below, and I ran it on the entire Nasdaq 100.
After 60 seconds, the backtest was completed and presented me with a list of every buy or sell trade and, of course, the drawdown on the portfolio chart that you can see above.  You can click through to any trade to see the background to the trade, size of the trade, duration, and profit or loss.
MetaStock harnesses many inbuilt systems and Expert Advisors that will help you as a beginner or intermediate trader understand and profit from technical analysis patterns and well-researched systems.  This is a crucial area of advantage.
Of course, the inbuilt systems will not make you super-rich; the reason you want to backtest and develop your own profitable system. With some scripting or programming skills, you will be able to achieve this with MetaStock.  If you do not have the required skills, you can ask MetaStock or one of a considerable number of MetaStock Partners to assist you in creating your system.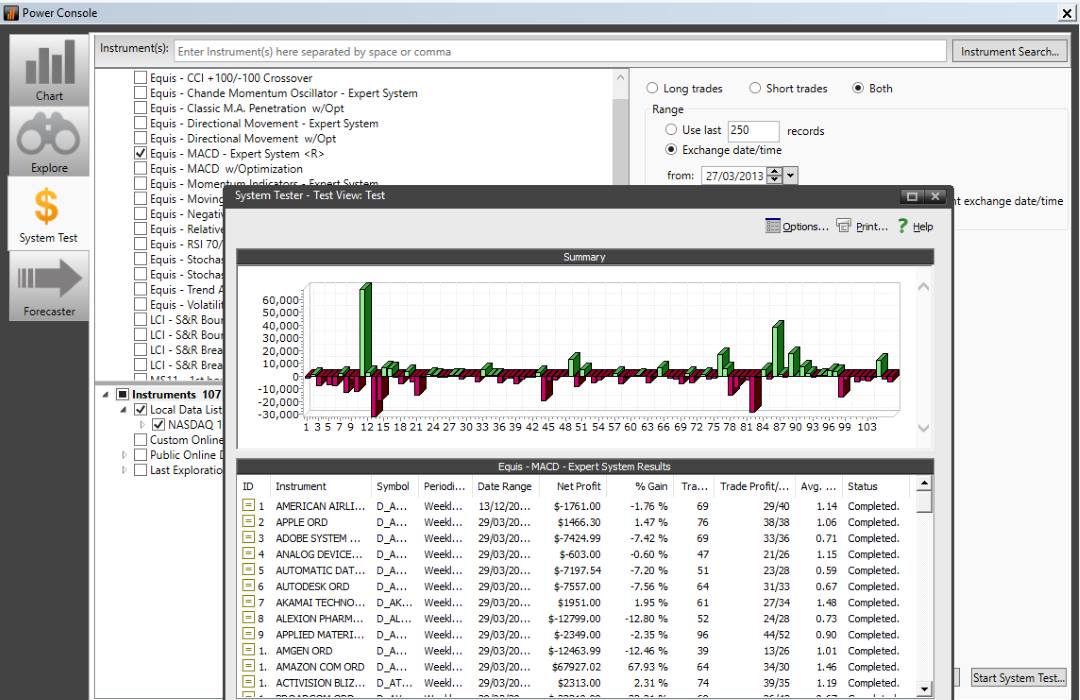 Their partners sell many premium stock trading systems for MetaStock and are usually backed up with training and webinars to support the clients.
Fundamental Scanning and Screening
MetaStock is a partner of Refinitiv, the biggest provider of real-time news and market analysis. Refinitiv was recently purchased by the London Stock Exchange for $27 billion, primarily for their incredible database of global financial data, not just on companies but countries, economies, and industries.
With the MetaStock Refinitiv service, the data filtering and scanning possibilities are vast. MetaStock Refinitiv provides an incredibly in-depth analysis of company fundamentals from debt structure to top 10 investors, including level II market liquidity.  With excellent watchlists featuring fundamentals and robust scanning of the markets, MetaStock is highly rated.
MetaStock Forecaster Capability
The most significant addition to the MetaStock arsenal is the forecasting functionality, which sets it apart from the crowd.  By selecting Forecaster from the power console, you can simply choose one or more stocks, ETFs, or Forex pairs and click forecast. You are then presented with an interactive report which enables you to scan through the many predictive recognizers, which help you understand the basis for the prediction and the methodology. This is a powerful forecasting implementation.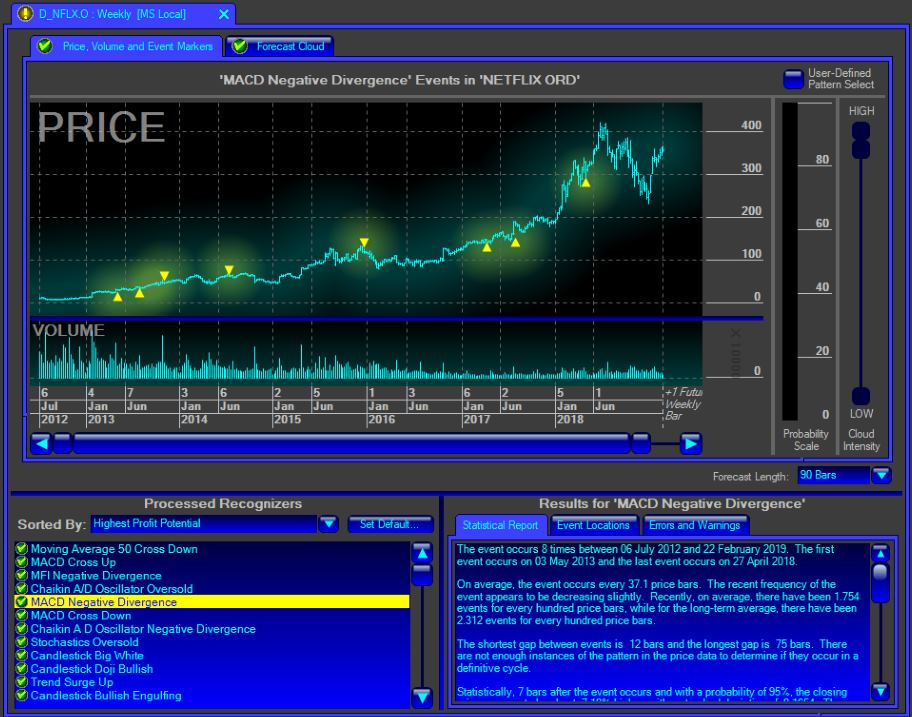 You can even use artificial intelligence functionality to test a set of variables within your backtesting.  You could, for example, test if price moves above the moving average 10,11,12,14,16,18, or 20 in a single test to see which of the moving averages best work with that stock.
To find out more about MetaStock forecasting, watch this video from my partner Hunter Smith over at MetaStock.
Predict Market Prices With MetaStock Forecaster Video
Try MetaStock With a 3 Months for 1 Month Deal
MetaStock is one of the few vendors that take forecasting exceptionally seriously.  The system backtesting is excellent because it allows you to test if a theory, idea, or set of analyses has worked in the past.  Forecasting takes it to a whole new level by playing forward the backtesting to see how successful you might be with a strategy under certain circumstances.  The configurable nature of the reporting for the results of both backtesting and forecasting is powerful.
Technical Analysis & Forex Forecasting
Forex forecasting based on sentiment is an exceptional feature.  Never mind the broadest selection of technical analysis indicators on the market today. MetaStock is the king of technical analysis, warranting a perfect rating.
MetaStock covers all the core chart types and includes Point & Figure, Equivolume, and Market Profile charts.  When it comes to indicators, MetaStock has 300+ different types, including Darvas Box and Ichimoku Cloud.  MetaStock will also help you develop your indicators based on their coding system.
MetaStock Pricing
To understand the pricing, you need to know that you can purchase MetaStock with Datalink, the data provider, or purchase a real-time subscription or even my preferred choice, MetaStock + Refinitiv Xenith.  Why do you need Refinitiv Xenith? Because it is the premium stock market and financial markets research tool and includes a real-time news platform powered by Thomson Reuters?
MetaStock D/C: $69 per month. Good For Backtesting & Forecasting On End Of Day Data
MetaStock by itself starts at a very reasonable $69 per month, which unlocks the entire package. As you will see, that is an excellent combination of award-winning technical analysis and expert advisors for system backtesting, forecasting, and analysis.  It is designed only for the PC but can run on Mac with PC emulation software.  You will need to download and install MetaStock and configure your specific data feeds for the markets you want to trade. 

MetaStock has a clean sweep in Stock Exchanges covered (e.g., All of them), including ALL of the vehicles, Stocks, ETF's Mutual Funds, Options, Futures Forex, and Bonds. MetaStock is one of the biggest fish in the sea of stock market analysis software.  You can expect excellent fast global data coverage and broad market coverage.  There are two other packages below, and having reviewed the Refinitiv Xenith application, I would recommend the MetaStock + Refinitiv Xenith option, as it ensures you have the real-time news package with MetaStock. However, you can still backtest well and save money with the MetaStock R/T service.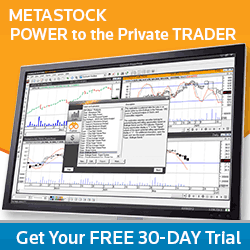 MetaStock R/T: $99 per month. Perfect For Intraday BackTesting With Reuters Real-Time Data.
This package is a fully functional version of MetaStock R/T (real-time) charting and analysis software designed for real-time market analysis.  Refinitiv XENITH powers it, so you should get real-time news, data, and analysis.
MetaStock R/T Subscription with Refinitiv XENITH: $199 per month. The Complete Package
This service is also a fully functional version of MetaStock R/T charting and analysis software designed for real-time market analysis and is powered by Refinitiv XENITH; the key difference is it provides streaming data at any time frame, including tick, intraday, daily, weekly, etc.
With its Refinitiv Xenith News service integration, MetaStock is worth the money just for the news service, but it is much more than just news.  See in the News section below what Refinitiv Xenith can do.
We work with MetaStock as a partner and have a special 3 months for the price of 1 offer for our readers.
MetaStock Backtesting & Forecasting Summary
For backtesting and forecasting, MetaStock is one of the best services available.  My recommendation for an investor or trader is to combine the MetaStock & Refinitiv Xenith Packages.  The depth of fundamental research and news in Refinitiv Xenith is staggering, and the in-depth analysis, backtesting, and forecasting in MetaStock is industry-leading.
If $199 per month for the Refinitiv Xenith + MetaStock package is too much, you have other options. If you simply want the end-of-day data and all the MetaStock functionality for backtesting & forecasting, the price starts at $69 per month for MetaStock D/C.  You can even buy one-off licenses if you prefer.
★ Bonus: Sign Up For This Service & Get 5 Exclusive Investing Strategy & Research eBooks Valued at $99 ★
-
3. Tradingview: Best Free Backtesting Software & Trading Community
TradingView provides robust stock backtesting using their industry-leading pine script engine. With TradingView, you get backtesting, screening, and charting for all stock exchanges globally, plus a community of 2 million active users sharing ideas and strategies.
There is no doubt about it; I love TradingView and use it every single day.  I post charts, ideas, and analysis regularly and chat with other traders. Follow me on TradingView.  The entire community on TradingView is focused on trading and investing, and the service is first class.
TradingView Rating: ★★★★★
Price: $0 – $49/month
Trade Stocks:  USA, UK, Australia, Europe, Asia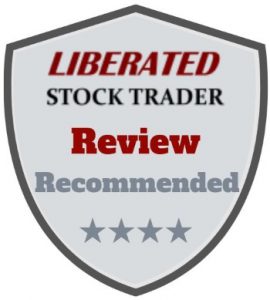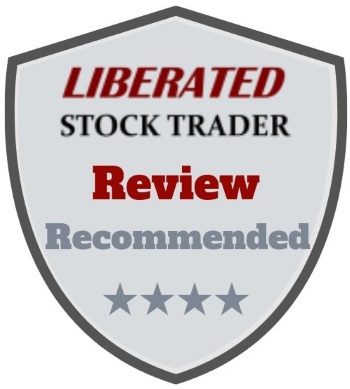 Pros
★ Social First, Chat, Publish, Follow
★ Easy System Development With Pine Script
★ Strategy Tester Manual Backtesting
★ Global Exchange Data
★ Backtesting for Cryptocurrency, Forex & Stocks USA & Globally
Cons
✘ No Real-time News
✘ Backtest Only Single Instruments Not Entire Markets
Video: Backtesting With TradingView
TradingView Backtesting
TradingView has an active community of people developing and sharing stock analysis systems, and you can create and sell your own with the Premium-level service.  Also, there are a vast number of indicators and systems from the community for free.
They have implemented backtesting straightforwardly and intuitively.  In the image below, I have implemented an in-built strategy called "Slow Stochastics," which initiates a trade when the stochastics indicators are oversold and sells when stochastics is overbought.
I like that in a few clicks [Strategy Tester -> Add Strategy], you have results.  You can also tweak the strategy parameters, as you can see below, and observe the results.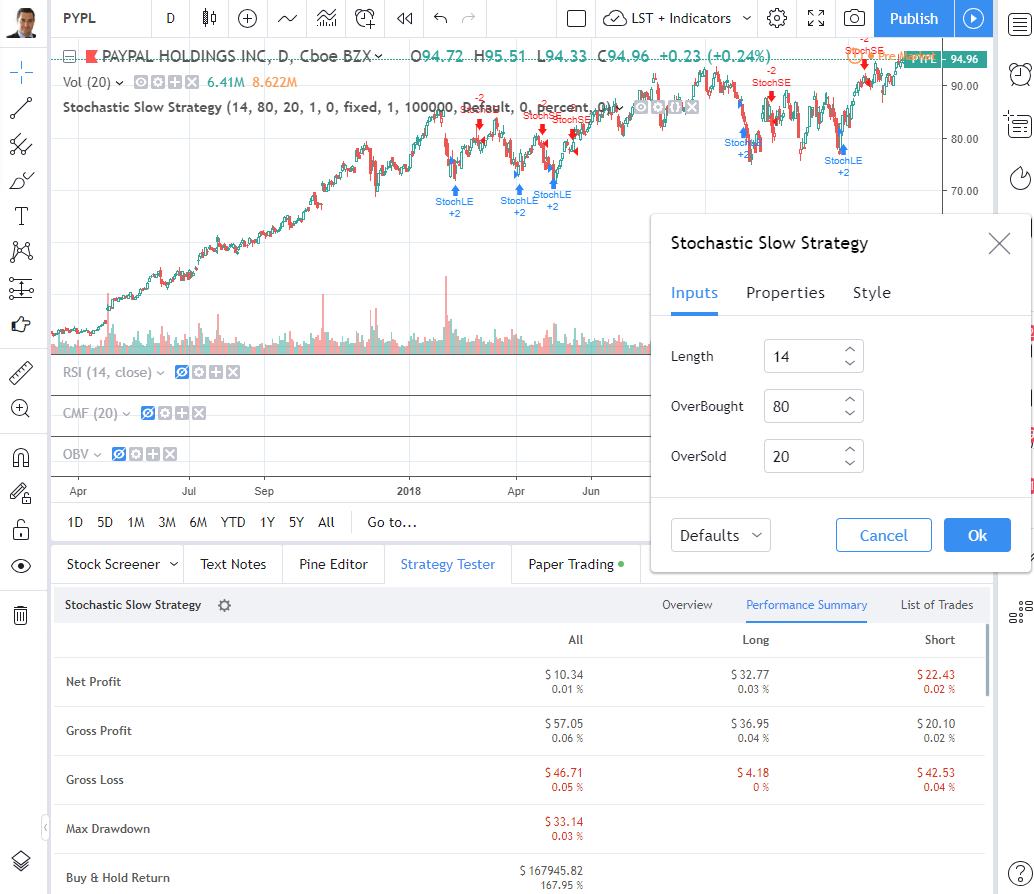 The TradingView backtesting results reporting is good. The system shows you the profit performance of the strategy, including net profit, drawdown, buy & hold return, % profitable trades, and the number of trades. Also, all the trades are plotted on a chart for a valuable visual reference.
I have even implemented my Stock Market Crash Detector strategy into TradingView; I am no developer, but the Pine Script language is so natural, anyone can do it.
TradingView Market Replay
TradingView also has a market replay functionality enabling you to play through the timeline. This shows you the chart scrolling and the trades executed; it is simple yet powerful to use.  All buy and sell orders are drawn on the chart and highlighted.  All in all, this is a great package that is actually included in the free version.
The only thing you cannot do is forecast and implement Robotic Trading Automation, but that is typically what broker-integrated backtesting tools perform.
Pricing & Software
You can have TradingView for free; it is a review winner for our Best Free Charting Software Review.  However, there are limitations.  I would recommend going for the PRO+ at $19 per month or the Premium at $39 per month; the benefits are extensive, including priority customer support and unlimited everything.  Also, a huge benefit is that the data speed and coverage are mind-blowing, covering literally every stock market on the planet and not just stocks but ETF's, mutual funds, futures, forex, bonds & cryptocurrencies AT NO EXTRA COST.
TradingView Platform Analysis
Trade Management. With TradingView, you get full broker integration, you can place trades on charts, and it will take care of profit & loss reporting and analysis for you.  The only thing it does not cover is Stock Options trading.  There are a few complications trading stocks in the USA directly from charts; you will need to see if your brokers have a CQG integration.
Fundamental Scanning & Screening. A perfect 10 for TradingView as they hit the mark on real-time scanning and filtering and fundamental watchlists.  The list of fundamentals you can scan & filter on is genuinely huge.  Any idea you have based on fundamentals will be covered.
News & Social Community. As soon as you connect to TradingView, you realize this is also developed for the community.  You can look at community ideas, post your charts and ideas, and join limitless numbers of groups covering everything from Bonds to Cryptocurrencies.  You can connect with other traders, read their ideas, be inspired, and have a full chat function integrated.  It is simply the best socially integrated trading platform on the planet.  The news feeds are fully integrated, including Kiplinger, DailyFX, Futures Magazine, FXStreet, and StockTwits.  Add that to the social network, and you have a great solution.
Connect with me on TradingView it's free

Technical Analysis & Charts.  With over 160 different indicators, and unique specialty charts such as LineBreak, Kagi, Heikin Ashi, Point & Figure, and Renko, you have everything you will need as an advanced trader.  With the Premium membership, you also get Level II insight, fully integrated.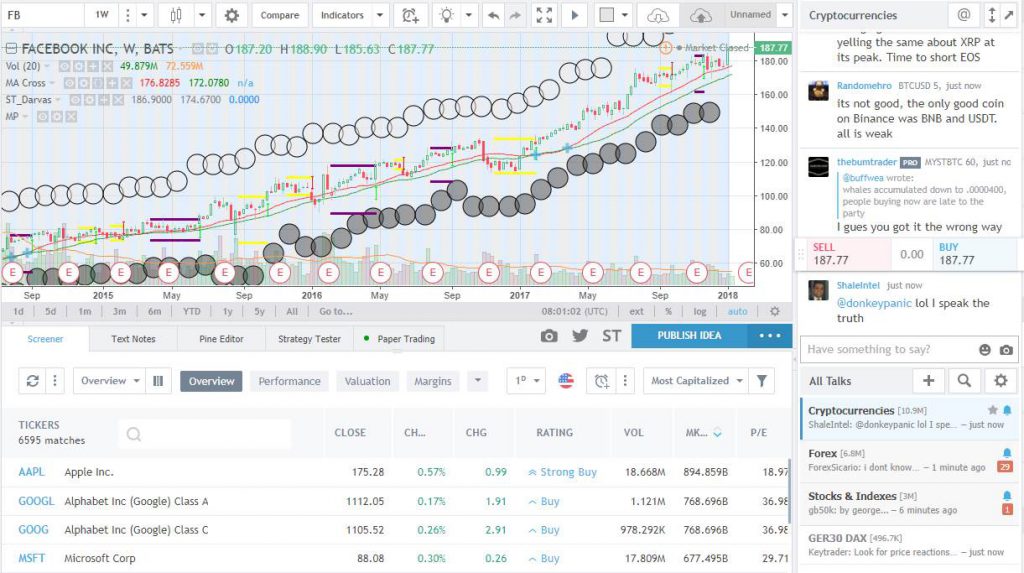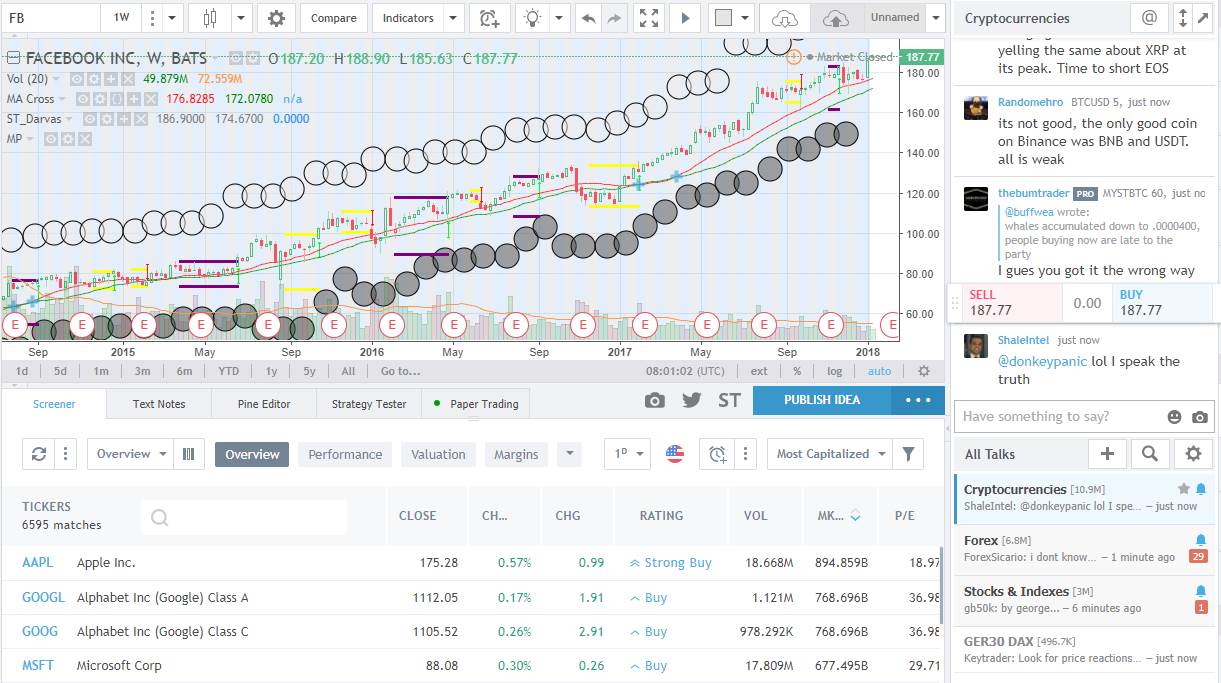 TradingView Backtesting Summary
A great way to kick off your life as a system developer.  There is a vast selection of free and premium strategies to test and the biggest and most active community of traders on the planet.  TradingView has it all.  I would recommend going for the Pro or Pro Plus subscription as they enable more charts, indicators, and views, including intraday market data, which you might need for your backtesting.
★ Bonus: Sign Up For This Service & Get 5 Exclusive Investing Strategy & Research eBooks Valued at $99 ★
-
4. TrendSpider: Cutting Edge Automated AI Strategy Backtesting
TrendSpider has fully automated AI-driven trendlines, Fibonacci & Multi-timeframe analysis on stocks, Forex, Crypto & Futures.  Add to that a robust backtesting engine, and you have a great technical analysis platform.
Trend Spider Rating: ★★★★
Price: $27/ month (real-time)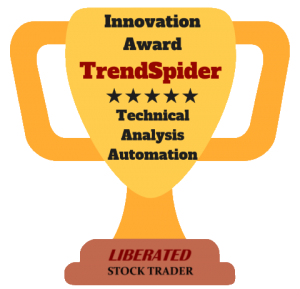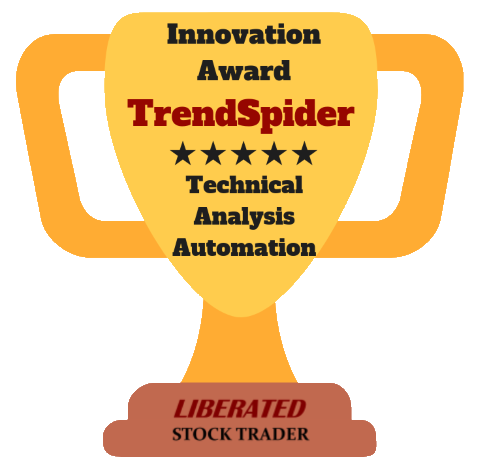 Pros
★ Automated Trend Line Detection
★ Automatic Multi-TimeFrame Analysis
★ Simple & Powerful Backtesting
★ Real-time Exchange Data Included in Price
★ Automatic Fibonacci Trend Detection
★ Stocks, ETFs, Forex, Crypto, Indices & Futures
Cons
✘ No Auto Trading
✘ No Social
The TrendSpider team is innovating at breakneck speed, and the features they are innovating are unique to the industry.
Trend Spider Backtesting
TrendSpider takes a different approach to backtesting.  Because the platform is built from the ground up to detect trendlines and Fibonacci patterns automatically, it already has an element of backtesting built into the heart of the code.
The highest probability trendlines are automatically flagged, and you can adjust the sensitivity of the algorithm that controls the detection to show more or fewer lines.
TrendSpider has implemented a strategy tester that allows you to freely type what you want to test, and it will do the coding for you.  It is a slick and simple implementation that is incredibly user-friendly.  There is also the ability to adjust your backtest conditions on the fly, and the "Price Behaviour Explorer" and "System Performance Chart" automatically update.   You can jump into coding if you want to, but the key here is that you do not have to.
Integrated backtesting of automated trendlines, showing win-rate, profitability, and drawdown is a new addition and warmly welcome; the team is propelling TrendSpider into one of the leading technical analysis packages in the industry.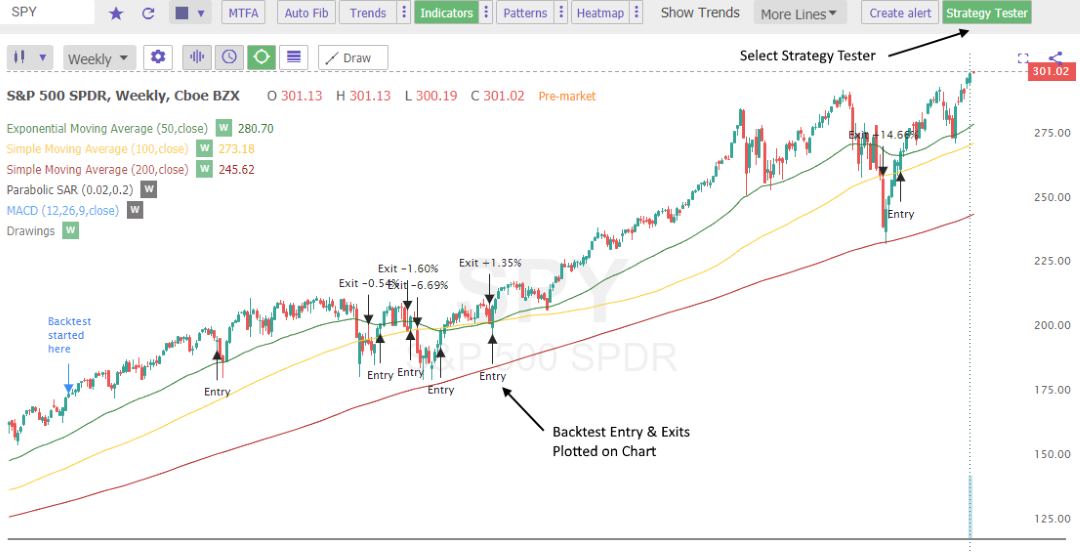 TrendSpider has an excellent price point starting at $27 per month, which includes real-time data.  They have also expanded to cover Forex, Crypto, ETFs, and Futures, which means you can apply the stunning Auto Trend-lines and Multi Time-Frame Analysis on many different markets.  The platform is built on HTML 5 and needs Zero installation and Zero data feed configuration.
The system runs on all platforms, from smartphones to PCs.  Finally, I have tested the customer support and confirm it is excellent, and you have a human to chat with whenever you like.
Packed full of innovative technical analysis tools means that TrendSpider is catapulted to the top of this list.  If you are a serious market analyst, then TrendSpider will help you do the job quicker, with better quality, and help you not to miss an opportunity.
Automated trendline detection and plotting do a better job than a human can; using algorithms, the system can detect thousands of trends-lines and flag the most important ones with the highest backtested probability of success.
The multi-timeframe analysis means you can view multiple timeframe charts on a single chart with the trendlines plotted automatically.  Another great feature is the advanced plotting of support and resistance lines into a subtlely integrated chart heatmap.
Finally, Raindrop Charts are a unique and intuitive way to visualize volume profile or volume at price action.
★ Bonus: Sign Up For This Service & Get 5 Exclusive Investing Strategy & Research eBooks Valued at $99 ★
-
5. Interactive Brokers: Best For Fundamental Backtesting of Portfolio Strategy

Ideal for Active Investors and Day Traders seeking the LOWEST Trading Costs, Direct Global Market Access & Quality Tools
IB Rating: ★★★★
Price: $0 For Clients
Trade Stocks: Globally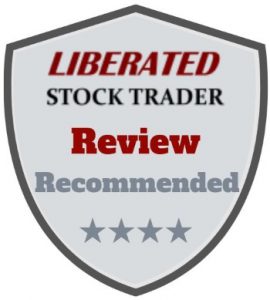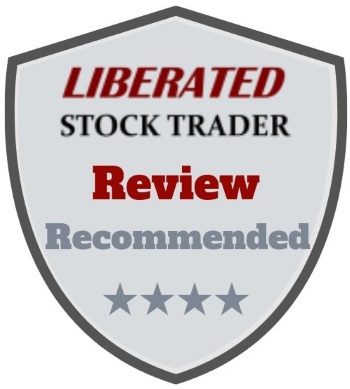 Pros
★ The Best Fundamental Backtesting In The Industry
★ Great Trading Platform
★ Direct Market Access
★ All Markets & Vehicles
Cons
✘ You Must Be An IB Client
✘ Limited Backtesting On Chart Indicators & Supply / Demand
Interactive Brokers provides direct market access for fast execution and best-in-class margin costs.  They are the grandfather of online discount brokers.  Not only are they a long-established company, but they are also large.
It has a complete set of services, enabling you to trade practically anything on any market, Stocks, Options, ETF's, Mutual Funds, Bonds, Foreign Exchange, and even Futures and Commodities. Usually, when a company is well established, it loses its competitive edge.  Not so with Interactive Brokers
Interactive Brokers Trading Platform
Interactive Brokers has a genuinely outstanding trading platform based on Trader Workstation (TWS).  It is free to download and use as a client, and it is the single place to be able to trade any and every one of the vehicles on offer from IB.  It caters to everything Stocks, Options, Futures, Forex, Bonds, Mutual Funds & ETF's.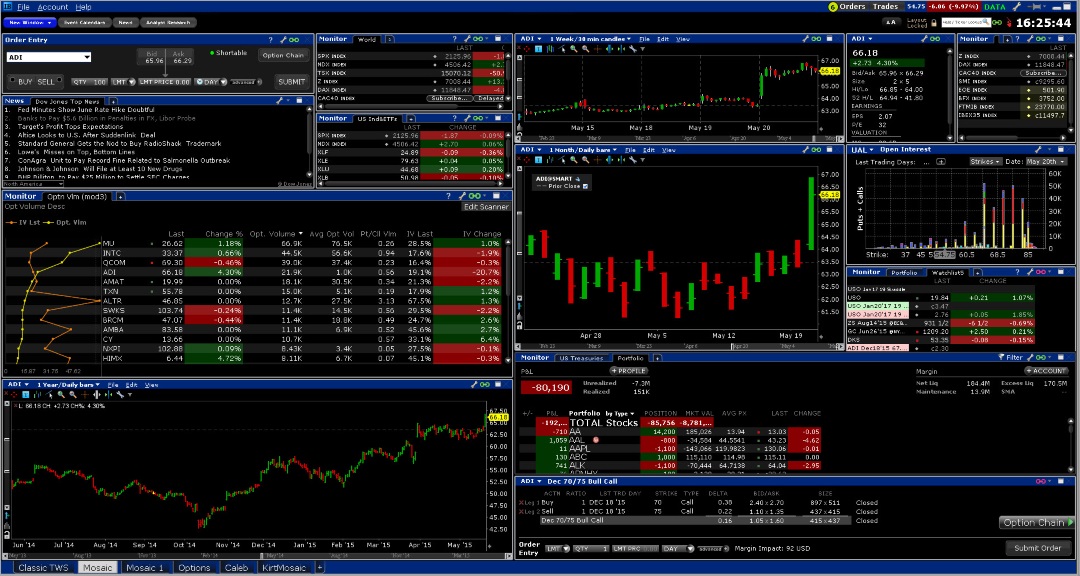 Not only that, but there are also a considerable number of add-on advanced tools that plug into TWS, such as:
ChartTrader – for trading directly from charts.
Continuous Futures – for commodity futures scanning and analysis.
DepthTrader – for in-depth analysis of market liquidity.
OptionTrader – deeper Options Analysis with specific Options strategies.
ProbabilityLab – to test the Probability Distribution of a particular trade
Portfolio Manager – for backtesting.
In total, there are 27 different advanced trading tools to suit every possible approach to the market.
Backtesting With Interactive Brokers' Portfolio Manager
The "Portfolio Manager" tool within the powerful Trader Workstation (TWS) Platform is really well designed and easy to use.  It is actually designed to help portfolio managers balance and manage a portfolio of stocks.  Most portfolio managers are not buying and selling shares based on technical indicators like MACD, RSI, or Moving Averages; they are buying and selling based on the fundamentals of a particular company.  This is reflected in the unique parameters available.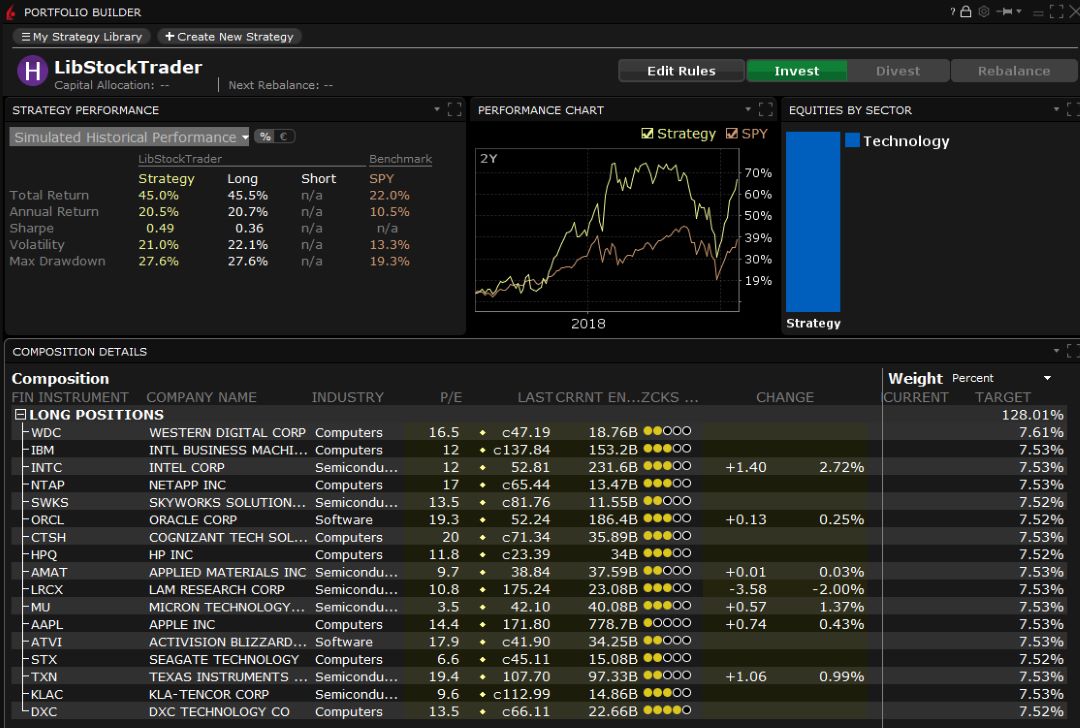 You can choose a portfolio to backtest based on nearly all critical fundamentals, such as P/E, EPS growth, and even Analyst ratings.  It is really unique and powerful.  I enjoyed setting up my portfolio and testing the different scenarios, such as buying low P/E stocks with high analyst ratings from Zacks or high EPS growth stocks with small insider ownership.  Interactive Brokers are a truly unique broker with arguably the most robust portfolio of tools in the industry.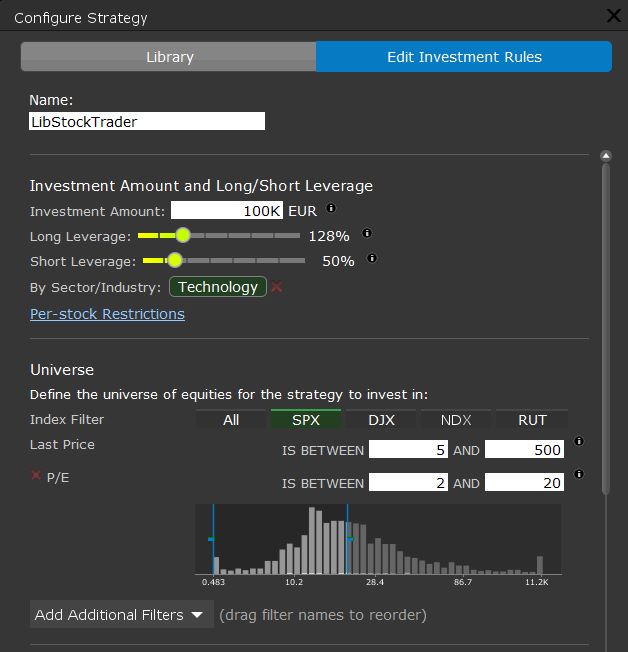 I am a big fan of TWS and interactive brokers; I recently moved my account from TD Ameritrade to IB.
Configuring Backtesting With Interactive Brokers
In this basic backtest, I selected stocks with a price between $5 and $500 and a low price-earnings ratio (P/E) or between 5 & 20.  I used 128% leverage on my long trades and 50% on short trades and only targeted the technology stocks on the S&P500.
Below you can see the "Add Additional Filters" dropdown menu, where you can consider and test a wealth of factors.
The testing worked out positively (as you can see from the image above), beating the market by 31%, but mostly because of the leverage factor, which, of course, introduces increased risk.
It is a positive playground to test your wildest hypotheses against reality when it comes to investing rules.  Value investors take note; this is a really great tool.
Overview Video of Portfolio Analyst – Trader Workstation
Interactive Brokers offers by far the best free services in the area of research.  Here is a snapshot of some of the services you will get for free.
IB Market Signals
IB Traders Insight
Morningstar equity ownership
Thomson Reuters (in 10 languages), stock reports, news, fundamentals
Zacks Investment Research
Real-time News Streaming
In terms of customer service, they offer the full package of telephone, chat & email contact, so no issues there.
Interactive Brokers (IB) Backtesting Summary
IB is a very high-quality company with the best research included for free in your account; the wealth of tools available is astounding.  I like Portfolio Manager" because it offers something different to everyone else, backtesting and investment management based on the company fundamentals.  Portfolio rebalancing and management with automated buying and selling are all included in the package for free, a world-class solution from an outstanding broker.
-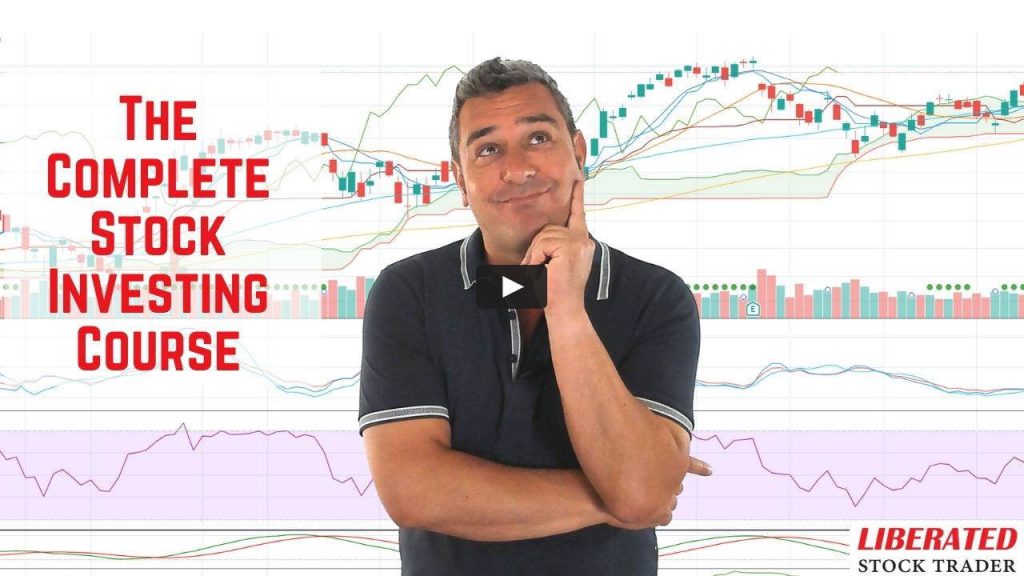 Liberated Stock Trader Pro Investing Course
★ 16 Hours of Video Lessons + eBook ★
★ Complete Fundamental Stock Analysis Lessons ★
★ 2 Powerful Value Investing Strategies ★
★ 4 Dividend/Income Investing Strategies ★
★ Professional Grade Stock Chart Technical Analysis Lessons ★
6. Tradestation: Great Chart Backtesting For Tradestation Brokerage Clients
TradeStation is a leading brokerage house with excellent execution and reasonable commissions, but did you know they have great software also.  TradeStation offers enough in its software and broker integration to stand tall with the other vendors.
TradeStation Rating: ★★★
Price: $0 For Clients
Trade Commissions: $5
Pros
★ Powerful Charting Tools
★ Good Algo and Power Tools
★ Free Software for Brokerage Clients
★ Perfect Broker Integration
Cons
✘ $5 per Trade
TradeStation has real-time news, which is an excellent service but only fails to score top marks because it does not provide market commentary or a chat community.  But do you really need that?  Some people do; it's a factor to consider. TradeStation offers TradeStation University and a huge wealth of online videos to help you master their trading platform.  They also have a morning briefing that you can tune into online, and their selection of professional analysts will give an opinion on the market action and potential strategies.TradeStation has also cultivated a systems and strategies marketplace called the "Strategy Network," where you can purchase stock market systems from an ecosystem of vendors or even contract someone to develop your system for you in the "Easy Language" code.
TradeStation's Backtesting Software
TradeStation's unique proposition enables you to create powerful technical backtesting scenarios directly from the charts.  No need for programming or script development; it is straightforward.  Select your chart, timeframe, and indicators and then plug in what parameters you want for the buy and sell orders.  Long and short trades are all covered.
The beauty of it all is that you can turn the hypothetical system into an automated trading system with algorithmic trading applications because this is a broker-integrated solution.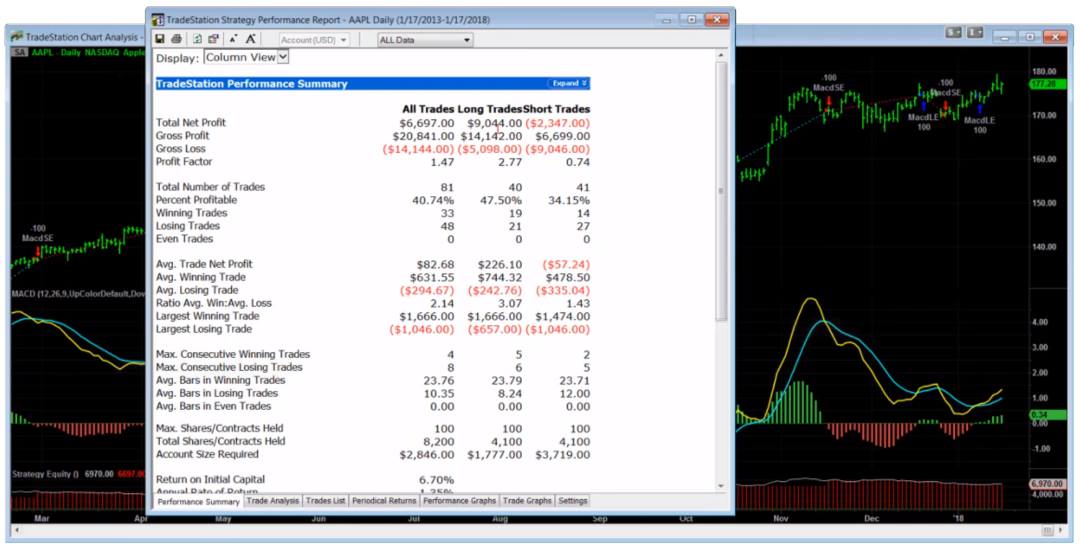 It is called TradeStation because it is the place where you can build a technical chart-based system and execute the system automatically.
Read the Full TradeStation Review
-
7. Quantshare: Low Price, Broker Agnostic Backtesting, But Challenging to Use
Recommended for Quantitative Analysts who develop powerful automated systems and value a huge selection of shared user-generated systems and powerful technical analysis tools.
Quantshare Rating: ★★★
Price: $245 One time license
Trade Commissions: N/A
Pros
★ Perfect For Quants Wanting To Automate Backtesting
★ Super Cheap
★ Active Community
★ Very Good Backtesting
Cons
✘ Programming Knowledge Required
✘ Poor Interface
QuantShare was new to me, and I was pleasantly surprised by the feature set.  Do you backtest, forecast, and program algorithms to get an edge in the market? Are you a hardcore programmer and mathematician, then QuantShare is for you?
Stock Systems and Backtesting
QuantShare specializes, as the name suggests, in allowing Quantitative Analysts the ability to Share stock systems.  This means they have a huge systems marketplace with a lot of accessible content that you can test and use.  If you have a programmatic mind, you can implement and test an endless list of possibilities.  They do also offer Point & Click implementation of systems. What is great is they also have Artificial Intelligence integrations via the AI Optimizer, allowing the system to combine different rules to see which rules work best together.  They also have powerful prediction models using Neural Networks.  This is advanced software for those with the inclination to test, forecast, and predict.
Ease Of Use
This software package is difficult to use, and the interface requires serious development effort.  The learning curve will take a time investment on your part.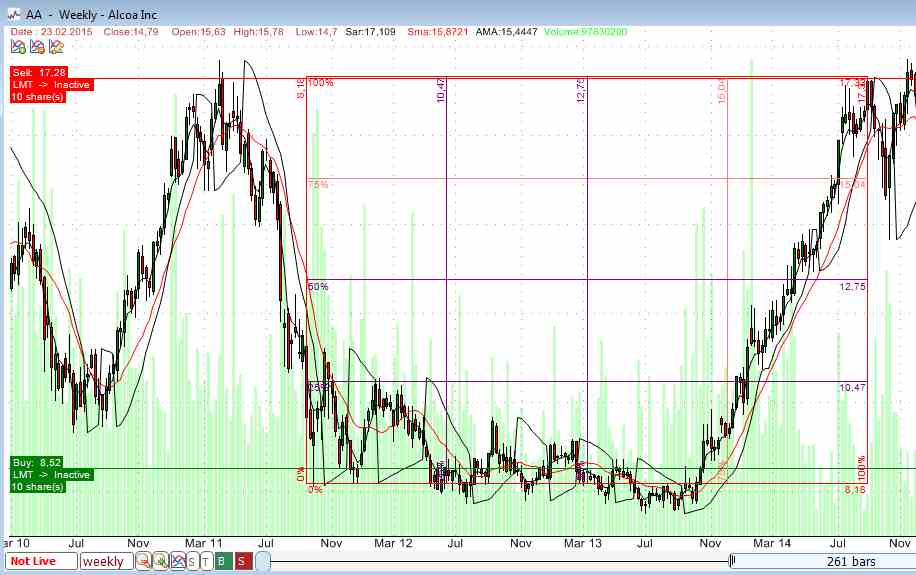 -
Summary: Stock Backtesting Software Review
Our rigorous selection process chose MetaStock for the most powerful backtesting and innovative forecasting platform with a deep community and partner support ecosystem. Trade Ideas deploys powerful artificial intelligence systems to give you a very profitable edge in the stock market and is well worth the subscription.
TradingView offers global market access, the biggest trading social community globally, and an intelligent and effective backtesting solution to individual stock testing and reporting. TrendSpider is our winner for innovation and the hottest new entrant into the market.  Interactive Brokers simply brings the best solution for fundamental backtesting and portfolio management combined with one of the best brokers in the world. Finally, TradeStation has first-class technical analysis-based backtesting & auto trading without any need for programming.