There are a lot of different investment strategies out there, but we all want one thing: higher returns.  Dividend investors are no exception, choosing to get a significant part of their returns from regular cash distributions. And I say part because the great thing about dividends is that you can still be exposed to share price appreciation.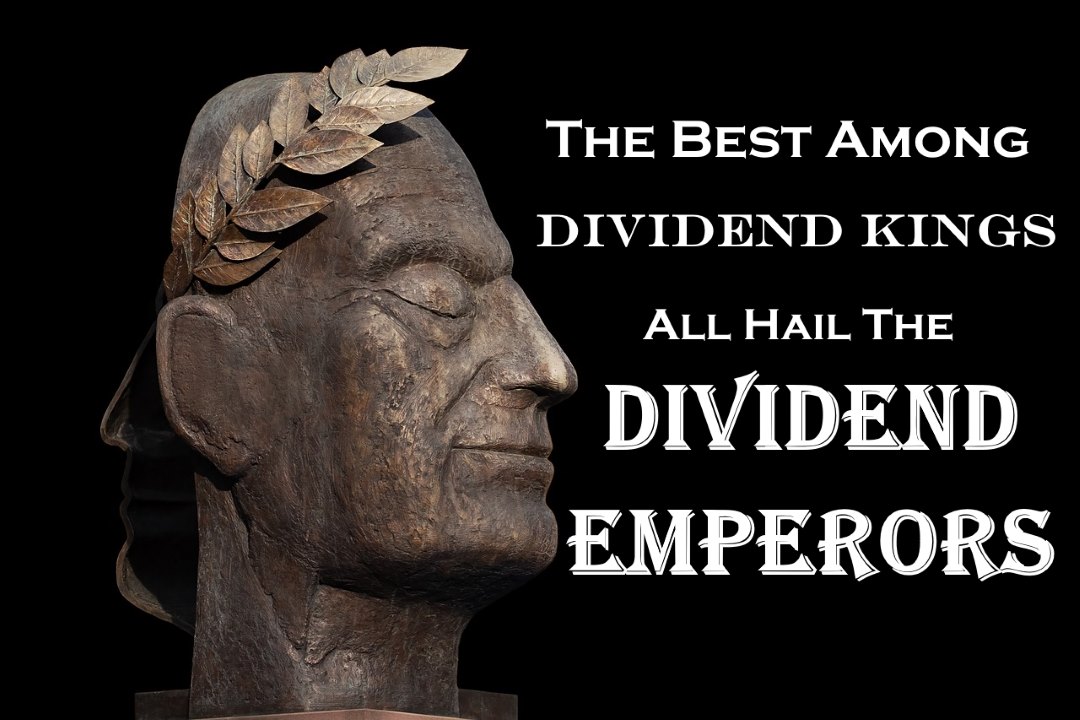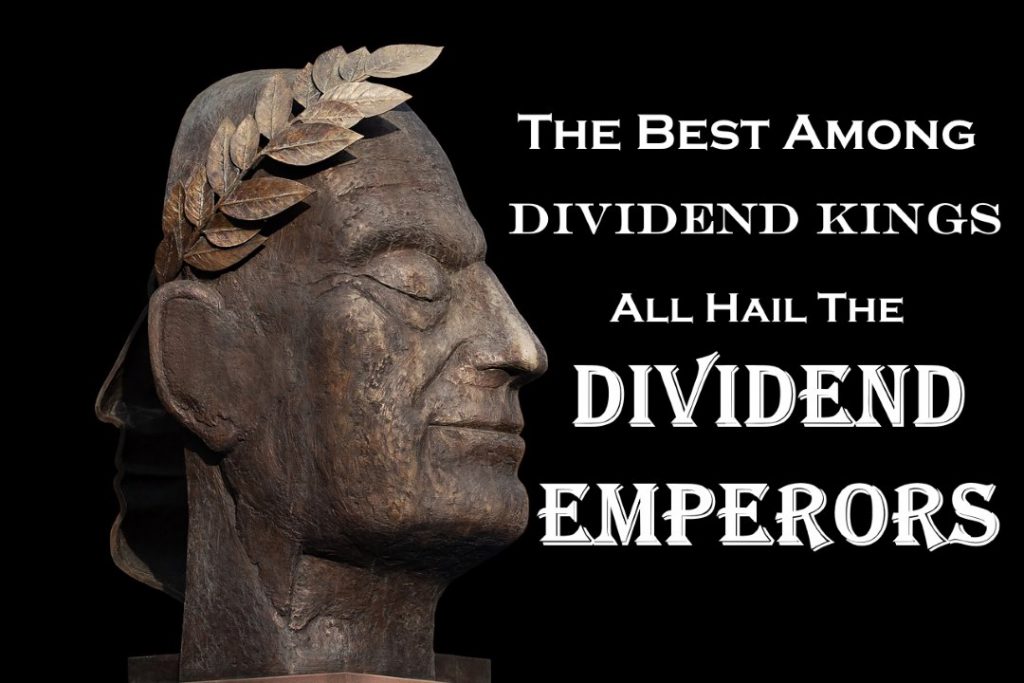 For the dividend-paying company, announcing a dividend is a big commitment that will be perceived as such by investors, so if a company announces a certain future dividend, it better be because management believes it can sustain it. Changes in the dividend amount can raise some eyebrows from shareholders, and suspending the dividend is far worse than not announcing it in the first place.
This means the most fundamental question addressed by dividend investors is the company's ability and willingness to maintain the commitment of paying regular dividends.
In other words, Income Investors are most worried about the stability of the dividend.
There's enough volatility in the market as it is, so the last thing we want is more uncertainty about management commitments.
After establishing the firm's commitment to paying regular dividends through a strong track record (several years) of uninterrupted distributions, investors start considering other issues like whether those distributions are growing.  A growing dividend means a growing yield.  That's a great way to reward shareholders, and that's the reason this is something investors look for in a dividend-paying stock.
So, in summary, dividend investors have two main concerns when selecting their investments: stability of the dividend in terms of unremitting track record and dividend growth. With that in mind, some dividend classes emerge based on their track record.
Note: Liberated Stock Trader is in no way affiliated, paid by, or owns any stock in any of the companies mentioned in this report.  This is an unbiased research report.
Dividend Kings vs. Dividend Aristocrats?
Two of the most popular classes are the Dividend Kings and the Dividend Aristocrats.  These are both comprised of dividend-paying stocks with great track records. Dividend Aristocrats are selected from the S&P500 index, which means there's already some filter in terms of size and liquidity. Nevertheless, it requires a company to grow its dividend for 25 consecutive years to be considered a Dividend Aristocrat, while a Dividend King must do the same for at least 50 years.
There are other popular classes of dividend stocks with some different requirements, but a long track record of growing distributions is a must in practically all of them.  Obviously, the Dividend Kings class is the most exclusive, but unfortunately, there's no official index to track its performance.
Is there an ETF for the Dividend Aristocrats?
The Aristocrats, however, are tracked by the S&P 500 Dividend Aristocrats Index, which is replicated by ETF ProShares S&P 500 Dividend Aristocrats (BATS: NOBL).
What is a Dividend King?
Becoming a Dividend King requires more than an unbreakable long-term commitment to shareholders.  It also requires a lot of financial discipline and confidence in the company's performance, even during the downturns of the economy.  The last 50 years included a fair share of crisis. Just in the last 20 years, we had the European sovereign debt crisis, a real-estate financial crisis, and the dotcom internet bubble.
Still, the number of stocks earning the designation has been increasing, and so is their popularity.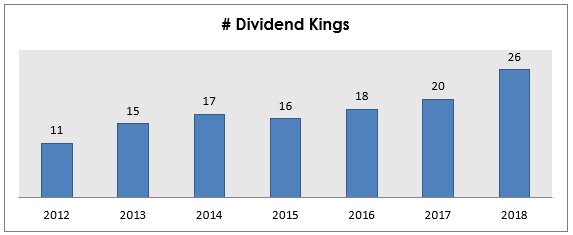 The list of Dividend Kings increased in five of the last six years and more than doubled over the period. Also, last year's was the largest yearly increase with six new entries.
Nevertheless, sometimes there are exits from the list as a strong reminder that past performance is no guarantee of future performance. All it takes is that the company proves unable to improve its yearly dividend, ruin a perfect track record of over 50 years, and lose the King title. As an example, you can look at Diebold (NYSE: DBD) in 2014. The worldwide ATM manufacturer had increased its distributions for over 60 years.
Who are the Dividend Kings?
When we think about these companies, we kind of create an idea about what type of business they lead. Let's take a closer look.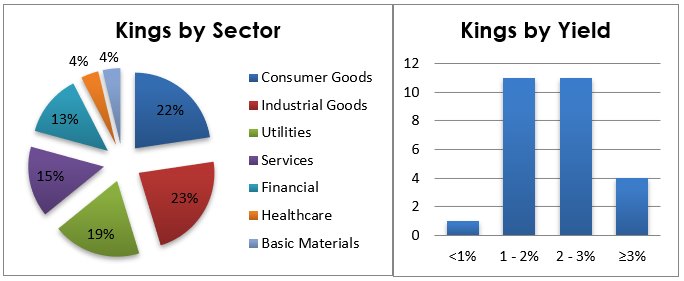 From the chart on the left, you can see that a lot of business sectors are represented, although about two-thirds of the Dividend Kings comprise what are considered defensive stocks as they operate in the consumer and industrial goods and utility sectors.
As far as diversification goes, Dividend Kings are a bit tilted, and perhaps the biggest absence is the Tech sector, which isn't represented at all.
From the chart on the right, it seems clear that high dividend yield is not a priority. The whole concept of Dividend Kings is about dividend safety and not about yield.
Over 80% of the current Kings are paying only a 1% to 3% dividend yield.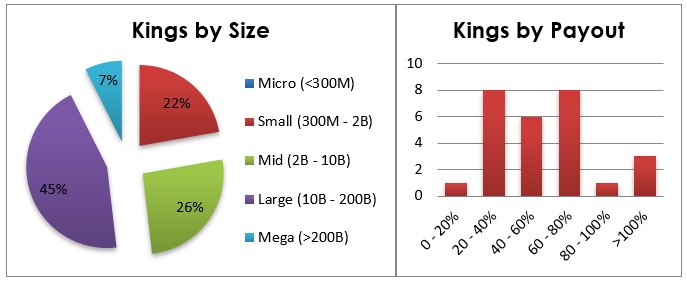 Regarding the distribution of Kings in terms of their size, it may be surprising to see five small-cap stocks.  To endure such a tremendous task, one would intuitively imagine the Kings to be all over $10 billion in market capitalization.  In fact, only a little over half of them are that size.
On the right is another very important metric for dividend investors. The payout ratio hints on the stability of the dividend. Conclusions shouldn't be inferred just from the payout ratio, especially without its performance in time, but most investors prefer a lower rather than higher payout ratio as it signals there's margin for distributions' growth. With that said, Kings are expected to have low payout ratios. More than half have payout ratios below 60%, and over 80% distribute less than 80% of their earnings.
In the following table, you can see who exactly the current Dividend Kings are.
| | Company | Ticker | Sector | Industry | Dividend Yield | Market Cap ($B) | Payout Ratio |
| --- | --- | --- | --- | --- | --- | --- | --- |
| 1 | ABM Industries Incorporated | ABM | Services | Business Services | 2.2% | 2.1 | 51% |
| 2 | American States Water Company | AWR | Utilities | Water Utilities | 1.7% | 2.2 | 63% |
| 3 | Cincinnati Financial Corporation | CINF | Financial | Property & Casualty Insurance | 2.8% | 12.4 | 36% |
| 4 | Colgate-Palmolive Company | CL | Consumer Goods | Personal Products | 2.5% | 58.7 | 65% |
| 5 | California Water Service Group | CWT | Utilities | Water Utilities | 1.9% | 2.0 | 61% |
| 6 | Dover Corporation | DOV | Industrial Goods | Diversified Machinery | 2.3% | 12.1 | 46% |
| 7 | Emerson Electric Co. | EMR | Industrial Goods | Industrial Electrical Equipment | 2.7% | 45.0 | 69% |
| 8 | Federal Realty Investment Trust | FRT | Financial | REIT - Retail | 3.2% | 9.2 | 106% |
| 9 | Farmers & Merchants Bancorp | FMCB | Financial | Banking | 1.9% | 0.6 | 36% |
| 10 | Genuine Parts Company | GPC | Services | Specialty Retail, Other | 2.9% | 14.3 | 60% |
| 11 | Hormel Foods Corporation | HRL | Consumer Goods | Meat Products | 2.0% | 19.1 | 39% |
| 12 | Johnson & Johnson | JNJ | Healthcare | Drug Manufacturers - Major | 2.7% | 356.0 | 573% |
| 13 | The Coca-Cola Company | KO | Consumer Goods | Beverages - Soft Drinks | 3.3% | 197.5 | 269% |
| 14 | Lancaster Colony Corporation | LANC | Consumer Goods | Food - Major Diversified | 1.6% | 4.0 | 48% |
| 15 | Lowe's Companies, Inc. | LOW | Services | Home Improvement Stores | 2.0% | 80.1 | 34% |
| 16 | 3M Company | MMM | Industrial Goods | Diversified Machinery | 2.6% | 122.6 | 68% |
| 17 | Nordson Corporation | NDSN | Industrial Goods | Diversified Machinery | 0.9% | 7.7 | 18% |
| 18 | Northwest Natural Gas Company | NWN | Utilities | Gas Utilities | 2.9% | 1.9 | 85% |
| 19 | The Procter & Gamble Company | PG | Consumer Goods | Personal Products | 3.5% | 208.2 | 71% |
| 20 | Parker-Hannifin Corporation | PH | Industrial Goods | Industrial Equipment & Components | 1.7% | 23.2 | 40% |
| 21 | Stepan Company | SCL | Basic Materials | Specialty Chemicals | 1.0% | 2.0 | 21% |
| 22 | SJW Group | SJW | Utilities | Water Utilities | 1.8% | 1.3 | 40% |
| 23 | Stanley Black & Decker, Inc. | SWK | Industrial Goods | Machine Tools & Accessories | 1.7% | 22.4 | 37% |
| 24 | Target Corporation | TGT | Services | Discount, Variety Stores | 3.1% | 43.8 | 45% |
| 25 | Tootsie Roll Industries, Inc. | TR | Consumer Goods | Confectioners | 1.2% | 2.0 | 29% |
| 26 | Vectren Corporation | VVC | Utilities | Diversified Utilities | 2.5% | 5.9 | 70% |
The 26 Dividend Kings - Sector, Industry, Yield, Market Capitalization & Payout Ratio - Multiple Sources FinViz, Bloomberg
Despite a 50+ year track record of growing dividends and a similar average dividend yield, these companies are very different from each other. To find the best among Kings, one must dig deeper into each one.
Finding the Very Best among Dividend Kings
When considering investing in a Dividend King, the major concerns are the stability of the dividend and its growth. In simple terms, the investor is looking for higher stable returns.
Assessing Dividend King Stability
To assess that stability, one must look past the dividend track record and the payout ratio. We might say both of them are necessary but insufficient for predicting future distributions. After all, dividends are cash payments, so it makes sense to evaluate the company's cash position and cash-flow generation. Ideally, the company would improve its cash position over time supported by growing free cash flow (FCF = Net cash provided by operating activities – Capital expenditures)
Although these metrics can provide some insight, numbers can only take you so far. To be able to navigate the ups and downs of the market and face competition, it's important that the firm has a good and simple business model and a strong economic foundation.
Assessing Dividend King Growth
Analyzing the track record of distribution increases and how they correlate to cash-flow generation is an important step to estimate the future growth of dividends, but again, one must look further. A company can't increase its distributions for long unless its business is also growing. What are the company's growth strategies? How are those strategies being funded? What are the opportunities in the market? Are there any threats? The investor must be satisfied with the answers to these questions.
The Dividend Emperors
Dividend Emperor: 3M Company (NYSE: MMM)
3M considers itself a diversified technology company. It has over 90,000 employees, most of them employed internationally. You'll probably know 3M from its famous Post-it notes and Scotch tape, but the company operates in several segments marketing over 60,000 products worldwide.
The company's growth strategy is very well defined and rests on three pillars:
Portfolio Management, which translates into acquisitions and divestitures. In the last three years the company spent over $20B in acquisitions;
Innovation. It invested $1.9B in R&D in 2017 and is very proud to continue inventing new and better solutions for everyday problems;
Process Efficiency. The company estimates the roll-out of its new systems will be finished by 2020, and it will save about $1B in operational costs and working capital.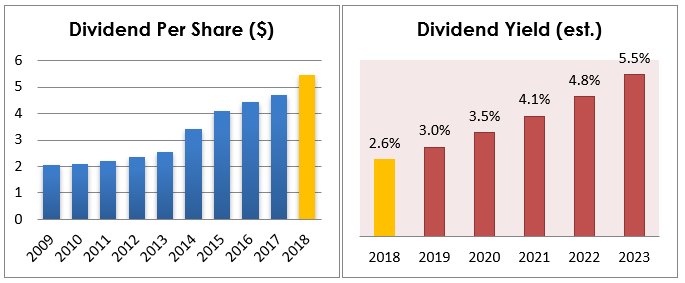 3M is one of the highest-paying Kings with a current dividend yield of 2.6%. The company is celebrating its 60th consecutive year of dividend increases with a 16% increase, which coincidently is the average growth rate of its distributions in the last five years. At current prices, you could be looking at a 5.5% yield in five years!.
This was a tough call because American States Water (NYSE: AWR) is also a great company with an excellent track record, but I couldn't choose two Emperors from the same industry, and I believe SJW is performing better at the moment.
As a water utility, SJW operates in a very regulated market with high barriers to entry. It currently has over 400 employees and distributes water to around 1 million people in California.
Despite the continuous dividend increases, the payout has remained relatively low compared to the other Kings which could mean there's room for further increases. In fact, the company boosted its dividend 28% in 2017 by paying a special dividend on top of its regular dividend.  So far, in 2018, distributions are up another 8%.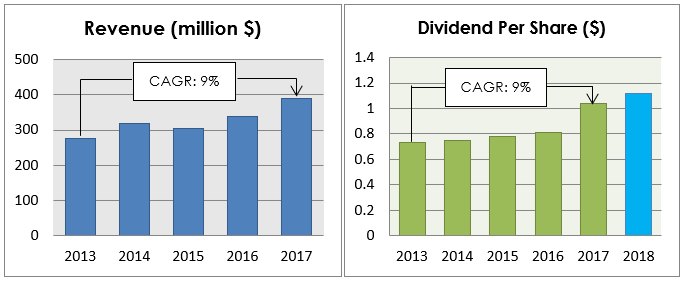 As we can see, in the past, the company's dividend is in line with revenue performance.
Additionally, profitability is also rising as a result of higher prices, which have a direct impact on net cash provided by operating activities.
What's more exciting at the moment is that SJW bought Connecticut Water Service (NYSE: CTWS). CTWS is one of the 10 largest U.S.-based water utilities and serves more than 425,000 people in 80 communities across Connecticut and Maine, and more than 3,000 wastewater customers in Southbury, Connecticut.
The deal was made for $1.1B in cash and will add over $100 million in revenue (~27%) and $15 million of recurring net income (~25%) accretive immediately.
The combined company will be the third-largest investor-owned water and wastewater utility in the United States. Following the announcement, management reaffirmed that it anticipates continuing its robust dividend payment trajectory.
Lowe's is the second-largest home improvement retailer in the world.  It operates over 1,800 stores in Canada, the United States, and Mexico and employs over 300,000 people. It tries to differentiate itself by providing a pleasant buying experience to customers through a seamless merger of its sales channels (physical stores and online).  According to the NPD Group's Checkout consumer receipt mining service, online sales of home improvement products jumped 34% in 2017 to almost $20B. That's the same growth Lowes reported for its online sales.
But the company is not only focused on improving its e-commerce business, but it has also committed to expanding its market position in Canada. Lowes acquired RONA in 2016, one of the largest retailers and distributors of hardware, building materials, home renovation, and gardening products in Canada, operating 245 stores. By the end of the integration, Lowes expects to double its profitability in the region.
The firm has also made some acquisitions to strengthen its relationships with professional customers. Maintenance Supply Headquarters, a leading distributor of maintenance, repair, and operations products, was acquired in 2017 and Central Wholesalers in 2016.
This track record is unbelievable. Lowes has been increasing its dividend at the fastest rate among all the other Kings. CAGR for the last 15 years and the last five years is 26% and 21% respectively. The company kept distributing more even during the crash of the housing bubble. And if that's not enough, payout ratios have been below 40% in the last five consecutive years.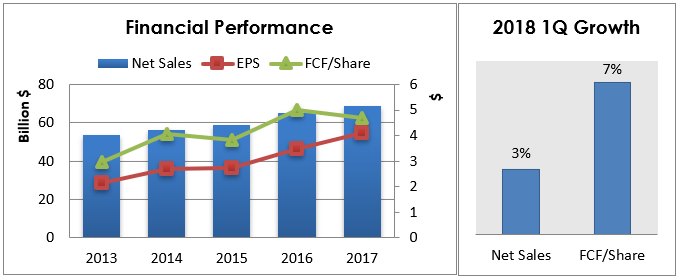 Lowes is growing at mid-single-digit rates, but profitability is improving much faster as the average ticket grows. The company's free cash flow generation is so impressive that besides raising its distributions, it is also spending a lot of money repurchasing stocks. In the last three years, the home-improvement retailer spent an average of $3.6B a year buying back their shares, and management just approved $5B more for 2018.
Talking about management, you might be wondering about the recent change in leadership and how that can affect dividend stability and growth. Last month, former J.C. Penney CEO and Home Depot executive Marvin Ellison was appointed Lowes' Chief Executive Officer, replacing Robert Niblock, who had been formally in charge since 2005.
The nomination seems to come from the Board's desire to grow faster, and that's exactly what I'm expecting. Ellison didn't show his full potential at J.C. Penney, but this time he's not wasting time as he'll be under a lot of pressure to show results. He's already changing the structure of the company, replacing some top-level positions. The thing to consider is that more growth costs money, but Lowes has plenty of that.
3M vs. SJW vs. Lowes, Which is the Best Growth Stock
You can use the chart below to compare the 5-year stock price growth of the three dividend emperors to decide who is the best.
Best Dividend Kings Report Summary
Dividend kings are about dividend stability and growth. While being a Dividend King is a good start, it isn't enough to elicit conclusions about its future performance.  Each company deserves a thorough analysis of their business model, growth prospects, and cash flow generation. These are my TOP 3 Dividend Emperors and their latest performance:
The Dividend Emperors: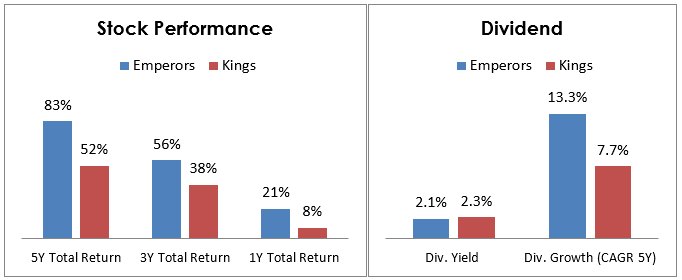 Learn more about dividend investing and read out expert tips on dividend strategies.
If you are looking for alternative dividend stocks, check out our Best Real Estate Investment Trusts Paying Monthly Dividends, or our Top Monthly Dividend Stocks.
Important Tech Stocks worth considering are generally Dividend, and Growth Stocks are Intel, Nvidia, Microsoft & Apple