Telechart 2000 Review – Worden Brothers Inc. –  8.71/10
Recommended for US Investors with a fundamental bias who need powerful screening and excellent charts on all platforms.

Telechart has long been one of my favorite tools, I have been a subscriber for over 15 years and find the latest release 17.x to be a huge step forward.  Endlessly customizable and scalable the platform offers nearly everything an investor may need.
Pricing and Software 8/10 – Telechart is a big hitter when it comes to software and pricing.  Telechart runs on everything – your iPhone your Tablet, your Mac and your PC.  It is priced very reasonably with a simply pricing structure.  Why does it not score a striaght 10/10?  Only because it's data coverage is U.S. and Canada only and it does not cover options, futures, forex or bonds.  However, it was not designed to cover those.  If you trade U.S. Stocks, ETF's or Mutual Funds, then this may be a good solution.  Wordens also provide live weekly training seminars which are of a very high quality.
Trade Management 7/10 – Worden recently released TC2000Brokerage offering discount brokerage services $4.95 per trade.  This integration means a tight integration for trading stocks from the screen but also one of the best implementations of options trading from the screen that I have seen.
Fundamental Scanning and Screening 10/10 – Make no mistake about it, if you want fundamentals screened in real-time layered with technical screens all integrated into live watchlists connected to your charts telechart is a power player.
News 7/10 – While TC2000 does not have a perceivable Real-Time news element, it does have integrated news with connections to Google Finance, CNN, Yahoo Finance, MSN Money, Marketwatch and StockTwits.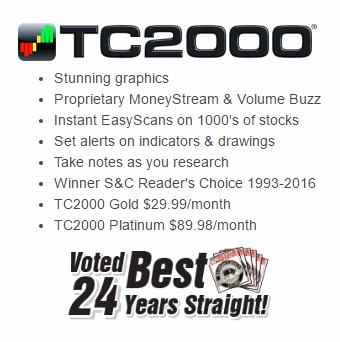 Technical Analysis 9/10 – Telechart has an excellent array of technical indicators and drawing tools, all the big ones are there, from OBV, RSI and Bollinger Bands to Fibonacci Fans and Andrews Pitchfork.  with over 70 different indicators you will have plenty to play with.  They have also introduced live alerts which you can configure to email or pop up if an indicators or trend line is breached.  Very useful indeed.
Stock Systems and Back Testing 8/10 – Worden Brothers also have a little secret when it comes to developing back tested systematic approaches to trading.  With a platinum membership to TC2000 you also receive a tool called StockFinder.  Stock Finder is one of the single most powerful intuitive point and click system development tools on the market today.  No programming required.  That is saying something because it is up against some very stiff competition in this space. Although Stock Finder cannot be used to automatically place trades, it's ease of use still warrants a 8/10 rating, despite development on the tool being halted.  My request to Worden Brother is to integrate the GUI aspects of StockFinder directly into TC2000 and improve the P&L analysis in the back tester.
Ease Of Use 10/10 – One of the easiest to use and most powerful packages available places the icing on the cake for the Worden Brothers.
Some major improvements to TC2000.com (Gold or Platinum):
Online—access from any computer anywhere (including your personal settings, WatchLists, etc)This is a huge step forward allowing you to access from any computer all your settings, stocks, notes, overcomes the restrictions of the previous version.
Personal WatchLists—now shared across all Worden platforms – So being able to access the same watchlist from Stockfinder, Telechart 2007, Freestockcharts.com and in TC2000
More Data feeds (US—common, preferred, BB, PS; Canadian; Forex; Indexes)
Bar Intervals—Daily and above; Intraday (supplied by BATS in Gold; full market real-time in Platinum) This is nice, the excellent near real-time feed from the BATS exchange now included in the new TC2000 free for gold members.
Indicator Library There is a huge library available in the new version and the ability to overlay and daisy chain indicators
QuickSort—fastest sorting ever! Superfast sorting and scanning.
WatchList Columns—created by conditions directly from your charts. This is for those people who enjoy the benefits of Stockfinder but wish it was integrated into Telechart.
News/notes window—streaming news, personal notes 
Improved Drawing Tools – A great new list of powerful tools including trend lines, Fibonacci, Gann, text and more.
Alerts—trendline, price, condition & reminders – Get alerts to your inbox when a stock breaks through a trend line you have drawn. Awesome.
TC Menus—still have EasyScan, PCF's, Custom Date Sort, etc.
Full Integration with Twitter & Facebook
Completely compatible with Macs as well as PC's!
NEW FOR 2017 – TC2000 V17
Worden Brothers have pulled out all the stops for 2017.  Here are some screenshots of the hottest new features.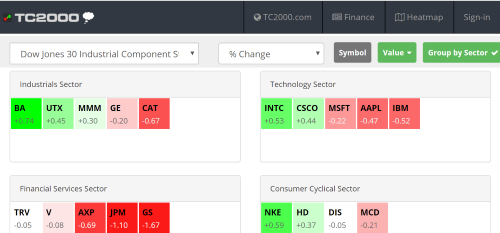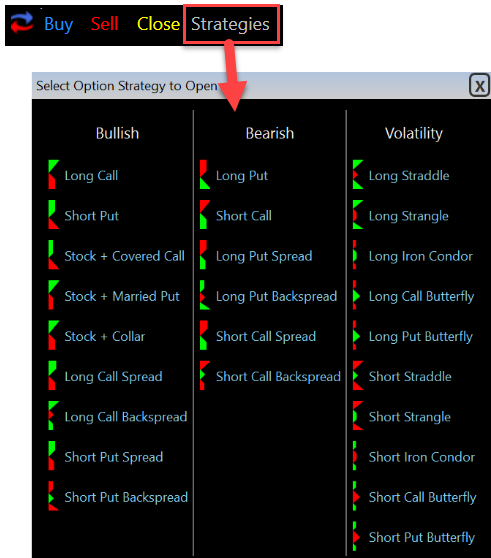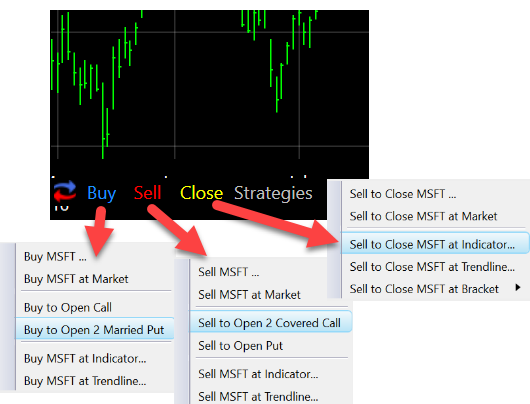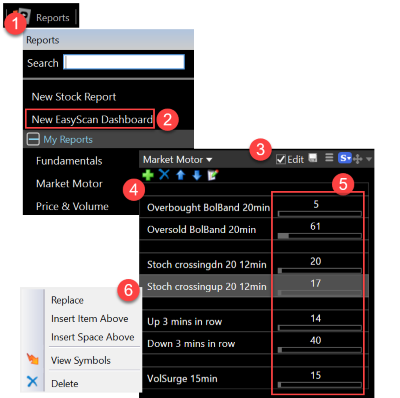 Interested in TC2000?
Get a $25,- Discount on Any Purchase from Liberated Stock Trader – By Signing Up To TC2000 Subscription from this link.
Further Information on TC2000
From the Archive: Telechart 2007 Video Review – /tc2000-telechart-2007-video-review/