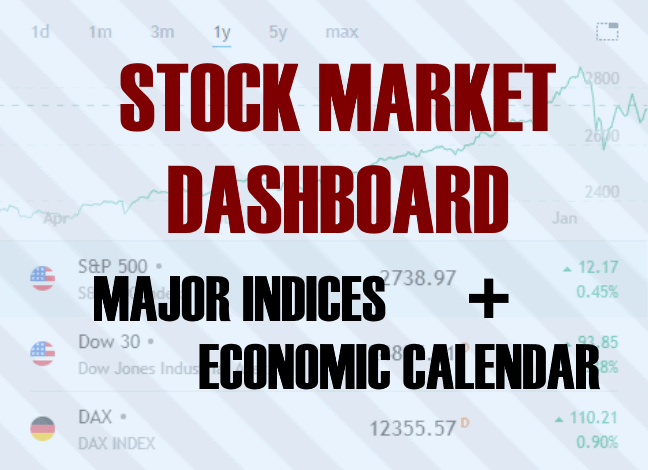 Stock Market Action Today.
Stock Market Analysis Without Hype, LIVE Quotes Nasdaq 100, S&P 500, DJ 30, NYSE, Nikkei, FTSE + Live Economic Calendar.
Get your input on the state of the stock market from a Certified Financial Technician (CFTe) from the International Federation of Technical Analysts (IFTA).  Removing the panic and analyzing the state of the stock market with brevity and calm.  If you are new to the stock market jump to our Stock Market Guide for a huge wealth of knowledge.
| | |
| --- | --- |
| Stock Markets Today | Economic Calendar |
(15 Minute Delay)

Using the Stock Market Today Tools & Economic Calendar
Using Stock Market Today Tools

The US Stock Markets Today overview shows you the most important Indices and how they are performing today.  Click on any Index to jump to a detailed Chart, where you can plot indicators or even compared one Index to another

S&P500  - is the go-to index used by most people as it is the majority of the NYSE Company Capitalization.

NASDAQ 100 - is the major Index of the Nasdaq Stock Exchange with the top 100 technology companies.

Dow 30 - is the Industrial Index of the 30 biggest corporations on the NYSE.

Dow 20 Transport Index - This is the 20 biggest Transport & Logistics Companies. Look for medium to short-term divergencies in the DJ30 and the DJ20 according to Dow Theory

Nasdaq Composite - All of the Stocks on the Technology heavy Nasdaq Exchange

S&P 400 Mid Cap - The 400 medium sized companies on the NYSE

Using the Economic Calendar

Country Selection - Select the Globe to choose which country economic data you want to see.

The U.S. Economic data is usually a catalyst for markets across the globe, but if you trade a particular market select the one you are interested in.

Economic Data Description - Click on the Data to see a description of what it is and the impact of it.  The actuals vs Forcast is important.

If the Actual is less than Forecast then that could have a negative impact on the overall market direction.  See how the market reacts to the news.

Important Economic Data Only - it is easy to get carried away with economic data, even the best economists cannot predict how the data will affect the stock market.

By default, we have selected only important data, but you can change that by clicking the Globe Symbol

Charts & Data Provided By TradingView Get TradingView Free Here
Level Headed Stock Market Analysis
Stock Market Today - Level Headed Market Commentary from Liberated Stock Trader
The following stock market analysis is based on the most fundamental core concepts of the technical analysis of the financial markets.  We employ supply and demand signals, Dow Theory, Wave Theory and a cold hard look at reality.  This is how industry financial analysts perform market analysis... but without the hype.
Nasdaq 100 & Composite Break Into New Highs
Ooh, La La - The French are Best at Football, the American's are Best at Business.
July 16th, 2018
As expected the Nasdaq indices have broken new highs.  It is a great time and indeed has been a great time over the last 9 years to be an investor in the U.S. Stock Markets, especially the Nasdaq and to be even more precise the Nasdaq 100.
The Nasdaq 100 has returned 32% in the last 12 months.  But how are the rest doing?
The S&P500 has managed to muster 16%
The Dow Jones Industrial Average (DJ30) has clawed its way to 18%
The UK FTSE 100 has managed a miserable 3% due to BREXIT
The German DAX has managed less than 1% off its high of 9%, due to trade war fears.
China's Hang Seng has managed 12%, although that is off the 32% intra-year high, again due to trade war fears.
France's CAC 40 has driven in the latter half of the year to 12% based on the Macron Optimism
It would seem every one fears the trade war, except the U.S.A. where business is booming.
Why don't we get even more precise as to "Who are the Superbowl winning teams of the Nasdaq"?
In short, the FANG's (Facebook, Amazon, NetFlix, Google), but are they leading the charge?
Facebook has managed 41%
Google (Alphabet) crafted 31%
Amazon powered to 92%
Netflix exploded 173%
Yes, they are.
Netflix is the new Disney, but better, with a bigger spending budget and much lower overhead.  Facebook rode the storm, but I see darker times ahead for the social network.  No one crawls the web and pushes adverts like Google.  And Amazon, well it's Amazon, I literally spend such a proportion of my disposable cash with Amazon that I must consciously make an effort to support local business by buying locally just so everyone is not unemployed.
Market Outlook and Trends
Short-Term Trend (days to weeks) - 

Uptrend 

Medium-Term (weeks to months) - Sideways - but looking positive
Long-Term (months to years) - Uptrend
Overall Market Outlook - Positive
Stock Market Today - Nasdaq 100 & Composite Challenging for New Highs
July 9th, 2018
For those who were panicking the fear is slowing ebbing away.  However, I was not concerned.  As previously stated the U.S. Economy is in rude health and believe it or not Trump is actually walking a fine line in berating foreign governments over trade, defense spending, and immigration.  This is causing foreign powers to consider the U.S. as not simply an easy ride, but a country you have to play fair with.   This could benefit the U.S. economy in the long run as the abuse of free trade agreements are more rigorously adhered to and the domestic economy starts to pick up.
The Market likes Trumponomics.
Chart Below shows the Nasdaq Gapping Up today, which is very positive (bullish).  All major U.S: Indexes have surged over 2% in the last 3 days.
Market Outlook and Trends
Short-Term Trend (days to weeks) - 

Uptrend 

Medium-Term (weeks to months) - Sideways
Long-Term (months to years) - Uptrend
Overall Market Outlook - Positive
Analysis - Netflix, Kings of the FANGS
June 29, 2018
The NASDAQ 100 is down 3.05% from the new all-time high on the 20th June 2018.   It is completely natural for the market to test new highs, retreat and take another run at it.  From my analysis, the market outlook is still positive.
There is no change to the major market trend from my last update.
This was the week that NETFLIX appeared on the cover of the Economist magazine entitled "Netflix - The Tech Giant Everyone is Watching".
An interesting article in which the lead premise was that the other FANG's (Facebook, Amazon, Google) could learn a lot from Netflix in terms of managing privacy and it's business model that does not involve selling user data.
So, the media starts churning out articles on Netflix.  I actually responded to a reporter from Forbes Magazine on my thoughts on:
Is Netflix Overvalued?
To Answer the question we should perhaps compare Netflix to a competitor, Disney.
Netflix is priced for continued strong growth, sure the Price Earnings Ratio is 262, which is significantly higher than Disney's reasonable 14.
This does suggest that Netflix is overvalued, but the reason the stock price is so high is because the growth trajectory Netflix has enjoyed since 2002 is huge. In fact, Netflix had an excellent EPS growth last year of 96% compared to Disney's 30%. The P/E ratio of Netflix looks more like that of Amazon (AMZN) who as a company has always had a P/E Ratio of 200+, Amazon could be also considered expensive, but it isn't because it manages to maintain phenomenal continued growth.
Is there still room for growth for Netflix The driver for long-term growth is in the content business. Companies like Disney make great profits on content and Netflix knows this. The significant investments in Netflix Originals is a move into markets like Disney's.
Disney generates an operating income of $4.4 billion, whereas Netflix generates only $400 million. That is a potential revenue source for Netflix of over 10 times the size it is generating if it can eat into Disney's.
Ultimately, Netflix is priced as a discretionary purchase of $9.99 in the USA, and most people have it alongside other providers. Future planned price rises may be a risk, but ultimately the service is fast, the user experience is first class and the content broad and entertaining enough for everyone.
Disclosure: I have owned Stock in Netflix since 2017
Market Outlook and Trends
Short-Term Trend (days to weeks) - Downtrend
Medium-Term (weeks to months) - Sideways
Long-Term (months to years) - Uptrend
Overall Market Outlook - Positive
Stock Market Today - Analysis - Keep Calm & Carry On
June 25, 2018
Of course, as soon as we hit new highs on the Nasdaq Composite and Nasdaq 100, they turn about-face and drive downwards.  It's no surprise.  Trumpian economics is based on smoke and mirrors and this will from time to time cause insecurity in the markets.
Despite Trump (not because of him), the U.S. economy is still in rude health, but it is overextended having been in a non-stop bull market for the last 10 years.
There are no Shock Event Warnings in the "Stock Market Crash Detector System" and no signs of a Bear Market Alert.  We are experiencing an inevitable correction after hitting new highs on the NASDAQ.
For Traders, it could be time to employ some short-term and volatility focused short trades.  For investors hold tight and grab some bargains as you see fit, there are no signs of the doomsday machine being cranked up.
Market Outlook and Trends
Short-Term Trend (days to weeks) - Downtrend
Medium-Term (weeks to months) - Sideways
Long-Term (months to years) - Uptrend
Overall Market Outlook - Positive
Stock Market Today - Analysis - NASDAQ New Highs, Why?
June 11, 2018
Time to celebrate, it was NEW HIGH DAY for the NASDAQ Composite (Ticker:COMPQX) and my favorite Index the NASDAQ 100 (Ticker:NDX-X) on the 8th June 2018.
Why is the NASDAQ 100 my favorite Index?
Because it is packed with fantastic companies with strong market dominance and a great future outlook, plus  Let's take a look at the companies that dominate the NASDAQ 100.
Apple Inc. (Ticker:AAPL) - Capitalization $950 Billion - 10 Year Return 1524%. 
A great company that continues to defy the odds, and against all expectations continues to drive forward without Steve Jobs.  High markets and a strong Apple Fan Community ensures Apple will have to do a lot wrong to lose this market dominance.
Amazon Inc (Ticker:AMZN) - Capitalization $820 Billion - 10 Year Return 4,444%. 
A company that dominates the retail markets it enters and the biggest retail business on the planet.  With world class logistics and a retail market maker for everything.  Not only that, Amazon Web Services is growing to dominate the web world with it's industry leading on-demand hosting, data processing and global content network.  Add Amazon Prime Delivery, Video (not as good as Netflix but trying), Amazon Audible for Audio Content, and even the impressive rise of Alexa smart speakers, Amazon is a company that dominates nearly every market it enters.
The only thing that thwarts investors is the insanely high Price Earnings Ratio, currently at 133.  But that never really mattered with Amazon, it has always been excessively high, Besos manages to drive business results by substituting huge profits for business growth.  Low margins and continual massive investment in infrastructure and services means market dominance with lower margins.
Alphabet Inc* (Ticker:GOOG/GOOGL) - Capitalization $784 Billion - 10 Year Return 812%
We all know where Alphabet makes its money; online advertising, in fact, it is the biggest advertising agency in the world.  With practically zero competition in the western worlds search engine advertising market, Google's profits and growth look set to continue.  It also has the majority of smartphones in the world running Android.  Google has also tried many other markets, admittedly with little success, such as Google+, Chrome Cast, Google Play Store Movies and Music and Google Home.  But with all that advertising revenue who cares.
Microsoft Corp (Ticker:MSFT) - Capitalization $775 Billion - 10 Year Return 580%
Despite the rumors, the death of Microsoft has been grossly exaggerated.  The PC has not died, the server and enterprise market is still alive with 70% of the world's business' running on Microsoft Servers and Databases.  Microsoft Office is still in rude health with most corporations and small businesses and everything in between literally running on Microsoft Excel, Powerpoint and Microsoft Exchange.  Failures in Smartphone and Tablets have not dented Microsofts long-term outlook.
Facebook Inc:  (Ticker:FB) - Capitalization $544 Billion - 6 Year Return 321%
Love it or hate it, and it seems more people are starting to hate it, Facebook is still a huge success.  The biggest social network in the world and indeed the biggest website in the world, the recent privacy concerns have not even made a dent in the stock price.  Seems that most people do not really care enough about privacy to stop using facebook, or facebook's growth in new countries is masking the numbers leaving in Europe and the USA.
Other fantastic companies to mention are Intel (349%), Cisco (225%), Nvidia (4340%)*, Paypal (178%)* and Netflix (13420%)*
The list goes on, but suffice to say there is a reason the NASDAQ 100 outperformed all U.S. Exchanges and Indices over the last 20 years.
It is because these companies defy traditional business models and can generate outsize profits and growth by utilizing technology.  The Dot.com bust of 2000 taught technology companies how to survive and harness the Web for hyper-effective business process and reach.
Now and over the last 20 years, the hype has come to fruition.
*Disclosure - I currently own this Stock
Market Outlook and Trends
Short-Term Trend (days to weeks) - Uptrend
Medium-Term (weeks to months) - Sideways (but starting to show signs of an early uptrend)
Long-Term (months to years) - Uptrend
Overall Market Outlook - Positive
Stock Market Today - Analysis - Stability
3 June 2018
Having returned from my vacation in sunny Andalucia Spain, it is good to know that my last update is still ringing true, "I still do not believe there is nothing to worry about for now".
In the last 4 weeks, the NASDAQ Composite is up 4.58% the NASDAQ 100, up 4.52%.  The S&P-500 is up 2.61% but the DJ-30 is lagging with a 1.58% gain.  The VIX Volatility Index has also averaged 13 over the last 4 weeks which indicates increased stability.
Market Outlook and Trends
Short-Term Trend (days to weeks) - Uptrend

(Changed)

Medium-Term (weeks to months) - Sideways (but starting to show signs of an early uptrend)
Long-Term (months to years) - Uptrend
Overall Market Outlook - Positive
Stock Market Today - Analysis - Worst Investing Tips - China Rocks
4 May 2018
The U.S. Markets continue their sideways momentum, with bulls and bears maintaining their fight for dominance.  There is no terribly bad macroeconomic news.  The U.S. Economy created 164,000 new jobs in April, lower than expected, but not a crisis and unemployment is now at a 20 year low under 4%.  Also, surprisingly Apple boosted the markets with a serious earnings beat and gapped up 4%.  In terms of price volatility we are seeing it, reflected in the CBOE VIX Volatility Index which in good times oscillates around the  15 mark, right now it is around the 20 mark, however, we saw it today plummet to 11 before bouncing higher. So, no crisis here either.
The Dow Jones 30 is finding a channel bottom at 23,500 and is testing the 200 days moving average, we do not want to see that base broken as it would be a bullish sign.
I still do not believe there is nothing to worry about for now.  Buy those stocks on the dip.
Short-Term Trend (days to weeks) - Sideways
Medium-Term (weeks to months) - Sideways
Long-Term (months to years) - Uptrend
I recently provided feedback to a reporter on the question of bad stock advice.  I think my reply will be of interest to you.
What are some of the worst investing tips out there?
One of the worst pieces of advice I hear is "Invest in China Stocks, China is the future." This is bad advice for a number of reasons:
Over the past 6 years, hundreds of Chinese Companies have been launched onto the US stock markets through reverse mergers. Many of these stocks have been found to seriously overstate their earning and profits.
Because of limited oversight of Chinese companies and an inability to investigate them, these types of investments are highly risky.
The SEC has limited ability to investigate these companies as they are located in China
While I am sure there are good Chinese Companies out there, discerning the good from the bad is a big challenge and not worth taking the risk on. Activist Short Traders have even been targeting Alibaba (the Chinese eBay) a flagship Chinese Company, calling into question it's Book Keeping & Financial Reporting
These issues have been highlighted in the Film documentary "China Hustle" and every student looking to invest should watch this excellent movie. My advise if you want to invest in individual stocks is do your due diligence and invest in great U.S. companies, there are plenty to choose from.
Stock Market Today - Analysis - Nothing to Worry About
21 April 2018
As the fears of a possible crushing trade war start to recede, the TV talking heads on Bloomberg are now suggesting the recent pullback in the U.S. markets are due to the risk of rising inflation and with that the risk of the Federal Funds Rate rising to combat inflation and cool the economy.  There may be an element of truth to this speculation, but the fact is the market is not really overpriced right now.
When you look at the S&P Price Earnings Ratio of 23.8 it is neither overpriced or too cheap.  Sure is has risen constantly over the last 7 year, but so has the market and earnings.  It is simply a sign that the outlook for the markets is still strong.  On that note though, investors are starting to get nervous and we can see that in the increased price volatility.
If we look at market sentiment, via Stocktwits, for example, we can see that traders and investors are split between 60% bearish and 40% bullish.
Lastly, we can see a large possible Head & Shoulders top starting to form in the major indexes.  So keep an eye out for that.
I believe there is nothing to worry about for now.  Buy those stocks on the dip.
Short-Term Trend (days to weeks) - Sideways

- New

Medium-Term (weeks to months) - Sideways
Long-Term (months to years) - Uptrend
Stock Market Today - Analysis - China Trade War
17 April 2018
It has been 8 days since my last update.  The U.S. markets have given us little to worry about during this period.  In fact, reviewing the major U.S. indexes, show that the short-term trend has changed from down-trend to up-trend.  Earnings Season is in full swing and Netflix (NFLX) beat significantly on subscriber numbers boosting the stock price 8%.  Netflix is my largest holding and I am up 87% since purchase on November 30th 2017, not a bad return for 18 weeks.
Looming Trade War with China
I recently spoke to a reporter on a suggestion for how to invest in the shadow of a looming U.S. trade war with China and here is what I said.
"One possible move is to invest in great stocks with zero china exposure. This means they are neither manufacturing in or exporting anything to China. A great investment example in this niche is Netflix, with incredibly strong domestic streaming and aggressive growth internationally. Netflix has no real exposure to China with the vast majority of revenue from the U.S 56.9% and the rest from Latin America, Europe & the UK. Netflix did announce a content licensing deal with Baidu which has 500 million Chinese subscribers, but this should not be subject to any tariffs."
Short-Term Trend (days to weeks) - Uptrend

- New

Medium-Term (weeks to months) - Sideways
Long-Term (months to years) - Uptrend
Stock Market Today - Analysis - Why the Nasdaq 100
09 April 2018
As investors, we must seek to buy stocks in the best markets which have the biggest probability of success.  In the U.S. and of all the developed economy stock markets the NASDAQ is the clear winner, with the Nasdaq 100 seriously outstripping the S&P500, DJ-30 and any European major index (see stock market statistics).  I currently invest in NASDAQ Stocks, and all my index and stock backtesting proves the NASDAQ is the place to be historically and I believe, in the future.  Why, because the top tech stocks can leverage their businesses and profit like no other.
I recently sold Facebook (FB) as the Cambridge Analytica News Broke,  sealing in a profit and protecting from the 16% decline so far.  It is actually the worse performing of my NASDAQ investments by far.
If you watch Bloomberg, you will have the impression that the market is in complete turmoil, but it is not really.  Sure we have a bull vs. bears fight and the VIX Volatility Index has doubled from 10 to 20, but it is not a great concern at the moment.
The Stock Market Crash Detector signaled a Shock Event Warning for the week of the 23rd of March, but no Bear Market Signal so far.  The Trump led trade war with China is the big outstanding risk to the market, but there are plenty of stocks that will not be seriously affected even if it goes ahead, such as NetFlix.  However, I believe that the trade war is a bargaining chip that Trump is "cleverly" using.  China does a lot of dumping on U.S. markets and it needs to back off, see the NetFlix Series "Rotten - Episode Garlic Breath" for an insight into dumping of Chinese Garlic in U.S. Markets.
No change in the market direction for now.
Short-Term Trend (days to weeks) - Downtrend
Medium-Term (weeks to months) - Sideways
Long-Term (months to years) - Uptrend
Stock Market Today - Analysis - Volatility
27 March 2018
Volatility is the name of the game in the Stock Market today.  A 1.73% drop in the S&P500 and a whopping 3.32% decline on the outperforming Nasdaq 100, signals we are starting to see what could be the start of a pullback in the markets.  The last decline like this was in January 2016 when the S&P500 rested on the 200 week moving average then began an epic 30% increase. This indicates that we could see a pullback of up to 15% unless the market participants fight back over the next few weeks.
Short-Term Trend - Downtrend
Medium-Term Sideways
Long-Term Uptrend
Stock Market Today - Analysis - Trump Trade Wars
26 March 2018
After a 9 day retreat in the U.S. Markets, overshadowed by the veil of a Trump led trade war, the market has bounced back with heroic ferocity.  While the financial media is screaming that the next market crash is here, in actuality, there is no technical evidence in the market for this.
The LST stock market crash detector, which is simply the best implementation of technical analysis to predict an impending market crash, did, in fact, register a Shock Event Warning - meaning an external impact and pre-cursor to a crash.  While this long-term bull market is not technically impacted we remain in a:
Short-Term Trend - Downtrend
Medium-Term Sideways
Long-Term Uptrend
Do you want to Lean about how the Stock Market Works Today?
Take a look at our Stock Market Guide below, it will help you gain the knowledge you need.  If you want to fast-track your learning try our 16 Hour Intensive Video Training Course – Liberated Stock Trader PRO
Learn About The State of the Stock Market Today & The Real Statistics
101-00 – Introduction to Investing
Course 101 - Introduction
This training course seeks to help you understand what investing is.  It will help you to understand why you want to invest, what your goals are and what different types of investing options you have.The first sections look as what types of investors there are and the types of goals they set.The following sections then provide an overview of the types of investments you could make.
Stocks – investing in individual stocks on the stock market
Funds – investing in managed and unmanaged funds
Futures and Options – more advanced trading vehicles
Commodities & Precious Metals
Currencies, Bonds and Money Markets
We hope you enjoy this educational guide through the world of investing.
To Assess Your Knowledge Before the Course
101-01 Types of Investor
What Type of investor are you?
Before you start to buy and sell stocks it is important to look at who you are, and what you want to achieve.  To begin with you need to understand some basic terms.
The term investor has many different meanings, the Collins English dictionary defines it as "An investor is a person or organization that buys stocks or shares, or pays money into a bank in order to receive a profit". But this is a little generic to be used clearly for us to reference.
In the world of finance, investments and speculation, the way in which you seek to gain your profit dictates what you are.
The Speculator
A speculator seeks to exploit short term trends, loopholes, momentum or news to seek a gain on money invested. For example, if one sees that there is incredible positive volume on a stock and I want to trade into that stock to get a quick gain without having any in depth understanding of the company, industry or management team, I am essentially speculating that this event will make the stock rise.
Alternatively, someone who enters into an options contract shorting a stock, in order to make a profit is also speculating that the stock price will drop during a given timeframe. This certainly is not investing. None of the cash invested in the options contract will ever be seen by the company in question; therefore you are not investing in that company.
George Soros could be considered one of the ultimate Speculators, and indeed one of the most successful (his personal net worth is circa $7 Billion). Soros, known as the "man who broke the Bank of England", took out a $10 Billion short position betting that Pound Sterling would fall.  Although the Bank of England did everything it could to prop up the currency, it failed and Soros bagged $2 billion profit from the bet. Soros was betting on a future event happening. Was this risky? George Soros does not take undue risk, his knowledge of the global finance and capital markets enabled him to take a calculated risk, which paid off handsomely. What he did is classic speculation.
Those who speculate in stocks usually use charts, and news events to trade upon.
The Investor
An investor is usually someone whose money is used to capitalize a company; the money is then invested accordingly by the company to achieve better business results. An investor will seek a reward for his belief in an investment, and seek a profit thereof.
An investor, will have evaluated the worth of an investment, and seek a steady return from it. Someone who buys their own house is a property investor. An investor will often seek to minimize risk, and maximize reward. A smart investor will look to buy an investment at a time where it will be good value, and this value will help to minimize downside risks. An investor looks at the business fundamentals of a deal, and weighs facts not emotion to enable a thorough judgment to be made.
Buying Bonds, with fixed rates of returns are an investment for someone looking to improve upon the rate of return they get from their bank's saving/checking account interest, but also unwilling to take the perceived risks of purchasing stocks.
The Trader
A trader is someone who buys and sells a product, to make a profit. However someone who is an investor, could trade stocks, and also people who speculate usually trade contracts, stock, or use other more exotic tools. A day trader is someone who actively trades on an extremely short term basis to make quick normally small gains. This type of trading can be very risky.
What environmental factors impact your investment decisions?
While investing there are different elements that can impact your investment decisions:
Current Events: current events may be important if they lead to big events (for example the collapse of Freddie Mac and Fannie Mae), but applying the Pareto rule of 80/20 would suggest that 80% of current events are none relevant to you making money on a stock and 20% of current events cause 80% of bigger movement in stocks.
News: news is important, but does not mean you will make a profit or not, unless it is extremely macroeconomic "the government of Iceland just went bankrupt", or microeconomic "General Motors has gone Chapter 11" and you own the stock.
Rumors: the Wall Street rumor mill which is based primarily on emotion and short term news may get you too emotional and lead to erratic investment decisions.
The latest hot tips: usually provided by people with hidden interests or less knowledge about investment than yourself.
Hot stocks newsletters: playing on your ignorance and lack of understanding of what constitutes a good investment and making you pay for the privilege.
"Pay for" stock trading systems: systems designed to make trading decisions and even trade for you.
What type of investor are you?
101-02 What are your Goals?
What Are Your Goals?
"There are no sure and easy paths to riches on Wall Street or anywhere else"
Benjamin Graham – The intelligent investor
Early on in the learning process it is important to try to understand you goals for investing in the stock market.
There are a number of reasons to invest.
Using stocks as a supplement to other investments, to gain a higher overall return. This is a good and worthy goal, but lacks quantification. What return do you need to make as a minimum?
Wanting to gain financial independence: How much money do you need to be free from the system.
Retiring early, how long until you retire?  Can your investments really speed this up?
Getting rich quick.  This is a popular one, but almost impossible, except for those that are extremely dedicated and extremely lucky.
Beating the market.  A good choice, but what is beating the market?
Quantify your goals.
In investments you do not know when your goal is achieved unless you put a number on it. But what should that number be?
The Minimum Goal
A popular statistic on the stock market reruns is as follows:
"The Stock Market makes 10% per year on average". To beat the market you need to beat 10% per year, every year you are investing.
Well, let's put this to the test on the Standard & Poor 500 (SP-500) index. What have been the typical stock market returns for the last 40 years, from 1970 to 2009?
S&P 500 Opening Price 2nd January 1970 = 92.06
S&P 500 Opening Price 2nd January 2009 = 931.80
This equals a 6.5% per year annual gain.
We can also look at the Dow Jones Industrials (DJ-30), from January 1916, to January 2009. The figure was a 5% annual compounded gain.
So as a minimum, to beat the market we could say, you need to make at least 6.5% per year.
The Real Maximum Goal
So what is the realistic maximum? What do the best of the best achieve?
Warren Buffet - The Oracle of Omaha
Warren Buffet was the 2nd Richest man in the world according to Forbes in 2003 with an estimated net worth of $30 Billion. He is a self made billionaire who made it all from investments in stocks of companies.
Annual Compound Rate of return of 24.7%
George Soros - The Man who broke the Bank of England
In 2003 rated by Forbes as the 38th richest man in the world, a self made billionaire with a net worth of $7 Billion.
Annual Compound Rate of return of 28.6%
So it would seem over the long term, if you can achieve a rate of return close to 25% you are doing extremely well, in fact you are among the best of the best.
Putting it all in perspective
As you surf the web, you will be accosted by certain "Get Rich Quick" schemes, offering you amazing rates of return on your money. Typically these take the form of Hot Stocks Newsletters, Special Trading Systems, Personal "Rags to Riches" stories to touch your emotions, "and for only $50 you too can learn to secret to unparalleled wealth".
Do not believe the hype. Do not expect more that 25% per year, at the very most. Ask these people, if they are so successful, are they not on the Forbes Rich List?
101-03 The Big Picture
The Big Picture
How global events can affect your investments
All of our investments are subject to global environmental and economic events.  In this section we explore these factors
Boom & Bust Cycles
The financial crisis of 2007-2009 is nothing new.  A crisis occurs every 20 years or so where some event occurs to cause a correction in the markets and widespread panic to investors. The recent credit crisis is different only in the fact that the pullback was so rapid and volatile. The SP-500 had pulled back to the 2003 lows in 3 months. When the tech bubble burst in 2000, it took 3 years for that pull back to happen.
Health of the banking system
Massive failures in the bank's risk management and a lack of regulation has largely been attributed as the main cause, of the domino effect that started the financial crisis.
Demand downturn
Consumer and industrial demand is an important factor in the health of the economy.  If this is affected negatively it can impact nearly all investment types.  During the financial crisis of 2008, a demand downturn occurred creating an even bigger impact, as people were already in debt and could not finance new debt. Therefore they reduced their spending.
Increases in unemployment
As demand reduces, so we need less jobs to make the products that nobody wants anymore.  This means less people buying products, this then affects the profitability of business.
Developed world Debt
The developed world has taken on too much debt lead by the U.S.  Even the solution to the financial crisis was to take on more debt to create the stimulus package to be able to kick start the economy and create jobs.
Political unrest
Continued political unrest destabilizes regions and is not good for business.  What is not good for business is not good for your investments
Economic Policy
Economic policy can seriously affect investments.  Both monetary policy (the control of money) and fiscal policy (the control of spending) can have an impact.  The goal of central banks is to control inflation and manage the money supply to achieve growth.  If inflation rises this is very bad for stocks and diminishes stock market returns.
101-04 Managing Risk
Managing Risk
What is risk?
We manage risk every day.  The process by which we decide what the potential downside of a particular deal is compared to the upside.
For example, if your bank loans you $10,000 for a new car and you agree to pay back in total $10,500 in three years time, the bank will make a total gain of 5%.  This is the reward.
However, the bank must seek to evaluate if the reward is worth the risk.  To do this they would like to know how much you earn, how much debt you currently have, if you own your own house and if you ever defaulted on a loan before.  They might come to the conclusion that there is a 0.5% chance of you failing to repay the loan.
This would mean that for the gain of $500 they are willing to take the risk of the loan defaulting.
The risk of 0.5% compared to the reward of 5% means the bank would have a risk reward ratio of 1/10.  As 0.5% is one tenth of 5%
You should try to use this method of assessing risk in your investment.  What are the chances of this bond, treasury, stock, precious metal falling in price or becoming worthless?  What will be the expected reward?
It is a common statement in the financial services industry that stocks can go down as well as up.  This is also true for all investment categories.
Diversifying Your Investment Portfolio
Diversifying your investments is a good way to achieve long term balanced growth.  Different investment vehicles behave differently at different times.  During times of recession or economic hardship, stocks perform badly and precious metals and treasuries do well.
During boom times, property and stocks outperform metals and bonds.  It can serve you well to allocate a proportion of your investments into different asset classes based on time and risk profile.
Low Risk – Bonds, Treasuries, Bank Account
Medium Risk – Housing, Property, Mutual Funds, ETF's
Higher Risk – Individual Stocks
Highest Risk – Options, Currencies, Commodities, Spread Betting, Contracts for Difference (CFD's)
Your goal in investing can often be determined with the spread of risk as you diversify your investment pot.
Summary
We have covered some of the fundamental questions that face you, what type of investor are you, what are your goals and how to manage risk.
In the next section we will look at the different types of investments you can make.
101-05 Investing in the Stock Market
Investing in the Stock Market
There are various strategies that can be used to make money in the stock markets.  These include investing for dividends, investing in penny stocks, blue chips, small capitalization stocks "small caps", exchange traded funds (ETF's) Mutual Funds, Hedge Funds and real estate investment trusts (REITS).
In this section we take a throrough overview of the terminology and the vehicles available to invest in.
Buying Stocks for Growth
Most people associate the stock market with the rise and fall of stock prices.  They would be correct, the appreciation and depreciation of stocks price are the most common form of profiting from the stock market.
You purchase a stock at $10 and sell it for $12 this equates to a 20% profit (excluding transactions costs and taxes on the gains).
Relying on the profit source to be the stock price means you would inevitably want to invest in growth stocks.  Stocks experiencing a price appreciation at or better than the market average.
Growth stocks may typically be companies that are relatively new to the market and have carved out a profitable niche which is growing at a rapid pace.  The factor to consider in growth stocks are:
How long will the growth last?
Can the company turn fast growth into profits?
Can the company dominate the market in its niche?
How experienced are the management team?
In addition to looking at price growth one should consider any dividends a company may be paying.
Buying Stocks for Dividends
Of the 5800+ stocks currently available to purchase on the major U.S. indices circa 2800 companies currently offer a dividend payout.
A dividend is an offer from the company to payout a portion of its income (after tax profits) to its shareholders.
These companies tend to be well established with a stable income stream enabling them to offer a constant dividend.  The dividend is essentially a reward to the shareholder for holding the stock.
Types of Dividend
Regular Cash dividend, the most common type of dividend payment, usually released quarterly.
Extra dividend is a special dividend usually a large one off payment to shareholders
Liquidating dividends usually paid if there are any left-over or allocated funds during the company's liquidation.
Dividend Payment
The dividend payment is usually expressed in dollars per share.  This means if you own 100 shares of a company whose stock price is $200, if the company pays out $5 per share then I will receive 100 X $5 = a $500 payment.  Usually this is distributed on a quarterly basis, meaning I will receive $125 per quarter.
Dividend Payment = Number of Shares X Payment per Share
Dividend Yield
Here is an example of the dividend yield.  Joe owns 1000 shares of ABC Company at a cost of $10 per share.  ABC pays out a regular dividend of $0.50 per share.  As a single share of the company is worth $10, $0.50 equates to a dividend yield of 5%.
Dividend Yield = Annual Dividend Paid / Stock Price
This 5% is essentially what you earn on your money regardless of stock price growth.  Of course if the stock price deteriorates during the period in which you hold the stock this may mean your net profit reduces.  For example, your make a 5% profit in terms of dividend yield, yet the stock price has depreciated 5%.  This means your net profit if you were to sell would be zero.
Dividend Payout Ratio
This is the proportion of the Earnings per share that is paid out in dividends.  For example if a company earns $2.50 in earnings for every outstanding share and it pays out $0.50 per share in dividends, then the dividend payout ratio is 20%.
Dividend Payout Ratio = Dividends per Share / Earnings per Share
Ex-Dividend Date
This is the date two business days prior to when the dividend payment is scheduled.
For example if you purchase a stock on April 24th and the company announces the dividend payment date is April 30th, then you will be entitled to the dividend.  However if you purchased the stock on the 29th of April, then the previous owner of the stock will receive the dividend.
What kind of dividend payouts can you expect?
Of the 5000+ stocks currently on the major U.S. Indices approximately 50% of the companies pay out a dividend.  Here are some interesting facts.
There are 2800 companies paying a dividend
Less than 0.5% pay-out a dividend of more that 10%
25% of the companies pay out a dividend yield of between 5% and 10%
Less than 1% of companies pay a dividend of less than 1%
This means approximately 74% of the companies pay between 1% and 5%
A reasonable expectation is that you should receive a dividend of around 5%.
Dividends can be a great way to generate a steady income from stocks, but beware if a stock price is rapidly falling and the company is in trouble your net profit may not be as high as you expect.
101-06 Types of Stock
Types of Stock
Common Stock
Common stock is the most commonly available type of stock.  This is what you would typically purchase when buying through brokers.  It represents a stake in the company.  If there are 10 million shares available for a company on the market and Bob purchased 1 million of them this would essentially give Bob a 10% stake in the business.  Along with purchasing common stock you will get other benefits such as voting rights and the rights to receive any paid dividends.  The voting rights will give you a vote in the election of the board of directors and corporate policy.
One of the negatives of owning common stock in comparison to being an owner of corporate bonds or a preferred stock holder, is that you are further down in the pecking order to receive your investment back should the company go into liquidation.  In this instance first the bond holders and other loan providers are paid, then the preferred shareholders and then lastly the common stock holders.
The biggest benefit of being a common stock holder is that you will benefit the most from the growth in share price.  Also, common stock is normally floated a regulated exchange and therefore maintains a good level of liquidity.  Liquidity means that there are usually enough buyers and seller at hand to ensure the stock is priced fairly.
Preferred Stock
Preferred stock is the type of stock that has more benefits in terms of claims on the underlying assets of the business in comparison with common stock.  It is important to read the small print when buying preferred stock as the exact rights of preferred stock varies from company to company.  In general the structure of the agreement will exclude voting rights and include a higher priority on dividend payments versus common stock holders.
One drawback apart from the lack of voting rights is that the preferred stock may not be available on the open market, meaning that it may not appreciate as much common stock and might not have the required amount of liquidity if you wish to sell.
Penny Stocks
Penny stocks are so called because they tend to have a stock price below one dollar or even a stock price of a few cents.  While penny stocks may give the impression that they can double in value any minute and seem exciting to trade, the fact is they are penny stocks for a reason.
Reasons for stocks to be worth very little:
Weak products
Selling in a weak or shrinking market
They may be out of favor with investors or not be on the radar
They could be heavily in debt
They have weak management
Stock prices are low because the company is not valued highly by the market.  So why would you buy them?  Also many microcap (penny stocks) are not traded on the normal exchanges directly but in what is called the OTC (over the counter) or pink sheets market.  This means you might see wider spreads and a seriously reduced liquidity.  Liquidity is everything when trading stocks because even if the price rises you may not be able to sell the stock at the price you want because no one else is buying.  Also even worse with low liquidity, if the stock is falling and you want to sell there may be no buyers and this can absolutely crush the value of the stock causing you to completely wipe out.
Many new stocks newsletters have sprung up over the years to break into this lucrative market they offer their services for free.  "FREE STOCKS NEWSLETTERS".  Just do not forget few things are "FREE" in this world and the price you pay for these free newsletters is that the information will be biased against you.
101-07 How to Lose Money in the Stock Market
How to lose money in the stock market
If you are new to trading or even if you have been trading for a while there is something important you really need to know. There are a number of businesses out there that peddle "Hot Stocks Newsletters" or "Penny Stock Newsletters".  While in theory there is nothing wrong with this as a service, quite a number of these publications operate under a clear conflict of interest.
For example, go to Google and type the following.
"HOT Stocks Newsletters"
Here you will see Google adverts from companies promising high 100% + returns from buying the stocks they recommend.   However if you visit any of these sites and navigate to the disclaimer you will find an important piece of text that explains their business model. Here are a few examples.
DISCLAIMER EXAMPLE 1
"Since (Company Name Deleted) receives compensation and its employees or members of their families may hold stock in the profiled companies, there is an inherent conflict of interest in (Company Name Deleted) statements and opinions and such statements and opinions cannot be considered independent. (Company Name Deleted) and its management may benefit from any increase in the share prices of the profiled companies. (Company Name Deleted) services are often paid for using free-trading shares. (Company Name Deleted) may be selling shares of stock at the same time the profile is being disseminated to potential investors; this should be viewed as a definite conflict of interest and as such, the reader should take this into consideration."
DISCLAIMER EXAMPLE 2
"Investing in micro-cap and growth securities is highly speculative and carries and extremely high degree of risk. It is possible that an investor's investment may be lost or impaired due to the speculative nature of the company profiled. (Company Name Deleted) its operators, owners, employees, and affiliates may have interests or positions in equity securities of the companies profiled on this website, some or all of which may have been acquired prior to the dissemination of this report, and may increase or decrease these positions at any time."
So lets decipher this.
"Company A" wants to boost its share price.
It speaks to a purveyor of HOT STOCKS NEWSLETTERS, preferably one with a huge email contact list.
"Company A" may agree to give the Newsletter publishers payment in the form of "Company A's" stock, for the service of convincing its clients to buy those stocks.
The Newsletter publishers receive these stocks, then they recommend buying "Company A" in their newsletter.
As the people receiving the email start to buy the stock the stock naturally rises.
As the stock rises the newsletter publisher and perhaps even people inside "Company A" can then sell the stocks to realize a profit.  This is called selling into strength.
The people receiving the emails see the stock rise temporarily and then fall.  Of course they cannot complain because they will be advised they should have sold sooner and that they should read the disclaimer.
That is how it works. Beware!
Summary
In this section we learned about different ways of making money in stocks and the types of stock that exist.  We even discussed how to avoid potentially biased "Stocks Newsletters".
In the following section we take a look at investing in funds.
101-08 Investing in Funds – Mutual Funds
In this section we look at the different types of funds that exist and the typical characteristics they have.
Mutual Funds
The mutual fund is one of the most common investment vehicles in the United States.  Almost half of all U.S. households have money invested in Mutual Funds, perhaps as part of a 401k or retirement planning.
The idea behind the creation of mutual funds over 20 years ago was to form a company which will invest the money of the investors on their behalf.  If you invest in the mutual fund, you would actually be investing in the company; they would then take your money and invest it in an array of assets, stock, bonds or treasuries.
As an owner of a piece of the mutual fund, you will be able to earn money from potentially three revenue streams:
Income earned from the dividends paid on the assets the mutual fund owns should be distributed to the shareholders.
If the underlying assets (Net Asset Value-NAV) of the mutual fund increase this should be reflected in the worth of the fund.  The NAV should be calculated every day by the fund.
If the fund realized any gains from the sale of assets it owns, this capital gain can be passed on to the fund holder.
The advantages of mutual funds:
Diversification in the asset base of the fund should mean less risk in terms of spreading the capital amongst differing asset types.
Economies of scale can be achieved as a larger fund will pay less in transaction costs for the assets it deals in.
Liquidity is another benefit as the shares in the fund can be cashed in at any point.
The disadvantages of mutual funds:
Cost of management - The overhead of paying for star fund managers and the management hierarchy of the company can increase the costs of owning mutual funds.
Success of the professional fund managers -  The majority of Fund Managers fail to beat the market.  This means that they fail to return more in returns that the underlying indices to which the assets belong.
Complicated Cost Structures - The fees involved in owning a mutual fund can vary a lot depending on the costs of the business and the profit targets of the management team.  The costs presented to the customer can be difficult to understand and if they exceed a few percentage points can often wipe out the profits gains from the underlying assets.
For example, your mutual fund made an annual return of 5% for 2012.  If the S&P500 Index made a return of 8%, then you could consider that your fund managers have not been successful.  Also if from the 5% you earned from the fund you had a 2% management fee, you could consider your net gain to be 3% which would have grossly underperformed the stock market.
Always compare your mutual funds performance against a standard index such as the Dow Jones Industrials (DJ-30) or the Standard & Poors 500 (S&P500), over a period of 5 years to see which performed better.
There are other types of investments that seek to minimize the drawbacks of mutual funds whilst providing many of the benefits, such as exchange traded funds and index trackers.
101-09 Exchange Traded Funds, ETF's
What Are Exchange Traded Funds (ETF's)?
At first glance an ETF may look similar to a mutual fund.  But this could not be further from the truth.
Exchange Traded Funds (ETF's) are a simple and effective way to invest in nearly every imaginable market segment, industry, index or even the global stock market.
There is currently a huge variety of ETF's which are designed to track the performance of any of the following:
A stock market index – The  S&P500 (Ticker SPY)
A commodity – Gold (Ticker GLD), Silver (Ticker AGQ)
An Industry - Global Telecoms Sector (Ticker IXP)
Size of Stocks – Small Cap Value (Ticker VBR)
A Country – Russia Bull (Ticker RUSL)
A Currency – British Pound Trust (Ticker FXB)
Futures Contracts – (Short Term S&P500 Futures (Ticker VXX)
ETF's trade like a stock on the open market, this is beneficial as it means a good level of liquidity and lower transaction costs.  As with any financial transaction you need to know the character of the instrument you are using.
Directional Investing with ETF's
ETF's can also be used to trade in the direction you wish.
BULL ETF – An ETF with the word "Bull" indicated in the name means the fund will be profitable if the underlying assets increase in value.
BEAR ETF – An ETF with the word "Bear" or "Inverse" in the name indicates that if the underlying assets decrease in value you will make a profit.
Leveraged investing with ETF's
ETF's are also designed to provide you leverage built in.  If a fund has the term 2X or 3X in the name, it means the fund will attempt to replicate the movement of the underlying assets but magnify the gains by twice as much or three times as much.
For example, if you believe the stock market and in particular the S&P 500 is going to pull back (go down) over the next three months, you may decide to purchase the Rydex 2x Inverse S&P500 ETF (Ticker RSW).
The 2X refers to the fact that the ETF managers seek to emaulate a two times return based on the price movement of the underlying assets.
So, if the market goes down 5% and you own a 2X Inverse ETF you should then expect to profit by 10%.
If you had a normal 2X ETF that was not inverse and the market went down 5%, you would lose 10%
With all ETF's the caveat is they "seek to emulate", this means it is not always a perfect science especially with the bear market funds.  Some ETF's do the job better than others.  Do your research.
An example from August 2011, the market went into a short term correction, meaning the market went down.  This table shows some of the best performing ETF's during the market decline.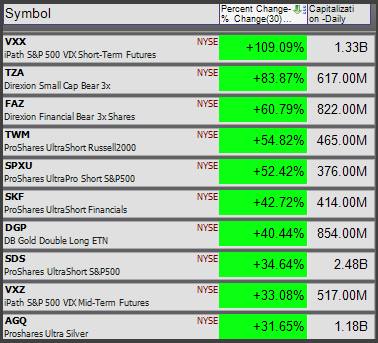 This is a list of the ETF's with the best percentage gains over the 30 days in August 2011.  They are also filtered so that ETF's with a capitalization of less than $200 million are excluded. This filtering helps to ensure that there is enough liquidity in the trades to enable easier entry and exit.
Exchange Traded Notes (ETN's)
The ETN is similar to the ETF as it trades openly on the stock exchanges; however its underlying characteristics are different.  It is a hybrid of an ETF combined with the debt ownership of Bonds.
For example you may hold an ETN to maturity and at that point you will be eligible to receive a cash payment equivalent to the principle value of the note.
101-10 Hedge Funds & REIT's
Hedge Funds
A hedge fund is designed for sophisticated investors or higher net worth individuals.  As such there are usually higher entry costs, such as a minimum investment of $50,000 or $100,000 to get started in a fund.
The funds are usually aggressively managed to try to ensure maximum returns that should in theory significantly beat the index they are bench marked against.  Unlike mutual funds they may not specify a particular asset or investment style that they wish to stick to.  This enables them to remain flexible and adopt any investing tactic that suits the current market conditions.  At any given point a hedge fund may be:
Long - betting the market or underlying assets will increase in value
Short - betting the assets will decrease in value
Highly Leveraged – meaning for every $1 they have in actual capital they may borrow $10 to maximize their returns, this is 10X Leverage
Investing in currencies, property, commodities, stocks, ETF's and other even more exotic instruments like credit default swaps (CDS) or collateralized debt obligations (CDO's)
High Frequency Trading – using computers to arbitrage deals at a very high frequency. For example.  If gold sells at $1600 an ounce in the U.S. and $1590 an ounce in Australia, they may choose to buy in Australia and sell the gold in the U.S. for a $10 per ounce profit.
As a reward for the aggressive investment strategies and higher returns the hedge fund will usually see a 2 and 10 pricing structure.  This means they will charge the investor a 2% annual charge on the entire investment they have made and also keep 10% of the profits they have made with the investors money.
Real Estate Investment Trusts (REITs)
Like an ETF a REIT trades directly on an exchange but its underlying assets are usually property related.  REITS may also take the form of a mutual fund if the fund is focused on property only.
As the name suggests a Real Estate Investment Trust will either invest directly in property or invest in the underlying mortgages.
Key types or properties invested in include:
Commercial Property:  Office Blocks, Event Venues, Shopping Malls, Hotels and Warehouses.
Residential Property: Land and Apartment Blocks
Property REITS seek to make profits from the renting out of the property and by the increase in the value of the underlying asset.  For example a REIT may own a building on Wall Street.  They may rent that property to a number of Financial Institutions, thus earning a regular income from the asset.  They will also be able to realize any increase in the value of the property as profit also.
Mortgage REITS invest in the mortgages that provide the capital for others to buy the property.  They supply the capital to fund the mortgages and earn the percentage interest paid on the mortgage for the duration of the agreement.  They may also purchase mortgage backed securities.
Some REITS may combine both strategies, this in known as a hybrid REIT.
A key advantage of a REIT is that is has special Tax benefits and it offers the investor a method to profit from any increases in property value without having to invest in the property directly by taking out a mortgage and maintaining the property.
Summary
In this section we examined ETF's, ETN's, mutual funds, hedge funds and REIT's.  We also examined the advantages and disadvantages of each.  In the next section we take a look at more advanced ways to invest such as stock options and the futures market.
101-11 Futures Markets – How to they work?
This section provides an overview of the futures markets and trading stock options.  It will provide you a good understanding of why the markets exist and how people seek to profit from them.
The Futures Markets
Futures contracts are traded on the futures markets.  They differ markedly from other contracts or financial transactions.
Using futures is a common way of hedging your bets or indeed securing a given asset at today's price for an agreed future delivery date.
For example, the sugar cane farmer may require some investment in new machinery for next year's harvest.  He could enter into a futures contract by selling 100,000 pounds of sugar for 21 cents per pound; he would receive the money and fix the price for the future date.  The other side of this trade might be a chocolate manufacturer.  The chocolate manufacturer sees that sugar prices are rising rapidly and decides that this will negatively affect his profit margins, so he enters into the agreement for delivery of the sugar in 2 years time at today's price.
This enables the chocolate company to hedge the risk of rising prices, but also enable the farmer to invest in the machinery to deliver the product.
It could also work the other way.  The farmer might see that sugar is at an all time high and decide to sell futures contracts at this price to ensure that he received this higher amount in the future, thus protecting himself from any downside swings in the price of sugar.
One important point, a futures contract normally does not mean you need to take delivery of the goods on the delivery date.  Mostly this just means the contract terminates and you receive the cash equivalent.  Then the money you have gained from the futures transaction you can then use to go the spot market and purchase the sugar you need.
A futures contract whether for commodities, currencies or even based on the movement of a stock or index, is simply a financial derivative based on the underlying assets value.
101-12 Stock Options – How do they work?
Stock Options
Options, share some similarities with futures contracts and with normal stocks, but they are inherently different.
Options are simply a contract; you do not own the underlying stock that determines the value of your options contract.  Unlike stocks which you can hold indefinitely, options contracts all have an expiry date, and the closer to the expiry date you get the less your option is worth.
As you do not actually own the stock only a promise to pay the difference between the stock price now and the stock price at some point in the future you will see that the options contracts cost as little as 2% to 20% of the cost of owning the stock.
Stock Options are simply a vehicle to achieve a goal.  For those people who cannot use leverage to increase their total investment pot, Options are a cheap and effective way to leverage your invested capital.
The best way to understand options is to run through an example.
Stock Options versus Stocks
For example, you have $1,000 to invest.
Strategy 1 – Buy the Stocks
You could buy 5 shares of Amazon Inc. (Ticker:AMZN) at $200 per share.
Total Costs $1000
If Amazon moved up 10% over the next 2 months to $220 your profit would be
($220 - $200) = $20 per share.  5 Shares * $20 = $100
A 10% gain.
Strategy 2 – Buy Options on the Stock
You could buy one "At the Money Call Contract" for AMZN with a strike price of 200 and an expiry date of May 21 2013.  The contract value is $10 per share.  Because you will control 100 shares with each contract and you buy one contract, your costs for the trade are $1000.
In options speak:
1 contract means you will have control over 100 shares of AMZN
At the money means the strike price of $200 per share is equal to the actual stock price.
Strike price is the point at which the option will have a value (apart from the time value)
Expiry Date is the date at which the option contract expires and loses all value.
In the same scenario as above the stock price moves 10% to $220.  The difference in price is $20 per share.  The contract was at a strike price of $200, therefore $220 - $200 = $20 profit per share.
Theoretical profit would be 100 * $20 = $2000, a $2000 gain from a $1000 investment.  This means a gain of 100%.
I say theoretically because when you buy an option the clock starts ticking on the time value.  If the stock price took until the final month before expiry to move to $220, then you would have lost all of the time value of the contract which could reduce your profits.  However, if the stock had moved 10% in a single day you would have secured almost all of the 100% and also kept much of the time value in the stock.
What are the risks of options, compared to simply buying the stock?
If the stock price moves against you, you can lose the entire investment.  With stocks this is quite rare, stocks rarely move to zero unless the company goes bankrupt.
If the stock price does not move at all in the time period, your investment can also expire worthless.
The stock needs to move in the direction you place the bet to make a profit.  If the stock price moves strongly your profits can be quite large.
Strategy 3 – Shorting stock using options
Using the exact same scenario but instead of us expecting the stock to increase in value we expect it to decrease.
AMZN has a current stock price of $200
You could by one "At the Money Put Contract" for AMZN with a strike price of 200 and an expiry date of May 21 2013.  The contract cost $10 per share and there are 100 shares in a contract.  Cost of investment is $1000.
In options speak:
1 contract means you will have control over 100 shares of AMZN
"At the money" means the strike price of $200 per share has already been reached.
Strike price is the point at which the option will have a value (apart from the time value)
Expiry Date is the date at which the option contract expires and loses all value.
In this scenario the stock loses 10% in value to $180.  The difference in price is now $20 per share.  The contract was at a strike price of $200, therefore $200 - $180 = $20 profit per share.
Theoretical profit would be 100 * $20 = $2000.  This means a gain of 100%.
Options Summary
Options are a complex instrument, but the more you understand them the more they make sense.  With experience you will see that they are an incredible flexible investment tool.  However, before even thinking about trading options you will need to understand how to pick stocks, evaluate market direction and formulate a strategic systematic approach to investing.  Options will be discussed in more depth in a future lesson.
Summary
Now you know why the futures market exists, you also understand the basics of stock options.  Now it is time to look at commodities.
101-13 Commodities Markets
This section takes a look at commodities and precious metals, the physical goods that form the building blocks of the products we use and the food we eat.
Commodities Markets
Commodities were traditionally physical goods or raw materials such as sugar, maize, barley, pork bellies, milk, cocoa, cotton, gold, silver or copper.  However, the commodities exchanges have expanded to encompass more modern items such as, energy and even RAM chips for computers.
In the commodities market there are different types of transactions.
Spot Trading
The participants in a commodities spot trade usually expect to receive immediate or near future delivery of the actual goods they have purchased.  This is a way for the corn farmer to find a buyer for his corn on the open market.  Spot trading because of the short delivery time will usually take place in a wholesale market and allow the buyer to inspect the goods.
Forward Contracts
A forward contract is the agreement to exchange the goods at a specified time in the future for a price that is agreed upon today.  This protects the corn farmer from falling prices and the corn oil producer from rising prices.  This minimizes the risk for both parties of doing business.
Futures Contracts
As discussed earlier in the futures section, commodities can be traded as futures contract meaning that the buyer and seller of the contract to not necessarily expect to actually receive delivery of the commodities they have purchased they simply receive the cash equivalent.
In the U.S. the regulating body for the commodities exchanges is called the Commodities Futures Trading Commission.
101-14 Investing in Precious Metals, Gold & Silver
Precious Metals, Gold & Silver
Precious metals are typically traded on the Commodity Exchange (COMEX) part of the New York Mercantile Exchange (NYMEX).  Other non precious metals are traded on the London Metal Exchange.
Typically the word precious metal refers to Gold, Platinum, Palladium and Silver.  Precious means they are rare or have a high value.  The value of the metal is usually measured in Troy Ounces.
The price is determined by a mixture of supply and demand variables.
If supply is restricted this increases the value of the metal.
If the demand for the metal outstrips supply, this increases the value of the metal.
Examples of demand include the purchasing of gold by the federal reserves.  This increases demand to an already limited supply of gold pushes up the price.
If all the gold in the world was collected and smelted together we would probably have a 25 meter cube.
Gold has no real discernible use apart from for jewelry.
However, Silver is different.
Silver is incredibly useful for industry having the highest electrical conductivity of any element and the highest thermal conductivity of any metal.  Silver performs vital roles in electronics, photography, water purification systems and even deodorant.  Silver is a natural germicidal agent like other heavy metals but is not toxic to humans.
Silver's value tends to be more volatile than gold and can be impacted by the supply from the mining companies and from recycling used silver, but also by the demand from industry and investors.
Gold and silver are often seen as investment that can hedge against the devaluation of currencies.  Worries about the dollar and the euro eventually losing most of their value drives investors to seek to collect as much gold and silver as possible.
One can easily invest in silver and gold by buying coins and bullion.  Of course the price of silver means it is easier to accumulate in smaller amounts over time.  A 2012 1 oz American Eagle coin costs approximately $30 in 2012 whereas the gold version of the coin sells for approximately $1600.
One can also invest in mining stocks specializing in exploration or excavation, or alternatively precious metal ETF's or gold and silver futures.
Summary
Now you understand the basics of the Commodities markets and also the reasons people trade and invest in precious metals.
The final section in this introductory course looks at cash based investment tools.
101-15 Investing in Currencies, Foriegn Exchange Markets
In this final section we seek to understand the essentials of commodities trading, how the money markets work and finally what exactly is the appeal of bonds.
There are other ways to speculate in the stock market that are not stock or commodities related.  In this section we take a look at the currency markets, treasuries trading and bonds.
Foreign Exchange Market
As an enabler for international trade the Foreign Exchange Market (FX) is the biggest most liquid market in the world.  The FX market is multiples larger than all the stock markets in the world put together.  Every day over $4 trillion of currency are exchanged.
The FX market is different because there is no central exchange, the transactions simply flow around the globe electronically to the exchange that is currently open at the time, this means traders can trade 24 hours per day, 5 days per week.
The main participants in the market are banks, institutions and individuals.
Individuals
Individuals may use the FX market to exchange money before and after going on holiday to a foreign country.  These transactions are usually committed through a bureau de change, or a local bank.
Retail FX Traders
Due to improved access and a plethora of new retail FX brokers joining the market, it is now possible for individuals to speculate on the FX markets.  This represents an ever growing portion of the market.  However, retail speculation is still a tiny proportion of the overall market.
Institutions
Institutions may use the FX market to speculate in an attempt to make profit based on the fluctuations in the valuations of the different currency pairs.  A currency pair is for example the USD/EUR, the value of the US Dollar versus the Euro.  Major institutions such as central banks and commercial banks account for more than half of all transactions.
Central Banks
Central Banks usually hold substantial amounts of foreign exchange as an investment.  The more they exchange their own currency for another currency the more they affect the value of the currencies.  They can use this method to stabilize a currency or strengthen it depending on the economic strategy pursued.
A weakening currency (meaning the currency is losing value) can be very good for businesses located in that country as is means that their exports become cheaper, therefore boosting trade.  This is a double edged sword, because if the country needs to import a lot of raw materials to make their products then the imports become more expensive.
Trading FX
The foreign exchange market enables the exchanging of one currency into another.  Therefore they are traded in pairs.
The most traded pair today is the USD/EUR or the EUR/USD
Understanding the pricing
Example 1
USD/EUR
In the currency pair above the first listed currency is the USD, this is known as the base currency.  The value of the base currency is always 1.  The EUR the second currency is the counter currency.
Example 2
USD/EUR 0.79
In this example 1 U.S. dollar can buy 0.79 of a Euro.
Example 3
EUR/USD 1.25
In this example 1 Euro can buy 1.25 U.S. dollars
Example 4
Day 1 - EUR/USD 1.25
Day 10 - EUR/USD 1.30
In this example on day 1 the quote for EUR/Dollar means you can buy 1.25 dollars per euro.  By day 10 you could buy 1.3 dollars for each euro.  This means that the base currency (Euro) has strengthened against the counter currency (Dollar).
So if you had purchased euro using dollars on day one and then exchanged the euros back to dollars you would have realized a profit of 0.05 dollar cents per euro owned.  This would equal a gain of 4%.
A key advantage of investing in foreign exchange is the foreign exchange markets are highly liquid and highly competitive; this means low spreads (the difference between the Bid and Ask Price).
A big disadvantage is that the price fluctuations are very small, so to make a reasonable profit the retail investors usually use a large amount of leverage.
Leverage is when you borrow money to add to your capital to make an investment.  This helps to magnify the gains but also increases the risk exponentially.
If you have $10 to invest, and you borrow $90, you will have $100 to invest.  With this capital your make an investment and make a 10% profit.  Now your total capital is $110.  When you pay back the lender the $90, you are left with $20.  This means you have actually made a 100% profit as you started with $10 and ended with $20.
The problem here is that if I had made a 10% loss instead of a 10% gain on my investment I would have lost all my money.   Eventually this is what happens to most inexperienced retail investors, they lose all their money.
Trading foreign exchange is a high risk gamble and you are up against huge institutions and professionals across the globe.
If you are intent on trading currency, then you need to be an expert in technical analysis and market timing.  The nature of FX is that any errors mean you lose a lot, currency trading is practiced by expert technical analysts in institutions, so do not speculate with your money unless you know what you are doing.
101-16 Investing in Money Markets
Money Markets
Money markets facilitate the circulation of money and provide a vital supply of money from those who have it to those who need to borrow it.  Money is widely seen as a commodity in its own right and is traded like one.  This transfer of money is vital to the help of an economy and provides an efficient way of distributing capital.
If you went to your bank for a loan for a car, the bank would typically lend you the money by issuing asset backed commercial paper (ABCP).  A mortgage is funded by mortgage backed securities.  These are offered on the money markets and the entity that lent the money to the institution will make a profit relative to the risk of the security.
In the example below the commercial lender and the money market institution make a % profit on the deal.  The accumulated cost of money + the percentage profits for the commercial lender and the owner of the ABCP should equal the effective percentage you repay on your car loan.
Individual < --- (Car Loan) <---  Commercial Lender ---> (ABCP)  ---> Money Market Institution
Types of Money Market Instruments
The money markets contain many types of tradable instruments; the more common types are listed here.
Certificates of deposit: usually offered to consumers by banks and credit unions
Commercial notes: Issues by corporations to be able to fund cash flow and short term debt
Federal Funds: deposits held by banks that earn interest for the Federal Reserve.  This is immediately available credit for financial institutions to enable liquidity for the institutions to function.  The Federal Funds Rate (FFR) is the cost of the capital for the institutions.
Municipal Notes: these are issued by cities or municipalities to provide liquidity in advance of receiving tax revenue.
Treasury Bills: issued by governments, these are debt obligation that pay a fixed interest to the bearer
So now you know what money markets are for and what products can be purchased there.
101-17 Investing in Bonds
Bonds
A bond is an agreement between an issuer, usually a corporation or a government and a holder usually a commercial institution, individual or another government.  The holder of the bond will expect to receive a fixed interest (the coupon) return for loaning the money and also expect to receive the principle (total sum loaned) back after the bond matures.
A bond is a generic word for a debt agreement or IOU but the actual names depend on the lifetime of the agreement.
Bills: have shorter term maturity dates usually between one and five years
Notes: medium term loans between six to twelve years
Bonds: longer term loans of more than twelve years
So now you know that a U.S. Government T-Bill is a treasury bill that is issued by the U.S. government for five years or less.
The coupon, or the interest earned by the holder of the debt varies depending on the credit quality of the institution issuing the bond.
For example if the German government issue bonds (bunts) they expect to only have to pay a few percentage points to the holder of the bond because they have a very good credit rating.
However, Spain when issuing bonds to cover their financial and tax revenue shortfall are considered riskier therefore has to pay a higher amount of interest, up to 5% or 6%.
This is why it is important that debtor nations like the U.S, UK and other European countries ensure their economies stay in good shape, as the cost of borrowing could suddenly increase due to perceived risk, and this could plunge a country into repayment problems.  This is why in 2012 we see serious issues in Europe with the PIGS (Portugal, Italy, Greece, and Spain).
Summary
This completes the section on cash based trading.  You can take advantage of fluctuations in currencies to seek a profit.  Due to leverage this can be risky.  We also looked at one of the safest investment tools which are bonds.
101-18 Investing Course Summary
In this course you were provided with a whirlwind introduction to investing goals and the different ways of investing your money.  We covered stocks, property, commodities, precious metals, futures, options and even bonds.
This course has provided a good platform for the other training courses which provide further details on trading stocks and how to do it.
Are you ready to take to quiz to test your skills?
If so, procede to the section entitled QUIZ.
Liberated Stock Trader – Course 101 Introduction to Investing Quiz
Are you ready to take it to the next level
Are you an investing GENIUS or are you a BEGINNER? Take our Introduction to Investing Quiz and share your results with friends.
What factors can impact your investment decisions?
What should be your minimum goal in terms of yearly return when investing in the stock market?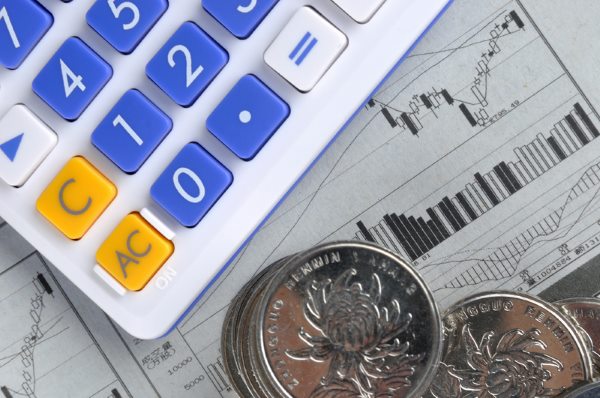 What do you think is a maximum realistic average yearly return in the stock market?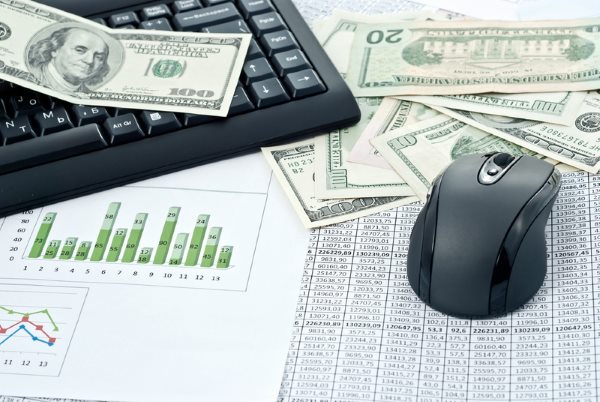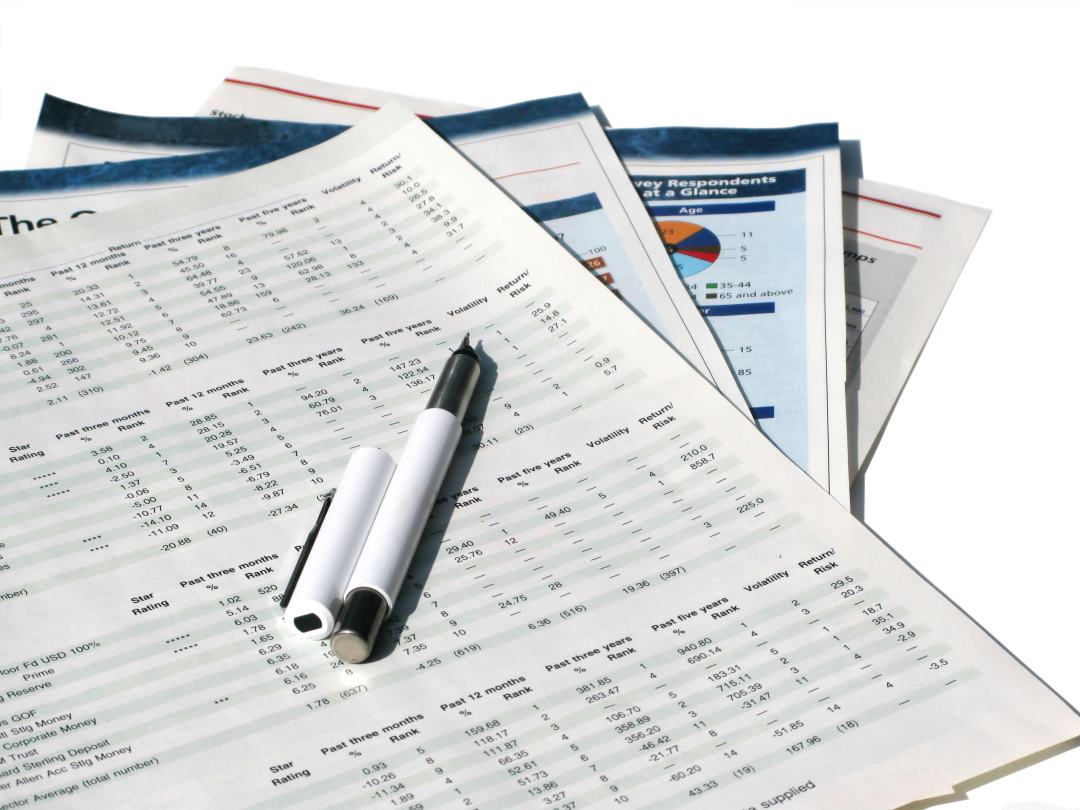 Which investments are considered the highly risky?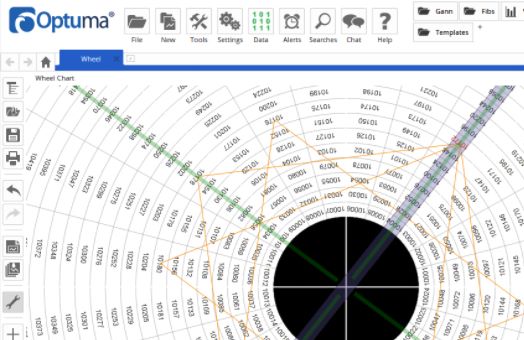 What types of stocks should you avoid?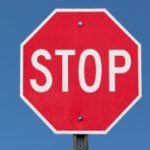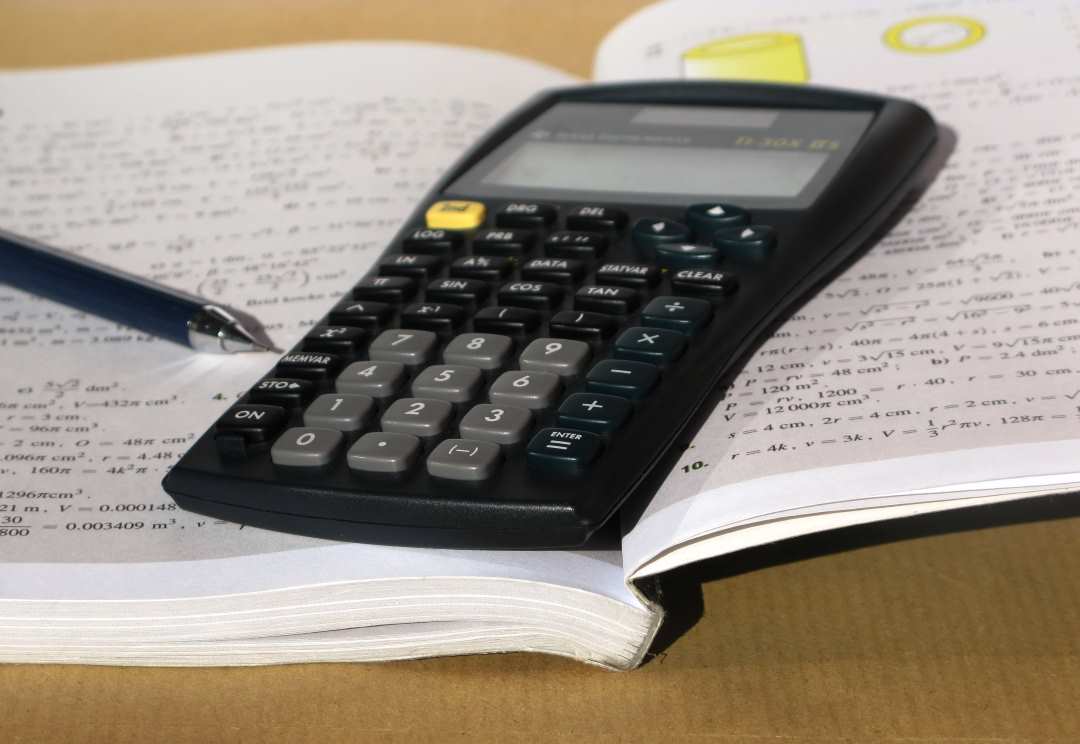 ETF's provide what advantages?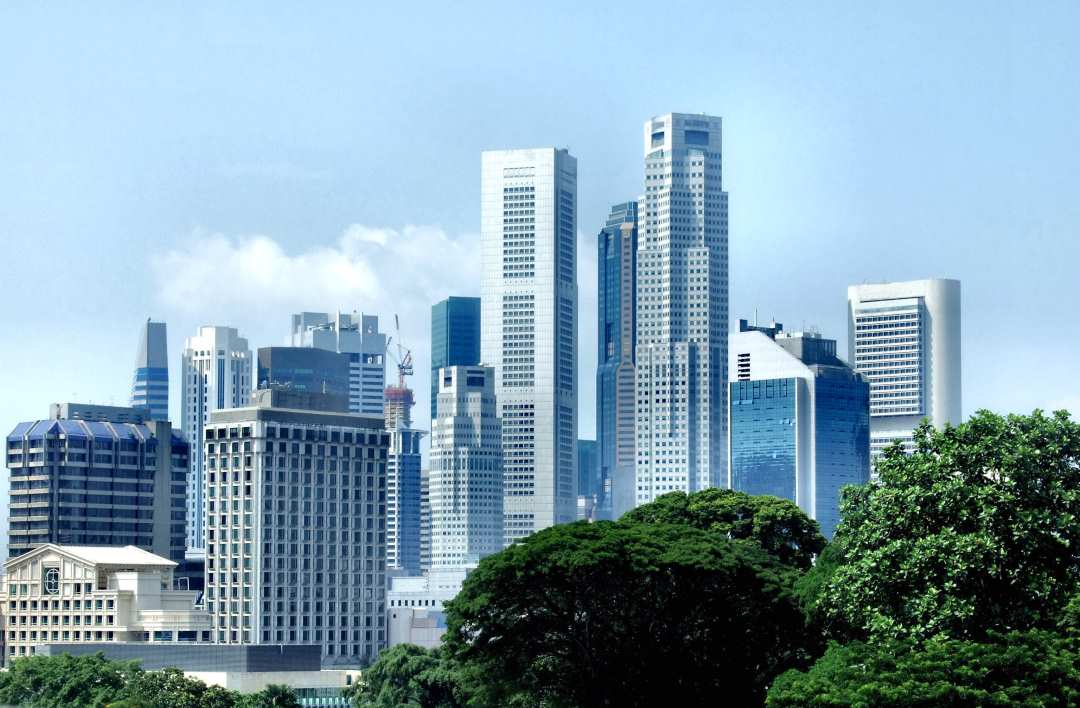 Mutual funds can be a good investment vehicle. However what are the disadvantages?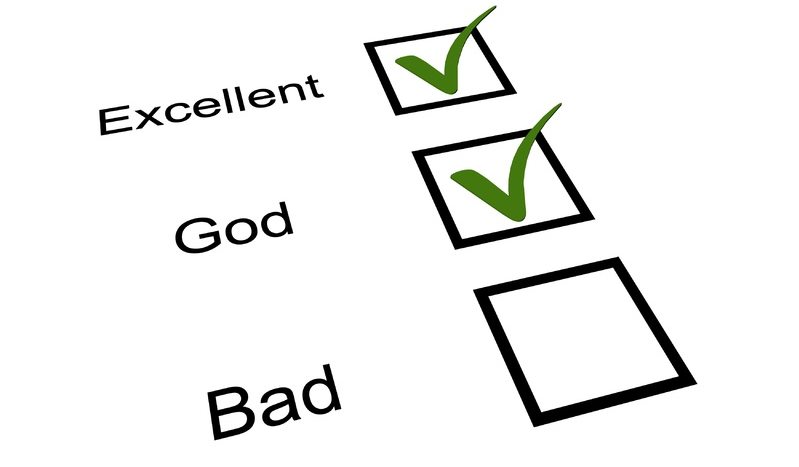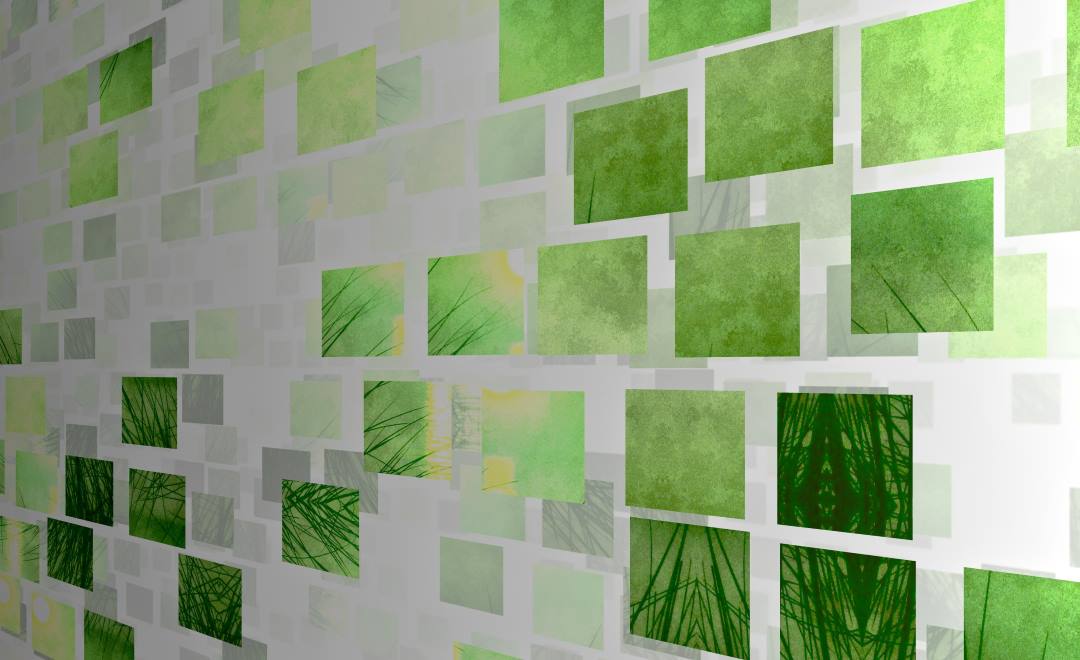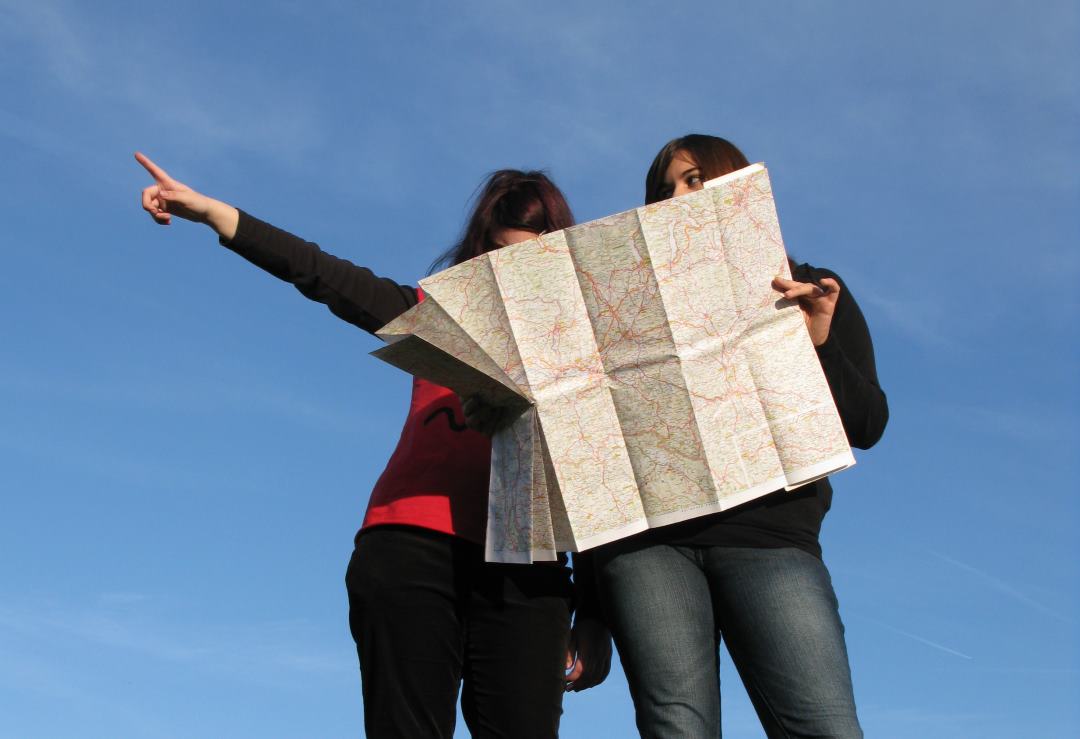 Commodities markets allow for…?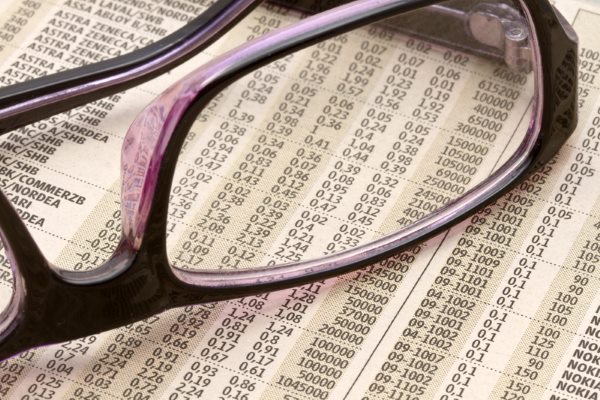 Who uses a foreign exchange market?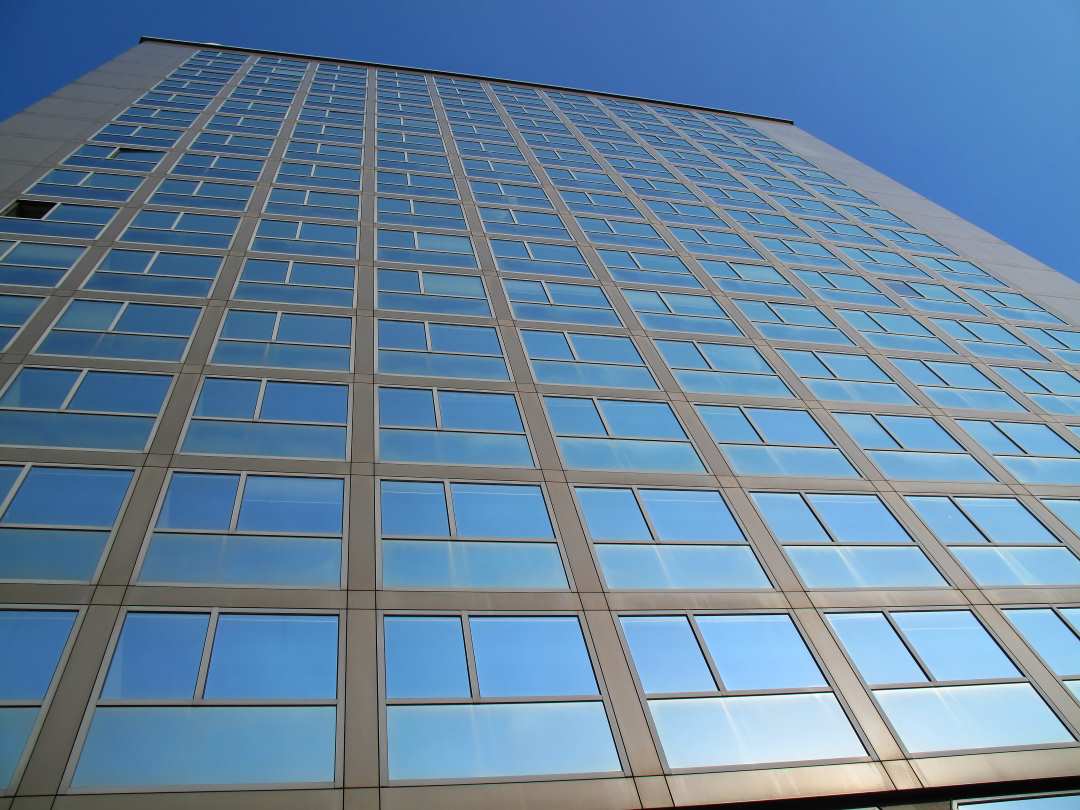 Is Foreign Exchange Day Trading high risk?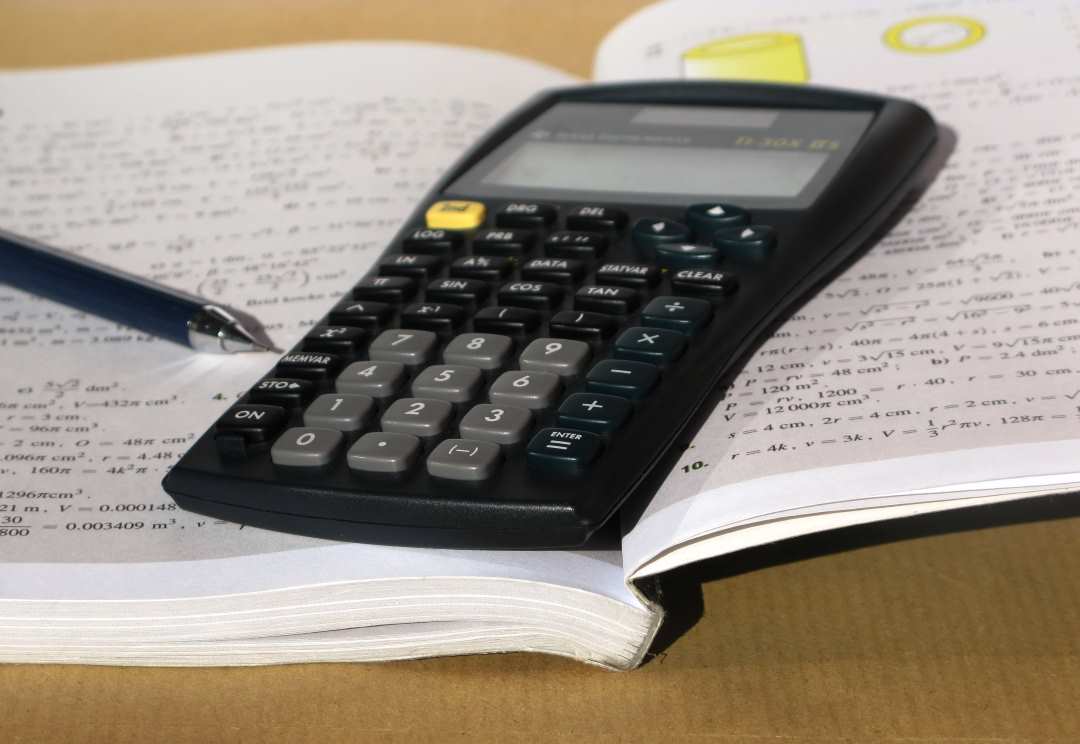 In finance what types of bonds exist?