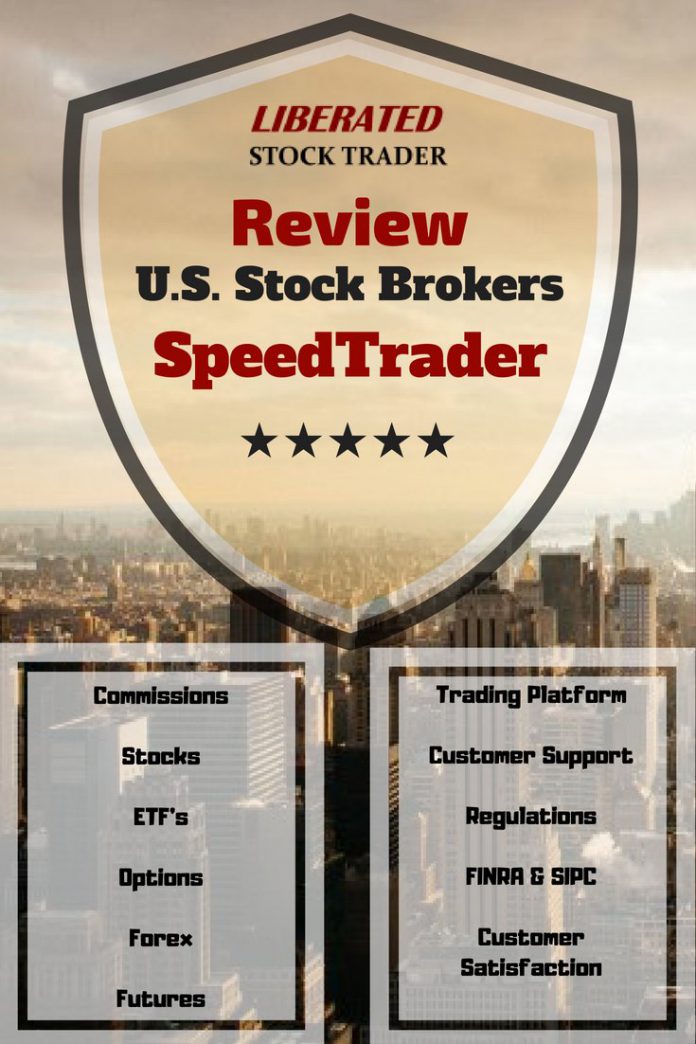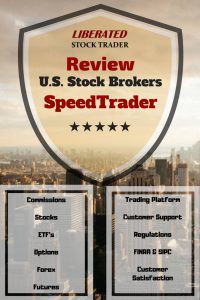 SpeedTrader is one of the key brokers in our broker review targeting Day Traders with their services.  So, what do day traders look for?
Direct Market Access (DMA)
Fast Order Execution
Low per Share Commissions Structures
Rock Solid Software
1st Class Customer Service
Well, SpeedTrader has all of this and a little more.

Like
Dislike
★ Direct Market Access
★ Fast Execution
★ Low Per Share Commissions
★ Great Customer Service
✘ Software Costs
✘ No Futures, Forex, ETF's
The key service offering is Direct Market Access (DMA), meaning you do not go through a 3rd party market maker for your trades; you deal directly on the market itself, which means better visibility of prices and tighter spreads.
They also offer a very low "commissions per share" option as an alternative to a fixed cost per trade.  The per-share option comes in at $0.0025 per share, a significant cost saving for any trade under 10,000 shares.
Round 1 – SpeedTrader Commissions & Trading
Commissions are not the be-all and end-all, but low commissions help reduce slippage, especially if you are an active investor or trader.

Some Brokers offer a flat fee regardless of how many shares are traded.  Some offer an optional "per share" commission structure, which can be beneficial for smaller traders.
Direct Market Access (DMA) is the name of the game when it comes to day trading in the markets. All of the contenders in the Top 10 Best Stock Broker Review have this, but the key is in the implementation, and from the rave customer feedback, SpeedTrader gets this right.
When it comes to commissions, SpeedTrader offers a $2.95 flat fee per trade. Still, most interestingly, they offer a per-share pricing structure of $0.0025, which beats Interactive Brokers, LightSpeed, and SureTrader by the width of a cat's whisker to be the best in our review. When it comes to Options Trading Fees, the offering of $0.30 per contract is among the best of all 20 brokers reviewed. Suffice to say, extremely competitive.  But that is where the competition ends as SpeedTrader does not offer Forex, ETFs, Mutual Funds, Bonds, or Commodities.
So, if you are into Stocks and Options Day Trading, this is a good place to be.
Round 2- SpeedTrader – Trading Platform Review
How do you find the in-play stocks, have high volatility and are in a strong trend?  This is the job of the trading platform.
You need your trading platform to be fast, intuitive, and powerful.  In this section, we rate the brokers on their choice of trading platform.

SpeedTrader has white-labeled the suite of products developed by Direct Access Software Inc. (DAS Trader).
And why not? It is a highly rated set of tools designed for day traders to enable fast screening analysis and order execution with direct market access.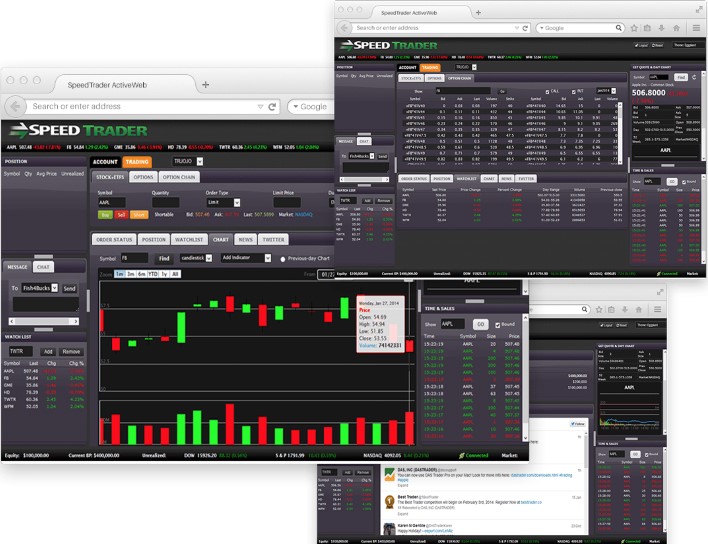 Developing an in-house suite of trading apps is a huge job and incurs many expenses, so only the biggest companies can manage this.
For the smaller brokers, using a third party is quick and efficient.  The only challenge is as a broker if you have to pay for the software on behalf of your client or pass the client's cost directly by making the client pay. This is exactly the situation with SpeedTrader and most other Day-Trader Brokers. I mention this because, ultimately, you will need to be making at least $25 to $104 per month in trading profit to cover the cost of the software.
SpeedTrader – Day Trader Platform Options
SpeedTrader Active Web
SpeedTrader's cost model means you will have to pay for the Active Web version $25 per month.
However, for this price, you do get:
Live Streaming News
Real-Time Charts
Options Chains
Risk Management Tools
Watch this DAS Active Web Trader Video for more Insight.
SpeedTrader (DAS TRADER) PRO
For the desktop-based SpeedTrader Pro version, you will be out of pocket by $49 or $104 per month (depending on which version you go for), but at least the mobile version is free if you have the desktop Pro version.  But for this price, you do get a serious upgrade:
Faster Trade Execution
Trading off the Charts
Level 2 Data
Most importantly, Direct Access ECN Order Routing.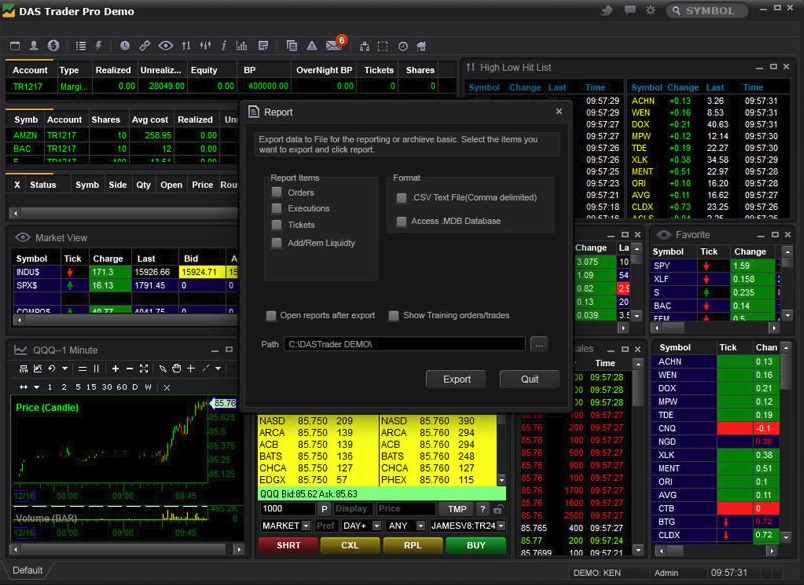 Get an Understanding of DAS Trader Pro – Watch this Level 2 Trade Execution Video
SpeedTrader Elite
The Elite service is squarely aimed at Proprietary Trading Firms (Prop Firms) and offers more benefits in terms of real-time market scanners and more advanced "Market Studies."  This service starts at $120/month or free if you generate $700 or more in commissions.
Round 3 – Stock Brokers – Customer Support & Research Comparison
In this round, we compare:
Customer Support – We want to see all three options of Email, Messaging, and Phone.
Customer Satisfaction Score – how many complaints or bad reviews within the last year on Twitter or TrustPilot (jump to methodology)
Research & Ideas – what services are provided free of charge to help you research a particular stock or sector.  Stand-alone research services can be costly, so free with an account is a big bonus.
News – Is a real-time news service available for free or an additionally paid to upgrade
Customer Satisfaction Ratings are calculated like this:
Customer Satisfaction Rating: ★★★★★ People actively praising the broker & Zero Negative Reviews. ★★★★ are Zero Negative Reviews
Research & Trade Ideas: Quality of the integrated and Zero Cost Research Sources

SpeedTrader has a lot of positive tweets and good reviews online.
The users seem to be very happy with the overall services and actively promote it, do a google search or view their Twitter stream to see.
SpeedTrade offers the full complement of email, chat, and 24/7 phone support that is implemented and effective.
SpeedTrader does have integrated research possibilities, but they come at an extra cost like the DAS software.  No one ever said day trading was cheap, it costs money for real-time news and research service, and someone has to foot the bill.
They have not made the step to include for free any news services on the active web version of the platform. If you are interested in real-time news for trading, take a look at Benzinga's Real-Time PRO services as an add-on.
Round 4 – Brokerage Regulation & Account Minimum
Is the company well established, well funded, and well regulated?  This is the main object of this round of comparisons.
Any US-based Broker should be a member of the following institutions.
Financial Industry Regulation Authority (FINRA) Membership.
FINRA is a nonprofit organization established to protect investors and ensure that the members comply with the law and the Securities and Exchange Commission rules.  They audit all members regularly.
Securities Investor Protection Corporation (SIPC) Membership.
The SIPC is there to protect and hopefully recover any money lost if a Brokerage firm fails.  Although Broker failure is rare, it can happen, and SIPC membership ensures that your account is protected up to $500,000.
SpeedTrader has all the protection required in the U.S.A, they are fully registered in the FINRA Database and have SIPC insurance.
-
SpeedTrader Fact Sheet – Detailed DataPoint Table
Brokerage
Result
Review Winner
Great for:
Day Traders wanting Direct Market Access
Likes
★ Direct Market Access
★ Fast Execution
★ Low Per Share Commissions
★ Great Customer Service
Dislike
✘ Software Costs
✘ No Futures, Forex, ETF's
Trades & Commissions
Direct Market Access DMA
✔
Stock Trading
✔
Stock Trading Fees
$2.95
Per Share Trading Fees
$0.0025
Stock Trading Fees (Max)
Options
✔
Options Trading Fees
$0.30 per contract
Leverage Available
✘
ETF Trades
✘
Exchange Traded Funds (ETF)
✘
Number of Commission Free ETF's
✘
Futures
✘
Mutual Funds
✘
Bond Purchase
✘
Bonds
✘
Forex Trading
✘
Foreign Exchange (fx) Commission $ per 1,000
✘
Margin Account Interest Charges
Call for Quote
Margin Costs Rating
✘
Trades & Commissions Score
★★★★
Trading Platform
Software Provider
DAS Trader Inc
Trading Platform Cost
Additional Cost
Web Software
Active Web $25 per month *
Desktop Software
SpeedTrader Pro
$104 per month*
Mobile Software
Free with Desktop Pro
LII Quotes
✔
Indicators / Studies
✔
Streaming Charts
✔
Watchlists
✔
Profit / Loss Graphs
✔
Probability Calculators
✔
Options Chains
✔
Trading Platform Score
★★★★
Customer Support & Research
Customer Support (Phone & Live Chat)
✔
Customer Satisfaction Score*
★★★★★
Research & Trade Ideas
✔Extra cost
News
✔ Real-Time
Customer Support & Research Score
★★★★
Account & Company Details
Available for U.S. Citizens
✔
Account Minimum
$0
FINRA Member
✔
SIPC Insurance - Assets
✔
Regulated By
SEC
-
Do you want more Stock Broker Reviews?
Notes on the Review
Customer Satisfaction Score (Star Ratings)
The customer satisfaction score was compiled using the following methodology.
The Brokers' Twitter Accounts were scanned back for one year for any negative feedback from customers.  Also, TrustPilot UK and USA were reviewed, and any negative comments counted against the broker.  These two sources of information were combined to provide the star rating you see below.
★★★★★ – No Complaints & Positive Recommendations  (1 year)
★★★★ – No Complaints  (1 year)
★★★ – < 10 Complaints (1 year)
★★ – 10 to 20 Complaints (1 year)
★ – > 20 Complaints (1 year)
We independently research and recommend the best products. We also work with partners to negotiate discounts for you and may earn a small fee through our links.
Review Methodology
Over 200 data points were collected during this review.  Brokers change services, terms, and commissions regularly.  If you represent a Brokerage House or are a client and spot an inaccuracy, please leave a comment or contact us here, and we will endeavor to correct it.