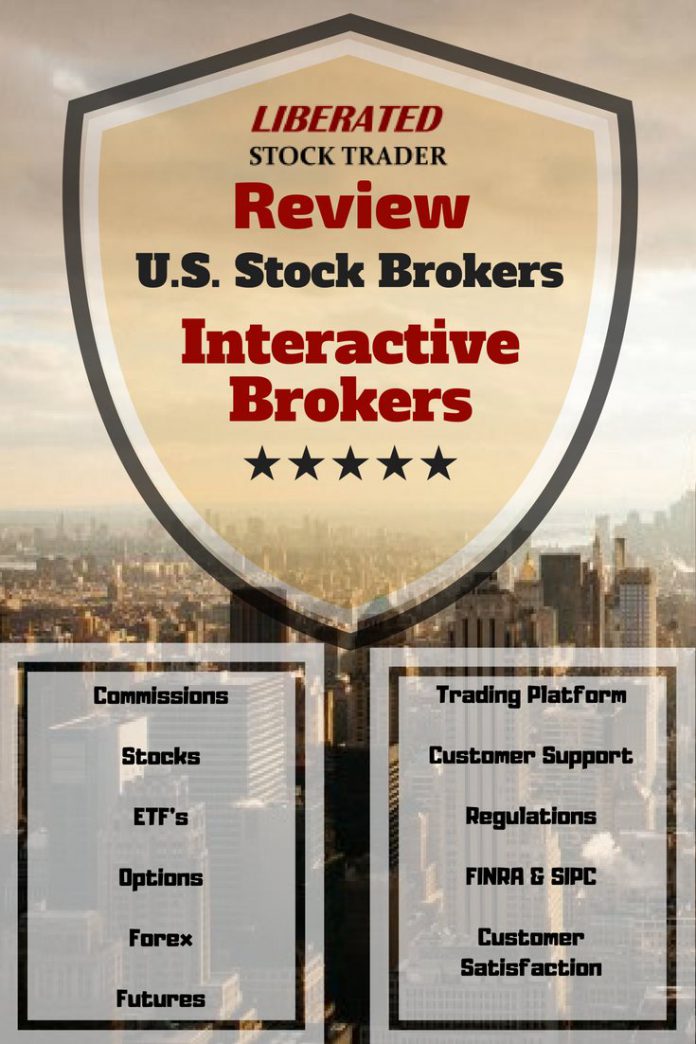 Interactive Brokers: Ideal for Active Investors and Day Traders, seeking the absolute lowest trading costs, direct market access for fast execution and best in class margin costs.
Add to that a huge selection of bundled Market Research Reports & News Services and you have a very compelling offering. 
Interactive Brokers (IB) is the grandfather of online discount brokers.  Not only are they a long established company, they are also big in terms of market capitalization and financial stability.
IB has a very complete set of services, enabling your to trade practically anything on any market.
This includes Stocks, Options, ETF's, Mutual Funds, Bonds, Foreign Exchange and even futures and commodities, they also claim any market anytime.
Usually, when a company is well established and large, it loses its competitive edge.  Not so with Interactive Brokers.
Like
Dislike
★ Industry Leading Low Commissions
★ Great Trading Platform
★ Direct Market Access
★ All Markets & Vehicles
★ Lowest Margin Rates
✘ Less than perfect Customer Satisfaction


One of the industries lowest commissions on Stock Trades at $1,- and great commissions on Options demonstrate competitiveness.  They also have the lowest margin interest rate in the review, in fact probably in the industry.
When it comes to the trading platform there are no additional costs which is a breath of fresh air as Web Trader, TWS and many more are all free.
Interactive Brokers caters to the more professional investor, or at least those with a minimum account balance of $10,000.  Also, you will need to have a balance of $100,000 to be able to trade Forex.
Another huge bonus is that IB manages to throw into the package Zacks and Morning Star research for free, including real-time news.
IB manages to span the divide between Day Traders and Long-Term investors and that is not easy.  If you plan to span those worlds also IB is a natural choice.
Round 1 – Stock Brokers Commissions Comparison
Commissions are not the be all and end all, but low commissions do help to reduce slippage especially if you are an active investor or trader.
Some Brokers offer a flat fee regardless of how many shares are traded.  Some offer an optional "per share" commission structure, which can be beneficial for smaller traders.
Round 1 – Trading & Commissions – Winner


When it comes to the lowest trading costs then Interactive Brokers comes out on top.  With a stock trading fee of $1 and even a per share trading fee of $0.005 you have flexibility and low slippage especially if you are an active trader.
The options fee of $1,- is also best in class for this review.
Interactive Brokers does offer commission-free ETF's but only 28 of them.  However, the commissions are all other ETF's are so low it may not matter, as they charge only $1,- per trade.
Futures and Mutual Funds are also the lowest in the test at $0.85 and $1.- respectively.
The margin account interest rates are also the very best at only 2.2% to 3%.  This clearly makes IB the leader for commissions.
The icing on the cake is that with IB you will also get pain on your account cash balance up to 1.4%.  Most other Brokers offer 0% and maximum 0.25%.  So if you maintain a large cash holding Interactive Brokers makes a lot of sense.
Open an Account with Interactive Brokers
Round 2- Stock Brokerage – Trading Platform Comparison
How do you find the stocks that are in-play, have high volatility and are in a strong trend?  This is the job of the trading platform.
You need your trading platform to be fast, intuitive and powerful.  In this section, we rate the brokers on their choice of trading platform.
Round 2 – Trading Platform Winner

Interactive Brokers has a truly outstanding trading platform based on Trader Workstation (TWS).  It is free to download and use as a client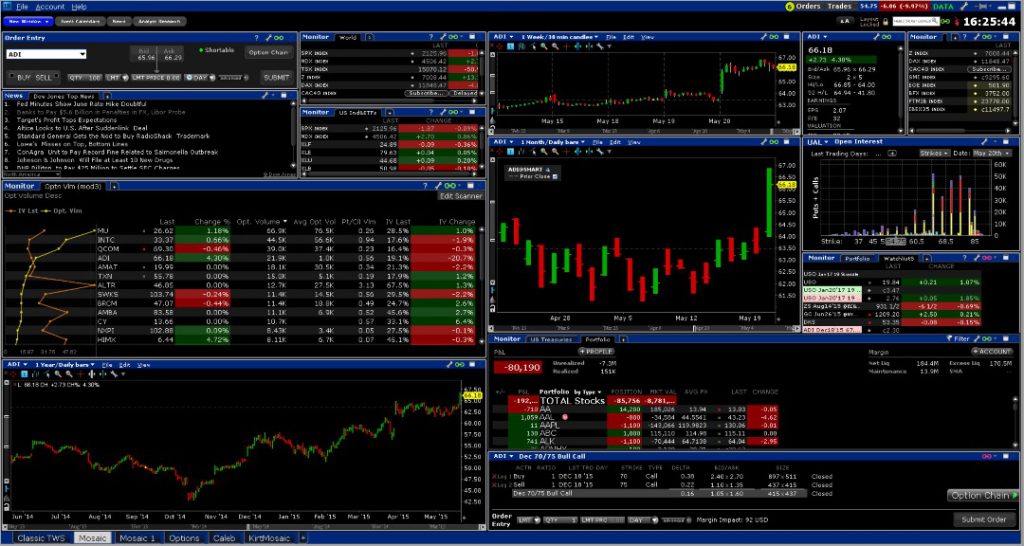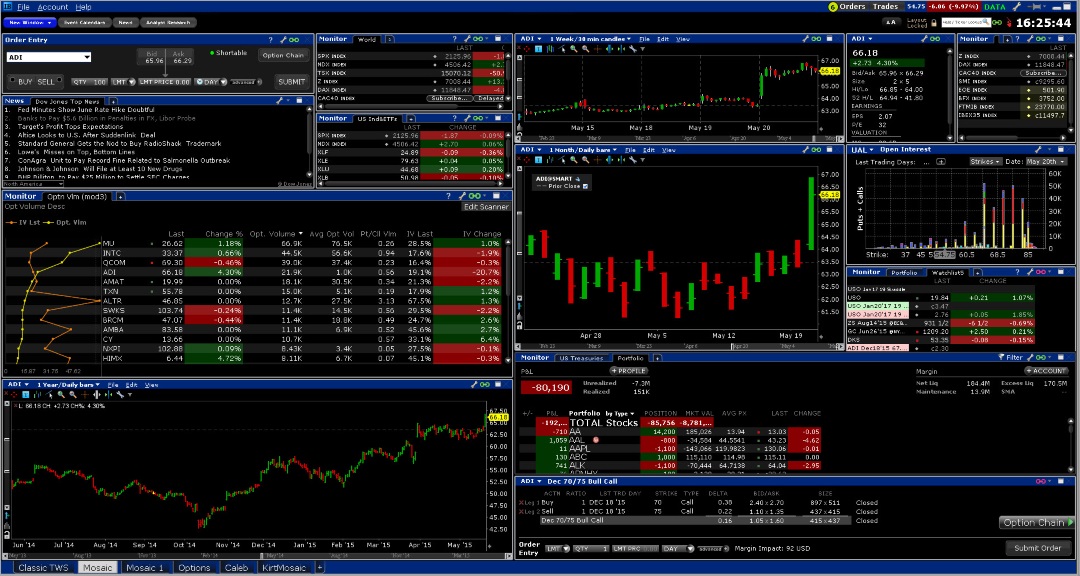 and it is the single place to be able to trade any and every one of the vehicles on offer from IB.  It caters to everything Stocks, Options, Futures, Forex, Bonds, Mutual Funds & ETF's.
Not only that there are a huge number of add-on advanced tools that plug into TWS such as:
ChartTrader – for trading directly from charts
Continuous Futures – for commodity futures scanning and analysis
DepthTrader – for deep analysis of market liquidity
OptionTrader – deeper Options Analysis with specific Options strategies
ProbabilityLab – to test the Probability Distribution of a particular trade
In total there are 27 different advanced trading tools to suit every possible approach to the market.
Overview Video of Interactive Brokers – Trader Workstation (7 mins)
Round 3 – Stock Brokers – Customer Support & Research Comparison
In this round we compare:
Customer Support – we want to see all 3 options of Email, Messaging, and Phone
Customer Satisfaction Score – how many complaints or bad reviews within the last year on Twitter or TrustPilot (jump to methodology)
Research & Ideas – what services are provided free of charge to help you research a particular stock or sector.  Stand-alone research services can be costly, so free with an account is a big bonus.
News – Is a real-time news service available for free or an additionally paid upgrade
The table is results are sorted in order of:
Customer Satisfaction Rating: ★★★★★ People actively praising the broker & Zero Negative Reviews. ★★★★ 4 is Zero Negative Reviews
Research & Trade Ideas: Quality of the integrated and Zero Cost Research Sources
Round 3 Customer Support & Research Winner

Interactive Brokers offers by far the best free services in the area of research.  Here is a snapshot of some of the services you will get for free.
IB Market Signals
IB Traders Insight
Morningstar equity ownership
Thomson Reuters (in 10 languages), stock reports, news, fundamentals
Zacks Investment Research
Real-time News Streaming
In terms of customer service, they offer the full package of telephone, chat & email contact so no issues there.
We could not find any evidence of negative tweets or reviews so IB has a very good customer satisfaction score, particularly since they have by far the largest twitter following of 233,000 people.
The only reason they are lower on the list of winners is that they do not have a history of people raving about there services.  Perhaps the more professional investors trading with IB are not focussing on praising them on twitter but trader making profits in the markets.
In any case, IB is a very high-quality company with the very best research included for free in your account.
Round 4 – Brokerage Regulation & Account Minimum
Is the company well established, well funded and well regulated?  This is the main object of this round of comparisons.
Any U.S. based Broker should be a member of the following institutions.
Financial Industry Regulation Authority (FINRA) Membership.
FINRA is a nonprofit organization established to protect investors and ensure that the members are complying with the law and the Securities and Exchange commision rules.  They audit all members regularly.
Securities Investor Protection Corporation (SIPC) Membership.
The SIPC is there to protect and hopefully recover any money lost if a Brokerage firm fails.  Although Broker failure is rare, it can happen and SIPC membership ensures that your account is protected up to $500,000.
Interactive Brokers has all the protection required in the U.S.A, they are fully registered in the FINRA Database and have SIPC insurance.
Account minimums with Interactive Brokers are higher than with its competitors, as they are squarely going after clients with larger investment portfolios, higher net worth individuals or professional money managers.  The account minimum of $10,000 for normal trading and $100,000 for Foreign Exchange Trading will be a barrier to new investors.
Interactive Brokers – Stock Broker Master Table (Searchable)
Here you can find the table containing all the data in one place.  Use the search box to filter on a particular item you are looking to compare.  For example type "forex" or "margin" and you will get only the relevant rows to compare.
Brokerage
Result
Review Winner
Great for:
Active Investors & Day Traders seeking lowest commissions
Likes
★ Industry Leading Low Commissions
★ Great Trading Platform
★ Direct Market Access
★ All Markets & Vehicles
★ Lowest Margin Rates
Dislike
✘ Less than perfect Customer Satisfaction
Trades & Commissions
Direct Market Access DMA
✔
Stock Trading
✔
Stock Trading Fees
$1.00
Per Share Trading Fees
$0.005
Stock Trading Fees (Max)
1% of Trade
Options
✔
Options Trading Fees
$1.00
Leverage Available
✔
ETF Trades
✔
Exchange Traded Funds (ETF)
$1.00
Number of Commission Free ETF's
28
Futures
$0.85
Mutual Funds
$1.00
Bond Purchase
✔
Bonds
$1 + Net Yield
Forex Trading
✔
Foreign Exchange (fx) Commission $ per 1,000
$2.00
Margin Account Interest Charges
2.2% to 3%
Margin Costs Rating
★★★★★
Trades & Commissions Score
★★★★★
Trading Platform
Software Provider
Interactive Brokers
Trading Platform Cost
Free
Web Software
WebTrader Free
Desktop Software
Desktop TWS - Free
Mobile Software
Free
LII Quotes
✔
Indicators / Studies
✔
Streaming Charts
✔
Watchlists
✔
Profit / Loss Graphs
✔
Probability Calculators
✔
Options Chains
✔
Trading Platform Score
★★★★★
Customer Support & Research
Customer Support (Phone & Live Chat)
✔
Customer Satisfaction Score*
★★★★
Research & Trade Ideas
✔Zacks + MorningStar Free
News
Real-Time
Customer Support & Research Score
★★★★
Account & Company Details
Available for U.S. Citizens
✔
Account Minimum
$10,000
FINRA Member
✔
SIPC Insurance - Assets
✔
Regulated By
SEC
-
Do you want more Stock Broker Reviews?
Notes on the Review
Customer Satisfaction Score (Star Ratings)
The customer satisfaction score was compiled using the following methodology.
The Twitter Accounts of the Brokers was scanned back for the 1 year for any negative feedback from customers.  Also, TrustPilot UK and USA were reviewed and any negative comments counted against the broker.  These two sources of information were combined to provide the star rating you see below.
★★★★★ – No Complaints & Positive Recommendations  (1 year)
★★★★ – No Complaints  (1 year)
★★★ – < 10 Complaints (1 year)
★★ – 10 to 20 Complaints (1 year)
★ – > 20 Complaints (1 year)
Partnerships & Special Bonus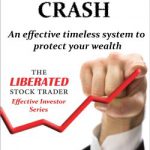 Liberated Stock Trader has partnerships with most of the service providers in this review.  This means if you find the review useful and purchase any of the services mentioned we will receive a small payment which goes towards funding the research and work we do. 
As a thank you for using our reviews and purchasing any of the services mentioned we would like to offer you a special bonus of the highly rated Liberated Stock Trader
"How to Avoid the Next Stock Market Crash"
eBook and Video Course worth $29.-.  Simply
contact us
specifying which service you signed up for and we will send you your gift.
Review Methodology
Over 200 data points were collected during this review.  Brokers change services, terms, and commissions on a regular basis.  If you represent a Brokerage House or are a client and you spot an inaccuracy, please leave a comment or contact us here and we will endeavor to correct it.