Top 5 Stock Market Analysis Software Reviews



The In-Depth 800 Point Analysis of all 12 vendors in the review can be found here.  This article highlights only the winners and recommended software.
When it comes to Stock Analysis Packages, no two products are identical, there are many strengths that are designed for each product to suit specific needs.
As such most of the packages can be recommended to a specific audience based on their strengths. In the following detailed reviews, we look at the benefits and breakdown of each package.
The Type of Trader / Investor Your Are Defines Which Product is Best For You
(Click your investing style below to jump to the Product Best Meeting Your Needs)
-
TradingView --  Overall Review Winner 2020
Highly Recommended for U.S.A. & International Investors & Day Traders who Value a Great Price and Insanely Good Fundamental & Technical Analysis. With Great Streaming News Engines and the Best Ease of Use, you cannot go wrong.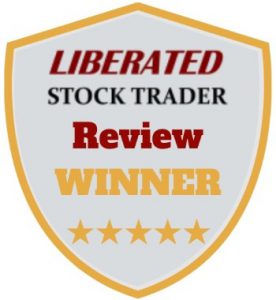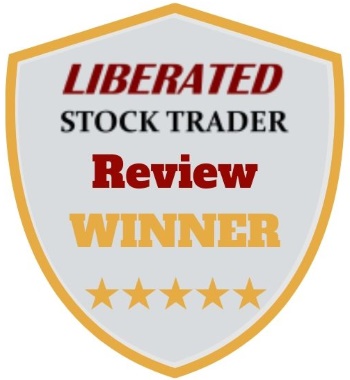 It is really impressive that TradingView has stormed into the review winners section of our Stock Market Software Review in its first try. I now actively use TradingView every day, and it is a key tool in my portfolio.
With excellent social integration, chat, news and the ability to follow other investors and view and share trade ideas, combined with global stock exchange data TradingView are one of the global stock charting analysis leaders.
You can have TradingView for free, it is also a review winner for our Best Free Charting Software Review so you cannot go wrong.  However, there are limitations to the free version which means an upgrade to a paid service can be worthwhile.
TradingView Pricing -- 10/10
You can have TradingView for free, it is a review winner for our Best Free Charting Software Review so you cannot go wrong.  However, there are limitations to the free version which would warrant an upgrade to the higher level services.  In any case, TradingView is best in class in terms of price.
How Much Does TradingView Cost?
Free $0 -- 1 Chart per Layout -- 1 Device -- 1 Alert -- 3 Indicators per Chart -- 1 Saved Chart Layout
PRO $9.95 US /mo -- 2 Charts per Layout -- 1 Device -- 10 Alerts -- 5 Indicators per Chart -- Unlimited Watchlists
PRO+ $19.95 US /mo -- 4 Charts per Layout -- 2 Devices -- 30 Alerts -- Intraday & Extended Trading Hours Data
Premium -- $39.95 US / mo -- 8 Charts per Layout -- 5 Devices -- 200 Alerts -- Top Customer Service -- Unlimited Everything

I would recommend going for the TradingView PRO+ at $19.95 per month or the Premium at $39.95 per month, the benefits are extensive including Priority Customer Support and unlimited everything.  I use the PRO+ version.
If you want the intraday spread charts & custom chats go for TradingView Pro+.  In any case, try it out completely Free and play around with it to see if you like it.
[Related Article: Save Money & Time With Our In-Depth TradingView Pricing Guide]
TradingView Platform --  10/10
TradingView runs on PC, Mac, Tablets, and Smartphones and requires Zero Installation, it simply works.  The Market data is huge, covering nearly all Stock Markets and it includes Stock, ETF's Futures, Foreign Exchange & Bonds, all at no extra price, which means outstanding value for money combined with excellent support options.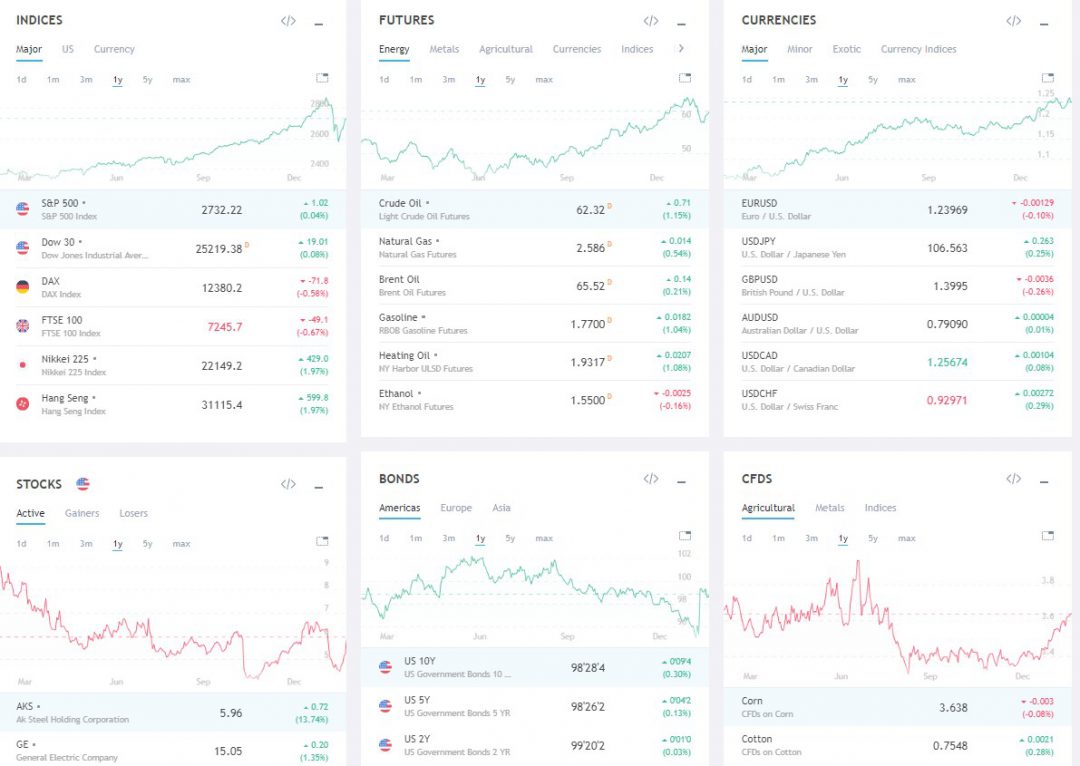 Also, a huge benefit is that the Data Speed and Coverage are mind-blowing, covering literally every stock market on the planet and not just stocks but a lot more.
The TradingView Platform Is A Modern Cloud-Based Software Architecture
This architecture type means that there is no client software to download and install, and all the stock exchange data resides on the vendor's servers in the cloud. The charting and visualization are all stored and computed in the cloud, and only the chart to want to visualize is streamed to your client device.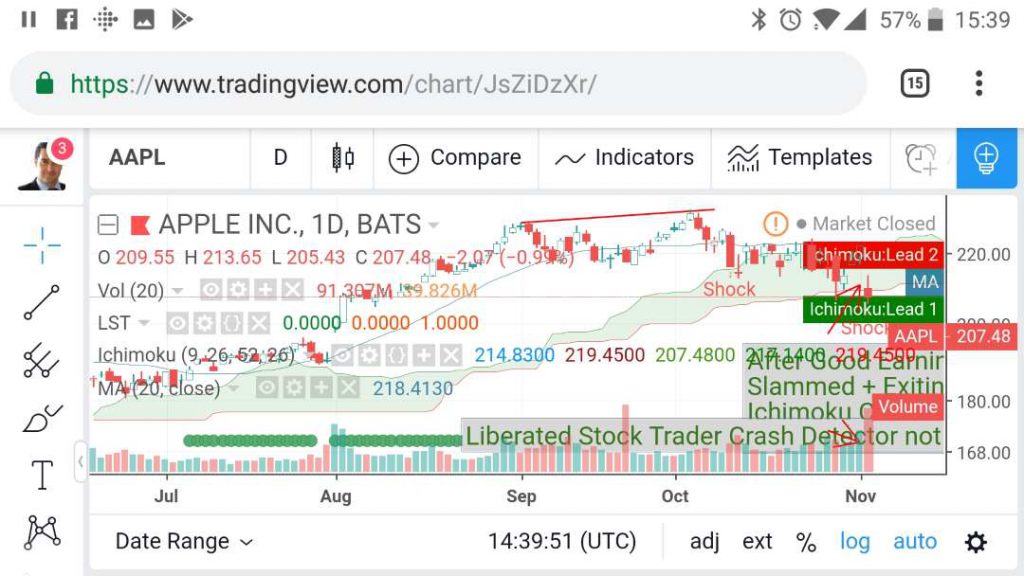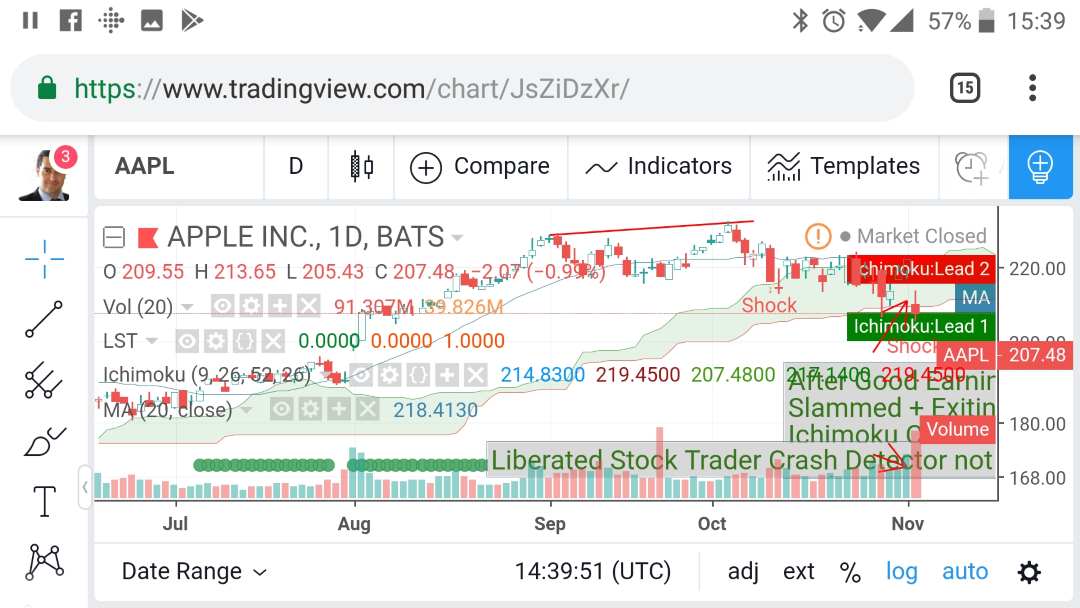 Is TradingView Real-time?
Yes for Pro, Pro+ & Premium members you will get the fastest dataflow possible with your data subscription.
What Can I Trade Using TradingView?
Stocks -- tens of thousands of stocks, see above for exchange coverage
Forex (FX) Currencies -- All the Major, Minor, Exotic currencies covered
Futures -- Energy, Metals, Agriculture, Indices and even Interest Rates
Crypto Currencies -- 26 including Bitcoin, Ripple, Ethereum, Bitcoin Cash
Bonds -- 30+ Government Bond Types
Can I Trade Bitcoin on TradingView?
Theoretically Yes but only outside the USA. You can enable this with an account through a CFD Broker.  The reason I say theoretically is that CFD (Contracts for Difference) Brokers will not enable you to fill your Bitcoin Wallet, they will only enable you to have a virtual trade open with a selling price that "should" reflect the current market price.  It's like buying a gold ETF, rather than buying actual physical gold.
Watch this Video Review of the Benefits of TradingView
[Related Article: How Do Technical Analysis Software Platforms Work?]
Trade Management Score -- 8/10
With TradingView you get broker integration with CQG, OANDA, Poloniex and Forex.com Winner of Our Best US Forex Broker Review, you can place trades on charts and it will take care of Profit & Loss reporting and analysis for you.  They are adding brokers all the time and I expect soon the major global discount brokers to be available.
How to Paper Trade on TradingView?
When you are viewing a chart, click the BUY Button and you will be asked to select your broker.  Simply select Paper Trading.
Fundamental & Technical Scanning & Screening -- 10/10
Another perfect 10 for TradingView as they hit the mark on Real-time scanning and filtering, and fundamental watchlists also.
The list of fundamentals you can scan & filter on is truly huge.  Any idea you have based on fundamentals will be covered.  They even have insane amounts of economic data like Federal Funds Rates and World Economic Growth, thanks to a connection to the QUANDL database.
Watchlists have fundamentals broken into Performance, Valuation, Dividends, Margin, Income Statement and Balance Sheet.  You can set the watchlist and filters to refresh every minute if you wish.
Powerful Screening Tools -- Integrated into TradingView:
Stock Screener -- See the example below to see how powerful and easy it is to use.
Forex Screener -- shows by default the major and minor pairs and you can add exotic FX pairs.  You can filter on rising and falling fx pairs and even set alerts directly from the screener.
Crypto Screener -- similar to the Forex Screener in power and flexibility.
TradingView Fundamental Stock Screening & Analysis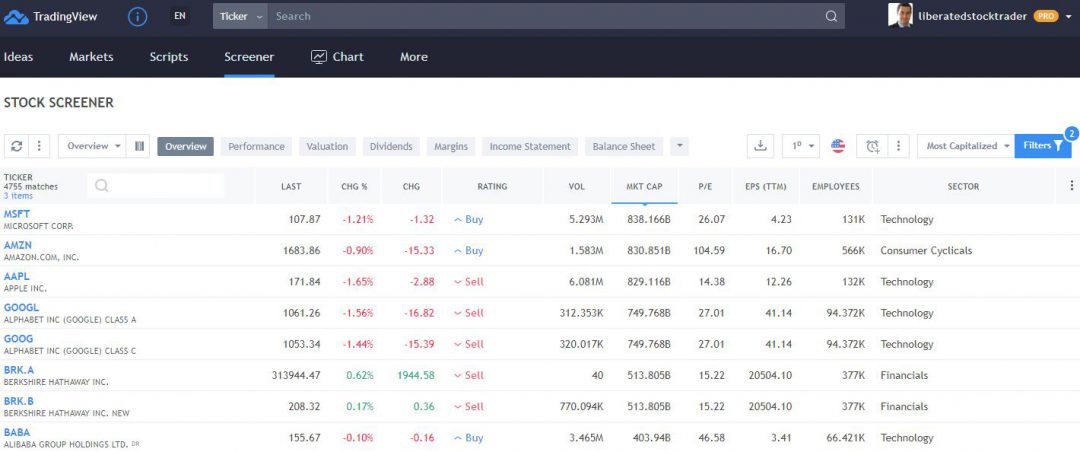 The TradingView Stock Screener comes complete with 150 fundamental and technical screening criteria, all the usual criteria are there such as EPS, Quick Ratio, Pre-Tax Margin and PE Ratio (forwards and trailing twelve months).  But it also goes deeps with more esoteric criteria such as the number of employees, Goodwill and Enterprise Value.
Another great thing about the screener implementation is that is is very customizable, you can configure the column and filters exactly how you like it.  As you can see above I have changed the overview screen to include the number of employees, P/E, and EPS TTM.
Forex Screener Implementation
What makes TradingView unique here is the availability of screeners for chart patterns and setups for foreign exchange pairs.  This makes it very valuable for day traders searching for volatility and using leverage.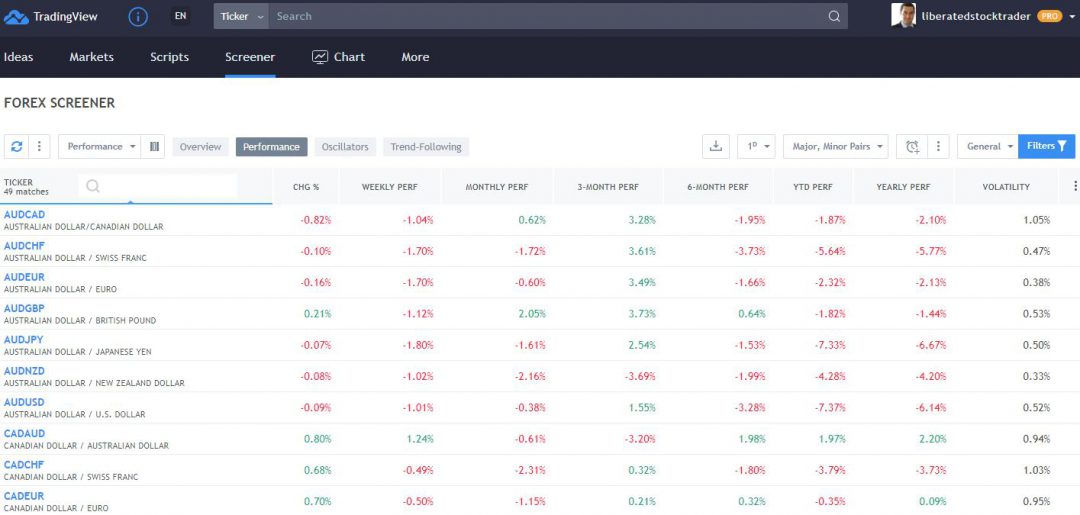 In the Forex screener, we can compare performance and volatility together will help you to narrow down the list for currency traders.
Cryptocurrency Screener Implementation
The ability of TradingView to also provide crypto screening is quite unique.  They have also included a rating filter.  In the screenshot below you can see a technical rating for the crypto pair.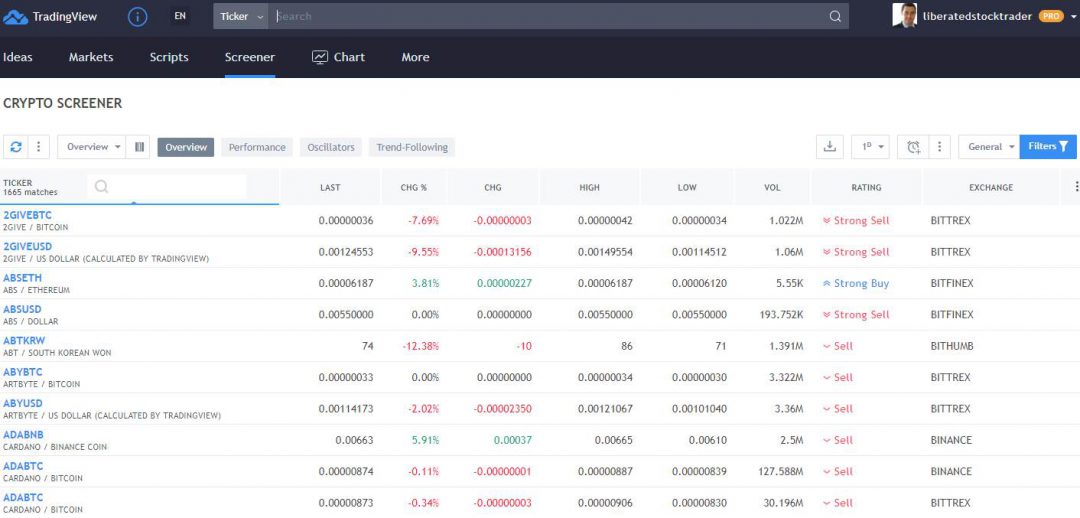 The rating system enables you to select the crypto's rated as "strong sell" to use as candidates for a short trade, and strong buys as candidates for long trades, this will save you a lot of time.
News & Social Media Integration Score -- 9/10
TradingView is built with social at the forefront and it is simply the best to socially share and learn, forget StockTwits, Tradingview is the best.  Fully integrated chat systems, chat forums and an excellent way to share your drawings and analysis with a single click to any group or forum.
Follow me on TradingView for regular market and stock analysis ideas and commentary.
This makes for an excellent way to generate trade ideas or learn from other traders.  You have to try it and see it in action to understand the power of the implementation.  However, I always warn be careful of who you listen too, you should always make up your own mind.
They have also thoughtfully integrated a Kiplinger newsfeed, Stocktwits, and various FX newsfeeds.  With a social-first development methodology, combined with powerful economic statistics and a solid newsfeed it is a great package.
As soon as you connect to TradingView you realize this is also developed for the community.  You can look at community trade ideas, post your charts and ideas and join limitless numbers of groups covering everything from Bonds to Cryptocurrencies.
Technical Analysis Score -- 10/10
With over 160 different indicators, and unique specialty charts such as LineBreak, Kagi, Heikin Ashi, Point & Figure and Renko, you have everything you will need as an advanced trader, day trader or swing trader.  I have the Premium membership and with that, you also get Level II insight, fully integrated.
TradingView also has an exceptional selection of drawing tools including tools unavailable on other platforms such as extensive Gann & Fibonacci tools. 65 drawing tools and hundreds of icons for your charts, notes, and ideas.
Systems, BackTesting & Automated Trading Score -- 7/10
Good but not perfect.   TradingView has an active community of people developing and selling stock analysis systems and you can create and sell your own.  Also, there are a huge number of indicators and systems from the community for free.
The only things you cannot do are forecast and implement Robotic Trading Automation.  For that, you would be better off with QuantShare.
For the back-testing element of the TradingView offering, there is a huge selection of systems that you can pick off the shelf and back-test using the strategy tester.  You can also implement your own using the PINE Editor, but you will have to learn the proprietary coding for that.
Beware, if someone found the magical formula, they would not be giving it away for free in a public marketplace.  They would be selling it for BIG DOLLARS to Wall Street Investment Banks.
Usability Points -- 20/20
Within 5 minutes I was using TradingView, no credit card, no installation, no configuring data feeds, it was literally just there.
TradingView is up and running with a single click.
Click on the TradingView logo on the left and it will be instantly running. 
It does not get easier than that.
Even better is the fact it is already configured for use.  All controls are intuitive and the charts look amazing.  It is quite a feat that it is so easy to use considering TradingView has so many data feeds and backend power.
-
MetaStock -- Winner -- Best Stock Analysis & Backtesting System

Recommended for day traders and those who need excellent real-time news, access to a huge stock systems market and powerful technical analysis with global data coverage all backed up with excellent customer services.
The latest release of Metastock XV was a big hit with improvements across the board. with huge improvements in Scanning, Back Testing and Forecasting making this one of the best offerings on the market.  MetaStock XVI adds on to this legacy of continual improvement.
Pricing and Software -- 10/10
To understand the pricing, you need to know that you can purchase MetaStock with Datalink the data provider, or you can purchase a real-time subscription or even my preferred choice which is MetaStock + Refinitiv Xenith.  Why do you need Refinitiv Xenith, because it is the premium stock market and financial markets research tool and includes a real-time news platform powered by Thomson Reuters.
MetaStock XVI with Datalink -- $22 per month
MetaStock XVI by itself starts at a very reasonable $22 per month which unlocks the entire package and as you will see that is a great combination of award-winning technical analysis and expert advisors for system backtesting, forecasting, and analysis.
It is designed only for the PC but can be run on Mac with PC emulation software.  You will need to download and install MetaStock and configure your specific data feeds for the markets you want to trade.  So the software installation is not as slick and quick as competitors but the package is extremely powerful because it enables you to configure different data providers, like your broker for example.

MetaStock has a clean sweep in terms of Stock Exchanges covered (e.g. All of them) and it covers ALL of the vehicles, Stocks, ETF's Mutual Funds, Options, Futures Forex, and Bonds.
MetaStock is one of the biggest fish in the sea of stock market analysis software.  Backed up by the mighty Thomson Reuters you can expect excellent fast global data coverage and broad market coverage.  There are two other packages below, having reviewed the Refinitiv Xenith application I would recommend the MetaStock + Refinitiv Xenith option ensure you have the real-time news package with MetaStock.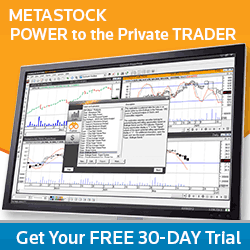 MetaStock R/T -- with Reuters Real-Time Data. $99 per month
This package is a fully-functional version of MetaStock R/T (real-time) charting and analysis software that is designed for real-time market analysis.  It is powered by Refinitiv XENITH so you should get  real-time news, data, and analysis
MetaStock R/T Subscription with Refinitiv XENITH. $199 per month
This service is also a fully-functional version of MetaStock R/T charting and analysis software that is designed for real-time market analysis and is powered Refinitiv XENITH the key difference is it provides streaming data on any time frame including tick, intraday, daily, weekly, etc.
MetaStock with it's Thomson Reuters Refinitiv Xenith News service integration is worth the money just for the news service, but it is so much more than just news.  See in the News section below what Xenith can do.
We work with MetaStock as a partner and have a special 3 months for the price of 1 offer for our readers.
MetaStock Refinitiv Xenith / Eikon News, Charts & Analysis Overview Video
XENITH Real-Time Market Data & News for everyone
Trade Management -- 4/10
MetaStock does provide broker integration but the execution of trades from charts and live integrated P&L analysis is limited, this is definitely an area of improvement for the future.  However, for trading, you can use Refinitiv Xenith.
Fundamental Scanning and Screening -- 10/10
As  I mentioned MetaStock is owned by Thomson Reuters, who are without a doubt the biggest and best provider of real-time news and market analysis.  They also have an incredible database of global fundamental data, not just on companies but countries, economies and industries.
The filtering and scanning possibilities are endless. I would like to see better integration within the MetaStock suite, bringing together the fundamentals and the technical analysis to enable better charting and technical analysis on fundamentals. However, the wealth of data is first class.
Using Refinitiv Xenith you can see a really in-depth analysis of company fundamentals from debt structure to top 10 investors, including level II market liquidity.  Excellent watch lists featuring fundamentals and powerful scanning of the markets gets a perfect 10
MetaStock + Refinitiv Xenith News & Social -- 10/10
News Service.
MetaStock XVI has full Refinitiv Xenith (previously Eikon) integration with institutional level news, analysis, and outlook.  This is the fastest global news service available on the market including translations into all major languages.  Reuters also provides TV news coverage through smartphone and smart TV applications, it is after all the largest news agency in the world.  Along with the package you get Reuters Insider alerts which are exclusive content and research provided by the expert analysts on the financial network team.
Special News Features.
Core features include detailed financial snapshots of a company.  In the image below you see the Refinitiv Xenith Streaming News Screen for Netflix (Ticker:NFLX).  Take a look at the attention to detail here and the amount of original news coming in from the Reuters Network, you will get this news before anyone else.  Included in Refinitiv Xenith you also get stock quotes, charts, detailed Analyst Estimates and a full listing of all financial details and SEC filings, complete with upcoming events listings so you are prepared for action.  Thomson Reuters as you can imagine covers everything including stock, options, bonds, futures, FX and macroeconomic news and data.  An unparalleled source of information.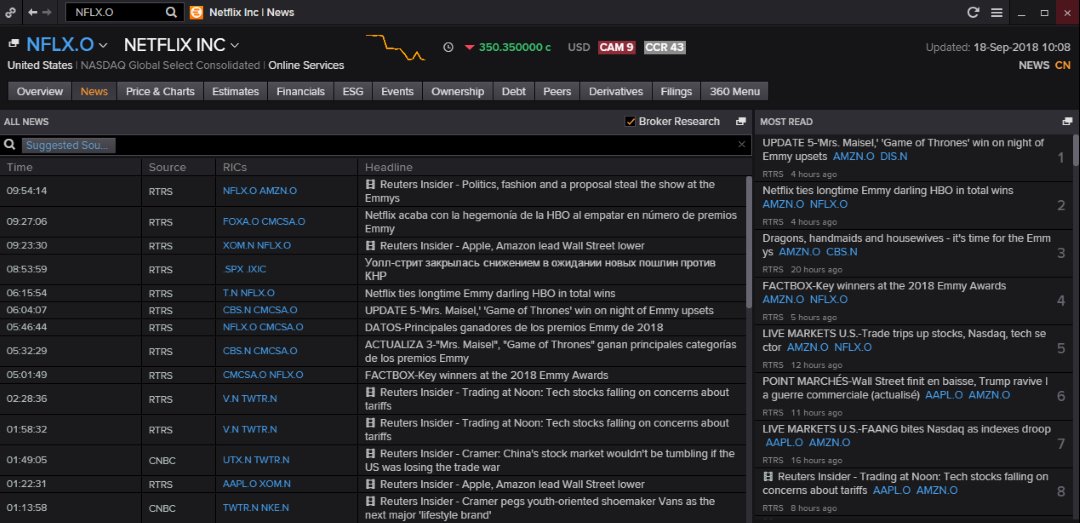 MetaStock Refinitiv Xenith -- News & Research Software Platform
The platform itself is very easy to use as MetaStock have placed an emphasis on the user experience and workflow.  You can have multiple workspaces for multiple monitors and save each workspace seamlessly for reuse.  Of course, the software is available on all devices from PC's to Smartphones and TV's.
Thomson Reuters the king of the real-time newsfeed and global market data coverage is the owner of MetaStock, so you get the entire wealth of knowledge included in the package.  This should not be underestimated.
MetaStock however, does not have any social elements, which under normal circumstances, would detract from the score, however, because the news feeds are so strong it warranted still a 10 out of 10.
Technical Analysis 10/10
Forex forecasting based on sentiment is a feature that is absolutely exceptional.  Never mind the broadest selection of technical analysis indicators on the market today. MetaStock is the king of technical analysis warranting a perfect 10.
MetaStock takes a clean sweep when it comes to Charting covering all the core chart types, but also includes, Point & Figure, Equivolume, and Market Profile charts.  When it comes to indicators, MetaStock has 300+ different types, including Darvas Box and Ichimoku Cloud.  MetaStock will also help you develop your own indicators based on their coding system.
Finally, MetaStock racks up a perfect score on the drawing tools section, which includes Gann and Fibonacci tools.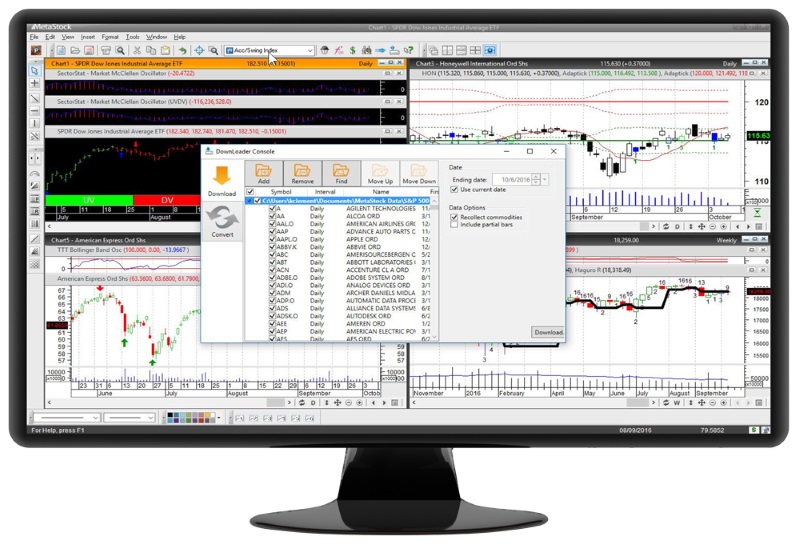 Stock Systems and Back Testing 9/10
Another area where MetaStock excels is what they call the expert advisors.  MetaStock harnesses a huge amount of inbuilt systems that will help you as a beginner or intermediate trader understand and profit from technical analysis patterns and well-researched systems.  This is really a key area of advantage.
Predict Market Prices With MetaStock Forecaster Video
The biggest addition to the MetaStock arsenal is the forecasting functionality which sets it apart from the crowd.
How to Predict Market Price
Try MetaStock With a 3 Months for 1 Month Deal
You can even use artificial intelligence like functionality to test a set of variables within your backtesting.  You could for example test if price moves above the moving average 10,11,12,14,16,18 or 20, in a single test to see which of the moving averages best work with that stock.
MetaStock is one of the few vendors that take forecasting really seriously.  The system backtesting is great because it allows you to test if a theory, idea or set of analysis has worked in the past.  Forecasting takes it to a whole new level by playing forward the backtesting to see how successful you might be with a strategy under certain circumstances.  The configurable nature of the reporting for the results of both backtesting and forecasting are excellent.
Ease of Use 17/20
MetaStock has made huge strides this year in terms of installation and usability.  You are up and running quickly and you do not need to spend time trying to configure data importers anymore unless you want to use a 3rd party provider.
Once installed the huge selection of automated expert advisors you can deploy on the selection of stocks in your purview make MetaStock well worth the investment.
MetaStock Review Final Thoughts
All in all a top class showing from MetaStock, simply put one of the best packages available.
My personal recommendation for an investor or trader is to combine the MetaStock & Refinitiv Xenith Packages together.  The depth of fundamental research and news in Refinitiv Xenith is staggering and the in-depth analysis, backtesting, and forecasting in MetaStock is industry leading. If $199 for the Xenith + MetaStock Package is too much, then fear not. If you simply want end of day data and all the MetaStock functionality the price starts at a reasonable $22 per month.  You can even by one-off licenses if you prefer.
If you are looking for something without all the backtesting and forecasting and the better ease of use, then TradingView or TC2000 are the better option and have better prices.  Read our Complete Stock Charting Analysis Software Review to find out what is best for you.  If you are primarily interested in real-time news services to help your trading, take a look at our 10 Best Financial News Services Review
Open An Account With MetaStock
-
Stock Rover -- The Most Powerful Stock Screener for Value Investors

Best for U.S.A. Canadian Value Investors Seeking An Insanely Good Fundamental & Financial Analysis Stock Research Software.  Easy to Use Yet Extremely Powerful Ratings & Scanning Round Off The Service.

Stock Rover --  Best Stock Screener Review Winner 2020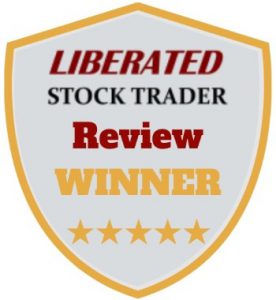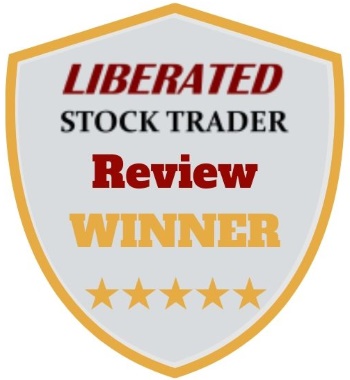 It is really impressive that Stock Rover has stormed into the review winners section of our Stock Market Software Review in its first try.  It is also the outright winner in our Best Stock Screener Review.
I now actively use Stock Rover every day to find the undiscovered gems that form the foundations of my long-term investments.
Stock Rover Pricing -- 10/10
You can have Stock Rover for free, however, the real power of Stock Rover is unleashed with the Premium Plus service.  Moreover, their top tier of service is not even expensive when compared to the competition.
How Much Does Stock Rover Cost?
Free $0 -- Scanning for 10,000 stocks, 43,000 mutual funds & ETF's, broker integration, portfolio analysis & market news
Essentials $7.99 US /mo -- 5 years of historical data, 10 fair value and margin of safety ratings per month + earnings calendar
Premium $17.99 US /mo -- 350 fundamental metrics, 10 years of historical data, stock & ETF ranked screening. 10 stock ratings per month, 20 fair value & margin of safety ratings per month.
Premium Plus (Recommended) -- $27.99 US / mo -- 10 years of historical screening, unlimited margin of safety and fair value scoring, unlimited stock warnings and stock ratings + analyst ratings scoring.
I strongly recommend going for the Stock Rover Premium Plus at $27.99 per month.  Why?  Because having used the service extensively, I cannot live without the unlimited stock ratings, analyst ratings scoring and the unlimited fair value and margin of safety scoring.
The lower-priced service tier limits the number of ratings, so go for the Premium Plus, it is well worth it at only $27.99.
I even told Ken over at Stock Rover, that their product pricing it too low, for this much value they should charge more.
Stock Rover Platform --  10/10
Stock Rover runs on PC, Mac, Tablets, and Smartphones and requires zero installation, it simply works.  The market data, scoring, ranking, and analysis are for the USA & Canadian markets only.
The Stock Rover Dashboard
When you register with Stock Rover and log in, you are greeted with the dashboard which gives you an instant market performance breakdown, but more importantly, shows you your portfolio performance and your dividend performance.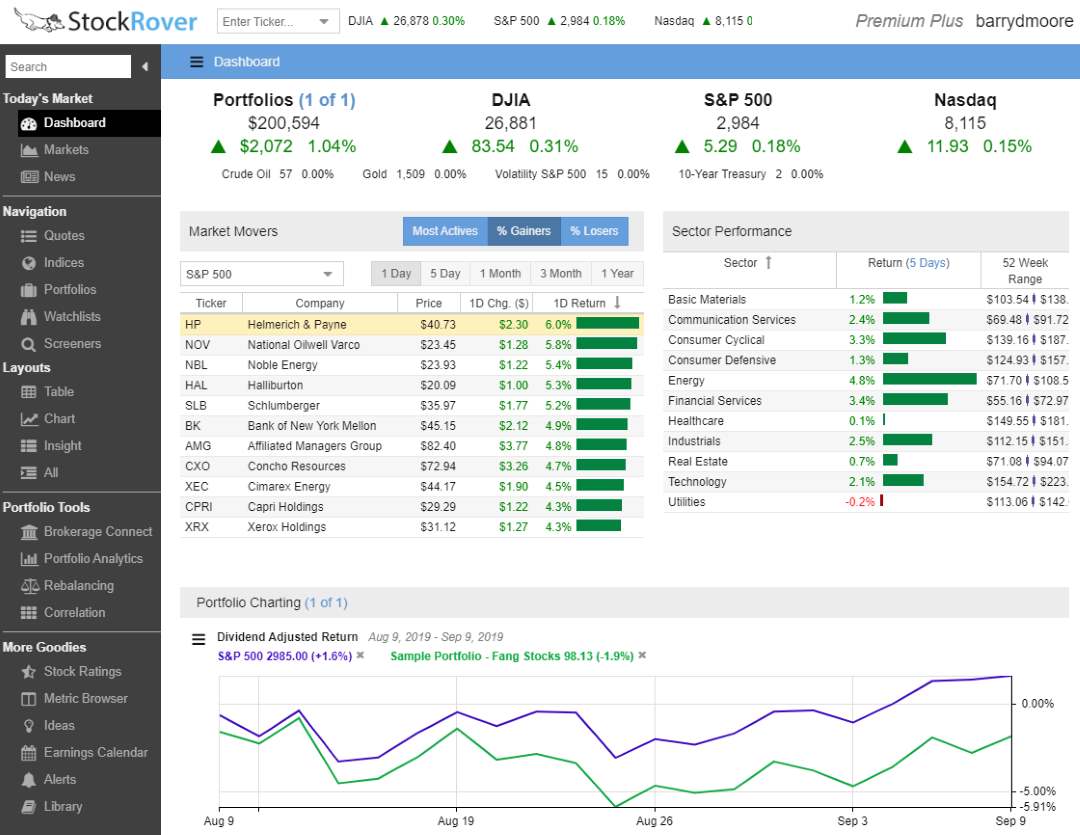 The Stock Rover Platform Is A Modern Cloud-Based Software Architecture
The positives of cloud-based technical analysis software:
Zero client installation -- very quick setup
Zero data downloads and data management required on the local client device
All processing and storage is managed on servers in the datacenter
Cross-device compatibility (PC, Mac, Tablet, Smartphone)
The negatives of cloud-based architecture:
The speed of data and responsiveness of the application is dependent on your internet bandwidth
Stock Rover has the best implementation of stock screening on a cloud-based architecture on the market.
Finding Great Stocks With Stock Rover -- Video
Finding Great Stocks Webinar
[Related Article: How Do Technical Analysis Software Platforms Work?]
Trade Management Score -- 9/10
With Stock Rover, you get broker integration with practically every major broker, including our review winning brokers Firstrade and Interactive Brokers.
You cannot place trades from charts but it will take care of profit & loss reporting on your portfolio and provide recommendations for portfolio rebalancing.  Including income (dividend) reporting and scoring it is a unique package.
Stock Rover is not for day traders, it is for longer-term investors that want to maximize their portfolio income and take advantage of compounding and margin of safety to manage a safe and secure portfolio.
Fundamental Scanning & Screening -- 10/10
Another perfect 10 for Stock Rover as they hit the mark on company stock scanning and filtering, and fundamental watchlists also.
The list of fundamentals you can scan & filter on is truly huge.  Any idea you have based on fundamentals will be covered with over 600 data points and scoring systems.
Watchlists have fundamentals broken into Analyst Estimates, Valuation, Dividends, Margin, Profitability, Overall Score and Stock Rover Ratings.  You can even set the watchlist and filters to refresh every single minute if you wish.
The Excellent Stock Rover Ratings Engine
The team over at Stock Rover has implemented some great functionality, one I particularly like is the roll-up view for all the scores and ratings.  Here I have imported the Warren Buffett portfolio which includes his top 25 holdings.  I have also selected the "Stock Rover Ratings" tab.  This "Stock Rover Ratings" tab rolls up all analysis into a simple to view ranking system, saving a huge amount of time and effort whilst providing a wealth of insight.

Powerful Pre-Built Screeners -- Integrated into Stock Rover
Stock Rover already has over 150 pre-built screeners that you can import and use.  You do need to have the Premium Plus service to take advantage of this, I have reviewed many of them and they are very thoughtfully built.  One of my favorites is the Buffettology screener.
The Stock Rover Buffettology Screener -- Screenshot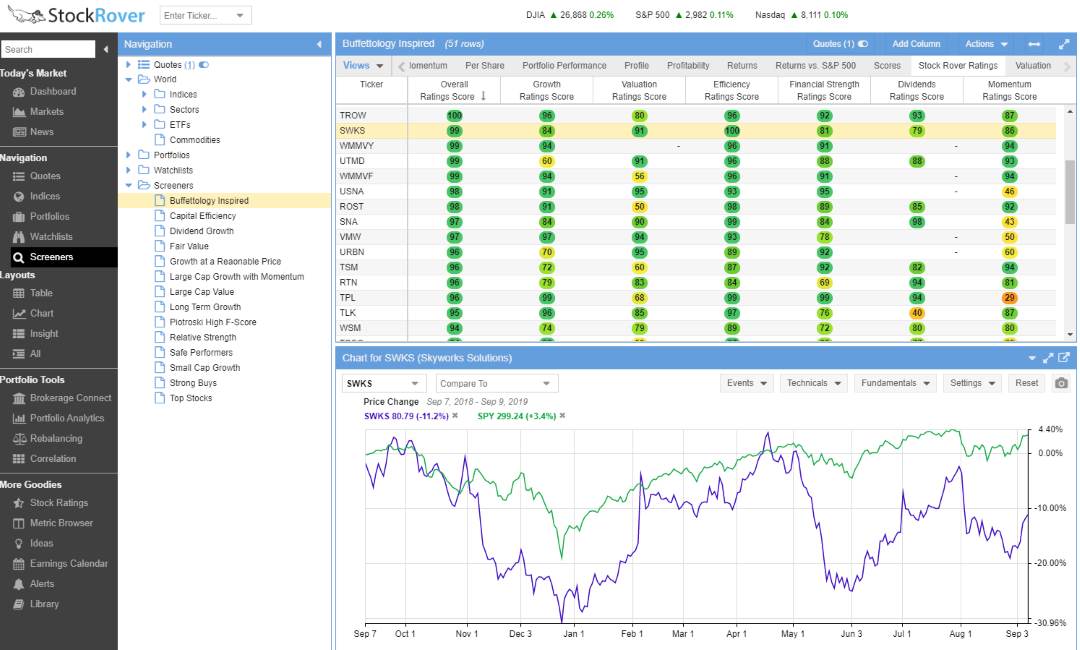 Stock Rover Screeners -- Buffett's Holy Grail
Here is another screener that I really like.  If you select any screener, in this case I selected the "Strong Buys Screener" the Fair Value Screener and simply select the "Fair Value" tab, you are rewarded with arguably the killer features of Stock Rover.  The Fair Value and Margin of Safety analysis and rankings.  These analysis factors are a nightmare to manually calculate yourself and it could be said, warrant the investment in Stock Rover all by themselves.
Fair Value and Margin of Safety Rankings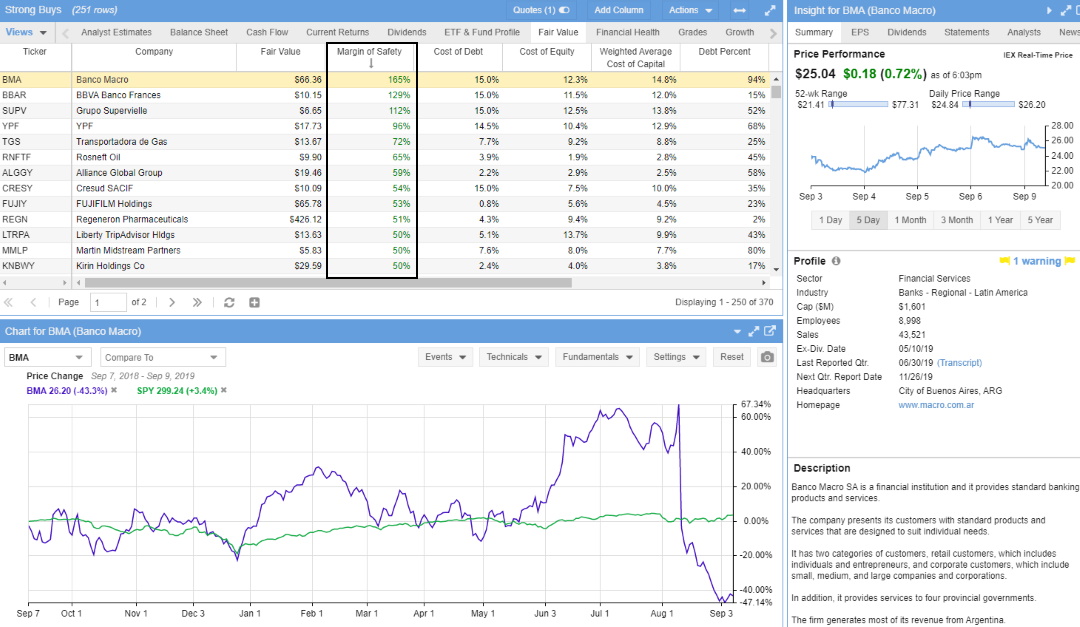 Detailed Dividend & Income Analysis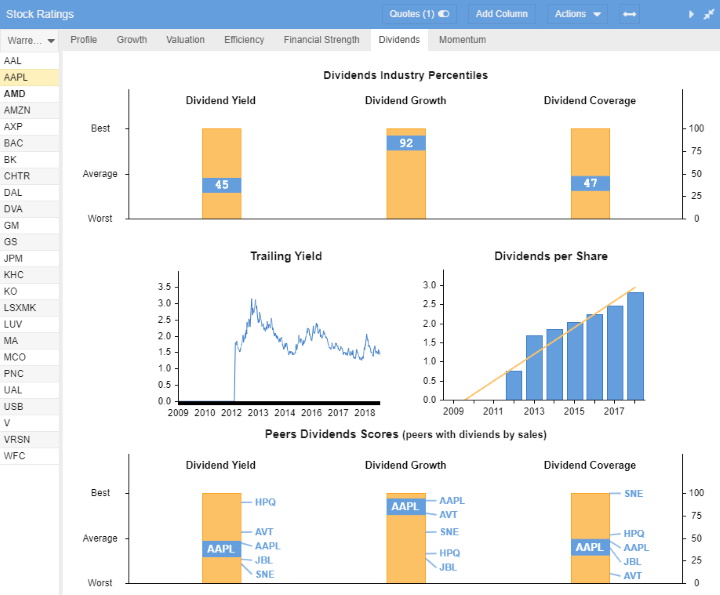 Another reason why I like Stock Rover so much is the detailed dividend and income analysis provided.
As all smart investors know, to have a chance at excellent market-beating returns you need to accrue your dividends.
Stock Rover provides intelligent analysis to enable you to do just that.
News & Social Media Integration Score -- 8/10
Stock Rover pulls in information from Yahoo Finance and Benzinga News.  The news feeds are not real-time but they are useful.  As a long-term investor real-time news is not really a priority.  If it is a priority for you, you can subscribe to Benzinga News separately.
When it comes the social chat and community there is no perceivable service within Stock Rover.
Stock Charting & Technical Analysis Score -- 6/10
Looking at stock charts with Stock Rover is different from all the other software vendors on the market.  Whereas MetaStock & TradingView focus on hundreds of technical analysis (price/volume) indicators, Stock Rover focuses on charting the fundamental financial strength indicators.
With over 154 different financial indicators, and only 9 technical analysis indicators, Stock Rover is not the best service for technical analysis or frequent trading, but it is by far the most complete package for fundamental income and value investors.  So, although this section is for technical analysis, they are so good with charting fundamentals I have rated them a score of 70%.
Caveat -- there are no possibilities to draw trend-lines or annotate charts in Stock Rover.
Stock Rover Alerts
Stock Rover alerts are configurable to provide immediate sms or email notifications when a stock meets your custom criteria. For example, "Alert me if Netflix crosses $200 up". You can place alerts on fundamental indicators or prices it is quite flexible.
Systems, Backtesting & Automated Trading Score -- 8/10
Again, we have to think of Stock Rover differently to other stock charting analysis packages.  Stock Rover provides 10 years of backdated financial information and scanning possibilities, better than nearly every other stock screening package.  However, automated trading and technical system backtesting is not part of the design remit.  For that, you should look at MetaStock or TradingView.
Usability Points -- 20/20
Within 15 minutes I was using Stock Rover no installation required and no configuring data feeds, it was literally just there.
Stock Rover is up and running with a single click of the login button.
Even better is the fact it there are so many curated screeners and portfolios to import and use you are instantly being productive. It is quite a feat that it is so easy to use considering Stock Rover has so many powerful scoring and analysis systems.
Open An Account With Stock Rover
Stock Rover Review Summary
Stock Rover wins our Stock Market Software review by providing the best software for value and income investors. A 10-year financials & fundamentals historical library plus incredible scanners including all of Warren Buffet & Ben Graham's favorite criteria. Fair Value, Margin of Safety and so much more.
If you are a long-term investor, this is the software for you.
-
TrendSpider -- Winner For Innovation In AI & Automated Prediction

Recommended for all traders wanting cutting edge AI, auto trend line pattern recognition, system backtesting all at a great price.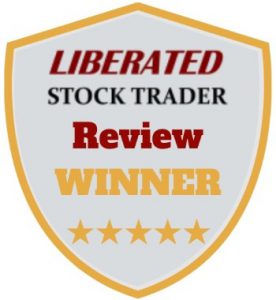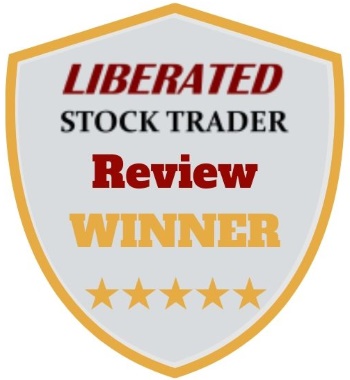 The new kid on the block, Trendspider is doing something very different and innovative to separate itself from the crowded stock chart analysis software market.  It solves the problem of too much time spent doing analysis, drawing trendlines, tweaking indicators and analyzing timeframes.  I was immediately a fan and believe it has a bright future ahead.  We start with an overview of some of the interesting benefits.
Pricing and Software 10/10 -- Trendspider is an HTML5 application, which means it works on any connected device, requires zero installation, zero data stream or data download configuration.  This appeals to me a lot because with a single click you are up and running.  Also, considering the complexity of the automatic calculations the application runs swiftly taking just a few seconds to complete an entire analysis.
TrendSpider has an excellent price point starting at $27 per month, which includes real-time data.  They have also expanded to cover Forex, Crypto, ETFs, and Futures, which means you can apply the stunning Auto Trend-lines and Multi Time-Frame Analysis on many different markets.  The platform is built on HTML 5 and needs Zero installation and Zero data feed configuration.  The system runs on all platforms from smartphones to PCs.  Finally, I have tested the customer support and confirm it is excellent and you have a human to chat with whenever you like.
The Elite Trade Plan is $69 per month, has everything the PRO plan has and in addition includes after-hours and pre-market data, OTC, Forex and Futures data.  On top of that, you get 20 Dynamic Alerts.
Considering you get real-time data the pricing is very competitive, in fact considerably lower than other charting software vendors.
Technical Analysis 10/10 -- Packed full of innovative technical analysis tool means that TrendSpider is catapulted to the top of this list.  If you are a serious market analyst, then TrendSpider will help you do the job quicker, with better quality and help you to not miss an opportunity.  Automated trendline detection and plotting, this does a better job than a human can, using algorithms the system can detect thousands of trends-lines and flag the most important ones with the highest backtested probability of success.
The multi time-frame analysis, which means being able to view multiple time-frame charts on a single chart with the trend-lines plotted automatically.  Another great feature is the advanced plotting of support and resistance lines into a subtlely integrated chart heatmap.
Finally, Raindrop Charts, a completely unique and intuitive way to visualize volume profile or volume at price action.
Stock Systems and Back Testing 4/10 --Integrated back-testing of automated trend-lines, showing win-rate, profitability and drawdown are a new addition and warmly welcome, the team are finally propelling TrendSpider into one of the leading technical analysis packages in the industry.
Ease Of Use 18/20 -- TrendSpider's innovations means you will need a little time to understand what they are telling you.  For example, seeing hourly, daily, weekly trend lines plotted on the same chart might be confusing at first, but after applying a little effort you might find you cannot live without them.  Still an excellent score on usability.
TrendSpider's Unique Features
Automated Trendline Detection
The automated trendline detection saves a lot of time for traders, speeds up trade preparation in the morning, and improves accuracy.  The TrendSpider algorithm uses mathematics to correlate all the bars on a chart and then draw the lines.  It highlights the touches at peaks and troughs in a price trend.  As a technical analyst, this is how you are supposed to do it, the more times a price touches the trend line and reverses the stronger the trend.  Therefore, if a price breaks through a strong area of support and resistance it is more predictive.  If you do not like a trend that the AI has used you can manually delete it or fine-tune them.  With this capability, you can have a complete trendline analysis on any chart in a few seconds.
Multi-Timeframe Analysis
Here is where is get even more interesting, the Multi-Timeframe Analysis can be used to super-impose trendlines or indicators from different timeframes onto a single chart.  It may seem a little complex at first, but when you get used to it, it makes a lot of sense.  Instead of constantly switching timeframes and redrawing trendlines it is simplý there.  It is not just for trendlines though you can use it with the array of 42 stock chart indicators to ensure you do not miss anything.  Dan Ushman the company founder uses it in his trading especially with indicators like Bollinger Bands and with trendlines which help expose things other traders miss when they are focused on one timeframe or one indicator at a time.
One thing I also really like is the price indicator analysis, you can let the application plot, name and highlight your Japanese Candlestick patterns of choice.  Want to find Evening Doji Stars, Hammers or Engulfing Patterns?  Just turn on the pattern recognition it is that easy.
How Does Automatic Trendline Detection work in TrendSpider?
User Guide: Introduction and Overview (Short Version 4min)
Combining Multi-Timeframe Analysis and Automatic Trendlines
To show the power of the software I set up two charts.  The top pane showing the 60 minutes versus the daily chart and in the bottom pane the daily versus the weekly chart for Netflix (Ticker: NFLX).  The first thing that grabbed my attention is that you can immediately see that the shorter-term trend for Netflix is an ascending triangle.  This is a continuation pattern so we would expect the price to break out of the triangle upwards.  Trendspider nailed the trendlines perfectly on this.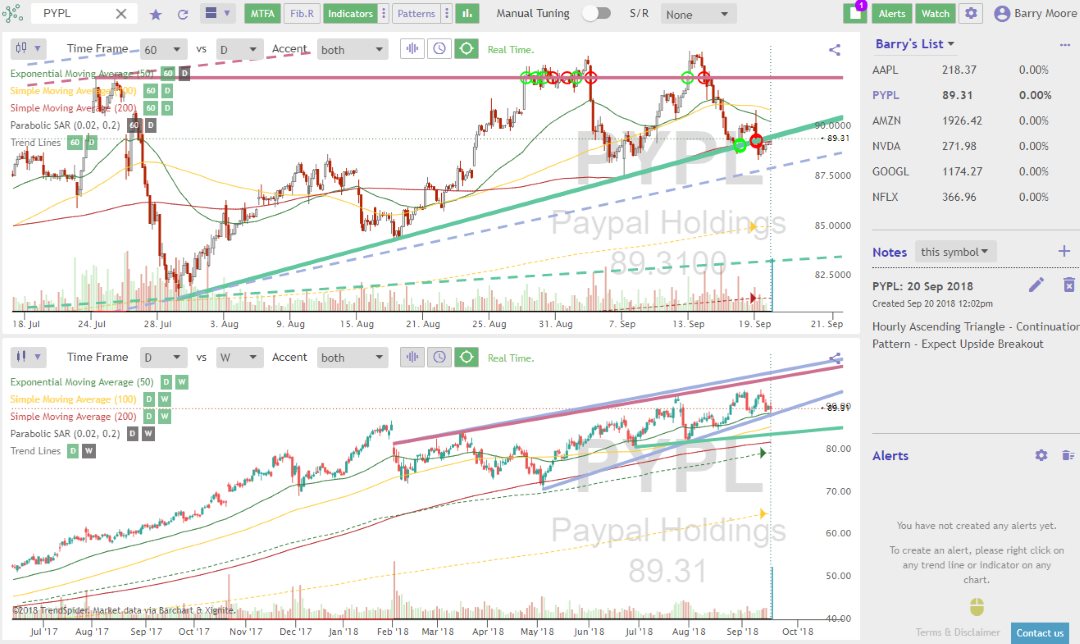 Whilst reviewing the lower pane you can see the trend for the last year and Netflix is still in a solid uptrend on both the daily and weekly timeframes, 4 timeframes compared in seconds.
Advanced Support & Resistance Lines
The one thing that blew me away here is that the TrendSpider team have found a really elegant way to take the masses of computed data and overlay it onto a single chart.
Using the drop-down selector "S/R Trends" enables a kind of heat map which shows the hundreds of potential trendlines and the darker red the area the more touches and concentration of trendlines there are.  See the chart below for reference.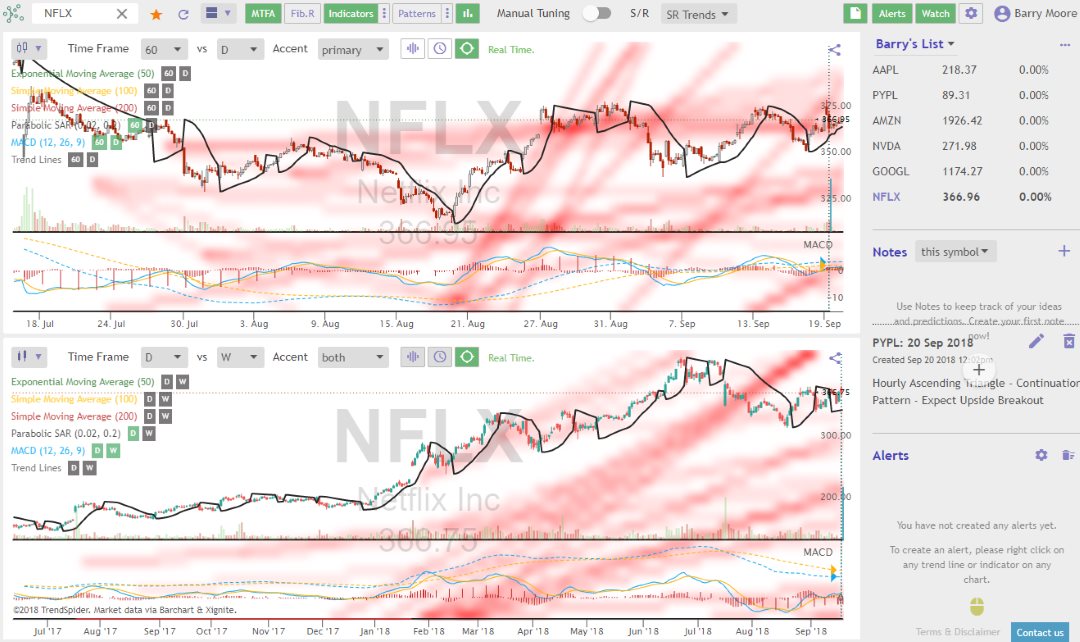 Dynamic Price Alerts
Dynamic price alerts on indicators and trendlines free you up from the need of staring at charts waiting for them to set up, and help you avoid emotional traps like trading out of boredom, rather than choosing the exact time to trade.  The alarms can be configured on indicator or trendline breakthroughs, bounces or touches on any timeframe.  The trade alarms can be sent to email or SMS for your phone.
NEW Feature: Backtesting
TrendSpider takes a different approach to backtesting.  Because the platform is built from the ground up to be able to automatically detect trend-lines and Fibonacci patterns, it already has an element of backtesting built into the code.
The highest probability trend-lines are automatically flagged and you can adjust the sensitivity of the algorithm that controls the detection, so show more or fewer lines.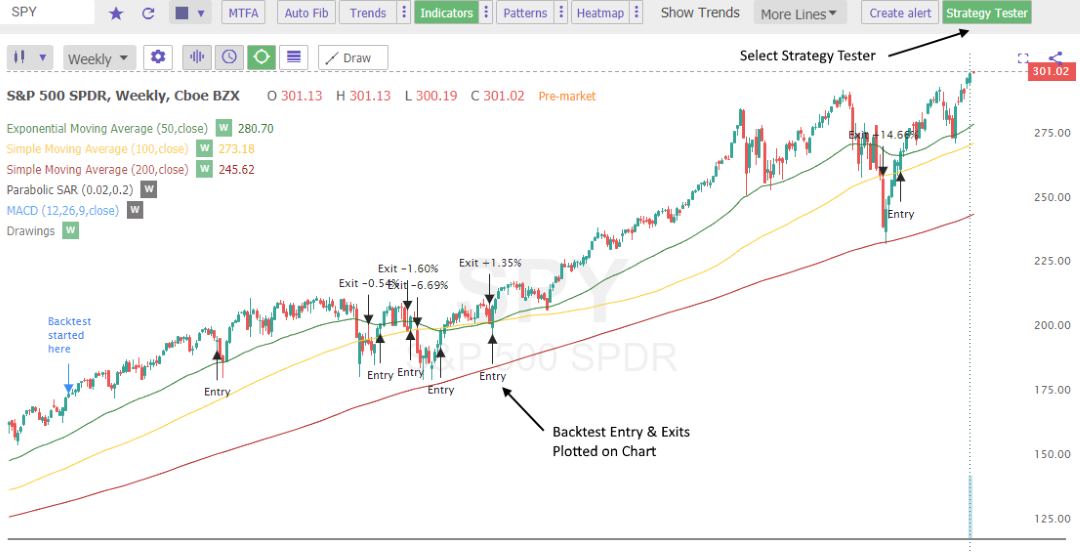 Adding to this, they have implemented a strategy tester that allows you to freely type what you want to test and it will do the coding for you.
It is a slick and simple implementation which had me up and running in minutes.  One of the elements I really like is the ability to adjust your backtest conditions on the fly and the "Price Behaviour Explorer" and "System Performance Chart" automatically update.   You can jump into coding if you want to, but the key here is that you do not HAVE to.
Open A TrendSpider Account Now & Get A Special Bonus
If you try Trendspider via the button above simply contact us afterward and we will send you our superb Stock Market Crash Detection Video Course & eBook worth $29- for Free.
-
Trendspider Review Summary
We have focused on what is unique about Trendspider, it is designed for a specific purpose, taking the guesswork and painstaking hours of analysis away from traders.  But what do you not get?  Well, you do not get fundamental scanning & filtering, trading from charts or broker integration.  There is no social aspect at the moment and no news service.  But it is not designed for these things, it is designed for fast effective machine-driven technical analysis.
I see a bright future for TrendSpider, for example, I expect in the near future to be able to see the analysis of how well any given indicator or price pattern actually works overall or for any given stock.  The analysis of the probability of a successful prediction would be an amazing leap forward.
-
TC2000 -- Best Trading & Fundamental Analysis Software US & Canada

Recommended for Investors in the U.S.A. & Canadian Markets Who Need Powerful Fundamental Screening, Excellent Technical Analysis & Trading From Charts.
Award-Winning Telechart TC2000 Won Our 2020 Stock Market Software Review. But Why Is It Best for U.S. Investors & Loved By Liberated Stock Trader?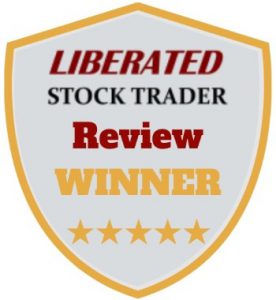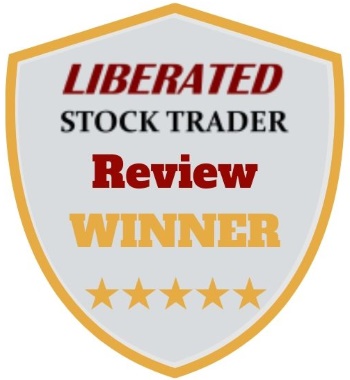 Telechart has long been one of my favorite tools, I have been a Platinum service subscriber for over 18 years and find the latest release v18.x to be another great step forward.  Endlessly customizable and scalable, the platform offers everything an investor in stocks, exchange-traded funds and options would need.
TC2000 was a winner in our Best Stock Market Analysis Software Review, beating 25 other competitors.
Pricing and Software -- 10/10
TC2000 is competitive on pricing with all premium stock market analysis software vendors, in fact, it is a leader in pricing, with only TradingView offering a similar price point. TC2000 has been voted as best software for 25 years straight by the readers of Technical Analysis of Stocks & Commodities Magazine.

TC2000 Silver Service Features
Price -- $9.99/month.
All levels of service enable you to use the TC2000 Brokerage, which enables live from the chart trading and competitive commissions beating out TD Ameritrade and Merrill.
100,000 stocks options and exchange-traded fund data -- included
Real-time streaming data is available with an additional charge per exchange connection.  This is the same for all software providers.
8 great layouts ready for use including my favorite Sector Drilldown, which I discuss later in the review.
Unlimited watchlists, with 80 pre-built layouts
Personal Notes to keep track of your actions
Unbelievable Application Configurability -- probably the best in the industry, enabling you to build intricate workflows, tabs and pop out windows
Mobile access to your charts, watchlists, and settings.
TC2000 Gold Service Features (Recommended)
Price $29.99/month
The reason I recommend the Gold Service is because of the following killer features:
EasyScan is enabled -- this allows you to unleash the powerful fundamental scanning, you can scan on EPS, PE Ratio, Earnings Growth, Sales and many more.  It is the best fundamental and technical scanning in the industry at this price point.
Unlocks Technical & Fundamental Scanning Combinations -- for example, if you want to combine the stock price crossing the 20-day moving average plus a volume surge with growth in the earnings per share for the last quarter.  This is only possible with TC2000
EasyScan results are displayed extremely quickly -- this can save a lot of time
100 Alerts are enabled -- TC2000 has an excellent alerts system which is extremely flexible allowing you to alert on any indicator, price or trendline. Alert can be routed through to your email, SMS or as on-screen popups.
Charting of Fundamentals from MorningStar -- this is great because it enables you to plot, for example, earnings per share (EPS) onto the chart.  This enables you to see visually if a company has earnings acceleration over time.
Platinum Service
Price $89.99/month
The Platinum service is triple the price of the Gold service, but if the following features are as important to you as they are for me, then it may be worth the investment:
The EasyScan dashboard is now real-time -- you can feel all your scans and criteria in watchlists pulsing with activity as they constantly refresh
Real-time scan results -- you can even setup reports that summarize the results of your scans to enabled simpler tracking of thousands of data-points
Worden Brothers continue their winning ways, with very competitive pricing starting at only $9.99 per month for the Silver package.  I would recommend the Gold service to start with as you get a more powerful alerts engine and unlock the huge power of the technical & fundamental scanning and filtering that TC2000 is famous for.
TC2000 is aimed squarely at those trading stocks, ETF's, mutual funds and stock options, specifically on the U.S.A and Canadian Markets.
---
TC2000 $25 Discount Pricing Code Voucher & $129 Worth of Bonuses.
Liberated Stock Trader has partnered with Worden Brothers the creators of TC2000 for over 9 years, I am their biggest fan.  I even based my PRO training course around TC2000.  However, this is a factual review, there are many other software vendors that may meet your needs.  But if you decide TC2000 is the right software for you will get a $25 discount from TC2000 plus $129 in free gifts and discounts from Liberated Stock Trader.  Simply use this button to get started.
Download TC2000 & Try For Free -- Includes $129 worth of bonuses from TC2000 & Liberated Stock Trader
---
TC2000 Support & Customer Service
Support is excellent both on the forums, via email or via the phone.  When you call you will get straight through and are able to speak with skilled personnel in the U.S.  I have never had an issue where it was not solved more or less immediately.
If you have not selected a Brokerage, you should look at TC2000 Brokerage as an option, they have competitive rates which also means you get full integration so you can trade stocks & options directly from your charts, a huge bonus.
If you trade U.S. Stocks, ETF's or Mutual Funds, then this is a great solution.  Worden also provides regular live training seminars which are of a very high quality and also tour the U.S.A with free live training seminars for subscribers.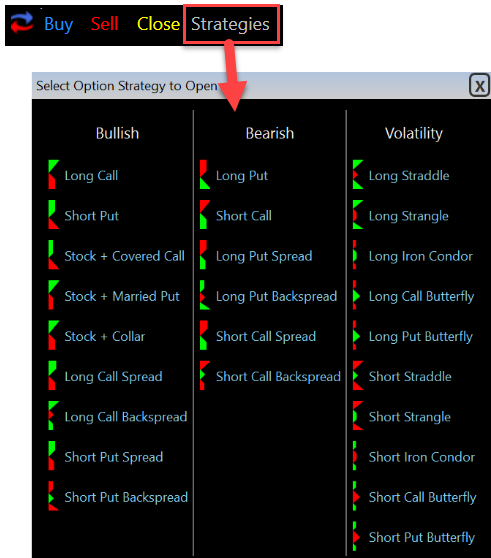 Trade Management -- 9/10
Worden recently released TC2000 Brokerage offering discount brokerage services at $4.95 per trade.  This new service means a tight integration between the charting software and the brokerage house.
Essentially it means the holy grail, trading directly from charts in a visual way.
Worden Brothers make a clean sweep 10/10 when it comes to trade management, with full Broker Integration (as long as you choose them as your broker).
Options Strategies
Use the Options Trading button at the top of the chart to open Options Strategy tickets directly on the chart. The menu divides strategies into bullish, bearish and volatility categories. Strategies include single-leg, multi-leg, and combinations of the underlying stock.
Multi-leg strategies then open as a single trading ticket on the chart.
TC2000 also offers a nice implementation of options trading and integration, you can scan and filter on a large number of options strategies and then execute and follow them directly from the charts.
Good profit & loss tracking and reporting round off the package to be a well-implemented solution.
Opening An Iron Condor Option Trade With TC2000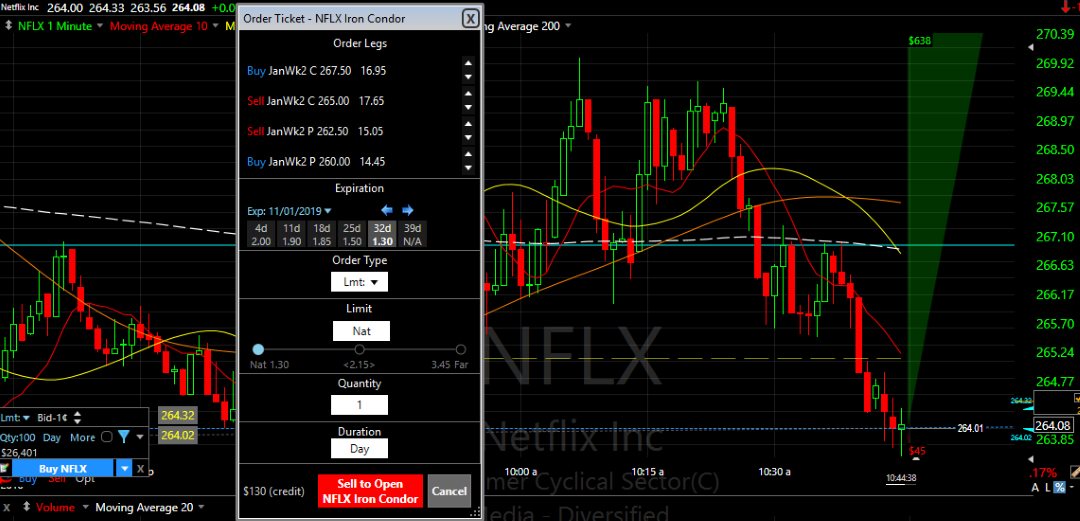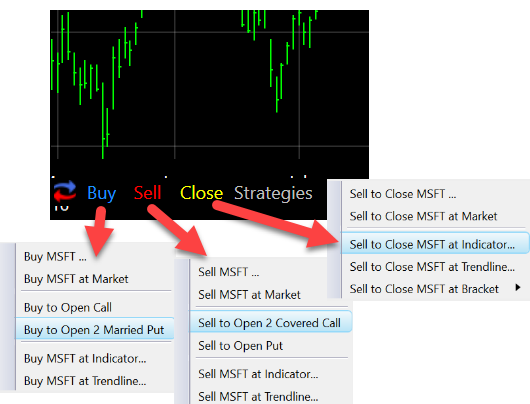 Industry Leading Live Trading
Taking a look at the image on the right you can see how well planned the order execution is from the chart.  You can open an order, but only execute it based on a condition.
The interesting thing here is that condition can be any technical or fundamental condition.  So you could theoretically, execute a trade is the EPS for the last quarter exceeds 35%.  Alternatively execute a trade is the real-time price breaks through the Ichimoku cloud on higher volume.
Fundamental Scanning and Screening -- 10/10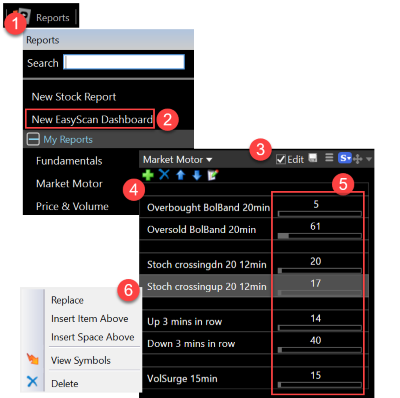 Make no mistake about it, if you want fundamentals stock screeners in real-time layered with technical screens all integrated into live watch lists connected to your charts TC2000 is a power player.
I selected TC2000 as my tool of choice back in the year 1999 because it offered back then, simply the best implementation of fundamental scanning, filtering and sorting available on the market.  20 years later, they are still a leader in this section.
They offer a huge selection of fundamentals to choose from 192 to be exact, but even better than that, what makes it truly unique is the fact you can, with a few clicks, create your own indicators based on the fundamentals.
You can then overlay the indicators directly on the charts, which opens up a whole new world of technical and fundamental analysis.  10 out of 10 for TC2000 again.
One of My Favorite Scans & Fundamental Watchlist Setups.
TC2000 is perfect for scanning the entire market in a few seconds for the best fundamental setups of any company. In the Liberated Stock Trader PRO Training, I show how to find the best companies using TC2000.

The key fundamentals to find high growth companies are:
Earnings as Percent of Sales 1-Year
EPS Percent Change Latest Quarter
EPS Percent Change Latest Year
A Positive Operating Cash Flow
Percent Change Revenue 1 Year
Earnings Growth Rate 5 Years
Trailing EPS
Shares Outstanding
Plotting Fundamental Indicators As Stock Chart Indicators.
In the chart below I show you how it is possible to plot over 129 different fundamental variables from the balance sheet, income statement, and financial performance onto a chart.  According to the classic William O'Neil book "How To Make Money In Stocks" the C from the CANSLIM method is stands for current earnings.  This fundamental criterion and many others are easily plotted using TC2000.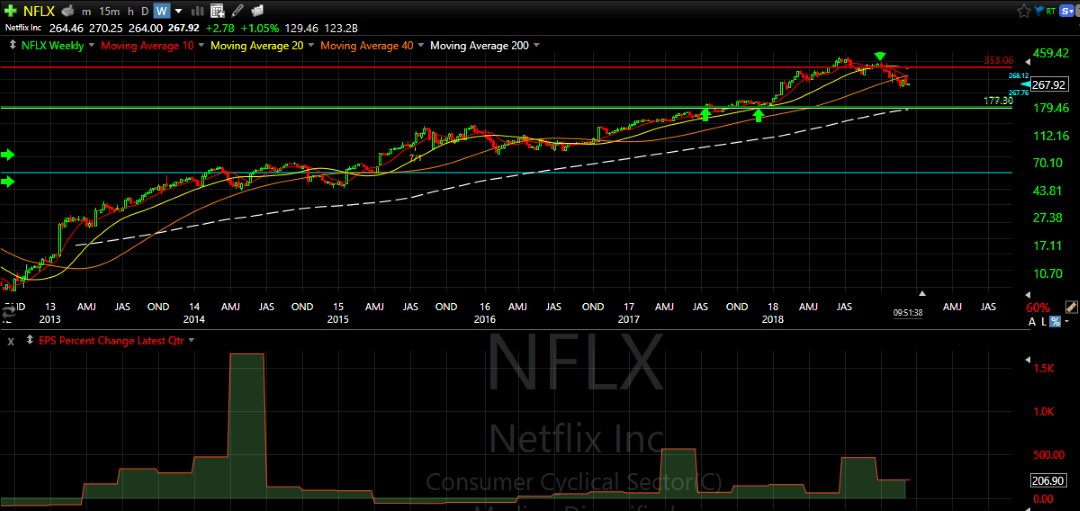 News & Social -- 7/10
While Telechart does not have a perceivable real-time news element included in any of the service tiers, it does have integrated links to external websites like Google Finance, CNN, Yahoo Finance, MSN Money, Marketwatch, and StockTwits.  The software will open a separate browser window and sync between TC2000 and the web browser.  This is, however, less than satisfactory.
For $8 per month extra, you can upgrade to the Live Briefs By MT Newswire Investor service -- this is a solid news service if you do not need real-time news.  If you need real-time news you may want to pay for Live Briefs By MT newswire PRO which will cost a mighty $50 per month.
If real-time news is critical for you, you may want to look at Benzinga PRO or MetaStock with Xenith integration.
If you want social community and integrated news, you will need to roll back to TC2000 v12.5 and use Internet Explorer as your browser.  The social integration cannot be compared to TradingView which is a seamless implementation.
Technical Analysis -- 9/10
TC2000 has an excellent array of technical indicators and drawing tools, all the big ones are there, from OBV, RSI and Bollinger Bands to Fibonacci Fans and Andrews Pitchfork.  With over 240 different indicators you will have plenty to play with.
Here is a setup I use to find divergences in stock price and volume supply and demand, it is very reliable because it uses a mix of price, volume and price/volume indicators.  I have also back-tested Ichimoku Cloud indicator accuracy and it is also quite reliable.
Stock Systems and Back Testing -- 4/10
If you want to perform powerful backtesting or trading automation, then TC2000 is not for you.  You may be able to utilize the add-on product called StockFinder if you are a Platinum Member and you specifically call to ask for it.
However, StockFinder is no longer in active development, which is a shame because I think it is one of the very best in the market.
The Stock Market Crash Detector was build using StockFinder and here is an example of how powerful it is.


Ease Of Use -- 20/20 -- Full Marks
TC2000 is easy to use and yet very powerful.  The interface design strikes the right balance between looking great and being instantly useful.
A heavy focus on watchlist management, flagging stocks, making notes and powerful scanning make is easy to use and master.  Software setup is completed in a few minutes, but it also runs perfectly across devices.
Interested in TC2000?
Download TC2000 & Try For Free -- Includes $129 worth of bonuses from TC2000 & Liberated Stock Trader
-
[Related Article: Free Real-time Charts Without The Cost Of A Premium Service]
[Related Article: 11 Of The Best Trading Platforms For Day Traders]
-